Twi-ny, This Week in New York
30 YEARS OF DanceAfrica
Brooklyn Academy of Music
30 Lafayette Ave. between Ashland Pl. & St. Felix St.
May 23-30
Admission: free - $45
718-636-4100
http://www.myspace.com/bamcafelive

A Memorial Day weekend tradition, DanceAfrica is celebrating its thirtieth anniversary with an exciting schedule of events, including music, dance, film, food, and art, that looks at the past, present, and future of African and African American culture. This year is also artistic director Baba Chuck Davis's seventieth birthday, so be ready for extra partying. Every year Davis, a big, exuberant man with wide, welcoming arms and an infectious smile, organizes a thrilling festival that remembers the ancestors, honors the council elders, and encourages the next generations. The dance performances are the main event, with this year's theme being "Remember! Honor! Respect! An African Dance Odyssey," featuring troupes from as far away as West Africa and as nearby as Brooklyn itself taking the stage inside the Howard Gilman Theater.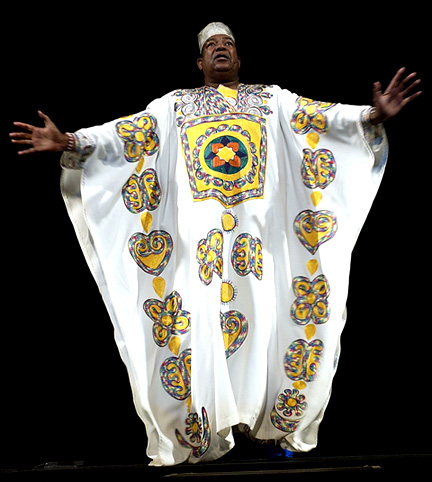 Richard Termine
Baba Chuck Davis stands tall with welcoming arms each year

The dancers will also take to the street right in front of BAM in a free display for the community, which also comes together for the DanceAfrica Bazaar, which is not your average street fair. On Saturday night, the Senegalese group Gokh-Bi System will play the BAMcafé. Be sure to visit the African Sculpture Garden, with works by local children. And remember: When Baba Chuck Davis calls out, "Ago!" you must respond, "Amée!!"
Wednesday, May 23
and
Thursday, May 24 DanceAfrica Film: BAMAKO (Abderrahmane Sissako 2006), BAM Rose Cinemas, $10, 4:30, 6:50, 9:15
Friday, May 25
through
Monday, May 28 African Ancestral Altar, dedicated to the memory of those who have "crossed over to the valley of the ancestors," BAM Natman Room, Peter Jay Sharp Building, free
Friday, May 25
through
Monday, May 28 The Colors of 30 Years of DanceAfrica: art exhibition of posters and programs, organized by D. Lammie-Hanson, cofounder of South of the Navy Yard Artists (SONYA), director/curator of ElevenTen Gallery, and a member of MindThirst, Dorothy W. Levitt Lobby, Peter Jay Sharp Building, free
Friday, May 25
through
Wednesday, May 30 DanceAfrica Film: KIRIKOU AND THE WILD BEASTS (Michel Ocelot & Benedicte Galup, 2006), BAM Rose Cinemas, $10
Friday, May 25
through
Saturday, June 30 Ago! Amée!! A DanceAfrica Retrospective, exhibition of archival photographs, in lobby adjacent to Museum of Contemporary African Diasporan Arts, 80 Hanson Pl., free, 718-230-0492, http://www.mocada.org, opening reception on May 25 from 6:00 to 9:00
Friday, May 25 DanceAfrica Film: DON'T F*** WITH ME I HAVE 51 BROTHERS AND SISTERS (Dumisani Phakathi, 2004), BAM Rose Cinemas, $10, 6:50, 9:15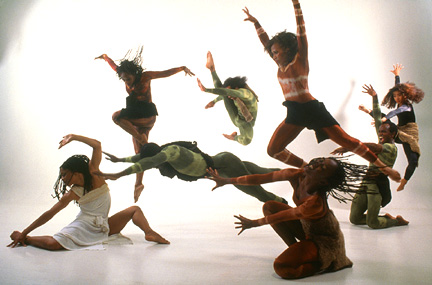 Johan Elbees
African dance troupes celebrate three decades at BAM

Friday, May 25 30 Years of DanceAfrica — Remember! Honor! Respect! An African Dance Odyssey: Bambara Drum and Dance Ensemble Sabar Ak Ru Afriq Dance Theatre, Kulu Mele African American Dance Ensemble, BAM/Restoration DanceAfrica Ensemble, Ndere Troupe of Uganda, and Forces of Nature, BAM Howard Gilman Opera House, $20-$45, 7:30
Saturday, May 26 30 Years of DanceAfrica — Remember! Honor! Respect! An African Dance Odyssey: Kulu Mele African American Dance Ensemble, Sabar Ak Ru Afriq Dance Theatre, Ndere Troupe of Uganda, BAM/Restoration DanceAfrica Ensemble, and Forces of Nature, BAM Howard Gilman Opera House, $20-$45, 2:00 & 7:30
Saturday, May 26 DanceAfrica Film: THE 11TH HOUR (Zelalem W/Mariam, 2006), BAM Rose Cinemas, $10, 4:30
Saturday, May 26 DanceAfrica Film: THE NIGHT OF TRUTH (Fanta Régina Nacro, 2004), BAM Rose Cinemas, $10, 6:50, 9:15
Saturday, May 26 BAMcafé Live — DanceAfrica: Gokh-Bi System, Senegalese group specializing in French, Arabic, and English hip-hop, no cover, no minimum, 9:30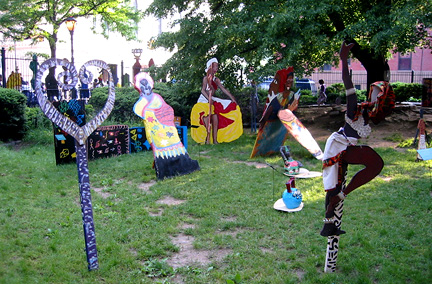 twi-ny/mdr
Children's art fills sculpture garden as part of festival

Saturday, May 26
through
Monday, May 28 African Sculpture Garden, featuring works by children, sponsored by the Bedford Stuyvesant Restoration Corporation, intersection of St. Felix, Fulton, Ft. Greene, and Lafayette, free
Saturday, May 26
through
Monday, May 28 DanceAfrica Bazaar, featuring more than three hundred vendors from around the world as well as a live showcase each day of poets, dancers, musicians, and storytellers, 12 noon — 10:00 pm Saturday & Sunday, 12 noon — 7:00 pm Monday (live performances on outdoor stage 12 noon — 6:00 pm)
Sunday, May 27 30 Years of DanceAfrica — Remember! Honor! Respect! An African Dance Odyssey: Bambara Drum and Dance Ensemble, Ndere Troupe of Uganda, BAM/Restoration DanceAfrica Ensemble, and Forces of Nature, BAM Howard Gilman Opera House, $20-$45, 2:00 & 7:30
Sunday, May 27 DanceAfrica Film: A CHILD'S LOVE STORY (Ben Diogaye Beye, 2004), BAM Rose Cinemas, $10, 4:30
Sunday, May 27 DanceAfrica Film: DAUGHTER OF KELTOUM (Mehdi Charef, 2001), BAM Rose Cinemas, $10, 6:50, 9:15
Sunday, May 27 African Shorts Program: OUSMANE (Dyana Gaye, 2005), TOI, WAGUIH (Namir Abdel Messeeh, 2005), MY LOST HOME (Kamal El-Mahouti, 2005), and WHOLE: A TRINITY OF BEING (Shelley Barry, 2004), BAM Rose Cinemas, $10, 6:50, 9:15
Dual Exhibits of the Week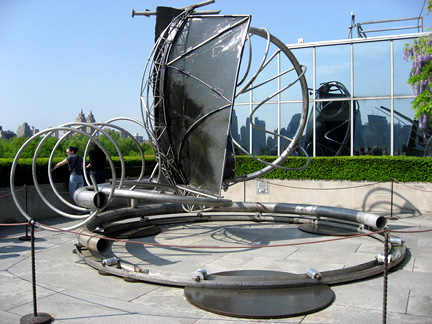 twi-ny / mdr
Frank Stella, "adjoeman," stainless steel and carbon fiber, 2004
FRANK STELLA ON THE ROOF
FRANK STELLA: PAINTING INTO ARCHITECTURE
Metropolitan Museum of Art
1000 Fifth Ave. at 82nd St.
Closed Monday
Recommended admission: $20
212-535-7710

Frank Stella, who turned seventy last year, has been an innovative and influential fixture in the New York art world since the 1950s, continually challenging himself and artistic conventions as he pushes the boundaries of painting, printmaking, sculpture, and architecture. In the Helen and Milton A. Kimmelman Gallery in the Lila Acheson Wallace Wing on the first floor, "Frank Stella: Painting into Architecture" (through July 29) comprises more than two dozen mixed-media works. The exhibition — Stella's first solo show at the Met -- focuses on wall reliefs and models for currently unrealized architectural projects, including a pavilion, a park, a mausoleum, and a band shell. "The Dart (D-15)1X," more than six feet long and nearly six feet wide, jumps out of the wall with abstract shapes and sharp corners, a wonderful representation of painting as sculpture. "Jarmolince III," from Stella's 1970s Polish Village series, is based on wooden synagogues in Poland. In the center of the room stands the swirling, curved Fiberglas painting / sculpture "Severinda," bursting with color (as well as digitized smoke rings). "The Ship (section)," made of Fiberglas and carbon fiber and featuring Stella's leaflike open patterns, is a monumental piece of a larger structure and is as inviting as it is impractical. Although there are some fine works on view, overall the exhibit lacks the power of the Met's recent "Santiago Calatrava: Sculpture into Architecture," which was in the same space and is part of the same museum series.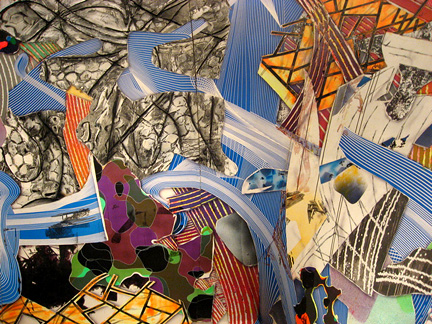 twi-ny / mdr
Frank Stella, detail, "Severinda," mixed media on Fiberglas, 1995

A companion exhibit, "Frank Stella on the Roof," consisting of two small models and three larger works, can be seen on the Iris and B. Gerald Cantor Roof Garden through October 28. "Chinese Pavilion," a work in progress fabricated specifically for this show, is anchored by three angled canonlike circular beams, holding together a latticelike section of leafy carbon fiber, a material used by the Air Force to make various aircraft. The holes in the piece offer intriguing views of the city. "Adjoeman" stands in the corner, a complex melding of stainless steel and carbon fiber that mimics a sail; in fact, a strong wind can make it rotate. Next to "Adjoeman" is the slightly more peaceful "Mementra," a calligraphic sculpture named for a Balinese word meaning "prayer." Be sure to walk around all three of the main works, as each angle offers something unique.

In the Thematic Neighborhood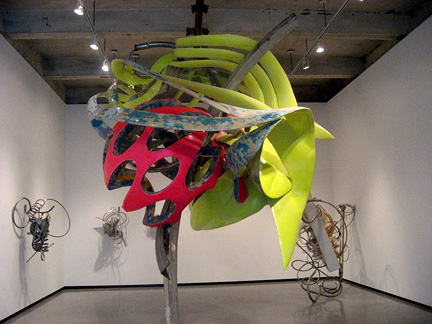 twi-ny / mdr
Frank Stella, "K.34 (large version)," Fiberglas, foam, stainless-steel tubing, epoxy, 2007
FRANK STELLA: NEW WORKS
Paul Kasmin Gallery
293 Tenth Ave. at 27th St.
Through July 6
Closed Sunday & Monday
Admission: free
212-563-4474
http://www.paulkasmingallery.com

In addition to the shows at the Met, the Paul Kasmin Gallery in Chelsea will be displaying seventeen new works by Frank Stella through July 6. Visitors are first greeted by "K.34 (large version)," a twisting conglomeration of stainless-steel tubing, fiberglass, foam, and epoxy in yellow, red, and blue, hanging off a nine-foot-high curved tube. Most of the pieces in the show are smaller wall hangings made of stainless steel and nylon RPT, some colored with spray paint but most gray and dank and rather repetitive. In the second room, "K.3 (large version)" dangles from the ceiling like a baby's mobile after a fight with a Slinky and Play-Doh — and we mean that in a good way. The third room contains the only piece not from 2006-2007, "Catal Huyuk (Level II) Shrine A.III.1," a cast aluminum and stainless-steel sculpture from 1999 that is more dense than the newer work; it was named for a Neolithic settlement discovered in Turkey in 1961.
Last Chance at the Met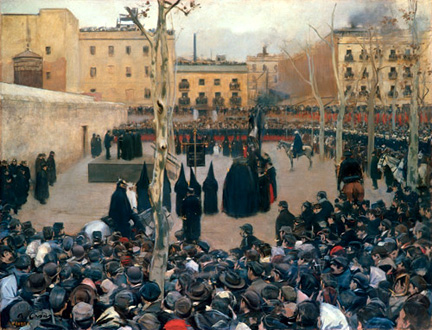 Photo © Archivo Fotográfico Museo Nacional Centro de Arte Reina Sofía
Ramon Casas, "The Garroting," 1894, oil on canvas
BARCELONA AND MODERNITY: GAUDÍ TO DALÍ
Metropolitan Museum of Art
Special Exhibitions Galleries, the Tisch Galleries, second floor
Through June 3
212-535-7710

"Barcelona and Modernity: Gaudí to Dalí" examines the history of art, architecture, and design in Barcelona from the Universal Exposition of 1888 through the onset of the Fascist Franco regime in 1939. Approximately three hundred works are on view, divided into such sections as "Renaixença: The Catalan Renaissance," "Modernisme," "Noucentisme: The New Classicism," "Avant-Gardes for a New Century," and "The Spanish Civil War." With Barcelona's economic and urban growth in the mid-to-late nineteenth century, modern art began making headway, influenced primarily by the French. One of the most successful of the early Catalan modern artists was Ramon Casas, who commented on society in such masterful paintings as "Dance at the Moulin de la Galette" and "The Garroting." Casas, along with Santiago Rusiñol, Miguel Utrillo, and others, established Els Quatre Gats ("The Four Cats"), a café where artists, writers, and other Bohemians hung out, including Pablo Picasso, who painted "Interior of Els Quatre Gats" in 1899. One of the most complex works from this era is Picasso's "La Vie (Life)," from his Blue Period, featuring a nearly naked couple and a woman cradling a child, with two paintings on the wall behind them mimicking the despair on their faces. Modernisme influenced design and architecture as well, with bold, original expressions by Lluis Domènech i Montaner, Gaspar Homar, and, especially, Antoni Gaudí. Among the highlights of this section are Juan Pablo Marín's fabulous model of Domènech's el Palau de la Música Catalana, Gaudí's designs for the Temple of the Sagrada Família, and Gaudí's remarkable upside-down sandbag model for Casa Batlló.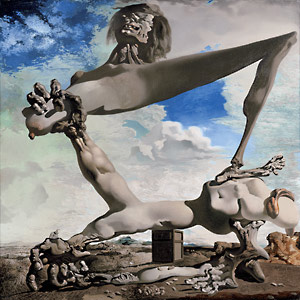 Photo by Graydon Wood, 1995
Salvador Dalí, "Soft Construction with Boiled Beans
(Premonition of Civil War)," 1936, oil on canvas,
© Salvador Dalí, Gala-Salvador Dalí
Foundation/Artists Rights Society, Metropolitan Museum of Art
As Catalan art came into its own, the artists looked to further develop its own style, based on the past, present, and future of their culture. This new classicism, or noucentisme, was led by such figures as Joaquím Torres-García, who also was part of the first group of avant-garde surrealists, which also included Joan Miró and Salvador Dalí. Miró's "The Hunter (Catalan Landscape)" is a breathtaking canvas of geometric shapes, soft colors, and odd items, such as a pipe, an eyeball, a ladder, a gun, and several flags. With the coming of the 1936 Spanish Civil War, artists portrayed the horror on canvas. Dalí raged in the symbol-heavy "Soft Construction with Boiled Beans (Premonition of Civil War)," Miró showed his anger in his Black and Red series, and Picasso cried out in "Suppliant Woman" and several preparatory sketches for "Guernica," inspired by a massacre in the Basque village of Guernica. "Barcelona and Modernity: Gaudí to Dalí" is a fine look at an emerging world city.
In the Neighborhood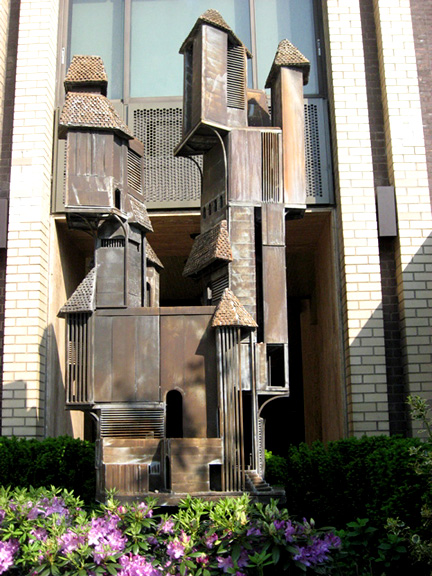 twi-ny/mdr
Priscilla Kapel's "The Castle" glitters in the sunlight
THE CASTLE by Priscilla Kapel
985 Fifth Ave. at 79th St.
http://www.balancingcenter.com

In the pleasant plaza across the street from the East 79th St. entrance to Central Park and the southern edge of the Met stands this cool fifteen-foot-tall metallic sculpture, finally fully visible after years of being covered by scaffolding. It looks sort of like a crazy birdhouse, with numerous roofs, multilevel stairs, and twisted, angled corners. Last year we saw a sparrow disappearing around one of those corners, bound for a nest somewhere inside. "The Castle" was designed by Priscilla Kapel, who also sculpted the burning bush for Congregation Beth Am in Los Altos Hills, California. In addition to being an artist, Kapel is the director of the Bioenergy Balancing Center in Palo Alto.

PARCOURS INITIATIQUE
La Maison du Chocolat
1018 Madison Ave.at 78th St.
Select Thursdays at 6:30 pm and Saturdays at 11:00 am
Limited seating: advance reservations required
212-744-7117
http://www.lamaisonduchocolat.com
We find it almost impossible to go to the Met without heading over to La Maison du Chocolat to pick up one of their unbelievably amazing macaroon meringue "sandwiches" and a delectably rich rocher ball. The store regularly offers classes in chocolate making and tasting; the upcoming schedule is below.
Thursday, May 24
and
Saturday, May 26 Tamanaco: A Journey in the World of Chocolate, chocolate tastings of ganaches, $55
Saturday, June 16, 23
and
Thursday, June 21 The Duo: The Intertwining of Complimentary Flavors, tastings of chocolate with three oolong teas and two coffees, $60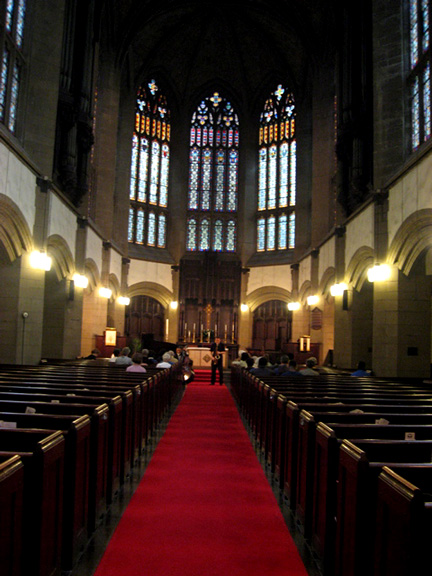 twi-ny/mdr
Music soothes the soul at Upper East Side church
PARK AVENUE CHRISTIAN CHURCH
1010 Park Ave. at 85th St.
Admission: free
212-288-3246
http://www.parkavenuechristian.com
This New York landmark was designed in 1909 by Cram, Goodhue, and Ferguson — with stone only, using no steel — for the Old South Dutch Reformed Church, based on Paris's Gothic Sainte Chapelle. In 1945, the building was taken over by the Christian Church, established in the New World in 1810 by the Disciples of Christ, who announced that "this church defends no doctrine but Christ, preaches no gospel but love, has no purpose but to serve." The current building now houses the Temple of Universal Judaism as well, "a welcoming congregation working to heal our world." The interior of the church features seven sections of stained glass, each containing a biblical symbol on a shield, making a semicircle around the relatively simple altar. The pillars are cut blocks of stone with no capitals or ornamentation, standing beneath a vaulted ceiling of Guastavino tiles. At the east end is the William Jackson Jarman Memorial Organ, over which rises a gorgeous Tiffany window. On a recent Saturday, we wandered inside just in time to catch a jazz concert, the sweet sound of the saxophone drifting onto Park Ave.
Thursday, May 31 Walt Whitman Project, featuring poetry and prose readings, Whitman scholars, and theatrical performances, with a reception and cake honoring Whitman's 188th birthday, $10 suggested admission at the door, 7:00
Film Festival of the Week
Andrew Brendan Shea's heist thriller FORFEIT
is part of Brooklyn filmfest
IDENTITY: TENTH ANNUAL BROOKLYN
INTERNATIONAL FILM FESTIVAL
Cobble Hill Cinema unless otherwise noted
265 Court St.
June 2-10
Full Festival Pass: $100; 4 Pack Pass: $25
Individual tickets: $10
718-388-4306
The Brooklyn International Film Festival is celebrating its tenth anniversary with its biggest collections of shorts, features, animation, and documentaries yet, built around the themes of "individuality, personality, distinctiveness, uniqueness, and the courage to be oneself." This year, $85,000 is up for grabs in this international competitive festival of some 120 works from all around the world, including Mexico, Germany, France, Canada, Finland, England, Israel, Italy, Ireland, Spain, the Netherlands, Iceland, Chile, Japan, Croatia, Australia, Romania, Estonia, Scotland, Morocco, and the United States. While the main headquarters for the screenings is the Cobble Hill Cinema on Court St., BIFF is also holding the third annual KidsFilmFest, at the Brooklyn Children's Museum on Brooklyn Ave.
Friday, June 1 Opening night screening and party, featuring opening ceremony at 7:30, shorts at 8:00, MADE IN BROOKLYN (Alosio, Angela, Mazzola, Tabb, Palanca, 2007) at 9:00, and party at 11:00, Steiner Studios, Brooklyn Navy Yard, $25
Saturday, June 2 AUDIO ADDICTION (Jasmin Jodry & Mo Stoebe, 2006), GOTYE — HEARTS A MESS (Brendan Cook, 2007), and HIP HOP DIARIES (Carlo Lavagna, 2007), 3:30
Saturday, June 2 THE ROCKET (Charles Binamé, 2007), 8:30
Sunday, June 3 CHAIN (SHARSHERET) (Dan Chyutin, 2007) and HUNTED LIKE ANIMALS (Rebecca Sommer, 2007), 1:00
Sunday, June 3 TYGER (Guilherme Marcondes, 2007) and VINETA — THE SECRET PROJECT (VINETA — DAS GEHEIMPROJEKT) (Franziska Stünkel, 2007), 7:00
Sunday, June 3
and
Sunday, June 9 Third annual KidsFilmFest, Brooklyn Children's Museum, 145 Brooklyn Ave., 1:00 & 3:00
Monday, June 4 EVEN IN DREAMS (Alice Taylor, 2007) and AMOUR FOU (Felicitas Korn, 2007), 9:30
Tuesday, June 5 SALTY AIR (L'ARIA SALATA) (Alessandro Angelini, 2007), Brooklyn Heights Cinema, 70 Henry St., 8:00
Tuesday, June 5 WHAT IF SPRING DOES NOT COME? (Alireza Darvish, 2007) and ARRANGED (Stefan Schaefer & Diane Crespo, 2007), 8:30
Wednesday, June 6 MAGIC PARIS (Alice Winocour, 2007) and FORFEIT (Andrew Brendan Shea, 2006), 6:00
Wednesday, June 6 NOT A WORD (Cathy Mooney, 2007) and HOUNDED (Angelina Maccarone, 2007), 7:00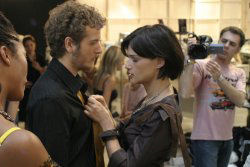 Carmine Amoroso's COVER BOY brings together two worlds

Wednesday, June 6 COVER BOY…LAST REVOLUTION (COVER BOY...L'ULTIMA RIVOLUZIONE) (Carmine Amoroso, 2007), Brooklyn Heights Cinema, 70 Henry St., 8:00
Thursday, June 7 MATOPOS (Stéphanie Machuret, 2007), MIRAGE (Youngwoong Jang, 2007), GOLDEN AGE (Aaron Augenblick, 2007), and THE WILLOWZ: WE LIVE ON YOUR STREET (Michael Sládek, 2007), Galapagos Art Space, 70 North Sixth St., 7:30
Thursday, June 7 WINDOWBREAKER (Tze Chun, 2007), SHAME (Tom Green, 2007), and BODY/ANTIBODY (Kerry Douglas Dye & Jordan Hoffman, 2007), 8:30
Friday, June 8 THE WHITE WOLF (LE LOUP BLANC) (Pierre-Luc Granjon, 2007) and NICKY'S BIRTHDAY CAMERA (Andrew J. Traister, 2007), 6:00
Saturday June 9 I MET THE WALRUS (Josh Raskin, 2007) and STANLEY CUBA (Per Anderson, 2007), 4:30
Saturday June 9 GUIDE DOG (Bill Plympton, 2007) and THE ELEPHANT KING (Seth Grossman, 2007), 9:30
Sunday, June 10 CHILDREN OF THE WAR (HIJOS DE LA GUERRA) (Alexandre Fuchs, 2007), 2:00
Sunday, June 10 PAINT IT YELLOW (RANG DE BASANTI) (Rakesh Omprakash Mehra, 2007), 8:30
Military Celebration of the Week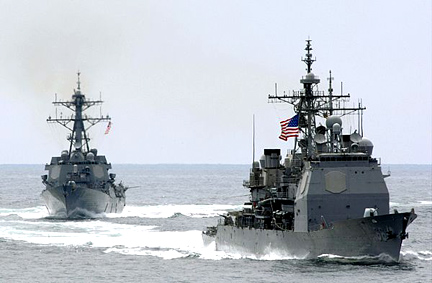 U.S. Navy photo by Mass Communication Specialist 3rd Class Kristopher Wilson
USS Hue City and USS Oscar Austin will both take part in twentieth anniversary
of Fleet Week
FLEET WEEK NYC 2007
Multiple venues
May 23-30
Admission: free
With the USS Intrepid in dry dock in Bayonne for some much-needed R&R (rest and renovation), this year's Fleet Week events will take place in parks all over the city — and will all be free. This is a great opportunity not only to see some excellent displays and demonstrations but also to see some parts of the city that might be new to you. (Cunningham Park and Stapleton Pier, anyone?) This is the twentieth anniversary of Fleet Week, which began in 1984 but missed some years. Of course, everything takes on a very different meaning given that the country is still at war.
Wednesday, May 23 Parade of Ships & Aircraft fly-over, featuring Marine Corps CH-46E Chinooks, Marine Corps AH-1 Cobras, an UH-1 Huey, a P-3C Orion from Patrol Squadron Ten, a KC-130 Hercules, a Navy E-2 Hawkeye from Airborne Early Warning Squadron 125, an EA-6B Prowler, Navy F/A-18 Hornets from Strike Fighter Squadron 15, AV-8B Harriers from Marine Corps Attack Squadron 542, F-14 Tomcats from Fighter Squadron 31, and MV-22 Ospreys from Marine Corps Tiltrotor Operational Test and Evaluation Squadron 22, Hudson River from Verrazano Bridge to George Washington Bridge, 9:30 -11:00 am
Thursday, May 24
through
Tuesday, May 29 Public visitation of ship in Manhattan (except Sunday, May 27, when ship will be closed), Pier 90, 50th St. & 12th Ave., 8:00 am — 5:00 pm
Thursday, May 24
through
Tuesday, May 29 Navy SEAL Static & Challenge Display, Pier 90, 50th St. & 12th Ave., 8:00 am — 4:00 pm
Thursday, May 24
through
Tuesday, May 29 Public visitation of ships in Staten Island, Stapleton Pier, 8:00 am — 5:00 pm
Thursday, May 24
through
Monday, May 28 Flight Simulator (F18), Stapleton Pier, 8:00 am — 5:00 pm
Thursday, May 24 World Trade Center Run and wreath-laying ceremony
Thursday, May 24 USMC Helicopter Raid Demonstration, Cunningham Park, 9:00 — 11:00 am
Thursday, May 24 Fleet Week Job, Education & Info, Fair Emigrant Savings Bank, 51 Chambers St., 11:30 am — 5:00 pm
Thursday, May 24 USMC Helicopter Raid Demonstration, Clove Lakes Park, Staten Island, 1:00 — 3:00 pm
Friday, May 25 Marine Day in Central Park, Fifth Ave. & 72nd St., 9:00 am — 4:00 pm
Friday, May 25 USMC Helicopter Raid Demonstration, Riverside Park, 9:30 — 11:30 am
Friday, May 25 USMC Helicopter Raid Demonstration, Orchard Beach, Pelham Bay Park, 2:00 — 4:00
Friday, May 25 Navy Band concert, Times Square recruiting station, 5:00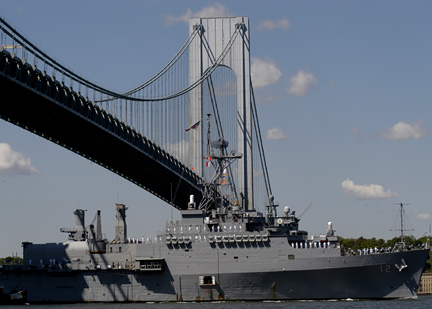 U.S. Navy photo by Photographer's Mate 2nd Class Gabriela Hurtado
USS Shreveport heads under the Verrazano to Stapleton Pier for 2006 Fleet Week

Saturday, May 26 Marine Day in Times Square, Seventh Ave. & 46th St., 9:00 am — 4:00 pm
Saturday, May 26 Helicopter Raid Demonstration, Eisenhower Park, 11:00 am — 1:00 pm
Sunday, May 27 Memorial Day Parades in Greenpoint (519 Leonard St., 9:00 am), Forest Hills (107-15 Metropolitan Ave., 12 noon), Maspeth (Grand Ave., 1:00), College Point (26th Ave. & College Point Blvd., 2:00)
Sunday, May 27 Navy Band concert, Times Square recruiting station, 6:00
Monday, May 28 USMC, PFC Frank Vallone Memorial, Mulberry & Canal Sts., 9:00 am
Monday, May 28 Memorial Day Observance at Grant's Tomb, 122nd St. & Riverside Dr., 10:00 am — 1:00 pm
Monday, May 28 Intrepid Memorial Day Commemoration Ceremony, SummerStage in Central Park, 11:00 am — 1:00 pm
Monday, May 28 Memorial Day Parades in Bayville (Bayville Ave., 8:00 am), Bay Ridge (Third Ave., 10:00 am), Pelham (Veterans Park, 10:00 am), Glendale (Cooper & Myrtle Aves., 11:00 am), Manhattan (Broadway & Dyckman, 12 noon), Staten Island (Forrest to Crystal Aves., 12 noon), Little Neck (Little Neck Rd. & Douglaston, 2:00), and City Island (City Island Dr., 2:00)

FLEET WEEK CHARITY BASEBALL GAME
College of Staten Island
Tickets: $5
212-414-7743
http://www.nyfinestbaseball.com
http://www.siprojecthomefront.com
Friday, May 25 New York's Finest NYPD Baseball Club takes on the United States Military All Stars, with proceeds going to Staten Island PROJECT Homefront, 7:00
Riff's Rants & Raves
Wally Cardona brings site-specific SITE to DTW
WALLY CARDONA QUARTET: SITE
Dance Theater Workshop
219 West 19th St. between Seventh & Eighth Aves.
May 29 — June 2
Tickets: $15-$25
212-924-0077
The Wally Cardona Quartet, featuring Julian Barnett, Kana Kimura, Joanna Kotze, and Bill Manka in addition to Brooklyn-based choreographer Wally Cardona, will be presenting the world premiere of SITE at the charming Dance Theater Workshop in Chelsea. The evening-length performance is another of the dance troupe's "landscape" works, incorporating objects into site-specific pieces, creating a new type of visual language between the dancers and the stage set, which is both deconstructed and reconstructed over the course of the program. Once again, Cardona is collaborating with lighting designer Roderick Murray and composer Phil Kline, as he did for the harrowing EVERYWHERE at BAM's 2005 Next Wave Festival. The May 30 performance will be followed by a discussion with some of the participants, moderated by Heather A. Hitchens.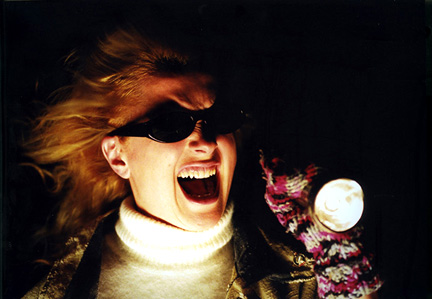 The forces of Light and Darkness battle for the Chalk of Fate in DAY WATCH.
DAY WATCH (DNEVNOI DOZOR)
(Timur Bekmambetov, 2007)
Opens Friday, June 1
http://www.foxsearchlight.com/daywatch

Dazzling special effects and an incomprehensible plot drive Timur Bekmametov's DAY WATCH (DNEVNOI DOZOR), the sequel to his 2004 Russian hit NIGHT WATCH (NOCHNOI DOZOR). In a futuristic world, the forces of Light and Darkness have established a truce, with each keeping a close eye on the other, existing in a kind of alternate universe where they cannot be seen by regular humanity. Konstantin Khabensky is back as Anton Gorodetsky, a Great Other who tipped the balance in the first film. In DAY WATCH, Anton is again caught in the middle, as his son, Yegor (Dima Martynov), joins the dark side, and Svetlana (Maria Poroshina) teams up with Anton to fight for the Light. The longtime truce, ruled over by Zavulon (Victor Verzhbitsky) and Geser (Vladimir Menshov), threatens to erupt as the chase is on for the Chalk of Fate — an incredibly silly plot point. At more than two hours, DAY WATCH is much too long and way too confusing, with lots of cool-looking scenes that make no sense. But the film scores again with its fun, inventive use of subtitles incorporated into the action. Add half a star if you liked all three MATRIX movies.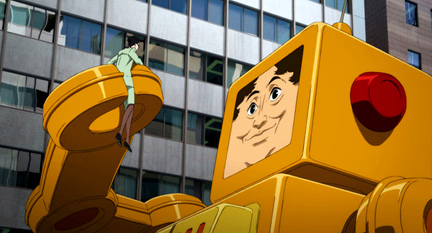 Satoshi Kon's animated fantasy is set in a dreamlike future
PAPRIKA (Satoshi Kon, 2006)
Opens Friday, May 25
http://www.sonyclassics.com/paprika

Based on the novel by Yasutaka Tsutsui, PAPRIKA is an animated, futuristic sci-fi thriller in which reality and dreams merge in clever and confusing ways. The title character is a superhero psychotherapist who can enter people's dreams by using cutting-edge technology known as the DC MINI, which was invented by Dr. Tokita, a huge man with a baby face and a tremendous appetite. When one of the prototypes is stolen, Paprika, whose alter ego is Dr. Atsuko Chiba of the Foundation for Psychiatric Research, sets out to find the thief, who is using the invaluable — and not fully tested and approved — equipment for seemingly evil purposes. Other central characters include Torataro Shima, the adorable old chief of the lab; the ruthless, wheelchair-bound foundation chairman, Seijiro Inui; Detective Konakawa, who develops a liking for Paprika; Dr. Osanai, a hunky researcher; and lab assistant Himuro, who has gone missing but can be seen in dreams. Adapted by Satoshi Kon, the director of MILLENNIUM ACTRESS and TOKYO GODFATHERS, and featuring the voices of Megumi Hayashibara, Toru Emori, Katsunosuke Hori, Toru Furuya, and Akio Ohtsuka, PAPRIKA is an entertaining, if at times hard to follow, anime with lots of cute characters and some very beautiful scenes.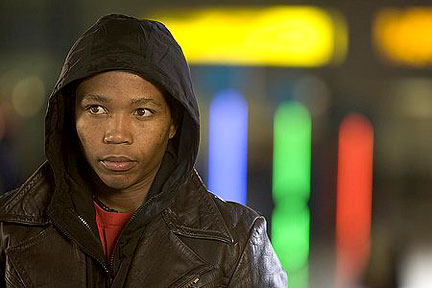 Oscar-winning film is part of free Family First Friday
FAMILY FIRST FRIDAY: SOUTH AFRICA'S YOUTH DAY
St. Mark's United Methodist Church
137th St. & Edgecombe Ave.
Admission: free
Friday, June 1 Enjoy dinner at 6:00, followed by a 6:45 screening of TSOTSI (Gavin Hood, 2005), with the night concluding — or actually, just beginning — with a Kwaito Dance Party at Shrine (2271 Adam Clayton Powell Blvd. between 133rd & 134th Sts.).
TSOTSI (Gavin Hood, 2005)
St. Mark's United Methodist Church
137th St. & Edgecombe Ave.
Friday, June 1, 6:45
Admission: free

Every once in a while, a surprise movie comes along that just blows you away; TSOTSI is that kind of film. Based on the only novel by South African playwright and activist Athol Fugard, TSOTSI is set in the dangerous ghetto world on the outskirts of Johannesberg, where poverty goes hand in hand with violence. Presley Chweneyagae is simply remarkable as Tsotsi (South African for "thug" or "gangster"), the leader of a small group of hoods who pull off petty crimes — until they fatally stab a man on the subway, sending them into a dark and deadly tailspin. When Tsotsi shoots a woman and steals her car, he finds that there's a baby in the backseat; he considers returning it or leaving it by the side of the road, but he instead brings it home, where he decides to take care of it himself — with the help of beautiful single mother Miriam (Terry Pheto). The baby triggers Tsotsi's memories of his own horrific childhood, which writer-director Gavin Hood shows in brief but powerful flashbacks. Tsotsi struggles to keep the baby a secret from his cohorts, much the same as he tries to keep his past secret from everyone. But things soon come to a head, and Tsotsi must decide whether to reach inside his conscience — or for his gun. Chweneyagae dominates the screen from the very first moment, his intense stare filled with anger and hate, one of the most frightening you'll ever see. Fortunately, Hood avoids any moments of sappy sentimentality or overemotional clichés, so you never know what's going to happen next. The pulsing soundtrack of South African kwaito music comes from "Zola" Bonginkosi Dlamini, who also plays Fela. Reminiscent of such harrowing films about troubled children as PIXOTE (Hector Babenco, 1981) and CITY OF GOD (Fernando Meirelles & Kátia Lund, 2002), TSOTSI, which won an Oscar for Best Foreign Language Film, is a devastating, unforgettable story that will drive itself deep into your heart and soul. Don't miss it.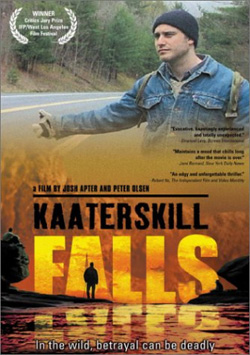 KAATERSKILL FALLS (Josh Apter and Peter Olsen, 2002)
Brooklyn Museum of Art First Saturdays
200 Eastern Parkway
Saturday, June 2, 8:30
Free tickets available at the Visitor Center at 7:30
718-638-5000

A crew of two and a cast of three headed upstate to Kaaterskill Falls and made a terrific neo-noir thriller about a young couple who picks up a hitchhiker — and can't get rid of him. Josh Apter served as codirector, coproducer, and editor, while Peter Olsen was codirector, coproducer, and cinematographer. Hilary Howard plays Ren, the young wife with a flower-child past; Mitchell Riggs plays Mitchell, a conservative, by-the-book yuppie. Anthony Leslie is appropriately creepy as Lyle, the hitchhiker who could have a heart of gold — or could be a crazed psychopath. The totally improvised dialogue is based on Roman Polanski's 1962 classic KNIFE IN THE WATER. The result is low-budget magic. The free Brooklyn Museum screening is followed by a Q&A with the filmmakers.

X: THE UNHEARD MUSIC (W. T. Morgan, 1986)
BAMcinematek
Brooklyn Academy of Music Opera House Café
30 Lafayette Ave. between Ashland Pl. & St. Felix St.
Wednesday, June 6, 6:40 & 10:00
Tickets: $11
718-636-4100
http://www.bam.org/events/bamcafelive

Part of the Sundance Institute at BAM series, X: THE UNHEARD MUSIC follows the influential punk band, made up of John Doe, Exene Cervenka, DJ Bonebrake, and Billy Zoom, as they pave the way for the burgeoning L.A. sound. It's worth it just to see Billy Zoom hanging out on his couch at home, dressed in gold lamé as he rambles on with an odd smile on his face, but it's also cool to watch all the extended clips of early X shows and videos. Shown in a new 35mm print, the film will be screened at 6:40, followed by a Q&A with director W. T. Morgan, and 10:00, preceded by a special solo acoustic performance by John Doe in the BAMcafé at 9:00 for movie ticket holders only.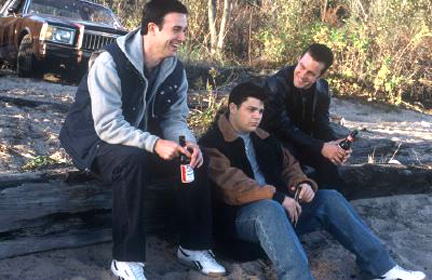 © City Lights Pictures
Prinze, Ferrara, and Caan play by a different set of rules in Brooklyn
BROOKLYN RULES (Michael Corrente, 2007)
In theaters now

BROOKLYN RULES is a tremendously entertaining sleeper about just how far friends will go for each other. In 1974, three kids find a dead body in a car, the driver killed in an apparent mob hit. While one decides to take home the guy's cute little dog, another secretly stashes away the man's gun, hinting at things to come. Eleven years later, Michael (Freddie Prinze Jr.) is going to Columbia, dressing like a preppie, and making a play for one of his classmates, Ellen (Mena Suvari), a sophisticated rich chick from Connecticut. Bobby (ENTOURAGE's Jerry Ferrara) is a cheapskate preparing for his post-office exam and considering proposing to his sweetheart, Amy (Monica Keena). And tough-guy Carmine (Scott Caan, channeling his father's performance as Sonny Corleone in THE GODFATHER) has started doing small jobs for local hood Caesar (the ubiquitous Alec Baldwin), who is tied in to the about-to-explode mob wars involving such central figures as Paul Castellano and John Gotti. Writer Terence Winter, who has won three Emmys for his work on THE SOPRANOS, based the three main characters on his childhood (although most of the plot is fictional); in fact, the real-life Carmine, Chris Caldovino, plays Philly, Caesar's right-hand man. Winter has delivered a terrific script that gets everything just right. Director Michael Corrente (FEDERAL HILL) shot the film in a mere twenty-nine days, but there's nothing rushed about it. We have no idea why it took more than four years for the screenplay to get produced and another two and a half years for the film to finally get distributed. The fab soundtrack includes period songs by the Rolling Stones, Dire Straits, a Flock of Seagulls, Billy Idol, Culture Club, and others.

AFTER THE WEDDING
(EFTER BRYLLUPPET) (Susanne Bier, 2006)
Village East
181 Second Ave. at 12th St.
212-777-3456
http://citycinemas.moviefone.com

Nominated for an Oscar for Best Foreign Language Film, AFTER THE WEDDING is a complex, uneasy family drama filled with secrets and lies. Mads Mikkelsen (so good in Nicolas Winding Refn's PUSHER trilogy) stars as Jacob, an angry, unhappy man who helps run an orphanage in India. Beloved by the kids — and especially Pramod (Neeral Mulchandani), who depends on him — Jacob must return to his native Denmark to try to solicit much-needed funds from the orphanage's benefactor, a powerful businessman named Jørgen (Rolf Lassgård). Jørgen ends up insisting that Jacob stay for the wedding of his daughter, Anna (Stine Fischer Christensen), but when Jacob sees Jørgen's wife, Helene (Sidse Babett Knudsen), the past comes flooding back on him, affecting everyone's future. Mikkelsen gives a tense, foreboding performance in this gripping, intelligent film, written by Oscar winner Anders Thomas Jensen and strongly directed by Susanne Bier (BROTHERS, OPEN HEARTS).
BLACK BOOK (Paul Verhoeven, 2006)
Quad Cinema
34 West 13th St. between Fifth & Sixth Aves.
212-255-8800
http://www.sonyclassics.com/blackbook

Paul Verhoeven (TOTAL RECALL, BASIC INSTINCT) returns to his Dutch roots with BLACK BOOK, an epic tale set during the Holocaust. It's 1944, and Rachel Stein (Carice Van Houten) and her family are trying desperately to get out of Holland, which is being taken over by the Gestapo. But after the small boat they are on gets ambushed, with Rachel the only survivor of a brutal massacre, she soon finds herself working for the Dutch resistance, under the leadership of Gerben Kuipers (Derek de Lint). After a successful mission with Hans (Thom Hoffman), Rachel gets assigned a much more dangerous task — to get as close as possible to Gestapo commander Ludwig Müntze (Sebastian Koch), no matter what it takes. As she climbs into bed with Müntze, lies, treachery, and betrayal threaten to tear apart the resistance. BLACK BOOK is a big, ambitious film that can't quite live up to its promise; there are just too many plot holes and individual scenes gone wrong. Still, Van Houten and Koch — an emerging international star who was so good in THE LIVES OF OTHERS — are both compelling in complex roles that outshine the story itself.
EVEN MONEY (Mark Rydell, 2007)
In theaters now

Oscar-nominated director Mark Rydell, who has made such well-regarded flicks as THE COWBOYS, ON GOLDEN POND, and THE RIVER in his five-decade career, hadn't made a feature film since 1994's silly INTERSECTION with Richard Gere and Sharon Stone (and before that the absurd Bette Midler vehicle FOR THE BOYS in 1991). Unfortunately, he should have stayed away from the camera for this turkey, a lame crime drama with unlikable characters in ridiculous situations. Kim Basinger stars as Carolyn, a beautiful novelist having trouble with her second book, so she starts gambling recklessly in a nearby casino and grows close to a washed-up loser magician (Danny DeVito) while lying to her loving husband (Ray Liotta). Among the myriad subplots is one involving a college basketball star (Nick Cannon) forced into a dangerous situation by his older brother (Forest Whitaker in one of his most clichéd roles ever), who is being threatened by a local kingpin's right-hand man (a more uneasy than usual Tim Roth). Meanwhile, poor Kelsey Grammer is given the unenviable task of re-creating Orson Welles's eerie portrayal of Captain Hank Quinlan from TOUCH OF EVIL. There's a lot more going on in this mess — which can't quite decide whether to take itself seriously or be a tongue-in-cheek genre buster — but we've already taken up enough of your time.
FRACTURE (Gregory Hoblit, 2007)
In theaters now

Gregory Hoblit's psychological thriller FRACTURE starts out with a promising premise: Wealthy aeronautics expert Ted Crawford (Anthony Hopkins) calmly shoots his significantly younger wife (Embeth Davidtz) in cold blood after catching her having an affair with cop Rob Nunally (Billy Burke) and then waits for the police to arrive. Nunnally, who did not know his lover's real name or address, is shocked to find her lying in a pool of blood, though Crawford seems delighted with his handiwork. Crawford surrenders, confesses, but then pleads not guilty and chooses to represent himself against hotshot prosecutor Willy Beachum (Ryan Gosling), who is on the fast track to a position with a high-powered corporate law firm. Beachum thinks he has been handed an open-and-shut case, but Crawford has very carefully plotted out what might just be the perfect crime. Unfortunately, the screenplay by Daniel Pyne and Glenn Gers is far from perfect, filled with gaping holes, not mere cracks and fractures; director Gregory Hoblit (PRIMAL FEAR, HILL STREET BLUES) manipulates the audience through hard-to-believe scenes and ludicrous relationships, particularly between Beachum and his soon-to-be boss, gorgeous lawyer Nikki Gardner (Rosamund Pike); and Mychael and Jeff Danna's score is so frighteningly amateurish, you'll think you're watching a TV movie. The film is tense and gripping when Hopkins is on-screen, though his character delves into some ridiculously silly dialogue at times, but he's in the flick for less than half an hour; the rest focuses on Beachum, who is an absurdly clichéd character every step of the way. If the twist ending surprises you, then you haven't seen enough COLUMBO episodes. (By the way, you're much better off renting an episode of that great series than watching this wannabe.)
THE HOAX (Lasse Hallström, 2007)
Clearview's First & 62nd St.

In 1969, Clifford Irving published FAKE! THE STORY OF ELMYR DE HORY, THE GREATEST ART FORGER OF OUR TIME, the biography of a man who made a rather nice living painting forgeries and questioning the nature and market value of art itself. After Irving's next book, a work of fiction, was rejected miserably, he concocted a seat-of-the-pants plot to write the autobiography of hermetic billionaire Howard Hughes — and convinced McGraw-Hill to pay him a boatload of bucks to do it. This elaborate fiction, pulled off with the help of his best friend, writer Dick Suskind, set into motion lie upon lie upon lie — ultimately reaching as high as the White House and leading to the downfall of Richard Nixon. That is, if you believe Irving's side of things. Directed with a flashy, fast hand by Lasse Hallström (CIDER HOUSE RULES, MY LIFE AS A DOG), THE HOAX, based on Irving's book, is a fabulously entertaining flick that weaves together fact and fiction — it's often impossible to tell which is which — led by a charming performance by Richard Gere as Irving, along with Alfred Molina as Suskind, Marcia Gay Harden as Irving's suspicious wife, Hope Davis as Irving's editor, and the great Eli Wallach as a doddering old Hughes associate.
HOT FUZZ (Edgar Wright, 2007)
In theaters now

The same team that brilliantly parodied zombie movies in SHAUN OF THE DEAD — star and cowriter Simon Pegg and director and cowriter Edgar Wright — are back to skewer the buddy-cop genre in the riotously funny HOT FUZZ. Pegg stars as supercop Nicholas Angel, one of London's Finest, who is exiled to the country because he was outshining the other city officers too much, making them look bad. Relegated to perennial Village of the Year winner Sandford, the by-the-book sergeant listens obediently to his new boss, Inspector Frank Butterman (Jim Broadbent), the leader of a motley crew that wouldn't know a crime if it walked right up to them and chopped off their head. When Angel tries to convince them that a series of gory accidents is actually the evil doing of a serial killer, they instead poke fun at him and ignore his pleas. Meanwhile, Butterman's bungling son, Danny (SHAUN's Nick Frost), stands by his partner, acting as if they're in POINT BREAK or BAD BOYS II. HOT FUZZ doesn't miss a beat, from the villainous Simon Skinner (former James Bond Timothy Dalton!) to an escaped swan. HOT FUZZ is bloody good fun.
KILLER OF SHEEP (Charles Burnett, 1977)
IFC Center
323 Sixth Ave. at Third St.
212-924-7771

Milestone Films is celebrating the thirtieth anniversary of Charles Burnett's low-budget feature-length debut, KILLER OF SHEEP, with a new 35mm restoration with the soundtrack intact; the film has not been available on VHS or DVD for decades because of music rights problems that have finally been cleared, and it has never before been released theatrically. (The soundtrack includes such seminal black artists as Etta James, Dinah Washington, Little Walter, and Paul Robeson.) Shot on weekends for less than $10,000, KILLER OF SHEEP took four years to put together and another four years to get noticed, when it won the FIPRESCI Prize at the 1981 Berlin Film Festival. Reminiscent of the work of Jean Renoir and the Italian neo-Realists, KILLER OF SHEEP is a simple story about a family just trying to get by, struggling to survive in their tough Watts neighborhood in the mid-1970s. The slice-of-life scenes are sometimes very funny, sometimes scary, but always poignant, as Stan (Henry Gayle Sanders) trudges to his dirty job in a slaughterhouse in order to provide for his wife (Kaycee Moore) and children (Jack Drummond and Angela Burnett). Every day he is faced with new choices, from participating in a murder to buying a used car engine, but he takes it all in stride. The motley cast of characters, including Charles Bracy and Eugene Cherry, is primarily made up of nonprofessional actors with a limited range of talent, but that is all part of what makes it all feel so real. KILLER OF SHEEP was added to the National Film Registry of the Library of Congress in 1989, the second year of the program, making it among the first fifty to be selected, in the same group as REBEL WITHOUT A CAUSE, THE GODFATHER, DUCK SOUP, ALL ABOUT EVE, and IT'S A WONDERFUL LIFE.
THE LIVES OF OTHERS (DAS LEBEN DER ANDEREN)
(Florian Henckel von Donnersmarck, 2006)
Angelika Film Center
18 West Houston St. at Mercer St.
212-995-2000
Lincoln Plaza Cinemas
1886 Broadway between 62nd & 63rd Sts.
212-757-0359
http://lincolnplaza.moviefone.com
http://www.city-cinemas.com/angelika
http://www.sonyclassics.com/thelivesofothers

Winnter of the Oscar for Best Foreign Language Film, THE LIVES OF OTHERS is a tense political thriller set in 1980s East Berlin. Ulriche Mühe gives a mesmerizing performance as Capt. Gerd Wiesler, an expert interrogator for the Stasi, the German Democratic Republic's secret police, who keep a close watch on all suspicious activity — and to them, everything is suspicious. When powerful culture minister Bruno Hempf (Thomas Thieme) tells Wiesler's nervous yes-man boss, Lt. Col. Anton Grubitz (Ulrich Tukur), to spy on noted playwright Georg Dreyman (Sebastian Koch), Wiesler takes the case, setting up audio surveillance on Dreyman and his actress girlfriend, Christa-Maria Sieland (Martina Gedeck). But when the ever-loyal, humorless, always stalwart Wiesler discovers that Hempf ordered the surveillance primarily because he has a thing for Sieland, Wiesler begins to reconsider the case — and the ultimate responsibility of the Stasi itself. And the more he learns, the more he understands. THE LIVES OF OTHERS was written and directed by Florian Henckel von Donnersmarck, making an extremely impressive feature-film debut, capturing a precarious, paranoid part of recent German history in which the vast majority of the nation was either being spied on or were informers themselves.
PARIS, JE T'AIME (Multiple directors, 2007)
Paris Theater
4 West 58th St. between Fifth & Sixth Aves.
212-688-3800
Landmark Sunshine Cinema
143 East Houston St. between First & Second Aves.
212-330-8182
http://www.landmarktheatres.com
http://www.firstlookstudios.com/pjt

The City of Light is celebrated in eighteen short tales about love and loss in PARIS JE T'AIME, each set in a different Paris neighborhood. Each director was assigned a location and given only a few days to shoot a work of no more than five minutes. Joel & Ethan Coen set "Tuilieries" in the Metro, where an American tourist (Steve Buscemi) pays the price for making eye contact with a couple making out across the tracks. In Isabel Coixet's "Bastille," a cheating husband (Sergio Castellito) decides to dump his girlfriend (Leonor Watling) and help his wife (Miranda Richardson) fight cancer. In Nouhiro Suwa's "Place des Victoires," a grieving mother (Juliette Binoche) wants one last chance to say goodbye to her dead son, with assistance from a mysterious cowboy on a horse (Willem Dafoe). The producers cleverly put Vincenzo Natali's vampire story, "Quartier de la Madeleine," after Wes Craven's surprisingly poignant "Pere-Lachaise," which is set in the famous cemetery (and with Alexander Payne, who directed the bittersweet "14eme Arrondissement," playing Oscar Wilde).
While there are no blockbusters, the majority of the films are successful in their own way, and because they're only five minutes long, the dull ones are over rather quickly. Other highlights include Gus Van Sant's "Le Marais," Alfonso Cuaron's "Parc Monceau" (with Nick Nolte, Ludivine Sagnier, and a cool plot twist), Oliver Schmitz's evocative "Place des Fetes," and Frédéric Auburtin and Gérard Depardieu's "Quartier Latin," with Ben Gazzara and Gena Rowlands preparing to make their divorce final. Interestingly, Olivier Assayas's "Quartier des Enfants Rouges" features Maggie Gyllenhaal as an actress with a drug problem; last year, Gyllenhaal starred in Laurie Collyer's SHERRYBABY, which was essentially an uncredited remake of Assayas's 2004 film CLEAN, with Maggie Cheung in the drug-addict role.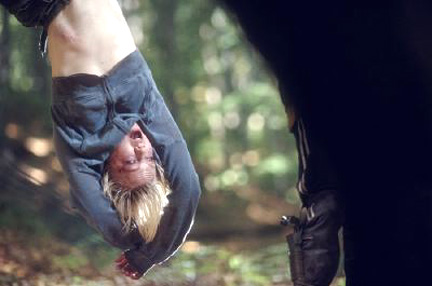 © Pathé Films
Just hanging around is extremely dangerous in wry thriller
SEVERANCE (Christopher Smith, 2006)
Village East
181 Second Ave. at 12th St.
212-777-3456
http://citycinemas.moviefone.com
http://www.severancethemovie.co.uk

We don't know quite what to make of this British film. The opening is extremely promising, as two hot babes and a burly dude are running through the woods, being chased by an unseen predator with a really big knife, while the Small Faces' feel-good "Itchykoo Park" plays on the soundtrack. Then, for the next hour or so, things bounce back and forth between slasher flick and slasher-flick parody as seven people who work for a cutting-edge weapons manufacturer go out on a team-building adventure that soon involves a lot of blood and body parts. By being both traditional to the genre and snarky about it, the film's irony is hard to swallow. But then comes the last twenty minutes or so, an awesome ending to the ever-more-violent festivities. Smith, who directed the underground thriller CREEP, doesn't have a firm grip on which direction to take, although he sure knows how to begin and end it all. SEVERANCE barely ekes by, helped by the stand-out performances of Laura Harris as the hot American and Danny Dyer as the drug-addled comic relief.
28 WEEKS LATER (Juan Carlos Fresnadillo, 2007)
In theaters now
http://www.foxatomic.com/28wkscodered

Twenty-eight weeks after the rage virus turned London into a postapocalyptic wasteland, the U.S. army has arrived to help repopulate the decimated city. Among those returning is Don (Robert Carlyle), looking to reunite with his children, Tammy (Imogen Poots) and Andy (Mackintosh Muggleton), after leaving his wife, Alice (Catherine McCormack), behind to suffer at the hands and teeth of flesh-eating zombies. The army, under the command of General Stone (Idris Elba), thinks the virus has been successfully contained, but guess again. When military doctor Scarlet (Rose Byrne) discovers that Tammy and Andy¹s blood might hold the key to defeating the virus, she tries desperately to save the kids while all hell breaks loose around them. 28 WEEKS LATER, the sequel to the hugely successful 28 DAYS LATER (Danny Boyle, 2003), is much darker than its predecessor. Spanish director Juan Carlos Fresnadillo (INTACTO) keeps things moving at a thrilling pace, with some absolutely brilliant, terrifying scenes that expand upon the original rather than merely copying it. Unfortunately, the screenplay, by Fresnadillo and Enrique Lopez Lavigne, asks viewers to take way too many leaps of faith, with gaping plot holes galore that nearly ruin what is otherwise an awesome flick.
THE VALET (Francis Veber, 2006)
Angelika Film Center
18 West Houston St. at Mercer St.
212-995-2000
Lincoln Plaza Cinemas
1886 Broadway between 62nd & 63rd Sts.
212-757-0359
http://lincolnplaza.moviefone.com
http://www.city-cinemas.com/angelika
http://www.sonyclassics.com/thevalet

An absolutely delightful, thoroughly charming farce, THE VALET is the best French episode of THREE'S COMPANY never filmed. (And we mean that in a completely complimentary way.) Written and directed by Francis Veber (LE CHEVRE, LE JAGUAR), THE VALET has a ridiculously silly plot stolen right out of a 1970s sitcom: Accidentally photographed with married billionaire CEO Pierre Levasseur (Daniel Auteuil) and his supermodel girlfriend (Alice Taglioni), hapless valet François (Gad Elmaleh) is paid by Pierre to pretend that he is Elena's real boyfriend in an attempt to dupe the executive's determined, suspicious wife, Christine (Kristin Scott Thomas). But Christine is not easily convinced, putting poor François in the middle of a major power play when all he wants is the simple love of his childhood friend, bookstore owner Emilie (Virginie Ledoyen). Got that? Auteuil is appropriately over the top, Scott Thomas is wonderfully ice cold, and Taglioni shows she is more than just a stunning beauty, but the film belongs to Elmaleh, who has the eyes and the demeanor of a young Buster Keaton. THE VALET is as sweetly silly as it is riotously funny.
AN EVENING WITH ROGER WATERS
Continental Airlines Arena
Thursday, May 24
Tickets: $31-$148
Madison Square Garden
Wednesday, May 30
Tickets: $39.50-$174.50

Former Pink Floyd coleader Roger Waters has been touring the world with his latest show, a mix of old nuggets and solo work wound around a complete presentation of the landmark album DARK SIDE OF THE MOON, which is coming upon 750 weeks in the Billboard 200. We saw Waters at the Garden last September, where he played such classic rock staples as "Shine On You Crazy Diamond," "Wish You Were Here," "Another Brick in the Wall Pt. 2," and "Comfortably Numb" alongside such lesser-known gems as "In the Flesh," "Set the Controls for the Heart of the Sun," "Sheep," and "The Fletcher Memorial Home" with a crack band that included a special appearance by original Floyd drummer Nick Mason. "Leaving Beirut," a mushy new song accompanied by a comic strip projection, was sympathetic to the Palestinian battle against Israel, drawing boos from the crowd. Waters made several antiwar diatribes throughout the night, which included a flying pig carrying anti-Bush messages. But the reason everyone was there was to hear DARK SIDE OF THE MOON, and Waters performed it splendidly, from the first notes of "Speak to Me/Breathe" through the closing seconds of "Eclipse." A bunch of years back, we saw David Gilmour's Pink Floyd play DARK SIDE OF THE MOON in its entirety; somewhere in our head, if we haven't suffered too much "Brain Damage" as we slowly "Run" out of "Time" on our way to "The Great Gig in the Sky," the two shows have melded into one, as if we have now heard the full Floyd doing one of the best albums ever made. (By the way, we've listened to the album synched up to THE WIZARD OF OZ — and it actually works.)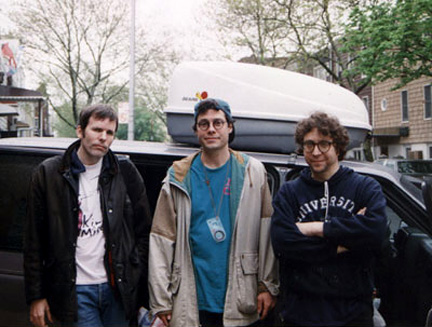 Love Camp 7 gets ready to hit the road with new CD
LOVE CAMP 7: SOMETIMES, ALWAYS, NEVER
The Parkside Lounge
317 East Houston St. between Aves. B & C
Saturday, June 2, 10:00
Admission: $5
212-673-6270
Named after a cheesy 1969 women-in-a-Nazi-prison flick, New York-based Love Camp 7 makes jangly sixties-era feel-good pop, albeit with a surprisingly subtle — and sometimes not so subtle — political edge. Their latest disc, SOMETIMES, ALWAYS, NEVER, contains, in their own words, "thirteen pieces of perfectly ripened fruit, lovingly cultivated in a small Brooklyn garden," and that's an apt description for this infectious collection of songs by guitarists Dann Baker and Steve Antonakos, bass player Bruce Hathaway, and drummer Dave Campbell. The record opens with "Connecticut," a love song to the Nutmeg State, of all places, in which Baker sings, "Don't tell me that nothing ever happens in Connecticut / It may be pathetic, but this is where it all began for me." Great guitar lines drive "Naming Names," in which Baker names those who named names in front of the House Un-American Activities Committee. Much of SOMETIMES, ALWAYS, NEVER is about name-dropping, calling out both real and fictional characters, set to sounds that echo the Searchers, the Beatles, and the Mersey beat; among those who make appearances in the lyrics are Elton Brand, Madeline Albright, Barbara Lee, Jon Strange, Phil Schaap, Adolphe Menjou (!), Lee J. Cobb, Elia Kazan, Lloyd Bridges, and Ronald Reagan. The motley group of oddballs also includes Little Mr. Elephant, Harvey Weinberg (complete with Summer of Love harmonies), and the "The Queen of Whale Cay," a countryish tune sung in a British accident (and with Jeremiah Lockwood blowing the shofar). Flower power returns in "Once Upon a Time Our Valley Was Green," which kicks off the Water Trilogy, about the Owens Valley (the inspiration for Roman Polanski's CHINATOWN); the second song, "Telephone Girl," features a great jumbled jam, while the finale, the Kinksy "David Gaines," honors the late environmental activist. The album ends with "The Seeds," which features a cool hippie jam and is indeed inspired by the 1960s band of the same name. Love Camp 7 will be celebrating the release of the CD on June 2 at the Parkside Lounge on the Lower East Side.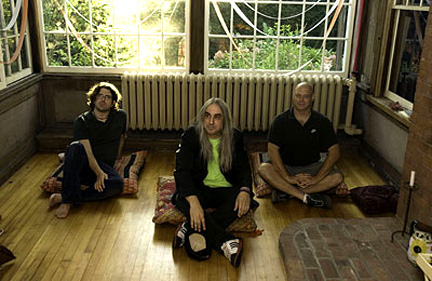 Michael Weintrob
Dinosaur Jr. relaxes before heading back out on tour
DINOSAUR JR.: BEYOND
The Fillmore New York at Irving Plaza
17 Irving Pl. between 14th & 15th Sts.
June 6-7, doors open at 8:00
Tickets: $25
212-777-6800

In 2005, the original Dinosaur Jr. reunited, finally recovered from having "burst like a ripe sac of pus" back in 1989, according to Byron Coley on the band's official Web site. The trio —­ guitarist and lead singer J Mascis, bassist Lou Barlow (also part of the recent Sebadoh reunion), and drummer Murph — has now recorded its first album of new material in eighteen years, the awesome BEYOND (Fat Possum, May 2007). The record opens with a furious fuzzy solo, followed shortly by J. Mascis announcing, "I'm almost ready." The band sure sounds ready to us. Sweet guitar lines anchor "Crumble" and "Been There All the Time." A cosmic bridge lifts "Pick Me Up" until searing guitars bring it home in an extended jam that Neil Young and Ritchie Blackmore would be proud of. "Back to Your Heart," one of two songs written by Barlow, is pure hippie power. "This Is All I Came to Do" is a blast of groovy alterna-country pop. We can't wait for Ozzy to cover "It's Me." "We're Not Alone," with Mascis's creeky voice, yearning lyrics, and some fine noodling, is simply pure magic that we wanted to go on forever. We've had trouble ejecting the disc for weeks, just leaving it on repeat play. Also just out is DINOSAUR JR.: LIVE IN THE MIDDLE EAST, a concert DVD of the band filmed in December 2005. DJ will be playing two nights at Irving Plaza this week, with opening act Awesome Color; based on reports we've heard, these should be amazing shows, featuring lots of the new record as well as tunage from throughout their fabled career.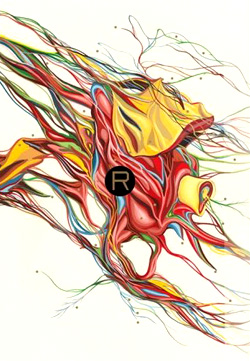 RANT: AN ORAL BIOGRAPHY OF BUSTER CASEY
by Chuck Palahniuk (Doubleday, May 2007)
http://www.randomhouse.com/doubleday/palahniuk/rant

RANT, former diesel mechanic Chuck Palahniuk's eighth novel — following such triumphs as FIGHT CLUB, DIARY, HAUNTED, and CHOKE — is a marvelous, manipulative tale told by a master storyteller. RANT is an oral history of Buster "Rant" Casey, a rather eclectic character who has a thing for cars, old coins, and spreading disease in the little American enclave known as Middleton. Friends, relatives, teachers, cops, doctors, lovers, Party Crashers, ministers, traffic reporters, and historians all chime in on Casey, who is chastised as a demon and praised as a prophet. Palahniuk teases the reader by carefully introducing new terms and themes but only revealing their true nature in later chapters, both confusing readers and compelling them to continue. And the more it continues, the crazier it all gets, propelled by Palahniuk's acidic wit and endless imagination. We strongly advise you not to read the book's jacket copy, as it gives away far too much of the story. Part of the pleasure of this tale is how it slowly unfolds before you, explaining things only when it's good and ready.

All contents copyright 2007 by Mark Rifkin and twi-ny. All rights reserved. Contents may not be reprinted without written permission. Please note that events, dates, and prices are subject to change.
Send all comments, suggestions, reviews, and questions to mark.rifkin@twi-ny.com.
Please note that some e-mail clients may wrap links, so be sure to enter them fully into your browser.
To subscribe to this list, please e-mail the administrator at admin@twi-ny.com with the word Subscribe in the Subject line; be sure to ask for back issues, which are free as well. To unsubscribe from this list, please think it over twice before e-mailing the same address. Please let us know what you didn't like about this forum and we'll do our best to correct it in the future — if we agree with you. If you would like to see something covered in a future issue, please let us know. Without you, there is no need for us to exist.

twi-ny top two dozen (or so)
weekly reminders & special events
NEW FILM FROM SCANDINAVIA
Scandinavia House
58 Park Ave. at 38th St.
Tickets: $8
212-847-9740
http://www.scandinaviahouse.org/programs
Wednesday, May 23, 6:30
and
Saturday, May 26, 3:00 Finland: MATTI — HELL IS FOR HEROES (Aleksi Mäkelä, 2006)
Wednesday, May 30, 6:30
and
Saturday, June 2, 3:00 Iceland: THICKER THAN WATER (BLӛBÖND) (Árni Ólafur Ásgeirsson, 2006)
Wednesday, June 6 Iceland: CHILDREN (BÖRN) (Ragnar Bragason, 2006), 6:30

WORD FOR WORD
Bryant Park Reading Room
42nd St. side of Bryant Park between Fifth & Sixth Aves.
Wednesdays at 12:30 through September 11
Admission: free
212-768-4242
http://www.bryantpark.org/calendar/wordforword
Wednesday, May 23 Carmen Electra, HOW TO BE SEXY
Wednesday, May 30 Bill Geist, WAY OFF THE ROAD: DISCOVERING THE PECULIAR CHARMS OF SMALL TOWN AMERICA
Wednesday, June 6 Josh Kilmer-Purcell, I AM NOT MYSELF THESE DAYS, Carole Radziwell, WHAT REMAINS: A MEMOIR OF FATE, FRIENDSHIP, AND LOVE, Kevin Sessums, MISSISSIPPI SISSY, and Danielle Trussoni, FALLING THROUGH THE EARTH, hosted by Stephanie Klein, STRAIGHT UP AND DIRTY
KAYAKING ON THE HUDSON
The New York City Downtown Boathouse
Pier 26 between Chambers & Canal Sts.
Weekends and holidays 9:00 am — 6:00 pm
Pier 66A at the end of 26th St. on the Hudson River
Weekends and holidays 10:00 am — 5:00 pm
Informational sessions Wednesdays at 6:00 pm
Through October 10
Everything free, but walk-up only, first come, first served
646-613-0740/0375
Wednesday, May 23 Forward Stroke Clinic: Efficient forward paddling in a kayak
Wednesday, May 30 Local Conditions: Hudson River tides, traffic, and wind, land-based class held inside the boathouse
Wednesday, June 6 Volunteer Introduction: Helping out at the Downtown Boathouse
365 DAYS 365 PLAYS
Skirball Center for the Performing Arts
566 LaGuardia Pl.
Admission: free
212-992-8484
http://www.skirballcenter.nyu.edu
Thursday, May 24 Staged reading of works by Suzan-Lori Parks, with SITI Company, 8:00
WIRED
Rock 45
121 West 45th St. between Sixth Ave. & Broadway
212-517-5123
Thursday, May 24 Long Island's own Wired, with L.A.'s By All Means Necessary, 8:00
CNBCN SPRING FUNK-A-THON
Galapagos Art Space
70 North Sixth St. between Wythe and Kent
Admission: free
718-384-4586
http://www.galapagosartspace.com
Thursday, May 24 See and Be Scene hosts a free night of funk with Philadelphia Slick, Batorats, and Becca's Brew, 10:00
CITY/DANS: CAMBODIAN STORIES REVISITED
St. Marks Church
131 East Tenth St. at Second Ave.
Admission: free
212-674-8194
http://www.danspaceproject.org
Thursday, May 24
through
Sunday, May 27 Performance in the St. Marks Church graveyard by Eiko & Koma with Charian & Peace, with paintings from the Reyum Painting Collective of Cambodia, 8:30
DOUBLE FANTASY
Multiple venues
Admission: free
http://www.myspace.com/babsandnellie
Brooklyn's own Double Fantasy, consisting of Babs, Nellie, and Cy, will be playing their unique brand of indie folk/pop/punk at three cool venues.
Thursday, May 24 Double Fantasy, with Huggabroomstik, Multitudes + Daniel Carter, and Wm.Nein, Goodbye Blue Monday, 1087 Broadway between Lawton & Dodsworth Sts., Bushwick, 9:00
Monday, May 28 Double Fantasy, the Glasslands Gallery, 289 Kent Ave., Williamsburgh, 718-599-1450, 9:00
Tuesday, May 29 Double Fantasy, with Acid Canyon and Hungry Brothers, Pussycat Lounge, 96 Greenwich St. at Rector St., 212-349-4800, 8:00
MIRANDA JULY & FRIENDS
Humanities and Social Sciences Library
Celeste Bartos Forum
Fifth Ave. at 42nd St.
Tickets: $10 unless otherwise noted
212-930-0855
Friday, May 25 Live from the NYPL: featuring Miranda July reading from NO ONE BELONGS HERE MORE THAN YOU, David Byrne interviewing Miranda July, and Becky Stark or Lavender Diamond performing songs, 7:00
LOWER EAST SIDE FESTIVAL OF THE ARTS
Theater for the New City
155 First Ave. between Ninth & Tenth Sts.
Admission: free
212-254-1109
http://www.myspace.com/lesfestival
Friday, May 25
through
Sunday, May 27 Twelfth annual event features indoor and outdoor events, with special musical and theatrical performances, a crafts fair, a block party, food stands, puppet shows, poetry, dance, and appearances by F. Murray Abraham, David Amram, Penny Arcade, Andre Brown, DADAnewyork, Sol Echeverria, Crystal Field, First Avenue Trio, Flavah, Joe Franklin, Mario Fratti, Gloria McLean Dance Company, Human Kinetics, Barbara Kahn, LaMaMa ETC, the Living Theatre, the Love Show, New York Theatre Workshop, Wendy Osserman Dance Company, Reno, Rod Rodgers Dance Company, Silvercloud Singers and Drummers, the Slipper Room, Songs of Yip Harburg, Sonic Uke, Tokyo Penquin, Vangeline Theater, Wise Guise, and dozens more, all celebrating the culture of the Lower East Side
TWISTED SOULS: FOUR BY SCHLESINGER
Walter Reade Theater
165 West 65th St. between Eighth Ave. & Broadway
Tickets: $11
212-875-5600
Born in London, John Schlesinger came to Hollywood in the 1960s and found his true home. He career got off to a fabulous start that includes the four films being screened in this mini-tribute by the Film Society of Lincoln Center, seminal works that still resonate decades after their initial release. Perhaps because he began as an actor himself, he was able to get stellar performances from his casts, from Julie Christie and Tom Courtenay in BILLY LIAR, Karen Black in DAY OF THE LOCUST, Jon Voight and Dustin Hoffman in MIDNIGHT COWBOY, and Peter Finch and Glenda Jackson in SUNDAY BLOODY SUNDAY.
Friday, May 25 BILLY LIAR (John Schlesinger, 1963), 1:30 & 6:30
Friday, May 25 DAY OF THE LOCUST (John Schlesinger, 1975), 3:30
Friday, May 25 MIDNIGHT COWBOY (John Schlesinger, 1969), introduced by star Sylvia Miles, 8:30
Saturday, May 26 SUNDAY BLOODY SUNDAY (John Schlesinger, 1971), 1:30 & 6:00
Saturday, May 26 MIDNIGHT COWBOY (John Schlesinger, 1969), introduced by Adam Holender, 3:45
Saturday, May 26 DAY OF THE LOCUST (John Schlesinger, 1975), followed by a Q&A with star William Atherton, 6:00
TODAY SHOW TOYOTA CONCERT SERIES
Rockefeller Plaza
49th St. between Fifth & Sixth Aves.
Outside TODAY studio 1A
Fridays from 7:00 to 9:00 am
Friday, May 25 Blondie with Lily Allen
Monday, May 28 Maroon 5
Friday, June 1 Big & Rich
K2 LOUNGE: TIME TO ASCEND
Rubin Museum of Art
150 West 17th St. at Seventh Ave.
Artists on Art: free
Harlem in the Himalayas: $15-$20, 7:00
CabaretCinema: $7 food/drink minimum, 7:00
212-620-5000 ext 344
Friday, May 25 Harlem in the Himalayas: Kenny Werner Solo PIano
Friday, May 25 Artists on Art, 7:30
Friday, May 25 CabaretCinema: PARIS, TEXAS (Wim Wenders, 1984), introduced by Justin Guariglia, 9:30
Friday, June 1 Resonance and Radiance: Sacred Music, Sacred Mind — the Nagi Gompa Nuns, a debut concert by Chöd nuns from Nepal, $25, 7:00
Friday, June 1 CabaretCinema: Artists' Choice Series . . . JULIET OF THE SPIRITS (Federico Fellini, 1965), introduced by Pat Steir, 9:30
ISAAC MIZRAHI
Joe's Pub
425 Lafayette St. between East Fourth St. & Astor Pl.
Tickets: $25
212-967-7555
Friday, May 25
and
Friday, June 1 Former fashion designer Isaac Mizrahi with the Ben Waltzer Qintet, featuring music, talk, sketching, and audience Q&A, 7:30
PRAISE DAY FOR MICHAEL BENEDIKT (1935-2007)
Bowery Poetry Club
308 Bowery at Bleecker St.
Admission: free
212-614-0505
Saturday, May 26 In honor of what would have been Michael Benedikt's seventy-second birthday, many poets will read and speak, including Erica Jong, Richard Howard, Laura Boss, Bob Holman, Hal Sirowitz, Carolee Schneemann, Georges Borchardt, Anne Borchardt, Stanley Barkan, Maria Mazziotti Gillan, Peter Payack, Cheryl Kaplan, Nelson Davis,Maria Damon, Walter Lew, Joe Weil, and surprise guests, 2:00
CONEY ISLAND SATURDAY NIGHT FILM SERIES 2007
Coney Island Museum
1208 Surf Ave. between Stillwell Ave. and West 12th St.
Saturday nights at 8:30, May 19 through September 8
Tickets $5, including free popcorn
718-372-5159
Saturday, May 26 FORBIDDEN PLANET (Fred M. Wilcox, 1956)
Saturday, June 2 BRIDE OF FRANKENSTEIN (James Whale, 1935)
FREE FOR ALL AT TOWN HALL
Town Hall
123 West 43rd St. between Sixth Ave. & Broadway
Free tickets available starting at 12 noon day of show
212-608-0555
http://www.the-townhall-nyc.org
Sunday, May 27 Konstantin Lifschitz, piano: Bach's Well-Tempered Klavier Books I and II in Two Concerts, 2:00 & 7:00
HARLEM MEER PERFORMANCE FESTIVAL
Charles A. Dana Discovery Center
Inside Central Park at 110th St. & Lenox Ave.
May 27 — September 30
Sundays at 4:00
Admission: free
212-860-1370
Sunday, May 27 Sadiki Conde (African)
Sunday, June 3 Tulivu Donna Cumberbatch (Jazz)
NO LONGER FORGOTTEN: HONORING GREEN-WOOD CEMETERY'S CIVIL WAR VETERANS
Green-Wood Cemetery
Fifth Ave. at 25th St.
Admission: free
718-768-7300
Monday, May 28 Featuring a parade to the Civil War Soldiers' Lot, Civil War reenactors in uniform, the Drum and Fife Band of the 119th New York Infantry, a military color guard, historians, and descendants of Civil War veterans, 9:00 am, followed by ninth annual Memorial Day Concert at 2:00
PROGRAM AFLOAT: CROSSING BROOKLYN FERRY
South Street Seaport Museum
Pier 16, intersection of South & Fulton Sts.
Tickets: $30
Reservations recommended: 212-748-8786
http://www.southstreetseaportmuseum.org
Monday, May 28 Sail across the East River aboard the schooner Pioneer to celebrate Walt Whitman's 188th birthday, with a lecture, discussion, and reading of his "Crossing Brooklyn Ferry," 1:00
A RECITAL BY NOE DINNERSTEIN & CARL CLEMENTS
CUNY Graduate Center
365 Fifth Ave. at 34th St.
Admission: free
212-817-8215
Tuesday, May 29 A concert of Indian classical music, Elebash Recital Hall, 7:30
NONFICTION: NEW JERSEY NIGHT
KGB Bar
85 East Fourth St. between Second & Third Aves.
Admission: free
212-505 3360
Tuesday, May 29 Readings by Jonathan Ames, Lauren Grodstein, and Kathleen DeMarco, 7:00
PJ MEROLA'S ZEITGEIST
The Access Theater
380 Broadway between Walker & White Sts., fourth floor
Admission: free but advance reservations are strongly encouraged
212-966-1047
Tuesday, May 29
through
Sunday, June 3 An Evening Length Multimedia Work for Solo Percussion, Tape, and Film, 8:00
COMPUTERS FOR YOUTH: TECH LEADERSHIP AWARDS
The Lighthouse at Chelsea Piers
23rd St. & the Hudson River
Tickets available
212-563-7300 ext23, ksilbajoris@cfy.org
http://www.piersixty.com/lh/index.html
Wednesday, May 30 Second annual awards and fundraiser for nonprofit Computers for Youth, honoring Craig Newmark of craigslist, Becky Blalock of Southern Co., Bruce Aust of NASDAQ, and the Computers for Youth Family Learning Software Award winner; CFY partners with public schools in low-income communities and provides families with computer-based home learning centers, 6:00
NOH~NOW!
Japan Society
333 E. 47th St. at First Ave.
Tickets: $25
212-715-1258
http://www.japansociety.org/events
Thursday, May 31
through
Saturday, June 2 Koosil-Ja's mech[A] OUTPUT, a 3D multimedia dance performance, 7:30
SHAKESPEARE ON THE RUN
Central Park
West 103rd St. & Central Park West
Thursday through Sunday nights at 7:00 through June 24
Admission: free, but voluntary donations accepted after show
212-252-4531
http://www.newyorkclassical.org
Thursday, May 31
through
Sunday, June 24 New York Classical Theatre's production of LOVE'S LABOURS LOST, directed by Stephen Burdman
BLACK ROCK COALITION: MAXIMUM RHYTHM AND BLUES
Symphony Space
Leonard Nimoy Thalia
2537 Broadway at 95th St.
Tickets: $21-$25
212-864-5400
Sunday, June 1 Brazz Tree and 24-7 Spyz, 8:30
BUSHWICK OPEN STUDIOS & ARTS FESTIVAL
Bushwick, Brooklyn
Admission: free
Friday, June 1
through
Sunday, June 3 Three days of open studios in Bushwick, featuring fine arts, music, film/media, design, participatory and interactive performances, and special events, some of which are highlighted below
Friday, June 1 Josh McPhee, Eric Reuland, Dark Dark Dark, and Dara Greenwald: book reading and discussion, live music, and short videos, 49 Bogart St., 7:00pm — 1:00 am
Friday, June 1 Anthony Sneed and the Braves, 255 McKibbin St. #407, 8:00
Friday, June 1
and
Saturday, June 2 English Kills Art Gallery, featuring multimedia installations and performances, 12 noon — 9:00 pm
Saturday, June 2 Bushwick Art Parade and Public Showcase, starting at McKibbin St. between Bushwick Ave. & White St. and ending at Maria Hernandez Park, where there will be live music and theater, games, art installations, and more, 11:30 am
Saturday, June 2 Cut a record with Pass Kontrol, St. Nicholas Studios, 43 St. Nicholas Ave. #3L, 12 noon — 7:00 pm
Sunday, June 3 B.O.S. BBQ by Umani: People + Food, Collision Machine, 97 Wyckoff Ave. roof, menu priced TBD, 5:00 — 10:00 pm
Sunday, June 3 Jazz pianist and composer Emanuel Ruffler, Rocket, 95 Starr St., 7:30
Sunday, June 3 Amnesty International: THE ROAD TO GUANTANOMO, OfficeOps, 57 Thames St. roof, 9:00
RIVER TO RIVER FESTIVAL
Multiple venues
Admission: free
212-528-2733
http://www.rivertorivernyc.org
Friday, June 1
through
Sunday, June 3 Sitelines: Martha Graham Dance Company presents "Steps in the Street" and "Prelude to Action" from CHRONICLE, intersection of Wall & Broad Sts., 12:30
Friday, June 1 Animal Collective, South Street Seaport, Pier 17, 7:00
Saturday, June 2 Roky Erickson and Alejandro Escovedo, Castle Clinton, Battery Park, 7:00
Saturday, June 2 Bang on a Can Marathon Twentieth Anniversary, World Financial Center Winter Garden, 8:00 pm through 10:00 pm on Sunday, June 3
Wednesday, June 6 Puerto Rican Power, Wagner Park in Battery Park City, 7:00
SPECIAL OLYMPICS: MANHATTAN SPRING GAMES
Riverbank State Park
679 Riverside Dr. at 145th St.
Admission: free but donations greatly encouraged
212-661-3963
Saturday, June 2 More than 1,200 athletes will be competing for medals in aquatics, basketball, track and field, volleyball, and power lifting in this nineteenth annual event, 10:00 am — 4:00 pm
NEW YORK FAMILY ARTS FESTIVAL: FAMILY PICNIC
Riverside Church
Sakura Park
Admission: free
212-870-6784
http://www.theriversidechurchny.org
Saturday, June 2 Ninth annual festival event kicks off with a family picnic featuring arts & crafts, a children's art carnival, Million Man Marcher Barbecue, a steel band parade, Youth Theatre, games & contests, and more, honoring Rev. Maria Britton, Sakura Park, 12 noon — 5:00 pm
MAFRIKA MUSIC FESTIVAL
Marcus Garvey Park
Mt. Morris Park West & 122nd St.
Admission: free
Saturday, June 2 Featuring San Juan Hill, Thunda Vida, Noog Taaba, Emok, Gaida, Akoya, Amarain, DJ Sirak, DJ Birane, and others, hosted by Chris Karaoke and DJ Kadafi, 12 noon - 6:00 pm
FIRST SATURDAYS
Brooklyn Museum of Art
200 Eastern Parkway
Admission: free after 5:00 pm (some events require free tickets available that night)
718-638-5000
Saturday, June 2 Featuring gallery talks, live performances, a poetry reading, film screenings, art workshops, and a bluegrass dance party
PATHMARK MULTICULTURAL ARTS FESTIVAL
South Street Seaport Pier 17
Fulton & South Sts.
Admission: free
866-894-1812
http://www.southstreetseaport.com
Saturday, June 2 AsiaFest, featuring Asian music, drama, opera, ballet, and acrobats, 12 noon — 5:00 pm
and
Sunday, June 3 Latin Dance Spectacular, with dance ensembles and Rich Ramirez, 12 noon — 5:00
JAZZ & ROSES
Brooklyn Botanic Garden
1000 Washington Ave.
Admission: $8 adults, children under twelve free
718-623-7200
Sunday, June 3 Featuring Rose Garden tours and jazz concerts (Marje Wagner and Friends, Gretchen Parlato, Lionel Loueke, and the Christian Howes Quartet), 12 noon — 4:30
EGG ROLLS & EGG CREAMS FESTIVAL
The Eldridge Street Project
Eldridge St. between Canal & Division Sts.
Admission: free
212-219-0888
Sunday, June 3 Annual block party with Yiddish and Chinese storytelling, klezmer music, Chinese opera and sword dancing, Jewish folk dancing, scribal art, folk art demos, language lessons, and lots of kosher Chinese food, 12 noon — 4:00 pm
A SPECIAL PERFORMANCE FROM MARTA EGGERTH
Center for Jewish History
15 West 16th St. between Fifth & Sixth Aves.
Tickets: $15
917-606-8200
Sunday, June 3 Special performance by singer, actress, and entertainer Marta Eggerth, 2:00
TRUTH BE TOLD: DOCUMENTARY FILM FESTIVAL
The New School
Tishman Auditorium
66 West 12th St. between Fifth & Sixth Aves.
Admission: free unless otherwise noted
212-229-5353
Sunday, June 3
through
Wednesday, June 6 Four days of films from the New School's Documentary Media Studies Program, with such themes as "Against the Odds," "Who Are You?," "Citywide," and "The Journey," 7:00
TONI McGEE CAUSEY BOOK SIGNING
Mara's Homemade
342 East Sixth St. between First & Second Aves.
Monday, June 4, 5:30 - 10:00 pm
212-598-1110
http://www.tonimcgeecausey.com
Baton Rouge's Toni McGee Causey, the Queen of the Contraband Days Festival, will be signing copies of her first novel, BOBBIE FAYE'S VERY BAD DAY (St. Martin's Press), and chatting with diners at Mara's Homemade in the East Village. Anyone who makes reservations and orders an entree will receive a free book. Mara's is home to the event because of the popularity of crawfish at the Contraband Days Festival, held in Lake Charles, Louisiana, and the popularity of Mara's live select crawfish boil. But you don't have to get the crawfish — although you'd be silly not to. We also highly recommend the chopped smoked brisket, the St. Louis style ribs, the fried okra, the crab fingers, the crawfish cheese toast, the cranberry chicken, the New Orleans BBQ black peppered shrimp, the jambalaya — heck, it's hard to go wrong with anything that comes out of Mara's kitchen. But whatever you do, don't pass up her signature dessert, the amazing bluegrass pie, a pecan pie with Bourbon and luscious dark chocolate. And if you go on June 4, you get a free signed book to boot.
JEFF LORBER
Blue Note
131 West Third St.
Tickets: $20 table, $10 bar
212-475-8592
Monday, June 4 Rare opportunity to see innovative keyboard player / producer Jeff Lorber, with guest musicians to be announced, 8:00 & 10:30
SATELLITE PARTY FEATURING PERRY FARRELL
Highline Ballroom
431 West 16th St. between Ninth & Tenth Aves.
Tickets: $35
212-414-5994
http://www.highlineballroom.com
Monday, June 4 Perry Farrell's latest project tours in support of its debut album, ULTRA PAYLOADED, 9:00
THE LIFE OF AN ACTOR
92nd St. Y, Buttenwieser Hall
1395 Lexington Ave. at 92nd St.
Tickets: $25
212-415-5500
Monday, June 4 Panel discussion with Harvey Fierstein, Christian Hoff, and Michael Berresse, moderated by Leonard Lopate, 8:15
READINGS ON THE 4th FLOOR
P.S. 107, John W. Kimball School
1301 Eighth Ave. between 13th & 14th Sts., Brooklyn
Tickets: $12, all proceeds go toward building and stocking a library for the school
Advance tickets available online and at the Community Bookstore, 143 Seventh Ave., Park Slope, 718-783-3075
718-330-9340
Tuesday, June 5 Making Milk Snort Out of Your Kids Nose: Experts Explain, with Jon Scieszka, Mr. Warburton, and Joey Mazzarino, moderated by Mo Willems, 7:30
SHAKESPEARE IN THE PARK: ROMEO AND JULIET
Central Park
Delacorte Theater
Midpark at 80th St.
Admission: free (two tickets per person available day of show)
Tuesday, June 5
through
Sunday, July 8 Shakespeare classic directed by Michael Greif and starring Oscar Isaac, Lauren Ambrose, and Camryn Mannheim, 8:00
CIVILIANS UNDER FIRE FROM IRAQ TO SOMALIA
The Great Hall at the Cooper Union
7 East Seventh St. at Third Ave.
Admission: free
212-353-4195
Wednesday, June 6 The Struggle for "Humanitarian Space," lecture by Scott Anderson with aid workers from Doctors Without Borders/Médecins Sans Frontières, reception at 6:00, lecture at 7:00