Twi-ny, This Week in New York
Craig Kraft's "Falling Man" is perpetually on his way down in front of the Cell Theatre at 338 West 23rd St. in Chelsea
THE ARMORY SHOW
The International Fair of New Art, Pier 94
Modern, Pier 92
Twelfth Ave. at 55th St.
March 5-8
Admission: $30 (Run of Show Pass $40, Armory Show / VOLTA Dual Pass $40)
212-645-6440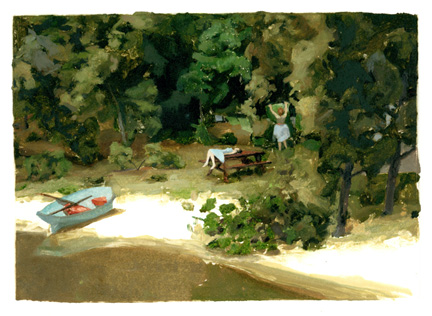 Courtesy Richard Heller Gallery

Amy Bennett, "Drying Out," monotype, 2009
The Armory Show enters its second decade with works from nearly 250 galleries from around the world, expanded into two sections. The central fair will take place at Pier 94 while "Modern," at Pier 92, will feature historical exhibitions, with booths dedicated to women artists (Louise Bourgeois, Alice Neel, Eva Hesse, Louise Nevelson, Kiki Smith, and others), critic and artist John Coplans, American Social Realist Art, 1970s color photography (with works by Helen Levitt, David Hockney, William Eggleston, and more), and other disciplines. The more adventurous art can be found at Pier 94, with such highlights as Matthias Weischer at Galerie Eigen + Art, Evah Fan at Richard Geller, Barbara Probst and An-My Le at Murray Guy, and Richard Dupont and Carolee Schneeman at Carolina Nitsch. The work on view at Pier 92 is far too traditional and much less interesting even though it features the bigger names. Kenny Scharf, whose fifty-foot mural can be seen outside Pier 94, has designed golf carts driven by donut-serving spacemen that will go between the two piers. A free shuttle will take fairgoers between Pulse, the Armory Show, VOLTA NY, and the Chelsea gallery district
Thursday, March 5 Ewan Gibbs and Vincent Katz in Conversation, introduced by Simon Grant, Pier 92, Open Forum Lounge, 2:00
Friday, March 6 Museums Speak! Funding, Exhibitions, Collecting, and the Future, with Arnold Lehman, Thelma Golden, and Claudia Gould, moderated by David Ross, Pier 92, Open Forum Lounge, 2:00
Saturday, March 7 Women Working with Women in the Arts, with Christiane Fischer, Jane Jacob, and Heather Becker, moderated by Amy Goldrich, Pier 92, Open Forum Lounge, 2:00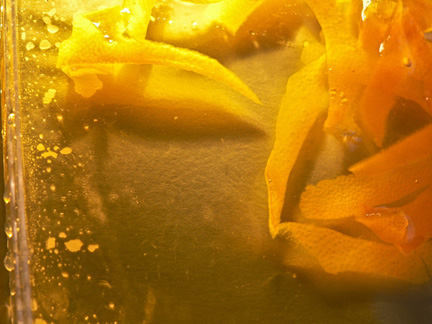 Courtesy Sweet Tooth of the Tiger
Tara Strickstein, "Suck-it Serrano," Sugarwork, 2009
VOLTA NY: AGE OF ANXIETY
7 West 34th St. between Fifth & Sixth Aves.
March 5-8
Admission: $15 (Armory Show / VOLTA Dual Pass $40)
The second edition of VOLTA NY, an "invitational curated show featuring exclusively solo projects," examines underseen art from Eastern Europe, the Middle East, and Latin America, taking its theme from the W. H. Auden poem "Age of Anxiety." Among this year's installations are Trong Gia Nguyen's "Colección Whitney," in which visitors can place themselves within "stocks and bonds," limited-edition T-shirts by Imperfect Articles, the film and installation project "A New Stance for Tomorrow," Noam Gonick and Luis Jacob's performance installation "Wildflowers of Manitoba," and the participatory food exchange project "Sweet Tooth of the Tiger: Suck-It!" A free shuttle will take fairgoers between Pulse, the Armory Show, VOLTA NY, and the Chelsea gallery district
Friday, March 6 Re-Inventing Non-Profits in NYC, with Anne J. Barlow, Mary Ceruti, and Gianni Jetzer, moderated by Sarah Douglas, seventh-floor lounge, 5:00
Saturday, March 7 Public Art: New Outlooks, with Adi Ezoni and Leor Grady, introduced by Christian Viveros-Fauné, seventh-floor lounge, 3:00
Saturday, March 7 The Curated Art Fair: Trend or Necessity? with David Liss, Louky Keisers, Miguel Amado, and Paco Barragán, moderated by Amanda Coulson, seventh-floor lounge, 5:00
Sunday, March 8 Creative Ink: Art Writing and Publishing Today, with Alexi Worth and others, moderated by Sylvie Fortin, seventh-floor lounge, 5:00
twi-ny/mdr
Mary Coble, who got tattooed live at last year's Pulse, is back again for more
PULSE NEW YORK
Pier 40, 353 West St.
March 5-8
Admission: $20
212-255-2024
Last year, Julian Lwin's fabulous passageway, "colorfuse," led visitors into the fourth Pulse art fair in New York. This year, he has designed "Babylon NY," another entrance tunnel that will take viewers inside Pier 40, where they will find some one hundred exhibitors from more than two dozen countries, from Taiwan to the Netherlands, France to Germany, Mexico to China, Korea to the Czech Republic, and the Philippines to Singapore. The 2009 edition of Pulse, which is also held in Miami, features eighteen large-scale installations, including R. Luke DuBois's light boxes made for the 2008 Democratic National Convention, Taylor Baldwin's altarpiece "The Sun Never Sets," and Luke Painter's creepy "The Shining Reno." Marina Fokidis has curated "Random Rules" in the Pulse Play> video art lounge, with works by Rodney Graham, Annika Larsson, and others that examine the YouTube phenomenon. Pulse Performance will present live pieces by Miriam Cabessa and Gary Carsley. Meanwhile, a site-specific sound installation will permeate through the Pulse Collectors' Lounge. A free shuttle will take fairgoers between Pulse, the Armory Show, VOLTA NY, and the Chelsea gallery district.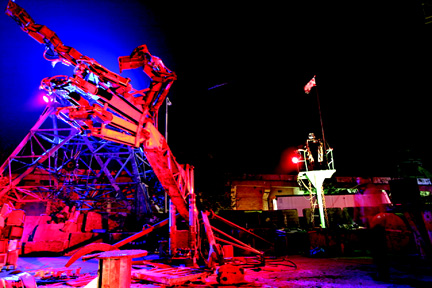 © Ryan C. Doyle
Ryan C. Doyle will be contributing a special project to this year's Scope art fair
SCOPE NEW YORK
Pavilion at Lincoln Center Damrosch Park
West 62nd St. at Amsterdam Ave.
March 5-8
Admission: $10-$15 (FirstView Wednesday $100)
Held under a huge tent in Lincoln Center's Damrosch Park, more than fifty galleries will be featuring art from around the world in the annual Scope art fair, which is held in New York City as well as Basel, the Hamptons, London, and Miami. This year's fair will include an additional pavilion, "Cheap, Fast & Out of Control," where artists will be selling their works at lower price points, with seventy percent going directly to the artist and the remaining thirty percent benefiting the Scope Foundation; among the participants are Ryan Sawyer, Society for a Subliminal State, Martha Colburn, Amanda Palmer, and the Girl Project. "Cheap, Fast & Out of Control" will also be hosting live performances by Christy & Emily, Flaming Fire II, Abacus, Aaron Diskin, Emma Alabaster, Junkyard Gamelon, Neel Murgai, Wolff, and others all weekend long. Special projects include Maya Hayuk's entry mural, Kristen Schiele's "Riding America Like a Cheap Pony," and installations by Liz Ensz, Carolyn Salas and Adam Parker Smith, Amie Cunningham, and Ryan C. Doyle. And at the Personal Development Auction (PDA), visitors can bid on special workshops, lessons, and tours.
Thursday, March 5 On the Contrary: Recent Artists' Videos Concerning War in the Middle East, cinema program with works by Paul Chan, Coco Fusco, Martha Colburn, and others, Program 1: Iraq at 12 noon, Program 2: Atropos at 2:00, and Program 3: Upside Down Worlds at 4:00, followed by the panel discussion Shifting Alliances at 6:00
Friday, March 6 The Russians Are Here, Program 1: Walking a Fine Line — Parables of the Sublime and the Subversive in Russian Video Art at 12 noon, Program 2: a retrospective of Russian experimental (parallel) cinema 1980s — present at 2:00, and Program 3: A Stranger in a Strange Land at 3:00, followed by the panel discussion Contemporary Russian New Media at 4:00 and Staff Picks at 6:00
Saturday, March 7 Monkey Town Presents, Program 1: Regeneration Hex — You Are Your Own Screen at 12 noon, Program 2: You Can Rebuild You at 4:00, and Program 3: The Films of George Kuchar — Videographic Violations Sinema Show at 6:00
Sunday, March 8 Lo-Fi + Street Hi, Program 1: The Films of George Kuchar — Videographic Violations Sinema Show at 12 noon and Program 2: BOMB IT at 2:00, followed by the panel discussion Private Property, Public Ideas: Street Art in Transition at 4:00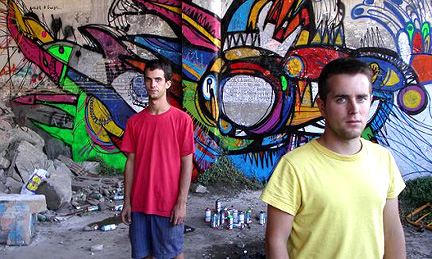 Graffiti documentary will be followed by panel discussion at Scope
BOMB IT (Jon Reiss, 2007)
Scope New York Cinema Program
Sunday, March 8, Program 2, 4:00
http://www.myspace.com/bombitthemovie

Jon Reiss's BOMB IT!, which premiered at the 2007 Tribeca Film Festival, is a broad survey of the who, what, where, when, and why of graffiti. Beginning with Cornbread, who got things started in Philly in 1967, the documentary traces the development of street art in New York City, then heads to Paris, Amsterdam, London, Berlin, Capetown, Barcelona, Sao Paulo, Tokyo, and L.A., speaking with such legendary writers, artists, bombers, and taggers as Tracy 168, Lady Pink, Mickey, Taki 183, Chino, Tribe, Revs, Ron English, and many others. Reiss also gives a wee bit of time to community activists, local business owners, police, and city officials who have a different take on graffiti. Reiss examines the never-ending debate over whether graf is vandalism, rebellion, art, "all-out destruction," "urban intervention," "visual pollution," "typographic terrorism," or the unstoppable expression of youth culture. The writers, some of whom keep their faces hidden, argue that graffiti is all about taking back public space, from buses to billboards and buildings to subway trains, asserting one's identity and fighting the power; while one bomber states, "I tag, therefore I am," another asserts that "art must serve a social cause."
The most fascinating aspect of BOMB IT – and one that hasn't been effectively dealt with in previous films on the subject – is the inherent cultural differences behind graffiti around the world. For example, in London, it's focusing on the battle over the privatization of public space in the face of the pervasive surveillance cameras that track citizens' every move; in Sao Paulo, it brings to life the daily struggle just to survive; in Berlin, it still addresses the freedom that came with the tearing down of the wall; in Tokyo, it centers on government control and Japan's long-term isolationist policies; and in L.A., it's about deeply superficial anarchy. Reiss shows us numerous artists at work all over the world, often under cover of night, describing in detail the creation of their tags and pieces. There's also a brief look at graffiti's growing impact on consumer culture and expansion into art galleries. "A lot of the work does lose its power and its potency when it's just not illegal," England's Arofish explains. While it's impossible for any one film, in ninety-three minutes, to exhaustively cover every element of the history – and future – of graffiti and graffiti culture, BOMB IT does an excellent job of breaking well beneath the surface of this controversial public form of expression. The Scope screening will be followed by an exciting panel discussion, "Private Property, Public Ideas: Street Art in Transition, with English, Pedro Alonzo, Steve (ESPO) Powers, and Marc and Sara Schiller from the Wooster Collective, moderated by Carlo McCormick.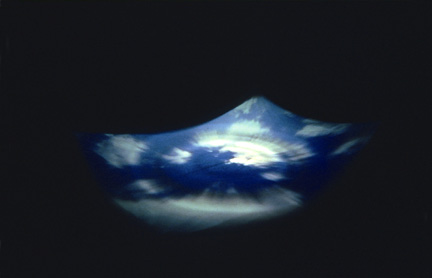 Courtesy G-77 Gallery
Izuru Mizutani, "The Tears of the Sky," installation, 2007
BridgeArtFair: The Independent International Exposition
of Art and Visual Culture
The Waterfront
222 Twelfth Ave.
March 6-8
Admission: $10-$15 (Weekend Pass $30)
In its second year in New York, Bridge, which is also held in Berlin and Miami, expects more than ten thousand visitors to wander among fifty exhibitors over three days, displaying cutting-edge contemporary art in the old Tunnel nightclub. This year's fair will also include the second edition of "Cool Stories for When the Planet Gets Hot," a video project that examines global warming; the virtual happening "Car Bibbe II," in which Bibbe Hansen of Second Front will demolish a Cadillac Fleetwood with the help of ballet dancers, maintenance engineers, and Al Hansen text; a project from the Extremely Hungary festival; and ARTOUT, in which visitors can meet with artists face-to-face. Make sure to check out Yang Yang at Gallery 456, David Burdeny's "North/South" at Jennifer Kostuik, Frank August's "Other" at Collective Gallery 173-171, more Evah Fan at Galerie L.J., and Charlotta Janssen's stirring multipaneled paintings at Booth 36.
Friday March 6 New Media Art & Affect: A panel discussion with Tiffany Holmes, jonCates, Katherine Behar, Huong Ngo, and Seth Hunter, 1:00
Saturday, March 7 REALCORE — the digital porno revolution: A monologue / lecture / performance by Sergio Messina, followed by a discussion with Barbara DeGenevieve and Charles Lum, 1:00
Saturday, March 7 WGA after-party, Supreme Trading, 213 North Eighth St., 11:00 pm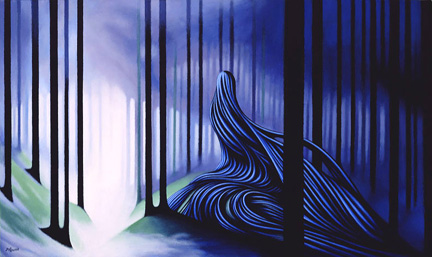 Courtesy Definition Gallery
Nathan Spoor brings his fantastical acrylic works to Fountain
FOUNTAIN ART FAIR
Pier 66 at 26th St., Hudson River Park
March 5-8
Suggested donation: $5
917-650-3760
Fountain is a self-described guerrilla-style anti-art fair featuring such participating galleries Ad Hoc Art, Definition Gallery, Front Room, Glowlab, Leo Kesting, McCaig-Welles, Soundwork, Stuart Shepherd, and Vagabond Gallery, spread across twelve thousand square feet on two ships at Pier 66. Now in its third year, Fountain presents avant-garde and cutting-edge work in a nontraditional setting, offering a different kind of fair during Armory Week, a Dadaist alternative. We highly recommend Beka Goedde' work at Glowlab, Allison Berkoy's multimedia installation in the train car, and Victor Cox and Dave Tree's work in the downstairs Murder Lounge. It's worth going just to be able to walk in and around the ships, where you have access to just about every room, and you can climb to the top of one of them to get a beautiful view of the Hudson and Jersey.
Friday, March 6 Artists' reception, with live performance by MC Chris, 7:00 pm — 12 midnight

ARMORY WEEK SPECIAL EVENTS & OTHER ART FAIRS
Multiple locations
Wednesday, March 4 The Armory Show Opening Preview Benefit, featuring preview of the Armory Show, followed by an after-party at the Museum of Modern Art featuring live music by Gang Gang Dance, 212-708-9680, $100, 8:30 — 11:30
Thursday, March 5 Soho Night, featuring extended hours at such galleries as apexart, Art in General, and the Swiss Institute, with a curator talk and tour with exhibiting artists and a book signing at the Drawing Center and a reception and installation performance at the Angel Orensanz Foundation, 6:00 — 10:00
Thursday, March 5
through
Sunday, March 8 Red Dot Fair, Chelsea Art District
Thursday, March 5
through
Sunday, March 8 Art Now Fair
Friday, March 6 Queens Night, including the SculptureCenter, the Fisher Landau Center for Art, the Noguchi Museum, Socrates Sculpture Park, Dorsky Gallery Curatorial Programs, PS1, the world premiere of puro Tango at the Thalia Spanish Theatre (advance RSVP required, 718-729-3880, code "Armory 2009"), lecture by Suzanne F. W. Lemakis at the Henry DeFord III Gallery, the grand opening of the APW Gallery, an opening reception at Dean Projects, a real-time video performance at the Chocolate Factory, open studios at Crane Street Studios and the Space, and more
Friday, March 6
through
Sunday, March 8 poolartfair: "Me Me Me," Wyndham Garden Hotel, 37 West 24th St., suggested donation $10, 3:00 — 10:00 pm
Saturday, March 7 Chelsea Day, including artist open studios, a studio tour of the Parsons MFA Fine Arts Exhibition, ArtBridge at London Terrace Gardens, and a panel discussion, curator-led tour, and artist talk at the Chelsea Art Museum
Saturday, March 7 Brooklyn Night, with galleries open after hours in Williamsburg, the grand opening of the Boiler, a special tour and reception at ISCP Gallery, an opening reception at Dumbo Arts Center, a closing party at BRIC Rotunda, and the first of two evenings of Bushwick SITE Fest, featuring live music, theater, dance, and performance art
Sunday, March 8 A Day on the Lower East Side, beginning with a 12 noon welcome at the New Museum, followed by gallery walks (with guides or self-guided with artist-designed maps), studio tours (RSVP required, 212-420-9292), unveiling of "Rolling Bench" mural, and more
Wednesday, March 11
through
Sunday, March 15 CANCELED: The International Asian Art Fair at the Park Ave. Armory has been canceled due to the state of the economy
Saturday, March 14
through
Wednesday, March 18 Nineteenth annual Arts of Pacific Asia Show, including "Katagami — the Art of the Japanese Paper Stencil" and "Lahariya Turbans of Rajasthan," 7W New York, 7 West 34th St. at Fifth Ave.
Dueling Late-Night Bands of the Week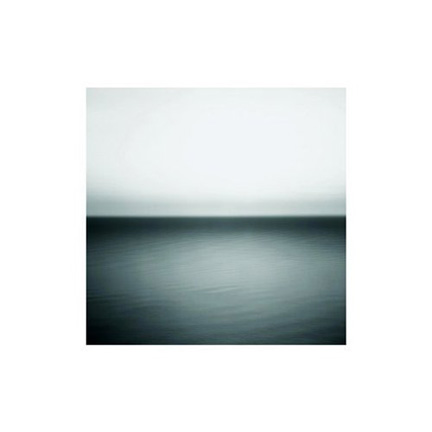 U2 will be promoting brand-new disc, featuring Hiroshi Sugimoto photograph, on LATE SHOW
U2: LATE SHOW WITH DAVID LETTERMAN
Ed Sullivan Theater
1697-1699 Broadway between West 53rd & West 54th Sts.
March 2-6, approximately 5:30 — 6:30
Admission: free (advance tickets required or wait on stand-by line)
Conan O'Brien might have made a name for himself taking over LATE NIGHT from David Letterman, but the gap-toothed Indiana father is not about to let the Harvard upstart with the upswept do easily win the late-night wars at 11:35, now that Conan will be hosting Letterman's former dream job, the TONIGHT show. So Dave has pulled out all the stops, bringing in U2 to play every night of the week of March 2 as the Irish band celebrates the release of its latest disc, NO LINE ON THE HORIZON (Interscope, March 3, 2009), featuring such tracks as "Magnificent," "Get on Your Boots," and, perhaps in honor of Letterman, "Stand Up Comedy." U2 is known for participating in various stunts to hype their albums, including playing on a city roof and on a flatbed truck roaming through Times Square, so don't be surprised if they do something outdoors around the Ed Sullivan Theater. U2 will be going the stadium route this summer, with ticket and venue information to be announced. If you're interested in getting in on the presale, you have to join the U2 online community, which will set you back fifty bucks a year.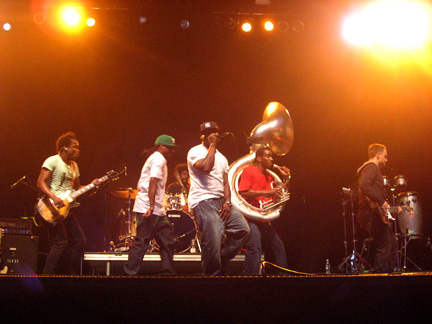 twi-ny/mdr
Philly band will set up roots with Jimmy Fallon at Rockefeller Center
THE ROOTS PRESENT THE JAM
Highline Ballroom
431 West 16th St. between Ninth & Tenth Aves.
March 5, 19, 31, $10-$12, 10:30 or 11:30 pm
212-414-5994
http://www.highlineballroom.com
Politically charged Philly natives the Roots — Tariq "Black Thought" Trotter, Ahmir "?uestlove" Thompson, Kamal Gray, Frank Knuckles, Kirk "Captain Kirk" Douglas, and Owen Biddle — are going down a different road these days, as they commute from the City of Brotherly Love to Rockefeller Center, performing as the house band for LATE NIGHT WITH JIMMY FALLON, as the former SNL star takes over for Conan O'Brien, who has headed west to take over the TONIGHT show. In addition, the Roots will be playing a Thursday night residency at the Highline Ballroom, inviting special guests for what should be pretty hot jam sessions. Although some of the events are already sold out, there will be limited tickets available from the box office on the day of the show. If you've never seen the Roots, you're in for quite a treat — and with tickets a mere $10-$12, you can't go wrong.
French Film Festival of the Week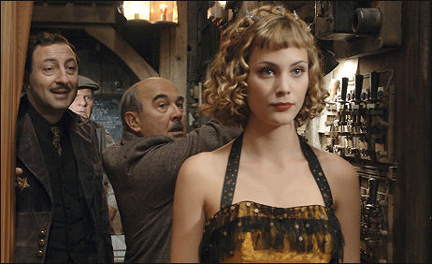 Film Society of Lincoln Center
Christophe Barratier's PARIS 36 kicks off fest at Alice Tully Hall
RENDEZ-VOUS WITH FRENCH CINEMA
Walter Reade Theater
65th St. between Broadway & Amsterdam Aves.
March 5-15
Tickets: $11; series pass $40 for any five films
212-875-5050
The fourteenth annual survey of contemporary French cinema opens on March 5 at the recently renovated Alice Tully Hall, then continues for ten more days at the Walter Reade Theater, screening new works by such established auteurs as André Téchiné, Costa-Gavras, Claire Denis, Claude Chabrol, Agnès Varda, and Benoît Jacquot, the return of such lesser-known directors as Sylvie Verheyde, François Dupeyron, and Danièle Thompson, and the Rendez-Vous debut of Martin Provost, Ilan Duran Cohen, and Patrick Mario Bernard and Pierre Trividic. Among the stars in this year's crop of French flicks are Gerard Depardieu, Emmanuelle Seigner, Vincent Cassel, and the great Catherine Deneuve, Jeanne Balibar, and Isabelle Huppert.
Thursday, March 5 Opening Night: PARIS 36 / FAUBOURG 36 (Christophe Barratier, 2008), Alice Tully Hall, $20, 8:00
PARIS 36 / FAUBOURG 36 (Christophe Barratier, 2008)
http://www.sonyclassics.com/paris36

The opening night film at Lincoln Center's annual "Rendez-vous with French Cinema," PARIS 36 is a disappointing kitchen-sink melodrama that, despite a promising beginning, quickly devolves into tedium. When the owner of the Chansonia, the local vaudeville theater, can't make his payments, small-time gangster Galapiat (Bernard-Pierre Donnadieu) takes over the building, with plans to sell it to the highest bidder. But the sweet, lovable Pigoil (Gérard Jugnot), whose wife walked out on him and took their accordion-playing son (Maxence Perrin) with her, is not about to let the theater where he's served as stage manager for more than three decades leave him as well, so he suddenly decides to occupy the building, with the support of would-be comedian Jacky (Kad Merad) and workers rights activist, tough guy, and ladies' man Milou (Clovis Cornillac). The three men need a star, and they might just have found one in the young and innocent Duce (Nora Arnezeder), whom Galapiat has taken under his rather large wing. Meanwhile, fascism is spreading through parts of Europe as the Popular Front wins the election in France. Although it aspires to much more, PARIS 36 is essentially one of those cliched tales of a bunch of people thinking they can save the world — or at least their microcosmic place in it — by putting on a show. Hey, it always worked for the Little Rascals. Throw in the mob, the Nazis, unionizing, cheating spouses, old-fashioned romance, a star being born, and some fast carpentry and you have a little of everything but not enough of something.
Friday, March 6 THE GIRL FROM MONACO / LA FILLE DE MONACO (Anne Fontaine, 2008), 1:00
Friday, March 6 VERSAILLES (Pierre Schoeller, 2008), 3:30
Friday, March 6 CHANGE OF PLANS / LE CODE A CHANGÉ (Danièle Thompson, 2009), 6:20
Friday, March 6 SÉRAPHINE (Martin Provost, 2008), 8:45
Saturday, March 7 THE BEACHES OF AGNÈS / LES PLAGES D'AGNÈS (Agnès Varda, 2008), 1:30
Saturday, March 7 WITH A LITTLE HELP FROM MYSELF / AIDE-TOI, LE CIEL T'AIDERA (François Dupeyron, 2008), 4:10
Saturday, March 7 THE GIRL FROM MONACO / LA FILLE DE MONACO (Anne Fontaine, 2008), 6:35
Saturday, March 7 EDEN IS WEST / EDEN À L'OUEST (Costa-Gavras, 2009), 9:00
Sunday, March 8 SÉRAPHINE (Martin Provost, 2008), 12:30
Sunday, March 8 THE JOY OF SINGING / LE PLAISIR DE CHANTER (Ilan Duran Cohen, 2008), 3:30
Sunday, March 8 VERSAILLES (Pierre Schoeller, 2008), 6:00
Sunday, March 8 CHANGE OF PLANS / LE CODE A CHANGÉ (Danièle Thompson, 2009), 8:45
Monday, March 9 WITH A LITTLE HELP FROM MYSELF / AIDE-TOI, LE CIEL T'AIDERA (François Dupeyron, 2008), 1:00 & 6:15
Monday, March 9 CHANGE OF PLANS / LE CODE A CHANGÉ (Danièle Thompson, 2009), 3:30
Monday, March 9 THE BEACHES OF AGNÈS / LES PLAGES D'AGNÈS (Agnès Varda, 2008), 8:45
Tuesday, March 10 THE JOY OF SINGING / LE PLAISIR DE CHANTER (Ilan Duran Cohen, 2008), 1:00
Tuesday, March 10 THE GIRL ON THE TRAIN / LA FILLE DU RER (André Téchiné, 2009), 3:30 & 9:10
Tuesday, March 10 MESRINE PART 1 (Jean-François Richet, 2008), 6:15
Wednesday, March 11 EDEN IS WEST / EDEN À L'OUEST (Costa-Gavras, 2009), 1:30
Wednesday, March 11 THE APPRENTICE / L'APPRENTI (Samuel Collardey, 2008), 3:45
Wednesday, March 11 MESRINE PART 2 (Jean-François Richet, 2008), 6:00
Wednesday, March 11 THE OTHER ONE / L'AUTRE (Patrick Mario Bernard & Pierre Trividic, 2008), 9:00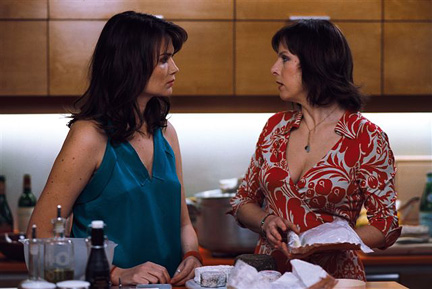 Film Society of Lincoln Center / Unifrance
Danièle Thompson is back at festival with CHANGE OF PLANS (LE CODE A CHANGÉ)

Thursday, March 12 STELLA (Sylvie Verheyde, 2008), 1:00 & 6:15
Thursday, March 12 BELLAMY (Claude Chabrol, 2009), 3:45
Thursday, March 12 THE APPRENTICE / L'APPRENTI (Samuel Collardey, 2008), 8:45
Friday, March 13 35 SHOTS OF RUM / 35 RHUMS (Claire Denis, 2008), 1:30 & 6:15
Friday, March 13 Tout Court: New French Shorts (France, 2008), 4:00
Friday, March 13 VILLA AMALIA (Benoît Jacquot, 2009), 8:45
Saturday, March 14 MESRINE PART 1 (Jean-François Richet, 2008), 1:30
Saturday, March 14 MESRINE PART 2 (Jean-François Richet, 2008), 3:50
Saturday, March 14: VILLA AMALIA (Benoît Jacquot, 2009), 6:45
Saturday, March 14 BELLAMY (Claude Chabrol, 2009), 9:10
Sunday, March 15 BELLAMY (Claude Chabrol, 2009), 1:00
Sunday, March 15 Tout Court: New French Shorts (France, 2008), 3:15
Sunday, March 15 THE OTHER ONE / L'AUTRE (Patrick Mario Bernard & Pierre Trividic, 2008), 5:30
Sunday, March 15 35 SHOTS OF RUM / 35 RHUMS (Claire Denis, 2008), 8:00
Mini-Film Festivals of the Week

FILMMAKER IN FOCUS: RAMIN BAHRANI
MoMA Film
Roy and Niuta Titus Theaters
11 West 53rd St. between Fifth & Sixth Aves.
Tickets: $10, in person only, may be applied to museum admission within thirty days, same-day screenings free with museum admission, available at Film and Media Desk
212-708-9400
Ramin Bahrani jumped into the international indie scene with MAN PUSH CART, his celebrated low-budget film about a Pakistani immigrant working as a cart vendor in Midtown Manhattan. Bahrani, who was born in America, studied at Columbia, and lived with his family in Iran for three years, followed his award-winning debut with the remarkable CHOP SHOP, a somewhat overlooked gem that takes place in the decimated auto junkyard neighborhood of Willets Point in Queens. In addition to screening those two films, MoMA will present Bahrani's latest, GOODBYE SOLO, which tells the story of two unusual friends in North Carolina. Bahrani is a wonderfully subtle filmmaker, and one to keep a close eye on.
Wednesday, March 4, 6:15
and
Saturday, March 7, 6:00 MAN PUSH CART (Ramin Bahrani, 2005)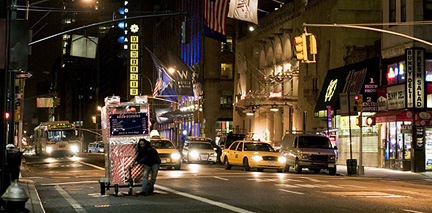 Ahmad has a tough go of it in Ramin Bahrani's MAN PUSH CART
MAN PUSH CART (Ramin Bahrani, 2005)

Every morning, Pakistani immigrant Ahmad (Ahmad Razvi) gets up at three o'clock and goes through the Sisyphean task of pulling his cart to his regular spot, where he sells coffee, donuts, bagels, and muffins to Midtown's fast-paced movers and shakers. He also sells bootleg DVDs on the side and takes on odd jobs to be able to afford his rent. When one of his customers, fellow Pakistani Mohammad (Charles Daniel Sandoval), asks Ahmad to help renovate his apartment, the yuppie soon recognizes Ahmad as a former pop star in their native country, so Mohammad promises to introduce him to the right people so he can get back in the music industry and not have to take on such demeaning, low-level work. But the proud, principled, highly disciplined Ahmad has a different set of needs and priorities that keep him from any kind of success, even with Noemi (Leticia Dolera), the Spanish newsstand worker who develops a romantic interest in him. Iranian American Ramin Bahrani's debut, a film festival hit all over the world, is a moving, heart-wrenching tale of one man's struggle to make a life for himself in a new country, where he has given up so much to gain so little. Bahrani at times uses a cinema verité style, adding to the believability — and universality — of Ahmad's tale. Razvi, in his first film, infuses the character with a maddening empathy borne of his own life as a Pakistani immigrant trying to make it in America.
Wednesday, March 4, 8:15
and
Friday, March 6, 6:00 CHOP SHOP (Ramin Bahrani, 2007)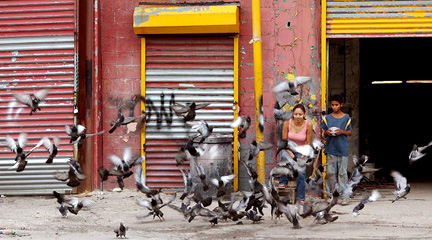 Only the birds are free in Bahrani's CHOP SHOP
CHOP SHOP (Ramin Bahrani, 2007)

Set amid the junkyards and auto-body shops in the shadow of Shea Stadium, Ramin Bahrani's follow-up to his indie hit MAN PUSH CART is a gritty, realistic drama of family and community. Filmed in thirty days in the Iron Triangle neighborhood of Willets Point, Queens, CHOP SHOP stars Alejandro Polanco as Ale, a street-smart twelve-year-old boy who works for Rob (Rob Sowulski), calling cars into the repair shop, stealing spare parts, and learning virtually every aspect of the trade, legal and not. Ale lives in a small upstairs room in the garage with his sister, sixteen-year-old Isamar (Isamar Gonzalez), who by day works in a food van and at night makes extra cash by getting into cars and trucks with strange men. Neither Ale nor Izzy goes to school; instead, they're working hard, saving up money to buy a food van and start their own business, but their life is fraught with danger and difficulty nearly every step of the way. Written by Bahrani and Bahareh Azimi, filmed primarily with a handheld camera by Michael Simmonds, and featuring a cast of non-actors encouraged to improvise, CHOP SHOP is an honest, frightening, yet sweet slice of life that takes place not far from a sign at Shea that announces, "Where Dreams Happen." Polanco gives a remarkable performance as Ale, a rough yet vulnerable kid who has been dealt a tough hand but just forges ahead, attempting to make the most out of his meager life, trying to find his own piece of the American dream. Whether hanging out with his best friend, Carlos (Carlos Zapata), looking after his sister, doing a special job for Ahmad (MAN PUSH CART's Ahmad Razvi), or counting his pay in front of his boss – Sowulski really does own the garage where most of the movie is filmed – Ale is an extraordinary character, played by an extraordinary young boy in his very first film. CHOP SHOP is a subtle, unforgettable experience.
Thursday, March 5 GOODBYE SOLO (Ramin Bahrani, 2008), introduced by Bahrani, 7:00
CONTEMPORASIAN: NAOKI OGIGAMI
MoMA Film
11 West 53rd St. between Fifth & Sixth Aves.
Roy and Niuta Titus Theaters
Tickets: $10, in person only, may be applied to museum admission within thirty days, same-day screenings free with museum admission, available at Film and Media Desk
212-708-9400
While everyone talks about MoMA's exhibits, it's time to get more tongues wagging about its outstanding film presentations. MoMA hosts series dedicated to classic cinema as well as premieres of new work. The ContemporAsian series, which began last March and has included films from Pakistan, India, the Philippines, Malaysia, Japan, and China, continues with a pair of charming stories by Naoko Ogigami, 2006's KAMOME SHOKUDO (SEAGULL DINER) and 2007's MEGANE, as well as Lu Zhang's 2007 HYAZGAR (DESERT DREAM), which is set in the Mongolian Steppes. Tickets for screenings are free with same-day paid admission to the museum galleries or $10, which can be applied to the $20 museum admission fee for the next thirty days, so they're essentially free if you're going to the museum anyway, so you have nothing to lose.
Wednesday, March 11
through
Monday, March 16 ContemporAsian: MEGANE (Naoko Ogigami, 2007)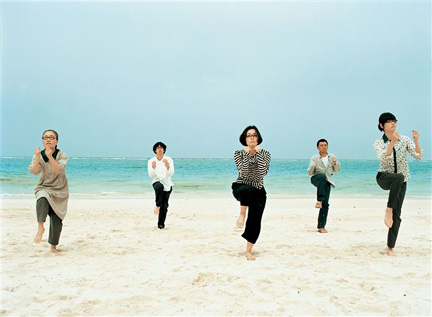 Nikkatsu Pictures
Beach exercise is all the rage in Ogigami's charming MEGANE
MEGANE (GLASSES) (Naoko Ogigami, 2007)

Naoko Ogigami's beautiful, meditative MEGANE is a soothing tonic, a virtual vacation for those tired souls fighting the daily grind of life in the big city. Taeko (Satomi Kobayashi) is an exhausted professor who has headed to the beach to get away from it all. Little did she expect that her island hideaway would be a tiny, laid-back, easygoing place where the owner, Yuji (Ken Mitsuishi), assumes everyone there will become part of their close-knit group, which already includes Sakura (Masako Motai), who sells kaki-gori (shaved ice with aduki beans) and likes to hover over Taeko as the new guest wakes up every morning, and the somewhat suspicious Haruna (Mikako Ichikawa), who takes an immediate disliking to Taeko. Taeko might have privacy from her busy world, but she has no privacy from her island mates — and with the surprise arrival of Yomogi (Ryo Kase), who calls Taeko his mentor, she seems well on her way to her worst vacation ever, unless she can just calm down a little, relax, and do a little "twilighting." Megane, which means "glasses," is a sweet, tender film that shows it's all about how you look at things.
Thursday, March 12, 8:00
and
Sunday, March 15, 2:00 ContemporAsian: KAMOME SHOKUDO (SEAGULL DINNER) (Naoko Ogigami, 2006)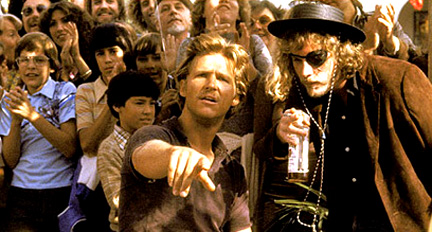 Jeff Bridges tries to make a point in CUTTER'S WAY
PASSER'S WAY AND MORE
MoMA Film
11 West 53rd St. between Fifth & Sixth Aves.
Roy and Niuta Titus Theaters
Tickets: $10, in person only, may be applied to museum admission within thirty days, same-day screenings free with museum admission, available at Film and Media Desk
212-708-9400
The vast range of MoMA's cinematic holdings is on display as always over the next two weeks. In addition to the Rahmin Bahrani and ContemporAsian series highlighted above, MoMA will be screening such classics as a digitally restored version of THE FRENCH CONNECTION, intriguing works from the Czech Republic by Ivan Passer and Jan Sikl, and all-time favorites BRINGING UP BABY and THE FRESHMAN (with live organ accompaniment). In addition, on March 16, Tehching Hsieh will talk about and show clips from his rather unusual long-term performance projects.
Wednesday, March 4
through
Monday, March 9 MoMA Presents: THE FRENCH CONNECTION (William Friedkin, 1971), digital restoration, Roy and Niuta Titus Theaters
Wednesday, March 4 Batiste Madalena and the Cinema of the 1920s: BEAU BRUMMEL (Josef von Sternberg, 1927), with organ accompaniment by Ben Model, Education and Research Center, 1:30
Thursday, March 5 Batiste Madalena and the Cinema of the 1920s: UNDERWORLD (Josef von Sternberg, 1927), with organ accompaniment by Ben Model, Education and Research Center, 1:30
Friday, March 6 Batiste Madalena and the Cinema of the 1920s: THE FRESHMAN (Sam Taylor, 1925), with organ accompaniment by Ben Model, Education and Research Center, 1:30
Friday, March 6
through
Thursday, March 12 Passer's Way: FÁDNÍ ODPOLEDNE (A BORING AFTERNOON) (Ivan Passer, 1964) and INTIMNI OSVETLENI (INTIMATE LIGHTING) (Ivan Passer, 1965), March 6 screening introduced by Ivan Passer, Roy and Niuta Titus Theaters
Friday, March 6, 8:00
and
Sunday, March 8, 6:00 Passer's Way: CUTTER'S WAY (Ivan Passer, 1981), March 6 screening introduced by Ivan Passer, Roy and Niuta Titus Theaters
Saturday, March 7, 4:00
and
Friday, March 13, 8:30 Passer's Way: BORN TO WIN (Ivan Passer, 1971), Roy and Niuta Titus Theaters
Sunday, March 8, 6:30
and
Wednesday, March 11, 4:30 Passer's Way: GOLDEN SIXTIES (Ivan Passer, 2009), Roy and Niuta Titus Theaters
Sunday, March 8, 1:30
and
Friday, March 13, 6:00 Passer's Way: LAW AND DISORDER (Ivan Passer, 1974), Roy and Niuta Titus Theaters
Monday, March 9 Modern Mondays: An Evening with Jan Sikl and Ivan Passer, screening of episode of TATÍCEK A LILI "MARLÉN" (DADDY AND LILI "MARLENE") (Jan Sikl, 2007), followed by conversation, Roy and Niuta Titus Theaters, 7:00
Wednesday, March 11 Joseph P. Kennedy Presents: THE TRESPASSER (Edmond Goulding, 1929), introduced by Cari Beauchamp, Roy and Niuta Titus Theaters, 8:15
Wednesday, March 11
through
Sunday, March 15 Jan Sikl's PRIVATE CENTURY, Parts 1 through 8, Roy and Niuta Titus Theaters
Wednesday, March 11
through
Friday, March 13 Still Moving: BRINGING UP BABY (Howard Hawks, 1938), Education and Research Center, 1:30
Saturday, March 14 Batiste Madalena and the Cinema of the 1920s: BEAU BRUMMEL (Josef von Sternberg, 1927), with organ accompaniment by Philip Carli, Roy and Niuta Titus Theaters, 2:00
Saturday, March 14 Batiste Madalena and the Cinema of the 1920s: THE FRESHMAN (Sam Taylor, 1925), with organ accompaniment by Philip Carli, Roy and Niuta Titus Theaters, 4:30
Saturday, March 14 Batiste Madalena and the Cinema of the 1920s: UNDERWORLD (Henry Beaumont, 1924), with organ accompaniment by Philip Carli, Roy and Niuta Titus Theaters, 6:30
Monday, March 16 Modern Mondays: An Evening with Tehching Hsieh, featuring film clips and a conversation between Tehching Hsieh and Adrian Heathfield, Roy and Niuta Titus Theaters, 7:00
Brooklyn Film Festival of the Week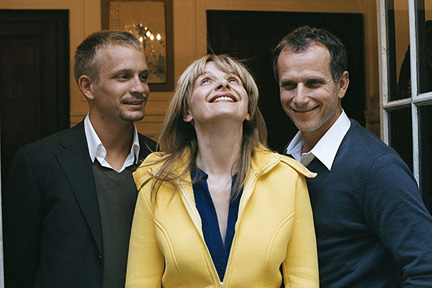 Juliette Binoche stars in Olivier Assayas's SUMMER HOURS
FOCUS ON IFC FILMS
BAMcinématek, BAM Rose Cinemas
30 Lafayette Ave. between Ashland Pl. & St. Felix St.
March 6-12
718-636-4100
BAMcinématek celebrates the tenth anniversary of IFC Films with a look at some of its current and future releases, many of which have already played at prestigious film festivals around the world and have won multiple international awards. The films generally open at the IFC Center on Sixth Ave., former home of the Waverly. Among IFC's past hits are Y TU MAMÁ TAMBIÉN (Alfonso Cuaron, 2001), NOBODY KNOWS (Hirokazu Koreeda, 2004), ME AND YOU AND EVERYONE WE KNOW (Miranda July, 2005), THIS IS ENGLAND (Shane Meadows, 2007), and 4 MONTHS, 3 WEEKS AND 2 DAYS (Cristian Mungiu, 2008).
Friday, March 6 HUNGER (Steve McQueen, 2008), 6:50
Friday, March 6 THE CHASER (CHUGYEOGJA) (Hong-Jin Na, 2008), 9:15
Friday, March 6
through
Thursday, March 12 LA BELLE PERSONNE (Christopher Honoré, 2008), including a Q&A with star Louis Garrel following the March 8, 7:15 screening
Friday, March 6
through
Thursday, March 12 FRONTIER OF DAWN (FRONTIÈRE DE L'AUBE) (Phillipe Garrel, 2008), including a Q&A with star Louis Garrel following the March 8, 4:30 screening
Saturday, March 7 I'M GONNA EXPLODE (VOY A EXPLOTAR) (Gerardo Naranjo, 2008), 9:30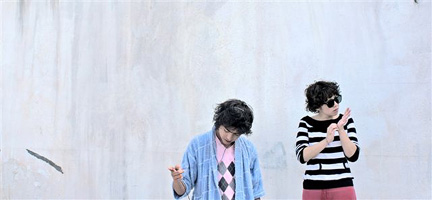 Kids on the run go only so far in VOY A EXPLOTAR
VOY A EXPLOTAR (I'M GONNA EXPLODE)
(Gerardo Naranjo, 2008)

VOY A EXPLOTAR (I'M GONNA EXPLODE) follows the exploits of two troubled teens who make a dramatic escape from their lives but get caught in the unknown world that exists between childhood and adulthood. Roman (Juan Pablo de Santiago) comes from a dysfunctional family, including his remarried politician father (Daniel Gimenez Cacho) who has little time for his shenanigans, which are essentially a desperate cry for attention. Maru (Maria Deschamps) is disconnected from the real world, waking up in a pickup truck strewn with empty bottles, having no idea what she did the night before with the boy by her side – and maybe not even caring all that much. She longingly writes in her diary, desperate for something new. Kindred spirits, Roman and Maru run away together, sending their parents and the local police into a frenzy – but they are clueless that the kids have actually merely set up camp on Roman's father's roof, living like a married couple, drinking, arguing, and doing other things married people do. But Roman also has a gun, adding an element of danger lurking around every corner. Written and directed by Gerardo Naranjo (DRAMA/MEX), VOY A EXPLOTAR, which screened at the 2008 New York Film Festival, is a challenging, often funny, and at times extremely uncomfortable film that never settles for the easy way out.
Saturday, March 7 SUMMER HOURS (L'HEURE D'ÉTÉ) (Olivier Assayas, 2008), 7:15
Sunday, March 8 QUIET CHAOS (CAOS CALMO) (Antonio Luigi Grimaldi, 2008), 2:00
Riff's Rants & Raves: The Art of Film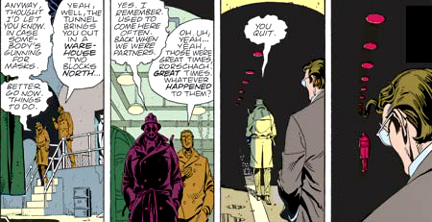 WATCHMEN: THE GRAPHIC NOVEL by Alan Moore
and Dave Gibbons (DC Universe, 334 pages, $19.99)

In 1986, writer Alan Moore and artist Dave Gibbons teamed up on a twelve-episode limited series comic book called WATCHMEN, which took readers behind the scenes and into the real lives of a new breed of superhero. (Moore originally was going to use characters from Charlton Comics, which had been acquired by DC, but DC didn't want so many of them killed off so soon.) A serial killer is on the loose in 1985 New York City, knocking off former masked superheroes. While Rorschach searches for vital information about the murder of the Comedian, Dr. Manhattan is exiled to Mars, Ozymandias is shot at, and Nite Owl and the Silk Spectre consider a comeback. Moore (V FOR VENDETTA, THE LEAGUE OF EXTRAORDINAY GENTLEMEN) shifts the story between the 1950s, 1970s, and 1980s, adding such textual elements as selections from Hollis Mason's autobiography, part of a treatise on Dr. Manhattan, and excerpts from Max Shea's TALES OF THE BLACK FREIGHTER. Gibbons's color-saturated multipaneled pages move the action along at a swift pace, excellently depicting the changing eras. Revolutionary in its time and still the most highly acclaimed masterpiece of the genre, WATCHMEN laid the groundwork for the future of graphic novels, from Neil Gaiman's SANDMAN to Frank Miller's THE DARK KNIGHT and SIN CITY, especially in its intimate examination of the men and women behind the mask.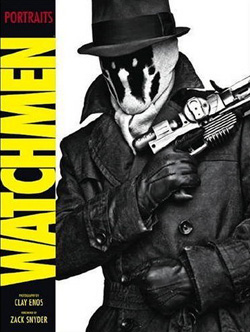 WATCHMEN: PORTRAITS by Clay Enos
(Titan, February 2009, $50)
"I can't go anywhere without making portraits. I see places through faces," Clay Enos told twi-ny in an exclusive e-mail interview while on his way to San Francisco. The New York-based photographer is jetting around the country doing publicity for WATCHMEN: PORTRAITS, a collection of more than two hundred gorgeous images he took on the set of the highly anticipated WATCHMEN movie, directed by his friend Zack (300) Snyder. Enos was initially hired to concentrate on behind-the-scenes publicity and making-of shots — many of which can be seen in WATCHMEN: THE ART OF THE FILM and WATCHMEN: THE FILM COMPANION, also available from British-based publisher Titan Books -- but portraits are his specialty. Photographed in a style reminiscent of the work of the late Richard Avedon, the pictures feature costumed characters from the film as well as extras and the crew. "Avedon shot celebrities but also everyday folks," Enos explained. "I too am attracted to the everyday person. Especially these days, when celebrity faces dominate, it's nice to see the unretouched glory of people far from the spotlight." Enos, who has previously shot fashion models and rock stars and taken travel photos all around the world, also operates Streetstudio with Stephan Ghukfvin, a mobile studio that has amassed thousands of photographs of people in New York, London, Paris, Berlin, Caracas, and other international cities, seeking to document real people in a way that recalls the work of Walker Evans and August Sander. "I'd be remiss if I didn't treat everyone equally," he added.
Courtesy Titan Books / Clay Enos / DC Comics / Warner Bros.
Matt Frewer as Moloch in Clay Enos's WATCHMEN: PORTRAITS

Although the WATCHMEN film includes a dizzying array of majestic colors, Enos decided to go with black and white. "I think there is a stateliness, a confidence, a rawness to the folks I shoot," he said. "And when filtered through black and white, there is a resonance that's harder to see when distracted by color." Enos is new to the comic-book industry and the phenomenon of WATCHMEN; he received his indoctrination at the recent New York Comic Con, where fans lined up to get signed copies of PORTRAITS. "I remember being in the Snyders' living room hearing Zack talk about Blake and the Comedian and being totally confused," he recalled. "Once I read WATCHMEN, I understood the allure of the genre. The fans are something else. I love them. The energy that fills folks is undeniable, and it's fun to satisfy that enthusiasm with something as simple as an autograph or an answer to a question. You can see the inspiration of a moment's attention move within them. Any artist would be a selfish cod not to give generously in such a context." In addition to the photographs — some of which appear in the film as props — Enos has developed Nite Owl Dark Roast, a limited-edition organic coffee that is being sold by the Organic Coffee Cartel, which donates much of the proceeds to charity.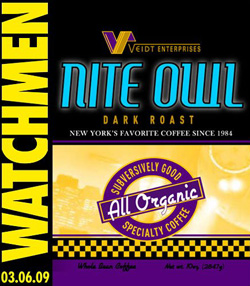 Enos also has created the "World's First Movie Tie-in Coffee"

Enos, a lifelong New Yorker, was impressed by the way Snyder captured the feel of the city in the film, which takes place in 1985 New York but goes back and forth through time. "As for New York coming to life after running through the imagination of Dave Gibbons's pen, I think Zack nailed it," Enos explained. "I was among the few New Yorkers on set, and if you kept your head down as you walked along the New York backlot, you'd be hard-pressed not to know it was all faked. It was an incredible amount of work, and the versatility built into its design was amazing to watch. One day the storefront was a 1940s general store and the next it was a porno shop." Enos will be back in his native city on March 5 for a benefit screening of WATCHMEN and the official opening of "The Art of WATCHMEN" at the Museum of Comic and Cartoon Art, where he'll be signing copies of WATCHMEN PORTRAITS; the exhibit continues through May 2.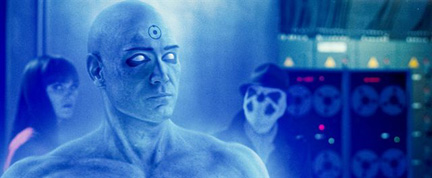 Dr. Manhattan is getting an idea in very different kind of superhero movie
WATCHMEN (Zack Snyder, 2009)
Opens Friday, March 6, 12:01 am
http://watchmenmovie.warnerbros.com

After more than twenty years, it's finally here. Zack (300) Snyder's brilliant, near panel-by-panel re-creation of Alan Moore and Dave Gibbons's genre-defining WATCHMEN doesn't update the setting one bit. It's still an alternate history, a dystopian 1980s with Richard Nixon in office, celebrating victory in Vietnam while trying to with the Cold War against the Russians. That era's very real preoccupations might not quite match our own, but in this age of international terrorism, fear of violent death is still used as an effective political tool. Snyder's bold move, to keep the '80s setting intact, complete with hair, color, and style, is visually stunning, if oddly disconcerting; he also does an outstanding job going back to the '50s and '70s, following Gibbons's beautiful design and Moore's musical sensibility. (The soundtrack includes obvious songs by Dylan, Hendrix, Simon & Garfunkel, Leonard Cohen, and Wagner as well as a killer "Desolation Row" by My Chemical Romance over the closing credits.) Yet the genius lies in the universal nature of Moore's story. Snyder maintains his atmosphere of dread, of people being tiny cogs caught in a machine manufacturing fear to control humanity, and it works. Because for many, that same system operates today, albeit with different faces, different bad guys, and different silhouettes and color schemes. Snyder's refusal to update the superficial points out all the more strongly the essential power of Moore's observations. The look is superb, with Gibbons's characters walking right off the page and into three dimensions, breathing humans that fully embody their two-dimensional origins, often more fascinating out of costume than dressed for duty.
The story, of course, is more difficult to transfer intact. There are added scenes that weren't panels as well as inevitable elisions and telescoping of the original twelve-issue limited series. The sheer genius of Moore's metafiction, his exploration of the Nietzschean "superman" and his comic book counterparts, and the supratextural additions, such as his deftly woven counterpoint comic-within-a-comic Tales of the Black Freighter, don't all make it to the big screen. How could they? The movie's more than two and a half hours already. (Some of these elements will be eventual DVD extras.) If you didn't read the book, you might miss the metafiction, the counterpoint, and possibly much of the plot, but the awesome Rorschach and the amazing Dr. Manhattan are psychologically and visually pitch-perfect. See it for the characters, at the very least (played by Billy Crudup, Jackie Earle Haley, Patrick Wilson, Matthew Goode, Malin Akerman, and Carla Gugino bringing to life Nite Owl, the Silk Spectre, Ozymandias, and others, with Jeffrey Dean Morgan nearly stealing the show as the Comedian). Mirroring the destruction/rebuilding of the narrative arc, Moore's book itself effectively deconstructed the comic book superhero genre, blowing it to bits and pulling it to pieces, setting the stage for the genre's rebirth, the graphic novel creative explosion of the 1980s and '90s. Perhaps it is not coincidental that the film comes out a time when that genre is experiencing a rebirth of its own, with THE DARK KNIGHT and IRON MAN garnering both critical praise and public acclaim. But Moore's commentary on the twentieth century, true compassion, and humankind's messy urge to annihilate and save itself at the same time still makes a hell of a lot of sense today. (WATCHMEN opens 12:01 Friday morning all over town in its regular format as well as in IMAX at Loews Lincoln Square 13 and UA Sheepshead Bay Stadium 14.)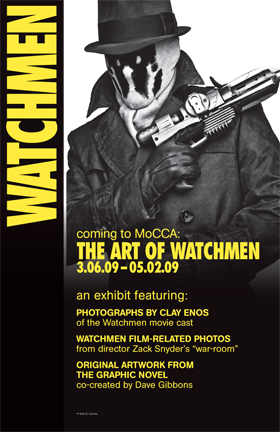 THE ART OF WATCHMEN
Museum of Comic and Cartoon Art
594 Broadway, Suite 401
March 6 — May 2 (Tuesday through Saturday 12 noon — 5:00 pm)
Admission: $5
212-354-3511
Held in conjunction with the March 6 release of the much-anticipated WATCHMEN movie, "The Art of WATCHMEN" takes fans behind the scenes of the classic graphic novel by Alan Moore and Dave Gibbons and the brand-new Warner Bros. film directed by Zack Snyder. Curated by Peter Sanderson and Ellen S. Abramowitz, the exhibit features Clay Enos's stunning black-and-white portraits of the cast and crew, film-related photos from Snyder's "war-room," and original drawings by Gibbons for the comic book series, focusing on the many outrageous and beguiling characters. On March 5, there will be a special benefit preview that includes an advance screening of the film and a first look at the exhibit, along with a silent auction, a book signing by Enos, and an after-party. Tickets are $100, but if you buy them in advance explaining that you will be coming in costume as a WATCHMEN character, it's only $20.
Riff's Rants & Raves: Film
Mikael Persbrandt stars as a brutish oaf in Jan Troell's EVERLASTING MOMENTS
EVERLASTING MOMENTS (MARIA LARSSONS EVIGA ÖGONBLICK) (Jan Troell, 2008)
Opens Friday, March 6
Landmark Sunshine Cinema
143 East Houston St. between First & Second Aves.
212-330-8182
Lincoln Plaza Cinemas
1866 Broadway at 63rd St.
212-757-2280
http://www.lincolnplazacinema.com
http://www.landmarktheatres.com

Inspired by a book written by his wife, Agneta Ulfsäter-Troell, based on part of her family history, Jan Troell's EVERLASTING MOMENTS captures a pivotal time of change in Sweden. In a small town in 1907, Maria Larsson (Maria Heiskanen) is struggling to keep her growing family together as her brutish oaf of a husband, Sigge (Mikael Persbrandt), regularly comes home drunk, cheats on her, and goes on strike with the rest of the local dockworkers. Maria scrubs floors and sews for extra money, but she dreams of her own independence and freedom. When she enters Mr. Pedersen's (Jesper Christensen) photography studio one day, she has every intention of selling a camera that she had won in a lottery years before. But Pedersen instead convinces her to try out the camera first, and she is soon documenting the world around her. As Sigge becomes more and more ornery — and more and more dangerous, threatening the future of the family — Maria has discovered a whole new way of looking at things, both literally and figuratively, but still needs to find the inner strength to improve her lot. Seen through the eyes of eldest daughter Maja (first played by Nellie Almgren, then by Callin Öhrvall), EVERLASTING MOMENTS is a beautiful, bittersweet personal tale told by one of Sweden's greatest filmmakers. Now in his late seventies, director Troell (THE EMIGRANTS, HAMSUN) also cowrote the script with his wife and Niklas Rådström and served as cinematographer with Mischa Gavrjusjov; the film was nominated for a Golden Globe and won five Guldbagge (Golden Beetle) Awards from the Swedish Film Institute, including Best Film, Best Actor, Best Actress, Best Supporting Actor, and Special Achievement (composer Matti Bye).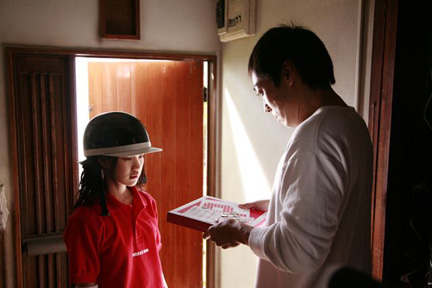 Tokyo shut-ins have rare moment of human contact in SHAKING TOKYO
TOKYO! (Michel Gondry, Léos Carax, and Bong Joon-ho, 2008)
Landmark Sunshine Cinema
143 East Houston St. between First & Second Aves.
Opens Friday, March 6
212-330-8182
http://www.landmarktheatres.com

Labeled a "fantasy in three movements," TOKYO! consists of a trio of distinct tales set in the thriving heart of Japan's capital city. In Michel Gondry's INTERIOR DESIGN, his best work since 2004's ETERNAL SUNSHINE OF THE SPOTLESS MIND, a young couple, Hiroko (Ayako Fujitani) and Akira (Ryo Kase), arrive from the provinces with dreams of making it big in the film business. Unable to find worthwhile jobs or an affordable apartment, they are overstaying their welcome with Hiroko's school friend Akemi (Ayumi Ito). Feeling lost and invisible, Hiroko ventures out one day and, well, as fans of Gondry's would expect, something very strange happens. In MERDE, French director Léos Carax's first film since 1999's POLA X, a wild-eyed, CHUD-like (Cannibalistic Humanoid Underground Dweller) character (Denis Lavant) emerges from below, wreaking havoc on the streets of Tokyo, speaking a bizarre language that only French magistrate Maitre Voland (Jean-Francois Balmer) can understand. And in Bong Joon-ho's SHAKING TOKYO, the director of THE HOST tells the lonely tale of a hikikimori (Teruyuki Kagawa), an agoraphobic shut-in, who becomes intrigued by the young woman (Yu Aoi) who delivers his pizza and considers actually going outside, into a Tokyo that is being rattled by a series of earthquakes. While MERDE is an in-your-face assault that is filled with anger toward the audience, INTERIOR DESIGN and SHAKING TOKYO are beautifully rendered, engaging stories that will make viewers forget the mess in the middle. (Carax will appear in person on March 6 at the 7:30 & 10:25 screenings, while Gondry will be on hand for screenings on March 7 at 7:30 & 10:25 and March 8 at 2:30 & 5:00.)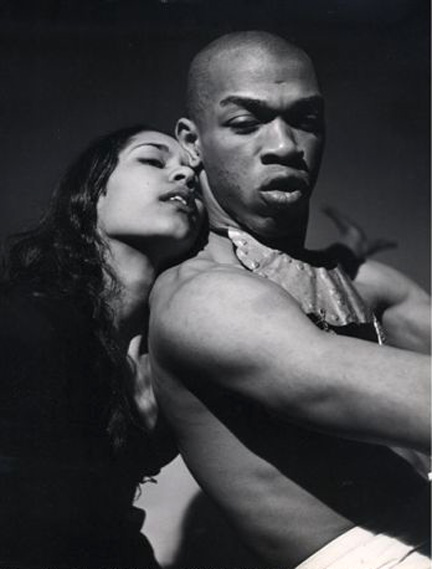 First Run Features
The magnificent partnership of Carmen & Geoffrey is on view in documentary
CARMEN & GEOFFREY (Linda Atkinson & Nick Doob, 2006)
Quad Cinema
34 West 13th St. between Fifth & Sixth Aves.
Opens Friday, March 13
212-255-8800

CARMEN & GEOFFREY is an endearing look at Carmen de Lavallade and Geoffrey Holder's lifelong love affair with dance — and each other. The New Orleans-born de Lavallade studied with Lester Horton and went to high school with Alvin Ailey, whom she brought to his first dance class. Trinidadian Holder is a larger-than-life gentle giant who is a dancer, choreographer, composer, costume designer, actor director, writer, photographer, painter, and just about anything else he wants to be. The two met when they both were cast in Truman Capote and Harold Arlen's Broadway show HOUSE OF FLOWERS in 1954, with Holder instantly falling in love with de Lavallade; they've been together ever since. Directors Linda Atkinson and Nick Doob combine amazing archival footage — of Eartha Kitt, Josephine Baker, Ulysses Dove, de Lavallade dancing with Ailey, and other splendid moments — with contemporary rehearsal scenes, dance performances, and interviews with such stalwarts as dance critic Jennifer Dunning, Alvin Ailey artistic director Judith Jamison, and choreographer Joe Layton (watch out for his eyebrows), along with family members and Gus Solomons jr and Dudley Williams, who still work with de Lavallade. The film was made on an extremely low budget, and it shows, but it is filled with such glorious footage that you'll get over that quickly.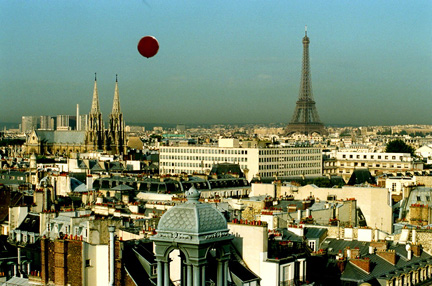 Hou Hsiao Hsien film will have special screening in LIC
WORLD CINEMA SHOWCASE: FLIGHT OF THE RED BALLOON (Hou Hsiao Hsien, 2007)
La Guardia Performing Arts Center
31-10 Thomson Ave., Long Island City
Friday, March 13, $10, 7:00
718-777-6810

Commissioned by the Musee d'Orsay and inspired by Adam Gopnik's book PARIS TO THE MOON and Albert Lamorisse's children's classic THE RED BALLOON, director Hou Hsiao Hsien creates a wonderfully gentle, beautifully peaceful work in FLIGHT OF THE RED BALLOON. Mimicking the Taiwanese Hou making a film in Paris, Song Fang stars as Song, a Taiwanese film student who arrives in Paris to be a nanny to Simon (Simon Iteanu), whose mother, Suzanne (a blonde Juliette Binoche), runs a local puppet theater — which is currently putting on a version of the Chinese story of Zhang Yu, in French. Song goes everywhere with her video camera, recording whatever she sees. Meanwhile, a mysterious red balloon follows Simon through the city. (In THE RED BALLOON, it's reversed, as a young boy runs after the balloon.) There is no real plot but merely daily life, sort of Truffaut meets Ozu as Song makes pancakes, Suzanne gets involved in a rent dispute, and Simon practices the piano. The film is all about place and character, not about narrative; in fact, much of the dialogue is improvised. Lovingly shot by Mark Lee Ping Bing, FLIGHT OF THE RED BALLOON is a sweet, tender film.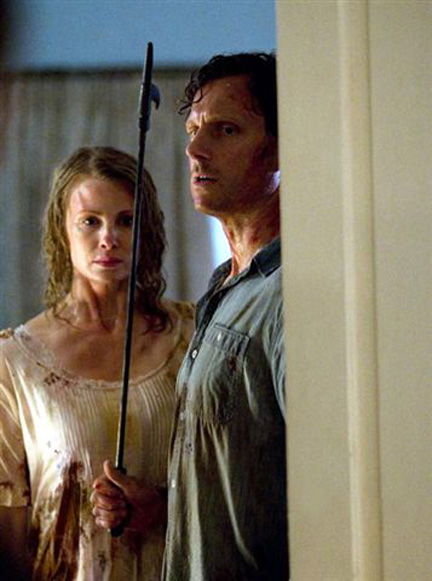 Craven and Cunningham do much better the second time around
THE LAST HOUSE ON THE LEFT (Dennis Iliadis, 2009)
Opens Friday, March 13
http://www.thelasthouseontheleft.com

In 1972, writer-director Wes Craven and producer Sean S. Cunningham teamed up on the low-budget grindhouse movie LAST HOUSE ON THE LEFT, an insipid piece of trash that quickly became a cult classic, still regarded by some as a masterpiece of the genre. More than a third of a century later, following Craven's success with the Nightmare on Elm Street series and Cunningham's Friday the 13th franchise, the two have teamed up with producer Marianne Maddalena to revisit THE LAST HOUSE ON THE LEFT. Director Dennis Iliadis and writers Mark Haslett, Carl Ellsworth, and Adam Alleca have taken the core story of a crazy group of killers who terrorize a family and added much of the nuance that the original was missing, resulting in a tense, creepy thriller that is closer in mood and style — and, in significant places, plot — to Michael Haneke's home-invasion film FUNNY GAMES than the first LAST HOUSE movie. (In fact, one wonders whether Craven and Cunningham were influenced by Haneke's 2008 remake of his own 1997 original when deciding to tackle a new LAST HOUSE, especially because of the plot similarities. LAST HOUSE also owes a debt to Ingmar Bergman's harrowing 1960 Oscar-winning Swedish film THE VIRGIN SPRING.)
When high school swimming champion Mari Collingwood (Sara Paxton) and her parents, John (Tony Goldwyn) and Emma (Monica Potter), head out on a vacation to their isolated lake house, they have no idea they will soon be battling a vicious band of rapists and murderers led by the evil Krug (Garret Dillahunt). The new film thankfully gets rid of the stupid subplot involving the hapless sheriff and deputy while also adding much-needed depth to the character of Justin (Spencer Treat Clark), Krug's teenage son. Despite an awful, wholly unnecessary scene tacked on at the end — did anybody really think this was a good idea? — the remake is far superior to the original, a gripping film that ably stands on its own, alongside such recent terror fare as Rob Zombie's THE DEVIL'S REJECTS, Bryan Bertino's THE STRANGERS, and the second FUNNY GAMES.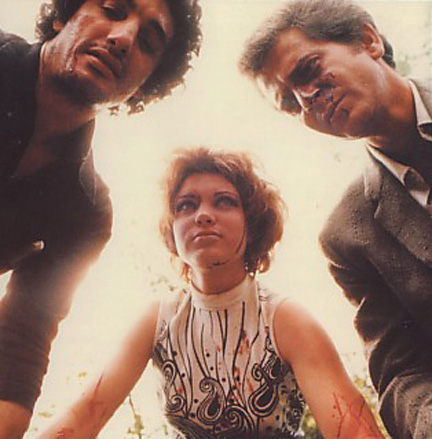 It's better not to look at this insipid horror flick
LAST HOUSE ON THE LEFT (Wes Craven, 1972)

Written and directed by Wes Craven, who went on to create the Nightmare on Elm Street films as well as THE HILLS HAVE EYES and SWAMP THING, and produced by Sean S. Cunningham, who went on to create the Friday the 13th movie series, LAST HOUSE ON THE LEFT is an insipid piece of vile trash, an embarrassingly exploitative hour and a half of sheer, repulsive filth. Mari Collingwood (Sandra Cassel) and Phyllis Stone (Lucy Grantham) are on their way to see the band Bloodlust for Mari's seventeenth birthday when they stop to pick up some pot, but they really picked the wrong place to do that. They are abducted by Krug Stillo (David Hess), Krug's son, Junior (Marc Sheffler), Fred "Weasel" Podowski (Fred J. Lincoln), and (Jeramie Rain), who do horrible things to them while Mari's parents (Richard Towers and Cynthia Carr) worry about their daughter, getting no help from the ridiculous local cops (Marshall Anker and Martin Kove) who are supposed to serve as comic relief. On March 13, Dennis Iliadis's remake will be released, starring Monica Potter, Sara Paxton, Tony Goldwyn, and Garret Dillahunt, produced by Craven and Cunningham along with Marianne Maddalena.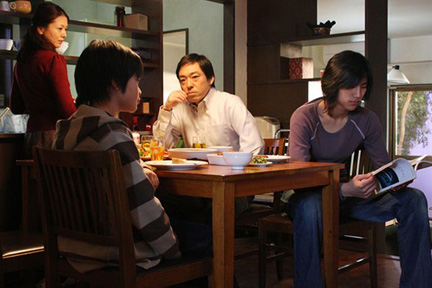 Tokyo family is a metaphor for all of Japan in Kiyoshi Kurosawa film
TOKYO SONATA (Kiyoshi Kurosawa, 2008)
Opens Friday, March 13
IFC Center
323 Sixth Ave. at West Third St.
212-924-7771
Lincoln Plaza Cinemas
1886 Broadway between 62nd & 63rd Sts.
212-757-0359
http://lincolnplaza.moviefone.com
http://www.tokyosonatamovie.com

Winner of the Un Certain Regard Jury Prize at Cannes, TOKYO SONATA serves as a parable for modern-day Japan. Ryuhei Sasaki (Teruyuki Kagawa) is a simple family man, with a wife, Megumi (Koyoko Koizumi), two sons, Takashi (Yu Koyanagi) and Kenji (Kai Inowaki), and an honest job as an administration director for a major company. When Ryuhei is suddenly let go — he is being replaced by much cheaper Chinese labor — he is so ashamed, he doesn't tell his family. Instead, he puts on his suit every day and, briefcase in hand, walks out the door, but instead of going to work, he first waits on line at the unemployment agency, then at an outdoor food kitchen for a free lunch with the homeless — and other businessmen in the same boat as he is. Taking out his anger on his family, Ryuhei refuses to allow Kenji to take piano lessons and protests strongly against Takashi's desire to join the American military. But then, on one crazy night — which includes a shopping mall, a haphazard thief (Koji Yakusho), a convertible, and some unexpected violence — everything comes to a head, leading to a brilliant finale that makes you forget all of the uneven missteps in the middle of the film, which is about a half hour too long anyway. Kagawa, who is also one of the stars of the omnibus TOKYO! (which opened March 6), is outstanding as the sad-sack husband and father, matched note for note by the wonderful Koizumi, who searches for strength as everything around her is falling apart. And it's always a hoot to see Yakusho, the star of such films as Kurosawa's CURE, Shohei Imamura's THE EEL, Rob Marshall's MEMOIRS OF A GEISHA, and Alejandro González Iñárritu's BABEL, seen here as a wild-haired, wild-eyed wannabe burglar.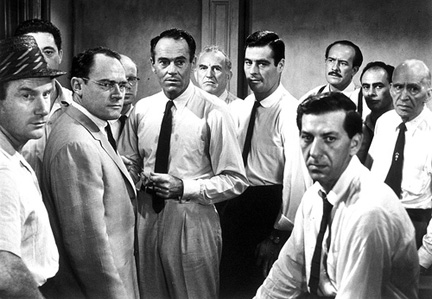 Henry Fonda tries to change a few minds in legal classic
12 ANGRY MEN (Sidney Lumet, 1957)

Sidney Lumet's first film, adapted from the play by Reginald Rose, is a tense, nervous jury drama that goes deep into the psyche of what makes people tick. After hearing the closing arguments of a murder case, twelve men retire to the jurors room to decide the fate of the defendant. One man (Henry Fonda) stands alone, expressing more than just a shadow of a doubt, as the eleven other men want a verdict of guilty and to then quickly return to their lives. As some men start to question their original vote of guilty, others grow more and more frustrated and, well, angry as tempers flare and boiling points are reached. In June 2008, the American Film Institute named 12 ANGRY MEN the second-best courtroom drama of all-time, trailing only TO KILL A MOCKINGBIRD (Robert Mulligan, 1962). The outstanding cast also includes Martin Balsam, E. G. Marshall, Jack Klugman, Jack Warden, and Lee J. Cobb as the angriest of the twelve angry men. On March 4, Russian director Nikita Mihalkov's (BURNT BY THE SUN, DARK EYES) reimagining of the proceedings, "12," opens at Film Forum.
In Theaters Now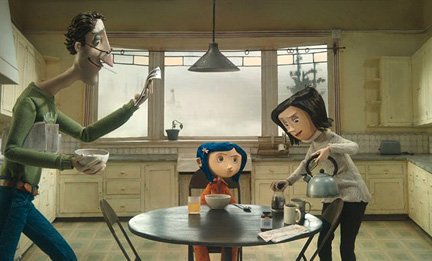 Coraline spends some quality time with her real parents in 3-D fantasy
CORALINE (Henry Selick, 2009)

Coraline Jones (voiced by Dakota Fanning) is an adventurous eleven-year-old in search of some fun and excitement in her new creaky home in Oregon. She finds just what she thinks she was looking for when a rodent introduces her to a hidden passageway that leads to an alternate universe, where replicas of her parents (Teri Hatcher and John Hodgman) are more interested in her and give her whatever she wants. However, this button-eyed Other Mother and Other Father have other plans for her and her real family as well. Written and directed by Henry Selick, CORALINE lacks the frantic, nonstop energy of his breakthrough film, TIM BURTON'S THE NIGHTMARE BEFORE CHRISTMAS, but it is still a fun, creepy trip down the Narnia-esque rabbit hole. Combining his trademark stop-motion animation (JAMES AND THE GIANT PEACH) with breathtaking stereoscopic 3-D that adds remarkable depth to the images, Selick does a marvelous job bringing to life the popular children's novel by Newbery Medal-winning author Neil Gaiman (SANDMAN), who wrote the book for his young daughters. (Full disclosure: In another part of our life, we work for the company that publishes Gaiman's children's books, including CORALINE, although we promise that does not color our opinion of it.) The supporting cast of characters includes former music-hall divas Miss Spink and Miss Forcible (the ABSOLUTELY FABULOUS British comedy team of Jennifer Saunders and Dawn French), the wise Cat (Keith David), mouse circus leader Mr. Bobinsky (Ian McShane), and local boy Wybie Lovat (Robert Bailey Jr.), who was created specifically for the movie. Be sure to stick around for one last cool 3-D effect at the end of the credits.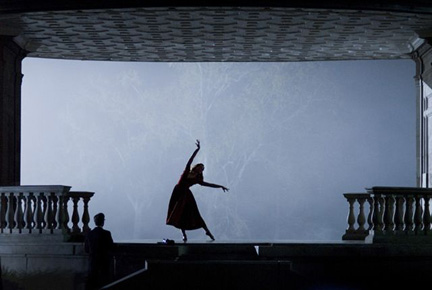 Brad Pitt and Cate Blanchett play age-crossed lovers in BUTTON
THE CURIOUS CASE OF BENJAMIN BUTTON
(David Fincher, 2008)

Based on the short story by F. Scott Fitzgerald, THE CURIOUS CASE OF BENJAMIN BUTTON is an unusual love story for the ages. As Benjamin (Brad Pitt) grows younger, everyone around him gets older, creating fascinating intersections among various characters, but primarily with Daisy Fuller (Cate Blanchett). It's August 2005 in New Orleans, as Hurricane Katrina approaches. In her hospital room, an elderly, dying woman (an unrecognizable Blanchett) gives her daughter, Caroline (Julia Ormond), a diary that she begins reading out loud. It was written by a man named Benjamin Button, who was born an old man in 1918 and tells his life story as the years pass by and he ages backward, sort of a reverse Jack Crabb (Dustin Hoffman) in the great LITTLE BIG MAN (Arthur Penn, 1970), with a bit of the overrated FORREST GUMP (Robert Zemeckis, 1994) thrown in as well. The film lags a bit as Benjamin and Daisy approach similar ages — actually, the closer they get to their actor selves — but the beginning is marvelous, with Fincher working magic as Pitt plays a tiny, withered old man, and the ending is heart-wrenching. Fincher (FIGHT CLUB, ZODIAC) and writer Eric Roth — who won a Best Adapted Screenplay Oscar for FORREST GUMP — wisely choose not to turn Benjamin into a human oddity that confounds the medical profession; instead, he just goes about his life, trying to do the best he can with a positive outlook and a lust for living. Alexandre Desplat's score is among the best of the year, supported by a soundtrack filled with New Orleans jazz. The cast also includes Tilda Swinton as a diplomat's wife who takes a romantic interest in Benjamin, Jared Harris as the randy captain of a tugboat who teaches Benjamin about the sea (and booze and sex), Taraji P. Henson as Queenie, the woman who raises the baby Benjamin after he is abandoned by his father (Jason Flemyng), and the man with perhaps the longest name in the history of show business, Mahershalalhashbaz Ali, as Queenie's husband, Tizzy.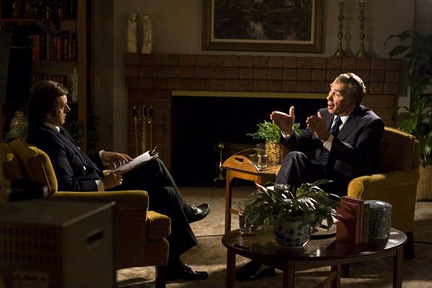 David Frost (Michael Sheen) and Richard Nixon (Frank Langella) get it on in Ron Howard drama
FROST/NIXON (Ron Howard, 2008)

In 1977, the disgraced former president of the United States, Richard Nixon, sat down with British talk show host David Frost for a series of interviews, including the first time Nixon had agreed to discuss Watergate publicly; Frost was after a big payday and trying to resurrect his career in America, while Nixon was attempting to defend his legacy and reestablish his political credentials. Written by Peter Morgan (THE QUEEN) based on his play, FROST/NIXON is a compelling drama that turns into a thriller as Frost and Nixon get caught up in an intellectual game of cat and mouse. Frank Langella is absolutely brilliant as Nixon, capturing every nuance of the jowly president, while Michael Sheen (Tony Blair in THE QUEEN) is a bit too wide-eyed as Frost, although he's got the hair and the accent down pat; both actors are reprising the roles they originated in Morgan's London and Broadway hit. Director Ron Howard allows the story to unfold at its own pace as Nixon's team, which includes Chief of Staff Jack Brennan (Kevin Bacon), super-agent Swifty Lazar (Toby Jones), and a young Diane Sawyer (Kate Jennings Grant), prepares to go toe to toe with Frost's sidekicks, investigative journalist Jim Reston (Sam Rockwell), producers John Birt (Matthew MacFadyen) and Bob Zelnick (Oliver Platt), and love interest Caroline Cushing (Rebecca Hall). FROST/NIXON is a fascinating and thoroughly entertaining look at a critical time in America, when politics intersected with pop culture as the country held its collective breath, demanding closure.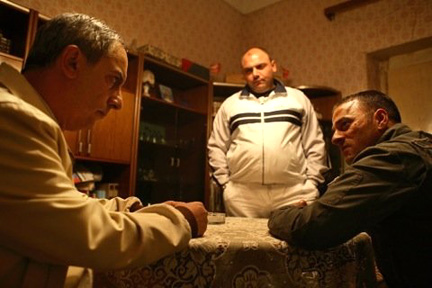 Italian crime epic looks at Camorra syndicate in Naples
GOMORRAH (Matteo Garrone, 2008)
IFC Center
323 Sixth Ave. at West Third St.
212-924-7771
Lincoln Plaza Cinemas
1886 Broadway between 62nd & 63rd Sts.
212-757-0359
http://www.lincolnplazacinema.com

Winner of the Grand Prix at the 2008 Cannes Film Festival, GOMORRAH is a violent, intimate look at the modern-day Camorra crime syndicate in Naples and Caserta. Based on the nonfiction novel by investigative journalist Roberto Saviano — who has been living under police protection since the fall of 2006 — Matteo Garrone's epic follows five distinct yet interrelated stories set around a dilapidated concrete-block housing project, a sort of GODFATHER meets THE SOPRANOS filtered through Italian Neo-realism. Pasquale (Salvatore Cantalupo) is a tailor who considers sharing his secrets with a Chinese sweatshop to make some much-needed extra cash. Roberto (Carmine Paternoster) is having second thoughts training under Franco (Toni Servillo), who runs a toxic waste dumping business. Don Ciro (Gianfelice Imparato) has to deal with a delicate, difficult situation when Maria's (Italian singing star Maria Nazionale) young son joins the secessionists, a rival gang. Marco (Marco Macor) and Ciro (Ciro Petrone) are loose cannons who keep messing with the wrong people. And Totò (Salvatore Abruzzese) is a thirteen-year-old boy who is helping out the Camorra against his mother's wishes — and is soon faced with a life-changing decision. Beautifully shot by Marco Onorato and featuring a cast of primarily nonprofessional actors, GOMORRAH is a deeply involving crime drama, all the more frightening because it's based on real, current situations.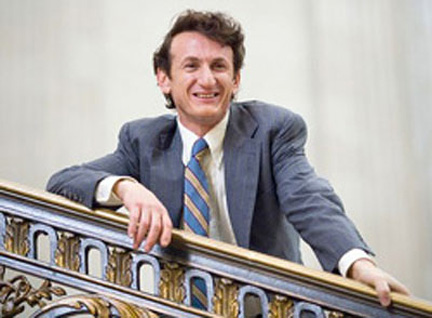 Sean Penn stars as Harvey Milk in look at gay activist and politician
MILK (Gus Van Sant, 2008)
http://www.filminfocus.com/focusfeatures/film/milk

Gus Van Sant's MILK is a solid if surprisingly standard biopic focusing on the last eight years in the life of Harvey Milk, the gay activist and politician who was assassinated in 1978. Van Sant (DRUGSTORE COWBOY, TO DIE FOR, GOOD WILL HUNTING) follows the eventual unofficial Mayor of Castro Street (Sean Penn) as he moves to San Francisco with his much younger partner, Scottie Smith (James Franco), and sets up a camera shop that soon becomes an important meeting ground for the local gay community, fighting for equal rights and supporting Milk as he continually campaigns for public office. The battle hits its high point in 1978 when Milk takes on John Briggs and the Briggs Initiative, also known as Proposition 6, which sought to take away existing employment rights from gays and lesbians in the California public school system, eerily reminiscent of the recent passage of Proposition 8 there. Although Milk was a rallying figure — his opening mantra was always "My name is Harvey Milk, and I am here to recruit you!" — the film never quite takes off the way it wants to, instead becoming too reverential and melodramatic. Penn is good but subdued in the lead role; the best performance comes from Josh Brolin as Dan White, Milk's main adversary among the SF supervisors.

THE READER (Stephen Daldry, 2008)
http://www.thereader-movie.com

A surprise Best Picture Oscar nominee, THE READER is a cold and disappointing film focusing on a pair of cold, overly secretive — and intensely frustrating — characters. In 1958 Germany, thirty-five-year-old Hanna (Kate Winslet) begins a steamy affair with fifteen-year-old Michael (David Kross); the matronly woman, who calls the young boy "kid," gets in the mood by having him read great works of literature to her as they lay naked together in bed. The film switches between that year and 1995 (as well as several years in between), when a grown-up Michael (Ralph Fiennes) is still having trouble dealing with one obvious secret, although another, shocking one, revealed while he was in law school, has changed the course of his life and his ability to maintain close relationships, including with his daughter. Director Stephen Daldry (BILLY ELLIOT, THE HOURS) manipulates the rather emotionless story — written by David Hare (PLENTY), based on the novel by Bernard Schlink — teasing the audience unnecessarily to keep things moving, albeit at a snail's pace. Although it's always great to see Bruno Ganz and Lena Olin, the main stars — Winslet, Kross, and especially Fiennes — are oddly dispassionate in this overblown and underplayed melodrama. The film's success during awards season might be primarily because two of the executive producers, Anthony Minghella and Sydney Pollack, passed away last year, and this is their final project.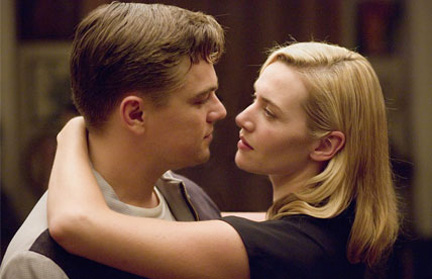 Leonardo DiCaprio and Kate Winslet reunite in REVOLUTIONARY ROAD
REVOLUTIONARY ROAD (Sam Mendes, 2008)
http://www.revolutionaryroadmovie.com

Sam Mendes's REVOLUTIONARY ROAD, based on the novel by Richard Yates, is a brilliant dissection of suburban life in 1950s America. The film reunites the two stars of TITANIC (James Cameron, 1997), with Leonardo DiCaprio and Kate Winslet playing the Wheelers, a young couple who have just moved into suburban Connecticut. Frank works for the same machine company his father did, having to make the commute into the city on the train every day, while April, a onetime aspiring actress, stays at home and takes care of their son. But each of them dreams of something more, something different — something better — so they suddenly decide to rekindle their romance and build a new life in Paris. But not everything goes as planned, as suburbia's overwhelming hopelessness threatens to destroy them. Mendes's fourth film, following AMERICAN BEAUTY (1999), ROAD TO PERDITION (2002), and JARHEAD (2005), is a marvelously constructed tale that hits home time and time again. Winslet (Mendes's wife), who won a Golden Globe for her performance, is spectacular as April, her every movement filled with raw emotion, while DiCaprio is sensational as Frank, a man who is not sure what he wants out of life. The cast also includes David Harbour and Kathryn Hahn as the Wheelers' best friends and neighbors, the Campbells; Kathy Bates as Helen Givings, the local Realtor; Richard Easton as her hard-of-hearing husband, Howard; and Michael Shannon as their mentally challenged adult son, John, who seems to know just how to get to the heart of the matter. REVOLUTIONARY ROAD is a masterful look at life.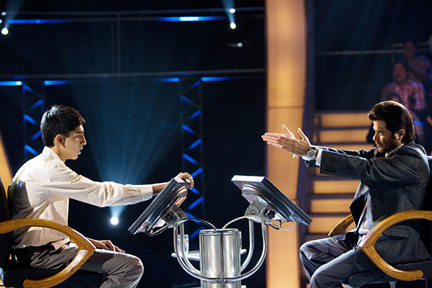 Jamal goes for the big bucks in SLUMDOG MILLIONAIRE
SLUMDOG MILLIONAIRE (Danny Boyle, 2008)
http://www.foxsearchlight.com/slumdogmillionaire

In modern-day Mumbai, Jamal Malik (Dev Patel) is being brutally interrogated by a police inspector (Irrfan Khan) who is certain that Jamal is cheating on the popular game show WHO WANTS TO BE A MILLIONAIRE? The cop won't even consider that a young, uneducated chaiwalla, a lowly tea server at a call center, could possibly know enough to be successful on the program. But through a series of harrowing flashbacks, Jamal recounts his difficult, miserable life growing up on the streets with his brother, Salim (Madhur Mittal), explaining how his experiences with extreme poverty, bigotry, child abuse, and gang violence led him to know certain answers in fascinating, bizarre, and mostly sad ways. As he approaches the final question, everything he's ever loved and believed in hangs in the balance. SLUMDOG MILLIONAIRE is extremely well directed by Danny Boyle (TRAINSPOTTING, 28 DAYS LATER), with a smart script by Simon Beaufoy (THE FULL MONTY) based on Vikas Swarup's novel Q AND A. Freida Pinto makes a strong debut as Latika, the girl who comes between the two brothers, and Bollywood star Anil Kapoor is wonderfully smarmy as Prem Kumar, the Indian Regis Philbin. A mesmerizing, edge-of-your-seat tale, SLUMDOG MILLIONAIRE was the sleeper hit of 2008 until it won four Golden Globe awards, followed by eight Oscars, including Best Director and Best Picture.
VICKY CRISTINA BARCELONA (Woody Allen, 2008)
Quad Cinema
34 West 13th St. between Fifth & Sixth Aves.
212-255-8800
http://www.vickycristina-movie.com

After a trio of films made in England (the justly celebrated MATCH POINT, the disappointing SCOOP, and the underappreciated CASSANDRA'S DREAM), Woody Allen heads to Spain, setting his latest adult romantic comedy in the gorgeous city of Barcelona. The very serious Vicky (Rebecca Hall, channeling Mia Farrow) and the flirtatious free spirit Cristina (Scarlett Johansson) are best friends spending the summer at a villa owned by Judy (Patricia Clarkson) and Mark (Kevin Dunn). Vicky is about to get married to the very responsible and successful Doug (Chris Messina), while Cristina is just looking to have a wild time. When hot artist Juan Antonio (a gentle Javier Bardem) invites Vicky and Cristina to join him for wine and sex in Oviedo, Vicky thinks he is a pig, while Cristina wants to take him up on his offer. Further complicating the situation is Juan Antonio's homicidal, suicidal ex-wife, Maria Elena (an inspired, Oscar-winning performance by Penelope Cruz), who forces herself back into his life. VICKY CRISTINA BARCELONA features one of Allen's best scripts in years. Hall, a young British actress who primarily works on stage and television, is captivating as Vicky; cinematographer Javier Aguirresarobe's camera falls in love with her charming face the moment it first lays eyes on her. Bardem and Cruz inject fire and ice into this complex relationship drama, which examines the nature of love in intelligent and intriguing ways. In addition to filming at such sites as Antoni Gaudi's Sagrada Familia, Parc Guell, and La Pedrera, Allen infuses the proceedings with a soundtrack of delightful Spanish music, structured around Gulia y Los Tellanini's "Barcelona."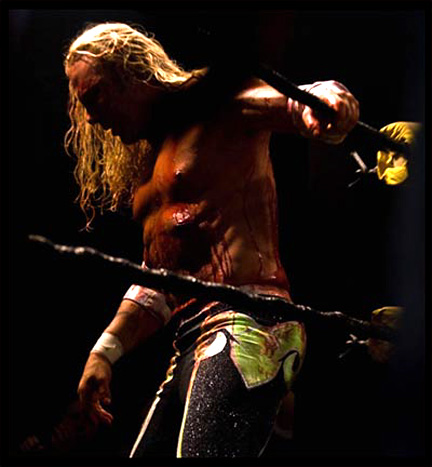 Mickey Rourke wrestles his demons in comeback flick
THE WRESTLER (Darren Aronofsky, 2008)
http://www.thewrestlermovie.com

Brooklyn native Darren Aronofsky, writer-director of the brilliant PI (1998) and REQUIEM FOR A DREAM (2000) and the muddled mess THE FOUNTAIN (2006), scores a major takedown with the marvelous comeback film THE WRESTLER. Former boxer Mickey Rourke, who made a name for himself in such 1980s films as DINER, RUMBLE FISH, THE POPE OF GREENWICH VILLAGE, 9 1/2 WEEKS, and BARFLY, stars as the Christ-like figure Randy "the Ram" Robinson, an aging professional wrestler who was the sport's biggest name in the 1980s but is now a washed-up has-been living in a trailer park wrestling for embarrassingly small paydays at tiny local venues, still lured by the love of the sparse crowds and the respect of his opponents. After suffering a heart attack following one of his matches, the fifty-something Ram is suddenly faced with a life outside the ring. He tries to get back in his daughter's (Evan Rachel Wood) life, attempts a relationship with stripper Cassidy (Marisa Tomei), and even gets a regular job in a supermarket, but the possibility of returning to the ring for the twentieth anniversary of his biggest match ever, his 1989 battle against the Ayatollah (Ernest Miller) in Madison Square Garden, weighs hard on his mind. Winner of the Golden Lion at the Venice Film Festival, THE WRESTLER, shot in an arresting grainy style, is a masterfully told tale with multiple layers, with the Ram's potential comeback mimicking Rourke's own return to his acting glory days. Rourke, who won a Golden Globe for his effort, is such a natural in the role that it is hard to believe it was not written specifically for him; in fact, Nicolas Cage was first attached to the project. (Bruce Springsteen's title song, which plays over the closing credits, took home the Golden Globe for Best Original Song.) The film is set in the real-life world of Combat Zone Wrestling and the Ring of Honor, featuring such actual wrestlers as the Necro Butcher, who has a thing for barbed wire and staple guns. THE WRESTLER is a heart-wrenching, beautiful, and brutal film.
Riff's Rants & Raves: Live Music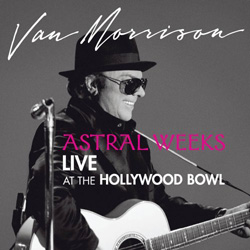 VAN MORRISON: ASTRAL WEEKS
Beacon Theatre
Broadway at 74th St.
March 3-4, 8:00 sharp
Tickets: $90-$350

Senior year in college, we went to bed each night listening to Van Morrison's seminal masterpiece, ASTRAL WEEKS (Warner Bros., 1968), one of the greatest, most pristine recordings ever made. It's an exhilarating and exhausting eight-song suite in which Belfast-born Van the Man, recently removed from the mid-'60s pub band Them ("Gloria," "Here Comes the Night"), investigates love and loss with piercing vocals and stunning lyrics. From the opening notes of the title track to the closing seconds of the final song, Morrison and his stellar makeshift band created a whole new kind of popular music, mixing jazz, folk, R&B, rock, and soul with raw poetry that hit down to the bone. All of that and more was evident on February 27, when he played the first of two special shows at the WaMu Theater, featuring one set of rarely played classics and oldies followed by ASTRAL WEEKS performed in its entirety, with a ten-piece group. (He'll be back March 3 & 4 for two shows at the Beacon, then heads for the Royal Albert Hall.) Believe it or not, Van wasn't quite happy with the way the original album came out, so he has carefully and subtly reimagined the work, with slightly different arrangements that give new life to the forty-year-old songs.
The first set, featuring a fifteen-piece band, started with "Northern Muse (Solid Ground)," from 1982's BEAUTIFUL VISION, and continued with such remarkable rarities as the stirring "T.B. Sheets," after which Morrison talked about how producer Bert Berns referred to it as a "dungeon" song, and "Who Drove the Red Sports Car?," in addition to the more familiar "Glad Tidings," "And It Stoned Me," and "Caravan." He also surprised the crowd with Pink Floyd's "Comfortably Numb," which he contributed to the 1990 Wall concert in Berlin. He closed the set with "Common One," in which he threw words at saxophonists/flutist Richie Buckley, who threw them right back at him, causing Van to crack up several times. Morrison played a little piano, sax (on "St. James's Infirmary"), harmonica, and guitar, tightly grasped the mic stand, which featured a shining VM logo, scat-sang, and conducted the band with sudden jerks of his right arm. He also complained that the microphone cord was too short as he tried to finish the last song offstage. (The second show at the WaMu included "Moondance," "Wild Night," "Jackie Wilson Said," "Baby, Please Don't Go," "Domino," and "Brown Eyed Girl.")
After a short break, Morrison came back with a ten-piece group as he began the lilting, lovely ASTRAL WEEKS set. It was chilling to hear him play these songs, most of which he has seldomly performed live (and in some cases not in decades), singing lines that fans thought they'd never hear in a concert setting. The majestic title track started things off, followed by a redesigned "Beside You" and a reworked "Sweet Thing," which sadly buried the killer guitar riff that propels the song. Everybody held their collective breath during "Cyprus Avenue" as Van, experiencing problems with his guitar, demanded a different one, then angrily gave that one back to the tech as well; in previous incarnations, Van might have stormed off the stage at this point, never to return, but he kept on going, determined not to interrupt the magic (or the DVD taping), which was enhanced by glittering stars projected onto the backdrop. As good as the swinging "The Way Young Lovers Do" and the bittersweet "Madame George" were, a stunning "Ballerina" was the highlight of the show, leading to the finale, a jazzed-up version of "Slim Slow Slider." Van came back out for one encore, the crowd favorite "Listen to the Lion." If you can't make it to either of the Beacon shows, you can pick up ASTRAL WEEKS LIVE AT THE HOLLYWOOD BOWL (Listen to the Lion, February 24, 2009), but it won't be as sweet as the real thing.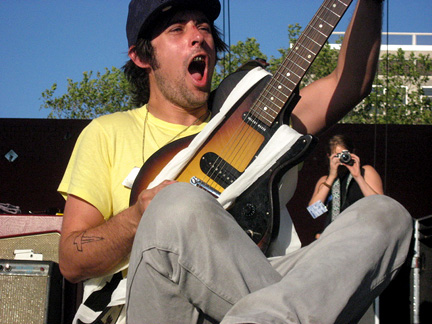 twi-ny/mdr
Ian Saint Pé plays toilet-paper-wrapped guitar at McCarren Park Pool
BLACK LIPS
Monday, March 9, Bowery Ballroom, 6 Delancey St. at Bowery, 212-533-2111, $17, 8:00
Tuesday, March 10, Music Hall of Williamsburg, 66 North Sixth St., 212-260-4700, $17, 9:00
http://www.myspace.com/theblacklips
http://www.musichallofwilliamsburg.com

At McCarren Park Pool last August, the Black Lips show devolved into a frantic and furious all-out TP-throwing party with King Khan and Deerhunter, featuring a guitar solo by a dog, an old dancing Shriner, and some things best left unsaid. Atlanta's finest garage-flower punks are back in town, touring behind their latest, 200 MILLION THOUSAND (Vice, February 2009), another crazy collection of psychedelic songs, including "Take My Heart," "Drugs," "Trapped in a Basement," and "Big Black Baby Jesus of Today." You never know what will happen at a Black Lips show; in the past, we've seen some tongue kissing, spitting in the air and catching it in the mouth, bottles being broken over heads — and that's all onstage. The Lips — Cole Alexander, Jared Swilley, Joe Bradley, and Ian Saint Pé — will be at the Bowery Ballroom on March 9 with Gentlemen Jesse & His Men and Georgiana Starlington and at the Music Hall of Williamsburg on March 10 with Gentlemen Jesse & His Men and Let's Wrestle. We keep telling you not to miss these guys, and we're really not kidding.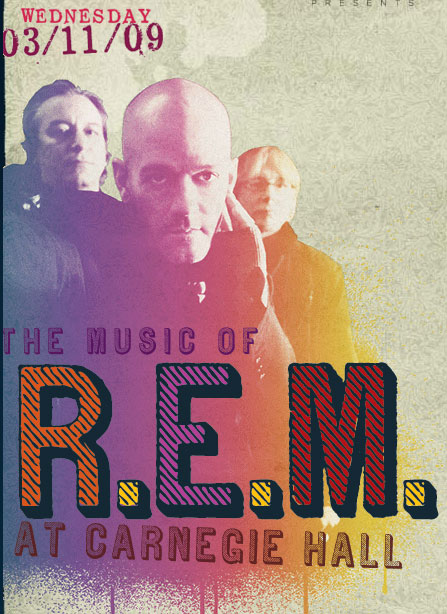 THE MUSIC OF R.E.M.
Carnegie Hall, Stern Auditorium, Perelman Stage
154 West 57th St. at Seventh Ave.
Wednesday, March 11, $38-$125, 8:00
212-247-7800
Music impresario Michael Dorf, who in 1987 cofounded the Knitting Factory, has put together such great programs as the Music Downtown Series and Jewzapalooza and now runs City Winery, which pairs fine artists with fine wine. Every year Dorf selects a music legend to pay tribute to in the annual "Music of" benefit concerts for the UJA's Music for Youth Foundation, "a non-profit initiative with its mission to identify, fund, and lend experience to innovative programs that make quality music education available to underprivileged young people." Among the beneficiaries are the American Symphony Orchestra, the Church Street School for Music & Arts, and the Mr. Holland's Opus Foundation.
Over the past years, Dorf has amassed an eclectic roster of talent to perform tunes by such musical giants as Joni Mitchell, Bob Dylan, Elton John, and Bruce Springsteen (who actually made a surprise appearance on his night). On March 11, R.E.M. will be honored by an all-star roster that includes Bob Mould, Patti Smith, Throwing Muses with Kristen Hersh, Marshall Crenshaw, Kimya Dawson, Ingrid Michaelson, Glenn Hansard, Dar Williams, the Apples in Stereo, the Feelies, Tommy James and the Shondells, Jolie Holland, Keren Ann, Guster, Rhett Miller, the dB's, Vic Chesnutt & Elf Power, Darius Rucker, and Rachel Yamagata, with Calexico serving as the house band. We've been to several of these tributes, and they are extremely well organized, with one artist following the other in a fun and fascinating parade of traditional and experimental versions of the honoree's songs. VIP tickets going for $275 include an after-party with the artists at City Winery (143 Varick St.), with food inspired and designed by Mario Batali.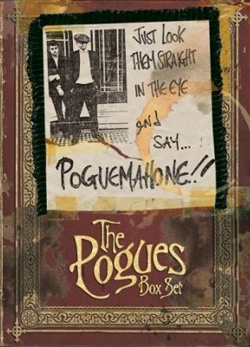 THE POGUES: NORTH AMERICAN GOODNESS
Roseland Ballroom
239 West 52nd St. between Broadway & Eighth Ave.
March 13-14
212-247-0200
http://www.roselandballroom.com
Irish punk traditionalists the Pogues are back for their annual Roseland shows held around St. Patrick's Day, and we're happy to report that Shane McGowan is still with them as well. The purveyors of such seminal albums as IF I SHOULD FALL FROM GRACE WITH THE SKY and RUM SODOMY & THE LASH released the import-only box set JUST LOOK THEM STRAIGHT IN THE EYE AND SAY . . . POGUE MAHONE!! last summer, featuring more than a hundred tracks over five discs, including alternate takes, rarities, covers, and all the classics, with and without Shane and his temporary replacement, Joe Strummer. The March 12 show was canceled, leaving what should be two nights of awesome partying.

All contents copyright 2009 by Mark Rifkin and twi-ny. All rights reserved. Contents may not be reprinted without written permission. Please note that events, dates, and prices are subject to change.
Send all comments, suggestions, reviews, and questions to mark.rifkin@twi-ny.com.
Please note that some e-mail clients may wrap links, so be sure to enter them fully into your browser.
To subscribe to this list, please e-mail the administrator at admin@twi-ny.com with the word Subscribe in the Subject line; be sure to ask for back issues, which are free as well. To unsubscribe from this list, please think it over twice before e-mailing the same address. Please let us know what you didn't like about this forum and we'll do our best to correct it in the future -- if we agree with you. If you would like to see something covered in a future issue, please let us know. Without you, there is no need for us to exist.

twi-ny top two dozen (or so)
weekly reminders & special events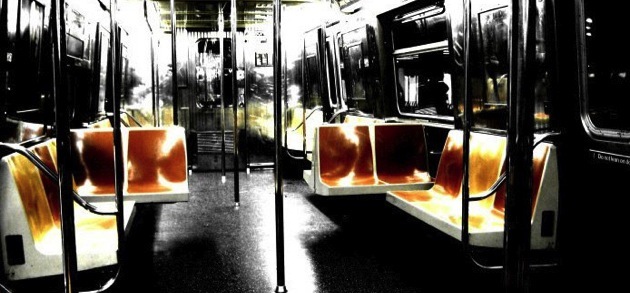 David Bellantoni's FOREPLAY is in competition at one-act festival on West Side
THE NETWORK ONE-ACT FESTIVAL
Barrow Group Theater
312 West 36th St. between Eighth & Ninth Aves., third floor
March 4-15
General admission: $15
212-239-3198
Approximately forty new one-act plays, no longer than twenty minutes each, will be presented at the Barrow Group Theater as part of the Network One Act Festival. Most sessions will consist of four plays, beginning at 6:00 and 8:30, with additional afternoon matinees on the weekend. Among the plays looking to grab the audience's attention — and votes, as there are various awards that will be handed out — are ALL THE DIRT ON ME, THE BLANK OF MY BLANK BLANK, BROWNSVILLE BRED, THE INTERROGATION, and SPERM BABIES. We're excited about FOREPLAY, a one-act play by FOT (friend of twi-ny) David Bellantoni, about an anxious young man riding the subway, deciding whether he really wants to meet the father who abandoned the family more than twenty years before. FOREPLAY will be performed March 4 at 8:30, with VIRILIA, THE GOBLET, and NAVIGATION, and on March 7 at 6:00, with BALLOON HEAVEN and THE LEAF PILE AND THE TWO BROTHERS.
A MONTH OF CHAMBER MUSIC
Issue Project Room
Old American Can Factory
232 Third St. at Third Ave., Brooklyn
Admission: $7-$10
718-330-0313
http://www.issueprojectroom.org
Through March 31 Live chamber music nearly every night of March, including James Blackshaw and Meg Baird, Ned Rothenberg & Paolo Angeli, Missi St. Pierre playing John Cage, Matthew Welch, Zbigniew Karkowski, Emily Manzo & Daisy Press play Erik Staie, artist in residence Duane Pitre, and many others
ROY HARGROVE
The Village Vanguard
178 Seventh Ave. South at Eleventh St.
Tickets: $30-$35 (includes drink credit)
212-255-4037
http://www.villagevanguard.com
Tuesday, March 3
through
Sunday, March 8 Master trumpeter Roy Hargrove will be leading his quintet, featuring Justin Robinson on saxophone, Jonathan Batiste on piano, Dwayne Burno on bass, and Montez Coleman on drums, 9:00 & 11:00

ARMITAGE GONE! DANCE: THINK PUNK!
The Kitchen
512 West 19th St. between Tenth & Eleventh Aves.
Tickets: $15
212-255-5793
Wednesday, March 4, 11
through
Saturday, March 7, 14 Armitage Gone! Dance celebrates the thirtieth anniversary of its first New York season with excerpts from 1981's DRASTIC CLASSICISM and 1985's THE WATTEAU DUETS, 1987's WILD THING, and a world premiere piece, 8:00
HARKNESS DANCE FESTIVAL
Ailey Citigroup Theater at the Joan Weill Center for Dance
405 West 55th St. at Ninth Ave.
Wednesday, Thursday, Saturday at 8:00, Sunday at 2:00
Tickets: $20
212-415-5500
http://www.92Y.org/HarknessFestival
Wednesday, March 4
through
Sunday, March 8 Monica Bill Barnes: ANOTHER PARADE, with sneak previews February 28 at the 92nd Street Y and March 3 at 92YTribeca
Wednesday, March 11
through
Sunday, March 15 Pavel Zustiak/Palissimo: WEDDINGS AND BEHEADINGS
Wednesday, March 18
through
Sunday, March 22 Jeremy Nelson & Luis Lara Malvacías: SOONER THAN YOU THINK

JUST LEFT OF REMOTE
Triskelion Arts
118 North Eleventh St., third floor
Tickets: $15
773-489-5069
Thursday, March 5
through
Saturday, March 7 Chicago-based Zephyr Dance, under artistic director Michelle Kranicke, presents hour-long multimedia piece featuring a score by Michael Caskey and costumes by Heidi Dakter, 8:00
BRUCE NAUMAN IN FOCUS
The Great Hall at the Cooper Union
7 East Seventh St. at Astor Pl.
Tickets: $8
212-353-4195
Friday, March 6 Carlos Basualdo and Michael Taylor in Conversation with Joan Simon, discussing Bruce Nauman as one of the U.S. representatives at the fifty-third La Biennale di Venezia, 7:00
STRANGER LOVE
The New School
65 West Eleventh St. & 6 East Sixteenth St.
Free - $10
212-340-4656
Friday, March 6
and
Saturday, March 7 South Asian Women's Creative Collective sixth annual literary festival, featuring panel discussions, readings, workshops, and more, including Jhumpa Lahiri in conversation with V. V. Ganeshananthan on March 6 at 7:00, "Stranger Histories: War and Literature" on March 7 at 1:15, "Stranger Migrations: Travel and Literature" on March 7 at 2:45, and "Passing Strange: Race, Gender, and Sexuality" on March 7 at 4:15, all at the New School, with the Closing Night Reading featuring Fawzia Afzal-Khan, Meena Alexander, Abha Dawesar, Farzana Doctor, Minal Hajratwala, S. Mitra Kalita, Yesha Naik, Amy Paul, Bushra Rehman, Zohra Saed, and Purvi Shah at Bar 13 on East Thirteenth St. at 7:00
CRONENBERG CLASSICS
IFC Center
323 Sixth Ave. at West Third St.
Fridays & Saturdays at midnight through April 4
212-924-7771
Friday, March 6
and
Saturday, March 7 THE FLY (David Cronenberg, 1986)
Friday, March 13
and
Saturday, March 14 EXISTENZ (David Cronenberg, 1999)
FIRST SATURDAYS
Brooklyn Museum of Art
200 Eastern Parkway
Free after 5:00 (some events require advance free tickets available an hour or two before showtime)
1st fans membership: $20 per year
718-638-5000
Saturday, March 7 Bossa nova by Luca Mundaca, storytelling by Diane Wolkstein based on Judy Chicago's "The Dinner Party," socially conscious works by Mango Tribe, Mahina Movement, and Climbing PoeTree, clay goddess figurine workshop, discussion and performance by Old Ma Femme and Darlinda Just Darlinda, screening of ARRANGED (Diane Crespo & Stefan C. Schaefer, 2008), artist talk with Mary Temple on "Currency" installation, Afro-tech dance party with DJ Sabine, and more, 5:00 — 11:00
TEXTUAL HEALING BY PAUL NOTZOLD
Chelsea Art Museum
556 West 22nd St. at 11th Ave.
Admission: free
212-255-0719
Saturday, March 7 Live Interactive Happening, with Paul Notzold performing new video installation on Chelsea Art Museum facade as street audiences can text messages into thought bubbles on the wall and four actors improvise, 6:30
PERFORMANCE EXHIBITION SERIES
Museum of Modern Art,
11 West 54th St. between Fifth & Sixth Aves.
Admission: $20 (includes same-day film screening)
212-708-9400
Saturday, March 7
and
Sunday, March 8 Performance 2: Simone Forti, Special Exhibitions Gallery, second floor, free with museum admission, 12 noon, 1:00, 2:00, 3:00, 4:00
Saturday, March 7
and
Sunday, March 8 Performance 3: Trio A by Yvonne Rainer, TRIO A, performed by Cat Patterson, along with artists and non-dancers Jimmy Robert and Ian White, in front of a projection of a historical recording of Rainer's performance included in the exhibition "Here Is Every. Four Decades of Contemporary Art," Contemporary Galleries, second floor, free with museum admission, 12:30 & 4:30
MUSIC FROM JAPAN FESTIVAL 2009
Merkin Concert Hall at Kaufman Center
129 West 67th St.
Tickets: $25-$30
212-501-3330
Saturday, March 7 Masters of Tradition: Mojibei Tokiwazu V & His Shamisen Quartet, $20, lecture by Mojibei Tokiwazu V at 7:00, concert at 8:00
Sunday, March 8 Tradition / E-Novation, featuring shamisen, violin, voice, and computer, followed by a Q&A with commissioned composers, $20, 2:00
BRAINWAVE 2009: MEETING OF THE MINDS
Rubin Museum of Art
150 West 17th St. at Seventh Ave.
212-620-5000 ext 344
Saturday, March 7 No One Belongs Here More Than You, with Miranda July and Columbia University psychologist George Bonanno, $20, 6:00
Monday, March 9 The Science of Rage, with Lewis Black and anger management psychologist Robert Allan, $20, 7:00
Wednesday, March 18 Do You Get Goosebumps, Too?, with writer R. L. Stine and neuroscientist Joseph LeDoux, $18, 7:00
THE FABULOUS SHPIELKEHS
Museum at Eldridge Street
12 Eldridge St. between Canal & Division Sts.
Tickets: $15
212-219-0888
Sunday, March 8 Klezmer concert featuring the mother-daughter duo of Elaine Hoffman Watts and Susan Watts and their band, 3:00
BETTYE LaVETTE
Joe's Pub
425 Lafayette St. between East Fourth St. & Astor Pl.
Tickets: $25
212-539-8778
Sunday, March 8 Intimate show with her pianist, featuring rarely and never-before-played songs, 9:30

PURIM PARTY '09
92YTribeca
200 Hudson St. at Canal St.
Tickets: $25-$35 (includes one glass of beer or wine)
212-415-5500
Monday, March 9 Seventh annual celebration featuring a costume contest, the Shushan Channel with special guests Wyatt Cenac and John Oliver of THE DAILY SHOW and other comics, traditional Megillah reading at 5:30, contemporary Megillah reading at 7:00, Purim Spiel at 9:00 & 10:30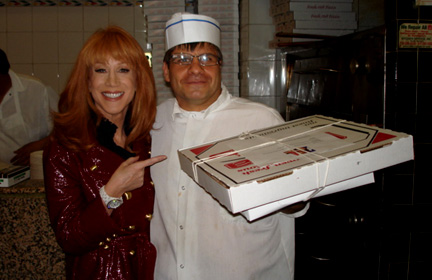 Steve Garrin, VideoActive Productions
Kathy Griffin joins Oprah Winfrey and Gayle King on March 9 in proclaiming Mariella "NY's Best Pizza"
SPEAKER SERIES: THE MINDS THAT MOVE THE WORLD
Radio City Music Hall
1260 Sixth Ave. at 50th St.
Tickets: $49.50 - $179.50
http://www.speakerseries2009.com
Monday, March 9 Live & Uncensored: Bill Maher & Ann Coulter
PURIM PARTY
B.B. King Blues Club & Grill
237 West 42nd St. between Seventh & Eighth Aves.
Tickets: $15-$20
212-997-4144
Monday, March 9 Soulfarm featuring special guests the Bridge and Diwon, 8:30
RAZORLIGHT
Hiro Ballroom / Maritime Hotel
363 West 16th St. between Eighth & Ninth Aves.
Tickets: $20
212-242-4300
http://www.myspace.com/razorlight
Tuesday, March 10 British postpunks Razorlight will be celebrating the release of their new album, SLIPWAY FIRES (Mercury, March 9, 2009), featuring "Wire to Wire," 7:00
TALIB KWELI & HI TEK
Blue Note
131 West Third St.
Tickets: table $30, bar $20
212-475-8592
Tuesday, March 10
and
Wednesday, March 11 Rapper Talib Kweli and producer Hi Tek, also known as Reflection Eternal, have reunited and will be at the Blue Note for four shows featuring old songs as well as new ones from their forthcoming album, 8:00 & 10:30
NATIONAL BOOK CRITICS CIRCLE READING 2009
The New School, Tishman Auditorium
66 West 12th St. between Fifth & Sixth Aves.
Admission: free
212-980-3942
Wednesday, March 11 Finalists from the Fiction, General Nonfiction, Biography and Autobiography, Poetry, and Criticism categories read from their work, including Vivian Gornick, Honor Moore, Brenda Wineapple, and Brenda Shaughnessy, 6:00 — 10:00
JOHN WESLEY HARDING'S CABINET OF WONDERS
(le) poisson rouge
150 Bleecker St.
Tickets: $20
212-505-fish
http://www.myspace.com/lepoissonrougenyc
Wednesday, March 11 Featuring John Wesley Harding, Rosanne Cash, Josh Ritter, and Eugene Mirman, 9:30
MAD PROJECTIONS
Museum of Arts & Design
2 Columbus Circle
Tickets: $15
212-299-7790
Thursday, March 12 New York City premiere of CHUCK JONES: MEMORIES OF CHILDHOOD (Peggy Stern, 2009) and Warner Bros. shorts, followed by a discussion with Peggy Stern and John Canemaker, 6:30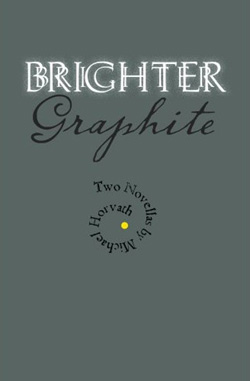 MICHAEL HORVATH
BookCourt
163 Court St.
Admission: free
7187-875-3677
Thursday, March 12 Michael Horvath, BRIGHTER GRAPHITE (Tatra Press, April 25, 2009, $14), reading, signing, and Q&A (look for our rave review next month in twi-ny!), 7:00
BROOKLYN INDEPENDENTS: GRAPHIC NEW YORK
Brooklyn Central Library, Dweck Center
Grand Army Plaza
Admission: free
718-230-2100
http://www.brooklynpubliclibrary.org
Thursday, March 12 Graphic novelists Ben Katchor (JULIUS KNIPL, REAL ESTATE PHOTOGRAPHER), Dan Goldman (SHOOTING WAR), and Youme Landowne (SELAVI, THAT IS LIFE: A HAITIAN STORY OF HOPE) discuss their work, 7:00
BLARNEY BRAWL: THE IRISH AMERICAN TRANSATLANTIC BOXING CHAMPIONSHIPS
B.B. King Blues Club & Grill
237 West 42nd St. between Seventh & Eighth Aves.
Tickets: general admission $25, ringside $50
212-997-4144
Thursday, March 12 FDNY vs. the Dublin Fire Brigade, featuring ten amateur bouts, with proceeds benefiting the Wounded Warrior Project, 8:00
LAURIE ANDERSON — TRANSITORY LIFE: SOME STORIES
Solomon R. Guggenheim Museum
1071 Fifth Ave. at 89th St.
Tickets: $30
212-423-3500
Thursday, March 12
and
Friday, March 13 World premiere of solo performance by Laurie Anderson in conjunction with the exhibit "The Third Mind," 8:00
CRAIC FESTIVAL
Mercury Lounge, 217 East Houston St. between Ave. A & Essex St.
Cinema Village, 22 East Twelfth St. between University Pl. & Fifth Ave.
Bar 13, 35 East Thirteenth St. between University Pl. & Broadway
The Craic Festival returns, celebrating Irish culture with three days of live music at the Mercury Lounge, film screenings at Cinema Village, and nightly after-parties at Bar 13.
Thursday, March 12 Opening-night gala: HUNGER (Steve McQueen, 2008), Cinema Village, $15, followed by Tullamore Dew's Tully Tea after-party at Bar 13, 7:00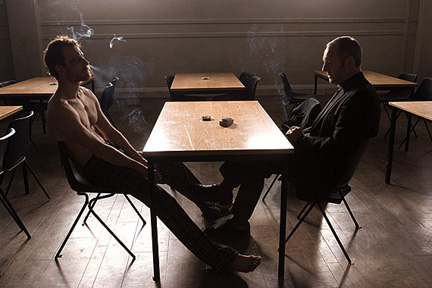 Bobby Sands (Michael Fassbender) and Father Dominic (Liam Cunningham) have a lengthy chat in HUNGER
HUNGER (Steve McQueen, 2008)

In 2004, we saw Steve McQueen's fascinating video installation of three short works at Wellesley's Davis Museum. As entertaining and intriguing as that show was, it never could have prepared us for HUNGER, the British-born Turner Prize winner's brutal and harrowing feature-length debut. Winner of the Camera d'Or at Cannes, HUNGER is set amid the Troubles in Northern Island, as IRA members are locked up in the Maze prison. Seeking special category status, the prisoners are on a Blanket and No Wash protest, refusing to wear official garb or clean up after themselves. They wipe their feces all over their cell walls and let their maggot-infested garbage pile up in corners. Meanwhile, the guards, who live in their own kind of daily fear, never miss a chance to beat the prisoners mercilessly. McQueen introduces the audience to the infamous prison through the eyes of one of the high-ranking guards, Raymond Lohan (Stuart Graham), and new prisoner Davey Gillen (Brian Milligan). He often lets the camera linger on a scene, with little or no dialogue, composing them as if individual works of art; one particularly gorgeous shot features Lohan having a cigarette outside the prison as snow falls. About halfway through, the film radically changes focus as Father Dominic Moran (Liam Cunningham) visits H Block leader Bobby Sands (Michael Fassbender), leading to sixteen minutes of uninterrupted dialogue, the camera never moving, as the two men discuss Sands's planned hunger strike. Written with Enda Walsh (whose play THE WALWORTH FARCE was a hit at St. Ann's Warehouse last year), McQueen's film is a visually stunning, emotionally powerful story that will leave audiences ragged. Following this sneak peek, HUNGER will open at the IFC Theater on March 20.
Thursday, March 12 Audio Fiction, 8:00; the Voxys, 9:45; Stand, 9:30; and Enter the Haggis, 11:00, Mercury Lounge, $15
Friday, March 13 32A (Marian Quinn, 2007), Cinema Village, $15, followed by Tullamore Dew's Tully Tea after-party at Bar 13, 7:00
Friday, March 13 Dirty Epics, 8:00; Dead Sparrows, 8:45; Fight Like Apes, 9:30; and Paddy Casey, 11:00, Mercury Lounge, $15
Saturday, March 14 Kids Fleadh: SUMMER OF THE FLYING SAUCER (Martin Duffy, 2008), with free goodie bags, Cinema Village, free for kids five to twelve, 12 noon
Saturday, March 14 GARAGE (Leonard Abrahamson, 2007), Cinema Village, $10, 3:00
Saturday, March 14 KILA: ONCE UPON A TIME (Lance Hogan, 2007), Cinema Village, $10, 5:00
Saturday, March 14 Closing-night gala: SAVIOURS (Liam Nolan & Ross Whitaker, 2008), Cinema Village, $15, followed by Tullamore Dew's Tully Tea after-party at Bar 13, 7:00
Saturday, March 14 Fairplay Collective, 8:00; Colin Devlin, 8:45; Foy Vance, 9:30; and Duke Special, 11:00, Mercury Lounge, $15
DICK GREGORY COMMENTS ON THE OBAMA PRESIDENCY
Carolines on Broadway
1626 Broadway at 50th St.
Tickets: $31
Reservations required
212-757-4100
Thursday, March 12
through
Sunday, March 15 Legendary political comedian takes on the state of the nation as the first black president takes office
VZ ARTS
Village Zendo
588 Broadway (suite 1108) between Houston & Prince Sts.
Suggested donation: $10
212-340-4656
Friday, March 13 Shakuhachi Grand Master Ronnie Nyogetsu Seldin in concert, 7:30
HUDSON RIVER QUADRICENTENNIAL CONCERT
TriBeCa Performing Arts Center
199 Chambers St. between Greenwich & West St.
Tickets: $25-$35
212-220-1460
Friday, March 13 An evening of new music celebrating the four hundredth anniversary of the discovery of the Hudson River, with Mark O'Connor, Don Byron, Daniel Bernard Roumain, and David Gonzalez, 7:30
twi-ny/mdr
Les Savvy Fav will bring the craziness indoors at Masonic Temple
LES SAVVY FAV
Brooklyn Masonic Temple
317 Clermont Ave. at Lafayette Ave.
Tickets: $18
Friday, March 13 Tim Harrington will lead the Brooklyn-based Les Savvy Fav through what should be a wild night, with Francis and the Lights and Sean Bones, 8:00
BRASIL FEST
Symphony Space, Peter Jay Sharpe Theatre
2537 Broadway at 95th St.
Tickets: $30
212-349-0330
Friday, March 13 Mariana Aydar, 8:00
Saturday, March 14 Jair Oliveira, 8:00
STUDIO SERIES: LIVING OUTSIDE THE…….
Dance Theater Workshop, David R. White Studio, third floor
219 West 19th St. between Seventh & Eighth Aves.
Suggested donation: $5
212-924-0077
http://www.dancetheaterworkshop.org
Friday, March 13
and
Saturday, March 14 Monstah Black and the Sonic Leroy close out their DTW residency with performance of new piece featuring music by World Eater Recordings, DJ Krunchy, and Monstah Black himself, with dancers from Motion Sickness, including Toija Riggins, Sarah Van't Hull, Ashley Brockington, Kendra Jeniece Ross, Christina Reeves, Andi Miyamotto, Jill M. Vallery, and Melana Lloyd, 7:30
THE OPPOSITE OF WAR: DANCE IS A WEAPON
BAAD! — The Bronx Academy of Arts and Dance
841 Barretto St., second floor
Tickets: $15
718-842-5223
http://www.bronxacademyofartsanddance.org
http://www.myspace.com/dansfolk
Friday, March 13, 8:00
and
Saturday, March 14, 3:00 An Evening of Dance by Jessica Danser/dansfolk, including the world premiere of THE OPPOSITE OF WAR, a piece for six women that investigates nonviolent resistance
ARTOPIA
PS 9
100 West 84th St. at Columbus Ave.
Admission: free (with suggested donation at door)
Saturday, March 14 Interactive arts festival for families, featuring live performances, film screenings, master classes in music and dance, a bake sale, mural painting, and the chance to make your own movie, geared for children ages six to twelve, sponsored by Wingspan Arts, 11:00 am - 2:00 pm
FDNY NYPD HOCKEY GAME
Nassau Veterans Memorial Coliseum
1255 Hempstead Tpke.
Tickets: $18
516-794-9300
Saturday, March 14 The Bravest take on the Finest in thirty-sixth annual benefit hockey game, followed by a party ($10) with cash bar and raffle, 1:00
A RIP TORN MISCELLANEA
Anthology Film Archives
32 Second Ave. at Second St.
212-505-5181
http://www.anthologyfilmarchives.org
Saturday, March 14 Rare footage of Rip Torn onstage, in film, and on television, with SONG OF MYSELF (Robert Markowitz, 1976), 4:45
LIEBERMAN MANAGEMENT PRESENTS
Bowery Poetry Club
308 Bowery at Bleecker St.
Admission: $12
212-614-0505
Saturday, March 14 Singer/songwriter showcase featuring Haale, Fionn O Lochlainn, and Heather Christian, with DJ sets by King and a wine tasting sponsored by Pasita Wine Bar, 10:00
JOE HURLEY'S ALL-STAR IRISH ROCK REVUE
(le) poisson rouge
150 Bleecker St.
Tickets: $20-$25
212-505-fish
http://www.myspace.com/lepoissonrougenyc
Saturday, March 14
and
Tuesday, March 17 Tenth anniversary of Irish music, with Laura Cantrell, Susan Mckeown, La La Brooks, Michael Cerveris, Antonique Smith, Annie Golden, Lara Janine, Garland Jeffreys, Colum McCann, Christine Ohlman, Tish & Snooky, Don Fleming, Stephen Frost, Colin Quinn, Meital Dohan, John S. Hall, Meg Griffin, Laura Dawn, Jon Spurney, Christian Gibbs, and many more, hosted by Joe Hurley and DJ Ed Rogers, joining house band Tony Shanahan on bass, James Mastro on guitar, Denny McDermott on drums, and Kenny Margolis on keyboards, 9:00
MINI MOVIES IN THE MORNING
Noguchi Museum
9-01 33rd Rd. at Vernon Blvd.
Admission: free but advance reservations required at smurphy@noguchi.org or 718-204-7088 ext203
Sunday, March 15 The Animated World of Robert Breer, featuring film screenings and art activities for children ages two through twelve, held in conjunctin with the Museum of the Moving Image, 10:30 am — 12 noon
JEWS IN THE CRADLE OF INDIA
Museum of Jewish Heritage — A Living Memorial to the Holocaust
36 Battery Pl.
Tickets: $10
646-437-4200
Sunday, March 15 Screening of IN SEARCH OF THE BENE ISRAEL (Sadia Shepard, 2008), followed by panel discussion with Romiel Daniel, Nathan Katz, Rahel Musleah, and Rabbi Yehuda Krusky, 1:00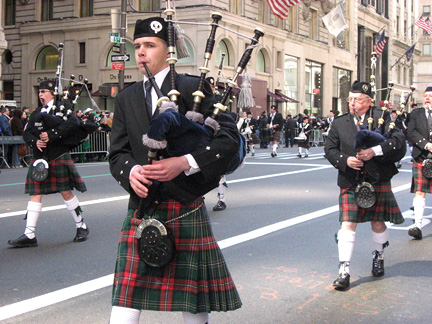 twi-ny/mdr
Annual parade will be reviewed by Edward Cardinal Egan for last time
248th NEW YORK CITY ST. PATRICK'S DAY PARADE
Fifth Ave. from 44th to 86th Sts.
Admission: free
http://www.saintpatricksdayparade.com
Tuesday, March 17 Parade begins at 11:00 am and runs till about 4:00 pm, featuring bagpipers, Irish national societies, Chairman John T, Dunleavy, Grand Marshal Michael J. Gibbons, tributes to the Fighting 69th Infantry and the New York City Fire Department, and much more
NIALL O'LEARY IRISH DANCE TROUPE
World Financial Center Winter Garden
225 Vesey St.
Admission: free
212-417-7050
http://artsworldfinancialcenter.com
Tuesday, March 17 St. Patrick's Day Celebration with the Niall O'Leary Irish Dance Troupe, 12:30
CELEBRATE ST. PATRICK'S DAY WITH BRIDGET MURPHY
Merchant's House Museum
29 East Fourth St. between Lafayette St. and Bowery
Admission: $30
212-777-1089
Tuesday, March 17 Backstairs look at the Merchant's House Museum with Bridget Murphy, cook to the Treadwells in the mid-1850s, with food tastings, green tea punch, a bagpiper, and more, 6:00
SCENES THROUGH THE CINEMA LENS: KUBRICK'S MUSIC
TriBeCa Performing Arts Center
199 Chambers St. between Greenwich & West St.
Admission: free
212-220-1460
Tuesday, March 17 Examination of Stanley Kubrick's music in such films as DR. STRANGELOVE, A CLOCKWORK ORANGE, FULL METAL JACKET, EYES WIDE SHUT, and 2001: A SPACE ODYSSEY, 7:30
THREE PATHS TO THE NEW YORKER
The Morgan Library & Museum
225 Madison Ave. at 36th St.
Tickets: $10
212-685-0008
Wednesday, March 18 Roz Chast, Arnie Levin, and David Sipress participate in a roundtable moderated by Lee Lorenz, in conjunction with the exhibition "On the Money: Cartoons for the New Yorker," 6:30 (exhibit opens at 5:30 for ticket holders)
DOWNTOWN NEW YORK IN THE SECOND WORLD WAR
Downtown Third Thursdays
Museum of Jewish Heritage — A Living Memorial to the Holocaust
36 Battery Pl.
Admission: free but advance reservations required starting March 8 at 12 noon
Thursday, March 19 Pulitzer Prize-winning historian Mike Wallace discusses the architecture of the Museum of Jewish Heritage and downtown New York City, business casual attire required, 7:00
THE JACQUES GOUDSTIKKER COLLECTION
The Jewish Museum
1109 Fifth Ave. at 92nd St.
212-423-3337
http://www.thejewishmuseum.org
Thursday, March 19 Reclaiming the Jacques Goudstikker Collection, panel discussion with Monica Dugot, Charlene von Saher, and Lawrence Kaye, moderated by Lynn Nicholas, $15, 6:30
Thursday, March 19 Daytime Lecture Series — A Closer Look: the Jacques Goudstikker Collection, with Peter C. Sutton, $20 ($45 for all three lectures), 11:30 am
Thursday, March 26 Daytime Lecture Series — Opportunism and the German Occupation: Alois Miedl and Han van Meegered at the Goudstikker Gallery, with Jonathan Lopez, $20 ($45 for all three lectures), 11:30 am
Thursday, April 2 Daytime Lecture Series — A Family's Quest: Goudstikker Family Members Speak with Curator Karen Levitov, $20 ($45 for all three lectures), 11:30 am