Twi-ny, This Week in New York
WIN FREE TICKETS TO IMPRESSIONISM!
Gerald Schoenfeld Theatre
236 West 45th St. between Broadway & Eighth Ave.
Previews begin February 28; show runs March 12 — July 5
Tickets: $66.50-$116.50 — or free from twi-ny!
212-239-6200
http://impressionismtheplay.com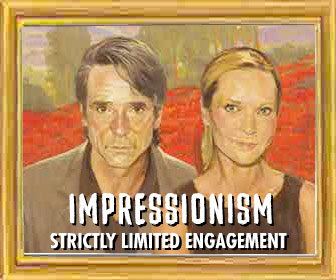 Jeremy Irons and Joan Allen star in Michael Jacobs's IMPRESSIONISM

Jeremy Irons, the elegant English star of such films as THE FRENCH LIEUTENANT'S WOMAN, DEAD RINGERS, and DAMAGE, and Joan Allen, the Illinois native who has appeared in such works as NIXON, THE CONTENDER, and two of the Bourne thrillers, are teaming up in the Broadway drama IMPRESSIONISM. A love story set in the Manhattan art world, the play was written by Michael Jacobs and is being directed by three-time Tony winner Jack O'Brien. Irons, who has won an Oscar, a Tony, and two Emmys, is appearing in only his second Broadway play and his first in twenty-five years; Allen, who has also won a Tony and has been nominated for three Oscars, has been a member of Chicago's prestigious Steppenwolf Theatre Company since 1977. The cast also includes André De Shields and Marsha Mason. IMPRESSIONISM begins previews at the Gerald Schoenfeld Theatre on February 28 prior to a March 12 opening; the limited engagement runs through July 5.
WIN FREE TICKETS! For what plays did Irons and Allen win their Tony awards? Four lucky respondents — including two who must be current twi-ny subscribers — with the correct answer will win a pair of tickets to see IMPRESSIONISM on Broadway. To enter the contest, please send your full name, address, daytime phone number, and, of course, the right answer to contest@twi-ny.com. Entries must be received no later than Friday, February 27, at 12 noon. Winners will be chosen at random and will be notified by e-mail. All names, addresses (regular and e-mail), and phone numbers will remain confidential; twi-ny does not share its mailing list with anyone. Employees of This Week in New York, the Gerald Schoenfeld Theatre, and IMPRESSIONISM are not eligible. Good luck!
Thought-Provoking Program of the Week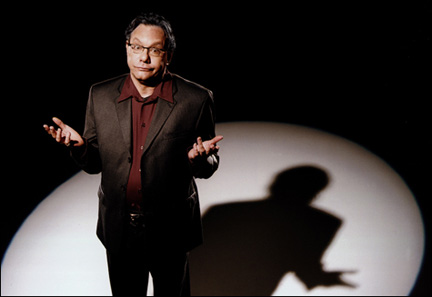 Lewis Black will discuss the nature of anger at intriguing Rubin series
BRAINWAVE 2009
Rubin Museum of Art
150 West 17th St. at Seventh Ave.
February 27 - April 23
Tickets: $12-$95
212-620-5000 ext 344
Last year the Rubin Museum of Art debuted Brainwave, a fascinating series of special events that tested the boundaries of the mind and spirit, featuring live music, discussion, and a man immersing himself in ice. This year's investigation into the far reaches of human consciousness pairs artists with doctors — including neuropsychologists and neurobiologists — talking about love, positivity, ecology, the Tao, Buddhism, and the five senses. We are most looking forward to angry comedian Lewis Black discussing rage with anger management psychologist Robert Allan on March 9, but the highlight just might be the commissioned world premiere of Sir John Tavener's TOWARDS SILENCE.
Friday, February 27 Meetings of the Minds: Going on Being, with psychiatrist Mark Epstein and editor and publisher James Shaheen, free, 7:30
Wednesday, March 4 Meetings of the Minds: Music on the Brain, with musician Paul Simon and neuroscientist Daniel J. Levitin, $25, 7:00
Saturday, March 7 Meetings of the Minds: The Love Response, with Eva Selhub, MD, $12, 3:00
Saturday, March 7 Meetings of the Minds: No One Belongs Here More Than You, with Miranda July and Columbia University psychologist George Bonanno, $20, 6:00
Sunday, March 8 Meetings of the Minds: Count Your Blessings: The Science of Positivity, with meditation teacher Sharon Salzberg and neuropsychologist Barbara Fredrickson, $12, 4:00
Monday, March 9 Meetings of the Minds: The Science of Rage, with Lewis Black and anger management psychologist Robert Allan, $20, 7:00
Wednesday, March 11 Meetings of the Minds: The Second Book of the Tao, with writer Stephen Mitchell and neurobiologist John Kubie, $15, 7:00
Wednesday, March 18 Meetings of the Minds: Do You Get Goosebumps, Too?, with writer R. L. Stine and neuroscientist Joseph LeDoux, $18, 7:00
Saturday, March 21 Meetings of the Minds: Out of Our Heads, with Berkeley professor of philosophy Alva Noë and artist Eric Fischl, $12, 3:00
Saturday, March 21 Meetings of the Minds: Through Tristan's Eyes, with neurobiologist Semir Zeki and opera director Peter Sellars, $25, 6:00
Sunday, March 22 Meetings of the Minds: Hypnosis vs. Meditation, with psychiatry professor Geoffrey Shugen Arnold and meditation teacher Amir Raz, $20, 3:00
Thursday, April 2 Meetings of the Minds: Disgust, with professor Paul Rozin and chef Mario Batali, $25, 7:00
Sunday, April 5 Meetings of the Minds: How God Changes Your Brain, with neurotheologist Andrew Newberg and meditation teacher Loch Kelly, $12, 4:00
Monday, April 6 Meetings of the Minds: SuperSense, with writer Peter Mathiessen and neuroscientist Bruce Hood, $20, 7:00 p.m.
Sunday, April 12 Meetings of the Minds: The Bonfire of the Vernacular, with cognitive scientist Steven Pinker and author Tom Wolfe, $25, 6:00
Wednesday, April 15 Naked Soul: performance by Jonatha Brooke, $40-$45, 7:00
Saturday, April 18 Meetings of the Minds: Buddhism and Science, with Tibetologist Donald S. Lopez Jr. and neuroscientist Sam Wang, $12, 4:00
Sunday, April 19 Meetings of the Minds: Rapt: The Focused Life, with writer Winifred Gallagher and performance artist Laurie Anderson, $20, 4:00
Wednesday, April 22 Meetings of the Minds: Ecological Intelligence, with Daniel Goleman, $20, 7:00
Thursday, April 23 TOWARDS SILENCE, site-specific world premiere about death and the four states of consciousness by Sir John Tavener, with priority seating, pre-performance discussion, and post-performance reception, $95, 8:00
BAND OF OUTSIDERS relates to Buddhist fear of bandits and robbery
THE GREEN TARA SERIES
CabaretCinema, Rubin Museum of Art
150 West 17th St. at Seventh Ave.
Friday nights at 9:30
Free with $7 bar minimum (includes admission to galleries)
212-620-5000 ext 344
Every Friday night starting at 7:00, entry to the Rubin is free, with special tours and the hot K2 Lounge party. At 9:30, CabaretCinema presents international films introduced by artists, filmmakers, authors, and others, relating the film to a specific theme. In conjunction with the Brainwave festival, the Green Tara Series will screen such classics as Godard's BAND OF OUTSIDERS and the Maysles brothers' GIMME SHELTER, with intros examining the films in the context of Buddhist fears protected by the female bodhisattva known as Green Tara. Admission is free with a $7 minimum at the bar.
Friday, March 6 THE YOUNG LIONS (Edward Dmytryk, 1958), introduced by Foster Hirsch, Fear #4: Lions
Friday, March 13 BAND OF OUTSIDERS (Jean-Luc Godard, 1964), introduced by Jonathan Lethem, Fear #5: Bandits and robbery
BANDE A PART (BAND OF OUTSIDERS) (Jean-Luc Godard, 1964)

When a pair of disaffected Parisians, Arthur (Claude Brasseur) and Franz (Sami Frey), meet an adorable young woman, Odile (Anna Karina), in English class, they decide to team up and steal a ton of money from a man living in Odile's aunt's house. As they meander through the streets of cinematographer Raoul Coutard's black-and-white Paris, they talk about English and wealth, dance in a cafe while director Jean-Luc Godard breaks in with voice-over narration about their character, run through the Louvre in record time, and pause for a near-moment of pure silence. Godard throws in plenty of commentary on politics, the cinema, and the bourgeoisie in the midst of some genuinely funny scenes. BAND OF OUTSIDERS is no ordinary heist movie; based on Dolores Hitchens's novel FOOL'S GOLD, it is the story of three offbeat individuals who just happen to decide to attempt a robbery while living their strange existence, as if they were outside from the rest of the world. The trio of ne'er-do-wells might remind Jim Jarmusch fans of the main threesome from STRANGER THAN PARADISE (1984), except Godard's characters are more aggressively persistent. This special screening at the Rubin will be introduced by Jonathan Lethem and placed in context of the Buddhist fear of bandits and robbery.
Friday, March 20 HOWL'S MOVING CASTLE (Hayao Miyazaki, 2004), introduced by Emily Mortimer, Fear #6: Consumed by fire

HOWL NO UGOKU SHIRO (HOWL'S MOVING CASTLE) (Hayao Miyazaki, 2004)
http://disney.go.com/disneypictures/castle

Japanese animation master Hayao Miyazaki, who has charmed the world with such amazing delights as PORCO ROSSO, SPIRITED AWAY, LAPUTA CASTLE IN THE SKY, and MY NEIGHBOR TOTORO, finally laid an egg. This adaptation of Diana Wynne Jones's fantasy novel is filled with confusing, head-scratching moments, ill-defined characters, and huge plot holes. We saw the English-language dubbed version, featuring the voices of Billy Crystal, Lauren Bacall, Emily Mortimer, and Christian Bale, which was supervised by John (TOY STORY) Lasseter and Kirk (BEAUTY AND THE BEAST) Wise, the same guys behind the marvelous SPIRITED AWAY translation. Miyazaki and his talented Studio Ghibli team have created a terrific castle, a Rube Goldberg-like contraption that staggers over the countryside, but that's about as imaginative as this disappointing film gets. Miyazaki has been announcing his retirement after each of his last projects; here's hoping this less-than-mediocre mess is not his swan song.This special screening at the Rubin will be introduced by Mortimer and placed in context of the Buddhist fear of fire.
Friday, March 27 GIMME SHELTER (Albert & David Maysles, 1970), introduced by Doug Aitken, Fear #7: False imprisonment
Friday, April 3 SUPERMAN (Richard Donner, 1978), introduced by Paul Levitz, Fear #8: Earthquakes
Friday, April 17 ROSENCRANTZ AND GUILDENSTERN ARE DEAD (Tom Stoppard, 1991), introduced by Herschel Garfein, Fear #7: False imprisonment and Fear #3: Mighty winds

LUNCH MATTERS: MYSTERY OF THE SENSES
Wednesdays at 1:00, March 4 — April 1
Admission: $10 (includes admission to galleries)
During the Brainwave festival, the Rubin's ongoing Lunch Matters series looks into the mystery of the five senses through five short films presented with the New York Open Center.
Wednesday, March 4 Vision explores how art and science enhance our most magical of senses
Wednesday, March 11 Touch discovers that touching is a potent tonic
Wednesday, March 18 Taste savors the miracle of great cooking and eating
Wednesday, March 25 Smell samples a wide spectrum of odors, from the world's largest perfumery to sweaty t-shirts
Wednesday, April 1 Hearing visits the quietest place on earth, the music-rich Maori, and a deaf woman regaining her hearing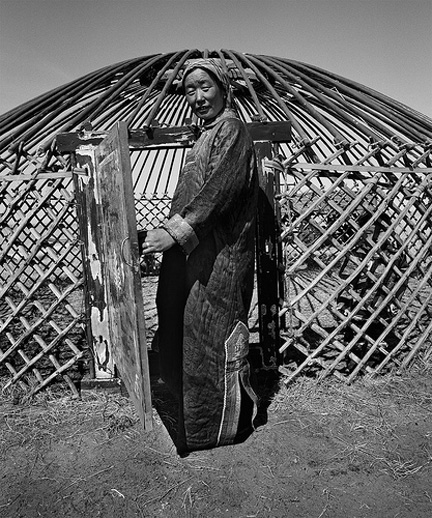 © A Yin
A Yin, "Setting Up a Yurt," gelatin silver print, April 2007
THE LAST NOMADS:
PHOTOGRAPHS FROM INNER MONGOLIA BY A YIN
Rubin Museum of Art
150 West 17th St. at Seventh Ave.
Closed Tuesdays
Admission: $10 adults, $7 people in Zip Code 10011 and 10001, $2 college students, free Fridays 7:00 — 10:00 pm
212-620-5000

For ten years, self-taught Mongolian photographer A Yin has been documenting the everyday life of one of the last nomadic tribes in China, the Wuzhu Muqin of the Inner Mongolia Autonomous Region. "The forces of globalization in today's world are quickly changing the traditional way of life for the descendants of Genghis Khan," A Yin says in describing his need to preserve the soul and culture of these people for future generations. "Severe sandstorms are destroying the environment and, as a result, my own culture. As a Mongolian photographer, it is very important for me to document these crucial times and share the stories with the world." The twenty-nine black-and-white digital prints, in the downstairs gallery at the Rubin through March 2, offer a fascinating peek into the daily existence of this endangered society. A man celebrates his thirty-seventh birth year (nomadic Mongolians celebrate every twelve years, at age thirteen, twenty-five, thirty-seven, forty-nine, etc.). A mother and son pause for a moment in their yurt, which is built to protect them from extreme cold weather. "Defiance" shows a stalwart woman who refused to sell out to a mining company. Another woman bottle-feeds lambs because the barren landscape does not provide sheep with enough nutrients to produce milk. The exhibit also includes a short video that goes behind the scenes with A Yin.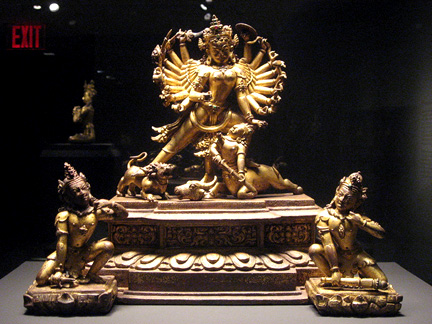 twi-ny/mdr
"Durga — Fearsome Goddess," gilt copper alloy, Nepal, thirteenth century

"From the Land of the Gods: Art of the Kathmandu Valley" (through March 16) highlights dozens of works from the Kathmandu Valley in the Great Himalayan Range, located between India and Tibet in what is now Nepal. Spiritual and religious paintings and sculpture by Newar artists during the Malla period (1200-1769) are on view, including a magnificent thirteenth-century gilt copper alloy statue of the Fearsome Goddess known as Durga slaying the buffalo demon Mahisha. While Durga shows off her multiple arms in the sculpture, Shiva Visharupa balances his myriad heads in "Universal Shiva and Consort," an awe-inspiring pigment-on-cloth painting that also features dozens of skulls and other scenes, objects, and incarnations of the god. "Patron and Painter: Situ Panchen and the Revival of the Encampment Style" (through August 17) looks at the history and influence of Situ Panchen Chokyi Jungne, an eighteenth-century artist, scholar, and lama who revitalized Tibetan art. The display features fifty paintings — among them several sets of thankgas — in addition to sculptures and a pair of illuminated manuscript pages.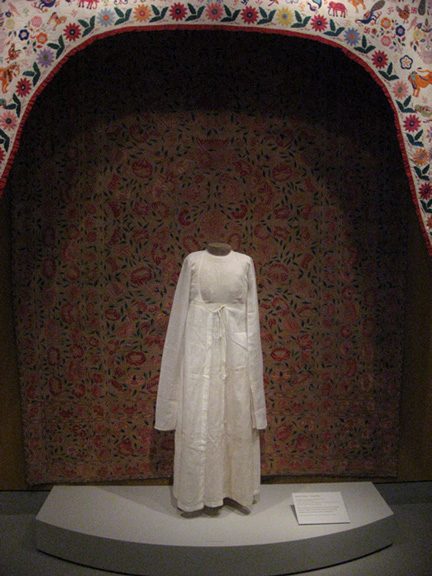 twi-ny/mdr
"Man's Robe — Angarkha" features a formal outer garment under a canopy

"Color & Light: Embroidery from India and Pakistan" (through May 11) consists of more than sixty hand-stitched items, from canopies to bedcovers, a man's wedding suit to a woman's bridal headcover with tiny mirrors, from floor spreads to caps and dowry bags. The exhibit is organized into such themes as "Court and Commerce," "Embellishing the Home," "Embroidery and Identity," "Pasture, Farm, and Village," and "Ceremonies and Celebrations," offering a fine range of works and placing them in societal context. Don't miss the "Hand Fan (Vinjhana)," an encased floss-silk embroidery on plain weave silk with a painted wood handle. On March 13, "Stable as a Mountain: Gurus in Himalayan Art" opens, focusing on depictions of Tibetan Buddhist teachers from Tibet, Nepal, China, and Mongolia in paintings, sculpture, and ritual objects, in addition to "Nagas: Hidden Hill People of India," comprising two dozen photographs taken by Indian photojournalist Pablo Bartholomew detailing the life of the Burmese Nagas.
Saturday, February 21, 28
and
Sunday, February 22 DALAI LAMA RENAISSANCE (Khashyar Darvich, 2009), $12, 4:00 & 6:00
Sunday, March 1 DALAI LAMA RENAISSANCE (Khashyar Darvich, 2009), $12, 4:00
Multimedia Arts Festivals of the Week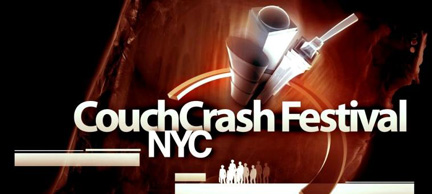 COUCH CRASH '09
Multiple venues
http://www.couchcrashfestival.com
The second annual CouchSurfing Festival, which believes that the surfing of couches can help make the world a better place, spreading tolerance and facilitating cultural understanding, comes to New York City for five days of diverse events, some private, some public. Couch Crash '09 encourages people from out of town to descend on the city, crashing out on people's couches while attending various gatherings and hooking up with friends old and new. In addition to the below festivities, there are meet-ups scheduled in apartments, bars, a house party, a Lower Manhattan team scavenger hunt, a poi spinning class, an acoustic jam session, and more, with some requiring advance RSVPs, as space is limited. Many of the events are free, with the only cost being food and drink.
Thursday, February 19 People Hunt, Revival, 129 East 15th St., 9:00 pm — 4:00 am
Friday, February 20 Superhero Supply Store Tour and Free Hugs, the Brooklyn Superhero Supply Company, 372 Fifth Ave., Brooklyn, 1:00 — 3:00
Friday, February 20 Free Fridays, Museum of Modern Art, 11 West 53rd St., 4:30 — 8:00
Friday, February 20 CouchSurfing Music Festival and Dance Party, with Jigsaw Soul and Miss Angelina, Galapagos Art Space, 16 Main St., DUMBO, $10, 10:00 pm — 4:00 am
Saturday, February 21 Brooklyn Brewery Tour and Happy Hour, 79 North Eleventh St., Williamsburg, 2:30 — 5:00
Saturday, February 21 KASPAR HAUSER: A FOUNDLING'S OPERA by Liz Swados & Erin Courtney, the Flea Theater, 41 White St. between Broadway & Church St., $25, 3:00
Saturday, February 21 Williamsburg Pub Crawl, 5:00
Saturday, February 21 Walking Tour in the West Village for Desserts, Magnolia Bakery, 401 Bleecker St. at West Eleventh St., with stops at L'Arte del Gelato and Jacques Torres Chocolate, 6:00
Saturday, February 21 Latin Dancing, Columbus 72 Nightclub, 246 Columbus Ave., $10, 10:30 pm
Sunday, February 22 Dim Sum in Chinatown, Jing Fong Restaurant, 20 Elizabeth St., 11:00 am — 2:00 pm
Sunday, February 22 Billiards, Music, Board Games, Fat Cat Bar, 75 Christopher St., 3:00
Sunday, February 22 Closing Event Oscar Party, Union Bar, 204 Park Ave. South, 7:00 pm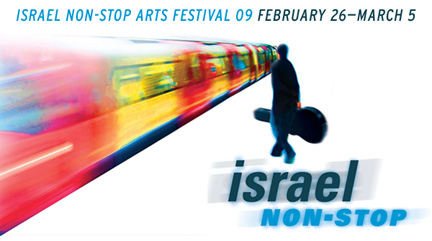 ISRAEL NON-STOP 2009
JCC in Manhattan unless otherwise noted
334 Amsterdam Ave. at 76th St.
February 26 — March 5
Tickets: free-$45
646-505-5708
The Jewish Community Center of Manhattan celebrates the best of Israeli dance, music, literature, art, film, food, and theater in its annual Non-Stop Arts Festival, which runs at the Upper West Side institution from February 26 through March 5. Most of the events are twenty dollars and under, including many free, with the highest ticket price, $45, for the New York City debut of Berry Sakharof, the prince of Israeli rock. There are also panel discussions, hands-on workshops, storytelling for children, and wine tastings.
Thursday, February 26, 8:00
Saturday, February 28, 8:00
and
Sunday, March 1, 2:00 CASES OF MURDER: A New Play by the Ruth Kanner Theatre Group, $20
Saturday, February 28 Meet the Artist: Talks and Workshops, with Ruth Kanner and cast members of CASES OF MURDER, SAJ, 15 West 86th St., free, 1:15
Saturday, February 28 Meet the Artist: Talks and Workshops, with Gail Hareven, SAJ, 15 West 86th St., free, 1:15
Saturday, February 28 Israeli Culture 101: A panel discussion of what's hot and happening in Israeli Culture today, free, 1:00 & 3:30
Sunday, March 1 Kaveret for Kids: The Stories of Poogie, with Sivan Vigdar, children eight and under, $15, 11:00 am
Through April 30 Seven Generations: Photos and Video by Avishai Mekonen, free
Sunday, March 1 Meet the Artist Talk: Avishai Mekonen, free, 1:00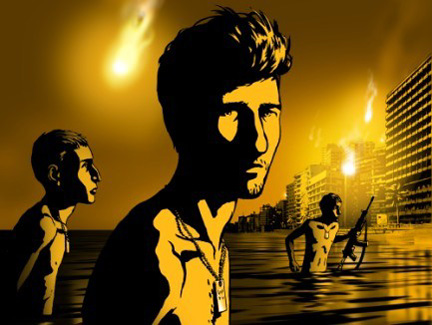 Art director David Polonsky will take audiences behind the scenes of WALTZ WITH BASHIR

Sunday, March 1 The Making of WALTZ WITH BASHIR: A Conversation with Art Director David Polonsky, $7, 2:00
Sunday, March 1 Chummus Chafla, demonstration and tasting, free, 1:00
Sunday, March 1 A TOUCH AWAY (Ron Ninio, 2006), $10, 4:30
Sunday, March 1 NOODLE (Ayelet Menahemi, 2007) with a special presentation with director Ayelet Menahemi, $10, 6:30
Sunday, March 1 Things That My Great Grandfather Could Not Have Written: A Talk by Gail Hareven, free, 3:00
Monday, March 2 SHIVA (Ronit Elkabetz & Shlomi Elkabetz, 2008) followed by a special presentation with codirector Shlomi Elkabetz, $10, 7:30
Sunday, March 1 Israeli Jazz Café, free, 4:00
Sunday, March 1 Contemporary Israeli Art, free, 4:00
Sunday, March 1 Israeli Wine Tasting, free, 5:30
Wednesday, March 4 Berry Sakharof unplugged, JCC's Goldman Sonnenfeldt Auditorium, $45, 8:00
Thursday, March 5 Berry Sakharof, Le Poisson Rouge, 158 Bleecker St., $45, 7:30
International Film Festivals of the Week
© New Yorker Films
Nagisa Oshima's DEATH BY HANGING is one of several in series that looks at death
SHINJUKU ECSTASY: INDEPENDENT FILMS FROM THE ART THEATRE GUILD OF JAPAN
Japan Society
333 East 47th St. between First and Second Aves.
February 18 — March 1
Tickets: $11 unless otherwise noted
212-715-1258
Roland Domenig, assistant professor at the Institute of East Asian Studies at the University of Vienna, and Go Hirasawa, film historian at Meiji Gakuin University in Tokyo, have curated a terrific series of Japanese films made through the Art Theater Guild, which encouraged cinematic independence and experimentation beginning in the 1960s. Featuring works by Japanese Nouvelle Vague auteurs who were not afraid of controversy, the Art Guild coproduced and screened films, primarily at the Shinjuku Bunka theater in Tokyo, by such seminal directors as Nagisa Oshima, Yoshishige Yoshida, Shohei Imamura, and Hiroshi Teshigaraha. The series at the Japan Society focuses on the guild's first ten years, a dozen films made between 1962 and 1972.
Wednesday, February 18 THROW AWAY YOUR BOOKS, LET'S GO INTO THE STREET (Shuji Terayama, 1971), introduced by series curator Roland Domenig and followed by a Q&A, 7:30
Friday, February 20 FUNERAL PARADE OF ROSES (Toshio Matsumoto, 1969), followed by the Shinjuku party, $15 (free if you come in retro kimono or vintage 1960s style), 7:30

BARA NO SORETSU (FUNERAL PARADE OF ROSES) (Toshio Matsumoto, 1969)

Toshio Matsumoto's nearly forgotten classic filters Greek tragedy through Godard and Antonioni (as well as Jonas Mekas), resulting in a striking, startling avant-garde drama. Set in the world of Japan's underground gay culture, FUNERAL PARADE OF ROSES stars Peter as Eddie, a young man living as a woman, working in a bar (named after French writer and activist Jean Genet) where Japanese men come to party with transvestites. The bar is run by Leda (Osamu Ogasawara) and managed by Gonda (Yoshio Tsuchiya), who is sleeping with both Eddie, who represents the hip new pop-culture aesthetic of late-1960s Tokyo, and Leda, who, always dressed in her kimono, evokes the fading, old-fashioned traditional ways of ancient Japan. Shot in black and white that is sometimes eerily washed out and other times speeded up to the frantic sounds of the children's song "Have You Ever Seen a Lassie?," the film features flashbacks, nonlinear narrative, interstitial quotations, repeated scenes, and a documentary within the story, in which the actors talk about their characters and their "real" life, as Matsumoto examines gender-bending sexuality, social unrest, political protest, popular fashion, the masks people hide behind, and cinema itself. Fans of Stanley Kubrick's A CLOCKWORK ORANGE will notice several scenes that were directly influenced by Matsumoto's shocking and memorable debut work. The Japan Society screening will be followed by the official Shinjuku party; if you come in a retro kimono or vintage 1960s clothing, the screening and party are free.
Saturday, February 21 DEATH BY HANGING (Nagisa Oshima, 1968), 3:00

Saturday, February 21 SILENCE HAS NO WINGS (Kazuo Kuroki, 1966), 5:30
Sunday, February 22 EROS PLUS MASSACRE (Yoshishige Yoshida, 1970), 3:00
Tuesday, February 24 THE INFERNO OF FIRST LOVE (Susumi Hani, 1968), 7:30
Wednesday, February 25 DOUBLE SUICIDE (Masahiro Shinoda, 1969), 7:30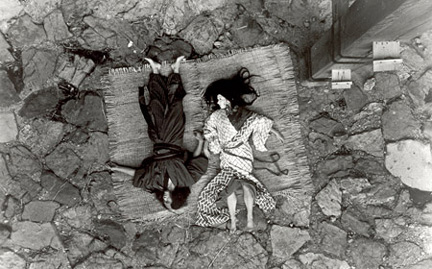 © 1969 Hyogensha/ATG
Masahiro Shinoda's DOUBLE SUICIDE is a Japanese Nouvelle Vague classic
SHINJU TEN NO AMIJIMA (DOUBLE SUICIDE) (Masahiro Shinoda, 1969)

Based on a 1720 Bunraku puppet play by Monzaemon Chikamatsu, Masahiro Shinoda's DOUBLE SUICIDE is a stagy style-over-substance adaptation that features some beautiful sets, a compelling score by Toru Takemitsu, but an overly dramatized, talky production in which the characters' devotion to duty and honor ultimately grows weary and frustrating, even if that's part of the point. Kichiemon Nakamura stars as Jihei, a paper merchant who is in love with a courtesan, Koharu (Shima Iwashita, Shinoda's real-life wife). Jihei is willing to risk everything — his business, his reputation, and his family, including his wife, Osan (Iwashita in a dual role), and their two children — in order to redeem Koharu and take her away from the red-light district. But wealthy entrepreneur and crude loudmouth Tahei (Hosei Komatsu) threatens to redeem Koharu first, forcing Jihei to decide between his family and Koharu — knowing that either decision could lead to tragedy. Much of what little action there is takes place on claustrophobic sets that evoke the theater, with men dressed in dark clothing, their faces covered, serving as Koroku, or puppeteers, helping things along without directly influencing what comes next. Considered a classic of the Japanese Nouvelle Vague, DOUBLE SUICIDE was named Best Picture at both the Kinema Junpo and Mainichi Film Concours awards.
Friday, February 27 THIS TRANSIENT LIFE (Akio Jissoji, 1970), 7:30
Saturday, February 28 A MAN VANISHES (Shohei Imamura, 1967), 3:00
Saturday, February 28 CRAZY LOVE (Michio Okabe, 1968), 5:45
Sunday, March 1 PITFALL (Hiroshi Teshigaraha, 1962), 3:00
Sunday, March 1 ECSTASY OF THE ANGELS (Koji Wakamatsu, 1972), 5:15
TENSHI NO KOKOTSU (ECSTASY OF THE ANGELS) (Koji Wakamatsu, 1972)

Last summer, the Japan Society screened Koji Wakamatsu's 2008 film, the highly anticipated UNITED RED ARMY, as part of its Japan Cuts festival. Now the Japan Society digs into the director's past with the controversial, difficult to categorize 1972 pinku eiga cult classic ECSTASY OF THE ANGELS, which closes the Shinjuku Ecstasy series of indie cinema from the Art Theatre Guild of Japan. The film focuses on a hapless group of revolutionaries who are out to steal a cache of U.S. weapons and then wreak havoc against the Japanese government. The anarchists, who are apt to take their clothes off and have sex at any moment, no matter how inopportune, go by code names based on the days of the week (Monday and Friday, for example, are most prominent), with leaders named after months — February and October, an homage to the 1917 Russian revolution — and the two main cells named after seasons (Winter and Fall). As the story gets more crazy and convoluted, it gets harder and harder to figure out who's who and what side they're on, but it doesn't really matter as all hell is about to break loose. Wakamatsu shot the politically charged soft-core film primarily in black and white, with occasional snatches of scenes suddenly dropping into and out of color. And he doesn't mind going heavy on the subtlety (October loses his eyesight early on but maintains his command, showing that leadership is blind) while turning up the nudity and fake blood. The groovy free-jazz score comes courtesy of the Yosuke Yamashita Trio, who also appear in the film; the brave cast also includes Rie Yokoyama, Ken Yoshizawa, Yuki Arasa, Masao Adachi, and Michio Akiyama.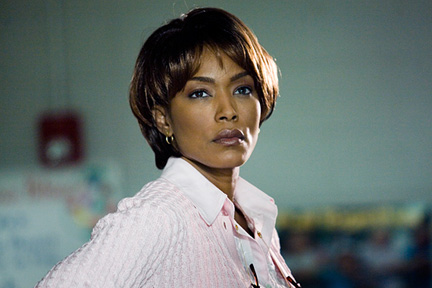 Angela Bassett stars in Giancarlo Esposito's GOSPEL HILL
THE BEST OF THE AFRICAN DIASPORA FILM FESTIVAL
BAMcinématek, BAM Rose Cinemas
30 Lafayette Ave. between Ashland Pl. & St. Felix St.
February 12-17
718-636-4100
Every year BAMcinématek presents highlights of the African Diaspora Film Festival, featuring some of the best contemporary films made about the African experience around the world. This year's collection, which includes works from Haiti/Canada, Greece/Venezuela, Namibia/U.S., Jamaica/France/U.S., Algeria/France, and Spain/Senegal, examines such topics as poverty, skin complexion, colonialism, civil rights, illegal immigration, socially conscious music, and cricket. Among the highlights are a new film by Charles Burnett starring Danny Glover, Arnold Antonin's historical look at Haitian author and activist Jacques Romain, the Cannes Film Festival selection THE END OF POVERTY? (narrated by Martin Sheen), and Giancarlo Esposito's GOSPEL HILL, a drama about the assassination of a civil rights leader, starring Angela Bassett, Julia Stiles, and Glover. Many of the screenings are followed by a Q&A with the filmmakers.
Friday, February 20 PALOMA DELIGHT (DÉLICE PALOMA) (Nadir Mokneche, 2006), 3:00
Friday, February 20 MADE IN JAMAICA (Jérôme Laperrousaz, 2006), 6:00
Friday, February 20 GOSPEL HILL (Giancarlo Esposito, 2007), followed by a Q&A with the director, at 9:00
Saturday, February 21 COMPLEXION (Vandon Gribbs, 2008), 2:00
Saturday, February 21 PRINCE OF BROADWAY (Sean Baker, 2008), followed by a Q&A with the director, 4:00
Saturday, February 21 HIT FOR SIX (Alison Saunders-Franklyn, 2007), 7:00
Saturday, February 21 NAKED ACTS (Bridgett Davis, 1998), followed by a Q&A with the director, 9:30
Sunday, February 22 MR. PRESIDENT (EL SEÑOR PRESIDENTE) (Yorgos Avgeropoulos, 2006), 2:00
Sunday, February 22 THE END OF POVERTY? (Philippe Diaz, 2008), 4:30
Sunday, February 22 GOSPEL HILL (Giancarlo Esposito, 2007), followed by a Q&A with the director, 6:50
Sunday, February 22 COMPLEXION (Vandon Gribbs, 2008), 9:30
Monday, February 23 HIT FOR SIX (Alison Saunders-Franklyn, 2007), 4:30
Monday, February 23 PALOMA DELIGHT (DÉLICE PALOMA) (Nadir Mokneche, 2006), 6:50
Monday, February 23 ERENDIRA IKIKUNARI (Juan Mora Catlett, 2006), 9:40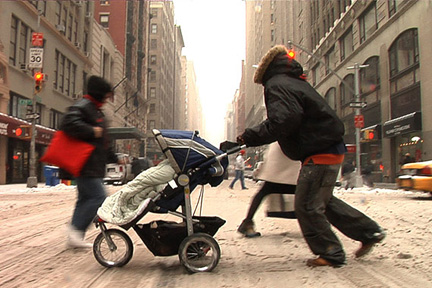 Sean Baker's PRINCE OF BROADWAY is set in New York City

Tuesday, February 24 PRINCE OF BROADWAY (Sean Baker, 2008), followed by a Q&A with the director, 4:30
Tuesday, February 24 ERENDIRA IKIKUNARI (Juan Mora Catlett, 2006), 7:20
Tuesday, February 24 GOSPEL HILL (Giancarlo Esposito, 2007), followed by a Q&A with the director, 9:40
Wednesday, February 25 PRINCESS OF AFRICA (Juan Laguna, 2008), 4:30
Wednesday, February 25 THE END OF POVERTY? (Philippe Diaz, 2008), 6:20
Wednesday, February 25 NAMIBIA: THE STRUGGLE FOR LIBERATION (Charles Burnett, 2007), 8:40
Thursday, February 26 JACQUES ROUMAIN: PASSION FOR A COUNTRY (Arnold Antonin, 2008), followed by a Q&A with the director, 6:40
Thursday, February 26 MADE IN JAMAICA (Jérôme Laperrousaz, 2006), 9:30
Thursday, February 26 MR. PRESIDENT (EL SEÑOR PRESIDENTE) (Yorgos Avgeropoulos, 2006), 4:30
Art Shows of the Week
THE ART SHOW 2009
The Park Avenue Armory (Seventh Regiment Armory)
643 Park Ave. between 66th & 67th Sts.
February 19-23
Admission: $20 (includes catalog)
212-488-5550
http://www.artdealers.org/artshow.html
The twenty-first annual gathering sponsored by the Art Dealers Association of America comprises nearly seventy-five galleries displaying and selling painting, sculpture, and more. This year's ADAA Collectors' Forum examines "Objects of Passion: Reflections on the History of Collections and Collectors," with three lectures (advance registration required) by Philipp Blom. On February 20 at 6:30 he'll be discussing "Relics, Sacred and Profane," the topic on February 21 at 11:00 am will be "Between Love and Loss: The Collector's Secret," and the series will conclude February 21 at 4:00 with "Theatres of Memory: Order, Space, and History"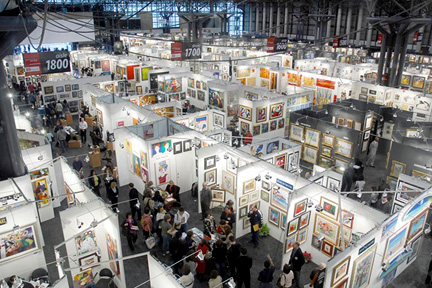 International Art Expo returns to the Javits for its thirty-first year
INTERNATIONAL ARTEXPO NEW YORK
Jacob Javits Center, Halls 3B, 3D, 3E
655 West 34th St.
February 28 — March 2
Admission: adults $15, students under eighteen and seniors over sixty-five $5, kids twelve and under free
The thirty-first annual International Art Expo will feature more than five hundred exhibitors with displays spread out across more than three hundred thousand square feet in the Javits Center. In addition, Artexpo will once again host SOLO, which focuses on emerging artists from around the world, as well as the Decorative Arts & Design Pavilion, which caters to affluent collectors. This year will also include Wyland's Water's eXtreme Journey Maze for adventurous, environmentally conscious art lovers. Below are the show's special events, with such stars as Jane Seymour, Thomas Kinkade, and Justin BUA.
Saturday, February 28 What Can I Expect After Fine Art School? Professional Insights into the Business of Art, lecture by Eric Smith, 1:00
Saturday, February 28 Paint with Wyland & Jane Seymour, free, 10:00 am — 12 noon
Saturday, February 28 Thomas Kinkade Lecture and Signing Event, lecture at 11:30 am, signing at 1:00
Saturday, February 28
and
Sunday, March 1 Jane Seymour, OPEN HEARTS, book signing and painting exhibit
Saturday, February 28
and
Sunday, March 1 Artist Presentation: Justin BUA, 2:00
Riff's Rants & Raves: Film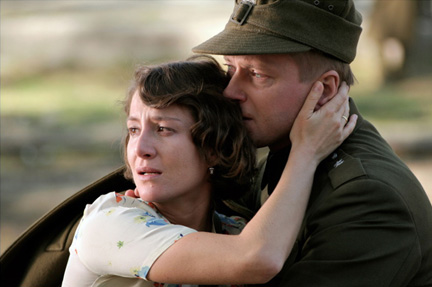 Koch Lorber Films
Maja Ostaszewska and Artur Zmijewski star in Andrzej Wajda's WWII epic KATYN
KATYN (Andrzej Wajda, 2007)
Film Forum
209 West Houston St. between Sixth & Seventh Aves.
February 18 — March 3
212-727-8110
The winner of honorary Oscars are often actors and filmmakers near the end of their life — and already past the end of their career. In 2000, Polish auteur Andrjez Wajda won the award, in his mid-seventies. Yet seven years later, he has made a half dozen more films, including the personal and powerful KATYN, the 2008 Oscar nominee that comes to Film Forum for an exclusive two-week engagement. In KATYN, Wajda, perhaps best known for his international successes MAN OF MARBLE (1976) and DANTON (1983), examines a brutal WWII massacre; the film stars Maja Ostaszewska, Artur Zmijewski, and Pawel Malaszynski, with a score by the great Krzysztof Penderecki.

42nd STREET (Lloyd Bacon, 1933)
Film Forum
209 West Houston St. between Sixth & Seventh Aves.
Saturday, February 28, double feature with KING KONG (Merian C. Cooper & Ernest B. Schoedsack, 1933)
212-727-8110

"You're going out a youngster, but you've got to come back a star," director Julian Marsh (Warner Baxter) declares to chorus girl Peggy Sawyer (Ruby Keeler) as she's about to go onstage for the first time in the lead role of PRETTY LADY, the musical within a musical in Lloyd Bacon's classic depression-era romantic comedy 42nd STREET. When word gets out that Marsh is putting on a play, dozens and dozens of women jump into the audition process, not only because of Marsh's reputation for success, but also because they need the money in desperate times. Things start getting dicey when Dorothy Brock (Bebe Daniels), who is cast as the star of the show, can't keep away from her lover, Pat Denning (George Brent), much to the chagrin of her sugar daddy, Abner Dillon (Guy Kibbee), who is bankrolling the production as a vehicle for her. Meanwhile, Peggy starts attracting some admirers of her own in juvenile Billy Lawler (Dick Powell), chorus boy Terry (Edward J. Nugent), and maybe even Denning himself. With the out-of-town opening fast approaching, Marsh is afraid he has a disaster on his hands, but with hard work, dedication, and just a little luck, well, they might all just pull this off. The musical numbers, staged by Busby Berkeley, are wonderfully ornate, with the camera swooping over, under, and through the dancers as they perform Berkeley's dazzling choreography to such tunes as "Shuffle Off to Buffalo" and the iconic title song. Much of the cast and crew, including Keeler, Kibbee, Powell, Ginger Rogers, Ned Sparks, and Berkeley, reunited shortly after filming to make another depression-era classic, Mervyn LeRoy's GOLD DIGGERS OF 1933. 42nd STREET — which earned an Oscar nomination for Best Picture — will be screening on February 28 with KING KONG (Merian C. Cooper & Ernest B. Schoedsack, 1933) as part of Film Forum's "Breadlines & Champagne" series.
Broadway babies dream of golden times in depression-set musical comedy
GOLD DIGGERS OF 1933 (Mervyn LeRoy, 1933)
Film Forum
209 West Houston St. between Sixth & Seventh Aves.
Sunday, March 1, triple feature with MERRY MANNEQUINS, 1:30, 5:30, 9:30, and FOOTLIGHT PARADE (Lloyd Bacon, 1933), 3:30, 7:30
212-727-8110

Hitting a little too close to home these days, GOLD DIGGERS OF 1933 is a depression-era musical directed by Mervyn LeRoy (LITTLE CAESAR, MISTER ROBERTS) and featuring dance numbers choreographed by Busby Berkeley. Polly Parker (Ruby Keeler), Trixie Lorraine (Aline MacMahon), Carol King (Joan Blondell), and Fay Fortune (Ginger Rogers) are four out-of-work actresses desperate to find a job on Broadway. When cigar-chomping producer Barney Hopkins (Ned Sparks) teams up with newcomer Brad Roberts (Dick Powell) to create a show about the Great Depression itself, the women get excited about the possibility of getting back on the Great White Way, but mistaken identity, financing problems, and class warfare — in the form of wealthy old-money barons Lawrence Bradford (Warren William) and Faneul H. Peabody (Guy Kibbee) — threaten the show and their love lives.

Screening as part of Film Forum's Breadlines & Champagne series (which continues through March 5), GOLD DIGGERS OF 1933 is a fun screwball comedy that features dazzling production numbers, including Rogers leading the way in "We're in the Money," Keeler and Powell getting naughty in the dated "Pettin' in the Park," and Blondell and Etta Moten emoting through "Remember My Forgotten Man." The stage musical within the movie musical is a hoot — especially because it's shot with no regard for reality, as the actors go through set and costume changes and such elements as snow and rain in a matter of seconds, and much of the choreography can be appreciated only through a camera hovering above the action, so a seated audience would.never be able to understand what is going on. And yes, that's Billy Barty playing the baby in the show. (For more information on the rest of the series, click here.)
In Theaters Now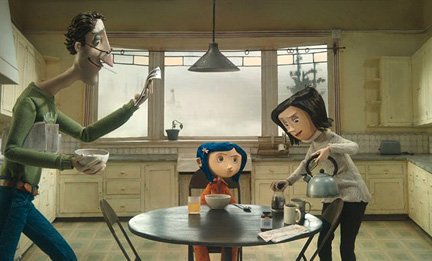 Coraline spends some quality time with her real parents in 3-D fantasy
CORALINE (Henry Selick, 2009)

Coraline Jones (voiced by Dakota Fanning) is an adventurous eleven-year-old in search of some fun and excitement in her new creaky home in Oregon. She finds just what she thinks she was looking for when a rodent introduces her to a hidden passageway that leads to an alternate universe, where replicas of her parents (Teri Hatcher and John Hodgman) are more interested in her and give her whatever she wants. However, this button-eyed Other Mother and Other Father have other plans for her and her real family as well. Written and directed by Henry Selick, CORALINE lacks the frantic, nonstop energy of his breakthrough film, TIM BURTON'S THE NIGHTMARE BEFORE CHRISTMAS, but it is still a fun, creepy trip down the Narnia-esque rabbit hole. Combining his trademark stop-motion animation (JAMES AND THE GIANT PEACH) with breathtaking stereoscopic 3-D that adds remarkable depth to the images, Selick does a marvelous job bringing to life the popular children's novel by Newbery Medal-winning author Neil Gaiman (SANDMAN), who wrote the book for his young daughters. (Full disclosure: In another part of our life, we work for the company that publishes Gaiman's children's books, including CORALINE, although we promise that does not color our opinion of it.) The supporting cast of characters includes former music-hall divas Miss Spink and Miss Forcible (the ABSOLUTELY FABULOUS British comedy team of Jennifer Saunders and Dawn French), the wise Cat (Keith David), mouse circus leader Mr. Bobinsky (Ian McShane), and local boy Wybie Lovat (Robert Bailey Jr.), who was created specifically for the movie. Be sure to stick around for one last cool 3-D effect at the end of the credits.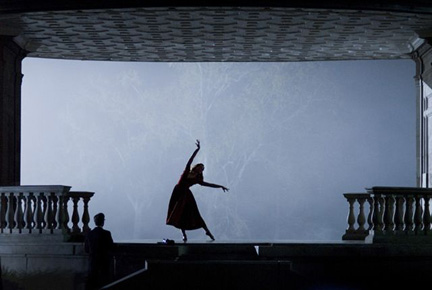 Brad Pitt and Cate Blanchett play age-crossed lovers in BUTTON
THE CURIOUS CASE OF BENJAMIN BUTTON
(David Fincher, 2008)

Based on the short story by F. Scott Fitzgerald, THE CURIOUS CASE OF BENJAMIN BUTTON is an unusual love story for the ages. As Benjamin (Brad Pitt) grows younger, everyone around him gets older, creating fascinating intersections among various characters, but primarily with Daisy Fuller (Cate Blanchett). It's August 2005 in New Orleans, as Hurricane Katrina approaches. In her hospital room, an elderly, dying woman (an unrecognizable Blanchett) gives her daughter, Caroline (Julia Ormond), a diary that she begins reading out loud. It was written by a man named Benjamin Button, who was born an old man in 1918 and tells his life story as the years pass by and he ages backward, sort of a reverse Jack Crabb (Dustin Hoffman) in the great LITTLE BIG MAN (Arthur Penn, 1970), with a bit of the overrated FORREST GUMP (Robert Zemeckis, 1994) thrown in as well. The film lags a bit as Benjamin and Daisy approach similar ages — actually, the closer they get to their actor selves — but the beginning is marvelous, with Fincher working magic as Pitt plays a tiny, withered old man, and the ending is heart-wrenching. Fincher (FIGHT CLUB, ZODIAC) and writer Eric Roth — who won a Best Adapted Screenplay Oscar for FORREST GUMP — wisely choose not to turn Benjamin into a human oddity that confounds the medical profession; instead, he just goes about his life, trying to do the best he can with a positive outlook and a lust for living. Alexandre Desplat's score is among the best of the year, supported by a soundtrack filled with New Orleans jazz. The cast also includes Tilda Swinton as a diplomat's wife who takes a romantic interest in Benjamin, Jared Harris as the randy captain of a tugboat who teaches Benjamin about the sea (and booze and sex), Taraji P. Henson as Queenie, the woman who raises the baby Benjamin after he is abandoned by his father (Jason Flemyng), and the man with perhaps the longest name in the history of show business, Mahershalalhashbaz Ali, as Queenie's husband, Tizzy.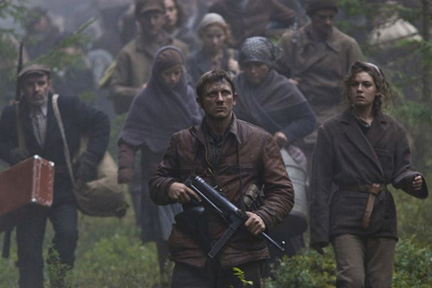 Daniel Craig leads a band of Jews not afraid to take up arms in WWII drama
DEFIANCE (Edward Zwick, 2008)
Loews Lincoln Square
1998 Broadway at 84th St.

December has seen the release of a spate of Holocaust-related dramas, examining the Nazis and the persecution of the Jews from many different angles — with various degrees of success. Among the best of the films — and one that tells a seldom-told tale — is Edward Zwick's DEFIANCE. Zwick, whose GLORY looked at the contribution of African Americans fighting for the North in the Civil War, now turns to WWII, following the Bielski clan as it fights back against the Germans and the local constabulary in Russia. Based on a true story detailed in the book of the same name by Nechama Tec, DEFIANCE stars Daniel Craig as Tuvia, Liev Schreiber as Zus, and Jamie Bell as Asael, three brothers who have left their farm and take refuge in the vast forest they have been playing in since they were kids. As more and more Jews hear about the small community they are establishing in the forest, they flock there. But while Tuvia feels he cannot send anyone away, Zus believes such foolish generosity will result in a lack of food and a greater chance that they will be found and killed. With Tuvia as the group's reluctant leader, adamant that they should remain in the forest, Zus takes off to join the Russian resistance. "Each day of freedom is a victory," Tuvia proclaims. "And if we die trying to live, at least we die like human beings." But as the Germans get closer and the winter grows harsher, the chances of survival seem bleaker and bleaker. Although DEFIANCE does lapse into soap-opera territory and pulls at the emotional heartstrings too often — Zwick and executive producer Marshall Herskovitz were, after all, the creators of THIRTYSOMETHING — it is a powerful drama that reveals a rarely shown side of the Holocaust as a group of working-class Jewish men and women refuse to give in or give up, taking up arms and fighting back against impossible odds.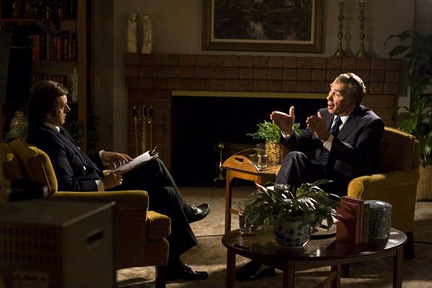 David Frost (Michael Sheen) and Richard Nixon (Frank Langella) get it on in Ron Howard drama
FROST/NIXON (Ron Howard, 2008)

In 1977, the disgraced former president of the United States, Richard Nixon, sat down with British talk show host David Frost for a series of interviews, including the first time Nixon had agreed to discuss Watergate publicly; Frost was after a big payday and trying to resurrect his career in America, while Nixon was attempting to defend his legacy and reestablish his political credentials. Written by Peter Morgan (THE QUEEN) based on his play, FROST/NIXON is a compelling drama that turns into a thriller as Frost and Nixon get caught up in an intellectual game of cat and mouse. Frank Langella is absolutely brilliant as Nixon, capturing every nuance of the jowly president, while Michael Sheen (Tony Blair in THE QUEEN) is a bit too wide-eyed as Frost, although he's got the hair and the accent down pat; both actors are reprising the roles they originated in Morgan's London and Broadway hit. Director Ron Howard allows the story to unfold at its own pace as Nixon's team, which includes Chief of Staff Jack Brennan (Kevin Bacon), super-agent Swifty Lazar (Toby Jones), and a young Diane Sawyer (Kate Jennings Grant), prepares to go toe to toe with Frost's sidekicks, investigative journalist Jim Reston (Sam Rockwell), producers John Birt (Matthew MacFadyen) and Bob Zelnick (Oliver Platt), and love interest Caroline Cushing (Rebecca Hall). FROST/NIXON is a fascinating and thoroughly entertaining look at a critical time in America, when politics intersected with pop culture as the country held its collective breath, demanding closure.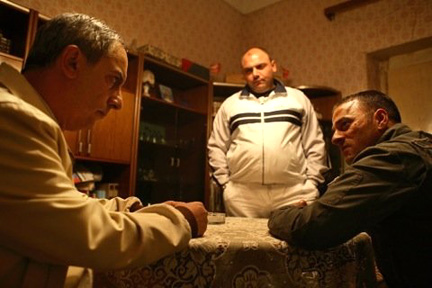 Italian crime epic looks at Camorra syndicate in Naples
GOMORRAH (Matteo Garrone, 2008)
IFC Center
323 Sixth Ave. at West Third St.
212-924-7771
Lincoln Plaza Cinemas
1886 Broadway between 62nd & 63rd Sts.
212-757-0359
http://www.lincolnplazacinema.com

Winner of the Grand Prix at the 2008 Cannes Film Festival, GOMORRAH is a violent, intimate look at the modern-day Camorra crime syndicate in Naples and Caserta. Based on the nonfiction novel by investigative journalist Roberto Saviano — who has been living under police protection since the fall of 2006 — Matteo Garrone's epic follows five distinct yet interrelated stories set around a dilapidated concrete-block housing project, a sort of GODFATHER meets THE SOPRANOS filtered through Italian Neo-realism. Pasquale (Salvatore Cantalupo) is a tailor who considers sharing his secrets with a Chinese sweatshop to make some much-needed extra cash. Roberto (Carmine Paternoster) is having second thoughts training under Franco (Toni Servillo), who runs a toxic waste dumping business. Don Ciro (Gianfelice Imparato) has to deal with a delicate, difficult situation when Maria's (Italian singing star Maria Nazionale) young son joins the secessionists, a rival gang. Marco (Marco Macor) and Ciro (Ciro Petrone) are loose cannons who keep messing with the wrong people. And Totò (Salvatore Abruzzese) is a thirteen-year-old boy who is helping out the Camorra against his mother's wishes — and is soon faced with a life-changing decision. Beautifully shot by Marco Onorato and featuring a cast of primarily nonprofessional actors, GOMORRAH is a deeply involving crime drama, all the more frightening because it's based on real, current situations.(BAMcinématek will be hosting a sneak preview of GOMORRAH on February 12 as part of its Matteo Garrone retrospective.)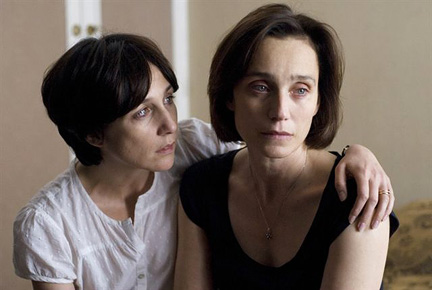 Sisters try to deal with the past in brilliant melodrama
I'VE LOVED YOU SO LONG (Philippe Claudel, 2008)
Village East
181 Second Ave. at 12th St.
212-529-6998
http://www.villageeastcinema.com
http://www.sonyclassics.com/ivelovedyousolong

French novelist Philippe Claudel's directorial debut, I'VE LOVED YOU SO LONG, is a brilliant melodrama told by an expert storyteller. A never-better Kristin Scott Thomas stars as Juliette, an intensely private woman who has moved in with her younger sister, Léa (Elsa Zylberstein), after having been away for fifteen years. Léa's husband, Luc (Serge Hazanavicius), is clearly unhappy that Juliette has come to live with them; he particularly does not want her spending too much time with their two adopted daughters. As Juliette goes on job interviews and makes new friends — including Léa's fellow teacher, Michel (Laurent Grevill), who has more than a passing interest in her — her deep, dark pain is always bubbling just below the surface, ready to burst out. Through carefully constructed scenes of beauty, simplicity, honesty, and suppressed rage, Claudel slowly reveals the details of Juliette's missing years, spent in prison for an unspeakable crime. Thomas is absolutely breathtaking as Juliette, a tortured soul hiding a horrific secret as she tries to resurrect her once-promising life. Don't miss it.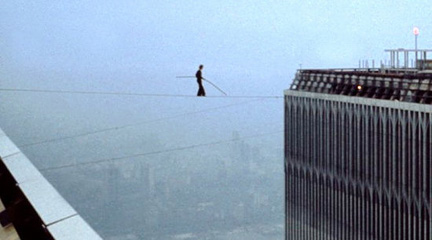 MAN ON WIRE is on the short list for a Best Documentary Oscar nod
MAN ON WIRE (James Marsh, 2008)
Landmark Sunshine Cinema
143 East Houston St. between First & Second Aves.
212-330-8182
http://www.landmarktheatres.com

Winner of the Audience Award at the Sundance, Edinburgh, and Los Angeles Film Festivals, MAN ON WIRE is a thrilling examination of Philippe Petit's attempt to walk on a wire connecting the two towers of the World Trade Center. Using archival footage, home movies, still photos, black-and-white re-creations, and new interviews with all the primary characters, director James Marsh (THE KING, WISCONSIN DEATH TRIP) sets up MAN ON WIRE like a heist film as Petit and his cohorts discuss the detailed planning that went into the remarkable event, including getting the wires and cable to the top of the South Tower and hiding under a tarp as a security guard has a smoke right next to them. Petit, who had previously — and illegally — traversed Notre Dame Cathedral in Paris and the Sydney Harbour Bridge in Australia, had become immediately obsessed with the Twin Towers as soon as he learned they were being built; Marsh intercuts scenes of the construction of the WTC as Petit puts together the seemingly impossible caper, leading to his August 7, 1974, walk between the two towers, more than a quarter mile above the ground. Petit has a relationship with the World Trade Center unlike anyone else's; interestingly, Marsh and Petit do not so much as even hint at the destruction of the towers on September 11, 2001, a questionable decision that leaves a gap in the film. (They could have at least mentioned it in the end captions.) Still, the Oscar-winning MAN ON WIRE is an exhilarating documentary; even though you know that Petit survives, you'll be breathless as he balances high above Lower Manhattan, one tiny step from death.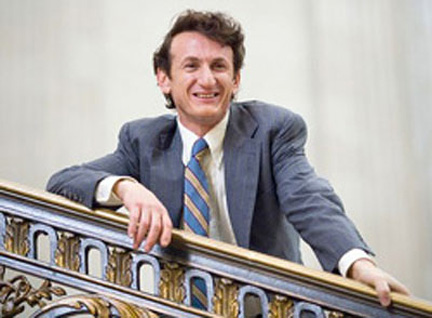 Sean Penn stars as Harvey Milk in look at gay activist and politician
MILK (Gus Van Sant, 2008)
http://www.filminfocus.com/focusfeatures/film/milk

Gus Van Sant's MILK is a solid if surprisingly standard biopic focusing on the last eight years in the life of Harvey Milk, the gay activist and politician who was assassinated in 1978. Van Sant (DRUGSTORE COWBOY, TO DIE FOR, GOOD WILL HUNTING) follows the eventual unofficial Mayor of Castro Street (Sean Penn) as he moves to San Francisco with his much younger partner, Scottie Smith (James Franco), and sets up a camera shop that soon becomes an important meeting ground for the local gay community, fighting for equal rights and supporting Milk as he continually campaigns for public office. The battle hits its high point in 1978 when Milk takes on John Briggs and the Briggs Initiative, also known as Proposition 6, which sought to take away existing employment rights from gays and lesbians in the California public school system, eerily reminiscent of the recent passage of Proposition 8 there. Although Milk was a rallying figure — his opening mantra was always "My name is Harvey Milk, and I am here to recruit you!" — the film never quite takes off the way it wants to, instead becoming too reverential and melodramatic. Penn is good but subdued in the lead role; the best performance comes from Josh Brolin as Dan White, Milk's main adversary among the SF supervisors.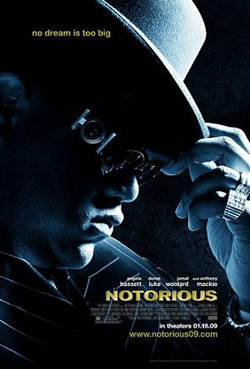 Jamal Woolard hits the big-time in rap biopic
NOTORIOUS (George Tillman Jr., 2009)
AMC Empire 25
234 West 42nd St. between Broadway & Eighth Ave.
212-398-3939

In NOTORIOUS, Christopher Wallace, like Buddy Holly, Ritchie Valens, Patsy Cline, and Jim Morrison before him, is immortalized on film, yet another prodigiously talented young musician who died too soon. In this case, it's Brooklyn-born rapper Biggie Smalls (Wallace), or the Notorious B.I.G., who was gunned down at the age of twenty-four in 1997 at the height of his popularity, amid the so-called East Coast / West Coast rap rivalry of the nineties that also claimed the life of his onetime friend and rival Tupac Shakur. Produced by Wallace's mother, Voletta, his two managers, and his producer, Sean "Puffy" Combs, this well-made biopic, directed by George Tillman Jr. (SOUL FOOD) and written by Reggie Rock Bythewood (DANCING IN SEPTEMBER) and Cheo Hodari Coker, holds no surprises but packs a punch nevertheless, thanks to the amazing, gritty, brilliant, street-true music of Biggie. Rapper Jamal Woolard, a newcomer to the screen, inhabits Biggie's character with swagger, charm, intonation, and size, nailing his mannerisms, but after a four-month acting "boot camp" he impersonates rather than portrays Biggie. The incomparable Angela Bassett, as Voletta, has acting chops to spare, and both rival Tupac (Anthony Mackie) and producer Combs (Derek Luke) are played by pros, providing some much-needed acting ballast to balance the production. The gorgeous Antonique Smith, incandescent as Biggie's wife, R&B star Faith Evans, amps the glamour quotient, while Biggie's protégée and former girlfriend Lil Kim is played with sass and verve by Naturi Naughton. But the music, with its jaw-dropping wordplay and irresistible drive, is the real star here.
THE READER (Stephen Daldry, 2008)
http://www.thereader-movie.com

A surprise Best Picture Oscar nominee, THE READER is a cold and disappointing film focusing on a pair of cold, overly secretive — and intensely frustrating — characters. In 1958 Germany, thirty-five-year-old Hanna (Kate Winslet) begins a steamy affair with fifteen-year-old Michael (David Kross); the matronly woman, who calls the young boy "kid," gets in the mood by having him read great works of literature to her as they lay naked together in bed. The film switches between that year and 1995 (as well as several years in between), when a grown-up Michael (Ralph Fiennes) is still having trouble dealing with one obvious secret, although another, shocking one, revealed while he was in law school, has changed the course of his life and his ability to maintain close relationships, including with his daughter. Director Stephen Daldry (BILLY ELLIOT, THE HOURS) manipulates the rather emotionless story — written by David Hare (PLENTY), based on the novel by Bernard Schlink — teasing the audience unnecessarily to keep things moving, albeit at a snail's pace. Although it's always great to see Bruno Ganz and Lena Olin, the main stars — Winslet, Kross, and especially Fiennes — are oddly dispassionate in this overblown and underplayed melodrama. The film's success during awards season might be primarily because two of the executive producers, Anthony Minghella and Sydney Pollack, passed away last year, and this is their final project.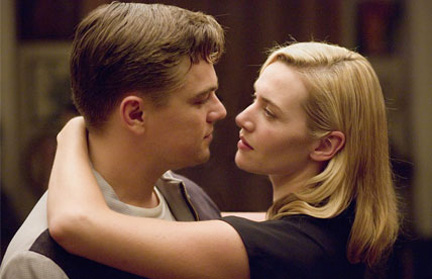 Leonardo DiCaprio and Kate Winslet reunite in REVOLUTIONARY ROAD
REVOLUTIONARY ROAD (Sam Mendes, 2008)
http://www.revolutionaryroadmovie.com

Sam Mendes's REVOLUTIONARY ROAD, based on the novel by Richard Yates, is a brilliant dissection of suburban life in 1950s America. The film reunites the two stars of TITANIC (James Cameron, 1997), with Leonardo DiCaprio and Kate Winslet playing the Wheelers, a young couple who have just moved into suburban Connecticut. Frank works for the same machine company his father did, having to make the commute into the city on the train every day, while April, a onetime aspiring actress, stays at home and takes care of their son. But each of them dreams of something more, something different — something better — so they suddenly decide to rekindle their romance and build a new life in Paris. But not everything goes as planned, as suburbia's overwhelming hopelessness threatens to destroy them. Mendes's fourth film, following AMERICAN BEAUTY (1999), ROAD TO PERDITION (2002), and JARHEAD (2005), is a marvelously constructed tale that hits home time and time again. Winslet (Mendes's wife), who won a Golden Globe for her performance, is spectacular as April, her every movement filled with raw emotion, while DiCaprio is sensational as Frank, a man who is not sure what he wants out of life. The cast also includes David Harbour and Kathryn Hahn as the Wheelers' best friends and neighbors, the Campbells; Kathy Bates as Helen Givings, the local Realtor; Richard Easton as her hard-of-hearing husband, Howard; and Michael Shannon as their mentally challenged adult son, John, who seems to know just how to get to the heart of the matter. REVOLUTIONARY ROAD is a masterful look at life.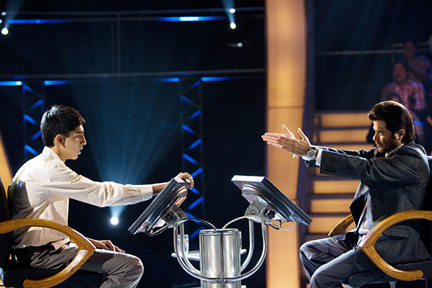 Jamal goes for the big bucks in SLUMDOG MILLIONAIRE
SLUMDOG MILLIONAIRE (Danny Boyle, 2008)
http://www.foxsearchlight.com/slumdogmillionaire

In modern-day Mumbai, Jamal Malik (Dev Patel) is being brutally interrogated by a police inspector (Irrfan Khan) who is certain that Jamal is cheating on the popular game show WHO WANTS TO BE A MILLIONAIRE? The cop won't even consider that a young, uneducated chaiwalla, a lowly tea server at a call center, could possibly know enough to be successful on the program. But through a series of harrowing flashbacks, Jamal recounts his difficult, miserable life growing up on the streets with his brother, Salim (Madhur Mittal), explaining how his experiences with extreme poverty, bigotry, child abuse, and gang violence led him to know certain answers in fascinating, bizarre, and mostly sad ways. As he approaches the final question, everything he's ever loved and believed in hangs in the balance. SLUMDOG MILLIONAIRE is extremely well directed by Danny Boyle (TRAINSPOTTING, 28 DAYS LATER), with a smart script by Simon Beaufoy (THE FULL MONTY) based on Vikas Swarup's novel Q AND A. Freida Pinto makes a strong debut as Latika, the girl who comes between the two brothers, and Bollywood star Anil Kapoor is wonderfully smarmy as Prem Kumar, the Indian Regis Philbin. A mesmerizing, edge-of-your-seat tale, SLUMDOG MILLIONAIRE was the sleeper hit of 2008 until it won four Golden Globe awards, followed by eight Oscars, including Best Director and Best Picture.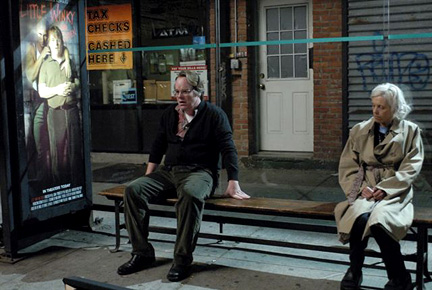 Caden Cotart (Philip Seymour Hoffman) is having a tough time in SYNECDOCHE
SYNECDOCHE, NEW YORK (Charlie Kaufman, 2008)
Cinema Village
22 East 12th St. between University Pl. & Fifth Ave.
212-924-3363
http://www.sonyclassics.com/synecdocheny

In films such as BEING JOHN MALKOVICH (Spike Jonze, 1999), ADAPTATION (Spike Jonze, 2002), CONFESSIONS OF A DANGEROUS MIND (George Clooney, 2002), and ETERNAL SUNSHINE OF THE SPOTLESS MIND (Michel Gondry, 2004), writer Charlie Kaufman has created bizarre, compelling alternate views of reality that adventurous moviegoers have embraced, even if they didn't understand everything they saw. Well, Kaufman has done it again, challenging audiences with his directorial debut, the very strange but mesmerizing SYNECDOCHE, NEW YORK. Philip Seymour Hoffman stars as the bedraggled Caden Cotard, a local theater director in Schenectady mounting an inventive production of DEATH OF A SALESMAN. Just as the show is opening, his wife, avant-garde artist Adele Lack (Catherine Keener), decides to take an extended break in Europe with their four-year-old daughter, Olive (Sadie Goldstein), and Adele's kooky assistant, Maria (Jennifer Jason Leigh).
As Caden starts coming down with a series of unexplainable health problems (his last name, by the way — Cotard — is linked with a neurological syndrome in which a person believes they are dead or dying or do not even exist), he wanders in and out of offbeat personal and professional relationships with box-office girl Hazel (a nearly unrecognizable Samantha Morton), his play's lead actress, Claire Keen (Michelle Williams), his therapist, Madeleine Gravis (Hope Davis), and Sammy (Tom Noonan), a man who has been secretly following him for years. After winning a MacArthur Genius Grant, Caden begins his grandest production yet, a massive retelling of his life story, resulting in radical shifts between fantasy and reality that will have audiences laughing as they continually scratch their heads, hoping to stimulate their brain in order to figure out just what the heck is happening on-screen. Evoking such films as Federico Fellini's 8 1/2 and CITY OF WOMEN, Woody Allen's STARDUST MEMORIES, and Ingmar Bergman's WILD STRAWBERRIES as well as the labyrinthine tales of Argentine writers Jorge Luis Borges and Julio Cortazar, SYNECDOCHE, NEW YORK is the kind of work that is likely to become a cult classic over the years, requiring multiple viewings to help understand it all.
VICKY CRISTINA BARCELONA (Woody Allen, 2008)
Quad Cinema
34 West 13th St. between Fifth & Sixth Aves.
212-255-8800
http://www.vickycristina-movie.com

After a trio of films made in England (the justly celebrated MATCH POINT, the disappointing SCOOP, and the underappreciated CASSANDRA'S DREAM), Woody Allen heads to Spain, setting his latest adult romantic comedy in the gorgeous city of Barcelona. The very serious Vicky (Rebecca Hall, channeling Mia Farrow) and the flirtatious free spirit Cristina (Scarlett Johansson) are best friends spending the summer at a villa owned by Judy (Patricia Clarkson) and Mark (Kevin Dunn). Vicky is about to get married to the very responsible and successful Doug (Chris Messina), while Cristina is just looking to have a wild time. When hot artist Juan Antonio (a gentle Javier Bardem) invites Vicky and Cristina to join him for wine and sex in Oviedo, Vicky thinks he is a pig, while Cristina wants to take him up on his offer. Further complicating the situation is Juan Antonio's homicidal, suicidal ex-wife, Maria Elena (an inspired, Oscar-winning performance by Penelope Cruz), who forces herself back into his life. VICKY CRISTINA BARCELONA features one of Allen's best scripts in years. Hall, a young British actress who primarily works on stage and television, is captivating as Vicky; cinematographer Javier Aguirresarobe's camera falls in love with her charming face the moment it first lays eyes on her. Bardem and Cruz inject fire and ice into this complex relationship drama, which examines the nature of love in intelligent and intriguing ways. In addition to filming at such sites as Antoni Gaudi's Sagrada Familia, Parc Guell, and La Pedrera, Allen infuses the proceedings with a soundtrack of delightful Spanish music, structured around Gulia y Los Tellanini's "Barcelona."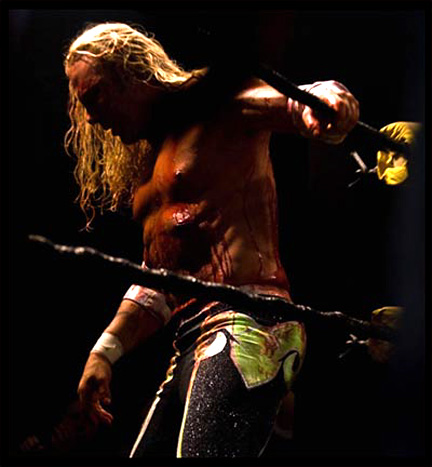 Mickey Rourke wrestles his demons in comeback flick
THE WRESTLER (Darren Aronofsky, 2008)
http://www.thewrestlermovie.com

Brooklyn native Darren Aronofsky, writer-director of the brilliant PI (1998) and REQUIEM FOR A DREAM (2000) and the muddled mess THE FOUNTAIN (2006), scores a major takedown with the marvelous comeback film THE WRESTLER. Former boxer Mickey Rourke, who made a name for himself in such 1980s films as DINER, RUMBLE FISH, THE POPE OF GREENWICH VILLAGE, 9 1/2 WEEKS, and BARFLY, stars as the Christ-like figure Randy "the Ram" Robinson, an aging professional wrestler who was the sport's biggest name in the 1980s but is now a washed-up has-been living in a trailer park wrestling for embarrassingly small paydays at tiny local venues, still lured by the love of the sparse crowds and the respect of his opponents. After suffering a heart attack following one of his matches, the fifty-something Ram is suddenly faced with a life outside the ring. He tries to get back in his daughter's (Evan Rachel Wood) life, attempts a relationship with stripper Cassidy (Marisa Tomei), and even gets a regular job in a supermarket, but the possibility of returning to the ring for the twentieth anniversary of his biggest match ever, his 1989 battle against the Ayatollah (Ernest Miller) in Madison Square Garden, weighs hard on his mind. Winner of the Golden Lion at the Venice Film Festival, THE WRESTLER, shot in an arresting grainy style, is a masterfully told tale with multiple layers, with the Ram's potential comeback mimicking Rourke's own return to his acting glory days. Rourke, who won a Golden Globe for his effort, is such a natural in the role that it is hard to believe it was not written specifically for him; in fact, Nicolas Cage was first attached to the project. (Bruce Springsteen's title song, which plays over the closing credits, took home the Golden Globe for Best Original Song.) The film is set in the real-life world of Combat Zone Wrestling and the Ring of Honor, featuring such actual wrestlers as the Necro Butcher, who has a thing for barbed wire and staple guns. THE WRESTLER is a heart-wrenching, beautiful, and brutal film.
Riff's Rants & Raves: Theater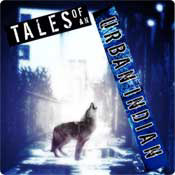 Darrell Dennis's TALES OF AN
URBAN INDIAN kick off Public LAB festival
PUBLIC LAB
Public Theater
425 Lafayette St. between East Fourth St. & Astor Pl.
February 20 — June 29
Tickets: $10
212-967-7555
The Public Theater, collaborating with the LAByrinth Theater Company (KNIVES AND OTHER SHARP OBJECTS) and the Center Theatre Group in association with Les Freres Corbusier (BLOODY BLOODY ANDREW JACKSON: THE CONCERT VERSION), is back with its annual Public LAB, presenting four stripped-down productions over four months, featuring new works by Darrell Dennis, Raul Castillo, Alex Timbers, and Suzan-Lori Parks, with all tickets a mere ten bucks.
Friday, February 20
through
Sunday, March 15 TALES OF AN URBAN INDIAN, written by Darrell Dennis, directed by Herbie Barnes
Tuesday, February 24 Public Lab Speaker Series — Balancing Two Worlds: Native Artists in the City and on the Reservation, panel with Darrell Dennis, Randy Reinholz, Sheila Tousey, and others, post-performance discussion
Tuesday, March 3 Public Lab Speaker Series — Native Theater in New York City Today, panel with Steve Elm, Liz Frankel, John Haworth, Muriel Miguel, and Danielle Soames, post-performance discussion
Monday, March 9 Native American Talent Outreach: Multi-Network Industry Panel Discussion, free but RSVP required to industrypanel@publictheater.org, 6:30
Tuesday, March 10 Public Lab Speaker Series — The Rise of Native Theater in New York City in the 1960s and 70s, panel with Muriel Miguel, Betsy Theobald Richards, and others, post-performance discussion
Friday, March 27
through
Sunday, April 19 KNIVES AND OTHER SHARP OBJECTS, written by Raul Castillo, directed by Felix Solis
Tuesday, May 5
through
Sunday, May 24 BLOODY BLOODY ANDREW JACKSON: THE CONCERT VERSION, written and directed by Alex Timbers, with music and lyrics by Michael Friedman
Friday, June 5
through
Monday, June 29 A new play by Suzan-Lori Parks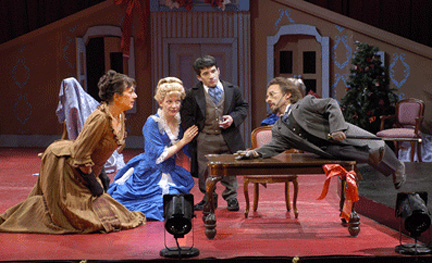 Joan Marcus
Mabou Mines presents a very different kind of Ibsen in Brooklyn
MABOU MINES DOLLHOUSE
St. Ann's Warehouse
38 Water St.
February 12 — March 8
Tickets: $37.50-$47.50
718-254-8779
http://www.stannswarehouse.org

In 2003, New York-based avant-garde theater company Mabou Mines premiered MABOU MINES DOLLHOUSE at St. Ann's Warehouse in Brooklyn. The eclectic production then went on a five-year tour around the world, including stops in Norway, France, Israel, China, Australia, Korea, and Greece, and has now returned home to complete its international journey. Winner of two Obies — for director (and company cofounder) Lee Breuer and star Maude Mitchell — this unique reimagination of Henrik Ibsen's controversial 1879 feminist classic features three leading men who are all under four and a half feet tall, with the three main women approaching six feet, immediately calling into question issues of strength, power, and social status. Breuer sets the work within a life-size dollhouse surrounded by lush red drapery, with tiny furniture that fits just right for Torvald (a steady, solid Mark Povinelli), Nils Krogstad (a wonderfully devious and devilish Kristopher Medina), and Dr. Rank (a playful, romantic Ricardo Luis Gil) but is dwarfed by Nora, Torvald's wife (Mitchell), Kristine, Nora's recently widowed friend (Janet Girardeau), and Helene, Nora's very pregnant and sarcastic maid (Margaret Lancaster). Torvald is excited about having been promoted to bank manager, so Nora asks him if he can give a job to Kristine, who is in need of money. The plan backfires when Torvald decides to fire Krogstad in order to hire Kristine, not knowing that Nora has taken a loan from Krogstad to cover some of the family debt. She illegally signed the loan in her father's name, a few days after his death, so Krogstad threatens to reveal the forgery if she does not convince Torvald to keep him on at the bank. Meanwhile, the syphilitic Dr. Rank declares his love for Nora as a New Year's Eve masquerade party approaches.
Mitchell plays Nora with an innocent charm, her high-pitched sing-song voice making her seem like a "dumb blonde," but there is more to her than meets the eye. Povinelli is excellent as Torvald, a proud man to whom appearance is everything. In the right front corner of the stage, Susan Tang plays works by Grieg, assembled by Eve Beglarian, occasionally breaking the fourth wall and becoming part of the play, as do some of the crew members. (Ning Yu takes over the keyboards March 4.) Breuer adds lots of subtle embellishments as well; for example, keep your eye on the clock. Among the many standout scenes are a dream sequence with strobe effects and a wild opera finale that includes a slew of puppets. MABOU MINES DOLLHOUSE is an absolute delight.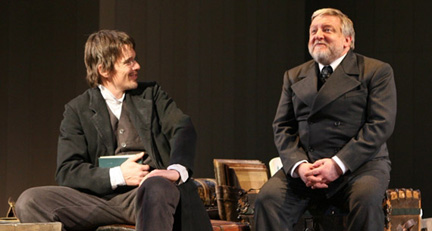 Joan Marcus
Ethan Hawke and Simon Russell Beale share a laugh in THE CHERRY ORCHARD
THE BRIDGE PROJECT: THE CHERRY ORCHARD
BAM Harvey Theater
651 Fulton Street between Ashland Pl. & Rockwell Pl.
THE CHERRY ORCHARD: through March 8
THE WINTER'S TALE: February 10 — March 8
Tickets: $30-$90
718-636-4100

As part of its three-year, three-way partnership with the Old Vic, headed by Kevin Spacey, and Neal Street Productions, led by Caro Newling and Sam Mendes, BAM is presenting two exciting theatrical events, starting with a new version of Anton Chekhov's THE CHERRY ORCHARD, adapted by Tom Stoppard. Chekhov's final play — the writer of THE SEAGULL, UNCLE VANYA, and THREE SISTERS died shortly after its publication, at the age of forty-four in 1904 — deals with the end of the Russian aristocracy as a once-wealthy family must consider selling off its lush cherry orchard as summer shares or face bankruptcy. Sinéad Cusack is excellently airheaded as Ranevskaya, the matriarch of the estate who refuses to see reality by listening to Lopakhin (the scene-stealing Simon Russell Beale), a successful landowner begging her and her blustery brother, Gaev (Paul Jesson) to sell. Ranevskaya doesn't get much help from her daughters, who are also hesitant to part with the orchard: Varya (Rebecca Hall) is hoping to be betrothed to Lopakhin, while seventeen-year-old Anya (Morven Christie) is exploring romance with perpetual student Trofimov (Ethan Hawke), who is looking ahead to the social revolution that is overtaking the country. Stoppard's version of the play walks the fine line between comedy and tragedy, although it does occasionally get a bit unsure of which way to go.

Mendes (AMERICAN BEAUTY, REVOLUTIONARY ROAD) directs the solid cast — which also includes a fine comic turn by Richard Easton as the elderly servant Firs and Josh Hamilton as Yasha, a young valet who believes that all he and Ranevskaya's chambermaid, Dunyasha (Charlotte Parry), need to survive on is their love — with few missteps, but the production never quite reaches the emotional heights it strives for. Anthony Ward's set design and Paul Pyant's lighting shines, especially at the beginning of the second act, when huge shadows are cast onto the white backdrop as the family hosts a fancy party while awaiting its fate. On February 10, THE CHERRY ORCHARD will be joined in repertory by William Shakespeare's THE WINTER'S TALE, both at the BAM Harvey Theater and featuring the same cast. There will be several pre- and postshow artist talks, including with the entire company on February 19 and 25, Stephen Greenblatt speaking on THE WINTER'S TALE on February 15 at 1:00 in the BAMcafé, and Sam Mendes and Francine Prose discussing THE CHERRY ORCHARD on February 26 at 5:30 in the Hillman Attic Studio.
FRIGID NEW YORK
The Kraine Theater, the Red Room, 85 East Fourth St.
Under St. Marks, 94 St. Marks Pl.
Tickets: $8-$16 (three-show pass $30)
Wednesday, February 25
through
Sunday, March 8 The Horse Trade Theater Group presents twenty-nine shows over twelve days, including THE BLACK JEW DIALOGUES, THE QUESTION HOUSE, THE GIANT'S CAUSEWAYS, THE HEFNER MONOLOGUES, BAGS: OBSESSIONS OF A HOARDAHOLIC, DALTON TRUMBO'S JOHNNY GOT HIS GUN, MELTING IN MADRAS, HOW DOES A DRUG DEAL BECOME A DECENT THIRD DATE? and ARE WE FREAKS?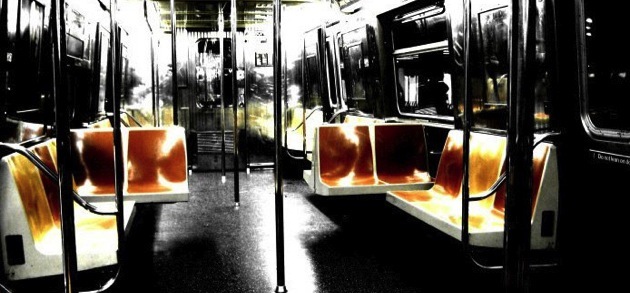 David Bellantoni's FOREPLAY is in competition at one-act festival on West Side
THE NETWORK ONE-ACT FESTIVAL
Barrow Group Theater
312 West 36th St. between Eighth & Ninth Aves., third floor
March 4-15
General admission: $15
212-239-3198
Approximately forty new one-act plays, no longer than twenty minutes each, will be presented at the Barrow Group Theater as part of the Network One Act Festival. Most sessions will consist of four plays, beginning at 6:00 and 8:30, with additional afternoon matinees on the weekend. Among the plays looking to grab the audience's attention — and votes, as there are various awards that will be handed out — are ALL THE DIRT ON ME, THE BLANK OF MY BLANK BLANK, BROWNSVILLE BRED, THE INTERROGATION, and SPERM BABIES. We're excited about FOREPLAY, a one-act play by FOT (friend of twi-ny) David Bellantoni, about an anxious young man riding the subway, deciding whether he really wants to meet the father who abandoned the family more than twenty years before. FOREPLAY will be performed March 4 at 8:30, with VIRILIA, THE GOBLET, and NAVIGATION, and on March 7 at 6:00, with BALLOON HEAVEN and THE LEAF PILE AND THE TWO BROTHERS.
Riff's Rants & Raves: Live Music & Dance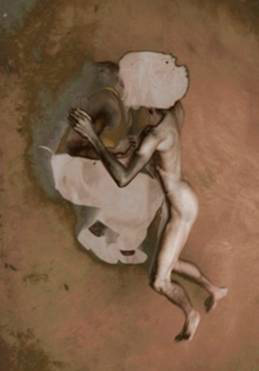 Pavel Zustiak/Palissimo's
WEDDINGS AND BEHEADINGS is part of annual dance fest
HARKNESS DANCE FESTIVAL
Ailey Citigroup Theater at the Joan Weill Center for Dance
405 West 55th St. at Ninth Ave.
Wednesday, Thursday, Saturday at 8:00, Sunday at 2:00
Tickets: $20
212-415-5500
http://www.92Y.org/HarknessFestival
The 92nd Street Y has been presenting dance for more than seventy years, featuring works by such legends as Martha Graham, Merce Cunningham, Alvin Ailey, and Jerome Robbins. The 2009 Harkness Dance Festival, held over five weeks at the Ailey Citigroup Theater on West 55th St., showcases five innovative companies performing thought-provoking pieces Wednesdays through Sundays through March 22. Hilary Easton stages the world premiere of THE RECLAMATION, looking at the intersection of humanity and nature; Douglas Dunn revives his breakthrough, PULCINELLA, set to music by Stravinsky, along with the world premiere of BOSS IN MAN?, with live music by Tali Roth; Monica Bill Barnes examines the art of performance itself in ANOTHER PARADE; Slovakian choreographer Pavel Zustiak deals with beauty and terror in the multimedia WEDDINGS AND BEHEADINGS; and Jeremy Nelson and Luis Lara Malvacías of full fat dance both go solo for SOONER THAN YOU THINK, set in a unique installation environment. Tickets for all performances are $20.
Wednesday, February 18
through
Sunday, February 22 Hilary Easton: THE RECLAMATION, featuring original music by Thomas Cabaniss, video by Anna Kiraly, lighting design by Kathy Kaufman, costumes by Madeleine Walach, and performers Alexandra Albrecht, Michael Ingle, Gregory Manley, Joshua Palmer, Emily Pope-Blackman, and Jean Taylor
Wednesday, February 25
through
Sun, March 1 Douglas Dunn & Dancers: revival of PULCINELLA and world premiere of BOSS IN MAN?
Wednesday, March 4
through
Sunday, March 8 Monica Bill Barnes: ANOTHER PARADE, with sneak previews February 28 at the 92nd Street Y and March 3 at 92YTribeca
Wednesday, March 11
through
Sunday, March 15 Pavel Zustiak/Palissimo: WEDDINGS AND BEHEADINGS
Wednesday, March 18
through
Sunday, March 22 Jeremy Nelson & Luis Lara Malvacías: SOONER THAN YOU THINK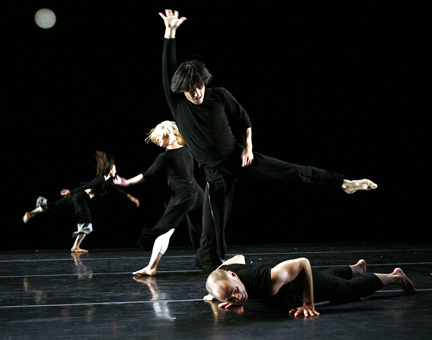 © Richard Termine
Belinda McGuire, Natalie Desch, Eddie Taketa, and Doug Varone in LUX
DOUG VARONE AND DANCERS
Joyce Theater
175 Eighth Ave. at 19th St.
February 24 - March 1
Tickets: $19-$49
212-242-0800
http://www.dougvaroneanddancers.org

Doug Varone and Dancers opened their winter season at the Joyce in Chelsea on February 24 with three pieces that displayed the company's impressive athleticism along with Varone's wonderfully subtle touch. The evening began with the 2000 work TOMORROW, seven short dances set to love songs by Reynaldo Hahn (1875-1947), performed live by mezzo-soprano Theodora Hanslowe and pianist Dennis Giauque. Wearing pale, loose-fitting costumes, the dancers moved slowly in front of a screen that went from black to white to gray as the dances slightly overlapped. A pas de deux with Julia Burrer and Erin Owen started things, followed by a dance between Natalie Desch and company star Eddie Taketa, who at one point daringly jumps up into Desch's arms. Taketa later performs a more aggressive solo to "Dans la Nuit." TOMORROW is a solid piece, but it is vastly overshadowed by what comes next.
Set to Philip Glass's "The Light," 2006's LUX is a thrilling, free-wheeling dance for the entire eight-person company. As a moonlike circle imperceptibly rises in the background, the dancers interact with each other and Glass's composition, which reaches repeated crescendos that send them into dazzling bursts of motion. Dancing the role originally performed by Varone, Taketa is a whirlwind, particularly in several solos in which he spins, waves his hands, and dashes across the stage. The four women (Owen, Burrer, Desch, and Netta Yerushalmy) and four men (Daniel Charon, Ryan Corriston, Alex Springer, and Taketa) wear all-black costumes, slyly slit so the material floats, spins, and reveals then hides the naked body beneath. A sort of alternate version of Shonach Mirk Robles's restaging of Maurice Bejart's FIREBIRD for Alvin Ailey, LUX brings on the night in spectacular ways.
The evening concludes with the New York City premiere of the raw, emotional ALCHEMY (2008), inspired by Steve Reich's "Daniel Variations," which incorporates text from the Book of Daniel with the writings of executed journalist Daniel Pearl. In front of a section of Jerusalem's Wailing Wall, Owen stands at the side of the stage, praying. As Reich's music quickly grows ominous and threatening, Owen is joined by two male dancers who seem trapped by Jane Cox's lighting, which casts shadows evoking prison bars on the floor. Soon the four women, dressed in a medical blue, and the four men, wearing different shades of olive-drab dress that recalls both Middle East prisoners as well as journalists, are interacting in primal, physical ways, desperately fighting for a survival that seems bleak and remote, but they never give up the struggle for peace and freedom. It is extremely difficult to pull off a politically charged conceptual dance piece, but Varone and his company achieve their goals with a breathtaking exhilaration. (Varone will participate in a postshow conversation following the February 25 performance.)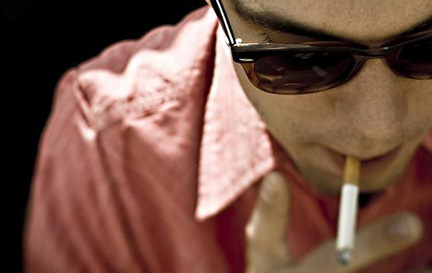 Justin Townes Earle honky-tonks into the Mercury Lounge with new CD
JUSTIN TOWNES EARLE
Mercury Lounge
217 East Houston St. at Ave. A
Tuesday, March 2, $10-$12, 7:30
212-260-4700
http://www.mercuryloungenyc.com
http://www.myspace.com/justintownesearle

It's hard not to associate Justin Townes Earle with his father, musician, author, and activist Steve Earle. "I was a young man when I first found my pleasure in the thrill of a sin / and I went down the same road as my old man," Justin sings on "Mama's Eyes" from his new album, MIDNIGHT AT THE MOVIES (Bloodshot, March 3, 2009). Justin, who was once fired from his father's band, has eclectic songwriting chops and a musical taste reminiscent of his dad's, all put to excellent use on the outstanding follow-up to March 2008's THE GOOD LIFE. Earle goes honky tonkin' on "What I Mean to You" and "Poor Fool," visits the Delta blues on "Halfway to Jackson," and stomps his boots through the jug-band rave-up "Walk Out." Just as Steve has a penchant for covering punk tunes (Nirvana), Justin tackles the Replacements classic "I Can't Hardly Wait," with the unforgettable guitar line now played on the mandolin. Although the son is nowhere near as political as his father, he does reference Joe Hill, one of Steve's heroes, on "They Killed John Henry," which also evokes Springsteen's version of "John Henry" from THE SEEGER SESSIONS. (Steve has covered more than a few Bruce tunes in his time.) And we'd love to hear Bruce cover Justin's sweet title track. As his father usually does, Earle closes the album with a beautiful duet, the moving "Here We Go Again." While MIDNIGHT AT THE MOVIES can in no way be mistaken as a Steve Earle album or a derivative work — it is too good for that — Justin clearly is not hiding from his father's shadow. Justin and his band — Cory Younts, Skylar Wilson, Josh Hedley, and Steve Poulton — will be playing Mercury Lounge on March 3, celebrating the release of the new CD.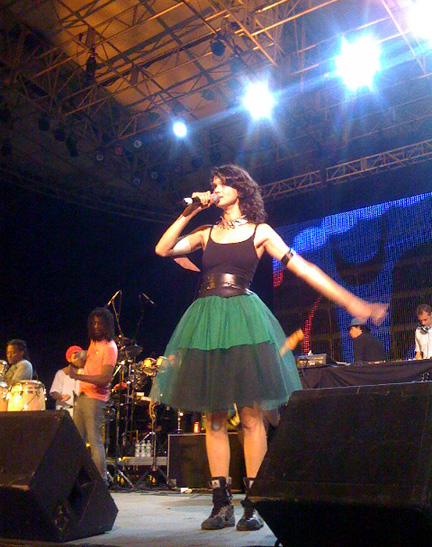 twi-ny/ees
Thievery Corporation will headline Terminal 5 show
THIEVERY CORPORATION
Terminal 5
610 West 56th St. between Eleventh & Twelfth Aves.
February 25-26, $45, 9:00
212-260-4700
http://www.thieverycorporation.com
Thievery Corporation will be bringing it all back to NYC at Terminal 5 on February 25-26. Can Rob Garza and Eric Hilton's unparalleled turntable skills and amazing army of vocalists and dancers warm up even that chilly, universally despised venue? If anyone can do it, TC can. Touring behind their latest album, RADIO RETALIATION (Eighteenth Street, September 2008), Rob and Eric continue their downtempo journey round the global lounge, deftly incorporating dub, bossa nova, Hindi, and jazz accents, spiced with some more clearly political statements off the new disc. Previous NYC appearances, such as SummerStage 2008's stupendous show with Seu Jorge and Bebel Gilberto, have featured singers including francophone chanteuse LouLou G and reggae masters Roots & Zeebo of See-I as well as Sleepy Wonder, hypnotic Guyanese Indian singer and dancer Sista Pat, the tall, dark, beautiful Brazilian Gigi, and one of the better belly dancers around, Yasmin. Backed by Rob and Eric's heady brew on the turntables, the multilingual crew takes turns onstage, keeping the energy high and the crowd ecstatic. Although Wednesday's show is sold out, tickets are still available for the Thursday-night gig. New York native Nickodemus opens up both shows.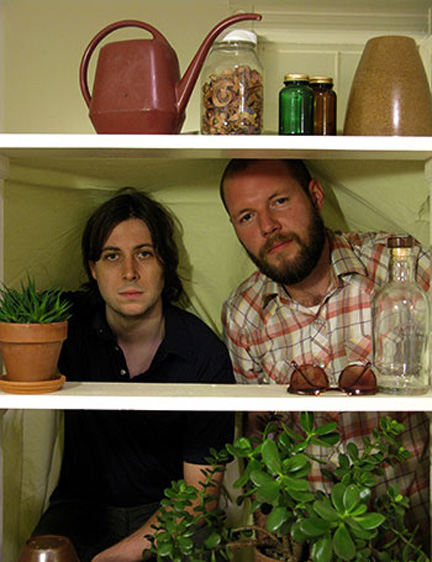 Brendon Anderegg and Koen Holtkamp will celebrate CD release at the Stone
MOUNTAINS
The Stone
Ave. C at Second St.
Friday, February 26, $5, 10:00
Friends since middle school, Brendon Anderegg and Koen Holtkamp founded the music label Apestaartje in 1999 and shortly after that formed the group Mountains. Working and living in Brooklyn, the duo will be celebrating the release of their third CD, CHORAL (Thrill Jockey, February 2009), at the Stone on February 26, followed by a show March 9 at Chelsea Market. The new disc once again features monumentally minimalist electronic soundscapes mixing guitar, binaural field recordings, live sampling, and other subtle instrumentation primarily recorded live in their Brooklyn studio, with few overdubs. The six beautiful, hypnotic compositions take listeners on intriguing musical journeys that range from about two minutes to more than twelve, welcoming all comers into a mesmerizing, meditative, masterfully melodic experience. (A limited-edition double LP includes two bonus tracks not on the CD.)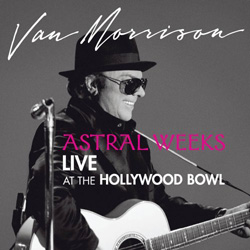 VAN MORRISON: ASTRAL WEEKS
WaMu Theater, Madison Square Garden, February 27-28
Beacon Theatre, Broadway at 74th St., March 3-4
Tickets: $90-$350
Senior year in college, we went to bed each night listening to Van Morrison's seminal masterpiece, ASTRAL WEEKS (Warner Bros., 1968), one of the greatest, most pristine recordings ever made. It's an exhilarating and exhausting eight-song suite in which Belfast-born Van the Man, recently removed from the mid-'60s pub band Them ("Gloria," "Here Comes the Night"), investigates love and loss with piercing vocals and stunning lyrics. From the opening notes of the title track to the closing seconds of the final song, Morrison and his remarkable band — upright bassist Richard Davis, guitarist Jay Berliner, drummer Connie Kay, and percussionist Warren Smith Jr., with horns, strings, and flute as well — create a whole new kind of popular music, mixing jazz, folk, R&B, rock, and soul with raw poetry that hits down to the bone. When he sings "To lay me down / in silence easy / to be born again" on the ethereal "Astral Weeks," you can feel yourself floating on air, willing to follow him anywhere, including through "gardens all wet with rain" (the thrilling "Sweet Thing"), "by the river with my cherry cherry wine" (the gorgeous "Cyprus Avenue"), "on that train from Dublin up to Sandy Row / throwing pennies at the bridges below" (the heartbreaking "Madame George"), "across the crystal pavements / way across the country where the hillside mountains glide (the romantic "Beside You"), "down by the Ladbroke Grove this morning / catching pebbles for some sandy beach" (the mournful "Slim Slow Slider"), "back along the lane again / there in the sunshine / in the sweet summertime" (the joyous "The Way Young Lovers Do"), ready to "ring a bell…and step right up" where the "crowd will catch you" (the soaring "Ballerina").
Morrison will be playing two nights at the WaMu Theater and two more at the renovated Beacon Theatre, with the first set consisting of the whole of ASTRAL WEEKS and the second set, with a different backing band, concentrating on rarely played Van classics. If you can't make it to any of the shows, you can pick up ASTRAL WEEKS LIVE AT THE HOLLYWOOD BOWL (Listen to the Lion, February 24, 2009), but it won't be as sweet as the real thing.
Riff's Rants & Raves: Art & Literature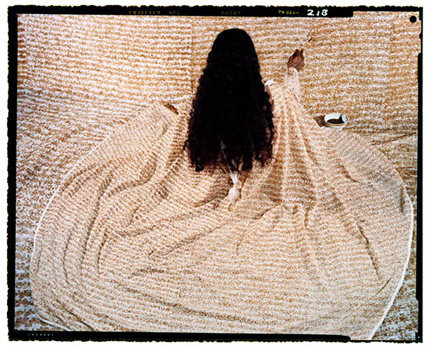 Courtesy Laurence Miller Gallery
Lalla Essaydi, "Converging Territories # 10," c-print, 2003
25th ANNIVERSARY
Laurence Miller Gallery
20 West 57th St. between Fifth & Sixth Aves., third floor
Through March 7
Closed Sunday and Monday
Admission: free
212-397-3930
http://www.laurencemillergallery.com

The Laurence Miller Gallery, "the oldest continually operating gallery in New York City specializing exclusively in the art of photography," is celebrating its silver anniversary with a splendid group show featuring works by forty of its artists. The photographs are arranged thematically, examining architecture, travel, and people. Peter Bialobrzeski's sparkling shot of twisting Shanghai freeways stands above Kenneth Snelson's warped horizontal view of the Brooklyn Bridge. Michael Spano's vertical silver print of a crowded subway train hovers near Mark Mann's grainy image of a lone car traveling down a dark highway and David Plowden's black-and-white picture of a Scranton train station. Duane Hanson's humorous vertical triptych, "Self-Portrait with Model," hangs by Julie Mack's shot of a mother and her two sons sitting on a couch, their bare feet dangling above the floor. The woman's chest in Jakob Tuggener's 1934 photo taken at a Russian ball could virtually belong to the woman partying in Sanne Sannes's 1960's head shot. There are also wonderful photographs by Helen Levitt, Ray K. Metzker, Lalla Essaydi, Petah Coyne, Henri Cartier-Bresson, Burk Uzzle, Lee Friedlander, and Robert Frank as well as Alfred Eisenstaedt's iconic "V-J Day at Times Square." The gallery is also featuring the small exhibition "By and About Women: For Women and Children in Need," in which eleven works by such artists as Mary Ellen Mark, Carrie Mae Weems, Alessandra Sanguinetti, Justine Kurland, and Levitt are paired with moving poetry by women and children from the Lotus House Women's Shelter in Miami's Overtown slum. Limited-edition portfolios are available for $10,000 to help build the Lotus Endowment Fund.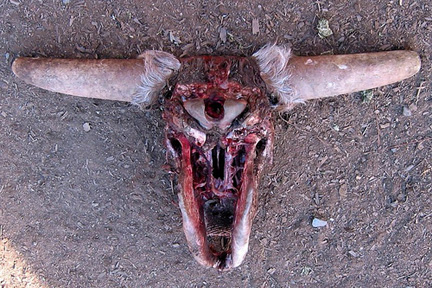 Courtesy Chair and the Maiden
Artist-activist Shari Belafonte makes art debut in West Village
MYTHOSTORIES BY SHARI BELAFONTE
Chair and the Maiden
19 Christopher St.
Through March 14 (closed Mondays)
Admission: free
212-255-0562
http://www.chairandthemaiden.com
New York City native Shari Belafonte Harper, who has starred in such television series as HOTEL and BEYOND REALITY, makes her Big Apple art debut with "Mythostories," running at the Chair and the Maiden gallery in the West Village through March 14. The artist-activist has also released several CDs, including playing the flute and providing vocals on the 2002 song "Mythostories XVI: Enka (Tarheena)," an atmospheric sonic landscape that she wrote and produced with Jeffrey Silverman. On February 24, there will be a public fundraiser featuring a live performance by electronic music trio Sham El Nessim at 8:00, with twenty percent of the proceeds going to benefit the Lili Claire Foundation, which helps children living with neurogenetic conditions, and the ANIR Foundation, which helps raise awareness about the many crises in southern Africa.
Bologna National Art Gallery
Guercino, "Madonna of the Sparrow," 1618-20
GUERCINO
Italian Cultural Institute
686 Park Ave. between 68th & 69th Sts.
Monday through Friday 10:00 am — 4:00 pm
Through March 2
Admission: free
212-879-4242
http://www.iicnewyork.esteri.it
Italian Baroque painter Giovanni Francesco Barbieri (1591-1666), also known as Guercino — which means "squinter," as he was cross-eyed — was a self-taught classical artist who was influenced by Ludovico Carracci of the Bolognese school as well as Correggio. Throughout his career, he produced a dizzying array of altarpieces, frescoes, drawings, and paintings and was even commissioned by Pope Gregory XV in Rome. A suite of twenty-eight works from his early years, including small oil paintings and frescoes, is currently on view at the Italian Cultural Institute through March 2.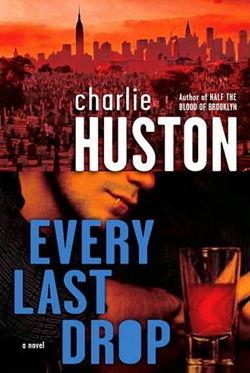 EVERY LAST DROP by Charlie Huston
(Del Rey, September 30, 2008, $14)

"A story told, you can't untell it," Joe Pitt says in EVERY LAST DROP, Charlie Huston's fourth amazing book featuring the broken and battered protagonist who is trying to survive in Vyrus-infected New York City. "It has to run its course to the end. The story I tell, it ends bloody. Or it will, anyhow. Like I know any other kind of story." The same can be said for Huston himself, who has also written the brutal Henry Thompson trilogy (CAUGHT STEALING, SIX BAD THINGS, and A DANGEROUS MAN), the three previous Joe Pitt casebooks (ALREADY DEAD, NO DOMINION, and HALF THE BLOOD IN BROOKLYN), and two stand-alone novels (THE SHOTGUN RULE and THE MYSTIC ARTS OF ERASING ALL SIGNS OF DEATH). Huston has an endless imagination when it comes to life and death, constantly creating compelling scenes just when you think there is just no way he can take things further. EVERY LAST DROP begins with Pitt banished to the Bronx, desperate to get back to Manhattan and find the woman he left behind. But just about everybody wants him dead — or at least severely maimed -- so he must deal with the Coalition, the Society, the Hood, the Cure, the Enclave, and others, meeting with familiar friends and enemies as he searches for more blood. Huston is a masterful writer, combining highly original, complex plots with a fascinating rogue's gallery of unpredictable characters. We can't recommend the Joe Pitt casebooks highly enough, whether you start here or back at the beginning.


All contents copyright 2009 by Mark Rifkin and twi-ny. All rights reserved. Contents may not be reprinted without written permission. Please note that events, dates, and prices are subject to change.
Send all comments, suggestions, reviews, and questions to mark.rifkin@twi-ny.com.
Please note that some e-mail clients may wrap links, so be sure to enter them fully into your browser.
To subscribe to this list, please e-mail the administrator at admin@twi-ny.com with the word Subscribe in the Subject line; be sure to ask for back issues, which are free as well. To unsubscribe from this list, please think it over twice before e-mailing the same address. Please let us know what you didn't like about this forum and we'll do our best to correct it in the future — if we agree with you. If you would like to see something covered in a future issue, please let us know. Without you, there is no need for us to exist.

twi-ny top two dozen (or so)
weekly reminders & special events
TERENCE BLANCHARD QUINTET
The Village Vanguard
178 Seventh Ave. South at Eleventh St.
Tickets: $30-$35 (includes drink credit)
212-255-4037
http://www.villagevanguard.com
Tuesday, February 17
through
Sunday, February 22 With Brice Winston on saxophone, Fabian Almazan on piano, Derrick Hodge on bass, and Kendrick Scott on drums
I AM AN AMERICAN:
VIDEO PORTRAITS OF UNSAFE U.S. CITIZENS
The New School, room 510
66 West 12th St. between Fifth & Sixth Aves.
Admission: free but RSVP required at gpiaevents@newschool.edu
212-980-3942
Wednesday, February 18 Screening of documentary I AM AN AMERICAN, which speaks with Americans who were "caught up in the post-9/11 US security crossfire," followed by Q&A with director Cynthia Weber, 6:00
L'ISOLA DISABITATA
Gerald W. Lynch Theater, John Jay College
899 Tenth Ave.
Tickets: $30-$75
http://www.gothamchamberopera.org
Wednesday, February 18
through
Saturday, February 28 Gotham Chamber Opera presents New York City stage premiere of DESERT ISLAND in honor of the bicentennial of Joseph Haydn's death, directed by Mark Morris, with a libretto by Metastasio and singers Takesha Meshé Kizart, Valerie Ogbonnaya, Vale Rideout, and Tom Corbeil, conducted by Neal Goren
DOWNTOWN THIRD THURSDAYS
7 World Trade Center, 45th floor
Admission: free but advance reservations required
Thursday, February 19 Daniel Libeskind, architect, speaking on the topic "Counterpoint," business casual attire required, 8:00
STANLEY JORDAN TRIO
Iridium
1550 Broadway at 51st St.
Tickets: $35
212-582-2121
http://www.iridiumjazzclub.com
Thursday, February 19
through
Sunday, February 22 Always inventive guitarist extraordinaire Stanley Jordan brings his trio to Iridium for eight shows, 8:30 & 10:30
THE BLOWHOLE THEATER HOLIDAY WINTERLUDE
Barbes
376 Ninth St. at Sixth Ave., Park Slope
347-422-0248
Suggested admission: $10
Friday, February 20 Annual show featuring exocentric acts, with Don Rauf, 8:00 pm — 12 midnight
MONTREAL INTERNATIONAL FESTIVAL OF FILMS ON ART
The Morgan Library & Museum
225 Madison Ave. at 36th St.
Free with museum admission
212-685-0008
Friday, February 20 MY FATHER'S STUDIO (Jennifer Alleyn, 2008), 5:00
Friday, February 20 ACHIEVING THE UNACHIEBABLE (Jean Bergeron, 2007), 7:00
Saturday, February 21 EILEEN GRAY — INVITATION TO A VOYAGE (Jorg Bundschuh, 2006), 1:00
Saturday, February 21 ANDY WARHOL: DENIED (Chris Rodley, 2006), 2:30
Saturday, February 21 ELLSWORTH KELLY: FRAGMENTS (Edgar B. Howard & Tom Piper, 2007), 4:00
HUMAN JUKEBOX
La MaMa Experimental Theatre
74A East Fourth St. between Bowery & Second Ave.
Fridays & Saturdays 10:00, Sundays 5:30, $15
212-475-7710
Friday, February 20
through
Sunday, March 8 Joseph Keckler brings the solo play with music, HUMAN JUKEBOX, and the one-act CAT LADY to the Lower East Side after presenting both at last year's Dublin Fringe Festival, directed by Elizabeth Gimbel
CRONENBERG CLASSICS
IFC Center
323 Sixth Ave. at West Third St.
Fridays & Saturdays at midnight through April 4
212-924-7771
Friday, February 20
and
Saturday, February 21 CRASH (David Cronenberg, 1996)
Friday, February 27
and
Saturday, February 28 SPIDER (David Cronenberg, 2002)
AFRICAN-AMERICAN HISTORY DAY
American Museum of Natural History
Kaufmann and Linder Theaters, first floor
Central Park West & 79th St.
Free with museum admission
212-769-5305
Saturday, February 21 Harlem Serenade: A Moment in Time, with live dance, poetry, music, film clips, and more, featuring Harlem's All-Star Orchestra and some of the original Cotton Club Dancers, 1:00 — 5:00 pm
SATURDAY AT THE PARKSIDE: THE CURE FOR FEBRUARY
The Parkside Lounge
317 East Houston St. between Aves. B & C
Admission: free
212-673-6270
Saturday, February 21 Featuring host Paula Carino (7:00), Mark Norris & the Backpeddlers (8:00), Tom Warnick & the World's Fair (9:00), Captain Irasible (10:00), Sister Sparrow & the Dirty Birds (11:00), and Aunt Martha (12 midnight)
NATIONAL PANCAKE DAY
International House of Pancakes
2294 Seventh Ave. at 135th St. and other locations
Admission: free
212-234-4747
Tuesday, February 24 IHOP is seeking to raise $1 million in one day by offering a short stack of their signature buttermilk pancakes for free in return for patrons donating the price of the meal — or more -- to local children's hospitals and charities through the Children's Miracle Network; in addition to the IHOP on Adam Clayton Powell Jr. Blvd. in Manhattan, there are outlets on Northern Blvd. in Jackson Heights and Flushing, at 5655 Broadway in the Bronx, on Ralph Ave. in Brooklyn, and in numerous locations in New Jersey and on Long Island, 7:00 am — 10:00 pm
MUSICIANS ON CALL
Hard Rock Café, Times Square
1501 Broadway at 42nd St.
Tickets: $125-$20,000
212-343-3355
http://www.musiciansoncall.org
http://www.hardrock.com/newyork
Tuesday, February 24 Fifth annual benefit concert and auction for Musicians on Call, which brings music to patients in health-care facilities, featuring a live performance by James Taylor, 7:00
INNER MONOLOGUES
BAR ON A
170 Ave. A at Eleventh St.
Admission: free
212-353-8231
http://emilyepstein.blogspot.com
Tuesday, February 24 The theme of this regular reading show is Bliss, featuring such comedians as Emily Epstein, 7:30
McCOY TYNER TRIO
Blue Note
131 West Third St.
Tickets: table $35, bar $20
212-475-8592
Tuesday, February 24
through
Wednesday, February 25 Legendary jazz pianist McCoy Tyner, bassist Gerald Cannon, and drummer Eric Kamau-Gravatt play special two-night stand at the Blue Note, with alto saxophonist Gary Bartz, 8:00 & 10:30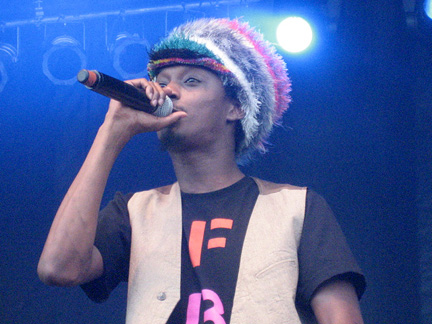 twi-ny/mdr
Somali rapper will be at SOBs, finally celebrating release of TROUBADOUR
WHAT'S NEXT LIVE
SOBs
204 Varick St. at West Houston St.
Admission: $15
212-243-4940
Wednesday, February 25 Featuring live performances by B Real, K'NAAN, Dukes of Daville, KesyNKrates, Nipsey Husstle, and Yolanda Renee, with DJ Juanyto and DJ Quiz, hosted by Hot 97's Rosenberg, 7:30
FOUNTAINS OF WAYNE
Joe's Pub
425 Lafayette St. between East Fourth St. & Astor Pl.
Tickets: $25
212-539-8778
Wednesday, February 25
and
Thursday, February 26 Fountains of Wayne presents a pair of special acoustic shows, 9:30
A PEDIGREE
French Institute Alliance Française
Florence Gould Hall
22 East 60th St. between Park & Madison Aves.
Tickets: $40
212-355-6100
Wednesday, February 25
and
Thursday, February 26 One-man performance of play written by Patrick Modiano, starring Edouard Baer, 8:00
DEAN MOSS AND YOON JIM KIM
Dance Theater Workshop
219 West 19th St. between Seventh & Eighth Aves.
Tickets: $10 online, $15 at box office (for all DTW events in February and March)
212-924-0077
http://www.dancetheaterworkshop.org
Wednesday, February 25
through
Saturday, February 28 Dean Moss and Yoon Jim Kim, 7:30
WALES WEEK IN NEW YORK
Multiple venues
Free - $150
Monday, February 23
through
Saturday, March 7 Wales returns to New York for its annual celebration of Welsh art, culture, and food, including a staged reading with Geraint Wyn Davies at the Theater at St. Clement's (February 23), Tom Jones at Terminal 5 (February 24), pianist Llyr Williams at Carnegie Hall (March 6), theatrical productions at the Producers Club special menus at Counter and Artisanal, a dinner dance, children¹s tales, book signings, and the world's longest train station sign (British Memorial Garden in Hanover Square)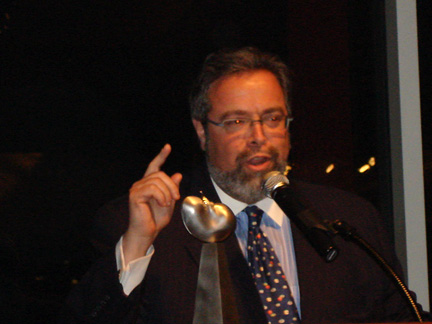 Steve Garrin, VideoActive Productions
Drew Nieporent receives the annual C-Cap Culinary Award at Chelsea Piers on February 25
GEORGE CLINTON & THE P-FUNK ALL-STARS
B.B. King Blues Club & Grill
237 West 42nd St. between Seventh & Eighth Aves.
Tickets: $37.50-$42
212-997-4144
Thursday, February 26 The funkadelic master returns to B.B. King's with Garry Starchild Shider, Michael Kidd Funkadelic Hampton, Cardell Boogie Mosson, RonKat Spearman, Frankie Kash Waddy, Joseph Foley McCreary, Robert P-Nut Johnson, Shonda Sativa Diva Clinton, Carlos Sir Nose McMurray, Gene Poo Poo Man Anderson, and more, 8:00
TAPES 'N TAPES
Music Hall of Williamsburg
66 North Sixth St.
Tickets: $16-$18
212-260-4700
http://www.musichallofwilliamsburg.com
Thursday, February 26 With Wild Light and the Subjects, 8:30

FOLLEY: THE GRAND STREET FOLLIES 2009
Abrons Arts Center, Henry Street Settlement
466 Grand St. at Pitt St.
Tickets: $40-$250
212-598-0400
Friday, February 27
and
Saturday, February 28 Benefit for God's Love We Deliver and TWEED TheaterWorks, with Lypisinka (Friday only), Rufus Wainwright (Saturday only), Lady Bunny (Friday only), Julie Halston (Friday only), Richard Move as Martha Graham (Saturday only), Jackie Hoffman, Robert La Fosse as Isadora Duncan, Flotilla DeBarge, Brenda Bergman & the Bodacious TaTas, Sweetie, the Butoh Rockettes, Wallace Shawn & Deborah Eisenberg, Dirty Martini, the Flute Friends, Wallie Wolfgruber Dance, Ken Bullock as Ragu Mountain Woman, Poor Baby Brie, Hooba Bjornevold, and many more, 8:00
SEGUE READING SERIES
Bowery Poetry Club
308 Bowery at Bleecker St.
Admission: $6
212-614-0505
Saturday, February 28 John Giorno and Brian Kim Stefans, 4:00
THE CONEY ISLAND CIRCUS SIDESHOW
Highline Ballroom
431 West 16th St. between Ninth & Tenth Aves.
Tickets: $10-$12
212-414-5994
http://www.highlineballroom.com
Saturday, February 28 Featuring Donny Vomit, Serpentina, Heather Holliday, Insectivora, and Scott "Shockmeister" Baker, with the Hungry March Band, 8:00
MACHOMER
Highline Ballroom
431 West 16th St. between Ninth & Tenth Aves.
Tickets: $10-$12
212-414-5994
http://www.highlineballroom.com
Sunday, March 1, 8:00
and
Monday, March 2, 3:00 & 8:00 Rick Miller performs his one-man multimedia show combining Shakespeare's MACBETH with fifty of Matt Groening's SIMPSONS characters, transplanting the Bard's tale of lust and power to Springfield
ARTISTS ON ARTISTS LECTURE SERIES
Dia Art Foundation
535 West 22nd St. between Tenth & Eleventh Aves., fifth floor
Admission: $6
212-293-5583
Monday, March 2 Sharon Hayes on Merce Cunningham, 6:30
BROADWAY FOR A NEW AMERICA
Symphony Space, Peter Jay Sharpe Theatre
2537 Broadway at 95th St.
Tickets: $80-$125
212-349-0330
Monday, March 2 Benefit for the Jewish Alliance for Change, "Standing Up for Marriage Equality and a Progressive Agenda for Change," directed by Sara Louise Lazarus, featuring Stockard Channing, Marni Nixon, Eve Best, Tovah Feldshuh, Ann Hampton Callaway, Seth Rudetsky, Scott Blakeman, host Jim Dale, and music director Lawrence Yurman, 7:00