Twi-ny, This Week in New York
Big crowds are expected again for this year's New York Comic Con
2009 NEW YORK COMIC CON
Jacob K. Javits Center
655 West 34th St. at Twelfth Ave.
February 6-8
Onsite tickets: weekend pass $50, day passes $30-$40
800-871-8326
This year, San Diego Comic Con is celebrating its fortieth anniversary of honoring the best in comic books, animation, manga, graphic novels, science fiction, fantasy, gaming, toys, and other aspects of pop culture. Meanwhile, its East Coast baby nephew, New York Comic Con, turns four with an ever-growing lineup that will take over the Javits Center the weekend of February 6-8. The ridiculously crowded event — get your tickets early and be prepared to wait on some very long queues — is a lot of fun, where you can mingle with writers, illustrators, film and television producers, actors, voice-over stars, has-beens, never-weres, will-bes, and proud geeks from all over the world. This year's Guests of Honor include Brian Michael Bendis, Carmine Infantino, Geoff Johns, Grant Morrison, and Bruce Timm, with such Special Guests as Seth Green, J.J. Sedelmaier, Matt Senreich, and Art Spiegelman. Two events stick out in our mind: a special panel honoring the crazy Adult Swim show ROBOT CHICKEN, and an appearance by the King of Japanese Cinema, Takashi Miike, who will be presenting the world premiere of his latest, YATTERMAN. Below are only some of our recommended panels; all in all, there are hundreds of signings, lectures, panels, screenings, demonstrations, role-playing opportunities, and more.
Thursday, February 5 Art Spiegelman: "What the !@##*! happened to comics?!", ICv2 Graphic Novel Conference keynote address, along with such panels as Literary Adaptations — Building on Success, Comics and Social Networks, and Comics on the Web — Marketing Tool or Revenue Stream?
Friday, February 6 Sherrilyn Kenyon on Manga, with Sherrilyn Kenyon, Joshua Hal Fialkov, and Claudia Campos, Panel Room 7, 3:30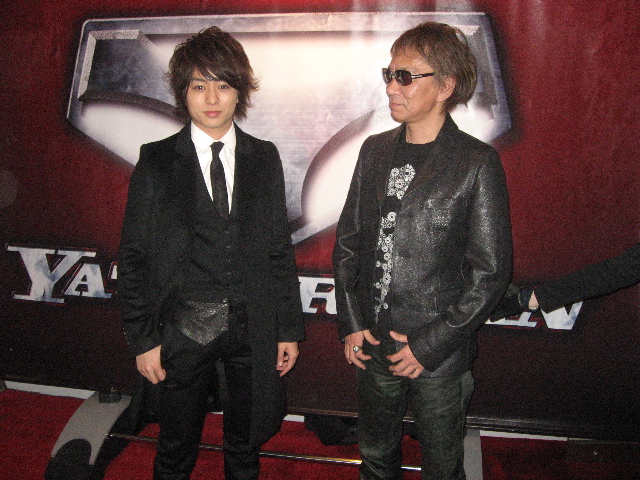 twi-ny/mdr
Sho Sakurai and Takashi Miike arrive for world premiere screening of YATTERMAN
YATTERMAN (Takashi Miike, 2009)
Friday, February 6, panel, IGN Theater, 4:00
Friday, February 6, world premiere screening, DGA Theater, 8:00
http://www.yatterman-movie.com
While Japanese master Takashi Miike, who has made more than eighty movies since 1991, is most well known for such ultraviolent, though often tongue-in-cheek, films as ICHI THE KILLER, DEAD OR ALIVE, and AUDITION, he also has directed such family fare as ZEBRAMAN and THE GREAT YOKAI WAR. New York Comic Con will be holding the world premiere of his latest, YATTERMAN, a cinematic retelling of the popular Japanese television program from the late 1970s. On February 6, Miike will be part of a panel at the IGN Theater, discussing the new film and previewing a seven-minute clip; star Sho Sakurai was originally slated to appear as well but his schedule has since changed. Later that night, the entire film will be screened at the Directors Guild Theater on West 57th St.; earlier that morning, a limited amount of free tickets will be distributed at the Nikkatsu booth (#1315), where Miike will also be doing some signings. In a previous life, we did the first-ever cover-story newsmagazine interview with Miike in New York City, so we love seeing the excitement build every time one of his new films comes to town.
Friday, February 6 New York City Through Its Authors, moderated by Suvudu.com, Panel Room 10, 5:45
Friday, February 6 Who Is The Greatest Badass of All Time?, hosted by MTV News, Panel Room 3, 7:15
Friday, February 6 The Twilight Zone Turns 50: Twilight Zone Forever, with Arlen Schumer, Room 1A24, 7:15

ROBOT CHICKEN
Saturday, February 7, Panel Room 3, 1:45
Now in the midst of its fourth riotous season, ROBOT CHICKEN, created by Seth Green and Matthew Senreich, holds nothing sacred in its short episodes (less than fifteen minutes), tearing apart pop culture, fairy tales, celebrities, superheroes, childhood memories, and anything else they can think of. The stop-motion animated series consists of brief vignettes, running from a few seconds to a few minutes each, that put dolls, toys, action figures, and claymation characters into hysterically compromising positions. ROBOT CHICKEN, which has won two Emmy Awards, particularly enjoys skewering — with love, of course — such beloved favorites as Star Wars, Star Trek, Transformers, Masters of the Universe, Batman and Robin, the Teletubbies, the Smurfs, George W. Bush, home-video shows, and monster movies. Green, who voices Chris on FAMILY GUY, played Oz in BUFFY THE VAMPIRE SLAYER, and was Dr. Evil's son in the Austin Powers movies, does many of the voices himself, along with such regulars as Breckin Meyer, Ginnifer Goodwin, Tom Root, Alex Borstein, Seth MacFarlane, Mila Kunis, and Dan Milano; among the myriad guest voices have been Scarlett Johansson, Sarah Michelle Gellar, Ryan Seacrest, Stan Lee (as a warped version of himself), Snoop Dog, Joey Fatone, Malcolm McDowell, Conan O'Brien, Hugh Hefner, Gene Simmons, and George Lucas. On February 7 at 1:45 in Panel Room 3, Green, Meyer, Kevin Shinick, and Geoff Johns will participate in a panel, followed by a signing in the VIP Lounge, Room 1A01, at 3:00.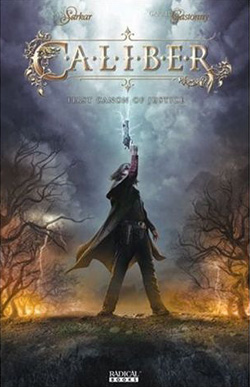 RADICAL PUBLISHING
Saturday, February 7, Room 1A07, 5:15
Cofounded by former heavy metal photographer Barry Levine, Jesse Berger, and David Elliott, Radical Publishing had its coming-out party at the 2007 San Diego Comic Con, announcing its goal of producing comic books with high-quality art and stories that would translate to the big screen. They recruited some of the best in the business: Steve Niles (30 DAYS OF NIGHT) writes the City of Dust series (with art by ZID), in which cop Philip Khrome patrols a futuristic society where religion and fairy tales are outlawed. British favorite Steve Moore (DOCTOR WHO, WARRIORS) reimagines the Hercules legend in another series, featuring art by Admira Wijaya. Japanese stalwart Yoshitako Amano (VAMPIRE HUNTER D, FINAL FANTASY) created a lush, deluxe hardcover version of THE MAGIC FLUTE with spare text, letting the art tell the tale. The militaristic Shrapnel series boasts stunning paintings by Bagus Hutomo and a space opera story by M. Zachary Sherman. And in the excellent Caliber, writer Sam Sarkar and artist Garrie Gastonny transplant King Arthur to the wild West. Among the Hollywood stars attached to some potential film projects with Radical are Johnny Depp and Peter Berg, so they're out to score big. On February 7, Radical will host a panel with president and publisher Levine, writers and creators David Hine, Niles, Rick Remender, and Steve Pugh, and artists Jim Steranko and Arthur Suydam, moderated by Geoff Boucher. There will also be signings all weekend long in Radical's booth, #1415.
Sunday, February 8 Summit Entertainment Presents ASTRO BOY, featuring world premiere footage from the upcoming film, IGN Theater, 11:30 am
Sunday, February 8 TMNT Animation: 25 and Going Strong, Room 1A23, 12:15
Sunday, February 8 Kids Day: KAMEN RIDER DRAGON KNIGHT, Room 1A02-03, 12:30
Sunday, February 8 Joss Wheedon discusses and screens a scene from his latest show, DOLLHOUSE, followed by an autograph session, IGN Theater, 12:45
Sunday, February 8 Scott Pilgrim vs. the Panel!, discussion and audience Q&A with Bryan Lee O'Malley, moderated by Douglas Wolk, Panel Room 4, 1:30
Sunday, February 8 The Twilight Zone Turns 50: Visions from The Twilight Zone, with Arlen Schumer introducing five classic episodes, Room 1A04, 1:30
Sunday, February 8 The cast and executive producer of FRINGE, Room 1A08, 1:45
Museum of the Week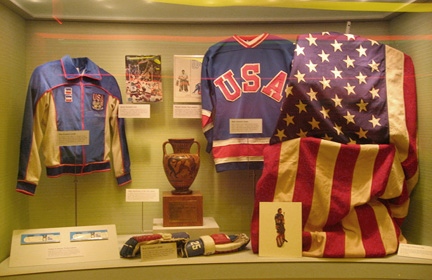 twi-ny/mdr
Display celebrates the 1980 Miracle on Ice
SPORTS MUSEUM OF AMERICA
26 Broadway at Beaver St.
Timed tickets: adults $16, children nine to fifteen $9, children under nine free
212-747-0900

Seeking to fill a niche of an all-inclusive sports museum and to bring something new and exciting to a downtown area devastated by the events of 9/11, Philip Schwalb opened the Sports Museum of America (SmA) on Lower Broadway on May 7, 2008, to both hoopla and criticism. The excitement was over the first institution in America to honor practically every sport imaginable, while the criticism dealt with the ticket prices, which were initially $27 for adults and children over fourteen and $20 for children four to fourteen. It wasn't long before the sports mecca responded to the public outcry by lowering the entry prices significantly, to $16 for adults and $9 for children nine to fifteen. The SmA has partnered with just about every official sports governing body and hall of fame, filling nineteen galleries across twenty-eight thousand square feet of exhibition space with more than eight hundred artifacts, eleven hundred photographs, and twenty films that document the history of sport in America. While baseball, football (both college and pro), basketball, and the Olympics get major play, the SmA also has smaller rooms dedicated to soccer, hockey, NASCAR, and golf. Tennis gets extremely short shrift (what, the USTA couldn't spare a video or two and a few more relics?), and boxing is relegated to a tiny corner of a gallery that also features fishing, bowling, cycling, horse racing, volleyball, lacrosse, softball, and extreme sports.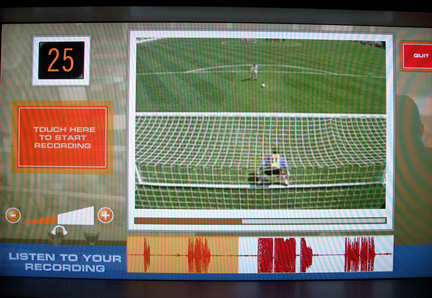 twi-ny/mdr
Visitors can record their own play-by-play at interactive installation

Some of our favorite pieces were a brick from Ebbets Field, Dick Button's figure skating jacket, a splendidly designed Josh Gibson baseball, Lou Carnesecca's sweater, Brandi Chastain's sports bra, Jimmy Connors's Wilson T-2000 metal racket, Mark Messier's 1994 jersey worn in game six against the Devils, a Mattel Electronics handheld football game, and one of Jimmie Johnson's #48 cars, with the windows open so you can stick your head inside. Interactive stations let you take a soccer penalty shot, drive through NASCAR history, take a football trivia quiz, become a sportscaster and record your own call to a few select sports events, attempt to block a basketball shot in a Simon-like game, and put your face in a goalie mask and see things through the eyes of Mike Richter. Throughout the museum are such Touchable Artifacts as Kelly Clark's 2002 Olympic Trials snowboard, Arnold Palmer's tournament-used Wilson 1 iron, and a Wayne Gretzky game-used stick. One of our major quibbles is that although we love seeing Gil Hodges's 1951 jersey, why is Tom Seaver's nearby 41 all folded up and barely visible? The visit to the SmA concludes with a small, self-indulgent display, Breaking Barriers and Leading the Way, playing up sports' importance in the world, and the Billie Jean King International Women's Sports Center, which honors such athletes as Babe Didrikson Zaharias and, well, Billie Jean King.
Saturday, February 7 Harlem Globetrotters stars Wildkat Edgerson and Buckets Blakes will put on a performance and sign autographs, 11:00 am — 12 noon; mention "Harlem Globetrotters" at the box office or use the code "BBALL" online to get discounted museum admission tickets of $10 for adults, $5 for children
In the Thematic Neighborhood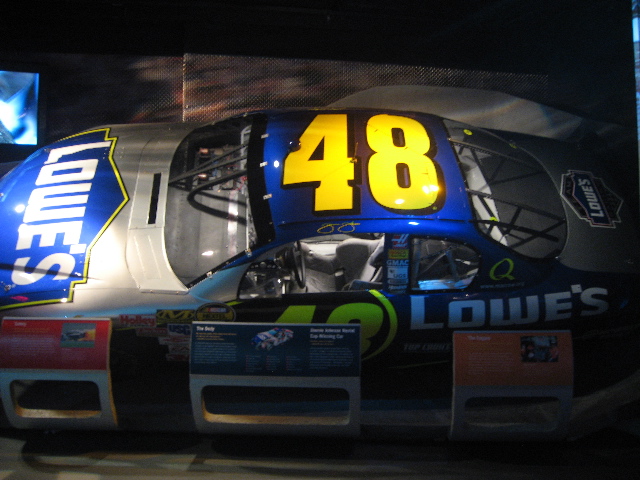 twi-ny/mdr
If #48 wins the Daytona 500, Jimmie Johnson might be back at Foley's soon, offering another free round
OFFICIAL NASCAR DAYTONA 500 VIEWING PARTIES
ESPN Zone, 1472 Broadway at 42nd St., 212-921-3776
Foley's, 18 West 33rd St., 212-290-0080
Sunday, February 15, free (ESPN Zone table service minimum $10 per hour), 1:30
http://www.espnzone.com/newyork
New Yorkers can once again watch the Daytona 500 with other NASCAR fans at the fourth annual viewing party of the Super Bowl of stock-car racing, with the classic race being shown live in HD on a fourteen-foot screen at the ESPN Zone. There will be special prizes, including a chance to win a trip for two to the 2009 Ford 400 at Homestead-Miami Speedway, a virtual racing tournament, Tailgate Toss, Fathead Lap Leader, and other contests; the first one hundred fans who arrive in licensed NASCAR gear will receive a twenty-dollar ESPN Zone Sports Arena game card. There will also be an official Daytona 500 viewing party at Foley's, with NASCAR-related food and drink specials and free rounds if 2006 winner Jimmie Johnson, Kasey Kahne, or Kurt Busch wins. During Champions Week earlier this year, Johnson stopped by Foley's and bought a pint for the house. Lee Petty won the first Daytona 500 in 1959; among the austere list of winners over the last fifty years have been Richard Petty (seven times), Mario Andretti, Cale Yarborough (4), Bobby Allison (3), Jeff Gordon (3), defending champion Ryan Newman, and, perhaps most famously, Dale Earnhardt in 1998 and Jr. in 2004. The race itself begins at 3:21, but the partying starts at 1:30.
In the Geographic Neighborhood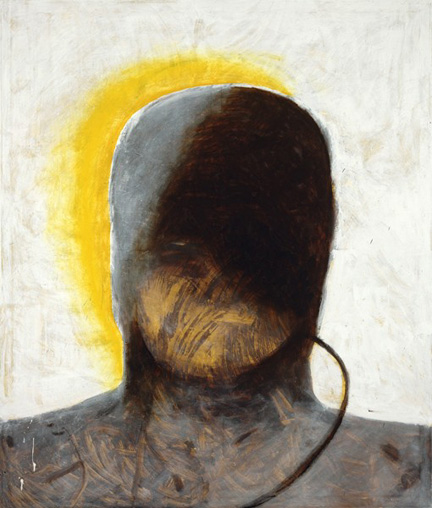 Estate of Fritz Scholder
Fritz Scholder, "Heaven," oil on canvas, 1996
FRITZ SCHOLDER: INDIAN NOT INDIAN
National Museum of the American Indian, Smithsonian Institution
George Gustav Heye Center, Alexander Hamilton U.S. Custom House
1 Bowling Green at Broadway
Through May 17 (open seven days a week)
Admission: free
212-514-3700

Born in Minnesota and raised in North Dakota, Fritz Scholder V (1937-2005) took to painting early in life, never wanting to be seen as an Indian artist painting purely Indian subjects, but that categorization haunted him throughout his entire career, as evidenced in the fascinating exhibition "Fritz Scholder: Indian Not Indian." "In the history of the image of Native Americans," Lowery Stokes Sims of the Museum of Arts and Design writes in the introduction to the exhibition catalog, "there is what was created before Fritz Scholder and what came afterwards." Scholder's heritage was a melting pot of French, German, English, and American Indian (Luiseño), yet he was burdened with the label "Indian artist." In the 1980s and 1990s he made a serious attempt at overcoming that by moving from Santa Fe to New York City, where he hoped to expand his success, but things didn't quite go as planned. Many of the paintings and sculptures from this period are both captivating and strange, using bold, brash colors to depict mysterious mythical figures, their faces and heads often obscured or cast into darkness and shadow, some bearing their teeth, others laden with wings. In "Human in Nature No. 18," a silhouetted figure with a long body and a tiny head stands in the foreground of a swirling Kandinsky-like landscape of white and yellow. In "Bending Over No. 2," perhaps the gentlest, most subtle work in the show, a young girl is near a window, as if longing for what's outside.
The trilogy "Hell," "Heaven," and "Purgatory" features large heads and deal with two of Scholder's favorite topics, death and the afterlife. In his final painting of himself, "Self Portrait with Grey Cat" from 2003 (he made a self-portrait every year), he is sitting stalwartly in a stark room, tubes connecting him to an oxygen tank outside the frame, with pools of blood nearby, as if he is staring death in the face. It stands in stark contrast to the work that opens the show, 1982's "American Portrait No. 46," in which Scholder paints himself as if some kind of abstract figure by Holbein or Memling, his face obscured amid a palette of black, green, purple, and yellow. The exhibit concludes with two walls of quotes from Scholder, including "My favorite word is paradox," "I hate pretty pictures," and "Ugly can be beautiful if it tells the truth," which aptly sum up what you have just seen. Be sure to watch the short documentary to get additional insight into Scholder's dramatic life. And this is only part of the story, covering his 1980s and 1990s work; the second half of the exhibition, which examines his earlier career, continues at the National Museum of the American Indian in Washington, DC, through August 16. (A third, unrelated exhibit, "Fritz Scholder: An Intimate Look," runs through June 8 at the Institute of American Indian Arts Museum in Santa Fe.)

ALSO AT THE NMAI
National Museum of the American Indian, Smithsonian Institution
Admission: free
212-514-3700
In addition to the Fritz Scholder exhibit, "Identity by Design: Tradition, Change and Celebration in Native Women's Dresses," which includes fifty-five dresses that reveal the changing role of women in Native American society, runs through September, and "Beauty Surrounds Us," comprising seventy-seven objects from the museum's permanent collection, is on view through December. The National Museum of the American Indian also hosts numerous public programs, all of which are free.
Sunday through Saturday Animation Celebration! Part I: NORTH PEAK (Jarrett Twoyoungmen & Trent Twoyoungmen, 2008), RAVEN TALES: RAVEN AND THE FIRST PEOPLE (Chris Kientz & Simon James, 2005), and WAPOS BAY: THE ELEMENTS (Melanie Jackson, 2006), Diker Pavilion, 1:00, 2:00, and 3:00 (and 5:30 on Thursdays)
Thursday, February 5 Workshop demonstration: Joy Tone Pah Hote, Native beadwork, "Identity by Design" exhibit, 10:00 am and 1:00 pm
Saturday, February 7 Indian/Not Indian: Native Identity in the Twenty-first Century, addressing such topics as "New Definitions of Indianness" and "Urban Calling — Where Art and Native Identity Meet," with a keynote address by David Treuer and panelists Cora Cowan Watts, Randy Reinholz, and Jeffrey Gibson, followed by a reception, 1:00 — 5:15
Wednesday, February 18
and
Thursday, February 19 Native Storytelling: The ECHO Project, featuring traditional dance, music, and spoken word, Diker Pavilion, 11:00 am and 2:00 pm
Thursday, February 19 At the Movies — Wallmapu: Our Territory, Our Story, with Jeanette Paillán, Luis Carcamo-Huechante, and Gabriela Rangel, auditorium, 6:30
Tuesday, February 24
through
Friday, February 27 Tours, Talks & Lectures: Kathleen Coleclough, "Identity by Design" exhibit, 2:00
Saturday, February 28 Tours, Talks & Lectures: Kathleen Coleclough, "Identity by Design" exhibit, 11:00 am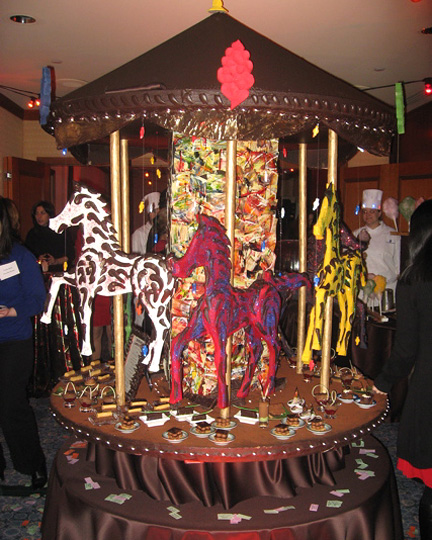 twi-ny/mdr
There's a carousel of confections to be had at the Chocolate Bar
A CARNIVAL OF CHOCOLATE: THE CHOCOLATE BAR 2009
Ritz-Carlton New York, Battery Park, Rise, fourteenth floor
2 West St. at Battery Pl.
Friday and Saturday nights February 6-28, 7:30 and 9:30
Special seatings at 7:30 and 9:30 on Wednesday, February 14
Fee: $75, includes tax, tip, and bottomless Champagne
Advance reservations strongly suggested: 917-790-2600
http://ritzcarlton.com/batterypark

Pastry chef extraordinaire Laurent Richard's annual chocolate extravaganza at the Ritz-Carlton is always a carnival of delights — and this time, it's an actual carnival. In previous years, Richard has paid tribute to Paris, New York landmarks, and classic art, with chocolate renderings of the Eiffel Tower, the Brooklyn Bridge, the Statue of Liberty, Impressionist paintings, and Arturo Di Modica's "Charging Bull" sculpture. This year, he turns his remarkable talents loose on endangered Coney Island, displaying his decadent desserts on the Cyclone, the Wonder Wheel, and a carousel. Richard, who hails from Maison Lafitte and lives in Brooklyn with his family — and rides to work every day on his motorcycle — has dug into his endless bag of tricks to create such delightful dishes as a Chocolate Raider Bar, the best, biggest Twix you've ever had; a Chocolate Ganache Tower, topped with a trio of luscious, dusted chocolate cylinders; Extra Dark Black Forest Griotine Cake, its cherries soaked in liqueur, surrounded by a rich chocolate fence; an Orange & Raspberry "Martini," a mousse with sabayon and a treasure trove of fruit at the bottom; a Chocolate Financier, with drizzles of caramel fudge; a delicately balanced Buttery Chocolate Streusel Napoleon, oozing with creamy goodness underneath a strip of dark chocolate; and tasty Nutella Crepes bathed in Grand Marnier sauce. Be careful when trying to snatch one of these specialties from the moving Wonder Wheel.

Meanwhile, a cavalcade of chocolate appetizers, or mignardises, is spread out across the Cyclone, including Valrhona Chocolate Covered Strawberries, Fluffy Chocolate Chip Marshmallows, Chocolate Rice Crispy Treats, Chocolate & Caramel Covered Apple, French Mocha Macaroons, Dark Chocolate Cognac Truffle, Chocolate Drizzled Popcorn, and Chocolate Coconut Bonbons. Angela is back, serving Warm Chocolate Waffles a la Minute, with Nutella and banana ice cream; another station delivers cotton candy. You can wash it all down with Champagne or a Caramel Popcorn Martini (with such ingredients as liquid popcorn, heavy cream, and butterscotch Schnapps), a Cotton Candy Martini (with cola, Grenadine, and, yes, cotton candy), or the Chocolate Martini (with dark and light Godiva liqueur). Several miniature hot-air balloons hang by the windows, as if offering to take you for a trip across New York Harbor. The Chocolate Bar at Rise has been so successful, they've expanded, with seating across the entire space, but you still better make your reservations soon, as it books up faster than a few rides on the real Cyclone, Wonder Wheel, and carousel. For those looking to up the romance quotient, the Chocolate Lovers package includes a deluxe guest room or suite and reservations at the Chocolate Bar, starting at $475 a couple.
Downtown Film Festival of the Week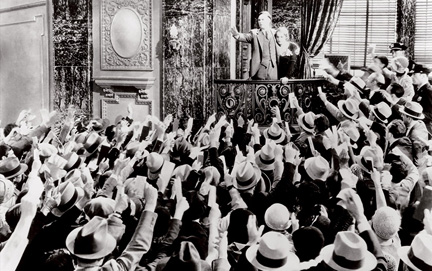 Columbia Pictures Industries, Inc./Film Forum
AMERICAN MADNESS depicts depression-era American madness
BREADLINES & CHAMPAGNE
Film Forum
209 West Houston St. between Sixth & Seventh Aves.
February 6 — March 5 (* denotes Bank Nites)
212-727-8110
Some things never change. While jobs across America are going faster than a fourth-quarter two-minute drill, Wall St. is celebrating with more than $18 billion in bonuses. With the threat of another Great Depression hanging over the country's head, Film Forum is turning the clock back to the early 1930s, when Hollywood's greatest directors addressed the nation's economy in such classic films as OUR DAILY BREAD, MY MAN GODFREY, MAN'S CASTLE, and I'M NO ANGEL while also making such recession-proof pleasures as 42nd STREET, GOLD DIGGERS OF 1933, and FOOTLIGHT PARADE. There are also pre-Hayes Code favorites (NIGHT NURSE, SCARFACE), screwball comedies (PLATINUM BLONDE, MR. DEEDS GOES TO TOWN), and political films in honor of the new president and Presidents' Day (YOUNG MR. LINCOLN, WASHINGTON MERRY-GO-ROUND). Many of the screenings — all of which are being presented in 35mm prints -- will include period cartoons and newsreel footage to get you in the proper mood. In addition, Tuesdays are Bank Nite, when prizes including Film Forum Funny Money will be given away after certain screenings (marked below with an asterisk). These fifty films serve as a great barometer of the times, as well as an indicator of what America is currently facing if Washington and Wall St. doesn't get their act in gear, and soon.
Friday, February 6 I'M NO ANGEL (1933, Wesley Ruggles), with vintage trailers, cartoon, and Hearst Metrotone News, 35 cents, 1:00, 3:15, 5:30, 7:45, 10:00
Saturday, February 7
and
Sunday, February 8 MAN'S CASTLE (1933, Frank Borzage) and DISNEY'S THE THREE LITTLE PIGS (1933), 1:00, 4:05, 7:10, 10:15
Saturday, February 7
and
Sunday, February 8 AMERICAN MADNESS (1932, Frank Capra), 2:35, 5:40, 8:45
Monday, February 9 MAN'S CASTLE (1933, Frank Borzage) and DISNEY'S THE THREE LITTLE PIGS (1933), 1:00, 4:05
Monday, February 9 AMERICAN MADNESS (1932, Frank Capra), 2:35
Monday, February 9 OUR DAILY BREAD (1934, King Vidor), 7:30, and STAND UP AND CHEER (1934, Hamilton MacFadden), with Oswald the Lucky Rabbit in CONFIDENCE, 6:00, 9:00
Tuesday, February 10 Bank Nite! EMPLOYEES ENTRANCE (1933, Roy Del Ruth), 3:35, 7:00*, 9:35, and SKYSCRAPER SOULS (1932, Edgar Selwyn), 1:40, 5:05*, 8:30
Wednesday, February 11 PLATINUM BLONDE (1931, Frank Capra), 2:40, 6:05, 9:30, and THREE-CORNERED MOON (1933, Elliott Nugent), 1:00, 4:25, 7:50
Thursday, February 12 Lincoln Bicentennial Double Feature! YOUNG MR. LINCOLN (1939, John Ford), 1:00, 4:35, 8:05, and THE TALL TARGET (1951, Anthony Mann), 3:00, 6:30, 10:00
Friday, February 13 HEROES FOR SALE (1933, William Wellman), with Hearst Metrotone News, 1:30, 4:40, 7:50, and WILD BOYS OF THE ROAD (1933, William Wellman), 3:15, 6:25, 9:35
Saturday, February 14 MY MAN GODFREY (1936, Gregory La Cava)
1:00, 4:35, 8:10, and EASY LIVING (1937, Mitchell Leisen), 2:50, 6:25, 10:00
Sunday, February 15 BABY FACE (1933, Alfred E. Green), 2:35, 5:40, 8:45, and BLESSED EVENT (1932, Roy Del Ruth), 1:00, 4:05, 7:10, 10:15
Monday, February 16 GABRIEL OVER THE WHITE HOUSE (1933, Gregory La Cava), 1:00, 5:20, 8:40, and WASHINGTON MERRY-GO-ROUND (1932, James Cruze), with BETTY BOOP FOR PRESIDENT!, 2:40, 7:00, 10:20
Tuesday, February 17 Bank Nite! NIGHT NURSE (1931, William Wellman), 2:45, 6:00*, 9:15, and HOLD YOUR MAN (1933, Sam Wood), 1:00, 4:15, 7:30*
Wednesday, February 18 BLACK LEGION (1936, Archie Mayo), 1:00, 4:30, 8:00, and BLACK FURY (1935, Michael Curtiz), 2:40, 6:10, 9:40
Thursday, February 19 HALLELUJAH, I'M A BUM (1933, Lewis Milestone), 3:00, 6:35, 10:10
Thursday, February 19 Vitaphone Varieties of 2009: Restored shorts from the UCLA Film & Television archive, introduced by Ron Hutchinson of the Vitaphone Project, 1:00, 4:35, 8:10
Friday, February 20 DEAD END (1937, William Wyler), 1:30, 4:40, 7:50* introduced by Amy Lehr, granddaughter of director William Wyler, and THREE ON A MATCH (1932, Mervyn LeRoy), 3:20, 6:30, 9:40
Saturday, February 21 SCARFACE (1932, Howard Hawks), with Hearst Metrotone Newsreel: "News Thrills of 1932," 2:50, 6:10, 9:30, and BLOOD MONEY (1933, Rowland Brown), 1:30, 4:50, 8:10
Sunday, February 22 Oscar Sunday: IT HAPPENED ONE NIGHT (1934, Frank Capra), 1:30, 5:20, 9:10, and BOMBSHELL (1933, Victor Fleming), 3:30, 7:20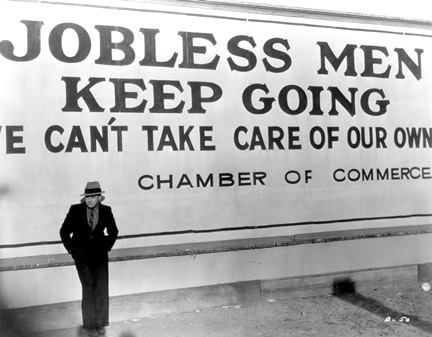 Film Forum
HEROES FOR SALE is looking for a few good men

Monday, February 23 BOMBSHELL (1933, Victor Fleming), 1:00, 4:50, and IT HAPPENED ONE NIGHT (1934, Frank Capra), 2:50
Monday, February 23 An Evening with Marni Nixon
Tuesday, February 24 Bank Nite! FEMALE (1933, Michael Curtiz), 2:20, 6:15*, 10:20, EX-LADY (1933, Robert Florey), 1:00, 4:55, 9:00, and MILLS OF THE GODS (1934, Roy William Neill), 3:35, 7:30*
Wednesday, February 25 LITTLE CAESAR (1931, Mervyn LeRoy), with THE BEER PARADE, 1:30, 4:40, 7:50, and TWO SECONDS (1932, Mervyn LeRoy), 3:15, 6:25, 9:35
Thursday, February 26 NO GREATER GLORY (1934, Frank Borzage), 1:30, 4:40, 7:50, and THIS DAY AND AGE (1933, Cecil B. DeMille), 3:00, 6:10, 9:20
Friday, February 27 MR. DEEDS GOES TO TOWN (1936, Frank Capra), 3:25, 7:30, and THEODORA GOES WILD (1936, Richard Boleslawski), 1:30, 5:35, 9:40
Saturday, February 28 KING KONG (1933, Merian C. Cooper & Ernest B. Schoedsack), 2:45, 6:25, 10:20, and 42nd STREET (1933, Lloyd Bacon), 1:00, 4:40, 8:20
Sunday, March 1 GOLD DIGGERS OF 1933 (1933, Mervyn LeRoy), with MERRY MANNEQUINS, 1:30, 5:30, 9:30, and FOOTLIGHT PARADE (1933, Lloyd Bacon), 3:30, 7:30
Monday, March 2 ME AND MY GAL (1932, Raoul Walsh), 2:15, 5:15, 8:15, and CENTRAL PARK (1932, John G. Adolfi), 1:00, 4:00, 7:00, 10:00
Tuesday, March 3 Bank Nite! TAXI! (1932, Roy Del Ruth), 1:00, 5:35*, 10:10, LAWYER MAN (1932, William Dieterle), 2:25, 7:00*, and BLONDE CRAZY (1931, Roy Del Ruth), 4:00, 8:35
Wednesday, March 4 COUNSELLOR AT LAW (1933, William Wyler), 3:00, 6:15 introduced by Catherine Wyler, daughter of the director, 9:40, and THE MOUTHPIECE (1932, Elliot Nugent & James Flood), 1:20, 4:35, 7:50
Thursday, March 5 UPPERWORLD (1934, Roy Del Ruth), 1:00, 3:55, 6:50, 9:45, and NIGHT WORLD (1932, Hobart Henley), with NEWS PARADE OF 1934, 2:30, 5:25, 8:20
Historical Exhibit of the Week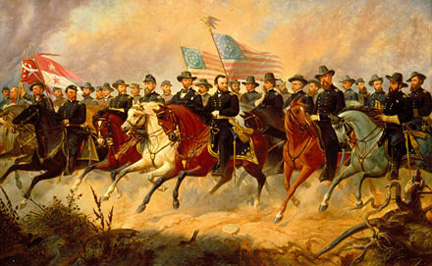 National Portrait Gallery
Ole Peter Hansen Balling, "Grant and His Generals, 1865," oil on Canvas
GRANT AND LEE IN WAR AND PEACE
New-York Historical Society
170 Central Park West at 77th St.
Closed Mondays
Through March 29
Admission: $10 for adults, free for children twelve and under (free Fridays 6:00 — 8:00)
212-873-3400

The New-York Historical Society's examination of two of America's most famous generals, Ulysses. S. Grant and Robert E. Lee, is a treat for military enthusiasts, Civil War buffs, and junior historians. The text-heavy exhibition includes detailed battle plans, photographs, letters, artwork, and other fascinating paraphernalia as it follows Grant and Lee from birth through their post-Civil War life, focusing on their military training, fighting on the same side during the Mexican-American War (where they are believed to have met face-to-face once), battling against each other in the War Between the States, meeting again at the surrender at Appomattox, and beyond. The display also looks at such military figures as William Tecumseh Sherman, Abner Doubleday (of baseball fame), James Longstreet, Stonewall Jackson, Jeb Stuart, George McLellan, Zachary Taylor, and Winfield Scott, in addition to Indian leader Red Cloud as it delves into the history of the army, West Point, and army strategy. Lee, born into a successful Virginia family, had a very different upbringing than Grant, the son of an Ohio shopkeeper. As Lee, known as the Iron Horse, continued on a path to fame and glory, Grant was a failed businessman who later had a tough time as president after the Civil War.
Among the dozens of wonderful Lee artifacts are dancing slippers, uniforms, a photo of him on Traveler, swords, spurs, a saddle, and a revolver, while Grant is represented by a sack coat, a Mathew Brady photo of him on Cincinnati, an original copy of his memoirs, a belt buckle, a saddle, and a presidential campaign ribbon. One of the highlights is a reproduction of a letter of praise sent to Grant by President Abraham Lincoln dated April 30, 1864. There are also paintings by George Catlin and Winslow Homer as well as sketches and drawings by both Lee and Grant and a pistol owned by George Washington. "Wars of extermination . . . are demoralizing and wicked," Grant said in his second inaugural address, on March 4, 1873, a statement that is as relevant today as ever. The Virginia Historical Society's companion online exhibit, "Lee and Grant," can be found here.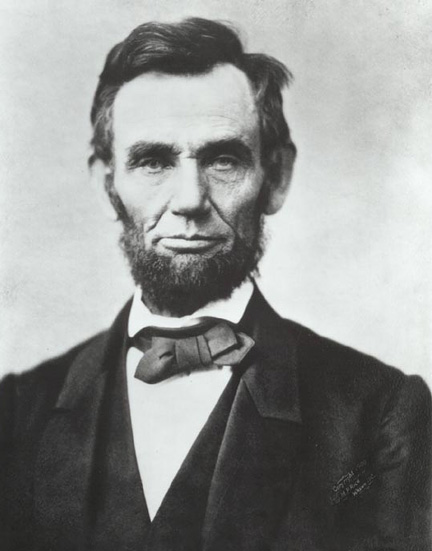 Abraham Lincoln bicentennial continues at N-YHS
ABRAHAM LINCOLN: IN HIS OWN WORDS
New-York Historical Society
212-873-3400
http://www.nyhistory.org/exhibits.html
Several of the current exhibits at the New-York Historical Society tie in with the recent election and inauguration of Barack Obama. "Taking the Oath: The First Presidential Inauguration" (through October 2) compares George Washington's inauguration to that of Obama, each historic in their own way. "A New President Takes Command: FDR's First Hundred Days" (through May 3) examines the tough road that Franklin Delano Roosevelt faced as he took the reins of a nation deep into the Great Depression, which in many ways is extremely relevant to what Obama is up against today. And on February 12, "Abraham Lincoln in His Own Words: An Intimate View of Our Greatest President" opens, comprising personal and professional letters, writings, and other Lincoln documents that give insight into the mind of one of America's most storied leaders. The display will include original notes, speech fragments, newspaper articles, handwritten telegrams, broadsides, photographs, sculptural portraits, and a signed copy of the Emancipation Proclamation. Although the exhibit is being held in conjunction with the two hundredth anniversary of Honest Abe's birth, it also fits in well as Obama, who bases a significant part of his political philosophy on Lincoln's, takes over the presidency.
Saturday, February 7 Living History Days: 6th U.S. Colored Troops, 10:00 am — 5:00 pm
Saturday, February 14 Living History Days: 67th New York Regiment, 10:00 am — 5:00 pm
Saturday, February 14 American Presidents Quiz Show, with Kenneth C. Davis, 2:00
Saturday, February 21 Living History Days: 22nd U.S. Colored Troops, 10:00 am — 5:00 pm
Saturday, February 28 Living History Days: 3rd U.S. Colored Troops, 10:00 am — 5:00 pm
Saturday, March 14 Legacies of Grant and Lee Gallery Tour, with Cal Snyder, $15, 11:00 am
Saturday, March 28 The Civil War Draft Riots, with Barnet Schecter, including visits to South Street Seaport, the African Burial Ground, Tweed Courthouse, and others, $15, 11:00 am
Satruday, April 11 Presidents in Crisis: Lincoln and Roosevelt, the First Hundred Days, with Cal Snyder, $15, 11:00 am

THE BERNARD AND IRENE SCHWARTZ
DISTINGUISHED SPEAKERS SERIES
New-York Historical Society
All events at 6:30 unless otherwise noted
Tickets: $15 unless otherwise noted (advance tickets strongly suggested for some events)
Thursday, February 5 Lincoln's Constitution, the Lincoln Series Conversation featuring Benno Schmidt and Akhil Reed Amar
Tuesday, February 10 Robert E. Lee in American Memory, conversation featuring David W. Blight and Emory M. Thomas
Tuesday, February 17 The Lincoln-Douglas Debates, the Lincoln Series Conversation featuring Douglas L. Wilson and Rodney O. Davis
Tuesday, February 24 Looking for Lincoln, with Henry Louis Gates Jr. and Bob Herbert
Tuesday, March 3 Robert E. Lee: New Yorker, conversation featuring Elizabeth Brown Pryor and David W. Blight
Thursday, March 12 Abraham Lincoln and His Generals, conversation featuring Josiah Bunting III and Eliot Cohen
Tuesday, March 17 In Lincoln's Hand, conversation featuring Joshua Wolf Shenk and Cynthia Ozick, moderated by Harold Holzer
Thursday, April 2 Great Writers on Lincoln: From Whitman to Obama, readings featuring Liam Neeson and Matthew Modine, moderated by Harold Holzer
Wednesday, April 23 Mrs. Lincoln, interview featuring Catherine Clinton, moderated by Eric Foner
Thursday, April 23 Angels and Ages: Darwin, Lincoln, and Modern Life, featuring Adam Gopnik
Tuesday, April 28 Lincoln at Peoria: The Turning Point, featuring Lewis E. Lehrman, followed by a Champagne reception, 6:00
Tuesday, May 5 Abraham Lincoln: A Life, featuring Michael Burlingame
Thursday, May 7 Shopping Old New York with Mary Todd Lincoln and Barry Lewis, featuring Barry Lewis, $18
Tuesday, May 19 A. Lincoln: A Biography, featuring Ronald C. White
Tuesday, May 26 Lincoln and the American Dream, featuring Bill Moyers and Harold Holzer, moderated by Norton Garfinkle
In the Thematic Neighborhood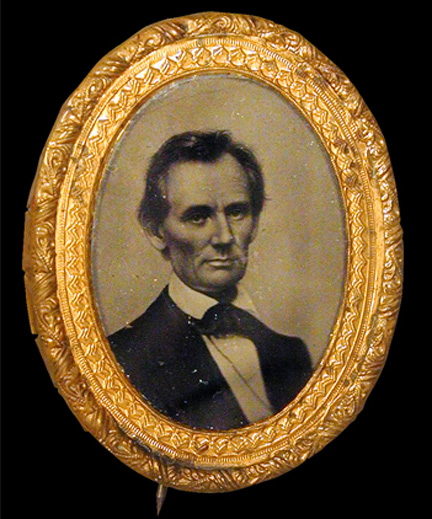 Federal Hall National Memorial
Campaign badge is one of many Lincoln objects in bicentennial show
ABRAHAM LINCOLN IN NEW YORK:
A RAIL SPLITTER BICENTENNIAL CELEBRATION
Federal Hall National Memorial
26 Wall St.
Monday — Friday, 9:00 am — 5:00 pm
Admission: free
212-826-6888
Monday, February 9
through
Thursday, April 30 The celebration of Abraham Lincoln's bicentennial year continues with this exhibit of authentic Lincoln memorabilia, including original documents, photographs, campaign paraphernalia, writings, and more
Friday, February 13 Seth Kaller, "Lincoln's Documents of Freedom: Fact, Fiction, and Forgery," 1:00
Friday, February 27 Dr. Edmund B. Sullivan, "Abraham Lincoln in the Popular Imagination: From Crass and Kitsch to Lofty and Noble," 1:00
Saturday, March 7 Abraham Lincoln in New York Book Festival
AFRICAN AMERICANS AND AMERICAN POLITICS
The Schomburg Center for Research in Black Culture
515 Malcolm X Blvd.
Admission: free unless otherwise noted
212-491-2200
http://www.schomburgcenter.org
Through April 19, this historical exhibition examines such important figures as Crispus Attucks, Frederick Douglass, Mary McCleod Bethune, Adam Clayton Powell Jr., and many more African Americans who have had a significant impact on freedom and justice since the Civil War. Also available through the Schomburg, either in the library itself or in its online site, are "In Motion: The African-American Migration Experience," "The Abolition of the Slave Trade," and "Lest We Forget: The Triumph Over Slavery."
Saturday, February 7 EYES ON THE PRIZE I: THE TIME HAS COME, 1964-66, and EYES ON THE PRIZE II: POWER! 1967-68, 4:00
Wednesday, February 11 One Fine Day: A Tribute to Camilla Williams, $10, 7:00
Tuesday, February 17 The Children of Children Keep Coming: An Epic Griot Song, book celebration and performance, 7:00
Wednesday, February 18 Staged Reading presented by the Frederick Douglass Creative Arts Center and the Classical Theatre of Harlem, :00
Thursday, February 19 African Film Festival, 7:00
Saturday, February 21 From Malcolm X to Barack Obama: The Legacy of Struggle and Inspiration, 3:00
Uptown Film Festival of the Week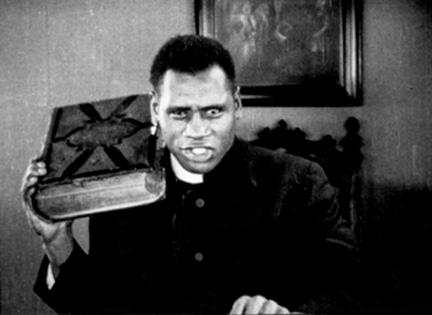 The Film Society of Lincoln Center / The Oscar Micheaux Society
Paul Robeson quotes Scripture in Oscar Micheaux's BODY AND SOUL
FADED GLORY:
OSCAR MICHEAUX AND BLACK PRE-WAR CINEMA
Walter Reade Theater
65th St. between Broadway & Amsterdam Aves.
February 6-19
Tickets: $11; series pass $40 for any five films
212-875-5050
Last March, Anthology Film Archives presented five films by Oscar Micheaux and Spencer Williams. Now the Film Society of Lincoln Center is also featuring works by Micheaux and Williams, as well as other filmmakers dealing with similar issues. As we wrote in March, "Oscar Micheaux (1884 - 1951) and Spencer Williams (1891-1969) were two of the most important black filmmakers in cinema history. Not allowed to be part of the Hollywood scene because of his color, Micheaux, a former shoeshine boy, Pullman porter, and farmer, wrote, produced, directed, and distributed his extremely low-budget films, which often dealt with such topics as racism, slavery, and exploitation. Williams also wrote, directed, and produced his films, in which he often appeared. However, he is more well known today for playing Andy on the AMOS 'N' ANDY television show. Unfortunately, most of these so-called race films are more interesting for their cultural and historical significance than for their actual quality; given the limitations, it is remarkable that these films were made at all, but they are not easy viewing, replete with bad sound, awful acting, and awkward camerawork. But Micheaux and Williams created the path that ultimately led to Charles Burnett, Spike Lee, Melvin Van Peebles, John Singleton, and so many other African American artists."
Friday, February 6 THE BLOOD OF JESUS (Spencer Williams, 1941), introduction and Q&A with Jacqueline Stewart, 7:00
Friday, February 6 GOD'S STEP CHILDREN (Oscar Micheaux, 1938), 9:30
Saturday, February 7 BIRTHRIGHT (Oscar Micheaux, 1939) and HAPPY THOUGH MARRIED (Joseph Burstyn, 1935), 6:00
Saturday, February 7 BODY AND SOUL (Oscar Micheaux, 1925), with live accompaniment by pianist Donald Sosin and bass singer Kevin Maynor, $15, 8:00
Sunday, February 8 BIRTHRIGHT (Oscar Micheaux, 1939) and HAPPY THOUGH MARRIED (Joseph Burstyn, 1935), 1:30
Sunday, February 8 DIRTIE GERTIE FROM HARLEM U.S.A. (Spencer Williams, 1946) and By-Line Newsreels 1 (1953-56), 3:20
Sunday, February 8 SOULS OF SIN (Powell Lindsay, 1949) and HARLEM HOT SHOTS (William Alexander, 1946), 5:00
Sunday, February 8 MOON OVER HARLEM (Edgar G. Ulmer, 1939), 6:45
Sunday, February 8 THE BLOOD OF JESUS (Spencer Williams, 1941), 8:15
Tuesday, February 10 MOON OVER HARLEM (Edgar G. Ulmer, 1939), 2:30
Tuesday, February 10 GOD'S STEP CHILDREN (Oscar Micheaux, 1938), 4:00
Tuesday, February 10 VEILED ARISTOCRATS (Oscar Micheaux, 1932) and TEN MINUTES TO LIVE (Oscar Micheaux, 1932), 6:15
Tuesday, February 10 THE GIRL IN ROOM 20 (Spencer Williams, 1946) and YAMEKRAW (Murray Roth, 1930), 8:30
Wednesday, February 11 DIRTIE GERTIE FROM HARLEM U.S.A. (Spencer Williams, 1946) and By-Line Newsreels 1 (1953-56), 1:00
Wednesday, February 11 THE GIRL IN ROOM 20 (Spencer Williams, 1946) and YAMEKRAW (Murray Roth, 1930), 2:45
Wednesday, February 11 MIRACLE IN HARLEM (Jack Kemp, 1948) and By-Line Newsreels 2 (1953-56), 4:20 & 8:15
Wednesday, February 11 THE SCAR OF SHAME (Frank Peregini, 1927), 6:15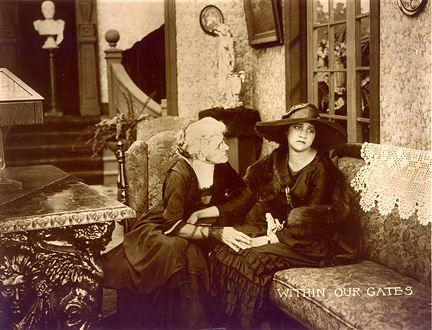 The Film Society of Lincoln Center / The Oscar Micheaux Society
Micheaux silent classic, WITHIN OUR GATES, will screen with live piano accompaniment

Saturday, February 14 THE SYMBOL OF THE UNCONQUERED (Oscar Micheaux, 1920), with live musical accompaniment by Carolyn Swartz, 1:00
Saturday, February 14 SWING! (Oscar Micheaux, 1938), 2:30
Saturday, February 14 GO DOWN DEATH (Spencer Williams, 1944) and THE BULL-DOGGER (Richard Norman, 1921), 4:45
Saturday, February 14 MURDER IN HARLEM (AKA LEM HAWKINS' CONFESSION) (Oscar Micheaux, 1935), 6:45
Saturday, February 14 THE EXILE (Oscar Micheaux & Leonard Harper, 1931), 8:45
Sunday, February 15 IN THE SHADOW OF HOLLYWOOD: RACE MOVIES AND THE BIRTH OF BLACK CINEMA (Brad Osborne, 2007) and BLACK AND TAN (Dudley Murphy, 1929), 1:30
Sunday, February 15 ELEVEN P.M. (Richard Maurice, 1928), with live piano accompaniment by Donald Sosin, 3:15
Sunday, February 15 TEN NIGHTS IN A BARROOM (Roy Calnek, 1926), 4:45
Sunday, February 15 SOULS OF SIN (Powell Lindsay, 1949) and HARLEM HOT SHOTS (William Alexander, 1946), 6:30
Sunday, February 15 THE GIRL FROM CHICAGO (Oscar Micheaux, 1932), 8:15
Monday, February 16 JUKE JOINT (Spencer Williams, 1947) and BOOGIE-WOOGIE BLUES (William Alexander, 1948), 2:00 & 5:30
Monday, February 16 IN THE SHADOW OF HOLLYWOOD: RACE MOVIES AND THE BIRTH OF BLACK CINEMA (Brad Osborne, 2007) and BLACK AND TAN (Dudley Murphy, 1929), 3:40
Monday, February 16 CABIN IN THE SKY (Vincente Minnelli, 1943), 7:10
Tuesday, February 17 GO DOWN DEATH (Spencer Williams, 1944) and THE BULL-DOGGER (Richard Norman, 1921), 1:30
Tuesday, February 17 MURDER IN HARLEM (AKA LEM HAWKINS' CONFESSION) (Oscar Micheaux, 1935), 3:30
Wednesday, February 18 UNDERWORLD (Oscar Micheaux, 1937), 2:00 & 8:00
Wednesday, February 18 CABIN IN THE SKY (Vincente Minnelli, 1943), 4:00
Wednesday, February 18 THE FLYING ACE (Richard Norman, 1926), with Richard Norman III, 6:30
Thursday, February 19 HALLELUJAH! (King Vidor, 1929), 2:00 & 8:30
Thursday, February 19 THE GIRL FROM CHICAGO (Oscar Micheaux, 1932), 4:15
Thursday, February 19 WITHIN OUR GATES (Oscar Micheaux, 1920), with live piano accompaniment by Donald Sosin, 6:15
LINCOLN CENTER CELEBRATES
BLACK HISTORY MONTH 2009
Multiple venues
Free-$90
Wednesday, February 4 Soul Deep: An Anthology of Black Music featuring Adriane Lenox, Ryan Shaw, and Naomi Shelton and the Gospel Queens, Allen Room, Rose Hall, 60th St. & Broadway, $35-$75, 8:30
Friday, February 6 Lizz Wright, Allen Room, Rose Hall, 60th St. & Broadway, $40-$85, 8:30 & 10:30
Wednesday, February 11
through
Tuesday, May 19 Dance Theatre of Harlem: Forty Years of Firsts, multimedia exhibition, New York Public Library for the Performing Arts, Vincent Astor Gallery, 111 Amsterdam Ave. between 64th & 65th Sts., free
Thursday, February 12 Inspired by a Dream: The Dance Theatre of Harlem Story, panel discussion moderated by Anna Kisselgoff, New York Public Library for the Performing Arts, Bruno Walter Auditorium, 111 Amsterdam Ave. between 64th & 65th Sts., free, 5:30
Thursday, February 12
through
Saturday, February 14 Miles & Coltrane: 50th Anniversary of KIND OF BLUE and GIANT STEPS, with James "Jimmy" Cobb, Walter Blanding, Sherman Irby, Ted Nash, and music director Mulgrew Miller, Allen Room, Rose Hall, 60th St. & Broadway, $30-$120, 8:00
Friday, February 13 Ritz Chamber Players, the Juilliard School, Morse Hall, 165 West 65th St., free, 6:00
Tuesday, February 17, 24
through
Tuesday, March 3, 10 Swing University: Ornette Coleman with Ben Young, four-class session, Irene Diamond Education Center, $125, 6:30
Sunday, February 22 Hypnotic Brass Ensemble, free community concert, York College / CUNY Performing Arts Center, 94-20 Guy R. Brewer Blvd., 4:00
Riff's Rants & Raves: Film
DAYS OF BEING WILD (A FEI JING JUEN) (Wong Kar-wai, 1991)
Film Society of Lincoln Center
Walter Reade Theater
65th St. between Broadway & Amsterdam Aves.
Thursday, February 5, $25, 7:30

Wong Kar-wai's second film, DAYS OF BEING WILD, following the surprising success of his debut feature, AS TEARS GO BY, was a popular failure, as Hong Kong audiences were not yet ready for his introspective, character-driven, nonlinear style. (However, it did win five Hong Kong Film Awards, including Best Picture and Best Actor.) DAYS is Wong's first film with master cinematographer Christopher Doyle, who has since shot all of Wong's work, including CHUNGKING EXPRESS, FALLEN ANGELS, HAPPY TOGETHER, and IN THE MOOD FOR LOVE. The late Leslie Cheung, who jumped out a hotel window in 2003, stars as Yuddy, a disaffected, beautiful youth who lures in women and then, after they fall in love with him, verbally mistreats them and cheats on them. Among his conquests are the gorgeous Su-Lizhen (Maggie Cheung), often shot in magnificent close-up, and the trampy Mimi (Carina Lau), who is jealous of Su, who takes comfort in telling her tale of woe to local police officer Tide (Andy Lau). Meanwhile, Yuddy, who was raised by a former prostitute, is obsessed with finding his birth mother, two facts that just might be part of the reason he treats women as he does. Set in 1960, the film's leitmotif involves time and memory, with clocks ticking loudly and lots of long, lingering looks. The story goes a bit haywire in the latter sections, although the ending is a gem. (Look for Tony Leung there.) This special presentation is part of the Film Society of Lincoln Center's Young Friends of Film program, for film enthusiasts between the ages of twenty-one and forty (members get one free ticket); the screening will be followed by an after-party featuring an open bar and hors d'oeuvres.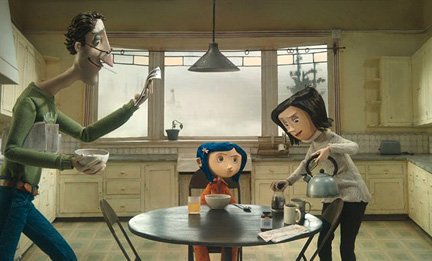 Coraline spends some quality time with her real parents in 3-D fantasy
CORALINE (Henry Selick, 2009)
Opens Friday, February 6

Coraline Jones (voiced by Dakota Fanning) is an adventurous eleven-year-old in search of some fun and excitement in her new creaky home in Oregon. She finds just what she thinks she was looking for when a rodent introduces her to a hidden passageway that leads to an alternate universe, where replicas of her parents (Teri Hatcher and John Hodgman) are more interested in her and give her whatever she wants. However, this button-eyed Other Mother and Other Father have other plans for her and her real family as well. Written and directed by Henry Selick, CORALINE lacks the frantic, nonstop energy of his breakthrough film, TIM BURTON'S THE NIGHTMARE BEFORE CHRISTMAS, but it is still a fun, creepy trip down the Narnia-esque rabbit hole. Combining his trademark stop-motion animation (JAMES AND THE GIANT PEACH) with breathtaking stereoscopic 3-D that adds remarkable depth to the images, Selick does a marvelous job bringing to life the popular children's novel by Newbery Medal-winning author Neil Gaiman (SANDMAN), who wrote the book for his young daughters. (Full disclosure: In another part of our life, we work for the company that publishes Gaiman's children's books, including CORALINE, although we promise that does not color our opinion of it.) The supporting cast of characters includes former music-hall divas Miss Spink and Miss Forcible (the ABSOLUTELY FABULOUS British comedy team of Jennifer Saunders and Dawn French), the wise Cat (Keith David), mouse circus leader Mr. Bobinsky (Ian McShane), and local boy Wybie Lovat (Robert Bailey Jr.), who was created specifically for the movie. Be sure to stick around for one last cool 3-D effect at the end of the credits.
The audience can sing along at special screening of WONKA
WILLY WONKA & THE CHOCOLATE FACTORY SING-ALONG
92YTribeca
200 Hudson St. at Canal St.
Friday, February 6, $13 (includes one beer), 11:00 pm
212-415-5500
http://www.92ytribeca.org/film

Based on a 1964 Roald Dahl novel, WILLY WONKA & THE CHOCOLATE FACTORY (Mel Stuart, 1971) is a fanciful frolic through a children's wonderland, filled with fear, trepidation, love, and lots of candy, both sweet and sour. Charlie Bucket (Peter Ostrum, in his only film appearance) lives with his dirt-poor family in a ramshackle room, where Grandpa Joe (Jack Albertson) can't even get out of bed. But when good-hearted Charlie finds one of the golden tickets that will allow him to join a once-in-a-lifetime tour of Willy Wonka's chocolate factory, Grandpa Joe is singing and dancing — and so will you be, in this special sing-along presentation at 92Ytribeca. Among the other kids with the golden tickets are the spoiled Veruca Salt (Julie Dawn Cole), the selfish Violet Beauregarde (Denise Nickerson), the tube-loving Mike Teevee (Paris Themmen), and the rather sloppy Augustus Gloop (Michael Bollner). As they are led through this dreamland by the unpredictable Willy Wonka (Gene Wilder), they encounter chocolate rivers, bubble machines that make people float, and small Oompa Loompas who are quick to clean up any messes. The soundtrack of this thoroughly entertaining, charming family includes "The Candy Man Can," "(I've Got a) Golden Ticket," "Pure Imagination," and, of course, "Oompa Loompa, Doompa-Dee-Do." The film was remade by Tim Burton in 2005 starring Johnny Depp as Willy Wonka, with mixed results.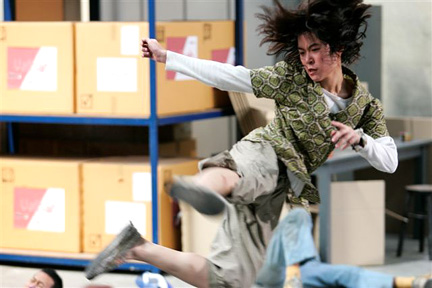 Magnet Releasing
Jija is awesome in thrilling Thai crime drama
CHOCOLATE (Prachya Pinkaew, 2008)
Landmark Sunshine Cinema
143 East Houston St. between First & Second Aves.
Friday, February 6, and Saturday, February 7, 12 midnight
212-330-8182
http://www.landmarktheatres.com
http://www.chocolate-movie.com

We described Prachya Pinkaew's 2003 film, ONG-BAK: THAI WARRIOR, starring Muay Thai boxer Tony Jaa, as more KARATE KID 7 meets GYMKATA 3 by way of Don "the Dragon" Wilson's BLOODFIST XII. We are happy to report that his latest action flick, CHOCOLATE, has a much better pedigree, mixing KILL BILL thrills with a Shaw Brothers sensibility and the humor of Jackie Chan. Yanin "Jija" Vismistananda makes her acting debut as Zen, an autistic girl who develops special skills that allow her to fight the big boys like nobody's business. Her mother, Zin (Ammara Siripong), who used to work for Thai crime lord No. 8 (Pongpat Wachirabunjong), is battling cancer. Her father, Masashi (Hiroshi Abe), was forced by No. 8 to return to Japan, where he rejoined the Yakuza. No. 8, whose crew consists of a wild collection of trannies, has forbidden any contact between Zin and Masashi, or else he will kill them both. When Zen's best friend, the goofy Mangmoon (Top), finds a notebook that lists money owed to Zin, the two kids seek to collect the cash, which they need to pay for Zin's expensive medical treatment, from an ever-more-dangerous series of gangs, leading to some terrific action sequences directed by Weerapon Phumatfon and supervised by Panna Rittikrai. Jija, who spent four years training for the role, is simply awesome, able to show off endless moves while maintaining her character's psychological limitations. Her breakout role is being compared to that of Zhang Zhiyi in CROUCHING TIGER, HIDDEN DRAGON, with good reason. She even takes on real Thai boxing champions Zumia, Zu Jong and "Oh" Sirimongkol. Pinkaew (TOM-YUM-GOONG) does a good job of letting the fight scenes overcome the gaping plot holes. The climactic scene is all-out war, with bodies bouncing hard and fast all over the place. The closing credits go behind the scenes to show how dangerous many of the stunts were — and how many bumps, bruises, and hospital visits the cast suffered.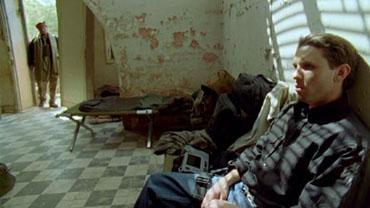 Supernatural military thrilled heads into Afghan desert
THE OBJECTIVE (Daniel Myrick, 2008)
IFC Center
323 Sixth Ave. at West Third St.
Waverly Midnights: Friday, February 6, and Saturday, February 7, 12:20 am
212-924-7771

Winner of the Audience Award at the 2008 New York City Horror Film Festival, Daniel Myrick's THE OBJECTIVE is a supernatural war movie, an APOCALYPSE NOW rip-off moved from the jungles of Southeast Asia to the Afghan desert and reimagined as an X-FILES episode. In Afghanistan in November 2001, CIA agent Ben Keynes (Jonas Ball) is leading a small Special Ops team on a classified mission, in search of a very different kind of Col. Kurtz. Keynes first needs to contact a respected spiritual leader and Taliban enemy, Mohammed Aban, who has information on where they can find a mysterious energy source in the mountains. The man's grandson, Abdul (Chems-Eddine Zinoune), insists on joining them, angering Aban as well as the Ops team, although Keynes welcomes the addition. Keynes regularly butts heads with team leader Major Wally Hamer (Matt Anderson), who is more interested in the safety of his men than in the undisclosed mission objective. As his men start dying, Hamer wants answers, which Keynes is still unwilling to give. Instead, he keeps looking into the heart of darkness via his infrared camera, tracking an indefinable manifestation that he does not share with the rest of the dwindling group. Myrick, who codirected THE BLAIR WITCH PROJECT with Eduardo Sánchez, wrote the script with Mark A. Patton and Wesley Clark Jr., son of the famous general. THE OBJECTIVE, which screened last year at the Tribeca Film Festival, never quite hits his target, the success of the mission as out of reach as the success of the film. Add half a star if you never felt overly frustrated with an X-FILES episode.>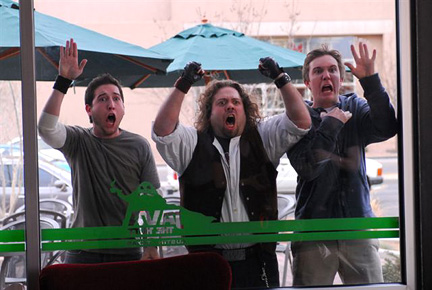 Star Wars geeks head to Lucas ranch in oft-delayed FANBOYS
FANBOYS (Kyle Newman, 2009)
Opens Friday, February 6
http://www.myspace.com/fanboysmovie

After a nearly two-year wait, Kyle Newman's FANBOYS finally arrives in limited release on February 6, just in time for New York Comic Con, helping push the nerd-o-meter into the stratosphere. Eric (San Huntington), Linus (Christopher Marquette), Hutch (Dan Fogler), and Windows (Jay Baruchel) are childhood friends dedicated to all things Star Wars. It's 1998, and the first film in the second trilogy, THE PHANTOM MENACE, is about six months away. However, Linus has terminal cancer and might not make it that long, so the four Ohio geeks pile into Hutch's souped-up van and head for San Francisco, where they plan to sneak into the Skywalker Ranch and steal the film. Along the way, they have a series of misadventures (think the HAROLD AND KUMAR films), including several run-ins with their archenemy, a group of Trekkies (led by Seth Rogen); are joined by the fifth member of their crew, the sexy, sarcastic Zoe (Kristen Bell); and bump into a bunch of famous faces making cameo appearances. Although the first part of the movie is a lot of fun, it starts running out of gas about halfway through, getting too ridiculous and overly reverential to its lord and savior, George Lucas (whose company participated in the making of the film, after it saw an early cut). Originally scheduled for release in August 2007, FANBOYS has gone through reshoots by another director, a fierce battle over the cancer plot line, and other delays that did not bode well for its success. Add half a star if you've ever waited online overnight to see a new Star Wars flick on opening day; add another half star if you did so in costume.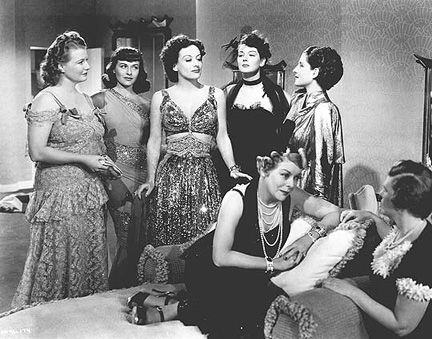 The women get chatty and catty in Cukor classic
THE WOMEN (George Cukor, 1933)
Great Films of 1939
Symphony Space, Peter Jay Sharpe Theatre
2537 Broadway at 95th St.
Sunday, February 8, 6:30
212-349-0330

Clare Boothe Luce's play was turned into a marvelously catty motion picture by George Cukor, featuring a women-only cast and a script written primarily by Anita Loos and Jane Murfin. The actresses are simply outstanding: Norma Shearer, Rosalind Russell, Paulette Goddard, Joan Fontaine, Hattie McDaniel, Marjorie Main, Hedda Hopper, and a deliciously devious Joan Crawford fight over men, money, and clothing, backstab their best friends, and gossip wildly, spreading scandal and chaos everywhere they go. The fast-paced, razor-sharp, witty dialogue is a treasure.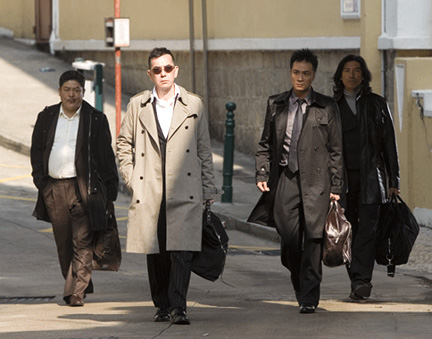 Blaze leads the charge in Hong Kong gangster flick
EXILED (Johnnie To, 2006)
La Guardia Performing Arts Center
31-10 Thomson Ave., Long Island City
Friday, February 13, 7:00
7187-482-5151
http://www.lagcc.cuny.edu/lpac

Hong Kong master Johnnie To (ELECTION, RUNNING OUT OF TIME) reunites many of the main actors from his 1999 crime drama, THE MISSION, for EXILED, a thinking man's gangster thriller. Having failed to assassinate the leader of his syndicate, Wo (Nick Cheung) has been on the lam, but when he settles back in Macau with his wife (Josie Ho) and baby, he is suddenly visited by his former team, led by the always sunglassed Blaze (Anthony Wong). The syndicate leader, Boss Fay (Simon Yam), has ordered them to kill Wo for his treachery, but they are unable to pull the trigger on their friend. Instead, they hang out at his place for a while before sending him off on a suicide mission to whack Boss Keung (Lam Ka Tung), but things don't quite go as planned, with double crosses galore, leaving everyone looking over their shoulder, not knowing from where – or from whose gun – that fatal bullet will come. To fills EXILED with fabulously tense set pieces – and some very funny bits as well – shot like a Sergio Leone Spaghetti Western as seen through the cross-hairs of Sam Peckinpah and John Woo. EXILED is one cool, calm action flick that is ready to explode at any moment – and look out when it finally does. This special screening is part of the Museum of the Moving Image's monthly World Cinema Showcase; next up is Charles Burnett's KILLER OF SHEEP on April 3.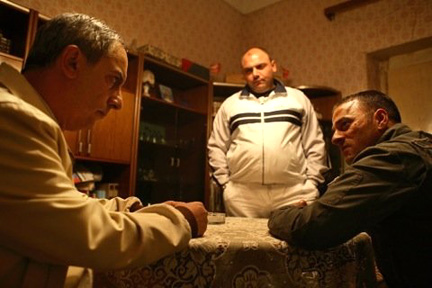 Italian crime epic looks at Camorra syndicate in Naples
GOMORRAH (Matteo Garrone, 2008)
Opens Friday, February 13
IFC Center
323 Sixth Ave. at West Third St.
212-924-7771
Lincoln Plaza Cinemas
1886 Broadway between 62nd & 63rd Sts.
212-757-0359
http://lincolnplaza.moviefone.com

Winner of the Grand Prix at the 2008 Cannes Film Festival, GOMORRAH is a violent, intimate look at the modern-day Camorra crime syndicate in Naples and Caserta. Based on the nonfiction novel by investigative journalist Roberto Saviano — who has been living under police protection since the fall of 2006 — Matteo Garrone's epic follows five distinct yet interrelated stories set around a dilapidated concrete-block housing project, a sort of GODFATHER meets THE SOPRANOS filtered through Italian Neo-realism. Pasquale (Salvatore Cantalupo) is a tailor who considers sharing his secrets with a Chinese sweatshop to make some much-needed extra cash. Roberto (Carmine Paternoster) is having second thoughts training under Franco (Toni Servillo), who runs a toxic waste dumping business. Don Ciro (Gianfelice Imparato) has to deal with a delicate, difficult situation when Maria's (Italian singing star Maria Nazionale) young son joins the secessionists, a rival gang. Marco (Marco Macor) and Ciro (Ciro Petrone) are loose cannons who keep messing with the wrong people. And Totò (Salvatore Abruzzese) is a thirteen-year-old boy who is helping out the Camorra against his mother's wishes — and is soon faced with a life-changing decision. Beautifully shot by Marco Onorato and featuring a cast of primarily nonprofessional actors, GOMORRAH is a deeply involving crime drama, all the more frightening because it's based on real, current situations.(BAMcinématek will be hosting a sneak preview of GOMORRAH on February 12 as part of its Matteo Garrone retrospective.)
In Theaters Now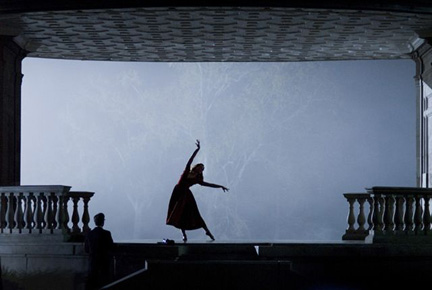 Brad Pitt and Cate Blanchett play age-crossed lovers in BUTTON
THE CURIOUS CASE OF BENJAMIN BUTTON
(David Fincher, 2008)

Based on the short story by F. Scott Fitzgerald, THE CURIOUS CASE OF BENJAMIN BUTTON is an unusual love story for the ages. As Benjamin (Brad Pitt) grows younger, everyone around him gets older, creating fascinating intersections among various characters, but primarily with Daisy Fuller (Cate Blanchett). It's August 2005 in New Orleans, as Hurricane Katrina approaches. In her hospital room, an elderly, dying woman (an unrecognizable Blanchett) gives her daughter, Caroline (Julia Ormond), a diary that she begins reading out loud. It was written by a man named Benjamin Button, who was born an old man in 1918 and tells his life story as the years pass by and he ages backward, sort of a reverse Jack Crabb (Dustin Hoffman) in the great LITTLE BIG MAN (Arthur Penn, 1970), with a bit of the overrated FORREST GUMP (Robert Zemeckis, 1994) thrown in as well. The film lags a bit as Benjamin and Daisy approach similar ages — actually, the closer they get to their actor selves — but the beginning is marvelous, with Fincher working magic as Pitt plays a tiny, withered old man, and the ending is heart-wrenching. Fincher (FIGHT CLUB, ZODIAC) and writer Eric Roth — who won a Best Adapted Screenplay Oscar for FORREST GUMP — wisely choose not to turn Benjamin into a human oddity that confounds the medical profession; instead, he just goes about his life, trying to do the best he can with a positive outlook and a lust for living. Alexandre Desplat's score is among the best of the year, supported by a soundtrack filled with New Orleans jazz. The cast also includes Tilda Swinton as a diplomat's wife who takes a romantic interest in Benjamin, Jared Harris as the randy captain of a tugboat who teaches Benjamin about the sea (and booze and sex), Taraji P. Henson as Queenie, the woman who raises the baby Benjamin after he is abandoned by his father (Jason Flemyng), and the man with perhaps the longest name in the history of show business, Mahershalalhashbaz Ali, as Queenie's husband, Tizzy.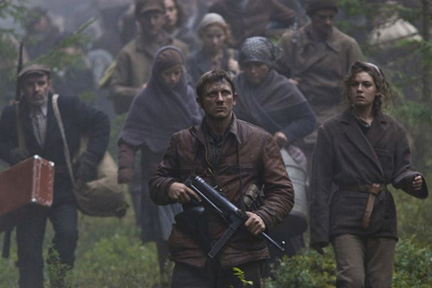 Daniel Craig leads a band of Jews not afraid to take up arms in WWII drama
DEFIANCE (Edward Zwick, 2008)

December has seen the release of a spate of Holocaust-related dramas, examining the Nazis and the persecution of the Jews from many different angles — with various degrees of success. Among the best of the films — and one that tells a seldom-told tale — is Edward Zwick's DEFIANCE. Zwick, whose GLORY looked at the contribution of African Americans fighting for the North in the Civil War, now turns to WWII, following the Bielski clan as it fights back against the Germans and the local constabulary in Russia. Based on a true story detailed in the book of the same name by Nechama Tec, DEFIANCE stars Daniel Craig as Tuvia, Liev Schreiber as Zus, and Jamie Bell as Asael, three brothers who have left their farm and take refuge in the vast forest they have been playing in since they were kids. As more and more Jews hear about the small community they are establishing in the forest, they flock there. But while Tuvia feels he cannot send anyone away, Zus believes such foolish generosity will result in a lack of food and a greater chance that they will be found and killed. With Tuvia as the group's reluctant leader, adamant that they should remain in the forest, Zus takes off to join the Russian resistance. "Each day of freedom is a victory," Tuvia proclaims. "And if we die trying to live, at least we die like human beings." But as the Germans get closer and the winter grows harsher, the chances of survival seem bleaker and bleaker. Although DEFIANCE does lapse into soap-opera territory and pulls at the emotional heartstrings too often — Zwick and executive producer Marshall Herskovitz were, after all, the creators of THIRTYSOMETHING — it is a powerful drama that reveals a rarely shown side of the Holocaust as a group of working-class Jewish men and women refuse to give in or give up, taking up arms and fighting back against impossible odds.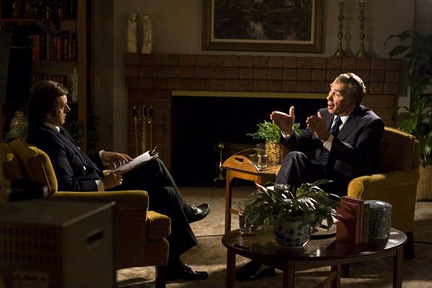 David Frost (Michael Sheen) and Richard Nixon (Frank Langella) get it on in Ron Howard drama
FROST/NIXON (Ron Howard, 2008)

In 1977, the disgraced former president of the United States, Richard Nixon, sat down with British talk show host David Frost for a series of interviews, including the first time Nixon had agreed to discuss Watergate publicly; Frost was after a big payday and trying to resurrect his career in America, while Nixon was attempting to defend his legacy and reestablish his political credentials. Written by Peter Morgan (THE QUEEN) based on his play, FROST/NIXON is a compelling drama that turns into a thriller as Frost and Nixon get caught up in an intellectual game of cat and mouse. Frank Langella is absolutely brilliant as Nixon, capturing every nuance of the jowly president, while Michael Sheen (Tony Blair in THE QUEEN) is a bit too wide-eyed as Frost, although he's got the hair and the accent down pat; both actors are reprising the roles they originated in Morgan's London and Broadway hit. Director Ron Howard allows the story to unfold at its own pace as Nixon's team, which includes Chief of Staff Jack Brennan (Kevin Bacon), super-agent Swifty Lazar (Toby Jones), and a young Diane Sawyer (Kate Jennings Grant), prepares to go toe to toe with Frost's sidekicks, investigative journalist Jim Reston (Sam Rockwell), producers John Birt (Matthew MacFadyen) and Bob Zelnick (Oliver Platt), and love interest Caroline Cushing (Rebecca Hall). FROST/NIXON is a fascinating and thoroughly entertaining look at a critical time in America, when politics intersected with pop culture as the country held its collective breath, demanding closure.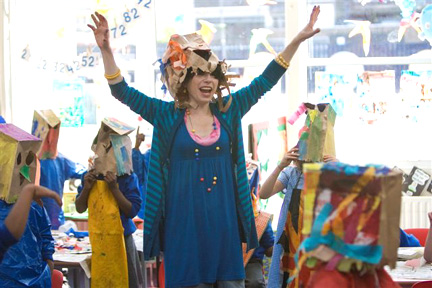 Simon Mein/ Courtesy of Miramax Films
Sally Hawkins is absolutely delightful in Mike Leigh's latest
HAPPY-GO-LUCKY (Mike Leigh, 2008)
Quad Cinema
34 West 13th St. between Fifth & Sixth Aves.
212-255-8800
http://www.happygoluckythemovie.com

Writer-director Mike Leigh (SECRETS & LIES, NAKED, TOPSY-TURVY) has made the most charming film of his career with HAPPY-GO-LUCKY. Golden Globe award winner Sally Hawkins gives a career-making performance as Poppy, the most delightful film character since Audrey Tatou's Amélie (in Jean-Pierre Jeunet's 2001 French comedy LE FABULEUX DESTIN D'AMÉLIE POULAIN). Poppy is a primary school teacher who has an endearing, seemingly limitless love of life; she talks playfully with strangers in bookstores, teases her sister (Kate O'Flynn) and best friend (Alexis Zegerman) with the sweetest of smirks, takes a flamenco lesson on a whim with a colleague, and, when her bicycle is stolen, simply starts taking driving lessons. However, her driving instructor, Scott (Eddie Marsan of the recently underappreciated SIXTY SIX), is a tense, angry man with numerous chips on his shoulder, trying to sour Poppy at every turn. But Poppy is no mere coquettish ingenue; when she senses a problem with one of her students, she is quick get to the bottom of the situation, with the appropriate serious demeanor. As with most Leigh films, much of the dialogue is improvised (following long rehearsal periods), adding to its freshness. But also as with most Leigh films, there are dramatic turning points, but even those can't wipe away Poppy's — or the audience's — endless smile.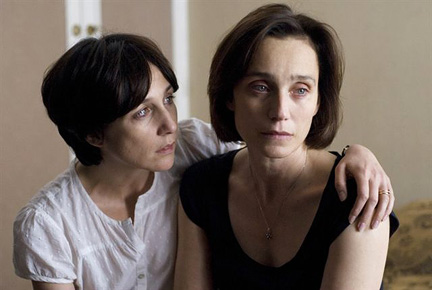 Sisters try to deal with the past in brilliant melodrama
I'VE LOVED YOU SO LONG (Philippe Claudel, 2008)
Village East
181 Second Ave. at 12th St.
212-529-6998
http://www.villageeastcinema.com
http://www.sonyclassics.com/ivelovedyousolong

French novelist Philippe Claudel's directorial debut, I'VE LOVED YOU SO LONG, is a brilliant melodrama told by an expert storyteller. A never-better Kristin Scott Thomas stars as Juliette, an intensely private woman who has moved in with her younger sister, Léa (Elsa Zylberstein), after having been away for fifteen years. Léa's husband, Luc (Serge Hazanavicius), is clearly unhappy that Juliette has come to live with them; he particularly does not want her spending too much time with their two adopted daughters. As Juliette goes on job interviews and makes new friends — including Léa's fellow teacher, Michel (Laurent Grevill), who has more than a passing interest in her — her deep, dark pain is always bubbling just below the surface, ready to burst out. Through carefully constructed scenes of beauty, simplicity, honesty, and suppressed rage, Claudel slowly reveals the details of Juliette's missing years, spent in prison for an unspeakable crime. Thomas is absolutely breathtaking as Juliette, a tortured soul hiding a horrific secret as she tries to resurrect her once-promising life. Don't miss it.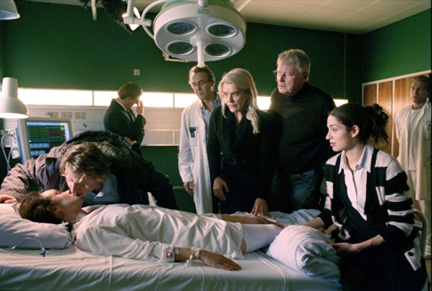 Jonas becomes part of a new family in Danish film noir
JUST ANOTHER LOVE STORY (Ole Bornedal, 2008)
Cinema Village
22 East 12th St. between University Pl. & Fifth Ave.
212-759-7525

Growing bored with his life as a husband, father of two, and crime scene photographer, Jonas (Anders W. Bertelsen) suddenly finds a surprising way out of the doldrums following a devastating car accident set off because the old car he was driving finally gave out in the middle of the road. A young woman, Julia (Rebecka Hemse), lies in a coma in the hospital. Feeling partly responsible, Jonas visits her, telling a nurse that he is her boyfriend so he can see her. Julia's family then gathers around him, believing him to be Sebastian, the mystery man Julia met while traveling in Southeast Asia. As Julia begins making a remarkable recovery — except for some memory loss and blindness — Jonas begins to spend more time with her and her family than with his own, both excited and confused by the new adventure. But trouble — and the truth — lurks around every corner, and when it finally comes…. JUST ANOTHER LOVE STORY is a suspenseful modern noir written and directed by Danish filmmaker Ole Bornedal (NIGHTWATCH) with plenty of panache. The twists and turns, especially in the climactic scenes, come fast and furious, including a tense psychological game of cat and mouse. The film does suffer a bit from too much self-referential posturing, but audiences will have fun squirming on the edge of their seat.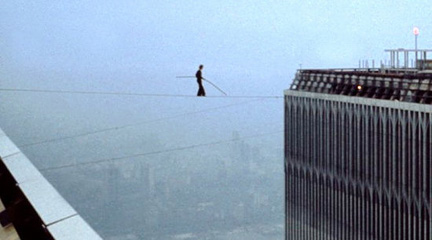 MAN ON WIRE is on the short list for a Best Documentary Oscar nod
MAN ON WIRE (James Marsh, 2008)
Landmark Sunshine Cinema
143 East Houston St. between First & Second Aves.
212-330-8182
http://www.landmarktheatres.com

Winner of the Audience Award at the Sundance, Edinburgh, and Los Angeles Film Festivals, MAN ON WIRE is a thrilling examination of Philippe Petit's attempt to walk on a wire connecting the two towers of the World Trade Center. Using archival footage, home movies, still photos, black-and-white re-creations, and new interviews with all the primary characters, director James Marsh (THE KING, WISCONSIN DEATH TRIP) sets up MAN ON WIRE like a heist film as Petit and his cohorts discuss the detailed planning that went into the remarkable event, including getting the wires and cable to the top of the South Tower and hiding under a tarp as a security guard has a smoke right next to them. Petit, who had previously — and illegally — traversed Notre Dame Cathedral in Paris and the Sydney Harbour Bridge in Australia, had become immediately obsessed with the Twin Towers as soon as he learned they were being built; Marsh intercuts scenes of the construction of the WTC as Petit puts together the seemingly impossible caper, leading to his August 7, 1974, walk between the two towers, more than a quarter mile above the ground. Petit has a relationship with the World Trade Center unlike anyone else's; interestingly, Marsh and Petit do not so much as even hint at the destruction of the towers on September 11, 2001, a questionable decision that leaves a gap in the film. (They could have at least mentioned it in the end captions.) Still, MAN ON WIRE is an exhilarating documentary; even though you know that Petit survives, you'll be breathless as he balances high above Lower Manhattan, one tiny step from death.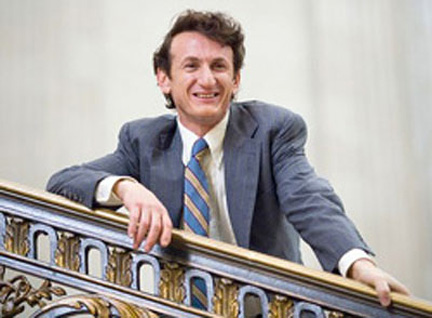 Sean Penn stars as Harvey Milk in look at gay activist and politician
MILK (Gus Van Sant, 2008)
http://www.filminfocus.com/focusfeatures/film/milk

Gus Van Sant's MILK is a solid if surprisingly standard biopic focusing on the last eight years in the life of Harvey Milk, the gay activist and politician who was assassinated in 1978. Van Sant (DRUGSTORE COWBOY, TO DIE FOR, GOOD WILL HUNTING) follows the eventual unofficial Mayor of Castro Street (Sean Penn) as he moves to San Francisco with his much younger partner, Scottie Smith (James Franco), and sets up a camera shop that soon becomes an important meeting ground for the local gay community, fighting for equal rights and supporting Milk as he continually campaigns for public office. The battle hits its high point in 1978 when Milk takes on John Briggs and the Briggs Initiative, also known as Proposition 6, which sought to take away existing employment rights from gays and lesbians in the California public school system, eerily reminiscent of the recent passage of Proposition 8 there. Although Milk was a rallying figure — his opening mantra was always "My name is Harvey Milk, and I am here to recruit you!" — the film never quite takes off the way it wants to, instead becoming too reverential and melodramatic. Penn is good but subdued in the lead role; the best performance comes from Josh Brolin as Dan White, Milk's main adversary among the SF supervisors.
NEW IN TOWN (Jonas Elmer, 2009)

Originally titled CHILLED IN MIAMI, Danish director Jonas Elmer's NEW IN TOWN, his first English-language film, is a frozen fish-out-of-water romantic comedy that never thaws out, lacking both romance and comedy. Oscar winner Renée Zellweger (COLD MOUNTAIN) stars as Lucy Hill, a South Beach corporate-ladder climber who is sent to the small town of New Ulm, Minnesota, to restructure a dairy plant by cutting the staff in half. Her short, tight skirts and high heels do not exactly fit in well with the fierce climate or the deeply knit community, where frumpy women gather to work on their scrapbooks and gossip in an accent made famous by Frances McDormand, as the unforgettable Marge Gunderson in the Coen brothers' FARGO. NEW IN TOWN even has the nerve to use that same last name for one of its main characters, Blanche Gunderson (Siobhan Fallon Hogan), who becomes Lucy's nosy, Jesus-loving secretary. Lucy immediately butts heads with the factory foreman, Stu Kopenhyafer (J. K. Simmons), an old-fashioned hard-ass who has no time for executives, and Ted Mitchell (Harry Connick Jr.), the hunky union rep who doesn't want a single job to be lost — you see, each job is a person with a family and stuff, not just a number in a PowerPoint presentation. There's absolutely nothing new or original in this utterly predictable, homogenized tale, just sour milk from start to finish.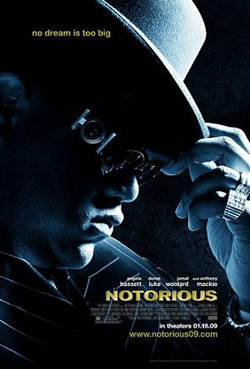 Jamal Woolard hits the big-time in rap biopic
NOTORIOUS (George Tillman Jr., 2009)

In NOTORIOUS, Christopher Wallace, like Buddy Holly, Ritchie Valens, Patsy Cline, and Jim Morrison before him, is immortalized on film, yet another prodigiously talented young musician who died too soon. In this case, it's Brooklyn-born rapper Biggie Smalls (Wallace), or the Notorious B.I.G., who was gunned down at the age of twenty-four in 1997 at the height of his popularity, amid the so-called East Coast / West Coast rap rivalry of the nineties that also claimed the life of his onetime friend and rival Tupac Shakur. Produced by Wallace's mother, Voletta, his two managers, and his producer, Sean "Puffy" Combs, this well-made biopic, directed by George Tillman Jr. (SOUL FOOD) and written by Reggie Rock Bythewood (DANCING IN SEPTEMBER) and Cheo Hodari Coker, holds no surprises but packs a punch nevertheless, thanks to the amazing, gritty, brilliant, street-true music of Biggie. Rapper Jamal Woolard, a newcomer to the screen, inhabits Biggie's character with swagger, charm, intonation, and size, nailing his mannerisms, but after a four-month acting "boot camp" he impersonates rather than portrays Biggie. The incomparable Angela Bassett, as Voletta, has acting chops to spare, and both rival Tupac (Anthony Mackie) and producer Combs (Derek Luke) are played by pros, providing some much-needed acting ballast to balance the production. The gorgeous Antonique Smith, incandescent as Biggie's wife, R&B star Faith Evans, amps the glamour quotient, while Biggie's protégée and former girlfriend Lil Kim is played with sass and verve by Naturi Naughton. But the music, with its jaw-dropping wordplay and irresistible drive, is the real star here.
THE READER (Stephen Daldry, 2008)
http://www.thereader-movie.com

A surprise Best Picture Oscar nominee, THE READER is a cold and disappointing film focusing on a pair of cold, overly secretive — and intensely frustrating — characters. In 1958 Germany, thirty-five-year-old Hanna (Kate Winslet) begins a steamy affair with fifteen-year-old Michael (David Kross); the matronly woman, who calls the young boy "kid," gets in the mood by having him read great works of literature to her as they lay naked together in bed. The film switches between that year and 1995 (as well as several years in between), when a grown-up Michael (Ralph Fiennes) is still having trouble dealing with one obvious secret, although another, shocking one, revealed while he was in law school, has changed the course of his life and his ability to maintain close relationships, including with his daughter. Director Stephen Daldry (BILLY ELLIOT, THE HOURS) manipulates the rather emotionless story — written by David Hare (PLENTY), based on the novel by Bernard Schlink — teasing the audience unnecessarily to keep things moving, albeit at a snail's pace. Although it's always great to see Bruno Ganz and Lena Olin, the main stars — Winslet, Kross, and especially Fiennes — are oddly dispassionate in this overblown and underplayed melodrama. The film's success during awards season might be primarily because two of the executive producers, Anthony Minghella and Sydney Pollack, passed away last year, and this is their final project.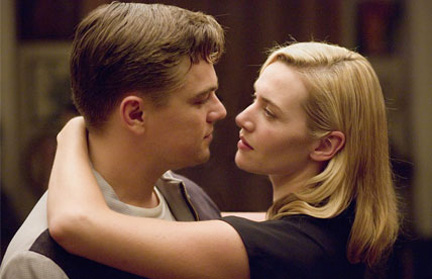 Leonardo DiCaprio and Kate Winslet reunite in REVOLUTIONARY ROAD
REVOLUTIONARY ROAD (Sam Mendes, 2008)
http://www.revolutionaryroadmovie.com

Sam Mendes's REVOLUTIONARY ROAD, based on the novel by Richard Yates, is a brilliant dissection of suburban life in 1950s America. The film reunites the two stars of TITANIC (James Cameron, 1997), with Leonardo DiCaprio and Kate Winslet playing the Wheelers, a young couple who have just moved into suburban Connecticut. Frank works for the same machine company his father did, having to make the commute into the city on the train every day, while April, a onetime aspiring actress, stays at home and takes care of their son. But each of them dreams of something more, something different — something better — so they suddenly decide to rekindle their romance and build a new life in Paris. But not everything goes as planned, as suburbia's overwhelming hopelessness threatens to destroy them. Mendes's fourth film, following AMERICAN BEAUTY (1999), ROAD TO PERDITION (2002), and JARHEAD (2005), is a marvelously constructed tale that hits home time and time again. Winslet (Mendes's wife), who won a Golden Globe for her performance, is spectacular as April, her every movement filled with raw emotion, while DiCaprio is sensational as Frank, a man who is not sure what he wants out of life. The cast also includes David Harbour and Kathryn Hahn as the Wheelers' best friends and neighbors, the Campbells; Kathy Bates as Helen Givings, the local Realtor; Richard Easton as her hard-of-hearing husband, Howard; and Michael Shannon as their mentally challenged adult son, John, who seems to know just how to get to the heart of the matter. REVOLUTIONARY ROAD is a masterful look at life.
Reygadas film is a unique cinematic experience
SILENT LIGHT (STELLET LICHT) (Carlos Reygadas, 2008)
Film Forum
209 West Houston St. between Sixth & Seventh Aves.
Through February 10
212-727-8110

Carlos Reygadas's SILENT LIGHT is a gentle, deeply felt, gorgeously shot work of intense calm and beauty. The film opens with a stunning sunrise and ends with a glorious sunset; in between is scene after scene of sublime beauty and simplicity, as Reygadas uses natural sound and light, a cast of mostly nonprofessional actors, and no incidental music to tell his story, allowing it to proceed naturally. In a Mennonite farming community in northern Mexico where Plautdietsch is the primary language, Johan (Cornelio Wall Fehr) is torn between his wife, Esther (Miriam Toews), and his lover, Marianne (Maria Pankratz). While he loves Esther, he finds a physical and spiritual bond with Marianne that he does not feel with his wife and their large extended family. Although it pains Johan deeply to betray Esther, he is unable to decide between the two women, even after tragedy strikes. Every single shot of the spare, unusual film, which tied for the Jury Prize at the 2007 Cannes Film Festival (with Vincent Paronnaud and Marjane Satrapi's PERSEPOLIS), is meticulously composed by Reygadas (JAPON, BATTLE IN HEAVEN) and cinematographer Alexis Zabe, as if a painting. Many of the scenes consist of long takes with little or no camera movement and sparse dialogue, evoking the work of Japanese minimalist master Yasujiro Ozu. The lack of music evokes the silence of the title, but the quiet, filled with space and meaning, is never empty. And the three leads — Fehr, who lives in Mexico; Toews, who is from Canada; and Pankratz, who was born in Kazakhstan and lives in Germany — are uniformly excellent in their very first film roles. SILENT LIGHT is a mesmerizing, memorable, and very different kind of cinematic experience.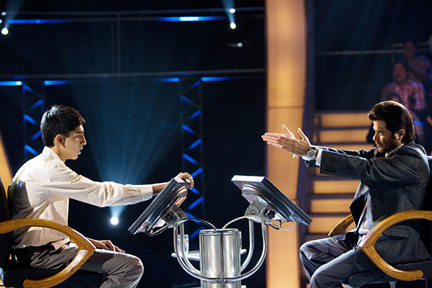 Jamal goes for the big bucks in SLUMDOG MILLIONAIRE
SLUMDOG MILLIONAIRE (Danny Boyle, 2008)
http://www.foxsearchlight.com/slumdogmillionaire

In modern-day Mumbai, Jamal Malik (Dev Patel) is being brutally interrogated by a police inspector (Irrfan Khan) who is certain that Jamal is cheating on the popular game show WHO WANTS TO BE A MILLIONAIRE? The cop won't even consider that a young, uneducated chaiwalla, a lowly tea server at a call center, could possibly know enough to be successful on the program. But through a series of harrowing flashbacks, Jamal recounts his difficult, miserable life growing up on the streets with his brother, Salim (Madhur Mittal), explaining how his experiences with extreme poverty, bigotry, child abuse, and gang violence led him to know certain answers in fascinating, bizarre, and mostly sad ways. As he approaches the final question, everything he's ever loved and believed in hangs in the balance. SLUMDOG MILLIONAIRE is extremely well directed by Danny Boyle (TRAINSPOTTING, 28 DAYS LATER), with a smart script by Simon Beaufoy (THE FULL MONTY) based on Vikas Swarup's novel Q AND A. Freida Pinto makes a strong debut as Latika, the girl who comes between the two brothers, and Bollywood star Anil Kapoor is wonderfully smarmy as Prem Kumar, the Indian Regis Philbin. A mesmerizing, edge-of-your-seat tale, SLUMDOG MILLIONAIRE was the sleeper hit of 2008 until it won four Golden Globe awards, including Best Screenplay, Best Original Score, Best Director, and Best Drama, putting it in the forefront of the Oscar race.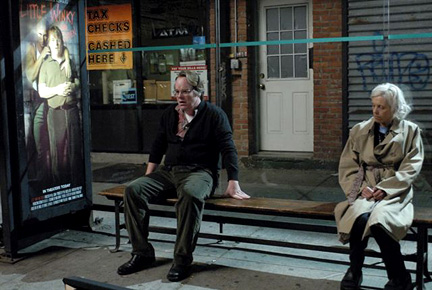 Caden Cotart (Philip Seymour Hoffman) is having a tough time in SYNECDOCHE
SYNECDOCHE, NEW YORK (Charlie Kaufman, 2008)
Landmark Sunshine Cinema
143 East Houston St. between First & Second Aves.
212-330-8182
http://www.landmarktheatres.com
http://www.sonyclassics.com/synecdocheny

In films such as BEING JOHN MALKOVICH (Spike Jonze, 1999), ADAPTATION (Spike Jonze, 2002), CONFESSIONS OF A DANGEROUS MIND (George Clooney, 2002), and ETERNAL SUNSHINE OF THE SPOTLESS MIND (Michel Gondry, 2004), writer Charlie Kaufman has created bizarre, compelling alternate views of reality that adventurous moviegoers have embraced, even if they didn't understand everything they saw. Well, Kaufman has done it again, challenging audiences with his directorial debut, the very strange but mesmerizing SYNECDOCHE, NEW YORK. Philip Seymour Hoffman stars as the bedraggled Caden Cotard, a local theater director in Schenectady mounting an inventive production of DEATH OF A SALESMAN. Just as the show is opening, his wife, avant-garde artist Adele Lack (Catherine Keener), decides to take an extended break in Europe with their four-year-old daughter, Olive (Sadie Goldstein), and Adele's kooky assistant, Maria (Jennifer Jason Leigh).
As Caden starts coming down with a series of unexplainable health problems (his last name, by the way — Cotard — is linked with a neurological syndrome in which a person believes they are dead or dying or do not even exist), he wanders in and out of offbeat personal and professional relationships with box-office girl Hazel (a nearly unrecognizable Samantha Morton), his play's lead actress, Claire Keen (Michelle Williams), his therapist, Madeleine Gravis (Hope Davis), and Sammy (Tom Noonan), a man who has been secretly following him for years. After winning a MacArthur Genius Grant, Caden begins his grandest production yet, a massive retelling of his life story, resulting in radical shifts between fantasy and reality that will have audiences laughing as they continually scratch their heads, hoping to stimulate their brain in order to figure out just what the heck is happening on-screen. Evoking such films as Federico Fellini's 8 1/2 and CITY OF WOMEN, Woody Allen's STARDUST MEMORIES, and Ingmar Bergman's WILD STRAWBERRIES as well as the labyrinthine tales of Argentine writers Jorge Luis Borges and Julio Cortazar, SYNECDOCHE, NEW YORK is the kind of work that is likely to become a cult classic over the years, requiring multiple viewings to help understand it all.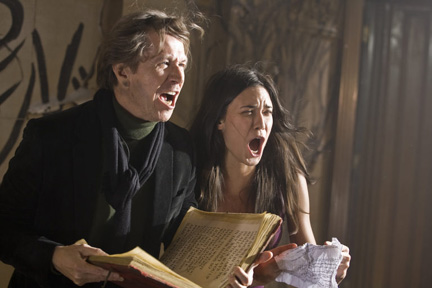 Some ideas are better left unhatched
THE UNBORN (David S. Goyer, 2009)

Liberally borrowing from THE EXORCIST, THE OTHER, JACOB'S LADDER, THE OMEN, and other horror favorites, writer-director David S. Goyer (BLADE: TRINITY, THE INVISIBLE) infuses THE UNBORN with its share of legitimate scares that will have audiences covering their eyes and jumping in their seats. Unfortunately, the story is so misguided and convoluted that those chills ultimately can't save the movie from its deserved place in the minor leagues. Odette Yustman (CLOVERFIELD) stars as Casey Beldon, a college student who is being tormented by frightening dreams and the creepy kid down the street (Atticus Shaffer, the creepy kid from that AIG commercial), who keeps telling her that Jumby wants to be born now. As people around her start dropping like flies, Casey investigates her past, getting vital information from her late mother (Carla Gugino, who can't say no to a job offer these days), her father (James Remar, who hopefully thought his part would be bigger when he signed on), and grandmother (Jane Alexander, who used to be a bit more selective with her roles) while turning to a rabbi (Gary Oldman, who looks bewildered most of the time) for a potential exorcism. There might just be a good movie in here somewhere, but as soon as Goyer brings in the Nazis and the Holocaust, it never has a chance.
VICKY CRISTINA BARCELONA (Woody Allen, 2008)
Village East
181 Second Ave. at 12th St.
212-529-6998
http://www.villageeastcinema.com
http://www.vickycristina-movie.com

After a trio of films made in England (the justly celebrated MATCH POINT, the disappointing SCOOP, and the underappreciated CASSANDRA'S DREAM), Woody Allen heads to Spain, setting his latest adult romantic comedy in the gorgeous city of Barcelona. The very serious Vicky (Rebecca Hall, channeling Mia Farrow) and the flirtatious free spirit Cristina (Scarlett Johansson) are best friends spending the summer at a villa owned by Judy (Patricia Clarkson) and Mark (Kevin Dunn). Vicky is about to get married to the very responsible and successful Doug (Chris Messina), while Cristina is just looking to have a wild time. When hot artist Juan Antonio (a gentle Javier Bardem) invites Vicky and Cristina to join him for wine and sex in Oviedo, Vicky thinks he is a pig, while Cristina wants to take him up on his offer. Further complicating the situation is Juan Antonio's homicidal, suicidal ex-wife, Maria Elena (an inspired, Oscar-nominated Penelope Cruz), who forces herself back into his life. VICKY CRISTINA BARCELONA features one of Allen's best scripts in years. Hall, a young British actress who primarily works on stage and television, is captivating as Vicky; cinematographer Javier Aguirresarobe's camera falls in love with her charming face the moment it first lays eyes on her. Bardem and Cruz inject fire and ice into this complex relationship drama, which examines the nature of love in intelligent and intriguing ways. In addition to filming at such sites as Antoni Gaudi's Sagrada Familia, Parc Guell, and La Pedrera, Allen infuses the proceedings with a soundtrack of delightful Spanish music, structured around Gulia y Los Tellanini's "Barcelona."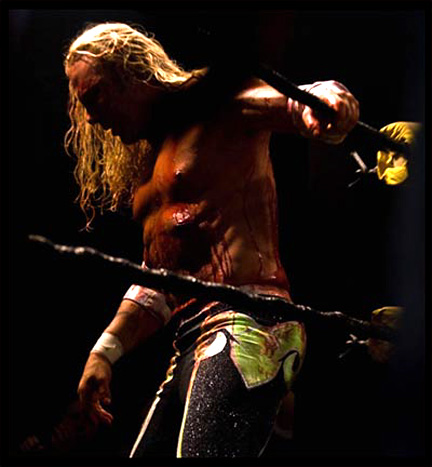 Mickey Rourke wrestles his demons in comeback flick
THE WRESTLER (Darren Aronofsky, 2008)
http://www.thewrestlermovie.com

Brooklyn native Darren Aronofsky, writer-director of the brilliant PI (1998) and REQUIEM FOR A DREAM (2000) and the muddled mess THE FOUNTAIN (2006), scores a major takedown with the marvelous comeback film THE WRESTLER. Former boxer Mickey Rourke, who made a name for himself in such 1980s films as DINER, RUMBLE FISH, THE POPE OF GREENWICH VILLAGE, 9 1/2 WEEKS, and BARFLY, stars as the Christ-like figure Randy "the Ram" Robinson, an aging professional wrestler who was the sport's biggest name in the 1980s but is now a washed-up has-been living in a trailer park wrestling for embarrassingly small paydays at tiny local venues, still lured by the love of the sparse crowds and the respect of his opponents. After suffering a heart attack following one of his matches, the fifty-something Ram is suddenly faced with a life outside the ring. He tries to get back in his daughter's (Evan Rachel Wood) life, attempts a relationship with stripper Cassidy (Marisa Tomei), and even gets a regular job in a supermarket, but the possibility of returning to the ring for the twentieth anniversary of his biggest match ever, his 1989 battle against the Ayatollah (Ernest Miller) in Madison Square Garden, weighs hard on his mind. Winner of the Golden Lion at the Venice Film Festival, THE WRESTLER, shot in an arresting grainy style, is a masterfully told tale with multiple layers, with the Ram's potential comeback mimicking Rourke's own return to his acting glory days. Rourke, who won a Golden Globe for his effort, is such a natural in the role that it is hard to believe it was not written specifically for him; in fact, Nicolas Cage was first attached to the project. (Bruce Springsteen's title song, which plays over the closing credits, took home the Golden Globe for Best Original Song.) The film is set in the real-life world of Combat Zone Wrestling and the Ring of Honor, featuring such actual wrestlers as the Necro Butcher, who has a thing for barbed wire and staple guns. THE WRESTLER is a heart-wrenching, beautiful, and brutal film.
Riff's Rants & Raves: Theater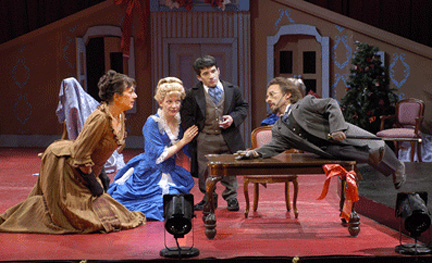 Joan Marcus
Mabou Mines presents a new kind of Ibsen in Brooklyn
MABOU MINES DOLLHOUSE
St. Ann's Warehouse
38 Water St.
February 12 — March 8
Tickets: $37.50-$47.50
718-254-8779
http://www.stannswarehouse.org
Writer-director Lee Breuer reimagines Ibsen's A DOLL'S HOUSE, with a cast in which all men are between three and a half and four and a half feet tall and all women are nearly six feet tall.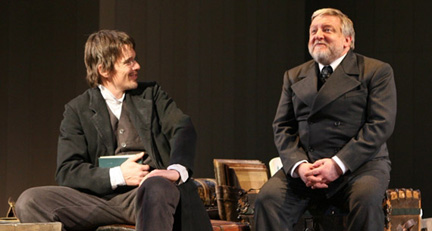 Joan Marcus
Ethan Hawke and Simon Russell Beale share a laugh in THE CHERRY ORCHARD
THE BRIDGE PROJECT: THE CHERRY ORCHARD
BAM Harvey Theater
651 Fulton Street between Ashland Pl. & Rockwell Pl.
THE CHERRY ORCHARD: through March 8
THE WINTER'S TALE: February 10 — March 8
Tickets: $30-$90
718-636-4100

As part of its three-year, three-way partnership with the Old Vic, headed by Kevin Spacey, and Neal Street Productions, led by Caro Newling and Sam Mendes, BAM is presenting two exciting theatrical events, starting with a new version of Anton Chekhov's THE CHERRY ORCHARD, adapted by Tom Stoppard. Chekhov's final play — the writer of THE SEAGULL, UNCLE VANYA, and THREE SISTERS died shortly after its publication, at the age of forty-four in 1904 — deals with the end of the Russian aristocracy as a once-wealthy family must consider selling off its lush cherry orchard as summer shares or face bankruptcy. Sinéad Cusack is excellently airheaded as Ranevskaya, the matriarch of the estate who refuses to see reality by listening to Lopakhin (the scene-stealing Simon Russell Beale), a successful landowner begging her and her blustery brother, Gaev (Paul Jesson) to sell. Ranevskaya doesn't get much help from her daughters, who are also hesitant to part with the orchard: Varya (Rebecca Hall) is hoping to be betrothed to Lopakhin, while seventeen-year-old Anya (Morven Christie) is exploring romance with perpetual student Trofimov (Ethan Hawke), who is looking ahead to the social revolution that is overtaking the country. Stoppard's version of the play walks the fine line between comedy and tragedy, although it does occasionally get a bit unsure of which way to go.
Mendes (AMERICAN BEAUTY, REVOLUTIONARY ROAD) directs the solid cast — which also includes a fine comic turn by Richard Easton as the elderly servant Firs and Josh Hamilton as Yasha, a young valet who believes that all he and Ranevskaya's chambermaid, Dunyasha (Charlotte Parry), need to survive on is their love — with few missteps, but the production never quite reaches the emotional heights it strives for. Anthony Ward's set design and Paul Pyant's lighting shines, especially at the beginning of the second act, when huge shadows are cast onto the white backdrop as the family hosts a fancy party while awaiting its fate. On February 10, THE CHERRY ORCHARD will be joined in repertory by William Shakespeare's THE WINTER'S TALE, both at the BAM Harvey Theater and featuring the same cast. There will be several pre- and postshow artist talks, including with the entire company on February 19 and 25, Stephen Greenblatt speaking on THE WINTER'S TALE on February 15 at 1:00 in the BAMcafé, and Sam Mendes and Francine Prose discussing THE CHERRY ORCHARD on February 26 at 5:30 in the Hillman Attic Studio.
Riff's Rants & Raves: Live Music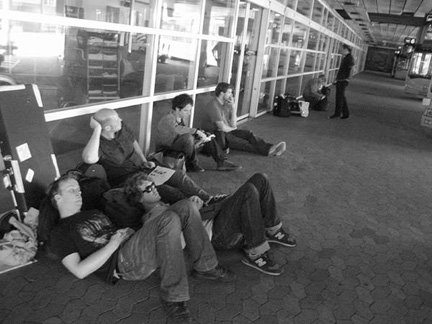 Clap Your Hands Say Yeah get ready for Brooklyn music fest
SOUNDS LIKE BROOKLYN MUSIC FESTIVAL
Brooklyn Academy of Music and other Brooklyn venues
30 Lafayette Ave. between Ashland Pl. & St. Felix St.
February 6-14
Tickets: free-$25
718-636-4100
The Brooklyn Academy of Music is serving as host for the first Sounds Like Brooklyn Music Festival, which will feature performances all over the borough, by native musicians and current residents. BAM itself will be hosting the two biggest shows, Beirut and Kaki King on February 6-7, and Clap Your Hands Say Year and Chairlift on February 13. In addition to those ticketed shows ($20-$25), there will be several free concerts in the BAMcafé, including Taylor McFerrin, Bear in Heaven with Analogue Transit, and Japanther with Ninjasonik. The festival spreads out to such other Brooklyn venues as Union Hall, the Bell House, Pete's Candy Store, Southpaw, Zebulon, Frank's Lounge, Monkey Town, and Le Grand Dakar, where you can catch other up-and-coming bands or longtime favorites. Below are only some of the highlights of this promising festival.
Friday, February 6 Taylor McFerrin & Friends, BAMcafé, free, 10:00
Friday, February 6
and
Saturday, February 7 Beirut with Kaki King, BAM Howard Gilman Opera House, $20-$25, 8:00
Saturday, February 7 Guy Davis Trio: Stories and Songs of the Blues, BAM Howard Gilman Opera House, $15, 2:00
Saturday, February 7 Bear in Heaven, Analogue Transit, BAMcafé, free, 10:00
Thursday, February 12 Tally Hall, Wheat, and Seth Kallen, Union Hall, $10, 7:30
Thursday, February 12 Tracy Bonham, the Loom, and Smokey's Roundup, the Bell House, $10-$12, 7:30
Thursday, February 12 Action Painters, Mussels, Aa, Fiasco, and DJ Magic Eye, Southpaw, $10, 8:00
Friday, February 13 Clap Your Hands Say Yeah with Chairlift, BAM Howard Gilman Opera House, $20-$25, 8:00
Friday, February 13 The Randy Bandits, the Isles, the Bell House, 8:00
Friday, February 13 The Canon Logic, Motel Motel, Holly Miranda, and Ro Agents, Southpaw, $10, 9:00
Friday, February 13 The Last Town Chorus, Mattison, Pete's Candy Store, free, 9:00
Friday, February 13 Injoy DJ Dance Party, BAMcafé, free, 10:00
Saturday, February 14 Mia Riddle & Her Band, Frances, Union Hall, $10, 8:00
Saturday, February 14 KaiserCartel, a Locomotive, Pete's Candy Store, free, 9:00
Saturday, February 14 Japanther, Ninjasonik, BAMcafé, free, 10:00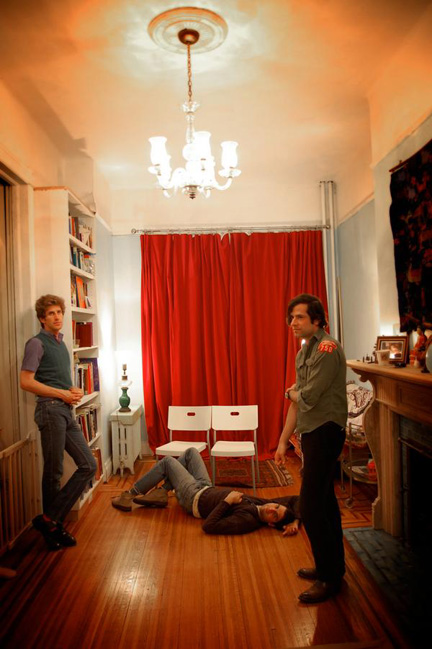 Peter Quinn
Thank You teams up with Mi Ami for two area shows
THANK YOU / MI AMI
Wednesday, February 11, Cake Shop, 152 Ludlow St. between Stanton & Rivington Sts., 212-253-0036, $6, 8:00
Thursday, February 12, Monster Island Basement, 128 River St. at Metropolitan Ave., $7, 9:30
http://www.myspace.com/wethankyou

Baltimore's Thank You comes back to Brooklyn behind their highly praised sophomore disc, TERRIBLE TWO (Thrill Jockey, June 2008), which consists of five tracks totaling about thirty-six minutes, each one turning and twisting in and out of itself, creating appealing and intriguing sonic landscapes. Ranging in length from 4:51 ("Embryo Imbroglio") to 9:15 (the title track), the songs give a new take on electronica punk, with no straightforward lyrics in favor of background groans, drones, cries, and whispers, driven by drums, organ, and guitar, featuring Jeffrey McGrath, Michael Bouyoucas, and Elke Wardlaw (Wardlaw has since left the band; Emmanuel Nicolaidis is now playing drums on the road). They'll be at Cake Shop on the Lower East Side with Miracles on February 11, then hop across the river for a show the next night at Monster Island Basement in Brooklyn. Also at both shows will be San Francisco's Mi Ami, an excellent complement to Thank You. Touring behind the upcoming release WATERSPORTS (Quarterstick, February 17), guitarist Daniel Martin McCormick, bassist Jacob Long, and drummer Damon Palermo play groovy, frantic electronic techno-disco, from the eight-and-a-half-minute sonic shriek-out "Echonoecho" to the bursting, subatomic nightmare of "Pressure" to the furious pounding of "Peacetalks / Downer." Things slow down somewhat during the nine ominous minutes of "White Wife," but they never let up. Mi Ami rails against the pervasive fear that lies at the heart of America's psyche, offering a much-needed scream of release.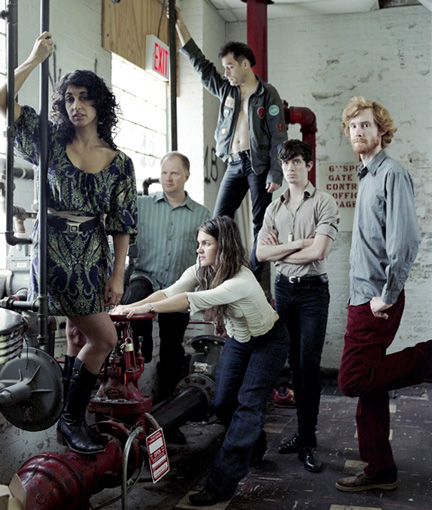 Golem celebrates CD release with party in Williamsburg
GOLEM / SWAY MACHINERY
Music Hall of Williamsburg
66 North Sixth St.
Thursday, February 12, $10-$12
212-260-4700
http://www.musichallofwilliamsburg.com
The title of "New York City's Best Klezmer Band" is surely a subjective one, but Golem, the Brooklyn-based six-piece headlining the Music Hall of Williamsburg on February 12, can certainly be considered among the most fun to catch live. Onstage, Golem is a true collaborative effort. Frontman Aaron Diskin and lead singer and accordionist Annette Ezekiel Kogan share a dynamic presence, whether singing laments to the shtetls of the old Pale of Settlement, kvetching about "Tucheses and Nenes," or wrestling with love gone wrong. The collective personnel brings a boatload of influences into the mix — fiddler extraordinaire Alicia Jo Rabins moonlights with the Hoppin' John String Band, and other members are fluent in jazz, folk and Latin music. The Golem experience is a celebratory and festive one — an explosion of traditional Eastern European Yiddish music shot through with Gypsy beats and contemporary subject matter. It's music to move by; in fact, a Golem performance might do well to carry a warning label: "Caution: This Music Known to Alleviate Tsuris and Cure Shpilkes." This Brooklyn show is a home-turf CD-release party for their brand-new collection, CITIZEN BORIS (JDub, February 10, 2009).
Touring in support of its latest release, HIDDEN MELODIES REVEALED (JDub, digital January 2009, audio disc April 2009), the evening's opening act, the Sway Machinery, can probably best be described as: What happens when a gifted young musician who came of age playing guitar with itinerant bluesmen on subway platforms decides to get in touch with his roots as the descendant of famous cantors from the Jewish religious tradition, proceeds to gather a bunch of nattily attired co-conspirators, and engages in musical free association by way of frenzied liturgical exploration and exposition. (Whew!) Here, the mensch in question, Jeremiah Lockwood, draws equally from observing the storytelling tradition of his mentor, Carolina Slim, and listening to the Hebrew prayers sung by the ancient chazzans. In person, Lockwood commands the stage with his charismatic recitations and inspired playing. And it's riveting stuff. The Sway Machinery sound touches on Afrobeat, Free Jazz, Middle Eastern scales, the sounds of Malian griots, gospel shouters, and soul whisperers. It shares a common vibe with the "fire music" of Sun Ra, Pharoah Sanders, Sonny Simmons, and Prince Lasha. In concert, the Sway Machinery is that rare outfit that somehow splits the difference between Midrash and the Art Ensemble of Chicago. The band itself drives home the point inventively, with members of Antibalas featured prominently on trumpet and woodwinds. Bass saxophone and occasional fiddle round out the sound, with the drummer for the Yeah Yeah Yeahs holding and pushing forward the beat in ever-expanding permutations. Lockwood has described the project as an extension of the cantorial canon. Seeing the band perform, though, it goes beyond that. He has put something together here that is both a unique experience and a musical revelation.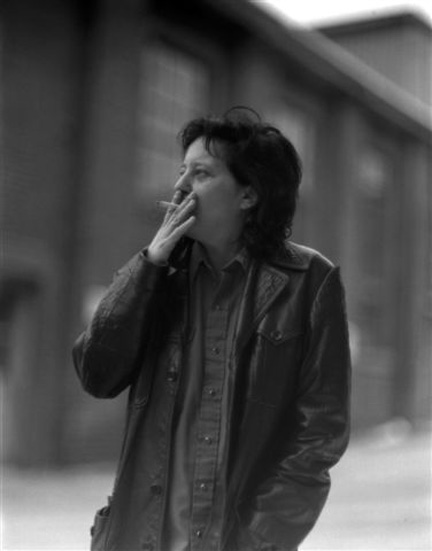 Damon Vrettos
Thalia Zedek will hold nothing back at the Bowery Ballroom
THALIA ZEDEK
Bowery Ballroom
6 Delancey St. at Bowery
Friday, February 13, $13-$15
212-533-2111
http://www.myspace.com/thaliazedek

Boston-based singer and guitarist Thalia Zedek, who previously was part of such bands as Dangerous Birds, Live Skull, and Come before branching out on her own a decade ago, is currently on tour in support of her latest album, the brash, brawling LIARS AND PRAYERS (Thrill Jockey, April 2008). A former heroine addict who evokes the sounds of Marianne Faithfull, Patti Smith, P. J. Harvey, and Kim Gordon, Zedek holds nothing back as she examines the wreckage left behind by eight years of the Bush administration. "Does the fear make you stay inside?" she asks on "lower allston." A searing guitar solo drives the eight-minute epic "Next Exit," in which Zedek declares in her raspy, worn voice, "There is now way out but out." She has expanded the size of her band, adding David Curry on viola and Mel Lederman on piano to her regular rhythm section of Winston Braman on bass and Daniel Coughlin on drums, resulting in a richer, more emotional landscape, particularly on such songs as "We Don't Go," which features a beautifully haunting piano line, and "Body Memory," which includes a long, stirring instrumental break. Zedek will be at the Bowery Ballroom on February 13, on a bill with Deer Tick and the Weight.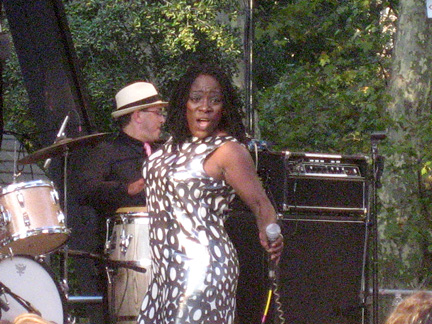 twi-ny/mdr
Sharon Jones gets funky at SummerStage in 2008
SHARON JONES & THE DAP-KINGS
Nokia Theatre
1515 Broadway at West 44th St.
Tickets: $35
212-930-1950

Fifty-two-year-old Georgia native and Brooklyn resident Sharon Jones packs a punch that has been making a dramatic impact on the New York music scene over the past few years. From small outdoor shows in Madison Square Park to headlining gigs at the Apollo and now the Nokia, Jones puts on energetic R&B shows that leave audiences thoroughly amazed — and emotionally and physically exhausted. Jones gets down and dirty with such songs as "How Do I Let a Good Man Down," "Genuine," "100 Days, 100 Nights," and "My Man Is a Mean Man," prancing across the stage with fierce determination and an infectious bravado, picking out people to dance with, and spreading the word of the blues. On February 13, she'll be playing with labelmates Menahan Street Band, who were not overly impressive when we saw them opening for Jones at SummerStage last year. The next night starts with the great Naomi Shelton and the Gospel Queens, who got the crowd grooving on the blues at that same Central Park show.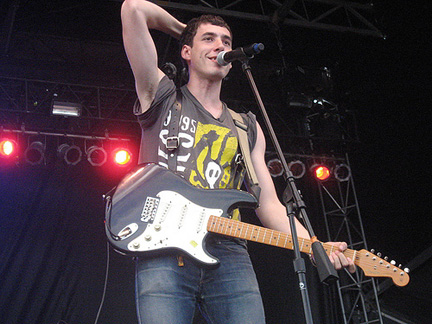 twi-ny/mdr
The Virgins will head indoors in Williamsburg
THE VIRGINS
Music Hall of Williamsburg
66 North Sixth St.
Saturday, February 14, $16-$18
212-260-4700
http://www.musichallofwilliamsburg.com
http://www.myspace.com/thevirginsnyc
Local heroes the Virgins, who scored a coup last year by having a bunch of songs on an episode of GOSSIP GIRL, lit up the All Points West festival this past summer with a solid set of indie pop from their eponymously titled debut album, released by Atlantic in June. Consisting of Donald Cumming, Wade Oates, Nick Zarin-Ackerman, Erik Ratensperger, and Paul Vassallo (Cumming and Oates famously met while modeling for a Ryan McGinley photo shoot), the Virgins will be bringing such tunes as "She's Expensive," "Murder," "Rich Girls," and "Fernando Pando" to the Music Hall of Williamsburg, where they'll be playing with Mike Bones and DJ Awesome Goodtimes.
Riff's Rants & Raves: Art & Literature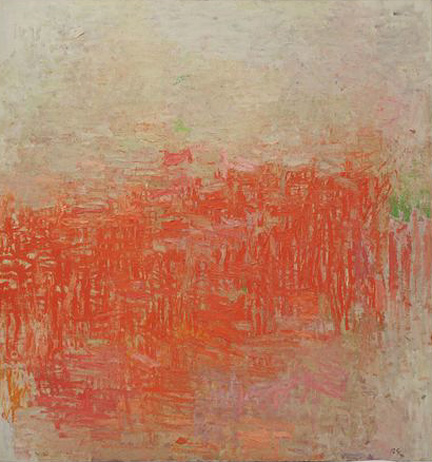 © Museum of Modern Art, SCALA / Art Resource
Philip Guston, "Painting," oil on canvas, 1956
PHILIP GUSTON: 1954-1958
L&M Arts
45 East 78th St. between Park & Madison Aves.
Tuesday — Saturday 10:00 am — 5:30 pm through February 28
Admission: free
212-861-0020

Last summer, the Morgan Library featured an exhibit of works on paper by Montreal-born artist Philip Guston, documenting his shifts from abstract imagery to figuration, angering many of his friends and colleagues. This small but revelatory show at L&M Arts, comprising just eight paintings, emanates from that very time period when Guston was in the midst of that change, 1954-58. Each of the paintings features a central conglomeration of harsh brushstrokes and color, surrounded by a still grayness or bits of raw canvas. Guston's palette consists primarily of red and black, with patches of green, gray, blue, orange, and yellow adding dimension. While "Prague" is more muted, evoking the look and feel of the Czech city, "Processional" is freer and brighter, bringing to mind a clown parade. The densest work is "To Fellini," a montage homage to Italian auteur Federico Fellini. Animals appear to pop out of "The Mirror," as well as a slab of meat that recalls Francis Bacon. The centerpiece of the exhibit is the simply titled "Painting," a canvas of gorgeous reds with splashes of orange, yellow, and green, featuring thick brushstrokes that culminate in an abstract landscape of dazzling vibrancy and beauty.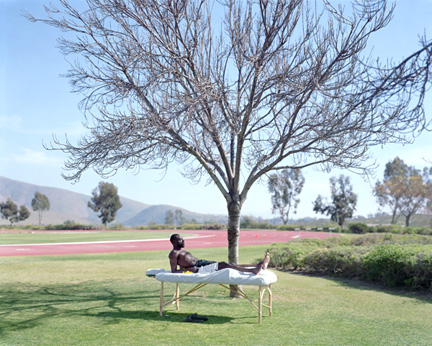 © Alec Soth
Alec Soth, "Chula Vista, California," archival pigment print, 2008
ALEC SOTH: THE LAST DAYS OF W.
Gagosian Gallery
980 Madison Ave.
Tuesday — Saturday 10:00 am — 6:00 pm through March 7
Admission: free
212-744-2313

"My pictures don't have a specific social commentary, but I think they have social and political meaning," Minneapolis native Alec South says of his latest exhibit, "The Last Days of W.," at the uptown Madison Ave. Gagosian Gallery through March 7. Comprising more than forty photographs taken during the tenure of President George W. Bush, the show depicts what life was like for many Americans during the last eight years, but Soth did not initially seek to attack the administration. It was when he was looking at the period of his work as a whole that he realized the thematic element. Photos of dilapidated stariways, a soldier making a peanut butter and jelly sandwich, a movie theater turned into a "Payday Loans" business, a tent city in California, a young woman in cowboy boots and hat cradling a life-size skeleton, a biblical painting overlooking a Ping-Pong table in a church, and birds flocking over an Alaskan garbage dump help capture the mood of America between 2000 and 2008. Also on display across the Gagosian's several floors is a small room of work by Alexander Calder, three galleries of Ektacolor photographs by Richard Prince, and more than forty multiples by Andy Warhol that make up "Warhol from the Sonnabend Collection," including the lovely "Flowers" silkscreens and the iconic "Colored Campbell's Soup Cans." And on February 12, "Marble" opens, featuring sculptures by an all-star lineup (Louise Bourgeois, Carl Andre, Jenny Holzer, René Magritte, Isamu Noguchi, Alberto Giacometti, Constantin Brancusi, David Smith, Hans Arp, Augsute Rodin, and others).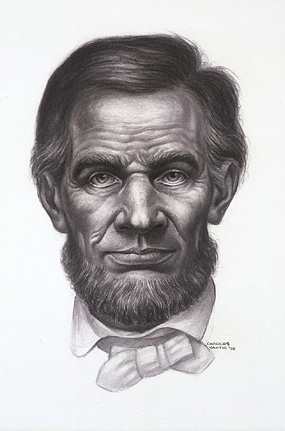 Art Speigelman by Nadja Spiegelman
Charles White, "Abraham Lincoln," Wolff crayon
and charcoal on paperboard, 1952
CHARLES WHITE: LET THE LIGHT ENTER — MAJOR DRAWINGS, 1942-1969
Michael Rosenfeld Gallery
24 West 57th St. between Fifth & Sixth Aves., seventh floor
Through March 7 (closed Sundays & Mondays)
Admission: free
212-247-0082
http://www.michaelrosenfeldart.com

"Paint is the only weapon I have with which to fight what I resent," Charles White (1918-79) once said. "If I could write, I would write about it. If I could talk, I would talk about it. Since I paint, I must paint about it." White started painting as a child in Chicago, and was heavily influenced by trips to Mississippi, where his mother's family lived. In honor of Black History Month and as a tribute to the thirtieth anniversary of his death, the Michael Rosenfeld Gallery is displaying ten of his most stunning works that innately capture the black experience in America. Along with sharp, powerful portraits of Sojourner Truth, Frederick Douglass, and Abraham Lincoln are private, intimate scenes of a woman looking at newspapers spread out in front of her ("Awaken from the Unknowing") and a pair of scared kids, one holding a headless doll, peering outside from behind a glassless window ("Two Children"). A member of the WPA, White infused all his work with social and political meaning, including the two drawings of Juba in this show, a vertical charcoal and ink piece that depicts her stretching her long body, her hands clasped behind her head, and a horizontal crayon and oil wash that focuses on her long hair wrapped up in cloth. Her eyes are closed in the latter, and barely open in the former, as if she is choosing to see the world in her own way and not how it actually is, refusing to submit to its unfair cruelty. Also on view at Michael Rosenfeld is "Norman Lewis: Abstract Expressionist Drawings, 1945-1978," consisting of sixteen works by the African American artist and New York City native who, like White, also passed away in 1979.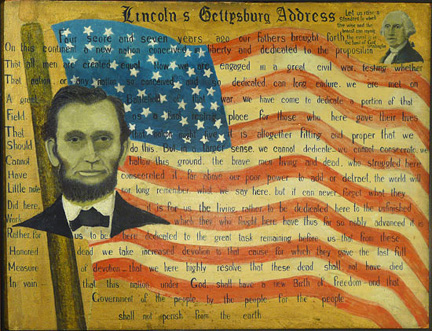 Courtesy Galerie St. Etienne / Arkus 81
John Kane, "Lincoln's Gettsyburg Address (Small Version)," oil on canvas
"THEY TAUGHT THEMSELVES": AMERICAN SELF-TAUGHT PAINTERS BETWEEN THE WORLD WARS
Galerie St. Etienne
24 West 57th St. between Fifth & Sixth Aves., eighth floor
Tuesday — Saturday through March 14
Admission: free
212-245-6734
"They Taught Themselves" highlights the work of fifteen of the artists discussed in Sidney Janis's pivotal 1942 book, THEY TAUGHT THEMSELVES: AMERICAN PRIMITIVE PAINTERS OF THE 20th CENTURY. The display of more than fifty paintings focuses on the period between WWI and WWII, when outsider art began to flourish. Comprising oil paintings from private collections, the Met, the Whitney, MoMA, Carroll Janis, and the gallery's own holdings, the exhibit features canvases by seminal outsider artists Morris Hirshfield and Grandma Moses as well as Lawrence Lebduska, and Henry Church. Among the highlights are Horace Pippin's "Sunday Morning Breakfast," Joseph Pickett's "Lehigh Canal, Sunset, New Hope, PA," William Doriani's "Rehearsal," and ten works by John Kane, including three lovely green landscapes and the cityscape "From My Studio Window."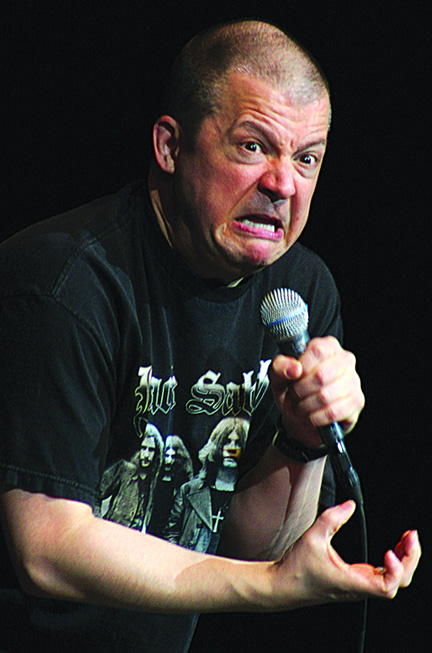 Jim Norton shares the hate in new book
JIM NORTON
Carolines on Broadway
1626 Broadway at 50th St.
February 5-8
Tickets: $32.75, reservations required
212-757-4100
http://www.myspace.com/jimnorton
In July 2007, comedian Jim Norton released his first book, the New York Times bestseller HAPPY ENDINGS: THE TALES OF A MEATY-BREASTED ZILCH, which contained raunchy stories that focused on his mess of a personal life and penchant for booze, hookers, and going number two. The former regular on TOUGH CROWD WITH COLIN QUINN and HBO's much-lamented LUCKY LOUIE has been part of Opie and Anthony's satellite radio crew for the last few years, during which time he also made the outrageously funny HBO comedy show MONSTER RAIN. Although Norton is usually hysterical no matter the venue, his second book, I HATE YOUR GUTS (Simon Spotlight, November 2008, $24.95), turns out to be a boring, repetitive collection of vicious diatribes tearing new ones for such celebrity figures as Al Sharpton, Keith Olbmermann, Heather Mills, Al Roker, Dr. Phil, Starbucks employees, Hillary Clinton, and Jesse Jackson, not exactly an unusual cast of controversial characters. He spends way too many pages on these people, especially if they were in favor of Don Imus's dismissal after his comments about the Rutgers women's basketball team. Norton is at his best when he is talking about his own life, not others'; stories detailing his childhood experiences in Little League and encountering crime and racism in his hometown of North Brunswick, New Jersey, are much more successful, but they are few and far between in this nasty, mean-spirited, and self-indulgent tome. In the book's conclusion, he refers to it all as "bile" and "emotional vomit"; we couldn't have said it better ourselves. Norton will be playing six shows at Carolines, hopefully featuring very little material from I HATE YOUR GUTS. When he's on, he's really on; if you haven't seen MONSTER RAIN, you need to check it out, and fast.


All contents copyright 2009 by Mark Rifkin and twi-ny. All rights reserved. Contents may not be reprinted without written permission. Please note that events, dates, and prices are subject to change.
Send all comments, suggestions, reviews, and questions to mark.rifkin@twi-ny.com.
Please note that some e-mail clients may wrap links, so be sure to enter them fully into your browser.
To subscribe to this list, please e-mail the administrator at admin@twi-ny.com with the word Subscribe in the Subject line; be sure to ask for back issues, which are free as well. To unsubscribe from this list, please think it over twice before e-mailing the same address. Please let us know what you didn't like about this forum and we'll do our best to correct it in the future — if we agree with you. If you would like to see something covered in a future issue, please let us know. Without you, there is no need for us to exist.

twi-ny top two dozen (or so)
weekly reminders & special events
BUGLISI DANCE THEATRE
Joyce Theater
175 Eighth Ave. at 19th St.
Tickets: $19-$49
212-645-2904
Tuesday, February 3
through
Sunday, February 8 Buglisi Dance Theatre celebrates its fifteenth anniversary celebration featuring two programs: the world premiere of WILD MANNEQUINS & WING WALKERS with live music, SUSPENDED WOMEN, and FRIDA; and the world premiere of INTERPLAY NO. 9 1/2 with live music and THRESHOLD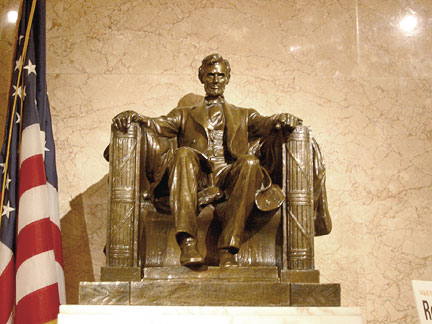 twi-ny/mdr
Abe Lincoln sits proud in the Lincoln Building
AN EVENING OF CHANTING WITH KRISHNA DAS
The Town Hall
123 West 43rd St. between Sixth Ave. & Broadway
Tickets: $36
212-608-0555
http://www.the-townhall-nyc.org
Wednesday, February 4 Indian singer Krishna Das brings the kirtans down at special performance, 8:00
JOHN JESURUN: FIREFALL
Dance Theater Workshop
219 West 19th St. between Seventh & Eighth Aves.
Tickets: $26
212-924-0077
http://www.dancetheaterworkshop.org
Wednesday, February 4
through
Saturday, February 7 New York-based John Jesurun presents the world premiere of the multimedia FIREFALL, featuring Alex Anfanger, Rachel Bell, Claire Buckingham, Ben Forster, Kyle Griffiths, Stephanie Austin Green, Ray Roy, and Chris Wendelken, with lighting by Jeff Nash and technical design by Ray Roy (the February 4 performance will be followed by a talk with Juliette Mapp), 7:30
RED BULL SNOWSCRAPERS
East River Park
South of Grand St. and east of the FDR Drive
Admission: free
http://www.redbullsnowboarding.com
Thursday, February 5 Urban jumping competition featuring sixteen snowboarders, including Shaun White, Pat Moore, and Travis Rice, with a live performance by Anthrax, 3:00 — 9:00
Saturday, February 7 Winter Jam NYC, featuring a seventy-foot-long show flume, professional snowboarding competition, cross-country-skiing, ice-wall climbing, live performances by Apollo Run, Jenda White, and Dujeous, and more, 11:00 am — 4:00 pm
GO RED
1OAK
453 West 17th St. at Tenth Ave.
Donation: $30 in advance, $40 at the door
212-878-5914
Thursday, February 5 In honor of American Heart Month, partygoers are encouraged to raise a glass of red to raise awareness of heart disease and stroke, with cash bar and DJ, sponsored by the American Heart Association Young Professionals, 6:00 — 9:00

FIVE DAYS IN MARCH
Japan Society
333 East 47th St. between First and Second Aves.
Tickets: $35
212-715-1258
Thursday, February 5
through
Saturday, February 7 The chelfitsch Theater Company presents the U.S. debut tour of new play written and directed by Toshiki Okada, set just before the U.S. invasion of Iraq
MONTAUK
37 Arts — Baryshnikov Arts Center
Howard Gilman Performance Space
450 West 37th St., fourth floor, at Tenth Ave.
Tickets: $15-$20
http://www.baryshnikovdancefoundation.org
http://www.lizgerringdance.org
Thursday, February 5
through
Sunday, February 8 Featuring Elizabeth DeMent, Tony Neidenbach, Jessica Weiss, and Liz Gerring in a new piece choreographed by Gerring, with music by Seth Nehil, set design by Vittoria Chierici, lighting by Carolyn Wong, and costumes by Deanna Berg
NY SEPHARDIC JEWISH FILM FESTIVAL
Center for Jewish History (CJH)
Forchheimer Auditorium
15 West 16th St. between Fifth & Sixth Aves.
917-606-8200
JCC in Manhattan (JCC)
334 Amsterdam Ave. at 76th St.
646-505-5708
Tickets: $11, Festival Pass $95, opening night $35, closing night $25
http://www.americansephardifederation.org
Thursday, February 5
through
Thursday, February 12 Thirteenth annual festival includes fifteen films dealing with Israel and the Jewish diaspora, from Israel, France, Spain, Peru, Morocco, Tunisia, the Netherlands, India, and the U.S.
THE TOURNÉES FILM FESTIVAL
Yeshiva University
Schottenstein Theater, 560 West 185th St. between St. Nicholas & Amsterdam Aves.
Furst Hall, 500 West 185th St. near Amsterdam Ave.
Yagoda Commons, at 215 Lexington Ave. at 33rd St.
Suggested donation: $2 donation
All films start at 8:00
Presented annually by the French American Cultural Exchange, the Tournées Festival is held at colleges and universities all over the country, bringing the best of contemporary French cinema. This year will be its first at Yeshiva University, which will screen seven recent French films, including one double feature, at all three of its campuses — two on West 185th St. and the third in Murray Hill. The films, featuring such stars as Isabelle Huppert and such directors as Barbet Schroeder, Claude Chabrol, and Chris Marker, investigate the theme of "Identity at the Margins: Power, Justice, Change" through works of fiction, nonfiction, and animation.
Thursday, February 5 PERSEPOLIS (Marjane Satrapi & Vincent Paronnaud, 2007), Wilf Campus, Schottenstein Theater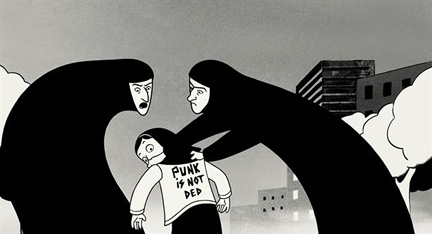 Animated hit kicks off Tournées Festival uptown
PERSEPOLIS (Marjane Satrapi & Vincent Paronnaud, 2007)
http://www.sonypictures.com/classics/persepolis

France's official selection for the 2007 Academy Awards, PERSEPOLIS brings to animated life Marjane Satrapi's stunning graphic novels. Codirected by Satrapi and comic-book artist Vincent Paronnaud, PERSEPOLIS tells Satrapi's harrowing life story as she comes of age during the Islamic Revolution in Iran in the late 1970s and early 1980s. Raised in a well-off activist family, she fights against many of the country's crippling mores and laws, particularly those that treat women as second-class citizens, trapping them in their veils, denying them any kind of individual freedom. But the progressive Satrapi (voiced first by Gabrielle Lopes, then Chiara Mastroianni) continually gets into trouble as she speaks her mind, experiments with sex, and refuses to play by her country's repressive rules. Satrapi and Paronnaud do an outstanding job of adapting the books' black-and-white panels for the big screen, maintaining her unique style and emotional breadth. The first part of the film is excellent as the precocious teenager who talks to God learns about life in some very harsh ways. Unfortunately, the second half gets bogged down in Satrapi's failures as an adult, focusing too much on her myriad personal problems and taking away the bigger picture that made the first part so entertaining as well as educational. Still, it's a story worth telling, and well worth seeing. The closing-night selection of the 2007 New York Film Festival, PERSEPOLIS also features the voices of Catherine Deneuve as Marjane's mother, Danielle Darrieux as her grandmother, Simon Akbarian as her father, and François Jerosme as her radical uncle Anouche.
Monday, February 9 L'AVOCAT DE LA TERREUR (TERROR'S ADVOCATE) (Barbet Schroeder, 2007), introduced by Dr. Richard Weisberg, Wilf Campus, Furst Hall 535
Thursday, February 12 L'IVRESSE DU POUVOIR (COMEDY OF POWER) (Claude Chabrol, 2006), Beren Campus, Yagoda Commons
Monday, February 16 LE PLAFOND DE VERRE (GLASS CEILING) (Yamina Benguigui, 2004) and CHATS PERCHÉS (THE CASE OF THE GRINNING CAT) (Chris Marker, 2004), Beren Campus, Yagoda Commons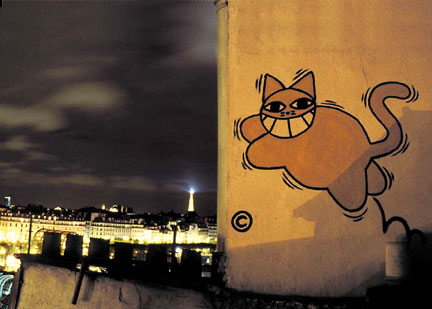 Chris Marker tracks grinning feline in French documentary
THE CASE OF THE GRINNING CAT (Chris Marker, 2004)

Legendary cat lover and filmmaker Chris Marker (LA JETÉE, SANS SOLEIL) goes on a search for a friendly feline in this slight, playful hour-long documentary. In post-9/11 Paris, when much of the world was proclaiming "We are all Americans," Marker discovered a series of stenciled yellow cats showing up in odd places, from the sides of buildings to Internet sites to classical works of art. After disappearing for a short time – causing Marker great frustration – they return as placards and masks at protest movements against U.S. imperialism and other causes. Although the film is fun to watch, it never quite connects all the dots.
Thursday, February 19 10ÈME CHAMBRE — INSTANTS D'AUDIENCE (TENTH DISTRICT COURT — MOMENTS OF TRIAL) (Raymond Depardon, 2004), Wilf Campus, Schottenstein Theater
Monday, February 23 INDIGÈNES (DAYS OF GLORY) (Rachid Bouchareb, 2006), Wilf Campus, Furst Hall 535
KAREN SWENSON / MARIE PONSOT
The Nicholas Roerich Museum
319 West 107th St.
Admission: free
212-864-7752
Friday, February 6 Award-winning poets Karen Swenson, author of such books as LANDLADY IN BANGKOK and AN ATTIC OF IDEALS, and Marie Ponsot, author of such books as THE BIRD CATCHER and TRUE MINDS, will read from their works, 7:00
COMPOSERS' SHOWCASE 2009
Whitney Museum of American Art, lower gallery
945 Madison Ave. at 75th St.
Admission: free with pay-what-you-wish admission
212-570-7715
Friday, February 6 Lukas Ligeti & Kaleidoscope Point, featuring music from Ligeti's latest album, AFRIKAN MACHINERY, with Daniel Blake, Wende K. Blass, Eyal Maoz, and Lorna Krier, 7:00
STRANGE FRUIT
Symphony Space, Peter Jay Sharpe Theatre
2537 Broadway at 95th St.
Tickets: $25-$30
212-349-0330
Friday, February 6 As part of Symphony Space's 1930 Project, Eisa Davis presents a special performance inspired by Billie Holiday's "Strange Fruit" and the civil rights movement, 7:30
A JOHN ZORN WEEKEND
Abrons Arts Center, Henry Street Settlement
466 Grand St. at Pitt St.
Tickets: $25 one night, $40 both nights
212-598-0400
Friday, February 6 Masada Sextet, with John Zorn, Dave Douglas, Greg Cohen, Joey Baron, Uri Caine, and Cyro Baptista, 8:00
Saturday, February 7 The Dreamers / O'o, with Marc Ribot, Jamie Saft, Kenny Wollesen, Trevor Dunn, Joey Baron, Cyro Baptista, and John Zorn, 8:00
WAVERLY MIDNIGHTS
IFC Center
323 Sixth Ave. at West Third St.
Friday & Saturday at midnight
212-924-7771
Friday, February 6
and
Saturday, February 7 JOY DIVISION (Grant Gee, 2008)
ZSAZSALAND
Office Ops
57 Thames St., second floor
Tickets: $15
Friday, February 6, 13, 20
through
Sunday, February 8, 15, 22 A dance theater extravaganza, featuring choreography, concept, and visual design by Jill Sigman, 8:00
COMPOSERS' SHOWCASE 2009
Whitney Museum of American Art
745 Madison Ave. at 75th St.
Free with museum admission
212-570-7715
Friday, February 6 Lukas Ligeti, 7:00
Friday, February 13 Lisa Bielawa: "Chance Encounter" featuring soprano Susan Narucki and the Knights, 7:00
LUNAR NEW YEAR DANCE SAMPLER
Flushing Town Hall
137-35 Northern Blvd.
Admission: free
718-463-7700
http://www.flushingtownhall.org
Saturday, February 7 Featuring dances from Taiwan, China, Korea, Malaysia, Thailand, and Indonesia, 2:00
GET ON THE BLACK LIST: FIRST SATURDAYS
Brooklyn Museum of Art
200 Eastern Parkway
Free after 5:00 (some events require advance free tickets available an hour or two before showtime)
1st fans membership: $20 per year
718-638-5000
Saturday, February 7 Monthly party featuring San Juan Hill's Afro Latin Soul, Aisha Cousins screening and discussing DIVA DUTCH, a dance conversation between Bill T. Jones and Elvis Mitchell, a screening of LACKAWANNA BLUES (George Wolfe, 2005), Pamela Newkirk discussing her book LETTERS FROM BLACK AMERICA, a dance party with DJ Spinna and Rich Medina, and more, 5:30 — 11:00
NEW YORK CITY INTERNATIONAL POLAR WEEKEND
American Museum of Natural History
Kaufmann and Linder Theaters, Grand Gallery
Central Park West & 79th St.
Free with museum admission
212-769-5305
Saturday, February 7
and
Sunday, February 8 Third annual two-day festival celebrating International Polar Year, featuring multimedia examinations of climate change, with film screenings, panel discussions, throat singing, joik performances, science bulletins, a polar fair, and more, 12 noon — 5:00 pm
AFRICAN AMERICANS AND THE MOVIES
City Cinematheque
Time-Warner Cable channel 75
Saturday and Sunday at 9:00 pm through March 13
Repeated the following Friday at midnight through March 3
Discussion follows screening
Saturday, February 7, 9:00
Sunday, February 8, 9:00
and
Friday, February 13, 12 midnight ZOUZOU (Marc Allegrét, 1934)
Saturday, February 14, 9:00
and
Sunday, February 15, 9:00 SWEET LOVE, BITTER (Herbert Danska, 1967)
FLAMENCO FESTIVAL NEW YORK
Multiple venues
212-545-7536
http://www.flamencofestival.org
Saturday, February 7 Arcángel & Dorantes, NOCHE DE SEVILLA, with guest dancer, the Town Hall, 123 West 43rd St. between Sixth Ave. & Broadway, $35-$55, 8:00
Saturday, February 14
and
Sunday, February 15 Isabel Bayón Company, LA PUERTA ABIERTA (THE OPEN DOOR), with guest vocalist Terremoto, NYU Skirball Center, 566 La Guardia Pl. at Washington Square South, $40-$50
Thursday, February 19
and
Friday, February 20 Antonio Gades Company, CARMEN, NY City Center, West 55th St. between Sixth & Seventh Aves., $35-$80
Saturday, February 21
and
Sunday, February 22 Los Farruco, NY City Center, West 55th St. between Sixth & Seventh Aves., $35-$80

MoMA MONDAY NIGHTS
Museum of Modern Art
West 54th St. between Fifth & Sixth Aves.
Admission: $20
212-708-9400
Admission: $20 (first six hundred ticket buyers after 5:30 receive free admission on next visit)
Monday, February 9 MoMA teams up with LVHRD to present another special Monday night event at the museum, during which visitors are encouraged to take pictures of each other cuddling up romantically in front of great works of art, with cash bar, DJ, and more, 5:30 - 8:45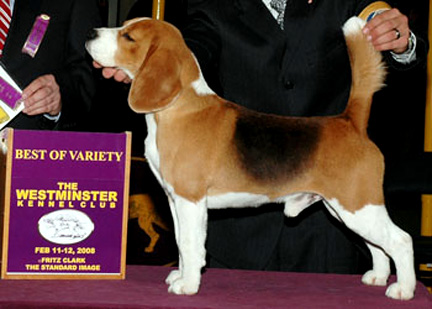 Uno the Beagle was named Best in Show in 2008
THE WESTMINSTER KENNEL CLUB DOG SHOW
Madison Square Garden
Seventh Avenue to Eighth Avenue between 31st & 33rd Sts.
General admission: $40 one day, $75 two days
Reserved seating: $60 one day, $130 all-inclusive
http://www.westminsterkennelclub.org
Monday, February 9
and
Tuesday, February 10 The 133rd annual event in which people run around in funny ways as they lead crazily groomed dogs takes over the Garden for a few days, featuring 165 breeds and varieties of pups
FOREIGN AFFAIRS
Night Hotel
132 West 45th St. between Broadway & Sixth Ave.
Monday nights at 9:00
Admission: $10
http://www.foreignaffairsnyc.com
Monday, February 9 Postmodern underground cabaret extravaganza from Lee Chappell, featuring live music, drag performances, vaudeville, cabaret, burlesque, chanteuses, and more, hosted by David Isengart and Lady Rizo and with special guest Novice Theory, 9:00
Monday, February 16 Postmodern underground cabaret extravaganza from Lee Chappell, featuring live music, drag performances, and more, hosted by David Isengart and Lady Rizo and with special guest Amber Martin, 9:00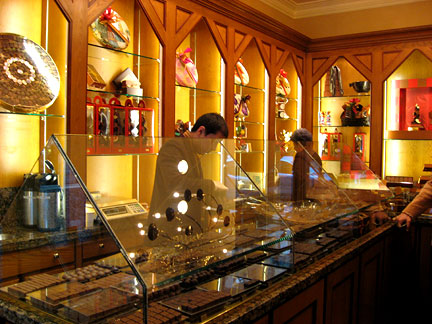 twi-ny/mdr
La Maison Du Chocolat will host free tastings this month
CHOCOLATE & I, NEW YORK
February 9-15
Admission: free - $70
646-897-5181
http://www.chocolateandi-newyork.com
Monday, February 9
through
Sunday, February 15 Special weeklong event featuring free chocolate tastings at La Maison Du Chocolat, MarieBelle, Bond Street, free chocolate and wine tastings at Delluva Spa and Joy's Truffles, chocolate cocktail menus at the bars inside the W hotels, a $40 cocktail and chocolate tasting menu at Apotheke, a $50 wine and chocolate tasting at Vere, a $68 chocolate menu at Icon, and a $70 chocolate tasting and education session at La Maison Du Chocolat's Madison Ave. location, all sponsored by Migration of Senses to promote the health benefits and pure pleasure of chocolate
CASSANDRA WILSON
Blue Note
131 West Third St.
Tickets: table $55, bar $40
212-475-8592
Tuesday, February 10
through
Sunday, February 15 Special Valentine's Day week performances by the great vocalist from Mississippi, featuring romantic standards from her Grammy-nominated 2008 Blue Note disc, LOVERLY, 8:00 & 10:30
JACQUES DOILLON: L'ÉMOTION
French Institute Alliance Française
Florence Gould Hall
22 East 60th St. between Park & Madison Aves.
Tuesdays through March 31
212-355-6100
Tuesday, February 10 CinémaTuesdays: THE LITTLE GANGSTER (LE PETIT CRIMINEL) (Jacques Doillon, 1990), 12:30, 4:00, 7:30
Tuesday, February 17 CinémaTuesdays: PONETTE (Jacques Doillon, 1996), 12:30, 4:00, 7:30
INTERPRETATIONS
Roulette
20 Greene St. between Canal & Grand Sts.
Admission: $15
212-219-8242
http://www.interpretations.info
Thursday, February 12 Larry Austin and Annea Lockwood, new and recent multiphonic works, including world premieres of Austin's "Redux Two" and Lockwood's "In Our Time," 8:00
BLACK FINE ART SHOW
The Mart
7 West 34th St. between Fifth & Sixth Aves.
Admission: $15 (includes catalog), two-day pass $25, children sixteen and under free with adult
212-925-5257
http://www.blackfineartshow.com
Thursday, February 12 Charity Preview, benefiting the Shcomburg Center for Research in Black Culture, $100-$150, 5:00
Friday, February 13
through
Sunday, February 15 More than three dozen galleries from around the world will be exhibiting and selling paintings, sculptures, photographs, drawings, prints, mixed-media works, and more in this thirteenth annual show
Saturday, February 14 Navigating the exciting new world of experiencing and buying art at international art fairs and biennials, 12 noon
Saturday, February 14 How to Responsibly De-Access Your Art Collection, 2:00
Saturday, February 14 The Evolution of Contemporary South African Art, 3:45
Saturday, February 14 How has technology expanded the global economy and the way that galleries, museums, and dealers sell art?, 5:30
THE FILMS OF MATTEO GARRONE
BAMcinématek, BAM Rose Cinemas
30 Lafayette Ave. between Ashland Pl. & St. Felix St.
February 12-17
718-636-4100
BAMcinématek pays tribute to Matteo Garrone's breakthrough film, GOMORRA, by screening all of the Italian director's feature-length works and one short, along with a special sneak preview of GOMORRAH the night before it opens at the IFC Center and Lincoln Plaza.
Thursday, February 12 GOMORRAH (Matteo Garrone, 2008), 7:00
Friday, February 13 FIRST LOVE (PRIMO AMORE) (Matteo Garrone, 2004), 2:00, 4:30, 6:50, 9:15
Saturday, February 14 ROMAN SUMMER (ESTATE ROMANA) (Matteo Garrone, 2000), 3:00
Sunday, February 15 THE EMBALMER (L'IMBALSAMATORE) (Matteo Garrone, 2002), 2:00, 4:30, 6:50, 9:15
Monday, February 16 GUESTS (OSPITI) (Matteo Garrone, 1998) preceded by ORESTE PIPOLO, WEDDING PHOTOGRAPHER (ORESTE PIPOLO, FOTOGRAFO DI MATRIMONI) (Matteo Garrone, 1998), 6:30 & 9:30
Tuesday, February 17 MIDDLE LAND (TERRA DI MEZZO) (Matteo Garrone, 1996), 4:30, 6:50, 9:15
BOOK PARTY: A BENEFIT FOR REGENCY ARTS PRESS LTD.
Sikkema Jenkins & Co.
530 West 22nd St. between Tenth & Eleventh Aves.
Tickets: $100, must be purchased by February 9
917-586-0166
http://www.regencyartspress.org
Friday, February 13 Benefit for Regency Arts Press, with every ticket holder going home with a wrapped, signed art book, including works by Christian Marclay, Ghada Amer, Thomas Demand, Louise Bourgeois, Richard Prince, Andrea Zittel, Richard Serra, Cindy Sherman, Robert Gober, Sophie Calle, Mark Di Suvero, Katy Grannan, John Baldessari, Laurie Simmons, Ellsworth Kelly, Rita Ackerman, Hiroshi Sugimoto, Martha Rosler, Rudolf Stingel, Marilyn Minter, Howard Hodgkin, Louise Lawler, Christopher Wool, and dozens more, 6:30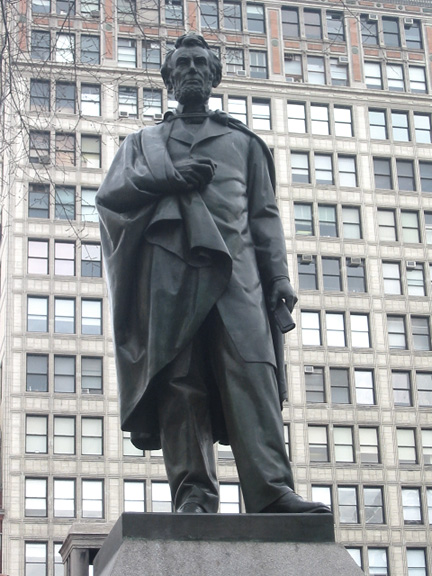 twi-ny/mdr
Honest Abe stands tall in Union Square Park
ABRAHAM LINCOLN'S BIG 2-0-0
Merchant's House Museum
29 East Fourth St. between Lafayette St. and Bowery
Admission: $30
212-777-1089
Friday, February 13 Readings, food, a toast, and more celebrating the two hundredth anniversary of the birth of Abraham Lincoln, period dress encouraged, 6:30
HIGH PLACES / GROUPER
New Museum of Contemporary Art
235 Bowery at Prince St.
Tickets: $15
212-219-1222
Friday, February 13 Brooklyn-based duo High Places and Portland's Grouper play the New Museum theater on Bowery, 7:00
VALENTINE'S DAY DINNER & A MOVIE
BAMcafé / BAM Rose Cinemas
30 Lafayette Ave. between Ashland Pl. & St. Felix St.
718-636-4100
Saturday, February 14 THE AWFUL TRUTH (Leo McCarey, 1937), 6:00 & 8:00
A VALENTINE'S EVENING WITH FREDDIE JACKSON
B.B. King Blues Club & Grill
237 West 42nd St. between Seventh & Eighth Aves.
Tickets: $41.50-$45
212-997-4144
Saturday, February 14 R&B singer performs special Valentine's Day concert, 8:00
ANITA BAKER
Radio City Music Hall
1260 Sixth Ave. at 50th St.
Tickets: $44.50-$129.50
Saturday, February 14 R&B singer performs special Valentine's Day concert, 8:00
CONCIERTO DEL AMOR
Madison Square Garden
31st — 33rd Sts. between Seventh & Eighth Aves.
Tickets: $79.50 - $154.50
Saturday, February 14 Annual show at the Garden, featuring Marc Anthony singing songs of love, 8:00
THE BIG BEAUTY
The Living Room
154 Ludlow St. between Stanton & Rivington Sts.
Admission: $10 (includes CD)
212-533-7235
Saturday, February 14 CD release party for Alan Smerdjian's THE BIG BEAUTY, with Neil Nathan opening up, 8:00
ANNIVERSARY CELEBRATION
Directors Guild Theatre
114 West 57th St. between Sixth & Seventh Aves.
Tickets: $25 (limited amount of $7 tickets available with code TAP7)
Saturday, February 14 Special presentation of TAP (Nick Castle, 1989) on the occasion of the twentieth anniversary of the film, the seventh anniversary of the Tap Legacy Foundation, and what would have been the sixty-third birthday of star Gregory Hines, followed by a Champagne reception, 8:00
VALENTINE'S DAY CONFESSIONAL CULTURE VARIETY SHOW
Housing Works Used Book Café
126 Crosby St. between Houston & Prince Sts.
Admission: $15, VIP $50
212-334-3324
Saturday, February 14 Love letters, mix tapes, diary entries, and other embarrassment are shared at this special Valentine's Day event featuring PostSecret, Found magazine, Mortified, SMITH's Six-Word Memoirs, Cassette from My Ex, and Michael Hearst of One Ring Zero, with audience members encouraged to contribute their own six-word memoir, secret, or story, followed by a party, 8:30
LOS CAMPESINOS! / TITUS ANDRONICUS
Bowery Ballroom
6 Delancey St. at Bowery
Tickets: $13
212-533-2111
Saturday, February 14
and
Sunday, February 15 Los Campesinos! and Titus Andronicus team up for a pair of shows, 9:00
THE FISHEL LECTURE: THE ART OF THE MEMOIR
92nd St. Y, Kaufmann Concert Hall
1395 Lexington Ave. at 92nd St.
Tickets: $27
212-415-5500
Sunday, February 15 Panel discussion with David Carr, Kathryn Harrison, Philip Lopate, and David Henry Sterry, moderated by Leonard Lopate, 7:30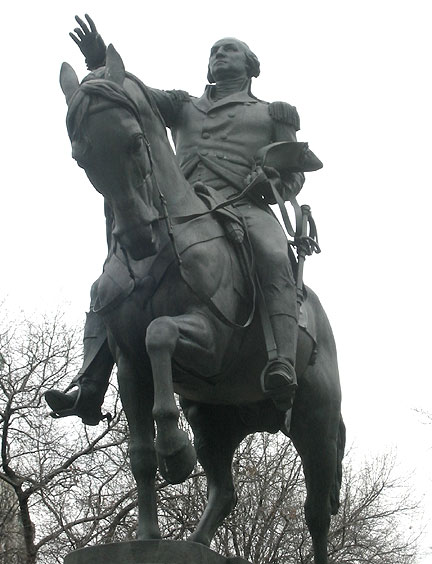 twi-ny/mdr
George Washington looks forward to Presidents Day
POETRY ELECTRIC
La MaMa Experimental Theatre
74A East Fourth St. between Bowery & Second Ave.
Tickets: $8
212-475-7710
Tuesday, February 17 "Who's Krazy?" by Ise Lyfe and Micia Mosely, 8:00
I AM AN AMERICAN:
VIDEO PORTRAITS OF UNSAFE U.S. CITIZENS
The New School, room 510
66 West 12th St. between Fifth & Sixth Aves.
Admission: free but RSVP required at gpiaevents@newschool.edu
212-980-3942
Wednesday, February 18 Screening of documentary I AM AN AMERICAN, which speaks with Americans who were "caught up in the post-9/11 US security crossfire," followed by Q&A with director Cynthia Weber, 6:00
DOWNTOWN THIRD THURSDAYS
7 World Trade Center, 45th floor
Admission: free but advance reservations required
http://www.downtownny.com/third/thursdays
Thursday, February 19 Daniel Libeskind, architect, speaking on the topic "Counterpoint," business casual attire required, 8:00