Twi-ny, This Week in New York
THE DISAPPEARED (LOS DESAPARECIDOS)
El Museo del Barrio
1230 Fifth Ave. at 104th St.
Through June 17
Closed Monday & Tuesday
Suggested admission: $6 (seniors free all day Thursday)
212-831-7272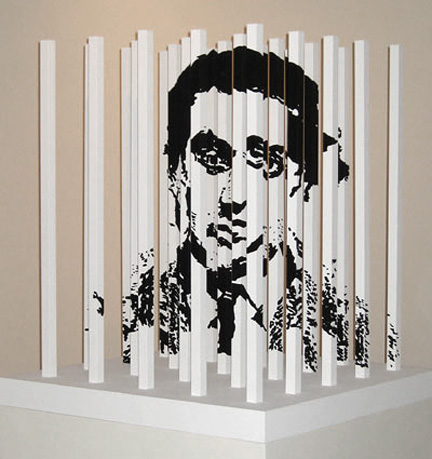 Collection of El Museo del Barrio
Nicolás Guagnini, "30.000," 1999-2005

Since the late 1950s, tens of thousands of men, women, and children have disappeared from South and Central American countries, their whereabouts unknown to this day. Brutal militaristic regimes in Argentina, Brazil, Chile, Colombia, Guatemala, Uruguay, and Venezuela have all participated in this brazen abuse of power. Fourteen contemporary living artists from these countries reveal — in both abstract and very specific ways -- this utter disregard for human civil rights in "The Disappeared" ("Los Desaparecidos"), a powerful multimedia exhibit organized by the North Dakota Museum of Art. Antonio Frasconi's haunting woodcut series "Los Desaparecidos" is reminiscent of Holocaust drawings. Nicolás Guagnini's site-specific "30,000," a smaller version of a monumental piece, spreads a black-and-white photograph of his father, who is missing, across vertical shafts of wood, changing focus as you walk around it. For "Insertions into Ideological Circuits: Coca-Cola Project," Cildo Meireles placed political statements on empty Coke bottles before recycling them; the words could be read only after the bottles were filled and shipped out to stores. Oscar Muñoz's brilliant "Project for a Memorial" consists of five videos of the artist making portraits of the dead by using water on stone; after each is finished, the camera watches as the water evaporates and the victims' faces disappear again. For "Good Memory," Marcelo Brodsky found a 1967 photograph of his eighth-grade class, held a twenty-fifth reunion, and blew up the picture, writing on it which of his fellow students are missing or dead.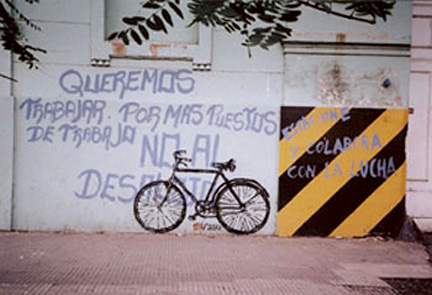 Courtesy of the Artist
Fernando Traverso, detail, "Urban Intervention with Photographs in the City of Rosario," 2001

The most abstract of the works is Luis Camnitzer's "From the Uruguayan Torture Series," comprising thirty-five four-color etchings that combine words and images that evoke strong reactions; in one a glass of water is on a table, joined by the words "He feared thirst," while in another, pins are driven into the artist's fingernails, the sentence "He practiced every day" written in script below. From a distance, Arturo Duclos's untitled piece looks like a sparse Chilean flag, but it is in fact made with human bones. For "Urban Intervention with Photographs in the City of Rosario," Fernando Traverso painted hundreds of bicycles on walls and street corners where people were killed or disappeared, their abandoned bikes the last piece of evidence of their existence. The exhibit ends with the harrowing "Identity," a collaboration of thirteen artists produced with the Abuelas de la Plaza de Mayo in Buenos Aires, grandparents who want to know what has become of their missing children and grandkids. The installation consists of more than one hundred photos of pregnant women, sometimes alongside their husband or boyfriend, with a detail of their kidnapping and the expected age of their child — if it was ever born and is still alive. Next to each is a mirror where visitors can imagine themselves as the missing offspring — or maybe even be that very child. "The Disappeared" is a stunning collection of diverse works that show how art can preserve memory, fight for the truth, and keep hope alive.
Saturdays through
October 13 Destination: El Barrio Free Walking Tours, meet at corner of Fifth Ave. and 104th St., www.eastharlemtourism.org, 3:00
Wednesday, April 18 Books & Authors: James Canon, TALES FROM THE TOWN OF WIDOWS, free but advance registration suggested at public_programs@elmuseo.org, 6:30
Sunday, April 21 Family Art Workshop: Portraiture in Art, for ages seven to eleven, free but advance registration required at dpodhayny@elmuseo.org or 212-660-7144, 11:00 am
Wednesday, May 1 Film & Video: STATE OF FEAR (Pamela Yates, 2005), followed by a Q&A with Ricardo Ramos and the film's producers, free but advance registration suggested at public_programs@elmuseo.org, 6:30 and 8:30
Sunday, May 19 Family Art Workshop: Exploring Line, Shape, and Color, for ages seven to eleven, free but advance registration required at dpodhayny@elmuseo.org or 212-660-7144, 11:00 am
Wednesday, May 23 Artists Panel: The Aesthetics of the Absent, presented by Andreas Huyssen, introduced by curator Laurel Reuter, and featuring artists in the exhibition, free but advance registration suggested at public_programs@elmuseo.org, 6:30
In the Neighborhood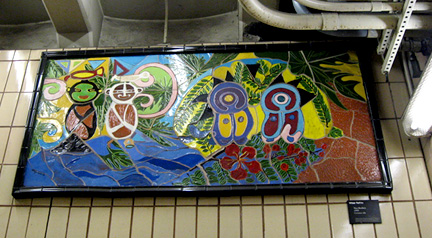 twi-ny/mdr
Nitza Tufiño, "Neo-Borikén," 1990, ceramic tile
NEO-BORIKÉN: NITZA TUFIÑO
103rd St. 6 train
Admission: $2

Ceramicist, painter, and muralist Nitza Tufiño was born in Mexico City, raised in Puerto Rico, and now lives and works in New York. One of the pioneer members of the nonprofit arts organization Taller Boricua / Puerto Rican Workshop, Tufiño pays tribute to her Afro-Caribbean and Mexican roots with "Neo-Borikén," a pair of ceramic-tile murals in the 103rd St. stop on the Lexington Ave. line. Hovering over the stairwell since 1990, one on the uptown side, one on the downtown side, the framed rectangular pieces are alive with movement and color, incorporating natural elements with abstract shapes, happy faces, and unusual animals.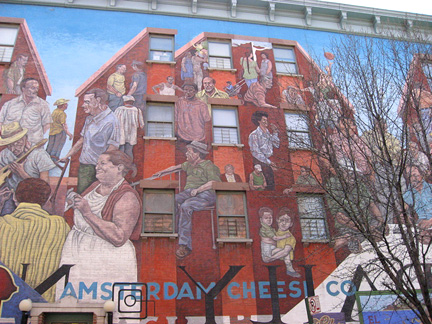 twi-ny/mdr
Hank Prussing and James Vega's "The Spirit of East Harlem" brings a message of Hope
EAST HARLEM STREET ART
Various locations
Admission: free
http://www.eastharlempreservation.org

The walk from the 103rd St. subway stop to El Museo del Barrio is one of our favorites in the city, filled with all kinds of street art, much of it honoring the community itself. On the corner of 104th & Lexington is Hank Prussing's monumental 1978 mural "The Spirit of East Harlem," which was later restored by his former apprentice, Manny Vega. Made in conjunction with Hope Community Inc., the mural depicts dozens of people at work and play — don't miss the domino game -- on the side of the old Amsterdam Cheese building; Prussing cleverly puts some characters in between floors, creating their own windows (actually bricks) for them to look out from. Across the street, on the west side of P.S. 72, artist Marina Gutierrez and architect James F. Cornejo, as part of the CITYarts program, installed "The Helio-Chronometer (Reloj Solar) Sculpture Project," a sundial that combines new and traditional art in "cultural arcs" that seek to "anchor the present to our diverse and collective heritage." James de la Vega painted a long, rectangular mural in the school's asphalt playground, consisting of kids of all colors with such positive sayings as "Become Your Dream" and "Imagine Peace" as well as "I'm trying my best to make a difference, but sometimes it's just hard work trying to be me." De la Vega — who moved his store from East Harlem to the Village a few years ago — also pays tribute to salsa legend Celia Cruz and other community heroes with such murals as "La Reina Celia" and "La Calle de Pedro Pietri," part of the Hope Community series Various Portraits of Latino Cultural Leaders. But these are only a handful of the myriad street art projects that are part of this thriving community.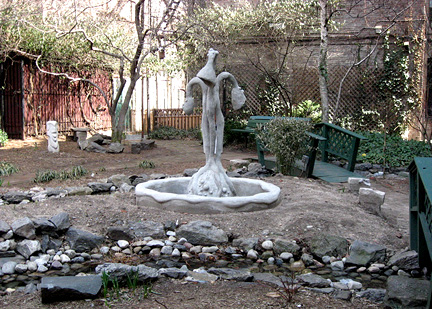 twi-ny/mdr
Community garden prepares to bloom for the summer
MODESTO "TIN" FLORES COMMUNITY GARDEN
104th St. & Lexington Ave.
Admission: free
Modifying its original 1968 mission statement, Hope Community in 2000 announced that it "is a not-for-profit community-based developer of housing committed to building better communities and enriching the lives of the people who live and work within them." One of the many ways the organization has enriched the lives of its East Harlem neighborhood is with the Modesto "Tin" Flores Community Garden, a small but enchanting spot that opened in 1981 near the corner of 104th St. and Lexington Ave. The vest pocket park, which was restored last year by the Council on the Environment of New York City, was named for the late Modesto "Tin" Flores, a community business leader and gardener as well as a zone manager and superintendent for Hope. The garden features a renovated walkway, statuary, benches, a fading wall installation, the American and Puerto Rican flags, and, of course, plenty of flowers, which are just about to bloom. Every June the garden hosts Poetas Con Café, a celebration of the power of the written word, and other live performances will be held there as well.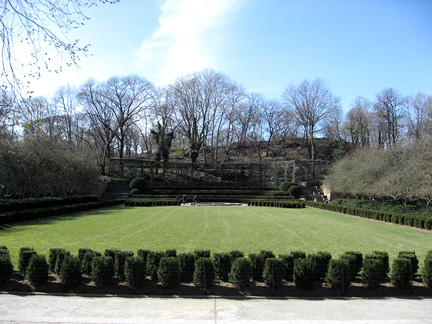 twi-ny/mdr
Conservatory Garden sits on the southern edge of Harlem Meer
CONSERVATORY GARDEN
Fifth Ave. at 105th St.
Open 8:00 am dusk
Admission: free
212-360-2766

This beautiful oasis at the top of Central Park is six acres of sheer magic. Enter through Vanderbilt Gate and survey the grounds, with the Conservatory Garden Fountain right in front of you. Wander aimlessly through the numerous paths lined with trees, plants, bushes, and a crabapple allée. To the far south is the Secret Garden, an English-style garden where you'll find the Burnett Fountain, designed by Bessie Potter Vonnoh and donated to the children of New York by Frances Hodgson Burnett, featuring a statue of Burnett's SECRET GARDEN characters Dickon, kneeling and playing a flute, and Mary, standing and holding a birdbath. Head back toward the center and walk along the wisteria pergola behind the main fountain and look down to see the round plaques dedicated to each of the thirteen colonies. Continue north till you reach the Untermyer Fountain in the French-style garden, where Walter Schott's "Three Dancing Maidens" frolic atop a carved base. Things are just beginning to bloom now — there will be a free "Bloomin' Hike" walking tour led by the Urban Park Rangers on Saturday, April 28, at 11:00 am -- but this is a wonderful respite any time of year.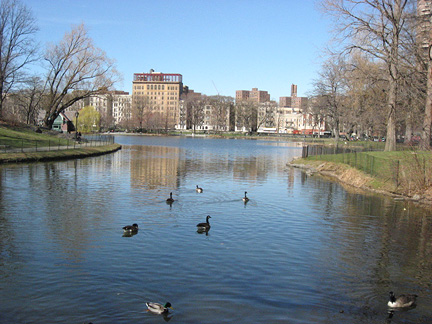 twi-ny/mdr
Charles A. Dana Discovery Center hides in northwest corner of Harlem Meer
CHARLES A. DANA DISCOVERY CENTER
Inside the park at 110th St. between Fifth & Lenox Aves.
Admission: free
212-860-1370
http://www.centralparknyc.org/activities
Sunday, April 15 Family Craft Workshops: Recycled Can Pencil Holder, bring a clean, empty soup or vegetable metal can without sharp edges and turn it into a pencil holder decorated with seeds, 1:00 — 4:00
Saturday, April 21 Bloomin' Hike from Meer to There, walking tour, 11:00 am
Saturday, April 21 A Road Once Traveled, walking tour, 12 noon
Sunday, April 22 Family Craft Workshops: Paper Bead Bracelets, part of Earth Day Celebration, 1:00 — 4:00
Saturday, April 28 Manhattan Adirondacks, walking tour, 9:30 am

EARTH DAY CELEBRATION
Central Park
Admission: free
212-360-1370
http://www.centralparknyc.org/activities
Sunday, April 22 Activities include planting and mulching, BINGO hunt, face painting, arts and crafts, games, demonstrations, walking tour, workshop, and more, Great Hill, enter the park at Central Park West & 103rd St., 12 noon — 4:00
Sunday, April 22 Grand opening of Great Hill Children's Glade, with ribbon-cutting ceremony at 11:00 am and storytelling at 11:30 am, 12:30, 2:00, and 3:00
Sunday, April 22 Music: Brady Rymer and the Little Band that Could, 12:30; Laurie Berkner Band, 1:00; Baby Loves Disco, Great Hill, enter the park at Central Park West & 103rd St., 3:00
Ticket Alert of the Week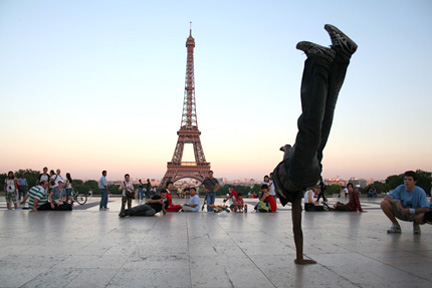 The return of the TFF has people jumping for joy (from PLANET B-BOY)
TRIBECA FILM FESTIVAL 2007
April 25 - May 6
Hudson Pass $1,100; Daytimer Pass $150; Family Film Pass $60 adults, $30 children under fifteen
Individual screening tickets: $14-$25
Tribeca Talks: $25
866-941-3378
http://www.tribecafilmfestival.org
Tribeca Film Festival tickets are now on sale for American Express card members, who get one week of exclusive action before the rest of us can get advance tickets starting April 14. (Downtown residents can buy tickets beginning April 13.) This year's venues once again are scattered throughout Manhattan; in addition to theaters in Tribeca, films will be screened in Kips Bay, the East Village, Chelsea, and around the Penn Station area. More than 150 full-length films and more than 80 shorts are on the massive program, divided into such sections as "World Narrative Competition," "Discovery," "Encounters," "Spotlight," "Midnight," "World Documentary Competition," "Showcase," and "Restored/Rediscovered."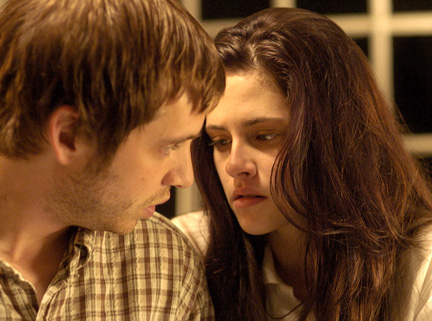 Mary Stuart Masterson's THE CAKE EATERS comes to Tribeca

Among the works we have circled on our calendar are THE AIR I BREATHE (Jieho Lee, 2007), with Forest Whitaker and Sarah Michelle Gellar; Julie Delpy's directorial debut, 2 DAYS IN PARIS; the graffiti doc BOMB IT (Jon Reiss, 2007); THE CAKE EATERS, directed by first-timer Mary Stuart Masterson; DAY ZERO (Bryan Gunnar Cole, 2007), in which the military draft is back; CHARLIE BARTLETT, starring the ubiquitous and always entertaining Robert Downey Jr.; A DIRTY CARNIVAL, Yoo Ha's Korean gangster epic; DIRTY SANCHEZ (Jim Hickey, 2006), the British JACKASS; THE FORTY-FIRST, Grigori Chukhrai's rediscovered 1956 Russian epic; Goran Paskaljevic's five-part illusory work THE OPTIMISTS; Sebastien Gutierrez's sci-fi thriller RISE: BLOOD HUNTER, with Lucy Liu and Michael Chiklis; Paul Soter's quirky WATCHING THE DETECTIVES, also with Liu (and Cillian Murphy); indie fave Jia Zhang-ke's STILL LIFE; and Cyrus Frisch's WHY WOULDN'T ANYBODY TELL ME IT WOULD BECOME THIS BAD IN AFGHANISTAN, which was shot on a cell phone.
This year's Tribeca Talks panel series, which sell out quickly, includes "Bringing Home the Bacon," with writer-director-actors Eva Mendes, Julie Delpy, Julia Stiles, Rosario Dawson, and Mary Stuart Masterson; "No Pain . . . "No Gain" with former Giants running back Tiki Barber; and Lisa Robinson sitting down for an intimate conversation with rapper-actor-producer Ludacris. Stay tuned to twi-ny and "twi-ny at Tribeca" at www.TimesSquare.com for regular updates and movie reviews all during the festival.
Sonic Exhibit of the Week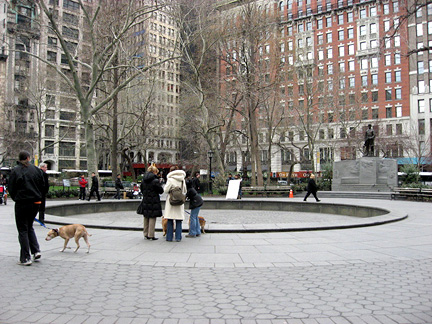 twi-ny/mdr
Sound sculpture beams into Northern Reflecting Pool Plaza
PANORAMIC ECHOES: BILL FONTANA
Madison Square Park
North end of park, 25th St. between Fifth & Madison Aves.
Trough May 1
Admission: free
212-538-9310
http://www.madisonsquarepark.org
Ohio native and San Francisco resident Bill Fontana has created sound sculptures all around the world, including England, France, Spain, Germany, Australia, Japan, and the United States. He has now brought his sonic talents to Madison Square Park, where "Panoramic Echoes" filters the natural sounds of the park and the surrounding area, including birds, traffic, and the long-dormant chimes from the bell tower in the MetLife Building, onto the Northern Reflecting Pool Plaza. (The chimes can be heard every quarter hour.) The sound is beamed in from the rooftops of nearby buildings using SB-1 parabolic speakers. Visit the Madison Square Park Web site to watch an interview with Fontana as he describes the project.
In the Neighborhood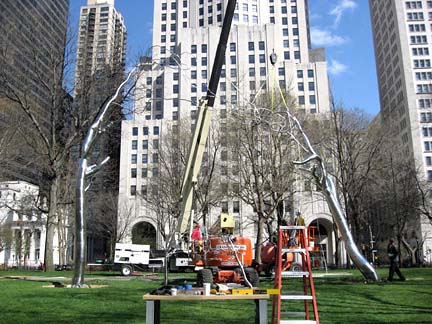 twi-ny/mdr
Stainless-steel trees are growing in Madison Square Park
ROXY PAINE
Madison Square Park
North end of park, 25th St. between Fifth & Madison Aves.
Opens May 15
Admission: free
212-538-9310
http://www.madisonsquarepark.org
New York native Roxy Paine is bringing his stainless-steel tree sculptures to Madison Square Park, much in the spirit of "Bluff," the one he contributed to the 2002 Whitney Biennial in Central Park. Over the next few weeks, the trees will be put together, branch by heavy branch, leading up to a May 15 official opening. In the above photo, look for the model that the larger-size sculpture is based on.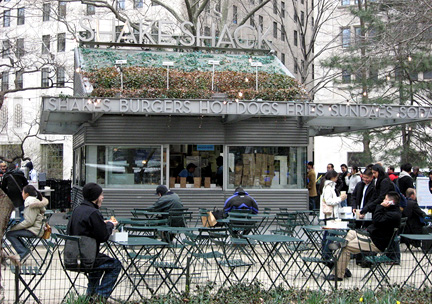 twi-ny/mdr
Be prepared for long lines at Danny Meyer's outdoor stand
THE SHAKE SHACK
Madison Square Park
Southeast corner
Open 11:00 am — 11:00 pm
212-889-6600

Danny Meyer's Shake Shack offers parkgoers Chicago and Taxi dogs, pretty darn good burgers, fries, frozen custard, the Arnold Palmer (a mix of lemonade and iced tea), Shackapalooza sundaes, creamsicles, beer and wine, and more, a great lunch respite in the Flatiron District. The ivy-covered kiosk was designed by James Wines of SITE, incorporating the park's greenery as well as the Flatiron Building, which looms over the southwest corner. Despite the cold weather, people are already lining up to grab a Shack Stack, cheese fries, and a Concrete Jungle and chow down (although there is an express lane for certain menu items — but not, of course, dogs, burgers, concretes, or shakes). In fact, the lines are so long that, last year, controversy surfaced when it was rumored that a businessman paid one of the Shake Shack employees for his cell-phone number so the businessman could call in his order and have it waiting for him. The Union Square Hospitality Group responded by saying that not only is that kind of behavior strictly prohibited, but even Meyer's own family has to wait in line to get their food. Regardless, going to the Shake Shack has become a rite of passage for New Yorkers.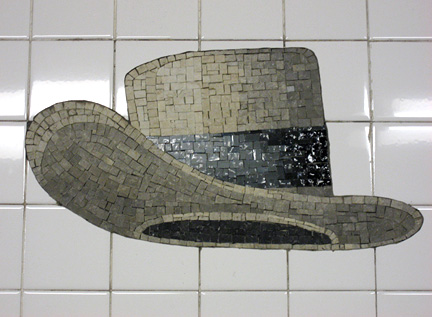 twi-ny/mdr
Master thespian John Barrymore's hat can be found on downtown platform
MEMORIES OF TWENTY-THIRD STREET: KEITH GODARD
23rd St. N/R/W
Admission: $2

Keith Godard's whimsical ceramic-tile series "Memories of Twenty-third Street" consists of dozens of hats from artists, writers, businessmen, socialites, politicians, and more scattered across both sides of the 23rd St. N/R/W line, as if the hats have just flown off their heads, evoking the wind tunnels created around the Flatiron Building, which is right above the station. (Some claim that the origin of the term "23-skiddoo" came from the phrase uttered by cops at men who would hang around the angular Twenty-third St. building and watch the wind blow women's skirts up.) Godard, who runs the graphic design firm StudioWorks, includes colorful ceramic-tile versions of hats by such famous folk (with ties to New York City) as Thomas Edison, Marie Curie, Mark Twain, Winslow Homer, John and Ethel Barrymore, O'Henry, Phineas T. Barnum, Isadora Duncan, Tom Thumb, Gloria Vanderbilt Whitney, Henry James, and Houdini, among dozens of others. The work is also a tribute to Ladies Mile, a stretch of Broadway between Fourteenth and Twenty-third Sts. that, in the late nineteenth century, was where women flocked to shop for the hottest new fashion, including hats. For extra fun, Godard recommends that straphangers stand with their backs against the wall, pretending to be wearing some of the unique chapeaux — or look across the platform and position yourself just right to imagine the subwaygoers going in the other direction wearing the lids of the rich, famous, and influential.
Two-Boro Film Festival of the Week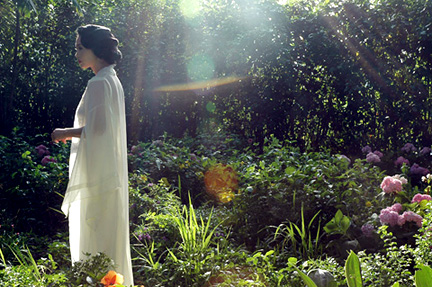 Wisit Sasanatieng's THE UNSEEABLE kicks off Thai film fest
THAI TAKES 3: INDEPENDENT FILM FESTIVAL
Museum of the Moving Image
35th Ave. at 36th St., Astoria
April 13-15
Admission: $10
718-784-4520
Over the past decade, Asian and South Asian cinema has been gaining impact in the States, with films from Japan, Taiwan, Korea, and even Vietnam being justly celebrated. Another burgeoning film industry is coming out of Thailand. The Museum of the Moving Image and the Pioneer Theater are collaborating on Thai Takes 3, a festival of feature-length works and shorts, along with panel discussions and postscreening Q&As, many of which are moderated by Kong Rithdee, film critic for the Bangkok Post and Variety.
Friday, April 13 THE UNSEEABLE (Wisit Sasanatieng, 2006), followed by a discussion with Tana Sarntinoranont, Jerome Austria, and Kong Rithdee, 8:00
Saturday, April 14 INNOCENCE (Areeya Chumsai and Nisa Kongsri, 2006), followed by a discussion with Areeya Chumsai and Nisa Kongsri, 5:00
Saturday, April 14 INVISIBLE WAVES (Pen-Ek Ratanaruang, 2006), introduced by Kong Rithdee and followed by a discussion with Kong Rithdee, 8:00
Sunday, April 15 Coming of Age: HAMBURGER BOY (Siwadol Rathee, 2006), TABLE SPACE (Nisha Jurairattanaporn, 2006), THE STAIN (Sittisak Jiaphotjamarn, 2006), TAKE A MESSAGE (May-Thus Chaichayanon, 2005), SEE (Nawapol Thamrongrattanarit, 2006), and BOON KHUN (Virada Chatikul, 2006), followed by a discussion with Virada Chatikul, moderated by Kong Rithdee, and with a Thai classical music performance, 5:00
Sunday, April 15 THE TIN MINE (Jira Maligool, 2005), followed by a discussion with Jira Maligool, moderated by Kong Rithdee, 8:00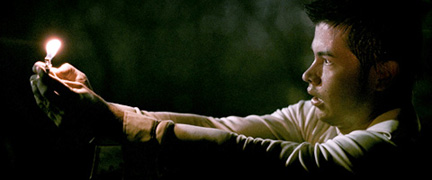 Thai short GRACELAND screens downtown at the Pioneer
THAI TAKES 3: INDEPENDENT FILM FESTIVAL
The Two Boots Pioneer Theater
155 East Third St. at Ave. A
April 21-22
Tickets: $9 unless otherwise noted
212-254-3300
http://www.twoboots.com/pioneer
Saturday, April 21 Pioneers at the Pioneer: Riding the Thai New Wave — THE ANTHEM (Apichatpong Weerasethakul, 2006), THE SIGH (Aditya Assarat, 2006), and KRASOB (Nitipong Thinthupthai, 2006), followed by a panel discussion with Dr. Khun May Adadol Ingawanij, Khun Nitipong Thinthupthai, and others, and a reception, 3:00
Saturday, April 21 INVISIBLE WAVES (Pen-Ek Ratanaruang, 2006), preceded by
GRACELAND (Anocha Suwichakornpong, 2006)), introduced by Dr. Khun May Adadol Ingawanij, 5:30
Saturday, April 21 THE DORM (Songyot Sugmakanan, 2006), preceded by GLUTTONOUS GHOST (Sutat Pavilairunt, 2006), 8:00
Sunday, April 22 Film Shorts / Experimentality: Reconsidering the Everyday — BANGKOK NOISE (Nontawat Numbenchapol, 2006), THE FUNERAL (Uruphong Raksasad, 2006), YOU ARE WHERE I BELONG TO (Thunska Pansittivorakul, 2006), ALL THAT NATURE PROVIDES (Cade Bursell, 2006), ?BEFORE (Samart Suwannarat, 2006), and WAR OF FLUORESCENT (Nontawat Numbenchapol, 2006), 2:30
Sunday, April 22 Film Short & Roundtable Discussion: Thai American Speak-Out, screening of BOONKHUN (Virada Chatikul, 2006), followed by discussion, $5 suggested contribution, 4:30
Sunday, April 22 CITIZEN DOG (Wisit Sasanatieng, 2005), preceded by THE DAYS BEFORE (Phanjanit "Mickey" Garnploog, 2006) and NUAD (Thawatpong Tangsajjapoj, 2006), 6:30

Rockefeller Center Events of the Week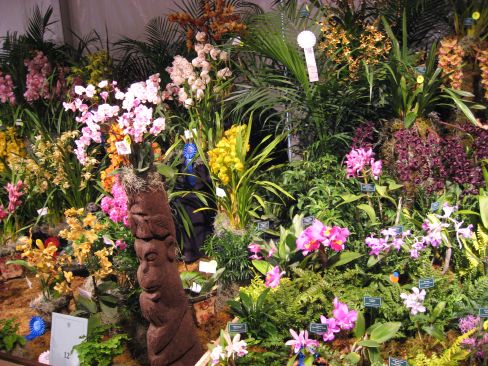 twi-ny/mdr
Orchid show makes annual appearance at Rockefeller Center
GREATER NEW YORK INTERNATIONAL ORCHID SHOW
30 Rockefeller Center, lower level
49th & 50th Sts. between Fifth & Sixth Aves.
April 18-22
Orchid show: Wednesday and Sunday, 12 noon - 5:00; Thursday, 9:00 am — 7:00 pm; Friday and Saturday, 9:00 am — 9:00 m
Sales area: Wednesday, 12 noon - 6:30; Thursday — Saturday, 10:00 am — 8:00 pm; Sunday, 10:00 am — 6:00 pm
Admission: orchid exhibits $5, sales area free
212-332-6553 / 212-632-3975
http://www.rockefellercenter.com
The twenty-seventh annual judged event, which has been packing them in tight in Rockefeller Center the past few years (it was previously held in the World Financial Center prior to September 11, 2001), features more than forty vendors from all over the country as well as Wales and South America, selling between fifty thousand and seventy-five thousand orchids. Admission is free to the sales area, which is downstairs inside Rock Center. In the long white tent outside, some seventy exhibitors from all over the world will be displaying orchids in fab exhibits and displays, including the debut of an orangerie and greenhouses designed by glass-building experts Marston & Langinger. Admission to the tented area is five dollars. Below are only some of the free lectures and workshops being held this year.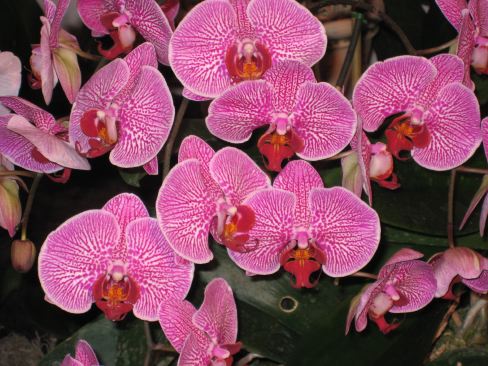 twi-ny/mdr
Award-winning displays are on exhibit through April 22
Thursday, April 19 Orchid Growing on the Windowsill, with Helen Hersh, Mount Prospect Orchids, 3:00
Friday, April 20 The Art of Ikebana with Orchids, with Michiko Nickerson and Beth Herod, 12 noon
Friday, April 20 Tried and True and Tuff Orchids for the Concrete Jungle, with Michael Riley, Ecuagenera, 2:00
Saturday, April 21 Extreme Orchid Growing in Manhattan, with Elena Andrews, Manhattan Orchid Society, 12 noon
Saturday, April 21 Party, Party, Party Table Decorations, with Junko Miruo, 3:00
Sunday, April 22 Orchids You Can Grow in Your Apartment, with David Taft, Greater New York Orchid Society, 12 noon
Sunday, April 22 Yes, You Can Grow Orchids in the Home, with Cathy Sullivan, Deep Cut Orchid Society, 1:00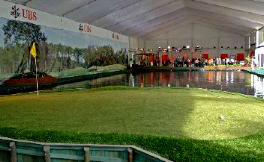 The seventeenth hole at Sawgrass will be re-created
at Rockefeller Center
THE UBS 17th HOLE CHALLENGE:
THE PLAYERS AT ROCKEFELLER CENTER
Rockefeller Plaza
49th & 50th Sts. between Fifth & Sixth Aves.
Admission: free
212-632-3975
http://www.rockefellercenter.com
Thursday, May 3
through
Sunday, May 13 Rockefeller Plaza is transformed into the infamous 137-yard par-3 seventeenth island hole at the TPC Sawgrass (well, actually, about one-fourth of the size), featuring a swing station and a putting green as well as a jumbotron where weekend warriors can watch the Players Championship from Ponte Vedra Beach in Florida

In the Neighborhood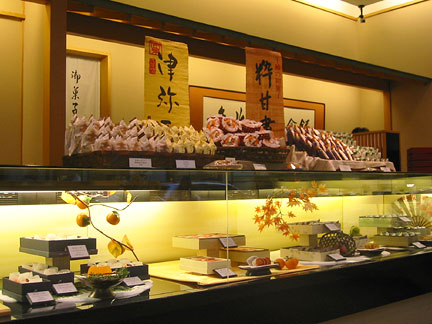 twi-ny/mdr
Minamoto Kitchoan is sweet delight after orchid show
MINAMOTO KITCHOAN
608 Fifth Ave. at 49th St.
212-489-3747

We love wagashi, delicate Japanese delicacies that go oh-so-well with delicate orchids (and even with golf, which requires a delicate touch, especially on the putting green). Not only does each Japanese wagashi pastry, made from myriad combinations of sugar, rice flour, and azuki (bean jelly), represent a different sweet aspect of life, but they are fat free. Minamoto has an outstanding selection, ranging from individual pieces for a few dollars to box sets for sixty dollars or more. Be adventurous; the spring collection includes some terrific concoctions with cherries and cherry blossoms, chestnuts, arrowroot, egg yolks, green tea, and more.
Riff's Rants & Raves
RICHARD SERRA: INSTALLATION OF "INTERSECTION II"
Abby Aldrich Rockefeller Sculpture Garden
twi-ny photo essay: richard serra at the installation
On Saturday, April 14, the Museum of Modern Art blocked off Fifty-fourth St. between Fifth and Sixth Aves. in order to install a monumental work by renowned artist Richard Serra in the Abby Aldrich Rockefeller Sculpture Garden. Part of "Richard Serra Sculpture: Forty Years," a career retrospective opening June 3 that looks back at Serra's influential output — as well as forward with three new works — the four-piece, free-standing "Intersection II" (1992-93), consisting of four nearly identical conical sections of weatherproof steel, was lifted by crane into the Sculpture Garden, where it joined the already-in-place "Torqued Ellipse IV."
More than 13 feet high and nearly 53 feet long and 2 1/8 inches thick, each section was forged in Germany and then shipped to the United States by boat. The pieces were first lined up on Sixth Ave., each on its own flatbed truck, before being carried one at a time into the Sculpture Garden, carefully brought over the wall and slowly dropped into their precisely measured places. The delicate operation, which took almost six hours, was overseen by Serra, who watched closely as the clamps were applied to each 30-ton slab; he then walked in and around the sections, inspecting the installation, T-square in hand, as they reached the marble floor of the Sculpture Garden.
"Sometimes I think I'd like to do it every day of my life," Serra told twi-ny, "and other times I think that as exciting and as anxiety-ridden as it is . . . It's not the kind of job where you can say, 'Look, I want to take a break.' You have to really keep on top of it all the time. Everybody has to keep on top of it all the time."
Log on now to richardserraslideshow for a detailed photo essay on the fascinating process of installing "Intersection II," featuring dozens of candid shots of Serra supervising the complex operation.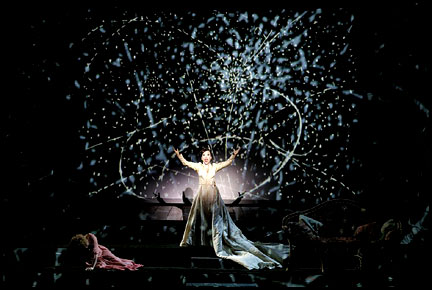 La Monnaie, Brussels © Johan Jacobs
William Kentridge's multimedia THE MAGIC FLUTE comes to BAM
THE MAGIC FLUTE
Brooklyn Academy of Music
BAM Howard Gilman Opera House
30 Lafayette Ave. between Ashland Pl. & St. Felix St.
Through April 14
Tickets: $30-$125
718-636-4100

South African multimedia artist William Kentridge displays his unique vision of the world through charcoal drawings that he films, erases, and draws over, brilliantly illustrating a thrilling, adventurous, and, dare we say, fun version of Mozart's THE MAGIC FLUTE, the composer's final masterwork. Kentridge's staging includes a camera/telescope, a chalkboard, and scrims that reveal mathematical and astronomical equations, dancing musical notes, light and shadow, the moon and the stars, and slithering snakes, flying birds, and hulking rhinos, propelling Kentridge's intentionally black-and-white themes of good versus evil, hero versus villain, and technology and progress versus the old-fashioned and traditional in the Age of Enlightenment. The often breathtaking staging features lighting by Jennifer Tipton, costumes by Steta Goiris (Papagena's second outfit is magnificent), and scenery by Kentridge and Sabine Theunissen. The De Munt / La Monnaie production, conducted by Piers Maxim, ranges from the very good (Sophie Karthäuser as Pamina, Milagros Poblador as Queen of the Night) to the not so good (Mario Alves as Monostatos), with most of the performances falling somewhere in between (Kaiser N'Kosi as Sarastro, Jeremy Ovenden as Tamino, Stephan Loges as Papageno), but this MAGIC FLUTE is not meant for opera aficionados who go crazy evaluating every single note. On April 11 at 6:00, there will be a BAMdialogue with Kentridge in the BAM Rose Cinemas; admission is $8.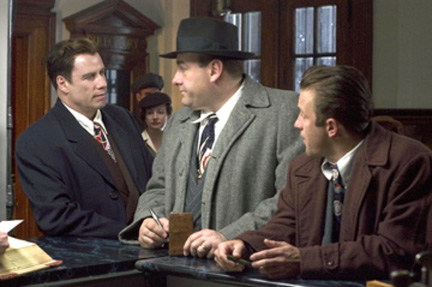 Travolta, Gandolfini, and Caan are on the case of a Lonely Hearts killer duo
LONELY HEARTS (Todd Robinson, 2006)
Opens Friday, April 13
http://www.cstar.com/lonelyhearts

LONELY HEARTS is a gripping police procedural from first-time writer-director Todd Robinson. John Travolta gives a powerful performance as Nassau County Detective Elmer C. Robinson, a tortured soul who has spent three years behind a desk following the unexplained suicide of his wife. But the suspicious suicide of a young woman gets him back out in the field, trying to track down a crazy couple, Raymond Fernandez (Jared Leto, with a wacky head of hair) and Martha Beck (Salma Hayek) working as a team duping lonely women out of their money — and their life. Based on a true story from the late 1940s, the somber tale benefits from Todd Robinson's experience as a documentarian as well as his own personal saga — Det. Robinson is his grandfather, who used to tell his family stories about the real-life killers. Also starring James Gandolfini as Robinson's partner, Scott Caan as a wisecracking detective, and Laura Dern as a potential love interest for Elmer, the film belongs to Travolta, who is a brooding, often silent presence, speaking mountains with his deep, penetrating eyes.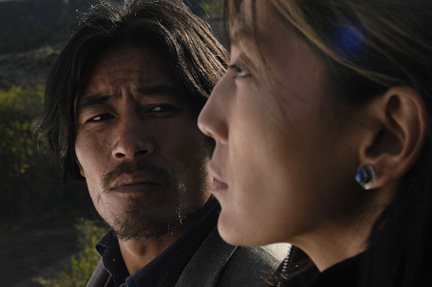 Dhondup (Jampa Kalsang) and Karma (Tenzin Chokyi Gyatso) seek answers in DREAMING LHASA
DREAMING LHASA (Ritu Sarin & Tenzing Sonam, 2005)
April 13-26
ImaginAsian Theater
239 East 59th St. at Second Ave.
212-371-6682

DREAMING LLASA is a well-meaning but overly earnest drama about the personal and cultural costs of the Chinese occupation of Tibet. Karma (Tenzin Chokyi Gyatso) is a Tibetan American in Dharamsala, India, home of the exiled Dalai Lama, to make a politically charged documentary about Tibetans who have been tortured by the Chinese government. When one of her subjects, Dhondup (Jampa Kalsang), asks her to join him on a journey to deliver his mother's charm box to a dangerous activist many believe to be dead, the two set out on an adventure that reconnects Karma to her Tibetan roots. While Dhondup, a former monk, represents the old ways of Tibet, Jigme (Tenzin Jigme), a flashy playboy who is helping Karma with the film project, is part of the new Tibetan-Indian culture, more concerned with fast living than dying traditions. Written by Tenzing Sonam and produced by Ritu Sarin — the two documentarians codirected as well — and featuring music by Andy Spence of New Young Pony Club and amateurish acting, DREAMING LLHASA tries too hard to make its obvious points, never relying on subtlety when hitting the audience over the head with a hammer will do.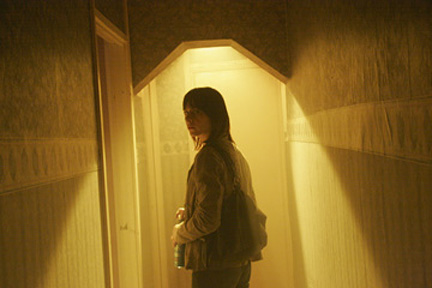 Kate Dickie make a remarkable debut in RED ROAD
RED ROAD (Andrea Arnold, 2006)
Opens Friday, April 13
Lincoln Plaza Cinemas
1886 Broadway between 62nd & 63rd Sts.
212-757-0359
Landmark Sunshine Cinema
143 East Houston St. between First & Second Aves.
212-330-8182
http://www.landmarktheatres.com
http://lincolnplaza.moviefone.com

RED ROAD is a brilliant, harrowing feature debut from writer-director Andrea Arnold, who won a Best Live Action Short Oscar for her short film WASP. Kate Dickie, in her first feature film, gives a bravura performance as Jackie, a lonely woman trying to get past a horrific event that tore apart her family. Working as a CCTV operator in Glasgow, she is surprised to spot Clyde (Tony Curran), who she thought was still in prison for his evil deed. Confused, Jackie begins stalking Clyde and soon finds herself in way too deep. Arnold's masterful hand will keep audiences on the edge of their seats with every unexpected twist and infuriating turn. Also starring Martin Compston and Natalie Press, RED ROAD is the first of three films by Scottish writers that will all star the same four actors as the same four characters, although the plot lines and relationships can change in each work. RED ROAD is a stunning beginning to the experiment.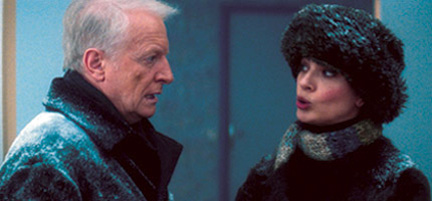 Thierry (André Dussolier) advises Nicole (Laura Morante) in Resnais's latest
PRIVATE FEARS IN PUBLIC PLACES (Alain Resnais, 2006)
Opens Friday, April 13
Lincoln Plaza Cinemas
1886 Broadway between 62nd & 63rd Sts.
212-757-0359
IFC Center
323 Sixth Ave. at Third St.
212-924-7771
http://lincolnplaza.moviefone.com

For nearly sixty years, French auteur Alain Resnais has been making intelligent, complex, and controversial films, including such well-regarded masterworks as NIGHT AND FOG (1955), HIROSHIMA, MON AMOUR (1959), LAST YEAR AT MARIENBAD (1961), and MON ONCLE d'AMERIQUE (1980). Now eighty-four, Resnais's latest is PRIVATE FEARS IN PUBLIC PLACES (COEURS), a surprisingly conventional drama based on the play by Alan Ayckbourn. The film follows the travails of six lonely people: Thierry (André Dussolier) is a real estate agent showing apartments to Nicole (Laura Morante) for her and her fiancé, Dan (Lambert Wilson), who are engaged to be married but are drifting apart. Dan spends much of his time at a brightly colored hotel bar drinking and talking with the bartender, Lionel (Pierre Arditi), a widower who is having an extremely difficult time taking care of his ailing father, so he hires Charlotte (Sabine Azéma), Thierry's very religious coworker, to watch the old man at night. And Gaëlle (Isabelle Carré) is a former wild woman now relegated to being stood up on blind dates and becoming increasingly annoyed when she finds her brother, Thierry, watching porn videos that Charlotte gave him — perhaps unknowingly. Made up of slow-moving, talky, contemplative scenes that blend into one another with falling snow, PRIVATE FEARS IN PUBLIC PLACES reveals the fears and desires of these six interrelated people, touching on such subjects as love, faith, and honesty, but too much of the film is old fashioned, with very little new to offer. Add half a star if talky, slow-moving, contemplative French films are your thing.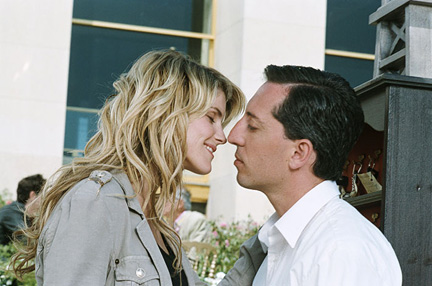 Virginie Ledoyen and Gad Elmaleh make an odd couple in French farce
THE VALET (Francis Veber, 2006)
Opens Friday, April 20
Angelika Film Center
18 West Houston St. at Mercer St.
212-995-2000
Lincoln Plaza Cinemas
1886 Broadway between 62nd & 63rd Sts.
212-757-0359
http://lincolnplaza.moviefone.com
http://www.city-cinemas.com/angelika
http://www.sonyclassics.com/thevalet

An absolutely delightful, thoroughly charming farce, THE VALET is the best French episode of THREE'S COMPANY never filmed. (And we mean that in a completely complimentary way.) Written and directed by Francis Veber (LE CHEVRE, LE JAGUAR), THE VALET has a ridiculously silly plot stolen right out of a 1970s sitcom: Accidentally photographed with married billionaire CEO Pierre Levasseur (Daniel Auteuil) and his supermodel girlfriend (Alice Taglioni), hapless valet François (Gad Elmaleh) is paid by Pierre to pretend that he is Elena's real boyfriend in an attempt to dupe the executive's determined, suspicious wife, Christine (Kristin Scott Thomas). But Christine is not easily convinced, putting poor François in the middle of a major power play when all he wants is the simple love of his childhood friend, bookstore owner Emilie (Virginie Ledoyen). Got that? Auteuil is appropriately over the top, Scott Thomas is wonderfully ice cold, and Taglioni shows she is more than just a stunning beauty, but the film belongs to Elmaleh, who has the eyes and the demeanor of a young Buster Keaton. THE VALET is as sweetly silly as it is riotously funny.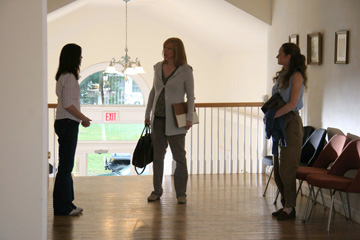 Amber Tamblyn, Tilda Swinton, and Melissa Leo face a dark tragedy
STEPHANIE DALEY (Hilary Brougher, 2006)
Angelika Film Center
18 West Houston St. at Mercer St.
Opens Friday, April 20
212-995-2000
http://www.city-cinemas.com/angelika

Tilda Swinton and Amber Tamblyn are excellent in the well-meaning but overwrought STEPHANIE DALEY, a torn-from-the-headlines melodrama that has been winning awards at festivals around the world. Tamblyn (JOAN OF ARCADIA) stars as the title character, a teenager who, to everyone's surprise — and maybe even her own — gives birth on a school ski trip and throws the baby away. Claiming she didn't know she was pregnant, she is ordered to speak to a forensic psychologist, Lydie Crane (Swinton), hired by the state prosecutor to find out the truth, as Stephanie is facing murder charges. Crane, who suffered a stillbirth the previous year, is pregnant herself, worried that she might lose this baby as well — in addition to her husband, Paul (Timothy Hutton), who might be cheating on her, sending her into the arms of her husband's best friend, Frank (Dennis O'Hare). Got all that? Writer-director Hilary Brougher throws too much into the mix, including an infuriating dream sequence and too many unnecessary TV-movie subplots, detracting from the intense and harrowing central story.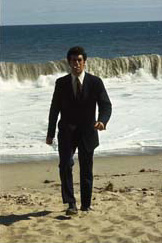 Courtesy Film Forum/MGM
Elliott Gould is a West Coast dick
in Altman's LONG GOODBYE
THE LONG GOODBYE (Robert Altman, 1973)
Film Forum
209 West Houston St. between Sixth & Seventh Aves.
April 20-26
212-727-8110
http://www.theavclub.com/avclub3626/avfeature_3626.html

This is one odd detective story. King of the '70s Elliott Gould stars as a mumbling Philip Marlowe who reluctantly becomes enmeshed in a murder case involving a friend of his played by former Yankee Jim Bouton. Marlowe lives next door to a harem of naked brownie-loving women, and he spends most of his time worrying about his cat. In fact, the opening fifteen minutes, in which he has to go out in the middle of the night to get cat food and then trick his cat, is absolutely priceless, the best cat story line we have ever seen in a motion picture. The detective stuff plays second fiddle to director Robert Altman's '70s mood piece, which is fun to watch even at its most baffling and senseless — and now in a new 35mm Scope print.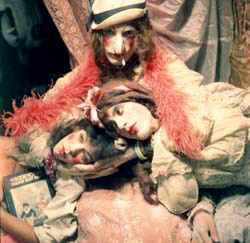 Photographer: Jack Smith. © Jack Smith Estate
Jack Smith plays around with some friends, ca. 1958-59
JACK SMITH AND THE DESTRUCTION OF ATLANTIS
(Mary Jordan, 2006)
Film Forum
209 West Houston St. between Sixth & Seventh Aves.
April 11-24
212-727-8110

Mary Jordan's free-wheeling documentary takes a look at avant-garde photographer, performance artist, and filmmaker Jack Smith, a troubled man with serious mother issues and a rather bizarre obsession with movie diva Maria Montez. Best known for his film FLAMING CREATURES, which was banned because of its sexual content, Smith created a very strange world in which he lived and worked, battling against landlords (he had a thing about paying rent for anything) and the ownership of art. The film contains reminiscences from such seminal 1960s and '70s figures as Gary Indiana, Ken Jacobs, Judith Malina, Jonas Mekas, Holly Woodlawn, John Waters, John Zorn, and Tony Conrad, among many others. Although they all pay tribute to Smith's influence, his actual output, seen here, thankfully, only in bits and pieces, mostly seems unwatchable.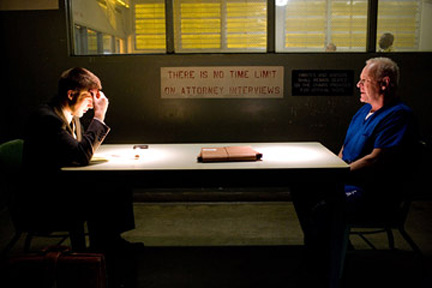 Ryan Gosling and Anthony Hopkins match wits in FRACTURE
FRACTURE (Gregory Hoblit, 2007)
Opens Friday, April 20

Gregory Hoblit's psychological thriller FRACTURE starts out with a promising premise: Wealthy aeronautics expert Ted Crawford (Anthony Hopkins) calmly shoots his significantly younger wife (Embeth Davidtz) in cold blood after catching her having an affair with cop Rob Nunally (Billy Burke) and then waits for the police to arrive. Nunnally, who did not know his lover's real name or address, is shocked to find her lying in a pool of blood, though Crawford seems delighted with his handiwork. Crawford surrenders, confesses, but then pleads not guilty and chooses to represent himself against hotshot prosecutor Willy Beachum (Ryan Gosling), who is on the fast track to a position with a high-powered corporate law firm. Beachum thinks he has been handed an open-and-shut case, but Crawford has very carefully plotted out what might just be the perfect crime. Unfortunately, the screenplay by Daniel Pyne and Glenn Gers is far from perfect, filled with gaping holes, not mere cracks and fractures; director Gregory Hoblit (PRIMAL FEAR, HILL STREET BLUES) manipulates the audience through hard-to-believe scenes and ludicrous relationships, particularly between Beachum and his soon-to-be boss, gorgeous lawyer Nikki Gardner (Rosamund Pike); and Mychael and Jeff Danna's score is so frighteningly amateurish, you'll think you're watching a TV movie. The film is tense and gripping when Hopkins is on-screen, though his character delves into some ridiculously silly dialogue at times, but he's in the flick for less than half an hour; the rest focuses on Beachum, who is an absurdly clichéd character every step of the way. If the twist ending surprises you, then you haven't seen enough COLUMBO episodes. (By the way, you're much better off renting an episode of that great series than watching this wannabe.)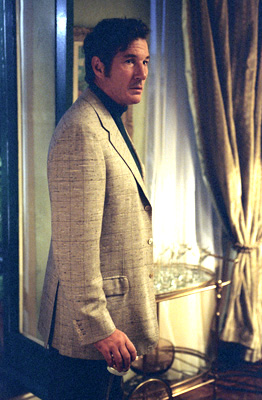 Richard Gere tries to pull a really fast one in THE HOAX
THE HOAX (Lasse Hallström, 2007)
In theaters now

In 1969, Clifford Irving published FAKE! THE STORY OF ELMYR DE HORY, THE GREATEST ART FORGER OF OUR TIME, the biography of a man who made a rather nice living painting forgeries and questioning the nature and market value of art itself. After Irving's next book, a work of fiction, was rejected miserably, he concocted a seat-of-the-pants plot to write the autobiography of hermetic billionaire Howard Hughes — and convinced McGraw-Hill to pay him a boatload of bucks to do it. This elaborate fiction, pulled off with the help of his best friend, writer Dick Suskind, set into motion lie upon lie upon lie — ultimately reaching as high as the White House and leading to the downfall of Richard Nixon. That is, if you believe Irving's side of things. Directed with a flashy, fast hand by Lasse Hallström (CIDER HOUSE RULES, MY LIFE AS A DOG), THE HOAX, based on Irving's book, is a fabulously entertaining flick that weaves together fact and fiction — it's often impossible to tell which is which — led by a charming performance by Richard Gere as Irving, along with Alfred Molina as Suskind, Marcia Gay Harden as Irving's suspicious wife, Hope Davis as Irving's editor, and the great Eli Wallach as a doddering old Hughes associate.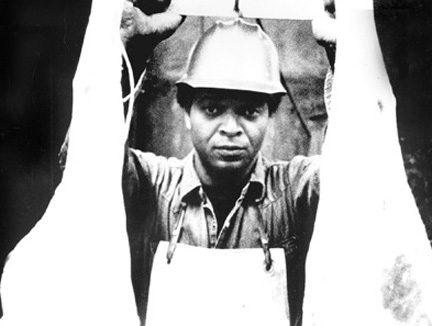 Henry Gayle Sanders stars in restored classic KILLER OF SHEEP
KILLER OF SHEEP (Charles Burnett, 1977)
IFC Center
323 Sixth Ave. at Third St.
212-924-7771

Milestone Films is celebrating the thirtieth anniversary of Charles Burnett's low-budget feature-length debut, KILLER OF SHEEP, with a new 35mm restoration with the soundtrack intact; the film has not been available on VHS or DVD for decades because of music rights problems that have finally been cleared, and it has never before been released theatrically. (The soundtrack includes such seminal black artists as Etta James, Dinah Washington, Little Walter, and Paul Robeson.) Shot on weekends for less than $10,000, KILLER OF SHEEP took four years to put together and another four years to get noticed, when it won the FIPRESCI Prize at the 1981 Berlin Film Festival. Reminiscent of the work of Jean Renoir and the Italian neo-Realists, KILLER OF SHEEP is a simple story about a family just trying to get by, struggling to survive in their tough Watts neighborhood in the mid-1970s. The slice-of-life scenes are sometimes very funny, sometimes scary, but always poignant, as Stan (Henry Gayle Sanders) trudges to his dirty job in a slaughterhouse in order to provide for his wife (Kaycee Moore) and children (Jack Drummond and Angela Burnett). Every day he is faced with new choices, from participating in a murder to buying a used car engine, but he takes it all in stride. The motley cast of characters, including Charles Bracy and Eugene Cherry, is primarily made up of nonprofessional actors with a limited range of talent, but that is all part of what makes it all feel so real. KILLER OF SHEEP was added to the National Film Registry of the Library of Congress in 1989, the second year of the program, making it among the first fifty to be selected, in the same group as REBEL WITHOUT A CAUSE, THE GODFATHER, DUCK SOUP, ALL ABOUT EVE, and IT'S A WONDERFUL LIFE.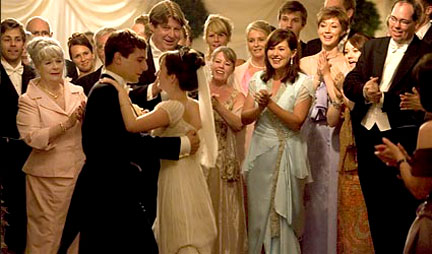 Things get complicated before and after Danish wedding
AFTER THE WEDDING
(EFTER BRYLLUPPET) (Susanne Bier, 2006)
Lincoln Plaza Cinemas
1886 Broadway between 62nd & 63rd Sts.
212-757-0359
http://lincolnplaza.moviefone.com

Nominated for an Oscar for Best Foreign Language Film, AFTER THE WEDDING is a complex, uneasy family drama filled with secrets and lies. Mads Mikkelsen (so good in Nicolas Winding Refn's PUSHER trilogy) stars as Jacob, an angry, unhappy man who helps run an orphanage in India. Beloved by the kids — and especially Pramod (Neeral Mulchandani), who depends on him — Jacob must return to his native Denmark to try to solicit much-needed funds from the orphanage's benefactor, a powerful businessman named Jørgen (Rolf Lassgård). Jørgen ends up insisting that Jacob stay for the wedding of his daughter, Anna (Stine Fischer Christensen), but when Jacob sees Jørgen's wife, Helene (Sidse Babett Knudsen), the past comes flooding back on him, affecting everyone's future. Mikkelsen gives a tense, foreboding performance in this gripping, intelligent film, written by Oscar winner Anders Thomas Jensen and strongly directed by Susanne Bier (BROTHERS, OPEN HEARTS).
BLACK BOOK (Paul Verhoeven, 2006)
In theaters now
http://www.sonyclassics.com/blackbook

Paul Verhoeven (TOTAL RECALL, BASIC INSTINCT) returns to his Dutch roots with BLACK BOOK, an epic tale set during the Holocaust. It's 1944, and Rachel Stein (Carice Van Houten) and her family are trying desperately to get out of Holland, which is being taken over by the Gestapo. But after the small boat they are on gets ambushed, with Rachel the only survivor of a brutal massacre, she soon finds herself working for the Dutch resistance, under the leadership of Gerben Kuipers (Derek de Lint). After a successful mission with Hans (Thom Hoffman), Rachel gets assigned a much more dangerous task — to get as close as possible to Gestapo commander Ludwig Müntze (Sebastian Koch), no matter what it takes. As she climbs into bed with Müntze, lies, treachery, and betrayal threaten to tear apart the resistance. BLACK BOOK is a big, ambitious film that can't quite live up to its promise; there are just too many plot holes and individual scenes gone wrong. Still, Van Houten and Koch — an emerging international star who was so good in THE LIVES OF OTHERS — are both compelling in complex roles that outshine the story itself.
THE REAPING (Stephen Hopkins, 2007)
In theaters now
http://thereapingmovie.warnerbros.com

THE REAPING, a new horror flick directed by Stephen Hopkins (LOST IN SPACE, JUDGMENT NIGHT), is genuinely creepy and not without its share of who's-there-and-when-will-you-jump-out-at-me thrills. (Hint: it's always a few seconds after the scary music stops.) You might not feel like you've wasted your money on this piece of entertainment fluff, but you also won't feel like you've gotten the better part of the deal. Hilary Swank stars as a former minister of an unspecified denomination who specializes in debunking religious "miracles." Embittered by the death of her husband and child — shown in grisly flashbacks — she has unfortunately become a one-dimensional cartoon of the skeptical nonbeliever, trading confrontational glances at locals too freakish to be picked for DELIVERANCE; hoping the lab tests won't show that the river is blood; and drinkin' and cussin' and enjoying first-date sex. Against mounting evidence to the contrary, she maintains that the series of biblical plagues (boils, locusts, lice, dead livestock, etc.) visiting Haven, LA, can be explained scientifically while we all pray to God Almighty that she is right. While the "twist" ending is satisfying in a sequel-ready kind of way, it's also the favored storytelling conclusion of people under the age of six. (Hint: they all ____ !) There's not much to recommend here, unless you have nothing better to do on a Saturday night.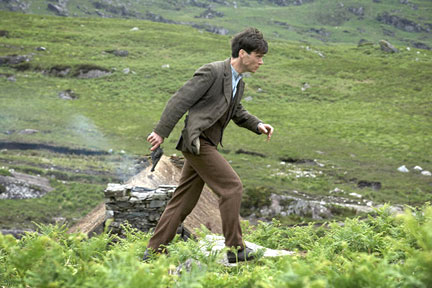 Cillian Murphy stars in Irish epic
THE WIND THAT SHAKES THE BARLEY (Ken Loach, 2006)
IFC Center
323 Sixth Ave. at Third St.
212-924-7771
Lincoln Plaza Cinemas
1886 Broadway between 62nd & 63rd Sts.
212-757-0359
http://lincolnplaza.moviefone.com
http://www.thewindthatshakesthebarley.co.uk

Winner of the 2006 Palme d'Or at Cannes, THE WIND THAT SHAKES THE LEAVE is a brutal masterpiece from director Ken Loach (RIFF-RAFF, BREAD AND ROSES). It's 1920, and the English black and tans are running roughshod through Ireland, leaving broken and dead bodies in their wake as they keep the population frightened and in poverty. But poorly armed yet determined local guerrilla armies are forming, prepared to fight for freedom in their homeland. In one small town, Damien (Cillian Murphy) is getting ready to move to London to train as a doctor, but he decides instead to join the burgeoning Irish Republican Army after seeing one too many bloody beatings. Swearing their loyalty to the cause and led by Damien's brother, Teddy (Padraic Delaney), they set up ambushes of British forces, gathering weapons in a desperate attempt to win back their country. Damien also falls for Sinead (Orla Fitzgerald), one of many women who work as messengers and spies and run safe houses. But when a questionable treaty is signed, loyalty is tested and families torn apart. Written by Paul Laverty and also featuring Liam Cunningham, Mary Riordan, Myles Horgan, and Mary Murphy, THE WIND THAT SHAKES THE BARLEY is a fierce, no-holds-barred, if one-sided, look at a violent conflict that has lasted for centuries.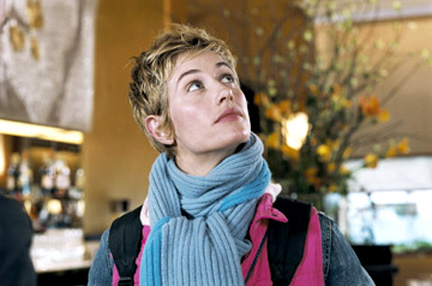 Cecile de France brings an endearing charm to the City of Light
AVENUE MONTAIGNE (Danièle Thompson, 2006)
Quad Cinema
34 West 13th St. between Fifth & Sixth Aves.
Tickets: $10
212-255-8800

Cecile de France is absolutely captivating in AVENUE MONTAIGNE, bringing an endearing charm to every second she's on camera. The illegitimate offspring of Audrey Hepburn and Audrey Tatou, de France stars as Jessica, a young woman who ventures onto the fashionable Avenue Montaigne in Paris in search of her place in the world. She finagles a job waitressing at a popular bistro that serves as the center of the film, a place that attracts artistic folk from the nearby concert hall, auction house, and theater. At the theater, soap opera star Catherine Versen (Valérie Lemercier) desperately wants to be in the next Brian Sobinski (Sydney Pollack) film, while beloved longtime usher Claudie (Claudie Dani) is convincing herself she is ready to retire. At the concert hall, Jean-François Lefort (Albert Dupontel) is considering hanging it up as a successful classical pianist, much to the chagrin of his manager wife, Valentine (Laura Morante). And at the auction house, Jacques Grumberg (Claude Brasseur) is selling off his massive art collection and trying to reconnect with his son, Frédéric (Christopher Thompson). There's a lot of talk about life and art, plenty of sexual intrigue, and some fine individual performances, but the film occasionally gets bogged down in heavy melodrama and unconvincing scenes. However, through it all, de France lights the way. AVENUE MONTAIGNE was directed by Danièle Thompson and cowritten by Thompson and her son, Christopher, who plays a major role in the film.
THE PAGE TURNER (Denis Dercourt, 2006)
Village East
181 Second Ave. at 12th St.
212-777-3456
http://citycinemas.moviefone.com

Playing at an audition to get into a prestigious conservatory, ten-year-old pianist Mélanie (Julie Richalet) is distracted and unable to recover when the chairwoman of the jury (Catherine Frot) signs an autograph during the performance, not paying attention to her. As Mélanie leaves the room, she stares straight ahead, a fury building inside her. Ten years later, Mélanie (Déborah François) has blossomed into a beautiful young woman who gets a job as an intern for prominent attorney Monsieur Fouchecourt (Pascal Greggory). But it is not the valuable work experience she is after — it just so happens that the lawyer's wife, Ariane, who is trying to resurrect her flailing musical career, turns out to be the chairwoman who Mélanie believes ruined her life. Quietly and with an eerie, subtle confidence, Mélanie immerses herself into the family, which also includes young Tristan (Antoine Martynciow), a piano virtuoso himself. Mélanie's relationship with Ariane is reminiscent of that of Hedy (Jennifer Jason Leigh) and Allie's (Bridget Fonda) in SINGLE WHITE FEMALE, where all hell could break loose at any moment. Writer-director Denis Dercourt's tense psychological thriller is built around François's stellar performance; audiences will be kept on the edge of their seats waiting for Mélanie to explode — if revenge is indeed part of her plan.
THE LIVES OF OTHERS (DAS LEBEN DER ANDEREN)
(Florian Henckel von Donnersmarck, 2006)
Angelika Film Center
18 West Houston St. at Mercer St.
212-995-2000
Lincoln Plaza Cinemas
1886 Broadway between 62nd & 63rd Sts.
212-757-0359
http://lincolnplaza.moviefone.com
http://www.city-cinemas.com/angelika
http://www.sonyclassics.com/thelivesofothers

Winnter of the Oscar for Best Foreign Language Film, THE LIVES OF OTHERS is a tense political thriller set in 1980s East Berlin. Ulriche Mühe gives a mesmerizing performance as Capt. Gerd Wiesler, an expert interrogator for the Stasi, the German Democratic Republic's secret police, who keep a close watch on all suspicious activity — and to them, everything is suspicious. When powerful culture minister Bruno Hempf (Thomas Thieme) tells Wiesler's nervous yes-man boss, Lt. Col. Anton Grubitz (Ulrich Tukur), to spy on noted playwright Georg Dreyman (Sebastian Koch), Wiesler takes the case, setting up audio surveillance on Dreyman and his actress girlfriend, Christa-Maria Sieland (Martina Gedeck). But when the ever-loyal, humorless, always stalwart Wiesler discovers that Hempf ordered the surveillance primarily because he has a thing for Sieland, Wiesler begins to reconsider the case — and the ultimate responsibility of the Stasi itself. And the more he learns, the more he understands. THE LIVES OF OTHERS was written and directed by Florian Henckel von Donnersmarck, making an extremely impressive feature-film debut, capturing a precarious, paranoid part of recent German history in which the vast majority of the nation was either being spied on or were informers themselves.
THE HOST (GWOEMUL) (Bong Joon-ho, 2006)
Landmark Sunshine Cinema
143 East Houston St. between First & Second Aves.
212-330-8182
http://www.landmarktheatres.com

Several years after the government improperly disposes of chemical waste, a huge monster appears under a bridge on the Han River. The lazy, childlike Park Gang-du (Song Kang-ho), who works at his grandfather's ( food stand on the shore — that is, when he's not sleeping — tries desperately to save his young daughter, Hyun-seo (Ko A-sung), from the creature's grasp, but when the monster runs off with her, Gang-du does everything in his limited power to try to get her back — if she's even still alive. He gets help from his well-dressed brother and Olympian archer sister, who are determined to rescue their niece, but the creature has no intentions of just coughing her up. THE HOST wants to be more than just another monster movie, injecting humor and strong family bonds, but it never quite pulls itself together. For every great scene with the creature, there's a silly scene with the family that misses the mark. Still, Song is a hoot to watch, and the special effects folks have created one heck of a cool monster.
WHOLE NEW THING (Amnon Buchbinder, 2006)
Quad Cinema
Through April 19
34 West 13th St. between Fifth & Sixth Aves.
Tickets: $10
212-255-8800

Precocious thirteen-year-old Emerson Thorsen (Aaron Webber in his first feature film) is living what he thinks is a charmed life in the snowy woods of Nova Scotia. He is putting the finishing touches on his epic fantasy novel, takes naked saunas and smokes dope with his environmentalist parents, Rog (Robert Joy) and Kaya (the beguiling Rebecca Jenkins), and is home-schooled so he doesn't have to interact with other kids. As Emerson begins having wet dreams and considering his sexuality for the first time, Kaya decides he is ready to go to the local school to get a broader education and to finally meet children his own age (instead of hanging out at his parents' parties giving erotic back massages to older women). Positive that this is an experiment that is sure to fail, Emerson heads off to middle school, but something happens that he never expected — he develops an unusual crush on his forty-two-year-old teacher, Don Grant (cowriter Daniel MacIvor), who, unbeknownst to anyone, hangs out in a park rest stop in search of anonymous action. (No, George Michael never shows up.) Meanwhile, Rog's cyncism and lack of success starts wearing on Kaya, who seeks solace in the arms of hard-hearted Denny (Callum Keith Rennie). Canadian writer-director Amnon Buchbinder has created some unique characters and situations, but WHOLE NEW THING never quite comes together. Much of it feels rushed, and indeed, it was filmed in only fifteen days. The soundtrack features a treacly score by Buchbinder's brother, David, and sappy songs by Joel Gibb and the Hidden Cameras. For a more compelling look at adolescence and being an outsider, rent Mike Mills's arresting THUMBSUCKER.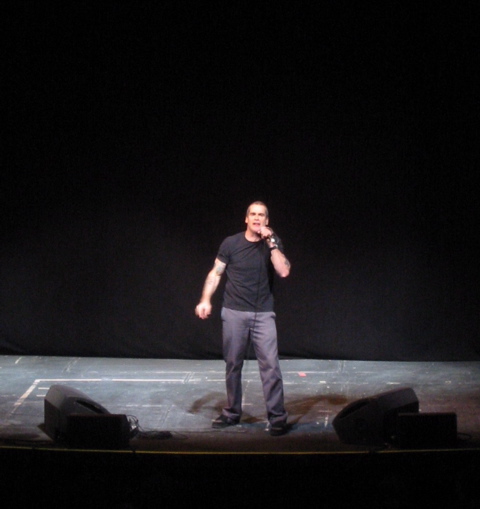 © twi-ny/ees
Henry Rollins shares his thoughts on the world at the Gramercy Theatre
IT'S NOT A PLAY AND THERE'S NO MUSIC:
AN EVENING WITH JANEANE GAROFALO,
MARC MARON & HENRY ROLLINS
Gramercy Theatre
127 East 23rd St. at Lexington Ave.
April 10-15, 7:30
Tickets: $30
212-777-1224
Be prepared for a dark-edged night of acerbic political humor from three of the angriest public speakers around. They don't get much more bitter than stand-up comedian / off-and-on Air America Radio personality Marc Maron, who has said, "Why not assume it is all a big lie and the soul is just a whore that we pimp out to fill our emptiness?" Of course, actress, activist, stand-up comic, and former Air America Radio cohost Janeane Garofalo is not exactly the happiest person around; she has said, "I guess I just prefer to see the dark side of things. The glass is always half empty. And cracked. And I just cut my lip on it. And chipped a tooth." And then there is the angriest punk in the world, the great writer, musician, actor, activist, and cable-TV and radio host Henry Rollins, of Black Flag, the Rollins Band, and THE HENRY ROLLINS SHOW (the new season of which begins on April 13 on IFC); Rollins, who has toured Iraq with the USO, has written, "Know that humans are inherently weak and not good for much." This night of teeing off on the Bush administration and the state of the world should be a whole lot of fun. And we mean that. No, really.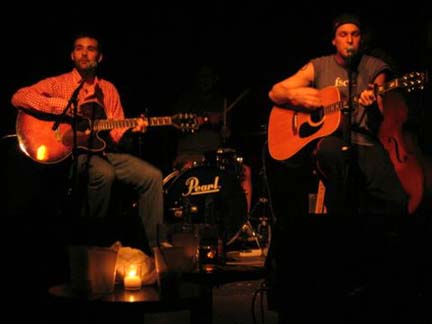 Musical cut-ups Aaron and Morez bring unique show to Brooklyn
LIVE AT THE LYCEUM: THE THIRD MIND
Brooklyn Lyceum
227 Fouth Ave., Park Slope
Saturday, April 14, 9:00
Tickets: $8
718-398-7301 / 646-417-5673
Taking a page out of the literary cut-up technique used by William S. Burroughs (and such musicians as David Bowie, Patti Smith, Radiohead, and Kurt Cobain), the Lyceum is hosting "An Evening of Rock and Roll, Hip-Hop, and Film Inspired by the Cut-up Technique of William Burroughs," with music by David Aaron, Adriano "Train" Morez, and Wax Machine and a screening of David Hopkinson's short film CUTTING UP MY FRIENDS. Prior to the event, people are invited to go to the second website listed above and make their own written contributions, which might become part of this unique performance art. Visitors are asked to answer the following questions: "Is it really every man for himself?", "What is the strangest thing you have ever seen on a train?", and "Describe your most disturbing relative deceased or living." Those who call 646-417-5673 can leave an anonymous voice-mail response and perhaps hear themselves at the show.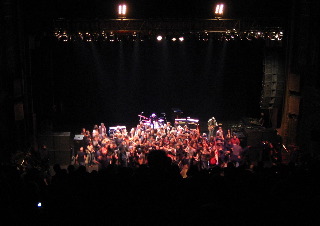 twi-ny/ees
Iggy packs 'em in onstage at the United Palace
THE STOOGES
United Palace Theater
4140 Broadway at 175th St.
April 13
212-568-6700
http://www.theunitedpalace.com

The Living Sinew himself, Iggy Pop, and the Stooges made the United Palace scream on April 9, playing one of the loudest shows we've heard in years. The incandescent Iggy opened with "Loose" and got "I Wanna Be Your Dog" out of the way by the third song, leaping and writhing, shirtless in his spray-on rayon denim, same as it ever was. The former James Osterman from Ann Arbor, Michigan, is still built like a snake — but tan and lithe as he is, there is now more than a bit of loose flesh around the waist. Of course, this hint of decay actually works for the Igster; in fact, "1969″ saw the denim unbuttoned and some very carefully orchestrated twists as the jeans proceeded to fall. Strategically placed twirls and slippage near the last twenty seconds of the song resulted in Iggy revealing his sixty-year-old manhood, to the delight of some and the head-turning shock of others. The re-formed Stooges feature original guitarist Scott Asheton and his brother Ron on drums, with Minuteman and fireHOSE veteran Mike Watt ably taking the place of the late Dave Alexander on bass and, at this show, a special snarly, dirty appearance by original saxman Steve Mackay. Together they produced an all-out punk-metal assault with just one tempo — fast — and one tone — loud — for nearly ninety minutes of muddy, ear-splitting raw power. The show included early faves from FUN HOUSE and THE STOOGES as well as tunage from Pop's 2003 solo album, SKULL RING, and the Stooges' new album, THE WEIRDNESS. Just as at the Underground Garage Fest at Randall's Island a few years ago, Iggy called all comers onstage for a mass writhefest during "No Fun" in what might prove to be one of the most fun concerts of the year.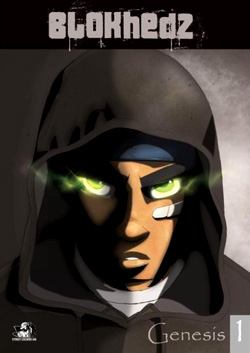 BLOKHEDZ: GENESIS 1 (Pocket, March 2007, $12.95)

Created by "Madtwiinz" Mark and Mike Davis and written with Brandon Schultz (with poems by Nicole Duncan-Smith and Nikia "Liberty" Scott), BLOKHEDZ is a futuristic hip-hop comic book fantasy with cultural and social overtones, set in an alternate but recognizable universe for a different kind of urban graphic narrative. The protagonist, Blak, is a seventeen-year-old rapper with dreams of a bright future. But he's trapped in the Rookside Avenue Projects of Empire City, the crime-infested neighborhood known as the Jungle. "Maybe they wasn't properly hugged / Now they take every profit in their pocket / In blood / On the block full of thugs / Wit a sock full of drugs / Lookin' out for Crockett and Tubbs," Blak, who has the gift, raps. When tragedy strikes his older brother, Konzaquence, Blak sets out to seek revenge against Vulture with the help of his crew and Essence, a mysterious hot babe. Meanwhile, the music industry is terrorized by cigar-chomping record magnate Bloko, who can't be trusted. The individual comics have been around since 2003, but BLOKHEDZ is now available for the first time in trade paperback, alive with color and movement, printed on glossy paper and featuring a glossary for those new to the genre. The sequel will follow later this year.

All contents copyright 2007 by Mark Rifkin and twi-ny. All rights reserved. Contents may not be reprinted without written permission. Please note that events, dates, and prices are subject to change.
Send all comments, suggestions, reviews, and questions to mark.rifkin@twi-ny.com.
Please note that some e-mail clients may wrap links, so be sure to enter them fully into your browser.
To subscribe to this list, please e-mail the administrator at admin@twi-ny.com with the word Subscribe in the Subject line; be sure to ask for back issues, which are free as well. To unsubscribe from this list, please think it over twice before e-mailing the same address. Please let us know what you didn't like about this forum and we'll do our best to correct it in the future -- if we agree with you. If you would like to see something covered in a future issue, please let us know. Without you, there is no need for us to exist.

twi-ny top two dozen (or so) weekly reminders & special events
MACDONALD AND SUBRITZKY: LOBBY, FOLD AND SPIN
Pace University
One Pace Plaza (across from City Hall)
Enter at Spruce St. between Gold St. & Park Row
Tuesday — Saturday 12 noon — 6:00 pm
Admission: free
212-346-1715
http://appserv.pace.edu/execute/page.cfm?doc_id=16960
Through April 14 Fold, Peter Fingestin Gallery
Through April 21 Spin, Daneyal Mahmood Gallery
Through May 5 Lobby, Michael Schimmel Center for the Arts

RAVI COLTRANE QUARTET / DAVID SANCHEZ QUARTET
Blue Note
131 West Third St.
Tickets: bar $20, table $30
212-475-8592
Tuesday, April 10
through
Sunday, April 15 Six-night stand by saxophonist, bandleader, and composer Ravi Coltrane, with Luis Perdomo on piano, Drew Gress on bass, and E.J. Strickland on drums; also on the bill is the David Sanchez Quartet, with Sanchez on sax, Lage Lund on guitar, Ben Street on bass, and Adam Cruz on drums, 8:00 & 10:30
BECKETT'S LAST WORDS
The Frick Collection
Free with museum admission of $15
212-547-0700
http://www.frick.org/lectures/current.htm
Wednesday, April 11 Artists, Poets, and Writers Lecture Series, with John Banville, 6:00
LUCKY DRAW: SCULPTURECENTER 2007 SPRING BENEFIT
SculptureCenter
44-19 Purves St.
Tickets: $450 each, $1200 for three, every ticket holder takes home a work of art
718-361-1750
http://www.sculpture-center.org/luckydraw07/frameset.html
Wednesday, April 11 Onsite preview, 12 noon — 9:00, cocktails served after 6:00
Thursday, April 12 Preview 12 noon, reception 6:00, 7:30 the Draw, featuring works by such artists as Vito Acconci, Sanford Biggers, Lee Boroson, Louise Bourgeois, Diana Cooper, Lucky DeBellevue, Maria Elena González, Guyton\Walker, Yoko Inoue, Joan Jonas, Glenn Ligon, Tom Otterness, Nancy Rubins, Joel Shapiro, Judith Shea, Ursula Von Rydingsvard, and Fred Wilson
GRAND GOURMET — THE FLAVOR OF MIDTOWN
Grand Central Terminal, Vanderbilt Hall
East 42nd St. at Park Ave.
Tickets: $75
http://www.grandcentralpartnership.com/what_we_do/promote_grand_gourmet.asp
Thursday, April 12 Eighth annual event featuring tastings from more than thirty area restaurants, including American Girl Café, Benjamin Steakhouse, Boi, the Campbell Apartment, the Capital Grille, Métrazur, Cibo, Django, Dos Caminos, Grand Central Oyster Bar & Restaurant, Maloney & Porcelli, Murray's Cheese Shop, Patroon, Riingo, Rothmann's Steakhouse & Grill, and Triomphe, 7:00 — 9:30
AIPAD: THE PHOTOGRAPHY SHOW
Seventh Regiment Armory
Park Ave. & 67th St.
Admission: $20 one day, $30 three days, $40 four days
212-986-0105
http://www.aipad.com/photoshow
Thursday, April 12
through
Saturday, April 14 Approximately one hundred galleries from all over the world, including France, Japan, Italy, Germany, England, Australia, Austria, Canada, and the U.S., will be exhibiting and selling their wares in this twenty-seventh annual event, sponsored by the Association of International Photography Art Dealers
BENJAMIN BRITTEN'S CURLEW RIVER
Japan Society
333 E. 47th St. at First Ave.
Tickets: $52
212-715-1258
Thursday, April 12
through
Saturday, April 14 Rouen/Haute-Normandie Opera, directed by Yoshi Oida, conducted by David Stern, and based on the noh play SUMIDAGAWA, 7:30
THALIA DANCE: GENDER BENDERS
Symphony Space, Leonard Nimoy Thalia
2537 Broadway at 95th St.
Tickets: $21-$25
212-864-5400
http://www.symphonyspace.org/genres/seriesPage.php?seriesId=73&genreId=0
Thursday, April 12
through
Saturday, April 14 Les Ballets Grandiva: CARMEN, HARELQUINADE, DYING SWAN, and excerpts from THEY WHO WORE WHITE FLOWERS and WHO DARES?, 8:30
Monday, April 16
and
Tuesday, April 17 Les Ballets Grandiva: CARMEN, HARELQUINADE, DYING SWAN, and excerpts from THEY WHO WORE WHITE FLOWERS and WHO DARES?, 8:00
Thursday, April 19
through
Saturday, April 21 Monica Bill Barnes and nicholasleichterdance: BABY DOLL, UNDERTOW, SIDE SHOW, RELINQUISH, SHE SNAPPED SHE LEFT, and excerpts from SKINDIVING, 8:30
JAMES FRIEDMAN AND MAX PASK
APT
419 West 13th St. between Ninth Ave. and Washington
Admission: $10
212-414-4245
Friday, April 13 James Effing Friedman and Max Pask welcome Trevor Jackson, Oskar Melzer, and DJ One Man Party, 10:00
NEW YORK ROUND TABLE WRITERS' CONFERENCE
General Society of Mechanics and Tradesmen Library
20 West 44th St.
Admission: $350 for two days , $250 for one day
212-764-7021
http://www.writersconferencenyc.org
Friday, April 13
and
Saturday, April 14 Third annual event hosted by the Small Press Center, with workshops, panel discussions, gala reception, author presentations, and keynote speakers, featuring Colson Whitehead, Richard Ford, Tom McCormack, Carol Fass, Daniel Lazar, Lynne Tillman, Richard Kostelanetz, and more
ON THE EDGE:
NEW INDEPENDENT CINEMA FROM CHINA
Walter Reade Theater
165 West 65th St. between Eighth Ave. & Broadway
Tickets: $11
212-875-5600
http://filmlinc.org/wrt/onsale/aff07.html
Friday, April 13 WALKING ON THE WILD SIDE (LAI XIAO ZI) (Han Jie, 2006), 3:30 & 7:10
Friday, April 13 THE ORPHAN OF ANYANG (ANYANGDE GUER) (Wang Chao, 2001), 5:20 & 9:15
Saturday, April 14 THE ORPHAN OF ANYANG (ANYANGDE GUER) (Wang Chao, 2001), 1:30
Saturday, April 14 THE SILENT HOLY STONES (LHING VJAGS KYI MA NI RDO VBUM) (Wanma Caidan, 2005), 3:15
Saturday, April 14 THE WORLD (SHIJIE) (Jia Zhang-ke, 2004), 5:45
Saturday, April 14 BLIND SHAFT (MANG JING) (Li Yang, 2002), 8:45
Sunday, April 15 THE WORLD (SHIJIE) (Jia Zhang-ke, 2004), 1:00
Sunday, April 15 THE SILENT HOLY STONES (LHING VJAGS KYI MA NI RDO VBUM) (Wanma Caidan, 2005), 3:45 & 8:30
Sunday, April 15 BLIND SHAFT (MANG JING) (Li Yang, 2002), 6:15
BEING FEARLESS
Sheraton New York
811 Seventh Ave.
Registration: $399 main conference, $135-$225 per intensive
800-944-1001
Friday, April 13
through
Sunday, April 15 Fourth annual conference sponsored by the Omega Institute, featuring such workshops as Bodies of Knowledge: Yoga & the Three Realms of Consciousness, Love & Fearlessness in an Age of Terror, Living With Wisdom & Courage in Fearful Times, Heaven & Earth: Making the Psychic Connection, Sacred Activism & the Return of the Divine Feminine, featuring Al Gore, Jane Goodall, Nora Ephron, Caroline Myss, Arianna Huffington, Samdhong Rinpoche, Bobby McFerrin, and others
CRAIG FERGUSON
Comix
343 West 14th St. between Eighth & Ninth Aves.
Tickets: $35
212-524-2500
Friday, April 13
through
Sunday, April 15 Rare stand-up performance by host of THE LATE LATE SHOW and former star of THE DREW CAREY SHOW and such films as THE BIG TEASE and SAVING GRACE
BAMcafé LIVE
Brooklyn Academy of Music Opera House Café
30 Lafayette Ave. between Ashland Pl. & St. Felix St.
April 4-24
No cover, no minimum
718-636-4100
http://www.bam.org/events/bamcafelive.aspx
Friday, April 13 Anat Fort Trio, 10:30
Saturday, April 14 Brazz Tree, 10:30
Friday, April 20 Pistolera, 9:00
Saturday, April 21 Everett Bradley, 10:00
ON PHOTOGRAPHY
Whitney Museum of American Art
945 Madison Ave. at 75th St.
Free with museum admission of $15
Advance registration strongly recommended: 212-570-7715
Saturday, April 14 On Gordon Matta-Clark's Photo-Collages: Briony Fer, tour of Gordon Matta-Clark exhibit, 1:00
Saturday, April 14 On Lorna Simpson: Helaine Posner, tour of Lorna Simpson exhibit, 2:00
Saturday, April 14 On the Photography of Performance: Peggy Phelan, 3:00
Saturday, April 14 On the Documentary Turn: Geoffrey Batchen, Okwui Enwezor, Coco Fusco, 6:00
THE TURBULENT LIFE AND TIMES OF JOHN OSBORNE
Library of Performing Arts
Dorothy and Lewis B. Cullman Center
Bruno Walter Auditorium
40 Lincoln Center Plaza
Admission: free
212-870-1630 / 212-642-0142
http://www.nypl.org/research/calendar/prog/lpa/plistlpa2.cfm
Saturday, April 14 A Conversation Between Sir Harold Evans and John Heilpern, discussion about British playwright John Osborne, 3:00
EARTH DAY NEW YORK
Grand Central Terminal
Admission: free
http://www.greenapplemusicfestival.com/web/index.php
Saturday, April 14
and
Sunday, April 15 EarthFair Inside, Vanderbilt Hall, featuring such exhibitors as Clean Air New York, Conserve Our Ocean Legacy, Croton Watershed Clean Water Coalition, National Park Service, National Space Society, and Woman's Work
Monday, April 16
through
Saturday, April 21 Giant Earth Images, main concourse
Friday, April 20
and
Saturday, April 21 EarthFair Outside, featuring such exhibitors as Bike New York, Bluestockings, CommuterLink, Environmental Defense, Farm Sanctuary, Greenpeace, the Institute for Rational Urban Mobility, Lower East Side Ecology Center, New York City Audubon, and Rainforest Alliance
Friday, April 20
and
Saturday, April 21 Green Apple Music & Arts Festival: Paul Green's School of Rock featuring Jon Anderson performing the music of Yes, Assembly of Dust, State Radio, Gandalf Murphy and the Slambovian Circus of Dreams, and surprise guests
SECOND SUNDAYS
The Noguchi Museum
9-01 33rd Rd. at Vernon Blvd.
Free with museum admission of $10
Reservations required: 718-204-7088 ext209, ddivincenzo@noguchi.org
http://www.noguchi.org/currentevents.html#currentevents
Sunday, April 15 Intersections: artist-led tour with Joel Shapiro, 3:00
QUEENS TASTE OF THE WORLD
USTA Billie Jean King National Tennis Center
Flushing Meadows — Corona Park
Tickets: $85
718-263-0546
http://www.discoverqueens.info
Monday, April 16 Celebration of Culinary Diversity, featuring taste master Tony Tantillo and tastings from more than three dozen Queens restaurants, including Austin's Steak & Ale House, Dazies, Deluge, Erawan, La Fusta, La Tavernetta, Mateus' Lar Portuguese Restaurant and Bar, Mezzo Mezzo, O Lavrador, Papazzio, Plum, Riverview, Sarabella, Shiro, Tangra Wok, Water's Edge, and Zenon Taverna,
SPA WEEK
Multiple venues
April 16-22
Treatments: $50
Reservations required
212-352-8098
More than one hundred spas in New York City and on Long Island are offering special treatments for $50, including microdermabrasion at Nickel Spa for Men, carboxy therapy treatment for the reduction of the appearance of stretch marks at Wellpath, holistic reflexology pedicure at Allure, fruity beauty body polish at Antoinette Boudoir, Thai massage with Oriental herbal compress at banyanCiti Spa, spray tan at Completely Bare, chocolate layer or deep pore cleansing facial at DeFranco Spagnolo, mom-to-be new life massage at Edamame, the Maternity Spa, sandy beach salt scrub at Eden, deep tissue/Swedish masssage combined with aromatherapy (including use of sauna, steam room, and Jacuzzi) at Essential Therapy (one of our faves), purifying crystal facial with aromatherapy paraffin hand treatment at Faina European, mango brown sugar scrub with Vichy shower at Finesse, glycolic exfoliating or four layer vitamin facial at Glow, hot stone of Swedish massage at Graceful Services, chocolate bikini wax at Hampton, foot reflexology with pedi-detox treatment at InSPArations at the 92nd St. Y, eau thermal facial treatment at Sothys, super-enriched oxygen bath at La Casa, honey bee facial with honey enzyme mask and sticky massage at Providence, acupuncture session or tao body detox treatment at Yin, and many more.
LECTURES & CONVERSATIONS
92nd St. Y
1395 Lexington Ave. at 92nd St.
Kaufmann Concert Hall
212-415-5500
Monday, April 16 Literary Readings & Performances: Lawrence Ferlinghetti, $18, 8:00
Sunday, April 22 In the News with Jeff Greenfield: Mike Wallace, $30, 7:30
Wednesday, April 25 Literary Readings & Performances: Nathan Englander and Jonathan Lethem, $18, 8:00
ARTISTS SPEAK: CONVERSATIONS ON CONTEMPORARY ART WITH GLENN D. LOWRY
MoMA, Bartos Theater
11 West 53rd St. between Fifth & Sixth Aves.
Admission: $10
212-708-9400
Tuesday, April 17 Spotlight: Artists Set the Stage, with Laurie Anderson and William Kentridge, 6:30
DISAPPEARED IN NEW YORK AND GUANTANAMO: ARBITRARY DETENTION AND TORTURE POST 9-11
Brooklyn College Student Center
Bedford Room, second floor
2900 Bedford Ave.
Admission: free
718-951-4500
http://www.csb.brooklyn.cuny.edu
Wednesday, April 18 Annual Konefsky Lecture: Rachel Meeropol, granddaughter of Julius and Ethel Rosenberg and daughter of Robert Meeropol, 3:30
MET @ GOETHE
Goethe-Institut Inter Nationes New York
1014 Fifth Ave. between 82nd & 83rd Sts.
Tickets: $10
212-439-8700
http://www.goethe.de/ins/us/ney/kue/en1961865.htm
Wednesday, April 18 Metropolitan Opera Lindemann Young Artist Development Program: Sasha Cooke, mezzo soprano, Vlad Iftinca, piano, and Pei-Yao Wang, piano, playing works by Erich Korngold, Claude Achille Debussy, Pyotr Ilyich Tchaikovsky, and Johannes Brahms (Liebeslieder), 7:30
SON VOLT
Irving Plaza
17 Irving Pl. between 14th & 15th Sts.
Tickets: $22.50
212-777-6800
Wednesday, April 18 Alterna-country band tours behind new record, THE SEARCH, with opening act Jason Isbell, 8:00
MEI: BOOK READING
Columbia University, Morningside Campus
International Affairs Building, Room 1501
118th St. between Amsterdam Ave. and Morningside Dr.
Admission: free
212-854-2067
http://calendar.columbia.edu/arts.html
http://www.sipa.columbia.edu/mei/iran_dabashi_flyer_copy.jpg
Thursday, April 19 Hamid Dabashi, IRAN: A PEOPLE INTERRUPTED, 12:30
ISRAELI FILM CLASSIC
Steinhardt Building
35 West 67th St. between Amsterdam & Columbus Aves.
Tickets: $15
212-601-1000
Thursday, April 19 Screening of HILL 24 DOESN'T ANSWER (Thorold Dickinson, 1955), followed a Q&A, 7:30
THE ROMANTIC HEART
Music of the Spheres Society
Christ & St. Stephen's Church
120 West 69th St. east of Broadway
Recommended contribution: $30
212-877-4402
http://www.musicofthespheres.org
Thursday, April 19 Preconcert lecture, "The Unknown Stradivarius," by Stewart Pollens, 7:30, followed by chamber music performance featuring Stephanie Chase, violin; Hsin-Yun Huang, viola; Jon Manasse, clarinet; James Wilson, cello; and Max Barros, piano, playing Giuseppe Tartini/Fritz Kreisler, "Devil's Trill Sonata," Max Bruch's "Characteristic Pieces for clarinet, viola and piano," Dmitri Rachmaninoff's "Vocalise," and Johannes Brahms's "Piano Quartet in c minor," 8:15
THE ROSENBACH COMPANY: A MUSICAL
Humanities and Social Sciences Library
Celeste Bartos Forum
Fifth Ave. at 42nd St.
Tickets: $15
212-930-0855
Friday, April 20 A Story of Bibliomania by Ben Katchor & Mark Mulcahy, 7:00
ARTISTS TALK ON ART
School of Visual Arts, third-floor amphitheater
209 East 23rd St. between Second & Third Aves.
Admission: $7
212-592-2010
Friday, April 20 Neen founder Miltos Manetas, 7:00
K2 LOUNGE: TIME TO ASCEND
Rubin Museum of Art
150 West 17th St. at Seventh Ave.
Artists on Art: free
Harlem in the Himalayas: $15-$20, 7:00
CabaretCinema: $7 food/drink minimum, 7:00
212-620-5000 ext 344
http://www.rmanyc.org/programs/index.cfm
Friday, April 20 Harlem in the Himalayas: Renee Rosnes Quartet
Friday, April 20 Artists on Art: Lee Mingwei, 7:30
Friday, April 20 CabaretCinema: THE PERFECT HUMAN (Jørgen Leth, 1967) and THE FIVE OBSTRUCTIONS (Lars von Trier, 2003), 9:30
CRASHIN' IN
Galapagos Art Space, frontroom
70 North Sixth St. between Wythe and Kent
Tickets: $12
718-384-4586
http://www.galapagosartspace.com/events.html
Friday, April 20 Featuring live performances by Jaguar Club, Gildonworks, Solid Gold, thxplus, and Action Painters, with DJs Oil, Toby Rascal, and Gerald, 10:00
GREEN APPLE FEST
The Knitting Factory, Main Space
74 Leonard St. between Broadway & Church St.
Tickets: $10-$12
212-219-3006
http://www.knittingfactory.com
Friday, April 20 Ryan Montbleau Band, the Casual Fiasco, the Hatch, main space, 7:30
Friday, April 20 Mike Dillon's Go Go Jungle, Licorice, the Bomb Squad, tap bar, 8:00
Saturday, April 21 Piebald, MC Chris, House of Fools, main space, 6:30
Saturday, April 21 John Biz & the Rolling Stallones, Higgins, main space, 11:30
Sunday, April 22 Closing Night Party with Fat Mama, 7:00
TASTE OF CHINATOWN
Various closed-off Chinatown streets between Canal & Worth Sts.
Admission: free
Tasting plates: $1-$2
http://www.explorechinatown.com
Saturday, April 21 Sixth annual event, featuring dishes from more than fifty restaurants, tea houses, bakeries, and food shops, in addition to lion dances, arts and crafts, and live performances, 12 noon - 6:00
VLADA TOMOVA BALKAN TALES
Barbès
376 Ninth St. at Sixth Ave.
Park Slope, Brooklyn
(Very strongly) suggested donation: $10
718-965-9177
http://www.barbesbrooklyn.com/calendar.html
Saturday, April 21 Bulgarian vocal sorceress Vlada Tomova with acoustic guitarist, Kyle Sanna, oud player Brandon Terzic, accordionist Uri Shalin, and acoustic bassist Danny Zanker, 1984
CALLED BY THE BELL
Merchant's House Museum
29 East Fourth St. between Lafayette St. and the Bowery
Special guided tour included with museum admission of $8
212-777-1089
Saturday, April 21
and
Sunday, April 22 A Rare Opportunity to Tour the Servants' Quarters, part of New York City's Fourth Annual Immigrant History Week, 12 noon — 5:00
FILM SCREENING AND DISCUSSION
Museum of the City of New York
1220 Fifth Ave. between 103rd & 104th Sts.
Free with suggested museum admission of $9
212-534-1672 ext3395
Sunday, April 22 HESTER STREET (Joan Micklin Silver), followed by discussion with director Joan Micklin Silver, 2:00
WORKS & PROCESS
Solomon R. Guggenheim Museum
1071 Fifth Ave. at 89th St.
Tickets: $24
212-423-3500
Sunday, April 22
and
Monday, April 23 Slow Dancing, with Wendy Whelan and others being recorded by director David Michalek, including a discussion with Michalek, Whelan, and Lourdes López on the unique process, moderated by Nigel Redden, 7:30
YOM HA'ATZMAUT 2007: ISRAEL'S INDEPENDENCE DAY
Capitale
130 Bowery
Tickets: $30 in advance, $40 at the door; VIP $75-$100
Monday, April 23 Doors open at 6:00, one-hour open bar and passed hors d'oeuvres at 6:30, Yom Hazikaron ceremony at 7:30, all-night dance party with American and Israeli music at 8:15
THE BEAT OF URBAN ART: THE ART OF JUSTIN BUA
Virgin Megastore
52 East 14th St. at Union Square Park
Admission: free
212-598-4666
http://www.virginmegamagazine.com
Monday, April 23 Presentation by Justin Bua, THE BEAT OF URBAN ART, with Q&A followed by book signing, 7:00
PUBLIC PROGRAMS
CUNY Graduate Center
365 Fifth Ave. at 34th St.
Admission: free
212-817-8215
Tuesday, April 24 Weather Report: What's Next for New York, Climatolgically Speaking? Will We Be Drowned, Fried, or Frozen?, with George Hendrey, Stephen Pekar, William Solecki, and John Waldman, 6:30
TODO: Bi-Fold III: GRN
West Village location TBA for ticket holders only
Ticket holders should bring their own cups
Tickets: $22
https://lvhrd.com/event/review/19
Tuesday, April 24 In celebration of Earth Day, LVHRD will hold a special event on sustainability and "green" living, with Russell Robertson of Hybrid Product Design and Development speaking on "Future Urban Transport" and Marci Zaroff of Under the Canopy discussing "Eco-Fashion," hosted by Colin Bevin, the No Impact Man, featuring music from Turntable Lab 04 and beer from the Brooklyn Brewery, 8:00
JEFF LONDON AND THE PROGRESS
Piano's
158 Stanton St. near Ludlow St.
Admission: $8
212-505-3733
http://www.myspace.com/jefflondon1
Wednesday, April 25 Record release party for THE BANE OF PROGRESS (Hush, May 15, 2007), featuring Jeff London on guitar, vocals, harmonica, and histrionics, Alec Menge on drums, Andrew Moon on violin, Robin Ziari on bass and piano, and Greg McMullen on pedal steel, 10:00