Twi-ny, This Week In New York
ROAD SHOW / GRAFFITI NYC (Prestel, 2006, $19.95)
Multiple locations
Fridays & Saturdays 12 noon — 6:00 pm
Through February 24
Admission: free
http://www.martinezgallery.com
According to the introduction by Antonio Zaya (in collaboration with Ken Bensinger), the idea behind GRAFFITI NYC is "based on a fundamental conviction that graffiti is not an anthropological phenomenon to be dissected, not a social malady to be cured, but a legitimate aesthetic and cultural movement, born of a revolutionary spirit and a will to resistance." The trade paperback, assembled by longtime graffiti champion Hugo Martinez, is not about corporate-sponsored, city-sanctioned street art of the kind recently found at the Brooklyn Museum, in Chelsea galleries, and inside and outside 11 Spring St. GRAFFITI NYC documents the real deal, the writers, bombers, and taggers who lurk in the shadows of the five boroughs bearing cans of spray paint and the need to be heard. Street art involves putting pretty pictures in public places, which is its own kind of message; graffiti, which was born and raised in New York, is rebellion, a social and political act from the underrepresented, the tossed aside, the forgotten.

BRUZ on a Brooklyn roof in 2001, photo by NATO, from GRAFFITI NYC

"The act of writing is an obsessive act," RATE explains in the book. "If they make graf legal, I'll stop," adds NOXER. GRAFFITI NYC also includes quotes from such legends as MICO, KEZ 5, CASE 2, and NATO on such subjects as graffiti as art, living on the edge, fighting the status quo, the inherent dangers, and institutional stereotyping and racism. In addition, the book features the words of such anti-graf crusaders as Peter F. Vallone Jr., Rudy Giuliani, Mayor Bloomberg, and Officer Eddie Segui of the NYPD Graffiti Habitual Offender Suppression Team (GHOST). NATO, who took most of the photos in the book, captures the work of the writers mentioned above as well as REVS, DARKS, TECK, FADE, SI, SKUF, and many others. The throw-ups might not be as aesthetically pleasing to the general public as the expansive murals found at the legal spot known as 5 Pointz in Queens, but that's not what graf is about. "Writers will tell you that art doesn't have to be beautiful," Martinez told us one afternoon in the "Road Show" U-Hauls, which will be stopping at various bookstores on weekends through February. Draped over the trucks is a yellow vinyl sheet being tagged by SNAKE 1, RATE, VFR, MOSCO, and others; inside is a slide show of all the photos in the book and more. Somewhere close by is the Vandal Squad, which is following the U-Hauls in the hopes of arresting a writer or two.
Saturday, January 20
and
Sunday, January 21 Outside Barnes & Noble, 675 Sixth Ave. at 22nd St.
Saturday, January 27
and
Sunday, January 28 Outside Barnes & Noble, 4 Astor Pl. at Broadway
Saturday, February 2
and
Sunday, February 3 Outside Columbia University Barnes & Noble, 2922 Broadway at 115th Sts.
Saturday, February 9
and
Sunday, February 10 Outside the High School of Art and Design, 1075 Second Ave. between 56th & 57th Sts.
Saturday, February 16
and
Sunday, February 17 Outside Metropolitan Museum of Art, 1000 Fifth Ave. at 82nd St.
Saturday, February 23
and
Sunday, February 24 Outside Bluestockings Bookstore, 172 Allen St. at Stanton St.
Midtown Exhibit of the Week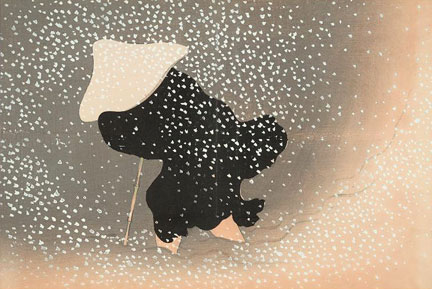 Spencer Collection
Sekka Karnisaka, from FLOWERS OF A HUNDRED GENERATIONS
EHON: THE ARTIST AND THE BOOK IN JAPAN
Humanities and Social Sciences Library
Sue and Edgar Wachenheim III Gallery, first floor
D. Samuel and Jeane H. Gottesman Exhibition Hall, first floor
Fifth Ave. at 42nd St.
Through February 4
Closed Monday
Admission: free
212-930-0830

The rich history of Japanese picture books, or ehon, is traced in this sensational exhibit at the Humanities and Social Sciences Library. Nearly three hundred books, prints, illustrations, woodblocks, drawings, tools, and more are on view, dating from Empress Shôtoku's MILLION PRAYER TOWERS (764-770) to the recent children's book KEBA KEBA by Yujin Kitagawa and Takashi Murakami. The exhibition begins with the "Origins" section in the small Sue and Edgar Wachenheim III Gallery, featuring Kano Naganobu's handscroll THE STORY OF MOMOTARÔ, Buddhist sutras, and early prayer towers. The display continues in the much larger D. Samuel and Jeane H. Gottesman Exhibition Hall, starting off with "The Art of the Book," which examines various forms of Japanese bookmaking and printing techniques, with the rest of the works divided into the three themes of "Heaven," "Earth," and "Humanity."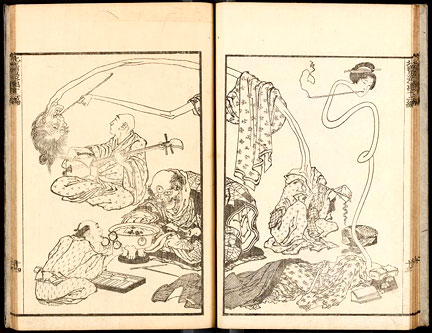 Spencer Collection
Katsushika Hokusai, "Optician, Goblins, and Blind Musician," in HOKUSAI's MANGA

Among the myriad gorgeous selections are Seiho Takeuchi's "Pink Fuji" juxtaposed with Katsushika Hakusai's "South Wind, Clear Dawn" from 100 VIEWS OF MT. FUJI; Kitagawa Utamaro's GIFTS OF THE EBB TIDE (1789) and Sekka Kamisaka's FLOWERS OF A HUNDRED WORLDS, the interiors of which can be seen on a flatscreen DVD player; Hokusai's extraordinary manga sketchbooks; Itô Jakuchû's long handscroll ABOARD THE SHIP OF INSPIRATION; the lovely, spare art that accompanies the wavy calligraphy in 36 GREAT HAIKAI POETS; medical drawings from THE NEW BOOK OF ANATOMY; Yoshitoshi Taiso's exquisite 100 ASPECTS OF THE MOON; the uneasy "Bodhidharma Meditating" from THE ITCHÔ PICTURE ALBUM: A SELECTION OF PLAYFUL SKETCHES; and the lush, verdant landscapes of THE TÔKAIDÔ HANDSCROLLS. There are treasures galore to be found in this outstanding collection, so make sure to allow plenty of time for your visit.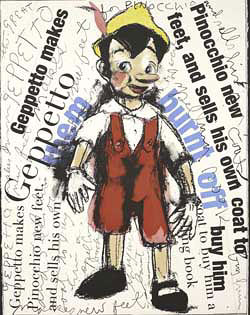 Jim Dine, illustration for PINOCCHIO by Jim Dine
and Carlo Collodi (Göttingen: Steidl, 2006)
JIM DINE'S PINOCCHIO AND OTHER EXHIBITS
Humanities and Social Sciences Library, third floor
Closed Monday
Admission: free
In addition to the spectacular "Ehon" exhibit, there are several others well worth checking out at the Humanities and Social Sciences Library, all on the third floor. "Where Do We Go from Here? The Photo League and Its Legacy (1936-2006)" will line the Print Gallery and Stokes Gallery in both hallways through February 18, featuring photographs by such stalwarts as Ansel Adams, Margaret Bourke-White, Morris Engel, Rosalie Gwathmey, Lewis Hine, Dorothea Lange, Helen Levitt, Aaron Siskind, and Weegee. "A Rakish History of Men's Wear" is on view through April 17 in the Edna Barnes Solomon Room, examining the development of men's dress through the centuries as depicted in books, etchings, chromolithographs, drawings, engravings, and other art forms. Finally, in the North Gallery hallway that leads to the men's room, where Charles Addams's drawings have been hanging on a rotating basis for years, the library has installed prints from contemporary artist Jim Dine's unique new interpretation of Carlo Collodi's PINOCCHIO, works that combine words and images in complex pieces; Dine's statue of the wooden boy wonder himself is on display as well in a glass case.

LIVE FROM THE NYPL SPRING 2007 SEASON
Humanities and Social Sciences Library
Celeste Bartos Forum (CB)
South Court Auditorium (SCA)
Fifth Ave. at 42nd St.
212-930-0855 / 212-930-9213
Tickets go on sale Thursday, January 25, for the New York Public Library's popular "Live from the NYPL" series, conversations featuring writers, artists, critics, and others; this season gets under way February 14 with Aline & R. Crumb and continues through June 27, with appearances by Werner Herzog, Colm Tóibín, William T. Vollman, Clive James, Jan Morris, Julia Alvarez, Adam Phillips, and Günter Grass. In the meantime, below are some other events worth checking out at the NYPL.
Wednesday, January 17 Reflections of the Culture: Fashions, Styles, and Trends — Fashion on the Map: Exploring National Dress as Decoration on Antique Maps, SCA, free, 6:00
Monday, January 22 Reconstruction in Retrospect, with John Hope Franklin, David Blight, and Eric Foner, SCA, $15, 7:00
Tuesday, January 30 Reflections of the Culture: Fashions, Styles, and Trends — John M. Lundquist: Costume and Dress: in the Collections of the Asian and Middle Eastern Division, SCA, free, 6:00
Tuesday, January 30 Colum McCann & Richard Price, SCA, $15, 7:00

In the Neighborhood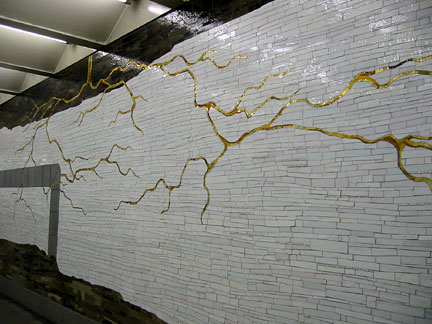 twi-ny/mdr
Bryant Park's roots extend into the subway system in Kunce mosaic
UNDER BRYANT PARK by Samm Kunce
Subway passage at 42nd St. & Fifth Ave. / Bryant Park
Admission: $2 subway fare

The long trek from the five or seven train to the B is not as boring as it once was ever since this poetic pathway was installed. Quotes from Goethe, Joyce, Jung, and Mother Goose line the walls, along with smooth, earth-toned artwork that includes golden roots emanating from the ground like lightning from the sky as well as blue water below, reptilian figures in the middle, and soil above. At the downtown stairway things get very dense as you come upon many layers of the earth. As one of the quotes says, "Nature must not win the game but she must not lose." Brooklyn-based Samm Kunce's piece imagines what it is like below Bryant Park and the New York Public Library, where nature and literature meet. The Municipal Art Society named the work the Best Public Art Project of 2002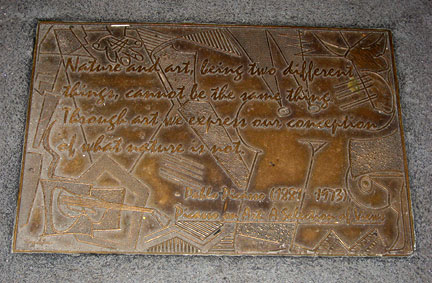 twi-ny/mdr
Picasso quote is bronzed into 41st St.
LIBRARY WALK
Library Way: 41st St. between Vanderbilt (Park) Ave. and Fifth Ave.
Admission: free
http://www.gcpbid.org/what_we_do/beautify_library_way

On May 27, 2004, the Grand Central Partnership, the Department of Transportation, and the New York Public Library teamed up to unveil sculptor Gregg LeFevre's series of ninety-six copper, bronze, and brass plaques along 41st St. that lead from the Pershing Square viaduct to the main branch of the library. Each plaque includes a unique design and a quote about words and language, the importance of reading, and literature in general, from authors, playwrights, poets, philosophers, and artists, selected by a group of librarians and the literati. Among the many stalwarts cited are Jose Marti, William Styron, Julia Alvarez, Georges Braque, Henry David Thoreau, Wallace Stevens, Rene Descartes, Pablo Picasso, Emily Dickinson, William Butler Yeats, Lewis Carroll, Willa Cather, Dylan Thomas, Ernest Hemingway, and many more. Our favorite designs include the pencils for Jerome Lawrence and Robert E. Lee's quote, Gertrude Stein's backward "This is not gibberish," and Richard Eberhart's tribute to the NYPL Reading Room. Perhaps the most timely and relevant quote comes courtesy of Garson Kanin, screenwriter of BORN YESTERDAY: "I want everybody to be smart. As smart as they can be. A world of ignorant people is too dangerous to live in." Although the plaques line both sides of the street, one side is a reverse version of the other. The sidewalk traffic can get fierce at certain times of day, so you can also click on the above Web site to see the plaques.
No Longer in the Neighborhood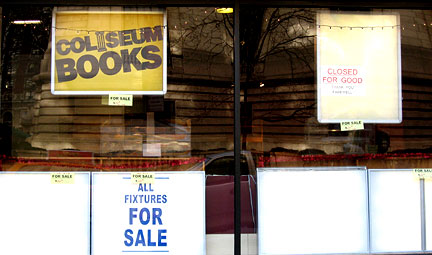 twi-ny/mdr
Coliseum Books is left for the lions
COLISEUM BOOKS
Former address: 11 West 42nd St. between Fifth & Sixth Aves.
Admission: none
Telephone: none
Another indie bites the dust. Coliseum Books, which had a huge presence near Columbus Circle from 1974 through just a few years ago, when it got tossed out over escalating rents, tried to make a go of it starting in June 2003 in this 42nd St. space across from Bryant Park, behind the New York Public Library, but alas, it has shuttered its doors for good this time. On January 6, it bid a final farewell, selling off anything and everything in its store. "We urge you to continue supporting Independent Bookstores and, equally importantly, keep reading," its Web site reads. Amen.
Film Festival of the Week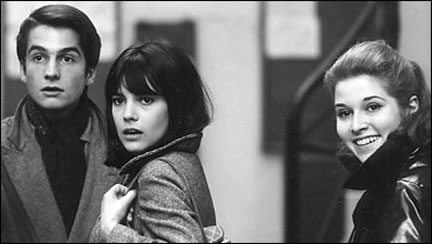 Jean-Pierre Léaud has some fun in Godard's MASCULIN FÉMININ
TRIBUTE TO JEAN-PIERRE LÉAUD
French Institute Alliance Française
Florence Gould Hall
55 East 59th St. between Park & Madison Aves.
Tickets: $9
212-355-6160

Jean-Pierre Léaud is one of the most celebrated international actors in the history of cinema, even if he never has become a household name in America. The French Institute Alliance Française is honoring his wide-ranging, diverse career with this excellent series of films chosen from among his vast repertoire. In addition to his star-making turn in Truffaut's 400 BLOWS, there will be screenings of his eclectic, enigmatic, and fiercely independent appearances in works by such world-renowned directors as Raoul Ruiz, Tsai Ming-liang, Olivier Assayas, Aki Kaurismäki, and Jean-Luc Godard. What, no Bertolucci! (Léaud played Maria Schneider's cuckolded fiancé in the controversial flick.)
Tuesday, January 16 PARS S'ÉVEILLE (PARIS AWAKENS) (Olivier Assayas, 1991), 12:30, 4:00 & 7:00
Tuesday, January 23 L'ÎLE AU TRÉSOR (TREASURE ISLAND) (Raoul Ruiz, 1991), 12:30, 4:00 & 7:00
Tuesday, January 30 LA NAISSANCE DE L'AMOUR (THE BIRTH OF LOVE) (Philippe Garrel, 1993), 12:30, 4:00 & 7:00
Tuesday, February 6 LA VIE DE BOHÈME (BOHEMIAN LIFE) (Aki Kaurismäki, 1992), 12:30, 4:00 & 7:00
Tuesday, February 13 LES QUATRE CENTS COUPS (THE 400 BLOWS) (François Truffaut, 1959), 12:30 & 6:30
THE 400 BLOWS (François Truffaut, 1959)

François Truffaut's magnificent debut feature introduces the world to Antoine Doinel (Jean-Pierre Léaud), an adorable young boy who just can't seem to get out of trouble. The last scene, leading up to that famous final shot, will stay with you forever.
Tuesday, February 13 LES DEUX ANGLAISES ET LE CONTINENT (TWO ENGLISH GIRLS) (François Truffaut, 1971), 4:00 & 9:00
Tuesday, February 20 WHAT TIME IS IT THERE? (Tsai Ming-liang, 2001), 12:30, 4:00 & 7:00
WHAT TIME IS IT THERE? (Tsai Ming-Liang, 2001)
http://www.winstareflash.com/what-time-movie

Malaysian-born Taiwanese filmmaker Tsai Ming-Liang's WHAT TIME IS IT THERE? is one heck of an existential hoot. When his father dies, Hsiao Kang, who sells watches on the street in Taipei, becomes obsessed with a strange woman who insists on buying Hsiao's own watch and then leaves for Paris; with Truffaut's THE 400 BLOWS (Ming-liang's "all-time favorite film"); with urinating in whatever is near his bed instead of going to the bathroom; and with changing clocks to Paris time. Meanwhile, his mother is determined to follow ridiculous rituals to bring her husband back, and the woman in Paris goes through a number of bizarre events as well. There is not a single camera movement in the film (except for in the 400 BLOWS film clips); the scenes are shot by Benoît Delhomme in long takes, often lingering before and after any action--when there is any action. The dialogue is spare, ironic, and hysterical. If you like your movies straightforward and linear, then this is not for you. But we loved this riot of a film, so we suggest you give it a shot. And yes, that person sitting on the bench in the cemetery is exactly who you think it is.
Tuesday, February 27 MASCULIN FÉMININ (Jean-Luc Godard, 1966), 12:30, 4:00 & 7:00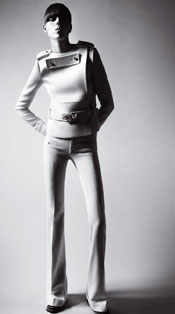 From BALENCIAGA PARIS
by Pamela Golbin (Thames and Hudson)
ALSO AT FIAF
French Institute Alliance Française
Florence Gould Hall / Tinker Auditorium, 55 East 59th St. between Park & Madison Aves.
Le Skyroom, 22 East 60th St. between Park & Madison Aves.
212-355-6160
Monday, January 22 Greatest Wines of France Tasting Series: Burgundy & Chablis, Le Skyroom, $110, 7:00
Wednesday, January 31 Yasmina Reza and John Turturro present A SPANISH PLAY, panel discussion moderated by Brian Kulick, Le Skryoom, $12, 1:00
Friday, February 9 Chantal Akerman presents LÀ-BAS (Chantal Akerman, 2006), followed by a discussion between Akerman and Lynne Cooke, $12, 7:00
Saturday, February 10 Une Voix dans le Désert (A Voice in the Desert), video installation by Chantal Akerman, Tinker Auditorium, free, 12 noon — 5:00
Thursday, February 12 Hazel Rowley and Fabrice Rozié present BEAUVOIR AND SARTRE: A PASSIONATE PACT, discussion, book signing, and reception, Tinker Auditorium, $12, 7:00
Monday, February 12 Greatest Wines of France Tasting Series: Rhone Valley, Le Skyroom, $110, 7:00
Thursday, February 15
and
Friday, February 16 Desperately Seeking Carmen: A Multimedia Experience, with Opéra Français de New York, featuring screening of CARMEN (Cecil B. DeMille, 1915), a dramatic reading, and live performances from Bizet's opera, Florence Gould Hall, $20, 8:00
Friday, February 23 Pamela Golbin presents BALENCIAGA PARIS, discussion followed by book signing and a reception, Le Skryoom, $12, 1:00

In the Neighborhood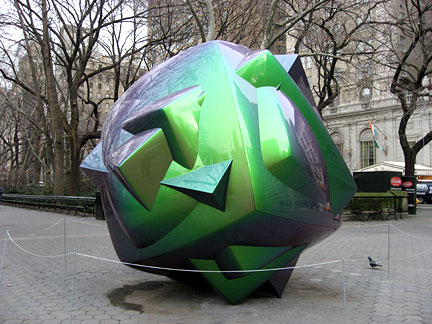 twi-ny/mdr
Liz Larner's "2001" stands at entrance to Central Park
LIZ LARNER: 2001
Public Art Fund Projects
Scholars' Gate at Doris C. Freedman Plaza
Fifth Ave. at 60th St.
Through May 1
Admission: free

L.A.-based artist Liz Larner has been surveying form, material, and color in her unique works for more than twenty years. For "2001," Larner, whose "RWBs" bicycle-parts sculpture was included in last year's Whitney Biennial, used stainless steel, fiberglass, and green and purple automotive iridescent paint to create a twelve-foot object that sits at the Scholars' Gate entrance to Central Park as if two meteors — one a cube, the other a sphere — crashed into each other and melded together. (Or as if a green car and a purple car had one hell of a strange accident.) Oddly shaped geometric pieces emerge out of the body of the sculpture, reflecting the surrounding environment — taxis, trees, tourists — in unusual ways. We were a little disappointed to see a wire around "2001," which prevents you from getting right up close to it, as you can for most of the site-specific installations erected here by the Public Art Fund, but it's still worth checking out — and don't miss those reflections.
Photography Exhibit of the Week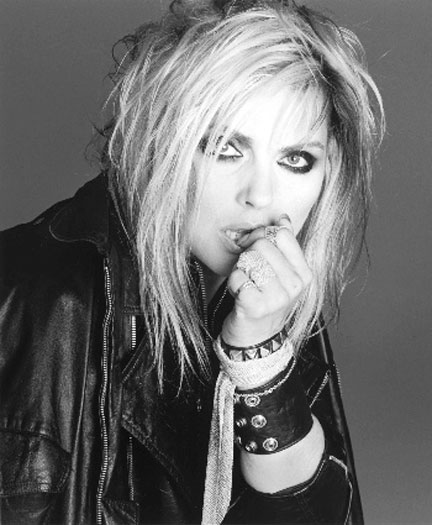 Francesco Scavullo
Francesco Scavullo, "Deborah Harry," 1984
SCAVULLO PORTFOLIO:
HOLLYWOOD WOMEN AND SONG / PORTRAIT BOX: BLACK & WHITE PHOTOGRAPHS BY JEFFREY CONFINO
Fountain Gallery
702 Ninth Ave. at 48th St.
Closed Monday
Through February 28
Admission: free
212-262-2756
http://www.fountaingallerynyc.com
http://www.scavulloeditions.com

The Fountain Gallery in Hell's Kitchen is a nonprofit cooperative dedicated to showing works by artists suffering from mental illness. Fashion photographer Francesco Scavullo, who died in January 2004 just shy of his eighty-third birthday, lived with bipolar disorder, which was not diagnosed until late in his life. The Fountain Gallery is displaying twenty of Scavullo's celebrity portraits, curated by his longtime partner, Sean M. Byrnes. The iconic black-and-white photographs come from two parts of Scavullo's portfolio retrospective. From the Hollywood Women series, the gallery is displaying fab shots of Sophia Loren, Rene Russo, Bette Midler, a young Liza Minnelli, Susan Sarandon, Rene Russo, Faye Dunaway, Lauren Bacall, Barbara Streisand, Elizabeth Taylor, and Glenn Close, each subject seen in close-up, their inner beauty coming right back at the viewer. Those photos are interwoven with pictures from the Song series, more staged, playful depictions of Cher, Luciano Pavarotti, Janis Joplin, Diana Ross, Ravi Shankar, Mick Jagger, a bare-chested Sting, Bernadette Peters, a gleeful Lena Horne, and a stunning Debbie Harry.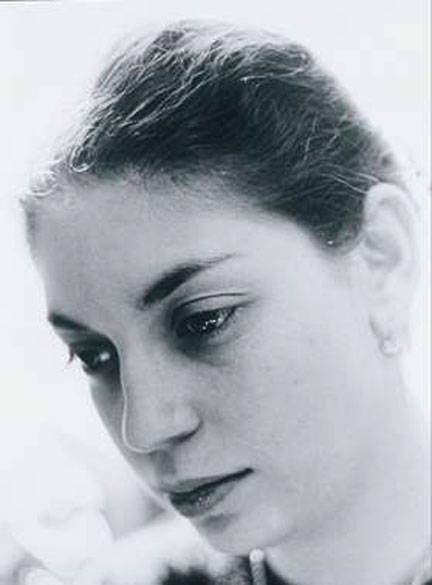 Jeffrey Confino
Jeffrey Confino, "Girl"

Be sure to go into the back room of the gallery, where you'll find dozens of smaller-size black-and-white digital prints taken by Jeffrey Confino, the unofficial portrait photographer of Fountain House who died in 2002. Confino, who lived with mental illness, communicated through these unframed pictures, which show a variety of men and women from his community, perhaps not as glamorous as Scavullo's portraits but just as meaningful. The juxtaposition of the two shows is an extremely successful curatorial decision.

In the Neighborhood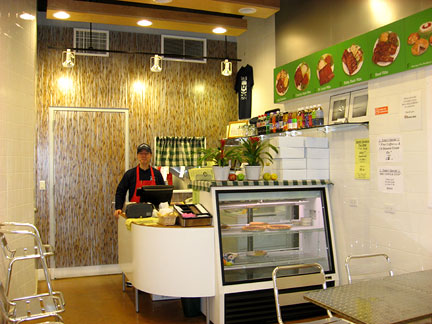 twi-ny/mdr
Sawa brings BBQ and origami to Hell's Kitchen
SAWA BBQ
617 Ninth Ave. between 43rd & 44th Sts.
212-757-0305
The Hell's Kitchen area may be getting a little fancier and trendier, but there are still plenty of good, cheap places to eat, an international collection of ethnic specialties, homey hole-in-the-walls, and hidden treasures offering fine, unusual fare for low prices. One of our favorite destinations is Sawa BBQ, a small, brightly lit joint that was opened in late 2005 by Tokyo émigré Takashi Sawasaki. Sawasaki spent ten years living in Maryland, where he developed a liking for southern food. Thus, Sawa specializes in several types of ribs (beef, St. Louis, baby back, country-style) as well as pulled pork sandwiches and barbecued chicken and beef. The lunch special is hard to beat: $6.95 for any of the above, with one side (mac & cheese, collard greens, green beans, pasta salad, coleslaw, etc.), a roll, and a slice of homemade pie (a rotating selection of peach, sweet potato, pecan, apple, lemon meringue, banana cream, or whatever else he feels like making that day). Plenty of regulars also order the Brunswick Stew, a soupy bowl of vegetables with chicken or beef (but not squirrel, as Sawasaki says it is sometimes served down south). Caving in to ethnic expectations, Sawa will be adding sushi and other Japanese dishes to the menu this week, all hand-rolled and homemade, just like the little origami pieces scattered on the front counter. Be sure to engage Sawasaki while you're there to enhance your dining experience.
Ticket Alert of the Week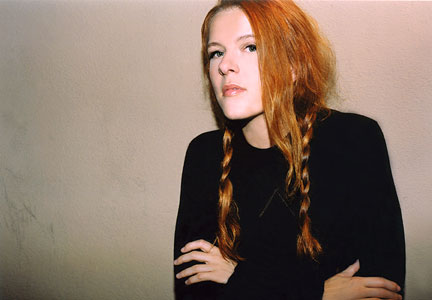 Victoria Renard
Neko Case appears at the Allen Room on February 23
AMERICAN SONGBOOK
The Allen Room
Frederick P. Rose Hall
Broadway at 60th St.
January 17 — February 24
Tickets: $30-$90
212-721-6500
Lincoln Center's 2007 American Songbook season features a wide-ranging group of musicians, from hip hop and alternative to cabaret and jazz, from Old Blue Eyes to Broadway and beyond. Highlights include German chanteuse Ute Lemper, Neko Case from the New Pornographers, Howard Fishman re-creating THE BASEMENT TAPES, and Calexico's unique form of alterna-country.
Wednesday, January 17 Mos Def Big Band, 8:30
Thursday, January 18 Songs by Fred Hersch, 8:30
Friday, January 19 Judy Kuhn, 8:30
Wednesday, January 31 Josh Ritter, 8:30
Thursday, February 1 Howard Fishman: Bob Dylan and the Band's Basement Tapes, 8:30
Friday, February 2 Alan and Marilyn Bergman: Celebrating a Fifty-year Collaboration, 8:30
Saturday, February 3 John Pizzarelli: Dear Mr. Sinatra, 8:30 & 10:30
Wednesday, February 7 The Cherryholmes, 8:30
Thursday, February 8 Calexico, 7:30 & 9:30
Friday, February 9 Jason Robert Brown, 8:30
Saturday, February 10 Betty Buckley: Quintessence featuring Kenny Werner, 8:30 & 10:30
Wednesday, February 21 Ute Lemper, 8:30
Thursday, February 22 Sasha Dobson / Jesse Harris / Richard Julian, 8:30
Friday, February 23 Neko Case, 8:30 & 10:30
Saturday, February 24 Jane Monheit, 8:30
Riff's Rants & Raves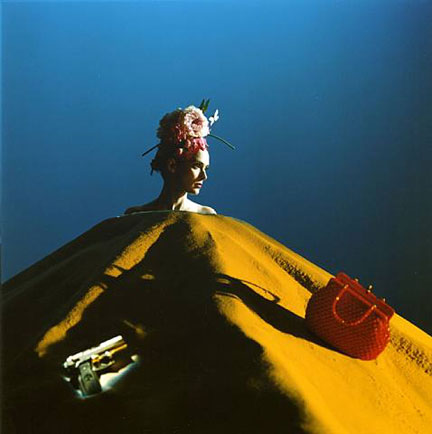 Robert Wilson
Winona Ryder is just one of the subjects of Robert Wilson's VOOM Portraits
ROBERT WILSON: VOOM PORTRAITS
Paula Cooper Gallery, 534 West 21st St. between Tenth & Eleventh Aves.
Through February 3
Admission: free
212-255-1105
Phillips de Pury & Company, 450 West 15th St., fifth floor
Through February 14
Admission: free
212-940-1200
http://www.voom.tv/robert_wilson
http://www.robertwilson.com/calendar

In 2004, VOOM HD Networks commissioned Robert Wilson, the high-definition television company's first artist-in-residence, to create video portraits of celebrities and other men, women, and animals, to be shown on the network. Thirty-two of these fascinating portraits are on view in the mazelike Phillips de Pury & Company gallery. As you weave your way through the myriad rooms, you'll come upon Mikhail Baryshnikov as St. Sebastian, Princess Caroline evoking her mother's performance in REAR WINDOW, sumo champion Byamba Ulambayar with his arms and legs spread wide open, Robert Downey Jr. being operated on, and Robin Wright Penn floating perilously against a heavenly blue sky. Isabelle Huppert clutches her head tightly, Marianne Faithfull hangs upside down like a bat, Gao Xingjian closes his eyes as words appear over his enormous face, and Brad Pitt stands in the rain in his skivvies, gun at the ready. Most of the portraits contain little or no action whatsoever; sometimes you have to get right up close and personal to even see an Adam's apple move or a stomach go up and down with each breath. The portraits are framed in such a way that sometimes you feel like you're peering into a window, intruding on someone's private space. Each piece is accompanied by specially chosen music, either new works by Peter Cerone and Michael Galasso or songs by Tom Waits, Ethel Merman, Bernard Herrmann, Lou Reed, J.S. Bach, and Lieber and Stoller. At the nearby Paula Cooper Gallery, a video portrait of Winona Ryder is projected onto a large wall; the actress is buried in sand, surrounded by a gun, a toothbrush, and a red bag, portraying the main character in Samuel Beckett's HAPPY DAYS. On the other side of the gallery are a dozen beautiful versions of a snowy owl against multicolored backgrounds.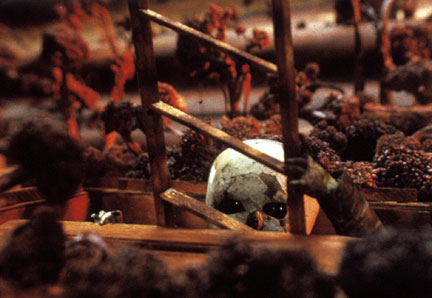 Zeitgeist Films
"The Comb (From the Museums of Sleep)" is a Brothers Quay masterpiece
TALES OF THE BROTHERS QUAY
Film Forum
209 West Houston St. between Sixth & Seventh Aves.
January 19-25
Tickets: $10
212-727-8110
http://www.filmforum.org/films/quay

The Gothic, industrial, dreamlike fantasy world of the Brothers Quay, identical twins from Philadelphia who work in London, comes to Film Forum in an eleven-film retrospective that will utterly mesmerize you. The two sixty-seven-minute programs, interrupted by a fifteen-minute intermission, highlight most of the brothers' finest short films (eight in new prints), dark, foreboding stop-motion masterpieces that mix classical-based and electronic music with strange, intriguing images. The films do not necessarily follow linear narratives; just sit back in your seat and let them flow over, around, and through you. Program I opens with "The Cabinet of Jan Svankmajer," which pays homage to the Czech animation genius, and ends with "The Comb (From the Museums of Sleep)," a fabulously layered film that switches back and forth between color and black and white as a woman has a remarkable dream. Program II includes the brothers' most famous piece, "Street of Crocodiles," an award-winning adaptation of Bruno Schulz's story told the Quay way, with eerie dolls and puppets, ominous screws, and various machine parts come to life, and it concludes with the meditative "In Absentia," dedicated to a woman "who lived and wrote to her husband from an asylum," with a gorgeous minimalist score by Karlheinz Stockhausen. We're not quite as fond of the two music videos (from their Stille Nacht series) the brothers made for the group His Name Is Alive, but that's only a minor quibble. The retrospective is set to run for only a week, so catch it while you can.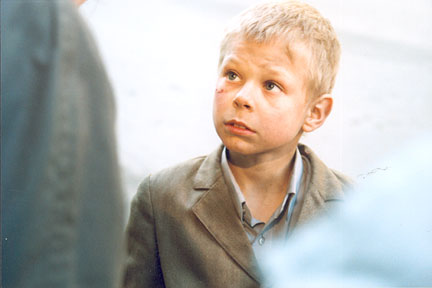 Tatiana Kanayeva / © 2006 CTB Film Company
Kolya Spiridonov is unforgettable in title role
THE ITALIAN (ITALIANETZ) (Andrei Kravchuk, 2005)
Opens Friday, January 19
Quad Cinema
34 West 13th St. between Fifth & Sixth Aves.
212-255-8800
Lincoln Plaza Cinemas
1886 Broadway between 62nd & 63rd Sts.
212-757-0359
http://www.sonyclassics.com/theitalian
http://lincolnplaza.moviefone.com

When six-year-old Vanya Solntsev (Kolya Spiridonov) is brokered in an adoption deal with a wealthy Italian couple, the rest of the boys at the orphanage begin referring to him as "the Italian." As Madam (Maria Kuznetsova) proceeds with the paperwork and the courts (and lots of bribes), Vanya suddenly becomes terrified that his mother, who abandoned him as an infant, might come back to claim him, so he goes to extraordinary lengths to try to find out about her before he is sent to Italy. The soft-spoken boy undertakes his heart-wrenching journey while the determined Madam, the wimpy headmaster (Yuri Itskov), and the macho Grisha (Nikolai Reutov) battle to protect their investment. First-time feature-film director Andrei Kravchuk and screenwriter Andrei Romanov based this compelling tale on actual events involving homeless children, the illegal selling of orphans, and one boy's inspired story. Taking a page from the Italian Neo-Realists, they shot the film in existing Russian orphanages, using many real orphans. Young Spiridonov is absolutely mesmerizing as Vanya, joining the ranks of such unforgettable child performances as Andrei Chalimon's in KOLYA (Jan Sverák, 1996), Enzo Staiola's in THE BICYCLE THIEF (Vittorio De Sica, 1948), Jackie Coogan's in THE KID (Charlie Chaplin, 1921), and David Bennent's in THE TIN DRUM (Volker Schlöndorff, 1979).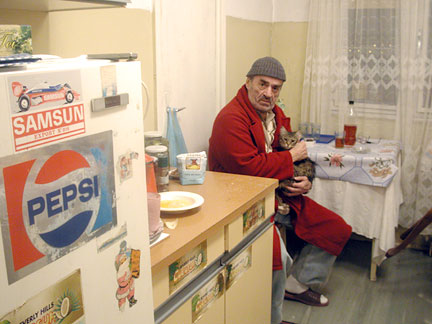 Tartan Films
Mr. Lazarescu (Ian Fiscuteanu) is in for a really bad day
THE DEATH OF MISTER LAZARESCU
(Cristi Pui, 2005)
IFC Center
323 Sixth Ave. at Third St.
January 24 - February 1
Tickets: $10.75
212-924-7771

Poor Mr. Lazarescu. He lives in a shoddy hovel of an apartment in Bucharest, where he drinks too much and gets out too little. He moves around very slowly and has trouble saying what's on his mind, even to his three cats. His family is sick and tired of telling him to lay off the booze, so they ignore his complaints. Suffering from headaches and stomach pain, he phones for an ambulance several times, but it arrives only after a neighbor calls as well. Mr. Lazarescu then spends the rest of this very long night fading away as he is taken to hospital after hospital by the ambulance nurse, who gets involved in a seemingly endless battle with doctors to try to save him. Ian Fiscuteanu is sensationally realistic as Mr. Lazarescu; you'll quickly forget that he's not really a drunk, disgusting, dying old man. Luminita Gheorghiu is excellent as Mioara, the nurse who gets caught up in Mr. Lazarescu's case. Winner of the Cannes Film Festival's Un Certain Regard Award, cowriter-drector Cristi Puiu's very dark comedy is simply captivating; despite a slow start, it'll pull you in with its well-choreographed scenes, documentary style, and careful camera movement. (Also look for the subtle and very specific naming of characters.) Using Erich Rohmer's "Six Moral Tales" as inspiration, Puiu has said that THE DEATH OF MISTER LAZARESCU is the first of his own "Six Stories from the Bucharest Suburbs," this one dealing with "the love of humanity." We can't wait for the next one.
© 2005 Tsai cheng-tai
Shu Qi and Chang Chen enjoy a different kind of three-way in THREE TIMES
THREE TIMES (Hou Hsiao-hsien, 2005)
IFC Center
323 Sixth Ave. at Third St.
January 24 - February 1
Tickets: $10.75
212-924-7771
http://www.threetimes-film.com

Hou Hsiao-hsien's gorgeous THREE TIMES is an evocative, poetic trilogy of tales about life and love in Taiwan, all starring the mesmerizing Shu Qi (Hou's MILLENNIUM MAMBO) and the stalwart Chang Chen (Wong Kar-wai's 2046 and HAPPY TOGETHER). In A TIME FOR LOVE, set in 1966 and featuring a repeated soft-rock soundtrack, Chen, about to leave for military service, meets May, a pool-hall girl, and promises to write to her even though they have only just met and barely said a word to each other. When he gets a furlough, he goes to the pool hall only to find that she's on the move, so with Zen-like cool he tries to track her down. A TIME FOR FREEDOM, a silent film with interstitial dialogue and period music, takes place in an elegant brothel in 1911, where Mr. Chang regularly visits a beautiful courtesan. But while she dreams of him buying out her contract and marrying her, he seems intent on helping out another couple instead. Hou concludes the trilogy with A TIME FOR YOUTH, set in fast-paced modern-day Taipei, as Jing, an epileptic singer, and Zhen, a motorcycle-riding photographer, embark on a passionate, nearly wordless affair that has serious consequences for their significant others. THREE TIMES is a rare treat for cineastes, an intelligent though overly long study of relationships between men and women in a changing Taiwan over the last hundred years, focusing on character, time and place, and the art of filmmaking itself.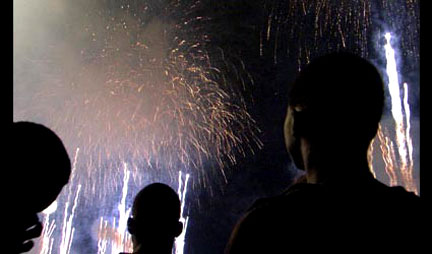 The Lost Boys are sent to a hopeully bright new life in GOD GREW TIRED OF US
GOD GREW TIRED OF US: THE STORY OF THE LOST BOYS OF SUDAN (Christopher Quinn, 2006)
Landmark Sunshine Cinema
143 East Houston St. between First & Second Aves.
Tickets: $10.75
212-330-8182
http://www.landmarktheatres.com
http://www.godgrewtiredofus.com

In 1987, tens of thousands of children, nicknamed the "Lost Boys" from PETER PAN, fled from their homes in Sudan, which was in the midst of a brutal civil war. Five torturous years later, the survivors made it to a UN refugee camp in Kakuma, Kenya. In 2001, thirty-eight hundred of the boys were selected by the United States to relocate here, receiving housing and food for three months before having to make it on their own in the land of plenty. GOD GREW TIRED OF US follows the struggles of three of the boys — now men — as they fly in an airplane for the first time, shop at supermarkets, and look for work. John Bul Dau is sent to Syracuse, where the tall, proud man is determined to preserve his cultural heritage, not wanting to get completely sucked into the American way of life. Daniel Abol Pach and Panther Blor are moved to Pittsburgh, where they attempt to make new starts while never forgetting the friends and family left behind in their "mother homeland." Director Christopher Quinn, who built up more than $50,000 of credit-card debt in making the film before receiving fundraising support from such actors as Brad Pitt, Catherine Keener, and Dermot Mulroney, is able to get into the hearts and souls of the Lost Boys, creating a powerful, emotional documentary. For historical perspective, he includes graphic archival footage of life in Sudan, a country that still is desperate for the world's help. Narrated by Nicole Kidman, GOD GREW TIRED OF US, which won the Grand Jury Prize and the Audience Award at the 2006 Sundance Film Festival, is an unforgettable story that needs to be seen.
BABEL (Alejandro González Iñárritu, 2006)
In theaters now
http://www.paramountvantage.com/babel

Fearing that the people of the world, who all spoke the same language, were capable of anything after building a tower that reached to the heavens, the Old Testament God confused their languages and scattered them all over the earth. The inability of people to communicate with one another is at the center of Alejandro González Iñárritu's fascinating, compelling BABEL. The plot follows three stories that slowly intertwine. On vacation in Morocco, Susan (Cate Blanchett) is the victim of a random gunshot fired by a small boy (Boubker Ait El Caid), sending her husband, Richard (Brad Pitt), into a frenzy to try to save her life. Meanwhile, their housekeeper, Amelia (Adriana Barraza), who is looking after their children, has to decide what to do with them on the day of her son's wedding in Mexico, turning to her crazy nephew Santiago (Gael García Bernal) for help. And in Tokyo, Chieko (Rinko Kikuchi) is a deaf-mute teenager who desperately wants to fall in love, but all the boys she meets — and her father (the great Kôji Yakusho, from THE EEL, CURE, and SHALL WE DANCE?) — don't take the time to listen to and understand her. Despite a couple of minor wrong turns, Iñárritu recovers to make BABEL a whirlwind of a movie, laying bear the tragic consequences that can occur when people refuse to simply communicate, even in the most basic of ways.
The film received seven Oscar nominations, including Best Picture, Best Director, Best Original Screenplay (Guillermo Arriaga), and Best Supporting Actress (both Barraza and Kikuchi). It is part of the triple play of fabulous films by Mexican directors in 2006, along with Guillermo del Toro's PAN'S LABYRINTH (nominated for six Oscars, including Best Foreign Language Film) and Alfonso Cuarón's CHILDREN OF MEN (three Oscar nominations, including Best Adapted Screenplay).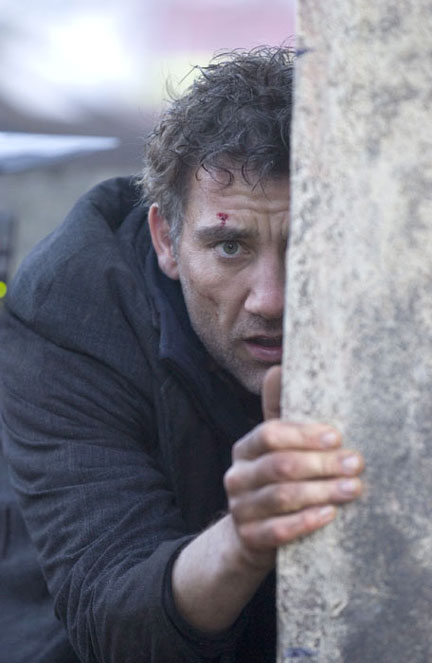 Clive Owen doesn't like what he sees in CHILDREN OF MEN
CHILDREN OF MEN (Alfonso Cuarón, 2006)
In theaters now
http://www.thehumanprojectlives.org

It's 2027, and there hasn't been a baby born in the world in eighteen years. For some unknown reason, women have become infertile, leading to chaos around the globe. Only England perseveres, but it is on the brink of destruction as warring factions prepare for doomsday. Onetime revolutionary Theo (an even-keeled-as-ever Clive Owen) has settled down into a mundane life, but he's thrust back into the middle of things when he is kidnapped by a radical organization run by his ex-wife, Julian (Julianne Moore), and her right-hand man, the hard-edged Luke (Chiwetel Ejiofor). Theo is forced to escort Kee (Claire-Hope Ashitey), a young fugee (refugee), through the danger zone and to the Human Project, a supposed safe haven that might not actually exist. Also staring extinction in the face are Theo's brother, Nigel (Danny Huston); Theo's hippie friend, Jasper (a longhaired Michael Caine); and homeland security officer Syd (Peter Mullan). Based on the novel by P. D. James, the chilling CHILDREN OF MEN is a violent, prescient, nonstop thrill ride, moviemaking of the highest order, cowritten and directed by Alfonso Cuarón (Y TU MAMÁ TAMBIÉN, HARRY POTTER AND THE PRISONER OF AZKABAN) and photographed in vibrant filth and muddiness by Emmanuel Lubezki. Stay through the credits for a tiny but critical coda.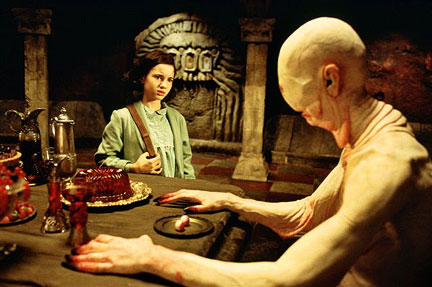 Ofelia meets the Pale Man in Del Toro fairy tale
PAN'S LABYRINTH (EL LABERINTO DEL FAUNO)
(Guillermo Del Toro, 2006)
In theaters now

The closing night film of the 2006 New York Film Festival and now nominated for an Oscar for Best Foreign Language Film, PAN'S LABYRINTH is a breathtaking fairy tale set in 1944 Spain, shortly after the Spanish Civil War. When her mother, Carmen (Ariadna Gil), marries Captain Vidal (Sergi Lopez), young Ofelia (Ivana Baquero) must move to the middle of the woods, where Vidal and his small group of soldiers are defending the last vestiges of Franco's Fascist regime against a group of resistance fighters seeking peace and freedom for all. Led by a mysterious flying creature, the adventurous Ofelia makes her way through an ancient underground labyrinth, where she meets the Faun (HELLBOY's Doug Jones), who tells her that she just might be the reborn, long-missing princess they've been waiting centuries for — but first she'll have to perform three tasks to prove that she has returned to claim her throne. As Vidal shows more concern for the baby that Carmen is carrying than for Carmen herself — and also brutally tortures and kills anyone who gets in his way, whether it is one of the revolutionaries or one of his own people — Ofelia meets a dangerous yet engaging series of beings as she hopes for her fairy-tale dreams to come true and erase the nightmares of the real world. Del Toro (THE DEVIL'S BACKBONE) has cleverly balanced fantasy and reality, alternating between scenes of horror and graphic violence aboveground and below as seen through the eyes of a brave young girl trapped in both.
THE PURSUIT OF HAPPYNESS (Gabriele Muccino, 2006)
In theaters now
http://www.sonypictures.com/movies/thepursuitofhappyness

Will Smith takes the serious route in THE PURSUIT OF HAPPYNESS, a well-meaning, poignant, but eventually overwrought drama of class, race, and society, inspired by a true story. Smith stars as Chris Gardner, a determined husband and father who gambles his life savings on a bone-density machine. He makes sales calls on doctors, pushing the machine, but they're not biting, leaving him in desperate straits. With his wife (Thandie Newton) threatening to leave and his son, Christopher (Jaden Christopher Syre Smith, Will's real-life son with Jada Pinkett), caught in the middle, Gardner suddenly believes that his life can change for the better if he first gets an internship at Dean Witter, then wins the single job that is available. (This is, after all, the wild and woolly Reagan '80s.) Rapper-comedian-action-hero Smith turns in a good performance as Gardner, as he keeps hitting wall after wall trying to feed, clothe, and shelter his family, but his struggles become repetitive and ponderous. As ridiculous as he looks carrying around and protecting what looks to be a typewriter (the bone-density machine), he looks even more silly chasing around homeless people on the streets of San Francisco to recover missing ones. Newton is wasted in a one-note role, although Jaden makes a fine feature-film debut playing alongside his dad, in the first English-language movie from Italian director Gabriele Muccino.
NOTES ON A SCANDAL (Richard Eyre, 2006)
In theaters now
http://www2.foxsearchlight.com/notesonascandal

Oscar-nominated Cate Blanchett delivers the best female performance of the year in the tantalizing NOTES ON A SCANDAL, based on the novel by Zoe Heller. Blanchett plays Sheba Hart, a beautiful, married art teacher and mother who gets into a bit of trouble with one of her students (Andrew Simpson). When history teacher Barbara Covett (Oscar-nominated Judi Dench) discovers her secret, the frumpy, lonely battle-ax decides to use the knowledge to get closer to the young teacher. But we've already told you too much. Blanchett imbues the damaged Sheba with a heartbreaking complexity, while Dench infuses the very formal Barbara with graceful mischief and a surprisingly wicked sense of humor. The film virtually explodes whenever they're on screen together, which thankfully is much of the time. Richard Eyre (STAGE BEAUTY, IRIS, THE PLOUGHMAN'S LUNCH) directs NOTES ON A SCANDAL with a careful hand, not letting the acting get too out of control while also avoiding campy sentimentality.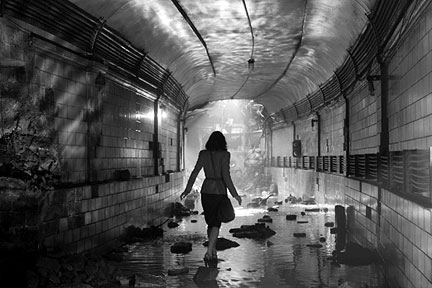 Cate Blanchett walks softly in Soderbergh's noir thriller
THE GOOD GERMAN (Steven Soderbergh, 2006)
In theaters now
http://thegoodgerman.warnerbros.com

They'll always have Berlin. Well, not exactly. Director Steven Soderbergh tells this WWII noir, based on the novel by Joseph Kanon, in period black and white, even daring to mix in elements of such untouchable classics as CASABLANCA (Michael Curtiz, 1942), NOTORIOUS (Alfred Hitchcock, 1946), and THE THIRD MAN (Carol Reed, 1949), and he pulls it off with flying colors. Soderbergh pal George Clooney stars as Jake Geismer, a war correspondent who returns to Berlin to cover the Potsdam Conference for the New Republic. As Harry S Truman, Winston Churchill, and Joseph Stalin gather to decide the fate of Germany and the free world, Jake gets mixed up in a murder mystery involving motorpool corporal Tully (Tobey Maguire), who exploits Berlin and the black market for all their worth; Colonel Muller (Beau Bridges), who is out to protect America's interests in Germany; a prosecutor named Bernie (Leland Orser), who is seeking to bring Nazi war criminals to justice; general Sikorsky (Ravil Isyanov), who cares only about Russia's interests; and femme fatale Lena Brandt (Cate Blanchett), who is at the center of it all. Soderbergh (TRAFFIC, ERIN BROCKOVICH, sex, lies, and videotape) shot THE GOOD GERMAN with one camera, in old-fashioned black and white, mixing in archival footage taken by Billy Wilder and John Huston, giving it the feel of a 1940s flick. Clooney is stalwart in the lead role, his Rick-like character lost in love for the Ilsa-like Blanchett.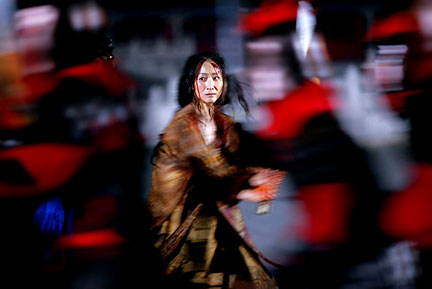 Zhang Yimou epic is bathed in beautiful colors
CURSE OF THE GOLDEN FLOWER (Zhang Yimou, 2006)
In theaters now
http://www.sonyclassics.com/curseofthegoldenflower

Zhang Yimou's CURSE OF THE GOLDEN FLOWER is a breathtakingly beautiful Shakespearean martial-arts epic set in the tenth-century Later Tang Dynasty. Chow Yun Fat stars as the Emperor, the proud patriarch of a seriously dysfunctional Imperial Family. His second wife, the Empress (the luminous Gong Li, reunited with her former lover and director for the first time in more than a decade), has been having a three-year affair with his oldest son, Crown Prince Wan (Liu Ye), who has fallen in love with the Imperial Doctor's daughter, Chan (Li Man), who regularly serves the Empress poisoned medicine with the help of her father (Ni Dahong). Right before the annual Chrysanthemum Festival, the middle son, Prince Jai (Asian pop star Jay Chou), returns successfully from battle, seeking to know his future, while the third son, the lost and childlike Prince Yu (Qin Junjie), tries to find his place in the crumbling family. Soapy melodrama and surprising plot twists mix with fabulously choreographed fight scenes, marvelous costumes bathed in gold, and stunningly gorgeous production design to create a rousing, bloody tale of treachery, forbidden love, deception, and loyalty, set amid the glowing yellow of the chrysanthemums and a magnificent, glittering palace that is one of the best sets you'll ever see. The closing song, a sappy piece of tripe written and sung by Chou, is an awful way to end this otherwise captivating film. Zhang, the master of the Chinese period piece (RAISE THE RED LANTERN, JU DOU, TO LIVE, HOUSE OF FLYING DAGGERS), will also be directing the world premiere of Tan Dun's opera THE FIRST EMPEROR at the Metropolitan Opera House beginning December 21.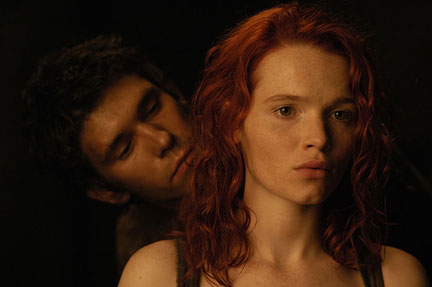 Scentsational Süskind novel is at last brought to the big screen
PERFUME: THE STORY OF A MURDERER (Tom Tykwer, 2006)
Angelika Film Center
18 West Houston St. at Mercer St.
212-995-2000
Lincoln Plaza Cinemas
1886 Broadway between 62nd & 63rd Sts.
212-757-0359
https://www.thierrymuglerusa.com
http://lincolnplaza.moviefone.com
http://www.city-cinemas.com/angelika

We o-dored Patrick Süskind's scentsational novel when we first read it nearly twenty years ago, and we're glad to report that cowriter-director Tom Tykwer (RUN, LOLA, RUN) has done justice to the creepy, complex story in bringing it at last to the big screen. (Süskind is a notorious recluse who shuns interviews and movie producers.) Relative newcomer Ben Whishaw stars as Jean-Baptiste Grenouille, a peasant born with an extraordinary olfactory system. Slaving away for a brutal tanner, Jean-Baptiste sneaks away and lands himself a job working for fading perfumer Giuseppe Baldini (Dustin Hoffman, with an accent we're still trying to figure out), where he's able to create the most amazing scents — except the one he most longs for, the smell of a beautiful woman. So he keeps experimenting, and the body count keeps rising. The ending goes a bit haywire, but overall Tykwer does a solid job of transferring Süskind's intense psychological narrative and inner monologue into a compelling cinematic thriller, with excellent narration supplied by John Hurt. Add half a star if you have a nostril fetish.
For those of you who can't get enough of PERFUME, Thierry Mugler has collaborated on an elegant coffret that includes fifteen of Süskind's lovingly described scents, including Baby, Paris 1738, Virgin No. 1, Amor & Psyché, Ermite, Existence, and Orgie. We've actually sampled them, and they are quite realistic. Although we're not sure anyone really wants to smell like 1738 Paris, the set is available, online only, for a mere $700.
THE DEPARTED (Martin Scorsese, 2006)
In theaters now
http://thedeparted.warnerbros.com

Based on Andrew Lau and Alan Mak's awesome INFERNAL AFFAIRS (2002), Martin Scorsese's relatively faithful remake, THE DEPARTED, has been moved from Hong Kong to the mean streets of Boston, where it is hard to tell cop from criminal. Just out of the academy, Colin Sullivan (Matt Damon) rises quickly to detective in the Special Investigations Unit, but he's actually in cahoots with master crime lord Frank Costello (Jack Nicholson). Meanwhile, Billy Costigan (an excellent Leonardo DiCaprio), training to become a cop, is sent deep undercover (including a prison stint) to infiltrate Costello's gang, with only Captain Queenan (Martin Sheen) and Sergeant Dignam (a very funny and foul-mouthed Mark Wahlberg) aware of the secret mission. Sullivan and Costigan are like opposite sides of the same persona; in between them stands Costello — and Madolyn (Vera Farmiga), a psychiatrist who is in a relationship with one and is doctor to the other. As both the cops and the criminals search desperately for their respective rats, no one can trust each other, leading to lots of blood and a spectacular finale. Nicholson has a field day as the aging gangster, chewing up mounds of scenery in his first film with Scorsese, who has returned to peak form with his best film since 1990s GOODFELLAS, earning an Oscar nomination for Best Director. The film is also up for Best Picture.
THE LAST KING OF SCOTLAND (Kevin MacDonald, 2006)
In theaters now
http://www2.foxsearchlight.com/thelastkingofscotland

Forest Whitaker is absolutely mesmerizing in his Oscar-nominated role as General Idi Amin in Kevin MacDonald's THE LAST KING OF SCOTLAND, demanding viewers' attention every time he appears on-screen, a dominating, bigger-than-life presence. Unfortunately, the rest of the film lets him down, failing to come close to his overpowering performance. The movie is based on Giles Foden's award-winning novel, in which the author created a composite character, Nicholas Garrigan, a Scottish doctor who becomes a close confidant of Amin's. What might have worked in the book falls apart on camera in a series of hard-to-believe scenes that actually never happened. As played by James McAvoy, Garrigan is goofy and lightweight from the very beginning, unable to compete with the massive Whitaker as Amin. He makes a play for his boss's wife (Gillian Anderson), thinks he doesn't have to play the political game with a British operative (Simon McBurney), and takes a liking to one of Amin's mistreated wives (Kerry Washington). While it is fascinating to watch the rise and fall of the President for Life, his relationship with Garrigan is hard to swallow — mostly because it's not true. And even those bits and pieces that are factual have been twisted and changed to increase emotional impact, ending up with manipulated melodrama instead of what really happened — which is a shame, since MacDonald's first two films, the well-regarded ONE DAY IN SEPTEMBER and TOUCHING THE VOID, were both documentaries.
THE SCIENCE OF SLEEP (Michel Gondry, 2006)
Cinema Village
22 East 12th St. between University Pl. & Fifth Ave.
Tickets: $10
212-924-3363
http://thescienceofsleep.imeem.com

Eclectic auteur Michel Gondry's feature-length debut as both writer and director is a complex, confusing, kaleidoscopic stew that is as charming as it is frustrating. Gael García Bernal (THE MOTORCYCLE DIARIES) stars as the juvenile but endearing Stephane, a young man in a silly hat who has trouble differentiating dreams from reality. The childlike Stephane becomes friends with his new neighbor, Stephanie (Charlotte Gainsbourg, daughter of Serge Gainsbourg and Jane Birkin), who still has plenty of the child left inside her as well. Stephane has a job his mother (Miou-Miou) got him, toiling for a small company that makes calendars, alongside the hysterical Guy (Alain Chabat), who can't help constantly poking fun at coworkers Serge (Sacha Bourdo) and Martine (Aurélia Petit). Gondry, who gave us the brilliant ETERNAL SUNSHINE OF THE SPOTLESS MIND as well as the highly entertaining DAVE CHAPPELLE'S BLOCK PARTY and the bizarre HUMAN NATURE, uses low-tech green-screening and stop-motion animation to reveal Stephane's fantasy world, bringing to mind such masters as Jan Svankmajer and the Brothers Quay. Unfortunately, just as Stephane can't tell what's real from what he's dreaming, you'll often have difficulty as well; some of the plot turns are downright infuriating, and Stephane's TV show teeters on the edge of embarrassing. But you'll also be hard-pressed not to leave the theater feeling like a kid in a candy store.
THE QUEEN (Stephen Frears, 2006)
In theaters now

It's tradition versus modernization in Stephen Frears's re-creation of the Royal Family's reaction to the death of Princess Diana on August 31, 1997. While the world mourns, Queen Elizabeth II (a stoic Helen Mirren), Prince Philip (an acerbic James Cromwell), and the Queen Mum (Sylvia Syms) just continue their daily routine as if nothing has happened. They take Diana and Prince Charles's (Alex Jennings) children up to Balmoral to hunt stag, refusing to publicly acknowledge the tragedy. Meanwhile, Tony Blair (Michael Sheen, reprising the role from Frears's 2003 British television movie THE DEAL) has been swept into the office of prime minister in a landslide victory for forward-thinking change. Noting the public response to Diana's death, Blair implores the queen to respond, but protocol, pride, and dignity get in the way. Frears cleverly, if obviously, displays the differences between the old and the new in depicting the simple home life of the Blairs against the opulence of the Royal Family, each way of life representing the ever-growing gap in British society. Through exhaustive research, screenwriter Peter Morgan imagines the relationship between Blair and the queen, including numerous private conversations held over the phone and in person, and as intriguing as they are, there's just no way to know how much of it really happened. (A similar fate befell THE LAST KING OF SCOTLAND, in which cowriter Morgan imagined conversations Idi Amin had with a made-up character.) THE QUEEN, up for Best Picture, is a compelling film, with solid acting (Cromwell is a screaming riot, and Mirren earned an Oscar nomination for Best Actress) and appropriately calm direction, but it never quite reaches the heights it aspires to.
BORAT: CULTURAL LEARNINGS OF AMERICA
FOR MAKE BENEFIT GLORIOUS NATION OF KAZAKHSTAN (Larry Charles, 2006)
In theaters now

Believe the hype. Sacha Baron Cohen holds a mirror up to America, and you might not like what you see — although you'll laugh your head off while watching it. Cohen stars as bushy haired Kazakhstan journalist Borat Sagdiyev, a role he created for DA ALI G SHOW, the 2001 series in which he interviewed such luminaries as Newt Gingrich, Boutros Boutros-Ghali, Andy Rooney, and Norman Mailer while pretending to be a British hip-hop wigger (Ali G); he also disguised himself as a German fashionista (Bruno) and Borat, a reporter who likes to talk about sex, especially with his sister. In CULTURAL LEARNINGS OF AMERICA FOR MAKE BENEFIT GLORIOUS NATION OF KAZAKHSTAN, Borat leaves his little village in Kazakhstan and travels across the United States with his producer, the rotund Azamat (Ken Davitian), in search of his true love, BAYWATCH's Pamela Anderson. Along the way, he is making a documentary about the American way of life, turning a revealing lens on racism, anti-Semitism, sexism, misogyny, homophobia, blind patriotism, fundamentalism, and southern hospitality, with a healthy dose of toilet humor (literally). The people he speaks with — a feminist group, gun and car dealers, rodeo cowboys, conservative politicians Bob Barr and Alan Keyes, etiquette and humor experts, Christian evangelicals at a revivalist tent meeting, drunk frat boys in an RV — believe he is really a Kazakh journalist, and Cohen holds nothing back, unafraid to ask any question or kiss any man, often risking his personal safety in hysterical ways. He's got the biggest cojones we've ever seen — and you nearly get to see them when he and Azamat chase each other naked through a hotel, ending up fighting onstage at a mortgage bankers convention. BORAT is more EASY RIDER than JACKASS and BEAVIS AND BUTT-HEAD DO AMERICA, a road trip movie that captures the state of the nation in frightening yet very funny ways. Curiously, the only Oscar nomination it received was for Best Screenplay, despite much of it being improvised.
THE AMERICAN BEAUTY PROJECT
World Financial Center Winter Garden
225 Vesey St. at West & Liberty Sts.
Admission: free
212-945-2600
http://www.worldfinancialcenter.com/calendar
When we were in college, one of our favorite cassettes featured the Grateful Dead's AMERICAN BEAUTY on one side and WORKINGMAN'S DEAD on the other. Many a night we would fall asleep with the tape playing endlessly on our Walkman, providing us with the sweetest of dreams. Both albums were recorded by the Dead in 1970, and a diverse group of musicians will be paying tribute to the LPs at the World Financial Center, putting their own spin on such classic songs as "Uncle John's Band," "Dire Wolf," "Casey Jones," "Box of Rain," "Friend of the Devil," "Sugar Magnolia," "Candyman," and "Ripple." See below for the complete list of artists each night, or log on to the second Web site above to find out the exact setlist.
Saturday, January 20 WORKINGMAN'S DEAD, performed by Olabelle, Larry Campbell, the Holmes Brothers, Catherine Russell, the Klezmatics, Jim Lauderdale, Tim O'Reagan, Teresa Williams, Rob Barraco, John Leventhal, Brandon Ross, and Railroad Earth, with instrumental interludes by Tony Trischka and Andy Statman, 8:00
Sunday, January 21 AMERICAN BEAUTY, performed by Olabelle, Larry Campbell, Mark Eitzel, Jorma Kaukonen, Jay Farrar, Jim Lauderdale, Dar Williams and Dan Zanes, Espers, and Teresa Williams, and Railroad Earth, with instrumental interludes by Tony Trischka, Sex Mob, and Andy Statman, 8:00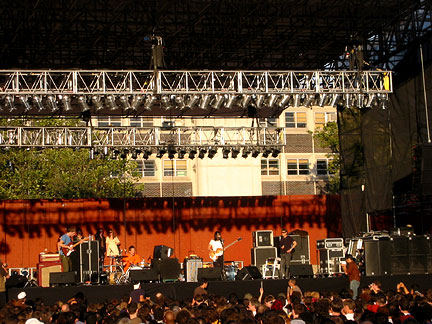 twi-ny/mdr
Deerhoof plays McCarren Park in Williamsburg in summer 2006
DEERHOOF
Irving Plaza
17 Irving Pl. between 14th & 15th Sts.
Friday, January 26
Tickets: $16
212-777-6800
http://deerhoof.killrockstars.com
We first saw Deerhoof at a free McCarren Park show in Williamsburg this past summer, where lead singer Satomi Matsuzaki's pure focus and concentrated craziness hooked us. On an icy Friday night (January 26), they packed Irving Plaza, playing a hot show that was a lot tighter and leaner musically. Satomi is not to everyone's taste, with her opaque lyrics and heavy Japanese accent. But the band's sheer musicianship and offbeat, complicated interplay, stop-start rhythms, and maddening hints of melody can be quite infectious, emboldened by drummer Greg Saunier and guitarist John Dieterich. The body-to-body crowd was a mass of head-noddin' hipsters sweating in their winter wear. This show, featuring songs from the indie band's brand-new album, FRIEND OPPORTUNITY (Kill Rock Stars), had some serious pounding beats and fewer dissonant pop tweaks, despite a temporary problem with the bass drum. And keep an eye out for Busdriver, one of the opening acts; he's a hyper-collegiate rapper with rapid-fire delivery and a great, muscular, wound-up body, which he put to good use in service to the lyrics. He just about exploded onstage, rockin' the place but hard.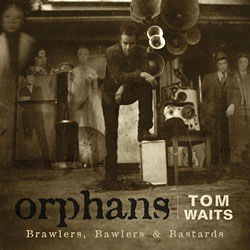 ORPHANS: BRAWLERS, BAWLERS & BASTARDS
by Tom Waits (Anti-, November 2006)

One of America's greatest troubadours for more than thirty years, Tom Waits captures the heart and soul of the everyman like no on else. Although he calls his new three-disc set ORPHANS, this collection is no mere compilation of songs with nowhere else to go. The first CD, BRAWLERS, contains sixteen bluesy stompers that are as engaging as just about anything Waits has ever done. The band features the amazing Marc Ribot on guitar, the gifted Charlie Musselwhite on harmonica, and the great Larry Taylor on bass, with guest appearances by Dave Alvin, John Hammond, Les Claypool, and others. The songs are juke-joint, gin-mill specials about being lost in the world, desperate love, the Iraq war, and eternal damnation; standouts include "Fish in the Jailhouse," the timely "Road to Peace," and a remake of the classic "Sea of Love." The second disc, BAWLERS, consists of such boozy barroom laments as "Little Drop of Poison," "Fannin Street," and "Down There by the Train," twenty songs that will break your heart. The third disc, BASTARDS, is more experimental, a ragtag grouping of oddities, covers, movie compositions, and one-offs that don't hold up despite being written by the likes of Bertolt Brecht and Kurt Weill, Charles Bukowki, Jack Kerouac, and, of course, Waits and his wife, Kathleen Brennan. But oh, those first two discs are nothing short of incredible.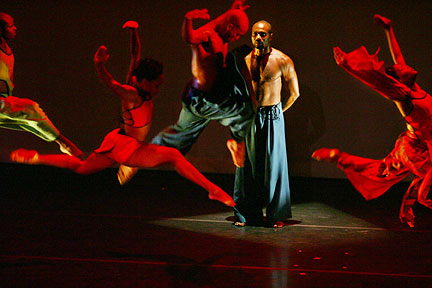 Ronald K. Brown brings Evidence back to the Joyce in Chelsea
EVIDENCE, A DANCE COMPANY
Joyce Theater
175 Eighth Ave. at 19th St.
January 30 — February 4
Tickets: $36
212-645-2904
Brooklyn-based dance company Evidence, under the leadership of the extraordinary Ronald K. Brown, will be presenting two programs at the Joyce. Program A features GRACE, WALKING OUT OF THE DARK, and ORDER MY STEPS, while B consists of UPSIDE DOWN, COME YE, and HIGH LIFE. Brown's choreography incorporates African rhythms and styles, making for intoxicating pieces, both contemplative and rapturous, about the ritual and the journey. We've seen several of the works that make up these programs, and we can heartily recommend them.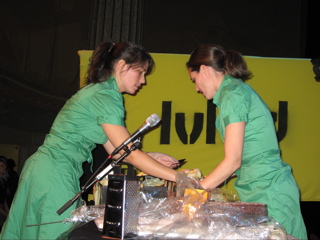 MASTER-DISASTER ARCHITECT DUEL III
Location to be given to ticket holders day of event
Tuesday, January 23
Admission: $22, includes cocktails
LVHRD (Live Hard) is a special-event-driven flash mob that organizes unique gatherings all over the city. In the past they've gathered at Water Taxi Beach in Queens dressed as tourists; descended on MoMA for a concert that involved the audience's cell phones; watched as J. Walter Thompson employees battled New York City Ballet dancers in a vending machine eat-off and as a pair of fashion designers created instant dresses for live models; brought together comic-book artist Paul Pope and eight-bit musician Mark DeNardo for Bi-Fold I and Brazilian graffiti artist Speto and Graffiti Research Lab for Bi-Fold II; and other offbeat, creative mash-ups. ARCHDL Series No. 3 will feature two architectural firms, Balmori Associates (Killian O'Brien and Sarah Wayland-Smith) and Field Operations (Sierra Bainbridge and Maura Rockcastle), doing battle in a timed model-building competition focusing on ecological and sustainable approaches to urban planning; the location will be text-messaged to ticket holders on the day of the match.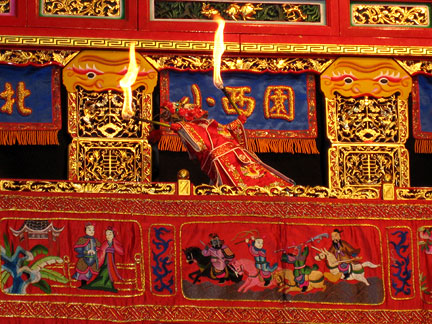 twi-ny/mdr
Hsiao Hsi Yuan Puppet Theater burns them up at TECO
KIDDY RED OF JOURNEY TO THE WEST
The Hsiao Hsi Yuan Puppet Theater from Taiwan
Taipei Economic and Cultural Office in New York
1 East 42nd St. between Madison & Fifth Aves.
212-697-6188

On January 10, the Hsiao Hsi Yuan Puppet Theater from Taiwan gave a special free performance at the Taipei Economic and Cultural Office (TECO) on East 42nd St. as part of their brief swing through the United States. Four master puppeteers and four musicians told the story of "Kiddy Red" from the classic Chinese novel JOURNEY TO THE WEST. The group, which was founded in 1913 and has traveled extensively around the world since 1964, demonstrated remarkable agility and skill, particularly in the center section, which featured several of the Chuanchow-style puppets doing amazing tricks, including one balancing a jug on its head, another spinning two cymbals at the same time, one breathing fire, and two others attacking each other with traditional weapons. The percussive peikuan music, the colorful portable stage, and the intricately carved and costumed puppets dazzled the packed room, from men in business suits to children smiling wide with delight.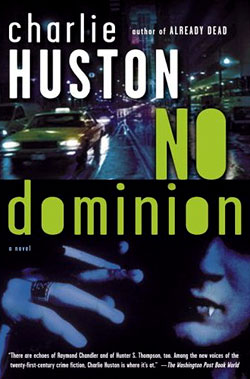 NO DOMINION by Charlie Huston (Ballantine, December 2006)

On his Web site, Charlie Huston writes, "It is simply a matter of time before I write something that most readers get half through and toss in the corner and wonder what the f--k I think I'm doing pawning off s--t like that. And any book, any book, might be the one. That blade has many edges." Huston, the author of the amazing Henry Thompson trilogy (go out and pick up the first one, CAUGHT STEALING, right now), is referring to the second of his Joe Pitt Casebooks, NO DOMINION. He need not fear that this is the one readers will be throwing away. Following the brilliant ALREADY DEAD, Huston's NO DOMINION continues the exploits of Joe Pitt, a hard-boiled Rogue infected with the Vyrus and literally caught within the territorial battles of the Enclave, the Society, the Hood, and the Coalition. Back are such great characters as Phil, a snitch who never met a secret he wouldn't sell for a drink or two; the philosophical Daniel; the violent Dexter Predo; the blowhard Tom Nolan; and Evie, Joe's HIV-positive girlfriend. Joining them on this adventure through the dark, dangerous streets of Manhattan are such cool customers as DJ Grave Digga, Papa Doc, Percy the barber, the sly Mrs. Vandewater, and a playboy known as the Count. There's some bad blood out there, not only between the different Clans but being shot into the veins of Vamps looking for a quick fix. Huston's terse dialogue, intriguing characters, twisting plot, and detailed knowledge of the city, from Chinatown to Morningside Park and beyond, again combine for a thrilling novel from a master of his craft.

All contents copyright 2007 by Mark Rifkin and twi-ny. All rights reserved. Contents may not be reprinted without written permission. Please note that events, dates, and prices are subject to change.
Send all comments, suggestions, reviews, and questions to mark.rifkin@twi-ny.com.
Please note that some e-mail clients may wrap links, so be sure to enter them fully into your browser.
To subscribe to this list, please e-mail the administrator at admin@twi-ny.com with the word Subscribe in the Subject line; be sure to ask for back issues, which are free as well. To unsubscribe from this list, please think it over twice before e-mailing the same address. Please let us know what you didn't like about this forum and we'll do our best to correct it in the future — if we agree with you. If you would like to see something covered in a future issue, please let us know. Without you, there is no need for us to exist.

twi-ny top two dozen (or so)
weekly reminders & special events
YOSHIKO CHUMA & THE SCHOOL OF HARD KNOCKS
Dance Theater Workshop
219 West 19th St. between Seventh & Eighth Aves.
Tickets: $15-$25
212-924-0077
Tuesday, January 16
through
Saturday, January 20 World premiere of A PAGE OUT OF ORDER: M, choreographed by Yoshiko Chuma and featuring musicians, dancers, and film projections
JAPANESE CONTEMPORARY DANCE SHOWCASE
Joyce Theater
175 Eighth Ave. at 19th St.
Tickets: $30
212-242-0800
Tuesday, January 16
through
Sunday, January 21 Tenth-anniversary celebration, with performances by Noism 07, Kim Itoh and the Glorious Future, Leni Basso, and Pappa Tarahumara
SUNDANCE SCHOOLHOUSE
Whitney Museum at Altria
120 Park Ave. at 42nd St.
Admission: free but advance registration required at public_programs@whitney.org
212-570-7715
Wednesday, January 17 Free dance workshops and classes taught by teachers from Los Angeles's Sundown Schoolhouse, held in public sculpture court, advance registration required, 9:00 am — 5:00 pm
Wednesday, January 17 Architecture Dialogues: Fritz Haeg, "Edible Estates, Sundown Schoolhouse, and the Homosexual Home," free but registration required, 212-570-7715, 7:00
JUDGMENT DAYS:
LYNDON BAINES JOHNSON, MARTIN LUTHER KING, JR., AND THE LAWS THAT CHANGED AMERICA
Museum of Jewish Heritage — A Living Memorial to the Holocaust
36 Battery Pl.
Tickets: $5
646-437-4200
Wednesday, January 17 Author discussion with Nick Kotz, moderated by Sam Freedman, 7:00
SONGS OF PEACE AND WAR
Peter Jay Sharp Theatre at Juilliard
155 West 65th St.
Free tickets available at the Juilliard box office
212-799-5000
Wednesday, January 17 Works by Poulenc, Samuel Barber, Kurt Weill, Cole Porter, and others, with pianists Steven Blier and Michael Barrett and Juilliard singers, 8:00
RUSSIAN THEATER FESTIVAL
JCC in Manhattan
334 Amsterdam Ave. at 76th St.
Suggested donation: $10
646-505-5708
Wednesday, January 17 Staged reading of new play: PLASTICINE by Vassily Sigarev, directed by Dmitry Troyanovsky, in English, 8:00
Thursday, January 18 Staged reading of new play: TERRORISM by the Presnyakov Brothers, directed by Seth Duerr, in English, 8:00
HUMAN TRAFFICKING:
ENDING MODERN SLAVERY IN NEW YORK CITY
Brooklyn Law School, Feil Hall
205 State St.
212-627-9895
http://www.nownyc.org/trafficking
Thursday, January 18 Screening of SEX SLAVES (Ric Esther Bienstock, 2006), followed by panel discussion with Pamela Chen, Rachel Lloyd, Jane Manning, and Carol Smolenski, sponsored by the National Organization for Women, NYC Chapter, 6:30
DOWNTOWN THIRD THURSDAYS
7 World Trade Center, 52nd floor
Admission: free, but advance registration required
212-566-6700
http://www.downtownny.com/thirdthursdays
Thursday, January 18 Think New York: A Ground Zero Diary, with architect Rafael Vinoly, 7:00
PREMIERES: ERASERHEAD
MoMA Film
Museum of Modern Art
11 West 53rd St. between Fifth & Sixth Aves.
Tickets: $10, in person only, may be applied to museum admission within thirty days, same-day screenings free with museum admission, available at Film and Media Desk
212-708-9400
Thursday, January 18
through
Wednesday, January 24 Restored version of ERASERHEAD (David Lynch, 1977)
JERRY LEE LEWIS
B.B. King Blues Club & Grill
237 West 42nd St. between Seventh & Eighth Aves.
Tickets: $85-$90
212-997-4144
http://www.bbkingblues.com/schedule/moreinfo.cgi?id=3096
Friday, January 19 The Killer takes the stage, with opener Jack Grace, 8:00
NEW YORK INTERNATIONAL MOTORCYCLE SHOW
Jacob Javits Convention Center
35th St. & 11th Ave.
Admission: adults $15, children six to eleven $5, five and under free
800-331-5706
Friday, January 19
through
Sunday, January 21 Twenty-sixth annual event, featuring the Indian Larry Legacy, a Cobra giveaway, the art of Eric Herrmann, theBUB Streamliner, Mad Maps, Matt Hotch, ATV/Outdoor showcase, Motocross America, Sportbike Customs, and more
WEDDING OPEN HOUSE
Riverside Church
490 Riverside Dr. between 120th St & 122nd Sts.
Admission: free but RSVP required
212-870-6802
http://www.theriversidechurchny.org/events
Saturday, January 20 Annual open house, with tours, hors d'oeuvres, wedding cake, photos, in-house caterer, and wedding coordinator, 12 noon — 3:00
NEW YORK TITANS HOME OPENER
Madison Square Garden
31st to 33rd Sts. between Seventh & Eighth Aves.
Tickets: $15-$95
888-884-8267
http://www.nytitanslacrosse.com
Saturday, January 20 The New York Titans professional lacrosse team hosts its first-ever home opener, against the Chicago Shamrox, 8:00
THE SUBDUDES
Irving Plaza
17 Irving Pl. between 14th & 15th Sts.
Tickets: $22
212-777-6800
Saturday, January 20 Veteran band tours behind its latest release, BEHIND THE LEVEE, with David Berkeley, doors open at 7:00
DANCE GOTHAM: A FESTIVAL
Symphony Space Peter Jay Sharpe Theatre
2537 Broadway at 95th St.
Tickets: $10
212-864-5400
Saturday, January 20
and
Sunday, January 21 Featuring Paradigm, Koresh Dance Company, Johannes Wieland, Carolyn Dorfman, Keigwin + Company, Battleworks, Keely Garfield, Kun-Yang Lin, and Nicholas Andre Dance Theatre, 8:00
globalFEST 2007
Webster Hall
125 East Eleventh St. between Third & Fourth Aves.
Tickets: $40
Sunday, January 21 Fourth annual world music festival, with Lenine, Sara Tavares, Lila Downs, Boom Pam, Dengue Fever, Julia Sarr, Patrice Larose, Le Trio Joubran, Babylon Circus, Les Primitifs du Futur, Carolina Chocolate Drops, Andy Palacio and the Garifuna Collective, and Lucia Pulido and Palenque, 7:00
WOODY GUTHRIE'S WONDER WHEEL PROGRAM
S.O.B.'s
204 Varick St. at West Houston St.
Tickets: $25-$30
212-243-4940
Sunday, January 21 Featuring Hugh Masekela and the Klezmatics, with Susan McKeown and Boo Reiner, 7:15 & 10:00
MEMORY AND LONGING:
CONTEMPLATING THE BLACK DIASPORA
Barnard College, Sulzberger Parlor
Barnard Hall, third floor
West 117th St. & Broadway
Admission: free
212-854-9850
Monday, January 22 Reading and discussion with Yvette Christiansë, UNCONFESSED, and Saidiya Hartman, LOSE YOUR MOTHER, 7:00
WINTER RESTAURANT WEEK 2007
Monday through Friday, January 23-27, January 30 — February 3
Lunch: $24.07; dinner: $35
Reservations being accepted now
Monday, January 22
through
Friday, January 26 More than one hundred eateries will be offering prix-fixe lunches and/or dinners, including Aquavit, Artisanal, Asia de Cuba, Asiate, Aureole, Barbetta, Beacon, Blue Smoke, Butter, Cafe Boulud, Chanterelle, Compass, Craftbar, davidburke & donatella, db Bistro Moderne, Devi, Dominic, Estiatorio Milos, Fleur de Sel, Frankie & Johnny's, Gotham Bar & Grill, Gramercy Tavern, I Trulli, Inagiku, JoJo, Megu, Nice Matin, Patroon, Payard, Riingo, the River Cafe, San Domenico, Smith & Wollensky, Spice Market, Steak Frites, SushiSamba, Tabla, the Modern, Union Square Cafe, Vong, and the '21' Club, among dozens of others — but you better book your reservations fast; Restaurant Week continues Monday, January 29, through Friday, February 2
PLANT-O-RAMA
Brooklyn Botanic Garden
1000 Washington Ave.
Tickets: $25
718-623-7200
Tuesday, January 23 Eleventh annual trade show and symposium for horticulture, Palm House Exhibit Hall free, symposium 9:00 am — 4:00 pm
TUESDAY LECTURES: LANDMARKS
General Society of Mechanics and Tradesmen
20 West 44th St.
Admission: $15
212-840-1840
Tuesday, January 23 Impresarios and Their Theaters, with architectural historian Anthony Robins, 7:00
THE GREAT DEBATE--2007
New York Society for Ethical Culture
2 West 64th St. at Central Park West
Tickets: debate $25, debate and dinner (catered by Tsampa) $150
212-966-2807
Wednesday, January 24 Gehlek Rimpoche, founder of Jewel Heart, debates Columbia Professor Robert Thurman in the Tibetan style, 7:00
FIRINGS, HAIKUS AND MICROTHRILLS:
DISPATCHES FROM THE L.A. LITERATI
Makor
Steinhardt Building
35 West 67th St. between Amsterdam & Columbus Aves.
Tickets: $7-$10
212-601-1000
Thursday, January 25 Literary salon with Annabelle Gurwitch, Wendy Spero, Beth Lapides, 7:00
LUNAR NEW YEAR FESTIVAL
New York Chinese Cultural Center
566 LaGuardia Pl. at Washington Sq. South
Tickets: $30
212-992-8484
http://www.skirballcenter.nyu.edu
Friday, January 26, 7:30
and
Saturday, January 27, 2:00 Twenty-second annual celebration, featuring Dance China New York and Hero, welcoming in the Year of the Pig
ARCHAEOLOGY ADVENTURE
Presented by the South Street Seaport Museum
New York Unearthed
17 State St.
Tickets: $12 adults, $8 children, advance reservations required
212-748-8757
Saturday, January 27 Visit the urban archaeology center New York Unearthed to see artifacts found under the city and meet urban archaeologists, 1:00 — 4:00
"1964" . . . THE TRIBUTE
Stern Auditorium, Carnegie Hall
881 Seventh Ave. at 57th St.
Tickets: $30-$75
212-247-7800
Saturday, January 27 Beatles tribute band returns to Carnegie Hall for the seventh time, 8:00
LIVING IN AMERICA: THE ALLURE OF GOLD
American Museum of Natural History
Kaufmann Theater (KT)
Linder Theater (LT)
Free with museum admission
212-769-5305
Sunday, January 28 Streets of Gold: film clips and panel discussion about the Golden Venture, with Partha Banerjee, Peter Cohn, Craig Trebilcock, Joel Magallan, and Lou Siu, moderated by Alyshia Gálvez, LT, 2:00
Sunday, January 28 South African Dance and Song, with Sduduzoo Ka-Mbili and Juxtapower, KT, 4:00
MARTIN AMIS AND NORMAN RUSH
92nd St. Y
1395 Lexington Ave. at 92nd St.
Kaufmann Concert Hall
Tickets: $18
212-415-5500
Monday, January 29 Martin Amis, HOUSE OF MEETINGS, and Norman Rush, SUBTLE BODIES, 8:00
MONTHLY DIRECTOR SERIES
The ImaginAsian Theater
239 East 59th St. between Second & Third Aves.
Admission: free but must RSVP to ana@newyork-tokyo.com
Tuesday, January 30 North American theatrical premiere of YEAR ONE IN THE NORTH (KITA NO ZERO-NEN) (Isao Yukisada, 2005), 7:00
THE JONATHAN SHOW
Mo Pitkin's House of Satisfaction
34 Ave. A
Tickets: $15
212-777-5660
Tuesday, January 30
and
Wednesday, January 31 A night of comedy, music, burlesque, and other high jinks, including pillow fights, audience confessions and paddling, Zero Boy, the Alien Comic, Jessica Delfino, Ula the Painproof Rubber Girl, Miss Saturn, and the Mangina wrestling the Blind Woman, hosted by Jonathan Ames, author of I LOVE YOU MORE THAN YOU KNOW, THE EXTRA MAN (one of our favorite books of recent years), WAKE UP, SIR!, and WHAT'S NOT TO LOVE? THE ADVENTURES OF A MILDLY PERVERTED YOUNG WRITER, 11:00