Who: Harry Lennix, Arin Arbus, Anne Bogart, Bill Camp, Will Eno, Simon Godwin, Kathryn Hunter, Taibi Magar, John Douglas Thompson, Awoye Timpo, more
What: Theatre for a New Audience annual spring gala
Where: TFANA online
When: Monday, June 7, free with RSVP, VIP reception 6:30, streaming program 7:30
Why: Theatre for a New Audience was founded by Jeffrey Horowitz in 1979, but it was the company's 2013 move to its new home in Fort Greene, the Polonsky Shakespeare Center, that rocketed it to a new level. On June 7, TFANA's annual spring gala will be held live online, celebrating Shakespeare's birthday; the Bard turned 457 in April. "We are celebrating Shakespeare's birthday 457 years on because Shakespeare is, of course, never over," Horowitz said in a statement. "A production of Hamlet ends, but the play doesn't. Shakespeare's work keeps getting reinvented. Last year, like so many other plans, our annual spring gala was canceled due to the pandemic. For a while, it was a question: Should we postpone again? But gathering as a TFANA community, even remotely, seemed more important than ever this year — to take stock of what we've been through, lost, and accomplished, and to look ahead to the future."
Among the participants will be such actors, writers, and directors as Arin Arbus, Anne Bogart, Bill Camp, Will Eno, Simon Godwin, Kathryn Hunter, Taibi Magar, John Douglas Thompson, and Awoye Timpo; New York City public teacher Marie Maignan will receive the Samuel H. Scripps Award for Extraordinary Artistic Achievement from US representative Jahana Hayes (D-CT), and Amanda Riegel and the Thompson Family Foundation will be presented with the Life in Art Award. The evening will be emceed by actor and TFANA board member Harry Lennix; the VIP preshow begins at 6:30, followed at 7:30 by the gala. There is also a silent auction that features such items as golf and wine vacations, opera and theater tickets, jewelry, art, pet portraits, and more.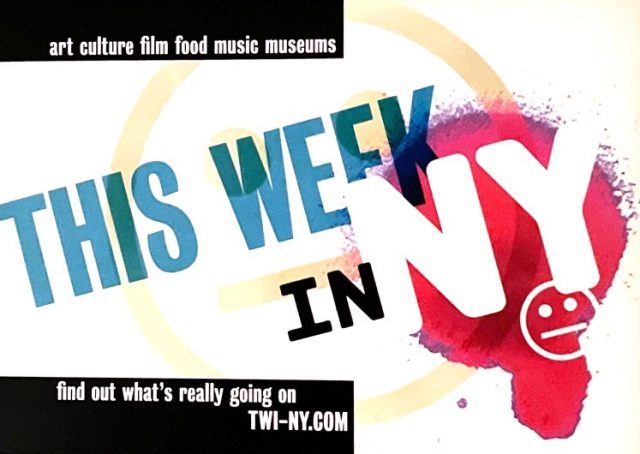 Who: Works by and/or featuring Moko Fukuyama, Joshua William Gelb, Gabrielle Hamilton, Jace, Elmore James, Jamal Josef, Katie Rose McLaughlin, Sara Mearns, Zaire Michel, Zalman Mlotek, Alicia Hall Moran, Patrick Page, Barbara Pollack, Seth David Radwell, Jamar Roberts, Tracy Sallows, Xavier F. Salomon, Janae Snyder-Stewart, Mfoniso Udofia, Anne Verhallen
What: This Week in New York twentieth anniversary celebration
Where: This Week in New York YouTube
When: Saturday, May 22, free with RSVP, 7:00 (available on demand through June 12)
Why: In April 2001, I found myself suddenly jobless when a relatively new Silicon Alley company that had made big promises took an unexpected hit. I took my meager two weeks' severance pay and spent fourteen days wandering through New York City, going to museums, film festivals, parks, and tourist attractions. I compiled my experiences into an email I sent to about fifty friends, rating each of the things I had done. My sister's husband enthusiastically demanded that I keep doing this, and This Week in New York was born.
Affectionately known as twi-ny (twhy-nee), it became a website in 2005 and soon was being read by tens of thousands of people around the globe. I covered a vast array of events – some fifteen thousand over the years – that required people to leave their homes and apartments and take advantage of everything the greatest city in the world had to offer. From the very start, I ventured into nooks and crannies to find the real New York, not just frequenting well-known venues but seeking out the weird and wild, the unusual and the strange.
For my tenth anniversary, we packed Fontana's, a now-defunct club on the Lower East Side, and had live music, book readings, and a comics presentation. I had been considering something bigger for twenty when the pandemic lockdown hit and lasted longer than we all thought possible.
At first, I didn't know what twi-ny's future would be, with nowhere for anyone to go. But the arts community reacted quickly, as incredible dance, music, art, theater, opera, film, and hybrid offerings began appearing on numerous platforms; the innovation and ingenuity blew me away. The winners of twi-ny's Pandemic Awards give you a good idea of the wide range of things I covered; you can check out part one here and part two here.
I devoured everything I could, from experimental dance-theater in a closet and interactive shows over the phone and through the mail to all-star Zoom reunion readings and an immersive, multisensory play that arrived at my door in a box. Many of them dealt with the fear, isolation, and loneliness that have been so pervasive during the Covid-19 crisis while also celebrating hope, beauty, and resilience. I've watched, reviewed, and previewed more than a thousand events created since March 2020, viewing them from the same computer where I work at my full-time job in children's publishing.
Just as companies are deciding the future hybrid nature of employment, the arts community is wrestling with in-person and online presentations. As the lockdown ends and performance venues open their doors, some online productions will go away, but others are likely to continue, benefiting from a reach that now goes beyond their local area and stretches across the continents.
On May 22 at 7:00, "twi-ny at twenty," produced and edited by Michael D. Drucker of Delusions International and coproduced by Ellen Scordato, twi-ny's business manager and muse, honors some of the best events of the past fourteen months, including dance, theater, opera, art, music, and literature, all of which can be enjoyed for free from the friendly confines of your couch. There is no registration fee, and the party will be available online for several weeks. You can find more information here.
Please let me know what you think in the live chat, which I will be hosting throughout the premiere, and be sure to say hello to other twi-ny fans and share your own favorite virtual shows.
Thanks for coming along on this unpredictable twenty-year adventure; I can't wait to see you all online and, soon, in real life. Here's to the next twenty!
Shakespeare Theatre Company
Available on demand, $25
www.shakespearetheatre.org
I can't think of a better way to celebrate William Shakespeare's 457th birthday — and honor the 405th anniversary of his death — by watching Patrick Page's extraordinary one-man show, All the Devils Are Here: How Shakespeare Invented the Villain, in which the award-winning actor makes the case that no one has ever created bad guys quite like the Bard.
Shakespeare Theatre Company's streaming presentation begins with an introduction by Page from his home, explaining why he wrote a play about scoundrels and malefactors. "My aim in doing so is to show how Shakespeare's two-decade exploration of evil actually made him a more humane and sophisticated writer. In creating an entirely new kind of villain, Shakespeare rejected the prejudices of his age and became a writer for all of us."
In the eighty-minute show, filmed at STC's Sidney Harman Hall without an audience, Page traces the history of villains in the Bard's plays chronologically, from 1590 to 1611, adding in a nod to a theatrical experience from young Will's childhood. "Do you believe in evil spirits? Do you believe in evil? Did Shakespeare?" Page asks. "It's an important question because Shakespeare, for all intents and purposes, invented the characters we now call the villain. You've likely seen Shakespeare's influence everywhere and not even recognized it."
Page, who is one of theater's greatest Shakespearean actors and teachers, portrays Richard III, Sir John Falstaff from Henry IV, Part 2 (referring to him as "a walking compendium of the Seven Deadly Sins"), Malvolio from Twelfth Night, Claudius from Hamlet, Prospero from The Tempest, Lady Macbeth from Macbeth, and Iago from Othello, who he identifies as a sociopath. Talking about playing Iago in an STC production (opposite Avery Brooks), Page explains, "And so began a year of research and study that changed my view of my fellow human beings and opened my eyes to the reality of the evil hidden in plain sight all around us." (Page has also played Macbeth, Claudius, Prospero, and Coriolanus at STC.)
Page compares the title character of Christopher Marlowe's The Jew of Malta to Aaron the Moor from Titus Andronicus and does a deep dive into Shylock from The Merchant of Venice. "Shylock is the villain of the play," he states. "But for the first time in history, he's a villain whose motivation is so clear, whose psychology is so complex, and whose language is so rich and idiosyncratic that he changes the way we experience villainy itself."
Directed by Alan Paul and shot by Ryan Risley, the play opens with Page walking onstage, looking out at an empty audience, an immediate reminder of the world's current villain, the coronavirus, which has kept theaters closed for more than a year. Elizabeth A. Coco's lighting is sharp and intense as Risley's camera films Page from numerous angles, with appropriately ominous close-ups. Various props add further tension as well as comic relief; just wait until you see how Page portrays Falstaff. Gordon Nimmo-Smith's sound design captures Page's distinctive baritone as it resonates throughout the empty theater.
Page knows what of he speaks; in addition to having portrayed his fair share of Shakespeare baddies, he has played Scar in The Lion King, Scrooge in A Christmas Carol, the Green Goblin in Spider-Man: Turn Off the Dark, Hades in Hadestown, and the Grinch in Dr. Seuss's How the Grinch Stole Christmas, villains all in one form or another. His command of Shakespeare and the concept of evil is bold and impressive, but he is down-to-earth enough to throw in plenty of surprising modern-day pop-culture references to keep it fresh and relevant to those who might not know much about the Bard or Elizabethan theater. It's a bravura performance that provides a much-needed level of comfort as theaters remain closed, albeit with legitimate hopes that they will be reopening in the very near future. In the meantime, we have Page and All the Devils Are Here to keep us company and scare the wits out of us, as he does with the following frightening excerpt from Macbeth:
"Make thick my blood. / Stop up the access and passage to remorse, / Let no compunctious visitings of nature / Shake my fell purpose, nor keep a peace between / The effect and it! Come, thick night, / and pall thee in the dunnest smoke of hell, / That my keen knife see not the wound it makes, / Nor heaven peep through the blanket of the dark / To cry 'Hold, hold!'"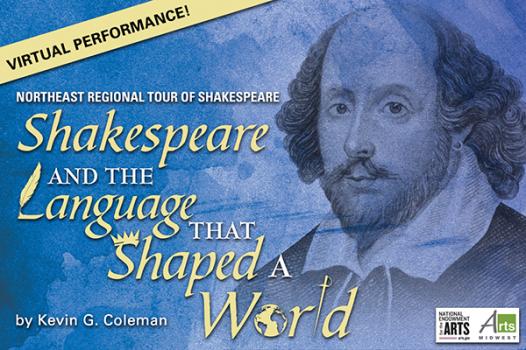 Who: Shakespeare & Company
What: Virtual celebration of William Shakespeare's birthday
Where: Online
When: Friday, April 23, free with RSVP, 7:00
Why: Massachusetts-based Shakespeare & Company is paying tribute to the Bard with "Shakespeare's Birthday Bash," taking place online April 23 at 7:00. The virtual party will feature a performance of Shakespeare and the Language that Shaped a World by the troupe's Northeast Regional Tour of Shakespeare, which includes Courtney Bryan Devon, Devante Owens, Eliana Rowe, Emily Díaz, Kirsten Peacock, Madeleine Rose Maggio, and Nick Nudler. Written by Kevin G. Coleman in collaboration with the cast and reimagined for online viewing, the show is a fast-paced, family-friendly trip through the world of Shakespeare, delving into his life while presenting various scenes from his plays. This summer, Shakespeare & Company will be staging King Lear at the outdoors New Spruce Theatre, starring Christopher Lloyd as the troubled ruler, overlapping with Debra Ann Byrd's Becoming Othello: A Black Girl's Journey at the outdoor Roman Garden Theatre, followed by a workshop production of Measure for Measure, also at the Roman Garden.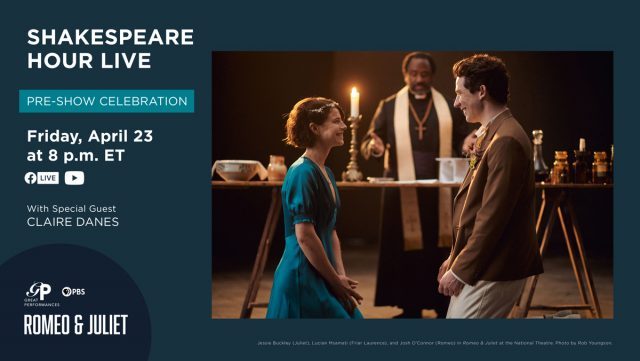 Who: Claire Danes
What: Shakespeare Hour Live! discussion about Romeo + Juliet
Where: Facebook Live and YouTube Live
When: Friday, April 23, free, 8:00
Why: Twenty-five years ago, Leonardo DiCaprio and Claire Danes starred as the title lovers in Baz Luhrmann's Romeo + Juliet, a modern-day adaptation of Shakespeare's tragedy, pitting two business empires against each other, the Montagues and the Capulets, while using the the Bard's original dialogue. On the night that PBS's Great Performances presentation of the National Theatre's Romeo & Juliet, which was filmed following Covid-19 protocols, is making its US premiere, Danes will talk about the movies and the play in the latest Shakespeare Hour Live!, the ongoing series hosted by DC's Shakespeare Theatre Company, whose artistic director, Simon Godwin, directed the National Theatre production. Luhrmann's 1999 movie features Brian Dennehy and Christina Pickles as Romeo's parents, Paul Sorvino and Diane Venora as Juliet's folks, John Leguizamo as Tybalt, Dash Mihok as Benvolio, and Miriam Margolyes as the nurse, while Godwin's version, which makes full use of the National Theatre space, stars Jessie Buckley as Juliet and Josh O'Connor as Romeo, with Tamsin Greig as Lady Capulet, Lloyd Hutchinson as Lord Capulet, Colin Tierney as Lord Montague, David Judge as Tybalt, Alex Mugnaioni as Paris, Shubham Saraf as Benvolio, Adrian Lester as the prince, Fisayo Akinade as Mercutio, and Deborah Findlay as the nurse.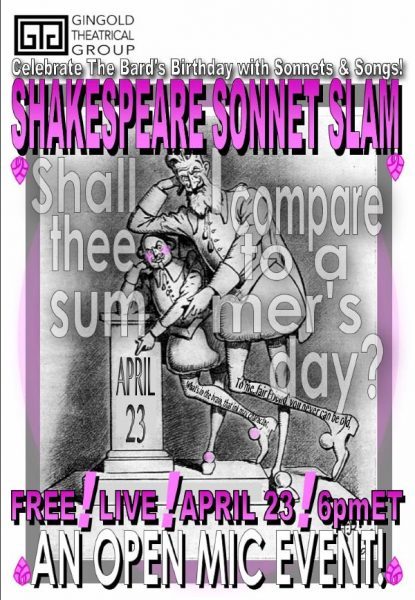 Who: Gingold Theatrical Group
What: Virtual open mic Shakespeare birthday celebration
Where: Gingold Zoom and Facebook
When: Friday, April 23, free with RSVP, 6:00
Why: This month marks William Shakespeare's 457th birthday as well as the 405th anniversary of his death, and New York City's Gingold Theatrical Group, which specializes in works by George Bernard Shaw, will be paying tribute to the Bard with a free, virtual Shakespeare Sonnet Slam open mic on April 23 at 6:00. Among those who will be reading from Shakespeare's writings are Stephen Brown-Fried, Robert Cuccioli, Tyne Daly, George Dvorsky, Melissa Errico, Alison Fraser, Tom Hewitt, Daniel Jenkins, John-Andrew Morrison, Patrick Page, Maryann Plunkett, Tonya Pinkins, Laila Robins, Jay O. Sanders, Renee Taylor, and Jon Patrick Walker — and the general public, who is invited to offer their own favorite pieces either by or inspired by Will, kept to less than three minutes. "We're eager to celebrate as much as we can with whatever we can these days," GTG artistic director David Staller said in a statement. "And since nobody has contributed more to the world of the theater than William Shakespeare, we're going to celebrate like mad. He wrote more than 150 magnificent sonnets and I doubt we'll get through them all but we'll give it our best shot." In order to be part of the interactive festivities, you must register by April 22 at 4:00.