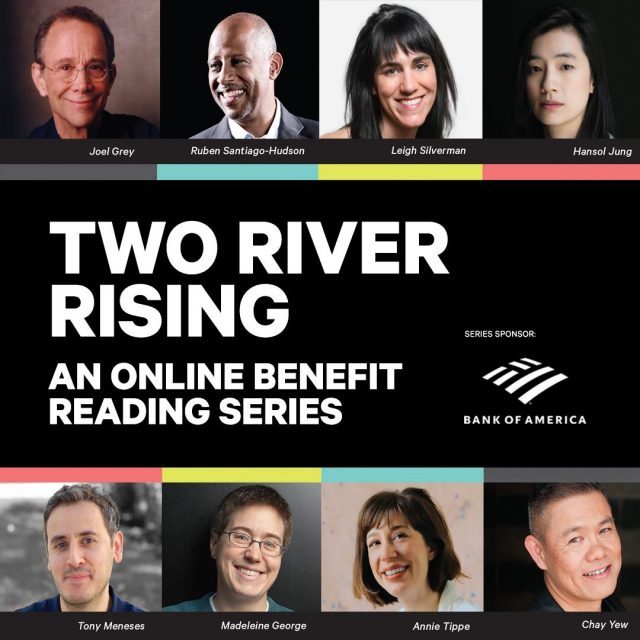 Who: Brandon J. Dirden, Andrew Hovelson, Merritt Janson, Roslyn Ruff, Glynn Turman, Ruben Santiago-Hudson, Blair Brown, Michael Cumpsty, Oakes Fegley, Bill Irwin, Bebe Neuwirth, Phillipa Soo, Steven Skybell, Sam Waterston
What: Two River Rising Series
Where: Two River Theater online
When: Sunday, July 26, $25, 7:00 (available for free July 27-30 on YouTube); August 5-6, $25, 7:00
Why: Red Bank's Two River Theater has amassed all-star lineups for its first two live benefit readings. On July 26 at 7:00, most of the original cast will reunite for an updated version of Ruben Santiago-Hudson's Your Blues Ain't Sweet Like Mine, which ran at the New Jersey theater in the spring of 2015 and hosted many postshow discussions. The racially charged tale of a polemical dinner party features returning actors Brandon J. Dirden as Zeke, Andrew Hovelson as Randall, Merritt Janson as Judith, and Roslyn Ruff as Janeece, with Glynn Turman taking on the role of Zebedee. "I think this is a conversation we all have long waited for, and now the time is here," Tony-winning actor, writer, and director Santiago-Hudson (Paradise Blue, August Wilson's American Century Cycle) says in a promotional video. The reading will be performed live Sunday night and followed by a Q&A, after which it will be available for viewing July 27-30; the presentation is a benefit for the theater and the Ruben Santiago-Hudson Fine Arts Learning Center in his hometown of Lackawanna.
The series continues August 5 and 6 at 7:00 with a two-night reading of Paul Osborn's On Borrowed Time, directed by Oscar and Tony winner Joel Grey and starring Blair Brown, Michael Cumpsty, Oakes Fegley, Bill Irwin, Bebe Neuwirth, Phillipa Soo, Steven Skybell, and Sam Waterston. Act one will be read August 5, act two on August 6; proceeds benefit the Actors Fund. The 1938 play about death as an older couple raise their orphaned grandson has been revived on Broadway several times and was made into a film with Lionel Barrymore, Sir Cedric Hardwicke, Beulah Bondi, and Una Merkel; it ran at Two River in the fall of 2013. Grey made his acting debut in the role of nine-year-old Pud at the Cleveland Play House in 1941. "Though I'm not nine anymore, I've revisited this play many times throughout my life, and I'm not sure I ever needed to hear what it has to say as much as I do right now," he said in a statement.