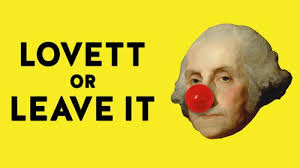 Who: Jon Lovett, Stacey Abrams, Desus and Mero, Wyatt Cenac, Dulcé Sloan, Alyssa Mastromonaco
What: Live broadcast of Lovett or Leave It
Where: Radio City Music Hall, 1260 Sixth Ave. at Fiftieth St.
When: Friday, September 13, $39-$79, 8:00
Why: Every Friday night, producer and former speechwriter Jon Lovett hosts Lovett or Leave It, a political podcast about the week in review recorded live in Los Angeles; recent episodes include "Dunaway or the Highway," "Gays Against Equinox," "Hot Inslee Summer," "Big Not So Little Lies," and "Send Him Back," with such guests as Larry Wilmore, Jay Inslee, Matt Walsh, Julian Castro, and Andy Richter. On September 13, Lovett, the cofounder (with Jon Favreau and Tommy Vietor) of Crooked Media, which produces such other podcasts as Keep It, Pod Save America, and Hysteria, brings his show to the East Coast, hosting the program at Radio City Music Hall with former Georgia House Democratic leader Stacey Abrams, Showtime's Desus and Mero, Problem Areas' Wyatt Cenac, The Daily Show's Dulcé Sloan, and former White House deputy and bestselling author Alyssa Mastromonaco, looking at the events of the past seven days, which keep getting crazier and crazier. There will also be related games and quizzes.
Multiple venues
November 4-10
nycomedyfestival.com
Late-night television hosts take center stage at the sixteenth annual New York Comedy Festival, running November 4-10. Tickets are now on sale for the first batch of events, and you can expect several to sell out fairly quickly. Many more shows will be announced, but the battle right now is between Trevor Noah at Madison Square Garden, Stephen Colbert at Carnegie Hall, Bill Maher at the Hulu Theater, and Norm Macdonald at Carolines. Also on the bill so far are Jenny Slate at Town Hall, No Such Thing as a Fish at BMCC Tribeca Performing Arts Center, Kathleen Madigan's Hot Dogs and Angels Tour at Town Hall, Tom Segura's Take It Down Tour at the Beacon Theatre, Nicole Byer at BMCC, Vir Das at Town Hall, Demetri Martin's Wandering Mind Tour at the Beacon, Benito Skinner's Overcompensating at BMCC, U Up? Live at Town Hall, Comedy Bang! Bang! Live! Starring Scott Aukerman w/Guests at the Beacon, Nate Bargatze's Good Problem to Have Tour at Town Hall, Randy Rainbow Live at the Beacon, and the Jay and Silent Bob Reboot Roadshow at BMCC. Below are the biggies as of August 21.
Thursday, November 7
Behind the Laughter: An Evening with Stephen Colbert and Producers of The Late Show, Carnegie Hall, Stern Auditorium / Perelman Stage, $44.50 to $81.50, 8:00
Thursday, November 7
through
Sunday, November 10
Norm Macdonald, Carolines on Broadway, $57.25 - $141.75
Friday, November 8
Trevor Noah: Loud & Clear Tour 2019, Madison Square Garden, $41-$356, 8:00
Saturday, November 9
An Evening with Bill Maher, Hulu Theater at Madison Square Garden, $41-$456, 8:00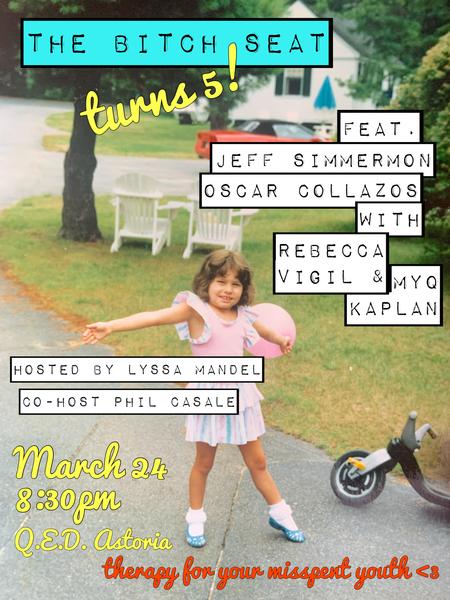 Q.E.D. Astoria
27-16 23rd Ave.
Sunday, March 24, $8-$10, 8:30
347-451-3873
qedastoria.com
www.lyssamandel.com
The Bitch Seat, which bills itself as "therapy for your misspent youth," is celebrating its fifth anniversary with a special show March 24 at Q.E.D. Astoria. Host, producer, and "neurotic hippie" Lyssa Mandel and her cohost and boyfriend, Phil Casale, will be joined by comedians and storytellers Jeff Simmermon, Oscar Collazos, and Angel Yau, with music by Rebecca Vigil and a guest appearance by Myq Kaplan. The live talk show delves into the pain we all experience during adolescence, looking back at it with both horror and humor. Tickets are $8 in advance and $10 day of show.