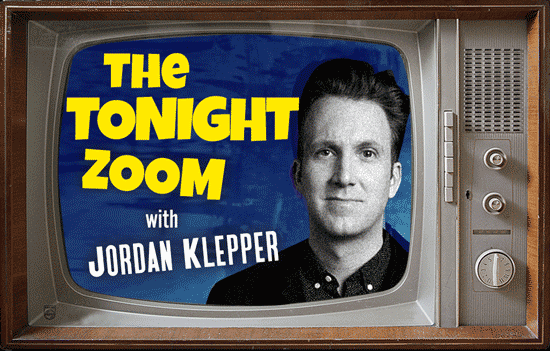 Who: Jordan Klepper, Fred Armisen, Maura Tierney, Thomas Sadoski, Arian Moayed, Annie McNamara, April Matthis, Vin Knight, Young Jean Lee, Joel Perez, Yo La Tengo
What: Virtual gala
Where: Elevator Repair Service online
When: Wednesday, June 23, $25-$500, 7:30 (private virtual cocktail reception at 7:00 for donors of $2,500+)
Why: During the Trump era, comedian Jordan Klepper has been one of the funniest, move insightful television journalists around, in his "Fingers the Pulse" segments on The Daily Show, in which he fearlessly goes straight into the heart of the MAGAverse, speaking with Trumpists who are not in on the joke. He has also hosted his own satirical series, The Opposition with Jordan Klepper, as well as the influential special Jordan Klepper Solves Guns. On June 23 at 7:30, the Michigan-born Klepper, a former member of the Second City and Upright Citizens Brigade, will be hosting The Tonight Zoom with Jordan Klepper A Celebration of Live Theatre (remotely) (and partially pre-taped), a virtual gala benefiting New York City experimental theater stalwarts Elevator Repair Service.
Founded in 1991 by artistic director John Collins, ERS has developed a unique theatrical language over its thirty years, presenting collaborative works that often reimagine literary classics into something new and unpredictable at such venues as the Public Theater, New York Theatre Workshop, the New York Public Library, and PS122. Among their shows are Marx Brothers on Horseback Salad, The Sound and the Fury (April Seventh, 1928), Everyone's Fine with Virginia Woolf, The Select (The Sun Also Rises), Measure for Measure, and their widely acclaimed Gatz, an eight-hour adaptation of The Great Gatsby.
At the virtual gala, Klepper will interview ERS company members Vin Knight, April Matthis, and Annie McNamara as characters they have portrayed in the troupe's productions; there will also be appearances by Fred Armisen, Maura Tierney, Thomas Sadoski, Arian Moayed, Young Jean Lee, Joel Perez, and Yo La Tengo. It might be called "a celebration of live theatre," but, in true Klepper/ERS style, they are pointing out that it will take place remotely, with some prerecorded segments. Tickets start at $25 and go up to $10,000 for the Gold Virtual Table, which includes a preshow cocktail reception for twelve people, tickets to ERS's upcoming adaptation of The Seagull at the Skirball Center, and select merchandise.