Bernie Wohl Center @ Goddard Riverside Community Center
647 Columbus Ave. between Ninety-First & Ninety-Second Sts.
June 20-24, $20
www.outoftheboxtheatre.com
Joe Wissler loves acting; it's in his bones. You can see it when he's onstage performing or when he's discussing his career, which has included appearing in shows at the Mint, the Fringe, the Actors Studio, the Producers Club, and Where Eagles Dare and such indie films as Powder Strike, Empire, and Street Revenge. The Manhattan-born, Brooklyn-raised character actor is quite a character himself, a tough guy with a heart of gold. Wissler is starring this week in the lead role of Joe Keller in the Out of the Box Theatre production of Arthur Miller's All My Sons, an Actors' Equity showcase running June 20-24 at the Bernie Wohl Center at the Goddard Riverside Community Center. The play is directed by Justin Bennett, with a cast also featuring J. D. Brookshire, Matthew Dunivan, Marie Lenzi, Susan McBrien, Patrick McGuiness, Nirvaan Pal, Anna Marie Sell, Jennifer Wingerter, and David Winning.
"As a director, it is an immense pleasure to work with an actor like Joe," Bennett said. "He is constantly striving to find the depth of a complex character that many actors consider to be a dream role. He is always willing to try different ways to do something. Fortunately, the rest of the cast works in a similar way in order to produce a fantastic quality of acting in one of the masterpieces of American theater." Founding Out of the Box board member and coproducer (with Halina Malinowski) Susan Case added, "We're delighted to welcome Joe Wissler to the Out of the Box family. Justin cast Joe to play the lead role of Joe Keller after wading through several hundred resumes and auditioning numerous actors. Joe brings great warmth and honesty to his compelling portrayal of this beleaguered character." After finishing tech rehearsal, Wissler filled us in on his latest show and more.
twi-ny: We last spoke with you four years ago, when you were in Baby GirL at the Fringe in 2014. How've you been since then?
Joe Wissler: The years certainly do fly by. In those years both my children have gotten married, Joe to Kaylyn and Nicole to Sam. In addition, Kaylyn is expecting our first grandchild in July. I have spent a good amount of that time writing. The first project, 20 to Life, is about a police officer who is all set to retire, only to find that his new girlfriend is pregnant, forcing him to stay on the job. Production is set to begin in the fall of 2018.
twi-ny: You're starring as Joe Keller in All My Sons at the Bernie Wohl Center at the Goddard Riverside Community Center. How did that come about?
JW: I saw a listing on Actors Access and submitted. I went in to the audition with one simple strategy: Tell the story from the heart, not the head. It seems to have worked. I am now part of a cast that I consider to be the some of the finest actors I have ever had the pleasure to share a stage with. Our director, Justin Bennett, has guided us on the journey with the precision of Magellan. I am so thankful to Out of the Box for producing this masterpiece and for being the most professional, amazing people that they are.
twi-ny: Joe Keller has previously been portrayed onstage by such actors as Ed Begley, Richard Kiley, John Lithgow, and David Suchet and on film by Edward G. Robinson and James Whitmore. Aside from the original 1947 version, of course, have you seen any of the other adaptations?
JW: I have not seen a stage production of this play before. Which is fine by me. It allowed me to create the character from the ground up. Which is sometimes very difficult to do if you have seen an amazing production. Watching a master actor such as the ones you have listed would leave an impression that would be hard to erase. This Joe Keller is all Joe Wissler's.
twi-ny: What approach are you taking for such a classic role? What do you think is the key to the part?
JW: I am approaching this classic with the respect it deserves. It is truly one of the finest plays ever written. To win this part is one of the greatest honors I have received professionally. I am letting my emotions guide me through the text as a conductor would rely on his sheet music. Every line has such an emotional explosion behind it. The key to this play is Joe's love for his son. I believe nothing is more important to Joe. And that's why I love playing this role. I have the same love for Joe and Nicole.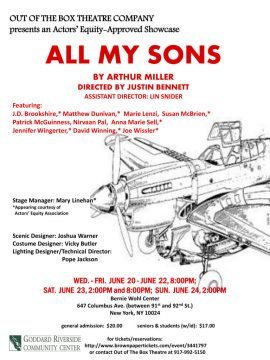 twi-ny: Keller has to deal with something from his past that haunts him. Is there any one thing that you regret from your past that you wouldn't mind sharing with us?
JW: "Regrets, I've had a few, but then again, too few to mention." Thanks for giving me the chance to say that. My biggest regret is not spending even more time with my mother over the years. She passed away suddenly at the young age of sixty-five and it wasn't until she wasn't there anymore that I realized how much I still depended on her. It was her guidance that brought me to acting. And that gave me the heart to love as deeply as I do. Anything good that can be said about me is because of her. I dedicate this performance to her.
twi-ny: Have you done any other Miller plays? Do you have a favorite?
JW: This is my first Miller play. I hope to get cast in many more. I do have a favorite. Actually two, A View from the Bridge and of course All My Sons.
twi-ny: Did Joe and Nicole treat you well on Father's Day?
JW: To look in their eyes and see them smiling is all I need. The gifts were nice too.
New York International Fringe Festival
The Kraine Theater
25 East Fourth St. between Second Ave. & Bowery
August 8, 10, 14, 18, 24, $18
www.joewissler.com
www.babygirltheplay.com
The first thing one notices about Joe Wissler is his size. At six-foot four, two hundred and twenty-five pounds, he usually stands out in a crowd. The next things that become quickly apparent are his gregarious nature and welcoming sense of humor. But the Manhattan-born, Brooklyn-raised character actor gets very serious when discussing the details of his chosen career. "What I love about Joe is his professionalism and dedication to his craft, which he clearly loves," playwright and casting agent David Bellantoni says about Wissler, who was recently nominated for Best Actor at the Unchained one-act theater festival for starring as a Brian Dennehy-like tough guy in Bellantoni's Laundry, which took the Audience Award. "Most actors, no matter where they are from, think they can pull off a New York character – accent, attitude, swagger," Bellantoni continues, "but in performance you can almost always tell they're from somewhere else. Joe is the real deal, the genuine article. It was a pleasure to work with him and I would do so again in a heartbeat."
Wissler is very much the real deal. In order to start dating (and eventually marry) Grace Argentina, he had to get past her eleven not-so-friendly brothers. Grace and Joe's son is a Suffolk County police officer, their daughter a Nassau County teacher and track coach. And Wissler continues winning better and better roles in an extremely difficult business. This week Wissler, who has appeared onstage with John Amos (Good Times, Roots) in Felony Friday at the Fringe Festival, on Law and Order: SVU on television, and in such indie films as Waiting for the Blackout and Abscond Valley, is back at the Fringe in Baby GirL, Kutumba Theatre Project artistic director Kim Ehly's semiautobiographical comedy about adoption, coming out as a lesbian, and searching for home. In between rehearsals for the show, which runs August 8, 10, 14, 18, and 24 at the Kraine Theater, Wissler discussed his acting career, his size, his deep, profound love of his craft, and more.
twi-ny: You were last at the Fringe in 2011, when you starred with John Amos in Felony Friday. What was that experience like?
Joe Wissler: In a word, it was amazing. Of course, I have been a fan of John's since I can remember. I was so glad when he came to the rehearsals ready to work like any other actor. No pretense, no attitude. We shared most of his scenes, so we rehearsed quite a bit together. I'm happy to say that we became friends and remain so to this day.
twi-ny: This year you're appearing at the Fringe in Baby GirL. Can you tell us a little about your role and how you got the part? It's a different kind of show for you.
JW: I actually play two roles in the show. In the first act I play Dave, adopted father to Ashley, a very traditional, head of the family, "meat and potatoes Republican" living in South Florida in the late 1960s to 1980s. I dote on Ashley, which is why she comes out to me first, that she is a lesbian. Things take a turn from that moment on. In act two, I play Henry, husband of Ashley's biological mother. Henry is a simple man who doesn't say too much, thanks to the nonstop talking of his wife.
I auditioned for the roles, with absolute abandon. In one flashback scene, I jump into four different scenarios in a matter of one minute. There is just no way to win a part like that unless you are willing to completely commit to that individual moment. There was no playing it safe at this audition.
twi-ny: What is it that resonated with you to make you want to work on this play?
JW: Baby GirL is a play about struggling. Ashley struggles to find her sexual identity, her birth parents, and her life. Dave and Mary struggle to conceive a child, raise a child the way they think she should be raised, and then break away from the child they don't understand. Struggle is what creates conflict, which is what creates drama. The beautiful thing about this play is there is lots of comedy mixed in with the drama, and a fine cast that understands how to work both the comedy and the drama so it will move the audience to laughter and tears. I'm sure the audience will walk away from this show with a lot to think about and talk about. And hopefully it will help someone out there struggling with his or her own personal feelings, be that if they need to come out, accept someone who comes out, or just choose to live the life they want for themselves.
twi-ny: You're six-foot-four, two hundred twenty-five pounds, and from Brooklyn, yet you've appeared in a wide variety of genres on film and television and onstage. Do you think your size is a hindrance or an advantage?
JW: [laughs] My size can be both an advantage and a hindrance. Most times I find it to be an advantage. Of course, I can remember times when it worked against me. Many years ago, when I was a child, I started growing at an unbelievable rate. I can remember walking into auditions at ten years old and being taller than the man auditioning to play my father. More recently, I was being considered for a great part in a film. I was to play Jon Voight's brother. Before production began, I was told that Jon Voight would not be doing the film. Instead, Malcolm McDowell was the new lead. Jon Voight and I are almost the same size, but I am seven inches taller than Malcolm McDowell. Apparently, size did matter. I always find a way to fit my dimensions into the skin of the character I am playing.
What about your accent?
JW: [laughs again] What accent? In my day-to-day life, my New York accent is certainly apparent. I have learned to eliminate it for professional purposes. Just listen to me say "You didn't talk much at dinner" in Baby GirL.
twi-ny: What's more fun – playing the cop or the mob guy?
JW: I love acting. I love the characters that I get to play. I humanize the characters by a simple yet effective method. I find myself in the character, I find the character in me and find myself as the character in the situation. With that, anything is possible. The rest just depends on the costume.
twi-ny: You were recently nominated for Best Actor in David Bellantoni's Laundry, in which the cast really seemed to bond. You're a gregarious fellow; what's it like when a group of actors don't really come together on a set?
JW: Laundry was a great experience. A set is a family. It's very important to make it work, with everyone involved – cast, crew, writers, production, and director. We are all working toward a common goal: To do the best work we are capable of. Nothing on set or behind the scenes should distract from that goal. That being said, jealousies and insecurities are always possible. While studying at the Lee Strasberg Theatre and Film Institute, I was taught that just like any other walk of life, you will meet all kinds, just more so in acting. Concentrate on your work and leave the negativity to those who need it. I only experienced that kind of situation on one project. Hopefully, never again.
twi-ny: You've also done stand-up comedy; do you still go back in front of that brick wall?
JW: I have not in quite a while. I am thinking about performing stand-up in L.A. on my next trip there in September.
twi-ny: What do you have coming up after Baby GirL?
JW: I will have a couple of weeks here in New York City to enjoy the rest of the summer. I am cowriting a play that I hope to finish this year. I will be traveling back and forth to the West Coast. My L.A. agent, Marlene Hartje, is amazing. I can't wait to get back out there and see what she has waiting for me. There are a few plays being produced here in New York that I would love to finish the year out with. John Amos and I have been trying to coordinate our schedules for a couple of years, with the hopes of mounting a great two-man play a friend of his wrote. And of course, I am constantly on the hunt for a production of John Logan's Red that is casting.
New York International Fringe Festival
The Kraine Theater
25 East Fourth St. between Second Ave. & Bowery
Sunday, August 24, $18, 12 noon
www.fringenyc.org
www.babygirltheplay.com
Conceived during a New York City writing workshop, writer-director Kim Ehly's semiautobiographical Baby GirL became a hit in South Florida and has now come north for the eighteenth annual New York International Fringe Festival, where it plays its last of five performances on August 24 at noon at the Kraine Theater. That's not a typo in the title; Ehly wants to emphasize the "L" in LGBT, a community she has been part of for many years. Baby GirL is about a young woman sharing her compelling, and very funny, story about being adopted, coming out as a lesbian, and going in search of her birth mother, ranging from 1968 to 1995. Christa Meyers is delightful as Ashley, easily gliding between re-created scenes from her life and speaking directly to the audience as her character explores her sexuality and family history; it's easy to see how she recently played Vanda in a Cleveland production of Venus in Fur. (An unfortunate distraction, however, was that Meyers slowly sweat through two gray shirts during the show; hopefully the costume designer has since adjusted her wardrobe so the focus can remain where it belongs, on her splendid performance.) The other seven members of the uniformly strong cast all portray multiple roles, including Amy Bizjak as Ashley's adoptive mother and birth mother, Joe Wissler as her adoptive father and husband of her birth mother, Samuel Floyd as various men in her life, and Nori Tecosky as her current girlfriend and other women, in addition to Jessica Farr and Noah Levine, but it's Lucy McMichael who nearly steals the show, playing a series of mostly bitter and cranky old ladies; after a few of them, just her mere appearance onstage as a new character gets much-deserved laughs. A production of Ehly's Fort Lauderdale-based Kutumba Theatre Project, BabyGirL might not delve too deeply below the surface, but it has an inviting, charming warmth that is just right for the Fringe.
Chain Theatre
21-28 45th Rd., Long Island City
Saturday, June 28, $15, 7:00
www.variationstheatregroup.com
For the last several weeks, more than a dozen entrants have been fighting it out, and now the stakes are even higher as the four finalists are ready to do battle this weekend to crown a new champion. No, we're not talking about the World Cup — which has more than its fair share of histrionics — but the second annual Unchained Theatre Festival, organized by the Variations Theatre Group. On Saturday night, June 28, the four surviving one-act plays will be performed at the small, intimate Chain Theatre around the corner from MoMA PS1 in Long Island City, competing for the Best Play Award. The finalists are Eugenie Carabatsos's Stalled, Marc Castle's What Would Jesus Do?, Jon Spano's The Sweat, and David Bellantoni's Laundry. "We are excited about the success and audience response to this year's festival," VTG co-artistic director Rich Ferraioli told twi-ny. "Each of the pieces this year was both engaging and relevant for our audiences. The final group, specifically, range from comedic Laundromat thrillers to religious blind dates and even to an ensemble-based piece set entirely in a car." For the other awards, the Best Actor category features Curtain Call's Ryan Barry, The Sweat's Aaron Matteson, and Laundry's Joe Wissler, while The XXX Scholar's Jenni Graham, What Would Jesus Do?'s Cari McHugh, and Laundry's Malika Nzinga are up for Best Actress. Duking it out for Best Director are Stalled's Andrew Wells Ryder, The Sweat's Reginald L. Douglas, and WWJD? writer Castle. The casts of Stalled, The History of the Donner Party: A Country Musical!, and The XXX Scholar are up for Best Ensemble. "This is sure to be a night of laughs, smiles, and good quality theater in LIC," Ferraioli added. Based on the preliminaries we saw earlier this week, we heartily agree, but you better act fast, as seating is limited.