Who: PTP/NYC (Potomac Theatre Project)
What: Virtual summer season
Where: PTP/NYC YouTube
When: July 9-13 (Lunch), July 23-27 (Standing on the Edge of Time), August 13-17 (A Small Handful), free with advance RSVP (donations accepted)
Why: Every summer, I look forward to seeing what unique plays Potomac Theatre Project, aka PTP/NYC, brings to the city. Founded in 1987 by co-artistic directors Cheryl Faraone, Richard Romagnoli, and Jim Petosa at Middlebury College, the organization presents old and new works by such playwrights as Vaclav Havel, Harold Pinter, Snoo Wilson, Tom Stoppard, C. P. Taylor, and, primarily, Caryl Churchill and Howard Barker. The company's 2020 season ran online in the fall, with Churchill's Far Away, Dan O'Brien's The House in Scarsdale: A Memoir for the Stage, and Barker's A Political Statement in the Form of Hysteria. The 2021 season is virtual as well, opening July 9-13 with a splendid production of Steven Berkoff's Lunch.
"What do you want?" pushy salesman Tom (Bill Army) asks Mary (Jackie Sanders). "Nothing," she replies. The two are sitting on the edge of a moving sea, their backs to the ocean as dark clouds emerge behind them. Refusing to give up, he later asks, "Don't you ever want something else?" She responds again, "Nothing." She tries to leave several times, but he insists she stay.
During the forty-minute absurdist play, the two strangers wonder about a romantic rendezvous as they defend their lives and the choices they've made while attacking the other's, at times hitting hard and deep, although not much seems to stick. She calls him a "salesman of nothing, a canine groper . . . a dirty little man," while he tells her, "Crawling words creep out like spiders from your ancient gob." Occasionally they speak directly to the viewer, considering their situation, not sure what they should do next. It might not be love at first sight for both of them, but neither can they simply get up and walk away, allowing us to eavesdrop on their unusual conversation, with unique language that the closed captioning often has no idea how to transcribe.
"You sound like high-pressure hissing from cracked pipes," Mary says as he waxes poetic about his job. "I'm no pressure," he replies. "I dissolve into fat and slide under the door, staining the concrete stairs on the way down — those thousands of white — dirty — grey concrete stairs that have gnawed my feet away — choked on the dust — white dust that concrete secretes — salesman's disease — bang-bang, up the stairs and then slither down in a visceral pool of grease dragging nerve endings, plasma, and intestines . . . re-form on the pavement — plunge the eyes back in — the shirt has dissolved into my flesh — become an outer skin . . . recoup in the ABC — salesman's filling station — pump in the hot brown bird vomit — and the others are just sludging in, their faces slapped puce with rejection, the waitress, sliding around the dead pool of grease, slithers her knotted varicosity towards me and for a treat smashes some aerated bread down my throat which dissolves into dust, white dust that concrete secretes, atrophying delicate nasal membranes . . ." She asks, "Don't you like your work?" He answers, "Love it! Every moment, every earth-shattering cosmological moment of it."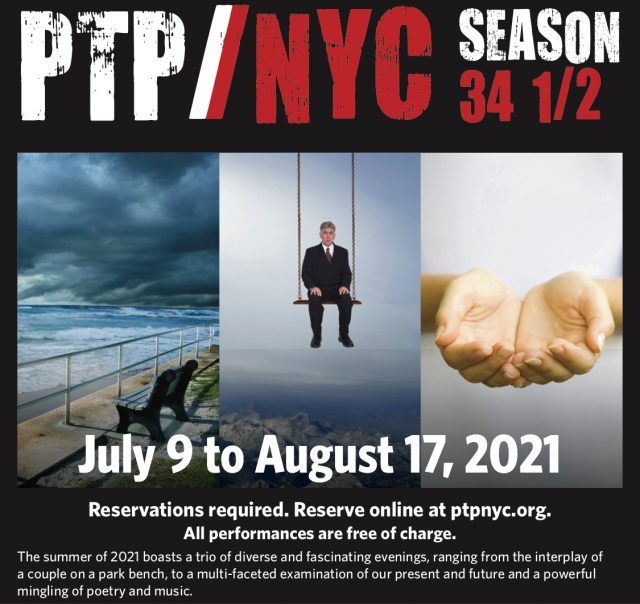 Directed by Romagnoli, the prerecorded play was filmed with the actors in different locations, but Courtney Smith's production design, lighting, and cinematography attempt to make it appear like they are in the same space. Army (The Band's Visit, Scenes from an Execution) and Sanders (The Taming of the Shrew, Cowgirls) are lovely together — er, well, apart — in a work that premiered at the King's Head in London in 1983, with Linda Marlowe and Ian Hastings starring. Berkoff, who has played villains in such films as Beverly Hills Cop, Octopussy, and Rambo: First Blood Part II, has also written and directed such plays as East, West, Decadence, Kvetch, Actor, and Massage, many of which he appeared in as well. Lunch, which runs about as long as it takes to each lunch, is a tasty treat, a delicious morsel about two very different people who come together by chance and reevaluate their lives as they reaffirm their identities.
PTP/NYC's free 34.5 season continues July 23-27 with the ninety-minute Standing on the Edge of Time, consisting of short works by David Auburn, Caryl Churchill, Tony Kushner, Mac Wellman, Steven Dykes and others, directed by Faraone and featuring such company vets as Alex Draper, Tara Giordano, Stephanie Janssen, Christopher Marshall, and Aubrey Dube, followed August 13-17 with A Small Handful, a filmed thirty-minute piece directed and conceived by Petosa that uses text by Anne Sexton and songs by composer Gilda Lyons, spoken by Paula Langton and sung by Kayleigh Riess.