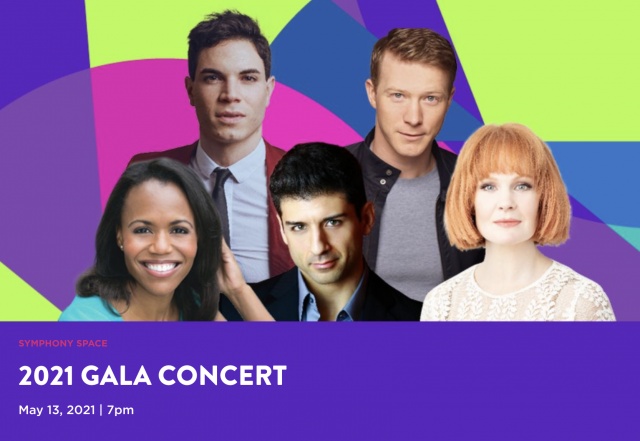 Who: Kate Baldwin, Roz Chast, Britney Coleman, Jane Curtin, Nikki Renée Daniels, Santino Fontana, Jason Gotay, Melora Hardin, Jane Kaczmarek, Jeff Kready, Colum McCann, Patricia Marx, Laura Osnes, George Saunders, Rashidra Scott, Nathaniel Stampley, Sally Wilfert, Meg Wolitzer, Tony Yazbeck, more
What: Virtual gala fundraiser
Where: Symphony Space Zoom
When: Thursday, May 13, $35, 7:00
Why: On January 7, 1978, conductor Allan Miller and playwright and director Isaiah Sheffer staged the free twelve-hour concert "Wall to Wall Bach" at an Upper West Side building on Broadway that was formerly the Astor Market, the Crystal Palace Skating Rink, and the Symphony Theatre. The event was such a success that they decided to start Symphony Space, an arts venue that for more than forty years has hosted music, storytelling, film, theater, readings, lectures, dance, and much more. The pandemic lockdown had closed the institution's doors, but they will reopen for the 2021 annual gala fundraiser on May 13 in a hybrid livestream featuring an all-star lineup performing onstage at the Peter Jay Sharp Theater and sharing memories from home over Zoom. "When I got a text that the first rehearsal for the dance piece in the space had happened and gone well, it was thrilling — we had arrived at that long-awaited moment when artists were once again gracing our stages," executive director Kathy Landau said in a statement. "Before the pandemic, every corner of our building pulsated with art and ideas, with people meeting in the hallways and the wings. The theater itself is almost its own character in the life of Symphony Space — and what makes it come alive is the community we have built in and around it. And while we had so much engaging virtual programming, the theater had been sitting almost entirely empty. For the gala, there was a lightbulb moment where we realized, 'Wait, there's a way to safely and responsibly and comfortably bring this energy back,' for this event to be our first step before bringing audiences in. It had to be quintessential Symphony Space: to be multidisciplinary, to have that unique-to-this-one-evening, in-the-moment immediacy, to have that magical alchemy that occurs when artists come together at Symphony Space to create, collaborate, and celebrate."
The evening of cocktails, concert, and conversation, produced and directed by Annette Jolles and Joel Fram, will feature performances by Kate Baldwin, Britney Coleman, Nikki Renée Daniels, Jason Gotay, Jeff Kready, Laura Osnes, Rashidra Scott, Nathaniel Stampley, Sally Wilfert, and Tony Yazbeck in addition to a new dance piece by Sara Brians (performed by Saki Masuda, Michelle Mercedes, and Devin L. Roberts) as well as appearances by Roz Chast, Jane Curtin, Nikki Renée Daniels, Santino Fontana, Melora Hardin, Jane Kaczmarek, Patricia Marx, Colum McCann, George Saunders, Meg Wolitzer, and others. The house band consists of conductor Fred Lassen on piano, John Romeri on flute, Keve Wilson on oboe, Nuno Antunes on clarinet, Eric Reed on horns, Nanci Belmont on bassoon, Laura Bontrager on cello, George Farmer on bass, and Clayton Craddock on drums. Tickets for the concert are $35 and go up to $1,000 to $40,000 for special breakout rooms and tables with guest artists and a Party in a Box.