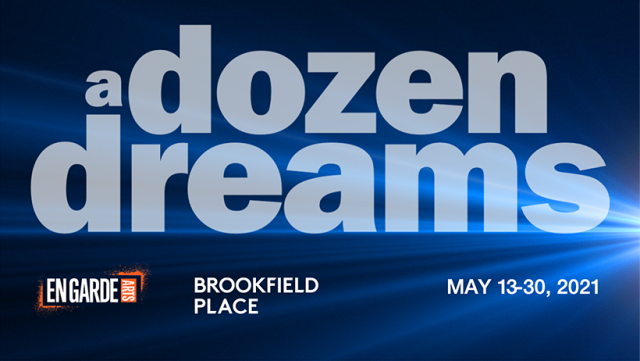 A DOZEN DREAMS
Winter Garden at Brookfield Place
230 Vesey St.
Wednesday - Saturday, May 13-30, 2:00 - 8:00, free with RSVP beginning April 19
www.engardearts.org
Site-specific specialists En Garde Arts return to the Winter Garden at Brookfield Place, where they previously staged Harbored, with the immersive performance installation A Dozen Dreams. Free tickets become available on April 19 to experience the fifty-five-minute work at the Winter Garden Wednesdays through Sundays from May 13 to 30. En Garde asked twelve New York City–based women playwrights, "What are you dreaming about right now?" Each one — Sam Chanse, Erika Dickerson-Despenza, Emily Mann, Martyna Majok, Mona Mansour, Rehana Mirza, Ellen McLaughlin, Liza Jessie Peterson, Ren Dara Santiago, Caridad Svich, Lucy Thurber, and Andrea Thome — will give their answer in separate rooms, with visual and environment design by Irina Kruzhilina, projection and video by Brittany Bland, lighting by Jeanette Oi-Suk Yew, and sound by Rena Anakwe. Attendees, who go through the labyrinthine multimedia installation one at a time or in pod pairs, are invited to share their own pandemic dreams in a thirteenth room. The project, which follows all Covid-19 precautions, was conceived by dramaturg John Clinton Eisner, Kruzhilina, and En Garde Arts artistic director Anne Hamburger, who founded the organization in 1985 and relaunched it in 2014. So far, in-person theatrical works, whether free or not, have sold out fast, so get ready to book your visit on April 19 when reservation lines open up.