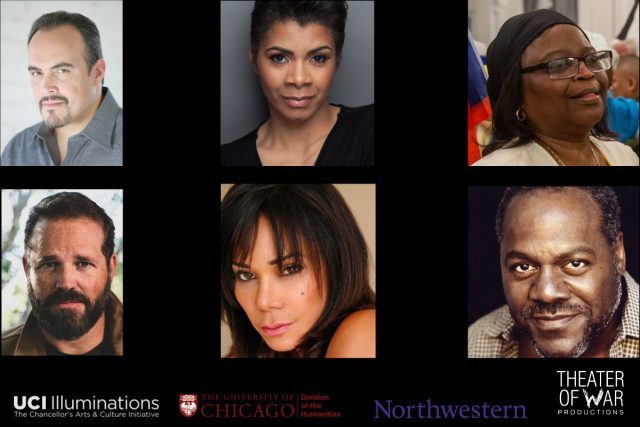 Who: David Zayas, David Denman, Andrea Patterson, Frankie Faison, Daphne Rubin-Vega, Dorina Castillo, Bryan Doerries, more
What: Dramatic reading of Aeschylus's The Suppliants and community discussion on human trafficking, immigration, and the current refugee crisis
Where: Theater of War Zoom
When: Wednesday, April 14, free with RSVP, 7:30
Why: Theater of War Productions continues its exploration of contemporary times as seen through the lens of Greek tragedy and other classic(al) works with The Suppliants Project, a livestreamed all-star reading and community discussion taking place over Zoom on April 14 at 7:30. Previous virtual events have related Sophocles's Antigone to the murder of Michael Brown in Ferguson in 2014, Shakespeare's King Lear to caregiving and death during the coronavirus crisis, MLK's "The Drum Major Instinct" to racism and social justice, the Book of Job to natural disasters, and Sophocles's Oedipus Rex to the pandemic itself. Translated, directed, and facilitated by artistic director Bryan Doerries, the Suppliants Project features David Zayas, David Denman, Andrea Patterson, Frankie Faison, Daphne Rubin-Vega, and Dorina Castillo reading Aeschylus's The Suppliants, about fifty female refugees, the daughters of Danaus known as the Danaids, who are seeking asylum from forced marriage and domestic violence. They are joined by a chorus of Garifuna singers and musicians from Belize, Honduras, and Guatemala. The reading will be followed by a live, interactive discussion about the current battle over immigration and the refugee situation, copresented by Illuminations: The Chancellor's Arts and Culture Initiative at the University of California, Irvine, Northwestern University, and the University of Chicago. Admission is free with advance RSVP.