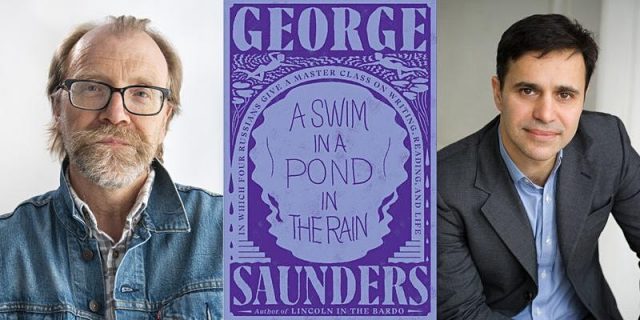 Who: George Saunders, Keith Gessen
What: Livestreamed conversation
Where: National Arts Club Zoom
When: Wednesday, April 13, free with RSVP, 7:00
Why: In his latest publication, A Swim in a Pond in the Rain: In Which Four Russians Give a Master Class on Writing, Reading, and Life (Penguin Random House, January 2021, $28), Man Booker Prize winner and Syracuse professor George Saunders writes, "Why do we keep reading a story? Because we want to. Why do we want to? That's the million-dollar question: What makes a reader keep reading? Are there laws of fiction, as there are laws of physics? Do some things just work better than others? What forges the bond between reader and writer and what breaks it? Well, how would we know? One way would be to track our mind as it moves from line to line. A story (any story, every story) makes its meaning at speed, a small structural pulse at a time. We read a bit of text and a set of expectations arises."
Expectations always arise when new material is published by Saunders, a former geophysical prospector, roofer, doorman, and technical writer born in Amarillo, Texas, and raised in Oak Forest, Illinois. Books such as Lincoln in the Bardo and Tenth of December are among the best of the century. On April 13 at 7:00, Saunders will speak with editor, translator, author, and n+1 founding editor Keith Gessen (All the Sad Young Literary Men, A Terrible Country) in a live conversation hosted by the National Arts Club, focusing on A Swim in a Pond in the Rain, which was inspired by the MFA class Saunders has been teaching at Syracuse for twenty years on the Russian short story; the book is structured around works by Chekhov, Turgenev, Tolstoy, and Gogol as Saunders ponders reading and writing. "Now your mind is not so blank. How has the state of your mind changed?" he asks. "If we were sitting together in a classroom, which I wish we were, you could tell me. Instead, I'll ask you to sit quietly a bit and compare those two states of mind: the blank, receptive state your mind was in before you started to read and the one it's in now." Admission to the talk is free with advance RSVP.