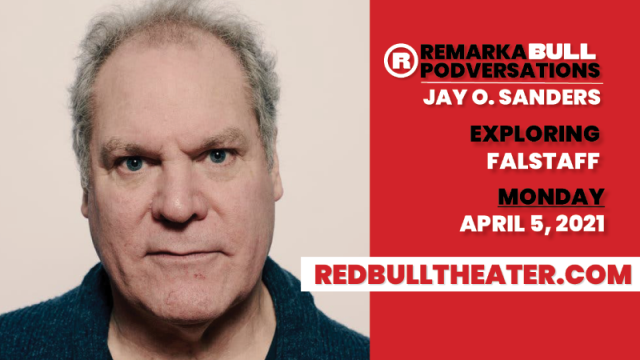 Who: Red Bull Theater company
What: Conversation about William Shakespeare character Falstaff
Where: Red Bull Theater website, YouTube, and Facebook Live
When: Monday, April 5, free with RSVP (donations accepted), 7:30
Why: The last hand I shook was the large paw of Drama Desk Award–winning actor Jay O. Sanders, following his performance in the Broadway show Girl from the North Country at the Belasco on March 10, 2020, two days before the pandemic lockdown shuttered the city. With most theaters and the Great White Way still closed, Sanders will take part in Red Bull's next online RemarkaBULL Podversation, "Exploring Falstaff," on April 5 at 7:30. In the free virtual event, streamed live on Facebook and YouTube, the Austin-born actor and activist will perform an excerpt from Act 2, Scene 4 from Henry IV, Part 1, in which the bearish Sir John Falstaff tells Prince Hal at the Boar's Head Tavern: "Shall I? content: this chair shall be my state, / this dagger my sceptre, and this cushion my crown. / Give me a cup of sack to / make my eyes look red, that it may be thought I have / wept; for I must speak in passion."
After the speech, Sanders will discuss the character, who appeared in both parts of Henry IV and The Merry Wives of Windsor before being eulogized in Henry V, with Red Bull associate producer Nathan Winkelstein. The conversation will include several questions from the audience as well. Sanders (Uncle Vanya, the Apple Family plays) has portrayed such Shakespearean figures as Titus Andronicus, Marc Antony, Macbeth, Toby Belch, Caliban, Petruchio, and Bottom and has the record for most appearances at the Public's Shakespeare in the Park presentations at the Delacorte, so he knows what of he speaks. Up next for Red Bull's ambitious lockdown programming is a Zoom benefit reading of Paradise Lost on April 12 and 26; you can watch previous RemarkaBULL Podversations with André De Shields, Kate Burton, Patrick Page, Elizabeth Marvel, Michael Urie, Chukwudi Iwuji, Stephen Spinella, and others here.