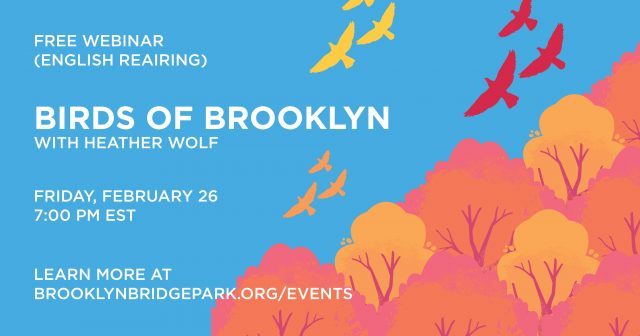 Who: Heather Wolf
What: Webinar on the birds of Brooklyn
Where: Brooklyn Bridge Park YouTube
When: Friday, February 26, free with RSVP, 7:00
Why: If you missed the initial broadcast of Heather Wolf's virtual discussion "Birds of Brooklyn," you'll get another chance on February 26 at 7:00, when the event is repeated by Brooklyn Bridge Park on its new YouTube channel. The California-born, Brooklyn-based Wolf, a former circus guitarist and current juggling teacher, maintains "The Birds of Brooklyn Bridge Park" blog, where she posts photos and avian observations. She is also the author of the 2016 book Birding at the Bridge: In Search of Every Bird on the Brooklyn Waterfront (Workman, $14.95) and, in the before times, led birding walks in the park. Among her most recent photos are of a ring-billed gull, a red-throated loon, a double-crested cormorant, a northern cardinal, and three brant in midair.