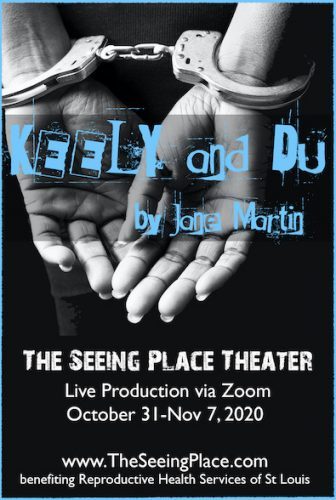 Who: The Seeing Place Theater
What: Livestreamed benefit readings and panel discussions
Where: The Seeing Place Theater Zoom
When: Saturday, October 31, and Sunday, November 1, $10-$50, 7:00 (available on YouTube November 3-7)
Why: The Seeing Place Theater continues its "Ripple for Change" series with two live, virtual readings of the pseudonymous Jane Martin's 1994 Pulitzer Prize finalist, Keely and Du, a powerful work about a pregnant rape victim and an antiabortion activist. The drama premiered at the Humana Festival of New American Plays at the Actors Theatre of Louisville in March 1993 and continues to be popular, given the subject matter, especially as the Supreme Court becomes more conservative and Roe v Wade and other aspects of health care are in danger. The reading is directed by Brandon Walker and Erin Cronican and features Cronican as Keely, Audrey Heffernan Meyer as Du, Walker as Walter, and Olivia Hanna Hardin as the guard; it will be performed live October 31 and November 1 at 7:00, in honor of Domestic Violence Awareness Month, with proceeds benefiting the Reproductive Health Services of Planned Parenthood of Saint Louis; it will be available for viewing on YouTube November 3-7.
"Rather than tell audiences what to think, this play poses deep questions to get to the heart of the debate over who governs women's bodies," Cronican said in a statement. "It asks us to reflect on an individual's rights, a community's responsibilities, and the difference between one person's expectations and another's reality." Each performance will be followed by "Action Steps for Protecting Women's Choices," a panel discussion with Dr. Colleen McNicholas, an OB-GYN who became Planned Parenthood's first-ever chief medical officer in July 2019. "I don't want to get comfortable talking to you," Keely tells Du at one point. Unfortunately, it's part of a conversation that is not going away any time soon.