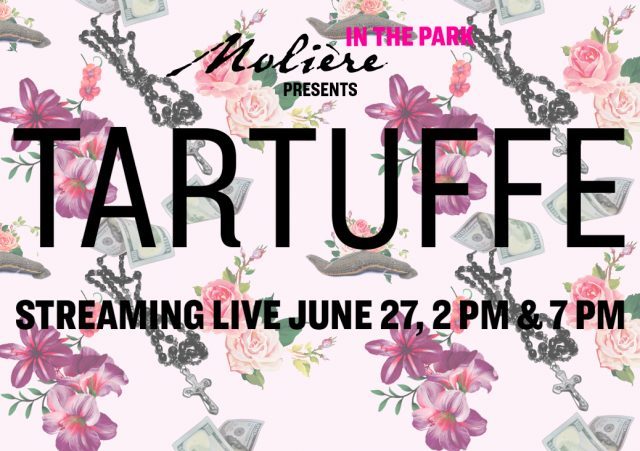 Who: Molière in the Park theater company
What: Livestreamed performances and Q&As
Where: FIAF Facebook and Molière in the Park YouTube
When: Saturday, June 27, free with RSVP, 2:00 & 7:00 (show will be available for viewing through July 1 at 2:00)
Why: Molière in the Park follows up its virtual staging of two-time Pulitzer Prize winner Richard Wilbur's English-language translation of Molière's The Misanthrope with another seminal work by the French playwright, also translated by Wilbur. On June 27 at 2:00 and 7:00, the Prospect Park-based troupe, in conjunction with the French Institute Alliance Française, will present Molière's 1664 favorite, Tartuffe, known in French as Le Tartuffe; ou, l'imposteur. The story of a beguiling scoundrel who charms some and infuriates others will be performed by an outstanding cast, featuring Raúl E. Esparza as Tartuffe and Samira Wiley as Oronte, joined by Kaliswa Brewster, Toccarra Cash, Chris Henry Coffey, Naomi Lorrain, Jared McNeill, Jennifer Mudge, Rosemary Prinz, and Carter Redwood. The piece is directed by company founder Lucie Tiberghien, with production design by Kris Stone, video programming by Andy Carluccio, sound and music by Paul Pinto, and animation by Emily Rawson and Jonathan Kokotajlo, as Molière in the Park pushes the envelope in its use of online technology.
"We are disturbed and appalled by the corrosive and dangerously divisive nature of religious double standards and the questionable moral righteousness we are currently witnessing," Tiberghien and producer Garth Belcon said in a statement. "Turning to Tartuffe with this company of actors and creative team has been healing. Our goal is to reinforce the power of faith, love, and respect for every human life, versus religious posturing for economic or political gain." Admission to the ninety-minute comedy is free, but advance RSVP is required; donations are gladly accepted. The livestreamed show, which will be available with English or French closed captions, will be followed by a Q&A with members of the company; if you miss either of the live productions, a recording will be available for viewing through July 1.