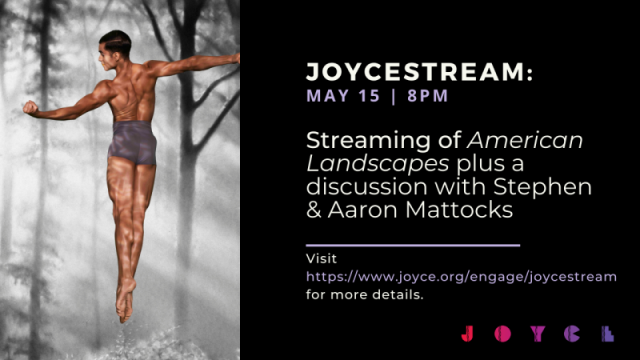 Stephen Petronio Company
May 13 - June 14, free
petron.io
Manhattan-based Stephen Petronio Company's New York season at the Joyce was supposed to run May 12-17 but was canceled because of the coronavirus pandemic. So SPC is reaching back to its past and jumping into the future with a monthlong series of online events during the Covid-19 shutdown, some of which were scheduled to take place at the Joyce. Beginning May 15 at 8:00 pm and continuing through May 22 at 10:00 am, the Joyce will show the troupe's April 11, 2019, Skirball performance of American Landscapes in its JoyceStream program and Bring Dance Home initiative; the twenty-five-minute piece features visual design by Robert Longo and an original score by Jozef Van Wissem and Jim Jarmusch and will be followed by a talkback with Petronio and Joyce director of programming Aaron Mattocks.
From May 18 to June 14, the Merce Cunningham Trust Centennial Repertory Festival will stream Tread, which SPC performed at Skirball as part of its Bloodlines homage on July 27, 2018; Cunningham's original, with set design by Bruce Nauman, debuted in 1970. Also available will be a conversation between Patricia Lent, Jennifer Goggans, and Petronio about the work. And on May 29 at 6:00, Petronio will introduce #LoveSpreadsFaster, anchored by the world premiere of #GimmeShelter, a new Zoom collaboration with his dancers from wherever they are sheltering in place, along with Jaqlin Medlock performing the "Danse Sacrale" solo from Petronio's 1992 Full Half Wrong. On May 30 at 6:00, #LoveSpreadsFaster features _AShadowPrince, a video solo by dancer and choreographer Johnnie Cruise Mercer that is the first commissioned work of Petronio's "Bloodlines(future)" project, paying homage to those who came before while looking ahead at what comes next.