THE WALLS AROUND US (Algonquin Young Readers, March 24, $17.95)
McNally Jackson
52 Prince St. between Lafayette & Mulberry Sts.
Monday, March 23, free, 7:00
212-274-1160
mcnallyjackson.com
novaren.com
"We went wild that hot night. We howled, we raged, we screamed. We were girls — some of us fourteen and fifteen; some sixteen, seventeen — but when the locks came undone, the doors of our cells gaping open and no one to shove us back in, we made the noise of savage animals, of men." So begins Nova Ren Suma's third YA novel, the ghost story The Walls Around Us. Her follow-up to Imaginary Girls and 17 & Gone, Suma's latest book is told from the point of view of a convicted killer and a ballerina (Suma herself danced from the age of six to sixteen) and includes quotes from Shirley Jackson's The Haunting of Hill House, Alice Sebold's The Lovely Bones, and Margaret Atwood's The Handmaid's Tale to help set the mood. Suma, who we once had the extreme pleasure of working with in the children's books business, is a master of her craft, creating warm, believable characters, writing sharp, realistic dialogue, and bringing intriguing situations to life with atmospheric dexterity. A very active member of the YA community, Suma took a big leap of faith with The Walls Around Us, letting her ideas run wild and trusting her instincts instead of worrying what her editor, agent, reviewers — and she herself — expected.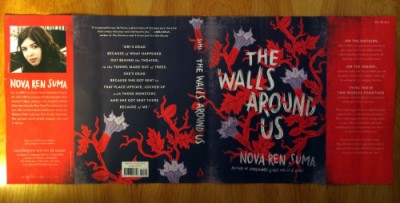 The result is a novel that was named the #1 Indie Next pick for Spring '15, is an Amazon Best Book of the Month, and has garnered numerous starred reviews. Suma, who gave her first official public YA reading at twi-ny's tenth anniversary celebration in 2011, will be at McNally Jackson in SoHo on March 23, launching The Walls Around Us with her friend and colleague, Michael L. Printz Award winner Libba Bray (The Diviners, Going Bovine). There will be a short reading, a conversation between the two literary stalwarts, a Q&A with the audience, and a signing. In addition, Suma will be giving away lots of Walls tattoos. And don't worry; Suma isn't really like one of her narrators, Violet, who explains early in the book, "I slip behind the curtain — it's almost time, get the spotlight ready, soon I'll be on. This'll be my last dance before I leave town. My last chance to make them remember me, and remember me they will. When I'm onstage, I'm all for them, and they're all for me. I feed off what they give me, and they bask in what I give them. When I'm offstage, these people are nothing to me. I've got some level of hate for practically almost everyone I run into on any given day. But in the midst of dancing? When they're watching me and I'm letting them watch? I've got so much love, I'm like a whole different person." Suma, who teaches writing workshops around the country, will also be participating in the "Exploring Feminist YA" panel on March 21 at 1:10 at the NYPL on Forty-Second St. with keynote speaker Bray, Gayle Forman, Scott Westerfeld, and moderator David Levithan for the 2015 NYC Teen Author Festival.