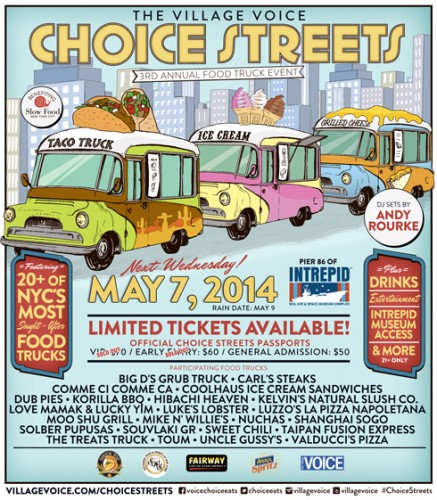 THIRD ANNUAL FOOD TRUCK TASTING EVENT
The Intrepid Sea, Air & Space Museum Complex
Pier 86, West 46th St. & 12th Ave.
Wednesday, May 7, $50, 8:00
www.villagevoice.com/choicestreets
It should be a food truck connoisseur's paradise at Choice Streets 2014, the Village Voice's third annual outdoor gathering of mobile eateries, taking place May 7 at the Intrepid Sea, Air & Space Museum Complex. Thirteen hundred hungry ticket holders — twenty-one and over only — will be sampling delights from nearly two dozen food trucks as well as taking tours of the retired aircraft carrier. VIP and early admission are already sold out, but there are still $50 tickets available, which will give you three hours (8:00 – 11:00) of culinary enjoyment, free drinks, and DJ sets by former Smiths bassist Andy Rourke. The food-truck lineup includes some of our favorites — Uncle Gussy's (love that chicken and lamb combo platter with fries and homemade tzatziki), Carl's Steaks (we'll take ours "Wiz wit"), Moo Shu Grill (they better have plenty of XOXO beef, pork belly, and Peking duck), Big D's Grub Truck (mmm, Yuca fries), Comme Ci Comme Ça (dig that merguez cous cous), Solber Pupusas (the Red Hook platter, please), and the Treats Truck (cookies and brownies, yes!). Among the other participants are Dub Pies, Korilla BBQ, Nuchas, Luke's Lobster, Taipan Fusion Express, Mike 'N' Willie's, and Love Mamak & Lucky Yim.