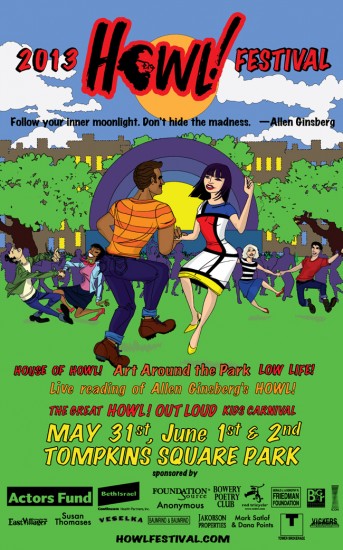 Tompkins Square Park
Ave. A to Ave. B between Seventh & Tenth Sts.
May 31 - June 2, free
www.howlfestival.com
"I saw the best minds of my generation destroyed by madness," begins Allen Ginsberg's Howl, which serves as the centerpiece for the somewhat annual Howl! Festival in and around Tompkins Square Park this weekend. The madness kicks off Friday at 4:30 with the Great Howl!, with Tyler Burba performing songs by Ginsberg, Bob Holman orchestrating a lineup of poets, and a group reading of Ginsberg's masterpiece; among the participants are Hettie Jones, David Henderson, Jennifer Blowdryer, Lydia Lunch, Bob Rosenthal, Eliot Katz, Edwin Torres, and Nancy Mercado. On Saturday afternoon, there will be live performances on the Great Howl! Stage by Miami Rice, Anna Copacabana, Tall Pines, Ward White, Faith . . . , Richard Lloyd, and Vangeline Theater's Mosaic. Meanwhile, the Beatification Stage will be holding a marathon poetry reading celebrating the tenth anniversary of the Poetry Project at St. Mark's Church-in-the-Bowery, hosted by Todd Colby and including Jenny Zhang, Maggie Estep, Jennifer L. Knox, Mike Doughty, Carl Hancock Rux, CA Conrad, Bo DePena, Jason Nazary, and others. There will also be a children's carnival, live painting on canvases surrounding the park, Riki Colon's Men in Skirts presenting And I Still Rise, and the Allen Ginsberg Magnetic Field, consisting of installations, demonstrations, interactive projects, community nonprofit organizations, and more. On Sunday, Great Howl! Stage performers include Karen Marie, Bear 54, Diane Gentile, Andy Shernoff, Jack Skuller, and the Liza Colby Sound; dance will take over the Beatification Stage (along with Marguerite Van Cook's Rockland series); and the Great Ladies of the Lower East Side will be honored in Low Life 7: Bowery Bombshells, paying tribute to Emma Goldman, Cookie Mueller, Mae West, Slugger Ann, Ellen Stewart, Patti Smith, and others.