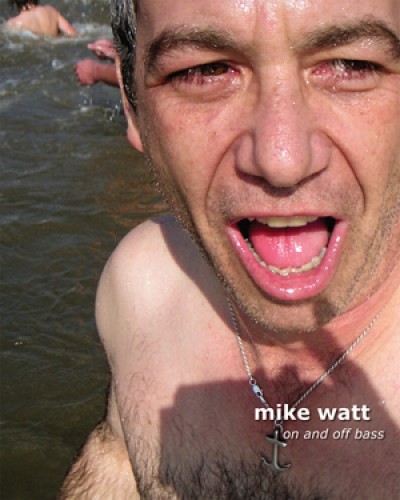 MAY DAY 2: MIKE WATT + FRIENDS
(le) poisson rouge
158 Bleecker St.
Wednesday, May 2, $20, 7:00
212-505-3474
www.lepoissonrouge.com
www.threeroomspress.com
One of the original DIY punks, Mike Watt has been a musical fixture for more than thirty years. Beginning with the Minutemen and continuing with such bands as fIREHOSE, the Secondmen, the Unknown Instructors, the Stooges, and a series of solo concept albums, Watt has played the bass like no one else. The longtime San Pedro resident has just released his second book, On and Off Bass (Three Rooms Press, May 2012, $25), a collection of photographs of the harbor town he so dearly loves paired with short excerpts from his diaries, what he likes to call spiels. On May 2, Watt will gather with a bunch of his musical friends for a special show at (le) poisson rouge, performing as Hellride East with guitarist J Mascis and drummer Emmett Jefferson "Murph" Murphy III of Dinosaur Jr, along with surprise guests; he will also read from and sign copies of the new book. We recently spoke with Watt by phone about San Pedro, D. Boon, photography, the internet, and mothers in a wide-ranging conversation that revealed Watt to be a gregarious, deeply thoughtful man who loves to laugh and use the word "trippy."
twi-ny: You've just published On and Off Bass, which is filled with peaceful images of the sea, nature, sunrises. What does being on the water mean to you?
Mike Watt: That time of day, the crack of dawn, is almost like Pedro is mine. It's not like I own it, but I'm the only one around except for that nature you're talking about. Being in the kayak, that feeling of the sea, it's a trippy feeling.
twi-ny: The sunrises are beautiful.
Mike Watt: With the bass, sometimes accidentally I find stuff, but usually I have to work on it. But with this thing, you can't set up these things. You just gotta be ready to capture it when it happens. It's a different kind of thing about expression. The same thing on the bicycle. I'm not in charge of the sun and the ladder and all. They come together the way they do, and if I'm lucky and ready, I can try to get it.
twi-ny: On the cover of the book, you have just gotten out of the water after having jumped into the ocean on New Year's Day. How cold was it?
Mike Watt: Yeah, the Polar Bears. Well, we're in California. I have a friend who does the Coney Island one; that's crazy. Last year I think it was about fifty-eight. But if you're not acclimated to it, it's still a heart attack.
twi-ny: You've lived in San Pedro since you were ten. What is it about San Pedro that keeps you there?
Mike Watt: Forty-four years now. Part of it is, I think, from all the touring. So when the bungee cord snaps back, ya know. . . . Being a harbor town, I really like. All of my music history's here. I met D. Boon here, and that pretty much was the biggest life changer for me. It's kind of like Malibu with hammerhead container cranes. They're a strange mix. We're a working town next to the ocean and cliffs, so we have a lot of nature for a twelve-million metropolis. It's a mixture of different things. [Charles] Bukowski's last fourteen years were here, and he picked it out of all the towns, he was telling me. He liked the feel of it, the town and the people here. It may be something about that with me too mixed in with these other things I just told you.
twi-ny: Your photos show unexpected sides of San Pedro.
Mike Watt: One trippy thing is, I guess San Francisco is like this too, but we're on a peninsula, so we actually face east, for being on the West Coast, so that's why there are all those pictures of sunrises. We don't get sunsets here. A lot of people tell me that they didn't know about this industry. I think we're third only to Hong Kong and Singapore as the biggest ports in the world. They don't think of that. NoCal people think of Hollywood. They think that California is actually a big huge farm state. No one thinks of that. San Pedro's a fucking harbor town. I mean, this is where most of the people work. My Secondmen band, both those guys [Pete Mazich and Jerry Trebotic] are longshoremen. I'm actually hipping people to things they don't know about. New York City used to be a harbor town, but it all changed. Maybe that's gonna be in the future of Pedro, I don't know.
twi-ny: On May 2, you'll be playing a special show at (le) poisson rouge. What do you have planned for that night?
Mike Watt: It's something I did twelve years ago. You know about this sickness that almost killed me? It's actually what my second opera is about. [The Second Man's Middle Stand details Watt's life-threatening perineum infection in 2000.] That's when I last played with them like this. It's to celebrate this book coming out. In a way, the book is not just mine. It's a collaboration. I didn't pick the pictures. I didn't pick the spiels. I felt I needed some objectivity. It seemed like it would be just too heavy-handed making a thing of myself.
twi-ny: So it was curated for you.
Mike Watt: Laurie Steelink picked the pictures, and Peter Carlaftes and Kat Georges from Three Rooms Press picked the poems and the spiels from the diary.
twi-ny: The text and photos work really well together.
Mike Watt: I'm very grateful to them. They did a good job. They really cared. In a way, it's like them taking a picture of what I'm showing them myself. It's a neat thing. Maybe if I did another book, I would . . . I don't know. It's kind of weird. I'm a little more secure about working the bass than cameras and diaries and stuff. But both of these things were presented to me. I didn't really come with this thing and solicit people for it. People gave me the opportunity, sort of like D. Boon: "Hey, you wanna make a band?" To me, ya know, I'm so close to it, I feel like a fucking dork, like a learner. But I'm into being a learner.
twi-ny: You mention your parents a lot in the book.
Mike Watt: Did you ever see the We Jam Econo thing? The mas were big-time important for the Minutemen. They were really into this stuff. Maybe not the movement ― they didn't understand that so much. They thought of it as art.
twi-ny: Were you thinking about it that way?
Mike Watt: [Laughs] D. Boon could have been. And I met my best friend, Raymond Pettibon, who's an artist. So there's this kind of art thing. You know, these are working-class ladies . . . It was pretty open-minded of them to support us like that. I think Pops was more like, "What the fuck?" But the moms were really into it. Every now and then, my sister will take my mom to come see me play. She was worried a little bit in my early twenties ― "What are you gonna do for a living?" I think she wanted me to be a lawyer.
twi-ny: In March, you and George Hurley played the songs of the Minutemen at ATP. How did that go?
Mike Watt: We played in England, yeah. Oh, man, we practiced and practiced, and when it came down to it, Georgie was so nervous. Georgie's a really strong guy and shit, but it was trippy. But I was proud to be with him. He said it was very emotional for him to play with me. I'm doing it again with him, but with Ed Crawford, to do two weeks of fIREHOSE gigs. We haven't played together in eighteen years. We've practiced a week now. And in January, the whole month, I recorded the fourth Unknown Instructors album with George. So this is the third time with George Hurley in 2012 that I got to be with him musically.
twi-ny: The two of you are very connected.
Mike Watt: I've played with him fourteen and a half years, if you count Minutemen and fIREHOSE. He's a really fucking happening guy.
twi-ny: You said that he was nervous about the ATP gig. What about you?
Mike Watt: Yeah, I was nervous too. [Laughs] I mean, the way we thought about it was, we can't have another dude in D. Boon's place. So we had to shoulder all that stuff without a guitar. It was emotional. Georgie asked me to pick the songs, so I picked a lot that Georgie wrote. Some that were so much D. Boon, like "Corona" and "This Ain't No Picnic," we didn't even try. . . . It was intense. I'm so proud we did it, because I love Georgie. The curator, Mr. Jim [O'Rourke], really dug it. He told me he was in your town there, he went to Occupy Wall Street and sang a D. Boon song to the people. He was very sincere. I'm so glad we did that. It wasn't a gimmick to enhance the career or something. I don't like to do those kinds of things anyway. When things have a reality connected to them, that's why we got into this scene.
twi-ny: You've always been a DIY guy, but you also keep up on the latest technology.
Mike Watt: That goes back to the old days, the fanzines.
twi-ny: Blogs are like 'zines.
Mike Watt: Yeah, they go back to the whole punk scene. The fanzines were like the fabric for our community. And then also the bands ― the Hüskers out in Minneapolis, the Meat Puppets in Phoenix, Ian MacKaye in DC ― we were already kind of connected. This was just a technological way to realize what I had been doing since a young punk rocker.
twi-ny: So the digital revolution just came easy to you.
Mike Watt: The way I use it, yeah. It allows me to collaborate with people and never even meet them. There's this young guy in Canada, he sent me a whole album. I never met this guy; I just put the bass to it. One thing about middle age for me is, everybody's got something to teach me, so why not go for it. I just got a song from some guys in Genoa, Italy, they want me to put a spiel on it about an immigrant who's just getting beat down all the time. These kinds of connections were a lot more difficult in the older days. You actually had to be in the room with the guy. So I like that part of the new technology.
twi-ny: How is it collaborating with someone who is not there? Are you worried they're not gonna like what you're doing? You can't just bounce ideas off each other.
Mike Watt: You get kinda worried, but I think it's worth it to have that worry to take the chance, and you might grow a little bit. One of those projects, I remember having to go back maybe fifteen, sixteen times. Now do it again. Yeah, it was Funanori. Now do it again. Please do it again. [Laughs] There's a danger if you're just always getting your way. If you're always getting your way, you're not gonna learn anything. It's all right to get into these situations that are trippy when you're the deckhand. Like with the Stooges. I don't tell those cats what to do. But what a classroom to sit in.
twi-ny: You seem to have a blast playing with the Stooges.
Mike Watt: Yeah, well, come on ― I don't even know if we'd have a punk scene if it wasn't for that band. It was such good fortune. I can't believe that happened. Boon's laughing his head off. You know, I hear from Ig, "Ronnie [Asheton] says you're the man." I could never have imagined that in a million years. . . . Ig, man, he really believes in working hard for people. I like his ethic; it reminds me of D. Boon when it comes to playing a gig.
twi-ny: With all these people who are contacting you from all over the world, who's out there that you would like to collaborate with but you just haven't had the opportunity?
Mike Watt: Someone I've always wanted to play with is Bob Mould. Those Hüsker guys, they were very interesting musicians. You know, me and D. Boon put out their first album, Land Speed Record. The Grant [Hart] thing might happen. He's been writing me about it. In fact, he wants to play drums; he's been on the guitar for a long time. I don't know if I could do Bob and Grant at the same time. I don't know if they're into that. But Bob, that's one guy from the old days . . . Those SST guys were interesting musicians, characters, people. Not to be all sentimental or nothing, but man, those cats, that was a trippy label.
twi-ny: My guess is if you could collaborate with someone who's no longer living, it would be John Coltrane.
Mike Watt: Oh yeah, he would be happening. John Coltrane, shit, that would be a mind-blower. I got an interview where this guy asks him, "What are you listening to when you're doing those solos?" He says, "I'm listening to the bass." You know, I'm always trying to think of the bass as a launch pad or a springboard to set people up. Man, when he said that, it was like, fuck. D. Boon's mom, I'm very grateful to her for putting me on this machine.
twi-ny: You just love playing the bass, don't you?
Mike Watt: Yeah, I do. But even though I've been doing it a while, even more than moving to a five-string or six-string, I just stay with the four strings and somehow make it more a part of my own expression. And that's what all these people are doing. They're helping teach me to do that by giving me these assignments.