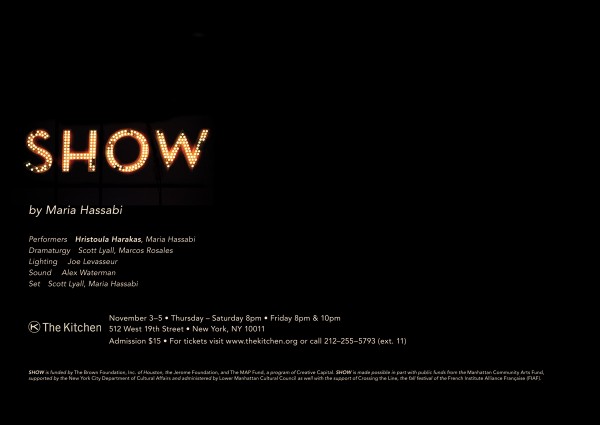 The Kitchen
512 West 19th St. between Tenth & Eleventh Aves.
November 3-5, $15, 8:00
212-255-5793
www.thekitchen.org
www.mariahassabi.com
One might think that Maria Hassabi's latest piece, SHOW, is the final part of a trilogy that began at the fall 2000 Crossing the Line Festival with SOLO, in which she performed with a rolled-up carpet, and continued that November at Performa 09 with SoloShow, in which she performed on a black rectangular platform. But in fact, the first two were part of a dance diptych that have nothing to do with her newest work, SHOW, an installation-based collaboration performed by Hassabi and Hristoula Harakas, with lighting by Joe Levasseur, sound design by cellist Alex Waterman (of Either/Or and the Plus-Minus Ensemble), set design by Hassabi and Canadian visual artist Scott Lyall, and dramaturgy by Lyall and experimental Waco-born Brooklyn artist Marcos Rosales. The Cyprus-born Hassabi also serves as director and choreographer, with Meghan Finn the production manager. Both Hassabi and Harakas display remarkable dexterity, which is likely to be on view throughout the sixty-minute SHOW, which runs November 3-5 at the Kitchen. As Hassabi told us in our recent twi-ny talk, "I was born flexible! Then I slept all the way until I went onstage! You know, muscle atrophy helps!"
Update: Maria Hassabi's SHOW, which opened at the Kitchen on November 3 for a too-brief three-day run, has the welcome feel of those experimental performance-art happenings staged at such venues as the Kitchen some forty or so years ago. Incorporating elements from her three most recent works, Solo, SoloShow, and Robert and Maria,, Hassabi has again teamed with Hristoula Harakas to create a deeply intimate and extremely entertaining evening of dance theater. SHOW's audience enters an empty black-box space where the Kitchen's multileveled seating usually is; instead, the floor is sparse, save for about sixty Klieg lights gathered to one side, with another forty or so on the ceiling, casting brightness into the space. People can sit or stand anywhere they want.
For more than an hour, Hassabi and Harakas slowly maneuver through the crowd, their gaze locked on one another, sometimes appearing to be mirror images of each other, moving with excruciating precision and slowness. The two perform a dramatic duet that fills the space with magnetic energy. SHOW develops as an in inquiry between audience and performer, performance space and emotional space. The audience members, who have become unwitting participants in the event, can barely take their eyes off the dancers — except when looking at each other. SHOW is a brilliant, often erotically charged evening-length piece performed by two dynamic, brave dancers unafraid to take risks, involving the audience in unique and, at times, demanding ways.
Although we were told to turn off our electronic devices, many audience members took pictures or video; on opening night, one woman took video on her iPhone of the entire performance, moving about the room, occasionally blocking people's site lines and getting them in the shots. We later learned that Hassabi herself had asked some friends (including the woman on the iPhone) to take pictures, hoping it would spur others to do so as well. Although we can understand why Hassabi would want to document the show in that way, the many cell phones proved extremely distracting. In addition, Alex Waterman's sound design of the chatter, which is continually rerecorded over itself to make it muddier and more abstract, is too short; every time it starts again from the beginning, there is a hiccup that is slightly jarring. Nonetheless, SHOW is a captivating experience that is best seen with complete focus; check your coat and bag (it gets very hot inside with all of the lights, and bags can get in the dancers' way), and don't pull out your cell phone to snap a photo or two. Instead, just immerse yourself in this very beautiful happening.