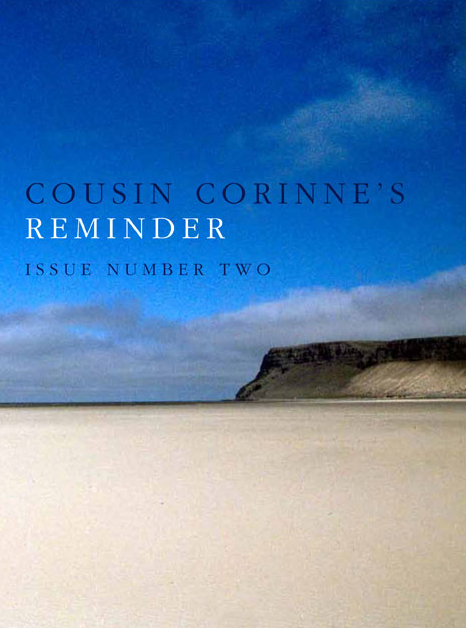 BookCourt
163 Court St. between Dean & Pacific Sts.
Wednesday, January 26, free, 7:00
718-875-3677
www.bookcourt.org
www.cousincorinne.com
In April 2010, the inaugural issue of the oversized trade paperback Cousin Corinne's Reminder was published, released by an independent Brooklyn-based publishing group in conjunction with the Cobble Hill store BookCourt, whose manager, Zack Zook, served as executive editor. The biannual journal's stated mission "is to widen the scope of artistic representation within the printed world by combining literary and visual presences." The first issue included contributions from such notables as Charles Bock, Anne Waldman, Jonathan Letham & Dean Haspiel, Mark Borthwick, Kimiko Yoshida, Donald Moss, and James Frey. The second issue has just been released, bigger and better than the first, a compendium of fiction, poetry, comics, photography, art, and other ramblings from authors and artists who mostly hail from Brooklyn. Beautifully designed by Michael Fusco, Issue Number Two opens with, appropriately enough, George Emilio Sanchez's "Shalom," a brief story about his heritage, and includes such other highlights as David Hollander's absurdist, futuristic "The Limits of Bioinformatics and the Problematic of Meaninglessness: A Case Study"; Stanley Crouch's "A Darkie French Princess," about a young man fighting the expectations that come with art, athletics, the quest for knowledge, and skin tone; and Stephen Elliott's sex diary, "Selections from the Daily Rumpus." Tierney Gearon's "The Haircut" creates a touching narrative through a suite of six photographs of a naked mother giving her young son a haircut with a stunning vista behind them, while Anthony Barboza's "Black Dreams / White Sheets" consists of ten photos in which ten black men, women, and a child are shown lying in different positions on a mattress, shot from directly above. Amelie Mancini's talk about her newfound love of baseball is accompanied by her David Hockney-inspired paintings of such Hall of Famers as Babe Ruth, Ty Cobb, and Tom Seaver. And the Comix Blox, curated by Haspiel, includes tasty tidbits from Michel Fiffe, Tim Hamilton, and Haspiel himself.
The release of the second issue of Cousin Corinne's Reminder will be celebrated at BookCourt on January 26 with a special program that includes an opening performance by Sanchez, readings by Crouch, Priscilla Becker, Todd Colby, Catherine Lacey, and Adam Wilson, a comix presentation by Haspiel and Joan Reilly, signings by comix contributors Jen Ferguson, Hamilton, and Fiffe, a painting by Mancini, free drinks, and other guests.