"Is it just me or does every woman in Queens have some kind of an emotional problem?"
-- Prince Akeem (Eddie Murphy), COMING TO AMERICA (John Landis, 1988)
WARM UP 2005
P.S. 1 Contemporary Art Center / MoMA
22-25 Jackson Ave. at 46th Ave.
Long Island City
Saturdays from 3:00 — 9:00 pm through September 3
Admission: $8, includes admission to art galleries, free from 12 noon to 2:00
718-784-2084
http://www.ps1.org/ps1_site/index.php?option=com_content&task=view&id=34&Itemid=74

Warm Up is one of the city's best summer events, as thousands of people descend on P.S.1 for art, music, food, and hooking up. When you first enter the old schoolhouse, you'll walk into the courtyard, featuring Xefirotarch's SUR, this year's "beach" design, where you can sit on red seats under twisting white sails as you drink a beer or scarf down a flame-grilled burger or sausage while occasionally getting misted. Groove Collective kicked things off with a great set of funky jazz on July 2, but there's lots more through September 3.
Be sure to wind your way through the galleries as well; although this summer's exhibit, "Greater New York," is nothing to brag about (see below), it is worth checking out when you need a break from the sweating masses outside. As you make your way through P.S.1, leave no door unopened or corner untouched; there's something virtually everywhere you look, including the basement and the bathrooms. Even one of the stairways is lined with shadowy figures, courtesy of William Kentridge. (The real exhibit may be right across the street, however — see 5 Pointz, also described below.)
Saturday, August 6 Josh Wink, Stacey Pullen aka Kosmic Messenger, and Brennan Green (Modal, Balihu)
Saturday, August 13 Lovebug Starski and Jason Blackkat
Saturday, August 20 Tortured Soul, Jerome Sydenham, and Ben Cook
Saturday, August 27 Doc Martin, Monolake, Phil Smart, and Nikola Baytala
Saturday, September 3 Norman Jay M.B.E. and DJ Bluewater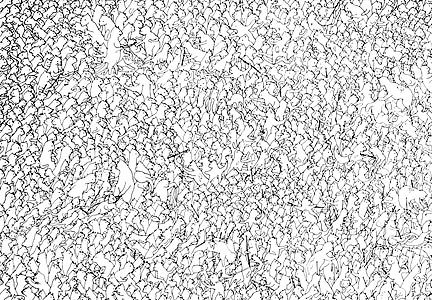 www.bbandppinc.com/dasha
Look very closely to see what these cats are really up to
GREATER NEW YORK
P.S. 1 Contemporary Art Center / MoMA
22-25 Jackson Ave. at 46th Ave.
Long Island City
Closed Tuesday & Wednesday
Through September 26
Suggested donation: $5
718-784-2084
http://www.ps1.org/ps1_site/index.php?option=com_content&task=view&id=29&Itemid=63

In 2000, P.S.1 celebrated its union with the Museum of Modern Art with "Greater New York," and five years later it is taking a look at what is new and what has been changing in the art world in the metropolitan area. More than 150 artists are represented in this very mixed show that features an awful lot of flotsam and jetsam. But hidden among the multitude of mediocrity are some true gems and other fun works. Be sure to look very closely at Jamie Isenstein's "Magic Fingers." Ryan Johnson's "Brainstorm" and "Ramblin' Man" statues are offbeat and imaginative. Look through Tobias Putrih's cardboard sculptures for unique views of Long Island City. Try not to fall into Will Ryman's "The Pit." Steve Mumford's drawings from "The Baghdad Journal" series are remarkable and haunting. Karyn Olivier's "Coffee Table" sits amazingly under a white pillar. Wangechi Mutu's "Once Upon a Time There Lived a People Who Loved to Kill, But Even More They Relished Watching One Another Die" features a hanging bottle of red wine leaking onto the floor, chunks taken out of the wall, a bench, and butterfly legs. Marc Swanson reimagines himself as a yeti sitting in his dark lair. Get up close and personal with Dasha Shishkin's trio of ink drawings of cats — in one they're sleeping, in another they're screwing, and in the third they're battling violently. Blink fast while looking at Corey McCorkle's eclipse-like installation. Go for a scenic ride on Oliver Michaels's "Train" video. Don't be frightened by Peter Caine's "Overseer," a room of animatronic snow beasts. And watch all of Guy Ben-Ner's unusual and hilariously inventive "Moby Dick" video. Although the exhibit is not worth seeing on its own, we highly recommend going on a summer Saturday during the Warm Up season, when you can take in some funky live music, have a cheeseburger on the "beach," and check out some of the better pieces in this vast collection.
In the Neighborhood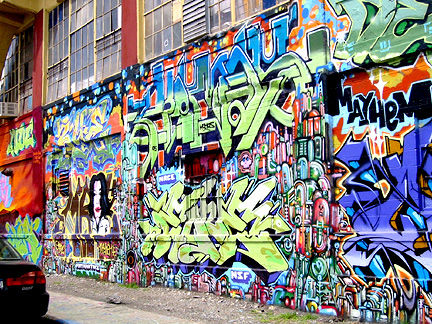 twi-ny/mdr
An explosion of color at 5 Pointz
5 POINTZ
Jackson Ave. at Crane & Davis Sts.
Admission: free

Right across from P.S. 1, on Jackson Ave., is a heck of a lot livelier show, blazing out all over the doors, windows, and walls of an abandoned warehouse. This area is known as 5 Pointz, where graffiti artists from the five boroughs and around the world come to create pieces, all with permits and officially sanctioned. Facing Jackson Ave. is a long wall of black-and-white work, but be sure to walk all the way around the building, which is covered from top to bottom in awesome graffiti, favoring art murals more than tags. You can see more art as you walk up the steps of the Crane St. Studios, wander through the back parking lot, and venture into the loading dock, where you might find some kids practicing dance moves.
twi-ny/mdr
As of last month, among the highlights are a Rembrandt self-portrait, a twisting 7 train, the blue 2fly lady, a liquored-up stump guy, bizarre sea creatures, futuristic insects, the Mayhem Moonwalk, the "We Don't Clown Around" insane clowns, the NYC Delights truck, Pepe Le Pew at the top of the stairs, the "Staying Sane in a Cuckoo World" clock, the "No Writting [sic] Without a Permit" cartoon, Batman and Spider-Man, and hundreds more cool, colorful images. Part of what makes graffiti what it is involves the dangerous aspect of it, with bombers hitting the streets late at night and trying to avoid the vandal squad, so this loses a little something in that it is all done with the permission of the supervising group, headed by MeresOne. But that doesn't mean it is any less spectacular, with pieces by such artists and organizations as Kings of New York, A. Charles, Mathmatiks, the Phun Phactory, YMI Crew, Phetus, and many more. (E-mail us at admin@twi-ny.com if you'd like to take our free online photographic tour of the 5 Pointz area.)
Queens Sculpture Museum of the Week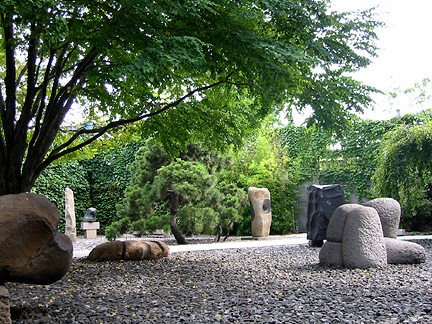 twi-ny/mdr
Noguchi Museum garden is spiritual oasis
THE NOGUCHI MUSEUM
9-01 33rd Rd. at Vernon Blvd.
Closed Monday and Tuesday
Admission: $5
Weekend shuttle service: $10 round trip
718-204-7088
http://www.noguchi.org/vernon_info.html

The recently renovated Noguchi Museum is one of the most peaceful, beautiful, spiritual, and moving places in New York. Master sculptor Isamu Noguchi designed the space himself; it previously was a photo-engraving plant. Make your way slowly through the different rooms, some of which are open to the sky, and save the remarkable garden for last. Take your time breathing in the essence of each individual piece, walking around it to feel the full force of Noguchi's expert craftsmanship. Notice the difference between the smooth and rough sides of "Shiva Pentagonal" (area 1). You can almost hear the soothing flows of "Waterfall" (area 3). Area 14 houses the circular red marble "Sun at Noon," "Downward Pulling" on the ground, and "Ding Dong Bat" hovering near the center. Two versions of "Walking Void" begin area 6, in which you'll also find "Magic Ring" on the floor — check out the rough edges where you can see Noguchi's chisel marks. In a room virtually unto itself resides "Memorial to the Dead of Hiroshima."
There are still more treasures upstairs. Area 11 is made up of photographs, models, and works created for public spaces and gardens, both realized and not, from playgrounds for the UN and Riverside Drive to the Horace E. Dodge Fountain in Detroit and the "Bolt of Lightning … Memorial to Ben Franklin" in Philadelphia. In area 5, "This Earth, This Passage" displays how closely Noguchi's work was tied in to the earth itself. "Stone of Spiritual Understanding" is comfortably open when seen from one side but claustrophobic from the other. Area 12 is simply spectacular, showing off Noguchi's vast range with works in marble, alabaster, brass, ink on paper, terra-cotta, mahogany, aluminum, slate, and glass. "Death (Lynched Figure)" is the most overt piece in the museum. If you step hard near "Cronos," you can hear it jingle (which is accidental). The lighted "Lunar Infant" dangles near the Design Gallery. (Through September 10, the small Design Gallery will be home to "Noguchi's Collectibles," a room of his private holdings that have never before been exhibited.) In area 9, "Double Red Mountain" rises from below. The black-and-white "Little Id" is one of the most humorous pieces in the collection. Noguchi envisioned area 10, which includes "Planet in Transit #1," as a place that "recalls us to another life. Within the room there is a calm and, I hope, a wish to rest or contemplate — a change of pace." Before heading outside to the garden, take a seat in the museum shop, where you can learn about Noguchi's Akari lamps while having an awesome Sage chocolate brownie.
Take a deep breath and then enter the gorgeous garden, which will revive your body and soul. Look all around "The Well (Variation on a Tsukubai)," following the water as it comes out of the top and glides down the rough and glistening sides. Notice how the holes on both sides of "Core" invite in natural light. "Indian Dancer" stands amid "Practical Rocks in Placement." "Behind Inner Seeking Shiva Dancing" is perhaps the best-named sculpture in the garden. Other mesmerizing pieces carefully arranged around Japanese and U.S. foliage are "The Big Bang," "Unmei," and the naturally formed "Spin-off #1 from the Chase Manhattan Garden." You'll find it hard to leave this urban oasis. Oh, and it's much easier to get to you than you think. Just ride the Roosevelt Island Tram ($1.50 on your MetroCard), hop on the RIOC shuttle bus (twenty-five cents), take a casual stroll over the Roosevelt Island Bridge (formerly known as the Welfare Island Bridge), and then just walk a few blocks. Hey, it's what Isamu Noguchi did every day when he went to work. (E-mail us at admin@twi-ny.com if you'd like to take our free online photographic tour of the Noguchi Museum.)
SECOND SUNDAYS: DIALOGUES ON ART, ARCHITECTURE AND DESIGN
The Noguchi Museum
Free with museum admission
http://www.noguchi.org/currentevents.html#currentevents
Sunday, August 14 Music in the Garden: Dominick Farinacci, trumpet, and Adam Birnbaum, piano, new and classic jazz, 3:00
In the Neighborhood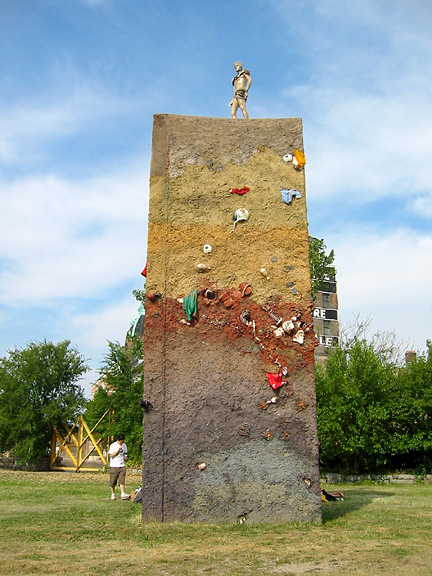 twi-ny/mdr
Ron Baron pays tribute to the weekend warrior
SPORT
Socrates Sculpture Park
Broadway at Vernon Blvd.
Through August 7
Open 10:00 am to sunset
Admission: free
718-956-1819
http://www.socratessculpturepark.org/Exhibitions/sport_05.html

You have only a few more days to check out this fun collection of sports-themed works spread throughout Socrates Sculpture Park. Ron Baron's "Excavation 1.2Soc., Monument to the Weekend Warrior" is a rising monolith that recalls the different levels of the earth's crust, but in this case the fossils found in each layer consist of football helmets, trophies, jerseys, cleats, soccer balls, bowling pins, and other tributes to the part-time, would-be jock. Speaking of jocks, Type A's "Prize (Folly)" is a giant broken white cup. In the middle of the park is Alix Lambert's cement boxing ring, "WildCard," next to Tory Fair's "Center Field," with colorful objects snaking around and through vacant lawn chairs. Against the far railing is Lee Walton's ongoing "Stacked," in which he buys thirty-five-pound weights at a Manhattan sporting goods store and walks them back across the bridge and into the park. Our favorite installation is Anne Thulin's "[sport] 3: to deviate from type," in which three enormous red balls have gotten stuck in the trees or lost in the bushes, just like when we were kids. On August 7, Tim Laun will bring his "HangTime" to life, re-creating a play on his specially prepared football field. And on Saturdays and Sundays this month beginning on August 13, "Float" will take over the park, presenting temporary installations and site-specific live performances from 3:00 to 9:00. (E-mail us at admin@twi-ny.com if you'd like to take our free online photographic tour of Socrates Sculpture Park.)
"Queens is not New York!"
-- Martin Rittenhome (Queens-born Martin Scorsese), QUIZ SHOW (Robert Redford, 1994)
OUTDOOR CINEMA
Socrates Sculpture Park
Broadway at Vernon Blvd.
Wednesdays at sundown through August 31
Live music at 7:00
Admission: free
718-956-1819
http://www.socratessculpturepark.org

Curated by the Museum of the Moving Image and just up the street from the Noguchi Museum, this international film, music, and dance festival takes place in Socrates Sculpture Park, which offers splendid views of Manhattan. The last few weeks of the series feature some marvelous movies, including Roman Polanski's sea-worthy thriller KNIFE IN THE WATER, Walter Salles's emotionally powerful CENTRAL STATION, and Satyajit Ray's classic PATHER PANCHALI.
Wednesday, August 3 Poland: KNIFE IN THE WATER (Roman Polanski, 1962), music by Komeda Project, Polish cuisine by S&B
Wednesday, August 10 African American: HOUSE PARTY (Reginald Hudlin, 1999)
Wednesday, August 17 Brazil: CENTRAL STATION (Walter Salles, 1998)
Wednesday, August 24 India: PATHER PANCHALI (Satyajit Ray, 1955)
Wednesday, August 31 Greece & South Korea: ZORBA THE GREEK (Michael Cacoyannis, 1964) and TAKE CARE OF MY CAT (Jae-eun Jeong, 2001), with the Song Hee Lee Dance Company at 6:30 and music by Mikrokosmos at 7:00
In the Thematic Neighborhood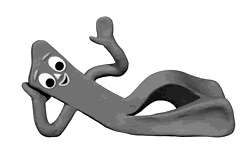 Gumby welcomes visitors to the Moving Image
MUSEUM OF THE MOVING IMAGE
35th Ave. at 36th St., Astoria
Closed Mondays & Tuesdays
Admission: $10 adults, $5 children five to eighteen, includes film screening
Free Fridays, 4:00 — 8:00, not including film screening
718-784-4520

We wrote about this fab Queens site in our March 30 issue, but we decided we'd be doing it a disservice if we did not include it in this special Queens edition of twi-ny as well, so here it is again, slightly updated. We had no idea how genuinely fab this place is. The former Astoria Studio was opened to the public as a museum in 1988 as the American Museum of the Moving Image, and last year "American" was dropped from the name; in February it was announced that they will be undergoing a major renovation and expansion that will eventually include outdoor screenings, concerts, a café, more exhibition space, and other cool changes and additions. But that doesn't mean this museum isn't well worth a visit as is. Plus, since we last raved about it, they've added another cool display, "Gumby and the Art of Stop-Motion Animation," running through January 16. It features the best of one of our childhood favorites, the great Gumby, Pokey, and Blockheads, including demonstrations, memorabilia, and film screenings; don't miss the classic "Robot Rumpus." We recommend heading to the museum on a Friday night, when it's free; the exhibits are terrific, and you'll want to come back to check out some of their diverse programming, as you can see below. (E-mail us at admin@twi-ny.com if you'd like to read our interview with the founder of the museum, Rochelle Slovin, which ran recently in the New York Sun.)
BEHIND THE SCREEN
Museum of the Moving Image
http://movingimage.us/site/about/index.html

The Museum of the Moving Image's main exhibition is a thrilling collection of more than a thousand artifacts that take you behind the scenes of moviemaking, from equipment and machinery to editing and projection, from makeup and special effects to head shots and movie premieres, from sound editing to classic theaters. Check out the early magic lanterns, zoetropes, and phenakistoscope. Watch Melies's A TRIP TO THE MOON and Chaplin's HELL'S KITCHEN on a mutoscope. Follow Etienne-Jules Marey's motion studies from the 1890s. See a menagerie of head sculptures that helped morph into Jeff Bridges in STARMAN. Make a video flipbook that you can buy in the shop. Replace Humphrey Bogart's voice with your own in a scene with Lauren Bacall from TO HAVE AND HAVE NOT. Change the musical score for a scene from VERTIGO. Create your own chroma key images. Listen to Bertrand Tavernier discuss the first films shown to a paying audience as you watch works by the Lumiere brothers, as well as Edwin S. Porter's THE GREAT TRAIN ROBBERY. Experiment between letterboxing and panning and scanning. Follow a crew as it edits a live football game. Get a huge kick out of all the old television sets, movie cameras, cathode ray tubes, microphones, and projectors. Bump into models of Yoda from THE EMPIRE STRIKES BACK, Linda Blair from THE EXORCIST, and the razor glove from A NIGHTMARE ON ELM STREET as well as objects from THE FLY and BLADE RUNNER.
There are display cases dedicated to hair (including Robert de Niro's India "Roach" from TAXI DRIVER), LITTLE BIG MAN (including several of Dustin Hoffman's masks), lifemasks (including those of Dorothy McGuire, Christopher Walken, and Anthony Quinn), costumes (including Robin Williams's Mork outfit and a bunch of Bill Cosby's sweaters), and artifacts from ALTERED STATES, THE ELEPHANT MAN, and 2001: A SPACE ODYSSEY. Orson Welles tries to get his nose right in a correspondence between him and Maurice Seiderman about COMPULSION, which includes original sketches and telegrams from the Boy Genius. A few cases are devoted to movie and television memorabilia, action figures, advertising, and other paraphernalia (including a STAR TREK tricorder, a scary Jerry Lewis puppet, a Lawrence Welk TV dinner tray, and various silly lunch boxes. Some 136 publicity shots line the walls; try to identify as many as you can before reading the tags. And then there's the coup de grace, the actual dental plumper used by Marlon Brando in THE GODFATHER to get those jowls. Make sure to pull the chain on the sarcophagus for a fun surprise in Red Grooms and Lysiane Luong's walk-in "Tut's Fever Movie Palace," where movie serials play daily at 1:00 and 3:00. And don't miss one of our favorite installations ever, Gregory Barsamian's "Feral Fount," a spinning strobe-light presentation that will blow your mind.
In November, the museum added "From Penny Arcade to Megaplex: A Special Exhibition in Honor of the 100th Anniversary of Loews," which consists of lobby cards, photographs, footage of movie premieres, usher uniforms, and other memorabilia from various Loews theaters, from back when where you went to the movies was a big deal.
SCREENINGS + EVENTS
Museum of the Moving Image
35th Ave. at 36th St., Astoria
Through August 21
Tickets: $10
718-784-4520
http://movingimage.us/site/screenings/index.html
Friday, August 5 Asian Cinevisons 2005: JUST ONE LOOK (YAT LUK CHE) (Riley Ip, 2002), 7:30
Saturday, August 6 Raoul Walsh: GENTLEMAN JIM (Raoul Walsh, 1942), 2:00
Saturday, August 6 Raoul Walsh: UNCERTAIN GLORY (Raoul Walsh, 1944), 4:30
Saturday, August 6
and
Sunday, August 7 Repertory Nights: RULES OF THE GAME (Jean Renoir, 1939), 6:30
Sunday, August 7 Raoul Walsh: REGENERATION (Raoul Walsh, 1915), with live music by Donald Sosin, 4:45
Friday, August 12 Cinema Tropical: MERRY CHRISTMAS (FELICIDADES) (Lucho Bender, 2000), 7:30
Saturday, August 13 Raoul Walsh: MANPOWER (Raoul Walsh, 1941), 2:00
Saturday, August 13
and
Sunday, August 14 Raoul Walsh: PURSUED (Raoul Walsh, 1947), 4:30
Saturday, August 13
and
Sunday, August 14 Repertory Nights: WILD STRAWBERRIES (Ingmar Bergman, 1957), 6:30
Sunday, August 14 Raoul Walsh: COLORADO TERRITORY (Raoul Walsh, 1949), 2:00
Friday, August 19 Black Light: Films from the African Diaspora — THE ROBIN HARRIS STORY: WE DON'T DIE, WE MULTIPLY (Topper Carew, 2004), followed by a Pinewood Dialogue with Carew, 7:30
Saturday, August 20 Raoul Walsh: CAPTAIN HORATIO HORNBLOWER (Raoul Walsh, 1951), 2:00
Saturday, August 20
and
Sunday, August 21 Raoul Walsh: WHITE HEAT (Raoul Walsh, 1949), 4:15
Saturday, August 20
and
Sunday, August 21 Repertory Nights: THE LAST LAUGH (F.W. Murnau, 1924), with live music by Donald Sosin, 6:30
Sunday, August 21 Raoul Walsh: THE LAWLESS BREED (Raoul Walsh, 1952), 2:00
Park of the Week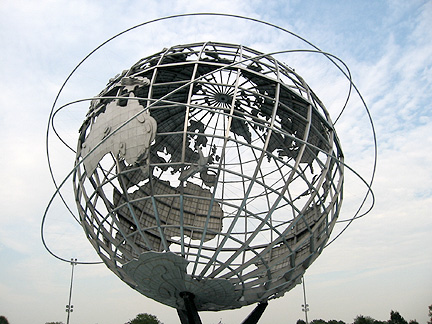 twi-ny/mdr
U.S. Steel Unisphere is Queens landmark
"But above the gray land and the spasms of bleak dust which drift endlessly over it, you perceive, after a moment, the eyes of Doctor T. J. Eckleburg … Evidently some wild wag of an oculist set them there to fatten his practice in the borough of Queens, and then sank down himself into eternal blindness, or forgot them and moved away. But his eyes, dimmed a little by many paintless days, under sun and rain, brood on over the solemn dumping ground."
-- F. Scott Fitzgerald, THE GREAT GATSBY
FLUSHING MEADOWS CORONA PARK
http://flushingmeadowscoronapark.org
http://www.nycgovparks.org/sub_your_park/vt_flushing_meadows/vt_flushing_meadows_park.html

These lush, beautiful 1,255 acres offer a wonderful respite to those who want to relax in the sun, go on a sculpture tour, visit museums and a zoo, hang out by a lake, play softball, tennis, pitch 'n putt golf, or soccer, skateboard, or catch the Mets in action. The park's summer recreation programs include karate, woodshop, computer and dog training, and such family activities as "Mommy & Me," the Fun Factory, and Camp Smile.
The "valley of ashes," as it's called in THE GREAT GATSBY, was transformed by Robert Moses for the 1939 World's Fair and later played host to the 1964-65 fair as well. Numerous statues and buildings from those festivals remain. The New York City Building, designed by Rafael Vinoly, was once home to the UN; it's now the Queens Museum. Renowned architect Philip Johnson designed the New York State Pavilion, with its Tent of Tomorrow and familiar towers, for the "Peace Through Understanding" exhibit.
So next time you're heading out to the U.S. Open or a Mets game at Shea, arrange to spend a little extra time in the area, which has a tremendous amount to offer. Or on weekend afternoons, hop aboard the free Queens Culture Trolley (http://www.queensmuseum.org/around/destinations.htm, 718-592-0090 ext306), which shuttles you between many of the spots described below as well as La Guardia Airport, the Louis Armstrong House, Jackson Heights, and the Queens Botanical Garden. (E-mail us at admin@twi-ny.com if you'd like to take our online photographic tour of this beautiful park.)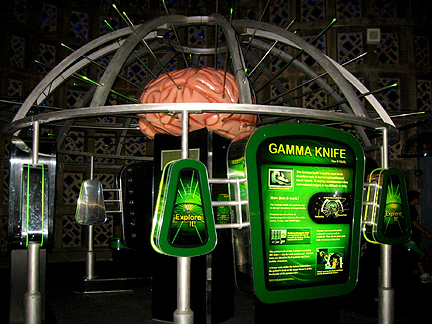 twi-ny/mdr
Learn how to cut it up at the Hall of Science
NY HALL OF SCIENCE
47-01 111th St.
Admission: adults $11, children two to seventeen $8
718-699-0005
http://www.nycgovparks.org/sub_your_park/vt_flushing_meadows/vt_flushing_03.html

Originally a pavilion for the 1964 World's Fair, the New York Hall of Science has been a museum since 1966. It's latest expansion, in November 2004, added much more exhibit space, which the curators have filled with hands-on, interactive displays that will bring out the kid in you. "Hidden Kingdoms: The World of Microbes" examines microscopic life forms on Mars, in a river of acid, and other places. The supercool "Zap! Surgery Beyond the Cutting Edge" (through September 4) lets children and adults take a fun-filled ride through the world of endoscopy, ultrasound, gamma rays, cryosurgery, lasers, and other cutting-edge surgical techniques, in addition to a FANTASTIC VOYAGE-like ride through the human body. Smaller galleries include such exhibits as "Fusion Prints I: Gotham Series" by Jan Lourie and Joan Firestone (through August 28), in which the photographers fuse together different architectural images of New York City, including the Hall of Science itself, and "Art on Ink in America — 2005, New York" (through September 4), a room full of abstract calligraphy.
The Science Playground ($3), open through the end of the year, depending on the weather, features the Climbing Space Net, slides, the Energy Wave, the Standing Spinner, Speaking Tubes, Whisper Dishes, and other playful learning experiences. The Pfizer Foundation Biochemistry Discovery Lab is open every afternoon but Monday. Preschool Place's August theme is "Dynamite Doctors." In "The Sports Challenge," you can shoot hoops, climb a rock wall, pitch a baseball, and check your racecar reflexes. Don't miss the ant colony or in "Connections — The Nature of Networks." You should also walk around James Carpenter's Light Wall and Ross Lewis's Roto-Sphere, climb aboard the Friendship 7 Mercury capsule or hang out under the Atlas and Mercury rockets in Rocket Park, operate a mini-Hubble telescope, arm wrestle online, pick up space rocks, and marvel at the optical illusions in "Seeing the Light." And in the parking lot is Theodore Roszak's 1964 "Forms in Transit" sculpture, a rocket pointing determinedly into space.
CALENDAR OF EVENTS
New York Hall of Science
http://www.nyscience.org/nyhs-pressroom/nyhs-upcomingevents/pr-publicevents.html
Daily at 1:30 & 3:30 Have a Heart, ages six and older, $3
Daily at 4:00 What's Inside Me?, ages six and younger, $1
Tuesday
Wednesday
and
Friday Video: SCHOLASTIC'S THE MAGIC SCHOOL BUS: FOR LUNCH, 10:30; SCIENTIFIC AMERICAN FRONTIERS — TWENTY-FIRST CENTURY MEDICINE, 11:30; BODY ATLAS: DEFEND AND REPAIR, 12:30
Saturday
and
Sunday Over and Back Again: Sarah Squirrel's Adventure Puppet Show & Activity, ages six and younger, $1, 2:30
Saturday
and
Sunday Your Brain! Live Science Theater Show, 2:30 & 3:30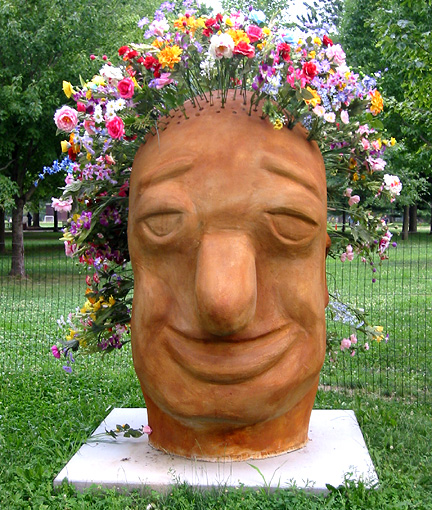 twi-ny/mdr
Franco Mondini-Ruiz, "Thinking Green"
DOWN THE GARDEN PATH: THE ARTIST'S GARDEN AFTER MODERNISM
Queens Museum of Art
New York City Building
Flushing Meadows Corona Park
Through October 9
Suggested donation: $5
Closed Monday & Tuesday
718-592-9700
http://www.queensmuseum.org/exhibitions/downthegarden.htm
http://www.nycgovparks.org/sub_your_park/vt_flushing_meadows/vt_flushing_04.html

This wide-ranging exhibition takes a close look at the garden as public space, urban oasis, community center, and art, both realized and not. "Down the Garden Path" is worth checking out solely for the thrilling section devoted to amazing designs and models built by the Vito Acconci Studio for such sites as the Fulton St. subway station, Circles in the Square in Munich, Pike Place Market in Seattle, and Garbage City in Tel Aviv. But there's much more as well. Galerie Fur Landschaftskunst's Soebatsfontein Fountain Garden Project shows how the rebuilding of a garden can give life back to a struggling community. Filmmaker Derek Jarman's obsession with his garden, in the shadow of a nuclear power plant, is examined through journals, gardening equipment, and a documentary. Mark Dion's "The Tasting Garden" looks at the garden as a food conveyor. Paula Hayes's "SHOOMU" and "Jill Poet" drawings put words into her subject's brain, while her "Tear Drop Terrariums" place living plants into glass. Jan Vercruysse's "Labyrinth & Pleasure Gardens" see gardens as complete works of art. Sergio Vega's "Modernismo Tropical" brings bright, bold colors to outdoor spaces. Roberto Burle Marx's studies for a botanical and zoological park in Brazil are thrilling.
Off in its own gallery, Gordon Matta-Clark imagines "Islands Parked on the Hudson," Isamu Noguchi envisions urban gardens for Chase Manhattan Bank Plaza and Riverside Park, Thomas Burr adapts Frederick Law Olmsted's Ramble in Central Park, and Alson Sonfist creates a "Time Landscape" at the corner of La Guardia Pl. and Houston St. And in Art Zone, on weekends kids can participate in "It Starts with a Seed." Don't forget to go upstairs, where you'll find Thierry De Cordier's very black "The Grass-Eater," Jenny Holzer's "Black Garden," and several ingenious works by Mel Chin, including "Park as Body: Eco Park in Korea," Revival Field in the Netherlands (on a toxic landfill), and "Reverb," which incorporates sound into its design.
As it often does, the Queens Museum involves the surrounding neighborhood into the exhibit, with five site-specific garden installations around the park, including Franco Mondini-Ruiz's "Thinking Green," a giant Chia head that will have you thinking of Elmer Fudd in THE RABBIT OF SEVILLE; Dave McKenzie and Anissa Mack's "It's a Small Float…," which you can take for a bike ride; and Brian Tolle and Diana Balmori's "Skid Rows," in which they turned a rusty old pickup into a purveyor of natural beauty. There's also a photographic look at the history of garden communities in Forest Hills, Jackson Heights, Sunnyside, Queensbridge, Fresh Meadows, and Flushing Meadows itself.
twi-ny/mdr
Look for your apartment building in spectacular panorama
THE PANORAMA OF NEW YORK CITY
Queens Museum of Art
718-592-9700
http://www.queensmuseum.org/panorama/index.htm

This permanent exhibit has to be seen to be believed, and even then you'll keep shaking your head in wonder. Made up of more than 850,000 buildings, including an astonishing 25,000 designed to match their skyscraper originals, this 1:1,200 scale model of the five boroughs of Manhattan includes bridges and beaches, parks and stadiums, airports and cemeteries, and planes and boats. It is so big that it can barely be contained in this large room; look down at certain points and the glass floor will reveal Van Cortlandt Park beneath you, or maybe the outskirts of Jersey. This remarkable achievement, designed by Robert Moses and Raymond L. Lester and put together by more than a hundred workers for the 1964-65 World's Fair, is just magnificent, especially when night falls over New York and the lights of the city come on. It has been updated since its construction, but there's been a minor controversy since 9/11, since the museum has chosen to keep the World Trade Center in the panorama, standing tall downtown.
TIFFANY IN QUEENS: SELECTIONS FROM THE NEUSTADT MUSEUM COLLECTION
Queens Museum of Art
On extended loan
http://www.queensmuseum.org/exhibitions/tiffany.htm

New York City native Louis Comfort Tiffany opted not to follow his father into the jewelry business. Instead, the adventure-loving son traveled the world, fell in love with nature, and incorporated what he saw into pieces he created for his Corona, Queens, interior-design factory. There he made marvelous stained-glass windows and magical lamps that often featured scenes from nature. Also on display in this second-floor gallery are some of the actual materials and instruments Tiffany and company used to create the windows and panels that still can be seen in numerous churches, clubs, and homes all over New York City.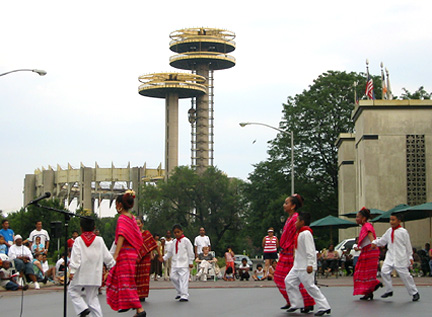 twi-ny/mdr
International folk dancing at Passport Fridays
PASSPORT FRIDAYS: GLOBAL SIGHTS AND SOUNDS OF THE URBAN TRAVELER
Queens Museum of Art
Friday nights at 6:30 through August 26
Admission: free for outdoor events; $5 suggested donation for museum, which is open until 8:00
718-592-9700
http://www.queensmuseum.org/education/special_events.htm
Through the end of August, the Queens Museum will be holding free Passport Fridays, consisting of international dance, music, and film, right outside the main entrance, in the shadow of the Unisphere.
Friday, August 5 Dusan Tynek Dance Theater, 6:30; Carioca Capoeira and Samba, 7:30; O CAMINHO DAS NUVENS (THE MIDDLE OF THE WORLD) (Vicente Amorim, 2003), 8:00
Friday, August 12 Angharad Davies and Johanna Hegenscheidt, 6:30; Vado Diomande & Kotchegna Dance Company, 7:30; CRITICAL ASSIGNMENT (Jason Xenopoulos, 2003), 8:00
Friday, August 19 Parijat Desai, 6:30; Indofunk, 7:30; DHOOM (VLAST) (Sanjay Gadhvi, 2004), 8:00
Friday, August 26 Yin Mei, 6:30; Music from China, 7:30; HOUSE OF FLYING DAGGERS (Zhang Yimou, 2004), 8:00
HOUSE OF FLYING DAGGERS (Zhang Yimou, 2004)
http://www.houseofflyingdaggers.com

Zhang Yimou follows up his first martial-arts film, the good but could have been great HERO, with the slightly better but could have been awesome martial-arts film HOUSE OF FLYING DAGGERS, set in the fading years of the Tang Dynasty in 859 AD. Once again, Zhang tries to be too smart for the genre, forgetting that sometimes action works for action's sake and doesn't require a complicated back story to thrill an audience. Takeshi Kaneshiro stars as Jin, a cop assigned to go undercover to find the whereabouts of the mysterious House of Flying Daggers, a Robin Hood-like organization that has thwarted the government for years. Jin, who calls himself "Wind," helps Mei (Zhang Ziyi), a blind woman who is the daughter of the former Daggers leader. On their journey, Jin continually meets up with his captain, Leo (Andy Lau), while also falling for Mei. What follows is a complex web of honor and betrayal, love and loyalty, lies and deception that will keep you guessing until the very end. Despite its not quite reaching greatness, the film is a must-see, particularly for the early scene in which Leo and Mei play the gorgeous Echo Game in the Peony Pavilion and the later fight scene set in the spectacular Bamboo Forest.
SPECIAL EVENTS AT THE QUEENS MUSEUM
Queens Museum of Art
Admission: free with suggested donation of $5
718-592-9700
http://www.queensmuseum.org/education/special_events.htm
Sunday, August 14 Oracle Theatre presents a studio workshop production of Maurice Maeterlinck's HOME and THE DEATH OF TINTALIGES, second floor, 2:30
Saturday, August 20 Listen Up Queens! Free Hip Hop Showcase for Queens Youth: Invitational Open Mic/Slam, 3:00; Hip Hop Kids, 4:00; Urban Word National Teen Slam Champs, 4:15; Queen Godls, 4:30; Kontrast, 4:45; free snacks, 5:00
UNISPHERE
Flushing Meadows Corona Park
Between Queens Museum of art and reflecting pools
http://www.nycgovparks.org/sub_your_park/vt_flushing_meadows/vt_flushing_08.html

Erected on April 22, 1964, for the New York World's Fair, the U.S. Steel Unisphere has been a symbol of New York -- and Queens specifically -- ever since. The huge globe is 140 feet high and 120 feet in diameter, checking in at an impressive 700,000 pounds. For conservation reasons, the water has been turned off, so you're able to walk under and around the globe and the three interlocking orbital circles, which is too cool for words. But watch out for the skateboarders who race around the platform.
FIFTEENTH ANNUAL HONG KONG DRAGON BOAT FESTIVAL
Meadow Lake, Flushing Meadows Corona Park
Admission: free
718-539-8974
More than eighty teams and one thousand participants from around the world will compete in these internationally famous annual races that are dedicated to Chu minister Qu Yuan; the festival also features parades, dance, magic and music, a crafts fair and food court, and more, 9:00 am — 5:00 pm
Saturday, August 13 Chinese Music Ensemble of New York, 10:30
Saturday, August 13 Dragon Dancing Team, 11:30
Saturday, August 13 The Inevitable Breakups, 12:30
Saturday, August 13 Shaolin Kung Fu, 1:30
Saturday, August 13 Coco Sukali's Band, 2:30
Sunday, August 14 Drum Spirit of China, 10:00
Sunday, August 14 Chinese Folk Company, 11:00
Sunday, August 14 QuasiLulu, 12 noon
Sunday, August 14 Shaolin Kung Fu, 1:00
Sunday, August 14 Rob Lok, 2:00
Sunday, August 14 Calpulli Mexican Dance Company, 3:00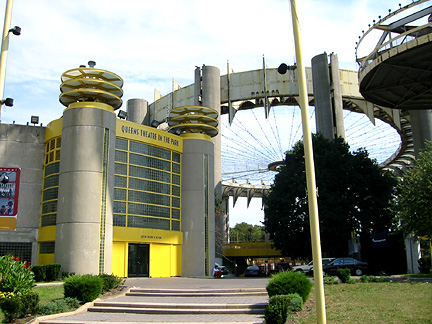 twi-ny/mdr
Queens Theatre was part of New York Pavilion
QUEENS THEATRE IN THE PARK
718-760-0064
Originally built for the 1964-64 World's Fair as part of the New York Pavilion, the "Theaterama" initially was home to a 360-degree film in the round about New York City as well as artwork by Andy Warhol and Roy Lichtenstein. In 1972 it became the Queens Playhouse; its first production was PYGMALION. In 1994, after a major overhaul, it reopened as the Queens Theatre in the Park.
LATINO CULTURAL FESTIVAL 2005
Queens Theatre in the Park
Through August 7
718-760-0064
http://www.latinofestival.org/english.html
This ninth annual event brings live music, theater, comedy, film, and dance to two indoor stages in Flushing Meadows Corona Park. The two prices listed for paid events are for day of show / in advance. There are further discounts if you buy tickets to three or more performances.
Wednesday, August 3
through
Sunday, August 7 Mexico Hurray! art exhibit, featuring works by Felipe Galindo, Natalia Porter, and Remy Amézcua
Wednesday, August 3 Microfono Abierto (open mic), hosted by Alba Sanchez, free but reservations required — 718-760-0064, 8:00
Wednesday, August 3 Queens Theatre's International Movements Project: Dario Vaccaro Dance Project, $25/$20, 8:00
Thursday, August 4 The 40s: Willy Mosquera, $20/$15, 8:00
Thursday, August 4 Ray Castro & Conjunto Clasico, with special guest Tito Allen, $30/$25, 8:00
Friday, August 5 Frivolidad: "La Comedia Divina," $25/$20, 7:30 & 10:00
Saturday, August 6 Illapu, $30/$25, 7:00 & 10:00
Sunday, August 7 Sofrito Caliente featuring Larry Harlow and Yomo Toro with David Gonzalez, $25/$20, 7:00
Sunday, August 7 Sofrito, free but reservations required — 718-760-0064, 2:00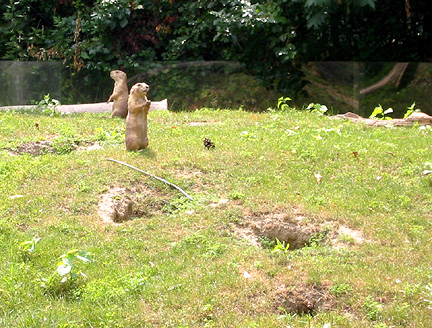 twi-ny/mdr
Prairie dogs come out of their holes in Queens Zoo
QUEENS ZOO
53-51 111th St.
Flushing Meadows Corona Park
Admission: $5 adults, $1 children three to twelve
718-271-1500
http://nyzoosandaquarium.com/5719193

This small, immensely manageable wildlife center, which opened in June 1992, makes one long loop, where you'll come upon, in order: alligators sunning themselves, sandhill cranes singing, brand-new residents in the Wildfowl Marsh Wynton and Marsh Alice (trumpeter swans recently rescued from Long Island) a ridiculously adorable Canadian lynx, the puma, a pair of barred owls, friendly Roosevelt elk that will come right up to the viewing area, an aviary (housed in a geodesic dome designed by Buckminster Fuller for the 1964-65 World's Fair) that includes wild turkeys, turkey vultures, and the cute but endangered southern pudu, howling Otis the coyote, barking sea lions (feedings are at 11:15, 2:15, and 4:15), a mess of American bison, ridiculously cute prairie dogs, bald eagles named Claire and Mel (after Queens borough president Claire Shulman and her husband), rare thick-billed parrots, and an awesome pair of spectacled bears. Among the butterflies that might land on your bald head are the Joe Pye Weed, the Rocket, and the Hidcote Hypericum. Use the special decoder they give you to learn more about each exhibit.
Informational signs teach not only about the unique characteristics of each animal and education enrichment but about their future as well; some are sadly endangered. In fact, early on your tour you'll find a group of grave markers that identify which species became extinct during which century; for example, the 1700 stone identifies the loss of the Barbuda rice rat, the Puerto Rican agouti, and the Sardinian pika, among others, Before making your way across the walk to the Children's Farm (and petting zoo), check out the beautiful Gates of Life entrance, designed by Clarke and Rapuano, with the animals made by Albino Manca. Working your way up the three levels, you'll find aquatic plants, marine life (including a pair of dolphins and angelfish), and terrestrial plants and animals (including cattle, ducks, cactus, and a palm tree). Across the path, kids will come into contact with Nubian goats Simon and Garfunkel, sheep, a Rhode Island red rooster, a cochin chiken, pigs, llamas, horses, and such cattle as the Scottish Highland steer. There are also signs that discuss the effects of domestication on animals. After the zoo, take the kids over to the nearby $1 carousel, which is next to the dormant Fountain of the Planet of the Apes.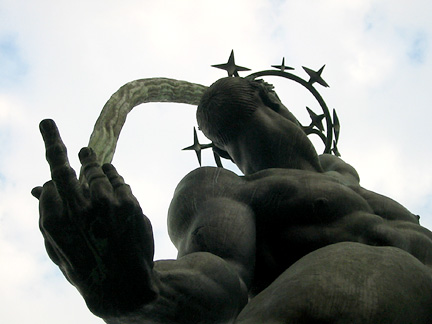 twi-ny/mdr
"The Rocket Thrower" displays a special gesture just for Queens
FLUSHING MEADOWS CORONA PARK STATUARY
"Freedom of the Human Spirit" by Marshall M. Fredericks
"Rocket Thrower" by Donald Harcourt Delue
"Form" by José de Rivera
http://www.nycgovparks.org/sub_your_park/vt_flushing_meadows/vt_flushing_11.html
http://www.nycgovparks.org/sub_your_park/vt_flushing_meadows/vt_flushing_09.html
http://www.nycgovparks.org/sub_your_park/vt_flushing_meadows/vt_flushing_10.html

As you walk around Flushing Meadows Corona Park, you'll come upon several unique and creative statues that were created for the 1964-65 World's Fair. By the entrance to the tennis stadium is the rising, light blue "Freedom of the Human Spirit," by Marshall M. Fredericks. The twenty-eight-foot high sculpture features a nude woman with her arms out to the heavens as she's being lifted by a pair of birds into the sky. If you face "Freedom," to your left you'll find "Form." Sculptor José de Rivera said, "What I make represents nothing but itself." Sitting atop a polished black granite pyramid is a curvilinear stainless-steel sculpture that used to rotate. The piece now stands proudly by itself at the end of a small park, pointing out as if to an unknown future that holds promise within its grasp. Off to the right of the other two sculptures and on the opposite side of the Unisphere from the Queens Museum, at the near end of the Fountain of the Fairs (at the other side is the Solar Sluice), is "Rocket Thrower," a vision of the future by Boston-born sculptor Donald Delue (1897-1988). A well-sculpted naked man kneels atop a narrow base as he casts a star-laden and halo'd object into the sky. Be sure to take a good look at the figure's right hand, which appears to be giving you the finger. Delue also has monumental sculptures at Valley Forge, Omaha Beach, and Gettysburg.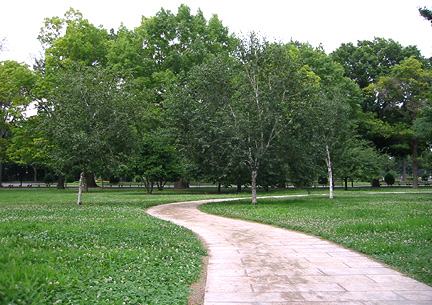 twi-ny/mdr
Peace walk winds through Flushing Meadows Corona Park
AMERICAN-ISRAEL FRIENDSHIP GROVE: YITZHAK RABIN WALK
Flushing Meadows Corona Park
Nestled near the Queens Museum and "Form" is this short, twisting, tree-laden path "dedicated to the eternal friendship between the people of the United States of America and the State of Israel." The successor to Golda Meir, Yitzhak Rabin was prime minister of Israel from 1974 to 1977, when he resigned because he didn't agree with the direction the country was going. He was elected prime minister again in 1992 and, following the Oslo Accords, was awarded the Nobel Peace Prize in 1994, along with Shimon Peres and Yasser Arafat. Rabin was assassinated by Israeli extremist Yigal Amir in November 4, 1995, in Tel Aviv.
CASEY STENGEL DEPOT
Under walkway between Shea and tennis stadium
http://www.trainweb.org/nyrail/nyct/subdivisionA/redbirds/redbirds.html

Those old subway reliables known as the Redbirds are being phased out in favor of the new cars we reviewed in a previous issue of twi-ny. But they are being put to quite an interesting use: They are being delivered to Delaware, where they are being tossed into the Atlantic to create an artificial reef. As you cross the walkway that connects the 7 train to Shea Stadium and the U.S. Open stadium, check out this depot, built in 1950 on what was then the Corona Dump and renamed in 1992 for the much-loved Mets manager. The depot's Thomas DeSanctis was the Department of Buses' maintenance champion six times between 1997 and 2003, making it into the Roadeo Hall of Fame.
PASSARELLE PLAZA MOSAICS
Base of walkway at entrance to tennis stadium
Gotham Plaza Entrance by LIRR stop
http://www.nyhallsci.org/nyhs-pressreleases/pr-timecapsule.html
http://www.geocities.com/SoHo/Atrium/1031/trans/US/1azWestWFshtpkts.html
http://www.nycgovparks.org/sub_your_park/vt_flushing_meadows/vt_flushing_12.html

At the base of the walkway at the Gotham Plaza Entrance, where you can turn right to enter the tennis stadium or go straight into the park on your way to the Queens Museum, is a series of circular mosaics, installed in 1998, paying tribute to World's Fairs gone by. One of the circles pays tribute to the fifty-foot-deep 1939 time capsule, which includes microfilm, an alarm clock, an issue of Harper's, and a Miami fashion show for whoever opens it up in 6939. In 1964 they added a second capsule, this one including a checkered bikini, an electric toothbrush, and birth control pills. In 2001, as part of the "Crossing the Lines" exhibit, a video was created asking people what they'd like to add to a 2001 capsule; answers included a tennis ball, a Destiny's Child CD, a Sony PlayStation, and Fruit Roll-Ups (with instructions). If you continue around the circle, you'll also find mosaics — some of which are unfortunately breaking apart and are in dire need of repair — honoring Andy Warhol's depiction of Robert Moses, Salvador Dali's "Venus," and Robert Indiana's "Eat."
THE 2005 U.S. OPEN TENNIS CHAMPIONSHIPS
USTA National Tennis Center
Flushing Meadows Corona Park
August 29 through September 11
Tickets: $22-$96
1-866-open-tix
http://www.ticketmaster.com/artist/807197
http://www.usopen.org/tickets/custom.sps?iType=6558&icustompageid=9443
http://www.nycgovparks.org/sub_your_park/vt_flushing_meadows/vt_flushing_02.html
Tickets are still available for this quintessential New York City sports event. If you've never been here, pick up some $22 tickets as soon as you can; the U.S. Open is a lot of fun, even if you're not a tennis nut. And here's a little trick for you: If you get day tickets, you can stick around and watch all of the night events as well except for those in the main stadium. There's still plenty of action on the smaller courts, where you can get up close and personal with the players. Every year we sit way up top eating our Ess-a-Bagel sandwiches and watching some fine tennis through powerful binoculars -- when we're not watching Keith Richards, David Dinkins, Donald Trump's luxury box, or mainstay chili expert Alan King, who, alas, recently passed away. (There are more stringent rules this year as to what you can and can't bring in, so check the Web site carefully before showing up with a picnic lunch.)
In the early rounds, pockets of international rooters show up to cheer on their fellow countrypeople, sparking wonderful chanting that is reminiscent of a soccer crowd without the rowdiness and danger. Don't just watch the top seeds in Arthur Ashe Stadium; be sure to walk around the outside courts, where you are literally feet away from some of the greatest pros the sport has known. A few years ago we got to see a Masters mixed doubles match that included Virginia Wade and Wendy Turnbull. And a few years before that we were next to Sergei Fedorov, the Detroit Red Wing all-star who was watching his teenage friend Anna Kournikova. By the way, Louis Armstrong Stadium was named for the longtime Queens resident and master trumpeter. Yes, the food and drink really is as expensive as you've heard, but don't let that stop you. It's a great New York tradition to overpay for everything from bottled water and french fries to champagne with strawberries and ice cream. Plus, there are lots of free favors in the women's bathrooms.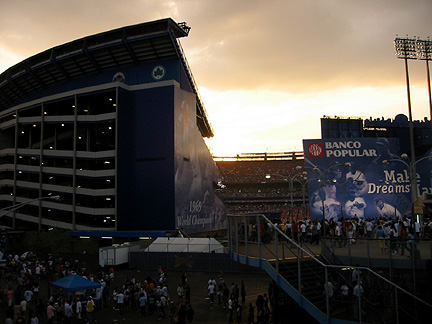 twi-ny/mdr
The sun sets over the Mets at Shea Stadium
SHEA STADIUM
123-01 Roosevelt Ave.
Flushing, Queens
718-507-METS
http://newyork.mets.mlb.com/NASApp/mlb/nym/ballpark/nym_ballpark_history.jsp
http://www.nycgovparks.org/sub_your_park/vt_flushing_meadows/vt_flushing_01.html
Built by Praeger-Kavanagh-Waterbury for $28.5 million, Shea Stadium has been home to the New York Mets since 1964. After the Giants and Dodgers left for the West Coast, New York City needed another baseball team, so Mayor Robert Wagner hired lawyer William Alfred Shea to find one. (The stadium ended up being named after Shea instead of being called Flushing Meadow Park.) The result was the Metropolitans, who played their first home game on the grass field on April 17, 1964, against the Pittsburgh Pirates. (The Pirates won, 4-3, with the first hit being delivered by a young Buc named Willie Stargell. The Mets' first hit came off the bat of Tim Harkness.) The Mets' colors were a tribute to the dearly departed New York Giants (orange) and the Brooklyn Dodgers (blue); in fact, the stadium itself was christened with water from the Harlem River (for the Polo Grounds) and the Gowanus Canal (for Ebbets Field). Among the other stalwarts to appear in the stadium (which holds 55-60,000 people and was not named for Che Guevara, despite what Eric Idle announced in THE RUTLES) were the Beatles in 1964 and 1965, the New York Jets from 1964 to 1983, Janis Joplin and Jimi Hendrix in 1970, Pope John Paul II in 1979, Bruce Springsteen in 2003, and the New York Yankees in 1974-75, when their own stadium was being renovated. Shea himself died in 1991 at the age of eighty-four and is buried in Trinity Church Cemetery in Lower Manhattan. In June, Mayor Bloomberg announced plans for a new 45,000-seat Mets ballpark to be built next to Shea; the $600 million project is scheduled to open in 2009.
In the Neighborhood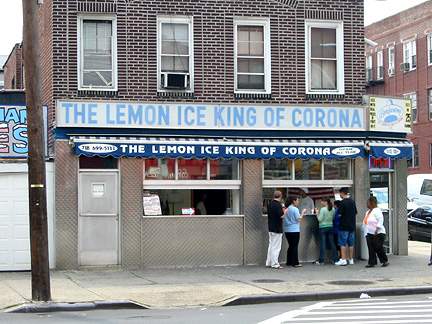 twi-ny/mdr
Don't ask to mix it up at the Lemon Ice King
BENFAREMO: THE LEMON ICE KING OF CORONA
52-02 108th St. at Corona Ave. & Strong Ave.
718-699-5133

A few blocks from the 111th St. & 54th Ave. entrance to Flushing Meadows Corona Park is this city treasure, where kids and adults line up for cups and pints of nearly three dozen flavors of Italian ices. Of course, the lemon ices are sheer tart perfection. We also get cravings for the vanilla chocolate chip. Among the other choices, which start at $1 for a small, are watermelon, rainbow, chocolate, mango, pineapple, coconut, raspberry, fruit cocktail, and, believe it or not, peanut butter. Peter Benfaremo started selling ices in 1944, keeping the neighborhood cool for more than sixty years and counting. "Nothing beats a lemon ice from the Lemon Ice King of Corona on a hot summer day," Mayor Bloomberg told the Daily News in June. We heartily agree. (Just don't ask them to mix flavors.)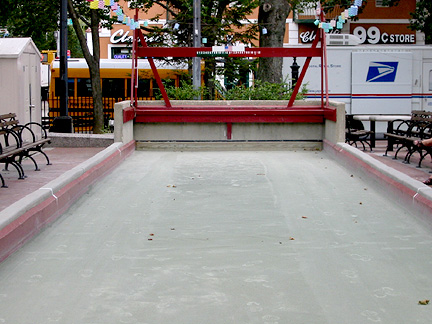 twi-ny/mdr
Bocce's the game at Moore Park
WILLIAM F. MOORE MEMORIAL PARK
108th St. & 51st Ave.
Admission: free
http://www.nycgovparks.org/sub_your_park/historical_signs/hs_historical_sign.php?id=12777
Corona resident and WWI marine enlistee William F. Moore (1897-1918) is honored in this triangular oasis across the street from the Lemon Ice King. Moore died in battle in Belleau Wood, France, while serving with the 47th Company, Third Battalion, Fifth Regiment; Corona Heights Triangle was renamed for him in the fortuitous month of October 1929. Other WWI casualties are paid tribute in James S.J. Novelli's tablet, while Democratic district leader Joseph Lisa Sr. is commemorated with another tablet and a tree at the south end. At the north end is a barbecuing station and a bocce court, where tournaments are held. There are also chess tables in the park, as well as short benches with lion gargoyles holding them up.
Riff's Rants & Raves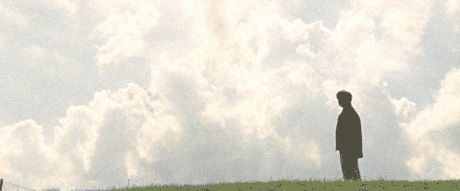 Issey Ogata stars as helplessly lonely Tony Takitani
TONY TAKITANI (Jun Ichikawa, 2005)
Angelika Film Center
18 West Houston St. at Mercer St.
Now playing
Tickets: $10.75
212-995-2000
http://www.city-cinemas.com/angelika.html

Based on a tender short story by one of our favorite novelists, Haruki Murakami, which ran in the April 15, 2002, issue of the New Yorker (it previously was a short novel published in Japan), TONY TAKITANI is a gorgeous, eloquent, extremely slow moving, and heartbreakingly sad tale. A film festival hit, the film stars Issey Ogata as the title character, a loner whose mother died three days after his birth and whose mostly absent father played jazz instead of parenting. When Tony, a successful mechanical draftsman who draws with little emotion, meets Eiko (Miyazawa Rie), a young, free-spirited woman who turns out to have a bit of a shopping problem, he instantly falls for her. But, as always, tragedy awaits poor Tony Takitani. Ogata also plays Tony's father, and Rie plays Hisako, dual performances that work well in this poignant drama. However, it is one of the most low-key films we've ever seen, with barely audible narration (by Nishijima Hidetoshi), soft, mournful music by Ryuichi Sakamoto, and long, quiet scenes in which not much happens at all. Unfortunately, the film often feels like a short story dragged out too much -- which, of course, it is. Then again, its simplicity is what makes it so beautiful.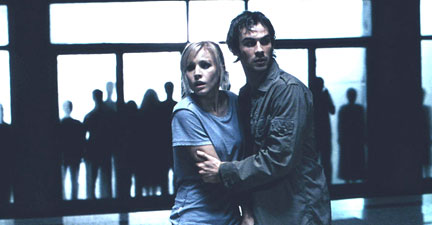 Strange things are happening in Kurosawa's PULSE
PULSE (KAIRO) (Kiyoshi Kurosawa, 2001)
Opens August 12
http://www.magpictures.com/distribution/moreinfo.php?pulse

PULSE is another creepy treat from writer-director Kiyoshi Kurosawa, who has also given us the terrifically frightening CURE and the mediocre meditation BRIGHT FUTURE. A hit at Cannes, Toronto, Oslo, and other international film festivals, PULSE fits neatly into THE RING genre, in which modern technology invariably leads to death; in this case, odd computer images seem to predict bizarre, unexplained suicides and disappearances. Kumiko Aso stars as Michi, a young woman who works at a nursery with her friend Junko (Kurume Arisaka). When Taguchi (Kenji Mizuhashi) doesn't show up on a day when a special computer project is due, Michi goes to his apartment, where she watches in horror as he mysteriously hangs himself, kicking off a series of eerie events that confuse and confound Internet newbie Ryosuke (Haruhiko Kato) and expert Harue (Koyuki). Kurosawa takes a long time to get to the point, resulting in several tedious stretches in which not much happens, but there are still more than enough scary scenes and psychological terror to warrant this film a visit.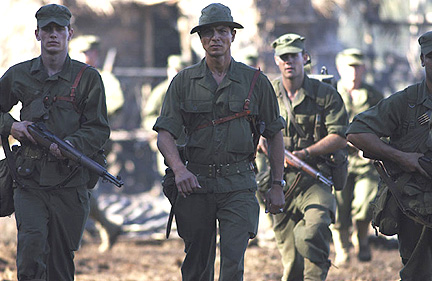 Franco (l.) and Bratt lead the way in THE GREAT RAID
THE GREAT RAID
Opens August 12
http://www.miramax.com/thegreatraid

John Dahl, the indie noir genius behind RED ROCK WEST and THE LAST SEDUCTION, takes a disappointing detour with THE GREAT RAID, a flag-waving America-uber-alles love-fest set in World War II. In the more-than-two-hour movie, a small team of soldiers band together with a Filipino company on a suicide mission to attempt to rescue more than five hundred U.S. POWs held by the Japanese for more than three years following the infamous Bataan Death March. Benjamin Bratt stars as Lt. Col. Henry Mucci, an offbeat army man who puts the raid in the hands of brave young Capt. Prince (James Franco). The POWs are headed by Maj. Gibson (a skeletal Joseph Fiennes), who is battling malaria and hoping he will live long enough to see his true love, Margaret (Connie Nielsen as a nurse / resistance leader), one last time. His right-hand man is played by Red (Martin Csokas), who can think about nothing but escape. The Filipino contingent is led by Pajota (Philippines star Cesar Montoya) and Capt. Joson (Ebong Joson, who plays his own grandfather). The filmmakers have gone well out of their way to ensure the historical accuracy of much of what is on the screen, but that does not necessarily make for a good movie. Instead, the dated look and style, which give it the feel of a 1940s-era war movie (John Wayne, where are you?), will bore audiences from the start. The Americans are so tortured yet honest and good-natured, and the Japanese are so cunning, evil, and devil-like, that there is no gray area, which is what makes for real drama. And yes, the Bataan Death March and the imprisonment of these soldiers was a horrific thing — brutal, sadistic, and disgusting — but Dahl, whose father served in the South Pacific in WWII, paints it all on a two-dimensional canvas riddled with clichés. This film has been sitting on Miramax's shelves for a few years; bringing it out now, while there is a controversial war going on (that has included a controversy over U.S. treatment of Iraqi POWs), might not have been the best idea, because it reeks of propaganda, even if it was unintended.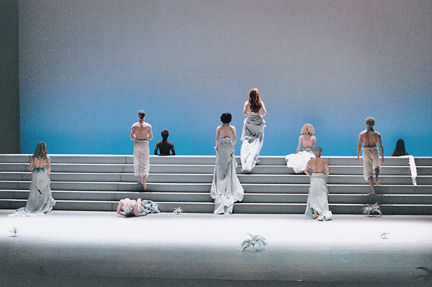 Bruce R. Feeley
Shen Wei returns to Lincoln Center with stunning program
SHEN WEI DANCE ARTS
Lincoln Center Festival 2005
New York State Theater, 64th St. & Broadway
Reviewed: July 24 performance
http://www.shenweidancearts.org

Chinese native Shen Wei, who founded this outstanding company in New York City in 2000, returned to the Lincoln Center Festival with the captivating NEAR THE TERRACE, Part I (2000) and the world premiere of MAP, which was commissioned for this annual event. In NEAR THE TERRACE, the minimalist music of Arvo Part accompanies the unusually slow movement of topless male and female dancers as they face the audience, twist, turn, bend, and seemingly float up and down a staircase, creating intimate scenes of breathtaking beauty. Inspired by the paintings of Paul Delvaux, Shen Wei has choreographed a gripping surrealist fantasy that will fill you with wonder. MAP, meanwhile, is far more energetic, consisting of seven sections that examine the movement of the body, with music by Steve Reich. Starting out with circular rotations and going through bouncing, internal isolation, internal circular, and internal individual motion, the vastly talented dancers bring to life Shen Wei's visual vocabulary, resulting in the no-holds-barred finale when all the previous maps combine for a rollicking finish.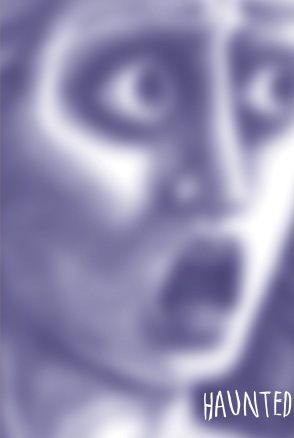 HAUNTED by Chuck Palahniuk (Doubleday, 2005, $24.95)
http://www.randomhouse.com/doubleday/catalog/display.pperl?isbn=9780385509480

The twisted author of FIGHT CLUB, CHOKE, and DIARY returns with a crazy tale of a group of very strange people trapped on a writers' retreat. The wacky novel is made up of stories by each character that explain who they are and how they ended up in this scary situation, where they are running out of food and figuring out ways to be media darlings when they get out. But this is Palahniuk, so don't expect any heroic deeds; rather, what they decide to do is … well, we're not going to tell you, because that would ruin the ever-more-gruesome surprises. You can tell a little about them just from their names, however: Saint Gut-Free (you're not going to believe how he lost his innards), Chef Assassin, Lady Baglady, the Baroness Frostbite, Miss Sneezy, the Missing Link, the Duke of Vandals, the Earl of Slander, Agent Tattletale, the Reverend Godless, Director Denial, and Sister Vigilante. Then again, other appellations don't tell you much at all: Mother Nature, Miss America, the Countess Foresight, Cora Reynolds, Mr. Whittier, and Mrs. Clark. (Watch out for those last two despite their lack of a nickname.) We suggest you not read any part of this book within thirty minutes of eating, but that's all we're going to say, because you won't believe anything else we could say until you've checked it out for yourself.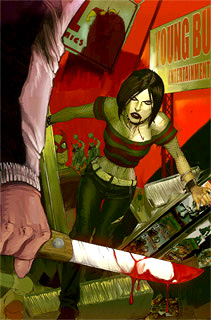 HACK/slash: COMIC BOOK CARNAGE, text by Tim Steeley, art by Federica Manfredi, cover art by Tim Seeley and Aadi Salman (Devil's Due, March 3005, $4.95)
http://www.devilsdue.net/hackslash/p2000_page/3

This forty-eight-page comic thriller takes place at the Whizzer World Comic Convention in Philadelphia, where someone — or something — is viciously murdering the latest group of hot comic artists, including such Young Bucks as Steve Niles (30 DAYS OF NIGHT), Robert Kirkman (THE WALKING DEAD), and Skottie Young (VENOM). Once again it's up to slasher survivor Cassie Hack and her massive sidekick, Vlad, to stop the knife-wielding carnage. Previous books in this fun series include EUTHANIZED and GIRLS GONE DEAD; up next is FINAL REVENGE OF EVIL ERNIE.
All contents copyright 2005 by Mark Rifkin and twi-ny. All rights reserved. Contents may not be reprinted without written permission. Please note that events, dates, and prices are subject to change.
Send all comments, suggestions, reviews, and questions to Mark Rifkin at twi-ny@nyc.rr.com.
Please note that some e-mail clients may wrap links, so be sure to enter them fully into your browser.
To subscribe to this list, please e-mail the administrator at twi-ny@nyc.rr.com with the word Subscribe in the Subject line; be sure to ask for back issues, which are free as well. To unsubscribe from this list, please think it over twice before e-mailing the same address. Please let us know what you didn't like about this forum and we'll do our best to correct it in the future -- if we agree with you. If you would like to see something covered in a future issue, please let us know. Without you, there is no need for us to exist.
twi-ny top two dozen (or so) weekly reminders & special events
WEEKEND STREET FAIRS/FESTIVALS/PARADES/CARNIVALS
All events approximately 11:00 am - 6:00 pm unless otherwise noted
Admission: free
http://www.nyctourist.com/st_fairs_calendar.htm
http://nycstreetfairs.com/sched.html
http://www.clearviewfestival.com
http://www.brooklyn-usa.org/street_fair_concerts/Street_fairs.htm
Wednesday, August 3
through
Sunday, August 7 Feast of St. Gandolfo: Mulberry St. between Broome & Spring Sts.
Thursday, August 4
through
Sunday, August 7 Teatro Moderno Puertoriqueno Carnival East 116th St. between Seconnd & Lexington Aves.
Thursday, August 4
through
Sunday, August 7 Hellenic Orthodox Traditionalist Feast: 26th St. between 23rd Ave. & Ditmars Blvd.
Friday, August 5
and
Saturday, August 6 Manhattan Youth Fair: Murray St. between Broadway & Church St.
Saturday, August 6 The Times Square Expo: Seventh Ave. between 47th & 57th Sts.
Saturday, August 6 Village Committee for the Jefferson Ave. Market Festival: Greenwich Ave. between Sixth & Seventh Aves.
Saturday, August 6 JAMS Festival: Jamaica Ave. between Parsons Blvd. & 168th St.
Sunday, August 7 Actors Synagogue / Theater District Festival: West 47th St. between Eighth & Ninth Aves.
Sunday, August 7 Festival of the Americas: Sixth Ave. between 42nd & 56th Sts.
Sunday, August 7 Asian-Americans for Equality Chinatown Festival: Bayard St. between Elizabeth & Baxter Sts.
Sunday, August 7 Myrtle Ave. BID Fair: Myrtle Ave. between Fresh Pond Road & Wyckoff Ave.
Thursday, August 11
through
Sunday, August 14 St. Finbar R.C. Church Festival: Bay 18-19th St. between Bath & Benson Aves.
Friday, August 12 Financial Community Day Festival Series: Maiden Ln. between Water & South Sts.
Saturday, August 13 Log Cabin Republican Club / Greenwich Village Festival: Greenwich Ave. between Sixth & Seventh Aves.
Saturday, August 13 Stonewall Democratic Club Fair: Waverly Pl. between Broadway & Fifth Ave.
Saturday, August 13
through
Sunday, August 14 Dominican Festival: Amsterdam Ave. between 192nd & 193rd Sts.
Saturday, August 13
through
Sunday, August 14 Sixth Annual Panamanian Parade & Festival: Mount Prospect Park on Eastern Pkwy. Between Washington & Flatbush Aves.
Sunday, August 14 NYC'S Celebration of Nations Festival: Madison Ave. between 42nd & 57th Sts.
Sunday, August 14 East Sixties Neighborhood Association Fair: East 60th St. between Fifth & Madison Ave.
Sunday, August 14 Steinway BID Fair: Steinway Street between 28th & 34th Aves.
Sunday, August 14 Pakistani-American Merchants Festival: Coney Island Ave. between Ave. H & Newkirk Ave.
B.B. KING BLUES CLUB & GRILL
237 West 42nd St. between Seventh & Eighth Aves.
Prices slightly higher for day-of-show purchase
212-997-4144
http://bbkingblues.com/schedule/index.shtml
Wednesday, August 3 Chicago Blues Reunion, $25.50, 8:00
Thursday, August 4 Maxi Priest, $25.50, 8:00
Friday, August 5 Beginnings: A Tribute to Chicago, $10, 7:30
Friday, August 5 Ivan Neville's Dumpstaphunk with Lettuce, $13, 11:30
Saturday, August 6 The Funk Brothers, $40, 8:00 & 10:30
Sunday, August 7 Eighth Annual Black August Hip Hop Benefit Concert with Mos Def and Smif-n-Wessun, $20, 8:00
Monday, August 8 Gin Blossoms, $22, 8:00
Tuesday, August 9
and
Wednesday, August 10 George Thorogood & the Destroyers, $40, 8:00
Thursday, August 11 Jefferson Starship: Family Galactic Reunion, $40, 7:30
Friday, August 12 The Saw Doctors, $30, 7:00
Friday, August 12 Electron, $20, 12 midnight
Saturday, August 13 Tribute to the Beatles Brunch Featuring Strawberry Fields, $35 all you can eat buffet, doors at 12 noon, show at 1:00
Saturday, August 13: Early Show: Martin Luther & Cody Chesnutt, $15, 7:00
Saturday, August 13 Late Show: Method Man with STREET LIFE CD release show, $27.50, 12 midnight
Sunday, August 14 Hieroglyphics featuring Del the Funky Homosapien, Souls of Mischief, Pep Love, Casual, Non Phixion, and more, $19.50, 8:00
Monday, August 15 Fourth Annual Madonnathon, $12, 8:00
Tuesday, August 16 Hammerfall & EdGuy, $27.50, 8:00
Wednesday, August 17 James Cotton Seventieth Birthday Celebration, $25.50, 8:00
RIVERFLICKS
Hudson River Park
Wednesdays at Pier 54 at Thirteenth St. (rated R)
Fridays at Pier 25 at North Moore St. (rated G/PG)
Movies begin when it's dark, 8:00 — 8:30 pm
Admission & popcorn: free
Through August 26
http://www.hudsonriverpark.org/events/summer2005/pop2005/riverflicks.htm
Wednesday, August 3 Slackers: CLERKS (Kevin Smith, 1994)
Friday, August 5 Fun for Everyone: ELLA ENCHANTED (Tommy O'Haver, 2004)
Wednesday, August 10 Slackers: ANIMAL HOUSE (John Landis, 1978)
Friday, August 12 Fun for Everyone: THE IRON GIANT (Brad Bird, 1999)
Wednesday, August 17 Slackers: FAST TIMES AT RIDGEMONT HIGH (Amy Heckerling, 1982)
DRAGON CITY AND THE LEGEND OF THE STONE
The Auditorium @ PS 87
160 West 78th St. between Columbus & Amsterdam Aves.
Admission: free
212-591-2253
http://www.kidscreative.org/capcurrent.htm
Wednesday, August 3
and
Thursday, August 4 Brand-new musical written and performed by the Create-a-Play Rock N Roll Theater Camp at the Wingspan Arts Summer Conservatory, 4:00
CITYPARKS FREE CONCERTS
IN NYC NEIGHBORHOOD PARKS
Ft. Green Park, Dekalb Ave. & Washington Park St. (FGP)
Brower Park, Brooklyn Ave. & Prospect Pl. (BP)
Von King Park, Lafayette, Marcy & Thompkins Ave. & Green St. (VKP)
St. Mary's Park, 146th St. & St. Ann's Ave. (SMP)
Crotona Park, 173rd St. & Crotona Park East (CP)
Mahoney Park, Beechwood Ave., Crescent Ave., Cleveland St. & Jersey St. (MP)
Highbridge Park, 173rd St. & Amsterdam Ave. (HP)
Jackie Robinson Park, 145th St. & Bradhurst Ave., (JRP)
Marcus Garvey Park, 124th St. & Mt. Morris Park (MGP)
Queensbridge Park, 21st St. Bridge Plaza, Vernon Blvd., & East River (QP)
Admission: free
http://www.cityparksfoundation.org/index1.aspx?BD=1814
Wednesday, August 3 Felix Hernandez Rhythm Revue, MP
Tuesday, August 9 Beatnuts, HP
Tuesday, August 9 Blue Magic, QP
Wednesday, August 10 Kurtis Blow, MP
Wednesday, August 10 Blue Magic, JRP
Thursday, August 11 The Last Poets & Friends, MGP
Tuesday, August 16 Friends of Distinction, QP
Tuesday, August 16 Oro Solido, HP
Wednesday, August 17 Friends of Distinction, MP
Wednesday, August 17 Kindred the Family Soul, JRP
CELEBRATE BROOKLYN! 2005
Prospect Park Bandshell
Through August 7
Keep It Great: Give $3 at the Gate
718-855-7882
http://www.brooklynx.org/celebrate
Thursday, August 4 Benefit: Ben Folds / Rufus Wainwright / and their bands, $35, 7:00
Friday, August 5 Budweiser Latin Music Series: Plastilina Mosh / Kinky / Jd Natasha, 7:30
Saturday, August 6 Independence Community Bank Series: Kasey Chambers / The Greencards, 7:30
Sunday, August 7 Music & Movies Series: TARZAN THE APE MAN (W. S. Van Dyke, 1932), with Mocean Worker / Joan as Policewoman, 7:30
MAD. SQ. MUSIC 2005
Madison Square Park Oval Lawn
Intersection of 23rd St., Broadway, and Madison Aves.
Wednesdays at 7:00 through August 10
Admission: free
212-538-5058
http://www.madisonsquarepark.org/recap.asp
Wednesday, August 3 Sharon Jones & the Dap-Kings
Wednesday, August 10 Danilo Perez Trio
BAM RHYTHM & BLUES FESTIVAL AT METROTECH
MetroTech Center Commons
Civic Center/Borough Hall area of Downtown Brooklyn
Corner of Flatbush & Myrtle Aves.
Thursday afternoons, 12:00 - 2:00
Through August 11
Admission: free
http://www.bam.org/asp/bam_frameset.asp
Thursday, August 4 James Blood Ulmer
Thursday, August 11 Lonnie Liston Smith and Eliane Elias
MEET THE WRITERS
Barnes & Noble
33 East 17th St. at Union Square (US)
212-253-0810
600 Fifth Ave. at 48th St., Rockefeller Center (RC)
675 Sixth Ave. at 22nd St., Chelsea (CH)
160 East 54th St. at Third Ave., Citicorp (CC)
105 Fifth Ave. at 18th St. (18)
4 Astor Pl. at Broadway (AP)
1972 Broadway at West 66th St., Lincoln Triangle (LT)
396 Sixth Ave. at Eighth St., Greenwich Village (GV)
2289 Broadway at 82nd St. (BW)
240 East 86th St. at Second Ave. (86)
106 Court St., Brooklyn (CS)
267 Seventh Ave., Park Slope (PS)
Admission: free
http://www.barnesandnoble.com/frames/storeLocator/storeLocator_zip.asp?ZIP=10016&userid=1D6CIO3Q8L&linkto=shop
Thursday, August 4 Periel Aschenbrand: THE ONLY BUSH I TRUST IS MY OWN, CH, 7:00
Tuesday, August 9 Bill Maher, NEW RULES, US, 7:00
Thursday, August 11 Chuck Barris, YOU AND ME, BABE, AP, 7:00
Tuesday, August 16 Frank Miller, SIN CITY DVD, CH, 1:00
Wednesday, August 17 Bret Easton Ellis, LUNAR PARK, US, 7:00
A TRIBUTE TO KINO INTERNATIONAL: ANDREI TARKOVSKY
Anthology Film Archives
32 Second Ave. at Second St.
August 5-
Tickets: $8, day of show only, cash only
212-505-5181
http://www.anthologyfilmarchives.org
Friday, August 5 THE MIRROR (Andrei Tarkovsky, 1975), 7:00
THE MIRROR (ZERKALO) (Andrei Tarkovsky, 1975)

"Words can't really express a person's emotions. They're too inert." So says Andrei Tarkovsky in his dream-filled, surreal masterpiece THE MIRROR, which features long scenes with little or no dialogue. Tarkovsky turns the mirror on himself and his childhood to tell the fragmented and disjointed story of WWII-era Russia through his own personal experiences with his family. Tarkovsky was obsessed with film as art, and this nonlinear film is his poetic masterpiece; he even includes his father's poems read over shots that are crafted as if paintings. Many of the actors play several roles; have fun trying to figure out who is who and what exactly is going on at any one moment.
Friday, August 5 THE SACRIFICE (Andrei Tarkovsky, 1986), 9:15
Saturday, August 6 MY NAME IS IVAN/IVAN'S CHILDHOOD (Andrei Tarkovsky, 1962), 2:30
IVAN'S CHILDHOOD/IVAN'S CHILDHOOD (Andrei Tarkovsky, 1962)

IVAN'S CHILDHOOD is a magnificent work about a fearless young boy who spies for the Russians during World War II. But for all of his outward toughness -- battling fearlessly with the other soldiers to prove his military value, dirt seemingly entrenched on his face -- he is still a young boy who dreams of another, safer life, wrapped in his mother's arms. This award-winning masterpiece, which marked Andrei Tarkovsky's feature-film debut, is filled with unforgettable shots that will stay with you long after the film is over.
Saturday, August 6 ANDREI RUBLEV (Andrei Tarkovsky, 1966), 4:30
ANDREI RUBLEV (Andrei Tarkovsky, 1969)

Tarkovsky's marvelous — and very long, at nearly three and a half hours — study of Russian religious painter and monk Andrei Rublev is breathtaking in its epic scope and sublime beauty. Anatoli Solonitsyn stars in this primarily black-and-white tale that has the look and feel of an old classic Russian film from the 1930s (or earlier). It is about faith, about the earth, and about as slow moving as a film can get. The section about the bell is unforgettable. As with several of Tarkovsky's films, it was cowritten by Andrei Konchalovsky, who made an attempt at Hollywood in the 1980s, churning out such terrible stuff as HOMER & EDDIE and TANGO & CASH following a decent start with MARIA'S LOVERS and RUNAWAY TRAIN.
Saturday, August 6 SOLARIS (Andrei Tarkovsky, 1972), 8:30
SOLARIS (Andrei Tarkovsky, 1972)

Natalya Bondarchuk and Donatus Banionis star in the Russian 2001: A SPACE ODYSSEY (Stanley Kubrick, 1968), in which something strange is going on in outer space that is unexplainable to both the characters in the film and the people in the audience. Banionis plays Chris Kelvin, who is sent to the Solaris space station to decide whether to put an end to the solaristics project that Burton (Vladislav Dvorzhetsky) complicated twenty years before. What he discovers is one death, two possibly insane men, and his supposedly dead wife (Bondarchuk). Ambiguity reigns supreme in this gorgeously shot (in color and black and white) and scored film that, while technically sci-fi, is really about the human conscience. See it whether or not you checked out Steven Soderbergh's recent underrated remake with George Clooney and Natascha McElhone.
EVERYBODY WAS KUNG FU FIGHTING:
THE SHAW BROTHERS
BAMcinematek
BAM Rose Cinemas
Brooklyn Academy of Music
30 Lafayette Ave. between Ashland Pl. & St. Felix St.
August 5-21
Tickets: $10
718-636-4100
http://bam.org/film/AfterVigo.aspx
Friday, August 5 THE KINGDOM AND THE BEAUTY (JIANG SHAN MEI REN) (Li Han Hsiang, 1958), 6:50, 9:15
Saturday, August 6 THE LOVE ETERNE (LIANG SHAN BA YU ZHU YING TAI) (Li Han Hsiang, 1963), 6:50, 9:15
Sunday, August 7 COME DRINK WITH ME (DA ZUI XIA) (King Hu, 1966), 6:50, 9:15
Friday, August 12 THE EMPRESS DOWAGER (XI TAI HOU) (Li Han Hsiang, 1975), 6:50, 9:15
Saturday, August 13 INTIMATE CONFESSIONS OF A CHINESE COURTESAN (AI NU) (Chu Yuan, 1972), 6:50, 9:15
Sunday, August 14 GOLDEN SWALLOW (HSIA YU-YEN) (Chang Cheh, 1968), 6:50, 9:15
INTREPID EVENTS
Intrepid Sea-Air-Space Museum
West 46th St. & 12th Ave.
Pier 86
Admission to museum: $16.50 for adults; children free to $11.50 depending on age
212-245-0072
Friday, August 5 Museum Talks: John Beatty on the history of whaling in Japan
Tuesday, August 9 Museum Walk: The secrets behind a cold war spy plane
Saturday, August 13
and
Sunday, August 14 Police Appreciation Weekend, honoring New York's Finest with demonstrations from the Harbor Unit, the Canine Unit, the Aviation Unit, the Scuba Team, and more, police with ID free
Sunday, August 14 VJ Day 60th Anniversary Commemoration
FIRST SATURDAYS
Brooklyn Museum of Art
200 Eastern Parkway
Admission: free after 5:00 pm
718-638-5000
http://www.brooklynmuseum.org/first-saturdays
Saturday, August 6 Performance: the Young Dancemakers Company, Beaux-Arts Court, third floor, 5:00
Saturday, August 6 World Music: Mo' Guajiro, Sculpture Garden, first floor, 6:00 — 8:00
Saturday, August 6 Hands-On Art: Construct a West Indian headdress, Education Division, first floor (free tickets available in the education gallery at 6:00), 6:30-8:30
Saturday, August 6 Film: THE CRIMSON PIRATE (Robert Siodmak, 1952), Iris and B. Gerald Cantor Auditorium, third floor (free tickets available at the visitor center in the grand lobby at 5:30), 6:30
Saturday, August 6 Gallery Talk: Gallery tour of "Monet's London," with Karen Hellman, Iris and B. Gerald Cantor Gallery, fifth floor (free tickets available at the visitor center in the grand lobby at 6:00), 7:00
Saturday, August 6 Spoken Word: Storyteller Rosateresa Castro-Vargas, Sculpture Garden, first floor, 8:00
Saturday, August 6 Film: HIP HIP CUBANO (Eli Jacobs-Fantazzi, 2004), Iris and B. Gerald Cantor Auditorium, third floor (free tickets available at the visitor center in the grand lobby at 7:30), 8:30
Saturday, August 6 Dance Party: Majestic TwinSound, parking lot, 9:00 — 11:00
BIZARRO MONDAYS & MORE
The Two Boots Pioneer Theater
155 East Third St. at Ave. A
Tickets: $9
212-254-3300
http://www.twoboots.com/pioneer
Saturday, August 6
and
Saturday, August 13 NIGHT OF THE DAY OF THE DAWN OF THE SON OF THE BRIDE OF THE RETURN OF THE REVENGE OF THE TERROR OF THE ATTACK OF THE EVIL, MUTANT, HELLBOUND, FLESH-EATING, CRAWLING, ZOMBIFIED LIVING DEAD, PART 2 (Jim Riffel, 1991), 10:00
Monday, August 8 Bizarro Mondays: TAFFY WAS BORN (David Giardina, 2004), 7:00

Wednesday, August 10
through
Tuesday, August 16 CHAOS (David DeFalco, 2005)
Friday, August 12 THE RAMONES: END OF THE CENTURY (Jim Fields & Michael Gramaglia, 2003), 6:45
Sunday, August 14 KONTROLL (Nimrod Antal, 2003), 6:45
KONTROLL (Nimrod Antal, 2004)
http://www.kontrollfilm.hu/eng/index2.html
http://www.thinkfilmcompany.com

Nimrod Antal's claustrophobic debut takes place completely under the streets of Budapest, in the city subway system. Sandor Csanyi stars as Bulcsu, a secretive man who works one of Hungary's most despised jobs, ticket checkers who roam the train stations checking that people have bought tickets. Nearly powerless, they get laughed at, pushed, cursed at, and beaten. Bulcsu and his crew of ne'er-do-wells and pathetic losers are no match for Gonzo (Balazs Lazar) and his group of finely trained soldiers, but Bulcsu tries to get the upper hand by accepting Gonzo's railing challenge — a race on the tracks between two moving trains. Meanwhile, Bulcsu is after constant runner Bootsie (Bence Matyassy), falls for a sweet young woman (Eszter Balla) who wanders the stations in a bear costume, and searches for a mysterious figure in black who is pushing people in front of trains. Antal, cinematographer Gyula Pados, and score composer NEO marvelously capture the grim, gray, fast-paced world of the Budapest underground, making for breathlessly exciting individual scenes; unfortunately, numerous pedestrian subplots wear the film down. Add a star if you don't require substance with style.
Monday, August 15 Bizarro Mondays: THE TINGLER (William Castle, 1959), 7:00
BORDERS BOOKSTORE EVENTS
Shops at Columbus Circle
212-980-6785
Admission: free
http://www.bordersstores.com/events/events.jsp
Sunday, August 7 Jude Johnstone, ON A GOOD DAY CD, 3:00
Thursday, August 11 Cast members from DOUBT, 5:30
Tuesday, August 16 Dick Cavett, THE DICK CAVETT SHOW: ROCK ICONS, 6:00
EVENTS AT MAKOR
Steinhardt Building
35 West 67th St. between Amsterdam & Columbus Aves.
212-601-1000
Monday, August 8 Makor Monday Night Residency: Rhythm Republik / Martha Redbone, $12, 8:00
Tuesday, August 9 ENRON: THE SMARTEST GUYS IN THE ROOM (Alex Gibney, 2005), followed by discussion with the director, $15, 7:30
Wednesday, August 10 ONE DAY AT FENWAY: A DAY IN THE LIFE OF BASEBALL IN AMERICA, with Steve Kettmann, $15, 12 noon
Wednesday, August 10 How to Succeed in Business as a Woman Comic Superhero, with Renee Kaplan, Robin Epstein, Caitlin Friedman, and Kimberly Yorio, $12 in advance, $15 at the door, 7:30
A NIGHT OF FILM
Center for Jewish History
Forchheimer Auditorium
15 West 16th St. between Fifth & Sixth Aves.
Monday nights at 7:00
Tickets: $10
917-606-8200
Monday, August 8 Bob Dylan: DON'T LOOK BACK (D.A. Pennebaker, 1967) and THE LAST WALTZ (Martin Scorsese, 1978)
Monday, August 15 Lenny Bruce: PERFORMANCE FILM (John Magnuson, 1966), including animated short THANK YOU MASKED MAN, followed by discussion with the director
FILMS IN THE PARK
Part of the 2005 African Film Festival
Fort Greene Park
Myrtle Ave. & North Portland entrance
Admission: free
http://www.africanfilmny.org/aff_fest.html
Thursday, August 11 Les Merveilles de Guinea, followed by ORFEU NEGRO (BLACK ORPHEUS) (Marcel Camus, 1959), 7:45
NINTH ANNUAL NEW YORK INTERNATIONAL FRINGE FESTIVAL
Various downtown venues
Home base: FringeCentral
127 MacDougal St. between West Third & Fourth Sts.
August 12-28
Tickets: $15 per show, Fiver Pass five shows for $65, Flex Pass for ten shows for $110, Lunatic Pass for all shows $500
212-279-4488
This year's collection of offbeat, independent theater includes ANIMAL FARM PROJECT I — VERSION WHITE: FUNNY PIGS by Theater Sang Sang, Clare Nicholls's ALL CONSUMING one-woman show, THE BANGER'S FLOPERA — A MUSICAL PERVERSION from the Inverse Theater Company, Parker Entertainment's BY OSCAR MICHEAUX, RatFace by Wall St. Productions, Steve Barney's WADE, Atelier Tsukiko's THE KIMONO LOOSENED, Watson Arts' HERCULES IN HIGH SUBURBIA, Aspen Stage's JESUS IN MONTANA: ADVENTURES IN A DOOMSDAY CULT, and the Subtle Bliss Theater Company's FLUFFY BUNNIES IN A FIELD OF DAISIES, among many others. Among the venues participating in this year's event are the Flea Theater, Dixon Place, Collective: Unconscious, the Players Loft, the Lucille Lortel Theatre, P.S. 122, the SoHo Playhouse, and more.
SECOND SATURDAY BEACON
Dia:Beacon
3 Beekman St.
Admission: free for residents of Westchester County
845-440-0100
Saturday, August 13 Westchester County Community Free Day: current exhibitions include "Agnes Martin," "Dia's Andy: Through the Lens of Patronage," and "In and Out of Place: Louise Lawler and Andy Warhol"