Twi-ny, This Week In New York
MACY'S HERALD SQUARE HOLIDAY WINDOWS
151 West 34th St. between Broadway & Seventh Aves.
Admission: free
212-695-4400
This year, six of Macy's windows that look out on Broadway tell the enchanting story of the elves Twinkle and Sparkle as they make their way through six trees — named Love, Friendship, Joy, Beauty, Harmony, and Peace — in search of the Christmas spirit. The original story was written by FOT (friend of twi-ny) Michael Buckley, the author of the Sisters Grimm children's book series. So we highly advise you not just to look at the intricate design of each window but read the accompanying text as well.
Uptown Exhibit of the Week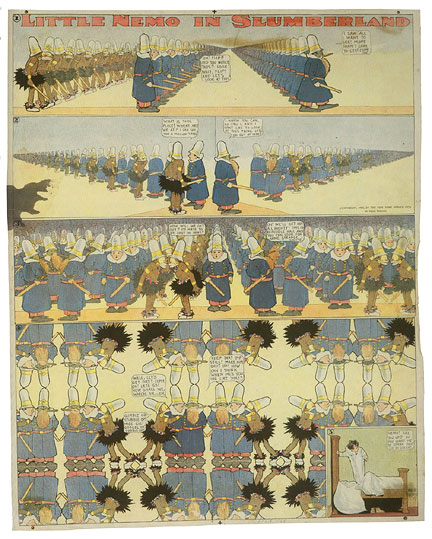 Woody Gelman Collection
Winsor McKay, "Little Nemo in Slumberland," color proof for newspaper Sunday page (published January 26, 1908)
MASTERS OF AMERICAN COMICS
The Jewish Museum
1109 Fifth Ave. at 92nd St.
Through January 28
Closed Friday
Admission: $12, children under twelve free
Free Saturdays 11:00 am — 5:45
212-423-3200

In 1980, Art Spiegelman and Françoise Mouly started RAW, a magazine dedicated to fine comic and graphic art. In the second issue, Spiegelman began serializing MAUS, a personal account of his family and the Holocaust that he had begun in 1972. Both RAW and MAUS, which became a huge hit when it was collected in two volumes in the early 1990s (and went on to win the Pulitzer Prize), revolutionized contemporary comic art and the graphic novel. This two-part exhibit, initiated by Spiegelman, looks at the influential and groundbreaking work of fourteen artists who took comics to a new level in style, content, form, and quality, through original drawings, sketches, rare editions, covers, and more. The Newark Museum examines comic artists from the first half of the twentieth century, including Winsor McCay (LITTLE NEMO IN SLUMBERLAND), Lyonel Feininger (WEE WILLIE WINKIE'S WORLD), George Herriman (KRAZY KAT), E.C. Segar (POPEYE), Frank King (GASOLINE ALLEY), Chester Gould (DICK TRACY), Milton Caniff (TERRY AND THE PIRATES), and Charles M. Schulz (PEANUTS). The Jewish Museum covers the second half of the century, beginning with Will Eisner's THE SPIRIT, a self-referential newspaper strip and comic book intended for a more adult audience. (The Oscars of the comic industry are today known as the Eisner Awards in his honor.) During World War II, Jack Kirby captured the feeling in the country with CAPTAIN AMERICA (created with Joe Simon), a new superhero who took on Hitler and the Nazis. Kirby later teamed up with Stan Lee to create THE INCREDIBLE HULK, THE X-MEN, THOR, FANTASTIC FOUR, and others, fighting evil villains everywhere.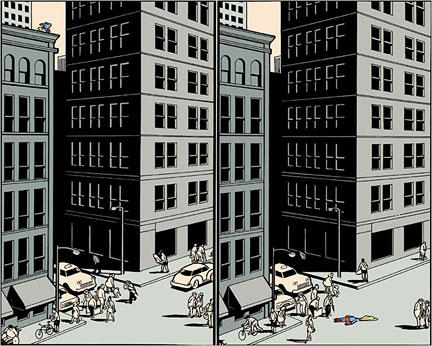 Chris Ware, "Superman Suicide," two pages from JIMMY CORRIGAN, THE SMARTEST KID ON EARTH, published 2000

Harvey Kurtzman took a different view on war in "Corpse on the Imjin," a powerful tale from EC Comics' TWO-FISTED TALES, but he is most famous for the work he did lampooning pop culture as the head writer for MAD in the 1950s. Some of the most fascinating items on view are Kurtzman's layouts and drawings for an episode of his LITTLE ANNIE FANNY for Playboy in September 1963. Kurtzman blazed the trail for such artists as R. Crumb, the creator of FRITZ THE CAT, "Keep on Truckin'," and the self-published underground comic Zap. He later went on to work with Harvey Pekar on AMERICAN SPLENDOR and was the subject of Terry Zwigoff's celebrated 1994 documentary, CRUMB. RAW veteran Gary Panter uses crude drawing and lettering to riff on old cartoon characters, society's ills, and the bomb in his expansive series JIMBO. The show ends with the densely layered, amazingly complex work of Chris Ware, the man behind THE ACME NOVELTY LIBRARY, which includes such well-loved characters as Jimmy Corrigan and Quimby the Mouse. Ware tells his unique stories in complicated, often text-heavy panels that are like architectural or engineer drawings. When "Masters of American Comics" was first presented at the Hammer Museum and the Museum of Contemporary Art in Los Angeles, there was a fifteenth artist included — Spiegelman himself, who pulled out of the Newark/Jewish Museum exhibition for logistical reasons and other concerns.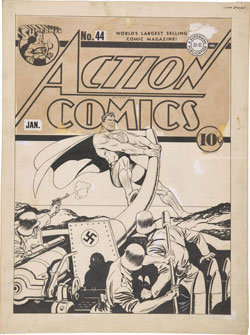 Collection of Jerry Robinson / © 1942 DC Comics
Fred Ray, Superman, drawing for cover of
Action Comics #44, published January 1942
SUPERHEROES: GOOD AND EVIL IN AMERICAN COMICS
The Jewish Museum
Through January 28

A supplement to "Masters of American Comics," this smaller exhibition, collecting more than seventy drawings, covers, concept sketches, posters, and newspaper strips, examines the birth of the superhero in the late 1930s and early 1940s, coming to prominence to lift the country's mind out of the depression and into WWII. The superhero is also placed firmly within the immigrant experience, as they were drawn primarily by immigrants, many of whom were Jewish, and they even serve as a kind of super-immigrant, often coming from a faraway planet or overcoming horrible adversity to make the world a better place, the powerful alter egos of simple men. Guest curated by Batman artist Jerry Robinson — who created the Joker — the display includes Charles Biro's Daredevil, Joe Kubert's Hawkman and Vigilante, Irwin Hasen's Dondi and Green Lantern, Mort Meskin's Vigilante, Emanuel (Mac) Raboy's Captain Marvel Jr., Fred Ray's Superman, Bob Kane and Bill Finger's Batman, Joe Shuster's Superman, Alex Schomburg's Human Torch, Joe Simon and Jack Kirby's Captain America and the Sandman, Lou Fine's Adam Ames and Black Condor, Will Eisner's the Spirit, and more.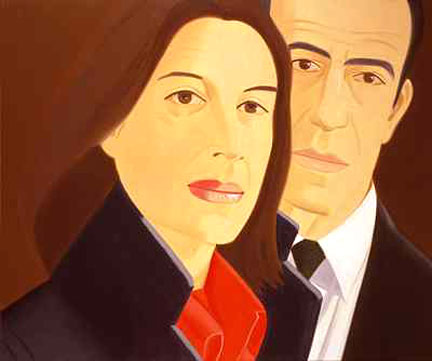 © Alex Katz/licensed by VAGA, New York, NY
Alex Katz, "Ada and Alex," 1980
ALEX KATZ PAINTS ADA
The Jewish Museum
Through March 18

After meeting Ada Del Moro in 1957, artist Alex Katz began a lifelong collaboration with her, both as partner and muse. (They married in 1958.) The Sheepshead Bay native's unique brand of American realism captures his wife over five decades of sociopolitical change, but through it all she is stalwart, stunning, and always impeccably dressed. In the first room, "Style and Glamour," you'll feel as if you've stepped in on something very private and intimate, as the Ada on the beach in "Grey Day" (1990) looks across the narrow rectangular space at the Ada in "Ada" (2005), the latter grayer but no less elegant. The section "Ada, Ada, Ada" features multiple depictions of Ada, including two Adas on a pair of wood standups (1959) and a half dozen in the same outfit in 1959's "The Black Jacket," five of whom look out more or less at the viewer while one peers over curiously at a portrait of family friend James Schuyler. In the "Existential Ada" rooms, she can be seen holding an umbrella in "Blue Umbrella #2" (1972), the blue in stark contrast to the red and white intricately designed head scarf, a few raindrops falling over her face like tears, yet she looks more contemplative than sad. In "The Cocktail Party" (1965) and "Ada in Front of Black Brook" (1988), she is shown from behind, but she still grabs the focus. In the last room, "Friends and Family," Ada can be seen with Alex, their son, Vincent, and their friends, as Alex admits he has to share her with others. We are lucky for him also to have shared her with us for the past fifty years.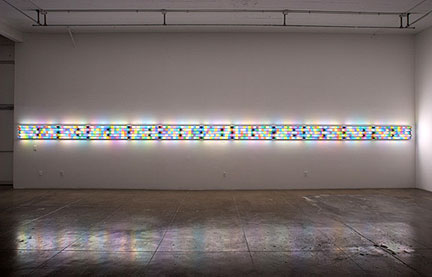 spencerfinch.com
Spencer Finch, "Sunset (South Texas, 6/21/03)," 2003
LIGHT x EIGHT: THE HANUKKAH PROJECT
The Jewish Museum
Through February 4

According to the story of Hanukkah, after defeating Antiochus and the Greco-Syrians, the Maccabees reclaimed their temple, but as they rededicated it, they had only enough oil to keep the eternal flame lit for one day. Miraculously, it remained lit for eight days, until more oil came in; thus, the holiday is known as the Festival of Lights. The Jewish Museum is celebrating Hanukkah this year with "Light x Eight," eight light-based installations placed throughout the museum. In the first-floor Grant Gallery, Mary Temple's specially commissioned "Corner Light (French Gothic)" is not quite what it seems; you'll be hard-pressed initially to figure out how shadows have been cast without anything to create them. The Jerome Greene Contemporary Gallery houses four of the pieces, including Spencer Finch's nearly blinding "Sunset (South Texas, 6/21/03)," in which colored fluorescent bulbs re-create a Texas horizon during the summer solstice, and Sharon Louden's "Blue Willow," which comes to life in the dark room behind the black curtain. Cancer survivor Brigitte Nahon's "TIME ZERO" hangs in the fourth floor permanent exhibition, dangling over stainless-steel panels that serve as mirrors; appropriately, it is next to the Hanukkah Among the Nations display, which contains cool menorahs from around the world.

HANUKKAH AT THE JEWISH MUSEUM
The Jewish Museum
Free with museum admission unless otherwise noted
212-423-3200
Through February 28 Food for Thought: A Video Art Sampler, including SEMIOTICS OF THE KITCHEN (Martha Rosler, 1975), AMEH JHAN (Jessica Shokrian, 2001), GEFILTE FISH (Boaz Arad, 2005), and excerpts from ABBIE MAKING GEFILTE FISH (Laura Kronenberg, 1973), the Barbara and E. Robert Goodkin Media Center, continuous loop
Sunday, December 17 Concert: Hot Peas 'N Butter Celebrate Hanukkah!, ages three and up, $15 adults, $10 children, 2:00
Sunday, December 17 Heroes & Heroines: Comic Art & Beyond, art workshop, $8-$12, 10:30 am
Monday, December 25 Family Celebration, featuring arts & crafts, Buffo the Clown, Metropolitan Klezmer, storybook readings, a Hanukkah lamp gallery hunt, guided tours, family films, and more, for ages three and up, 11:30 am — 4:00 pm
Tuesday, December 26
through
Friday, December 29 Winter Vacation Celebration Days, featuring special children's activities, 1:00 — 4:00 Tuesday through Friday, 11:00 am — 2:00 pm Friday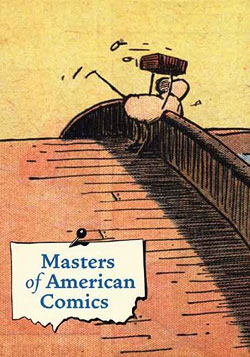 MASTERS OF AMERICAN COMICS
edited by John Carlin, Paul Karasik, and Brian Walker
(Yale University Press, 2005, $45)

The catalog for the current dual exhibition being held at the Jewish Museum and the Newark Museum is a spectacular history of American comic art. The oversize hardcover contains more than 280 color and black-and-white illustrations from all fifteen artists, including Art Spiegelman, who came up with the concept and was part of the initial display at the Hammer Museum and the Museum of Contemporary Art in Los Angeles (but pulled out of the current one). The book features magnificent full-page reproductions of such fabulous works as Winsor McCay's LITTLE NEMO IN SLUMBERLAND, George Herriman's KRAZY KAT, R. Crumb's "Mr. Natural's 719th Meditation," Spiegelman's "In the Shadow of No Towers," Harvey Kurtzman's "Corpse on the Imjin!" and so many more. The book begins with John Carlin's brilliant, expansive essay, "Masters of American Comics: An Art History of Twentieth-Century American Comic Strips and Books," celebrating the cultural and artistic importance of comics; later, each of the fifteen exhibition artists are profiled by other writers and artists, including Matt Groening on Gary Panter, Jules Feiffer on E.C. Segar, Raymond Pettibon on Will Eisner, Patrick McDonnell on Charles M. Schulz, Jonathan Safran Foer on Spiegelman, and Dave Eggers on Chris Ware. The book is a must-have for fans of comics and graphic novels as well as those who are unable to see either or both of the current exhibits.

In the Thematic Neighborhood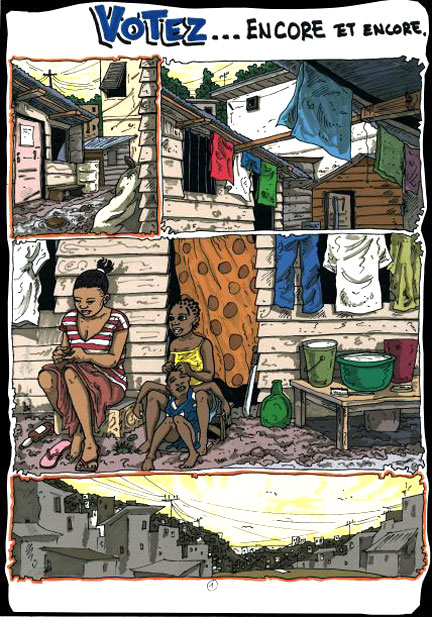 Courtesy the artist and Africa e Mediterraneo, Bologna
Jamón y Queso, "Votez…encore et encore," ca 2005
AFRICA COMICS
Studio Museum in Harlem
144 West 125th St. between Lenox Ave. & Adam Clayton Powell Jr. Blvd.
Through March 18
Closed Monday & Tuesday
Suggested donation: $7 (children under twelve free)
212-864-4500
http://www.studiomuseum.org/exhibitions_new.html

In 2001, Africa e Mediterraneo, a nonprofit organization seeking to improve cultural communication between Italy and Africa, began promoting the work of contemporary African cartoonists through contests, workshops, exhibitions, and books. "Africa Comics," now on view at the Studio Museum in Harlem, comprises comic strips and cartoons from more than two dozen African artists, dealing with poverty, crime, education, slavery, sexuality, tribal warfare, and basic human dignity, featuring artists from Mozambique, Cameroon, Senegal, the Ivory Coast, Togo, Madagascar, Tanzania, Equatorial Guinea, Rwanda, Gabon, Angola, and other nations on the African continent. The previously unpublished works, divided into three sections (creative comics — free subject, comics on human rights, and stories of migration), range from crude black-and-white drawings to elaborate color palettes, displaying a wide range of styles as well as topics. In "Madjalia," Amanvi writes about how the only education available for women in her village in the Ivory Coast was to become a cleaning girl. In "Africavi," Togo's Anani and Mensah tell the story of a wanna-be aristocratic African king who sends his son to Europe to buy ice. Tounkara Massiré's untitled piece, from Mali, has the look and feel of a graphic novel.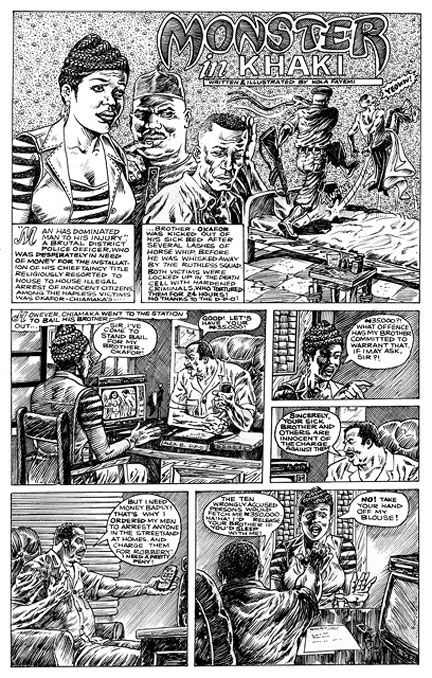 Courtesy the artist and Africa e Mediterraneo, Bologna
Kola Fayemi, "Monster in Khaki," ca 2002

Senegal's Cisse Samba Ndar takes on female genital mutilation in "Oulai: Excision Must Be Stopped," her angry tale bathed in beautiful colors. Benin's Didier Viode playfully tells the ironic tale of an African's attempt to get a visa to travel to Europe in "Visa Declined." Gabon's Pahé uses old racist imagery in the political cartoon "Hard to Be a Slave Child." Nigeria's Kola Fayemi details horrific police corruption and abuse in the remarkable "Monster in Khaki." And Equatorial Guinea's Jamon y Queso set "Votez…Again and Again" in the slums, showing how "it's hard to be a democrat when you are living under a dictatorship." The majority of the cartoons are in French, Portuguese, or English, with a few in native African languages. The museum supplies translations, but we suggest you experience each work in its original tongue first, enjoying each as a whole before getting caught up in the specifics of each story.
PUBLIC PROGRAMS AND MORE
Studio Museum in Harlem
144 West 125th St. between Lenox Ave. & Adam Clayton Powell Jr. Blvd.
212-864-4500
http://www.studiomuseum.org/education_schedule.html
In addition to the exceptional "Africa Comics" exhibition, the Studio Museum in Harlem also has on view "Stan Douglas: Inconsolable Memories," through March 18, in which filmmaker Stan Douglas integrates scenes from Tomas Gutierrez Alea's 1968 watershed film MEMORIES OF UNDERDEVELOPMENT with new footage, transporting the main character to 1980 Cuba. In the lobby are four more additions to the ongoing "Harlem Postcards" display, including Dominic McGill's "Jesus Saves," a photo collage of Harlem churches.
Tuesday, January 9 The Artist's Voice: Stan Douglas: Inconsolable Memories, with Stan Douglas, free but reservations required, 7:00
Friday, February 16 Hoofers' House, $7 (free for anyone with their own tap shoes), 7:00
Wednesday, February 21 Africa Comics: Valerie Cassel in conversation with Keith Knight, William H. Foster III, and Calvin Reid, free but reservations required, 7:00

In the Neighborhood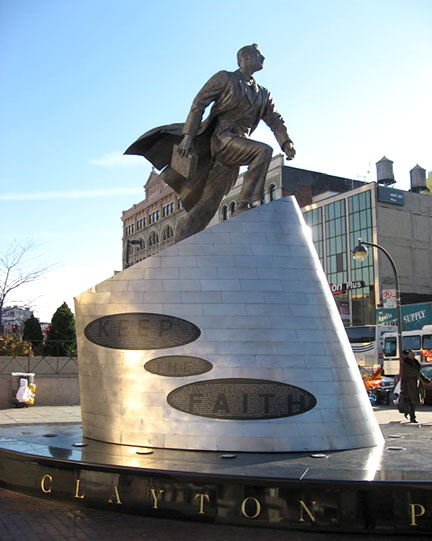 twi-ny/mdr
Adam Clayton Powell, Jr. climbs to new heights in Harlem
HIGHER GROUND:
THE ADAM CLAYTON POWELL, JR., MEMORIAL
Corner of West 125th St., Lenox Ave. & Adam Clayton Powell, Jr. Blvd.

In February 2005, the city dedicated Branly Cadet's splendid statue of Adam Clayton Powell, Jr., in the plaza in front of the Adam Clayton Powell, Jr., State Office Building at the junction of West 125th St., Lenox Ave., and Adam Clayton Powell, Jr. Blvd. Powell was an influential civil rights leader who was the first black to serve on the City Council and New York's first black congressman, rising to prominence as the chair of the Education and Labor Committee during the implementation of the minimum wage, the desegregation of schools and the military, JFK's New Freedom policies, and LBJ's Great Society program. (Powell, a graduate of Colgate and Columbia, was succeeded in Congress in 1970 by Charles Rangel.) New York City native Branly Cadet depicts Powell atop an angled base, with a twelve-foot-high larger-than-life Powell determinedly reaching forward, the back of his jacket flowing in the wind. One side of the monument contains the Powell quote "Press forward at all times, climbing toward that higher ground of the harmonious society that shapes the laws of man to the laws of God," while other sides include a time line of his life and career and a list of his successes, arranged in three ovals that also form the phrase "Keep the faith."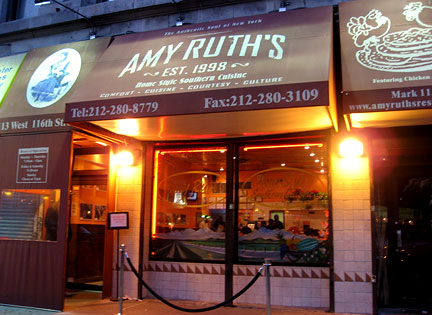 twi-ny/mdr
Amy Ruth's offers supreme southern cooking in Harlem
AMY RUTH'S
113 West 116th St. between Lenox & Seventh Aves.
212-280-8779

Named after chef-owner Carl S. Redding's grandmother, Amy Ruth's is a home-style Harlem restaurant that caters to the four Cs: comfort, cuisine, courtesy, and culture. Local folk and those in the know line up for Redding's exceptional southern-style soul food, from honey-dipped fried chicken and beef short ribs to braised smothered chitlins and salmon croquettes. On a recent visit, after the complimentary basket of fine corn bread, we had chicken and waffles, also known as the Rev. Al Sharpton, with dark meat smothered in a peppery brown gravy, served with a huge, fluffy waffle and maple syrup. (All dishes are named after reverends, politicians, local celebrities, or friends and relatives on a changing basis.) Other waffle combinations come with boneless rib eye, fried shrimp or catfish, or cinnamon, bananas, and pecans. Vegetarians can go for the vegetable lasagna or choose three items from among such side dishes as baked macaroni and cheese, collard greens, cabbage, okra, cheesy grits, garlicky string beans, and fab candied yams. Don't forget to wash things down with an oh-so-sweet iced tea or freshly squeezed lemonade. There are dining rooms both upstairs and downstairs, featuring the work of local artists; currently Redding's photos from his recent tour of Africa line the walls. You cannot go home without trying some of Amy Ruth's awesome desserts, including terrific red-velvet cake, melt-in-your-mouth sweet potato pie, peach cobbler, or country bread pudding. If you go on an early Sunday afternoon, expect very long lines as you compete with well-dressed women in fancy hats settling in for a post-church meal.
Union Square Holiday Events of the Week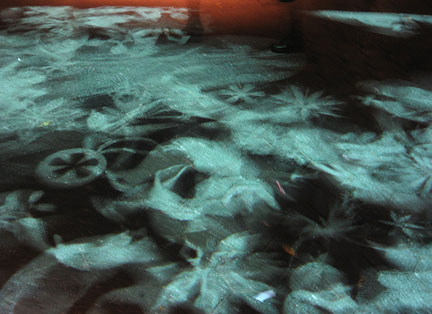 twi-ny/mdr
People interact with light display in Union Square Park
BRIGHT NIGHTS
Union Square Park, 16th St. passage
Nightly until 11:00
Through December 26
Admission: free

Dutch designer Tord Boontje has created a bit of holiday magic in Union Square Park. Along the 16th St. footpath by the Abraham Lincoln statue, Boontje has installed an innovative light show that will bring out the kid in you. From above, he projects down red and white images of snowflakes, animals, circles, and various other holiday shapes. As people walk over them, motion sensors detect their movement, so they interact with each other, rapidly scattering, disappearing, or, if you stand stock still, surrounding you. Children and adults alike run through the display, jump up and down, kick at animals, or simply stand back and watch others having a ball, wondering just how the heck it is all being done. While many people are coming to the park specifically for "Bright Nights," it's a blast to watch unknowing people coming home from work walking through it; while some pass by oblivious to it, others suddenly stop, look around confused, then start interacting themselves. We can't wait to go back; supposedly, the projected images will "learn" and adapt through the length of their stay. This is just way too much fun.
In the Neighborhood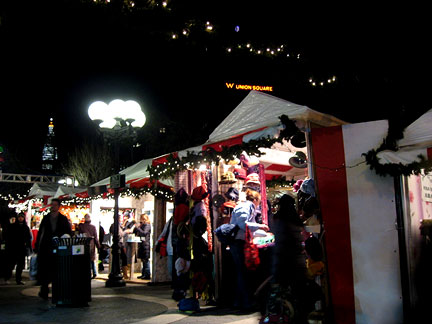 twi-ny/mdr
Holiday market in Union Square lights up at night
UNION SQUARE HOLIDAY MARKET
Broadway to Park Ave. South, 14th — 15th Sts.
Monday through Friday 11:00 am — 8:00 pm; Saturday 10:00 am — 8:00 pm; Sunday 11:00 am — 7:00 pm
Admission: free
718-460-1208
Through Saturday, December 24 More than one hundred vendors offering unique wares in historic park
Holiday Train Show of the Week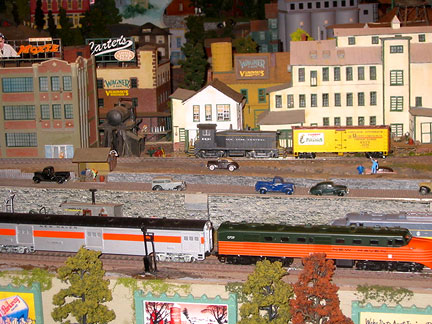 twi-ny/mdr
Holiday train show pulls in at Citicorp station again
THE STATION AT CITIGROUP CENTER
Atrium at 153 East 53rd St. at Lexington Ave.
Through Friday, December 29
Monday through Saturday, 10:00 am — 6:00 pm; Sunday, 12 noon — 5:00 pm
Closed Christmas Day
Admission: Free
212-559-1747
http://www.dunhamstudios.com/cititour.HTM

For the nineteenth year, Citicorp's model train display is wowing kids and adults in Midtown. Start out in Weehawken in 1940, then make your way through the quaint 1955 town of Generak in the Catskills (not a real town — it's a riff on "generic"), the 1945 Hudson Valley, and the 1955 Adirondacks. Hop aboard the Boston & Maine Diesel, the Milwaukee Road "Hiawatha" Locomotive, the Pennsylvania RR, the Southern Crescent Limited, the North Pole Express, and the Great American Circus train. The 2006 edition has added the New Haven RR Streamliner, the Lehigh Valley "Northern" Locomotive, and the 1952 California Zephyr. Stop for a bite at Porky's BBQ or Arnold's Drive-In. Beware of spending a night at the Bates Motel; this year, they've fixed it up so when the lights go out, you can see Mrs. Bates in the upstairs window. Hang out with farmers and fishermen, Boy Scouts and construction workers, sledders and a pumpkin party. Marvel at more than five dozen old billboards. Take in the illuminated Manhattan skyline and visit a carnival. Catch a scene from HIGH NOON (Fred Zinnemann, 1952) at the Starlite Drive-In. (We're not kidding — the film is actually screened there.) Walk through all four seasons. Count more than a thousand people and nearly a thousand feet of track, with more than two dozen (O, S, and H-O gauge) trains moving at any given moment. Make sure you allow for plenty of time, because you and your kids will want to take in every cool detail.
In the Neighborhood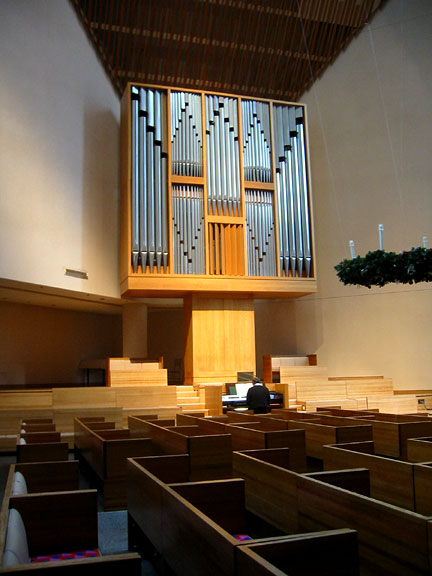 twi-ny/mdr
The grand pipe organ at St. Peter's gets ready for the holiday season
SAINT PETER'S CHURCH
619 Lexington Ave. at 54th St.
Admission: free
212-935-2200
Not many people are familiar with this small, modern-looking church that hides some treasures inside and outside its hallowed halls. Arnoldo Pomodoro's striking abstract bronze cross sculpture greets you near the Lexington Ave. entrance. Nearly every inch of the Erol Beker Chapel of the Good Shepherd, an airy room of natural-colored and white-painted wood, frosted glass, and an abstract white cross on a gold background, was designed by Louise Nevelson, who entitled the east wall "Frieze of the Apostles" and the west wall "Sky Vestment -- Trinity." Kiki Smith designed the cast-aluminum processional crucifix. Ann Sherwin Bromberg wove the dossal curtain, "Ascension," behind the altar in the spare main chapel. The chapel itself can be seen from the street. Filled with natural light and red oak, the space was designed by Massimo and Lella Vignelli.
THAT TIME OF THE YEAR
The York Theatre at Saint Peter's
619 Lexington Ave. at 54th St.
Tickets: $20-$49
212-935-5820
Through Sunday, December 24 An All-New Musical Revue, concept and lyrics by Laurence Holzman and Felicia Needleman, directed and choreographed by Annette Jolles
Saturday, December 16 Musical Conversation with John Kenrick — Noel Coward: Happy 107th B-Day!, follows matinee performance of THAT TIME OF THE YEAR, $10 ($5 with that day's ticket stub), 5:00
Saturday, December 23 Musical Conversation with John Kenrick — Al Jolson: The World's Greatest, follows matinee performance of THAT TIME OF THE YEAR, $10 ($5 with that day's ticket stub), 5:00

MUSIC AT SAINT PETERS
619 Lexington Ave. at 54th St.
Admission: $5 suggested donation
212-935-2200
Wednesday, December 13 Midtown Jazz at Midday: Mary Foster Conklin, vocals, and John DiMartino, piano, 1:00
Sunday, December 17 Jazz Vespers, with Anna Dagmar Trio, 5:00
Sunday, December 17 Jazz Concert: Remembering Tom and Chet, with the Havana Carbo Quarter, 7:00
Wednesday, December 20 Midtown Jazz at Midday: Annual Christmas Program, with Barbara Lea, Daryl Sherman, Joyce Breach, Alex Leonard, Boots Maleson, and Ronny Whyte, 1:00
Sunday, December 17 Jazz Concert: Remembering Tom and Chet, with the Havana Carbo Quarter, 7:00
Sunday, December 24 Jazz Vespers with Lessons and Carols, featuring Ike Sturm & Friends and the Saint Peter's Choir, 5:00
Wednesday, December 27 Midtown Jazz at Midday: Bill Mays, piano, 1:00
Sunday, December 31 Jazz Vespers New Year's Eve Extravaganza, with the Pete Zimmer Quartet, 5:00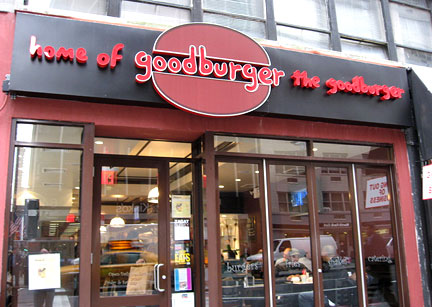 twi-ny/mdr
Goodburger serves good burgers in Midtown East
GOODBURGER
636 Lexington Ave. at 54th St.
212-838-6000

Last year, Nick Tsoulos, of Patsy's Pizza fame, set up shop on a busy corner near the UN, grilling some of the best burgers in the neighborhood. He has now done the same with the newer outpost on Lexington Ave. and 54th St. The thick, well-rounded, tasty burgers come on soft buns that hold the juicy sandwich together, which is not that easy to do when you order it with everything — lettuce, tomato, ketchup, pickles, onions, mayo, and mustard. (We'll have ours without the yellow stuff, thank you very much.) However, the burgers are a smidgen small, so they're priced a tad high at $5.75 all by themselves. (Purists will find them very similar to those being offered by the Burger Joint at Le Parker Meridien and the Shake Shack in Madison Square Park.) You can also get grilled cheese or grilled chicken, and they recently added cheese fries, topped with melted white and yellow cheddar. The old-time New York City feel is enhanced by a menu that also includes egg creams, root beer floats, milkshakes, and lime rickeys. Next time you're hankering for a hamburger, forget the national chains and stop in at this good burger joint, which promises bovine perfection and even honors the greatest burger eater of them all, Popeye's buddy Wimpy.
Film Festival of the Week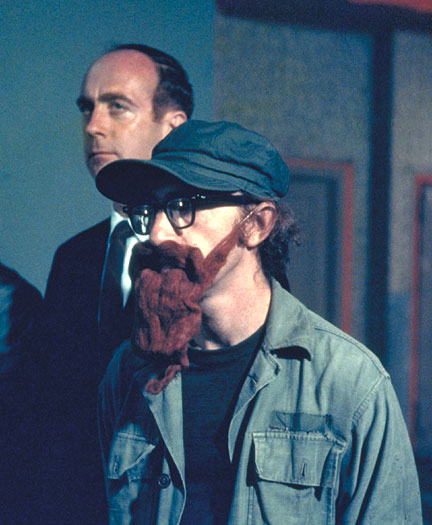 Photofest
Woody Allen becomes a revolutionary in BANANAS
ESSENTIALLY WOODY
Film Forum
209 West Houston St. between Sixth & Seventh Aves.
December 22 — January 11
Tickets: $10
212-727-8110
http://www.filmforum.org/films/woody.html

Film Forum pays tribute to the wild and wacky career of Woody Allen with this three-week retrospective that includes twenty-six films that he either wrote and/or directed, as well as THE FRONT and Barbara Kopple's 1998 documentary, WILD MAN BLUES, which is wisely paired with SWEET AND LOWDOWN. Among the other inspired double features are BROADWAY DANNY ROSE and RADIO DAYS, SLEEPER and BANANAS, and the underrated STARDUST MEMORIES with the underrated INTERIORS. Allen's films play so much on television and cable that we're willing to be that many of you have never seen his older work on the big screen, so this is a great opportunity to laugh your heads off with what should be a very enthusiastic and crowded Film Forum audience.
Friday, December 22
and
Saturday, December 23 ANNIE HALL (Woody Allen, 1977)
Sunday, December 24
and
Monday, December 25 PLAY IT AGAIN, SAM (Herbert Ross, 1972) and THE PURPLE ROSE OF CAIRO (Woody Allen, 1985)
Tuesday, December 26 MANHATTAN MURDER MYSTERY (Woody Allen, 1993) and MIGHTY APHRODITE (Woody Allen, 1995)
Wednesday, December 27 LOVE AND DEATH (Woody Allen, 1975) and EVERYTHING YOU ALWAYS WANTED TO KNOW ABOUT SEX (BUT WERE AFRAID TO ASK) (Woody Allen, 1972)
Thursday, December 28 BULLETS OVER BROADWAY (Woody Allen, 1994) and EVERYONE SAYS I LOVE YOU (Woody Allen, 1996)
Friday, December 29
and
Saturday, December 30 BROADWAY DANNY ROSE (Woody Allen, 1984) and
RADIO DAYS (Woody Allen, 1987)
Sunday, December 31
and
Monday, January 1 SLEEPER (Woody Allen, 1973) and BANANAS (Woody Allen, 1971)
Tuesday, January 2 SWEET AND LOWDOWN (Woody Allen, 1999) and WILD MAN BLUES (Barbara Kopple, 1998)
Wednesday, January 3 HANNAH AND HER SISTERS (Woody Allen, 1986) and HUSBANDS AND WIVES (Woody Allen, 1992)
Thursday, January 4 A MIDSUMMER NIGHT'S SEX COMEDY (Woody Allen, 1982) and ANOTHER WOMAN (Woody Allen, 1988)
Friday, January 5
and
Saturday, January 6 MANHATTAN (Woody Allen, 1979)
Sunday, January 7
and
Monday, January 8 TAKE THE MONEY AND RUN (Woody Allen, 1969) and WHAT'S UP TIGER LILY? (Woody Allen, 1966)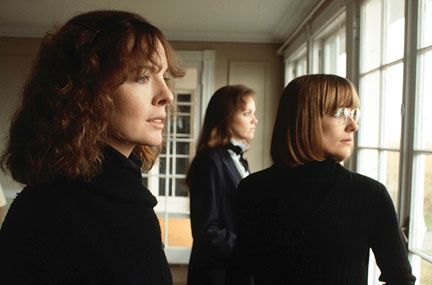 Photofest
Woody gets serious in Bergmanesque INTERIORS
Tuesday, January 9 STARDUST MEMORIES (Woody Allen, 1980) and INTERIORS (Woody Allen, 1978)
Wednesday, January 10 ZELIG (Woody Allen, 1983) and THE FRONT (Martin Ritt, 1976)
Thursday, January 11 CRIMES AND MISDEMEANORS (Woody Allen, 1989) and DECONSTRUCTING HARRY (Woody Allen, 1997)
Also at Film Forum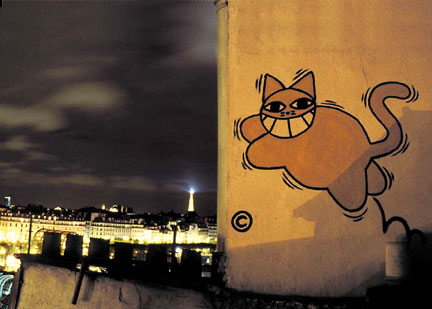 First Run/Icarus Films
Chris Marker searches for the mysterious grinning cat in documentary
THE CASE OF THE GRINNING CAT (Chris Marker, 2006)
Film Forum
209 West Houston St. between Sixth & Seventh Aves.
Opens Wednesday, December 20
Tickets: $10
212-727-8110

Legendary cat lover and filmmaker Chris Marker (LA JETÉE, SANS SOLEIL) goes on a search for a friendly feline in this slight, playful hour-long documentary. In post-9/11 Paris, when much of the world was proclaiming "We are all Americans," Marker discovered a series of stenciled yellow cats showing up in odd places, from the sides of buildings to Internet sites to classical works of art. After disappearing for a short time — causing Marker great frustration — they return as placards and masks at protest movements against U.S. imperialism and other causes. Although the film is fun to watch, it never quite connects all the dots. Also on the bill are Marker's CAT LISTENING TO MUSIC, AN OWL IS AN OWL IS AN OWL, ZOO PIECE, BULLFIGHT IN OKINAWA, and SLON TANGO.
Film Forum
Nicolas Roeg's solo debut is a memorable quest
WALKABOUT (Nicolas Roeg, 1971)
Film Forum
209 West Houston St. between Sixth & Seventh Aves.
Friday, December 22 — Monday, December 28
Tickets: $10
212-727-8110
http://www.filmforum.org/films/walkabout

Nicolas Roeg's first solo project is a beautiful film about a teenage girl (Jenny Agutter from LOGAN'S RUN) and her young brother (Roeg's real-life son Lucien John) lost in the Australian outback after their father tries to kill them. This new 35mm print especially soars when the siblings encounter an Aborigine (David Gulpilil, later to be seen in THE LAST WAVE and RABBIT PROOF FENCE) on a walkabout, living off the barren land to prove his manhood.
Riff's Rants & Raves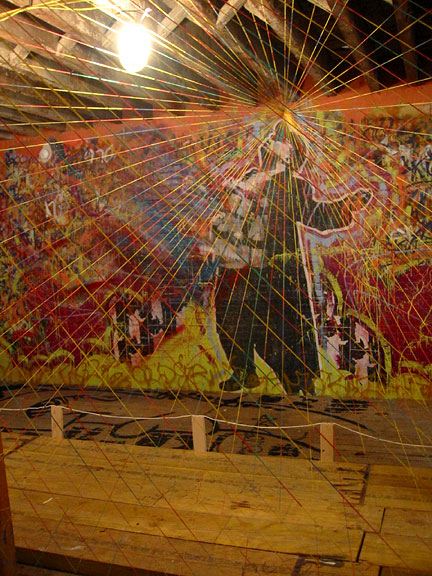 twi-ny/mdr
Suicide Bomberz lurk behind Jasmine Zimmerman's rubber-band installation
WOOSTER ON SPRING
1 Spring St. at Elizabeth St.
Admission: free
http://www.woostercollective.com

"It's the best place I've ever seen in my life," Blek le rat said around noon on Friday, December 15. Blek, a stencil graffiti legend, was standing inside 11 Spring St., the mystery building at the corner of Elizabeth St. whose outside has been a repository for street art for years. The former horse stable is being turned into luxury condos, but before doing so, the new owners contacted Marc and Sara Schiller of the Wooster Collective, a group that documents street art in the downtown area as well as all over the globe, to take over the building's five floors by inviting street artists from around the world to give it a fond farewell. The project took weeks to put together as graffiti legends came in from South America, Europe, and even the Arctic Circle to participate in the special event, which was open to the public for just one weekend before it would all go away. The result was thirty thousand square feet of inspired work, as beautiful as it was temporary. Among the dozens of artists borrowing pieces of walls, stairways, ceiling beams, floor boards, heating units, doors, grates, windows, and any other visible space were Bast, Darkclouds, Faile, Shepard Fairey, Maya Hayuk, thelondonpolice, MCA, Microbo, Stickman, Spazmat, Cheekz, Tweekz, WK, Elbow-Toe, Thundercut, Haculla, and WK.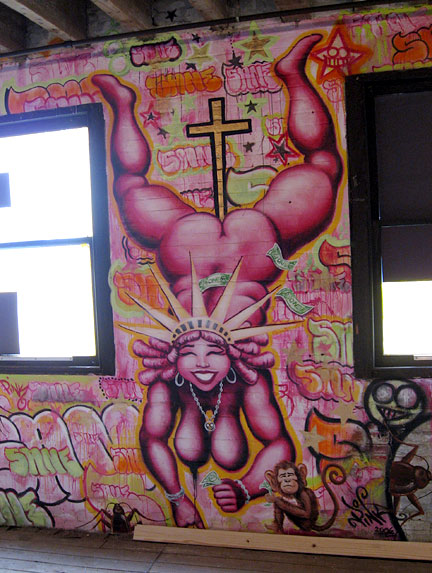 twi-ny/mdr
Pink pays tribute to Lady Liberty, religion, and the almighty dollar
Judith Supine said goodbye with an oversized smoking man standing in front of the words "There is hell in hello." Doze painted an Indian wielding a menacing knife. Jasmine Zimmerman made an elaborate rubber-band sculpture. Lister's giant heads adorned one wall. Blek's stenciled figures lined one stairwell. The twins known as Skewville contributed a cutout that read "Fame Game," two boards that proclaimed, "Hype," and repetitions of the word "Blah" on windows and steps, perhaps their own commentary on the project. Also commenting on the nature of the event was D*Face, who turned George Washington on the almighty dollar into an antlered skull, and Jace, who used sacks of money as bait for a giant mousetrap. Swoon contributed her fabulous wheat-paste pieces, Prune added two of her Domestic Babies, Above placed a figure with a briefcase dangling from the ceiling, Michael De Feo painted a pair of women based on classical figures, and Pink drew a huge, funky, naked, purple Lady Liberty with a cross coming out of her butt and holding a few dollar bills next to a Bush-like monkey. The most expansive and, perhaps, remarkable of the works were saved for the landings, where Goreb and Speto painted elaborate, gorgeous murals. Although there is always something inherently counterintuitive to a carefully curated public exhibition of street art, which is usually created in the middle of the night by the unseen, "Wooster on Spring" was a tremendous gathering of international street artists showing off their talent, a real treat for connoisseurs of an ever-more-commercial art form. If you missed this unique happening, check out twi-ny's photo tour at the above flickr Web site; we were lucky enough to be among the first to see the final layout, although they were still working on the roof during our visit, so we never made it all the way to the top.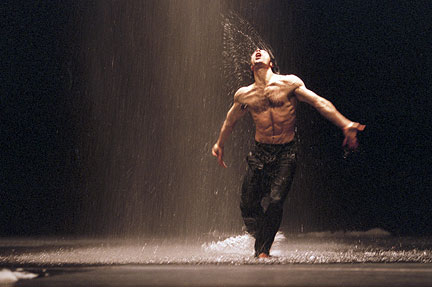 ©Bettina Stöß
Pina Bausch returns to BAM with a wet and wild piece set in an Istanbul bath
NEFÉS: A PIECE BY PINA BAUSCH
2006 Next Wave Festival
Brooklyn Academy of Music
BAM Howard Gilman Opera House
30 Lafayette Ave. between Ashland Pl. & St. Felix St.
Through Saturday, December 16
Tickets: $25-$85
718-636-4100

Celebrating her tenth show at BAM and the twentieth anniversary of Tanztheater Wuppertal Pina Bausch, director and choreographer Pina Bausch brings a little bit of Istanbul to Brooklyn with NEFÉS ("breath"), a stunning, at times breathtaking dance-theater production set in a Turkish bath house. At first, the twenty-person ensemble are in towels, enjoying massages and soapy bubbles. Later, the women change into glamorous full-length gowns and high heels, the men into suits and shiny shoes, as they dance, primarily in glorious solos and gorgeous pas de deux, around a circular pond, reminiscent of a Turkish hammam, at the back of the stage. Mixing offbeat dialogue, playful choreography, and songs by Tom Waits, Souad Massi, Astor Piazzolla, Uhuhboo Project, and several Turkish artists, Bausch has once again created a vast wonderland of sight and sound, movement and music, as her dancers appear to climb through the air while balancing water bags on their head, sneak food from over the speakers, get passed from man to man in unbelievable fashion, dash between oncoming cars, enjoy a honey-dripped picnic, give birth to people crawling out from under them, and row across the Bosphorus. NEFÉS is an audiovisual marvel, with outstanding costumes by Marion Cito, inspired set design and lighting by Peter Pabst, and splendid performances from a cast that includes Na Young Kim, Melanie Maurin, Andrey Berezin, Fernando Suels Mendoza, Azusa Seyama, Nazareth Panadero, Silvia Farias, Rainer Behr, Shantala Shivalingappa, and the inimitable Cristiana Morganti.
ALVIN AILEY AMERICAN DANCE THEATER
New York City Center
130 West 56th St. between Sixth & Seventh Aves.
Through December 31
Tickets: $25-$110 ($22-$94 for two or more performances)
212-581-1212
Artistic director Judith Jamison and associate artistic director Masazumi Chaya present Alvin Ailey's month-long New York City Center season, featuring world premieres, new productions of older pieces, company premieres, family matinees, and two nights of dances set to live music. The performances include Jamison's "Reminiscin'," Ailey's "Witness" and "Night Creature," Ronald K. Brown's "Grace" and "IFE / My Heart," Ulysses Dove's "Vespers," David Parsons's "Shining Star," and Twyla Tharp's "The Golden Section."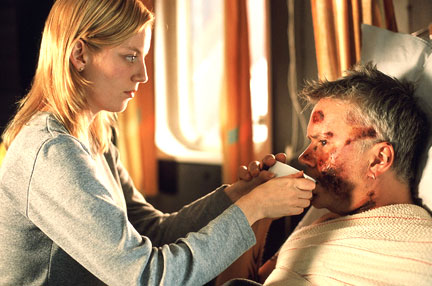 Sarah Polley and Tim Robbins share a silent moment in WORDS
THE SECRET LIFE OF WORDS (Isabel Coixet, 2005)
Quad Cinema
34 West 13th St. between Fifth & Sixth Aves.
Opens Friday, December 15
Tickets: $10
212-255-8800
http://www.strandreleasing.com/in_Theaters_Details.asp_Q_id_E_220
http://www.clubcultura.com/clubcine/clubcineastas/isabelcoixet/vida_secreta/index.html

Written and directed by Spanish filmmaker Isabel Coixet (MY LIFE WITHOUT ME), THE SECRET LIFE OF WORDS is a stunning accomplishment. Sarah Polley gives an unforgettable performance as Hanna, a young hearing-impaired woman of Eastern European descent who goes about her days in a silent, obsessive way, speaking to no one. Forced to take a vacation from her factory job, she accepts a short-term position as a nurse on an oil rig in the Irish Sea, caring for Josef (an exceptional Tim Robbins), a temporarily blinded and incapacitated burn victim. Unwilling to even tell him her real name, Hanna goes about her business in a professional manner as Josef shares intimate details about his own life — while trying to get her to open up about her maddening sadness. Javier Cámara, Julie Christie, and a goose provide excellent support, as does the soundtrack, which includes songs by Tom Waits and David Byrne. Fans of such films as THE MATCH FACTORY GIRL (Aki Kaurismäki, 1990), BREAKING THE WAVES (Lars von Trier, 1996) and THE SEA INSIDE ME (Alejandro Amenábar, 2004) will especially love this difficult but achingly beautiful work.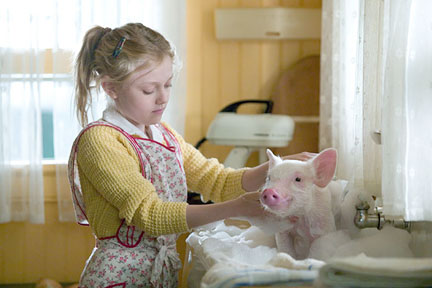 Fern is out to save Wilbur's bacon in White classic
CHARLOTTE'S WEB (Gary Winick, 2006)
Opens Friday, December 15
http://www.charlotteswebmovie.com

Gary Winick, the eclectic director of such offbeat fare as THE TIC CODE (1999) and TADPOLE (2002), does a fine job turning E.B. White's eternal story of friendship into a sweet little film. The only previous attempt to make the book into a film was the animated 1973 hit, which featured the voices of Debbie Reynolds, Paul Lynde, Henry Gibson, Danny Bonaduce, Charles Nelson Reilly, and Agnes Moorehead. This time around the all-star cast — voicing digitally manipulated live-action animals, not animated characters — includes Oprah Winfrey (Gussy), Cedric the Entertainer (Golly), Robert Redford (Ike), André Benjamin (Elwyn), Thomas Haden Church (Brooks), John Cleese (Samuel), Steve Buscemi (Templeton), and Julia Roberts (Charlotte), with youngster Dominic Scott Kay handling Wilbur. Narrated in a warm, down-home style by Sam Shepard, the film follows the adventures of Wilbur as he tries to become the first spring pig on the farm to avoid the smokehouse and make it through to winter. The runt of the litter is taken in by Fern (Dakota Fanning), who will do whatever she can to keep her best friend from becoming bacon. This mostly faithful adaptation is a charming tale that will entertain both children and adults alike.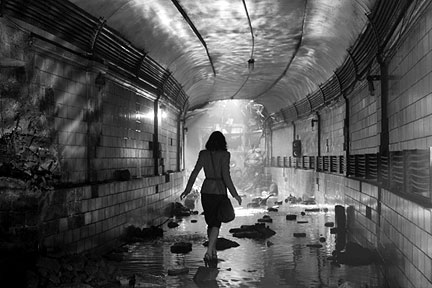 Cate Blanchett walks softly in Soderbergh's noir thriller
THE GOOD GERMAN (Steven Soderbergh, 2006)
Opens Friday, December 22
http://thegoodgerman.warnerbros.com

They'll always have Berlin. Well, not exactly. Director Steven Soderbergh tells this WWII noir, based on the novel by Joseph Kanon, in period black and white, even daring to mix in elements of such untouchable classics as CASABLANCA (Michael Curtiz, 1942), NOTORIOUS (Alfred Hitchcock, 1946), and THE THIRD MAN (Carol Reed, 1949), and he pulls it off with flying colors. Soderbergh pal George Clooney stars as Jake Geismer, a war correspondent who returns to Berlin to cover the Potsdam Conference for the New Republic. As Harry S Truman, Winston Churchill, and Joseph Stalin gather to decide the fate of Germany and the free world, Jake gets mixed up in a murder mystery involving motorpool corporal Tully (Tobey Maguire), who exploits Berlin and the black market for all their worth; Colonel Muller (Beau Bridges), who is out to protect America's interests in Germany; a prosecutor named Bernie (Leland Orser), who is seeking to bring Nazi war criminals to justice; general Sikorsky (Ravil Isyanov), who cares only about Russia's interests; and femme fatale Lena Brandt (Cate Blanchett), who is at the center of it all. Soderbergh (TRAFFIC, ERIN BROCKOVICH, sex, lies, and videotape) shot THE GOOD GERMAN with one camera, in old-fashioned black and white, mixing in archival footage taken by Billy Wilder and John Huston, giving it the feel of a 1940s flick. Clooney is stalwart in the lead role, his Rick-like character lost in love for the Ilsa-like Blanchett.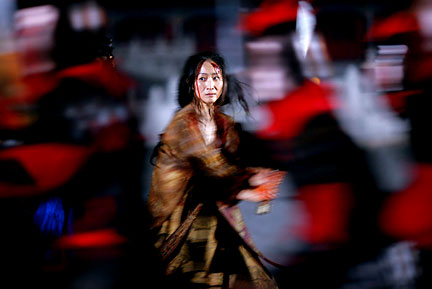 Zhang Yimou epic is bathed in beautiful colors
CURSE OF THE GOLDEN FLOWER (Zhang Yimou, 2006)
Opens Thursday, December 21
http://www.sonyclassics.com/curseofthegoldenflower

Zhang Yimou's CURSE OF THE GOLDEN FLOWER is a breathtakingly beautiful Shakespearean martial-arts epic set in the tenth-century Later Tang Dynasty. Chow Yun Fat stars as the Emperor, the proud patriarch of a seriously dysfunctional Imperial Family. His second wife, the Empress (the luminous Gong Li, reunited with her former lover and director for the first time in more than a decade), has been having a three-year affair with his oldest son, Crown Prince Wan (Liu Ye), who has fallen in love with the Imperial Doctor's daughter, Chan (Li Man), who regularly serves the Empress poisoned medicine with the help of her father (Ni Dahong). Right before the annual Chrysanthemum Festival, the middle son, Prince Jai (Asian pop star Jay Chou), returns successfully from battle, seeking to know his future, while the third son, the lost and childlike Prince Yu (Qin Junjie), tries to find his place in the crumbling family. Soapy melodrama and surprising plot twists mix with fabulously choreographed fight scenes, marvelous costumes bathed in gold, and stunningly gorgeous production design to create a rousing, bloody tale of treachery, forbidden love, deception, and loyalty, set amid the glowing yellow of the chrysanthemums and a magnificent, glittering palace that is one of the best sets you'll ever see. The closing song, a sappy piece of tripe written and sung by Chou, is an awful way to end this otherwise captivating film. Zhang, the master of the Chinese period piece (RAISE THE RED LANTERN, JU DOU, TO LIVE, HOUSE OF FLYING DAGGERS), will also be directing the world premiere of Tan Dun's opera THE FIRST EMPEROR at the Metropolitan Opera House beginning December 21.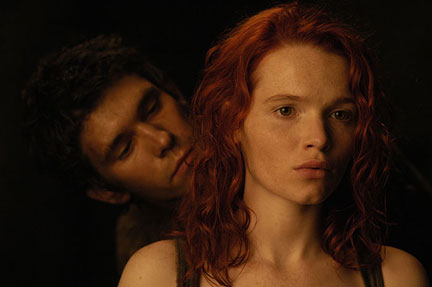 Scentsational Süskind novel is at last brought to the big screen
PERFUME: THE STORY OF A MURDERER (Tom Tykwer, 2006)
Opens Wednesday, December 27
Angelika Film Center
18 West Houston St. at Mercer St.
212-995-2000
Lincoln Plaza Cinemas
1886 Broadway between 62nd & 63rd Sts.
212-757-0359
https://www.thierrymuglerusa.com
http://lincolnplaza.moviefone.com
http://www.city-cinemas.com/angelika.html

We o-dored Patrick Süskind's scentsational novel when we first read it nearly twenty years ago, and we're glad to report that cowriter-director Tom Tykwer (RUN, LOLA, RUN) has done justice to the creepy, complex story in bringing it at last to the big screen. (Süskind is a notorious recluse who shuns interviews and movie producers.) Relative newcomer Ben Whishaw stars as Jean-Baptiste Grenouille, a peasant born with an extraordinary olfactory system. Slaving away for a brutal tanner, Jean-Baptiste sneaks away and lands himself a job working for fading perfumer Giuseppe Baldini (Dustin Hoffman, with an accent we're still trying to figure out), where he's able to create the most amazing scents — except the one he most longs for, the smell of a beautiful woman. So he keeps experimenting, and the body count keeps rising. The ending goes a bit haywire, but overall Tykwer does a solid job of transferring Süskind's intense psychological narrative and inner monologue into a compelling cinematic thriller, with excellent narration supplied by John Hurt. Add half a star if you have a nostril fetish.
For those of you who can't get enough of PERFUME, Thierry Mugler has collaborated on an elegant coffret that includes fifteen of Süskind's lovingly described scents, including Baby, Paris 1738, Virgin No. 1, Amor & Psyché, Ermite, Existence, and Orgie. We've actually sampled them, and they are quite realistic. Although we're not sure anyone really wants to smell like 1738 Paris, the set is available, online only, for a mere $700.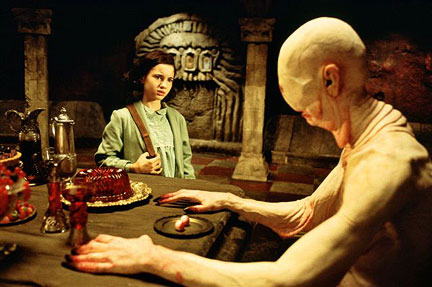 Ofelia meets the Pale Man in Del Toro fairy tale
PAN'S LABYRINTH (EL LABERINTO DEL FAUNO)
(Guillermo Del Toro, 2006)
Opens Friday, December 29

The closing night film of the 2006 New York Film Festival, PAN'S LABYRINTH is a breathtaking fairy tale set in 1944 Spain, shortly after the Spanish Civil War. When her mother, Carmen (Ariadna Gil), marries Captain Vidal (Sergi Lopez), young Ofelia (Ivana Baquero) must move to the middle of the woods, where Vidal and his small group of soldiers are defending the last vestiges of Franco's Fascist regime against a group of resistance fighters seeking peace and freedom for all. Led by a mysterious flying creature, the adventurous Ofelia makes her way through an ancient underground labyrinth, where she meets the Faun (HELLBOY's Doug Jones), who tells her that she just might be the reborn, long-missing princess they've been waiting centuries for — but first she'll have to perform three tasks to prove that she has returned to claim her throne. As Vidal shows more concern for the baby that Carmen is carrying than for Carmen herself — and also brutally tortures and kills anyone who gets in his way, whether it is one of the revolutionaries or one of his own people — Ofelia meets a dangerous yet engaging series of beings as she hopes for her fairy-tale dreams to come true and erase the nightmares of the real world. Del Toro (THE DEVIL'S BACKBONE) has cleverly balanced fantasy and reality, alternating between scenes of horror and graphic violence aboveground and below as seen through the eyes of a brave young girl trapped in both.
CHILDREN OF MEN (Alfonso Cuarón, 2006)
In theaters now
http://www.thehumanprojectlives.org

It's 2027, and there hasn't been a baby born in the world in eighteen years. For some unknown reason, women have become infertile, leading to chaos around the globe. Only England perseveres, but it is on the brink of destruction as warring factions prepare for doomsday. Onetime revolutionary Theo (an as-even-keeled-as-ever Clive Owen) has settled down into a mundane life, but he's thrust back into the middle of things when he is kidnapped by a radical organization run by his ex-wife, Julian (Julianne Moore), and her right-hand man, the hard-edged Luke (Chiwetel Ejiofor). Theo is forced to escort Kee (Claire-Hope Ashitey), a young fugee (refugee), through the danger zone and to the Human Project, a supposed safe haven that might not actually exist. Also staring extinction in the face are Theo's brother, Nigel (Danny Huston); Theo's hippie friend, Jasper (a longhaired Michael Caine); and homeland security officer Syd (Peter Mullan). Inspired by the novel by P. D. James, the chilling CHILDREN OF MEN is a violent, prescient, nonstop thrill ride, moviemaking of the highest order, cowritten and directed by Alfonso Cuarón (Y TU MAMÁ TAMBIÉN, HARRY POTTER AND THE PRISONER OF AZKABAN) and photographed in vibrant filth and muddiness by Emmanuel Lubezki. Stay through the credits for a tiny but critical coda.
MATTHEW BARNEY: NO RESTRAINT (Alison Chernick, 2006)
IFC Center
323 Sixth Ave. at Third St.
Tickets: $10.75
212-924-7771
http://www.matthewbarneynorestraint.com
http://www.kanazawa21.jp/barney/e/index.html

Alison Chernick, who previously made a short documentary on Pop artist Jeff Koons, turns her camera on a very different kind of creative mind in MATTHEW BARNEY: NO RESTRAINT. Chernick follows Matthew Barney and his wife/collaborator, Björk, as they proceed on an avant-garde journey on a Japanese whaling ship for the Cremaster veteran's latest hard-to-describe project, DRAWING RESTRAINT 9 (see our review below), commissioned by the 21st Century Museum of Contemporary Art in Kanazawa. The piece centers on a 45,000-pound sculpture made out of Barney's favorite substance, petroleum jelly. Chernick speaks with such art experts as Barbara Gladstone and Michael Kimmelman as they try to put Barney's extremely challenging work into perspective. Barney and Björk share their views as well — not that you'll finally understand what it's all about anyway, although it is interesting when Björk says that Barney would consider himself a sculptor first and that everything else is supplementary. Nonetheless, it is an intriguing examination of Barney's complex artistic process. Perhaps most fascinating is the archival photos and film of Barney as a high school wrestler and quarterback hero in Idaho. NO RESTRAINT is actually more accessible than any of Barney's cinematic projects, and you don't have to have seen any of then in order to get something out of it. Stick around through the credits for clips from Drawing Restraint 10 and 11.
Matthew Barney's latest is confounding and compelling
DRAWING RESTRAINT 9 (Matthew Barney, 2006)
Now available on DVD
http://www.drawingrestraint.net

In our review of Matthew Barney's expansive "Cremaster Cycle" retrospective at the Guggenheim in 2003, we wrote, "We have no idea what any of it means, but we love it." We feel sort of the same way about his latest film, DRAWING RESTRAINT 9, although we don't quite love it, but we do get a little more of what it's getting at. Barney's two hour, fifteen minute, evenly paced avant-garde exploration is set aboard an actual Japanese whaling vessel. One at a time, a pair of "occidental guests" (Barney and his wife, Björk) are brought onto the ship and make their way down narrow hallways to separate rooms, where they are taken care of in fascinating yet confounding ways. Meanwhile, the crew is hard at work on deck creating a bizarre, carefully designed pool of oozy liquid that could be ambergris but looks more like tofu. (As the Guggenheim exhibit showed, Barney has a thing for oozy liquid, especially petroleum jelly.) There's also a marching band with animals, a very strange tea ceremony (with virtually the only dialogue in the movie), cool repeated patterns and designs (in architecture, rocks, and flags), a ridiculous headpiece on Barney, some gorgeous shots of the setting sun, the best wrapping ever captured on celluloid, a Kubrickian monolithic sea stone that looks like a giant turd, and a stunning soundtrack by Björk, with help from Mayumi Miyata playing the sho, Leila digitally manipulating sounds on her computer, and Will Oldham singing lines from a letter a Japanese woman wrote to General MacArthur after he lifted the whaling moratorium. Although we can't imagine who the audience is for this rather different kind of film — which actually keeps growing on us the more we think about it — it is an aesthetic treat for those adventurous enough to open their mind and take a chance on an unusual yet rewarding experience. Just don't blame us if you can't stand a minute of it, which is very possible.
THE QUEEN (Stephen Frears, 2006)
In theaters now

It's tradition versus modernization in Stephen Frears's re-creation of the Royal Family's reaction to the death of Princess Diana on August 31, 1997. While the world mourns, Queen Elizabeth II (a stoic Helen Mirren), Prince Philip (an acerbic James Cromwell), and the Queen Mum (Sylvia Syms) just continue their daily routine as if nothing has happened. They take Diana and Prince Charles's (Alex Jennings) children up to Balmoral to hunt stag, refusing to publicly acknowledge the tragedy. Meanwhile, Tony Blair (Michael Sheen, reprising the role from Frears's 2003 British television movie THE DEAL) has been swept into the office of prime minister in a landslide victory for forward-thinking change. Noting the public response to Diana's death, Blair implores the queen to respond, but protocol, pride, and dignity get in the way. Frears cleverly, if obviously, displays the differences between the old and the new in depicting the simple home life of the Blairs against the opulence of the Royal Family, each way of life representing the ever-growing gap in British society. Through exhaustive research, screenwriter Peter Morgan imagines the relationship between Blair and the queen, including numerous private conversations held over the phone and in person, and as intriguing as they are, there's just no way to know how much of it really happened. (A similar fate befell THE LAST KING OF SCOTLAND, in which cowriter Morgan imagined conversations Idi Amin had with a made-up character.) THE QUEEN is a compelling film, with solid acting (Cromwell is a screaming riot) and appropriately calm direction, but it never quite reaches the heights it aspires to.
TURISTAS (John Stockwell, 2006)
In theaters now
http://www.myspace.com/turistasmovie

An eco-adventure in the mountains of Brazil doesn't quite turn out as planned in John Stockwell's relatively conventional horror flick that ends up being a slight cut above most. Alex (Josh Duhamel) is chaperoning his sister, Bea (Olivia Wilde), and her best friend, Amy (Beau Garrett), into the wilds of South America, but things start going downhill after their bus crashes in the middle of nowhere. Remarkably, they find a seeming oasis on an otherwise empty beach, a happening bar where they bond with the hot Pru (Melissa George) and two Brits, Finn (Desmond Askew) and Liam (Max Brown), who are out on a babe hunt. But the next morning, they all awake to discover that they have been drugged and robbed, and the only person willing to help them is a local boy named Kiko (Agles Steib) — but he might not exactly be leading them to safety. Though filled with plenty of stereotyped characters and cliched situations, TURISTAS — the first American feature to be shot completely in Brazil — manages to hold itself together just long enough to pull you in for a rousing conclusion set in dark, mysterious underwater caves. We can't imagine that Brazil will be happy with this film; after watching it, you won't be planning on going there anytime soon.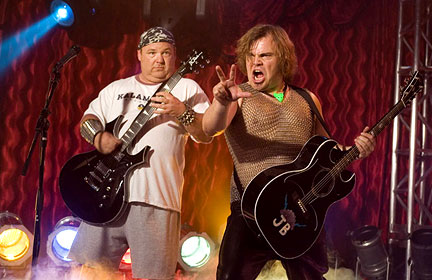 Jack Black and Kyle Goss go in search of their destiny
TENACIOUS D IN THE PICK OF DESTINY (Liam Lynch, 2006)
In theaters now
http://www.tenaciousdmovie.com

Director Liam Lynch takes us back to the very beginnings of Tenacious D and their unwavering determination to become the greatest rock-and-roll band in the world in this lighthearted, silly, and very funny romp. As the film starts, JB (Troy Gentile, who grows into Jack Black) is a ten-year-old hard rocker who is misunderstood by his angry father (Meat Loaf) and is sent on a mission to Hollywood by Ronnie James Dio. Kyle Gass is KG, a classically trained guitarist who plays on the California beaches for tips while pretending that he is a well-connected musician. They eventually form a two-man band, named Tenacious D, but when they don't make it big immediately, they consider giving up until they learn about a special guitar pick crafted from the devil's tooth that can lead them to their ultimate destiny. A must-see for fans of the D, the film features fun cameos by Ben Stiller, Colin Hanks, Amy Poehler, Fred Armisen, David Grohl as the devil, John C. Reilly as Sasquatch (in a goofy animated scene by John Kricfalusi), and Tim Robbins as a mysterious stranger who is also after the magical pick. Add half a star if you can just never get enough of the D, including watching and rewatching their very brief HBO series, elements of which show up here.
BORAT: CULTURAL LEARNINGS OF AMERICA
FOR MAKE BENEFIT GLORIOUS NATION OF KAZAKHSTAN (Larry Charles, 2006)
In theaters now

Believe the hype. Sacha Baron Cohen holds a mirror up to America, and you might not like what you see — although you'll laugh your head off while watching it. Cohen stars as bushy haired Kazakhstan journalist Borat Sagdiyev, a role he created for DA ALI G SHOW, the 2001 series in which he interviewed such luminaries as Newt Gingrich, Boutros Boutros-Ghali, Andy Rooney, and Norman Mailer while pretending to be a British hip-hop wigger (Ali G); he also disguised himself as a German fashionista (Bruno) and Borat, a reporter who likes to talk about sex, especially with his sister. In CULTURAL LEARNINGS OF AMERICA FOR MAKE BENEFIT GLORIOUS NATION OF KAZAKHSTAN, Borat leaves his little village in Kazakhstan and travels across the United States with his producer, the rotund Azamat (Ken Davitian), in search of his true love, BAYWATCH's Pamela Anderson. Along the way, he is making a documentary about the American way of life, turning a revealing lens on racism, anti-Semitism, sexism, misogyny, homophobia, blind patriotism, fundamentalism, and southern hospitality, with a healthy dose of toilet humor (literally). The people he speaks with — a feminist group, gun and car dealers, rodeo cowboys, conservative politicians Bob Barr and Alan Keyes, etiquette and humor experts, Christian evangelicals at a revivalist tent meeting, drunk frat boys in an RV — believe he is really a Kazakh journalist, and Cohen holds nothing back, unafraid to ask any question or kiss any man, often risking his personal safety in hysterical ways. He's got the biggest cojones we've ever seen — and you nearly get to see them when he and Azamat chase each other naked through a hotel, ending up fighting onstage at a mortgage bankers convention. BORAT is more EASY RIDER than JACKASS and BEAVIS AND BUTT-HEAD DO AMERICA, a road trip movie that captures the state of the nation in frightening yet very funny ways.
FAST FOOD NATION (Richard Linklater, 2006)
In theaters now
http://www.foxsearchlight.com/fastfoodnation
http://participate.net/fastfoodnation

Back in 1998, we read an amazing two-part article in Rolling Stone that has kept us out of fast-food burger joints for years, with no intention of ever going back. In 2001, National Magazine Award winner Eric Schlosser turned his investigative series into the bestselling book FAST FOOD NATION: THE DARK SIDE OF THE ALL-AMERICAN MEAL. Now Schlosser has teamed up with writer-director Richard Linklater — whose diverse credits include SLACKER, DAZED AND CONFUSED, BEFORE SUNSET, SCHOOL OF ROCK, and A SCANNER DARKLY — for a fictionalized version of Schlosser's reporting. Weaving together a series of interrelated stories, Linklater, who cowrote the screenplay with Schlosser, tackles such controversial themes as corporate greed, illegal border crossings, occupational safety, animal abuse, and marketing to children in a surprisingly lifeless way, despite the toxic subject matter. Greg Kinnear stars as Don Anderson, a marketing chief at Mickey's who is sent to the company's meatpacking plant in Cody, Colorado, to find out why feces has been found in the fast-food chain's Big One burger. Wilmer Valderrama plays Raul, a Mexican with a dream of making a new life in America; he has crossed the border illegally with his wife, Sylvia (Catalina Sandino Moreno), Sylvia's sister, Coco (Ana Claudia Talancon), and others. Raul gets a disgusting job at the plant, while Coco falls prey to the sexual advances of racist plant boss Mike (Bobby Cannavale). Meanwhile, Amber (Ashley Johnson) is a dedicated Mickey's employee, serving burgers to earn money for college — until she meets Paco (Lou Taylor Pucci) and a group of environmentalist college students planning an act of protest against the chain. The all-star cast — which also includes Luis Guzman, Kris Kristofferson, Ethan Hawke, Dana Wheeler-Nicholson, Patricia Arquette, Esai Morales, Avril Lavigne, and Bruce Willis — turns in fine work, but the movie never quite becomes as compelling as such cinematic predecessors as TRAFFIC and SILKWOOD. Although the filmmakers claim otherwise, the film is too black and white, with obvious good guys and bad guys — but there are likely to be a lot more vegetarians in America after the relentlessly bloody ending. Happy eating!
THE DEPARTED (Martin Scorsese, 2006)
In theaters now
http://thedeparted.warnerbros.com

Based on Andrew Lau and Alan Mak's awesome INFERNAL AFFAIRS (2002), Martin Scorsese's relatively faithful remake, THE DEPARTED, has been moved from Hong Kong to the mean streets of Boston, where it is hard to tell cop from criminal. Just out of the academy, Colin Sullivan (Matt Damon) rises quickly to detective in the Special Investigations Unit, but he's actually in cahoots with master crime lord Frank Costello (Jack Nicholson). Meanwhile, Billy Costigan (an excellent Leonardo DiCaprio), training to become a cop, is sent deep undercover (including a prison stint) to infiltrate Costello's gang, with only Captain Queenan (Martin Sheen) and Sergeant Dignam (a very funny and foul-mouthed Mark Wahlberg) aware of the secret mission. Sullivan and Costigan are like opposite sides of the same persona; in between them stands Costello — and Madolyn (Vera Farmiga), a psychiatrist who is in a relationship with one and is doctor to the other. As both the cops and the criminals search desperately for their respective rats, no one can trust each other, leading to lots of blood and a spectacular finale. Nicholson has a field day as the aging gangster, chewing up mounds of scenery in his first film with Scorsese, who has returned to peak form with his best film since 1990s GOODFELLAS.
THE LAST KING OF SCOTLAND (Kevin MacDonald, 2006)
Quad Cinema
34 West 13th St. between Fifth & Sixth Aves.
Tickets: $10
212-255-8800
http://www2.foxsearchlight.com/thelastkingofscotland

Forest Whitaker is absolutely mesmerizing as General Idi Amin in Kevin MacDonald's THE LAST KING OF SCOTLAND, demanding viewers' attention every time he appears on-screen, a dominating, bigger-than-life presence. Unfortunately, the rest of the film lets him down, failing to come close to his overpowering performance. The movie is based on Giles Foden's award-winning novel, in which the author created a composite character, Nicholas Garrigan, a Scottish doctor who becomes a close confidant of Amin's. What might have worked in the book falls apart on camera in a series of hard-to-believe scenes that actually never happened. As played by James McAvoy, Garrigan is goofy and lightweight from the very beginning, unable to compete with the massive Whitaker as Amin. He makes a play for his boss's wife (Gillian Anderson), thinks he doesn't have to play the political game with a British operative (Simon McBurney), and takes a liking to one of Amin's mistreated wives (Kerry Washington). While it is fascinating to watch the rise and fall of the President for Life, his relationship with Garrigan is hard to swallow — mostly because it's not true. And even those bits and pieces that are factual have been twisted and changed to increase emotional impact, ending up with manipulated melodrama instead of what really happened — which is a shame, since MacDonald's first two films, the well-regarded ONE DAY IN SEPTEMBER and TOUCHING THE VOID, were both documentaries.
THE SCIENCE OF SLEEP (Michel Gondry, 2006)
In theaters now
http://thescienceofsleep.imeem.com

Eclectic auteur Michel Gondry's feature-length debut as both writer and director is a complex, confusing, kaleidoscopic stew that is as charming as it is frustrating. Gael García Bernal (THE MOTORCYCLE DIARIES) stars as the juvenile but endearing Stephane, a young man in a silly hat who has trouble differentiating dreams from reality. The childlike Stephane becomes friends with his new neighbor, Stephanie (Charlotte Gainsbourg, daughter of Serge Gainsbourg and Jane Birkin), who still has plenty of the child left inside her as well. Stephane has a job his mother (Miou-Miou) got him, toiling for a small company that makes calendars, alongside the hysterical Guy (Alain Chabat), who can't help constantly poking fun at coworkers Serge (Sacha Bourdo) and Martine (Aurélia Petit). Gondry, who gave us the brilliant ETERNAL SUNSHINE OF THE SPOTLESS MIND as well as the highly entertaining DAVE CHAPPELLE'S BLOCK PARTY and the bizarre HUMAN NATURE, uses low-tech green-screening and stop-motion animation to reveal Stephane's fantasy world, bringing to mind such masters as Jan Svankmajer and the Brothers Quay. Unfortunately, just as Stephane can't tell what's real from what he's dreaming, you'll often have difficulty as well; some of the plot turns are downright infuriating, and Stephane's TV show teeters on the edge of embarrassing. But you'll also be hard-pressed not to leave the theater feeling like a kid in a candy store.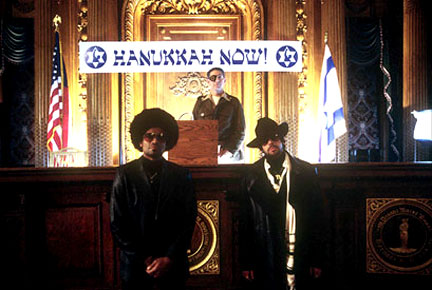 Who's the circumcised private dick that's a sex machine to all the chicks?
THE HEBREW HAMMER (Jonathan Kesselman, 2003)
Available on DVD

Adam Goldberg (SAVING PRIVATE RYAN, A BEAUTIFUL MIND) stars in this riotous low-budget laugh-fest that is as hysterically politically incorrect as possible. Goldberg is Mordechai Jefferson Carver, a "circumcised dick" who is hired by the Jewish Justice League, headed by Bloomenbergensteinthal (Peter Coyote), to save Chanukah, which Damian Claus (Andy Dick), Santa's evil spawn, wants to destroy forever. The Semitic Stud gets help from Mohammad Ali Paula Abdul Rahim (Mario Van Peebles), head of the Kwanzaa Liberation Front, and Bloomenbergensteinthal's sexy daughter, Esther (Judy Greer), who is a "nice piece of tuchus." This is one funny self-described Jewxploitation flick that will bring knowing chuckles and guffaws to anyone who has ever attended Hebrew school or has an overbearing mother.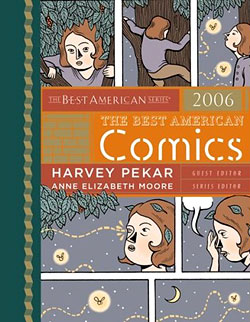 THE BEST AMERICAN COMICS 2006
(Houghton Mifflin, October 2006, $22)
http://www.bestamericancomics.com

Comics continues its march to literary respectability with this outstanding collection of works selected by series editor Anne Elizabeth Moore and guest editor Harvey Pekar (AMERICAN SPLENDOR). Joining such Best American Series titles as THE BEST AMERICAN SHORT STORIES, THE BEST AMERICAN MYSTERY STORIES, THE BEST AMERICAN ESSAYS, and THE BEST AMERICAN TRAVEL WRITING, the initial BEST AMERICAN COMICS features cartoons, comic strips, graphic novel excerpts, and more from such genre masters as Joe Sacco, Kim Deitch, Chris Ware, Jaime Hernandez, Lynda Barry, Alison Bechdel, R. Crumb, twi-ny faves Anders Nilsen and Ben Katchor, and Jessica Abel as well as up-and-comers and lesser-known artists. Readers who never really considered checking out comics and graphic novels will be surprised by the range of topics covered here, including war reporting, sexuality and gender issues, and corporal punishment, in addition to lots of family dysfunction. There's also a brief bio and an artist's statement by each contributor

All contents copyright 2006 by Mark Rifkin and twi-ny. All rights reserved. Contents may not be reprinted without written permission. Please note that events, dates, and prices are subject to change.
Send all comments, suggestions, reviews, and questions to mark.rifkin@twi-ny.com.
Please note that some e-mail clients may wrap links, so be sure to enter them fully into your browser.
To subscribe to this list, please e-mail the administrator at admin@twi-ny.com with the word Subscribe in the Subject line; be sure to ask for back issues, which are free as well. To unsubscribe from this list, please think it over twice before e-mailing the same address. Please let us know what you didn't like about this forum and we'll do our best to correct it in the future -- if we agree with you. If you would like to see something covered in a future issue, please let us know. Without you, there is no need for us to exist.

twi-ny top two dozen (or so)
weekly reminders & special events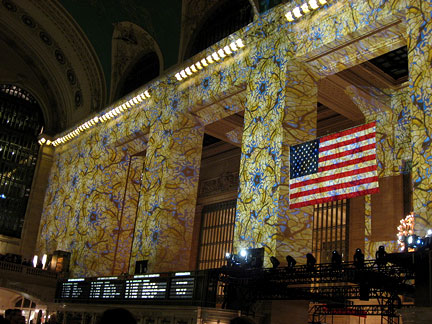 twi-ny/mdr
Grand Central goes kaleidoscopic for the holidays
GRAND CENTRAL KALEIDOSCOPE LIGHT SHOW
Grand Central Terminal Main Concourse
Through January 1
Every half hour from 11:00 am — 9:00 pm
Admission: free
212-340-2347
http://www.grandcentralterminal.com
Grand Central is hosting a brand-new, ultra-cool light show this year, a kaleidoscopic wonderland telling the story of the daily life of the terminal itself, including architectural elements, clocks, commuters, taxis, statues, and much more. The show has been put together by Casa Magica and Art Lumiere, who have collaborated on major indoor and outdoor light projects around the world. While looking at the ceiling, don't forget to check out the hole in the center (caused by the top of a WWII missile stored there) as well as the black strip in the northeast corner, which is a single brick left uncleaned to show how dirty the ceiling was prior to the massive renovations spearheaded by Jacqueline Kennedy Onassis.
THE HOLIDAYS @ SCANDINAVIA HOUSE
58 Park Ave. at 38th St.
Free with museum admission unless otherwise noted
212-847-9740
http://www.scandinaviahouse.org/programs

Through December 31 The Holiday Shop, featuring Nordic products including food, clothing, housewares, jewelry, and more, free
THIS WEEK AT THE CENTER
Center for Jewish History
15 West 16th St. between Fifth & Sixth Aves.
917-606-8200
Wednesday, December 13 Winter Wednesdays: A Century of Film on the Lower East Side -- Opening Night: HESTER STREET (Joan Micklin Silver, 1974), followed by a discussion with Joan Micklin Silver and Andy Ingall, $10, 212-294-6160, 7:00
Thursday, December 14 Fiftieth Annual Leo Baeck Institute Memorial Lecture -- Sociology, Science and Psychoanalysis: The Place of Bildung in the Development of Sigmund Freud and Abraham Brill, with Dr. Arnold Richards, $10, 7:00
Monday, December 18 Monday Night Film Series: PERSONA (Ingmar Bergman, 1966), followed by a discussion with Dr. Ira Konigsberg, $10, 7:00
Monday, December 25 YUM Winter Spectacular, featuring Drum Café at 1:30 and 3:00, exhibition tours, family activities, and more, adults $12, children $8, 212-294-8330, 11:00 am
CHRISTMAS AT CARNEGIE HALL
Stern Auditorium (SA)
Zankel Hall (ZH)
Weill Recital Hall (WRH)
881 Seventh Ave. at 57th St.
212-247-7800
Wednesday, December 13 The Wainwright Family & Friends Christmas, SA, $29-$79, 8:00
Friday, December 15 An Appalachian Christmas, with Higher Vision, Sounds of Victory, 2 or More, Charlene Helen Berry, Tammy Norris, and Brandon Porter, WRH, $30, 8:00
Tuesday, December 19 A Christmas Jazz Celebration, with Magic City Jazz Quintet, the Imperials, Jeff Kruh, Amy Drinkwater, Neville Peter and Steve Darmody, WRH, $30, 8:00
Wednesday, December 20
through
Saturday, December 23 Handel: MESSIAH, with Musica Sacra Chorus and Orchestra, SA, $20-$120
Thursday, December 21 Rejoice Greatly: Christmas with Renée Fleming, with the Orchestra of St. Luke's, SA, $45-$125, 8:00
HOLIDAY CHEER FOR 'FUV
The Concert Hall at the New York Society for Ethical Culture
2 West 64th Street at Central Park West
Tickets: $80
212-277-7171
http://www.wfuv.org/wfuv/promo/holidayconcert.html
Thursday, December 14 Second annual benefit concert for Fordham's WFUV, with Ollabelle, Joan Osborne, Rickie Lee Jones, and other special guests, 7:30
"METS WARM-UP" HOLIDAY COAT DRIVE
Shea Stadium, Gate D
123-01 Roosevelt Ave.
Flushing, Queens
Thursday, December 14
and
Friday, December 15 Bring a new or gently worn winter coat and receive a voucher for two free tickets to select April 2007 Mets home game, 8:00 am — 7:00 pm
SOLSTICE UNPLUGGED
The Cathedral Church of St. John the Divine
1047 Amsterdam Ave. at 112th St.
212-316-7540 / 212-468-7619
http://www.stjohndivine.org/news_performances.html
Thursday, December 14
through
Saturday, December 16 Paul Winter's twenty-seventh annual Winter Solstice Celebration, with Renato Braz, Paul McCandless, the Paul Winter Consort, and others
JAZZ AT LINCOLN CENTER
Rose Theater
Broadway at 60th St.
212-721-6500
http://www.jazzatlincolncenter.org
Thursday, December 14
through
Saturday, December 16 Red Hot Holiday Stomp, Featuring Wynton Marsalis and Friends, including Herlin Riley, Dan Nimmer, Wycliffe Gordon, Don Vappie, and others, $37.50-$127.50
Saturday, December 16 THE JAZZ IMAGE: MASTERS OF JAZZ PHOTOGRAPHY by Lee Tanner, book signing featuring some of the photographers in the book, free, 2:00
Sunday, December 17 Love for the Holidays! hosted by Darlene Love, with Cissy Houston, Tevin Campbell, Paul Shaffer, John Lloyd Young, and the Choice's Way Choir, $77.50-$132.50, 7:30
CANDLELIGHT TOURS
Mount Vernon Hotel Museum & Garden
421 East 61st St.
212-838-6878
http://www.mvhm.org/pages/events
Thursday, December 14
through
Sunday, December 17 Visit the holiday season of 1827 with this eight-room tour that includes period music, hot cider, eggnog, and other goodies, $15 adults, $6 children under twelve, reservations strongly suggested
LOU REED'S BERLIN
St. Ann's Warehouse
38 Water St. between Main & Dock Sts.
Tickets: $65
718-254-8779
Thursday, December 14
through
Sunday, December 17 Theatrical presentation of Lou Reed's 1973 album (which has never before been performed live), featuring Lou Reed, Antony, Rupert Christie, Steve Hunter, Fernando Saunders, Robe Wasserman, Tony Smith, and more, directed and designed by Julian Schnabel, with musical direction by Bob Ezrin and Hal Willner, 8:00
HANUKKAH AT THE KNITTING FACTORY
74 Leonard St. between Broadway & Church St.
212-219-3132
http://www.knittingfactory.com
Thursday, December 14
and
Friday, December 15 Good for the Jews: a night of music and comedy / a special Hanukkah concert, $15 in advance, $17 day of show
Saturday, December 23 Jewmongous, with Sean Altman, Cynthia Kaplan, and special guests, $18 in advance, $20 day of show, 6:30
GREAT MUSIC & MORE
St. Bartholomew's Church
109 East 50th St. at Park Ave.
212-378-0200
Thursday, December 14 A Jazzy Chanukah: Trumpet player Avishai Cohen with Israeli musicians, 7:30
Saturday, December 16 MIRACLE ON 40TH STREET: A MODERN DAY CHRISTMAS STORY, written and performed by the children of St. Bart's, suggested donation $10 adults, $5 children, reservations requested, 3:00 & 4:00
Sunday, December 17 Bach's Christmas Oratorios, parts I-III, $25-$35
Monday, December 18 New York's Largest Outdoor Carol Sing, free, 6:00
Tuesday, December 19 A Joyous Christmas Concert, with St. Bartholomew's Choir, the Boy & Girl Choristers, and St. Bartholomew's Festival Brass
CHRISTMAS WITH THE WEST VILLAGE CHORALE
Church of St. Luke in the Fields
487 Hudson St. south of Christopher St.
212-517-1776
http://www.westvillagechorale.org
Friday, December 15 Annual Caroling Walk, beginning in the school cafeteria off the rear church courtyard, all voices welcome, free, 7:00
JUDITH OWEN AND HARRY SHEARER'S HOLIDAY SING-A-LONG
The Concert Hall
New York Society for Ethical Culture
2 West 64th St. at Central Park West
Tickets: $35-$40
212-874-5210
http://www.tipitinasfoundation.org
Friday, December 15 Traditional and nontraditional holiday music with Julia Fordham , Marshall Crenshaw, Paul Shaffer , They Might Be Giants, Bob Balaban, and Jill Sobule, with a portion of the proceeds benefiting Tipitina's Foundation, 8:00
HUNGRY FOR THE BLUES
Symphony Space
2537 Broadway at 95th St.
Tickets: $25-$30
212-864-5400
Friday, December 15 Holiday bluesfest featuring Popa Chubby and Irving Louis Lattin, 8:00
CHRISTMAS IN LITTLE ITALY
Mulberry St. between Canal & Broome Sts.
Weekends through December 17
Fridays & Saturdays 11:00 am — 10:00 pm
Sundays 11:00 am — 8:00 pm
Admission: free
212-302-0551
http://www.littleitalynyconline.com
Friday, December 15 Tree lighting ceremony, Church of the Most Precious Blood, 109 Mulberry St., with Joey Reynolds, Dominic Mantuano Jacqueline Thompson, Laura Zupa D'Avella, and the Red Mike Festival Band, 6:00 pm
Saturday, December 16 Parade with live music and floats, Mulberry St. from Canal to Houston Sts., 2:00
EIGHT NIGHTS OF ART: A CHANUKAH FESTIVAL
JCC in Manhattan
334 Amsterdam Ave. at 76th St.
646-505-5708
Friday, December 15 First Night, festive gathering for 20s and 30s, with dreidl poke, champagne and chocolate, olive oil and food tastings, a one-act play, a book reading, stand-up comedy, and more, $10, advance registration required, 9:00
Saturday, December 16 A Yiddish Vaudeville, with Bruce Adler, performed by the Folksbiene Yiddish Theatre, 1-800-9-yiddish, 8:00
Sunday, December 17 Bringing in the Seasons: A Spiritual Happening, with drumming, dance, and more, $12, 7:30
Monday, December 18 MIVTZA SAVTA (OPERATION GRANDMA) (Dror Shaul, 1999), $10, 7:00
Tuesday, December 19 Out of the Closet, Into the Light: Queer Chanukah Storytelling, with David Bergman, Jay Michaelson, and Chanukah treats, $15, 7:30
Wednesday, December 20 Alicia's Klezmer Party: A Family Event, featuring a concert and dinner for children of all ages, $40 per family, 5:45
Thursday, December 21 Lit Café — Elinor Carucci: Diary of a Dancer, free, 7:00
Friday, December 22 Eighth Night: Light It Up: with candlelighting, music, storytelling, and refreshments, free, 4:00
Monday, December 25 Chinese Food Buffet following LIFE OF BRIAN (Terry Jones, 1979), film $10, buffet $20, film 4:00, buffet 5:30
THE NUTCRACKER
Jack H. Skirball Center for the Performing Arts
566 La Guardia Pl. at Washington Sq. South
Tickets: $25
212-992-8484
http://www.skirballcenter.nyu.edu
Saturday, December 16 Tchaikovsky holiday favorite performed by the Joffrey Ballet School, 2:00 & 7:00
FREE FRIDAYS
South Street Seaport Museum
12 Fulton St. between South & Front Sts.
212-748-8786
Friday, December 16 'Tis the Season, featuring a holiday workshop, the singing Christmas tree, and more, 5:00 — 9:00 pm
NANA2
IFC Center
323 Sixth Ave. at Third St.
Tickets: free, but must rsvp to nana2@newyork-tokyo.com
212-924-7771
Monday, December 18 Special screening of NANA2 (Kentaro Otani, 2006), with appearances by stars Mika Nakashima and Yui Ichikawa, 7:30
THE PIPES OF CHRISTMAS
Madison Avenue Presbyterian Church
921 Madison Ave. at 73rd St.
Tickets: $60
908-273-3509
Saturday, December 16 Eighth annual Celtic Holiday Concert with the Clan Currie Society, 8:00
UNDER CONSTRUCTION
Dixon Place
258 Bowery between Houston & Prince Sts.
Tickets:
212-219-0736
Saturday, December 16 Judy Oberfelder presents two works in progress: "The Title Comes Last" with Elise Knudson, Rebekah Morin, and Carlton Ward, and "Heavy Light," with Luke Gutsgell and Brandin Steffensen, with live music by Malina Rauschenfells, $12, 8:00
DOWNTOWN XMAS XTRAVAGANZA
Mercury Lounge
217 East Houston St. at Ave. A
Tickets: $20
212-260-4700
http://www.mercuryloungenyc.com
Saturday, December 16 Hosted by Glen Burtnik and Tony Shanahan
UNSILENT NIGHT
Meet at the Washington Square Arch at 6:45 pm
Piece ends in Tompkins Square Park at 8:00 pm
Admission: free
http://www.mindspring.com/~boombox/xmas.htm
Saturday, December 16 Sixteenth annual public presentation of Phil Kline's outdoor ambient music piece for an infinite number of boom boxes; e-mail boombox@mindspring.com if you want to bring your own boom box and be given a tape to participate
HOLIDAYS ON HENRY ST.
Abrons Arts Center
Henry Street Settlement
466 Grand St. at Pitt St.
212-598-0400
Saturday, December 16 Tonic at the Abrons Arts Center: Naughty and Nice Holiday Concert, with Chocolate Genius, Dean Wareham & Britta Phillips, Elysian Fields, Heather Greene, and Laura Cantrell & the Honorary Title, $20, 8:30
Sunday, December 17 Free for All: CHRISTMAS IN JULY / THE FLYING LAKE, presented by the Night Kitchen Radio Theater, free but reservations required, 7:00
FAMILY ART PROJECT
Wave Hill
West 249th St. at Independence Ave., the Bronx
Kerlin Learning Center
Free with grounds admission of $4 adults, children under six free
718-549-3200
Saturday, December 16
and
Sunday, December 17 It's a Wrap/Es un regalo, wrapping-paper workshop, 1:00 — 4:00
WILD HOLIDAY PARTY
Central Park Zoo
830 Fifth Ave. at 64th St.
Admission: free with zoo admission of $8 adults, $3 children three to twelve
212-861-6030
Saturday, December 16
and
Sunday, December 17 Presents to the Animals, 10:00 am — 3:00 pm
MATISYAHU
Hammerstein Ballroom
311 West 34th St. between Eighth & Ninth Aves.
Tickets: $32
917-589-8578
Saturday, December 16 NO PLACE TO BE release party, with Mr. Lif and the Coup
Sunday, December 17 NO PLACE TO BE release party, with Ben Kweller
Tuesday, December 19 NO PLACE TO BE release party, with John Brown's Body
HOLIDAY PROGRAMS
World Financial Center Winter Garden
225 Vesey St.
Admission: free
212-945-2600
http://www.worldfinancialcenter.com/calendar
December 16, 17, 20 The Accidentals perform a cappella holiday carols, 12 noon — 2:00 weekdays, 1:00 — 3:00 weekends
Saturday, December 16 Kids Holiday Fest! Celebrating Chanukah, Kwanzaa & Christmas, with Hands-on Holiday workshops and Santa's Winter Garden, 10:00 am — 5:00 pm
Thursday, December 21 In the House of ETHEL, site-specific musical performance celebrating the winter solstice, 12:30 preview, 7:00
Wednesday, December 27 The Seventh Principle: Share the Kwanzaa Spirit, interactive performance, 12:30
HOLIDAYS IN CENTRAL PARK
Admission: free unless otherwise noted
http://www.centralparknyc.org/thingstodo
Saturday, December 16 Belvedere Castle Holiday Programs: The Story of Chanukah, Belvedere Castle, midpark at 79th St., 3:00 — 5:00, 212-772-0210
Tuesday, December 19 Belvedere Castle Holiday Programs: The Story of Chanukah, Belvedere Castle, midpark at 79th St., 2:00 — 5:00, 212-772-0210
Friday, December 22
and
Saturday, December 23 Belvedere Castle Holiday Programs: "Santa" and Saint Nicholas, Belvedere Castle, midpark at 79th St., 11:00 am — 1:00 pm and 2:00 — 4:00, 212-772-0210
Sunday, December 24 Belvedere Castle Holiday Programs: "Santa" and Saint Nicholas, Belvedere Castle, midpark at 79th St., 10:00 am — 12 noon, 212-772-0210
Thursday, December 28 Kwanzaa Crafts in Central Park, Charles A. Dana Discovery Center, inside the part at 110th St. between Fifth & Lenox Aves., seven and up, 212-860-1370, 1:00 - 4:00
Friday, December 29 The Seven Principles of Kwanzaa, lecture by George Edward Tait, the Poet Laureate of Harlem, Charles A. Dana Discovery Center, inside the part at 110th St. between Fifth & Lenox Aves., seventeen and up, 6:30
ANNUAL HOLIDAY CONCERT
Performing Arts Theater at Queensborough Community College
Tickets: $18-$20
718-460-0726
http://www.queensoratorio.org/holidayconcert.html
Sunday, December 17 The Oratorio Society of Queens and the Orchestral Arts Ensemble of Queens perform excerpts from Handel's MESSIAH and Christmas and Chanukah songs, 4:00
"TO ALL, WASSAIL"
Merchant's House Museum
29 East Fourth St. between Lafayette St. and the Bowery
Closed Tuesday & Wednesday
Admission: $10 adults, $5 children,
212-777-1089
Sunday, December 17 "A Concert of Nineteenth-century Holiday Songs and Stories, with the Bond Street Euterpean Singing Society, 5:30
CATHEDRAL CANDLELIGHT CONCERT
The Cathedral of the Holy Trinity
319 East 74th St.
212-971-9500
http://www.thecathedral.goarch.org
http://www.littleorchestra.org
Sunday, December 17 Great Music Under a Byzantine Dome: The Little Orchestra Society, $35-$150, 5:30
HOLIDAY CONCERT
Solomon R. Guggenheim Museum
1071 Fifth Ave. at 89th St.
Admission: free
212-423-3500
http://www.guggenheim.org/education/worksandprocess/schedule.html
Sunday, December 17
and
Monday, December 18 Holiday music with the Graham Ashton Brass Ensemble and the Vox Vocal Ensemble, conducted by George Steel, in the rotunda, 6:00
HOLIDAY EVENTS AT RIVERSIDE CHURCH
490 Riverside Dr. between 120th & 122nd Sts.
Admission: free, but offering for artists accepted at the door
212-870-6784
http://www.theriversidechurchny.org/events
Sunday, December 17 Candlelight Carol Festival, the Nave, $25 adults, $10 children twelve and under, 3:30 & 6:00
Wednesday, December 20
through
Saturday, December 23 Handel's MESSIAH, featuring the New York Philharmonic and the Westminster Symphonic Choir, the Nave, $28-$72, 7:30/8:00
HOLIDAYS @ MAKOR
Steinhardt Building
35 West 67th St. between Amsterdam & Columbus Aves.
212-601-1000
Sunday, December 17 Edible Hanukkah, with Rachel Silverman, $35 per adult and child, 4:00
Saturday, December 23 AcapaJewza: A Chanukah Celebration of Jewish A Cappella, featuring Six13, Beat'achon, and Kol Zimra, $18, 8:00
Monday, December 25 Chinese Food and a Movie on Christmas Day:
Will Ferrell Meets Charlie Kaufman, ETERNAL SUNSHINE OF THE SPOTLESS MIND (Michel Gondry, 2004), 1:30, and BEING JOHN MALKOVICH (Spike Jonze, 1999) at 3:30 on one screen, ANCHORMAN: THE LEGEND OF RON BURGUNDY (Adam McKay, 2004), 1:30, and OLD SCHOOL (Todd Phillips, 2003), 3:30, on the other, $35 per person, $60 per couple
Sunday, December 31 MAKORnival: A New Years Carnival Party at Makor! hosted by Scotty the Blue Bunny, with Romashka, Les San Cullotes, Fisherman's Burlesque, DJ Bill Coleman, Big Apple Burlesque, Angie Pontani, Miss Saturn, Harvest Moon, and Magic Brian, $65-$75 per person, $100 per couple, 9:00
HOLIDAY WONDERS
Beacon Theater
2124 Broadway at 74th St.
Tickets: $35-$125
212-496-7070 / 888-260-6221
Tuesday, December 19
through
Sunday, December 24 Holiday spectacular featuring live dance and music, including folk dances, operatic solos, and a drum finale
EXTRAORDINARY DECEPTIONS
Theatre Row Lion Theatre
410 West 42nd St. between Ninth & Dyer Aves.
Tickets: $30
212-279-4200
http://www.theatrerow.org/lion.htm
Tuesday, December 19
through
Saturday, December 30 A special holiday magic extravaganza starring Michael Gutenplan
WOMEN OF TZADIK CELEBRATE HANUKKAH
Museum of Jewish Heritage — A Living Memorial to the Holocaust
36 Battery Pl.
646-437-4200
Wednesday, December 20 Concert with Basya Schechter, Jewlia Eisenberg, and Ayelet Rose Gottlieb, $20 adults, $15 students, 7:00
DOR CHADASH HANUKKAH PARTY
Plumm
246 West 14th St. at Eighth Ave.
Tickets: $20-$30
Wednesday, December 20 All-night dance party with DJ Van Jee, a menorah lighting, Sufganiot and Levivot, one-hour open bar, and more, 8:00
VICIOUS CHRISTMAS: HO HO HO . . . OH NO!
The Two Boots Pioneer Theater
155 East Third St. at Ave. A
Through October 31
Tickets: $9 unless otherwise noted
212-254-3300
http://www.twoboots.com/pioneer
Thursday, December 21 BELL, BOOK, AND CANDLE (Richard Quine, 1958), 7:00
Friday, December 22 GOODBYE, 20th CENTURY! (Darko Mitrevski and Aleksandar Popovski, 1998), 7:15
Friday, December 22 ELVES (Jeffrey Mandel, 1984), 10:45
Saturday, December 23 SANTA SMOKES (Till Schauder & Chris Valentien, 2003), 7:00
Saturday, December 23 SILENT NIGHT, DEADLY NIGHT (Charles E. Sellier Jr., 1984), 10:45
Sunday, December 24 Racist Christmas Cartoons, 5:15
Monday, December 25 CABARET (Bob Fosse, 1972), with Chinese food buffet, $10 for movie only, $20 with buffet, 4:00
Tuesday, December 26 CHRISTMAS EVIL (YOU BETTER WATCH OUT) (Lewis Jackson, 1980), 7:00
Thursday, December 28 BELL, BOOK, AND CANDLE (Richard Quine, 1958), 7:00
HOLIDAYS AT JOE'S PUB
425 Lafayette St. between East Fourth St. & Astor Pl.
212-539-8778
Thursday, December 21
through
Saturday, December 23 BETTY: Heroine Holidays, $20, 9:30
Saturday, December 23 Bob Dorough: Schoolhouse Rock, Blue Xmas, and All That Jazz, $20, 7:00
Sunday, December 24 Nice Jewish Girls Gone Bad, $20, 7:00 & 9:30
Friday, December 29
through
Sunday, December 31 Sandra Bernhard, $45-$150
JEWLTIDE 4
Brooklyn Southpaw
125 Fifth Ave., Brooklyn
718-230-0236
Saturday, December 23 Featuring the LeeVees, Michael Showalter, Tim Fite, DJ set by Balkan Beat Box, with dreidels, gelt, and donuts, $12-$15, 8:00
Sunday, December 24 Featuring So Called, Golem, and DJ Anaan, with dreidels, gelt, donuts, latkes, and egg rolls, $18-$25, 8:00
HOLIDAY SHOWS AT GOTHAM
Gotham Comedy Club
208 West 23rd St. between Seventh & Eighth Aves.
212-367-9000
http://www.gothamcomedyclub.com
Sunday, December 24 A Very Jewish Christmas, featuring Orny Adams, $20 cover and two-drink minimum, 7:30 & 9:30
Sunday, December 31 Ring in the New Year with Laughter! featuring Louis Ramey, Gregg Rogell, William Stephenson, and Lenny Marcus, $25 cover and two-drink minimum, 8:00
Sunday, December 31 Ring in the New Year with Laughter! featuring Louis Ramey, Gregg Rogell, William Stephenson, and Jon Fisch, $100 includes top-shelf open bar, dessert, party favors, and Champagne toast, 10:30
FAMILY CONCERT
Eldridge Street Synagogue
12 Eldridge St. between Canal & Division Sts.
Tickets: $12
212-219-0888 ext308
http://www.eldridgestreet.org/programs
Monday, December 25 Klez for Kids! featuring an audience-enacted shtetl and wedding, with a winter concert by Greg Wall's Klezfest, 12:30 & 2:00
OLIVIA MAXWELL
The Living Room
154 Ludlow St. between Stanton & Rivington Sts.
212-533-7237
http://www.myspace.com/oliviamaxwell
Friday, December 29 Singer-songwriter Olivia Maxwell presents her unique brand of classic country, folk, and soul, echoing Neil Young, Bob Dylan, American folk heroes, and life on the back roads of America, with Brett Smiley, $10, 10:00
PATTI SMITH AND HER BAND
Bowery Ballroom
6 Delancey St. at Bowery
212-533-2111
Friday, December 29
through
Sunday, December 31 Patti Smith welcomed in the New Year, $15-$55
BRAZILIAN GIRLS
Irving Plaza
17 Irving Pl. between 14th & 15th Sts.
212-777-6800
Friday, December 29
and
Sunday, December 31 Brazilian Girls play songs from VERVE FORECAST, with special guests, $29.50, 8:00
NEW YORK NATIONAL BOAT SHOW
Jacob Javits Convention Center
35th St. & 11th Ave.
Admission: adults $15, children thirteen through fifteen $8, two-day tickets $25
212-984-7000
Saturday, December 30
through
Sunday, January 7 The 102nd year of the world's first boat show features the IGX Adrenaline Jam, the Power Boat Docking Challenge, the Fetch-n-Fish Tank, the Coconut Climb, new product showcase, seminars, boat giveaways, book signings, and more
NEW YORK GILBERT & SULLIVAN PLAYERS
NEW YEAR'S EVE CHAMPAGNE GALA
Symphony Space
Peter Jay Sharp Theatre
2537 Broadway at 95th St.
Tickets: $60-$80
212-864-5400
Sunday, December 31 Annual Gilbert & Sullivan celebration featuring audience requests, parodies, and more, 8:00
"COME CALLING"
Merchant's House Museum
29 East Fourth St. between Lafayette St. and the Bowery
Suggested donation: $10
212-777-1089
Saturday, December 31
and
Monday, January 1 Merchant's House receives "callers" for tours of the premises and the neighborhood, 12 noon — 5:00