Twi-ny, This Week In New York
"That sinister Stonehenge of economic man, Rockefeller Center."
— Cyril Connolly (1903-74)

TOP OF THE ROCK
30 Rockefeller Plaza, entrance on West 50th St. between Fifth & Sixth Aves.
Open 8:00 am — 12 midnight
Reserved-time tickets: $14 adults, $9 children six to eleven
212-698-2000
http://www.topoftherocknyc.com

In 1933, John D. Rockefeller presented to the people of New York City a special gift, the observation deck of 30 Rockefeller Plaza, which at that time was designed as a cruise liner. The viewing platform closed in 1986, but it has reopened with a flourish, once again offering spectacular views of Central Park, the Chrysler Building, numerous bridges, the Statue of Liberty, Yankee Stadium, and one thing the Empire State Building can't provide — an awesome view of the Empire State Building. Enter at the new 50th St. entrance and marvel at Swarovski's "Joie," a thirty-five-foot-high crystal waterfall chandelier comprising forty thousand crystals, weighing five thousand pounds, and boasting 450 points of colored light. Buy timed tickets that prevent maddening crowds. Walk across a beam that dangles you over a video that makes you feel like a construction worker. Check out the original architectural model of this Art Deco masterpiece. Take the speedy Summit Shuttle elevator up to the 67th floor, looking up all the time to watch the history of Rock Center projected on the ceiling above you. When you get out, follow Swarovski's "Radiance," a geode wall of crystal clusters, mouth-blown glass, and fiber-optic lights. Stop at the Grand Viewing Room and three-tiered Weather Room, which are surrounded by transparent safety glass. (There's just enough space between panels to squeeze the lens of your camera through for a direct shot.) Head up to 69 and don't get upset when the motion detectors in the Target Breezeway floor don't really do that much. Then go outside to the Grand Viewing Decks, some 850 feet high, offering unencumbered sight lines of the city. (There's no safety glass here because the other platforms are right below you.) You'll also get to see the Top of the Rock itself, including the antennae tower, decorative elements, and the sweet aerial globe. Snap away, then take the Summit Shuttle to Rock bottom, looking up again, this time to see colored lights shooting out through the otherwise empty elevator shaft.
In the Neighborhood
THE RINK AT ROCKEFELLER CENTER
601 Fifth Ave. between 49th & 50th Sts.
Open 8:30 am — 12 midnight
Admission: $14-$17 adults, $10-$12 children under twelve
Skate rentals: $8 through January 6, $7 after, for ninety-minute session
Lessons: $30-$32
212-332-7654
http://www.rapatina.com/iceRink

Skate under the eyes of Prometheus and the lenses of thousands of tourists in the most famous ice-skating rink in the world. The above rates are effective through January 6; after that, they go down, as does the number of tourists. However, the rink is seldom uncrowded, as countless amateurs, suburbanites, and foreign tourists go around and around and up and down (on their seats) on the ice all winter long. You should skate at the rink at least once in your life, but for some more serious skating, try the nighttime at Wollman (between East 62nd and 63rd Sts.) in Central Park or, even better, at Lasker (midpark between 106th and 108th Sts.). Lasker is a lesser-known but much better rink, where the music is hotter, the crowd cooler, and the ice in a heckuva lot better condition.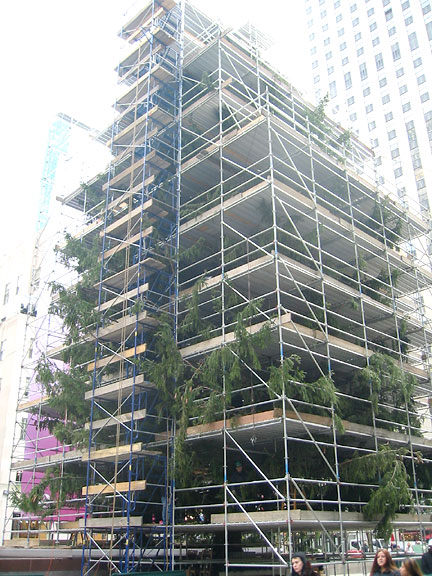 twi-ny/mdr
This year's star is readied for placement atop Norway spruce
ROCKEFELLER CENTER CHRISTMAS TREE
Admission: free
http://www.rockefellercenter.com
Through January 2006 This year's tree is a seventy-four-foot Norway spruce from New Jersey, adorned with some thirty thousand lights and balancing the Swarovski Star, featuring twenty-five thousand crystals itself, at the top. The tree, which weighs nine tons and boasts a limb span of forty-two feet, is the seventy-third to stand tall at Rockefeller Center.
CHRISTMAS HOLIDAY WALKING TOUR
Tickets: $15, reservations required
877-nyc-trip
http://www.nycvp.com/ChristmasWalkingTour05.html
Daily through January 1 Seventy-five-minute tour of Rockefeller Center with Sibyl McCormac Groff, the "Spirited New Yorker," 2:30, 5:30, 8:00

TUBACHRISTMAS
The Ice Rink at Rockefeller Center
Admission: free
http://www.rockefellercenter.com
Sunday, December 11 Holiday concert featuring Alec Wilder's arrangements for tuba and euphonium, conducted by Harvey Phillips and Christian Wilhjelm, open to all players, 3:30
GALLER: PURE COCOA
Saks Fifth Ave.
611 Fifth Ave. at 50th St., eighth floor
Admission: free
212-753-4000
http://www.saksfifthavenue.com

Identifying itself as "the" Belgian chocolate, Galler's praline noir bars, noir 70 tablets, and bouchee pralinees thin canisters were among the most outstanding products available at last month's Chocolate Show. The company, a "Belgian Royal Warrant Holder," was started by Jean Galler, who worked in his grandfather's confectionery shop before studying in Switzerland and France. The chocolate he makes starts off subtly but then hits you with a big, satisfying, lingering finish. Every year we try to steer you away from giving the mundane Godiva and other pseudo-classy confections; this time around, pick up some Galler instead — and make sure to get some for yourself. Saks is currently stocking various different bars, boxes of pralines, and three-pack canisters.

Grand Central Events of the Week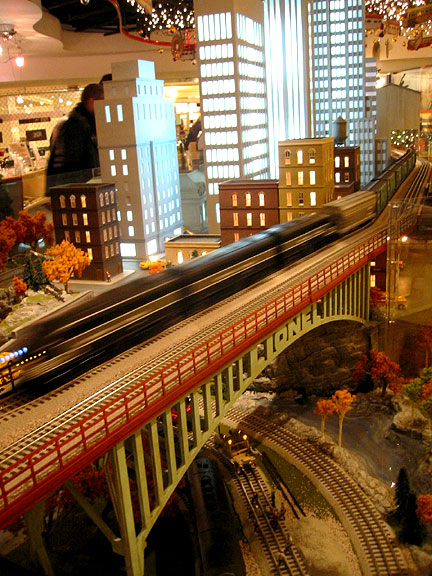 twi-ny/mdr
It's time to climb aboard the new display at the Transit Museum in GCT
NEW YORK TRANSIT MUSEUM GRAND CENTRAL HOLIDAY TRAIN SHOW (AND BUSES TOO!)
New York Transit Museum Gallery Annex
Grand Central Terminal
Shuttle Passage next to the Station Masters' Office
Through Monday, January 16
Monday through Friday, 8:00 am — 8:00 pm
Saturday and Sunday, 10:00 am — 6:00 pm
Admission: free
212-878-0106
http://www.mta.nyc.ny.us/mta/museum/whatsnew.htm
http://www.grandcentralterminal.com
http://www.lionel.com/CentralStation/NewsStand/viewrelease.cfm?newsID=120

This fourth annual show is yet another delight that will bring out the kid in you. While last year celebrated the hundredth anniversary of the subway, this year honors the one hundredth anniversary of New York City buses. Beginning with the Fifth Avenue Motor Coach Company's 1905 "gasoline-electric motorcoach," the annex also features such cool models as the 1920s-era Cannonball Express, Girard Bus, and Coast to Coast Greyhound, the 1940s-era Flxible Twin Coach (yes, that's how the company spelled its name), the Lounge Car Sightseeing Tractor-Train, the New York World's Fair Transit Coach, the Imperial Bus Lines Parlor Coach, the Cor-Cor Intercity Bus, the Jackie Gleason Honeymooners' Special, and even the Lincoln Tunnel. Of course, trains are the main thing here, and this year pays tribute to Joshua Lionel Cowen of Lionel Trains fame. (The company started in 1900 on Murray St.) Models such as the New Jersey Central Railroad "Blue Comet" and the "De Luxe Express" Passenger Train surround the splendid display of classic O-gauge train lines making their way over, under, around, and through a miniature world that includes Grand Central Terminal, HellGate Bridge, a mountain, illuminated city skyscrapers (the AT&T, Sony, and Empire State Buildings), advertising banners, an Esso service station (Esso, the former name of Exxon, came from the initials of John D. Rockefeller's Standard Oil), a toy factory with moving gears, a work crew, the Haung Lu Pho House, and a lighted Christmas tree.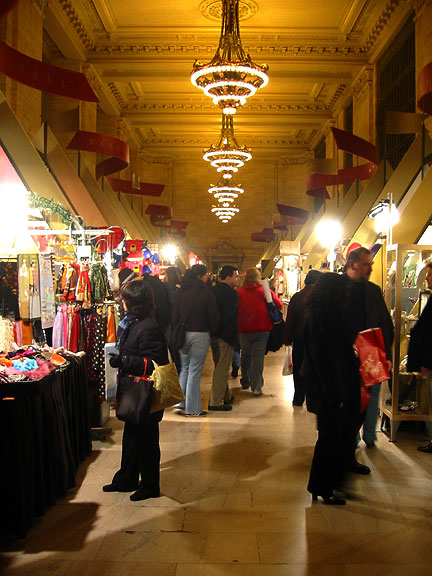 twi-ny/mdr
Annual GCT fair offers commuters chance to shop on their way home
VANDERBILT HALL HOLIDAY FAIR
Grand Central Terminal
Through Saturday, December 24
Monday through Saturday: 10:00 am — 8:00 pm
Sunday: 12 noon — 6:00 pm
December 19-24: 8:00 am — 8:00 pm
Admission: free
212-340-2347
http://www.grandcentralterminal.com

The annual holiday fair has returned to Vanderbilt Hall, featuring dozens of booths of unique arts and crafts, from photo albums and Tibetan hats to antique estate jewelry and children's toys, from artistic lamps and etched glass to cityscapes and scarves. Among our favorite booths is the surprisingly well priced Song of Silk and the Tolman Collection's Japanese prints. But for the second year in a row, where's Woody Jones's awesome "Grand Central in Miniature"?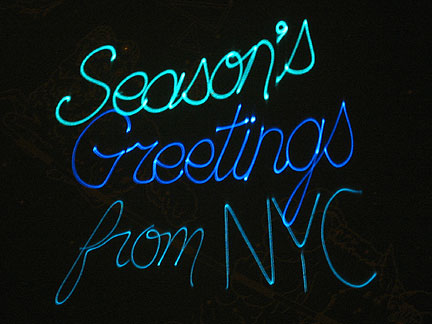 twi-ny/mdr
GCT Sky Ceiling wishes travelers and gawkers a happy holiday season
HOLIDAY LASER LIGHT SHOWS
Grand Central Terminal Sky Ceiling
Main Concourse
Through Saturday, December 31
Admission: free
212-340-2347
http://www.grandcentralterminal.com

Lasers light up the Sky Ceiling at Grand Central with six rotating shows that run from 11:00 am to 9:00 pm on the hour and half hour. Watch the constellations as some of them come alive and join in the dance with snowflakes, skiers, skyscrapers, mistletoe, season's greetings in several languages, and more, set to holiday and celebratory music. While looking at the ceiling, don't forget to check out the hole in the center (caused by the top of a WWII missile stored there) as well as the black strip in the northeast corner, which is a single brick left uncleaned to show how dirty the ceiling was prior to the massive renovations spearheaded by Jacqueline Kennedy Onassis.
twi-ny/mdr
Wild Edibles is one of several outposts of fine shops in GCT
GRAND CENTRAL TERMINAL MARKET
Grand Central Terminal
Outside entrance at Lexington Ave. & 44th St.
Inside entrance east of Sky Ceiling
Admission: free
http://www.grandcentralterminal.com

For more than five years, the long, narrow market inside Grand Central Terminal has been bringing mini-outposts of some of the city's best shops to suburban commuters and regular folk from the neighborhood like us. We actually make special visits here to get excellent seafood from Wild Edibles, foccacia from Zaro's, chocolate-covered macaroons from Corrado, African hot sauce from Adriana's Caravan, and fruit and salad from Greenwich Produce. Other vendors include Koglin German Hams, which make a fine holiday gift, and Murray's Cheese.
StoryCorps StoryBooth
Grand Central Terminal Biltmore Room
$10 for forty-minute session and your own CD of interview
1-800-850-4406
http://storycorps.net/participate/storybooths

The nonprofit group Sound Portraits, the Library of Congress, and WNYC have created a fascinating project in which people can interview each other in a soundproof booth, and the recordings will be digitized and sent to the archives of the Library of Congress. Younger people are encouraged to interview older folks, whether it be a grandson talking to his grandmother, a young local businessman speaking with an older local businessman, or random people speaking with random people about life in these United States. The colorful booth has samples of interviews to give people ideas, and you can look through a window to see what's going on inside. When the booth opened in October 2003, we were fortunate enough to spend a few minutes in their with the great Studs Terkel, one of the leading promoters of the project. We also spoke with Camille, who served us Junior's cheesecake on Flatbush Avenue when we were still in our strollers. (There is also a booth downtown on the concourse level of the WTC Path station.)
In the Neighborhood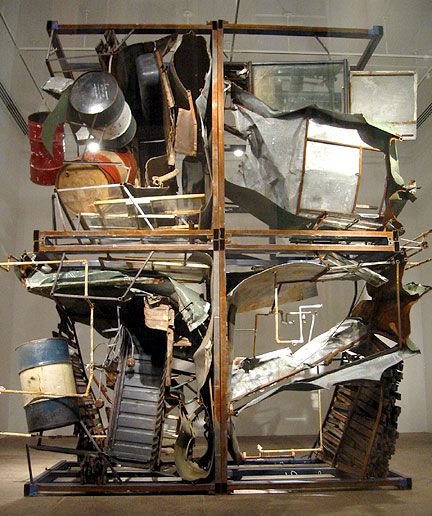 twi-ny/mdr
Rob Fischer, "30 Yards (Minor Tragedies Dissected)"
ROB FISCHER
The Whitney Museum of American Art at Altria
120 Park Ave. at 42nd St.
Admission: free
917-663-2645
http://www.whitney.org/information/altria.shtml
http://www.cohanandleslie.com/index.php?mode=artists&object_id=22

Born in Minneapolis and now living in Brooklyn, Rob Fischer takes over the Altria gallery space and Sculpture Court with this site-specific installation of repurposed material, including wood, metal, steel, glass, wiring, floorboards, lights, scaffolding, plaster, mirrors, pipes, and various modes of transport. When you first walk into the Sculpture Court you'll be greeted on your left by "Your vigor for life appalls me," a massive mountain dominated by empty and hollow wood and plaster. On your right, inside the small gallery, stands "30 Yards (Minor Tragedies Dissected)," a garbage haul of oil cans, wiring, wood frames, an airplane fuselage, a pickup truck bed, wood flooring, glass, and more, a trapped mound of mayhem. As you make your way around the Sculpture Court, you can walk through the minimalist "Manyfold (Minotaur)" (but cannot follow the obvious path), get down with "Living Will" (be sure to peer into this open coffin), back away from the bright light blazing from the semi-tractor of "God wrote Convoy in here," and see yourself reflected in the fiberglass boat that is "Not waving but drowning" and "I bet you think this song is about you," a twenty-three-foot-high tribute to vanity. The exhibit offers an alternative recycled architecture that is both inviting and threatening, combining the environmentalism of Robert Smithson and Gordon Matta-Clark with the landscapes of Edward Burtynsky, both place and non-place, finding beauty in garbage and motion in stillness.
FÊTES DE NOËL
The Holiday Shops at Bryant Park
42nd St. & Sixth Ave.
Monday through Friday, 9:00 am — 7:00 pm
Saturday and Sunday, 9:00 am — 9:00 pm
Admission: free
866-221-5157
http://www.bryantpark.org/calendar/win.php
http://www.fetesdenoel.com/facts.asp
Through Sunday, January 1 Fourth annual outdoor Christkindlmarkt features arts and crafts from more than eighty New York artists and artisans; if you go shopping with your kids on the weekends, be sure to take them for a ride on Le Carrousel, which is open from 11:30 am to 5:30 pm ($1.75)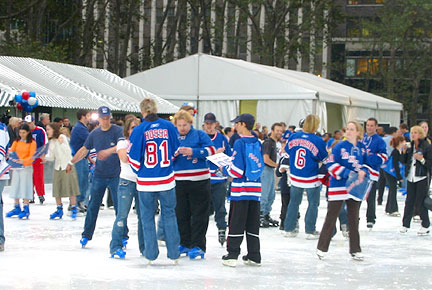 twi-ny/mdr
The first-place Rangers mix it up with fans on the Pond in Bryant Park
THE POND & TRUE BLUE WEDNESDAY
Bryant Park Lawn
Between 40th & 42nd Sts. and Fifth & Sixth Aves.
Open 8:00 am — 10:30 pm
Admission: free
Skate rental $7.50, locker rental $4 (with lock $5), helmet rental $1
Private lessons: $25 for twenty minutes
866-221-5157
http://www.bryantpark.org/amenities/thepond.php
http://www.newyorkrangers.com/fanzone/thePond.asp
Through Monday, January 16 Seventeen-hundred-square-foot state-of-the-art ice-skating rink; every Wednesday night through January 4 is Rangers Skating Night, with Rangers players and/or alumni skating with fans and signing autographs from 4:00 to 6:00 at no extra charge, including the Toys for Tots Drive on December 14
Saturday, December 10, 17 Broadway Moves: Skate with CHITTY CHITTY BANG BANG's Robert Creighton, 11:00 am
Model Train Display of the Week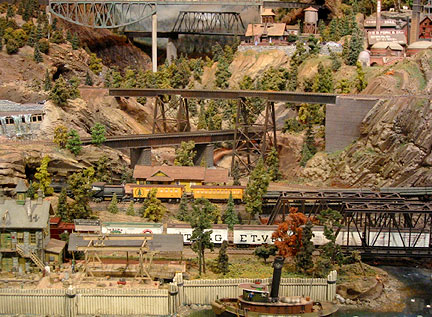 twi-ny/mdr
The Dunham Studios' remarkable train display returns to Midtown
THE STATION AT CITIGROUP CENTER
Atrium at 153 East 53rd St. at Lexington Ave.
Through Friday, December 30
Monday through Saturday, 10:00 am — 6:00 pm
Sunday, 12 noon — 5:00 pm
Closed Christmas Day
Admission: Free
212-559-1747
http://www.dunhamstudios.com/cititour.HTM

For the seventeenth year, Citicorp's model train display is wowing kids and adults in Midtown. Start out in Weehawken in 1940, then make your way through the quaint 1955 town of Generak in the Catskills, the 1945 Hudson Valley, and the 1955 Adirondacks. Hop aboard the Boston & Maine Diesel, the Milwaukee Road "Hiawatha" Locomotive, the Pennsylvania RR, the Southern Crescent Limited, the North Pole Express, and the Great American Circus train. Stop for a bite at Porky's BBQ or Arnold's Drive-In. Beware of spending a night at the Bates Motel. Hang out with farmers and fishermen, Boy Scouts and construction workers, sledders and the brand-new pumpkin party. Marvel at more than five dozen old billboards. Take in the illuminated Manhattan skyline and visit a carnival. Catch a scene from HIGH NOON (Fred Zinnemann, 1952) at the Starlite Drive-In. (We're not kidding — the film is actually screened there.) Walk through all four seasons. Count more than a thousand people and nearly a thousand feet of track, with more than two dozen (O, S, and H-O gauge) trains moving at any given moment. Make sure you allow for plenty of time, because you and your kids will want to take in every cool detail.
In the Neighborhood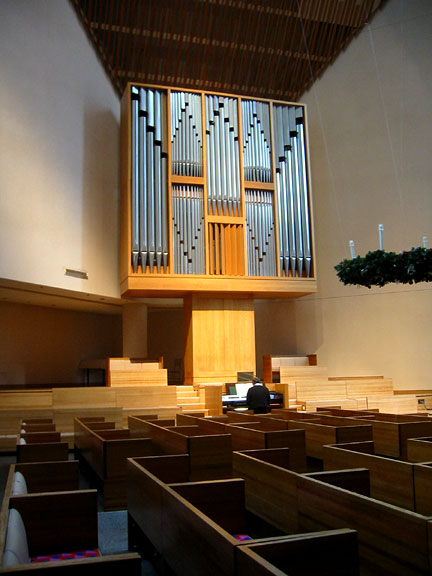 twi-ny/mdr
Practicing on the Klais organ at Saint Peter's
SAINT PETER'S CHURCH
619 Lexington Ave. at 54th St.
Admission: free
212-935-2200

Not many people are familiar with this small, modern-looking church that hides some treasures inside and outside its hallowed halls. Arnoldo Pomodoro's striking abstract bronze cross sculpture greets you near the Lexington Ave. entrance. Nearly every inch of the five-sided Erol Beker Chapel of the Good Shepherd, an airy room of natural-colored and white-painted wood, frosted glass, bleached-ash pews, and an abstract white cross on a gold background, was designed by Louise Nevelson, who entitled the east wall "Frieze of the Apostles" and the west wall "Sky Vestment — Trinity." Kiki Smith designed the cast-aluminum processional crucifix. Ann Sherwin Bromberg wove the dossal curtain, "Ascension," behind the altar in the spare main chapel. The chapel itself, which is also home to the Johannes Klais Orgelbau pipe organ, can be seen from the street. Filled with natural light and red oak, the space was designed by Massimo and Lella Vignelli.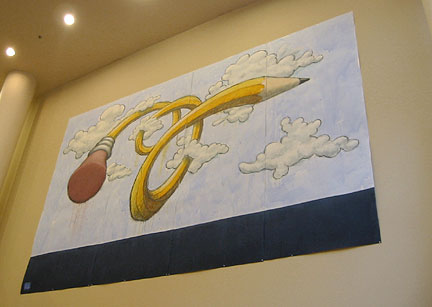 twi-ny/mdr
Brooke Rogers, "Primer," in Saint Peter's stairwell
MUSIC AND ART AT SAINT PETER'S
619 Lexington Ave. at 54th St.
Admission: free unless otherwise noted
212-935-2200
Through Friday, January 6 Brooke Rogers, "Pencil Paintings," four goache-on-paper works ("Dirge," "Denouement," "Ditty," and "Primer"), featuring colorful, twisting pencils amid clouds and water, during the day and night
Wednesday, December 7 Midtown Jazz at Midday: Laurie Krauz, piano and vocals, $5 suggested donation, Living Room, 1:00
Friday, December 9 The TIPA Project presents Six Continents, Six Stories, featuring works by Cervantes, Twain, and others read by Marian Seldes, Tammy Grimes, Amanda Plummer, Betsy von Furstenberg, Bess Rous, and Jim Dale, 12:30
Friday, December 9
through
Sunday, December 11 Musicals in Mufti: MISS LIBERTY, York Theatre Company, $40
Sunday, December 10 Opus Ensemble: "Magnificat," $5 suggested donation, 3:30
Sunday, December 11 Jazz Vespers: Okaru Lovelace Group, 5:00
Sunday, December 11 Neal Tate Memorial, 7:30
Monday, December 12 United Nations Choir Concert, $5 suggested donation, 7:00
Tuesday, December 13 Midday Recital Series: David Herman, organist, $5 suggested donation, 12:30
Tuesday, December 13 Classical Concert Series: International Songfest of Holiday Music, $5 suggested donation, 8:00
Wednesday, December 14 Midtown Jazz at Midday: Brooks Kerr, piano, and Britta Langsjoen, trombone, $5 suggested donation, Living Room, 1:00
Friday, December 16 Christmas Caroling with Saint Peter's Choir, $5 suggested donation, 5:30
Friday, December 16
through
Sunday, December 18 Musicals in Mufti: MIRETTE, York Theatre Company, $40
Saturday, December 17 Messiah Sing-Along, with Saint Peter's Choir and soloists, $5 suggested donation, 7:30
Sunday, December 18 Jazz Vespers: L.D. Frazier's Christmas Gospel, 5:00
Sunday, December 18 All Nite Soul Volunteer Christmas Party, 7:00
Tuesday, December 20 Midday Recital Series: It's the Holiday Season, $5 suggested donation, 12:30
Tuesday, December 20 Classical Concert Series: Carolyn Enger-Tsipouras, piano, $5 suggested donation, 8:00
Wednesday, December 21 Midtown Jazz at Midday: Christmas Show with Barbara Lea, Ronny Whyte, Joyce Breach, and special guests, $5 suggested donation, Living Room, 1:00
Sunday, December 25 Jazz Vespers: Merry Christmas with Misty Ann Sturm, 5:00
Wednesday, December 28 Midtown Jazz at Midday: Gene Bertoncini, guitar, $5 suggested donation, Living Room, 1:00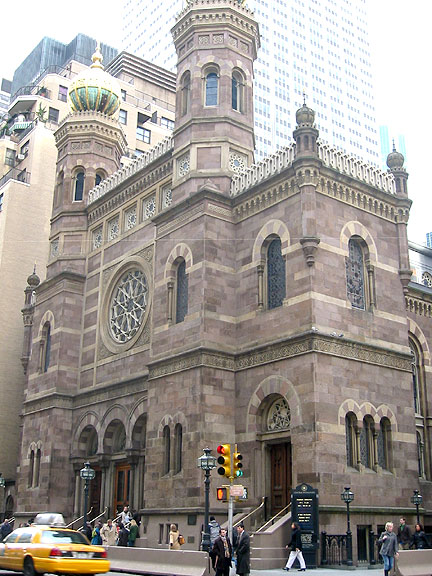 twi-ny/mdr
The Central Synagogue stands ready for the holidays
CENTRAL SYNAGOGUE
Sanctuary: Lexington Ave. at 55th St.
Community House: 123 East 55th St. at Lexington Ave.
Tours every Wednesday at 12:45 pm
Admission: free
212-838-5122 ext. 222 (for group tours)
http://www.centralsynagogue.org/default.php

Beautiful, historic Central Synagogue is the oldest synagogue in continuous use in the United States and the oldest congregation in New York City. The foundation was laid in 1870, and when it opened in 1872, there were four hundred member families; today there are fourteen hundred. Following a massive renovation completed in 1998, a terrible fire destroyed much of the temple, but it has since been restored to its original majesty, based on Henry Fernbach's nineteenth-century architectural drawings. Fernbach, New York's first Jewish architect, chose a Moorish style when told not to make it look too Jewish. Walk to the northeast corner of 55th & Lex and take in the unique design, with its star-filled rose window, copper-zinc ornamentation, and blue spheres atop the towers. (Notice that throughout the structure, most of the stars are not six-sided, as the Mogen David was not in widespread use at the time the Central Synagogue was built.) The stained-glass window that faces Lexington going uptown was dedicated to the firefighters of the Eighth Battalion, who saved the synagogue from total disaster in 1998; the windows take on an added meaning since ten of those men perished at the World Trade Center on September 11.
Walk inside and look to your left, where there are two old tzedakah boxes. Inside the sanctuary, you'll see diagonal side pews, ornately decorated cast-iron columns featuring different designs, a new choir loft, and the gorgeous wooden ark, which, remarkably, was undamaged by the fire save for a heavy layer of soot. The ark, surrounded by Moorish designs, contains two sphere-topped towers that mimic the outdoor building. To your left is an elevator for hoisting the grand piano onto the bema. And both in front of you and behind you is the Gabe M. Weiner Memorial Organ, which was built by Casavant Frères for the synagogue in 2001-2. There are free tours given every Wednesday at 12:45, and we heartily recommend them; when we went on one a few years ago, the docent leading the small group had spent virtually his entire life at the synagogue — he went to Sunday school there, he got confirmed there, and he became a member of the board.
MUSIC AT CENTRAL SYNAGOGUE
Lexington Ave. at 55th St.
Admission: free unless otherwise noted
http://www.centralsynagogue.org/community/highlights/index.php?id=1312
Tuesday, December 13 Lunchtime Organ Recitals: Gail Archer, preceded by master class at 10:30 am
Sunday, December 18 Heroes, by George! A Celebration of Heroes from Handel Oratorios, featuring the Orchestra of St. Luke's , the American Brass Quintet, the Brooklyn Youth Chorus, and more, conducted by Judith Clurman, 7:00
Tuesday, December 20 Lunchtime Organ Recitals: Student concert with Christopher Jacobsen, preceded by master class at 10:30 am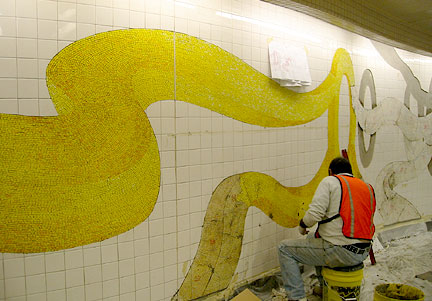 twi-ny/mdr
Al Held's new mosaic being installed at 53rd St. station
AL HELD: PASSING THROUGH
Fifth Ave./53rd St. EV subway station
Admission: $2 MetroCard
http://www.mta.nyc.ny.us/mta/aft

In 2004, Al Held's swirling, geometric, futuristic, and extremely colorful "Passing Through" glass mosaic was installed along the north wall of this subway station. Cylindrical tubes, huge cubes, interlocking frames and circles, multilevel checkerboards, and a twisting yellow path formed a unique underground space station that make a fine complement to the nearby, far more traditional model train display. Last week, we happened upon Held's new mosaic as it was being installed in the same station, this time on the south wall. Workers were using handwritten layouts to place the small pieces layered on top of one another in a cardboard framework, which holds each piece in place until the grout is applied and dries. We'll be back soon to see what it all looks like when it's done.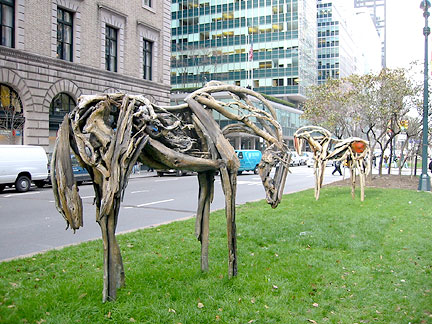 twi-ny/mdr
Deborah Butterfield's unique horses graze on Park Ave. Mall
DEBORAH BUTTERFIELD:
DEEP TIME, CICADA, AND WILDER
Park Ave. Malls at 53rd St.
Through January 29, 2006
Admission: free
212-360-8163
http://www.nycgovparks.org/sub_things_to_do/attractions/public_art/pa_temporary_exhibits.html#butterfield
http://www.edwardthorpgallery.com/main.html

San Diego native Deborah Butterfield, who now lives and works in Montana, has installed three of her well-known see-through horses on the Park Ave. median at 53rd St., calmly grazing while the traffic whizzes by. On the south side are "Wilder" and "Cicada," with "Deep Time" hanging out on the north side of the street. These "unique bronze casts" are made of driftwood and scrap metal, providing a stark contrast to the green grass, yellow cabs, and towering glass buildings of Midtown. These are horses that the Park Ave. equestrians will not be able to mount. As winter approaches, the grass will lose its luster and the trees and bushes will more resemble these gray life-size horses, which the artist says are "about the content, the state of mind or of being at a given instant."
GREAT MUSIC
St. Bartholomew's Church
109 East 50th St. at Park Ave.
212-378-0222
http://www.stbarts.org/concerts.htm#dec
Sunday, December 11 Bach Cantatas in Context: Bach Christmas Oratorio, Parts I-II, with the Orchestra of St. Luke's, $25-$35, 3:00
Tuesday, December 13 Music for Chanuka, with Israeli cellist Inbal Megiddo and pianist Anna Grinberg playing works by Bach, Schubert, Bloch, Beethoven, de Falla, and Paganini, $20, 7:30
Wednesday, December 14 BachWorks: Bach on the Harpsichord, Great Works performed by Anthony Newman, $20, 7:30
Friday, December 16 Christmas Vespers with Northfield Mount Hermon, 7:00
Saturday, December 17
and
Monday, December 19 Veni, Emanuel: one thousand years of Christmas music, performed by Adventori, $20, Saturday at 8:00, Sunday at 7:30
Monday, December 19 Carol Sing: all are welcome to attempt to break record for Largest Carol Service, free, 6:00
Tuesday, December 20 A Joyous Christmas Concert, featuring St. Bartholomew's Festival Brass, Choir, Boy and Girl Choristers, $20-$100, 7:30
Last-Chance Family Exhibit of the Week
DINOSAURS: ANCIENT FOSSILS, NEW DISCOVERIES
American Museum of Natural History
Central Park West & 79th St.
Through January 8, 2006
Timed tickets: $19 adults, $14 children, includes museum admission
212-769-5100
http://www.amnh.org/exhibitions/dinosaurs/?src=e_f

As long as you're bringing the kids in to see New York City during the holidays, make this a must-see stop. This exciting exhibit takes visitors behind the scenes, not only showing plenty of awesome fossils and artifacts but also revealing the methods of uncovering, examining, defining, and interpreting these remarkable finds. Paleontology itself is the star of this display, with numerous short documentaries discussing the details of the scientific process. Of course, there are also lots of cool dinosaurs: Perhaps the most awe-inspiring is the huge Apatosaurus made of fiberglass and aluminum; be sure to check out the biomechanics of this creation on the computer screens and the accompanying video. If you stand in front of the T. rex, whose movements are fabulously re-created, it will look like he's coming right at you. Take a walk through China's Jehol Forest, a marvelous diorama of the Liaoning Province in the Mesozoic era, featuring dozens of creatures, including birds, dragonflies, frogs, spiders, cockroaches, and feathered dinosaurs. Among our favorites are the 130-million-year-old beaked psittacosaur; the trophy wall of dinosaur heads; tiny frog fossils; and the nesting Mei long dinosaur. And in several places, you get to actually touch real dinosaur bones. Log on to the above Web site for lots of fascinating bonus information and photos about this exhibit's background and development. Of course, as long as you're there, don't forget to check out the regular dinosaur hall as well.
Also at AMNH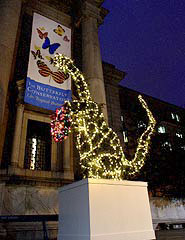 Barosaurs light the way at AMNH
ORIGAMI HOLIDAY TREE & HOLIDAY DINOS
American Museum of Natural History
http://www.amnh.org/programs/specials/holiday/?src=h_h
As you walk up the steps of the main entrance of the American Museum of Natural History, you'll be flanked by a pair of nineteen-foot-high lighted holiday barosaurs. And once you enter Theodore Roosevelt Memorial Hall on the first floor, you'll find the museum's annual Origami Holiday Tree, decorated with all kinds of animals and insects made using the special Japanese folded-paper technique.
Film Festival of the Week
PhotoFest
Jimmy Stewart is having a bit of a problem in VERTIGO
ESSENTIAL HITCHCOCK
Film Forum
209 West Houston St. between Sixth & Seventh Aves.
December 9 — January 12
Tickets: $10
212-727-8110
http://www.filmforum.org/films/hitchcock.html

Film Forum master programmer Bruce Goldstein has done it again, putting together an awesome five-week program of the best of Alfred Hitchcock, from the early silent films through 1972's FRENZY. Virtually everything is here except for, thankfully, FAMILY PLOT (1976), TOPAZ (1969), and UNDER CAPRICORN (1949), as well as a few others. (What, no MR. & MRS. SMITH?) Instead of merely arranging the films chronologically, Goldstein has played with themes, plot similarities, and psychological detail in organizing the series, which includes several don't-miss double features. There are too many great films for us to go into detail here, but we highly recommend, well, um, just about every one. But if you've never seen REAR WINDOW, THE 39 STEPS, NORTH BY NORTHWEST, PSYCHO, THE BIRDS, VERTIGO, TO CATCH A THIEF, or STRANGERS ON A TRAIN, then get your tickets fast. And don't forget to play the very fun, if obvious, game of trying to spot old Alfred himself, who makes an appearance in each of his films — even the ones that take place virtually on one set.
Friday, December 9
through
Monday, December 12 REAR WINDOW (Alfred Hitchcock, 1954), preceded by PSYCHO: THE TRAILER
Monday, December 12 THE LODGER (Alfred Hitchcock, 1926), 7:40, with live musical accompaniment by Steve Sterner, and BLACKMAIL (Alfred Hitchcock, 1929), 5:30 & 9:30
Tuesday, December 13
and
Wednesday, December 14 SABOTAGE (Alfred Hitchcock, 1936) and SABOTEUR (Alfred Hitchcock, 1942)
Thursday, December 15 LIFEBOAT (Alfred Hitchcock, 1944) and FOREIGN CORRESPONDENT (Alfred Hitchcock, 1940)
Friday, December 16
and
Saturday, December 17 THE LADY VANISHES (Alfred Hitchcock, 1938) and THE 39 STEPS (Alfred Hitchcock, 1935)
Sunday, December 18
and
Monday, December 19 REBECCA (Alfred Hitchcock, 1940)
Monday, December 19 MURDER (Alfred Hitchcock, 1930), 6:00 & 10:10, and THE RING (Alfred Hitchcock, 1927), 8:00, with live musical accompaniment by Steve Sterner
Tuesday, December 20 SHADOW OF A DOUBT (Alfred Hitchcock, 1943)
Wednesday, December 21
and
Thursday, December 22 NORTH BY NORTHWEST (Alfred Hitchcock, 1959)
Thursday, December 22 THE MAN WHO KNEW TOO MUCH (Alfred Hitchcock, 1934) and SECRET AGENT (Alfred Hitchcock, 1936)
Friday, December 16
and
Saturday, December 17 PSYCHO (Alfred Hitchcock, 1960)
Sunday, December 25
and
Monday, December 26 THE MAN WHO KNEW TOO MUCH (Alfred Hitchcock, 1956)
Tuesday, December 27
and
Wednesday, December 28 SUSPICION (Alfred Hitchcock, 1941) and SPELLBOUND (Alfred Hitchcock, 1945)
Friday, December 30
and
Saturday, December 31 DIAL M FOR MURDER in 3D (Alfred Hitchcock, 1954)
Sunday, January 1
and
Monday, January 2 THE BIRDS (Alfred Hitchcock, 1963)
Tuesday, January 3 TORN CURTAIN (Alfred Hitchcock, 1966)

Wednesday, January 4 THE WRONG MAN (Alfred Hitchcock, 1957) and ROPE (Alfred Hitchcock, 1948)
Thursday, January 5 MARNIE (Alfred Hitchcock, 1964)
Friday, January 6
and
Saturday, January 7 VERTIGO (Alfred Hitchcock, 1958)
Sunday, January 8
and
Monday, January 9 TO CATCH A THIEF (Alfred Hitchcock, 1955)
Monday, January 9 YOUNG AND INNOCENT (Alfred Hitchcock, 1937), 5:30 & 8:40, and DOWNHILL (Alfred Hitchcock, 1927), 7:10, with live musical accompaniment by Steve Sterner
Tuesday, January 10 FRENZY (Alfred Hitchcock, 1972)
Wednesday, January 11
and
Thursday, January 12 STRANGERS ON A TRAIN (Alfred Hitchcock, 1951) and I CONFESS (Alfred Hitchcock, 1953)
Thursday, January 12 BLACKMAIL (Alfred Hitchcock, 1929), 7:30, silent version with live musical accompaniment by Steve Sterner
Riff's Rants & Raves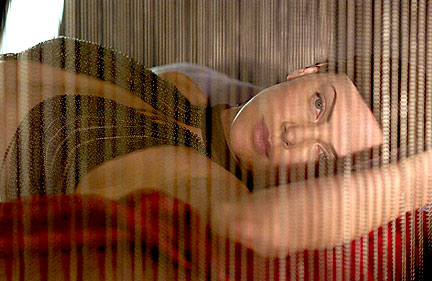 A flummoxed Charlize Theron wonders why the critics hate her film so much
AEON FLUX (Karyn Kusama, 2005)
In theaters now

We were big fans of Peter Chung's animated AEON FLUX shorts, which aired on MTV's LIQUID TELEVISION, and Karyn (GIRLFIGHT) Kusama doesn't let us down with this live-action version — pay no attention to the mostly terrible reviews it's garnered. A black-haired Charlize Theron stars as the title character, a Monican secret agent who is assigned by the otherworldly Handler (an oddly cast Frances McDormand) to assassinate Trevor Goodchild (Martin Csokas, who looks more and more like Kevin Spacey as the film goes on), the leader of the walled city of Bregna, the last civilization on earth in the year 2411. But Aeon is not able to pull the trigger, as some faraway, faded memory keeps her from killing him, even following the government's murder of her sister (Amelia Warner) — and she soon finds herself being hunted by her former partner, Sithandra (Sophie Okonedo, who has hands for feet), while Trevor's brother (Jonny Lee Miller) has plans of his own. AEON FLUX is simply good sci-fi fun; there are no outrageous special effects, the plot is riddled with holes, and we're still trying to figure out what it all means, but heck, we never understood what was going on in the cool animated series either.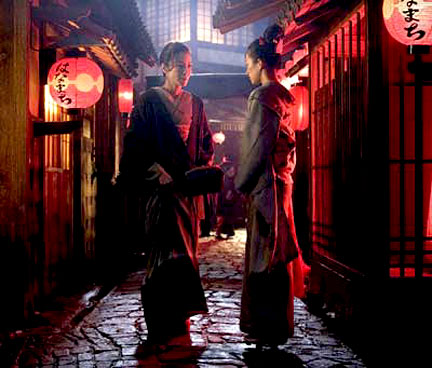 The Chinese dream team doesn't quite make it as Japanese geisha
MEMOIRS OF A GEISHA (Rob Marshall, 2005)
Opens December 9
Rob Marshall's highly anticipated adaptation of Arthur Golden's bestselling novel is a major disappointment. Golden's book, inspired by the real-life story of geisha Mineko Iwasaki, is all about nuance and pacing, moving at the speed of a geisha carefully making her way through the streets of Gion. But Marshall's film, from a script by Robin Swicord (PRACTICAL MAGIC, MATILDA) that was polished by playwright Doug Wright (QUILLS), opts for cliched melodrama instead, at times seeming more like a nighttime soap opera than an elegant, sophisticated drama. The dream team of Chinese stars Ziyi Zhang, Gong Li, and Michelle Yeoh as three Japanese geisha never quite gels, and even the colorful kimono and cheery cherry blossoms can't breathe enough freshness into this stale tale. Zhang plays Sayuri, who is sold by her father into the world of the geisha, where she becomes maid to Li's calculating Hatsumomo. Yeoh is the successful geisha Mameha, who sees a bright future in Sayuri's remarkable, unique eyes. The first part of the film is okay, but once WWII arrives, any promise the story held falls apart, which is a shame, because there was so much good material to work with, as well as a fine cast that also includes Ken Watanabe, Youki Kudoh, Mako, and the great Koji Yakusho.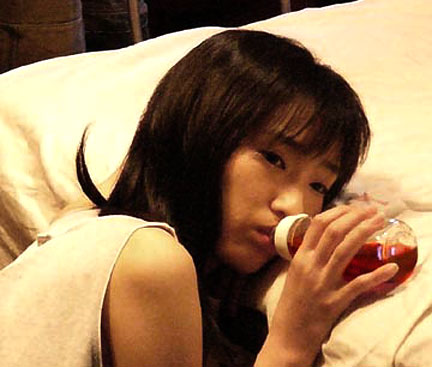 F (Tomomi Miyashita) has a babylike taste for blood in MAREBITO
MAREBITO: THE CREATURE FROM BENEATH (THE STRANGER FROM AFAR) (Takashi Shimizu, 2004)
Landmark Sunshine Cinema
143 E. Houston St. between First & Second Aves.
Opens December 9
Tickets: $10.75
212-330-8182
http://www.landmarktheatres.com/Market/NewYork/NewYork_frameset.htm

In MAREBITO, winner of the Golden Raven at the 2005 Brussels International Festival of Fantasy Film, Takashi Shimizu (JU-ON) delves into the mysterious underground world beneath Tokyo. Actor-director Shinya Tsukamoto (TETSUO) stars as Masuoka, a cameraman who becomes obsessed with a video that reveals the intense fear on the face of a man (Kazuhiro Nakahara) who stabs himself through the eye in the subway. Masuoka, who experiences life primarily through cameras, follows the terrified suicide victim's gaze into a cavernous underworld where he discovers a chained naked young woman (Tomomi Miyashita), whom he names F and calls his "little Kaspar Hauser." He brings her to his apartment but is afraid she is dying — until he finds out that she has a troubling taste for blood. Masuoka believes he might have stepped into what Richard Shaver claimed in his "Amazing Stories" was a real place called Agartha, a subterranean civilization that was home to creatures known as deros, or detrimental robots. Whether you buy into this Hollow Earth Theory or not, you will be creeped out by this slow-moving but intense film, which is enhanced dramatically by Tohiyuki Takine's subtle, haunting score.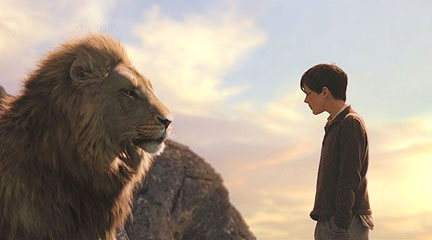 Aslan the Lion King rules the heavenly roost in Narnia
THE CHRONICLES OF NARNIA: THE LION, THE WITCH AND THE WARDROBE (Andrew Adamson, 2005)
Opens December 9
http://adisney.go.com/disneypictures/narnia

First, allow us to explain to those FOTs (friends of twi-ny) sitting with us at a special preview screening of the highly anticipated live-action version of C.S. Lewis's treasured classic that our untimely Aslan-like snore was more the result of our cold medication than anything having to do with the quality of the movie itself. Directed by Andrew Adamson, codirector of the SHREK films, THE CHRONICLES OF NARNIA: THE LION, THE WITCH AND THE WARDROBE is a frolicking, fun adventure fantasy set in a snowy, magical land that exists at the back of an old wardrobe in a British country mansion. The four Pevensie kids —­ stoic Peter (William Moseley), determined Susan (Anna Popplewell), troublesome Edmund (Skandar Keynes), and sweet young Lucy (Georgie Henley, who runs away with the film) ­— have been shipped out of London during the blitz, forced to live with a curious professor (an excellent Jim Broadbent) and his strict housekeeper (Elizabeth Hawthorne). But the children end up spending most of their time swept up in an epic battle between the White Witch (Tilda Swinton) and Aslan the lion (voiced by Liam Neeson) in an enchanting, dangerous world devoid of humans. Yes, the line between good and evil is far too obvious, and Peter looks ridiculous leading Aslan's forces, but this is still a rousing good family film. Fans of the books will not be disappointed ­—­ and can look forward to many a sequel.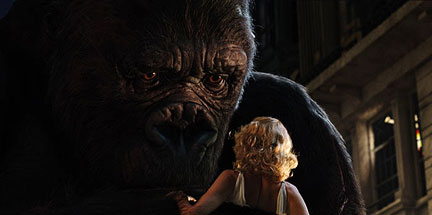 The beast falls for the beauty in Jackson's thrilling remake
KING KONG (Peter Jackson, 2005)
Opens December 14

Peter Jackson's gargantuan flick is all it's cracked up to be and more. Obsessed with the original KING KONG (Merian C. Cooper and Ernest B. Schoedsack, 1933), Jackson took a huge chance in remaking it, especially considering Dino De Laurentiis's famous 1976 failure with Jeff Bridges and Jessica Lange. Jack Black stars as Carl Denham, a maverick filmmaker who wants to set his new movie on the mysterious, uncharted Skull Island. His crew includes writer Jack Driscoll (Adrien Brody) and actors Bruce Baxter (Kyle Chandler) and Ann Darrow (Naomi Watts). When their ship crashs into the island, they all get more than they bargained for, as the natives are restless, the bugs and lizards are huge and disgusting — and very hungry —­ and there just happens to be an enormous ape hanging around. While everyone else fights for their life, Denham sees an opportunity to make it big by filming the massive ape, King Kong, in action and then bringing him back to New York City to show him off. Despite some minor glitches —­ some of the vaudeville stuff is too kitschy, some of the fight scenes are too gory (did we really need to see that guy's head swallowed by an Alien-like creature?), and the movie is way too long at around three hours ­— Jackson does it right, even slyly paying tribute to Kong creator Merian C. Cooper and original star Fay Wray. The digital re-creation of New York City is remarkable, simply pitch-perfect, and the battle between Kong and a few thunder lizards is absolutely amazing, but what's most impressive is Kong himself; Jackson has given him surprising depth, making him a sympathetic, terrifying, beloved character who will break your heart. (Lord of the Rings fans might be interested to know that Andy Serkis, who played Gollum / Smeagol, here embodies Kong and can also be seen as Lumpy the cook.)
INITIAL D (Andrew Lau & Alan Mak, 2005)
Asia Society
725 Park Ave. at 70th St.
Special screening: Thursday, December 15, 7:00
Tickets: $10
212-517-ASIA
http://hk.initialdthemovie.com/index_en.html
http://www.asiasociety.org/events/calendar.pl?rm=detail&eventid=15608

The directing duo of Andrew Lau and Alan Mak follow up their awesome INFERNAL AFFAIRS trilogy with this clichéd street-racing film based on the popular manga / anime / video game. Jay Chou stars as Takumi, a shy, quiet high school senior who just happens to be an amazing driver, trained by his often drunk (and former champion street driver) father (Anthony Wong) to speed-deliver tofu up and down treacherous Mt. Akina. As Takumi's legend grows, professionals Ryousuke (Edison Chen), Kyouichi (Jordan Chan), and Takeshi (Shawn Yue) want to take him and his seemingly ridiculous white Toyota AE86 on. All the while, Takumi keeps pumping gas at Yuuichi's (Kenny Bee) station, where he works with his goofy best friend, Yuuichi's son Itsuki (Chapman To), who longs to be rich and popular but is too much of a spoiled doofus; Takeshi also dreams about Natsuki (Anne Suzuki), his girlfriend, who is harboring a potentially devastating secret. Chou makes a great protagonist; you never know what he's going to do next. Unfortunately, you pretty much know just about everything else that is going to happen. Add a star if plot and character development takes a backseat to fast cars and hot babes in your cinematic worldview. INITIAL D was a monster hit in Hong Kong but is not scheduled for release here in the States yet, so this is a special opportunity to check it out, made possible by our good friends over at New York-Tokyo.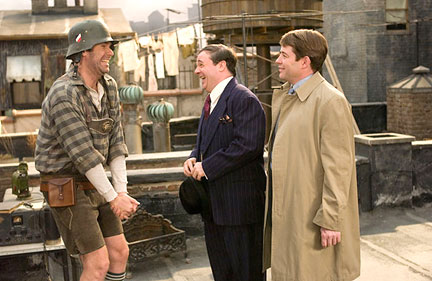 Nathan Lane and Matthew Broderick bring their Broadway musical to the big screen, with mixed results
THE PRODUCERS (Susan Stroman, 2005)
Opens Friday, December 16
http://www.theproducersmovie.com

Every time we began to grow disgusted with the film version of the Broadway musical adapted from the original cult movie, something happened that kept us hoping it would get better. And so we teeter-tottered our way through all two-plus hours of choreographer Susan Stroman's mediocre directorial debut. Nathan Lane and Matthew Broderick, seeming way too satisfied with themselves, reprise their stage roles as sleazy producer Max Bialystock and nerdy accountant Leo Bloom, who hatch a plot to produce a surefire Broadway flop and abscond with lots of old ladies' cash. Will Ferrell is a hoot as neo-Nazi playwright Franz Liebkind, Uma Thurman is just fine as Swedish sex goddess Ulla, and the fab duo of Roger Bart and Gary Beach are back as the swinging assistant Carmen Ghia and the cross-dressing director Roger De Bris. The film features lots of cameos, by Andrea Martin, Michael McKean, Richard Kind, Debra Monk, Karen Ziemba, Jai Rodriguez, and the great Jon Lovitz. But it's up and down the whole time, with good numbers ("Springtime for Hitler," "Der Guten Tag Hop-Clop") and lousy numbers ("That Face," 'Til Him"), unfunny stale jokes and funny stale jokes. Add half a star if you love musicals in general and the Broadway PRODUCERS specifically, but delete a full star if you can't stand characters suddenly bursting out into song in the middle of Central Park. If you do go, be sure to sit through all the credits for a worthwhile bonus at the very end.
ELECTRIC SHADOWS (MENG YING TONGNIAN) (Xiao Jiang, 2004)
ImaginAsian Theater
239 E. 59th St. between Second & Third Aves.
Opens Friday, December 16
Tickets: $10
212-989-1422

Xiao Jiang's feature-film debut is a heartbreaking, joyous, unforgettable look at childhood dreams gone awry set around the Cultural Revolution in China. Xia Yu stars as Dabing, a young man who delivers bottled water on his bicycle in modern-day Beijing. As he cheerfully makes his way through a back alley, he tumbles over some fallen bricks, and a young woman (Qi Zhongyang) picks up one of the bricks and smashes him on the head with it, then trashes his bicycle, without any explanation. At the police station, it turns out that she can't hear or speak, but she does ask, in writing, for Dabing to take care of her fish, anticipating she will be institutionalized. Confused, he goes to her apartment and finds her diary. It begins in Ningxia in 1971, with Jiang Xuehua (Jiang Yihong) dreaming of becoming a movie star. But an unexpected pregnancy — and the father's eventual abandonment — ostracizes Jiang and her baby, Ling Ling, from the community. A few years later, Ling Ling's (the charming Guan Xiaotong) world revolves around her strong single mother and her "uncle" Pan's (Li Haibin) outdoor cinema, where the whole town gathers to watch Chinese "revolutionary" films. Like her mother, Ling Ling yearns for movie stardom, but her life changes after meeting troublemaker Xiaobing (Wang Zhengjia), a young boy who teases her relentlessly, dresses as "Little Soldier" Mao, and gets beaten regularly by his remarried father (Xia Yuqing), all paving the way to a horrific tragedy. Xiao's paean to the movies, as seen through the eyes of a child, is a great leap forward for both woman filmmakers and "electric shadows" from Mainland China; it is an accomplished, poignant, memorable work by an artist with a bright future. Paying tribute to China's golden age of cinema, Xiao considers "ELECTRIC SHADOWS to be my gift to the Chinese film industry"; it is also a welcome gift to movie lovers everywhere, especially amid a holiday season filled with action-packed blockbusters.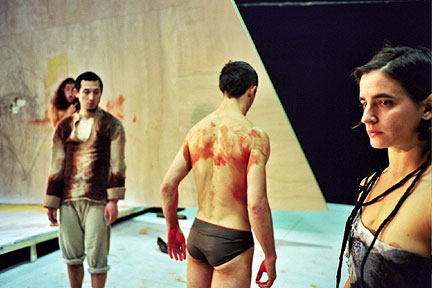 Photo: Jirka Jansch
Sasha Waltz & Guests take Schubert to new heights in IMPROMPTUS
IMPROMPTUS
2005 Next Wave Festival
Brooklyn Academy of Music
BAM Howard Gilman Opera House
30 Lafayette Ave. between Ashland Pl. & St. Felix St.
Through December 10
Tickets: $20-$55
718-636-4100
http://bam.org/events/06IMPR/06IMPR.aspx

Innovative German choreographer Sasha Waltz returns to BAM, following her stunning 2002 debut with KORPER (BODIES), with IMPROMPTUS, an engaging seventy-minute show set to five instrumentals and four lieder by Franz Schubert, performed live by pianist Cristina Marton and mezzo-soprano Judith Simonis. Waltz's company of seven talented dancers run, jump, glide, bend, and dive on two angled, sloped white stages in front of a shifting parallelogram backdrop. In between the classical music pieces, they move in silence, sometimes threatening to slide off the platforms. Dual duets feature inventive torso-on-torso rolling, with breathtaking balances and lifts and unexpected hands-free holds. Kruz Diaz de Garaio Esnaola and Claudia de Serpa Soares stomp around the stage in boots, squishy noises accompanying each step. Maria Marta Colusi and the majestic Clementine Deluy take a break by removing their clothes and sliding into a refreshing surprise. The dancers turn one of the platforms into an artist's palette, pouring water onto globs of paint, then writhing over the developing canvas, using their bodies as brushes. IMPROMPTUS is a beautifully expressive piece, enhanced by Waltz's willingness to collaborate with her company ­— who get credited as co-choreographers ­— and her continuing ability to see beyond the limits of modern interpretive dance.
EVERYWHERE
2005 Next Wave Festival
Brooklyn Academy of Music
BAM Harvey Theater
651 Fulton Street between Ashland Pl. & Rockwell Pl.
Through December 17; December 15 performance reviewed
Tickets: $20-$45
718-636-4100
http://bam.org/events/06EVER/06EVER.aspx

In 2003, Wally Cardona was commissioned to create a special dance piece for the Brooklyn Academy of Music's marvelous Harvey Theater. The result is the innovative EVERYWHERE, a work that challenges both the dancers and the audience. While the crowd slowly filters in, choreographer and dancer Cardona walks determinedly across the large stage, adding three-by-four black columns to rows and rows of them as Phil Kline's boomboxes — some fifty that are placed throughout the hall — release staccato sounds as if they have an artistic form of Tourette's. Ultimately, the lights go down, the string quartet Ethel begins playing its screeching alternative classical music in the old box seats next to the stage, and Joanna Kotze and Kathryn Sanders start dancing their way around the columns, methodically moving horizontally, vertically, and diagonally, backward and forward, fast and slow, gracefully floating between what could be seen as a sea of unmarked graves, nondescript city skyscrapers, or a dark, ominous maze from which there's no escape. Soon Matthew Winheld joins them, with Cardona now moving the blocks around like a big autistic kid, carefully placing them on top of each other and creating new paths for the dancers, who remarkably avoid knocking any of them over — until deconstruction begins, to be followed, of course, by reconstruction and a special surprise. As difficult as it is for the dancers to create their unique language in the constricted, ever-changing space, it is also hard for the viewer not to get caught up in the drama between the animate and the inanimate, human being and three-foot block, so we're never quite freed from the feeling of impending danger at every turn. In fact, when a dancer does actually knock over one pylon unintentionally, there's an inaudible gasp from the audience, and it's almost impossible not to keep looking at the fallen column — until Kotze, much later, incorporates it into the absolutely thrilling finale. Even at seventy minutes EVERYWHERE is still probably too long, but it's like nothing else you've ever experienced. Ethel will also be performing at BAMcafe on December 16-17, and Kline will host his annual "Unsilent Night" on December 18 in Washington Square Park (see below).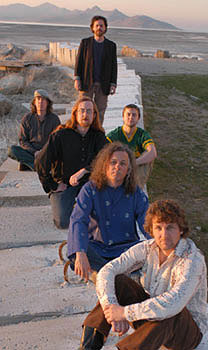 Railroad Earth is back on the Bowery
RAILROAD EARTH W/ HONKYTONK HOMESLICE
Bowery Ballroom
6 Delancey St. at Bowery
Saturday, December 10, 9:00
Tickets: $22, $18 in advance
212-533-2111

The Hobos should be out in full force as the jamming bluegrass/folk/jazz sextet Railroad Earth returns to New York City for another night on the Bowery. We've been listening repeatedly to a 2004 live sampler a twi-ny subscriber passed on to us, and we're digging it massively. We caught the band last January here, and they put on one heckuva groovy show. They opened with "Storms," the first track on their latest record, THE GOOD LIFE, and concluded the night with the album's stunning "Long Way to Go." Along the way they did a sizzling version of our favorite Earth tune, "Smilin' Like a Buddha," as well as a mighty "Mighty River," both from 2002's BIRD IN A HOUSE. They also shuffled through "Warhead Boogie," floated with "Luxury Liner," and crawled out of "Water Fountain Quicksand." With elements of the Grateful Dead, Old and in the Way, and other country juke bands, the show can veer off in numerous directions, but don't go with any expectations; like the Dead, Railroad Earth never quite knows where the music will take them every night, so just settle in for what should be a great ride. You might even hear them do covers of "Catfish John" or "Fire on the Mountain," which have been on recent setlists, or "The Wheel," "After the Gold Rush," "Friend of the Devil," "Terrapin Station," "Desolation Row," "Fisherman's Blues," and "Bang on the Ear," which have been played in the past, but not every performance includes a cover tune. Which is more than fine, because their originals are awesome fun.

"The Rangers had a homecoming / in Harlem late last night / and the Magic Rat drove his sleek machine / over the Jersey state line."
— Bruce Springsteen, "Jungleland," off the new thirtieth anniversary edition three-disc set of BORN TO RUN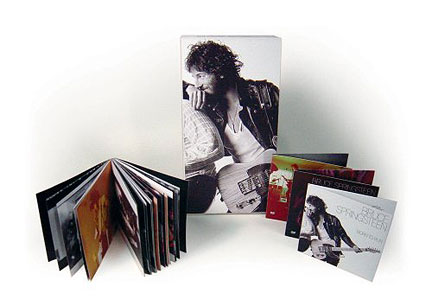 BRUCE SPRINGSTEEN: BORN TO RUN THIRTIETH ANNIVERSARY EDITION (Columbia)
http://www.brucespringsteen.net

Columbia celebrates the thirtieth anniversary of Bruce Springsteen's pivotal album, BORN TO RUN, with this splendid three-disc set. In the documentary WINGS FOR WHEELS: THE MAKING OF BORN TO RUN, director Thom Zimny pieces together old footage of Bruce and the band (which back then also included David Sancious and Ernest Boom Carter, replaced by Roy Bittan and Max Weinberg) with new interviews that tell the fascinating story behind this seminal record, which Springsteen says takes place on "one endless summer night." Bruce takes a ride through his old neighborhood, admits that he has no idea what the phrase "Tenth Avenue Freeze-Out" means, talks about the pressures he put on himself, demonstrates how he wrote most of the songs on the piano, discusses the importance of each song's musical introduction, remembers throwing the master into a pool, and — perhaps the best part of this disc — watches his old self playfully conducting strings and a choir at the end of a "Born to Run" outtake and fiddling with the "Jungleland" sax solo. The documentary also includes snippets of the great alternate version of "Thunder Road" known as "Wings for Wheels" as well as alternate takes of other songs.
A second disc features Bruce Springsteen & the E Street Band performing in 1975 at London's Hammersmith Odeon, fueled by record-company hype and what the Boss now calls "a Jersey stew of almost punk soul." Bruce and the band, nearly all wearing hats and much facial hair, tear their way through an awesome set that includes songs from the first three albums as well as the cover staples "Detroit Medley" and Gary U.S. Bonds's "Quarter to Three." For much of the show Bruce bandies about the stage without a guitar, sucking it all in and letting it all out, playing tunes that have surprisingly made their way back into his recent DEVILS & DUST repertoire ("Lost in the Flood," "It's Hard to Be a Saint in the City," "Backstreets," "For You"). It's a thrilling show that makes you feel like you're watching a moment of history as a dedicated small-town musician is about to become an international rock-and-roll icon.
Oh yeah, and then there's the album, which has been wonderfully remastered, sounding better than ever. And we love that the disc itself is designed to look like a miniature version of the original LP.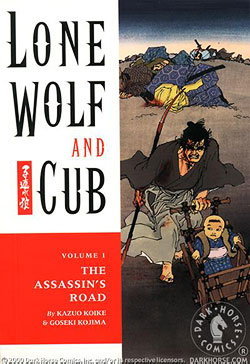 LONE WOLF AND CUB by Kazuo Koike & Goseki Kojima (Dark Horse, 28 volumes, $9.95 each)
http://www.darkhorse.com/profile/profile.php?sku=40-092

In 1970, the Golden Duo of manga, writer Kazuo Koike and illustrator Goseki Kojima, began collaborating on KAZURE OKAMI, a serial about the adventures of assassin Lone Wolf and his young son, Cub. Framed by the Yagyu clan, Lone Wolf ­— also known as Origami Itto, former kogi kaishakunin (official executioner) to the shogun ­— sets out with his curious, mysterious child, Daigoro, on the road of meifumado, the Buddhist Hell. As they make their way through the six paths and the four lives. Lone Wolf becomes a personal assassin of vengeance for anyone who will pay him, as long as they tell him the absolute truth about why the killing must be carried out. But Lone Wolf is no mere sword for hire —­ his Zen beliefs make each tale a compelling journey into the hearts and minds of troubled men and women on each end of his weapon. Koike sets up every story with superb character development and fascinating snippets of Japanese history, and Kojima's marvelous, cinematic black-and-white drawing breathes pulse-pounding excitement into panel after panel. But be warned — this is an addictive series that is most definitely not for children, as it features rape, torture, bloodshed, beheadings, and other forms of violence. It's also just plain awesome, with a haunting soul that will leave you begging for more. (Note: Each pocket-size trade paperback contains several chapters.)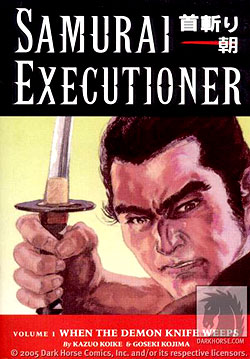 SAMURAI EXECUTIONER by Kazuo Koike & Goseki Kojima (Dark Horse, 10 volumes, $9.95 each)
http://www.darkhorse.com/profile/profile.php?sku=13-290

In volume 5 of LONE WOLF AND CUB, chapter the twenty-seventh, Kazuo Koike and Goseki Kojima introduced readers to the fabulous character of Kubikiri Asa, Yamada Asaemon, the shogun's o-tameshiyaku, who tests the cutting edge of the shogun's swords and performs all executions. Decapitator Asaemon proved so popular that he warranted a series of his own, the first six volumes of which are now available from Dark Horse here in the States. Asaemon is an unforgettable, complex character who is no mere brute slicing off criminals' heads. Instead, he believes in truth, justice, and the Samurai way, getting to the heart of each case, attempting to understand what brought these pitiful, pitiable, evil, and, sometimes, inherently good men and women to kneel down before him and offer him their neck ­— willingly or not. While some chapters tease readers with tempting glimpses into his past, others are virtually Zen poems about honor, duty, and the innate beauty of life and death. As great as LONE WOLF AND CUB is, there are times when this spinoff surpasses it in its overall, well, execution. And the excitement level is heightened even more because only six of the volumes are currently available, with the final four scheduled for the next few months, which has us salivating in embarrassing ways. And you don't need to have read LONE WOLF AND CUB (or any manga at all) to dive headfirst into SAMURAI EXECUTIONER; we suggest putting the first volumes of each on your holiday wish list.
BONUS: Look for our December 14 mailing, which will offer all subscribers a chance to win the first copy of LONE WOLF AND CUB and SAMURAI EXECUTIONER, courtesy of Dark Horse.

All contents copyright 2005 by Mark Rifkin and twi-ny. All rights reserved. Contents may not be reprinted without written permission. Please note that events, dates, and prices are subject to change.
Send all comments, suggestions, reviews, and questions to mark.rifkin@twi-ny.com.
Please note that some e-mail clients may wrap links, so be sure to enter them fully into your browser.
To subscribe to this list, please e-mail the administrator at admin@twi-ny.com with the word Subscribe in the Subject line; be sure to ask for back issues, which are free as well. To unsubscribe from this list, please think it over twice before e-mailing the same address. Please let us know what you didn't like about this forum and we'll do our best to correct it in the future -- if we agree with you. If you would like to see something covered in a future issue, please let us know. Without you, there is no need for us to exist.

twi-ny top two dozen (or so) weekly reminders & special events
2005 BROADWAY TREE LIGHTING
Father Duffy Square
Broadway at 46th St.
Admission: free
http://www.tdf.org/pressreleases/broadwaytree05.html
Wednesday, December 7 Annual tree lighting ceremony of twenty-five-foot Douglas fir, with celebrity lighters Chita Rivera and David Hyde Pierce, and live performances by the cast of ALTAR BOYZ and sixth graders from the Professional Performing Arts School, 5:00 pm
EVENTS AT MAKOR
Steinhardt Building
35 West 67th St. between Amsterdam & Columbus Aves.
Admission: $25 before October 27, $30 day of event
212-601-1000
Wednesday, December 7
and
Thursday, December 8 THE LEGACY OF JEDWABNE (Slawomir Grunberg, 2005), followed by Q&A with the director, $15, 7:30
Thursday, December 8 Freedy Johnston and Paul Brill, $12, 8:00
Saturday, December 10 Peter Bogdanovich Selects: Marlene Dietrich, THE BLUE ANGEL (Josef von Sternberg, 1930), early screening introduced by Bogdanovich, $9, 7:00 & 9:00
Sunday, December 11 B.Y.O.K (Bring Your Own Kid) – FunkeyMonkeys! Hannukah*Christmas Spectacular, $12, 1:00
Wednesday, December 14 Joel Harrison: Harrison on Harrison, World Premier Octet, Music of George Harrison, $15, 8:00
HOLIDAYS IN CENTRAL PARK
Admission: free unless otherwise noted
http://www.centralparknyc.org/thingstodo
Wednesday, December 7
through
Sunday, December 11 Will Your Smile Be Ready? Crest Whitestrips Premium Holiday Photo Booth at Wollman Rink, 212-891-0431
Thursday, December 8 Central Park Holiday Lighting, Charles A. Dana Discovery Center, featuring an ornament workshop, live music, and more, 212-794-6564, 4:00 — 6:00
Friday, December 9 North Pole Stroll, Cromwell Recreation Center in Staten Island, featuring live performances, food and drink, Santa, and tree lighting, 718-816-6172, 3:00 — 6:00
Saturday, December 17 Music at Morris-Jumel: Holiday Concert, followed by reception, Morris-Jumel Mansion, Roger Morris Park, $15, reservations required, 212-923-8008, 3:00
Sunday, December 18 Brooklyn Brandenbrugers Annual Holiday Concert, JJ Byrne Memorial Park, 718-768-3195, 2:00
CHRISTMAS AT CARNEGIE HALL
Isaac Stern Auditorium
881 Seventh Ave. at 57th St.
212-247-7800
Wednesday, December 7 Christmas Show featuring Ciaran Sheehan, the Irish Sopranos, Gay Willis, Marble Community Gospel Choir, Gaelic Harpists, Festival Youth Chorus, Garden State Children Dance Company, and New York Festival Orchestra, $25-$80, 8:00
Friday, December 9 A Holiday Celebration with Peter, Paul & Mary, with the New York Choral Society, $30-$100, 8:00
Saturday, December 10 Handel Messiah: 100th anniversary season, with St. Cecilia Chorus and Orchestra, $18-$75, 8:00
Thursday, December 15 A Christmas Concert with Dino Kartsonakis and the Manhattan Pops Orchestra and Chorale, $45-$85, 8:00
Sunday, December 18 Christmas in Vienna, with the Vienna Choir Boys, $19-$70, 2:00
Monday, December 19 Handel Messiah: In Memory of Lyndon Woodside, featuring the Oratorio Society of New York, $17-$75, 8:00
Tuesday, December 20 Handel Messiah, with Musica Sacra, $20-$120, 8:00
Wednesday, December 21 A McGarrigle Christmas, with Emmylou Harris, Rufus Wainwright, Martha Wainwright, Teddy Thompson, and others, $20-$69, 8:00
PUBLIC PROGRAMS
Dahesh Museum of Art
580 Madison Ave. at 57th St.
212-759-0606
http://www.daheshmuseum.org/publicprograms_events/firstthursdays.html
Wednesday, December 7 Romare Bearden's Odysseus Series, illustrated lecture by Professor Robert O'Meally, 6:30
Saturday, December 10 Dances from the Greek Isles, performed by the Greek American Folklore Society, $10 adults, $5 children under twelve, 2:30
Friday, December 16 Christmas Mini-Concert, with the Boricua College Chorus performing Christmas carols from around the world, $10 adults, $5 children under sixteen, 7:00
CHANUKAH AT THE JCC
JCC in Manhattan
334 Amsterdam Ave. at 76th St.
646-505-5708
Wednesday, December 7
and
Thursday, December 8 Jewelry & Ceramics & Wearable Art Holiday Sale, Laurie M. Tisch Gallery, free, 11:00 am — 8:00 pm
Monday, December 12
Tuesday, December 13
and
Wednesday, December 14 Holiday Workshops: Chanukah, for children two to five years old, $25, 3:30
Thursday, December 15 Esplanade Visit to Seniors: Chanukah, free, 3:00
MING DYNASTY
Continental
25 Third Ave. between St. Marks Pl. & Ninth St.
Admission: free
212-529-6924
Thursday, December 8 Led by former Plums frontman Eric Miranda, up-and-coming band plays an original mix of power pop, punk, '70s glam rock, and '60s Mersey beat from their fine indie EP, SPAGHETTI EASTERN; make sure to request "Kung Fu Girl," "This Town," and "Tangerine," 9:45
ARTWORKS HOLIDAY POTTERY SALE
Westside YMCA
5 West 63 St. at Central Park West
Admission: free
212-875-4398
http://www.ymcanyc.org/sub.php?p=about&sp=west/calendar.htm
Thursday, December 8
through
Sunday, December 10 Annual benefit selling handcrafted pottery for the YMCA's arts programs, 9:00 am — 7:00 pm
HOLIDAY SEASON AT
THE BROOKLYN CHILDREN'S MUSEUM
145 Brooklyn Ave. at St. Marks Ave.
Free with museum admission of $4
718-735-4400
http://www.bchildmus.org/happening/index.asp
Thursday, December 8 Swedish Candle Wreaths, celebrating St. Lucia holiday, 3:00
Sunday, December 18 Louis Does the Holidays: multicultural celebration featuring music and decking the halls, 1:00 & 2:00
Sunday, December 18 Planet Brooklyn: Las Posadas Procession, reenacting the journey to Bethlehem, ages six and up, 3:00
HOLIDAY ON THE HUDSON
Chelsea Piers
Sky Rink at Pier 61
Free tickets must be picked up in advance
212-336-6100
http://www.chelseapiers.com/prevents.htm
Friday, December 9 Ninth annual evening of figure-skating performances and holiday music, with complimentary skating; please bring unwrapped gift for Toys for Tots, 7:00 pm
THE CHRISTMAS REVELS
Symphony Space
Peter Jay Sharp Theatre
2537 Broadway at 95th St.
212-864-5400
Friday, December 9
through
Sunday, December 11 Celebrate the Winter Solstice in Elizabethan England, featuring Will Kemp, Queen Elizabeth I, storytellers, dancers, renaissance musicians, and more, $21-$45
HARD-BOILED & IN THE MOOD: TONY LEUNG
BAMcinematek / BAM Rose Cinemas
Brooklyn Academy of Music
30 Lafayette Ave. between Ashland Pl. & St. Felix St.
Through December 18
Tickets: $10
718-636-4100
http://bam.org/film/series.aspx?id=52
Hong Kong star Tony Leung Chiu-Wai is feted at this outstanding collection of some of his finest works, in films by the likes of John Woo, Hou Hsiao-hsien, and Wong Kar-wai. If the holiday season is getting to you, just slip into BAM on December 17 for an awesome trifecta — buy tickets to any two of the films and the third is free.
Friday, December 9 THE MAGIC CRANE (XIN XIAN HAO SHEN ZHEN) (Benny Chan, 1993), 2:00, 4:30, 6:50, 9:15
Saturday, December 10 HARD BOILED (LASHOU SHENTAN) (John Woo, 1992), 3:00, 6:00, 9:00
Sunday, December 11 CITY OF SADNESS (BEIQING CHENGSHI) (Hou Hsiao-hsien, 1989), 2:00, 5:15, 8:30
Friday, December 16 CYCLO (XICH LO) (Ang Hung Tran, 1995), 2:00, 4:30, 6:50, 9:15
Saturday, December 17 DAYS OF BEING WILD (A FEI ZHENGCHUAN) (Wong Kar-wai, 1990), 4:00
DAYS OF BEING WILD (A FEI JING JUEN)
(Wong Kar-wai, 1991)

Wong Kar-wai's second film, DAYS OF BEING WILD, following the surprising success of his debut feature, AS TEARS GO BY, was a popular failure, as Hong Kong audiences were not yet ready for his introspective, character-driven, nonlinear style. (However, it did win five Hong Kong Film Awards, including Best Picture and Best Actor.) DAYS is Wong's first film with master cinematographer Christopher Doyle, who has since shot all of Wong's work, including CHUNGKING EXPRESS, FALLEN ANGELS, HAPPY TOGETHER, and IN THE MOOD FOR LOVE. The late Leslie Cheung, who jumped out a hotel window in 2003, stars as Yuddy, a disaffected, beautiful youth who lures in women and then, after they fall in love with him, verbally mistreats them and cheats on them. Among his conquests are the gorgeous Su-Lizhen (Maggie Cheung), often shot in magnificent close-up, and the trampy Mimi (Carina Lau), who is jealous of Su, who takes comfort in telling her tale of woe to local police officer Tide (Andy Lau). Meanwhile, Yuddy, who was raised by a former prostitute, is obsessed with finding his birth mother, two facts that just might be part of the reason he treats women as he does. Set in 1960, the film's leitmotif involves time and memory, with clocks ticking loudly and lots of long, lingering looks. The story goes a bit haywire in the latter sections, although the ending is a gem. (Look for Tony Leung there.)
Saturday, December 17 IN THE MOOD FOR LOVE (HUAYANG NIANHUA) (Wong Kar-wai, 2000), 6:00
Saturday, December 17 2046 (Wong Kar-wai, 2004), 8:00
Sunday, December 18 HAPPY TOGETHER (CHUNGUANG ZHAXIE) (Wong Kar-wai, 1997), 2:00, 4:30, 6:50, 9:15
HOLIDAYS AT HENRY ST.
Abrons Arts Center
Henry Street Settlement
466 Grand St. at Pitt St.
212-598-0400
Friday, December 9
through
Sunday, December 11 Second Annual Invitational Artists Holiday Craft Sale
Saturday, December 17 CHRISTMAS ALL OVER THE PLACE! with the Paper Bag Players, for ages four to nine, $10 adults, $5 children, 3:00
Sunday, December 18 Winter Concert, Harry De Jur Playhouse, $5, free for seniors and children six and under, 2:00
CHRISTMAS WITH THE WEST VILLAGE CHORALE
Church of St. Luke in the Fields
487 Hudson St. south of Christopher St.
212-517-1776
http://www.westvillagechorale.org
Friday, December 9 Annual Caroling Walk, beginning in the school cafeteria off the rear church courtyard, all voices welcome, free, 7:00
Saturday, December 17 Winter Concert: Rescue Me!, $20, 8:00
Monday, December 19 Messiah Sing! conducted by Michael Conley, all voices welcome, $12, 7:30
A DICKENS OF A CHRISTMAS
Staten Island Zoo
614 Broadway
718-442-3100
http://www.statenislandzoo.org
Saturday, December 10 Third annual event featuring the lighting of the Christmas tree, Santa Claus, reindeer, caroling, and more, $10 in advance, $15 at the door, $5 for photo with Santa, 5:00 — 8:00
TECHNEMEDIA HOLIDAY BASH
The Knitting Factory Tap Bar
74 Leonard St. between Broadway & Church St.
212-219-3132
http://www.knittingfactory.com
Saturday, December 10 Showing Off, Sounding On: multimedia show, $15 in advance, $20 day of show, 8:00
NORDIC HOLIDAY TRADITIONS
Scandinavia House
58 Park Ave. at 38th St.
212-847-9740
http://www.scandinaviahouse.org/programs.html#ex
Through December 31 The Holiday Shop, featuring Nordic products including food, clothing, housewares, jewelry, and more, free
Saturday, December 10 Holiday Storytelling with the Hans Christian Andersen Storytellers -- Kaye Lindauer, THE LITTLE FIR TREE, ages five and up, free, 11:30 am
Saturday, December 10
and
Sunday, December 11 Christmas Smörgåsbord with Restaurant Aquavit, lunch $50 at 11:30 and 1:30, dinner $65 at 5:30 and 7:30, reservations strongly suggested and prepaid, 212-847-9724
Sunday, December 11 Holiday Concert with the Scandinavia Chamber Society, $25, 4:00
HANUKKAH CRAFTS FESTIVAL
Ansche Chesed
251 West 100th St. at West End Ave.
212-865-0600
Saturday, December 10 Gala benefit reception with food, drink, and live music, $25, 8:00
Sunday, December 11 Twenty-fifth annual crafts fair, featuring Judaica from Israel and the U.S., $6, 11:00 am — 5:00 pm
WILD HOLIDAY PARTY
Central Park Zoo
830 Fifth Ave. at 64th St.
Admission: free with zoo admission of $3.50 adults, $.50 children 3-12
212-861-6030
http://nyzoosandaquarium.com/czwhatshappening/cpz-events
Saturday, December 10, 17
and
Sunday, December 11, 18 Presents to the Animals, 10:00 am — 3:00 pm
HOLIDAY EVENTS AT RIVERSIDE CHURCH
490 Riverside Dr. between 120th & 122nd Sts.
212-870-6784
http://www.theriversidechurchny.org/events
Saturday, December 10 Maranatha's Homestyle Christmas annual party, $20 donation, 8:00
Sunday, December 11 A Smile from the Baby Jesus, the Theatre, $5, 2:00
Wednesday, December 14
through
Saturday, December 17 Handel's MESSIAH, featuring the New York Philharmonic, the Nave, $27-$70, 7:30/8:00
Friday, December 16
and
Saturday, December 17 Mooney/Cooley dance THE NUTCRACKER ballet, the Theatre, $18, 8:00
Sunday, December 18 Candlelight Carol Festival, the Nave, $20 adults, $10 children twelve and under, 3:00 & 6:00
SCREENINGS + EVENTS
Museum of the Moving Image
35th Ave. at 36th St., Astoria
Tickets: $10
718-784-4520
http://www.ammi.org/site/screenings/index.html
Saturday, December 10 Laurel and Hardy: Ken Jacobs in Person — "ONTIC ANTICS": A Live Projector Performance, 2:00
Saturday, December 10
and
Sunday, December 11 Repertory Nights: TOUCH OF EVIL (Orson Welles, 1958), 6:30
Saturday, December 17
and
Sunday, December 18 Black Light: KIRIKOU AND THE SORCERESS (Michel Ocelot, 1998), 12 noon
Saturday, December 17
and
Sunday, December 18 Repertory Nights: SUNRISE (F.W. Murnau, 1927), 6:30
EARLY AUTUMN: MASTERWORKS OF JAPANESE CINEMA FROM THE NATIONAL FILM CENTER, TOKYO
MoMA Film
Museum of Modern Art
Through January 2006
Tickets: $10, in person only, may be applied to museum admission within thirty days, same-day screenings free with museum admission, available at Film and Media Desk
http://moma.org/exhibitions/film_media/2005/japanese_cinema.html
Saturday, December 10 WOMAN IN THE DUNES (SUNNA NO ONNA) (Hiroshi Teshigahara, 1964), 8:30
WOMAN IN THE DUNES (SUNNA NO ONNA) (Hiroshi Teshigahara, 1964)

Hiroshi Teshigahara's Sisyphean tale, based on Kobo Abe's marvelous novel, tells the story of a man out in the desert looking for insects when he comes upon a village of people living in the sand dunes -- and he is unknowingly sucked into their world. Don't miss the movie, and be sure to read the book as well; the scenes of the man trying to escape by climbing up the sand will feel oddly familiar to anyone who has ever been trapped in a seemingly inescapable situation. Teshigahara, who died in April 2001, adds surreal visual elements that make the film an unusually compelling though basically simple story.
Monday, December 12 GATE OF HELL (JIGOKUMON) (Teinosuke Kinugasa, 1953), 8:00
Thursday, December 15 INTENTIONS OF MURDER (AKAI SATSUI) (Shohei Imamura, 1964), 8:00
Friday, December 16 WHERE SPRING COMES LATE (KAZOKU) (Yoji Yamada, 1970), 6:30
A DIVINE CHRISTMAS
The Cathedral Church of St. John the Divine
1047 Amsterdam Ave. at 112th St.
212-316-7540
http://www.stjohndivine.org/news_performances.html
http://www.stjohndivine.org/pe_forthcoming.html
http://www.stjohndivine.org/news_workshops.html
Saturday, December 10 1,000 Paper Cranes: A Season of Light Holiday Workshop, ages four and up, $5 per child, 10:00 am
Saturday, December 10 Handel's Messiah, $15-$30, 7:30
Thursday, December 15
through
Saturday, December 17 Paul Winter's Twenty-sixth Annual Winter Solstice Concerts, with Renato Braz, the Dmitri Pokrovsky Ensemble, the Forces of Nature Dance Theater Ensemble, and others, $16-$75
Saturday, December 17 Merry Music Making: A Holiday Program, ages one to three, $10 per child with adult, reservations and prepayment required, 10:30 am
Saturday, December 17 Christmas Stories: Spotlight on Christmas, tour led by John Simko, $8, 11:00 am
Sunday, December 18 A Choristers' Christmas, featuring the Cathedral Choristers, $8-$15, 3:00
MORMONSPLOITATION!
The Two Boots Pioneer Theater
155 East Third St. at Ave. A
December 10-21
Tickets: $9 unless otherwise noted
212-254-3300
http://www.twoboots.com/pioneer
Saturday, December 10, 10:45
and
Saturday, December 17, midnight NEW YORK DOLL (Greg Whiteley, 2005)
NEW YORK DOLL (Greg Whiteley, 2005)

NEW YORK DOLL is an unforgettable documentary about Arthur "Killer" Kane, a man who went to the heights of ecstasy as a member of the New York Dolls in the early 1970s, hit the depths of depression in the late 1980s, and rediscovered himself in the 1990s as a Mormon librarian. As bassist for the New York Dolls, Kane, dressed wildly in heavy makeup and women's clothes, anchored the glam rock idols, which also included David Johansen, Sylvain Sylvain, Johnny Thunders, and Jerry Nolan. The band dissolved after only two studio albums, and while the rest of the band remained in the music business (Thunders and Nolan died in the early '90s), Kane's drug- and alcohol-addled life spiraled downward. As Johansen started showing up in mediocre Hollywood movies (MARRIED TO THE MOB, SCROOGED, CAR 54, WHERE ARE YOU?) and his alter ego, Buster Poindexter, could be heard singing "Hot, Hot, Hot" at every bar mitzvah and wedding in town, Kane languished in obscurity until, in 1989, after a ridiculous suicide attempt, he became a Mormon.
Fellow Mormon Greg Whiteley follows Kane around with a handheld camera as the former underground rock star goes about his daily life, working in a Mormon Family History Center library in California, taking the bus to work, hanging out with old ladies, paying "rent" on his pawned basses, and living a simple existence — until he gets a call from British pop star Morrissey, who wants the Dolls to reunite for the 2004 Meltdown festival in London. Kane is a soft-spoken, earnest, gentle man who seems a little bit off yet genuine, but this is what he's been waiting for — although he is also afraid of failure yet again. Whiteley intersperses classic Dolls songs ("Looking for a Kiss," "Lonely Planet Boy," "Private World," "Puss 'n' Boots," "Trash," and Johnny Thunders's "You Can't Put Your Arms Round a Memory") with talking heads who share their love of the band (including Sir Bob Geldof, Chrissie Hynde, Mick Jones from the Clash, Blondie's Clem Burke, and especially Morrissey, who is always seen in extreme close-up and is oh-so-serious), although we wish the film included more music, of a higher quality. Yet the remarkable story and ridiculously bizarre ending, which has a THIS IS SPINAL TAP quality to it throughout — except it's very real — rises above it all to create a one of the best rockumentaries we've ever seen.
Thursday, December 15
through
Wednesday, December 21 TRAPPED BY THE MORMONS (Ian Allen, 2005)
Friday, December 16 PRIMER (Shane Carruth, 2004), 12 midnight
PRIMER (Shane Carruth, 2004)

Former engineer and first-time filmmaker Shane Carruth wrote, directed, edited, scored, and stars in this utterly confusing, confounding, and ultimately uninvolving tale of two engineers who accidentally develop a machine that breaks through the time-space continuum and can create doubles of — well, it's better not to get too specific, because we're not really sure what it's all about and what really happens. That can sometimes be a good thing, but not this time around, we're afraid. Carruth, who made the film for a mere $7,000, is purposefully vague, but it's to his own detriment, resulting in a story that plays more like an episode of the new OUTER LIMITS than the intriguing, unique, imaginative movie he wanted to make.
Saturday, December 17 TRAPPED BY THE MORMONS (H.B. Parkinson, 1922), 7:00
Saturday, December 17 ALL DOLLED UP (Bob Gruen). 10:15
Sunday, December 18
and
Wednesday, December 21 WAGON MASTER (John Ford, 1950), 7:15
Monday, December 19 A MORMON MAID (Robert Z. Leonard, 1917), 7:00
Tuesday, December 20 The Mormon Church Explains It All to You, featuring four short films presented by Dennis Nyback, with beer and pizza following the screenings, 7:00
HEAR A HOLIDAY TALE
New York Society for Ethical Culture
2 West 64th St. at Central Park West
Tickets: $5 per child/adult
212-874-5210
Sunday, December 11 Storytelling with Joy Kelly, 2:00
CATHEDRAL CANDLELIGHT CONCERT
The Cathedral of the Holy Trinity
319 East 74th St.
212-971-9500
http://www.thecathedral.goarch.org
http://www.littleorchestra.org
Sunday, December 11 Great Music Under a Byzantine Dome: The Little Orchestra Society, $35-$150, 5:30
HANUKKAH AT THE JEWISH MUSEUM
The Jewish Museum
1109 Fifth Ave. at 92nd St.
212-423-3200
Sunday, December 11 Hanukkah Art Fair, featuring arts & crafts workshops, gallery activities, storytelling, and more, free with museum admission, 12 noon — 4:00
Sunday, December 18 Concert: Ben Rudnick & Friends perform twisted holiday hits, ages three and up, $12, 2:00
CANDLELIGHT CHRISTMAS CONCERT
Church of the Ascension
Fifth Ave. at Tenth St.
212-358-1469
http://www.voicesofascension.org
Tuesday, December 13 Holiday concert featuring Dennis Keene and the Voices of Ascension, ages three and up, $10-$45, 7:30
BOOK SIGNING
Artists Space
38 Greene St. between Broome & Grand Sts.
Admission: free
212-226-3970 ext306
Tuesday, December 13 Warren Neidich, EARTHLING, with the launch of www.artbrain.org #3, 6:00 — 9:00
CHRISTMAS AT MERCHANT'S HOUSE MUSEUM
29 East Fourth St. between Lafayette St. and the Bowery
Closed Tuesday & Wednesday
Admission: $8 unless otherwise noted
212-777-1089
Wednesday, December 14 Nineteenth-Century Holiday Party, featuring the Bond Street Euterpean Singing Society, a "bowl of bishop," a silent auction and gift bazaar, and costumes encouraged (and provided if you don't have one at home), $25, 6:30
Through Monday, January 9 Exhibition: The Gifts of Christmas Past: A Mid-Nineteenth-Century New York Holiday
OPEN HOUSE AT THE WESTPORT
YWCA-NYC Family Resource Center
500 West 56th St.
Admission: free
212-735-9778
http://www.ywcanyc.org/newsletter/0504.frc.htm
Thursday, December 15 Nutrition and job training demonstrations, with City Councilwoman Gale Brewer, 5:00 — 7:00
HOLIDAYS AT MT. VERNON
Mount Vernon Hotel Museum & Garden
421 East 61st St.
Tickets for both events: $30 adults, $16 kids
212-838-6878
http://www.mvhm.org/pages/events/events.htm
Thursday, December 15
and
Saturday, December 17 Candlelight Tours: Visit the holiday season of 1827 with this eight-room tour that includes period music, hot cider, eggnog, and other goodies, $15 adults, $6 children, reservations strongly suggested
Saturday, December 17 Holiday Concert: Bond Street Euterpean Singing Society, $20 adults, $10 kids, 7:30
HOLIDAY CONCERT
Solomon R. Guggenheim Museum
1071 Fifth Ave. at 89th St.
Admission: free
212-423-3500
http://www.guggenheim.org/education/worksandprocess/schedule.html
Friday, December 16
and
Saturday, December 17 Holiday music with the Vox Vocal Ensemble, conducted by George Steel, in the rotunda, 6:00
BAMCAFE LIVE
Brooklyn Academy of Music Opera House Café
30 Lafayette Ave. between Ashland Pl. & St. Felix St.
No cover; $10 food/drink minimum
718-636-4100
http://bam.org/events/bamcafelive.aspx
Friday, December 16
and
Saturday, December 17 Ethel (with Gutbucket on December 17), 9:00
HOLIDAYS AT THE SOUTH STREET SEAPORT MUSEUM
12 Fulton St. between South & Front Sts.
212-748-8735/8758
Friday, December 16 Free Fridays: 'Tis the Season, featuring a holiday workshop, the singing Christmas tree, and more, 5:00 — 9:00 pm
Saturday, December 17
and
Sunday, December 18 Family Program: Light Around the World, celebrating Christmas, Hanukkah, Kwanzaa, and more, free with museum admission of $8 adults, $4 children five to twelve, 1:00 — 4:00
HANUKKAH THEATER
Museum of Jewish Heritage — A Living Memorial to the Holocaust
36 Battery Pl.
646-437-4200
http://www.mjhnyc.org/visit_safra_hall4.htm
Sunday, December 18 Performance with the Striking Vikings Story Pirates, $12 adults, 2:30
FOURTEENTH ANNUAL UNSILENT NIGHT
Meet at the Washington Square Arch at 6:45 pm
Piece ends in Tompkins Square Park at 8:00 pm
Admission: free
http://www.mindspring.com/~boombox/xmas.htm
Sunday, December 18 Phil Kline's outdoor ambient music piece for an infinite number of boomboxes; e-mail boombox@mindspring.com if you want to bring your own boombox and be given a tape to participate
HOLIDAY GIFT AND BOOK FAIR
YM & YWHA of Washington Heights and Inwood
54 Nagle Ave. between Broadway & Ellwood St.
212-569-6200
Sunday, December 18
through
Monday, December 26 Annual holiday fair
THE BOWERY MISSION & KIDS WITH A PROMISE
1-800-bowery-1
http://www.bowery.org/features/Giving-Catalog.pdf
The Bowery Mission, which has been helping homeless and hungry New Yorkers for more than 125 years, actually has an online catalog for donations, where you can choose such gifts as dinner at the Mission for 250 men ($397), an Outreach grocery bag ($56), a week at the career center ($1,090), refuge from the streets ($210), a haven for a day for twenty-five women ($1,052), summer camp for a child ($375), and a full year of after-school programs ($1,720), among many others.
TENTH ANNUAL UNION SQUARE HOLIDAY MARKET
Broadway to Park Ave. South, 14th — 17th Sts.
Monday through Friday 11:00 am — 8:00 pm
Saturday 10:00 am — 8:00 pm
Sunday 11:00 am — 7:00 pm
Admission: free
718-460-1208
Through Saturday, December 24 More than one hundred vendors offering unique wares