Twi-ny, This Week In New York
Twinkling lights change colors as holiday classics play in the Great Hall
UNDER THE STARS
Time Warner Center
10 Columbus Circle at Broadway, Eighth Ave., & 59th St.
Through January 4, daily from 5:00 pm to close
Admission: free
212-823-6300
http://theshopsatcolumbuscircle.com
http://www.timewarner.com/corp/print/0,20858,1125352,00.html
The 150-foot-high Great Room at the main entrance to the Time Warner Center will be filled with a dozen dangling stars made of more than 8,500 LEDs. As tepid holiday music plays, the fourteen-foot stars twinkle, glitter, and change color. An added element is the reflections you can see in the front window, making it seem like there are twice as many stars and lights. And don't worry about the Botero statues that usually greet you facing Columbus Circle; they've merely been moved into the hall.
In the Neighborhood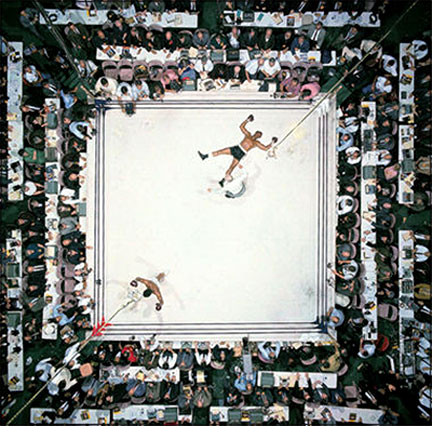 Millenia Fine Art Collection
Muhammad Ali retreats to his corner after knocking out Cleveland Williams
MILLENIA FINE ART COLLECTION
Time Warner Center
Second Floor
Ongoing
Admission: free
866-655-8655
Take the escalator to the second floor for a great view of the "Under the Stars" display detailed above. While you're there, take a trip through Millenia Fine Art's rotating collection of photographs and sculptures. Currently featured are Gered Mankowitz's shots of Jimi Hendrix and Keith Richards; Jay Blakesberg's lenticular photos of the Rolling Stones and Jerry Garcia; Terry O'Neill's pictures of Brigitte Bardot smoking a cigar, Faye Dunaway relaxing poolside, and Frank Sinatra with his body double; Graham Nash's picture of Dennis Hopper; Neil Leifer's boxing photographs, including a stunning C-print of the 1966 Muhammad Ali / Cleveland Williams fight; and sculptures by Fernando Botero, Martin Spei, Duncan McClellan, and Henry Moore.

HOLIDAY MARKET AT COLUMBUS CIRCLE
Columbus Circle entrance to Central Park
Admission: free
212-529-9262
http://www.urbanspace.com/holidaymarkets.html
Saturday, December 2
through
Sunday, December 24 Dozens of artisans and boutiques will be selling their wares, including jewelry, flowers, leather goods, adult and kids clothing, holiday cards, bath oil and candles, pet toys, and more, 10:00 am- 8:00 pm

BORDERS BOOKSTORE EVENTS
Shops at Columbus Circle
10 Columbus Circle
Admission: free
212-823-9775
http://www.bordersstores.com/events/events.jsp
Friday, December 1 The Klezmatics, WOODY GUTHRIE'S HAPPY JOYOUS HANUKKAH, 7:00
Saturday, December 2 Chuck Fischer, CHRISTMAS IN NEW YORK, 4:00
Tuesday, December 5 Albert Maysles and members of the creative team behind GREY GARDENS: THE MUSICAL, 6:00
Wednesday, December 6 Whoopi Goldberg, WHOOPI'S BIG BOOK OF MANNERS, 7:00
Thursday, December 7 Robert Sabuda and Matthew Reinhart, THE 12 DAYS OF CHRISTMAS ANNIVERSARY EDITION, 7:00
Monday, December 11 Panel discussion: UP IS UP BUT SO IS DOWN: NEW YORK'S DOWNTOWN LITERARY SCENE, 1974-1992, with Brandon Stosuy, Bruce Benderson, Max Blagg, and Catherine Texier, 7:00
Wednesday, December 13 Bryan Fogel and Sam Wolfson, JEWTOPIA, 7:00
Monday, December 18 Andy Rooney, OUT OF MY MIND, discussion with Peter Osnos, 7:00
Photography Exhibit of the Week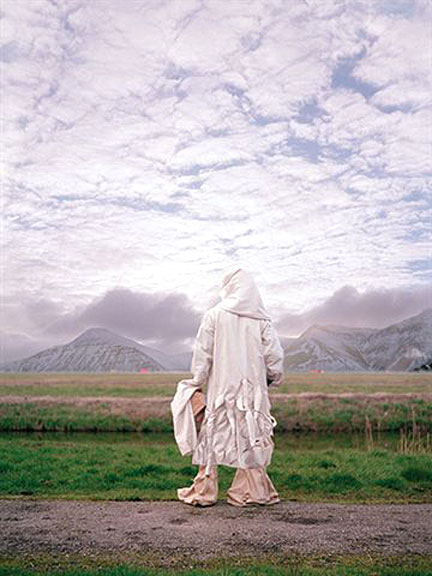 © Mary Mattingly / Robert Mann Gallery
Mary Mattingly, "The New Mobility of Home (The Nobility of Mobility)," 2004
ECOTOPIA:
THE SECOND ICP TRIENNIAL OF PHOTOGRAPHY AND VIDEO
International Center of Photography
1133 Sixth Ave. at 43rd St.
Closed Mondays
Through January 7
Admission: $10
212-857-0000

The second part of ICP's triennial is a multimedia warning about the future of our planet. Taking on Mother Nature, global warming, environmental change, industry and technology, deforestation, and more, forty artists from fourteen nations make a compelling case that the earth is in dire need of some major help. Catherine Chalmers's video "Safari" follows the adventures of a cockroach, a city pest who is seen here in a completely different way, while Goran Devic' documents the plight of Veber's crows in Croatia, which were brought in to take care of a gypsy moth infestation but now are unwanted themselves. Sam Easterson attaches miniature cameras to a sheep, deer, armadillo, buffalo, cow, pig, falcon, turkey, fly, tarantula, scorpion, and more for his Animal Vegetable Video series, putting us in their shoes for a few minutes. Mitch Epstein's photographs of charming American homes are demonized by power plants looming in the distance. Joan Fontcuberta takes works by Bill Brandt, Alfred Stieglitz, and Man Ray and digitally manipulates them into fascinating imaginary landscapes both dark and beautiful.
Zabriskie Gallery
Joan Fontcuberta, "Orogenesis: Brandt," gelatin silver print, 2006

Harri Kallio brings back the extinct dodo, making two models and photographing them (in multiples) in what is believed to be their former habitat in Mauritius. Mary Mattingly's futuristic landscapes reacquaint lone figures with nature. You'll have to move back to make sense of Thomas Ruff's "jpeg bo02," but what you see and feel from afar is not quite the same as what you see and feel up close. Victor Schrager comments on man's effect on nature in "Bird Hand," a series of photos of "a bird in the hand," while Diana Thater's "Perfect Devotion Five" takes a look at wild tigers at play — but she projects the short film in an old-fashioned way, reminding viewers of how things used to be. Simon Starling's platinum prints reveal the environmentally unsound printing process itself, consisting of shots of the South African quarry where the platinum ore came from to make the prints. Kim Stringfellow's pictures of the Salton Sea are as infuriating as they are beautiful. Utopia this is not.
Thursday, December 7 Human/Nature — Beyond the International Center of Photography's "Ecotopia": panel discussion with New York Times science writer Andrew Revkin, the Nature Conservancy lead scientist Sanjayan Muttulingam, and photographer Clifford Ross, moderated by ICP curator Brian Wallis, $5, 7:00
In the Neighborhood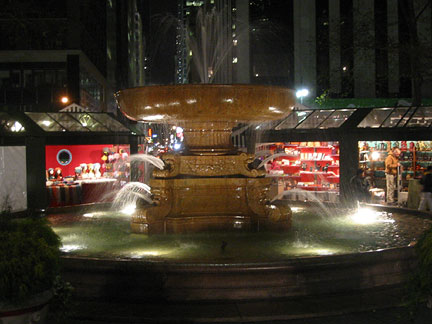 twi-ny/mdr
Christkindlmarkt booths wind around Bryant Park fountain
FÊTES DE NOËL
The Holiday Shops at Bryant Park
42nd St. & Sixth Ave.
Through Sunday, December 31
Monday through Friday, 11:00 am — 8:00 pm; Saturday, 10:00 am — 9:00 pm; Sunday, 10:00 am — 6:00 pm
Admission: free
212-382-2953
http://www.bryantpark.org/amenities/shops.php
http://www.fetesdenoel.com/facts.asp
The fifth annual outdoor Christkindlmarkt in Bryant Park features arts and crafts from more than one hundred New York artists and artisans, lined up in rows around the Pond ice-skating rink and the fountain dedicated to Civil War widow and public servant Josephine Shaw Lowell.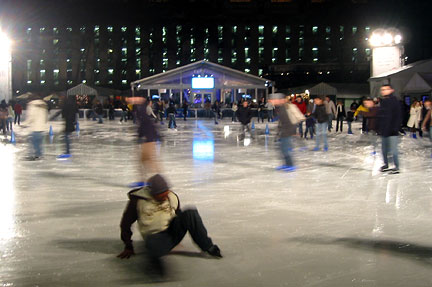 twi-ny/mdr
The Pond attracts Rangers, Broadway performers and more to Bryant Park
THE POND
Bryant Park Lawn
Between 40th & 42nd Sts. and Fifth & Sixth Aves.
Through Monday, January 15
Sunday — Thursday 8:00 am — 10:00 pm
Friday & Saturday 8:00 am — 12 midnight
Admission: free; skate rental: $8.75
Lockers: free; locks $9; bag check $6
212-382-2953
http://www.bryantpark.org/amenities/thepond.php
Last October, this seventeen-hundred-square-foot state-of-the-art ice-skating rink opened on the Bryant Park lawn, and it's off and running in its second season as part of the annual Fêtes de Noël holiday celebration
Wednesday, November 29 NY Rangers Alumnae at the Pond, 4:00 — 6:00
Thursday, November 30 Ice Theatre of New York, 6:30
Saturday, December 2 , 16, 23, 30 Broadway Moves, with Bobby C, 10:00 am
Thursday, December 14 Ice Theatre of New York, 6:30
Thursday, December 21 Synchronized Skating Performance, with the Spitfires and the Skyliners, 6:30
Grand Central Holiday Events of the Week
Holiday light show illuminates ceiling in Grand Central
GRAND CENTRAL KALEIDOSCOPE LIGHT SHOW
Grand Central Terminal
Main Concourse
December 1 — January 1
Every half hour from 11:00 am — 9:00 pm
Admission: free
212-340-2347
http://www.grandcentralterminal.com
Grand Central will be hosting a brand-new light show this year, a kaleidoscopic wonderland telling the story of the daily life of the terminal itself, including architectural elements, clocks, commuters, taxis, statues, and much more. The show has been put together by Casa Magica and Art Lumiere, who have collaborated on major indoor and outdoor light projects around the world. While looking at the ceiling, don't forget to check out the hole in the center (caused by the top of a WWII missile stored there) as well as the black strip in the northeast corner, which is a single brick left uncleaned to show how dirty the ceiling was prior to the massive renovations spearheaded by Jacqueline Kennedy Onassis.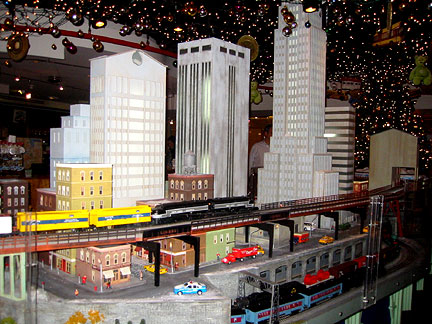 twi-ny/mdr
You can travel from Manhattan to the North Pole at GCT train show
HOLIDAY TRAIN SHOW AT GRAND CENTRAL
New York Transit Museum Gallery Annex
Grand Central Terminal
Shuttle Passage next to the Station Masters' Office
Through Monday, January 15
Monday through Friday, 8:00 am — 8:00 pm; Saturday and Sunday, 10:00 am — 6:00 pm
Admission: free
212-878-0106
http://www.mta.info/mta/museum/programs.htm
http://www.grandcentralterminal.com
The Transit Museum's fifth annual holiday train show in Grand Central is another sheer delight, celebrating the museum's thirtieth anniversary. Created by Lionel and TW Design, this year's display features such city monuments as the Empire State Building (complete with King Kong), Philip Johnson's AT&T/Sony building, and Grand Central itself, surrounded by a gaggle of little shops, including Second Chance Books, Paws & Claws Pet Shop, and Suzy's Ice Cream. The streets around the buildings and the lighted Christmas tree are filled with shoppers, cabs, policemen, buses, and commuters, all preparing for the holiday season. There's also some cool track work going on, as well as a special dockside delivery. At the back of the display, Santa and his reindeer fly over a snow-covered mountain as the North Pole Central roars on. Finally, along the walls, the museum has reached into its permanent collection, pulling out such gems as the 1891 Empire State Express, the 1934 Commodore Vanderbilt, the 1937 Flying Yankee, and the 1928 Pocahontas.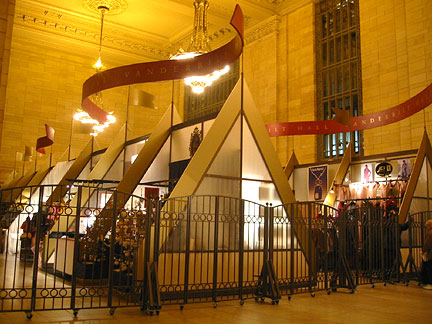 twi-ny/mdr
Annual fair in Grand Central has opened its gates
GRAND CENTRAL HOLIDAY GIFT FAIR
Grand Central Terminal, Vanderbilt Hall
Through December 29
Monday through Saturday: 10:00 am — 8:00 pm
Sunday: 10:00 am — 6:00 pm
Admission: free
212-340-2347
http://www.grandcentralterminal.com
The annual holiday fair has returned to Vanderbilt Hall, featuring dozens of booths of unique arts and crafts, from photo albums and Tibetan hats to antique estate jewelry and children's toys and clothes, from artistic lamps and etched glass to cityscapes and scarves, as well as mosaics, dog treats, ceramics, Japanese prints, and more.
Rockefeller Center Holiday Events of the Week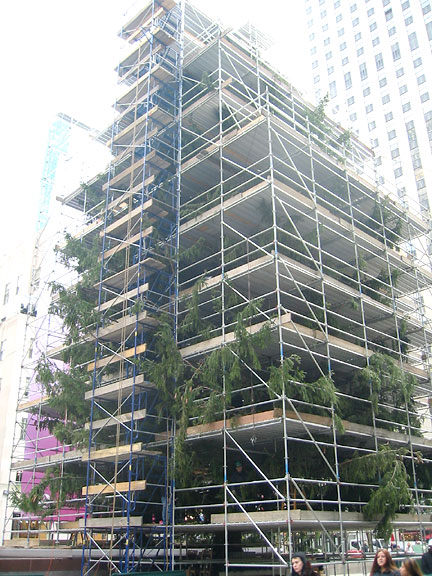 twi-ny/mdr
The Rockefeller Center Christmas Tree gets ready for another season
ROCKEFELLER CENTER CHRISTMAS TREE
Rockefeller Plaza West
West 48th & 51st Sts. between Fifth & Sixth Aves.
Through January 8
Daily from 5:30 am to 11:30 pm
Admission: free
212-632-3975
http://www.rockefellercenter.com
The city's most famous Christmas tree, adorned with some thirty thousand lights and balancing the Swarovski Star, which features twenty-five thousand crystals itself, will remain on view at Rockefeller Center through the holiday season.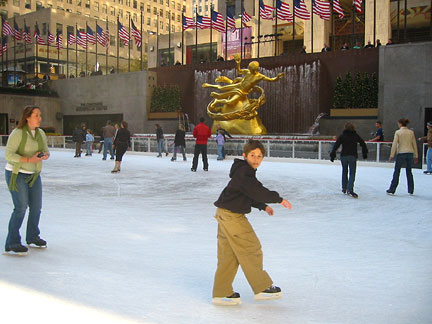 twi-ny/mdr
Skaters glide past Prometheus in Rockefeller Center
THE RINK AT ROCKEFELLER CENTER
601 Fifth Ave. between 49th & 50th Sts.
Open 8:30 am — 12 midnight
Admission: $14.50-$17.50 adults, $10.50-$12.50 children under eleven and seniors
Skate rentals: $8
Lessons: $30-$32
212-332-7654
http://www.rapatina.com/iceRink
Skate under the eyes of Prometheus and the lenses of thousands of tourists in the most famous ice-skating rink in the world. The above rates are effective through January 6; after that, they go down, as does the number of tourists. However, the rink is seldom uncrowded, as countless amateurs, suburbanites, and exhausted shoppers go around and around and up and down (and on their seats) on the ice all winter long.

TUBACHRISTMAS
The Ice Rink at Rockefeller Center
Registration to participate: 11:30 am
Admission: free
914-273-2254
http://www.rockefellercenter.com
Sunday, December 10 Holiday concert featuring Alec Wilder's arrangements for tuba and euphonium, conducted by Harvey Phillips and Christian Wilhjelm, open to all players, 3:30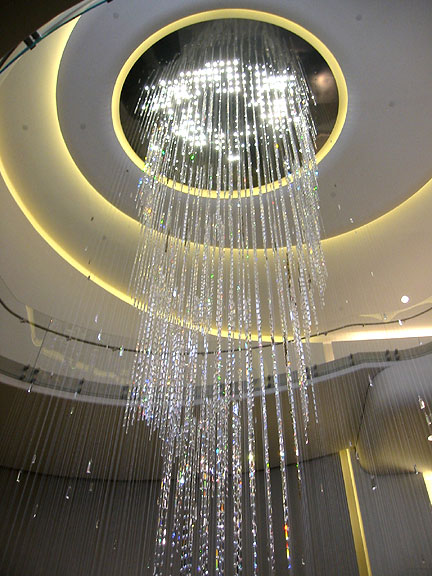 twi-ny/mdr
Swarovski's "Joie" dangles from ceiling at entrance to Top of the Rock
TOP OF THE ROCK
30 Rockefeller Plaza, entrance on West 50th St. between Fifth & Sixth Aves.
Open 8:00 am — 12 midnight
Reserved-time tickets: $14 adults, $9 children six to eleven
212-698-2000
http://www.topoftherocknyc.com

In 1933, John D. Rockefeller presented to the people of New York City a special gift, the observation deck of 30 Rockefeller Plaza, which at that time was designed as a cruise liner. The viewing platform closed in 1986, but it has reopened with a flourish, once again offering spectacular views of Central Park, the Chrysler Building, numerous bridges, the Statue of Liberty, Yankee Stadium, and one thing the Empire State Building can't provide — an awesome view of the Empire State Building. Enter at the new 50th St. entrance and marvel at Swarovski's "Joie," a thirty-five-foot-high crystal waterfall chandelier comprising forty thousand crystals, weighing five thousand pounds, and boasting 450 points of colored light. Buy timed tickets that prevent maddening crowds. Walk across a beam that dangles you over a video that makes you feel like a construction worker. Check out the original architectural model of this Art Deco masterpiece. Take the speedy Summit Shuttle elevator up to the 67th floor, looking up all the time to watch the history of Rock Center projected on the ceiling above you. When you get out, follow Swarovski's "Radiance," a geode wall of crystal clusters, mouth-blown glass, and fiber-optic lights. Stop at the Grand Viewing Room and three-tiered Weather Room, which are surrounded by transparent safety glass. (There's just enough space between panels to squeeze the lens of your camera through for a direct shot.) Head up to 69 and don't get upset when the motion detectors in the Target Breezeway floor don't really do that much. Then go outside to the Grand Viewing Decks, some 850 feet high, offering unencumbered sight lines of the city. (There's no safety glass here because the other platforms are right below you.) You'll also get to see the Top of the Rock itself, including the antennae tower, decorative elements, and the sweet aerial globe. Snap away, then take the Summit Shuttle to Rock bottom, looking up again, this time to see colored lights shooting out through the otherwise empty elevator shaft.
In the Neighborhood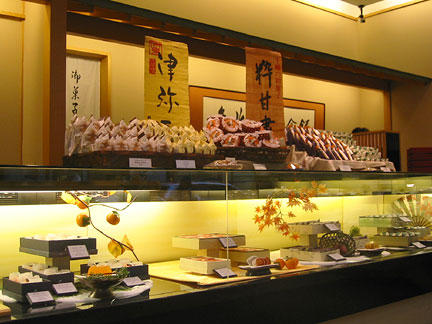 twi-ny/mdr
Minamoto Kitchoan offers dazzling Japanese delicacies
MINAMOTO KITCHOAN
608 Fifth Ave. at 49th St.
212-489-3747

We love wagashi. Not only does each Japanese wagashi pastry, made from myriad combinations of sugar, rice flour, and azuki (bean jelly), represent a different sweet aspect of life, but they are fat free. Minamoto has an outstanding selection, ranging from individual pieces for a few dollars to box sets for sixty dollars or more. Be adventurous; the autumn collection includes some terrific concoctions with persimmons, chestnuts, yuzu, and sweet potato.
Film Festival of the Week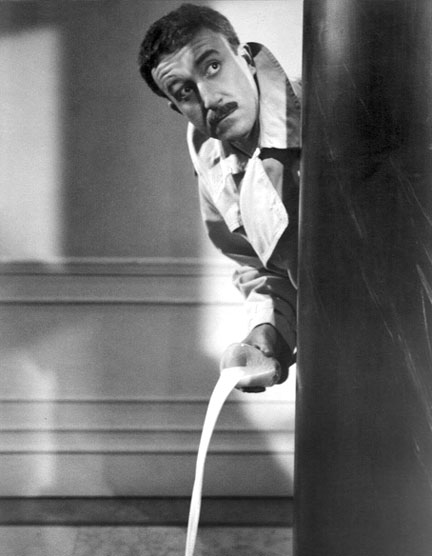 United Artists/Photofest, © United Artists
Peter Sellers spills another great joke in THE PINK PANTHER
WALTER MIRISCH
MoMA Film
Museum of Modern Art
11 West 53rd St. between Fifth & Sixth Aves.
December 1-31
Tickets: $10, in person only, may be applied to museum admission within thirty days, same-day screenings free with museum admission, available at Film and Media Desk
212-708-9400

For more that fifty years, producer Walter Mirisch has been behind the scenes of some of the best films to ever come out of Hollywood, in a multitude of genres, including slapstick comedy, urban dramas, classic Westerns, musicals, adventure, and murder mysteries. His films have garnered eighty-four Oscar nominations and twenty-eight wins, for such films as WEST SIDE STORY, SOME LIKE IT HOT, THE MAGNIFICENT SEVEN, THE GREAT ESCAPE, THE PINK PANTHER, and THE APARTMENT. He is a director's producer, resulting in some of the most entertaining and important films of the twentieth century. The eighty-five-year-old Mirisch will be on hand to open this month-long festival, introducing the trailblazing IN THE HEAT OF THE NIGHT on December 1.

Friday, December 1 IN THE HEAT OF THE NIGHT (Norman Jewison, 1961), introduced by Walter Mirisch, 6:30
Saturday, December 2 WEST SIDE STORY (Jerome Robbins, Robert Wise, 1961), 3:00
Saturday, December 2 MAN OF THE WEST (Anthony Mann, 1958), 6:00
Sunday, December 3 SOME LIKE IT HOT (Billy Wilder, 1959), 1:00
Sunday, December 3 THE LANDLORD (Hal Ashby, 1970), 3:15
Wednesday, December 6 THE LANDLORD (Hal Ashby, 1970), 6:00
Sunday, December 10 WEST SIDE STORY (Jerome Robbins, Robert Wise, 1961), 2:00
Friday, December 15 THE PINK PANTHER (Blake Edwards, 1963), 6:15
Friday, December 15 THE PARTY (Blake Edwards, 1968), 8:30
Monday, December 18 SOME LIKE IT HOT (Billy Wilder, 1959), 6:00
Monday, December 18 THE APARTMENT (Billy Wilder, 1960), 8:30
Wednesday, December 20 THE PARTY (Blake Edwards, 1968), 6:15
Wednesday, December 20 THE PINK PANTHER (Blake Edwards, 1963), 8:15
Friday, December 22 MAN OF THE WEST (Anthony Mann, 1958), 6:15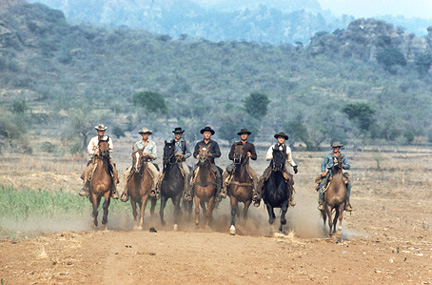 United Artists/Photofest, © United Artists
Steve McQueen leads the pack in Mirish-produced Kurosawa remake

Friday, December 22 THE MAGNIFICENT SEVEN (John Sturges, 1960), 8:15
Saturday, December 23 WICHITA (Jacques Tourneur, 1955), 2:00
Saturday, December 23 THE APARTMENT (Billy Wilder, 1960), 2:15
Saturday, December 23 IN THE HEAT OF THE NIGHT (Norman Jewison, 1961), 5:00
Saturday, December 23 THE GREAT ESCAPE (John Sturges, 1963), 7:30
Sunday, December 24 THE GREAT ESCAPE (John Sturges, 1963), 2:15
Sunday, December 24 THE MAGNIFICENT SEVEN (John Sturges, 1960), 5:30
Saturday, December 30 SAME TIME, NEXT YEAR (Robert Mulligan, 1978), 3:30
Sunday, December 31 WICHITA (Jacques Tourneur, 1955), 4:00
Sunday, December 31 SAME TIME, NEXT YEAR (Robert Mulligan, 1978), 5:45
Also at MoMA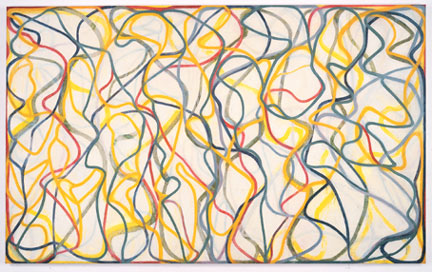 © 2006 Brice Marden/Artists Rights Society (ARS)
Brice Marden, "Study for the Muses (Hydra Version)," 1991-95/1997, oil on linen
CURRENT EXHIBITIONS
Museum of Modern Art
11 West 53rd St. between Fifth & Sixth Aves.
Free Fridays from 4:00 to 8:00
Tickets: $20 adults, children sixteen and under free (MoMA AudioGuide free; tickets can be used within thirty days for film screening)
212-708-9400

Start your trip thought MoMA's current exhibitions on the sixth floor, where "Eye on Europe: Prints, Books & Multiples / 1960 to Now" will be on view through January 1 in the International Council gallery. This wide-ranging collection of prints, books, wallpaper, linoleum cuts, lithographs, offsets, and other printed matter and multiples, from such European artists as Sarah Lucas, Dieter Roth, George Baselitz, Rosemarie Trockel, Joseph Beuys, and Daniel Buren, challenge conventional methods of producing art and changing the way people see it. We recommend taking home a few sheets of Damien Hirst's polka-dotted wallpaper and using it to wrap holiday gifts — including the massive, extraordinary hardcover catalog. The exhibit continues in the second floor Paul J. Sachs Prints and Illustrated Books Galleries. Also on the sixth floor is the fabulous "Brice Marden: A Retrospective of Paintings and Drawings," through January 15 in the Preston Robert Tisch Gallery. Marden's expert use of color, texture, and light are captivating and involving, evoking memory and emotion. The exhibit is arranged chronologically, starting with Marden's single-hued canvases with beeswax through his more complex works with swirling lines of color, and it continues in the third floor Paul J. Sachs Drawing Galleries.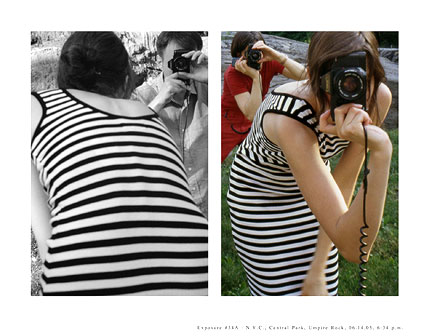 © VG Bild-Kunst, Barbara Probst
Barbara Probst, "Exposure #34A: N.Y.C., Central Park, Umpire Rock, 06.14.05, 6:34 p.m. ," 2005, pigmented inkjet prints

"Manet and the Execution of Maximilian," through January 29 in the third floor Special Exhibitions Gallery, takes a close look at the 1867 death of the Spaniard who was sent to Mexico to be emperor, through firsthand accounts, photographs, newspaper articles, and, of course, the famous series of works by Édouard Manet depicting the event. The evolution of Manet's four oil paintings and one lithograph is fascinating. Also on the third floor is "New Photography 2006: Jonathan Monk, Barbara Probst, Jules Spinatsch," through January 8 in the Contemporary Galleries. Barbara Probst's diptychs, which capture the same exact moment from two different angles, will baffle and amaze you. "Out of Time: A Contemporary View," through April 9 in the second floor Contemporary Galleries, features a diverse grouping of intriguing pieces that play with time, from such artists as Vito Acconci, Cai Guo-Quiang, Jeff Koons, Nam June Paik, Gerhard Richter, Frank Stella, Andy Warhol, Carrie Mae Weems, and Rachel Whiteread. Don't miss Rineke Dijkstra's "Almerisa" series, which follows the growth of a young girl over the course of eleven years; Robert Gober's "Prison Window," which traps time in its own room, with an elusive future hovering high above in a small window; Mona Hatoum's moving "+ and -"; and Bill Viola's contemplative "Stations," five videos of people falling through water, reflected on granite slabs.

In the Neighborhood
ALVIN AILEY AMERICAN DANCE THEATER
New York City Center
130 West 56th St. between Sixth & Seventh Aves.
November 29 — December 31
Tickets: $25-$110 ($22-$94 for two or more performances)
212-581-1212
Artistic director Judith Jamison and associate artistic director Masazumi Chaya present Alvin Ailey's month-long New York City Center season, featuring world premieres, new productions of older pieces, company premieres, family matinees, and two nights of dances set to live music. The performances include Jamison's "Reminiscin'," Ailey's "Witness" and "Night Creature," Ronald K. Brown's "Grace" and "IFE / My Heart," Ulysses Dove's "Vespers," David Parsons's "Shining Star," and Twyla Tharp's "The Golden Section."
Riff's Rants & Raves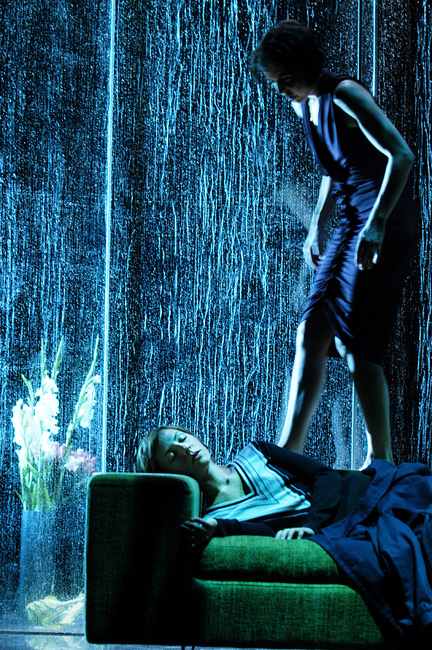 Arno Declair
Thomas Ostermeier presents a different look at Ibsen classic
HEDDA GABLER
2006 Next Wave Festival
BAM Harvey Theater
651 Fulton Street between Ashland Pl. & Rockwell Pl.
Tickets: $20-$60
718-636-4100
Tuesday, November 28
through
Saturday, December 2 HEDDA GABLER, by Henrik Ibsen, translated by Hinrich Schmidt-Henkel Schaubühne am Lehniner Platz, directed by Thomas Ostermeier
Wednesday, November 29 BAMdialogue with Thomas Ostermeier, BAM Rose Cinemas, $8, 6:00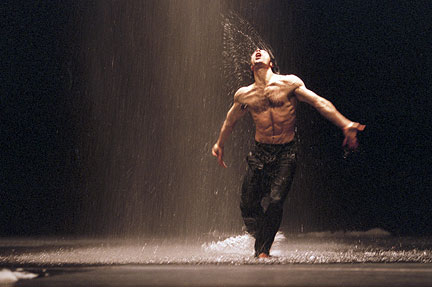 ©Bettina Stöß
Pina Bausch returns to BAM with a wet and wild piece set in an Istanbul bath
NEFÉS: A PIECE BY PINA BAUSCH
2006 Next Wave Festival
Brooklyn Academy of Music
BAM Howard Gilman Opera House
30 Lafayette Ave. between Ashland Pl. & St. Felix St.
Through Saturday, December 16
Tickets: $25-$85
718-636-4100

Celebrating her tenth show at BAM and the twentieth anniversary of Tanztheater Wuppertal Pina Bausch, director and choreographer Pina Bausch brings a little bit of Istanbul to Brooklyn with NEFÉS ("breath"), a stunning, at times breathtaking dance-theater production set in a Turkish bath house. At first, the twenty-person ensemble are in towels, enjoying massages and soapy bubbles. Later, the women change into glamorous full-length gowns and high heels, the men into suits and shiny shoes, as they dance, primarily in glorious solos and gorgeous pas de deux, around a circular pond, reminiscent of a Turkish hammam, at the back of the stage. Mixing offbeat dialogue, playful choreography, and songs by Tom Waits, Souad Massi, Astor Piazzolla, Uhuhboo Project, and several Turkish artists, Bausch has once again created a vast wonderland of sight and sound, movement and music, as her dancers appear to climb through the air while balancing water bags on their head, sneak food from over the speakers, get passed from man to man in unbelievable fashion, dash between oncoming cars, enjoy a honey-dripped picnic, give birth to people crawling out from under them, and row across the Bosphorus. NEFÉS is an audiovisual marvel, with outstanding costumes by Marion Cito, inspired set design and lighting by Peter Pabst, and splendid performances from a cast that includes Na Young Kim, Melanie Maurin, Andrey Berezin, Fernando Suels Mendoza, Azusa Seyama, Nazareth Panadero, Silvia Farias, Rainer Behr, Shantala Shivalingappa, and the inimitable Cristiana Morganti.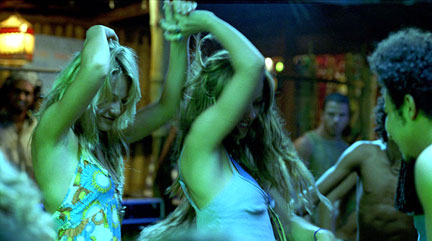 The party doesn't last long in Brazil-set horror flick
TURISTAS (John Stockwell, 2006)
Opens Friday, December 1
http://www.myspace.com/turistasmovie

An eco-adventure in the mountains of Brazil doesn't quite turn out as planned in John Stockwell's relatively conventional horror flick that ends up being a slight cut above most. Alex (Josh Duhamel) is chaperoning his sister, Bea (Olivia Wilde), and her best friend, Amy (Beau Garrett), into the wilds of South America, but things start going downhill after their bus crashes in the middle of nowhere. Remarkably, they find a seeming oasis on an otherwise empty beach, a happening bar where they bond with the hot Pru (Melissa George) and two Brits, Finn (Desmond Askew) and Liam (Max Brown), who are out on a babe hunt. But the next morning, they all awake to discover that they have been drugged and robbed, and the only person willing to help them is a local boy named Kiko (Agles Steib) — but he might not exactly be leading them to safety. Though filled with plenty of stereotyped characters and cliched situations, TURISTAS — the first American feature to be shot completely in Brazil — manages to hold itself together just long enough to pull you in for a rousing conclusion set in dark, mysterious underwater caves. We can't imagine that Brazil will be happy with this film; after watching it, you won't be planning on going there anytime soon.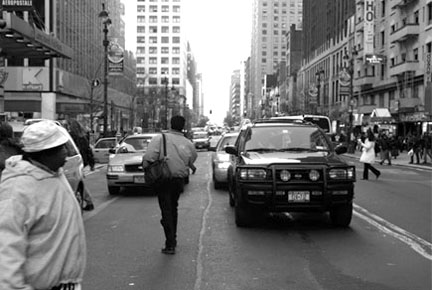 Docs at Makor examine alternative forms of transportation in the city
CONTESTED STREETS: BREAKING NEW YORK CITY GRIDLOCK (Stefan Schaefer, 2006) and GRAND STREET (Ian Rosenberg, 2006)
Makor
Steinhardt Building
35 West 67th St. between Amsterdam & Columbus Aves.
Thursday, December 7, at 7:30
Tickets: $15
212-601-1000
http://www.contestedstreets.com
Stefan Schaefer's hour-long documentary, CONTESTED STREETS: BREAKING NEW YORK CITY GRIDLOCK, seeks to take the streets back for the people. Using archival footage, the film begins with a history of city streets and the communities that grew up around them, especially on the Lower East Side, showing how things changed from horse-driven carts and carriages through the development of the automobile. In the battle between man vs. machine, the car won, championed by the likes of highway guru Robert Moses. Schaefer then goes across the pond, examining successful and innovative new methods of transportation alternatives in Copenhagen, Paris, and London, which favor pedestrians, bicycles, and public buses without negatively impacting business and industry. The film certainly has an agenda —­ all of the talking heads want to see the same changes made, with no one speaking for the other side —­ but it is difficult to dispute their claims, particularly with regard to safety and the environment. Makor will be screening the film along with Ian Rosenberg's six-minute short GRAND STREET, followed by a discussion with Schaefer, Rosenberg, and several of the people featured in CONTESTED STREETS, including Paul Steely White of Transportation Alternatives, Kenneth T. Jackson of the New-York Historical Society, Kathryn Wylde of the Partnership for New York City, Majora Carter of Sustainable South Bronx, Fred Kent of the Project for Public Spaces, and Robert R. Kiley, formerly of the MTA and currently the commissioner of Transport for London.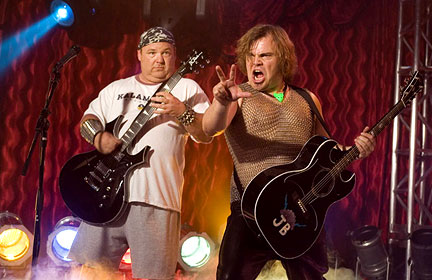 Jack Black and Kyle Goss go in search of their destiny
TENACIOUS D IN THE PICK OF DESTINY (Liam Lynch, 2006)
In theaters now
http://www.tenaciousdmovie.com

Director Liam Lynch takes us back to the very beginnings of Tenacious D and their unwavering determination to become the greatest rock-and-roll band in the world in this lighthearted, silly, and very funny romp. As the film starts, JB (Troy Gentile, who grows into Jack Black) is a ten-year-old hard rocker who is misunderstood by his angry father (Meat Loaf) and is sent on a mission to Hollywood by Ronnie James Dio. Kyle Gass is KG, a classically trained guitarist who plays on the California beaches for tips while pretending that he is a well-connected musician. They eventually form a two-man band, named Tenacious D, but when they don't make it big immediately, they consider giving up until they learn about a special guitar pick crafted from the devil's tooth that can lead them to their ultimate destiny. A must-see for fans of the D, the film features fun cameos by Ben Stiller, Colin Hanks, Amy Poehler, Fred Armisen, David Grohl as the devil, John C. Reilly as Sasquatch (in a goofy animated scene by John Kricfalusi), and Tim Robbins as a mysterious stranger who is also after the magical pick. Add half a star if you can just never get enough of the D, including watching and rewatching their very brief HBO series, elements of which show up here.
BORAT: CULTURAL LEARNINGS OF AMERICA
FOR MAKE BENEFIT GLORIOUS NATION OF KAZAKHSTAN (Larry Charles, 2006)
In theaters now

Believe the hype. Sacha Baron Cohen holds a mirror up to America, and you might not like what you see — although you'll laugh your head off while watching it. Cohen stars as bushy haired Kazakhstan journalist Borat Sagdiyev, a role he created for DA ALI G SHOW, the 2001 series in which he interviewed such luminaries as Newt Gingrich, Boutros Boutros-Ghali, Andy Rooney, and Norman Mailer while pretending to be a British hip-hop wigger (Ali G); he also disguised himself as a German fashionista (Bruno) and Borat, a reporter who likes to talk about sex, especially with his sister. In CULTURAL LEARNINGS OF AMERICA FOR MAKE BENEFIT GLORIOUS NATION OF KAZAKHSTAN, Borat leaves his little village in Kazakhstan and travels across the United States with his producer, the rotund Azamat (Ken Davitian), in search of his true love, BAYWATCH's Pamela Anderson. Along the way, he is making a documentary about the American way of life, turning a revealing lens on racism, anti-Semitism, sexism, misogyny, homophobia, blind patriotism, fundamentalism, and southern hospitality, with a healthy dose of toilet humor (literally). The people he speaks with — a feminist group, gun and car dealers, rodeo cowboys, conservative politicians Bob Barr and Alan Keyes, etiquette and humor experts, Christian evangelicals at a revivalist tent meeting, drunk frat boys in an RV — believe he is really a Kazakh journalist, and Cohen holds nothing back, unafraid to ask any question or kiss any man, often risking his personal safety in hysterical ways. He's got the biggest cojones we've ever seen — and you nearly get to see them when he and Azamat chase each other naked through a hotel, ending up fighting onstage at a mortgage bankers convention. BORAT is more EASY RIDER than JACKASS and BEAVIS AND BUTT-HEAD DO AMERICA, a road trip movie that captures the state of the nation in frightening yet very funny ways.
FAST FOOD NATION (Richard Linklater, 2006)
In theaters now
http://www.foxsearchlight.com/fastfoodnation
http://participate.net/fastfoodnation

Back in 1998, we read an amazing two-part article in Rolling Stone that has kept us out of fast-food burger joints for years, with no intention of ever going back. In 2001, National Magazine Award winner Eric Schlosser turned his investigative series into the bestselling book FAST FOOD NATION: THE DARK SIDE OF THE ALL-AMERICAN MEAL. Now Schlosser has teamed up with writer-director Richard Linklater — whose diverse credits include SLACKER, DAZED AND CONFUSED, BEFORE SUNSET, SCHOOL OF ROCK, and A SCANNER DARKLY — for a fictionalized version of Schlosser's reporting. Weaving together a series of interrelated stories, Linklater, who cowrote the screenplay with Schlosser, tackles such controversial themes as corporate greed, illegal border crossings, occupational safety, animal abuse, and marketing to children in a surprisingly lifeless way, despite the toxic subject matter. Greg Kinnear stars as Don Anderson, a marketing chief at Mickey's who is sent to the company's meatpacking plant in Cody, Colorado, to find out why feces has been found in the fast-food chain's Big One burger. Wilmer Valderrama plays Raul, a Mexican with a dream of making a new life in America; he has crossed the border illegally with his wife, Sylvia (Catalina Sandino Moreno), Sylvia's sister, Coco (Ana Claudia Talancon), and others. Raul gets a disgusting job at the plant, while Coco falls prey to the sexual advances of racist plant boss Mike (Bobby Cannavale). Meanwhile, Amber (Ashley Johnson) is a dedicated Mickey's employee, serving burgers to earn money for college — until she meets Paco (Lou Taylor Pucci) and a group of environmentalist college students planning an act of protest against the chain. The all-star cast — which also includes Luis Guzman, Kris Kristofferson, Ethan Hawke, Dana Wheeler-Nicholson, Patricia Arquette, Esai Morales, Avril Lavigne, and Bruce Willis — turns in fine work, but the movie never quite becomes as compelling as such cinematic predecessors as TRAFFIC and SILKWOOD. Although the filmmakers claim otherwise, the film is too black and white, with obvious good guys and bad guys — but there are likely to be a lot more vegetarians in America after the relentlessly bloody ending. Happy eating!
THE DEPARTED (Martin Scorsese, 2006)
In theaters now
http://thedeparted.warnerbros.com

Based on Andrew Lau and Alan Mak's awesome INFERNAL AFFAIRS (2002), Martin Scorsese's relatively faithful remake, THE DEPARTED, has been moved from Hong Kong to the mean streets of Boston, where it is hard to tell cop from criminal. Just out of the academy, Colin Sullivan (Matt Damon) rises quickly to detective in the Special Investigations Unit, but he's actually in cahoots with master crime lord Frank Costello (Jack Nicholson). Meanwhile, Billy Costigan (an excellent Leonardo DiCaprio), training to become a cop, is sent deep undercover (including a prison stint) to infiltrate Costello's gang, with only Captain Queenan (Martin Sheen) and Sergeant Dignam (a very funny and foul-mouthed Mark Wahlberg) aware of the secret mission. Sullivan and Costigan are like opposite sides of the same persona; in between them stands Costello — and Madolyn (Vera Farmiga), a psychiatrist who is in a relationship with one and is doctor to the other. As both the cops and the criminals search desperately for their respective rats, no one can trust each other, leading to lots of blood and a spectacular finale. Nicholson has a field day as the aging gangster, chewing up mounds of scenery in his first film with Scorsese, who has returned to peak form with his best film since 1990s GOODFELLAS.
THE LAST KING OF SCOTLAND (Kevin MacDonald, 2006)
In theaters now
http://www2.foxsearchlight.com/thelastkingofscotland

Forest Whitaker is absolutely mesmerizing as General Idi Amin in Kevin MacDonald's THE LAST KING OF SCOTLAND, demanding viewers' attention every time he appears on-screen, a dominating, bigger-than-life presence. Unfortunately, the rest of the film lets him down, failing to come close to his overpowering performance. The movie is based on Giles Foden's award-winning novel, in which the author created a composite character, Nicholas Garrigan, a Scottish doctor who becomes a close confidant of Amin's. What might have worked in the book falls apart on camera in a series of hard-to-believe scenes that actually never happened. As played by James McAvoy, Garrigan is goofy and lightweight from the very beginning, unable to compete with the massive Whitaker as Amin. He makes a play for his boss's wife (Gillian Anderson), thinks he doesn't have to play the political game with a British operative (Simon McBurney), and takes a liking to one of Amin's mistreated wives (Kerry Washington). While it is fascinating to watch the rise and fall of the President for Life, his relationship with Garrigan is hard to swallow — mostly because it's not true. And even those bits and pieces that are factual have been twisted and changed to increase emotional impact, ending up with manipulated melodrama instead of what really happened — which is a shame, since MacDonald's first two films, the well-regarded ONE DAY IN SEPTEMBER and TOUCHING THE VOID, were both documentaries.
THE SCIENCE OF SLEEP (Michel Gondry, 2006)
In theaters now
http://thescienceofsleep.imeem.com

Eclectic auteur Michel Gondry's feature-length debut as both writer and director is a complex, confusing, kaleidoscopic stew that is as charming as it is frustrating. Gael García Bernal (THE MOTORCYCLE DIARIES) stars as the juvenile but endearing Stephane, a young man in a silly hat who has trouble differentiating dreams from reality. The childlike Stephane becomes friends with his new neighbor, Stephanie (Charlotte Gainsbourg, daughter of Serge Gainsbourg and Jane Birkin), who still has plenty of the child left inside her as well. Stephane has a job his mother (Miou-Miou) got him, toiling for a small company that makes calendars, alongside the hysterical Guy (Alain Chabat), who can't help constantly poking fun at coworkers Serge (Sacha Bourdo) and Martine (Aurélia Petit). Gondry, who gave us the brilliant ETERNAL SUNSHINE OF THE SPOTLESS MIND as well as the highly entertaining DAVE CHAPPELLE'S BLOCK PARTY and the bizarre HUMAN NATURE, uses low-tech green-screening and stop-motion animation to reveal Stephane's fantasy world, bringing to mind such masters as Jan Svankmajer and the Brothers Quay. Unfortunately, just as Stephane can't tell what's real from what he's dreaming, you'll often have difficulty as well; some of the plot turns are downright infuriating, and Stephane's TV show teeters on the edge of embarrassing. But you'll also be hard-pressed not to leave the theater feeling like a kid in a candy store.
VOLVER (COMING BACK) (Pedro Almodóvar, 2006)
In theaters now
http://www.sonyclassics.com/volver

The centerpiece presentation of this year's New York Film Festival, VOLVER finds Pedro Almodóvar returning to his native La Mancha in Spain in this bittersweet, ultimately disappointing tale of three generations of women. The movie opens beautifully, with dozens of women in a cemetery, carefully cleaning loved ones' tombstones and leaving fresh flowers — except for Agustina (Blanca Portillo), who is tending to her own grave site. Agustina takes care of the aged Paula (Chus Lampreave), who helped raise Raimunda (Penélope Cruz). Raimunda is working several jobs to help support her lout of a husband (Antonio de la Torre) and their teenage daughter, (Yohana Cobo), but she's soon forced to cover up a grisly tragedy. And Sole (Lola Dueñas), Raimunda's sister, is a single woman working illegally as a hairdresser out of her apartment. When rumors persist that Raimunda and Sole's mother, Irene (Carmen Maura), who died in a fire many years before with her husband, has come back from the dead and is taking care of Paula, Raimunda and Sole have very different reactions, dredging up long-buried memories and secrets both good and bad. Unfortunately, the film never quite comes together. Almodóvar, who has made such spectacular films as ALL ABOUT MY MOTHER and TALK TO HER, in this case might be too close to the material; in the press notes, he confesses, "During the writing of the script and filming, my mother was always present and very near. I don't know if the film is good, but I'm sure that it did me a lot of good to make it." There are too many flaws in the plot, especially when Raimunda takes over her neighbor's restaurant and starts preparing lunches for a large film crew while being eyed by a young production assistant, and some of the comedy is just too slapsticky and unbelievable. Yet as with all Almodóvar films, there is still much to admire, even in a lesser work.
THE PRESTIGE (Christopher Nolan, 2006)
In theaters now
http://theprestige.movies.go.com

Christopher Nolan, who made the excellent MEMENTO (2000), the disappointing INSOMNIA (2002), and the very good BATMAN BEGINS (2005), turns to the world of magic, but you'll feel like you've seen this rabbit pulled out of a hat very recently — especially if you've checked out THE ILLUSIONIST, Neil Burger's murder mystery about a magician, and SCOOP, in which Woody Allen plays a magician who gets caught up in a murder mystery with his "daughter" (Scarlett Johansson) and the son of a powerful lord (Hugh Jackman). In THE PRESTIGE, dueling magicians Robert Angier (Jackman) and Alfred Borden (Christian Bale) have a bitter relationship right out of AMADEUS (Milos Forman, 1984), with Angier being more the Salieri type and Borden the Mozart wunderkind. They each keep trying to up the ante with the constantly morphing trick called the Transported Man, eventually involving electricity expert and oddball Nikola Tesla (David Bowie) in the mix, as well as sexy magician's assistant Olivia (Johansson). Parts of the film are indeed thrilling, and the ending packs a wallop, but much of the meat of the movie is far too repetitive and, ultimately, not quite believable.
THE RETURN (Asif Kapadia, 2006)
In theaters now

We loved Asif Kapadia's debut, THE WARRIOR, a gentle, mesmerizing film that sat on Miramax's shelf for several years before opening to little notice. Well, his second film might get him noticed, but for all the wrong reasons. In the brutally slow THE RETURN, which was not screened in advance for critics, Sarah Michelle Gellar stars as Joanna Mills, a trucking industry saleswoman whose past is creeping up on her ¬ and it sure takes a long time to get there. Determined to seal a big deal, Joanna heads back to her home state, Texas, where she hasn't been since she was involved in a bad car accident when she was a little girl (Darrian McClanahan). Once there, she sees her father (Sam Shepard) for the first time in years and is haunted by mysterious deja-vu-like visions that often include a dangerous-looking man (Peter O'Brien) who is in town as well. Kapadia and first-time screenwriter Adam Sussman take . . . so . . . long . . . to . . . fill . . . in . . . the . . . plot . . . that you just won't care by the time secrets start being revealed and something actually happens.
SAW III (Darren Lynn Bousman, 2006)
In theaters now

The original SAW (James Wan, 2004) was a tense, gruesome, and clever thriller. Darren Lynn Bousman's 2005 sequel was a boring, gruesome, and repetitive mess. The franchise continues for the third Halloween in a row with SAW III, with Bousman perhaps directing the series into its well-deserved grave. (At least creatively; the new movie has turned out to be a big hit.) Jigsaw (Tobin Bell) is on his deathbed, so he has his apprentice, Amanda (Shawnee Smith), carry on for him, capturing a doctor (Bahar Soomekh) whose future (actually, her head) is linked directly to Jigsaw's heart monitor. Meanwhile, Jeff (Angus Macfadyen) is being led through a chamber of horrors where he is faced with the choice of exacting revenge or offering forgiveness over the death of his young son, killed by a drunk driver. Whereas the first film was cutting-edge in its inventive methods of murder, this third installment is dull and lifeless. As Jigsaw himself says, "Game over."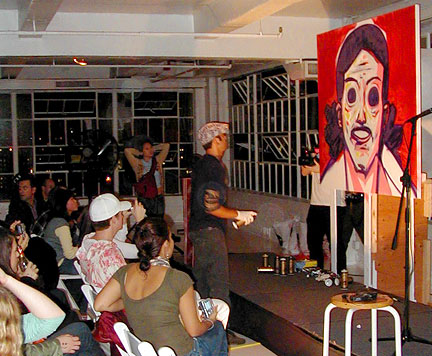 twi-ny/frg
Speto paints in aerosol at special LVHRD event
WLD STRTS: BI-FOLD VOL. II
Studio 450
450 West 31st St., 12th floor
Thursday, November 16
http://graffitiresearchlab.com

The latest event sponsored by the secretive LVHRD group featured live graf demonstrations by Brazilian writer / illustrator / animator Speto and New York City's own Graffiti Research Lab. Speto's art takes its inspiration from woodcuts and popular culture; his presentation culminated in a spray-paint demo on canvas — unfortunately executed without a mask (cough). But that was merely the opening act for the real stars of the show, James Powderly and Evan Roth, who collectively are known as Graffiti Research Lab. While the name might sound like a gimmick, it is precisely what they do: They research new ways to create and proliferate illegal art. They have invented a technology called "throwies," which are essentially LED lights in a "sticky" base, either adhesive or magnetic, that can then be made into graf "throw-ups." The coolest part of the night was when James left the building to affix an LED tag, without permission, on a nearby building, roughly fifteen feet high. Its message? CRIME 2.0. A fun, light party vibe, with a hipper-than-thou DJ set, enhanced the festivities.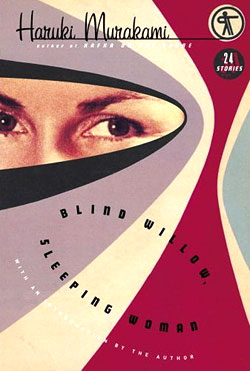 BLIND WILLOW, SLEEPING WOMAN
by Haruki Murakami (Knopf, August 2006, $24.95)
http://www.randomhouse.com/knopf

Japanese novelist Haruki Murakami, author of such fabulous novels as NORWEGIAN WOOD, KAFKA ON THE SHORE, and SOUTH OF THE BORDER, WEST OF THE SUN, is also a masterful short story writer. BLIND WILLOW, SLEEPING WOMAN, his first collection since 1991's THE ELEPHANT VANISHES, contains twenty-five tales, many of which appeared in Granta, Harper's, and, mostly, the New Yorker, although some appear with slight revisions or new translations. "To put it in the simplest possible terms, I find writing novels a challenge, writing short stories a joy," Murakami begins in the introduction. You will find reading these stories a joy as well. Not mere slice-of-life vignettes, Murakami's highly literary short pieces often seem to be about very little, but these small occurrences are layered with insights into the human condition. His characters serve as omniscient narrators or observers, not necessarily active participants in the stories, which occasionally lean toward the metaphysical and unexplainable. In "The Seventh Man," a boy's inaction during a typhoon haunts him for decades. In "Nausea 1979," a man doesn't know why he is throwing up continually for forty days and nights. The burden of writing lies underneath "A 'Poor Aunt' Story." In "Birthday Girl," young woman who is forced to spend her twentieth birthday working gets a rather unusual present. In "Tony Takitani," the only story Murakami has allowed to be made into a film, the life of a mechanical draughtsman and his shopping-obsessed wife turns tragic. And then there's "A Shinagawa Monkey," one of the finest short stories we have ever read. Reading Murakami's poetic, lyrical, intelligent tales is a fine springboard into his poetic, lyrical, and sometimes challenging novels.

All contents copyright 2006 by Mark Rifkin and twi-ny. All rights reserved. Contents may not be reprinted without written permission. Please note that events, dates, and prices are subject to change.
Send all comments, suggestions, reviews, and questions to mark.rifkin@twi-ny.com.
Please note that some e-mail clients may wrap links, so be sure to enter them fully into your browser.
To subscribe to this list, please e-mail the administrator at admin@twi-ny.com with the word Subscribe in the Subject line; be sure to ask for back issues, which are free as well. To unsubscribe from this list, please think it over twice before e-mailing the same address. Please let us know what you didn't like about this forum and we'll do our best to correct it in the future -- if we agree with you. If you would like to see something covered in a future issue, please let us know. Without you, there is no need for us to exist.

twi-ny top two dozen (or so) weekly reminders & special events
TENTH ANNUAL UNION SQUARE HOLIDAY MARKET
Broadway to Park Ave. South, 14th — 17th Sts.
Monday through Friday 11:00 am — 8:00 pm
Saturday 10:00 am — 8:00 pm
Sunday 11:00 am — 7:00 pm
Admission: free
718-460-1208
Through Saturday, December 24 More than one hundred vendors offering unique wares
HOLIDAY LIGHT SPECTACULAR
PNC Bank Arts Center
Garden State Parkway Exit 116
Monday through Thursday, 5:00 — 9:30, $12 per carload for two trips
Saturdays & Sundays, 5:00 — 10:30, $15 per carload
http://www.holidaylightspectacular.com
Through Sunday, January 1 Drive-through light park, including Santa's Beach Party and Santa and Friends
ANNUAL CHRISTMAS TREE
AND NEAPOLITAN BAROQUE CRÈCHE
Metropolitan Museum of Art
Medieval Art Sculpture Hall, first floor
Through January 7
212-535-7710
Once again the Met's annual Christmas tree has risen in front of a 1763 Choir Screen from the Cathedral of Valladolid. The twenty-foot blue spruce is surrounded by eighteenth-century cherubs, angels, and miniature Neapolitan handmade figures acting out the Nativity (or crèche), some created by such well-respected sculptors as Giuseppe Sammartino, Salvatore di Franco, Giuseppe Gori, and Angelo Viva. Be sure to walk all around the tree to see all the little scenes that are going on around the bustling town.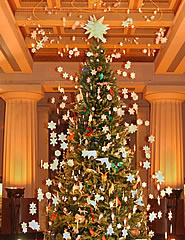 R. Mickens/AMNH
Annual holiday tree brightens up
natural history museum
ORIGAMI HOLIDAY TREE & HOLIDAY DINOS
American Museum of Natural History
Central Park West & 79th St.
Through January 8, 2006
Timed tickets: $19 adults, $14 children, includes museum admission
212-769-5100
As you walk up the steps of the main entrance of the American Museum of Natural History, you'll be flanked by a pair of nineteen-foot-high lighted holiday barosaurs. And once you enter Theodore Roosevelt Memorial Hall on the first floor, you'll find the museum's annual Origami Holiday Tree, decorated with all kinds of animals and insects made using the special Japanese folded-paper technique to this year's theme, Origami Safari.
OPTICAL PERCEPTION
Danny Simmons Corridor Gallery
334 Grand Ave., Brooklyn
Admission: free
718-230-5002
Through December 16 Exhibition featuring works by Patricia Chaplin, Raymond Gibbon, Gilbert Hsiao, and Don Bryant Rodrigues
GRAVITY OF HOPE
s.e.e.dgallery
111 Front St. at Washington St., Suite 224, Brooklyn
Closed Monday & Tuesday
Admission: free
917-881-4349
http://www.safetgallery.com/FrontStreetGalleries
Through December 23 Fresh off his successful show in Chelsea, artist Alex Echo brings his unique work, which mixes word and image, to DUMBO
CRAFTS PARK AVENUE
Seventh Regiment Armory
Park Ave at 66th St.
All-weekend access: $12 ($1 coupon available on Web site); $15 including Thursday preview
800-649-0279
Thursday, November 30
through
Sunday, December 3 More than one hundred exhibitors selling clay, glass, leather, metal, jewelry, wearable and nonwearable fiber, paintings, prints, drawings, photos, wood, and mixed media
REAL LIVE WOMEN
D-Lounge
101 East 15th St. at Union Square East
Admission: $7, plus two-drink minimum
RSVP: rsvphourglass at hotmail.com or 212-439-8122 ext1
Thursday, November 30 Hourglass Group Solo Lab one-acts, featuring Christen Clifford, BabyLove; Yolanda Shoshana, THE CHRISMAHANUKWANZAKAH MONOLOGUES; and Linda Mancini, excerpts from WHITE TAPE, 7:00
Wednesday, December 6 Hourglass Group Solo Lab one-acts, featuring Christen Clifford, BabyLove; Raquel Cion, COU-COU BIJOUX IS ALIVE, AND WELL…; Veronique Jeanmarie, FIFTEEN DREAMS; and Stacey Karen Robinson, excerpt from QUIET FRENZY, 7:00
FIRST THURSDAYS
Dahesh Museum of Art
580 Madison Ave. at 57th St.
Admission: free from 6:00 to 9:00
212-759-0606
Thursday, December 1 Illustrated Lecture: Learning to Look, with Philip Yenawine, 6:30, including free admission to galleries from 6:00 to 9:00
WORLD AIDS DAY GRAND SLAM FUNDRAISER
ESPN Zone
42nd Street & Broadway
Suggested donation: $1
Admission to reception: $1,000 for two tickets
917-468-8795
http://www.worldaidscampaign.info
Friday, December 1 Watch as Queens' Victor Mooney attempts to row across the Atlantic Ocean, from Senegal to the Carribean, raising money for antiretroviral medicine, followed by reception, 12 noon
CONCERT OF REMEMBRANCE
Trinity Church Wall Street
Broadway at Wall Street
Admission: free
212-602-0880
http://www.trinitywallstreet.org
Friday, December 1 Keeping the Promise: Trinity Church commemorates World AIDS Day with special concert of works by composers who died of AIDS, including Calvin Hampton and Chris DeBlasio, performed by the Trinity Choir and the Holy Apostles Choir, 1:00
MOVIE PREMIER BENEFIT
The Momentum Project
Village East Cinema
181 Second Avenue at 12th St.
212-691-8100
http://www.themomentumproject.org
Friday, December 1 World AIDS Day special screening of 3 NEEDLES (Thom Fitzgerald, 2006), limited seating, 9:00
RED HOT + RIOT LIVE!
THE MUSIC AND SPIRIT OF FELA KUTI
Brooklyn Academy of Music
BAM Howard Gilman Opera House
Tickets: $25-$65
718-636-4100
Friday, December 1
and
Saturday, December 2 Featuring Tony Allen, Amadou & Mariam, Cheikh Lô, dead prez, Keziah Jones, Les Nubians, Meshell Ndegeocello, and Yerba Buena, with special guests Stuart Matthewman & John Medeski, 7:30
Saturday, December 2 Red Hot + Riot after-party with DJ Acidophilus, BAMcafé Live, no cover, $10 food/drink minimum, 9:00
BIG APPLE CLASSIC
Multiple venues
http://www.thebigappleclassic.com
Friday, December 1 Drum Line & Step Show, hosted by Steve Harvey, Apollo Theater, $20, 6:00
Saturday, December 2 Bowie State vs. Virginia Union, 1:00; Howard vs. Hampton, 3:00, Madison Square Garden, $15-$200
Saturday, December 2 The Big Apple Classic Finale Party, Avalon, 47 West 20th St. at Sixth Ave., $20, 9:30 pm — 3:00 am
THE HOLIDAYS @ SCANDINAVIA HOUSE
58 Park Ave. at 38th St.
Free with museum admission unless otherwise noted
212-847-9740
http://www.scandinaviahouse.org

Through December 31 The Holiday Shop, featuring Nordic products including food, clothing, housewares, jewelry, and more, free
Friday, December 1
through
Sunday, December 3 Jul Market, special craft market in the Holiday Shop
Saturday, December 2 A Swedish Christmas Workshop for Kids, 1:00
Saturday, December 9
and
Sunday, December 10 Holiday Smörgåsbord with Restaurant Aquavit, lunch $55, dinner $60, reservations strongly suggested and prepaid, 212-307-7311 ext204
Saturday, December 9 A Family Lucia, storytelling and songs with Eva Engman, $10 adults, $5 children under twelve, 1:00
Saturday, December 9 Holiday Concert with the Scandinavia Chamber Orchestra, featuring works by Mozart, Rangström, Delius, and traditional Swedish Christmas songs, followed by a reception, $25, 4:00
CHRISTMAS BASH 2006
The Puck Building
295 Lafayette St.
Tickets: $120 plus unwrapped new toy; cash only at the door
732-449-3071
http://www.christmasbashnyc.com
Saturday, December 2 Fourteenth annual Metropolitan Club holiday party and fundraiser, black tie optional, with premium open bar, hors d'oeuvres, live music by the Billy Lawlor Band, DJ Dave, and more, 9:00 pm — 1:00 am
WABC SATURDAY NIGHT OLDIES MEET AND GREET
Ben's Deli
209 West 38th St. between Seventh & Eighth Aves.
Admission: free but RSVP to saturdaynightoldies@yahoo.com
212-398-2367
http://groups.yahoo.com/group/SaturdayNightOldiesShow
Saturday, December 2 First anniversary of WABC's "Saturday Night Oldies" with Mark Simone, 2:00 — 4:00
CARL GRILLO TREE LIGHTING
Staten Island Botanical Garden
1000 Richmond Terr.
Admission: free
718-273-8200
http://www.sibg.org/calendar.html
Saturday, December 2 Ninth annual tree lighting ceremony, with caroling and refreshments, 5:30
FIRST SATURDAYS
Brooklyn Museum of Art
200 Eastern Parkway
Admission: free after 5:00 pm
718-638-5000
http://www.brooklynmuseum.org/visit/first_saturdays.php
Saturday, December 2 Free monthly festival featuring live music, curator talks, art workshops, film screenings, and dance party; free tickets required for some events (available at lobby desk), 5:00 — 9:00
CRYSTAL WINTER
New York Hall of Science
47-01 111th St.
Free with general admission of $11 adults, $8 children two to seventeen
718-699-0005
Saturday, December 2 , 9
and
Sunday, December 3, 10 Special program featuring Crystal Film Festival, Winter Sky Constellation Show, activity sessions, puppet show, craft projects, science tales, and more; some activities an additional $2-$3
FREUD'S JEWISH WORLD
Center for Jewish History
Forchheimer Auditorium
15 West 16th St. between Fifth & Sixth Aves.
Session: $50-$75; Conference $200
917-606-8200
Saturday, December 2
through
Monday, December 4 Academics and pyschoanalysts from all over the world gather to discuss the life and work of Sigmund Freud, including panels on "Freud, God and Godlessness," "Freud's Last Decade: Vienna and London," and "Freud's Moses, and Moses and Monotheism"
HOLIDAY PROGRAMS
World Financial Center Winter Garden
225 Vesey St.
Admission: free
212-945-2600
http://www.worldfinancialcenter.com/calendar
December 2, 3, 8, 9, 13 The Accidentals perform a cappella holiday carols, 12 noon — 2:00 weekdays, 1:00 — 3:00 weekends
Wednesday, December 6 THE NUTCRACKER, performed by the New York Theatre Ballet, 12:30 & 7:00
Sunday, December 10 Klez for Kidz, 12:30
Tuesday, December 12 Klezmerfest!, 12:30
FAMILY ART PROJECT
Wave Hill
West 249th St. at Independence Ave., the Bronx
Kerlin Learning Center
Free with grounds admission of $4 adults, children under six free
718-549-3200
Saturday, December 2
and
Sunday, December 3 Season's Greetings / Bienvenida a la estación, holiday card workshop, 1:00 — 4:00
Saturday, December 9
and
Sunday, December 10 Sparkling Winter Wonders/Maravillas brillantes del invierno, featuring installation and workshop with Esperanza Cortés, 1:00 — 4:00
WILD HOLIDAY PARTY
Central Park Zoo
830 Fifth Ave. at 64th St.
Admission: free with zoo admission of $8 adults, $3 children three to twelve
212-861-6030
Saturday, December 2, 9
and
Sunday, December 3, 10 Presents to the Animals, 10:00 am — 3:00 pm
HOLIDAYS AT CARNEGIE HALL
Stern Auditorium (SA)
Zankel Hall (ZH)
881 Seventh Ave. at 57th St.
212-247-7800
Saturday, December 2 David Krakauer's Klezmer Madness, with special guest Fred Wesley and featuring SoCalled, ZH, $25-$35, 7:30 (preconcert talk with David Krakauer in conversation with John Schaefer at 6:30)
Monday, December 4 New York Choral Society and Orchestra Celebrate Christmas at Carnegie Hall, with the Young People's Chorus of New York City, SA, $20-$75, 7:30
Monday, December 11 New York City Gay Men's Chorus Holiday Spectacular, SA, $27-$84, 8:00
Wednesday, December 13 The Wainwright Family & Friends Christmas, SA, $29-$79, 8:00
CHRISTMAS WITH THE WEST VILLAGE CHORALE
Church of St. Luke in the Fields
487 Hudson St. south of Christopher St.
212-517-1776
http://www.westvillagechorale.org
Saturday, December 2 Winter Concert, "The Year of the Poet, Part I: Poets and the Music They Inspire," featuring works by des Prez, Bach, Brahms, Cui, and Debussy, $20, 8:00
Monday, December 11 Messiah Sing! conducted by Michael Conley, all voices welcome, $12, 7:30
Friday, December 15 Annual Caroling Walk, beginning in the school cafeteria off the rear church courtyard, all voices welcome, free, 7:00
WINTER CELEBRATION WITH THE MOTH
Brooklyn Botanic Garden
1000 Washington Ave.
Admission: $5 adults, children under sixteen free
718-623-7200
Sunday, December 3 Featuring tours, workshops, and stories on the theme "Thin Ice," with Andy Borowitz, James Braly, and Adam Wade, 1:00 — 4:30
HOLIDAY EVENTS AT RIVERSIDE CHURCH
490 Riverside Dr. between 120th & 122nd Sts.
Admission: free, but offering for artists accepted at the door
212-870-6784
http://www.theriversidechurchny.org/events
Sunday, December 3 Christ Chapel Concert Series: A Baroque Christmas Sampler, with Bacchanalia Baroque Ensemble, 3:00
THE DUMBO KIDS DISCO CHRISTMAS
The powerHouse Arena
37 Main St.
Admission: free, but donations of toys or books greatly encouraged
212-604-9074 x308
http://www.powerhousearena.com
Sunday, December 3 "Love to Love You Baby," featuring a children's fashion show, live music by AudraRox, drinks from Ito En, book readings and author signings, and Santa Claus, benefiting P.S. 287 and P.S. 307, 3:00 — 5:00
JCC BOOK FAIR AND FAMILY CULTURE
JCC in Manhattan
334 Amsterdam Ave. at 76th St.
646-505-5708
Sunday, December 3
through
Tuesday, December 5 Fifth annual JCC Book Fair and Family Culture, including discussions, readings, book signings, and more, $12, 10:00 am — 12:30 pm
TREE FESTIVAL
El Caribe Country Club
5945 Strickland Ave., Brooklyn
Tickets: $50 (children under twelve free)
718-422-3210
Tuesday, December 5 Eighteenth annual closing party benefiting HeartShare Human Services of New York, with live and silent auction, autographed ornaments, designer-clothed teddy bears, and more, 6:00
HOLIDAY LIGHTING CEREMONY
Brooklyn Bridge Park
Plymouth & Main Sts. & the East River
Admission: free
718-802-0603
Tuesday, December 5 First annual ceremony, featuring Jacques Torres hot cocoa, live performance by Bargemusic, and preview of site-specific lighting installations made by local artists, 6:00
POOCH PORTRAITS (WANKO THE MOVIE)
The ImaginAsian Theater
239 East 59th St. between Second & Third Aves.
Admission: free but must RSVP to pooch@newyork-tokyo.com
http://www.theimaginasian.com/index2.php
Wednesday, December 6 Special screening of POOCH PORTRAITS (WANKO THE MOVIE) (Shunsuke Uetsumara, 2006), with guest appearance by the director, 7:30
INWOOD COFFEEHOUSE OPEN MIC
The Piper's Kilt, Inwood
4944 Broadway near 207th St.
Admission: free
212-569-7071
Wednesday, December 6 Poetry and acoustic roots music, featuring the Karen Hudson River Band, the Demolition String Band, and the Harmony Brothers, 8:00
LECTURES AND CONVERSATIONS AND MORE
92nd Street Y
1395 Lexington Ave. at 92nd St.
212-415-5500
http://www.92ndsty.org/calendar
Wednesday, December 6 Jews in Shakespeare and Marlowe: A Performance by F. Murray Abraham, Kaufmann Concert Hall, $10-$18, 8:00
Thursday, December 7 Reel Pieces: BREAKING AND ENTERING(Anthony Minghella, 2006), with Anthony Minghella, moderated by Dr. Annette Insdorf, Kaufmann Concert Hall, $35, 7:15
Sunday, December 10 Hanukkah Festival with Bananukah, featuring arts and crafts, storytelling, games, live music, traditional songs, and more, $15, 12:00 and 1:30
Monday, December 11 E.L. Doctorow, Kaufmann Concert Hall, $10-$18, 8:00
READING, SIGNING, AND EATING
O&CO.
Grand Central Terminal
Graybar Passage
Lexington Ave.& 42nd St.
212-973-1472
http://www.grandcentralterminal.com
Thursday, December 7 Alex Prud'homme, grandnephew of Julia Child, will read from memoir he co-authored with her, MY LIFE IN FRANCE, with Provençal refreshments, 6:00
WINTER CONCERT: DOWN TOWN GLEE CLUB
Saint Peter's Church
619 Lexington Ave. at 54th St.
Suggested donation: $15
516-248-7549 / 212-935-2200
http://www.downtowngleeclub.org
Thursday, December 7 Holiday selections and popular classics, 7:30
HOLIDAY AUCTION
The Puck Building
295 Lafayette St.
212-849-6993
Thursday, December 7 Sixteenth annual holiday auction benefiting Make-a-Wish, featuring cocktails, hors d'oeuvres, and live and silent auction, 6:00 — 10:00 pm
DANA HOLIDAY LIGHTING
Central Park
Charles A. Dana Discovery Center
inside the park at 110th St. between Fifth & Lenox Aves.
Admission: free
212-310-6617
http://www.centralparknyc.org/thingstodo
Thursday, December 7 Tenth annual Dana Holiday Lighting, with ornament making, storytelling, a tree-decorating party, live entertainment, and more, 4:00
ANTIQUES & FINE ART AT THE ARMORY
Seventh Regiment Armory
Park Ave. at 67th St.
Admission: $20
212-472-1180
Thursday, December 7
through
Monday, December 11 More than fifty dealers sell their wares
HOLIDAY ON THE HUDSON
Chelsea Piers
Sky Rink at Pier 61
Free tickets must be picked up in advance
212-336-6100
Friday, December 8 Tenth annual evening of figure-skating performances and holiday music, with complimentary skating; please bring unwrapped gift for Toys for Tots, 7:00 pm
MIXED MESSAGES
The New School, Jonathan Tishman Auditorium
66 West 12th St. between Fifth & Sixth Aves.
Admission: free
212-980-3942
Friday, December 8 Annual graduate student film showcase, hosted by John Cameron Mitchell, 7:00
METROPOLITAN STAMP SHOW
Midtown Holiday Inn
440 West 57th St.
Admission: free
212-581-8100
Friday, December 8
through
Sunday, December 10 Approximately forty dealers, including free appraisals, door prizes, philatelic literature, free gifts for kids, new stamps from the U.S. Postal Service, and more
THE CHRISTMAS REVELS:
A CELEBRATION OF THE WINTER SOLSTICE
Symphony Space
Peter Jay Sharp Theatre
2537 Broadway at 95th St.
212-864-5400
Friday, December 8
through
Sunday, December 10 Celebrate the solstice in Eastern Europe with "The Fool of the World and the Flying Ship," featuring folk music, festive dances, and more, $19-$45
AMAHL AND THE NIGHT VISITORS
Jack H. Skirball Center for the Performing Arts
566 La Guardia Pl. at Washington Sq. South
Tickets: $35-$50
212-992-8484
http://www.skirballcenter.nyu.edu
http://www.littleorchestra.org
Saturday, December 9 The Little Orchestra Society's Happy Concerts for Young People, 11:00 am & 1:00 pm
THE PERFECT GIFT HOLIDAY FESTIVAL
Nubian Heritage Gallery (second floor of Boma Café)
2037 Fifth Ave. at 126th St.
General admission: $5
646-528-5446
Saturday, December 9 One-day holiday shopping extravaganza, with complimentary appetizers and gift bags, live entertainment hosted by Jelani Bellamy, live music by Natalie Curtis, Tri-States DJ Tyson and Poun, with proceeds benefiting Hugs for Harlem, 12 noon — 8:00
A DICKENS OF A CHRISTMAS
Staten Island Zoo
614 Broadway
718-442-3100
http://www.statenislandzoo.org
Saturday, December 9 Fourth annual event featuring the lighting of the Christmas tree, Santa Claus, reindeer, caroling, and more, $10 in advance, $15 at the door, $5 for photo with Santa, 5:00 — 8:00
WINTER LIGHTS
Saint Peter's Church
619 Lexington Ave. at 54th St.
Suggested donation: $15
516-586-3433
Saturday, December 9 An evening of music from St. Petersburg, featuring violinist Anastasia Khitruk: Works by Tchaikovsky, Tcherepnine, Shostakovich, Khandoshkin, and Schchedrin, 7:00
A SKETCHY NEIGHBORHOOD
Eldridge Street Synagogue
12 Eldridge St. between Canal & Division Sts.
Tickets: $5
212-219-0888 ext308
http://www.eldridgestreet.org/programs
Sunday, December 10 Garden Cafeteria Literary Series: illustrated talk on a century of avant-garde comics on the Lower East Side, with Ben Katchor, Leela Corman, and Eddy Portnoy, 2:00
THE NUTCRACKER
French Institute Alliance Française
Florence Gould Hall
55 East 59th St. between Park & Madison Aves.
Tickets: $30 adults, $25 children under twelve
212-355-6160
Sunday, December 10 Special performance of the classic ballet, narrated in French, by the New York Theatre Ballet, 3:30
HANUKKAH AT THE JEWISH MUSEUM
The Jewish Museum
1109 Fifth Ave. at 92nd St.
Free with museum admission unless otherwise noted
212-423-3200
Sunday, December 10 Hanukkah Art Fair, featuring arts & crafts workshops, gallery activities, storytelling, live music with Louie & Subanda, and more, 12 noon — 4:00
Sunday, December 17 Concert: Hot Peas 'N Butter Celebrate Hanukkah!, ages three and up, $15 adults, $10 children, 2:00
SING WE ALL MERRILY
St. Michael's Church Hall
225 West 99th St.
Admission: $15
212-222-2700
http://www.saintmichaelschurch.org
Monday, December 11 A musical celebration of an eighteenth-century Christmas, 7:30
FROM BLOGGER TO AUTHOR
Small Press Center
20 West 44th St.
Tickets: $20 in advance, $25 at the door
212-764-7021
Monday, December 11 How Bloggers Got Book Deals, and What Happened Next: panel discussion with editors, agents, and writers, including Jessica Cutler, Maxwell Gillingham-Ryan, Kate Lee, Laura Mazer, Robert Rummel-Hudson, and Rachel Kramer Bussel, 7:00
CANDLELIGHT CHRISTMAS CONCERT
Church of the Ascension
Fifth Ave. at Tenth St.
212-358-1469
http://www.voicesofascension.org/concerts
Tuesday, December 12 Holiday concert featuring Dennis Keene and the Voices of Ascension, ages three and up, $10-$45, 8:00
HOLIDAY PARTY
Merchant's House Museum
29 East Fourth St. between Lafayette St. and the Bowery
Closed Tuesday & Wednesday
Tickets: $25
212-777-1089
Wednesday, December 13 Nineteenth-century festival, featuring the Bond Street Euterpean Singing Society, a "bowl of bishop," a silent auction and gift bazaar, and costumes encouraged (and provided if you don't have one at home), 6:30