Twi-ny, This Week In New York
GRAFFITI WOMEN: STREET ART FROM FIVE CONTINENTS
by Nicholas Ganz (Abrams, November 2006, $29.95)
Brooklyn Museum of Art
200 Eastern Parkway
Saturday, November 18, 2:00
Free with museum admission
718-638-5000
http://www.hnabooks.com/product/show/3454

GRAFFITI WOMEN is the follow-up to author Nicholas Ganz's spectacularly successful GRAFFITI WORLD: STREET ART FROM FIVE CONTINENTS. Like its predecessor, GRAFFITI WOMEN's worldwide breadth of coverage is eye-opening, its sumptuous images and photography eye-popping. Spread after spread of photos introduce and showcase the work of such icons as New York's Che Jen and Fever (Lady K), who work in radically different styles, as well as the street art of Thundercut, who modifies Walk/Don't Walk signs around Manhattan (and have been featured prominently in twi-ny). Supa 82 of Mestre, Italy, creates crazy double "wildstyle" pieces; the beautiful Brazilians represent with Jana Joana and Nina. Psila from Skopje, Macedonia, shares elements of style with the mysterious "mymonsters" artist, while the Japanese artist Shiro (whose name means "pure mind" and "blank canvas") plays with frankly sexualized images of women, as does Miss Van of Toulouse, France, whose work literally changed the direction of graffiti and particularly revolutionized the work of women writers.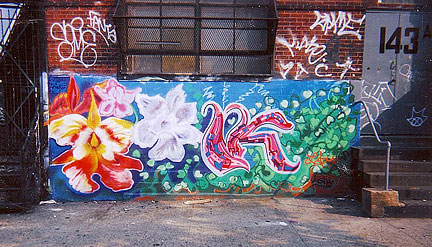 Fever (Lady K) decorates a piece of the city, from GRAFFITI WOMEN

GRAFFITI WOMEN does not duck the question of why a separate volume is needed for women writers; such a book can be seen as patronizing, a trap, its own ghetto. New York City superstar Swoon gets right into the sticky issue in her excellent foreword, while Fever (Lady K), who has worked in the male-dominated tagging style since the 1980s, explained in an exclusive e-mail interview with twi-ny: "I never thought that going out and painting in the snow, rain, sleet, risking my life in some situations and just purely enjoying the moment in others, would end up in a book or at a museum celebrating our talents and our female perspective." (On November 18, Fever will be part of a special 2:00 panel discussion at the Brooklyn Museum about women graffiti artists, along with Lady Pink, Toofly, Swoon, and others.) She continued, "I knew that what I was doing and what the other females I met were doing was unique and radical. I always hoped and wished that one day we would make our families proud, but this is beyond my greatest expectations." In the book, German artist Hera, whose Brooklyn piece graces the top of this issue of twi-ny, perhaps says it best — why it still matters that women artists are women: "One day a little skaterboy asked me why in the world I had painted a pregnant woman and told me in all seriousness that there was nothing more disgusting than pregnancy." As long as that's out there, having a woman's hand on the spray can really does make a difference.
Outdoor Art Show of the Week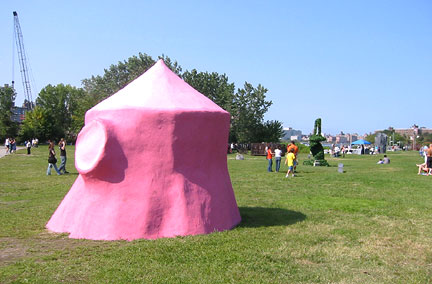 twi-ny/mdr
William Bryan Purcell's "Last Man Standing" welcomes crowds to sculpture park
EAF06: 2006 EMERGING ARTIST FELLOWSHIP EXHIBITION
Socrates Sculpture Park
Broadway at Vernon Blvd.
Through March 4, 2007
Admission: free
718-956-1819
http://www.socratessculpturepark.org

Don't let the oncoming cold weather prevent you from checking out the twentieth-anniversary exhibition at the wonderful Socrates Sculpture Park, a former landfill transformed by sculptor Mark di Suvero. Site-specific installations by twenty artists, all of whom live and work in New York, are on view, scattered around the riverside park — which offers a lovely view of Manhattan (especially as seen through Stephanie Lempert's "The Scope of Language," viewing scopes with text on the Plexiglas). If you walk in through the Vernon Blvd. main entrance, you'll be greeted by William Bryan Purcell's extremely pink "Last Man Standing," an abstract steel and cement object, resembling a roadside attraction, that plays with gender roles. For "Color was given me as a gage," Heather Hart carefully wrapped many of the benches and sitting areas in the park in yellow rope netting. Martha Friedman placed five squishy rubber "eggs" on top of each other for the Takashi Murakami-like "Laid." Cal Lane's cut steel Dumpsters, which he calls "Gated Communities," are like weathered, rusted cages (one for adults, one for children) that comment on the site's former life as a garbage dump.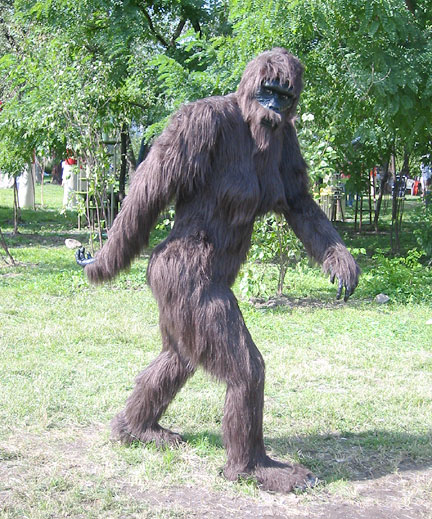 twi-ny/mdr
Cameron Gainer, "Forest Through the Trees"

Ethan Breckenridge's "Returning Videos" is like the inside of a house under construction; beware of the sign that says "No Climbing." Hank Willis Thomas's "It's about time" features a black man's fist and arm emerging from the ground, wearing a wristwatch, casting a shadow on a time line that announces important moments in black history. Ian Cooper (one of two native New Yorkers in the show, the other being Rachael Champion; Thomas hails from New Jersey) re-creates Lucy's "The psychiatrist is in" stand from PEANUTS, turning it into a twisted shape with mirrors for you to examine yourself. Fabienne Laserre's "Hair Tree" is precisely that: a tree covered with brown synthetic hair, as if it were a giant, narrow bear. Perhaps the piece that gets the most attention is Cameron Gainer's "Forest Through the Trees," a realistic life-size model of Bigfoot that people inevitably gather around and do interesting things with. One of the many joys of this exhibition, and Socrates Sculpture Park in general, is that you can interact with virtually all of the works, so be sure to bring your kids — or release the kid in you while you're there.
In the Neighborhood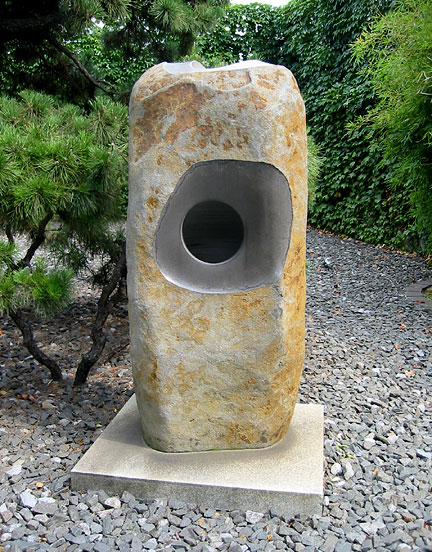 twi-ny/mdr
Isamu Noguchi, "75 Core (Cored Sculpture)," 1978
THE NOGUCHI MUSEUM
9-01 33rd Rd. at Vernon Blvd.
Closed Monday and Tuesday
Admission: $5 (free all day Friday, 10:00 am — 5:00 pm)
Weekend shuttle service: $10 round trip
718-204-7088
http://www.noguchi.org/vernon_info.html
http://www.noguchi.org/currentevents.html#currentevents

Whenever you go to Socrates Sculpture Park, you must stop by the Noguchi Museum, one of the most peaceful, beautiful, spiritual, and moving places in New York. Master sculptor Isamu Noguchi designed the space himself; it previously was a photo-engraving plant. Make your way slowly through the different rooms, some of which are open to the sky, and save the remarkable garden for last. Take your time breathing in the essence of each individual piece, walking around it to feel the full force of Noguchi's expert craftsmanship. Before heading out to the gorgeous garden, have a seat in the museum shop, where you can learn about Noguchi's Akari lamps while having an awesome Sage chocolate brownie. In addition to the permanent collection, the special exhibitions "Chess: Design Competition Prototypes" and "The Imagery of Chess Revisited" will be on display through March 6.

Historical Exhibit of the Week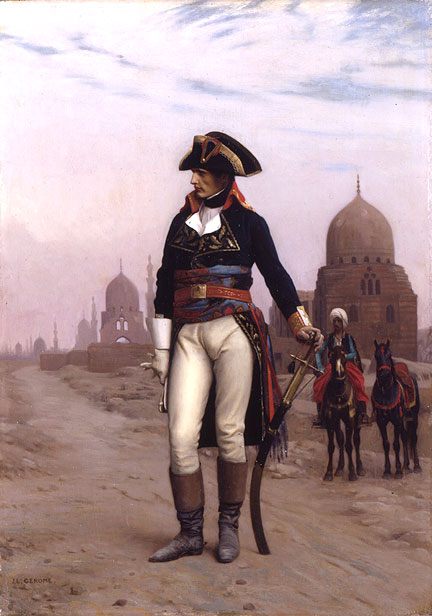 Princeton University Art Museum / Bruce M. White
Jean-Léon Gérôme, "Napoleon in Egypt," ca. 1867-68
NAPOLEON ON THE NILE:
SOLDIERS, ARTISTS, AND THE REDISCOVERY OF EGYPT
Dahesh Museum of Art
580 Madison Ave. at 57th St.
Extended through December 31
Admission: $10
212-759-0606
http://daheshmuseum.org/collection/exhibitions/index.html

Archaeology and art history come together in fascinating ways in this wide-ranging exhibit at the Dahesh, the most popular in the museum's ten-year history. In 1798, Napoleon Bonaparte invaded Egypt, bringing with him 167 scientists, translators, journalists, engineers, mathematicians, and more to detail what they found there. The three-year occupation resulted in what would become DESCRIPTION DE L'EGYPTE, a massive publication that created tremendous European interest in Orientalism and planted the seeds for modern Egyptology. The Dahesh has on display nearly ninety plates from the influential book, supplemented with paintings, drawings, prints, and sculptures from the museum's collection of nineteenth-century academic art as well as medals, decorative objects, letters, and documents. Among the highlights of the exhibition, both artistically and anthropologically, shedding light for the first time on this previously little-understood culture, are Nicolas-Jacques Conté's "Results of the Engraving Machine," Charles-Louis Balzac's "General View of Philae," Jean-Baptiste Lepere's "Thebes, Memnonium: Interior View of the Temple of Hathor from the West," André Dutertre's"Thebes: Painted Mummy Casings and Diverse Painted Wood, Stone, and Bronze Fragments," and Gaspard-Antoine Chabrol and Edmé Jomard's "Antiniipolis: General Plan, View of the Ruins."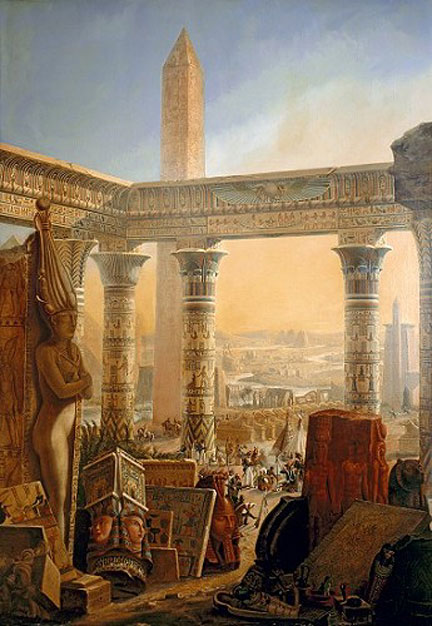 Charles-Louis-Fleury Panckoucke, "Monuments of Egypt," ca. 1821-24

Duterte also drew military costumes and various men and women, Jomard contributed engravings of necklaces, tools, and baskets, Francois-Charles Cécile, Balzac, Dutertre, and Conté detailed such objects as vases, baskets, lanterns, and pipes, Étienne Geoffroy Saint-Hilaire drew common crocodiles and star lizards, and Alire Raffeneau-Delile and Jules-César Savigny sketched native flora. Fifteen paintings put Egypt in artistic perspective, including Karl Wilhelm Gentz's "A Snake Charmer in the Second Court of the Mortuary Temple of Rameses III, Medinat Habu, Thebes" and Jean-Léon Gérome's "Napoleon in Egypt." Several works from caricaturist James Gillray add sarcastic humor to the exhibit, including "Buonaparte Hearing of Nelson's Victory." Other items to be on the lookout for are a snuffbox featuring Napoleon at the pyramids, surrounded by his soldiers; a sixteen-inch-long mummy arm; an article from the Connecticut Courant from April 1800; and letters, orders of the day, and receipts signed by Napoleon during the three-year occupation of Egypt.

PUBLIC PROGRAMS & EVENTS
Dahesh Museum of Art
Free with museum admission unless otherwise noted
212-759-0606
http://daheshmuseum.org/publicprograms_events
Sunday, November 19 The Emperor and the Mummy: THE EMPEROR, THE TRANSLATOR & THE STONE (Charlotte Burger, 2005) and NAPOLEON'S OBSESSION: THE QUEST FOR EGYPT (Peter Spry-Leverton, 2000), 2:30
Thursday, December 7 First Thursdays: Learning to Look, illustrated lecture by Philip Yenawine, 6:30 (admission to galleries free from 6:00 to 9:00)
Sunday, December 10 The Emperor and the Mummy: THE MUMMY'S HAND (Christy Cabanne, 1940), 2:30
Sunday, December 17 The Emperor and the Mummy: DESIRÉE (Henry Koster, 1954), 2:30
Thursday, December 21 The New Alexander: Napoleon in Egypt and the Holy Land, illustrated lecture with J. David Markham, $15, 6:30
Saturday, December 30 The Emperor and the Mummy: NAPOLÉON (Abel Gance, 1927), 12 noon
In the Neighborhood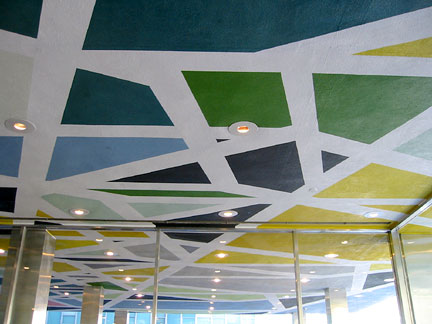 twi-ny/mdr
Sarah Morris's tribute to Robert Towne covers Lever House ceiling
SARAH MORRIS: ROBERT TOWNE
The Lever House Art Collection
390 Park Ave. at 54th St.
Through December 3
Admission: free
http://publicartfund.org/pafweb/projects/06/morris/morris-06.html

American artist Sarah Morris has covered the ceiling of Lever House — both the outer courtyard and the inner gallery space/lobby entrance — with a conceptualized geometric pattern that recalls city grids or L.A. freeways. In fact, the piece is named after Robert Towne, the gritty Los Angeles-born writer of such Hollywood hits as CHINATOWN, SHAMPOO (written with Warren Beatty), PERSONAL BEST (which he also directed), and the first two MISSION: IMPOSSIBLE movies. Blue, red, green, gray, and black triangles, rectangles, and trapezoids burst out of the futuristic, angled white city streets, linking inside and outside, New York and California. The scope of the project is impressive; Morris and her team of painters covered all of the nearly twenty-thousand-square-foot ceiling, following it around every turn.
THE VIRGIN MOTHER by Damien Hirst
Lever House
390 Park Ave. at 53rd St.
Erected March 2005
Admission: free

As with so much of British artist Damien Hirst's work, "The Virgin Mother," currently standing amid Sarah Morris's gridlocked ceiling, has been both highly praised and vilely vilified. With our penchant for the strange and the unusual — and the skeletal and gory — we love it, but we can't promise that you will. Nearly thirty-four-feet high and standing in the Lever House courtyard, the Virgin Mother looks up into the sky, the left side of her body intact, the right side exposed, with the skin peeling away, revealing muscles, sinews, skull, and a fully formed fetus in the womb. Constructed this year, the dark figure fits in well at Lever House, which was built in 1952 by Skidmore, Owings & Merrill as the first glass tower in the city; just as you can look inside the twenty-one-story office building, you can now look inside the Virgin Mother. Be sure to walk all around the sculpture to get the full effect.
Film Festival of the Week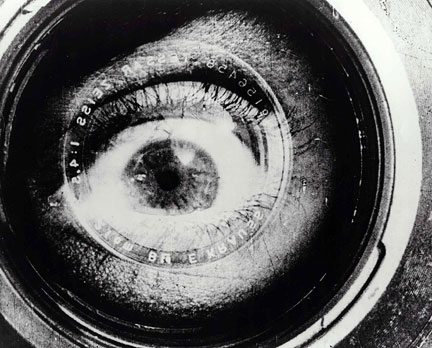 Kobal Collection
Still from MAN WITH THE MOVIE CAMERA (Dziga Vertov, 1929)
DZIGA AND HIS BROTHERS:
A FILM FAMILY ON THE CUTTING EDGE
Walter Reade Theater
165 West 65th St. between Eighth Ave. & Broadway
November 17-26
Tickets: $10
212-875-5600
http://filmlinc.com/wrt/onsale/kaufmanbros.html

Early cinematic pioneer Dziga Vertov was born Denis Kaufman in Bialystock. He and his brother Mikhail (born Moise) worked together in Russia while third brother Boris headed to Paris, where he became the cinematographer for Jean Vigo before ending up in the States and teaming up with the likes of Elia Kazan and Sidney Lumet. This ten-day tribute includes such groundbreaking films as MAN WITH THE MOVIE CAMERA, ZERO FOR CONDUCT, ON THE WATERFRONT, THREE SONGS ABOUT LENIN, and 12 ANGRY MEN in addition to rarely screened short films and newsreels made by Vertov.
Wednesday, November 15 THE ELEVENTH YEAR (ODINNADTSAYI) (Dziga Vertov, 1928), preceded by KINO-PRAVDA #17 (Dziga Vertov, 1923), 7:30
Friday, November 17 ON THE WATERFRONT (Elia Kazan, 1954). 2:00
Friday, November 17 A PROPOS DE NICE (Jean Vigo, 1930), followed by ZERO FOR CONDUCT (ZERO DE CONDUITE) (Jean Vigo, 1933), 4:15
Friday, November 17 MAN WITH THE MOVIE CAMERA (CHELOKEK S KINOAPPARATOM) (Dziga Vertov, 1929), preceded by KINO-PRAVDA NO. 20: PIONEER PRAVDA (PIONERSKAIA PRAVDA), 6:15
Friday, November 17 IN SPRING (VESNOI) (Mikhail Kaufman, 1929), preceded by KINO-PRAVDA #14 (Dziga Vertov, 1922), 8:15
Saturday, November 18 KINO-EYE (KINO-GLAZ) (Dziga Vertov, 1924), preceded by KINO-PRAVDA #15 (Dziga Vertov, 1923), 6:30
Saturday, November 18 A SIXTH PART OF THE WORLD (SHESTAIA CHAST MIRA) (Dziga Vertov, 1926), preceded by KINO-PRAVDA 22, "PEASANT KINO-PRAVDA" (KRESTIANSKAIA KINO-PRAVDA) (Dziga Vertov, 1925), 8:30
Sunday, November 19 THE ELEVENTH YEAR (ODINNADTSAYI) (Dziga Vertov, 1928), preceded by KINO-PRAVDA #17 (Dziga Vertov, 1923), 4:30
Sunday, November 19 FORWARD, SOVIET! A.K.A. STRIDE, SOVIET! (SHAGAI, SOVET) (Dziga Vertov, 1926), preceded by KINO-PRAVDA #21: A FILM POEM ABOUT LENIN (LENINSKAIA KINO-PRAVDA) (Dziga Vertov, 1925), 2:00
Monday, November 20 BYE BYE BRAVERMAN (Sidney Lumet, 1968), 4:00
Monday, November 20 ENTHUSIASM (ENTUZIAZM: SIMFONIYA DONBASSA) (Dziga Vertov, 1931), preceded by KINO-PRAVDA #10 (Dziga Vertov, 1922), 8:30
Tuesday, November 21 THE PAWNBROKER (Sidney Lumet, 1964), 1:30
Tuesday, November BYE BYE BRAVERMAN (Sidney Lumet, 1968), 3:45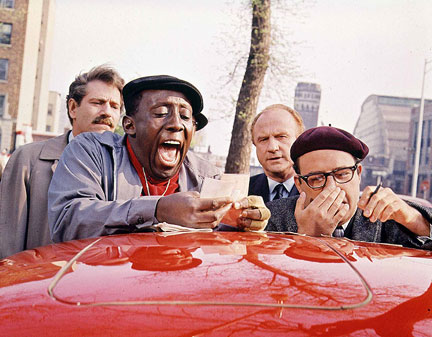 Kobal Collection
Buddies of the late Braverman try to find their way to funeral
BYE BYE BRAVERMAN (Sidney Lumet, 1968)

This charming little cult fave -- shot by Boris Kaufman, one of Dziga Vertov's brothers -- might seem an odd choice to include in this otherwise high-powered series at the Walter Reade Theater, but it will sneak up on you. Still not available on DVD or video, BYE BYE BRAVERMAN stars George Segal, Jack Warden, Joseph Wiseman, and Sorrell Booke as four friends who pile into a VW on their way to a funeral in New York City; the only problem is that they don't know which funeral house to go to. Godfrey Cambridge and Alan King show up to add to the fun.
Wednesday, November 22 L'ATALANTE (Jean Vigo, 1934), 1:00 & 8:00
Wednesday, November 22 A PROPOS DE NICE (Jean Vigo, 1930), followed by ZERO FOR CONDUCT (ZERO DE CONDUITE) (Jean Vigo, 1933), 3:00 & 6:15
Wednesday, November 22 DZIGA AND HIS BROTHERS (Yevgeni Tsymbal, 2002), preceded by KINO-PRAVDA #13: OCTOBER KINO-PRAVDA (OKTOBRISKAIA KINO-PRAVDA) (Dziga Vertov, 1922), 4:30
Friday, November 24 THREE SONGS ABOUT LENIN (TRI PESNI O LENINE) (Dziga Vertov, 1934), preceded by KINO-PRAVDA #16: SPRING KINO-PRAVDA (VESNNIAIA KINO-PRAVDA) (Dziga Vertov, 1923), 1:00
Friday, November 24 12 ANGRY MEN (Sidney Lumet, 1957), 2:45
Friday, November 24 ENTHUSIASM (ENTUZIAZM: SIMFONIYA DONBASSA) (Dziga Vertov, 1931), preceded by KINO-PRAVDA #10 (Dziga Vertov, 1922), 4:45
Friday, November 24 SPLENDOR IN THE GRASS (Elia Kazan, 1961), 6:30
Friday, November 24 ON THE WATERFRONT (Elia Kazan, 1954), 9:00
Saturday, November 25 12 ANGRY MEN (Sidney Lumet, 1957), 1:00
Saturday, November 25 SPLENDOR IN THE GRASS (Elia Kazan, 1961), 3:00
Saturday, November 25 DZIGA AND HIS BROTHERS (Yevgeni Tsymbal, 2002) preceded by KINO-PRAVDA #13: OCTOBER KINO-PRAVDA (OKTOBRISKAIA KINO-PRAVDA) (Dziga Vertov, 1922), 5:30
Saturday, November 25 MAN WITH THE MOVIE CAMERA (CHELOKEK S KINOAPPARATOM) (Dziga Vertov, 1929) preceded by KINO-PRAVDA NO. 20: PIONEER PRAVDA (PIONERSKAIA PRAVDA), 7:15
Saturday, November 25 BYE BYE BRAVERMAN (Sidney Lumet, 1968), 9:00
Sunday, November 26 THE PAWNBROKER (Sidney Lumet, 1964), 1:00
Sunday, November 26 L'ATALANTE (Jean Vigo, 1934), 3:15
Sunday, November 26 THREE SONGS ABOUT LENIN (TRI PESNI O LENINE) (Dziga Vertov, 1934), preceded by KINO-PRAVDA #16: SPRING KINO-PRAVDA (VESNNIAIA KINO-PRAVDA) (Dziga Vertov, 1923), 5:15
Sunday, November 26 IN SPRING (VESNOI) (Mikhail Kaufman, 1929) preceded by KINO-PRAVDA #14 (Dziga Vertov, 1922), 7:15
Sunday, November 26 12 ANGRY MEN (Sidney Lumet, 1957), 9:00

In the Neighborhood
THE NEXT GENERATION OF FILM
Walter Reade Theater
165 West 65th St. between Eighth Ave. & Broadway
Tickets: $10
212-875-5600
http://filmlinc.com/wrt/onsale/kaufmanbros.html
Monday, November 27 A conversation with Martin Scorsese, discussing the work of George Seaton and William Perlberg, 8:30
Wednesday, December 6 A conversation with Ben Affleck, including a screening of HOLLYWOODLAND (Allen Coulter, 2006), 7:00 (screening), 9:00 (talk)

HOLIDAY TREE LIGHTING
Lincoln Center for the Performing Arts
Josie Robertson Plaza
Columbus Ave. between 62nd & 65th Sts.
Admission: free
212-875-5456
http://www.lincolncenter.org/show_events_list.asp?eventcode=-57009
Monday, November 27 Seventeenth annual holiday tree lighting, hosted by Sam Champion and featuring live performances by the Big Apple Circus, the American Ballet Theater, the SRC All-City Gospel Chorale, and more, 5:30
WINTER'S EVE AT LINCOLN SQUARE
Broadway between Time Warner Center at Columbus Circle to 68th St.
Admission: free
212-581-7762
Monday, November 27 Seventh annual festival, featuring live music, street musicians, clowns, food tastings ($1-$3), special shopping discounts, children's activities, a treasure hunt, and more, 6:00 — 9:30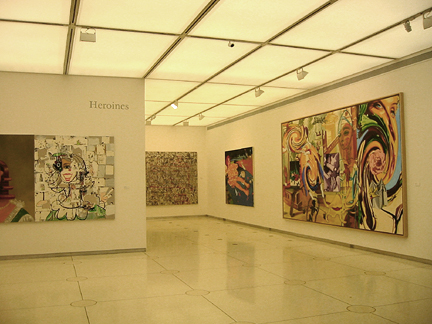 twi-ny/mdr
The Met goes contemporary with brand-new art gallery
HEROINES
The Arnold and Marie Schwartz Gallery Met
Metropolitan Opera House, south side lobby
Columbus Ave. & 64th St.
Monday through Saturday, 10:00 am — 11:00 pm, Sunday 12 noon — 6:00 pm
Admission: free
212-362-6000
http://www.metoperafamily.org/metopera/news/press/detail.aspx?id=202

On September 22, the Arnold and Marie Schwartz Gallery Met opened in the south side lobby of the Metropolitan Opera House, where it will present commissioned artworks relating to the Met's season. The initial display, "Heroines," consists of ten works based on female characters in upcoming Met productions, but these are by no means traditional images familiar to most opera buffs. Instead, the artists push the envelope with colorful, abstract, highly sexualized images that will surprise many people. In fact, while we were there one recent lunchtime, a well-dressed, elderly British man walked into the gallery, took one look around, called out, "Oh dear," and quickly exited. The friendly guard, who led us on an unofficial tour of the small, bright white space, said that the show has elicited all sorts of interesting reactions. As for the works themselves, Barnaby Furnas's depiction of Euridice from Gluck's ORFEO ED EURIDICE explodes on the canvas. Makiko Kudo turns Princess Yueyang from Tan Dun's THE FIRST EMPEROR into a kawaii figure right out of Balthus. David Salle's swirling colors surround a graphic sex act in "Helena at 5 AM" (from Strauss's DIE ÄGYPTISCHE HELENA). Stare long enough at Wangechi Mutu's "Love's a Witch, Orfeo's Underworld Coronation for Euridice" and you'll find a mixture of beautiful and shocking imagery. Richard Prince combines text about suicide and photographs of naked lesbians for his collage/homage to Puccini's MADAMA BUTTERFLY. Our favorite is Verne Dawson's "Euridice & Orfeo," a mysterious landscape with the main characters longingly reaching out for each other across a twisting stream. The show also features paintings by Cecily Brown, George Condo, John Currin, and Sophie von Hellermann. This is not your grandfather's Metropolitan Opera House.
Cinematic Book Event of the Week
SCENES FROM THE CITY: FILMMAKING IN NEW YORK
edited by James Sanders (Rizzoli, 2006, $49.95)
Tribeca Cinemas Gallery
13-17A Laight St. between Varick St. & Sixth Ave.
Tuesday through Saturday, 12 noon — 7:00 pm
Through November 26
Admission: free
212-941-2454
http://www.tribecacinemas.com/calendar.html#scenes
http://www.rizzoliusa.com/catalog/display.pperl?isbn=9780847828906
http://www.nyc.gov/html/film/html/anniversary/anniversary_home.shtml

We've all gasped in horror or laughed out loud when we're watching a movie set in New York City that was so obviously not filmed there. We also get annoyed when we're on our way home from work and we have to wait a half hour on Fifth Ave. because they're shooting a scene from the next Will Smith flick (in this case, I AM LEGEND) and the street is closed off (although that doesn't prevent us from trying to get a glimpse of the star). Produced in conjunction with the Mayor's Office of Film, Theatre and Broadcasting, which was started by Mayor John Lindsay in May 1966, SCENES FROM THE CITY looks at the history of films shot in New York, from the 1940s through the present day. More than 250 photographs from more than 170 films are included, each with behind-the-scenes details and many with quotes from the filmmakers.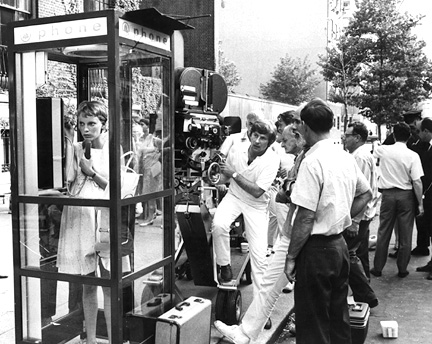 Courtesy of Everett Collection, Inc.
Mia Farrow and Roman Polanski on location in NYC shooting ROSEMARY'S BABY

Among the chestnuts you'll learn is that Woody Allen filmed ANNIE HALL in relative obscurity; Darren Aronofsky moved the location of Hubert Selby Jr.'s novel from the Bronx to the Coney Island of his youth for REQUIEM FOR A DREAM; Sidney Lumet insisted on not shooting DOG DAY AFTERNOON in the studio, instead transforming Prospect Park Pl. between 17th & 18th Sts. into the scene of the crime; Guss' Pickles was both the inspiration and the setting for parts of CROSSING DELANCEY; Alfred Hitchcock didn't like location shoots, although that didn't stop him from filming crucial scenes from NORTH BY NORTHWEST in Grand Central Terminal and the Plaza; why Noah Baumbach is so fascinated with the squid and the whale diorama at the American Museum of Natural History, which lent its name to THE SQUID AND THE WHALE; as well as lots of other cool facts, divided (chronologically) into such themes as "New York Landmarks," "New York Moments," "Chases," "The Subway," "Brooklyn," and "Central Park." The book also features a conversation with Martin Scorsese, an appreciation by Nora Ephron, and a useful filmography and index. While the deluxe book is in no way exhaustive, it is still a treat for those of us who still get excited every time we go to the movies and see a film that really is made in New York. Many of the photos will be on view at the Tribeca Cinemas Gallery through November 26
BIG APPLE FILM FESTIVAL
Tribeca Cinemas
54 Laight St. at Varick St.
212-941-2000
http://www.tribecacinemas.com/calendar.html
Saturday, November 25 15 MINUTES (John Herzfeld, 2001), free, 7:00
Ticket Alert of the Week
EAT, DRINK & BE LITERARY:
DINNER & A READING AT BAMcafé
Brooklyn Academy of Music Opera House Café
30 Lafayette Ave. between Ashland Pl. & St. Felix St.
All events begin at 6:30
Tickets: $45 (includes dinner, wine, tax, and tip)
January 11 — May 30
718-636-4100
http://bam.org/events/readings.aspx
For the third year, BAM continues its popular literary series, held in conjunction with the National Book Awards, teaming up writers and critics for an intimate evening of books and food, including live music, a buffet dinner, author readings, discussions, Q&As, and socializing. The tickets, which go fast, must be ordered in advance, so don't delay.
Thursday, January 11 Francine Prose, moderated by Brigid Hughes
Thursday, January 25 Pete Hamill, moderated by Brigid Hughes
Thursday, February 15 Michael Cunningham, moderated by Brigid Hughes
Thursday, March 8 Jonathan Franzen, moderated by Brigid Hughes
Thursday, April 5 Cynthia Ozick, moderated by Brigid Hughes
Wednesday, April 18 Zadie Smith, moderated by Jessica Hagedorn
Thursday, May 3 Sandras Cisneros, moderated by Jessica Hagedorn
Thursday, May 17 Gary Shteyngart, moderated by Jessica Hagedorn
Wednesday, May 30 Kurt Andersen, moderated by Jessica Hagedorn
Riff's Rants & Raves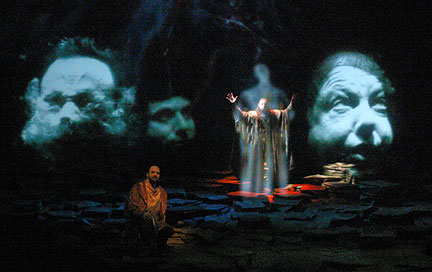 Victor Polin
Multimedia version of Bard play stirs things up in Brooklyn
LA TEMPÊTE
Brooklyn Academy of Music
BAM Howard Gilman Opera House
30 Lafayette Ave. between Ashland Pl. & St. Felix St.
Tickets: $20-$45
718-636-4100
http://bam.org/events/07TEMP/07TEMP.aspx
Wednesday, November 15
through
Saturday, November 18 LA TEMPÊTE, by William Shakespeare, directed by Michel Lemieux, Victor Pilon, and Denise Guilbault, a 4D art production
HEDDA GABLER
Brooklyn Academy of Music
BAM Harvey Theater
651 Fulton Street between Ashland Pl. & Rockwell Pl.
Tickets: $20-$60
718-636-4100
http://bam.org/events/07HEDD/07HEDD.aspx
Tuesday, November 28
through
Saturday, December 2 HEDDA GABLER, by Henrik Ibsen, translated by Hinrich Schmidt-Henkel Schaubühne am Lehniner Platz, directed by Thomas Ostermeier
Wednesday, November 29 BAMdialogue with Thomas Ostermeier, BAM Rose Cinemas, $8, 6:00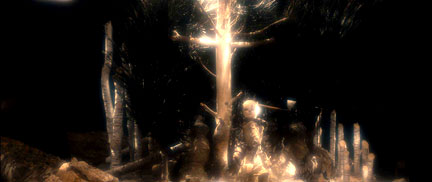 The latest from the Brothers Quay is both beautiful and baffling
THE PIANO TUNER OF EARTHQUAKES (Quay Brothers, 2005)
Cinema Village
22 East 12th St. between University Pl. & Fifth Ave.
Opens Friday, November 17
Tickets: $10
212-924-3363

The Brothers Quay — also known as the Quay Brothers — made a name for themselves in 1986 with the remarkable animated short STREET OF CROCODILES. Heavily influenced by the work of master Czech animator Jan Svankmajer (the brothers even made a short about him in 1984), twins Stephen and Timothy Quay first went the live-action feature-film route in 1995 with INSTITUTE BENJAMENTA. Their second full-length work, THE PIANO TUNER OF EARTHQUAKES, mixes their unique trademark animation style with live action, and the results are as beguiling as they are bewildering. Dr. Emmanuel Droz (Gottfried John) kidnaps opera singer Malvina van Stille (Amira Casar) away from her beloved Adolfo (Cesar Sarachu) and takes her to his mountain hideaway, where he has hired a piano tuner named Felisberto (Sarachu again) to fix his musical automatons. As Felisberto delves deeper into the mad world of the good doctor, he begins to fear for Malvina — and himself. Many of the brothers' miniatures are mesmerizing, simply beautiful to watch. But the plot is so difficult to follow that you'll find yourself lost time and time again; perhaps not coincidentally, Terry Gilliam is the executive producer. Add half a star if you have no problem understanding what Guy Maddin's films are all about.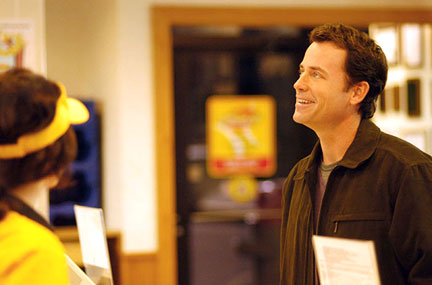 Don Anderson knows he'll be getting fecal matter with his Mickey's Big One
FAST FOOD NATION (Richard Linklater, 2006)
Opens Friday, November 17
http://www.foxsearchlight.com/fastfoodnation
http://participate.net/fastfoodnation
http://www.ericsecho.org/investigation2.htm

Back in 1998, we read an amazing two-part article in Rolling Stone that has kept us out of fast-food burger joints for years, with no intention of ever going back. In 2001, National Magazine Award winner Eric Schlosser turned his investigative series into the bestselling book FAST FOOD NATION: THE DARK SIDE OF THE ALL-AMERICAN MEAL. Now Schlosser has teamed up with writer-director Richard Linklater — whose diverse credits include SLACKER, DAZED AND CONFUSED, BEFORE SUNSET, SCHOOL OF ROCK, and A SCANNER DARKLY — for a fictionalized version of Schlosser's reporting. Weaving together a series of interrelated stories, Linklater, who cowrote the screenplay with Schlosser, tackles such controversial themes as corporate greed, illegal border crossings, occupational safety, animal abuse, and marketing to children in a surprisingly lifeless way, despite the toxic subject matter. Greg Kinnear stars as Don Anderson, a marketing chief at Mickey's who is sent to the company's meatpacking plant in Cody, Colorado, to find out why feces has been found in the fast-food chain's Big One burger. Wilmer Valderrama plays Raul, a Mexican with a dream of making a new life in America; he has crossed the border illegally with his wife, Sylvia (Catalina Sandino Moreno), Sylvia's sister, Coco (Ana Claudia Talancon), and others. Raul gets a disgusting job at the plant, while Coco falls prey to the sexual advances of racist plant boss Mike (Bobby Cannavale). Meanwhile, Amber (Ashley Johnson) is a dedicated Mickey's employee, serving burgers to earn money for college — until she meets Paco (Lou Taylor Pucci) and a group of environmentalist college students planning an act of protest against the chain. The all-star cast — which also includes Luis Guzman, Kris Kristofferson, Ethan Hawke, Dana Wheeler-Nicholson, Patricia Arquette, Esai Morales, Avril Lavigne, and Bruce Willis — turns in fine work, but the movie never quite becomes as compelling as such cinematic predecessors as TRAFFIC and SILKWOOD. Although the filmmakers claim otherwise, the film is too black and white, with obvious good guys and bad guys — but there are likely to be a lot more vegetarians in America after the relentlessly bloody ending. Happy eating!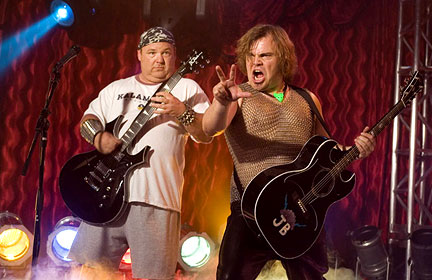 Jack Black and Kyle Goss go in search of their destiny
TENACIOUS D IN THE PICK OF DESTINY (Liam Lynch, 2006)
Opens Wednesday, November 22
http://www.tenaciousdmovie.com

Director Liam Lynch takes us back to the very beginnings of Tenacious D and their unwavering determination to become the greatest rock-and-roll band in the world in this lighthearted, silly, and very funny romp. As the film starts, JB (Troy Gentile, who grows into Jack Black) is a ten-year-old hard rocker who is misunderstood by his angry father (Meat Loaf) and is sent on a mission to Hollywood by Ronnie James Dio. Kyle Gass is KG, a classically trained guitarist who plays on the California beaches for tips while pretending that he is a well-connected musician. They eventually form a two-man band, named Tenacious D, but when they don't make it big immediately, they consider giving up until they learn about a special guitar pick crafted from the devil's tooth that can lead them to their ultimate destiny. A must-see for fans of the D, the film features fun cameos by Ben Stiller, Colin Hanks, Amy Poehler, Fred Armisen, David Grohl as the devil, John C. Reilly as Sasquatch (in a goofy animated scene by John Kricfalusi), and Tim Robbins as a mysterious stranger who is also after the magical pick. Add half a star if you can just never get enough of the D, including watching and rewatching their very brief HBO series, elements of which show up here.
THE RETURN (Asif Kapadia, 2006)
In theaters now

We loved Asif Kapadia's debut, THE WARRIOR, a gentle, mesmerizing film that sat on Miramax's shelf for several years before opening to little notice. Well, his second film might get him noticed, but for all the wrong reasons. In the brutally slow THE RETURN, which was not screened in advance for critics, Sarah Michelle Gellar stars as Joanna Mills, a trucking industry saleswoman whose past is creeping up on her ¬ and it sure takes a long time to get there. Determined to seal a big deal, Joanna heads back to her home state, Texas, where she hasn't been since she was involved in a bad car accident when she was a little girl (Darrian McClanahan). Once there, she sees her father (Sam Shepard) for the first time in years and is haunted by mysterious deja-vu-like visions that often include a dangerous-looking man (Peter O'Brien) who is in town as well. Kapadia and first-time screenwriter Adam Sussman take . . . so . . . long . . . to . . . fill . . . in . . . the . . . plot . . . that you just won't care by the time secrets start being revealed and something actually happens.
VOLVER (COMING BACK) (Pedro Almodóvar, 2006)
In theaters now
http://www.sonyclassics.com/volver

The centerpiece presentation of this year's New York Film Festival, VOLVER finds Pedro Almodóvar returning to his native La Mancha in Spain in this bittersweet, ultimately disappointing tale of three generations of women. The movie opens beautifully, with dozens of women in a cemetery, carefully cleaning loved ones' tombstones and leaving fresh flowers — except for Agustina (Blanca Portillo), who is tending to her own grave site. Agustina takes care of the aged Paula (Chus Lampreave), who helped raise Raimunda (Penélope Cruz). Raimunda is working several jobs to help support her lout of a husband (Antonio de la Torre) and their teenage daughter, (Yohana Cobo), but she's soon forced to cover up a grisly tragedy. And Sole (Lola Dueńas), Raimunda's sister, is a single woman working illegally as a hairdresser out of her apartment. When rumors persist that Raimunda and Sole's mother, Irene (Carmen Maura), who died in a fire many years before with her husband, has come back from the dead and is taking care of Paula, Raimunda and Sole have very different reactions, dredging up long-buried memories and secrets both good and bad. Unfortunately, the film never quite comes together. Almodóvar, who has made such spectacular films as ALL ABOUT MY MOTHER and TALK TO HER, in this case might be too close to the material; in the press notes, he confesses, "During the writing of the script and filming, my mother was always present and very near. I don't know if the film is good, but I'm sure that it did me a lot of good to make it." There are too many flaws in the plot, especially when Raimunda takes over her neighbor's restaurant and starts preparing lunches for a large film crew while being eyed by a young production assistant, and some of the comedy is just too slapsticky and unbelievable. Yet as with all Almodóvar films, there is still much to admire, even in a lesser work.
SHOTTAS (Cess Silvera, 2002)
In theaters now
http://www.sonypictures.com/movies/shottas
http://www.myspace.com/shottasthemovie

Widely discussed and traded on the Internet since it played the Toronto International Film Festival in 2002, the underground cult hit SHOTTAS finally gets its long-delayed and much-anticipated release here in the States. Mixing elements of THE HARDER THEY COME (Perry Henzell, 1972), MEAN STREETS (Martin Scorsese, 1973), and SCARFACE (Brian De Palma, 1983), SHOTTAS stars Kymani Marley (one of Bob's sons) as Biggs, a Jamaican gangster who dreams of making his mark in Miami, alongside his childhood friend Wayne (dancehall king Spragga Benz). Among those standing in his way are a white Jamaican politician (Munair Zacca) and his main competition, wealthy warlord Teddy Bruk Shut (Louie Rankin). Written and directed by Cess Silvera, SHOTTAS (which is Jamaican patois for "gangsters") moves quickly from the ghettos of Kingston to the luxury of South Beach; however, the scenes in Jamaica work much better than those in Florida, where the body count goes way up — with tons of slo-mo, fast-mo, and regular-mo bloodshed and massive gun battles, but often in hard-to-believe scenes of revenge and deception. Wyclef Jean makes his inauspicious, lackadaisical feature-film debut as Richie Effs; he comes off stronger as one of the film's executive producers and composer. The soundtrack is appropriately rockin', save for the awful, sappy closing song.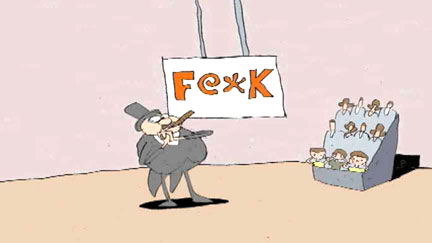 Bill Plympton gets animated about the F word
F*CK (Steve Anderson, 2006)
Quad Cinema
34 West 13th St. between Fifth & Sixth Aves.
Tickets: $10

We have to admit that we left Steve Anderson's "f*ckumentary" about our very favorite word feeling enervated and empowered. Mixing archival footage, new interviews, film clips, music, and animation by Bill Plympton, Anderson examines the various uses and meanings of the forbidden word in politics, on television, in the movies, in music, in literature, in religion, and in everyday speech, looking at the history and the growing acceptance of the word in the popular culture of the twentieth century, when it took on new life. Both sides of the aisle chime in on the F-word and the First Amendment, from conservative talk show hosts and moral and religious leaders to film directors and rap stars, including Pat Boone, Drew Carey, Chuck D, Sam Donaldson, Bill Maher, Ice-T, Dennis Prager, Ron Jeremy, Jesse Sheidlower, Alan Keyes, Dave Marsh, Judith "Miss Manners" Martin, Alanis Morissette, Michael Medved, Kevin Smith, Hunter S. Thompson, Steven Bochco, and, most brilliantly, Billy Connolly. The innovative or, to many, offensive careers of Lenny Bruce and George Carlin are featured, as well as the battle between Howard Stern and the FCC. Along the way, we get to hear the F-bomb dropped by professors and presidents, producers and people in Times Square, Ph.Ds and porn stars, parents and pundits, and plenty of other cunning linguists. And closing with Steve Earle's "F the FCC" is a stroke of genius. F*CK is one great f*ckin' movie.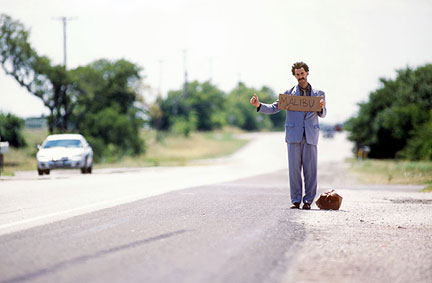 Borat reveals the ugly side of America in hilarious ways
BORAT: CULTURAL LEARNINGS OF AMERICA
FOR MAKE BENEFIT GLORIOUS NATION OF KAZAKHSTAN (Larry Charles, 2006)
In theaters now

Believe the hype. Sacha Baron Cohen holds a mirror up to America, and you might not like what you see — although you'll laugh your head off while watching it. Cohen stars as bushy haired Kazakhstan journalist Borat Sagdiyev, a role he created for DA ALI G SHOW, the 2001 series in which he interviewed such luminaries as Newt Gingrich, Boutros Boutros-Ghali, Andy Rooney, and Norman Mailer while pretending to be a British hip-hop wigger (Ali G); he also disguised himself as a German fashionista (Bruno) and Borat, a reporter who likes to talk about sex, especially with his sister. In CULTURAL LEARNINGS OF AMERICA FOR MAKE BENEFIT GLORIOUS NATION OF KAZAKHSTAN, Borat leaves his little village in Kazakhstan and travels across the United States with his producer, the rotund Azamat (Ken Davitian), in search of his true love, BAYWATCH's Pamela Anderson. Along the way, he is making a documentary about the American way of life, turning a revealing lens on racism, anti-Semitism, sexism, misogyny, homophobia, blind patriotism, fundamentalism, and southern hospitality, with a healthy dose of toilet humor (literally). The people he speaks with — a feminist group, gun and car dealers, rodeo cowboys, conservative politicians Bob Barr and Alan Keyes, etiquette and humor experts, Christian evangelicals at a revivalist tent meeting, drunk frat boys in an RV — believe he is really a Kazakh journalist, and Cohen holds nothing back, unafraid to ask any question or kiss any man, often risking his personal safety in hysterical ways. He's got the biggest cojones we've ever seen — and you nearly get to see them when he and Azamat chase each other naked through a hotel, ending up fighting onstage at a mortgage bankers convention. BORAT is more EASY RIDER than JACKASS and BEAVIS AND BUTT-HEAD DO AMERICA, a road trip movie that captures the state of the nation in frightening yet very funny ways.
A GUIDE TO RECOGNIZING YOUR SAINTS (Dito Montiel, 2006)
In theaters now
http://www.firstlookstudios.com/guide

Dito Montiel's compelling coming-of-age drama, inspired by his memoir about growing up in Queens, stars Robert Downey Jr. as Dito Montiel, a somewhat fictionalized version of the writer-director himself. As the modern-day Montiel prepares to come home to Astoria to visit his ailing father, Monty (Chazz Palminteri), he thinks back on what happened twenty years before that has kept him away from his friends and family for so long. In 1986, Dito (Shia LaBeouf) hangs around the mean Queens streets with tough-guy Antonio (Channing Tatum), the off-kilter Nerf (Peter Anthony Tambakis), and Antonio's slow brother, Giuseppe (Adam Scarimbolo). Believing that his father has more love and respect for Antonio than for his own son, Dito dreams of getting out, with his girlfriend, Laurie (Melonie Diaz), and his new friend, a Scottish kid named Mike O'Shea (Martin Compston), but Monty continually tells him that he'll never get anywhere, that there's no need to ever leave their insular community. (Even Manhattan and Coney Island are considered off limits, as if they're other countries.) But when an escalating turf war breaks out with a group of teens from Queensbridge, tragedy leads to some hard, painful decisions. Shot on location and featuring a retro soundtrack, A GUIDE TO RECOGNIZING YOUR SAINTS is a SATURDAY NIGHT FEVER for a new generation, a gritty period piece about the not-so-glorious results of a misspent youth. The outstanding ensemble, which also includes Dianne Wiest, Eric Roberts, and a scene-stealing Rosario Dawson, earned a well-deserved Special Jury Prize at Sundance.
CATCH A FIRE (Phillip Noyce, 2006)
In theaters now
http://www.catchafiremovie.com

Australian director Phillip Noyce pulls off a political-thriller hat trick with the masterful CATCH A FIRE, following the success of his last two feature films, 2002's double shot of THE QUIET AMERICAN and RABBIT-PROOF FENCE. Derek Luke (ANTWONE FISHER) stars as Patrick Chamusso, a hardworking family man who is a foreman at the Secunda oil refinery in South Africa in 1980. Avoiding politics, he makes a good living for his wife, Precious (the remarkably expressive Bonnie Henna), and their two young daughters (Onthatile Ramasodi and Ziizi Mahlati). But when he is dragged into a terrorism investigation at the plant and is viciously tortured by Colonel Nic Vos (a steadfast Tim Robbins) and his men, Patrick sees a very different side of Apartheid and soon considers becoming a Freedom Fighter, risking his life for his country. Based on a true story — and written by Shawn Slovo, the daughter of a prominent white leader of the anti-Apartheid movement — CATCH A FIRE is an impassioned, powerful look at not only the racism that existed for so long in South Africa but what drives men to do the things they do. Both Chamusso and Vos make critical decisions that impact the safety of their families as well as the nation, and both believe they are patriots. Marvelously acted and with a superb soundtrack (including songs by the Bongani Singing Group and Bob Marley), CATCH A FIRE is not merely a period piece but is a wake-up call to much of what is still going on in today's dangerous world.
THE PRESTIGE (Christopher Nolan, 2006)
In theaters now
http://theprestige.movies.go.com

Christopher Nolan, who made the excellent MEMENTO (2000), the disappointing INSOMNIA (2002), and the very good BATMAN BEGINS (2005), turns to the world of magic, but you'll feel like you've seen this rabbit pulled out of a hat very recently — especially if you've checked out THE ILLUSIONIST, Neil Burger's murder mystery about a magician, and SCOOP, in which Woody Allen plays a magician who gets caught up in a murder mystery with his "daughter" (Scarlett Johansson) and the son of a powerful lord (Hugh Jackman). In THE PRESTIGE, dueling magicians Robert Angier (Jackman) and Alfred Borden (Christian Bale) have a bitter relationship right out of AMADEUS (Milos Forman, 1984), with Angier being more the Salieri type and Borden the Mozart wunderkind. They each keep trying to up the ante with the constantly morphing trick called the Transported Man, eventually involving electricity expert and oddball Nikola Tesla (David Bowie) in the mix, as well as sexy magician's assistant Olivia (Johansson). Parts of the film are indeed thrilling, and the ending packs a wallop, but much of the meat of the movie is far too repetitive and, ultimately, not quite believable.
ABSOLUTE WILSON (Katharina Otto, 2006)
Quad Cinema
34 West 13th St. between Fifth & Sixth Aves.
Tickets: $10

Avant-garde theater genius Robert Wilson opens up about his life and art in ABSOLUTE WILSON, a revealing documentary by Katharina Otto-Bernstein. Wilson, the innovative — and notoriously private — director / designer / choreographer, was born and raised in a segregated religious community in Waco, Texas, where he suffered though a very complicated childhood with few friends and a serious stuttering problem. He eventually came out to his father — a man who never quite understood or accepted Wilson's differences in ways that still haunt him today — and moved to New York City, where he became engaged in the radical theater of the 1960s. A master collaborator, over the years he has worked with Philip Glass, David Byrne, Tom Waits, William S. Burroughs, Jessye Norman, Lou Reed, and many others, in such monumental productions as EINSTEIN ON THE BEACH, THE BLACK RIDER, and The CIVIL warS. He has also been drawn to children with mental and physical challenges, resulting in such pieces as the eight-hour DEAFMAN GLANCE with Raymond Andrews and the Broadway flop A LETTER FOR QUEEN VICTORIA with Christopher Knowles. Among the talking heads sharing their thoughts about Wilson are Byrne, Norman, Glass, Susan Sontag, critics John Simon and John Rockwell, Byrd Hoffman (who runs the Byrd Hoffman Water Mill Foundation, where Wilson is artistic director), and Harvey Lichtenstein (the former president of the Brooklyn Academy of Music and namesake of the BAM Harvey Theater). Wilson's theater is mesmerizing, confounding, mysterious, and always breathtaking — we've marveled at THE BLACK RIDER and WOYCECK, both at BAM — but perhaps most remarkable is the work Wilson did helping people in hospitals and mental institutions, inventing unique ways to teach them to communicate. Otto-Bernstein cleverly intercuts Wilson's stories of his past with scenes from his productions (going back to the very beginning of his career), showing how life imitates art — and vice versa. ABSOLUTE WILSON is a must for Wilson fans — and any fan of art and the creative instinct.
CLIMATES (IKLIMLER) (Nuri Bilge Ceylan, 2006)
Film Forum
209 West Houston St. between Sixth & Seventh Aves.
Tickets: $10
212-727-8110

Winner of the FIPRESCI Prize at this year's Cannes Film Festival and a selection of the just-wrapped-up New York Film Festival, CLIMATES is a beautifully elegiac look at a desperate relationship set in modern-day Turkey. The film opens with Isa (writer-director Nuri Bilge Ceylan) and Bahar (Ebru Ceylan, Nuri's real-life wife) visiting desert ruins. As he walks among ancient pillars, taking photos, she watches him from a distance; the silence is deafening. Later, on a beach, they agree to part ways; while he heads back into the arms of Serap (Nazan Kesal), a friend's lover, she takes a job on a faraway television program, set in the bitter cold and snow. But Isa still can't get the younger Bahar out of his mind. CLIMATES features long scenes of little dialogue, with cinematographer Gökhan Tiryaki alternating extreme close-ups with gorgeous, nearly empty landscapes, shot in HD digital video, with a haunting piano-based score. Ceylan's follow-up to DISTANT, which won the 2003 Jury Grand Prix at Cannes, is a wrenching, challenging tale that will leave audiences emotionally exhausted.
SAW III (Darren Lynn Bousman, 2006)
In theaters now

The original SAW (James Wan, 2004) was a tense, gruesome, and clever thriller. Darren Lynn Bousman's 2005 sequel was a boring, gruesome, and repetitive mess. The franchise continues for the third Halloween in a row with SAW III, with Bousman perhaps directing the series into its well-deserved grave. (At least creatively; the new movie has turned out to be a big hit.) Jigsaw (Tobin Bell) is on his deathbed, so he has his apprentice, Amanda (Shawnee Smith), carry on for him, capturing a doctor (Bahar Soomekh) whose future (actually, her head) is linked directly to Jigsaw's heart monitor. Meanwhile, Jeff (Angus Macfadyen) is being led through a chamber of horrors where he is faced with the choice of exacting revenge or offering forgiveness over the death of his young son, killed by a drunk driver. Whereas the first film was cutting-edge in its inventive methods of murder, this third installment is dull and lifeless. As Jigsaw himself says, "Game over."
MAN OF THE YEAR (Barry Levinson, 2006)
In theaters now
http://www.manoftheyearmovie.net

Barry Levinson reteams with Robin Williams (GOOD MORNING, VIETNAM, the disastrous TOYS) for MAN OF THE YEAR, an entertaining if flawed romantic comedy/political thriller. Williams stars as Tom Dobbs, a Bill Maher-like talk-show host who gets recruited by his fans to run for president. So he and his manager (Christopher Walken) and head writer (THE DAILY SHOW's Lewis Black) go on the road, bringing a message of change to the American people. Meanwhile, Eleanor Green (Laura Linney) discovers that there is a critical problem with her company's electronic voting machines that will affect the outcome of the election, but the firm's CEO (Rick Roberts) and spokesman (Jeff Goldblum) care more about their soaring stock than who gets to sit in the Oval Office. Complicating things is the growing attraction between Dobbs and Green. Despite some seriously stale political jokes, obvious riffs on fake news shows, the oh-so-tired inclusion of real talking heads commenting on Dobbs's chances for the White House (Chris Matthews, James Carville), and awful melodramatic music at the film's climax, MAN OF THE YEAR manages to be funny, insightful, moving, and timely, coming out just before the crucial midterm elections and Robert F. Kennedy Jr. 's big Rolling Stone story about possible fraud involving voting machines.
THE TEXAS CHAINSAW MASSACRE: THE BEGINNING
(Jonathan Liebesman, 2006)
In theaters now
http://www.texaschainsawmovie.com

We're not sure the world really needs yet another TEXAS CHAINSAW MASSACRE, what with all the sequels, remakes, and even THE TEXAS CHAINSAW MASSACRE: THE NEXT GENERATION (Kim Henkel, 1994), which featured Renée Zellweger and Matthew McConaughey. Tobe Hooper's 1974 original was a slasher classic, with the great Gunnar Hansen as Leatherface, but for thirty years people have been trying to capture that same grisly intensity, with little success. Perhaps the closest they've come is THE BEGINNING, the new prequel to the 2003 remake (which starred Jessica Biel). The cannibalistic quartet of R. Lee Ermey (Sheriff Hoyt), Uncle Monty (Terrence Evans), Luda Mae (Marietta Marich), and Tea Lady (Kathy Lamkin) are back for Jonathan Liebesman's solid, scary flick that goes back to the birth of old Leatherface (Andrew Bryniarski), somewhat explaining how he gained such a liking for butcher knives, chainsaws, and human skin. This time around, Taylor Handley and Matt Bomer play two very different brothers about to go to Vietnam, driving through the California desert with their girlfriends (Jordana Brewster and Diora Baird) for one last hurrah, but they sort of take a rather gruesome detour. Although the period music the filmmakers dug up is pretty lame, Steve Jablonsky's original score builds the tension beautifully. Be prepared for lots of blood, torture, and genuine terror.
THE DEPARTED (Jonathan Liebesman, 2006)
In theaters now
http://thedeparted.warnerbros.com

Based on Andrew Lau and Alan Mak's awesome INFERNAL AFFAIRS (2002), Martin Scorsese's relatively faithful remake, THE DEPARTED, has been moved from Hong Kong to the mean streets of Boston, where it is hard to tell cop from criminal. Just out of the academy, Colin Sullivan (Matt Damon) rises quickly to detective in the Special Investigations Unit, but he's actually in cahoots with master crime lord Frank Costello (Jack Nicholson). Meanwhile, Billy Costigan (an excellent Leonardo DiCaprio), training to become a cop, is sent deep undercover (including a prison stint) to infiltrate Costello's gang, with only Captain Queenan (Martin Sheen) and Sergeant Dignam (a very funny and foul-mouthed Mark Wahlberg) aware of the secret mission. Sullivan and Costigan are like opposite sides of the same persona; in between them stands Costello — and Madolyn (Vera Farmiga), a psychiatrist who is in a relationship with one and is doctor to the other. As both the cops and the criminals search desperately for their respective rats, no one can trust each other, leading to lots of blood and a spectacular finale. Nicholson has a field day as the aging gangster, chewing up mounds of scenery in his first film with Scorsese, who has returned to peak form with his best film since 1990s GOODFELLAS.
THE LAST KING OF SCOTLAND (Kevin MacDonald, 2006)
In theaters now
http://www2.foxsearchlight.com/thelastkingofscotland

Forest Whitaker is absolutely mesmerizing as General Idi Amin in Kevin MacDonald's THE LAST KING OF SCOTLAND, demanding viewers' attention every time he appears on-screen, a dominating, bigger-than-life presence. Unfortunately, the rest of the film lets him down, failing to come close to his overpowering performance. The movie is based on Giles Foden's award-winning novel, in which the author created a composite character, Nicholas Garrigan, a Scottish doctor who becomes a close confidant of Amin's. What might have worked in the book falls apart on camera in a series of hard-to-believe scenes that actually never happened. As played by James McAvoy, Garrigan is goofy and lightweight from the very beginning, unable to compete with the massive Whitaker as Amin. He makes a play for his boss's wife (Gillian Anderson), thinks he doesn't have to play the political game with a British operative (Simon McBurney), and takes a liking to one of Amin's mistreated wives (Kerry Washington). While it is fascinating to watch the rise and fall of the President for Life, his relationship with Garrigan is hard to swallow — mostly because it's not true. And even those bits and pieces that are factual have been twisted and changed to increase emotional impact, ending up with manipulated melodrama instead of what really happened — which is a shame, since MacDonald's first two films, the well-regarded ONE DAY IN SEPTEMBER and TOUCHING THE VOID, were both documentaries.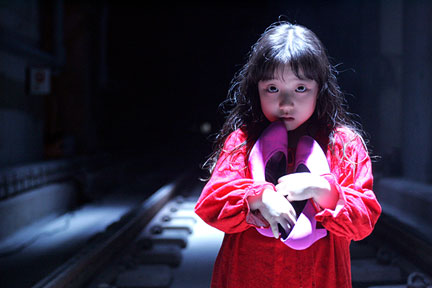 Be careful what you covet…
THE RED SHOES (BUNHONGSIN) (Kim Yong-gyun, 2005)

While Michael Powell and Emeric Pressburger's 1948 classic, THE RED SHOES, was all about the dancing, Kim Yong-gyun's 2005 horror update is all about the shoes. Kim Hye-soo gives a wonderfully eerie performance as Sun-jae, a young wife and mother whose life changes when she catches her husband in bed with another woman. A distraught Sun-jae moves into a dilapidated apartment with her weird daughter, Tae-soo (Park Yeon-ah), both coveting the beautiful pair of pink/red shoes Sun-jae found on the subway. But strange things happen to those who insist on wearing the shoes — often ending with lots of blood and loss of body parts. THE RED SHOES is a craftily made thriller about obsession and desire, featuring some truly scary scenes and an elegant, classically based soundtrack by Byeongwoo Lee. But it is also about perception and reality; Sun-jae is an eye doctor, and several characters have problems with one of their eyes, never both, as if they're not able to see things in clear focus. "There is really nothing in the world that can be compared to red shoes!" Hans Christian Andersen wrote in his 1845 fairy tale THE RED SHOES (itself a rather creepy tale). You won't be stepping into a pair of red pumps anytime soon after seeing this well-made, suspenseful flick. The DVD includes director and cinematographer commentary and a behind-the-scenes featurette.
GHOST OF MAE NAK (Mark Duffield, 2005)
Now available on DVD

Cinematographer Mark Duffield makes his debut as a writer-director with this uninspired ghost story based on a Thai legend. Nak (Pataratida Pacharawirapong) and Mak (Siwat Chotchaicharin) are a young couple madly in love with each other. Right before they get married, they buy a rickety old house that is home to a ghost named Mae Nak (Porntip Papanai). Ludicrous scene follows ludicrous scene, with no real tension, insufficient plot explanations, and no scares whatsoever. The DVD includes a video diary by Duffield and director commentary, but you'd really rather not know what went into the making of this lame horror flick.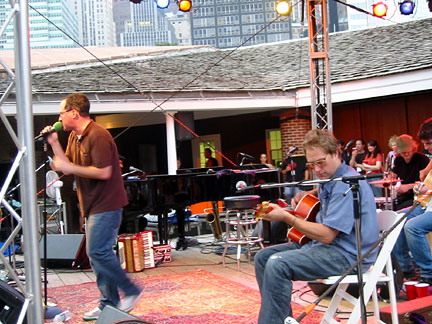 twi-ny/mdr
The Hold Steady treats Castle Clinton crowd to acoustic set this summer
THE HOLD STEADY:
BOYS AND GIRLS IN AMERICA (Vagrant, October 2006)
Warsaw, 261 Driggs Ave., Greenpoint
Wednesday, November 22
Tickets: $17
718-387-0505
Maxwell's, 1039 Washington St., Hoboken
Friday, November 24
Tickets: sold out
http://polishnationalhome.com/warsawconcerts.html

Born and bred in Minnesota, the Hold Steady might now be based in Brooklyn, but they still wear their midwestern Twin Cities roots on their sleeves. On their second full-length disc, the follow-up to the fine SEPARATION SUNDAY, they get bigger and better, with anthemic guitars, gorgeous piano, and Craig Finn's Beatnik, stream-of-consciousness, way-too-literate-for-his-own-good lyrics about sex, drugs, and rock and roll as well as booze and Jesus. Finn references Sal Paradise, the devil, and John Berryman in the first song, "Stuck Between Stations," about how "boys and girls in America have such a sad time together" -- "She was a really cool kisser and she wasn't all that strict of a Christian / She was a damn good dancer but she wasn't all that great of a girlfriend," Finn talk-sings in what is our favorite stanza of the year. The chorus of "Hot Soft Light" will make you remember why you love music. If you're not careful, you'll fall in love to "First Night" right before having your heart broken. You'll find yourself suddenly calling out in public the last lines of "Party Pit," a song set in a real Minneapolis bar. Finn lets his Bruce Springsteen influence soar on the opening notes of "You Can Make Him Like You" (as well as in many other places). "Chill Out Tent" is so infectious, it will send chills down your spine for days. When we saw the Hold Steady play a special acoustic set this summer at Castle Clinton, they premiered many of these songs; as good as they sounded then, they're that much better with these full-band orchestrations. Despite their overt quirkiness, the Hold Steady is on the brink of reaching the next level; catch them at one of these tiny tristate area shows while you can.

All contents copyright 2006 by Mark Rifkin and twi-ny. All rights reserved. Contents may not be reprinted without written permission. Please note that events, dates, and prices are subject to change.
Send all comments, suggestions, reviews, and questions to mark.rifkin@twi-ny.com.
Please note that some e-mail clients may wrap links, so be sure to enter them fully into your browser.

To subscribe to this list, please e-mail the administrator at admin@twi-ny.com with the word Subscribe in the Subject line; be sure to ask for back issues, which are free as well. To unsubscribe from this list, please think it over twice before e-mailing the same address. Please let us know what you didn't like about this forum and we'll do our best to correct it in the future -- if we agree with you. If you would like to see something covered in a future issue, please let us know. Without you, there is no need for us to exist.
twi-ny top two dozen (or so) weekly reminders & special events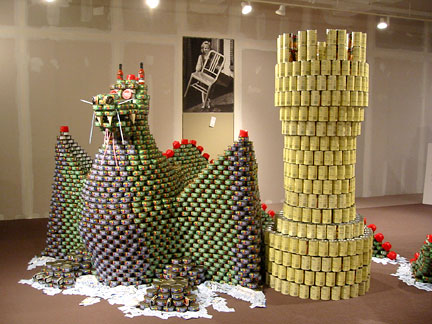 twi-ny/mdr
Perkins Eastman, "Dragon of CAN-a-lot," 2006
CANSTRUCTION
The New York Design Center
200 Lexington Ave. at 32nd St.
Monday to Saturday through November 22, 9:00 am — 5:00 pm
Suggested donation: one can of food
212-679-9500 ext19
http://www.sdanyc.org/canstruction.php
This year's NYCDesign/Build Competition feature approximately forty-two installations made with canned food, aiming for such prizes as Best Meal, Best Use of Labels, and Structural Ingenuity while also raising awareness of world hunger. The colorful, inventive pieces are set up in showrooms throughout the New York Design Center. The best way to see everything is to take the elevator to the fifteenth floor and slowly make your way down. Be sure to bring a camera, and not just to take pictures; interestingly, viewing the canstructions through a camera lens brings what it is into better focus than if you look at it with just your own eyes. Among our favorites are Magnusson Archictecture and Planning's "cannect four hunger," a giant Connect Four game board; Gensler's "Water we doing to drop hunger?" a huge water droplet dripping from a faucet; ads Engineers' "Canned Piano," a baby grand piano; Weidlinger Associates' "Tail End to Hunger," a whale's tail diving back into the ocean; and Skidmore, Owings & Merrill's "MExiCAN Hat Dance," an awesome sombrero. Beware of the eleventh floor, where a few pieces took a tumble and are either only partially set up or completely wiped out, including what looked like an amazing Mobius strip. All canned food used in the canstructions and given at the door will be donated to City Harvest.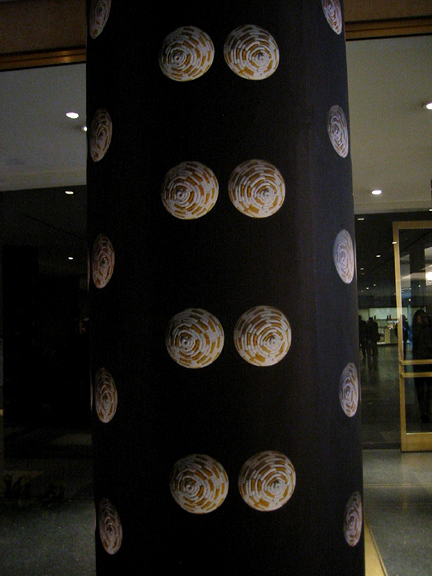 twi-ny/mdr
Sarah Lucas's wallpaper goes almost unnoticed in Rock Center concourse
TITS IN SPACE
Rockefeller Center Concourse
Through November 26
Admission: free
In conjunction with MoMA's exhibition "Eye on Europe: Prints, Books & Multiples / 1960 to Now," Sarah Lucas has wallpapered the columns in Rockefeller Center's downstairs concourse that looks out on the ice-skating rink. From a distance, it appears that the poles are covered by NASA-like images of the moon or planets, but if you get up close and personal with it, you'll realize that the paired-off circles are actually photographs of breast-shaped objects made with cigarettes, from the innovative British artist's "The Fag Show." It is just like Lucas to inject a little controversy — from the work's title to what it depicts and all its ramifications involving sexuality, smoking, cancer, and even the word "fag" itself — into such a staid, cheerful environment filled with happy tourists. The MoMA project also includes museum admission tickets by Peter Kogler and a shopping bag featuring a piece by David Shrigley.
THE MASTERS SERIES: JULES FEIFFER
School of Visual Arts Museum
209 East 23rd St. between Second & Third Aves.
Closed Sunday
Admission: free
212-592-2145
Through December 2 Fifty-year career retrospective, including works on paper, watercolors, film and stage posters, cartoon strips, book illustrations, and more
DOWNTOWN FOR DINNER 2006
Three-course prix-fixe dinner: $30 (excludes beverages, tax, and tip)
Reservations strongly suggested
212-835-2789
http://www.downtownny.com/?sid=326
Through Sunday, November 19 More than three dozen downtown restaurants will be serving three-course dinners (not including drinks, tax, and tip), including Roy's New York, Delmonico's, Fraunces Tavern, Gigino at Wagner Park, Harbour Lights, Harry's Cafe, Giovanni's Atrium, P.J. Clarke's on the Hudson, Steamers Landing, and more
BLADE TO THE HEAT
Nagelberg Theatre
Baruch Performing Arts Center
55 Lexington Ave. at 25th St.
Tickets: $10
646-312-4085
http://www.baruch.cuny.edu/bpac/calendar/event.php?id=201
Tuesday, November 14
through
Saturday, November 18 Oliver Mayer's drama about the 1959 fight between Emile Griffith and Benny "Kid" Paret, directed by Thom Garvey
BOOK SIGNINGS
Jim Hanley's Universe
4 West 33rd St. between Fifth & Sixth Aves.
Admission: free
212-268-7088
Wednesday, November 15#9; Stuart Moore, EARTHLIGHT; J Torres, TURNING JAPANESE: DEGRASSI EXTRA CREDIT; Matt Manning, BATMAN STRIKES! and Chuck Satterlee, LEXIAN CHRONICLES, 6:00
GRAND TASTING AND SPANISH WINE FESTIVAL
Puck Building
295 Lafayette Street at West Houston St.
212-567-5500
http://www.pjwine.com/html/events.html
Wednesday, November 15 Sponsored by PJ Wine and benefiting City Harvest, 5:30 entry $165, 7:00 entry $95
GRAM PARSONS 60TH BIRTHDAY TRIBUTE:
A NIGHT OF COSMIC AMERICAN MUSIC
Galapagos Art Space
70 North Sixth St. between Wythe and Kent
Tickets: $5
718-384-4586
http://www.galapagosartspace.com/events.html
Wednesday, November 15 Alan Lee & the Wicked Messengers, 7:00; Joe Cassady & the West End Sound, 7:40; Karen Hudson River Band, 8:20; Sugarpine, 9:00; Future Farmers of America, 9:40; Demolition String Band, 10:20; New Heathens, 11:00; Chip Robinson, 11:40; Apple Bros., 12:20; "In My Hour of Darkness" finale, 1:00; Rench, DJ, afterparty, 1:15
BAMcinématek
BAM Rose Cinemas, Brooklyn Academy of Music
30 Lafayette Ave. between Ashland Pl. & St. Felix St.
Tickets: $10
718-636-4100
http://bam.org/events/bamcinematek.aspx
Wednesday, November 15 Cinema Tropical: LOS GUANTES MÁGICOS (THE MAGIC GLOVES) (Martín Rejtman, 2003), 4:30, 6:50, 9:15
Saturday, November 18 Three by Jim McKay: ANGEL RODRIGUEZ (Jim McKay, 2006), followed by a Q&A with director McKay and actor Jonah Everett, 6:50
Monday, November 20 Shaw Brothers Return: Heroic Grace II -- THE NEW ONE-ARMED SWORDSMAN (SAN DUK BEI DO) (Chang Cheh, 1971), 4:30, 9:15
Monday, November 20 Three by Jim McKay: EVERYDAY PEOPLE (Jim McKay, 2004), 6:50
Tuesday, November 21 Shaw Brothers Return: Heroic Grace II -- LEGENDARY WEAPONS OF CHINA (SHIH BA PAN WU YI) (Liu Chia-Liang, 1982), 4:30, 9:15
Tuesday, November 21 Three by Jim McKay: OUR SONG (Jim McKay, 2002), 6:50
Wednesday, November 22 Give Thanks to John Ford: THE SEARCHERS (John Ford, 1956), 4:30, 6:50 (introduced by Jonathan Lethem), 9:40
Thursday, November 23 Give Thanks to John Ford: THE SEARCHERS (John Ford, 1956), 2:00, 4:30, 6:50, 9:15
Friday, November 24 Give Thanks to John Ford: THE SEARCHERS (John Ford, 1956), 2, 4:30, 6:50 (introduced by Jonathan Lethem), 9:15
Saturday, November 25 Give Thanks to John Ford: TWO RODE TOGETHER (John Ford, 1961), 2:00, 4:30, 6:50, 9:15
Sunday, November 26 Give Thanks to John Ford: THE MAN WHO SHOT LIBERTY VALANCE (John Ford, 1962), 2:00, 4:30, 6:50, 9:30
Monday, November 27 Shaw Brothers Return: Heroic Grace II -- THE FIVE VENOMS (WU DU) (Chang Cheh, 1978), 6:50, 9:15
Tuesday, November 28 Shaw Brothers Return: Heroic Grace II -- DIRTY HO (LAN TOU HE) (Liu Chia-Liang, 1979), 6:50, 9:15
Wednesday, November 29 Give Thanks to John Ford: THE SUN SHINES BRIGHT (John Ford, 1953), 4:30, 6:50 (Cinemachat with Elliott Stein), 9:30
IN FOCUS: WOMEN COMIC ARTISTS
The Jewish Museum
1109 Fifth Ave. at 92nd St.
212-423-3337
http://www.thejewishmuseum.org
Thursday, November 16 Panel discussion with Trina Robbins, Leela Corman, Sabrina Jones, and Joan Hilty, moderated by Laura Hoptman, $11, 6:30
WHAT'S SCARIER:
THINLY VEILED HOMOPHOBIA OR THE KNIFE-WIELDING MANIAC?
JCC in Manhattan
334 Amsterdam Ave. at 76th St.
646-505-5708
http://www.jccmanhattan.org/category.aspx?progid=14370&catid=1370
Thursday, November 16 Gay Horror Film Fest, featuring discussion of LGBTQ antagonists in horror films, with screenings of select scenes, $15, 7:00
BI-FOLD2: STREET
LVHRD Foundation
Location to be supplied to ticket holders day of event
Tickets: $11 members, $22 nonmembers
http://graffitiresearchlab.com
Thursday, November 16 Speto & Graffiti Research Lab, with Brazilian graffiti artist Speto creating a live mural and Graffiti Research Lab presenting a live, interactive performance, with complimentary beer, 7:00
AIC — CYPHER SALON
Jonathan Shorr Gallery
109 Crosby St. at Prince St.
Admission: free
http://www.rattapallax.com/salon.htm
Thursday, November 16 Featuring readings by Robert Polito and David Lehman and screenings of Ry Russo-Young's MARION, Henry Rollins's DEATHDEALER, and Roberto Andreolli's 7 GRILOS / 2 CACHORROS, 7:00
THE SOUNDS OF SOUTH AFRICA
New York City Center
130 West 56th St. between Sixth & Seventh Aves.
Tickets: $25-$50
212-581-1212
Thursday, November 16 Featuring Hugh Masekela and the Soweto String Quartet, hosted by Harry Belafonte
AMERICAN ROOTS MUSIC BENEFIT CONCERT
Apollo Theater
253 West 125th St. between Adam Clayton Powell & Frederick Douglass Blvds.
Tickets: $50-$150
212-531-5305
Thursday, November 16 All-star concert benefiting Sequoia Community Initiatives, featuring Rory Block, Kipori "Babywolf" Woods, Richard Hartley, Soul Resurrection, Haven House Choir, and Tokyo Mass Choir, hosted by Leslie Uggams, 8:00
NOW-NYC MEMBERSHIP FALL FILM SERIES
National Organization for Women - NYC Chapter
205 State St., Brooklyn
Tickets: $7, free for members
RSVP: 212-627-9895
Thursday, November 16 ANTONIA'S LINE (Marleen Gorris, 1995), 6:30
JON LOVITZ
Comix
343 West 14th St. between Eighth & Ninth Aves.
Tickets: $35
212-524-2500
Thursday, November 16
through
Saturday, November 18 Comedy and music from the Master Thespian himself, Jon Lovitz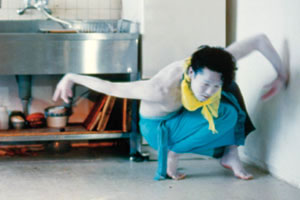 RISE:ROSE
Dance Theater Workshop
219 West 19th St. between Seventh & Eighth Aves.
Tickets: $12-$20
212-924-0077
Thursday, November 16
through
Saturday, November 18 Kota Yamazaki/Fluid Hug-Hug presents new Butoh work, with post-performance discussion November 16 moderated by Sara Nash
UNIVERSES: TENTH ANNIVERSARY CELEBRATION
Abrons Arts Center
Henry Street Settlement
466 Grand St. at Pitt St.
Tickets: $20 unless otherwise noted
212-598-0400
http://www.henrystreet.org/arts
Thursday, November 16 Gala Benefit Performance: TRIBUTE TO POET MENTORS, 7:30
Friday, November 17 BLUE SWEAT, 7:30
Saturday, November 18 SLANGUAGE, 7:30
Sunday, November 19 Sunday Brunch: Open-mic gathering and concert reading of AMERIVILLE, 2:00
LECTURES & CONVERSATIONS
92nd St. Y, Kaufmann Concert Hall
1395 Lexington Ave. at 92nd St.
212-415-5500
http://www.92ndsty.org/calendar/calendar.asp
Thursday, November 16 Reel Pieces: COPYING BEETHOVEN (Agnieszka Holland, 2006), with Ed Harris, moderated by Dr. Annette Insdorf, $35, 7:15
ROBERT RANDOLPH & THE FAMILY BAND
Roseland Ballroom
239 West 52nd St. between Broadway & Eighth Ave.
http://www.livenation.com/event/getEvent/eventId/246177
http://www.roselandballroom.com/concerts.html
Friday, November 17 With Rocco DeLuca & the Burden, $27, 7:30
HOLIDAY LIGHTS
Bronx Zoo
Fordham Road and the Bronx River Parkway
Admission: free
718-367-1010
http://bronxzoo.com/426208/HLtoptenreasons?o28290075=
Friday, November 17 Kickoff of annual Holiday Lights celebration
BIG APPLE CON: THE NATIONAL
Penn Plaza Pavilion
401 Seventh Ave. at 33rd St.
Admission: $15
201-865-3288
Friday, November 17
through
Sunday, November 19 Comic Book, Art, Toy & Sci-Fi Expo, featuring celebrity signings, gaming, anime, artist booths, costume contest, NY Jedi LightSaber Academy, live music by Aerosith, panel discussions, and more, with Val Kilmer, Adam West, Michael Biehn, Sybil Danning, Taimak Guarriello, Sandra Taylor, Karen Lynn Gorney, Catherine Bach, Aaron Douglas, John Wesley Shipp, Khrystyne Haje, Cathy St. George, Reby Sky, Bernie Wrightson, John Romita Sr. and Jr., Michael Golden, Travis Charest, Bill Sienkiewicz, Friends of Lulu, Mark Texeira, Joyce DeWitt, and various actors from STAR TREK and THE WARRIORS
NY ART BOOK FAIR highlights
548 West 22nd St. between Tenth & Eleventh Aves.
November 17-19
Admission: free
212-925-0325
Friday, November 17 Thomas Roma, PRISON AIR, book signing, 1:00
Friday, November 17 WHO CARES book launch party featuring writers and artists from the book WHO CARES, in addition to a cartoon concert by Seth Tobocman and band, an audio work by Mark Tribe, and Iraqi food from Michael Rakowitz, 5:00
Friday, November 17
through
Sunday, November 19 Exhibition, "Replication: The Books of Sol LeWitt," and poster series by Gerhard Richter
Saturday, November 18 John Lurie, LEARN TO DRAW, book signing, 3:00
Saturday, November 18 Printed Matter thirtieth anniversary panel discussion, with Matthew Higgs, 5:00
Sunday, November 19 Performa presents Clifford Owens in performance, 4:00
SCREENINGS + EVENTS
Museum of the Moving Image
35th Ave. at 36th St., Astoria
Free with museum admission of $10 unless otherwise noted
718-784-4520
http://www.ammi.org/site/screenings/index.html
Sunday, November 17 PANDORA'S BOX (G.W. Pabst, 1929), high-definition restoration, introduced by Peter Cowie and preceded by Cowie book signing of FOREVER LULU, 6:30
Wednesday, November 29 Free Matinees for Seniors: REAR WINDOW (Alfred Hitchcock, 1954), 10:30 am
THANKSGIVING TREE OF THANKS
Brooklyn Children's Museum
145 Brooklyn Ave. at St. Marks Ave.
Free with museum admission of $4
718-735-4400 ext110
http://www.bchildmus.org/happening/index.asp
Saturday, November 18 Arts and crafts teaching thanks for children five and up, 2:30
LIVE FROM THE NYPL
Humanities and Social Sciences Library
South Court Auditorium
Fifth Ave. at 42nd St.
212-930-0855 / 212-868-4444
http://www.nypl.org/research/chss/pep/pepdesc.cfm?id=2573
Saturday, November 18 The Art of Disarmament: Paul Chan in Conversation with Kathy Kelly, presented by Creative Time and the Atlantic Day of Ideas, $15, 5:30
WESTCHESTER CAT SHOW
Westchester County Center
Bronx River Pkwy at Central Park Ave & Route 119, White Plains.
Admission: $11 adults, $5 children six to twelve
Discount coupon: $1 off, available at http://www.westchester-feline.org/coupon.htm
914-995-1050
http://www.westchester-feline.org
Saturday, November 18
and
Sunday, November 19 Two days of kitty competitions, lectures, birthday bashes, training sessions, a feline fashion show, face painting, Ask the Vet, nutrition clinics, and more
BREAKOUT SESSIONS: REPEAT REDUX
Screening and Performance Series
Whitney Museum at Altria
120 Park Ave. at 42nd St.
November 18-22, 11:00 am — 6:00 pm unless otherwise noted
Admission: free
917-663-2551
Saturday, November 18 THE CHITTENDENS (Catherine Sullivan, 2005)
Saturday, November 18 Opening Reception: VINYL II (Stephen Prina, 2000), MIXTAPE (Oliver Payne and Nick Relph, 2002), and performance by Orthrelm's Mick Barr, 6:00
Sunday, November 19 THE CHITTENDENS (Catherine Sullivan, 2005)
Monday, November 20 DANCE OR EXERCISE ON THE PERIMETER OF A SQUARE (SQUARE DANCE) (Bruce Nauman, 1967-68)
Monday, November 20 MAXELL (Jonathan Horowitz, 1990), NOT YET (Jim O'Rourke, 2003), and live performance, "Crossfading" by Loris Gréaud, 6:00
Tuesday, November 21
and
Wednesday, November 22 ROCK MY RELIGION (Dan Graham, 1982-84)
ASBURY SHORTS OF NEW YORK
Brooklyn Lyceum
227 Fouth Ave., Park Slope
Tickets: $10
718-832-7848
Saturday, November 18 An Evening of the World's Best Short Films, twenty-seventh anniversary show, 7:30
Sunday, November 19 An Evening of the World's Best Short Films, twenty-seventh anniversary show, 7:00
Sunday, November 26 An Evening of the World's Best Short Films, Short Film Set #2, 7:00
AUTHOR EVENT
Green-Wood Cemetery Historic Chapel
Fifth Ave. at 25th St. entrance
718-788-7850
http://www.green-wood.com/toursbydate.asp
Sunday, November 19 Robert C. Williams, HORACE GREELEY, CHAMPION OF AMERICAN FREEDOM, lecture and tour, 1:00
BILINGUAL READING SERIES
Bowery Poetry Club
308 Bowery at Bleecker St.
212-614-0505
Sunday, November 19 Keith Waldrop reads Claude Royet-Journourd, and Sarah Riggs and Omar Berrada read Marie Borel, for Cole Swensen's La Presse, followed by discussion, $7, 4:00
AUTHOR EVENTS
Barnes & Noble
4 Astor Pl. at Broadway
Admission: free
http://storelocator.barnesandnoble.com/events.do
Monday, November 20 Kinky Friedman, CHRISTMAS PIG: A VERY KINKY CHRISTMAS, 7:00
Tuesday, November 21 Graffiti NYC with Hugo Martinez and NATO, 7:00
BORDERS BOOKSTORE EVENTS
Park Avenue, 461 Park Ave. between 57th & 58th Sts. (PA)
Kips Bay, Second Ave. at 32nd St. (KB)
Wall Streetm 100 Broadway between Wall & Pine Sts. (WS)
Shops at Columbus Circle (CC)
Penn Plaza, 33rd St. & Seventh Ave. (PP)
Admission: free
http://www.bordersstores.com/events/events.jsp
Tuesday, November 21 The Radio City Rockettes, THE RADIO CITY ROCKETTES: A DANCE THROUGH TIME, performance and book signing, 6:00
PUBLIC ART FUND TALKS
The New School, Jonathan Tishman Auditorium
66 West 12th St. between Fifth & Sixth Aves.
212-980-3942
http://www.nsu.newschool.edu/02a_specdiv.htm#0201
Tuesday, November 21 Sean Landers, $5, 6:30
BIG BALLOON BLOW-UP
Central Park West to Columbus Ave. between 77th & 81st Sts.
Admission: free
212-494-4495
http://www.macys.com/campaign/parade/index.jsp?bhcp=1
Wednesday, November 22 Annual inflation-eve blow-up of Thanksgiving Day Parade balloons, 3:00 — 8:00 (time approximate)
MACY'S THANKSGIVING DAY PARADE
77th St. & Central Park West to 34th St. & Seventh Ave.
Thursday, November 23, starting at 9:00 am
Public viewing areas: Broadway between 38th & 58th Sts., 34th St. between Broadway & Seventh Ave., 70th St. from Central Park West to Columbus Circle
Admission: free
212-494-4495
http://www1.macys.com/campaign/parade/pop/anniversary.jsp
In 1924, a bunch of Macy's employees joined forces and held the first Macy's Christmas Parade, as it was then known. This year Macy's celebrates the eightieth year of this beloved American event. (For those of you going crazy trying to figure out how 1924 to 2006 makes 80, the parade was canceled from 1942 through 1944 because of World War II.) Helping celebrate the anniversary will be the brand-new Macy's Great American Marching Band, the New York City Ballet, the Harlem Globetrotters, Camp Broadway, Mobile Azalea Trail Maids, Firecrackers Jump-Roping Team, Hung-Sheng Lion Dance Theatre, and plenty of new and old floats and new and old middle-of-the-road celebrities lip-syncing and waving.
HOT TUNA WITH RAILROAD EARTH
Beacon Theater
2124 Broadway at 74th St.
Tickets: $39.50-$49.50
212-496-7070
Saturday, November 25 One of our favorite live bands, Railroad Earth, teams up with the legendary Hot Tuna for this special show, 7:30
JIMI HENDRIX BIRTHDAY TRIBUTE
B.B. King Blues Club & Grill
237 West 42nd St. between Seventh & Eighth Aves.
212-997-4144
http://bbkingblues.com/schedule/index.shtml
Monday, November 27 Featuring Johnny Winter, Larry Coryell, Buddy Miles, Leon Hendrix, Kingpins & Squires, $80 ($150 VIP includes first entry and autographed show poster), 7:00
BROADWAY CLOSE UP: BOUND FOR BROADWAY VIII
Merkin Concert Hall
129 West 67th St.
212-501-3340
http://www.kaufman-center.org/tc/mch0607/bcu_112706.php
Monday, November 27 Seventh annual event, starring Liz Callaway, $35, 8:00
NORDIC CONTEMPORARY ART:
CONVERSATIONS WITH SCANDINAVIAN ARTISTS
Scandinavia House
58 Park Ave. at 38th St.
212-847-9746
http://www.scandinaviahouse.org
http://www.ps1.org/ps1_site/content/view/208/63
Tuesday, November 28 Icelandic artist Katrín Sigurdardóttir discusses her current site-specific installation at P.S.1, "High Plane V," with art critic Hamza Walker, $10, 6:30
ArtTalks
American Federation of Arts
National Arts Club, Sculpture Court
15 Gramercy Park South at 20th St. between Park Ave. & Irving Pl.
212-988-7700 ext10
Tuesday, November 28#9; Amy Cutler discusses her body of work, followed by a Q&A and a reception with the artist, $15, 6:30
BARNARD FORUM ON MIGRATION
Sulzberger Parlor, Barnard Hall, third floor
West 117th St. & Broadway
Admission: free
212-854-6146
Tuesday, November 28 From Immigrants to Ethnics: Identity, Citizenship, and Political Participation, with Alejandro Portes, 7:00
TREE LIGHTING CEREMONY
Rockefeller Plaza West (West 48th & 51st Sts. between Fifth & Sixth Aves.)
Tree will remain on view through January 8, daily from 5:30 am — 11:30 pm
Admission: free
212-632-3975
http://www.rockefellercenter.com
Wednesday, November 29 Seventy-fourth annual event, featuring live performances, celebrities, and more, 7:00