Twi-ny, This Week in New York
Natascha Sadr Haghighian's two-channel installation, "Empire of the Senseless, Part II" (2006), is part of "RAW," which also includes work by Jenny Holzer, Jonathan Horowitz, and Bruce Nauman, at the Museum of Modern Art through December 3 / photo by twi-ny/mdr
MAKING A HOME: JAPANESE CONTEMPORARY ARTISTS IN NEW YORK
Japan Society
333 East 47th St. at First Ave.
Through January 13
Closed Mondays
Admission:
212-832-1155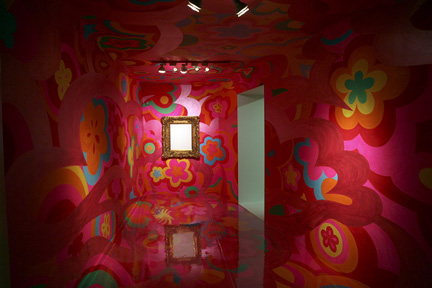 Photo: Richard P. Goodbody
Installation view, "FLOWER Gallery" (2007) by ON megumi Akiyoshi


The Japan Society made a home in New York in 1907, bringing Japanese art, history, and culture to this multicultural mecca. Continuing its centennial celebration, the organization is home to the spectacular "Making a Home: Japanese Contemporary Artists in New York," a multimedia celebration of Japanese immigrants who now live and work in the metropolitan area. Featuring installations throughout the gallery's three floors, "Making a Home" is a thrilling collection of fascinating, involving works. Visitors are greeted at the upstairs entrance to the main gallery by Momoyo Torimitsu's "Willingly or Unwillingly, You Are Welcome," a temporary reception desk where a staff member presents you with Yoko Ono's "A Hole to See the Sky Through," one of three interactive pieces by the avant-garde artist. The exhibition is divided into six sections that tell the story of life, love, and loss through the work of thirty-three artists who left their homeland to make a new start here: "Building Environments," "Intimacy and Identity," "Coping with Loss," "Meditative Space," "The Process of Making," and "Referencing the Landscape." Using Sumi ink and drawing directly on the wall, manga artist Hiroki Otsuka created "Evening Calm Union," a black-and-white rendering of women floating in clouds in and around a city skyline. Hiroyuki Nakamura fills his captivating trio of acrylic paintings of androgynous naked cowboys with mystery and an ambiguous sexuality.
Photo: Richard P. Goodbody
Installation view, "SHEER" (2007) by Emiko Kasahara

Emiko Kasahara's "SHEER" is a walk-in room made of acrylic plastic and nylon stockings where people have recorded in all different languages their personal stories of loss, coming together for a cacophony of innate sadness. Hiroshi Sunairi's funereal "White Elephant," a black room littered with clay pieces of a white elephant, recalls both his hometown of Hiroshima and the events of 9/11; Sunairi was stuck in an A train at the Church Street Station, on his way to the immigration office, as the World Trade Center was hit. Yumi Kori's "Shinkai" offers visitors the opportunity to meditate in a dark, red room of tiny lights, mirrors, and balloons that seem to go on forever. Among the other highlights — many of which are filled with great humor — are ON megumi Akiyoshi's groovy "FLOWER Gallery," Noriko Ambe's intriguing cut-paper pieces, Ayakoh Furukawa's wall of drawings depicting different deaths for her deceased pet hamster, Yoshiaki Kaihatsu's styrofoam "Happo-Tei Teahouse," and Katsuhiro Saiki's "Study for Metropolis" series, comprising photos of buildings that he reshapes into unique constructions. The beautiful catalog includes a detailed look at all the artists in the exhibition as well as several essays, a critical biography of Kusama Yayoi, and hundreds of color plates. "Making a Home" has found quite a home for itself at the Japan Society, but alas, it's only temporary, running through January 13. Don't miss it.
Thursday, November 29 Performance Workshop with Hiroshi Koike, founder and artistic director of Pappa Tarahumara, limited registration, acting or dance experience required, $30, 4:30
Tuesday, December 4
Thursday, December 6
through
Saturday, December 8 Harry Partch's DELUSION OF THE FURY, directed and designed by John Jesurun, with musical direction by Dean Drummond, live music played on Partch's instruments by Newband, and choreographed by Dawn Akemi Saito, $52
Friday December 14 No Borders, No Limits: 1960s Nikkatsu Action Cinema — LIKE A SHOOTING STAR (KURENAI NO NAGAREBOSHI), 1967), $12, 7:30
In the Neighborhood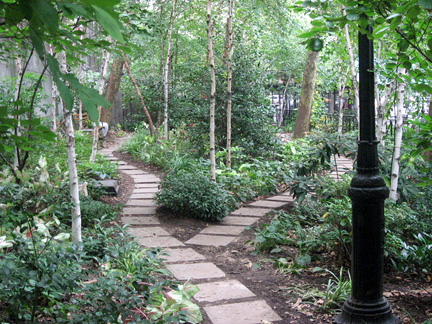 twi-ny/mdr
Two paths wind their way through Katharine Hepburn Garden
KATHARINE HEPBURN GARDEN
Dag Hammarskjold Plaza
47th St. between First & Second Sts.
Admission: free
Four-time Oscar winner Katharine Hepburn (for ON GOLDEN POND, THE LION IN WINTER, GUESS WHO'S COMING TO DINNER, and MORNING GLORY), who lived in Turtle Bay for more than six decades, was honored with this splendid little garden in Dag Hammarskjold Plaza in 1997. In addition to evergreen shrubs, birch, mountain laurel, rhododendrons, hydrangea, and other plants and trees, every so often a quote from Ms. Hepburn, an avid gardener who fought to save trees and battle against high rises in the area, will appear on the paving stones. Among these pearls of wisdom are "If you survive long enough, you're revered, rather like an old building," and "Cold sober I find myself absolutely fascinating." The garden also includes two cast-iron fountains, a tiny red chair, and a statue of a deer.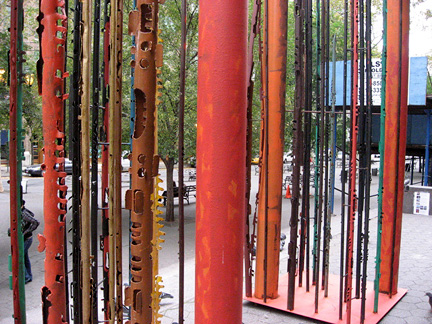 twi-ny/mdr
Polls rise from the ground like trees in Orensanz work
THE GARDEN BEFORE THE SNAKE
Dag Hammarskjold Plaza
Forty seventh St. at Second Ave.
Through March 2008
Admission: free
Just outside the western end of the Katharine Hepburn Garden, sculptor Angel Orensanz has installed "The Garden Before the Snake." Consisting of three sections of rusting vertical poles of different circumferences and color, the work is a compelling conglomeration of the surrounding trees and steel buildings, a mystical mix of nature and big business, showing that the idyllic Eden is no more. Orensanz, who founded the Angel Orensanz Foundation on Norfolk St. in 1992 (and recently added a two-floor museum), describes it thusly: "It portrays the utopia of the garden as a horizon of beauty and moral uplifting and its built-in danger of mirage and delusion." Oresanz's Web site includes a musical tour of the sculpture and its immediate surroundings. But be sure to watch out for those pigeons.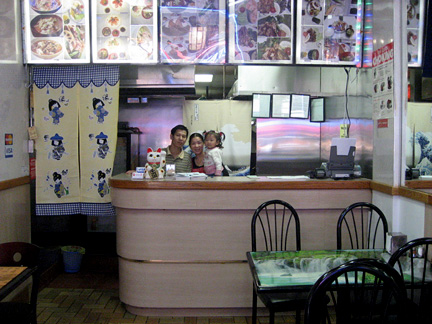 twi-ny/mdr
Family shows off new restaurant on East Side
GINZA OF JAPAN
719 Second Ave. between 38th & 39th Sts.
212-661-7118
It's not only Japanese painters and sculptors who make their home in New York City. A short walk south from the Japan Society will take you to this brand-new restaurant, Ginza of Japan, where culinary artist Yung Guang Lin is making a new home, along with his wife and young daughter. Lin, who came to New York in 1988 from Tokyo and now lives in Manhattan, does all the cooking, focusing on such Japanese comfort foods as deep-fried tonkatsu, donburi rice bowls, katsu curry, teriyaki, and barbecue, with choice of beef, pork, chicken, salmon, or shrimp and served with a small salad, nicely sticky rice, and miso soup (except for the BBQ "sets," which come with grilled vegetables). The udon is excellent; we tried ours with fried oysters, which lent a fab taste to the broth. Among the appetizers are several tofu dishes (including chuka-fuhiya yakko, fresh tofu and cucumbers in a spicy sauce), homemade gyoza (pork or beef dumplings), and hijiki (marinated seaweed). It's a tiny restaurant — really more like a takeout place — and it's hard to find because of scaffolding on the block, but it's worth visiting, especially after seeing the exhibition at the Japan Society.

Music Movie of the Week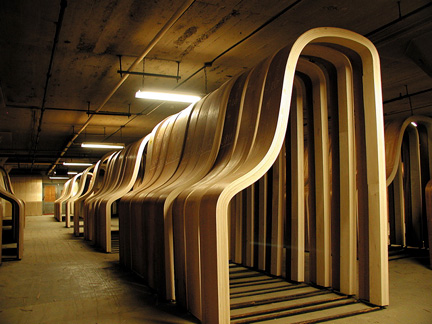 Ben Niles / Plow Productions
New documentary goes behind the scenes of the L1037
NOTE BY NOTE: THE MAKING OF STEINWAY L1037 (Ben Niles, 2007)
Film Forum
209 West Houston St. between Sixth & Seventh Aves.
November 7-20
212-727-8110
http://www.notebynotethemovie.com

NOTE BY NOTE is a lovely little documentary that details the extraordinary care and love that goes into the making of a concert grand piano by Steinway & Sons, the last company crafting the instrument by hand, eschewing modern technology. Filmmaker Ben Niles follows the fascinating journey of the L1037, from the wood selected in Alaska to the building and toning of the piano in Steinway's Astoria factory (on Steinway St., which was named for the company) to the 57th St. showcase room where pianists come to pick out the right instrument for them, which they often then play right around the corner in Carnegie Hall. Niles lets the employees tell their own story, from case maker and plate fitter to bellyman and tone regulator, from wood technologist to chief concert technician. Many of the workers are gruff-talking neighborhood guys wearing football jerseys and tie-dyed T-shirts, proudly describing the delicacy that goes into each of their responsibilities. Along with the primary narrative of the 1037's yearlong journey, Niles weaves in the nearly heartbreaking story of chief concert technician Ron Coners's desperate attempt to find just the right keyboard for Pierre-Laurent Aimard. And in one of the film's most special moments, Niles turns the wood-shaping part of the process into a symphony of piano and tools. In addition to Aimard, other master pianists who tickle the ivories in search of the perfect piano include Harry Connick Jr., Marcus Roberts, Hank Jones (who insists there is no such thing as the perfect piano), Bill Charlap, Kenny Barron, Lang Lang, and Helene Grimaud, playing pieces by Gershwin, Bach, Rachmaninoff, Beethoven, Tchaikovsky, Ives, Mozart, Liszt, and Schubert as well as their own compositions. NOTE BY NOTE is a charming film that will appeal to even those who don't have an ear for classical music.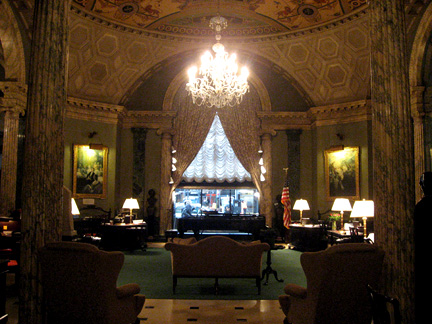 twi-ny/mdr
Steinway Hall has been bringing beautiful music to Midtown since 1925
STEINWAY HALL
109 West 57th St.
Open daily
Admission: free
212-246-1100
Henry Engelhart Steinway began making pianos in 1853, and the family company he started opened this Midtown showroom, designed by Warren & Wetmore, in 1925. Class and elegance abound in every inch of the space, which is open to the public, whether you are interested in renting or buying a piano or merely want to find out more about Steinway's history. Outside on the facade, Leo Lentelli's sculpture of Apollo and a musical muse welcomes visitors and passersby. The gorgeous main room features portraits of Schubert, Rubinstein, Berlioz, and Mendelssohn along with busts of Paderewski, Berlioz again, Rachmaninoff, and Chopin. A chandelier hangs down from Paul Arndt's hand-painted domed ceiling. Busts of distinguished Steinway men line the hall, which is filled with such memorabilia as medals, letters, photos, city proclamations, patent models, framed cartoons, and a miniature diorama of the White House Steinway. To the right are several showrooms with various models available for sale or rent, surrounded by art, for, of course, every Steinway is a work of art in and of itself. A trio of canvases by Rockwell Kent, N. C. Wyeth's rendering of Beethoven, Charles E. Chambers's "Henry Steinway at His Workbench," and a room of Steinway portraits are only some of the pieces to be found here. After traversing these corridors, you'll regret, as we did, not taking those childhood piano lessons more seriously. But as sales rep Keith Keeler told us, "You're our best customer."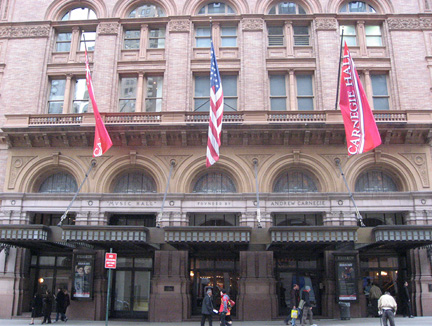 twi-ny/mdr
Many a Steinway has made its way to the Carnegie Hall stage
CARNEGIE HALL
154 West 57th St. at Seventh Ave.
Tickets: $40-$150
212-836-1853
After seeing NOTE BY NOTE and stopping by Steinway Hall, why not take in a performance at the world's most famous concert hall to complete the triple play? Below are only some of the upcoming events at Carnegie Hall.
Wednesday, November 14 Standard Time with Michael Feinstein — Leroy Anderson and Mitchell Parish: Stardust Memories, Zankel Hall, $86, 7:30
Thursday, November 15 Berlin in Lights — Chambers Sessions III: Scharoun Ensemble Berlin, with Thomas Adès, piano: Works by Schubert and Adès, Zankel Hall, $36-$44, 7:30
Friday, November 16 Berlin in Lights — International Festival of Orchestras II: Berliner Philhamoniker, conducted by Sir Simon Rattle: Works by Kurtág and Mahler, Zankel Hall, $62-$210, 8:00
Saturday, November 17 Denis Matsuev, Piano: Works by Shumann, Liszt, and Prokofiev, Stern Auditorium / Perelman Stage, $25-$52, 8:00
Sunday, November 18 Berlin in Lights — Baroque Unlimited: Berliner Barock Solisten: Works by Telemann, Handel, Pisendel, Corelli, Vivaldi, and Bach, Zankel Hall, $56-$62, 7:30
Monday, November 19 Hilton Head Symphony Orchestra presents Eric Zuber, piano, winner of the 2007 Hilton Head International Piano Competition: Works by Schubert, Szymanowski, Chopin, George Crumb, and Tchaikovsky, Weill Recital Hall, $35+, 8:00
Tuesday, November 20 Kohar Tours the Americas: Kohar Symphony Orchestra and Choir, Stern Auditorium / Perelman Stage, $25-$125, 8:00

Film Festival of the Week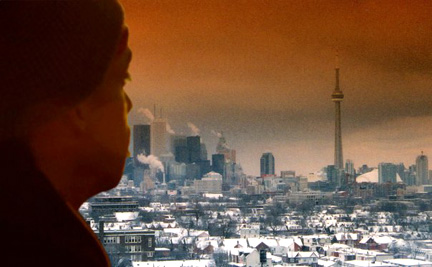 Frances-Anne Solomon's A WINTER TALE is opening-night selection
AFRICAN DIASPORA FILM FESTIVAL
The Riverside Theatre (RT), 91 Claremont Ave. at 120th St.
Anthology Film Archives 9 (AFA), 32 Second Ave. at Second St.
Clearview 62nd St. (CV), 1871 Broadway at 62nd St.
The Schomburg Center (SC), 515 Malcolm X Blvd.
Teachers College, Columbia (TC), 525 West 120th St.
Thalia Theatre (TT)
November 23 — December 9
Regular screenings $8-$10; panel discussions: $6
VAP Pass $200; Festival Pass $150
212-870-6784
The fifteenth anniversary of the African Diaspora Film Festival features dozens of features, documentaries, and shorts, divided into such categories as Gay Theme Films, Arts and the African American, African Leaders, Great African Films, and Slavery in Film. They may come from all over the world and are told in many different languages, but they share common experiences about life in today's society. Below is a list of the special events and screenings that include Q&As and after-parties, but there are many more films and panel discussions that will take place at such venues as the Riverside Theatre, the Schomburg Center, Anthology Film Archives, and Columbia's Teachers College.
Friday, November 23 Opening Night: A WINTER TALE (Anne Solomon, 2007), AFA, followed by a Q&A and catered party at Bonafide's Restaurant, $30, 7:45
Sunday, November 25 Focus on Haiti: A NIGHT IN HAITI: THE PRESIDENT HAS AIDS (Arnold Antonin, 2006), AFA, followed by a Q&A and catered party at Bowery Bar, $25, 6:20
Thursday, November 29 Centerpiece — Slavery in Film: YOUSSOU N'DOUR: RETURN TO GOREE (Pierre-Yves Borgeaud, 2006), followed by a Q&A and catered dance party at Bowery Bar, $25, 6:30
Friday, November 30 Arts & the African American — Celebrating Josephine Baker: JOSEPHINE BAKER: BLACK DIVA IN A WHITE MAN'S WORLD (Annette von Wangenheim, 2006), followed by a panel discussion and reception, RT, $15, 8:00
Sunday, December 2 African American Writers: BLACK AS INK (Jacques Goldstein, 1997), followed by a panel discussion and reception, TT, 5:00
Tuesday, December 4 Great African Films — An Evening with Mahamat-Saleh Haroun: DARATT (Mahamat-Saleh Haroun, 2006) and SOTIGUI KOUYATÉ, A MODERN GRIOT (Mahamat-Saleh Haroun, 1998), followed by a Q&A and reception, TT, 8:20
Wednesday, December 5 Gala Screening: HONEYDRIPPER (John Sayles, 2007), CV, followed by Q&A and catered reception at Josephina, $25, 7:45
Thursday, December 6 Women Indies Night: THE RISE & FALL OF MISS THANG (Stacie E. Hawkins, 2007) and GENE BOY CAME HOME (Alanis Obomsawin, 2007), SC, followed by a Q&A and catered reception, $25, 8:30
Sunday, December 10 Closing Ceremonies: Screening of the winner of the Public Award for Best Film Directed by a Woman of Color, followed by a closing concert and a catered reception, TC, $30, 3:00
Restaurant of the Week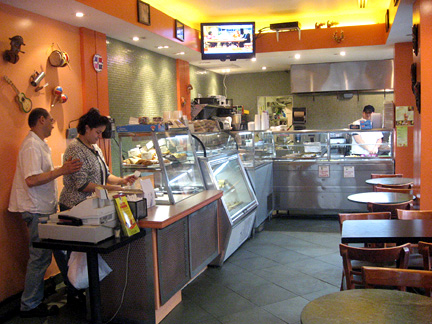 twi-ny/mdr
Latin Corner brings excellent Dominican cuisine to Murray Hill
LATIN CORNER
507 Third Ave. at 34th St.
212-213-8364
After helping the Utopia Café become a hot Midtown lunch spot, Tommy Benchekron opened up Latin Corner this summer, bringing a wide array of outstanding Dominican food to a Murray Hill neighborhood that is being overloaded with cookie-cutter yuppie bars and drugstore chains. Latin Corner is a breath of fresh air, offering a plethora of culinary delights that will surprise people expecting yet another quickie ethnic joint. Tommy, who hails from Morocco, and his wife, Enilda, who is Dominican, serve burgers, sandwiches, and salads, but what keeps us coming back are such Spanish dishes as luscious masitas de cerdo guisada (pork stew), tender and flavorful churrasco (grilled Romanian steak), tangy costillas de cerdo BBQ (barbecued pork ribs), paella (seafood rice with Dominican sausage), and addictive bacalao (codfish stew). All of the dishes are less than ten bucks and come with your choice of vegetables, rice with beans or peas, and tostones (fried green plantains) or maduro (fried sweet plantains). Among the excellent sides are avocado salad, octopus salad, and Spanish potato salad. And even though the portions are huge, you still might want to pick up dessert as well, which include homemade flan, cookies, and brownies. In addition to their own Web site, you can order through our favorite online delivery service, www.seamlessweb.com. Tommy and Enilda are on a tough, competitive location; here's hoping Latin Corner is around for a long time.
In the Neighborhood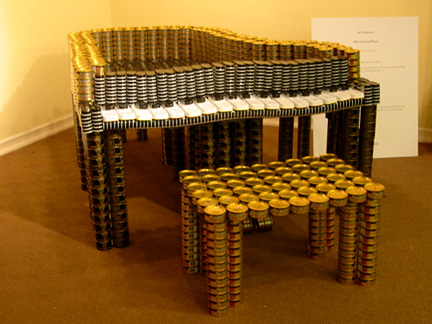 twi-ny/mdr
It might not be a Steinway, but it's still pretty grand
CANSTRUCTION 2007
The New York Design Center
200 Lexington Ave. at 32nd St.
Monday to Saturday through November 21, 9:00 am — 5:00 pm
Suggested donation: one can of food
212-679-9500 ext19
Once again the NYCDesign/Build Competition will feature dozens of cool installations made with canned food, believing that one "can" make a difference. The colorful, inventive pieces are set up in showrooms throughout the New York Design Center. The best way to see everything is to take the elevator to the fifteenth floor and slowly make your way down. Be sure to bring a camera, and not just to take pictures; interestingly, viewing the canstructions through a camera lens brings what it is into better focus than if you look at it with just your own eyes. All canned food used in the canstructions and given at the door will be donated to City Harvest.
Riff's Rants & Raves: Movies & More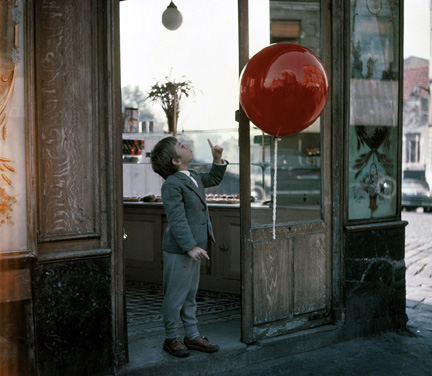 Film Forum / Janus Films
Pascal Lamorisse gives orders to his best friend
THE RED BALLOON (LE BALLON ROUGE) (Albert Lamorisse, 1956) &
WHITE MANE (CRIN BLANC: LE CHEVAL SAUVAGE) (Albert Lamorisse, 1953)
Film Forum
209 West Houston St. between Sixth & Seventh Aves.
November 16-25
212-727-8110

Two classic short works by Albert Lamorisse have been lovingly restored by Janus Films and will be shown in new 35mm prints for a special ten-day run at Film Forum. In THE RED BALLOON, which won a Palme d'Or at Cannes and an Oscar for Best Original Screenplay, a young boy (Pascal Lamorisse, the director's son) makes friends with an extraordinary red balloon, which follows him through the streets of Belleville in Paris, waits for him while he is in school, and obeys his every command. But the neighborhood kids are afraid of this stranger and go on a mission to burst the young boy's bubble. Lamorisse gives life and emotion to the balloon (more than twenty-five thousand were used in the making of the film) in a masterful use of simple special effects well before CGI and other modern technology. THE RED BALLOON is being screened with another of Lamorisse's classics, the lesser-known WHITE MANE, in which a magnificent white stallion "who felt trapped in the world of men," the "proud and fearsome" leader of a herd of wild horses, struggles to maintain his freedom from cowboys in Camargue in the south of France, helped by a young fisherman named Folco (Alain Emery). As in THE RED BALLOON, Lamorisse imbues the title character with, dare we say it, a unique humanity, as both the balloon and the horse fight for their individuality with only a single young boy at their side. The tender tale includes a new English translation spoken by Peter Strauss. Both films feature the splendid music of Maurice Leroux and the fine photography of Edmond Séchan.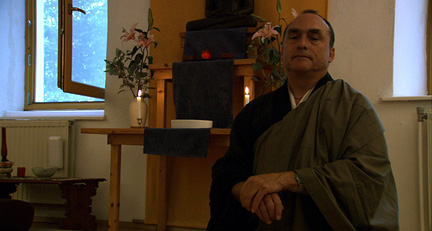 Edward Espe Brown gets all zen about the kitchen
HOW TO COOK YOUR LIFE (Doris Dörrie, 2007)
IFC Center
323 Sixth Ave. at West Third St.
Opens Friday, November 16
212-924-7771
http://www.cookyourlifemovie.com

"Cooking is not merely a time-consuming means to an end," says Zen teacher and cookbook author Edward Espe Brown, "but it is itself healing, meditation and nourishment." Taught by Zen Master Suzuki Roshi that "when you wash the rice, wash the rice," Brown has been preaching the art of cooking and life for more than twenty years. While taking a class of his with her teenage daughter, German filmmaker Doris Dörrie (MEN, ENLIGHTENMENT GUARANTEED) decided to make a documentary about the amiable chef-priest, and the result is the tasty concoction HOW TO COOK YOUR LIFE. Dörrie follows Brown to Buddhist centers in Austria and San Francisco, where he gives lectures and teaches classes on needing to find peace in life and how kneading dough can help. Brown, the author of THE TASSAJARA BREAD BOOK, is a friendly fellow, making for a very friendly movie that shows that not only are you what you eat but you are how you cook. And just because he believes in Zen doesn't mean he's not afraid to show his anger when something makes him mad.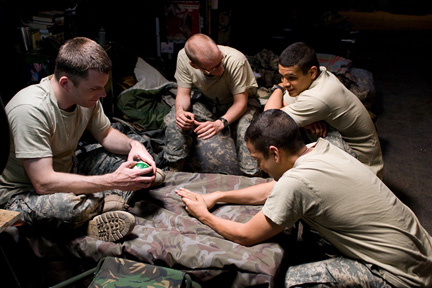 De Palma war flick goes off the deep end
REDACTED (Brian De Palma, 2007)
Opens Friday, November 16
Landmark Sunshine Cinema
143 East Houston St. between First & Second Aves.
212-330-8182
Lincoln Plaza Cinemas
1886 Broadway between 62nd & 63rd Sts.
212-757-0359
http://www.landmarktheatres.com/Market/NewYork/NewYork_frameset.htm
http://lincolnplaza.moviefone.com

Director Brian De Palma, best known for such thrillers as DRESSED TO KILL, SCARFACE, and CARRIE, has taken on the Vietnam War in several of his films, including 1990's CASUALTIES OF WAR. In REDACTED, he turns his attention to the war in Iraq, telling a brutal story using such secondary sources as security cameras, Web sites, reports from embedded journalists, and, primarily, a video diary being made by an American soldier, Angel Salazar (Izzy Diaz), stationed at a dangerous checkpoint with Sgt. Jim Ross (Mike Figueroa), Master Sgt. Sweet (Ty Jones), and privates B. B. Rush (Daniel Stewart Sherman), Reno Flake (Patrick Carroll), Gabe Blix (Kel O'Neil), and Lawyer McCoy (Rob Devaney). Salazar captures the camaraderie among the men — and their fears, as an IED blows one of them apart — until Rush and Flake decide to get even by planning to rape a fifteen-year-old girl in her home. While the first half of the film works well, with De Palma cleverly cutting between the various (fictional) sources, lending the film a realistic, documentary-like feel, the second half, anchored by the brutal attack on the girl and her family and the aftermath, falls apart, dragged down by De Palma's overt antiwar sentimentality and characters who suddenly turn from familiar to cliche-ridden.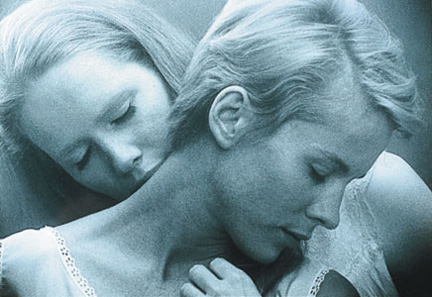 Liv Ullmann and Bibi Andersson get personal in Bergman classic
BAM REMEMBERS INGMAR BERGMAN
BAMcinematek
BAM Rose Cinemas unless otherwise noted
30 Lafayette Ave. between Ashland Pl. & St. Felix St.
Tickets: $11
718-636-4100
Master Swedish filmmaker Ingmar Bergman had a special relationship with the Brooklyn Academy of Music, staging many of his theatrical works with the Royal Dramatic Theatre of Sweden there. Among the productions he brought to BAM were A DOLL'S HOUSE, LONG DAY'S JOURNEY INTO NIGHT, MISS JULIE, THE GHOST SONATA, MARIA STUART, and GHOSTS. BAM pays tribute to Bergman with three days of screenings, readings, and introductions featuring such longtime Bergman stalwarts as Bibi Andersson and Pernilla August.
Monday, November 19 Readings from Bergman's diaries, read by Bibi Andersson, Pernilla August, Lena Endre, Lena Olin, and Peter Stormare, as well as an excerpt from Marie Nyreröd's documentary BERGMAN ISLAND, Harvey Theater, free tickets distributed at 6:00 for 7:00 show
Tuesday, November 20 PERSONA (Ingmar Bergman, 1966), introduced by Bibi Andersson, 6:00
PERSONA (Ingmar Bergman, 1966)

This magnificently complex work from Ingmar Bergman stars Liv Ullmann as a successful actress who suddenly stops talking; Bibi Andersson plays the nurse who tries to find out what psychological incident might have triggered her condition. Bergman's dreamlike shots, often set against white backdrops, are mesmerizing. As the two women grow closer, they virtually — no, we don't want to give anything away. The ending is an avant-garde marvel.
Tuesday, November 20 SHAME (Ingmar Bergman, 1968), introduced by Jonathan Lethem, 8:45
Wednesday, November 21 FANNY AND ALEXANDER (Ingmar Bergman, 1982), introduced by Pernilla August, 7:00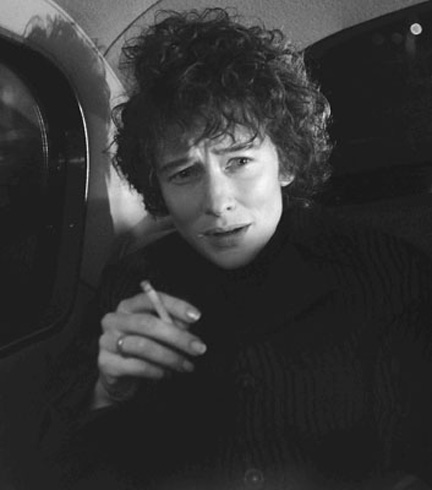 The Weinstein Company
Cate Blanchett is one of many Dylans in Todd Haynes's I'M NOT THERE
I'M NOT THERE (Todd Haynes, 2007)
Film Forum
209 West Houston St. between Sixth & Seventh Aves.
Opens Wednesday, November 21
212-727-8110

Todd Haynes's highly anticipated dramatization of the musical life of Bob Dylan is ambitious, innovative, and, ultimately, overblown and disappointing. Working with Dylan's permission (though not artistic input), Haynes crafts a nonlinear tale in which six actors play different parts of Dylan's psyche as the Great White Wonder develops from a humble folksinger to an internationally renowned and revered figure. Dylan is seen as an eleven-year-old black traveling hobo who goes by the name Woody Guthrie (Marcus Carl Franklin); Jack (Christian Bale), a Greenwich Village protest singer who later becomes a pastor; Robbie (Heath Ledger), an actor who has portrayed a Dylan entity and is having marital problems with his wife, Claire (Charlotte Gainsbourg); Arthur Rimbaud (Ben Whishaw), a staunch defender of poetry and revolution; an old Billy the Kid (Richard Gere), who has settled down peacefully in the small town of Riddle; and Jude Quinn (Cate Blanchett), who is attacked by her audience when she goes electric. Each story line is shot in a different style; for example, Jude's is influenced by Fellini and the Dylan documentary EAT THIS DOCUMENT!, Robbie's by Godard, and Billy's by Peckinpah. Excerpts from Dylan's own version of his songs are interwoven with interpretations by Tom Verlaine, Yo La Tengo, Ramblin' Jack Elliott, Stephen Malkmus, the Hold Steady, Sonic Youth (who do a killer version of the unreleased BASEMENT TAPES-era title track over the closing credits), and many more, with cameos by Kris Kristofferson (as the opening narrator), Richie Havens, Julianne Moore, Kim Gordon, Paul Van Dyck, Michelle Williams, and David Cross (looking ridiculous as Allen Ginsberg). The most successful section by far is Blanchett's; she takes over the role with relish, and cinematographer Edward Lachman and production designer Judy Becker nail the feel of the mid-'60s energy surrounding Dylan. But the rest of the film is all over the place, a great concept that bit off more than it could chew.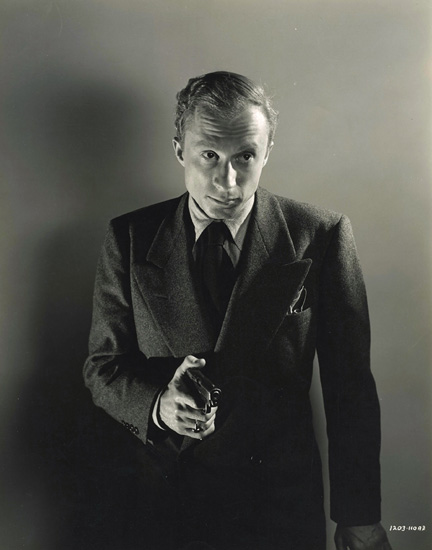 Film Forum / Journeymen Films
Norman Lloyd is feted at Film Forum
WHO IS NORMAN LLOYD?
Film Forum
209 West Houston St. between Sixth & Seventh Aves.
November 23-29
212-727-8110
http://www.whoisnormanlloyd.com
While the title of the new documentary, WHO IS NORMAN LLOYD?, doesn't really make sense to us, since we know who he is, we guess it's time the rest of the world did too. We first saw Lloyd in Alfred Hitchcock's SABOTEUR, and we later grew to adore him as Dr. Auschlander on ST. ELSEWHERE. He's appeared in more than sixty films and television shows, from NIGHT GALLERY and ALFRED HITCHCOCK PRESENTS to M, LIMELIGHT, DEAD POETS SOCIETY, and A WALK IN THE SUN. Film Forum will be showing the documentary along with SABOTEUR for a week. And Lloyd himself, who just turned ninety-three, will tell you who he is on November 26, when he is the center of attention at a special discussion about his life and career.
Friday, November 23
through
Thursday, November 29 WHO IS NORMAN LLOYD? (Matthew Sussman, 2007) and SABOTEUR (Alfred Hitchcock, 1942)
Monday, November 26 An Evening with Norman Lloyd, hosted by Bruce Goldstein and John Martello and with surprise guests, 8:15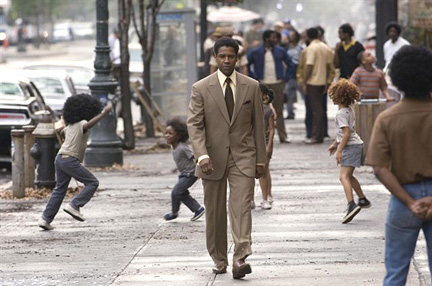 Denzel Washington walks tough in AMERICAN GANGSTER
AMERICAN GANGSTER (Ridley Scott, 2007)
In theaters now
http://www.americangangster.net

Based on a true story, Ridley Scott's AMERICAN GANGSTER follows the path of two very different men during the Vietnam War era. Frank Lucas (Denzel Washington) is a proud, dedicated man from poor southern roots who is determined to become the most respected and loved drug lord of Harlem. Richie Roberts (Russell Crowe) is an honest-to-a-fault Jewish cop studying to become a lawyer while failing miserably in his personal life. Cold, calculating, and smooth as silk, Lucas will do whatever is necessary to ensure his absolute success, including shooting another player in the head in plain view on an uptown street. Meanwhile, Roberts becomes a pariah in the corrupt police department when he finds nearly a million dollars in cash and turns it in. As the war escalates in Southeast Asia, Lucas and Roberts are both on a dangerous road that threatens to explode all around them. Filmed in New York City, AMERICAN GANGSTER — featuring an excellent script by Steven Zaillian and intense, superb direction from Ridley Scott — is a compelling thinking man's mob pic, a worthy successor to (and mash-up of) such genre classics as THE FRENCH CONNECTION, SERPICO, and NEW JACK CITY. The diverse all-star cast also includes Chiwetel Ejiofor, RZA, T.I., Josh Brolin, Carla Gugino, Cuba Gooding Jr., Common, and the great Ruby Dee and Clarence Williams III.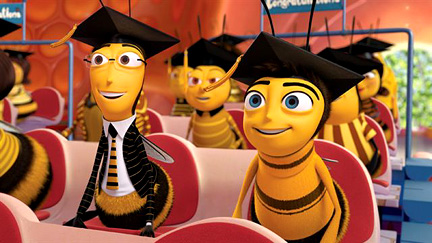 Jerry Seinfeld has created quite a buzz with new animated movie
BEE MOVIE (Steve Hickner & Simon J. Smith, 2007)
In theaters now

Jerry Seinfeld should be ashamed of himself. BEE MOVIE is an awful animated children's flick that is as unfunny as it is preposterous. Seinfeld, who cowrote the pathetic script with Spike Feresten, Barry Marder, and Andy Robin, voices Barry B. Benson, a bee who dreams of being more than just another worker for the hive. When he gets out into the real world, he is shocked to see that humans have taken over the honey business; he also develops a crush on Vanessa (Renee Zellweger), a florist who develops a crush on him as well. The story quickly devolves into a ridiculous courtroom drama with an environmental message that will leave you openmouthed in horror. Among the other actors lending their voices to this disastrous mess are Matthew Broderick, John Goodman, Chris Rock, Kathy Bates, Barry Levinson, Oprah Winfrey, Michael Richards, Rip Torn, and, perhaps most absurdly, Larry King, Ray Liotta, and Sting. BEE MOVIE gets a D.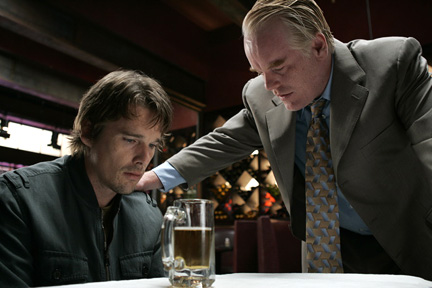 Ethan Hawke and Philip Seymour Hoffman have some family problems in Lumet flick
BEFORE THE DEVIL KNOWS YOU'RE DEAD
(Sidney Lumet, 2007)
Angelika Film Center
18 West Houston St. at Mercer St.
212-995-2000
Lincoln Plaza Cinemas
1886 Broadway between 62nd & 63rd Sts.
212-757-0359
http://lincolnplaza.moviefone.com
http://www.city-cinemas.com/angelika
http://www.7h58cesamedila-lefilm.com

Sidney Lumet (DOG DAY AFTERNOON, NETWORK) spins an intriguing web of mystery and severe family dysfunction in BEFORE THE DEVIL KNOWS YOU'RE DEAD. Andy (Philip Seymour Hoffman) and Hank (Ethan Hawke) are very different brothers who are both in desperate financial straits. Andy, a real estate exec, has a serious drug problem and a fading marriage to his sexy but bored young wife (Marisa Tomei), while ne'er-do-well Hank can't afford the monthly child-support payments to his ex-wife (Aleksa Palladino) and daughter (Amy Ryan). Andy convinces Hank to knock off their parents' (Albert Finney and Rosemary Harris) jewelry store, but when things go horribly wrong, everyone involved is forced to face some very difficult situations, leading to a harrowing climax. Seymour and Hawke are both excellent, the former cool, calm, and collected, the latter scattershot and impulsive. Tomei gives one of her finest performances as the woman sleeping with both brothers. Lumet tells the story through a series of flashbacks from various characters' point of view, with fascinating overlaps – although a bit overused – that offer different perspectives on critical scenes. Adapted from a script by playwright Kelly Masterson – whom Lumet has never met or even spoken with – BEFORE THE DEVIL KNOWS YOU'RE DEAD (the title comes from an Irish toast that begins, "May you be in heaven half and hour…") is a thrilling modern noir that is from one of the masters of melodrama.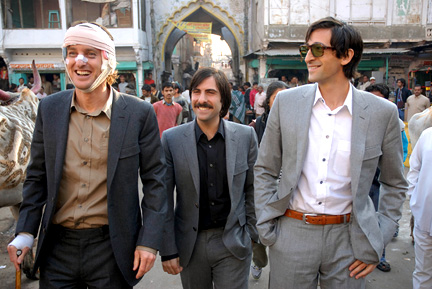 Three very different brothers go on a spiritual quest in DARJEELING
THE DARJEELING LIMITED (Wes Anderson, 2007)
In theaters now
http://www.foxsearchlight.com/thedarjeelinglimited

Wes Anderson takes viewers on a wild ride through India aboard THE DARJEELING LIMITED in this black comedy that opens the New York Film Festival. Francis (Owen Wilson), Peter (Adrien Brody), and Jack (cowriter Jason Schwartzman) are brothers who have not seen each other since their father's funeral a year before, after which their mother disappeared. Having recently survived a terrible accident, Francis — looking ridiculous with his face and head wrapped in bandages — convinces them to go on a spiritual quest together to reestablish their relationship and help them better understand life. Peter and Jack very hesitantly decide to go along on what turns out to be a series of madcap adventures involving bathroom sex, bloody noses, jealousy, praying, cigarettes galore, running after trains, and savory snacks. Anderson (THE ROYAL TENENBAUMS, RUSHMORE) injects his unique brand of humor on the action, ranging from the offbeat to the sensitive to the absurd as the brothers bond and battle in a search for themselves and what's left of their family, set to a score adapted from the films of Satyajit Ray and Merchant-Ivory. The film features cameos by Bill Murray, Natalie Portman, Barbet Schroeder, and Anjelica Huston; check the Web site to watch the very entertaining related short "Hotel Chevalier."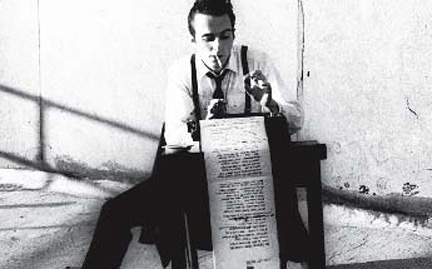 The life and career of Joe Strummer are celebrated in new doc
JOE STRUMMER:
THE FUTURE IS UNWRITTEN (Julien Temple, 2007)
IFC Center
323 Sixth Ave. at Third St.
212-924-7771
http://www.joestrummerthemovie.com

Director Julien Temple, who has made two outstanding documentaries about the Sex Pistols (THE GREAT ROCK AND ROLL SWINDLE and THE FILTH AND THE FURY), turns his camera on Joe Strummer of the British punk group the Clash in THE FUTURE IS UNWRITTEN. Temple collects remarkable home movies of Strummer, from his early days as young John Mellor, a career diplomat's son, through his time as the leader of one of the most famous and controversial bands in the world and his death at the age of fifty from a congenital heart defect. Strummer's friends and family gather around a campfire in Brooklyn's Empire St.-Fulton Ferry Park and talk about Strummer's life and career, sharing keen insight in a format that the musician loved; his campfire get-togethers came to be known as Strummerville, a place for people to assemble and discuss life, art, and anything else that came to mind. Temple adds lots of footage of the Clash in action, as well as clips from Strummer's earlier band, the 101ers, made up of squatters fighting the power, and his last band, the Mescaleros. Temple also brings some of Strummer's drawings to life, animating them in humorous ways. Strummer essentially narrates the film himself, as Temple includes audio excerpts from Strummer's "Last Call" radio show and interviews he gave over the years. Temple, a close friend of Strummer's, paints a fascinating portrait of the complex man, featuring stories from the likes of Bono, Johnny Depp, Flea, Mele Mel, Courtney Love Cobain, Martin Scorsese, Steve Jones, John Cusack, Matt Dillon, Steve Buscemi, Damien Hirst, Roland Gift, Don Letts, Mick Jones, and many others. And there's lots of music as well, of course, including several versions of "White Riot."
2 DAYS IN PARIS (Julie Delpy, 2007)
Village East Cinemas
181 Second Ave. at Twelfth St.>
212-777-FILM 922
http://www.2daysinparisthefilm.com

Julie Delpy's delightful debut, 2 DAYS IN PARIS, is a true DIY indie, with Delpy serving as writer, director, editor, star, composer, soundtrack performer, and one of the producers. Delpy plays Marion, a flitty Frenchwoman who decides to bring her boyfriend of two years, Jack (a heavily tattooed Adam Goldberg), to spend two days with in her hometown in Paris as a stopover on their way from Venice to their apartment in New York City. But spending forty-eight hours with Marion's family (Delpy's real-life parents, Albert Delpy and Marie Pillet, and sister, Alexia Landeau) and bumping into a seemingly endless stream of Marion's former boyfriends while not understanding a word anyone is saying might be a bit much for Jack, an interior designer whose own insides are rife with stomach problems and migraines. 2 DAYS IN PARIS is Delpy's ANNIE HALL (Woody Allen, 1977), an engaging film filled with slapstick humor, inventive characters, and underlying truths about love and life.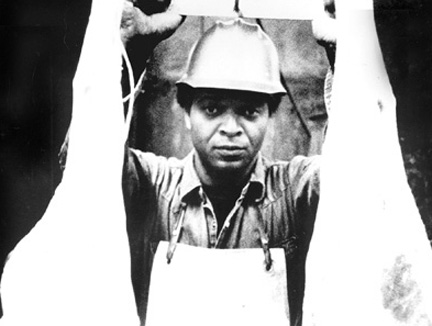 Milestone Films
Long-lost classic is now available in deluxe DVD set
KILLER OF SHEEP: THE CHARLES BURNETT COLLECTION (Milestone, $39.95)
Now available on DVD

Milestone Films continues celebrating the thirtieth anniversary of Charles Burnett's 1977 low-budget feature-length debut, KILLER OF SHEEP, with the DVD release of the new 35mm restoration, along with the restored and digitally reedited version of Burnett's poignant 1983 drama, MY BROTHER'S WEDDING. Reminiscent of the work of Jean Renoir and the Italian neo-Realists, KILLER OF SHEEP, shot in black and white, is a simple story about a family just trying to get by, struggling to survive in their tough Watts neighborhood in the mid-1970s. The slice-of-life scenes are sometimes very funny, sometimes scary, but always poignant, as Stan (Henry Gayle Sanders) trudges to his dirty job in a slaughterhouse in order to provide for his wife (Kaycee Moore) and children (Jack Drummond and Angela Burnett). Every day he is faced with new choices, from participating in a murder to buying a used car engine, but he takes it all in stride.
In MY BROTHER'S WEDDING, made in color, Everett Silas stars as Pierce Mundy, a ne'er-do-well slacker who loafs around in his parents' dry-cleaning store, waits for his best friend, the smooth-talking Soldier (Ronnie Bell), to get out of jail, and resents that his brother, Wendell (Dennis Kemper), has become a successful lawyer and is preparing to marry the snobby Sonia (Gaye Shannon-Burnett, the director's real-life wife). As he did with KILLER OF SHEEP, Burnett (TO SLEEP WITH ANGER) sets the film in Watts, where poor black families struggle to make a go of it in the shadow of ritzy Los Angeles. Although Pierce never seems to make the right decision, his choices are limited, but that doesn't stop Burnett from coming up with some very droll, funny scenes. The DVD also includes such bonus features as four short films by Burnett (SEVERAL FRIENDS, THE HORSE, WHEN IT RAINS, QUIET AS KEPT), audio commentary by Burnett and Richard Peña of the Film Society of Lincoln Center, a cast reunion video, and liner notes.
Choi Min-Sik looks for fifteen years that were stolen from him
OLDBOY (Chanwook Park, 2003)
Now available on Blu-ray disc

The second in director Chanwook Park's revenge trilogy (in between the recently released SYMPATHY FOR MR. VENGEANCE and the 2005 New York Film Festival selection SYMPATHY FOR LADY VENGEANCE), OLDBOY is a twisted, perverse psychological thriller that won the Grand Prix de Jury at Cannes, among many other international awards. Choi Min-sik (CHIHWASEON) stars as Oh Dae-su, who has been imprisoned for fifteen years — but he doesn't know why, or by whom. When he is finally released, his search for the truth becomes part of a conspiracy game, as he can seemingly trust no one. As he gets closer to finding everything out, the gore and terror continues to increase. Min-sik is outstanding as the wild-haired Dae-su in Park's awesome rampage of a film. The film is also available on DVD; the extras include audio commentary and deleted scenes in which Park discusses how embarrassing it is doing audio commentary and showing deleted scenes. OLDBOY is not for the faint of heart.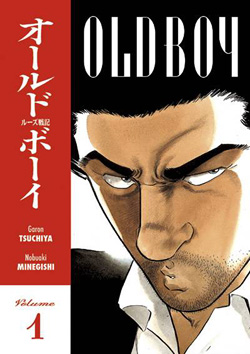 OLDBOY by Garon Tsuchiya and Nobuaki Minegishi
(Dark Horse Manga, 2007, $12.95 each)
In 2003, Chanwook Park shook up the film world with OLDBOY, a violent revenge drama that won the Grand Jury prize at the 2004 Cannes Film Festival. The Korean film was based on a Japanese manga from 1997, written by Garon Tsuchiya and drawn by Nobuaki Minegishi. For the first time, Dark Horse is making the original series available in English while staying true to the Japanese format. Goto has just been released after spending ten years locked up in his own private prison — with no idea why. Before he can go back to his previous life — if it even exists anymore — he is determined to find out who did this to him and why. He meets a young waitress who takes a liking to him and hangs out at the low-rent Moon Dog bar, where the owner, Tsukamoto, helps him out. Other than that, he appears to be on his own, always being watched. Little by little, he finds out just enough to keep on searching, mixing with a mysterious bunch of classic noir characters who aren't about to spill the beans all at once. The first trade paperback came out in July 2006; Dark Horse is now up to volume 8, which came out last month. The manga is not nearly as bloody and violent as the film; it is also different enough that lovers of the movie should check it out as well.
Riff's Rants & Raves: Live Music & Dance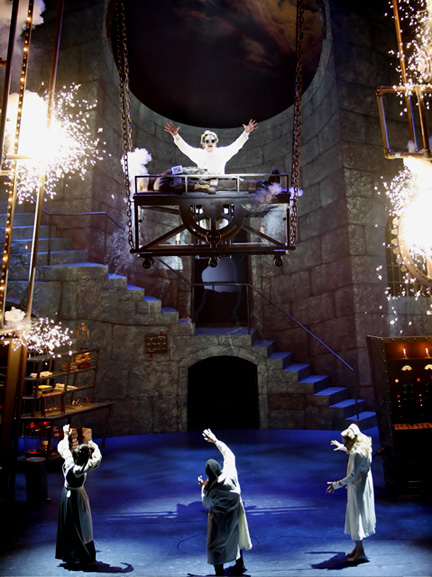 Shuler Hensley and Roger Bart put on the Ritz in YOUNG FRANKENSTEIN
YOUNG FRANKENSTEIN
Hilton Theatre
213 West 42nd St. between Broadway & Eighth Ave.
November 15 performance reviewed
Tickets: $50-$120 ($450 Premier Seating)
212-556-4750
http://www.youngfrankensteinthemusical.com

Written by Gene Wilder and Mel Brooks and directed by Brooks, YOUNG FRANKENSTEIN is one of the funniest films ever made. Following the huge success of THE PRODUCERS on Broadway, Brooks and director-choreographer Susan Stroman have transformed the horror-movie spoof into a lavish musical that is better than the sum of its parts, sort of like the monster himself. Roger Bart, who was nominated for a Tony as Carmen Ghia in THE PRODUCERS, plays the Frederick Frankenstein role made famous by Wilder, but he lacks vocal power. The songs are mostly average at best, there is barely a thrilling choreographic move, there are far too many (and often too brief) set changes, and the supporting cast — save for a brilliant turn by Andrea Martin, who steals the show as (cue horses) Frau Blücher — does its job, but without much oomph. But even with all that, THE NEW MEL BROOKS MUSICAL YOUNG FRANKENSTEIN is extremely likable, filled with an uplifting spirit and cool special effects. Brooks cherry-picks gags from the film, leaving some in ("What knockers!") and many out (what, no scalpel in the thigh?), so the less you remember about the movie the better. When Victor Frankenstein dies, his only living relative, Frederick Frankenstein, is summoned to Transylvania to inherit Victor's estate. Although he is determined not to follow in the family business, he is soon constructing a creature (Shuler Hensley) out of a dug-up corpse and an abby normal brain. He is helped by Igor (Christopher "What hump?" Fitzgerald), the very sexy Inga (Sutton "Roll in the Hay" Foster), and Frau ("Ovaltine") Blücher while Inspector Kemp (Fred Applegate, who also plays the blind hermit) and the local townspeople suspect he is up to no good and Frankenstein's fiancée, Elizabeth (a far-too-over-the-top Megan Mullally), won't let him touch her. The musical shines whenever SCTV alum Martin is onstage, the scene in which the monster comes to life is cheesy and exciting, and the "Puttin' on the Ritz" number is appropriately glitzy and spectacular — but alas, it's the only number that will stay with you after the show. Still, YOUNG FRANKENSTEIN is a fun night at the theater.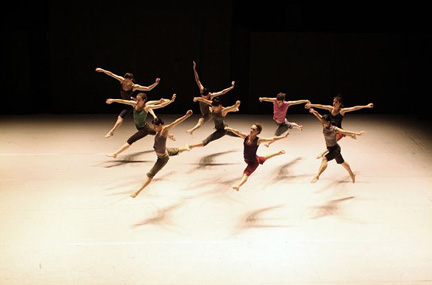 Gadi Dagon
Audiences will go ga-ga over Israeli dance troupe
THREE
BAM Howard Gilman Opera House
30 Lafayette Ave. between Ashland Pl. & St. Felix St.
November 13-17 (11/13 performance reviewed)
Tickets: $20-$55
718-636-4100

As Ohad Naharin's THREE, at BAM through November 17, begins, the seventeen dancers of the Israeli-based Batsheva Dance Company stand face-forward, still, at attention, staring out at the audience, presenting the bodies that, for the next seventy minutes, will cut, slice, and contort in dazzling ways. The first section, "Bellus," set to Glenn Gould's performance of Bach's Goldberg Variations, opens with three solos that set the rapid pace for the evening, then features a passionate, romantic duet. "Humus" follows, in which nine female dancers show off their myriad skills individually and in unison as Brian Eno's barely there "Neroli" plays in the background. All hell breaks loose in the thrilling third section, "Secus," as dancers whip across the stage — a white floor bordered by black walls — in a frenzy, then depart; meanwhile, in the far corner, one male dancer turns into two, then three, then four, all the way to seven and eight as if counting to the beat of Naharin's unique Gaga training vocabulary. As an eclectic soundtrack featuring Chari Chair, Kid 606 + Rayon, AGF, Fennesz, Kaho Naa...Pyar Hai, Seefeel, and the Beach Boys plays, the dancers eventually form three lines for quick solos, mimicking the person before them as they punch the air, fall to the ground, and even drop their drawers. For much of the evening, the Israeli-based troupe of seventeen dancers appears with the house lights slightly on, bringing them closer to the crowd in feeling, evoking a shared warmth. Between the pieces, one of the dancers takes center stage holding an old-fashioned television on which Naharin playfully describes, in fits and starts, what the next section will be, further involving the audience. Naharin's third work to be presented at BAM in the last six years, THREE is another inspiring night of shared movement and exciting body language. There will be a free post-show BAMdialogue with Naharin on November 15.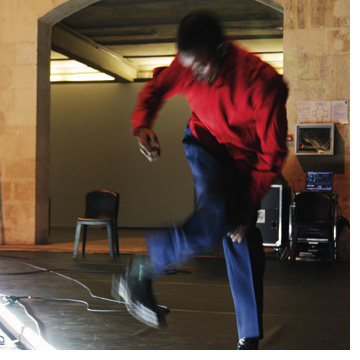 BRIC and DTW team up to present Congolese choreographer
FESTIVAL OF LIES
BRIC Arts / Media / Bklyn
647 Fulton St., second floor
November 14-17, 8:00
Tickets: $20
924-0077
http://www.brooklynx.org/bricstudio
http://www.dancetheaterworkshop.org
BRIC Arts and Dance Theater Workshop have teamed up to present the New York City debut of a multidisciplinary work by Congolese choreographer Faustin Linyekula, with text by Marie-Louise Bibish Mumbu, drawings by Papa Mfumu'et, food and drink by Madiba, live music by Asiko, and dancers Papy Ebotani, Djodjo Kazadi, Faustin Linyekula, and Marie-Louise Bibish Mumbu, in what should be a unique and fascinating evening.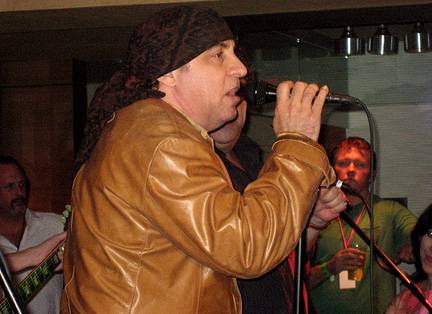 twi-ny/mdr
Little Steven puts together Underground Garage shows in Times Square
BRITISH BROOKLYN MERSEY BEAT SOUL EXPLOSION!
Hawaiian Tropic Zone
49th St. & Seventh Ave.
Wednesday, November 14, 9:00
Tickets: $15 (includes free drink)
212-626-7312
http://www.undergroundgarage.com
http://www.hawaiiantropiczone.com
http://flickr.com/photos/twi-ny/sets/72157603010543763
On October 31, Little Steven's Underground Garage held its inaugural show at the Hawaiian Tropic Zone in Times Square, Halloween a Go-Go, featuring hot sets by the Saints and the Chesterfield Kings along with the groovy Garage Girls a Go-Go. Among the celebrities on hand were Vincent (Big Pussy) Pastore and David Chase, the man behind THE SOPRANOS. When asked how he thought the first night went, Stevie told us, "Fab! Fab! Fab!" On November 7, things were just as fab as the theme changed to Mexican Wrestling Swedish Surf Rock a Go-Go, with the masked avengers of rock and roll, Los Straitjackets, and Sweden's one and only Hawaii Mud Bombers, playing their first show ever in America. On November 14, Locksley and Jarvis Humbly will be back, once again with the Garage Girls a Go-Go, choreographed by Maureen Van Zandt. Before the Underground Garage show, Pastore will be broadcasting his "Wiseguy Show" at the Hawaiian Tropic Zone from 6:00 to 9:00. Little Steven has dreams of turning Wednesday nights into the new CBGBs, only with nicer bathrooms.
Wednesday, November 14 British Brooklyn Mersey Beat Soul Explosion!: Locksley, Jarvis Humbly, Garage Girls a Go-Go, 9:00
Wednesday, November 28 Battle Beyond the Valley of the Super Vixens:Cocktail Slippers, Hell on Heels, Garage Girls a Go-Go, hosted by Genya Ravan, 9:00
Wednesday, December 5 Hellfire Hillbilly Hullabaloo and Rock & Roll Rave Up: the Wildbirds, Len Price 3, Garage Girls a Go-Go, 9:00
Wednesday, December 12 Wicked Cool Maximum Rock & Roll a Go-Go!: the Gripweeds, the Stabilisers, Garage Girls a Go-Go, 9:00
twi-ny/mdr
Elia leads SYGC on three-night stand through city
THE SCOTLAND YARD GOSPEL CHOIR
Sound Fix Records
110 Bedford Ave. at North Eleventh St.
Thursday, November 15, free
718-388-8090
http://www.soundfixrecords.com
The Knitting Factory Tap Bar
74 Leonard St. between Broadway & Church St.
Friday, November 16, $7, 10:30
212-219-3006
http://www.knittingfactory.com
Union Hall
702 Union St. at Fifth Ave.
Saturday, November 17, $8, 7:30 doors
212-220-1460
http://www.myspace.com/scotlandyardgospelchoir

Scotland Yard Gospel Choir was one of the breakout bands at last month's CMJ Music Marathon, where group founder Elia Einhorn literally bled for his art. Born in Wales and now based in Chicago, Einhorn pogo'd on the tiny Union Pool stage, leading the band through a too-short set of tunes from their self-titled second album. SYGC's easygoing performance style and stage banter is reminiscent of the Mekons; as it turns out, the inimitable Sally Timms plays on the album and is featured on the back of the CD booklet. Three songs in to SYGC's killer set, Einhorn cut the middle finger on his right hand, regularly showing the crowd his bleeding digit. Judging by the amount of hemoglobin he was losing — evidenced by growing bloodstains on his guitar — it is unlikely he did it on purpose to celebrate the band's signing to Bloodshot Records.
The new record is a gorgeous homage to '80s Manchester northern soul. From the opening notes of "Aspidistra," SGYC reaches out and sucks you into their enticing world of pure pop pleasure. Einhorn lets his obsessions show on "Obsessions," as he spends his time "whiting-out the Bible," fighting off his "fear and resentments." The song ends with him singing, "I spent my life trying to be easy / to please the ones that loved me / to win the hearts of everyone I met riding on the train." Ellen O'Hayer takes over lead vocals on several tracks, including the hauntingly beautiful "In Hospital," the saddest song about death since Van Morrison's "TB Sheets"; trying to deal with the loss of a loved one, her tender voice admits that "it's fear / it's the fear of being all alone / it's fear and it's anger / it's regret and it's longing / and fear." But not all of the songs are so dark and gloomy. "I Never Thought I Could Feel This Way for a Boy" is the most charming song of its kind since Jill Sobule's "I Kissed a Girl," and SYGC even brings out a horn section for the bouncy "Then and Not a Moment Before."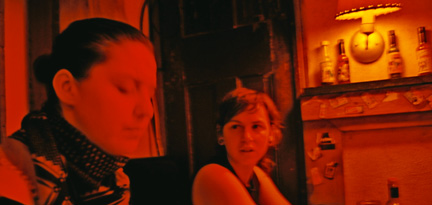 Beth Gill
Beth Gill will premiere new work at DTW
BETH GILL AND DANIEL LINEHAN
Dance Theater Workshop
219 West 19th St. between Seventh & Eighth Aves.
November 28 - December 1, 7:30
Tickets: $20
212-924-0077
http://www.dancetheaterworkshop.org
Brooklyn-based dance artists Beth Gill and Daniel Linehan will participate in a shared program of world premieres, including Gill's ELEANOR & ELEANOR and Linehan's NOT ABOUT EVERYTHING. Gill's piece features performers Julie Alexander (whom we recently saw in Donna Uchizono's THIN AIR at DTW), Danielle Goldman, and Eleanor Hullihan and Kayvon Pouvazar (whom we saw recently in John Jasperse's MISUSE LIABLE TO PROSECUTION at BAM). Linehan will perform solo in his new piece.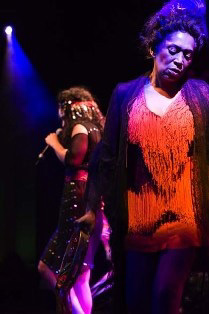 The Citizens Band puts on a panic of a show at Ars Nova
THE PANIC IS ON
Ars Nova
511 West 54th St. between Tenth & Eleventh Aves.
November 30 ­- December 2
Tickets: $15
212-868-4444
http://www.thecitizensband.net
This new risqué neo-cabaret collaboration from the Citizens Band tells the story of a motley group of people must keep themselves entertained while hiding out in a bomb shelter. While in the shelter, the musical troupe entertains themselves with old songs and new compositions about the state of the world, throwing in lots of bawdy fun. Among the performers in the revolving group are Chelsea Bacon, Ian Buchanan, Rachelle Garniez, Angela McCluskey, and Ronin, with a special appearance by the Cardigans' Nina Persson.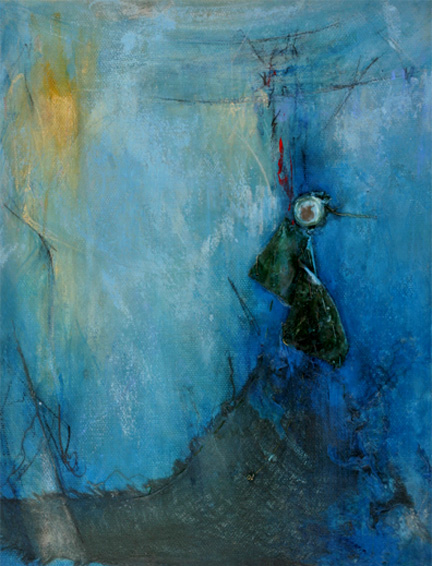 © Yuko Ueda / courtesy s.e.e.dgallery
Yuko Ueda's first solo gallery show is at Williamsburg's s.e.e.dgallery
ROOTS OF THOUGHT:
A JOURNEY OF PAINTINGS BY YUKO UEDA
s.e.e.dgallery
111 Front St. at Washington St., Suite 224
Through December 1
Closed Monday & Tuesday
Admission: free
917-881-4349
http://www.seedgallerynewyork.com
Japanese-born artist Yuko Ueda creates mesmerizing canvases, often filled with rich, earth-toned colors and incorporating elements from the natural and material world. She earned her BFA in graphic design in Tokyo, then came to the United States, where she studied painting at the Art Students League of New York and murals at the National Academy. We were blown away by the "Water March" series she had in "Breath of Light," a summer group show at the s.e.edgallery in Williamsburg, which is now be hosting her first solo exhibition.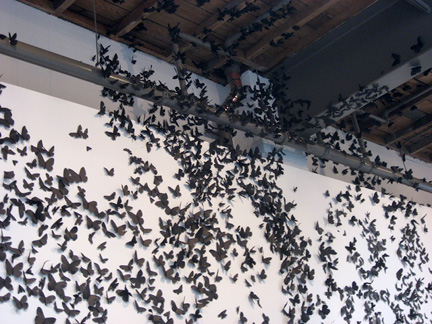 twi-ny/mdr
Carlos Amorales's moths form a black cloud in Chelsea
CARLOS AMORALES: BLACK CLOUD
Yvon Lambert
550 West 21st St. at Eleventh Ave.
Through November 26
Closed Sunday and Monday
Admission: free
212-242-3611

Mexican artist Carlos Amorales has filled Yvon Lambert's 21st St. location with the dazzling "Black Cloud," consisting of more than 25,000 black paper moths lining the walls, ceiling, exposed pipes, and skylight – a few have even flown into the bathrooms. Cut with a laser and then attached to the walls one by one, the moths seem to be alive, as if they're flying in your peripheral vision. An accompanying ten-minute video takes viewers behind the scenes of the moths' creation. (A companion exhibition, Amorales' "Spider Galaxy," will be on view at the 590 Atrium in Midtown through November 20, with live dance performances through November 17 at 1:00 and 2:00.) While in Chelsea, be sure to see Yishai Jusidman's "The Economist Shuffle" at Yvon Lambert's Project Space at 564 West 25th St. Jusidman re-creates images from the Economist magazine, giving them new meaning by hanging them in the walls of the gallery, where they instantly become a different kind of art.


All contents copyright 2007 by Mark Rifkin and twi-ny. All rights reserved. Contents may not be reprinted without written permission. Please note that events, dates, and prices are subject to change.
Send all comments, suggestions, reviews, and questions to mark.rifkin@twi-ny.com.
Please note that some e-mail clients may wrap links, so be sure to enter them fully into your browser.
To subscribe to this list, please e-mail the administrator at admin@twi-ny.com with the word Subscribe in the Subject line; be sure to ask for back issues, which are free as well. To unsubscribe from this list, please think it over twice before e-mailing the same address. Please let us know what you didn't like about this forum and we'll do our best to correct it in the future — if we agree with you. If you would like to see something covered in a future issue, please let us know. Without you, there is no need for us to exist.

twi-ny top two dozen (or so) weekly reminders & special events
IN/OUT/OF: PHOTOGRAPHY, PERFORMANCE & CONTEMPORARY ART —
YOU DIDN'T HAVE TO BE THERE
The New School, Tishman Auditorium
66 West 12th St. between Fifth & Sixth Aves.
Admission: free
212-229-5353
Wednesday, November 14 Panel discussion with Marina Abramovic, Vanessa Beecroft, and Babette Mangolte, moderated by PERFORMA founder/director RoseLee Goldberg, 7:00
JOHN LITHGOW & FRIENDS:
TELLERS OF TALES & POETS APLENTY!
Symphony Space, Peter Jay Sharp Theatre
2537 Broadway at 95th St.
Tickets: $24-$30
212-864-5400
Wednesday, November 14 Selected Shorts: A Celebration of the Short Story, with John Lithgow, Bill Irwin, and others reading from TELLERS OF TALES and THE POETS' CORNER, 7:30
BIG APPLE FILM FESTIVAL
Tribeca Cinemas
54 Varick St. at Laight St.
Tickets:
http://bigapplefilmfestival.com
Wednesday, November 14
through
Saturday, November 17 The fourth annual Big Apple Film Festival includes more than fifty features, documentaries, shorts, and animated works, with panel discussions, Q&As, and other special events
IBEROAMÉRICA: THAT'S THE WAY WE ARE
MoMA Film
Roy and Niuta Titus Theaters
11 West 53rd St. between Fifth & Sixth Aves.
November 14-30
Tickets: $10, in person only, may be applied to museum admission within thirty days, same-day screenings free with museum admission, available at Film and Media Desk
212-708-9400
Wednesday, November 14 MATAR A TODOS (KILL THEM ALL) (Esteban Schroeder, 2007) preceded by a musical performance by Osvaldo Montes and band and introduced by Schroeder, 7:00
Thursday, November 15 SATANÁS (SATAN) (Andres Baiz Ochoa, 2006), introduced by Ochoa, 6:00
Thursday, November 15 ASÍ ES LA VIDA (SUCH IS LIFE) (Arturo Ripstein, 2000), introduced by Ripstein, 8:00
Friday, November 16 LA DIGNIDAD DE LOS NADIES (THE DIGNITY OF THE NOBODIES) (Fernando E. Solanas, 2005), introduced by Solanas, 6:00
Friday, November 16 EL CORAZÓN DE JESÚS (THE HEART OF JESUS) (Marcos Loayza, 2003), 8:30
Saturday, November 17 FADOS (Carlos Saura, 2007), 3:00
Saturday, November 17 ASÍ ES LA VIDA (SUCH IS LIFE) (Arturo Ripstein, 2000), 5:00
Saturday, November 17 LA NOCHE DE LOS GIRASOLES (THE NIGHT OF THE SUNFLOWERS) (Jorge Sánchez-Cabezudo, 2006), 7:30
Sunday, November 18 MACHUCA (Andrés Wood, 2004), 2:00
Sunday, November 18 EL INMORTAL (THE IMMORTAL) (Mercedes Moncada, 2004), 4:30
Sunday, November 18 ASÍ ES LA VIDA (SUCH IS LIFE) (Arturo Ripstein, 2000), 6:15
Monday, November 19 LISTA DE ESPERA (WAITING LIST) (Juan Carlos Tabio, 2000), 6:00
Monday, November 19 KAMCHATKA (Marcelo Piñeyro, 2002), 8:00
Wednesday, November 21 EL ÚLTIMO BANDONEÓN (THE LAST BANDONEÓN) (Alejandro Saderman, 2006), 6:00
Wednesday, November 21 PUNTO Y RAYA (STEP FORWARD) (Elia Schneider, 2004), 8:00
Friday, November 23 EL INMORTAL (THE IMMORTAL) (Mercedes Moncada, 2004), 6:00
Friday, November 23 KAMCHATKA (Marcelo Piñeyro, 2002), 8:00
Saturday, November 24 MATAR A TODOS (KILL THEM ALL) (Esteban Schroeder, 2007), 2:30
Saturday, November 24 UN OSO ROJO (A RED BEAR) (Israel Adrian, 2002), 5:00
Saturday, November 24 PUNTO Y RAYA (STEP FORWARD) (Elia Schneider, 2004), 7:30
Sunday, November 25 LISTA DE ESPERA (WAITING LIST) (Juan Carlos Tabio, 2000), 2:00
Sunday, November 25 EL CORAZÓN DE JESÚS (THE HEART OF JESUS) (Marcos Loayza, 2003), 4:00
Monday, November 26 LA NOCHE DE LOS GIRASOLES (THE NIGHT OF THE SUNFLOWERS) (Jorge Sánchez-Cabezudo, 2006), 6:00
Monday, November 26 SATANÁS (SATAN) (Andres Baiz Ochoa, 2006), 8:30
Wednesday, November 28 UN OSO ROJO (A RED BEAR) (Israel Adrian, 2002), 6:00
Wednesday, November 28 LA DIGNIDAD DE LOS NADIES (THE DIGNITY OF THE NOBODIES) (Fernando E. Solanas, 2005), 8:00
Thursday, November 29 FADOS (Carlos Saura, 2007), 6:00
Thursday, November 29 MACHUCA (Andrés Wood, 2004), 8:00
Friday, November 30 EL ÚLTIMO BANDONEÓN (THE LAST BANDONEÓN) (Alejandro Saderman, 2006), 6:00
Friday, November 30 ENCARNACIÓN (Anahí Berneri, 2007), 8:00
MICKEY MANTLE'S COMMUNITY SERVICE AWARD
Mickey Mantle's Restaurant
42 Central Park South
Tickets: $200
212-625-1025
Thursday, November 15 Eighteenth annual awards presentation, honoring Brett Yormark of NETS Sports and former New York Mets reliever John Franco, featuring a cocktail reception, live and silent auctions, awards ceremony, and dinner, with proceeds benefiting Camp Brooklyn, 6:00

PHILIP GOUREVITCH AND PETER CAREY
Barnes & Noble Union Square
33 East 17th St.
Admission: free
212-253-0810
http://storelocator.barnesandnoble.com
Thursday, November 15 Philip Gourevitch and Peter Carey, discussion and signing, THE PARIS REVIEW INTERVIEWS, Vol. II, 7:00
MISS OHIO
Lakeside Lounge
162 Ave. B between 10th & 11th Sts.
Admission: free, no cover
212-529-8463
http://www.myspace.com/missohio
Thursday, November 15 Sick of talking about the government, this Jersey City indie quartet will play the Lakeside Lounge as the empire falls, 9:00
STILL MUSIC + XLR8R PRESENTS
APT
419 West 13th St. between Ninth Ave. and Washington St.
Cover charge: $10 (includes open bar from 9:00 to 10:00)
212-414-4245
Thursday, November 15 Still Music + XLR8R Presents Swiss music man Deetron playing his twisted sounds, with DJ Jerome Derradji, 9:00
SIX ACTIONS FOR NEW YORK CITY
GBE@Passerby
436 West 15th St. between Ninth & Tenth Aves.
Admission: free
212-206-7321
Thursday, November 15 Reception and book launch, 5:00
Thursday, November 15
through
Saturday, November 17 Reinstallation of Allan Kaprow's PUSH AND PULL: A FURNITURE COMEDY FOR HANS HOFFMANN, with visitors encouraged to rearrange the furniture, 12 noon — 6:00
DISASTER CAPITALISM
CUNY Graduate Center, Room 9204-06
365 Fifth Ave. at 34th St.
Admission: free
212-817-2005
Friday, November 16 Naomi Klein and Neil Smith in Conversation, 12 noon
DIGITAL BUDDHA
Roulette
20 Greene St. between Canal & Grand Sts.
Admission: $15
212-219-8242
Friday, November 16 Multimedia work in progress by Jin Hi Kim
CONTEMPORARY: PREMIERE CONCERTOS
Good-Shepherd Church
152 West 66th St. between Amsterdam Ave. & Broadway
Tickets: $20-$30
646.549.1062
Friday, November 16 Evenings of Piano Concerti: Works by Reiko Fueting, Robert Sirota, Henry Martin, and Samuel Adler, 7:30
JD WALTER
Tribeca Performing Arts Center
Borough of Manhattan Community College
199 Chambers St.
Admission: free
212-220-1460
Friday, November 16
and
Saturday, November 17 Vocalist and scat phenomenon performs at TPAC, $15-$25, 8:00
BIG APPLE COMIC BOOK, ART, TOY & SCI-FI EXPO
Penn Plaza Pavilion
401 Seventh Ave. a 33rd St.
Tickets: $18-$20
201-861-1414
Friday, November 16
through
Sunday, November 18 Three-day convention featuring film screenings, more than one hundred exhibitors and dealers, signings with artists and creators (including Bob McLeod, John Romita Sr., Kim Deitch, and Neal Adams), Captain Zorikh's Costume Contest, and appearances by Hayden Panettiere and Kristen Bell of HEROES, Mira Furlan and William Mapother of LOST, Walter Koenig of STAR TREK, Butch Patrick of THE MUNSTERS, Katey Sagal of MARRIED WITH CHILDREN, Soupy Sales, the cast of WHAT'S HAPPENING, Kathy Coleman of LAND OF THE LOST, Larry Storch of F TROOP, wrestler King Kong Bundy, Jasmine St. Clair, smorgasbord lover Mason Reese, Beatles promoter Sid Bernstein, stage and screen star Celeste Holm, boxer Mark Breland, and many more
MODERNISM: A CENTURY OF STYLE AND DESIGN
The Park Avenue Armory (Seventh Regiment Armory)
643 Park Ave. between 66th & 67th Sts.
Admission: $20 (includes one-day pass to Brooklyn Museum)
212-777-5218
Friday, November 16
through
Monday, November 19 More than sixty exhibitors will be displaying and selling furniture, decorative arts, ceramics, jewelry, fine art, and architectural design products in this twenty-second annual art fair
UNICEF SNOWFLAKE LIGHTING
57th St. & Fifth Ave.
Admission: free
Saturday, November 17 Lighting of sixteen-foot UNICEF Snowflake, featuring sixteen thousand Baccarat crystals, will be strung over Fifth Ave., with Russell Simmons and other celebrity guests, 6:30
GLORIOUS TECHNICOLOR!
Museum of the Moving Image
35th Ave. at 36th St., Astoria
November 17 - December 2
Tickets: $10 (includes museum admission)
718-784-4520
Saturday, November 17 BECKY SHARP (Rouben Mamoulian, 1935), preceded by FLOWERS AND TREES (Burt Gillett, 1932), introduced by Scott Higgins and followed by a reception and book signing, 2:00
Saturday, November 17 TRAIL OF THE LONESOME PINE ( Henry Hathaway, 1936), preceded by LA CUCARACHA (Lloyd Corrigan, 1934), 6:00
Sunday, November 18 THE ADVENTURES OF ROBIN HOOD (Michael Curtiz and William Keighley, 1938), 4:30
Sunday, November 18 SLIGHTLY SCARLET (Allan Dwan, 1956), 6:30
Saturday, November 24 MEET ME IN ST. LOUIS (Vincente Minnelli, 1944), 2:00
Saturday, November 24 THE WIZARD OF OZ (Victor Fleming, 1939), 4:30
Saturday, November 24 SINGIN' IN THE RAIN (Stanley Donen and Gene Kelly, 1952), 7:00
Sunday, November 25 GONE WITH THE WIND (Victor Fleming, 1941), 2:00
Saturday, December 1 ALL THAT HEAVEN ALLOWS (Douglas Sirk, 1955), 3:00
Saturday, December 1 THE GANG'S ALL HERE (Busby Berkeley, 1943), 6:00
Sunday, December 2 VERTIGO (Alfred Hitchcock, 1958), 2:00
Saturday, December 2 APOCALYPSE NOW REDUX (Francis Ford Coppola, 1979), 5:00
BORDER STREET
Museum of Jewish Heritage — A Living Memorial to the Holocaust
36 Battery Pl.
Tickets: $10
646-437-4200
Sunday, November 18 Screening of ULICA GRANICZA (BORDER STREET) (Aleksander Ford, 1948), with an introduction and postscreening discussion with Stuart Liebmab, 2:30
CINEMAROSA
Queens Museum of Art
Flushing Meadows Corona Park
Friday nights at 6:30 through August 24
Admission: free for outdoor events; $5 suggested donation for museum, which is open until 8:00
718-592-9700
Sunday, November 18 queens only queer film series presents AlieNation, 3:00
CHIARA STRING QUARTET
Brooklyn Heights Synagogue
131 Remsen St. between Clinton & Henry Sts.
Tickets: $10-$20
718-855-3053
http://www.brooklynfriendsofchambermusic.org
Sunday, November 18 Presented by Brooklyn Friends of Chamber Music: Haydn's String Quartet in C major, Osvaldo Golijov's Yiddishbbuk, Carl Voss's String Quartet no. 2 (world premiere), Schubert's String Quintet in C major, D. 956, 3:00
BARBARA SUKOWA & THE X-PATSYS: DEVOURING TIME
Highline Ballroom
431 West 16th St. between Ninth & Tenth Aves.
Sunday, September 16
Tickets: $12-$20
212-414-5994
http://www.highlineballroom.com
Sunday, November 18 Performa 07 presentation featuring Sean Conly, Anton Fier, Robert Longo, Jon Kessler, and Anthony Coleman joining Barbara Sukowa for a night of song and spoken word, 9:00
THE ART OF JAZZ DANCE
Tribeca Performing Arts Center
Borough of Manhattan Community College
199 Chambers St.
Admission: free
212-220-1460
Tuesday, November 20 Jazz Scenes Through the Cinema Lens, featuring film clips and an informal Q&A moderated by Krin Gabbard, 8:00
CinémaTuesdays: FASHION ICONS
French Institute Alliance Française, Florence Gould Hall
55 East 59th St. between Park & Madison Aves.
Through November 27
Tickets: $10
212-355-6160
Tuesday, November 20 BREATHLESS (A BOUT DE SOUFFLE) (Jean-Luc Godard, 1960), 12:30 & 7:00
Tuesday, November 20 SUBWAY (Luc Besson, 1985), 4:00 & 9:00
Tuesday, November 27 FUNNY FACE (Stanley Donen, 1957), 12:30, 4:00 & 7:00
Tuesday, November 27 IN & OUT OF FASHION (William Klein, 1998), 9:00
BIG BALLOON BLOW-UP
Central Park West to Columbus Ave. between 77th & 81st Sts.
Admission: free
212-494-4495
Wednesday, November 21 Annual inflation-eve blow-up of Thanksgiving Day Parade balloons, 3:00 — 10:00 (time approximate)
MACY'S THANKSGIVING DAY PARADE
77th St. & Central Park West to 34th St. & Seventh Ave.
Public viewing areas: Broadway between 38th & 58th Sts., 34th St. between Broadway & Seventh Ave., 70th St. from Central Park West to Columbus Circle
Admission: free
212-494-4495
Thursday, November 22 Eighty-first annual Macy's Thanksgiving Day Parade, with lip-synching celebrities, high school marching bands, and plenty of old and new floats, 9:00 am
GOTHAM AWARDS: JAVIER BARDEM
BAMcinematek
BAM Rose Cinemas
30 Lafayette Ave. between Ashland Pl. & St. Felix St.
718-636-4100
Friday, November 22 THE DANCER UPSTAIRS (John Malkovich 2002), 6:20, 9:15
Saturday, November 24 LIVE FLESH (CARNE TREMULA) (Pedro Almodóvar 1997), 6:50, 9:15
Sunday, November 25 MONDAYS IN THE SUN (LOS LUNES AL SOL) (Fernando León de Aranoa 2002), 6:50, 9:15
Monday, November 26 BEFORE NIGHT FALLS (Julian Schnabel 2000), followed by a Q&A with Javier Bardem, moderated by Julian Schnabel, 7:00
DAVE BRUBECK QUARTET
B.B. King Blues Club, 237 West 42nd St.
Friday, November 23, $70, 8:00
Blue Note, 131 West Third St.
Saturday, November 24, tables sold out, $50 bar, 8:00 & 10:30
212-475-8592
Friday, November 23
and
Saturday, November 24 A rare club appearance by the Dave Brubeck Quartet, featuring Dave Brubeck on piano, Robert Militello on alto sax and flute, Michael Moore on bass, and Randy Jones on drums
A PRAIRIE HOME COMPANION
The Town Hall
123 West 43rd St. between Sixth Ave. & Broadway
Tickets: $57-$63
212-608-0555
http://www.the-townhall-nyc.org
Saturday, November 24 Live Radio Broadcast with Garrison Keillor and guests the Del McCoury Band, 5:45
JERRY LEE LEWIS
B.B. King Blues Club & Grill
237 West 42nd St. between Seventh & Eighth Aves.
Tickets: $125
212-997-4144
Saturday, November 24 The Killer takes the stage at B.B. King's, $95, 8:00
MATZO & MISTLETOE
Museum of the City of New York
1220 Fifth Avenue at 103rd St.
Free with museum admission of $9
212-534-1672 ext3395
Sunday, November 25 Screening of MATZO & MISTLETOE (Kate Feiffer, 2007), followed by a discussion with Feiffer about her parents (her father is Jules Feiffer), family friends Mike Wallace and Alan Dershowitz, and others, 2:00
WINTER'S EVE AT LINCOLN SQUARE
Broadway from Time Warner Center to 68th St.
Admission: free
212-581-3774
The eighth annual Lincoln Square celebration features a scavenger hunt, live performances, ice sculptures, food tastings from two dozen area restaurants, children's storytelling, card-making workshops, and more, beginning at 5:30. Below are only some of the special events.
Monday, November 26 Big Apple Circus, Circus to Go! Clowns, with Lulu and the Professor, Times Warner Center, second floor, 6:00 & 7:00
Monday, November 26 Food tastings ($1-$4) from such restaurants as Asiate, Café des Artistes, Café Gray, Landmarc, Rosa Mexicano, Sushi a-go-go, and others, under canopies in front of the Time Warner Center and Richard Tucker Square (Broadway between 65th & 66th Sts., 6:00 — 8:00
Monday, November 26 New Orleans' Hot 8 Brass Band and the Hungry March Band, Dante Park, Broadway at 63rd St., 6:00 — 9:00
Monday, November 26 Richie Havens, the Hall at the Church of Jesus Christ of Latter-day Saints, 125 Columbus Ave. at 65th St., 7:00
Monday, November 26 Emily King, Best Buy, 1880 Broadway at 62nd St., 7:00
Monday, November 26 Historic church tour, Church of St. Paul the Apostle, Columbus Ave. at 60th St., 6:30, followed by a Christmas concert at 7:30
HOLIDAY LIGHTING
World Financial Center Winter Garden
225 Vesey St.
Admission: free
212-945-2600
http://www.worldfinancialcenter.com
Tuesday, November 27 Featuring the Dexter Allgood Singers, 6:30
TREE LIGHTING CEREMONY
Rockefeller Plaza West
West 48th & 51st Sts. between Fifth & Sixth Aves.
Tree will remain on view through January 8, daily from 5:30 am — 11:30 pm
Admission: free
212-632-3975
http://www.rockefellercenter.com
Wednesday, November 28 Seventy-fifth annual event, featuring live performances, celebrities, and more, 7:00
PopRally
Museum of Modern Art Café 2
11 West 53rd St. between Fifth & Sixth Aves.
Tickets: $8-$10
Wednesday, November 28 A Night with Gert and Uwe Tobias, featuring a cocktail party, a viewing of the new exhibitions "Projects 86: Gert & Uwe Tobias" and "Multiplex: Directions in Art, 1970 to Now," with a live performance by Lewis & Clarke and a gift for every attendee, 8:30