Twi-ny, This Week In New York
"These are the Warriors. They're from Coney Island. Now they're in the Bronx — twenty-seven miles behind enemy lines. Between them and safety stand twenty thousand cops and a hundred thousand sworn enemies. They've got one way out. They've got one chance. They've got one night."
— Narration in original theatrical trailer to THE WARRIORS (Walter Hill, 1979), now available on Ultimate Director's Cut DVD

THE PLAIN OF HEAVEN
820 Washington St. at Gansevoort St.
Fridays, Saturdays & Sundays through November 20, 12 noon — 6:00 pm
Admission: free

Even if you don't get or care about contemporary conceptual art, this unique exhibit is worth going to just to experience the space itself. The show is in a former meatpacking plant that looks as if the company bolted in the middle of the night (which is pretty much what it did, about four years ago), leaving behind signs, clothing, equipment, and safety instructions. (Our favorite: "Table for Pork Only.") The site-specific installations (not all of which were created for this exhibition) by the fourteen artists encompass sight, sound, and touch, including sculpture, drawing, film, painting, audio, and even dance, commenting on impermanence, space in transition, construction and deconstruction, and beginnings and endings, evoking the past, present, and future of the High Line. (Built between 1929 and 1934, the High Line is an elevated rail line that ran downtown from 34th St. and now goes as far as Gansevoort, ending right above the warehouse that is home to the exhibition. After a long, hard fight with the city, the Friends of the High Line have managed to keep the High Line from the wrecking ball; it is being developed as an open public space.)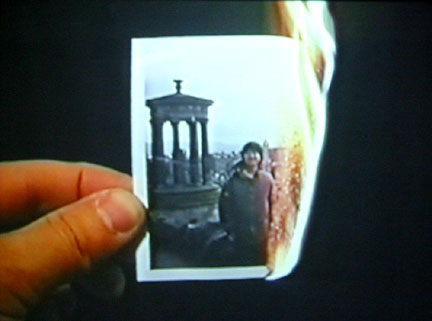 twi-ny/mdr
Flame brings tourist photos back to life

Curated by Creative Time, the exhibit includes a wide-ranging collection of art scattered throughout multiple floors of this abandoned building, so check out every nook and cranny, every dark room (and the balcony that offers a view of the High Line itself). Corey McCorkle's documentary "Preah" follows the artist as he goes to Cambodia in search of a white cow that is reputed to have healing abilities. Song Dong's "Burning Photograph" is a film of the artist holding up pictures of himself taken at international tourist landmarks (the Eiffel Tower, Trafalgar Square) as they burn backward — instead of disintegrating before our eyes, the photos are seemingly brought to life by fire, signaling hope for the future of the High Line. You'll want to walk right into Adam Cvijanovic's large-scale landscape "The Union-Pacific Main Line (Laramie, Wyoming)," which features midwestern railroad tracks heading east, as if on their way to hook up with the High Line. In one of the smokehouse rooms, Adam Putnam has set up "The Way Out," a video of repeating space that, although it is not an escape, does lead to a light at the end of the tunnel.
Leandro Erlich's "Las Puertas (The Doors)" consists of four doors across a dark room, with a bright, inviting light emanating from the keyholes and under each doorframe, but you're in for a subtle surprise when you open one up. Take your time listening to O. Winston Link's untitled soundscape of a train coming closer and then speeding past; when the train whistle blows, it is actually because the conductor has caught sight of Link and his audio equipment. William Forsythe's "Nowhere and Everywhere at the Same Time" involves Brock Labrenz performing interpretive dance live among dozens of hanging pendula as he becomes part of this environment, weaving in and around them. Helen Mirra has transformed a huge freezer into a mysterious yet intimate space where her musical composition "Green break" plays, using bass harmonica, mouth harp, and whistling that gives life to the room; as you lose yourself in the sounds, you'll slowly be able to see more through the darkness. We actually whistled ourselves, and it gave us the creeps, as it sounded like we were having a conversation with Mirra's prerecorded music.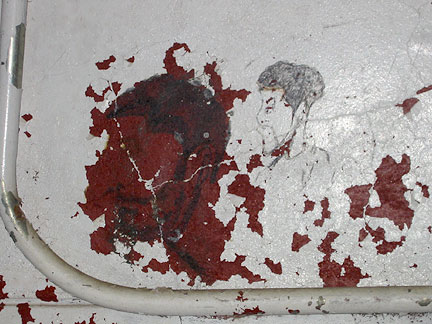 twi-ny/mdr
Wall drawing of two dudes is not part of exhibit but is worth checking out

There are also works by Sol LeWitt (which will remain after the show is over), Gordon Matta-Clark, Shannon Ebner (whose posters inspired by ice glaciers are available to the public, who will help make the pile disappear much as the world's ice glaciers are disintegrating), and Saskia Olde Wolbers. Paul Ramirez Jonas's "Water Thief," a glowing tank that drips water onto the fading warehouse floor, will run dry right around the time the exhibition closes on November 20. Also on November 20, at 5:40, Trisha Donnelly will play a twenty-minute sound piece that will echo throughout the building, calling an end to the exhibit as a whole but also peering ahead into the future of this unique space — which will eventually be taken over by the Dia Art Foundation. The accompanying catalog ($10) includes a fascinating essay by curator Peter Eeley on "the desire we have for inaccessible spaces, and what happens after we discover them," citing, among others, Henry David Thoreau, Thomas Cole, Robert Smithson, Matta-Clark, Jules Verne, and Raymond Carver. (E-mail us at admin@twi-ny.com if you'd like to take our free Kodak Gallery online tour of the space and the surrounding area.)

In the Neighborhood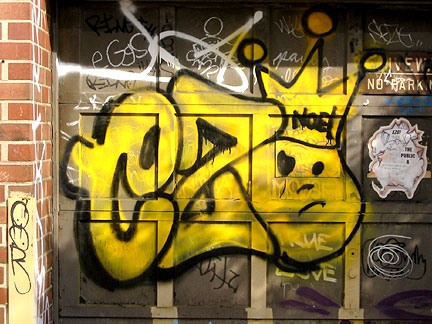 twi-ny/mdr
EZO contributes to the neighborhood at corner of West 4th, 13th & Gansevoort
GRAFFITI ART
Admission: free

Be sure to walk around the meatpacking area, where you'll see lots of old and new graffiti on trucks, walls, doorways, and security gates. Some are corporate sponsored, like Tat's Cru's playground map made for a credit-card company, but most are put there for fun and pleasure. You never know what you'll find at every corner, especially around the 820 Washington St. warehouse and down by Little West 12th St. as well as at the intersection of West Fourth, West Thirteenth, and Gansevoort Sts.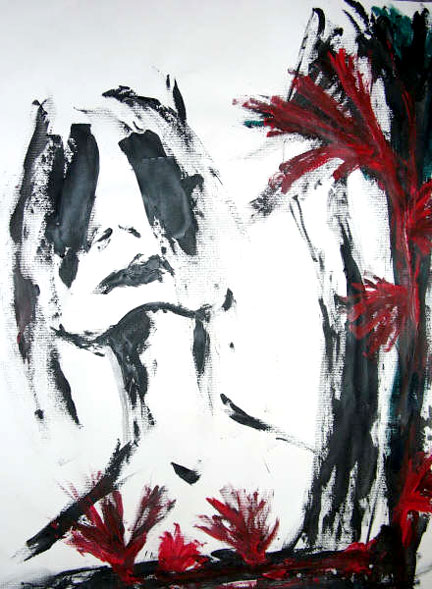 hpgrp
There is beauty in the stark eyes of "The Beholder"
CORALINA CATALDI TASSONI: GODS WILL CHANGE
hpgrp
32-26 Little West 12th St., second floor
November 9-15
Admission: free
212-727-2491
Manhattan-born Coralina Cataldi Tassoni has been making her mark in low-budget Italian horror films since she was a teenager, appearing in such frightmares as DEMONI 2 (Lamberto Bava, 1986), OPERA (Dario Argento, 1987), IL BOSCO (EVIL CLUTCH) (Andreas Marfori, 1988), and IL FASTASMA DELL'OPERA (Dario Argento, 1998). She has released a music CD, LIMBO BALLOON (which includes the ballad "Argento") and written poetry, and now her artwork will be on view for a week downtown. Her paintings feature eerie, ghostlike, mystical women, focusing on their long, incomplete faces, some more abstract than others, none of them looking very happy, as if they are each part of some unspoken nightmare. Cataldi Tassoni also designs the unique frames, which are made specially for her by Romanian sculptor Ionut Pinzari. Each of the characters in her scary yet mesmerizing world "ultimately becomes me through some form of transference. The form is just a symptom," she explains, The show's name comes from one of her poems, "Gods Will Change," in which she writes, "Sacred rhymes / Will lay you down to sleep / And someone's dreams of you / Will resurrect and protect / What the future keeps / Gods will change / And you will lay / So close to me as sacred rhymes / Protect the sea." Cataldi Tassoni will be on hand at the exhibit's opening party on Wednesday, November 9, at 6:00.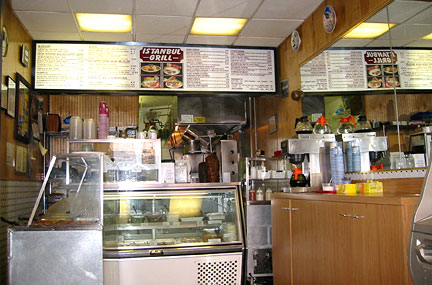 twi-ny/mdr
Istanbul Grill makes choice chicken gyros
CHICKEN GYRO AT ISTANBUL GRILL
310 West 14th St. between Eighth & Ninth Aves.
Price: $4.75
212-463-8626
http://www.istanbulgrillny.com

This small, friendly takeout shop with an adjoining sit-down restaurant offers such traditional Turkish fare as humus, tabouleh, lebni, felafel, borek, kebabs, manti, and baklava, but we go there for the awesome chicken gyro sandwich. Carved off the upright rotisserie and excellently grilled, a healthy amount of tasty chicken is stuffed into a pita with lettuce and tomatoes yet somehow does not fall apart as you dig in. We like to sit at the one tiny table overlooking busy 14th St. and liberally add yogurt and spicy sauces after each big bite. This chicken doner is quickly becoming one of our favorite sandwiches in the city.
Museum Exhibit of the Week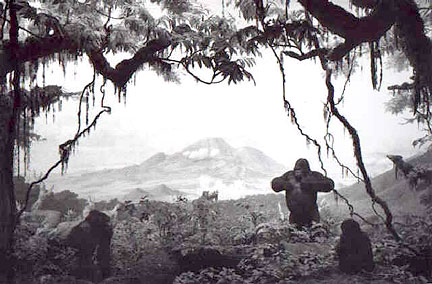 Japan Society
Hiroshi Sugimoto, "Gorilla," part of "Cause and Effect in Black and White"
HIROSHI SUGIMOTO: HISTORY OF HISTORY
Japan Society
333 E. 47th St. at First Ave.
Through February 19
Closed Monday
Admission: $12
212-832-1155
http://www.japansociety.org/events/current.cfm

Hiroshi Sugimoto expands the concept of historical objects and art history itself in this fascinating exhibit he has curated for the Japan Society. Combining his own artistic work — primarily photography — with pieces from his private collection, he has put together a diverse display of not only history but the way history is recorded. The show begins at the beginning of time, with a room of fossils that go back more than five hundred million years; Sugimoto, who sees fossils as the oldest form of art, also believes that "photography is a process of making fossils out of the present," as he writes in the excellent pamphlet that accompanies the exhibit. That idea melds right into the next, narrow room, which houses Sugimoto's "Cause and Effect in Black and White," a dozen photos that question "deistic cosmogenesis" while detailing the history of homonids from the Cambrian period through gorillas, Neanderthals, the royal family, and the Hiroshima bombing before ending with a peaceful nature scene of birds in trees. Sugimoto creates these portraits by photographing dioramas and wax figures, making them appear real.
Among the historical objects in gallery II are a ghostly clay figure from the early Jomon period; "Testament of a Penis," a thousands-year-old large, phallic stone rod placed on a hospital gurney; and "Treasure Pagoda with Seaview Crystal Ball." Sugimoto takes a miniature thirteenth-century Kamakura period pagoda and places a crystal ball inside it, through which you can see one of his seascapes — a shot of the Caribbean with a horizon line separating air from water, evoking the duality of the yin-yang — molding past, present, and future in one gaze. Sugimoto next examines Japanese religious history, featuring the marvelous wood sculpture "Self-Portrait of Priest Mongaku," which is not a self-portrait (notice how the flow of the wood grain coincides with and emphasizes such body parts as the knees and the elbows); "Time's Arrow," in which he places one of his tiny seascapes into a thirteenth-century Buddhist reliquary; a beautiful scroll depicting a religious pilgrimage to Ise Shrine; and a "Fragment of the Myoe Dream Diary," written in poetic calligraphy. Continue on to a room where a half-dozen masks share space with a pair of captivating lithographs of pine trees that Sugimoto has mounted on scrolls, paying homage to Hasegawa Tohaku's sixteenth-century "Pine Forest" screens. The last room includes a case that holds Sugimoto's photographs of "Henry VIII and His Six Queens," which in and of themselves question the nature of history and reality, a fitting conclusion to a thought-provoking, intelligent, fun, and revelatory must-see exhibition.
Also at Japan Society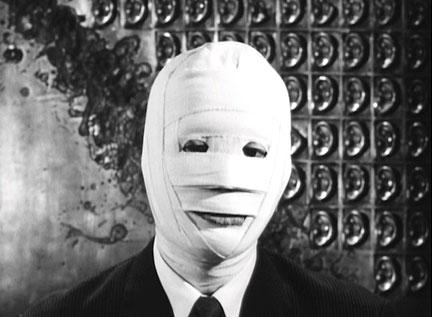 © TOHO CO., LTD.
Hiroshi Teshigahara's THE FACE OF ANOTHER screens November 13 & 20
HIROSHI SUGIMOTO FILM SERIES:
THE MOVING IMAGE OF MODERN ART
Japan Society
November 11 — December 11
Tickets: $10; five-film pass $40
212-832-1155
http://www.japansociety.org/events/category.cfm?id_category=1

In conjunction with "History of History," Hiroshi Sugimoto has selected seven Japanese films made between 1933 and 1973 that he calls "less cinema verite, more theatrical," comparing them to the birth of ancient myths. Most of these films are not available on DVD or VHS, so this is a great chance to catch them on the big screen. Sugimoto himself will be on hand at the December 2 screening of Kenji Mizoguchi's THE WATER MAGICIAN, offering live closing narration.
Friday, November 11 TOKYO KID (Torajiro Saito, 1950), 7:30
Sunday, November 13 TOKYO DRIFTER (TÔKYÔ NAGAREMONO) (Seijun Suzuki, 1966), 2:00
Sunday, November 13 THE FACE OF ANOTHER (TANIN NO KAO) (Hiroshi Teshigahara, 1966), 3:45
Saturday, November 19 BLIND BEAST (MÔJU) (Yasuzo Masumura, 1969), 2:00
Saturday, November 19 TOKYO DRIFTER (TÔKYÔ NAGAREMONO) (Seijun Suzuki, 1966), 3:45
Sunday, November 20 THE FACE OF ANOTHER (TANIN NO KAO) (Hiroshi Teshigahara, 1966), 2:00
Sunday, November 20 BLIND BEAST (MÔJU) (Yasuzo Masumura, 1969), 4:20
Friday, December 2 THE WATER MAGICIAN (TAKI NO SHIRAITO) (Kenji Mizoguchi, 1933), silent film with live music, featuring live closing narration by Hiroshi Sugimoto, 7:30
Sunday, December 4 THE WORLD OF GEISHA (YOJOHAN FUSUMA NO URABARI) (Tasumi Kumashiro, 1973), 2:00
Sunday, December 4 TEN DARK WOMEN (KUROI JUNIN NO ONNA) (Kon Ichikawa, 1961), 3:30
Sunday, December 11 TEN DARK WOMEN (KUROI JUNIN NO ONNA) (Kon Ichikawa, 1961), 2:00
Sunday, December 11 THE WORLD OF GEISHA (YOJOHAN FUSUMA NO URABARI) (Tasumi Kumashiro, 1973), 4:00
EDUCATION
Japan Society
Toyota Language Center
Registration deadline: November 11
212-715-1256/1273
http://www.japansociety.org/education/language_series.cfm?id_course_series=344843381&id_course_term=881129794&r_flag=yes
Saturday, November 12, 19
and
Sunday, November 13, 20 Three Japanese Intensive Weekend Courses, for beginners, intermediates, and those more fluent, 11:00 am — 4:30 pm
ARTS & CULTURE
Japan Society
http://www.japansociety.org/events/category.cfm?id_category=9
Wednesday, November 30 Innovators: Otaku Unmasked — The Life, Death & Rebirth of Japan's Pop Culture, with Dai Sato and Hiroki Azuma, moderated by Douglas McGray, panel discussion followed by a reception, $10, 6:30
Thursday, December 1 Inside the Studio: Hiroshi Sugimoto, introduced by Sylvan Barnet, $15, 6:30
Thursday, December 8
and
Friday, December 9 Shamisen Festival! Miyako Itchu: Traditional Shamisen Ensemble, $35, 7:30

Saturday, December 10 Shamisen Workshop for Composers with Miyako Itchu, $40, 10:30 am
In the Neighborhood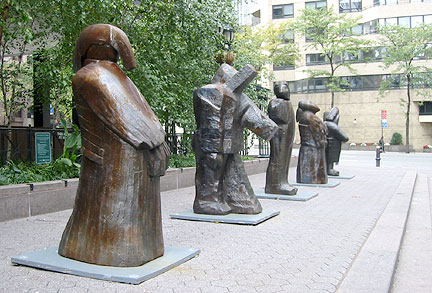 twi-ny/mdr
Hear no evil, speak no evil in Dag Hammarskjöld Plaza
FRANCISCO LEIRO: SILENT DIALOGUE
Dag Hammarskjöld Plaza
Second Avenue at 47th St.
Through November 30
Admission: free
212-360-8163
http://www.nycgovparks.org/sub_things_to_do/attractions/public_art/pa_temporary_exhibits.html#francisco_leiro
http://www.marlboroughgallery.com/artists/leiro/artwork.html

This summer marked former UN Secretary-General Dag Hammarskjöld's centenary, and you can pay tribute by visiting these five sculptures that stand atop the steps at the southwest corner of the plaza named after him. Spanish artist Francisco Leiro, who was born in Cambados, Spain, and works there as well as in New York City, has lined up a row of five cast-iron sculptures collectively known as "Silent Dialogue," abstract figures that recall allegorical and historical characters. On the far left is "Caracalla," who cuts a bold swath, arms crossed at the front, firmly in control. The piece is named after the brutal Roman emperor whose actions bring to mind those perpetrated by some of today's power-hungry military dictators. Next to "Caracalla" is "Speechless I," "Speechless IV," "Speechless II," and "Speechless III," an expressive, mouthless quartet of silence, as if their right of free speech (but not free demonstration) has been taken away by the Roman despot. The work of Leiro, who cut his teeth as a youngster kneading dough in his grandmother's bakery and helping out in his grandfather's carpentry shop, has been given an appropriate place, not only in Dag Hammarskjöld Plaza but in the shadow of the UN, for whom Hammarskjöld served to promote the cause of peace throughout the world. The Swedish native was killed under suspicious circumstances while on a cease-fire mission to Northern Rhodesia in 1961 and was awarded the Nobel Peace Prize later that year.
KARAOKE @ KEATS
Keats Pub
842 Second Ave. at 45th St.
212-682-5490
http://www.keatsrestaurant.com
This Irish pub and restaurant just a few blocks from the Japan Society turns into a karaoke bar on Thursday, Friday, and Saturday nights. For those of you who love this sort of thing (we don't), you can prepare by visiting the above Web site, where you can find a list of all available songs for you to embarrass yourself to after a few too many pints. Might we suggest Cutting Crew's "(I Just) Died in Your Arms Tonight," Engelbert Humperdinck's "After the Lovin'," and Bonnie Tyler's "Total Eclipse of the Heart"?
Thursday nights Hosted by Emily, 10:00 pm — late
Friday nights Hosted by Dan "the Man" Canavin, 9:00 — late
Saturday nights Hosted by Jackie, 9:00 — late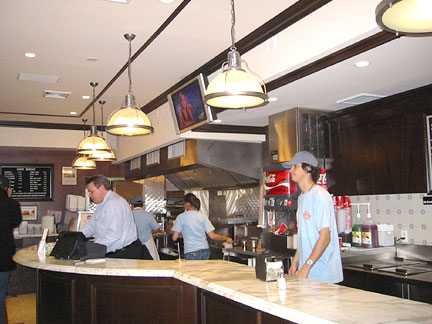 twi-ny/mdr
Goodburger delivers on its promise of good burgers
GOODBURGER
800 Second Ave. at 43rd St.
212-922-1700

Nick Tsoulos, of Patsy's Pizza fame, has set up shop on this busy corner near the UN, where he grills some of the best burgers in the neighborhood. The thick, well-rounded, tasty burgers come on soft buns that hold the juicy sandwich together, which is not that easy to do when you order it with everything — lettuce, tomato, ketchup, pickles, onions, mayo, and mustard. (We'll have ours without the yellow stuff, thank you very much.) However, the burgers are a little small, so they're priced a tad high at $4.75 all by themselves. (Purists will find them very similar to those being offered by the Burger Joint at Le Parker Meridien and the Shake Shack in Madison Square Park.) But throw in thin, crispy fries and a soda and it's not such a bad combo for eight bucks. (You can also get grilled cheese or grilled chicken.) The old-time New York City feel is enhanced by a menu that also includes egg creams, root beer floats, black cow milkshakes, and lime rickeys. Next time you're hankering for a hamburger, forget the Wendy's and McDonald's down the street and stop in at this good burger joint, which even honors the greatest burger eater of them all, Popeye's buddy Wimpy.
Culinary Event of the Week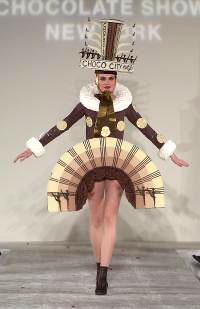 Geert Teuwen
Brasserie 8 1/2's Martin Howard
always does something special
at the Chocolate Show
THE EIGHTH ANNUAL CHOCOLATE SHOW
Metropolitan Pavilion
125 West 18th St. between Sixth & Seventh Aves.
November 10-13
Tickets: $20
212-889-5113
http://www.diffa.org/chocolateshow.htm

This event gets more popular every year, packing them in like crazy, so be prepared for long lines to get in and mobs at certain booths, especially when they're offering free samples. Among our favorite exhibitors are Chocolate Bar, Chocolat Moderne, Cote D'Ivoire, Dagoba Chocolates, Garrison Confections, Gold Star Chocolate, Guittard Chocolate Company, Jacques Torres, Knipschildt Chocolatier, Martine's, Mary's of Japan, Payard, and Sweetbliss, and there are dozens and dozens more — but the freebies are getting harder and harder to find, so be on the lookout. As always, there will be two stages where culinary demonstrations and lectures are scheduled. They go on all day long, and presenters include Jacques Torres, François Payard, Bill Yosses of Joseph's, Nicole Kaplan of Eleven Madison Park, Martin Howard of Brasserie 8 1/2, Beth Kimmerle, author of CHOCOLATE, THE SWEET HISTORY, Andrew Shotts of Garrison Confections, Vicki Weiss of Mesa Grill and Bolo, Jehangir Mehta of AIX, Nick Malgieri from the Institute of Culinary Education, Eric Hubert from L'Atelier, Johnny Iuzzini from Jean Georges, Sam Mason from WD-50, and Claudia Fleming, among many others. There will also be a Chocolate Art Walk, a B&N signing booth, the new Chocolate Spa (chocolate massage, anyone?), and a fashion gallery that pairs chocolatiers with designers to create unique, bizarre, yet tasty haute couture.
In the Neighborhood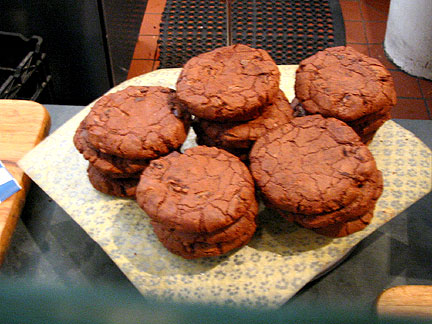 twi-ny/mdr
City Bakery's homemade melted chocolate chip cookies are the best in town
CITY BAKERY MELTED CHOCOLATE CHIP COOKIES
3 West 18th St. between Fifth & Sixth Aves.
Admission: free
212-366-1414

We like to go into City Bakery to hang out in the Chocolate Room, have a pain au chocolat, and watch the chocolate wheel spin round and round, making lots of awesome, gooey chocolate. As long as you're already at the Chocolate Show, add this sweet spot to your itinerary. We never leave without a few melted chocolate chip cookies, which are half batter, half chocolate. They are magnificent, heavenly, incredible, divine, miraculous, and unforgettable. And they're good, too.
LIKE CHOCOLATE FOR WATER
WaterAid America
Remy Toledo Gallery
529 West 20th St. between Tenth & Eleventh Aves., eighth floor
646-344-7201
http://www.eventme.com/Ticketing.aspx?Event=2vxf5iF9%2BP8
Thursday, November 10 Cocktails, dessert, chocolate tastings, and more, with David Siegel, benefiting organization that provides safe domestic drinking water around the world, $75, 8:30
ANNE TERESA DE KEERSMAEKER: ONCE
The Joyce Theater
175 Eighth Ave. at 19th St.
Tuesday through Saturday at 8:00, Sunday at 2:00
Tickets: $36
212-242-0800
http://www.joyce.org/keersmaeker05.html
We love Belgian chocolate, so this Belgian dancer's work fits right in with our chocolate weekend.
Wednesday, November 9
through
Sunday, November 13 Belgian dancer and choreographer in a special solo performance
TIBET HOUSE CULTURAL CENTER EVENTS
22 West 15th St. between Fifth & Sixth Aves.
Closed Saturday & Sunday
Admission: free unless otherwise noted
212-807-0563
http://www.dakiniunlimited.com
Chocolate is a natural high, something that can give you inner satisfaction deep inside. Others seek inner peace through Buddhism and meditation the Tibet way. It is also important to note that both meditation and really good dark chocolate can improve your brain chemistry.
Wednesday, November 9 Approaching Buddhism from Your Own Perspective: Q&A with Ven.Lama Pema Wangdak, 7:00
Thursday, November 10 Geshe Nyima Dakpa Rinpoche, OPENING THE DOOR TO BÖN: AN INTRODUCTION TO BÖN & ITS HISTORY, reading and book signing, 7:00
Friday, November 11 Four Boundary-less Practices of Bön, with Latri Kenpo Nyima Dakpa Rinpoche, $20, register at 212-219-2527, 7:00
NINTH ANNUAL CHELSEA ART CRAWL
Meet at Feigen Gallery
535 West 20th St. between Tenth & Eleventh Aves.
Tickets: $50 in advance, $65 day of tour
212-431-1622
http://www.remahortmannfoundation.org/Events/events.html
Saturday, November 12 Tour Chelsea galleries, with all proceeds going to Rema Hort Mann Foundation, which raises money for cancer and art grants, 12 noon
Photography Show of the Week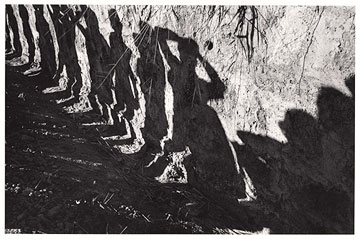 © Susan Meiselas/Magnum, Collection of the ICP
Susan Meiselas, "Soldiers search bus passengers along
the Northern Highway, 1980"
EL SALVADOR: WORK OF THIRTY PHOTOGRAPHERS
International Center of Photography
1133 Sixth Ave. at 43rd St.
Closed Mondays
Through November 27
Admission: $10
212-857-0000
http://www.icp.org/site/c.dnJGKJNsFqG/b.1026823/k.9432/El_Salvador.htm

In 1984, ICP presented the work of thirty photojournalists detailing the horrors occurring in El Salvador following the 1979 coup and the assassination of Archbishop Oscar Romero. Twenty-one years later, the exhibition is back, as a record of what happened there, as a reminder that things are still in disarray in the Central American nation, and as a comparison with current U.S. involvement in Iraq and Afghanistan. It is a stunning compilation of powerful black-and-white photos, accompanied by news reports that reveal how long it took for the word of what was really happening in El Salvador to be recognized by the America media and the Reagan administration. John Hoagland finds two girls lying by the side of the road, hands eerily behind their backs, faces down in the ground. Michel Setboun snaps guerrillas training civilians in formation. Oswaldo Iten photographs two murdered students lying in a university hallway. Harry Mattison shoots the funeral of Romero close-up, revealing the heartbreak and outrage of individual people, Etienne Montes shows it from far away, capturing the mass outpouring of grief and pain. The words of poet Carolyn Forché dramatize emotions in both English and Spanish.
Susan Meiselas's shot of a red door with white handprints on it reveals the mark of the death squads. Meiselas, who helped put together the original book and exhibit with Mattison, also has on display several photographs of Mozote, the site of a controversial mass murder by government soldiers of hundreds of people in small villages, including an alarming number of young children. Don't miss the monitor next to the reading couch, where you can watch Pedro Linger Gasiglia's brand-new twelve-minute documentary "The Massacre at El Mozote: Twenty Years Later," which offers first-person accounts of the horrors as well as the media's lack of coverage. But among all the brutality and killing, perhaps the most memorable shot of all is Mattison's photo of an adorable little toddler, standing and balancing in a man's hand, facing the camera, with children smiling up at him, taken in the neighborhood called "La Fosa," or "The Grave."

Also at ICP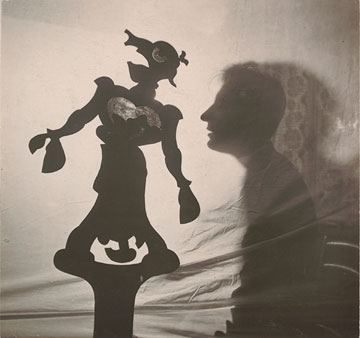 André Kertész, "Géza Blattner, 1925"
© Estate of André Kertész and the Jeu de Paume/French Ministry for Culture and Communication, The Museum of Modern Art, New York Thomas Walther Collection, Gift of Thomas Walther
ANDRÉ KERTÉSZ
International Center of Photography
Through November 27
http://www.icp.org/site/c.dnJGKJNsFqG/b.1015437/k.8EE8/Andre_Kertesz.htm

Budapest native André Kertész (1894 — 1985) seemingly fell in love with the camera from the moment he first got one, in 1912, and he continued taking naturalistic picture of real life through his time in Paris and his many years in New York, where he died in 1985. Kertész brought his camera with him while serving in the army during WWI, sending back photos of a soldier with a cello, four men sitting side by side using an outdoor latrine, and a street sweeper in Esztergom. Upon his return, he regularly used his brother, Jenö, as a model, including posing him as Icarus flying above a body buried in the sand and as a dancing faun along the horizon. He captured real moments, like a caped man facing the clouds in Dunaharaszti. Kertész moved to Paris in 1925, where he expanded his range, photographing dancer Magda Förstner, who could barely be contained within the frame. The Eiffel Tower is barely visible in the distance through the fog. Stairs cast an intricate shadow in Montmartre, as do chairs in the Luxembourg Gardens; even the shadows of a fork leaning on a plate intrigued Kertész. He also snapped photos in Mondrian's studio. In the late 1920s he got a handheld Leica; the freedom of movement set him loose on the city, photographing twisting trees in Siesta and a narrow street with a train crossing a bridge in the distance. In the early 1930s, he compiled a series of nude shots using funhouse mirrors, resulting in the unique "Distortions."
In 1936, Kertész headed to New York, where he found it difficult to get published, eventually taking a job with House and Garden magazine. In one of his many self-portraits, he is looking out of his window from his room in the Hotel Beaux-Arts, clearly nervous about what awaits him outside. But wandering the streets, he took wonderful shots around Rockefeller Center, Central Park, and Carl Schurz Park. In "Disappearing Act," he manipulated images to make it look like only the bottom half of a body is walking up stairs at the beach. In the 1960s, he caught Washington Square Park and MacDougal Alley draped in snow, and a dozen men under umbrellas in a lined, crossing the street by a traffic arrow in "Rainy Day, Tokyo." And he continued taking shadowy self-portraits that still amaze today. In 1985, the year of his death, he was named the very first ICP Master of Photography. Note: The vast majority of these photos are extremely small, so be prepared.
MODERNIST PHOTOGRAPHY:
SELECTIONS FROM THE DANIEL COWIN COLLECTION
International Center of Photography
Through November 27
http://www.icp.org/site/c.dnJGKJNsFqG/b.1026839/k.6C76/Modernist_Photography.htm

These sixty-six images amassed from the Daniel Cowin Collection form a hodgepodge of photos, mostly from the 1920s and 1930s, that examine experimentalism, urbanization, the war, advancements in technology, political propaganda, and social realism. In the background of Rosalie Gwathmey's photo of a woman sitting in a rocking chair outside her very simple home, a movie poster announces the opening of Cecil B. DeMille's REAP THE WILD WIND. Dorothea Lange finds an abandoned Texas tenant house in the middle of the prairie. Walker Evans stops by a soda shack in Alabama. Jack Delano captures an older couple tailgating at a Vermont state fair; although they are not the picture of success and happiness, a box of coffee in their trunk promises "Bliss" (the brand name). Check out the differences in the two Theodore Jung shots of pot-bellied stoves. It doesn't get much creepier than Hans Bellmer's "The Doll" (except, of course, for his doll sculptures themselves). Carl Strüwe's three microphotonistic studies are mighty cool. Spend some time with Harry Bedford Lemere's six photos of women making artillery in a Cunard Shell Works factory in Liverpool during WWI. Among the other photographers represented in this collection are Berenice Abbott, Gordon Parks, Ben Shahn, László Moholy-Nagy, and Brassaï.
SLIDE FEST: SPEAKING OF BOOKS
The School at ICP
1114 Sixth Ave. at 43rd St.
212-857-0001
http://www.icp.org/site/c.dnJGKJNsFqG/b.886227/k.9EDD/Lectures_amp_Public_Programs.htm
Friday, November 11 Showcase of new photography books, moderated by Harvey Stein, $3, preregistration strongly suggested, 7:00
WORKSHOPS
The School at ICP
1114 Sixth Ave. at 43rd St.
212-857-0001
http://www.icp.org/site/c.dnJGKJNsFqG/b.732139/k.C67A/School.htm
The School at ICP offers workshops nearly every weekend, but they are truly for those very serious about their photography, as the majority of them run between $405 and $745. Below are only a few of the many programs available.
Saturday, November 12
and
Sunday, November 13 Digital Darkroom: From Scan to Print, with Monica Chau, $745 + $30 fee, 10:00 am — 5:00 pm
Saturday, November 19 How to Use Your Digital SLR, with Maynard Switzer, $280 + $15 fee, 10:00 am — 5:00 pm
Saturday, November 19
and
Sunday, November 20 The Creative Process: Finding a Creative Self, with Maria Matthews, $435 + $45 fee, 10:00 am — 5:00 pm
Saturday, December 3
and
Sunday, December 4 Photoshop in Black-and-White, with Shauna Church, $745 + $30 fee, 10:00 am — 5:00 pm
Saturday, December 10
and
Sunday, December 11 Inkjet Printing: Color Management and Calibration, with Per Gylfe, $540 + $30 fee, 10:00 am — 5:00 pm
In the Neighborhood
EVENTS AT THE TOWN HALL
123 West 43rd St. between Sixth Ave. & Broadway
212-840-2824
http://www.the-townhall-nyc.org
Saturday, November 12 Derek Trucks Band, $32.50, 8:00
Sunday, November 13 Roman Kartsev: Farewell America, 7:00
Saturday, November 19 "Nritya-Dhoom" Cinema Style, dance competition based on Hindi film songs, $25-$50, 6:00
Sunday, November 20 Persian Masters: Shahram Nazeri & Hafez Nazeri, $40-$50, 7:00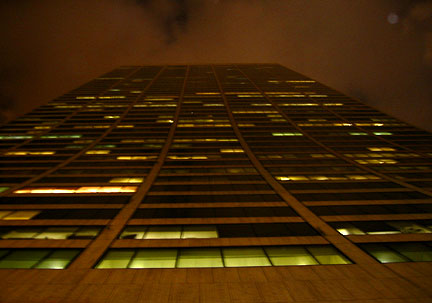 twi-ny/mdr
Angled building is named for former businessman mayor
W.R. GRACE BUILDING
1114 Sixth Ave. at 42nd St.
This fifty-story monolith was constructed in 1974 by Skidmore, Owings & Merrill for W.R. Grace & Co., which was named after William Russell Grace, New York City's first Roman Catholic mayor. Born in 1832 in Queenstown, Ireland, Grace made his fortune expanding business between the United States and Peru. The twice-elected Grace famously fought Tammany Hall and was a mentor to Theodore Roosevelt; he was also the mayor who accepted the Statue of Liberty from France. W.R. Grace & Co., which was founded in Peru in 1854 and today identifies itself as "a premier global specialty chemicals and materials company," has found itself in trouble recently, with seven executives indicted earlier this year because of major asbestos violations. (The case has been commented on publicly by, of all people, Harriet Miers.) Grace also cofounded, with his brother, Michael, the Grace Institute on Second Ave., which has been helping New York women since 1897 "to the end that they may become useful and virtuous citizens."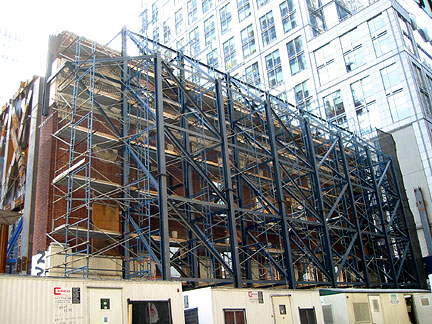 twi-ny/mdr
Facade will be preserved for restored theater in crystalline tower
HENRY MILLER'S THEATRE FACADE
124 West 43rd St. between Broadway & Sixth Ave.
Admission: free
http://www.durst.org/i_bp_theater.asp
Built in 1918 by Allen, Ingalls & Hoffman, Henry Miller's Theatre was home to such shows as THE FOUNTAIN OF YOUTH that year, THE AWFUL TRUTH with Ina Claire, THE COUNTRY WIFE with Ruth Gordon and Anthony Quayle, JANIE directed by Antoinette (Tony Award) Perry, BORN YESTERDAY with Paul Douglas and Judy Holliday, THE ANDERSONVILLE TRIAL with George C. Scott, and ENTER LAUGHING with Alan Arkin and Sylvia Sidney. It was later turned into a movie theater and the Xenon disco. The theater was named not for the author of such novels as TROPIC OF CANCER but for British-born writer / director / producer / actor Henry Miller. It was revived in 1998 as the Kit Kat Klub, where the hit revival of CABARET with Alan Cumming and Natasha Richardson began until it moved to Studio 54. In 2001, URINETOWN! took over the newly renamed Henry Miller's Theatre; shortly after it closed in January 2004, the site was torn down except for the facade, which has been landmarked and will be part of Cook + Fox Architects' reconstructed and restored Henry Miller Theatre that the Durst Organization will include in its new fifty-two-story crytalline Bank of America Tower, which they promise will be "the World's Most Environmentally Responsible High-Rise Office Building."
Riff's Rants & Raves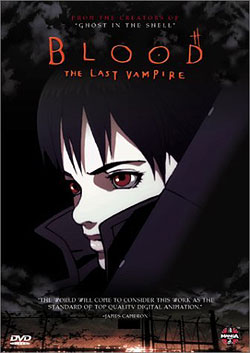 BLOOD: THE LAST VAMPIRE: NIGHT OF THE BEASTS
by Mamoru Oshii ($8.95, Dark Horse, November 2005)
http://www.darkhorse.com/profile/profile.php?sku=10-916

Mamoru (GHOST IN THE SHELL) Oshii continues the story his team began in the 2000 anime hit BLOOD: THE LAST VAMPIRE (see below) in this cool novel, featuring cover art by Katsya Terada, who designed the characters for the film. It's three years later, 1969, and student activists are protesting U.S. involvement in Vietnam. The book starts with a pretty boring examination of activism, so force your way through that to the end of the "Eyewitness" chapter, which concludes with the reappearance of the sword-wielding Saya, who, for some reason, amid lots of blood, does not kill Rei, a young, nonpartisan high school student who has ventured accidentally into a dark alley. Rei keeps his mouth shut about what he saw there because he doubts anyone would believe him, but it keeps getting harder, especially when he's hounded by Goutuda, a curious detective who seems to be hiding things as well. As Rei and his small faction seek to save Aoki from Saya's bloody blade, Oshii takes a fascinating fifty-page detour into the history of Homo sapiens, the meaning of the hunt, and the differences — and similarities — between humans and animals, digging into Descartes and Darwin, Jonathan Swift and Benjamin Franklin, Robin Hood and Karl Marx, Romanticism and the Enlightenment, and, primarily, Raymond Dart and Australopithecus africanus. It's not your typical horror-novel fare, but stick with it, as there's still more blood to come before it's all over. More novels in the series will follow, as well as a Japanese television series that continues these demonic doings.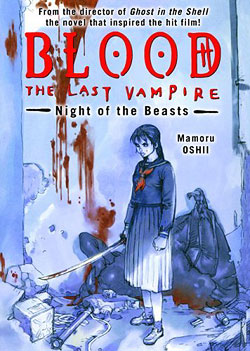 BLOOD: THE LAST VAMPIRE
(Hiroyuki Kitakubo, 2000)
Available on DVD

Oh yes, there will be blood. Halloween might be over, but that shouldn't stop you from checking out this cool anime that successfully blends 2D, 3D, and CGI to create a dark, dense world filled with demons and other delights. It's 1966, and strange things are happening at Yokota Air Force Base as American involvement in Vietnam continues to grow. And the only person who can put an end to the murderous goings-on is a young girl, Saya (Youki Kodoh), who just happens to be the last original. At forty-eight minutes, BLOOD feels more like an episode of a (very good) TV series than a feature-length film, but it's still worth renting — especially if you watch the excellent making-of featurette, in which all the principals take you behind the scenes of this breakthrough production, including director Hiroyuki Kitakubo, Mamoru (GHOST IN THE SHELL) Oshii, who served as supervising producer, Yoshihiro Ike, who contributes a great score, and many of the techno geeks who had a ball making this fun, bloody tale.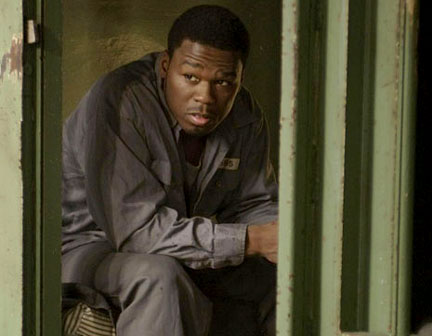 50 struggles to emote in controversial new film
GET RICH OR DIE TRYIN'
(Jim Sheridan, 2005)
Opens in theaters November 9
http://getrichordietryingmovie.com

5O Cent is an amazing rapper. Warren Beatty is an amazing actor. Both use the other's art form for comic effect, but the laughter coming from the audience — and us — while watching 50's cinematic debut was tinged by the sad revelation that this isn't supposed to be a comedy. It makes such rap-to-film movies as COOL AS ICE (Vanilla Ice!) and STATE PROPERTY (the Beanie Sigel flick) look like CITIZEN KANE. The ultraviolence, including an all-nude six-man prison shower stabbing (that seems like it was filmed in a very cold room, for some reason...), cop shootings, teeth being pulled out with a wrench, a post-rape dead woman being set on fire, and a brutally painful rehab from a nine-bullet left-for-dead attack on Marcus (50's Eminem-style avatar), are all nice distractions from the cliche-driven script, derivative plot devices, and 50's "acting." Did we mention that we are huge fans of his? So if we think it's bad, well, then, it's BAAAD. However, the eight minutes of concert-style footage at the end are darn good. You'll be much happier just picking up one of his CDs and skipping this heinous mess, at least until the DVD comes out, which should be any day now. And to think this farce was made by Jim Sheridan, the director behind IN AMERICA, IN THE NAME OF THE FATHER, THE FIELD, and MY LEFT FOOT.
THE WHITE SHADOW: THE COMPLETE FIRST SEASON
Released on DVD November 8

We loved this show when it first began airing in 1978, and we still love it today. From the folks who later gave us ST. ELSEWHERE and previously brought us THE MARY TYLER MOORE SHOW, this controversial drama stars Ken Howard as former NBA player Ken Reeves, whose bad knees have him coaching high school basketball in L.A. to troubled inner-city youths, including Thomas Carter as Hayward, Kevin Hooks as Thorpe, Nathan Cook as Reese, Byron Stewart as Coolidge, Ira Augustain as Gomez, Ken Michelman as Goldstein, and Timothy Van Patten as Salami. For three seasons, the show tackled issues of race, sex, drugs, and violence with intelligence and humor — it would probably be a sitcom if made today. The DVD includes commentary from Howard, Carter, Van Patten, and Mark Tinker. Oh, and with regard to the above review of 50 Cent in GET RICH OR DIE TRYIN', Mr. Cent's real name is Curtis Jackson; in THE WHITE SHADOW, Erik Kilpatrick stars as Curtis Jackson, perhaps the most dangerous and troubled of Coach Reeves's players. Let's just say that eventually, Jackson doesn't exactly get rich.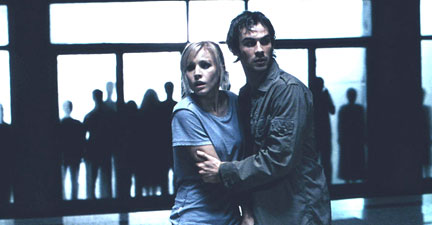 Magnolia Pictures
You won't fall asleep during Kurosawa's PULSE
PULSE (KAIRO) (Kiyoshi Kurosawa, 2001)
IFC Center
323 Sixth Ave. at Waverly Pl.
Opens November 9
TicketsL $10.75
212-924-7771
http://www.magpictures.com/distribution/moreinfo.php?pulse

PULSE is another creepy treat from writer-director Kiyoshi Kurosawa, who has also given us the terrifically frightening CURE and the mediocre meditation BRIGHT FUTURE. A hit at Cannes, Toronto, Oslo, and other international film festivals, PULSE fits neatly into THE RING genre, in which modern technology invariably leads to death; in this case, odd computer images seem to predict bizarre, unexplained suicides and disappearances. Kumiko Aso stars as Michi, a young woman who works at a nursery with her friend Junko (Kurume Arisaka). When Taguchi (Kenji Mizuhashi) doesn't show up on a day when a special computer project is due, Michi goes to his apartment, where she watches in horror as he mysteriously hangs himself, kicking off a series of eerie events that confuse and confound Internet newbie Ryosuke (Haruhiko Kato) and expert Harue (Koyuki). Kurosawa takes a long time to get to the point, resulting in several tedious stretches in which not much happens, but there are still more than enough scary scenes and psychological terror to warrant this film a visit.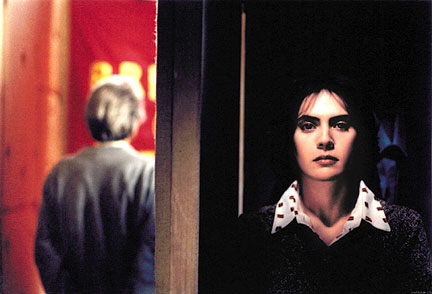 Wellspring
Chiaras (Maya Sensa) is the conscience in flick about Aldo Moro kidnapping
GOOD MORNING, NIGHT (BUONGIORNO, NOTTE) (Marco Bellocchio, 2003)
Cinema Village
22 East 12th St. between University Pl. & Fifth Ave.
Opens November 11
Tickets: $10
212-924-3363
http://www.wellspring.com/movies/movie.html?movie_id=54

Italian auteur Marco Bellocchio (THE DEVIL IN THE FLESH) reimagines the kidnapping of Aldo Moro from the inside in this taut, slow-paced drama that won the Little Golden Lion at the 2003 Venice Film Festival but is being released in the U.S. only now. Moro, a former Italian prime minister and president of the Christian Democratic Party, was boldly grabbed by members of the radical Red Brigades, who left a bloody mess in their wake. Bellocchio focuses on the three men and one woman who orchestrated the plot and kept Moro locked in a hidden room inside their large rented apartment. While Mariano (Luigi Lo Cascio), Ernesto (Pier Giorgio Bellocchio), and Primo (Giovanni Calcagno) take turns guarding Moro and Mariano spews Socialist rhetoric at him, Chiara (Maya Sensa), who is Primo's girlfriend but is pretending to be Ernesto's wife as a cover, goes to work every day, buys supplies and newspapers, and dreams at night of Moro coming to her as a father figure. Chiara is the moral conscience of the movie, and a complete invention on the part of Bellocchio, who has said, "I'm not interested in the factual truth." Even so, much of the real story is still not known, and like the JFK assassination, there are lots of conspiracy theories out there about an event that shocked a nation. Pink Floyd fans get a bonus by Bellocchio's powerful use of "The Great Gig in the Sky" and "Shine On You Crazy Diamond."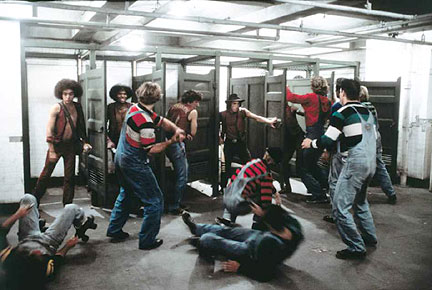 Paramount Home Video
The Warriors don't even have time for a bathroom break in struggle to get to Coney
THE WARRIORS (Walter Hill, 1979)
Now available: the Ultimate Director's Cut DVD ($19.99, Paramount Home Video, October 2005)
http://www.warriorsmovie.co.uk

At a huge gang meeting in the Bronx (actually shot in Riverside Park), the Warriors are wrongly accused of having killed Cyrus (Roger Hill), an outspoken leader trying to band all the warring factions together to form one huge force that can take over the New York City borough by borough. The Warriors then must make it back to their home turf, Coney Island, with every gang in New York lying in wait for them to pass through their territory. This iconic New York City gang movie is based on Sol Yurick's novel, which in turn is loosely based on Xenophon's ANABASIS, which told of the ancient Greeks' retreat from Persia. Michael Beck stars as Swan, who becomes the de-facto leader of the Warriors after Cleon (Dorsey Wright) gets taken down early. Battling Swan for control is Ajax (SEX AND THE CITY's James Remar) and tough-talking Mercy (TOO CLOSE FOR COMFORT's Deborah Van Valkenburgh). Serving as a Greek chorus is Lynne (LAW & ORDER) Thigpen as a radio DJ, and, yes, that young woman out too late in Central Park is eventual Oscar winner Mercedes Ruehl. Among the cartoony gangs of New York who try to stop the Warriors are the roller-skating Punks, the pathetic Orphans, the militaristic Gramercy Riffs, the all-girl Lizzies, the ragtag Rogues, and the inimitable Baseball Furies. Another main character is the New York City subway system.
The Ultimate Director's Cut DVD is essentially the original film with interstitial comic-book images, but it also comes with a special introduction by director Walter Hill and an excellent four-part documentary with new interviews with cast and crew that goes behind the scenes in the making of one of twi-ny's all-time favorite movies, including cool stories about the opening mob scene, the derivation of "Warriors, come out to play-ee-ay," and how Orson Welles nearly got involved. Thankfully, there's no talk about Tony Scott's potential 2006 remake or the recently released video game.
BRUCE SPRINGSTEEN
Wachovia Spectrum, Philadelphia, November 9 show reviewed
Continental Airlines Arena, November 16-17
Sovereign Bank Arena, November 21-22
Tickets: $56-$86
http://www.ticketmaster.com/artist/736179
http://www.sovereignbank-arena.com

There's just something about Philly that Bruce Springsteen loves, bringing out the best in him time after time — especially remarkable, rarely performed chestnuts. On May 17 at the Tower Theater, he played the bootleg rarity "The Iceman" live for the first time in his career. On October 17 at the Spectrum, he and wife Patti Scialfa jumped onstage to play "People Get Ready" with U2. On November 8 at the Spectrum, he played "Drive All Night" for the first time in nearly twenty-five years, as well as "Born in the U.S.A." on bullet mic. And then, the next night, he reached even deeper into his bag of tricks, pulling out two TRACKS specials that haven't been played since 1973, the Western epic "Santa Ana" and the fan favorite "Thundercrack" ("Her brains they rattle and her bones they shake / Whoah! She's an angel from the Innerlake") complete with an impromptu call-and-response ending. Even the faithful who didn't know the song couldn't help but sing along. As for the rest of the show? A nicely reworked "Adam Raised a Cain," "Used Cars" with a funny introduction, a moving "Independence Day," "Janey, Don't You Lose Heart" on the electric piano, a rollicking "Cynthia," a killer "Spare Parts," a beautiful "One Step Up," an audibled "Nebraska," a riotous story before "Jesus Was an Only Son" about his childhood neighborhood (spurred by a fan drawing), "The New Timer" on autoharp, "Growin' Up" on ukelele, in addition to "The Rising," "State Trooper," "Two Hearts," and "The Promised Land." The tour finishes up in our neck of the woods November 16-17 at the Continental Airlines Arena and November 21-22 at the Sovereign Bank Arena in Trenton; do whatever you can to catch this memorable series of shows. And as we've told you before, don't forget that Bruce often releases excellent seats as late as the day of the show, so keep checking TicketMaster despite the supposed sellouts.
U2
Madison Square Garden
31st to 33rd Sts. between Seventh & Eighth Aves.
November 21 & 22, 8:00
Reviewed: October 11 performance at Madison Square Garden
Tickets: $54-$169.50
212-307-7171
http://www.thegarden.com/boxoffice.jsp

U2 returns to the Garden for its third trip through the city on the Vertigo Tour in support of their latest album, the excellent HOW TO DISMANTLE AN ATOMIC BOMB. We caught them on October 11, when they put on a great show with a wide-ranging mix of new and old, along with Bono's trademark snippets of odd songs thrown in here and there. He and the Edge, Adam Clayton, and Larry Mullen Jr. opened with the soaring "City of Blinding Lights," which also announced a fab light show. Running around the circular stage extension jutting into the audience on the floor, Bono led the boys through a strong setlist, including a crowd-elevated "Elevation," a rip-roaring "Out of Control," a joyous "Beautiful Day," a powerful "Sunday Bloody Sunday," a moving "Miss Sarajevo, a hard-hitting "Pride (in the Name of Love)," and beautiful versions of "I Still Haven't Found What I'm Looking For," "Where the Streets Have No Name," and "Stuck in a Moment that You Can't Get Out Of." Along the way Bono threw in lines from "Rockaway Beach," "Ol' Man River," and "When Johnny Comes Marching Home." Like the U2 shows of old, the two-and-a-half-hour show ended with "40," which continued long after the band left the stage. They've been mixing it up a little bit on the tour, so you might also get serenaded by "I Will Follow, "The Electric Co.," "The Ocean," "Angel of Harlem," "Who's Gonna Ride Your Wild Horses," "Bad," and "Walk On" as well as snippets of "See Me, Feel Me," "Sgt. Pepper's Lonely Hearts Club Band," "Many Rivers to Cross," and "Send in the Clowns." Patti Smith will be opening November 21-22, so don't get there late. And don't forget to check TicketMaster as late as the afternoon of the show, as good seats are often released at the last minute.
All contents copyright 2005 by Mark Rifkin and twi-ny. All rights reserved. Contents may not be reprinted without written permission. Please note that events, dates, and prices are subject to change.
Send all comments, suggestions, reviews, and questions to mark.rifkin@twi-ny.com.
Please note that some e-mail clients may wrap links, so be sure to enter them fully into your browser.
To subscribe to this list, please e-mail the administrator at admin@twi-ny.com with the word Subscribe in the Subject line; be sure to ask for back issues, which are free as well. To unsubscribe from this list, please think it over twice before e-mailing the same address. Please let us know what you didn't like about this forum and we'll do our best to correct it in the future -- if we agree with you. If you would like to see something covered in a future issue, please let us know. Without you, there is no need for us to exist.

twi-ny top two dozen (or so) weekly reminders & special events
ARTISTS' TALK
American Folk Art Museum
45 West 53rd St. between Fifth & Sixth Aves.
212-265-1040
Wednesday, November 9 Obsessive Drawing, with artists Charles Benefiel, Hiroyuki Doi, and Chris Hipkiss, $15, 6:00 reception, 7:00 panel
NEW TALENT SHOWCASE
NY Comedy Club
241 East 24th St.
Cover: $10, plus two-drink minimum
212-696-5233
http://www.newyorkcomedyclub.com
Wednesday, November 9 Check out the next generation of stand-up comics; be sure to tell them you're there for Neil Swaab of Mr. Wiggles fame, 9:00
MARINA ABRAMOVIC: SEVEN EASY PIECES
Solomon R. Guggenheim Museum
1071 Fifth Ave. at 89th St.
Tickets: $10, in advance, seven-night series $40, or free with museum admission day of show
212-423-3500
http://www.guggenheim.org/exhibitions/abramovic/index.html
Wednesday, November 9
through
Tuesday, November 15 Performance pieces based on the work of Bruce Nauman (November 9), Vito Acconci (November 10), VALIE EXPORT (November 11), Gina Pane (November 12), Joseph Beuys (November 13), and Marina Abramovic (November 14-15), 5:00 pm — 12 midnight
INTERNATIONAL DESIGNER SHOWHOUSE 2005
9 East 67th St.
Friday — Wednesday 11:00 am — 5:00 pm, Thursday 11:00 am — 8:00 pm
Admission: $25 (includes catalog)
212-838-0157
Wednesday, November 9
through
Sunday, November 20 Ninth international designer house is a Tribute to America's Hospital in Europe, the American Hospital of Paris Foundation, featuring twenty-six rooms decorated by thirty interior designers, architects, decorative painters, artists, artisans, and floral and garden experts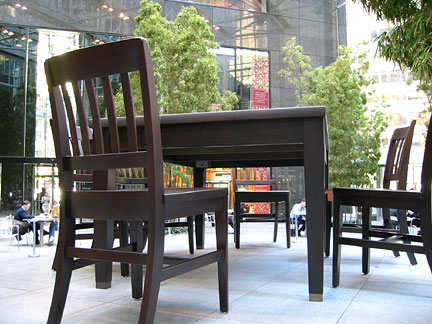 twi-ny/mdr
Therrien's fun table and chairs question form and function
ROBERT THERRIEN: NO TITLE, 2003
(TABLE AND SIX CHAIRS)
The Sculpture Garden at 590 Atrium
590 Madison Ave. between 56th & 57th Sts.
Admission: free
http://www.publicartfund.org/pafweb/projects/05/therrien/therrien-05.html
Wednesday, November 9
through
Sunday, November 20 Los Angeles artist Robert Therrien has re-created his home kitchen table with this scene fit for a giant, an enormous table (nearly ten feet high and twenty feet long) and chairs that rests on the Madison Ave. side of this atrium, inviting visitors to walk right underneath it, but don't try to sit down on it; the dark wood (the pieces are actually painted metal) contrasts sharply with both the normal size and the white color of the other tables and chairs that fill part of this space, where people eat their lunch or stop off for a brief respite from the day
SPECIAL EVENTS AT GALAPAGOS
Galapagos Art Space
70 North Sixth St. between Wythe and Kent
Williamsburg
718-782-5188
http://www.galapagosartspace.com/events.html
Wednesday, November 9 The Williamsburg Film Series: JESUS IS MAGIC (Liam Lynch, 2005), written by and starring Sarah Silverman, free, 8:00
Thursday, November 10 Get Home Safe: Women Rock for Right Rides, with Murderizer, Goodnight Gunfight, Knife Skills, Tamar-kali, and DK Tikka Masala, $7, 8:00
Monday, November 14 Miss Saturn Burlesque Hulapalooza, free, 10:00
Wednesday, November 16 Amy Kohn free, 10:00
Sunday, November 20 The Cinematic Underground presents Annathesia, a live concert narrative, $5, 7:00
MEET THE WRITERS
Barnes & Noble
33 East 17th St. at Union Square (US)
600 Fifth Ave. at 48th St., Rockefeller Center (RC)
675 Sixth Ave. at 22nd St., Chelsea (CH)
555 Fifth Ave. (555)
160 East 54th St. at Third Ave., Citicorp (CC)
105 Fifth Ave. at 18th St. (18)
4 Astor Pl. at Broadway (AP)
1972 Broadway at West 66th St., Lincoln Triangle (LT)
396 Sixth Ave. at Eighth St., Greenwich Village (GV)
2289 Broadway at 82nd St. (BW)
240 East 86th St. at Second Ave. (86)
106 Court St., Brooklyn (CS)
267 Seventh Ave., Park Slope (PS)
Admission: free
http://storelocator.barnesandnoble.com/events.do
Wednesday, November 9 Joe Frazier, BOX LIKE THE PROS, 555, 1:00
Friday, November 11 Amber Benson and Christopher Golden, GHOSTS OF ALBION: ACCURSED, PS, 6:30
Monday, November 14 Billy F. Gibbons, ROCK & ROLL GEARHEAD, 555, 1:00
Tuesday, November 15 Frank McCourt, TEACHER MAN, US, 7:00
Thursday, November 17 James Greer and Robert Pollard, GUIDED BY VOICES: A BRIEF HISTORY, CH, 7:00
Friday, November 18 Allen Salkin and Jerry Stiller, FESTIVUS: THE HOLIDAY FOR THE REST OF US, CH, 7:00
Monday, November 21 Joe Conason, THE RAW DEAL: HOW THE BUSH REPUBLICANS PLAN TO DESTROY SOCIAL SECURITY AND THE LEGACY OF THE NEW DEAL, US, 7:00
Tuesday, November 22 Golden Girls, THE GOLDEN GIRLS SEASON 3, CH, 12:30
A CENTENARY OF CHINESE CINEMA
Walter Reade Theater
165 West 65th St. between Eighth Ave. & Broadway
212-875-5050 / 212-875-5166
http://www.filmlinc.com/wrt/showing/chinese.htm
Thursday, November 10 TO LIVE (HUOZHE) (Zhang Yimou, 1994), $10, 1:15 & 6:15
TO LIVE (HUOZHE) (Zhang Yimou, 1994)
Also available on DVD

Zhang Yimou's sweeping historical epic of China's cultural and political revolution from the 1940s to the 1970s stars Ge You (who was named Best Actor at Cannes) and Gong Li as a hardworking couple trying desperately to survive amid all the changes swirling around them. They battle gambling losses, the coming of Mao and the Red Army, the suppression of art, and finding a husband for their mute daughter. The film was originally banned in China, but it was a success internationally, winning numerous awards and opening people's eyes to Chinese cinema. TO LIVE is a beautiful, powerful, stunning accomplishment that you will not soon forget.
Thursday, November 10 THE MASTER OF EVERYTHING (ZHIYU ZHILE) (Xin Lee, 2004), $10, 4:00 & 8:45
NEW YORK INTERNATIONAL
INDEPENDENT FILM AND VIDEO FESTIVAL
Village East Cinema
181 Second Ave. at 12th St.
Tickets: $11
212-529-6998
http://citycinemas.moviefone.com/showtimes/theater.adp?theaterid=922
Thursday, November 10
through
Thursday, November 17 Hundreds of independent short films and features will be presented, as well as parties, panel discussions, and more
GENA ROWLANDS: INDEPENDENT SPIRIT
BAMcinematek / BAM Rose Cinemas
Brooklyn Academy of Music
30 Lafayette Ave. between Ashland Pl. & St. Felix St.
November 10-20
Tickets: $10
718-636-4100
http://bam.org/film/series.aspx?id=41
Thursday, November 10 A WOMAN UNDER THE INFLUENCE (John Cassavetes, 1974), featuring a Q&A with Gena Rowlands, moderated by Peter Bogdanovich, 7:30
Friday, November 11 GLORIA (John Cassavetes, 1980), 2:00, 4:30, 6:50, 9:30
Saturday, November 12 OPENING NIGHT (John Cassavetes, 1977), 3:00, 6:00, 9:20, 6:00 show followed by Q&A with Gena Rowlands
Sunday, November 13 MINNIE AND MOSKOWITZ (John Cassavetes, 1971), 3:00, 6:00, 9:00
Thursday, November 17 UNHOOK THE STARS (Nick Cassavetes, 1996), 7:30
Friday, November 18 TEMPEST (Paul Mazursky, 1982), 3:00, 6:00, 9:00
Saturday, November 19 ANOTHER WOMAN (Woody Allen, 1998), 2:00, 4:30, 6:50, 9:15
Sunday, November 20 LOVE STREAMS (John Cassavetes, 1984), 3:00, 6:00, 9:00
EVENTS AT THE NEW SCHOOL
66 West 12th St. between Fifth & Sixth Aves.
Admission: free unless otherwise noted
212-817-8215
http://www.nsu.newschool.edu/02a_specdiv.htm#0201
Thursday, November 10 Live Radio Broadcast by Air America: THE AL FRANKEN SHOW, 12 noon — 3:00
Saturday, November 12 Pia Lindman: Embobiments and Monumentality, performance at 2:00, panel discussion at 2:30 with Kriss Ravetto-Biagioli, Aslihan Sanal, and Nato Thompson, moderated by Pia Lindman

Wednesday, November 16 Poets on Poetry, with James Richardson, 6:30
Monday, November 21 Public Art Fund Talks: Do-Ho Suh, $5, 6:30
BORDERS BOOKSTORE EVENTS
Park Avenue (PA)
461 Park Ave. between 57th & 58th Sts.
Kips Bay (KB)
Second Ave. at 32nd St.
Wall Street (WS)
100 Broadway between Wall & Pine Sts.
Shops at Columbus Circle (CC)
Admission: free
http://www.bordersstores.com/events/events.jsp
Thursday, November 10 Dennis Rodman, I SHOULD BE DEAD BY NOW, WS, 12 noon
Tuesday, November 15 Joe Bob Briggs, PROFOUNDLY EROTIC: SEXY MOVIES THAT CHANGED HISTORY, and Ron Hogan, THE STEWARDESS IS FLYING THE PLANE, PA, 6:30
Friday, November 18 Jerry Tarkanian, RUNNIN' REBEL: SHARK TALES OF "EXTRA BENEFITS," FRANK SINATRA, AND WINNING IT ALL, WS, 1:00
Tuesday, November 22 Carson Kressly, YOU'RE DIFFERENT, AND THAT'S SUPER, CC, 6:00
SHE MADE IT
Museum of Television & Radio
25 West 52nd St. between Fifth & Sixth Aves.
Tickets: $15
212-621-6600
Thursday, November 10 The Women of NPR, panel discussion with Melissa Block, Maria Hinojosa, Cokie Roberts, Susan Stamberg, and Linda Wertheimer, 6:00
Wednesday, November 16 From THE GOLDBERGS to 2005: The Evolution of the Family Sitcom, panel discussion with Aviva Kempner, John Markus, Bill Persky, and David Zurawik, 6:00
JAZZ LIVE: THE JAZZ MASTERS
Flushing Town Hall
137-35 Northern Blvd.
718-463-7700
http://www.flushingtownhall.org
Friday, November 11 All-star lineup featuring Jimmy Heath, Ron Carter, Barry Harris, Clark Terry, Benny Powell, and Tootie Heath, $35, 8:00
NARUSE: THE UNKNOWN MASTER HIGHLIGHTS
Film Forum
209 West Houston St. between Sixth & Seventh Aves.
Through November 17
Tickets: $10
212-727-8110
http://www.filmforum.org/films/naruse.html#116
Friday, November 11
and
Saturday, November 12 SOUND OF THE MOUNTAIN (THE ECHO) (Mikio Naruse, 1964), 1:30, 3:30, 5:30, 7:30, 9:30
Sunday, November 13
and
Monday, November 14 REPAST (A MARRIED COUPLE) (Mikio Naruse, 1951) Sunday at 1:30, 5:20, 7:20, 9:20, Monday at 1:30, 3:30
Wednesday, November 16 TRAVELLING ACTORS (Mikio Naruse, 1940), 7:00, 10:00, and APART FROM YOU (Mikio Naruse, 1933), with live piano accompaniment by Steve Sterner, 8:30
Thursday, November 17 SCATTERED CLOUDS (Mikio Naruse, 1967), 1:00, 3:10, 5:20, 7:30, 9:40
WEEKEND STREET FAIRS/FESTIVALS/
PARADES/CARNIVALS
All events approximately 11:00 am - 6:00 pm unless otherwise noted
Admission: free
http://www.nyctourist.com/st_fairs_calendar.htm
http://nycstreetfairs.com/sched.html
http://www.clearviewfestival.com
http://www.brooklyn-usa.org/street_fair_concerts/Street_fairs.htm
Friday, November 11 Lullaby of Broadway Festival: Broadway between Fulton St. & Battery Pl.
Saturday, November 12 Independent Downtown Republican Club / University Pl. Fall Fair: University Pl. between Waverly Pl. & 14th St.
Sunday, November 13 Cathedral of St. Patrick's Young Adult Festival / Madison Ave. Holiday Expo: Madison Ave. between 42nd & 57th Sts.
Sunday, November 13 Brooklyn Young Republicans Festival: Court St. between Montague St. & Atlantic Ave.
Saturday, November 19 Times Square Holiday Block Party: 45th St. between Sixth & Seventh Aves.
2005 MACHINIMA FILM FESTIVAL
Museum of the Moving Image
35th Ave. at 36th St., Astoria
Festival pass: $10
718-784-4520
http://www.ammi.org/site/screenings/index.html
Saturday, November 12 Panel discussions, live performances, software demonstrations, and screenings, 11:00 am — 6:30 pm
PASSPORT TO THE ART WORLD
Passport pickup at Crate and Barrel, 611 Broadway at Houston St., 10:30 am — 1:00 pm
Reception at Milk Gallery, 450 West 15th St., 5:00 — 7:00
Tickets: $20
866-468-3399
http://www.freeartsnyc.org/specialevents.htm
Saturday, November 12 Self-guided gallery tour with collectible book, followed by cocktail reception and silent auction benefiting Free Arts NYC, 11:00 am — 6:00 pm
TZEDAKAH ROCKS!
Theological Seminary cafeteria
3080 Broadway at 122nd St.
Admission: $9
http://www.shakerabbisandroll.com
Saturday, November 12 Shake, Rabbis and Roll, band of NYC rabbis play
1960s covers and original songs, with proceeds going to the American
Jewish World Service, 8:00 -10:30
SALSA SUNDAY
Raices Latin Music Collection
Heckscher Building
1230 Fifth Ave. between 104th & 105th Sts.
Admission: $5
212-427-2244
http://www.harborconservatory.org/schedule_05.html
Sunday, November 13 Music, dance, and conversations, with Victor Manuel y Trio Los Supremos, Raices Habaneras, Xiomara Rodriguez, Orquesta Broadway, Manny Oquendo, Juan Usera y la Tribu, Osbaldo Sanchez y Pa'lo Monte, Felix Romero, and Louis Bauzo & the Harbor Latin Band, 1:00 — 6:00
REEL JEWS BRUNCH
Makor
Steinhardt Building
35 West 67th St. between Amsterdam & Columbus Aves.
Tickets: $25
212-601-1000
Sunday, November 13 All-you-can-eat brunch with screenings of B MOVIE (Philip Dolin, 2004) and CHRIST IN THE CITY (Yitz Brilliant, 2004), 11:30 am
ARTIST GALLERY TALKS
P.S. 1 Contemporary Art Center / MoMA
22-25 Jackson Ave. at 46th Ave.
Long Island City
Saturdays & Sundays at 3:00 through December 11
Free with museum admission
718-784-2084
Saturday, November 12 Nicole Awai, "Greater New York 2005"
Sunday, November 13 Wayne Gonzales, "The Painted World"
Saturday, November 19 Peter Walsh, "Heart of Gold"
Sunday, November 20 Jen DeNike, "Greater New York 2005"
CHILDREN IN THE TWENTIETH CENTURY
Symphony Space
Leonard Nimoy Thalia
2537 Broadway at 95th St.
Double features Sundays & Tuesdays
Through November 22
Tickets: $10
212-864-5400
http://www.symphonyspace.org/genres/seriesPage.php?genreId=2&eventId=1440#event1440
Sunday, November 13 KOLYA (Jan Sverák, 1996), 4:00, and COME AND SEE (IDI I SMOTRI) (Elem Klimov, 1985), 6:00
Tuesday, November 15 COME AND SEE (IDI I SMOTRI) (Elem Klimov, 1985), 6:00, and KOLYA (Jan Sverák, 1996), 8:45
KOLYA (Jan Sverák, 1996)
Available on video
Soundtrack available on CD

This charming Oscar winner for Best Foreign Film tells the story of a middle-aged Czech cellist, Frantisek Louka (Zdenek Sverák, who cowrote the screenplay and is the director's father), whose life is changed after he enters a fake marriage with a young Russian woman who immediately runs off to her lover in Germany, leaving her five-year-old son, Kolya (Andrej Chalimon), behind. At first Franta wants nothing to do with the boy, but he is not immune to Kolya's charms, and neither will you be as you watch this wonderful film set against the backdrop of the Soviet collapse and the 1989 Velvet Revolution in the Czech Republic. The music, by the Czech Philharmonic Orchestra, is just fabulous, including works by Antonin Dvorák, Bedrich Smetana, and Josef Suk.
Sunday, November 20 LOS OLVIDADOS (Luis Buñuel, 1950), 4:00, and RODRIGO D: NO FUTURO (Victor Gaviria, 1990), 6:15
Tuesday, November 22 RODRIGO D: NO FUTURO (Victor Gaviria, 1990), 6:00, and LOS OLVIDADOS (Luis Buñuel, 1950), 7:45
DOWNTOWN FOR DINNER 2005
Three-course prix-fixe dinner: $20.05
Price excludes beverages, tax, and gratuities
Reservations strongly suggested
212-835-2789
http://www.downtownny.com/?sid=35
Monday, November 14
through
Sunday, November 20 Before or after catching one of the below hot Wall Street Rising shows at TPAC or taking advantage of other Downtown culture, settle in for a prix-fixe dinner at one of the dozens of restaurants participating in this annual event, including Bayard's, Delmonico's, Fraunces Tavern, Gigino at Wagner Park, Harbour Lights, Les Halles Downtown, Giovanni's Atrium, Pacific Grill, Steamers Landing, and more
MUSIC DOWNTOWN
Tribeca Performing Arts Center
Borough of Manhattan Community College
199 Chambers St.
November 14-20
Nightly at 8:00
Admission: free, but tickets required
212-509-0300
http://www.tribecapac.org/calendar.htm
http://www.wallstreetrising.org
Although most of these advance free tickets for this excellent music series have been scarfed up, there will be a standby line every night. In addition, some of the artists, including Jeff Tweedy and Buddy Guy, are giving away tickets via their Web sites. Good luck!
Monday, November 14 Blind Boys of Alabama with Cat Power
Tuesday, November 15 Buddy Guy with Shemekia Copeland
Wednesday, November 16 Jeff Tweedy with Nels Cline
Thursday, November 17 Jeff Tweedy with Glenn Kotche
Friday, November 18 Ryan Adams and the Cardinals
Saturday, November 19 Rickie Lee Jones with Vic Chesnutt
Sunday, November 20 Aimee Mann with Keren Ann
A MOVING CAMERA: KENJI MIZOGUCHI
BAMcinematek / BAM Rose Cinemas
Brooklyn Academy of Music
30 Lafayette Ave. between Ashland Pl. & St. Felix St.
Through November 22
Tickets: $10
718-636-4100
http://bam.org/film/series.aspx?id=38
Monday, November 14 SISTERS OF THE GION (GION NO SHIMAI) (Kenji Mizoguchi, 1936), 4:30, 6:50, 9:15
Tuesday, November 15 SANSHO THE BAILIFF (SANSHÔ DAYÛ) (Kenji Mizoguchi, 1954), 4:30, 6:50, 9:30
Monday, November 21 THE STORY OF THE LAST CHRYSANTHEMUMS (ZANGIKU MONOGATARI) (Kenji Mizoguchi, 1939), 6:00, 9:00
Tuesday, November 22 STREET OF SHAME (AKASEN CHITAI) (Kenji Mizoguchi, 1956), 4:30, 6:50, 9:15
ARTISTS ON ART
The Whitney Museum of American Art at Altria
120 Park Ave. at 42nd St.
Admission: free
917-663-2645
http://www.whitney.org/information/altria.shtml
http://www.whitney.org/programs/public.shtml
Tuesday, November 15 Rob Fischer in conjunction with new exhibit, 6:30
CMA WEEK: A JOHNNY CASH REVUE
The Rodeo Bar
375 Third Ave. at 27th St.
No cover charge
212-683-6500
http://www.rodeobar.com/schedule.html
Tuesday, November 15 Featuring The Tennessee Three with Carly Goodwin and Doc Wooten, 10:00, followed by Johnny Cash's band at 12 midnight
TEATROS ESPAŅOLES
Merkin Hall, Kaufman Center
129 West 67th St.
Tickets: $45
212-501-3330
http://www.nyfos.org/?body=2005teatros
Tuesday, November 15
and
Wednesday, November 16 Presented by the New York Festival of Song, 8:00
SOUTH STREET SEAPORT MUSEUM EVENTS
211 Water St. between Beekman and Fulton Sts.
212-748-8786/8735
http://www.southstreetseaportmuseum.org/calendar/calmain.htm
Tuesday, November 15 Slide Lecture: Fulton Fish Market Remembered, with Jack Putnam, $6, 7:00
Thursday, November 17 Book Talk: George Matteson presents TUGBOATS OF NEW YORK: AN ILLUSTRATED HISTORY, $5 suggested donation, 7:00
Friday, November 18 Free Friday: Beyond the Mayflower, including arts & crafts, open exhibitions, the official holiday lighting of the fleet of historic ships, paintings and photographs, and more, please bring canned goods for donation, 6:00 —9:00
NEW SOUNDS LIVE
World Financial Center Winter Garden
225 Vesey St.
Admission: free
212-945-2600
http://www.worldfinancialcenter.com/calendar
Wednesday, November 16 Meredith Monk Fortieth Anniversary Concert, 7:00
FILM AND MEDIA
Museum of Modern Art
11 West 53rd St. between Fifth & Sixth Aves.
Roy and Niuta Titus Theaters 1 and 2
Tickets: $10, in person only, may be applied to museum admission within thirty days, same-day screenings free with museum admission, available at Film and Media Desk
212-708-9400
http://moma.org/exhibitions/film_media/2005
Wednesday, November 16 On Set with French Cinema: An Evening with Arnaud Desplechin, featuring screening of LE SENTINELLE (Arnaud Desplechin, 1992), introduced by Desplechin, 7:45
Thursday, November 17 Winsor McCay Animation Program, celebrating the hundredth anniversary of Little Nemo, featuring a lecture by John Canemaker and screenings of LITTLE NEMO (1911), HOW A MOSQUITO OPERATES (1912), GERTIE THE DINOSAUR (1914), and THE SINKING OF THE LUSITANIA (1918), with live piano accompaniment by Stuart Oderman, 6:30
Friday, November 18 Stalking the Image: The Films of Margaret Tait — Program Two: Islands, 8:00
Monday, November 21 Poetry and Rigor: The Films of Gianni Amelio -- LA FINE DEL GIOCO (THE END OF THE GAME) (Gianni Amelio, 1970), 8:00
AMERICAN ROOTS MUSIC BENEFIT CONCERT
Apollo Theater
253 West 125th St. between Adam Clayton Powell & Frederick Douglass Blvds.
Tickets: $50-$150
212-531-5305
http://www.apollotheater.com/calendar.asp#<b>americanroot
Thursday, November 17 Benefit concert sponsored by Sequoia Community Services, raising funds for its two New York City homeless shelters and Habitat for Humanity's Operation Home Delivery for victims of Hurricane Katrina, with Jeremiah, Kipori "Baby Wolf" Woods, Richard Hartley, Soul Resurrection, and the Haven House Choir, 6:00 preshow VIP cocktail party, 8:00 performance
ASBURY SHORT FILM SHOW
French Institute Alliance Française
Florence Gould Hall
55 East 59th St. between Park & Madison Aves.
718-832-7848
http://www.asburyshortsnyc.com
Friday, November 18 Twenty-sixth annual showcase of the best in short films, $18, 8:00
HOLIDAY AND TREE LIGHTING CEREMONY
Bryan Park
East Fordham Rd. at Kingsbridge Rd.
Admission: free
718-562-2104
Friday, November 18 Sparkling the Heart of Fordham, 4:30
BIG APPLE CON
Penn Plaza Pavilion
401 Seventh Ave. at 33rd St.
Tickets: $15
201-865-3288
Friday, November 18
through
Sunday, November 20 Comic Book, Art, and Toy Show, featuring celebrity signings, panel discussions, and more, with Carrie Fisher, Ray Park, Peter Tork, Richard Hatch, Karen Lynn Gorney, Cathy St. George, Neal Adams, Dave Sim, Neal Haspiel, Harvey Pekar, John Romita Sr., and others
ART20
The Park Avenue Armory (Seventh Regiment Armory)
643 Park Ave. at 67th St.
Thursday benefit opening preview: $150-$1,000
Admission: $10
212-777-5218
http://www.sanfordsmith.com/calendar.html
Friday, November 18
through
Monday, November 21 Art of the twentieth century supporting artists of the twenty-first, helping Gulf Coast artists, featuring more than sixty international exhibitors will be showing contemporary art from 1900 to the present, including painting, drawing, sculpture, and photography, in conjunction with the Lower Manhattan Cultural Council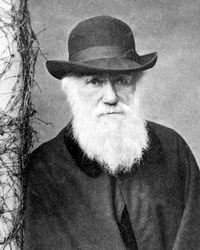 Darwin is discussed at AMNH
DARWIN: HIS LIFE AND TIMES
American Museum of Natural History
Central Park West & 79th St.
Free with museum admission
212-769-5200
http://amnh.org/programs/exhibitions/?src=p_p
Saturday, November 19 Panel discussion with Niles Eldredge, David Kohn, and Randall Keynes, great-great grandson of Charles Darwin, Kaufmann Theater, 2:00
KRISTIN HOFFMANN
Joe's Pub
425 Lafayette St.
Tickets: $12
212-539-8778
http://web.joespub.com/caltool/index.cfm?fuseaction=month
http://www.kristinhoffmann.com
Saturday, November 19 New York-based singer-songwriter Kristin Hoffmann brings her unique, atmospheric music to this intimate venue, highlighting songs from her upcoming Interscope CD, REAL, available now on iTunes, 9:30
READING BETWEEN THE LINES TOUR
The Knitting Factory
74 Leonard St. between Broadway & Church St.
212-219-3132
http://www.knittingfactory.com
Saturday, November 19 Chicks on Speed headline show with Kevin Blechdom and Plannintorock, $20, 11:55 pm
GAY LIFE EXPO
Jacob Javits Convention Center
Eleventh Ave. between 34th & 39th Sts.
Admission: $6 with promotional code KEYTWO
212-352-3535
Saturday, November 19
and
Sunday, November 20 Live performances, special celebrity appearances, and booths with the latest in fashion, music, dance, design, parenting, pets adoption, health, and more
WESTCHESTER CAT SHOW
Westchester County Center
Bronx River Pkwy at Central Park Ave & Route 119, White Plains.
Admission: $11 adults, $5 children six to twelve
Discount coupon: $1 off, available at http://www.westchester-feline.org/coupon.htm
212-807-6480 / 914-995-4050
http://www.westchester-feline.org
Saturday, November 19
and
Sunday, November 20 Thirtieth annual event honoring the best of the feline world, including the Cat of the Year, the Shelter Cat Birthday Bash, the Household Pet Competition, Ask the Vet, the Cat Agility Competition, and more, sponsored by the Westchester Feline Club, 10:00 am — 6:00 pm
HOMERIC PROGRAMS
Dahesh Museum of Art
580 Madison Ave. at 57th St.
Free with museum admission
212-759-0606
Sunday, November 20 Homer Conquers the Net, Web site that presents the full text of THE ILIAD with illustrations, 2:00
Wednesday, November 30 What Homer Meant in Nineteenth-Century Greece, with Professor Stathis Gourgouris, 6:30
THE SUN'LL COME OUT — TOMORROW
Carnegie Hall
Stern Auditorium
881 Seventh Ave. at 57th St.
Tickets: $20-$100
212-247-7800
Monday, November 21 Gala benefit concert in honor & memory of Skitch Henderson, with Judy Collins, Midge Woolsey, Tony Danza, Len Cariou, Freddie Roman, Charles Strouse, Sheldon Harnick, the New York Pops, and more, 7:30
FILM & DISCUSSION
Asia Society and Museum
725 Park Ave. at 70th St.
Advance registration strongly recommended
212-517-ASIA
http://www.asiasociety.org/events
Tuesday, November 22 MARDI GRAS: MADE IN CHINA (David Redmon, 2004), followed by a panel discussion with David Redmon, Owen D. Nee, Mark Levinson, and Sharon Hom, $10, 6:30
LCD SOUNDSYSTEM
Nokia Theatre Times Square
1515 Broadway at 44th St.
212-930-1940
http://www.nokiatheatrenyc.com
http://list.boweryballroom.com/t/5661741/31987057/69436/0/
Wednesday, November 23 We highly recommend LCD SOUNDSYSTEM, whom we saw play a great set at the recent Spin magazine twentieth anniversary party at Webster Hall; LCD will be playing here with 2manydjs & Sh-t Robot, $20-$25 in advance, $30 day of show, 7:00