Twi-ny, This Week In New York
The powerHouseArena debuts with hip-hop retrospective
NO SLEEP 'TIL BROOKLYN
The powerHouse Arena
37 Main St.
Through November 19
Admission: free
212-604-9074 x100
http://www.powerhousearena.com/nosleeptilbrooklyn/index.html

Cutting-edge indie publisher powerHouse Books celebrates its move to DUMBO and the publication of the premier issue of its eponymous magazine with this thirty-year retrospective of hip-hop culture. Housed in the powerHouse Arena — a massive five-thousand-square-foot space with twenty-two-foot-high ceilings, performance areas, a VIP balcony, glass frontage, and huge pillars — "No Sleep 'Til Brooklyn" consists of hundreds of photographs, posters, site-specific wall paintings, and other graffiti and hip-hop paraphernalia. Among the artists represented are "King of Graf" BLADE, Carlos "MARE 139" Rodriguez, Randy "KEL 1st" Rodriguez, WILD STYLE director Charlie Ahearn, TOOFLY, PMS crew founder Claw Money, "Spray King" James Top, old-school graffiti artists Chris "DAZE" Ellis, Dondi White, and LADY PINK, and documentary photographers Martha Cooper, Ricky Powell, Charles Peterson, Peter Sutherland, Craig Wetherby, Jamel Shabazz, and Brenda Kenneally.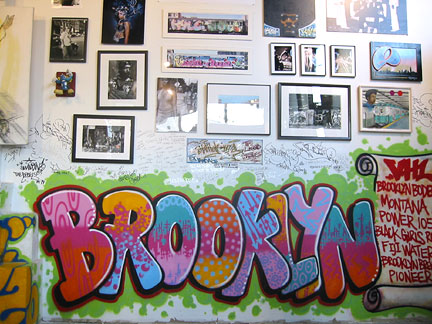 twi-ny/mdr
Indie publisher powerHouse celebrates hip-hop spirit
We particularly love Henry Chalfant's digital prints of tagged subway cars, Le Bijoutier's shots of contemporary street art, and Boogie's pictures of Brooklyn's underground drug culture. There are so many pieces crammed together that the exhibit can be overwhelming, and there's always a problem when street art is taken off the streets and hung in galleries, but it's still quite a display. Founded in 1995 by Daniel Power, powerHouse Books specializes in gorgeously designed photography books on street culture, music, celebrity, art, and other topics with unique flair and attitude.
In the Thematic Neighborhood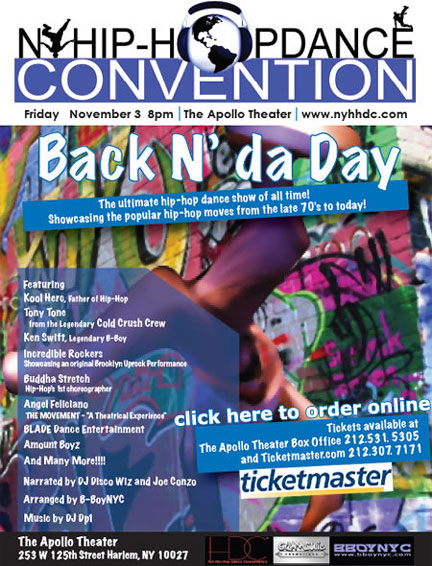 NY HIP-HOP DANCE CONVENTION
Various venues
646-284-5121
http://www.nyhiphopdanceconvention.com
Wednesday, November 1 Nomadic Wax presents Global Hip-Hop Showcase, T-NewYorkCity, 240 West 52nd St. between Broadway & Eighth Ave., $10-$15, 9:00
Friday, November 3 Back N' da Day, with Kool Herc, Tony Tone, DJ Disco Wiz, Joe Conzo and James "Koe" Rodriguez, Ken Swift, Buddha Stretch, and more, the Apollo Theater, 253 West 125th St. between Adam Clayton Powell IV Blvd. & Frederick Douglass Blvd., $30, 8:00
Saturday, November 4 Youth showdown (1:00), panel discussion (3:00), and pro-dance showcase (4:00), Sony Music Studios, 460 West 54th St. at Tenth Ave., $35-$40
Saturday, November 4 B-Boy NYC presents the Conflict B-Boy Battle, hosted by Robert from B-Boy NYC and B-Boy Ken Swift, with DJ DP One, Sony Music Studios, 460 West 54th St. at Tenth Ave., $20-$25, 8:00
Saturday, November 4 Dance workshops, including BLADE Dance Academy (10:00 am), Robin Dunn's F.A.C.E. for Dancers (12 noon), Angel Feliciano (3:00), and Ken Swift (4:00), Chelsea Studios, 151 West 26th St. between Sixth & Seventh Aves., 10:00 am — 5:00 pm
Sunday, November 5 Dance workshops, including the Hip-Hop Dance Conservatory (10:00 am), Shabazz (2:00), Buddha Stretch (3:00), and AmountBoyz (4:00), Chelsea Studios, 151 West 26th St. between Sixth & Seventh Aves., 10:00 am — 5:00 pm
Sunday, November 5 Poet's Night, hosted by El Grito de Poetas T-NewYorkCity, 240 West 52nd St. between Broadway & Eighth Ave., $10-$15, 8:00
ROUTE 06: INDEPENDENT FILM SERIES
Anthology Film Archives
32 Second Ave. at Second St.
Admission: free but RSVP required (on Web site)
Monday, November 13 NEXT: A PRIMER ON URBAN PAINTING (Pablo Aravena, 2005), featuring Lee Quinones, DAZE, Heavyweight, Delta, Banksy, Os Gemeos, Swoon, Kami, and Sasu, with a welcome reception and postscreening Q&A and cocktail reception, doors at 8:00, film screens at 9:00
Photography Exhibit of the Week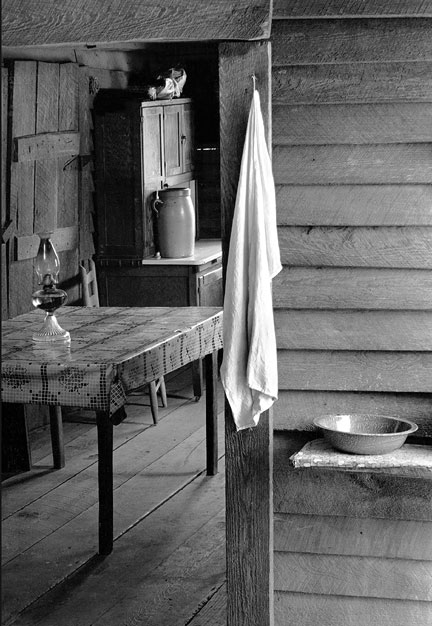 Walker Evans, "Farmer's Kitchen, Hale County, Alabama," 1936
WALKER EVANS: CARBON AND SILVER
The UBS Art Gallery
1285 Sixth Ave. between 51st & 52nd Sts.
Monday through Friday, 8:00 am — 6:00 pm
Through November 17
Admission: free
212-713-2885
http://www.ubs.com/walker_evans

More than eighty pictures taken by self-taught photographer Walker Evans are on display in this somewhat controversial exhibition that examines the extensive and important work of the chronicler of the human condition as well as the medium itself. In 1935-36, Evans traveled through Alabama, South Carolina, Pennsylvania, Mississippi, West Virginia, New Jersey, Louisiana, and Tennessee, documenting rural life during the Great Depression for the Farm Security Administration. Curators John T. Hill and Sven Martson, both of whom worked directly with Evans (1903-75), have teamed up with the Yale University School of Art to scan in the original negatives (owned by the Library of Congress) and digitized them, blowing them up in new ink-jet prints. These new "interpretations" of Evans's photos line the walls of the gallery space, along with glass cases that include many of the same works as seen in books (LET US NOW PRAISE FAMOUS MEN), magazines (Fortune), and smaller, original gelatin silver prints supervised by Evans himself. While some critics and purists have decried the digitized enlargements as inferior, unnecessary, and unfair to Evans's vast legacy (in the new prints, different parts of the photos come into focus and are more visible), others are celebrating the opportunity to see these remarkable images bigger and more clearly. Wherever you might stand on the issue, it is hard to deny the power of these photos, in any size and format.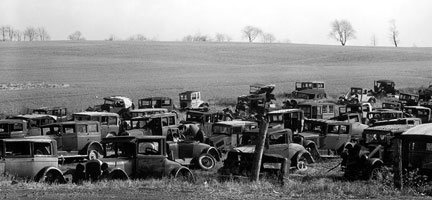 Walker Evans, "Joe's Auto Graveyard, Pennsylvania," 1936

Evans was able to capture the struggles of American life in shots of empty barber chairs, a towel hanging in a wooden shack, an auto graveyard, or two kids holding up watermelons in front of a market. Families gather together, churches stand alone, or a public telephone promises "connections" on an empty street. An Alabama cotton tenant farmer's wife can barely smile. Minstrel showbills reek of racism. A sign for a furniture store melds into the vacant landscape. The differences between the methods of creation of the prints are perhaps most evident in "Ruin of Tabby (Shell) Construction, St. Mary's, Georgia"; in the gelatin silver print, the structure looks like it is about to crumble, but it appears more solid in the larger, digitized print. The exhibit also includes cameras used by Evans and appreciations written by Lionel Trilling and Robert Penn Warren. Don't miss Evans's commentary on "The Beauties of the Common Tool," a 1955 Fortune piece with photos of tools (tin snips, wrench) in which Evans writes, "Almost all basic small tools stand, aesthetically speaking, for elegance, candor, and purity." The same can be said about all of his work, no matter the size or method of production.

In the Neighborhood
EVENTS AT THE BRANCH LIBRARIES
Donnell Library Center
New York Public Library
20 West 53rd St. between Fifth & Sixth Aves.
Admission: free
212-621-0619
Wednesday, November 1
through
Wednesday, November 8 Paintings by Matvey Basov
Thursday, November 2 Viewpoint...Henrik Ibsen on Television: THE IMMORTAL IBSEN (2001) and IBSEN'S PEER GYNT (1976), 2:30
Saturday, November 4 Meet the Maker…Elaina Archer (GANGLAND: BULLETS OVER HOLLYWOOD (Elaina Archer, 2005), 2:30
Wednesday, November 8 Featuring..."Made in NY"-- City Structures, Variously Captured Going Up and Coming Down: ORGANISM (Hilary Harris, 1975), CLAW (Manfred Kirchheimer, 1968), HIGHWAY HOMAGE (Franklin Backus, 1982), and WONDERFUL CONSTRUCTION (Don Lenzer, 1973), 2:30
Thursday, November 9 Viewpoint...Henrik Ibsen on Television: AN ENEMY OF THE PEOPLE (Paul Bogart, 1966), 2:30
Wednesday, November 15 Featuring..."Made in NY" – Warhol's City: THE CHELSEA GIRLS (Andy Warhol, 1966), 1:30
Cultural Institution of the Week
THE MUSIC OF BOB DYLAN
Avery Fisher Hall
Columbus Ave. at 65th St.
Tickets: $40-$1,000
212-836-1853
http://musicforyouth.org/bobdylan
Thursday, November 9 Benefit concert for Music for Youth, featuring Dylan songs performed by Patti Smith, Rosanne Cash, Phil Lesh, Ryan Adams, Jay Farrar, Jill Sobule, Joan Osborne, Natalie Merchant & Philip Glass, Ramblin' Jack Elliot & Jennifer O'Connor, Allen Toussaint, Warren Haynes, Lee Ranaldo, Sandra Bernhard, Al Kooper & the Funky Faculty, Bob Mould, Clap Your Hands Say Yeah, and more, 8:00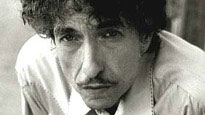 The Never Ending Tour comes to the
tristate area this month
BOB DYLAN AND HIS BAND: FALL '06 TOUR
Monday, November 13
Nassau Coliseum, Uniondale, Long Island
Thursday, November 16
Continental Airlines Arena, East Rutherford, New Jersey
Monday, November 20
New York City Center (on sale Friday, November 10, at 10:00 am)
Tickets: $36.50-$87.50
The last few years have seen an explosion of Dylaniana and Dylanology, reaching the zenith and the nadir, as the maestro has written the first part of his autobiograpahy, talked about his life and legacy on 60 MINUTES, continues to tour around the world, has an exhibition at the Morgan Library, hosts a satellite radio show, shilled for Victoria's Secret, released an excellent new album, and asked Twyla Tharp to make a musical from his vast songbook. The former Robert Zimmerman comes to the tristate area in support of his latest album, MODERN TIMES, with the Raconteurs opening up both shows. Recent setlists have included two songs from the new album as well as a revolving selection of classics, from "The Lonesome Death of Hattie Carroll" and "Desolation Row" to "Positively 4th Street" and "Tangled Up in Blue," from "It's Alright, Ma (I'm Only Bleeding)" and "Joey" to "Leopard-Skin Pill-Box Hat" and "Ballad of a Thin Man," as well as "Masters of War," "All Along the Watchtower," "This Wheel's on Fire," "Things Have Changed," "Just Like Tom Thumb's Blues," "Every Grain of Sand," "Maggie's Farm," "I Shall Be Released," "Boots of Spanish Leather," "Stuck Inside of Mobile with the Memphis Blues Again," "Simple Twist of Fate," "Just Like a Woman" — you get the picture, with Dylan leading the band on piano. Dylan has just added a show on November 20 at City Center, a much more intimate setting than the arena shows on Long Island and in Jersey; the presale tickets went instantly, so good luck trying for those remaining seats.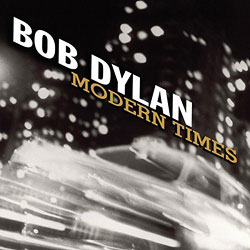 MODERN TIMES by Bob Dylan (Columbia, August 29, 2006)
http://www.bobdylan.com/moderntimes

It's like the '60s all over again, with new albums and big tours by the Rolling Stones, the Who, and now Bob Dylan, but it is the Great White Wonder who is still making the most vital music. His latest album, the highly touted MODERN TIMES, contains ten songs that mix folk, blues, country, lounge, balladry, Tin Pan Alley, rock, and pop, a stirring collection that finds his voice in full rasp. On the rollicking opening track, Dylan sings, "Thunder on the mountain, rolling like a drum / Gonna sleep over there, that's where the music coming from / I don't need any guide, I already know the way / Remember this, I'm your servant both night and day." As he has said before, "you gotta serve somebody," and Dylan serves listeners well with the lovely "When the Deal Goes Down," the romantic "Beyond the Horizon," and the politically tinged "Workingman's Blues #2," which borrows its melody from Mott the Hoople's "Saturday Gigs" (and also is about memory). Dylan gets down and swampy with "Someday Baby," "Rollin' and Tumblin'" and "The Levee's Gonna Break," the latter a balls-out warning: "If it keep on rainin' the levee gonna break / Some of these people gonna strip you of all they can take… If it keep on rainin' the levee gonna break / Some people still sleepin', some people are wide awake." And he winds things up with "Ain't Talkin'," strolling through the "mystic garden," singing, "Ain't talkin', just walkin' / Up the road around the bend / Heart burnin', still yearnin' / In the last outback, at the world's end." Dylan rediscovered himself in 1989 with the release of OH MERCY and has been on quite a ride since then, including GOOD AS I BEEN TO YOU (1992), WORLD GONE WRONG (1993), TIME OUT OF MIND (1997), and LOVE AND THEFT (2001); it's been a long five years, but MODERN TIMES is yet another fine addition to his continuing legacy.
Richard Termine
Twyla Tharp teams up with Bob Dylan for Broadway spectacle
THE TIMES THEY ARE A-CHANGIN'
Brooks Atkinson Theatre
256 West 47th St. between Broadway & Eighth Aves.
October 25 show reviewed
Tickets: $71.25 - $111.25
http://www.timestheyareachangin.com

The times certainly are a-changing, with Bob Dylan suddenly everywhere. One place no one quite expected him to turn up was on Broadway, where his work is the subject of an absurd new jukebox musical. Choreographer Twyla Tharp, who won accolades for her collaboration with Billy Joel on MOVIN' OUT, won't exactly "shake your windows and rattle your walls" with this tepid treatment of the Bard's words and music. Set in a postapocalyptic carnival, THE TIMES THEY ARE A-CHANGIN' inexplicably contains not a single innovative or memorable dance move; instead, a handful of clowns and a dude in a floppy eared dog suit (!?) jump on a trampoline, juggle, walk on a tightrope and on stilts, throw around big rubber balls, do somersaults, and smile and wait for audience applause as a live band leads the three main characters through a Dylan repertoire that includes "Just Like a Woman," "Rainy Day Women #12 & 35," "Lay Lady Lay," "On a Night Like This," "Like a Rolling Stone," "Highway 61 Revisited," "Forever Young," and "Maggie's Farm." While the first half features an incomprehensible story line but okay versions of some of the songs, the second half is just a mess, as the tunes become Broadwayfied and the narrative, involving circus boss Captain Ahrab (Tim Curry look-alike Thom Sesma); his son, Coyote (Michael Arden, though we saw understudy Jason Wooten), who does not want to follow in his father's footsteps; and Cleo (Lisa Brescia), the sexy circus performer who comes between them. It's as though Tharp was so excited to be working with Dylan that she forgot that she's a choreographer. But we have to admit that the woman sitting next to us, a Dylan fan since the 1960s, loved every minute of it; then again, she thought we were a lot older than we actually are, so we have our doubts about her judgment.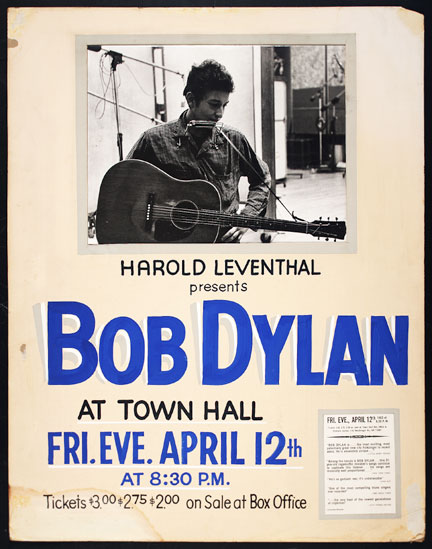 Courtesy of Barry and Judy Ollman
Town Hall concert poster, April 1963
BOB DYLAN'S AMERICAN JOURNEY, 1956-1966
The Morgan Library & Museum
225 Madison Ave. at 36th St.
Closed Mondays
Through January 6, 2007
Admission: $12
212-685-0008
http://www.morganlibrary.org/exhibitions/dylan

It's hard to imagine either John Pierpont Morgan (1837-1913) or his son, J.P. Morgan Jr. (1867-1943), ever hanging out in dark, dusty Greenwich Village clubs in the 1960s listening to a nasally voiced folk troubadour sing protest songs about freedom and equality. But in a curious twist of fate, you can now go to the newly renovated, posh-as-ever Pierpont Morgan Library, built by Jr. in 1924, and delve deep into the first ten years of Dylaniana. Curated by the Experience Music Project in Seattle, "Bob Dylan's American Journey" follows Dylan from his high school days in Hibbing, Minnesota, through his formative years in New York City, to the motorcycle accident that put an abrupt — though temporary — and still mysterious halt to his skyrocketing career. Crowded into the second-floor gallery, more than 150 artifacts are on view, including high school yearbooks, handwritten lyrics, concert posters, books and records he owned, photographs, musical instruments, a very funny early "bad poem," and even an untitled Dylan oil painting reminiscent of de Kooning's "Woman" canvases. Several listening stations are dedicated to each of Dylan's seminal albums of the period (HIGHWAY 61 REVISITED, BRINGING IT ALL BACK HOME, etc.), while others play clips from the innovative documentary DONT LOOK BACK (D.A. Pennebaker, 1967) and the rarely shown EAT THE DOCUMENT, made by Dylan himself. There are also snippets of a rather lucid Dylan speaking on Dylan, discussing such things as the time he walked out on THE ED SULLIVAN SHOW. The display also looks at the men and women who influenced Dylan as well as Dylan's impact on culture and specifically the civil rights movement, with paraphernalia from Woody Guthrie, Phil Ochs, and Bruce "Mr. Tambourine Man" Langhorne. Beware that if you go at a popular time, you might find a lot of the music bouncing off the walls all at once, creating a cacophony of Dylan that somehow we think he'd get a kick out of, but you might not.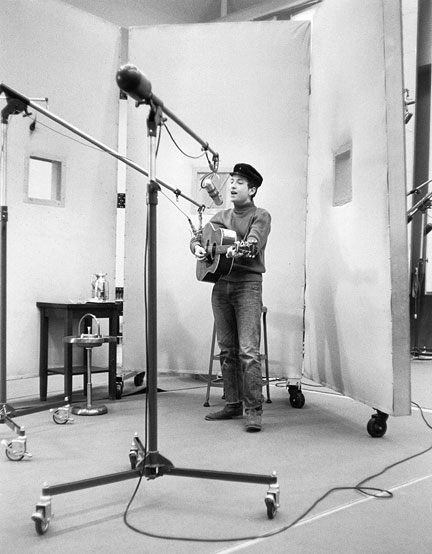 © Sony Music Entertainment
Dylan records in Columbia studio, circa 1961
BOB DYLAN'S AMERICAN JOURNEY LECTURE SERIES
The Morgan Library & Museum
Tickets: $17
212-590-0333
http://www.themorgan.org/public
Friday, November 3 Bound for Glory: The Legacy of Woody Guthrie, screening of WOODY GUTHRIE: LEGACY (John Paulson, 1999), followed by discussion with Nora Guthrie, 6:30
Thursday, November 16 Off the Iron Range: Bob Dylan In and Out of Hibbing High, with Greil Marcus, 6:30
Monday, November 20 THE TIMES THEY ARE A-CHANGIN', performance and discussion with the cast of the Broadway musical (Michael Arden, Thom Sesma, Caren Lyn Manuel) and Bill Flanagan, 7:00
Friday, December 8 Bohemia Before Bob: The First Hipster Generation (1910s) and How They Turned Greenwich Village into America's First Bohemia, with architectural historian Barry Lewis, 6:30
Monday, December 11 Making BLONDE ON BLONDE, with Sean Wilentz, 7:00

FILM SERIES
The Morgan Library & Museum
Free with museum admission of $12
Tickets available in advance only for Morgan members
212-590-0333
http://www.themorgan.org/public
Saturday, November 18 NO DIRECTION HOME (Martin Scorsese, 2005), 2:00
Saturday, December 9 THE SOURCE (Chuck Workman, 1998), featuring Johnny Depp as Jack Kerouac, John Tatusso as Allen Ginsberg, and Dennis Hopper as William S. Burroughs, 2:00
Also at the Morgan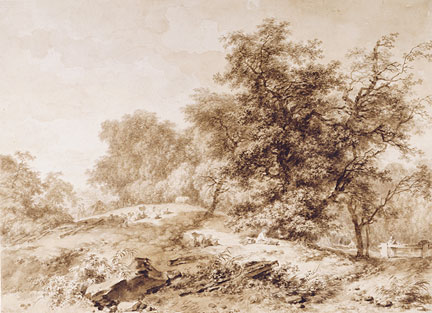 The Morgan Library
Jean-Honoré Fragonard, "Landscape with Flocks and Trees," brush and brown wash over graphite
FRAGONARD AND THE FRENCH TRADITION
MOZART AT 250: A CELEBRATION
Morgan Stanley West Gallery
Through January 7, 2007
http://www.morganlibrary.org/exhibitions/Fragonard
http://www.morganlibrary.org/exhibitions/Mozart

On the 200th anniversary of the death of Jean-Honoré Fragonard, the Morgan has collecting approximately forty drawings by Fragonard, his mentors, his contemporaries, and his followers. The rococo artist was a master draftsman, as evidenced by such romantic, sensuous works as "Le Petit Parc (The Little Park)," an elaborately framed goauche on vellum in which two trees form an arch over a park balcony; "Landscape with Flocks and Trees," a sweet setting populated with people enjoying the day; the lush red chalk drawing "Seated Young Woman"; and six abstract illustrations for Ludovico Ariosto's epic poem "The Madness of Orlando Furioso." The exhibit is supplemented by excellent pieces by Hubert Robert (don't miss "Draftsman in an Italian Church"), François Boucher, Charles-Joseph Natoire, Jean-Baptiste Greuze, and Jacques-Louis David.
On the other side of the gallery, the Morgan pays tribute to Wolfgang Amadeus Mozart, who would have turned 250 this year, with this small but enticing collection of autograph manuscripts, letters, audio snippets, librettos, and Viennese etchings. It's a real treat to see Mozart's original manuscripts; among those on display are the inventive and innovative Piano Concerto in C Major, K. 47; the rare Horn Concerto in E-flat, K. 495; Symphony in F, K. 112, composed when Mozart was only fifteen; and the unfinished Requiem, K. 626, which Mozart died before completing. Also on view is a vulgar letter Mozart sent to his cousin Maria Anna Thekla; Daines Barrington's "Account of a Very Remarkable Musician" from his 1781 book, MISCELLANIES; Simon Quaglio's stage design for an 1818 production of THE QUEEN OF NIGHT; and listening booths where you can hear alternate versions of Rondo for Piano in D Major, K. 485, performed by Daniel Barenboim and Ronald Brautigan, and Fugue for Two Pianos in C Major, K. 426, by Academy of St.-Martins-in-the-Field and Ingrid Haebler and Ludwig Hoffmann.

Culinary Event of the Week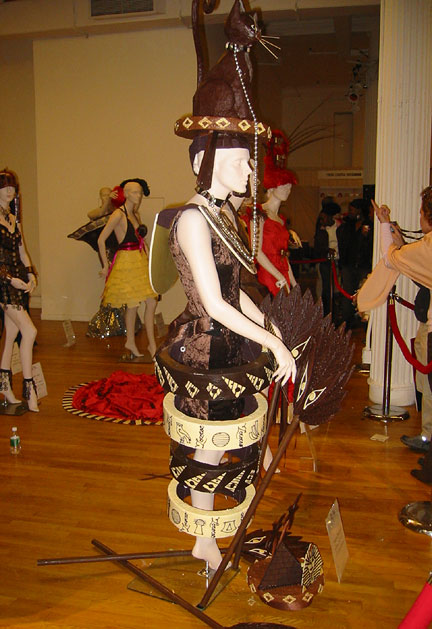 twi-ny/mdr
Chocolate fashion from Martin Howard, 2005
THE CHOCOLATE SHOW
Metropolitan Pavilion / Altman Building
125 West 18th St. between Sixth & Seventh Aves.
November 10-12
Tickets: $25
212-889-5113
Once again the Metropolitan Pavilion and the Altman Building will be turned into a glorious casa de cacao for the ninth annual Chocolate Show, one of our favorite culinary events of the year. Be prepared to battle long lines and heavy congestion as you make your way through mazelike rows of dozens of the world's finest chocolatiers offering free tastings and specially priced packages of delightfully decadent treats. Our returning favorites include the Chocolate Bar, Dagoba, Garrison Confections, Gold Star, Knipschildt, SweetBliss, and especially Mary's Chocolate, marvelous, unusual concoctions from Japan that sell out quickly. Be sure to cover all forty thousand square feet of the place, because there's something going on everywhere; in addition to the chocolate exhibitors, celebrity chefs (François Payard, Nicole Kaplan, Martin Howard) will be giving demonstrations, mixologists will be making chocolate cocktails in the Chocolate Lounge, the Beauty Bar will be giving chocolate massages, and the Chocolate Gift Shop will be selling books and other chocolate-related products. And don't miss the chocolate fashion collection, dresses made of chocolate by teams of fashion designers, chocolatiers, and pastry chefs.
Public Art Project of the Week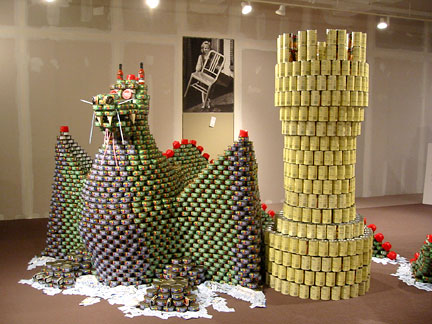 twi-ny/mdr
Perkins Eastman, "Dragon of CAN-a-lot," 2006
CANSTRUCTION
The New York Design Center
200 Lexington Ave. at 32nd St.
November 9-22
Suggested donation: one can of food
http://www.sdanyc.org/canstruction.php
This year's NYCDesign/Build Competition feature approximately forty-two installations made with canned food, aiming for such prizes as Best Meal, Best Use of Labels, and Structural Ingenuity while also raising awareness of world hunger. The colorful, inventive pieces are set up in showrooms throughout the New York Design Center. The best way to see everything is to take the elevator to the fifteenth floor and slowly make your way down. Be sure to bring a camera, and not just to take pictures; interestingly, viewing the canstructions through a camera lens brings what it is into better focus than if you look at it with just your own eyes. Among our favorites are Magnusson Archictecture and Planning's "cannect four hunger," a giant Connect Four game board; Gensler's "Water we doing to drop hunger?" a huge water droplet dripping from a faucet; ads Engineers' "Canned Piano," a baby grand piano; Weidlinger Associates' "Tail End to Hunger," a whale's tail diving back into the ocean; and Skidmore, Owings & Merrill's "MExiCAN Hat Dance," an awesome sombrero. Beware of the eleventh floor, where a few pieces took a tumble and are either only partially set up or completely wiped out, including what looked like an amazing Mobius strip. All canned food used in the canstructions and given at the door will be donated to City Harvest.

In the Neighborhood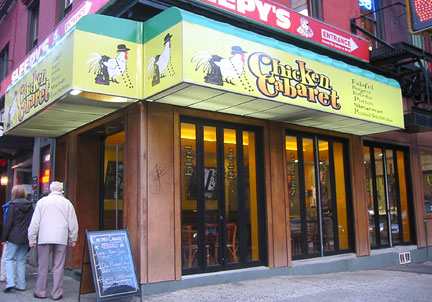 twi-ny/mdr
Murray Hill shot makes some of the best sandwiches around
CHICKEN CABARET
507 Third Ave. at 34th St.
212-725-0405

The silly named Chicken Cabaret is one of our favorite sandwich shops in the city. After checking out Canstruction, walk around the corner to this rather stark, very yellow Murray Hill joint for excellent burgers, kabobs, pressed sandwiches, salads, veggie plates, and Mediterranean sides. We've had just about everything on the menu, so we can vouch for the blazin' barbecue chicken kabob, the turkey-chicken shawarma, the falafel, the hummus, the lamb and beef gyro, the cheeseburger with tasty fries, and the eye round of beef pressed sandwich with caramelized onions, roasted tomatoes, and blue cheese on a ciabatta roll. And we always finish things off with their chocolate-chip cookies or mini-brownies. But they really should do something about the name and the corny logo.
Film Festival of the Week
MARGARET MEAD FILM & VIDEO FESTIVAL HIGHLIGHTS
American Museum of Natural History
Kaufmann Theater (KT)
Linder Theater (LT)
November 8-12
Tickets: $12 unless otherwise noted
212-769-5305
The Margaret Mead Film & Video Festival celebrates its thirtieth anniversary with another outstanding collection of international films examining the state of the world today. This year's schedule includes shorts and feature-length documentaries from China, Canada, India, Scotland, Malawi, Mexico, Senegal, Kenya, Nepal, Ireland, the Netherlands, Iraq, and the U.S., touching on such topics as AIDS, ethnic minorities in China, hip-hop, Hurricane Katrina, evolution, surveillance, the border crisis, the Coney Island Thunderbolt, nonviolent conflict, and war. Don't miss Spike Lee's brilliant WHEN THE LEVEES BROKE: A REQUIEM IN FOUR ACTS, a harrowing look at what went wrong before, during, and after Katrina, told by the people who were there.
Wednesday, November 8 Opening Night: DOC (Immy Humes, 2006), 7:00
Thursday, November 9 CHINA BLUE (Micha X. Peled, 2005), KT, 6:30
Thursday, November 9 UNDER THE ROLLER COASTER (Lila Place, 2005) and TODAY'S MAN (Lizzie Gottlieb, 2006), KT, 6:30
Thursday, November 9 SHOOTING UNDER FIRE (Sacha Mirzoeff, 2005), LT, 6:45
Thursday, November 9 IT AIN'T DISNEYLAND (Martin Orton & Greg Villalobos, 2006) and THE CHANCES OF THE WORLD CHANGING (Eric Daniel Metzgar, 2005), LT, 8:30
Thursday, November 9 JOHN & JANE TOLL-FREE (Ashim Shluwalia, 2005), KT, 8:45
Thursday, November 9 RAIN IN A DRY LAND (Anne Makepeace, 2006), LT, 8:45
Thursday, November 9 NOT A LOVE STORY: A FILM ABOUT PORNOGRAPHY (Bonnie Sherr Klein, 1981), KT, 8:40
Friday, November 10 Hip-Hop Field Report: ROOTS (Meredith Danluck, 2005), BLING: CONSEQUENCES AND REPERCUSSIONS (Kareem Edouard, 2005), and SNEAKERS (Femke Wolting, 2004), LT, 6:30
Saturday, November 11 WHEN THE LEVEES BROKE (Spike Lee, 2006), with half-hour intermission between parts 1 & 2, $19, 12:30
Saturday, November 11 THE BIMO RECORDS (Yang Rui, 2006), LT, 12:45
Saturday, November 11 Video Games — AYITI: THE COST OF LIFE (Global Kids, 1006), DARFUR IS DYING (Susana Ruiz, Ashley York & Huy Truong, 2006), A FORCE MORE POWERFUL (International Center on Nonviolent Conflict, 2006), and TROPICAL AMERICA (OnRamp Arts, 2002), LT, 3:45
Saturday, November 11 FLOCK OF DODOS (Randy Olson, 2006), KT, 6:00
Saturday, November 11 CHRONICLES OF A PROFESSIONAL EULOGIST (Sarah Jane Lapp, 2005) and ON THE ROAD WITH THE RED GOD: MACHHENDRANATH (Kesang Tseten, 2006), LT, 6:15
Saturday, November 11 PAVEE LACKEEN (THE TRAVELLER GIRD), LT, 8:00
Saturday, November 11 THE WAR TAPES (Deborah Scranton, 2006), KT, 8:30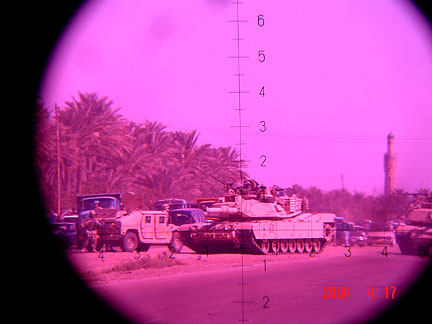 SenArt Films / Scranton/Lacy Films
THE WAR TAPES goes behind the scenes of the Iraq War
THE WAR TAPES (Deborah Scranton, 2006)

Named Best International Documentary at the 2006 Tribeca Film Festival, THE WAR TAPES is a brilliant look at combat as never seen before — from the perspective of real soldiers. With the New Hampshire National Guard being deployed to Fort Dix, NJ, on its way to Iraq, director Deborah Scranton got permission to recruit "citizen soldiers" to become "citizen journalists," giving digital cameras to volunteers who agreed to film their experience in Iraq. As members of Charlie Company, 3rd of the 172nd (Mountain) Regiment, they were responsible for providing safety to the trucks of defense contractor Kellog, Brown & Root, a subsidiary of Halliburton. The film follows the exploits of Sergeant Stephen Pink, who joined the military so he could afford to continue college; Specialist Mike Moriarty, whose life was changed so much by 9/11 that he was "motivated by the common cause of defending our great country and the freedoms that we as Americans live by"; and Sergeant Zack Brazzi, a Muslim who was born in Lebanon and loves being a soldier, "regardless of the political context or my personal feelings on the matter." Each one leaves a woman behind who discusses on camera her feelings about war and responsibility — Bazzi's mother, Sana; Moriarty's wife, Randi; and Pink's girlfriend, Lindsay. Based at LSA Anaconda in the Sunni Triangle, Charlie Company faces danger every day, from car bombs, snipers, roadside bombs, and other weapons of destruction. The video they shoot — Scranton, producer Robert May (THE FOG OF WAR), and producer / editor Steve James (HOOP DREAMS) culled through more than eight hundred hours of raw footage to come up with the ninety-seven-minute final product — is often breathtaking, ranging from playful wartime camaraderie to violent death, with reactions that are not rehearsed or staged. This is the real thing, and it is devastating. Additional footage, e-mail correspondence between the filmmakers and soldiers, and a blog is available at the above Web site.
Sunday, November 12 THE BICYCLE: FIGHTING AIDS WITH COMMUNITY MEDICINE (Katerina Cizek, 2005) and THE BLOOD OF YINGZHOU DISTRICT (Ruby Yang, 2006), LT, 1:30
Sunday, November 12 EL INMIGRANTE, KT, 1:45
Sunday, November 12 A MAP WITH GAPS (Alice Nelson, 2006) and HOW LITTLE WE KNOW OF OUR NEIGHBORS (Rebecca Baron, 2005), LT, 4:00
Sunday, November 12 MY BEAUTIFUL SMILE (Angele Brener, 2005) and SHAMELESS: THE ART OF DISABILITY (Bonnie Sherr Klein, 2006), KT, 4:15
Sunday, November 12 Closing Night: RIGHT TO RETURN/PIONEERS (Jonathan Demme, Daniel Wolff & Abdul Franklin, work in progress), KT, 7:00
In the Neighborhood
MARGARET MEAD GREEN / THEODORE ROOSEVELT PARK
Surrounding the American Museum of Natural History
Columbus Ave. between 77th & 81st Sts.
Admission: free
http://www.nycgovparks.org/7891
http://www.nycgovparks.org/7892
The nearly eighteen acres that surround the American Museum of Natural History make up Theodore Roosevelt Park, named for the former New York City police commissioner and governor and later vice president and president of the nation — as well as the man on the equestrian statue who greets visitors at the main entrance to the museum. Originally called Manhattan Square, Theodore Roosevelt Park is filled with such trees as the sycamore, the English elm, the London plane, and the pin oak. Follow the 79th St. Columbus entrance straight to Santiago Calatrava's Times Capsule, a four-way metallic kiss that stands in front of the Judy & Josh Weston Pavilion and will be opened on January 1, 3000. Stop by Sivert Lindblom's obelisk monument to Alfred Nobel — inventor, industrialist, philanthropist, and humanitarian — with a list of Americans who have won the Nobel Peace Prize. Let your dog have a blast in the Bull Moose Dog Run. In the northwest corner of the park is Margaret Mead Green, dedicated to the anthropologist who was a research fellow and curator of ethnology at the museum and lived right across the street.
Riff's Rants & Raves
VOLVER (COMING BACK) (Pedro Almodóvar, 2006)
Opens Friday, November 3
http://www.sonyclassics.com/volver

The centerpiece presentation of this year's New York Film Festival, VOLVER finds Pedro Almodóvar returning to his native La Mancha in Spain in this bittersweet, ultimately disappointing tale of three generations of women. The movie opens beautifully, with dozens of women in a cemetery, carefully cleaning loved ones' tombstones and leaving fresh flowers — except for Agustina (Blanca Portillo), who is tending to her own grave site. Agustina takes care of the aged Paula (Chus Lampreave), who helped raise Raimunda (Penélope Cruz). Raimunda is working several jobs to help support her lout of a husband (Antonio de la Torre) and their teenage daughter, (Yohana Cobo), but she's soon forced to cover up a grisly tragedy. And Sole (Lola Dueñas), Raimunda's sister, is a single woman working illegally as a hairdresser out of her apartment. When rumors persist that Raimunda and Sole's mother, Irene (Carmen Maura), who died in a fire many years before with her husband, has come back from the dead and is taking care of Paula, Raimunda and Sole have very different reactions, dredging up long-buried memories and secrets both good and bad. Unfortunately, the film never quite comes together. Almodóvar, who has made such spectacular films as ALL ABOUT MY MOTHER and TALK TO HER, in this case might be too close to the material; in the press notes, he confesses, "During the writing of the script and filming, my mother was always present and very near. I don't know if the film is good, but I'm sure that it did me a lot of good to make it." There are too many flaws in the plot, especially when Raimunda takes over her neighbor's restaurant and starts preparing lunches for a large film crew while being eyed by a young production assistant, and some of the comedy is just too slapsticky and unbelievable. Yet as with all Almodóvar films, there is still much to admire, even in a lesser work.
THE F WORD (Jed Weintrob, 2006)
IFC TV
Monday, November 6, 9:00

It's the last day of the 2004 Republican National Convention in New York City, and Joe Pace (Josh Hamilton) is broadcasting his last radio show at KPOL; the station has been shut down because it can't afford to pay indecency fines levied by the FCC. Pace takes to the streets with his live microphone, walking through Battery Park, the East Village, Union Square, Madison Square Garden, Times Square, and Central Park, stopping to talk to marchers, protesters, construction workers, bicyclists, Republican fundraisers, and anyone else ready to speak their mind — while also trying to steer clear of the police and their orange nets. Directed by Jed Weintrob (ON_LINE), THE F WORD mixes actors with real people, so you're not always aware of what is happening naturally and what has been prepared, which works both for and against the slow-paced, good-natured film. Among those playing themselves are Grateful Dead songwriter John Perry Barlow, the Reverend Billy, Green Party activist Peter Camejo, and Billionaires for Bush; actors playing roles include Zak Orth, Callie Thorne, Mia Barron, Ari Gold, Sam Rockwell, Edoardo Ballerini, and Waris Ahluwalia. As in F*CK (see below), Steve Earle's anthemic "F the FCC" blasts over the closing credits. It's no coincidence that IFC has chosen to air THE F WORD, which played the 2006 Tribeca Film Festival, on election eve.
SHOTTAS (Cess Silvera, 2002)
Opens Friday, November 10
http://www.sonypictures.com/movies/shottas
http://www.myspace.com/shottasthemovie

Widely discussed and traded on the Internet since it played the Toronto International Film Festival in 2002, the underground cult hit SHOTTAS finally gets its long-delayed and much-anticipated release here in the States. Mixing elements of THE HARDER THEY COME (Perry Henzell, 1972), MEAN STREETS (Martin Scorsese, 1973), and SCARFACE (Brian De Palma, 1983), SHOTTAS stars Kymani Marley (one of Bob's sons) as Biggs, a Jamaican gangster who dreams of making his mark in Miami, alongside his childhood friend Wayne (dancehall king Spragga Benz). Among those standing in his way are a white Jamaican politician (Munair Zacca) and his main competition, wealthy warlord Teddy Bruk Shut (Louie Rankin). Written and directed by Cess Silvera, SHOTTAS (which is Jamaican patois for "gangsters") moves quickly from the ghettos of Kingston to the luxury of South Beach; however, the scenes in Jamaica work much better than those in Florida, where the body count goes way up — with tons of slo-mo, fast-mo, and regular-mo bloodshed and massive gun battles, but often in hard-to-believe scenes of revenge and deception. Wyclef Jean makes his inauspicious, lackadaisical feature-film debut as Richie Effs; he comes off stronger as one of the film's executive producers and composer. The soundtrack is appropriately rockin', save for the awful, sappy closing song.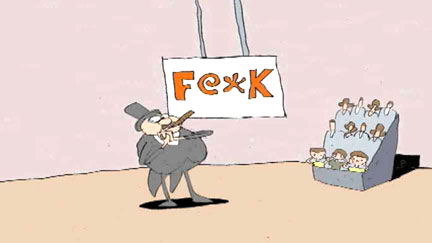 Bill Plympton gets animated about the F word
F*CK (Steve Anderson, 2006)
Quad Cinema
34 West 13th St. between Fifth & Sixth Aves.
Opens Friday, November 10
Tickets: $10

We have to admit that we left Steve Anderson's "f*ckumentary" about our very favorite word feeling enervated and empowered. Mixing archival footage, new interviews, film clips, music, and animation by Bill Plympton, Anderson examines the various uses and meanings of the forbidden word in politics, on television, in the movies, in music, in literature, in religion, and in everyday speech, looking at the history and the growing acceptance of the word in the popular culture of the twentieth century, when it took on new life. Both sides of the aisle chime in on the F-word and the First Amendment, from conservative talk show hosts and moral and religious leaders to film directors and rap stars, including Pat Boone, Drew Carey, Chuck D, Sam Donaldson, Bill Maher, Ice-T, Dennis Prager, Ron Jeremy, Jesse Sheidlower, Alan Keyes, Dave Marsh, Judith "Miss Manners" Martin, Alanis Morissette, Michael Medved, Kevin Smith, Hunter S. Thompson, Steven Bochco, and, most brilliantly, Billy Connolly. The innovative or, to many, offensive careers of Lenny Bruce and George Carlin are featured, as well as the battle between Howard Stern and the FCC. Along the way, we get to hear the F-bomb dropped by professors and presidents, producers and people in Times Square, Ph.Ds and porn stars, parents and pundits, and plenty of other cunning linguists. And closing with Steve Earle's "F the FCC" is a stroke of genius. F*CK is one great f*ckin' movie.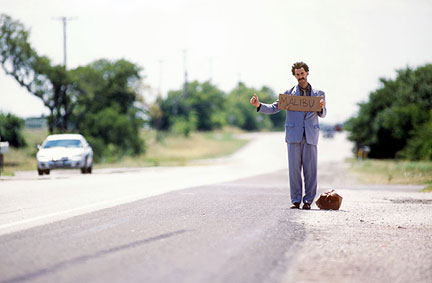 Borat reveals the ugly side of America in hilarious ways
BORAT: CULTURAL LEARNINGS OF AMERICA
FOR MAKE BENEFIT GLORIOUS NATION OF KAZAKHSTAN (Larry Charles, 2006)
In theaters now

Believe the hype. Sacha Baron Cohen holds a mirror up to America, and you might not like what you see — although you'll laugh your head off while watching it. Cohen stars as bushy haired Kazakhstan journalist Borat Sagdiyev, a role he created for DA ALI G SHOW, the 2001 series in which he interviewed such luminaries as Newt Gingrich, Boutros Boutros-Ghali, Andy Rooney, and Norman Mailer while pretending to be a British hip-hop wigger (Ali G); he also disguised himself as a German fashionista (Bruno) and Borat, a reporter who likes to talk about sex, especially with his sister. In CULTURAL LEARNINGS OF AMERICA FOR MAKE BENEFIT GLORIOUS NATION OF KAZAKHSTAN, Borat leaves his little village in Kazakhstan and travels across the United States with his producer, the rotund Azamat (Ken Davitian), in search of his true love, BAYWATCH's Pamela Anderson. Along the way, he is making a documentary about the American way of life, turning a revealing lens on racism, anti-Semitism, sexism, misogyny, homophobia, blind patriotism, fundamentalism, and southern hospitality, with a healthy dose of toilet humor (literally). The people he speaks with — a feminist group, gun and car dealers, rodeo cowboys, conservative politicians Bob Barr and Alan Keyes, etiquette and humor experts, Christian evangelicals at a revivalist tent meeting, drunk frat boys in an RV — believe he is really a Kazakh journalist, and Cohen holds nothing back, unafraid to ask any question or kiss any man, often risking his personal safety in hysterical ways. He's got the biggest cojones we've ever seen — and you nearly get to see them when he and Azamat chase each other naked through a hotel, ending up fighting onstage at a mortgage bankers convention. BORAT is more EASY RIDER than JACKASS and BEAVIS AND BUTT-HEAD DO AMERICA, a road trip movie that captures the state of the nation in frightening yet very funny ways.
A GUIDE TO RECOGNIZING YOUR SAINTS (Dito Montiel, 2006)
In theaters now
http://www.firstlookstudios.com/guide

Dito Montiel's compelling coming-of-age drama, inspired by his memoir about growing up in Queens, stars Robert Downey Jr. as Dito Montiel, a somewhat fictionalized version of the writer-director himself. As the modern-day Montiel prepares to come home to Astoria to visit his ailing father, Monty (Chazz Palminteri), he thinks back on what happened twenty years before that has kept him away from his friends and family for so long. In 1986, Dito (Shia LaBeouf) hangs around the mean Queens streets with tough-guy Antonio (Channing Tatum), the off-kilter Nerf (Peter Anthony Tambakis), and Antonio's slow brother, Giuseppe (Adam Scarimbolo). Believing that his father has more love and respect for Antonio than for his own son, Dito dreams of getting out, with his girlfriend, Laurie (Melonie Diaz), and his new friend, a Scottish kid named Mike O'Shea (Martin Compston), but Monty continually tells him that he'll never get anywhere, that there's no need to ever leave their insular community. (Even Manhattan and Coney Island are considered off limits, as if they're other countries.) But when an escalating turf war breaks out with a group of teens from Queensbridge, tragedy leads to some hard, painful decisions. Shot on location and featuring a retro soundtrack, A GUIDE TO RECOGNIZING YOUR SAINTS is a SATURDAY NIGHT FEVER for a new generation, a gritty period piece about the not-so-glorious results of a misspent youth. The outstanding ensemble, which also includes Dianne Wiest, Eric Roberts, and a scene-stealing Rosario Dawson, earned a well-deserved Special Jury Prize at Sundance.
TIDELAND (Terry Gilliam, 2006)
IFC Center
323 Sixth Ave. at West Third St.
Tickets: $10.75
212-924-7771
http://www.tidelandthemovie.com

You know you're in trouble when a movie begins with the director telling you that a lot of people are not going to like it — and that he looked deep inside himself and found a little girl. Terry Gilliam, the former Monty Python animator and genius behind such thrilling work as TIME BANDITS (1981), BRAZIL (1985), THE FISHER KING (1991), and TWELVE MONKEYS (1995), offers just such a warning before the vile, abhorrent TIDELAND. Based on the novel by Mitch Cullin, the despicable, repulsive two-hour offense stars the annoying Jodelle Ferland as Jeliza-Rose, a disturbed and seriously endangered little girl with the parents from hell, Queen Gunhilda (an annoying Jennifer Tilly), a nasty chocoholic drug addict, and Noah (an annoying Jeff Bridges), a washed-up would-be rocker who has his daughter make the speedballs that send him on "vacation" every day. When bad things happen to her folks, Jeliza-Rose delves further into her bizarre, mixed-up fantasy world, which consists of mysteriously talking doll heads that she wears on her fingers, a muttering squirrel, an epileptic weirdo (an annoying Brendan Fletcher) who wants to slay a train he thinks is an evil dragon, and his sister, the witchlike Dell (an annoying Janet McTeer), who has an unhealthy fear of bees and likes taxidermy way too much — including stuffing humans. Gilliam considers this hideously unwatchable fantasy to be a mix of PSYCHO (Alfred Hitchcock, 1960) and Lewis Carroll's ALICE'S ADVENTURES IN WONDERLAND; we consider it to be one of the ten worst films we've ever seen.
SLEEPING DOGS LIE (Bobcat Goldthwait, 2006)
Landmark Sunshine Cinema
143 East Houston St. between First & Second Aves.
Tickets: $10.75
212-330-8182
http://www.landmarktheatres.com
http://www.sleepingdogsliethemovie.com

SLEEPING DOGS LIE, written and directed by Bobcat Goldthwait — yes, that dude with the annoying voice from the POLICE ACADEMY movies — is an oddly charming, offbeat romantic comedy. As the film opens, Amy (Melinda Page Hamilton) is a lonely college student who suddenly decides to try something a little different — she pleasures her dog, but immediately regrets it. Eight years later, she is in a serious relationship with John (Bryce Johnson), who wants them to be completely honest with each other. Hesitant to share this one detail of her life, she ultimately confesses, believing love trumps all. How wrong she is. Hamilton (Sister Mary Bernard from DESPERATE HOUSEWIVES) is terrific in the lead role, playing a smart, attractive woman overwhelmed by this one secret. She gets comfort from a fellow teacher, Ed (Colby French), but none from her old-fashioned parents (Geoff Pierson and Bonita Friedericy) or her crystal-meth-smoking loser of a brother, Dougie (Jack Plotnick). Goldthwait, who has carved out a niche career for himself as a television director, including JIMMY KIMMEL LIVE, CHAPELLE'S SHOW, CRANK YANKERS, and THE MAN SHOW, shot SLEEPING DOGS LIE in a mere sixteen days, putting together part of the crew from Craigslist. A truly indie film, it was nominated for the Grand Jury Prize at Sundance earlier this year. Give it a try; you're likely to be pleasantly surprised.
CATCH A FIRE (Phillip Noyce, 2006)
In theaters now
http://www.catchafiremovie.com

Australian director Phillip Noyce pulls off a political-thriller hat trick with the masterful CATCH A FIRE, following the success of his last two feature films, 2002's double shot of THE QUIET AMERICAN and RABBIT-PROOF FENCE. Derek Luke (ANTWONE FISHER) stars as Patrick Chamusso, a hardworking family man who is a foreman at the Secunda oil refinery in South Africa in 1980. Avoiding politics, he makes a good living for his wife, Precious (the remarkably expressive Bonnie Henna), and their two young daughters (Onthatile Ramasodi and Ziizi Mahlati). But when he is dragged into a terrorism investigation at the plant and is viciously tortured by Colonel Nic Vos (a steadfast Tim Robbins) and his men, Patrick sees a very different side of Apartheid and soon considers becoming a Freedom Fighter, risking his life for his country. Based on a true story — and written by Shawn Slovo, the daughter of a prominent white leader of the anti-Apartheid movement — CATCH A FIRE is an impassioned, powerful look at not only the racism that existed for so long in South Africa but what drives men to do the things they do. Both Chamusso and Vos make critical decisions that impact the safety of their families as well as the nation, and both believe they are patriots. Marvelously acted and with a superb soundtrack (including songs by the Bongani Singing Group and Bob Marley), CATCH A FIRE is not merely a period piece but is a wake-up call to much of what is still going on in today's dangerous world.
THE PRESTIGE (Christopher Nolan, 2006)
In theaters now
http://theprestige.movies.go.com

Christopher Nolan, who made the excellent MEMENTO (2000), the disappointing INSOMNIA (2002), and the very good BATMAN BEGINS (2005), turns to the world of magic, but you'll feel like you've seen this rabbit pulled out of a hat very recently — especially if you've checked out THE ILLUSIONIST, Neil Burger's murder mystery about a magician, and SCOOP, in which Woody Allen plays a magician who gets caught up in a murder mystery with his "daughter" (Scarlett Johansson) and the son of a powerful lord (Hugh Jackman). In THE PRESTIGE, dueling magicians Robert Angier (Jackman) and Alfred Borden (Christian Bale) have a bitter relationship right out of AMADEUS (Milos Forman, 1984), with Angier being more the Salieri type and Borden the Mozart wunderkind. They each keep trying to up the ante with the constantly morphing trick called the Transported Man, eventually involving electricity expert and oddball Nikola Tesla (David Bowie) in the mix, as well as sexy magician's assistant Olivia (Johansson). Parts of the film are indeed thrilling, and the ending packs a wallop, but much of the meat of the movie is far too repetitive and, ultimately, not quite believable.
DEATH OF A PRESIDENT
In theaters now
http://www.deathofapresident.com

Gabriel Range's gripping DEATH OF A PRESIDENT examines the October 19, 2007, assassination of George W. Bush. Set up like a BBC documentary, the film, winner of the International Critics' Prize at the 2006 Toronto Film Festival, mixes in archival footage of the president with (fictional) news reports and interviews with Bush's Secret Service detail, his speechwriter, journalists, the FBI man in charge of the case, various suspects, and others directly and peripherally involved in what went down that tragic day. Range, who has made several drama-documentaries for British television (including THE DAY BRITAIN STOPPED), is very careful not to politicize the assassination or the reaction to it — DEATH OF A PRESIDENT is not a polarizing polemic that takes partisan sides. It is primarily about fear in a post-9/11 America, and it captures that world with respect and dignity despite its subject matter. "The advance condemnation of this film by politicians and pundits who have not seen — and may never see — this film," Range writes in his director's statement, "reflects the landscape of fear in which we live today." Extremely well presented, DEATH OF A PRESIDENT is a fascinating document of our complex times.
ABSOLUTE WILSON (Katharina Otto, 2006)
Lincoln Plaza Cinemas
1886 Broadway between 62nd & 63rd Sts.
Opens Friday, October 27
Tickets: $10.75
212-757-0359
http://lincolnplaza.moviefone.com

Avant-garde theater genius Robert Wilson opens up about his life and art in ABSOLUTE WILSON, a revealing documentary by Katharina Otto-Bernstein. Wilson, the innovative — and notoriously private — director / designer / choreographer, was born and raised in a segregated religious community in Waco, Texas, where he suffered though a very complicated childhood with few friends and a serious stuttering problem. He eventually came out to his father — a man who never quite understood or accepted Wilson's differences in ways that still haunt him today — and moved to New York City, where he became engaged in the radical theater of the 1960s. A master collaborator, over the years he has worked with Philip Glass, David Byrne, Tom Waits, William S. Burroughs, Jessye Norman, Lou Reed, and many others, in such monumental productions as EINSTEIN ON THE BEACH, THE BLACK RIDER, and The CIVIL warS. He has also been drawn to children with mental and physical challenges, resulting in such pieces as the eight-hour DEAFMAN GLANCE with Raymond Andrews and the Broadway flop A LETTER FOR QUEEN VICTORIA with Christopher Knowles. Among the talking heads sharing their thoughts about Wilson are Byrne, Norman, Glass, Susan Sontag, critics John Simon and John Rockwell, Byrd Hoffman (who runs the Byrd Hoffman Water Mill Foundation, where Wilson is artistic director), and Harvey Lichtenstein (the former president of the Brooklyn Academy of Music and namesake of the BAM Harvey Theater). Wilson's theater is mesmerizing, confounding, mysterious, and always breathtaking — we've marveled at THE BLACK RIDER and WOYCECK, both at BAM — but perhaps most remarkable is the work Wilson did helping people in hospitals and mental institutions, inventing unique ways to teach them to communicate. Otto-Bernstein cleverly intercuts Wilson's stories of his past with scenes from his productions (going back to the very beginning of his career), showing how life imitates art — and vice versa. ABSOLUTE WILSON is a must for Wilson fans — and any fan of art and the creative instinct.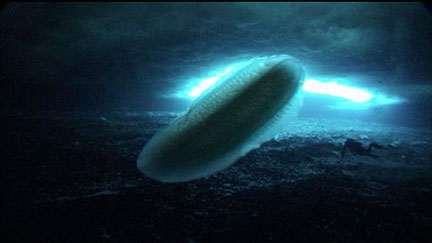 © Werner Herzog Film
Werner Herzog takes to the stars in "science fiction fantasy"
THE WILD BLUE YONDER (Werner Herzog, 2005)
IFC Center
323 Sixth Ave. at West Third St.
212-924-7771
http://wildblueyonder.wernerherzog.com

Werner Herzog takes to the skies and beyond in this thrilling "science fiction fantasy" set in the near future. Using archival footage of flight — from the very early days of aviation through more recent NASA missions — Herzog weaves together a marvelous tale of a bleak future for Earth. Brad Dourif (ONE FLEW OVER THE CUCKOO'S NEST, WISE BLOOD) stars as an alien from Andromeda who narrates the story from in front of an abandoned would-be shopping mall in a desolate landscape. In voice-overs eerily reminiscent of Martin Sheen's in APOCALYPSE NOW, the alien delves into Roswell, the Galileo probe, and just how long it would actually take to get to Alpha Centauri as Herzog (GRIZZLY MAN, FITZCARRALDO, NOSFERATU) follows the adventures of a space shuttle crew desperately seeking a new, livable planet. The master director also throws in real mathematicians carefully explaining string theory and intergalactic science, making it that much easier to believe this pseudodocumentary, a lyrical poem that is a subtle metaphor for our own planet if we're not more careful. Winner of the FIPRESCI Prize for Parallel Sections at the 2005 Venice Film Festival, THE WILD BLUE YONDER also features a dark, haunting score by Ernst Reijseger, with vocals by Senegalese singer Mola Sylla and a Sardinian shepherd choir.
CLIMATES (IKLIMLER) (Nuri Bilge Ceylan, 2006)
Film Forum
209 West Houston St. between Sixth & Seventh Aves.
Tickets: $10
212-727-8110

Winner of the FIPRESCI Prize at this year's Cannes Film Festival and a selection of the just-wrapped-up New York Film Festival, CLIMATES is a beautifully elegiac look at a desperate relationship set in modern-day Turkey. The film opens with Isa (writer-director Nuri Bilge Ceylan) and Bahar (Ebru Ceylan, Nuri's real-life wife) visiting desert ruins. As he walks among ancient pillars, taking photos, she watches him from a distance; the silence is deafening. Later, on a beach, they agree to part ways; while he heads back into the arms of Serap (Nazan Kesal), a friend's lover, she takes a job on a faraway television program, set in the bitter cold and snow. But Isa still can't get the younger Bahar out of his mind. CLIMATES features long scenes of little dialogue, with cinematographer Gökhan Tiryaki alternating extreme close-ups with gorgeous, nearly empty landscapes, shot in HD digital video, with a haunting piano-based score. Ceylan's follow-up to DISTANT, which won the 2003 Jury Grand Prix at Cannes, is a wrenching, challenging tale that will leave audiences emotionally exhausted.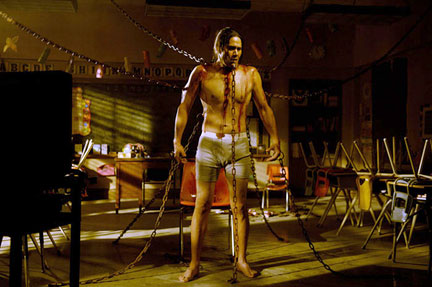 There's no escape from SAW III
SAW III (Darren Lynn Bousman, 2006)
In theaters now

The original SAW (James Wan, 2004) was a tense, gruesome, and clever thriller. Darren Lynn Bousman's 2005 sequel was a boring, gruesome, and repetitive mess. The franchise continues for the third Halloween in a row with SAW III, with Bousman perhaps directing the series into its well-deserved grave. (At least creatively; the new movie has turned out to be a big hit.) Jigsaw (Tobin Bell) is on his deathbed, so he has his apprentice, Amanda (Shawnee Smith), carry on for him, capturing a doctor (Bahar Soomekh) whose future (actually, her head) is linked directly to Jigsaw's heart monitor. Meanwhile, Jeff (Angus Macfadyen) is being led through a chamber of horrors where he is faced with the choice of exacting revenge or offering forgiveness over the death of his young son, killed by a drunk driver. Whereas the first film was cutting-edge in its inventive methods of murder, this third installment is dull and lifeless. As Jigsaw himself says, "Game over."
MAN OF THE YEAR (Barry Levinson, 2006)
In theaters now
http://www.manoftheyearmovie.net

Barry Levinson reteams with Robin Williams (GOOD MORNING, VIETNAM, the disastrous TOYS) for MAN OF THE YEAR, an entertaining if flawed romantic comedy/political thriller. Williams stars as Tom Dobbs, a Bill Maher-like talk-show host who gets recruited by his fans to run for president. So he and his manager (Christopher Walken) and head writer (THE DAILY SHOW's Lewis Black) go on the road, bringing a message of change to the American people. Meanwhile, Eleanor Green (Laura Linney) discovers that there is a critical problem with her company's electronic voting machines that will affect the outcome of the election, but the firm's CEO (Rick Roberts) and spokesman (Jeff Goldblum) care more about their soaring stock than who gets to sit in the Oval Office. Complicating things is the growing attraction between Dobbs and Green. Despite some seriously stale political jokes, obvious riffs on fake news shows, the oh-so-tired inclusion of real talking heads commenting on Dobbs's chances for the White House (Chris Matthews, James Carville), and awful melodramatic music at the film's climax, MAN OF THE YEAR manages to be funny, insightful, moving, and timely, coming out just before the crucial midterm elections and Robert F. Kennedy Jr. 's big Rolling Stone story about possible fraud involving voting machines.
THE TEXAS CHAINSAW MASSACRE: THE BEGINNING
(Jonathan Liebesman, 2006)
In theaters now
http://www.texaschainsawmovie.com

We're not sure the world really needs yet another TEXAS CHAINSAW MASSACRE, what with all the sequels, remakes, and even THE TEXAS CHAINSAW MASSACRE: THE NEXT GENERATION (Kim Henkel, 1994), which featured Renée Zellweger and Matthew McConaughey. Tobe Hooper's 1974 original was a slasher classic, with the great Gunnar Hansen as Leatherface, but for thirty years people have been trying to capture that same grisly intensity, with little success. Perhaps the closest they've come is THE BEGINNING, the new prequel to the 2003 remake (which starred Jessica Biel). The cannibalistic quartet of R. Lee Ermey (Sheriff Hoyt), Uncle Monty (Terrence Evans), Luda Mae (Marietta Marich), and Tea Lady (Kathy Lamkin) are back for Jonathan Liebesman's solid, scary flick that goes back to the birth of old Leatherface (Andrew Bryniarski), somewhat explaining how he gained such a liking for butcher knives, chainsaws, and human skin. This time around, Taylor Handley and Matt Bomer play two very different brothers about to go to Vietnam, driving through the California desert with their girlfriends (Jordana Brewster and Diora Baird) for one last hurrah, but they sort of take a rather gruesome detour. Although the period music the filmmakers dug up is pretty lame, Steve Jablonsky's original score builds the tension beautifully. Be prepared for lots of blood, torture, and genuine terror.
THE DEPARTED (Jonathan Liebesman, 2006)
In theaters now
http://thedeparted.warnerbros.com

Based on Andrew Lau and Alan Mak's awesome INFERNAL AFFAIRS (2002), Martin Scorsese's relatively faithful remake, THE DEPARTED, has been moved from Hong Kong to the mean streets of Boston, where it is hard to tell cop from criminal. Just out of the academy, Colin Sullivan (Matt Damon) rises quickly to detective in the Special Investigations Unit, but he's actually in cahoots with master crime lord Frank Costello (Jack Nicholson). Meanwhile, Billy Costigan (an excellent Leonardo DiCaprio), training to become a cop, is sent deep undercover (including a prison stint) to infiltrate Costello's gang, with only Captain Queenan (Martin Sheen) and Sergeant Dignam (a very funny and foul-mouthed Mark Wahlberg) aware of the secret mission. Sullivan and Costigan are like opposite sides of the same persona; in between them stands Costello — and Madolyn (Vera Farmiga), a psychiatrist who is in a relationship with one and is doctor to the other. As both the cops and the criminals search desperately for their respective rats, no one can trust each other, leading to lots of blood and a spectacular finale. Nicholson has a field day as the aging gangster, chewing up mounds of scenery in his first film with Scorsese, who has returned to peak form with his best film since 1990s GOODFELLAS.
JACKASS: NUMBER TWO (Jeff Tremaine, 2006)
In theaters now

Johnny Knoxville and his merry band of marauders (Bam Margera, Steve-O, Wee Man, Preston Lacy, Ryan Dunn, and Chris Pontius) are back for another series of crazy practical jokes, disgusting displays of really stupid stunts, and ridiculous life-threatening activities involving speeding shopping carts, snakes and bees, rockets, bungee jumping, skateboarding, pistols and rifles, charging bulls, a well-hung horse, medicine balls, beer funnels, bodily excretions, and plenty of things that can't be printed here. It's gross-out comedy at its best — and worst. But most of all, it's just really, really funny. The second go-round includes appearances by Tony Hawk, Luke Wilson, director Jay Chandraskehar (THE DUKES OF HAZZARD, BEERFEST), Mike Judge, John Waters, Rip Taylor, and Spike Jonze walking around town disguised as an old lady whose drooping boobs keep popping out.
THE LAST KING OF SCOTLAND (Kevin MacDonald, 2006)
In theaters now
http://www2.foxsearchlight.com/thelastkingofscotland

Forest Whitaker is absolutely mesmerizing as General Idi Amin in Kevin MacDonald's THE LAST KING OF SCOTLAND, demanding viewers' attention every time he appears on-screen, a dominating, bigger-than-life presence. Unfortunately, the rest of the film lets him down, failing to come close to his overpowering performance. The movie is based on Giles Foden's award-winning novel, in which the author created a composite character, Nicholas Garrigan, a Scottish doctor who becomes a close confidant of Amin's. What might have worked in the book falls apart on camera in a series of hard-to-believe scenes that actually never happened. As played by James McAvoy, Garrigan is goofy and lightweight from the very beginning, unable to compete with the massive Whitaker as Amin. He makes a play for his boss's wife (Gillian Anderson), thinks he doesn't have to play the political game with a British operative (Simon McBurney), and takes a liking to one of Amin's mistreated wives (Kerry Washington). While it is fascinating to watch the rise and fall of the President for Life, his relationship with Garrigan is hard to swallow — mostly because it's not true. And even those bits and pieces that are factual have been twisted and changed to increase emotional impact, ending up with manipulated melodrama instead of what really happened — which is a shame, since MacDonald's first two films, the well-regarded ONE DAY IN SEPTEMBER and TOUCHING THE VOID, were both documentaries.
THE SCIENCE OF SLEEP (Michel Gondry, 2006)
In theaters now
http://thescienceofsleep.imeem.com

Eclectic auteur Michel Gondry's feature-length debut as both writer and director is a complex, confusing, kaleidoscopic stew that is as charming as it is frustrating. Gael García Bernal (THE MOTORCYCLE DIARIES) stars as the juvenile but endearing Stephane, a young man in a silly hat who has trouble differentiating dreams from reality. The childlike Stephane becomes friends with his new neighbor, Stephanie (Charlotte Gainsbourg, daughter of Serge Gainsbourg and Jane Birkin), who still has plenty of the child left inside her as well. Stephane has a job his mother (Miou-Miou) got him, toiling for a small company that makes calendars, alongside the hysterical Guy (Alain Chabat), who can't help constantly poking fun at coworkers Serge (Sacha Bourdo) and Martine (Aurélia Petit). Gondry, who gave us the brilliant ETERNAL SUNSHINE OF THE SPOTLESS MIND as well as the highly entertaining DAVE CHAPPELLE'S BLOCK PARTY and the bizarre HUMAN NATURE, uses low-tech green-screening and stop-motion animation to reveal Stephane's fantasy world, bringing to mind such masters as Jan Svankmajer and the Brothers Quay. Unfortunately, just as Stephane can't tell what's real from what he's dreaming, you'll often have difficulty as well; some of the plot turns are downright infuriating, and Stephane's TV show teeters on the edge of embarrassing. But you'll also be hard-pressed not to leave the theater feeling like a kid in a candy store.
JET LI'S FEARLESS (Ronny Yu, 2006)
In theaters now
http://www.fearlessthemovie.com

Jet Li says goodbye to the martial arts genre with this overly worshipful yet still entertaining tribute to Wushu legend Huo Yuanjia. As a young child, Huo (Zhu Qilong) is weak and sickly yet yearns to become a martial arts master like his father (Collin Chou). He trains instead of studying, so when he grows up, Huo (Li) indeed becomes a championship-caliber fighter, but fighting is all he knows. He has learned none of the true ways of Wushu that his father taught; instead of using the special techniques to better his body, mind, and soul, he is obsessed with winning, feeding his own ego — and soon pays a heavy price. Ready to give up on life, he is taken in by a poor farming village, where a blind woman (Sun Li) helps him reevaluate his existence. With Westerners opening up China (in the first decade of the twentieth century), Huo is ready to defend what foreigners are calling "the Weak Man of the East." A labor of love for Li, FEARLESS plays a little too loosely with some of the facts, Huo's transformation is way too diagrammed, and too many of his challengers are ROCKY III-like stereotypes, but Li is able to rise above the melodrama. The action scenes, choreographed by Yuen Wo Ping (THE MATRIX, KILL BILL, CROUCHING TIGER, HIDDEN DRAGON), are, as expected, great to watch, and director Ronny Yu (BRIDE OF CHUCKY, THE BRIDE WITH WHITE HAIR) keeps things moving at a decent pace. It'll be interesting to see what Li (ROMEO MUST DIE, KISS OF THE DRAGON, HERO) does next, now that he's leaving this ever-evolving genre that has been gaining more and more respect from mainstream audiences.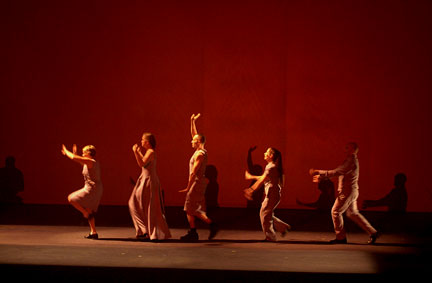 Michael Cooper
Meredith Monk's IMPERMANENCE has its New York premiere at BAM
IMPERMANENCE
2006 Next Wave Festival
Brooklyn Academy of Music
BAM Harvey Theater
651 Fulton Street between Ashland Pl. & Rockwell Pl.
Through November 4
Tickets: $20-$50
718-636-4100

Meredith Monk's multimedia meditation on mortality, IMPERMANENCE, evolved from the sudden loss of her longtime partner, choreographer Mieke van Hoek, in 2002. As the audience filters in, smoke wafts through the theater and across the stark stage, as if the people are entering an artistic way station between life and death. In this middle ground, images of men and women are projected onto a large screen — close-ups of people with terminal illness. Monk slowly walks over to a piano and starts playing "Last Song," in which she combines offbeat vocal sounds with such repeated phrases as "last chance," "last dance," and "last time," announcing the evening's theme. She is then joined by four dancers and three musicians, some of whom have been with her for many years (including Ching Gonzalez, Katie Geissinger, Theo Bleckmann, and Allison Sniffin), as if she is holding an impromptu family reunion — which often occurs at funerals. But that does not mean that IMPERMANENCE is morbid; for the next ninety minutes, the dancers and the musicians intermingle, walking slowly and determinedly, following each other into a lighted rectangle, weaving past each other, and gathering at the piano, where they all play together. The minimalist, repetitive music is accompanied by guttural sounds and instinctive movement; the first half, which focuses on physical reality and the individual, slips into self-indulgence, while the second half, following a brief intermission, is far more accomplished, as Monk delves into spirituality and the soul. The second act's combination of sound, movement, music, and video, along with a clever costume change and superb lighting, has more flow to it, making for far more compelling theater.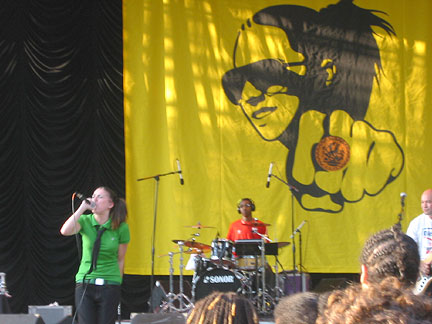 twi-ny/ees
Lady Sovereign rocks Central Park SummerStage this past July
LADY SOVEREIGN
Bowery Ballroom
6 Delancey St. at Bowery
Monday, October 31
212-533-2111

Celebrating the release of her wicked new album, PUBLIC WARNING (Def Jam, October 31, 2006), Lady Sovereign rapped her way through an uproarious show at Bowery Ballroom, loaded with attitude to spare. Barely out of her teens, Lady Sovereign commands the stage and the audience with deceptive experience, confident enough to curse out the crowd or her band (and, in this case, executives from her label), usually in good fun. She lets loose onstage, holding nothing back, stomping around manically, kicking off her shoes, splashing the crowd with beer, or peeking angrily through her sunglasses. She blasted through songs from the new disc, including "9 to 5," "Random," "My England," "Tango," "Hoodie," "Blah Blah," the title track, and the awesome "Love Me or Hate Me," in which everyone flips the bird and curses each other out. Backed by drums, bass, and a turntablist, the diminutive Lady Sov, wearing a shirt that proclaimed "Biggest Midget in the Game," even tore through a punky cover of the Sex Pistols' "Pretty Vacant." We've seen her a few times now, at Webster Hall and SummerStage before this; even though she wasn't at her best at the Bowery, she still put on one helluva good show.
CMJ06: MUSIC MARATHON
Multiple venues
October 31 - November 4
Single tickets available at the door for most events
The annual CMJ has just concluded its five days of music, movies, and panel discussions at venues all over the city. Opening night, which was Halloween, featured smaller crowds than expected, perhaps because of the holiday, but that only made it that much easier to see some of the hottest shows. We never thought we'd get in to see the Cardigans' special acoustic set at, appropriately enough, the Knitting Factory, especially when we arrived after the announced start time. But get in we did, where we were treated to a short but entertaining set, with Nina Persson on vocals and Peter Svensson on acoustic guitar. In between such songs as "Don't Blame Your Daughter (Diamonds)" from their new disc, SUPER EXTRA GRAVITY, and some older, rarely played numbers, Persson told funny stories while Svensson tuned his guitar; her Swedish accent and lack of a prepared script had much of the audience swooning. Earlier that night we checked out the avant-garde duo Dodo Bird and the New York Howl at Crash Mansion. Dodo Bird, with Meric Long, dressed as a geisha, on guitar and vocals, and Logan Kroeber, all dolled up as a mop-headed woman in a dress, fiercely banging away on his small drum kit, played mesmerizing songs with unusual melody lines; "Men" was a particular favorite. The experimental duo was followed by the amazing New York Howl, who replaced the Bush Tetras on the schedule. Lead singer Andrew Katz, Joey Ramone on steroids, was barely able to keep his head from hitting the ceiling as he lumbered around the stage during a raucous, punkish set (www.myspace.com/thenewyorkhowl). We also hung around the Knitting Factory after the Cardigans played to catch IV Thieves, a British band featuring three alternating singers and a drummer (sound familiar?), including angry bassist Shane Lawlor, who executes fine scissor kicks and has one of the best snarls in the business (http://www.nicarmstrong.com). The next night we stopped by Fontana's to hear Swearing at Motorists; singer/guitarist/raconteur Dave Doughman jumped and jerked around the stage while a bored Joseph Siwinski played drums, looking like he'd rather be anyplace else than there (www.swearingatmotorists.com). We've also checked out the great documentary F*CK (Steven Anderson, 2006); see our review above. Despite a long line of badges outside Irving Plaza on Saturday night, we were able to weasel our way into the much-hyped Architecture in Helsinki show, their last American gig until their next album comes out, sometime in the middle of 2007; the quirky Australian band, part Talking Heads, part Tom Tom Club, with ample bits of the B-52s, played an appropriately quirky, percussion-heavy set filled with retro keyboards, unusual vocal harmonics, and a whole bunch of promising new songs (www.architectureinhelsinki.com). Whew — are we exhausted...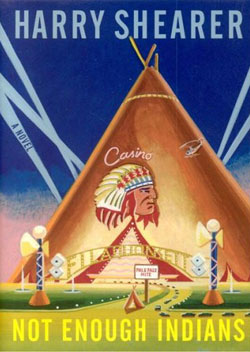 NOT ENOUGH INDIANS by Harry Shearer
(Justin Charles Books, October 2006, $19.95)
http://www.justincharlesbooks.com

Multifaceted comedian Harry Shearer — who does the voices of Montgomery Burns, Smithers, Ned Flanders, Principal Skinner, Reverend Lovejoy, and others on THE SIMPSONS, was a former SNLer and newspaper columnist, hosts the syndicated radio program LE SHOW, and played bassist Derek Smalls in THIS IS SPINAL TAP — has come out with his first novel, and, unsurprisingly, it's cynical, bizarre, and very funny. The upstate New York town of Gammage is on its last legs, desperately searching for a way to stay alive, when traveling consultant Dick Dirigian and Vegas hustler Tony "Loose Slots" Silotta come up with a brainstorm: The townspeople should claim to be an Indian tribe, receive all kinds of tax breaks from the government, and build a showpiece casino. And thus is born the Filaquonsett Reservation, home to a state-of-the-art gambling center. But not everyone is thrilled about the sudden change, including the nearby Wowosa Reservation, which already pulled the same stunt and doesn't like losing customers to the newbie on the strip. And so a colorful cast of characters -- including Mayor/Chief Curtis Zorn, Washington bureaucrat Vince Winstanley, resident genius Dr. Roger Gardner, radio host Earlene Hamond, miss lonelyhearts Daria Long, rival casino biggies Joseph Catspaw and Don Nightswim, former Vegas dancer Reeny Silotta, DiaperCon regular Casey Elliott, and Dirigian and Silotta — battles each other for fame and fortune, alongside cameos by Wayne Newton, James Earl Jones, and Sugat Thanakorn, the Elvis of Bangkok. Shearer writes in a quick, breezy style, foregoing flash for simple, flat-out funny situations. NOT ENOUGH INDIANS is a fun read from a multitalented comedian. Shearer will be back in town on December 15, participating in the "Holiday Sing-a-Long" with Judith Owen at the Society for Ethical Culture.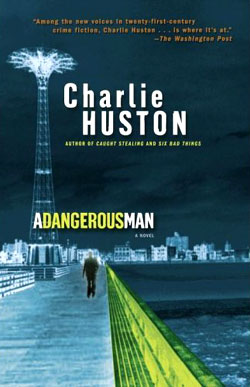 A DANGEROUS MAN by Charlie Huston
(Ballantine, September 2006, $13.95)

Back in May 2005, we raved about CAUGHT STEALING, the first in a trilogy of tales about Henry Thompson, a down-on-his-luck former high school baseball star who now tends bar, lives in a ratty apartment, and accidentally becomes the focus of a brutal hunt for four million bucks. In the sequel, SIX BAD THINGS, Hank heads for the supposed safety of Mexico, but there's no escaping the reaches of the motley crew of murdering thieves who want that dough. Hank's woes conclude — sort of — in A DANGEROUS MAN. Trapped into working as a hit man for a gangster and with a rebuilt face to disguise him, Hank seemingly has nothing left to live for — the money's still missing, and his beloved parents' lives are threatened if he runs away or kills himself. Plus, he's in constant physical pain and mental anguish. Assigned to take care of a potential baseball star, Hank's past comes back to haunt his pathetic present and most likely very short future. Once again Huston displays his exceptional command of narrative, with new twists and turns on every page. Well-drawn characters, unique situations, and an almost obsessive attention to the smallest of details help make A DANGEROUS MAN a fittingly relentless and bloody conclusion to a terrific series. (Next up for Mr. Huston is December's NO DOMINION, the follow-up to the awesome ALREADY DEAD.)

All contents copyright 2006 by Mark Rifkin and twi-ny. All rights reserved. Contents may not be reprinted without written permission. Please note that events, dates, and prices are subject to change.
Send all comments, suggestions, reviews, and questions to mark.rifkin@twi-ny.com.
Please note that some e-mail clients may wrap links, so be sure to enter them fully into your browser.
To subscribe to this list, please e-mail the administrator at admin@twi-ny.com with the word Subscribe in the Subject line; be sure to ask for back issues, which are free as well. To unsubscribe from this list, please think it over twice before e-mailing the same address. Please let us know what you didn't like about this forum and we'll do our best to correct it in the future -- if we agree with you. If you would like to see something covered in a future issue, please let us know. Without you, there is no need for us to exist.

twi-ny top two dozen (or so) weekly reminders & special events
CMJ WEEK AT SOUND FIX
Sound Fix
110 Bedford Ave.
718-388-8090
http://www.soundfixrecords.com
Don't have $495 for a CMJ Music Marathon badge or found out there are no public tickets left for the show you want to see? Head over the Williamsburg indie record store Sound Fix to get your fix of some of the hottest CMJ bands in this series of in-store performances taking place during CMJ week.
Wednesday, November 1 Swearing at Motorists, 1:00; Darker My Love, 2:00; LaRocca, 3:00; Dirty on Purpose, 4:00; Changes, 5:00; Takka Takka, 6:00; the Devastations, 7:00; the Drones, 8:00
Thursday, November 2 My Brightest Diamond, 1:00; Shapes and Sizes, 2:00; the Isles, 3:00; Pop Levi, 5:00; Chin Up Chin Up, 6:00
Friday, November 3 Frida Hyvonen, 2:00; Alela Diane, 4:00; Micah P. Hinson, 6:00; Diamond Nights, 7:00;
Saturday, November 4 Benjy Ferree, 1:00; Ladybug Transistor, 2:00; White Whale, 3:00; Portastatic, 4:00; David Bazan (Pedro the Lion), 5:00
RESISTANCE AND REBIRTH:
HUNGARIAN CINEMA, 50 YEARS AFTER '56
Walter Reade Theater
165 West 65th St. between Eighth Ave. & Broadway
Through November 15
212-875-5600
http://filmlinc.com/wrt/onsale/hungarian06/program.html
Wednesday, November 1 WHITE PALMS (FEHÉR TENYÉR) (Szabolcs Hajdú, 2006), 5:30
Wednesday, November 1 RECSK (Géza Böszörményi & Livia Gyarmathy, 1989), 7:30
Thursday, November 2 THE ROUND-UP (SZEGÉNYLEGÉNYEK) (Miklós Jancsó, 1965), 6:30
Thursday, November 2 FRESH AIR (FRISS LEVEGÖ) (Ágnes Kocsis, 2006), 8:30
Saturday, November 4 TIME STANDS STILL (MEGALL AZ IDO) (Péter Gothár, 1983), 6:15
Saturday, November 4 JOHANNA (Kornél Mundruczó, 2005), 8:30
Sunday, November 5 WINTER WIND (SIROKKÓ) (Miklós Jancsó, 1969), 2:00
Sunday, November 5 THE ROUND-UP (SZEGÉNYLEGÉNYEK) (Miklós Jancsó, 1965), 3:45
Sunday, November 5 FRESH AIR (FRISS LEVEGÖ) (Ágnes Kocsis, 2006), 5:45
Sunday, November 5 RED PSALM (MÉG KÉR A NÉP) (Miklós Jancsó, 1972), 8:00
Tuesday, November 7 TIME STANDS STILL (MEGALL AZ IDO) (Péter Gothár, 1983), 2:00
Tuesday, November 7 JOHANNA (Kornél Mundruczó, 2005), 4:00
Wednesday, November 8 WHOOPING COUGH (SZAMÁRKÖHÖGÉS) (Péter Gárdos, 1987), 4:20 & 8:45
Wednesday, November 8 DIARY FOR MY MOTHER AND FATHER (NAPLÓ APAMNAK ÉS ANYAMNAK) (Márta Mészáros, 1990), 2:00 & 6:20
Thursday, November 9 RED PSALM (MÉG KÉR A NÉP) (Miklós Jancsó, 1972), 1:00
Thursday, November 9 GOD WALKS BACKWARDS (ISTEN HÁTRAFELÉ MEGY) (Miklós Jancsó, 1990), 3:00
Friday, November 10 THAT DAY WAS OURS (AZ A NAP A MIENK) (Zsolt Kézdi-Kovács, 2002), 2:00
Friday, November 10 KONTROLL (Nimród Antal, 2004), 4:30 & 9:00
KONTROLL (Nimrod Antal, 2004)
http://www.kontrollfilm.hu/eng/index2.html
http://www.thinkfilmcompany.com

Nimrod Antal's claustrophobic debut takes place completely under the streets of Budapest, in the city subway system. Sandor Csanyi stars as Bulcsu, a secretive man who works one of Hungary's most despised jobs, ticket checkers who roam the train stations checking that people have bought tickets. Nearly powerless, they get laughed at, pushed, cursed at, and beaten. Bulcsu and his crew of ne'er-do-wells and pathetic losers are no match for Gonzo (Balazs Lazar) and his group of finely trained soldiers, but Bulcsu tries to get the upper hand by accepting Gonzo's railing challenge — a race on the tracks between two moving trains. Meanwhile, Bulcsu is after constant runner Bootsie (Bence Matyassy), falls for a sweet young woman (Eszter Balla) who wanders the stations in a bear costume, and searches for a mysterious figure in black who is pushing people in front of trains. Antal, cinematographer Gyula Pados, and score composer NEO marvelously capture the grim, gray, fast-paced world of the Budapest underground, making for breathlessly exciting individual scenes; unfortunately, numerous pedestrian subplots wear the film down. Add a star if you don't require substance with style.
Friday, November 10 AFTER THE DAY BEFORE (MÁSNAP) (Attila Janisch, 2004), 6:35
Saturday, November 11 VAGABOND (György Szomjas, 2003), 6:15
Saturday, November 11 AFTER THE DAY BEFORE (MÁSNAP) (Attila Janisch, 2004), 8:15
Sunday, November 12 THAT DAY WAS OURS (AZ A NAP A MIENK) (Zsolt Kézdi-Kovács, 2002), 1:30
Sunday, November 12 DANIEL TAKES A TRAIN (SZERENCES DANIEL) (Pál Sándor, 1984), 4:15
Sunday, November 12 DALLAS PASHAMENDE (Robert-Adrian Pejo, 2005), 6:15
Sunday, November 12 GOD WALKS BACKWARDS (ISTEN HÁTRAFELÉ MEGY) (Miklós Jancsó, 1990), 8:15
Monday, November 13 AFTER THE DAY BEFORE (MÁSNAP) (Attila Janisch, 2004), 2:00
Monday, November 13 VAGABOND (György Szomjas, 2003), 4:15
Monday, November 13 THE LORD'S LANTERN IN BUDAPEST (NEKEM LÁMPÁST ADOTT KEZEMBE AZ ÚR, PESTEN) (Miklós Jancsó, 1999), 6:15
Monday, November 13 DALLAS PASHAMENDE (Robert-Adrian Pejo, 2005), 8:30
Tuesday, November 14 THE LORD'S LANTERN IN BUDAPEST (NEKEM LÁMPÁST ADOTT KEZEMBE AZ ÚR, PESTEN) (Miklós Jancsó, 1999), 1:30
Tuesday, November 14 DALLAS PASHAMENDE (Robert-Adrian Pejo, 2005), 3:45
Wednesday, November 15 DANIEL TAKES A TRAIN (SZERENCES DANIEL) (Pál Sándor, 1984), 2:30
Wednesday, November 15 TWENTY HOURS (HÚSZ ÓRA) (Zoltán Fábri, 1965), 4:15 & 9:00
DARE TO FEEL
Citigroup Theatre at Ailey Studios
405 West 55th St. at Ninth Ave.
Tickets: $30; VIP $75
914-332-7762
http://www.chamberdance.org/events.html#NovSeason
Thursday, November 2
through
Sunday, November 5 Kickoff of the fall repertory season, featuring world premieres by Wally Cardona and Diane Coburn Bruning and the New York premiere of a music score by Giovanni Spinelli
RACE WEEK: THE NEW YORK CITY MARATHON
Various venues and events
Admission: free
212-423-2249
Thursday, November 2
through
Saturday, November 4 Health and Fitness Expo, featuring more than one hundred vendors and exhibitors, product samples, activities, and more, with free shuttle buses in Midtown Manhattan, Jacob Javits Convention Center, free
Saturday, November 4 International Friendship Run, free for marathon entrants, $20 for friends and family of entrants, United Nations to Tavern on the Green, 8:20 am
Saturday, November 4 Marathon Fireworks, with live entertainment, Central Park finish line, adjacent to Tavern on the Green, 7:30
Sunday, November 5 The New York City Marathon: staggered start times, including professional women at 9:35 am and professional men at 10:10 am, followed by awards ceremony and celebration at the Copacabana (560 West 34th St., 7:30 pm — 1:30 am); race begins on Staten Island at the foot of the Verrazano Narrows Bridge and ends by Tavern on the Green in Central Park, with entertainment zones throughout
LOVE, DEATH, AND INTERIOR DECORATING:
AN EVENING OF ONE-ACT PLAYS
Altered Stages
212 West 29th St. between Seventh & Eighth Aves.
Thursday through Saturday nights at 8:00, Sundays at 3:00
Additional show November 13 at 8:00
Tickets: $15
212-352-3101
www.theatermania.com/content/show.cfm/show/126629
Thursday, November 2
through
Saturday, November 18 WALLS and THE QUOTABLE ASSASSIN, written by Keith Boynton, directed by Sandra Boynton and Keith Boynton, and starring Keith Boynton
CHELSEA CLASSICS
Clearview's Chelsea 9 Cinema
Thursdays at 7:00
Fridays & Saturdays at 12 midnight
Tickets: $6
http://www.clearviewcinemas.com/thursday_at_chelsea.shtml
Thursday, November 2
through
Saturday, November 4 MILDRED PIERCE (Michael Curtiz, 1945), featuring pre-show with Hedda Lettuce
Thursday, November 9
through
Saturday, November 11 WHAT EVER HAPPENED TO BABY JANE? (Robert Aldrich, 1962), featuring pre-show with Hedda Lettuce
EVENTS AT THE DAHESH
Dahesh Museum of Art
580 Madison Ave. at 57th St.
Admission: $15 unless otherwise noted (includes gallery admission)
212-759-0606
http://daheshmuseum.org/publicprograms_events
Thursday, November 2 First Thursdays: Sing East, Sing West, concert with Verderol, free after 6:00, concert at 6:30, gallery talks at 7:15 and 8:15, galleries remain open until 9:00
Sunday, November 5 THE MUMMY (Stephen Sommers, 1999), free with museum admission, 2:30
Thursday, November 9 Egyptomania and the Decorative Arts, illustrated lecture with Frederica Harlow, free with museum admission, 6:30
THE REVIEW PANEL
National Academy Museum and School of Fine Arts
1083 Fifth Ave. between 89th & 90th Sts.
Admission: $5 (includes entry to exhibits at National Academy)
212-369-4880
http://www.nationalacademy.org
http://www.artcritical.com/REVIEWPANEL/index.htm
Friday, November 3 David Cohen moderates David Carrier, Martha Schwender, and Linda Yablonsky discussing exhibitions by Cory Arcangel at Team, Sarah Morris at Lever House, and Fred Tomaselli at James Cohan, 6:45
ELECTION EVE HORRORS: A LIBERAL HELPING OF ZOMBIES
IFC Center
323 Sixth Ave. at Waverly Pl.
212-924-7771
Friday, November 3
and
Saturday, November 4 HOMECOMING (Joe Dante, 2005) and LAND OF THE DEAD (George A. Romero, 2005), 11:45 pm
IFPDA PRINT FAIR
Seventh Regiment Armory
Park Ave. at 67th St.
Admission: $15
212-674-6095
http://printdealers.com/printfairs.cfm?id=123
Friday, November 3
through
Sunday, November 5 Sixteenth annual fair, featuring prints for sale from Old Masters to contemporary artists and the Saturday-morning panel discussion "Vollard as Publisher: From Cezanne to Picasso" (advance reservations recommended) 12 noon — 7:00
BAMcinématek
BAM Rose Cinemas, Brooklyn Academy of Music
30 Lafayette Ave. between Ashland Pl. & St. Felix St.
Tickets: $10
718-636-4100
http://bam.org/events/bamcinematek.aspx
Friday, November 3 New Czech Films: LUNACY (Jan Svankmajer, 2005), 2:00, 4:30, and 7:00* (*followed by a Q&A with Jan Svankmajer)
Saturday, November 4 New Czech Films: WRONG SIDE UP (Petr Zelenka, 2005), 2:00 & 6:50* (*followed by a Q&A with star Ivan Trojan)
Saturday, November 4 New Czech Films: SHARK IN THE HEAD (Mária Procházková, 2005), 4:30 & 9:30
Sunday, November 5 New Czech Films: SOMETHING LIKE HAPPINESS (Bohdan Sláma, 2005), 2:00 & 6:50
Sunday, November 5 New Czech Films: INDIAN AND THE NURSE (Dan Wlodarczyk, 2006), 4:30 & 9:15
Monday, November 6 Shaw Brothers Return: Heroic Grace II -- KING BOXER (TIAN XIA DI YI QUAN) (Chung Chang-Wha, 1972), 6:50 & 9:15
Tuesday, November 7 THE MAGIC BLADE (TIEN YA, MING YUEH TAO) (Chor Yuen, 1976), 6:50 & 9:15
Thursday, November 9 The Next Director: Marco Tullio Giordano -- ONCE YOU'RE BORN, YOU CAN NO LONGER HIDE (QUANDO SEI NATO NON PUOI PIÙ NASCONDERTI) (Marco Tullio Giordano, 2005), 4:30 & 7:00* (followed by a Q&A with Marco Tullio Giordano)
Saturday, November 11 The Next Director: Marco Tullio Giordano -- THE BEST OF YOUTH (LA MEGLIO GIOVENTÙ) (Marco Tullio Giordano, 2003), introduced by Marco Tullio Giordano, 3:00
Monday, November 13 MY YOUNG AUNTIE (ZHANGBEI) (Liu Chia-Liang, 1980), 6:50 & 9:15
Tuesday, November 14 THE JADE TIGER (BAI YU LAOHU) (Chor Yuen, 1977), 6:50 & 9:15
Wednesday, November 15 Cinema Tropical: LOS GUANTES MÁGICOS (THE MAGIC GLOVES) (Martín Rejtman, 2003), 4:30, 6:50, 9:15
SCREENINGS + EVENTS
Museum of the Moving Image
35th Ave. at 36th St., Astoria
Free with museum admission of $10 unless otherwise noted
718-784-4520
http://www.ammi.org/site/screenings/index.html
Friday, November 3 A SCANNER DARKLY (Richard Linklater, 2006), 7:30
Sunday, November 5 THE PIANO TUNER OF EARTHQUAKES (the Brothers Quay, 2006), with the Brothers Quay in person, $22, 7:30
Wednesday, November 8 FUR: AN IMAGINARY PORTRAIT OF DIANE ARBUS (Steven Shainberg, 2006), with Steven Shainberg and James Sanders in person, $22, 7:00
Friday, November 10, 7:30
and
Saturday, November 11, 3:00 Jacques Rivette: PARIS BELONGS TO US (Jacques Rivette, 1961)
Saturday, November 11, 6:00
and
Sunday, November 12, 4:30 Jacques Rivette: CÉLINE AND JULIE GO BOATING (Jacques Rivette, 1974)
Sunday, November 12 JET LI'S FEARLESS (Ronny Lu, 2006), 2:00
Tuesday, November 14 HAPPY FEET (George Miller, 2006), with George Miller in person, $18 adults, $10 children twelve and under, 6:30
FAMILY DAY
Asia Society and Museum
725 Park Ave. at 70th St.
Free with museum admission of $10
212-517-ASIA
http://www.asiasociety.org/events
Saturday, November 4 Mela in the Big Apple: celebration of Eid and Diwali holidays, with mehndi, the dandia ras stick dance, rangoli decoration workshop, and more 12 noon — 3:00
A READING BY TOM SLEIGH
George Adams Gallery
525 West 26th St. between Tenth & Eleventh Aves
Admission: free
212-564-8480
Saturday, November 4 Tom Sleigh, INTERVIEW WITH A GHOST and SPACE WALK, in conjunction with "Lesley Dill: New Work," 4:00
FIRST SATURDAYS
Brooklyn Museum of Art
200 Eastern Parkway
Admission: free after 5:00 pm
718-638-5000
http://www.brooklynmuseum.org/visit/first_saturdays.php
Saturday, November 4 Performance: Jonah Dalhart, Jeremiah Lockwood, and other Brooklyn-based musicians, Hall of the Americas, 6:00—8:00
Saturday, November 4 Curator Talk: Charlotta Kotik, "Annie Liebovits: A Photographer's Life, 1990-2005," fifth floor (free tickets available at the Visitor Center in the lobby at 6:00), 7:00
Saturday, November 4 Dance Performance: Aynsley Vandenbroucke Movement Group, "Full Circle," commissioned by the Brooklyn Museum, Iris and B. Gerald Cantor Auditorium, third floor (free tickets available at the Visitor Center in the lobby at 5:30), 6:30-8:30
Saturday, November 4 Hands-On Art: explore gesture and body language through sketching a live model, Education Division, first floor (free timed tickets available at the Visitor Center in the lobby beginning at 5:30), workshop from 6:30 to 8:30
Saturday, November 4 Curator Talk: Marilyn Kushner, "Looking Back from Ground Zero," first floor (free tickets available at the Visitor Center in the lobby at 7:00), 8:00
Saturday, November 4 Film: BLOW-UP (Michelangelo Antonioni, 1966), followed by Q&A with star Foster Hirsch, Iris and B. Gerald Cantor Auditorium, third floor (free tickets available at the Visitor Center in the lobby at 7:30), 8:30
Saturday, November 4 Dance Party: The Rub, with DJ Eleven, Cosmo Baker, and DJ Ayres spinning '90s classics, 8:30 — 11:00
THINK OUTSIDE THE BOMB
Pace University
805-965-3443
http://www.thinkoutsidethebomb.org/menu/conference/nyc
Saturday, November 4
and
Sunday, November 5 Two-day conference focusing on a nuclear-free world, with fishbowl-style panel discussions, documentary screenings, guest speakers, and discussion groups, tackling such topics as Nuclear Weapons, War and the Media; Environmental Justice and the Nuclear Fuel Cycle; No More Nuclear Excuses for War; Schools and Universities of Mass Destruction; and Nuclear Disarmament Now!
WEEKEND STREET FAIRS/FESTIVALS/PARADES/CARNIVALS
All events approximately 11:00 am - 6:00 pm unless otherwise noted
Admission: free
http://www.nyctourist.com/st_fairs_calendar.htm
http://nycstreetfairs.com/sched.html
http://www.clearviewfestival.com
Saturday, November 4 International Friendship Run: First Ave at UN Plaza 42nd St. west to Sixth Ave. & 59th St. west to Columbus Circle & CPW north to 72nd St. & Central Park, 8:00 am
Saturday, November 4 ADA's World's Largest Block Party: Madison Ave. between 42nd & 57th Sts.
Saturday, November 4 West Fourth St. Festival: West Fourth St. between Washington Sq. East & Lafayette St.
Sunday, November 5 Union Square Broadway Festival: Union Square/Broadway between 17th & 23rd Sts.
Sunday, November 5 Sixth Ave. Autumn Fair: Sixth Ave. between 34th & 42nd Sts.
Friday, November 10 Veterans Day Festival: Water St. between Fulton & Broad Sts.
Friday, November 10 Veterans Day Parade Block Party: 56th St. between Fifth & Sixth Aves.
Saturday, November 11 Veterans Day Parade: Fifth Ave. between 23rd & 59th Sts., 11:00 am — 2:00 pm
Saturday, November 11 University Pl. Fall Fair: University Pl. between Waverly Pl. & 14th St.
Saturday, November 11 Astor Pl. Festival: Astor Pl. between Lafayette St. & Broadway
Sunday, November 12 Madison Ave. Holiday Expo: Madison Ave. between 42nd-57th Sts.
REEL JEWS FILM FESTIVAL:
A FESTIVAL OF EMERGING JEWISH FILMMAKERS
Makor
Steinhardt Building
35 West 67th St. between Amsterdam & Columbus Aves.
November 6-11
Tickets: $9
212-601-1000
http://www.92y.org/shop/category.asp?category=Reel+Jews+Film+Festival888
Monday, November 6 THE DARIEN DILEMMA (Erez Laufer 2006), followed by a Q&A with Laufer and opening night reception, 7:30
Tuesday, November 7 BECOMING RACHEL (Amy Guterson, 2005) and ARTIFACT (Avery Pack, 2006), followed by a Q&A with Guterson and Pack, 7:30
Wednesday, November 8 APPROACHING UNION SQUARE (Marc Meyers, 2006), followed by a Q&A with Meyers, 7:30
Thursday, November 9 AND THESE ARE JEWS (Ruth Goldman, 2005) and NATURALIZED (Julia Kots, 2006), followed by a Q&A with Goldman and Kots, 7:30
Saturday, November 11 Short Film Program: KINETOSCOPE (Max Goldblatt, 2005), COOKING FOR RICHARD (Ido Fluk, 2006), SNAPSHOT OF A SURVIVOR (Jeni Steiner, 2006), ILONA, UPSTAIRS (Melissa Hammel, 2005), and JU TANG CLAN (Adam Ullian, 2006), includes a glass of wine in the Makor Café following the program, 8:00
NEW YORK COMEDY FESTIVAL
Various venues
November 7-12
212-484-1200
http://www.nycomedyfestival.com
Tuesday, November 7 Comedy Cares for the Homeless, with Louis CK, Patrice O'Neal, Paula Poundstone, Caroline Rhea, and more, the Town Hall, $75, 8:00
Wednesday, November 8 Artie Lange, Carnegie Hall, Stern Auditorium, $32-$65, 8:00
Thursday, November 9 Denis Leary and Friends, Avery Fisher Hall, 8:00
Thursday, November 9 Howie Mandel, the Town Hall, $62.50, 8:00
Friday, November 10 Jim Norton, Hammerstein Ballroom, $30-$40, 8:00
Saturday, November 11 An Evening with Mario Cantone, the Town Hall, $57.50, 8:00
Saturday, November 11 Brian Regan Live in Concert, Avery Fisther Hall, 8:00
Sunday, November 12 Dane Cook: Vicious Circle Live, Madison Square Garden, $79.50 - $104.50, 7:00 & 10:15
JESSICA DELFINO IS SORRY TO DISTURB YOU
Rififi / Cinema Classics
332 East 11th St. between First & Second Aves.
Tuesday nights at 10:00
Tickets: $5
917-450-4178
http://www.jessydelfino.blogspot.com
Tuesday, November 7
through
Tuesday, November 28 Lower East Side comic apologizes for her raunchy humor
WINE TASTING
Savannah Steak
7 East 48th St. between Fifth & Madison Aves.
Tickets: $50 including tax & tip ($65 after November 5)
212- 935-2500
Thursday, November 9 Special wine tasting for the fall and the holiday season, accompanied by fall menu prepared by Chef Stephen McCormick, including chili lime salmon satay, Tuscan beef roulade, chicken & lemongrass dumplings, Creole pork medallion on parsnip crisp, duck bundles, and Portobella and Parmesan puff pastry, 6:30 – 9:30
MOVIE NIGHT WITH JONATHAN LETHEM
IFC Center
323 Sixth Ave. at Third St.
Tickets: $12
212-924-7771
Thursday, November 9 Special guest-curator series, featuring screening of SCARECROW (Jerry Schatzberg, 1973), followed by a discussion with author Lethem and director Schatzberg, $12 (proceeds benefit 826NYC), 7:30
ROOFTOP FILMS/GREAT MUSIC SERIES
St. Bartholomew's Church
109 East 50th St. at Park Ave.
Tickets: $10-$100
212-378-0200
http://www.rooftopfilms.com/2006_schedule.html
Thursday, November 9 APPARITION OF THE ETERNAL CHURCH (Paul Festa, 2006), followed by live organ performance of Olivier Messiaen's "Apparition de l'église éternelle" by William K. Trafka and a Q&A with the filmmakers, 7:30
KATRINA: A WHOLE LOTTA WATER
Producers Club II
616 Ninth Ave.
Tickets: $25-$30
917-716-6635
http://www.theatermania.com/content/show.cfm/show/125338
Thursday, November 9
through
Sunday, November 12 Wabi Sabi Productions presents a Hip Hop Multimedia Musical about Hurricane Katrina, written and directed by Emmitt Thrower, choreographed by Arlee Chadwick, starring Shakka
CLASSICAL ROOTS: AN EVENING IN THREE ACTS
Deeply Rooted Dance Theatre
Gerald W. Lynch Theatre at John Jay College
899 Tenth Ave. between 58th & 59th Sts.
Tickets: $35-$100
866-468-7619
http://www.deeplyrootedproductions.org
Friday, November 10 Chicago-based company performs Classical Roots in three acts: European, Gospel & Blues, and Contemporary, 8:00
LOLITA IN FULL BLOOM: 1980S IRRESISTIBLE HEROINES
Japan Society
333 E. 47th St. at First Ave.
November 10-19
Tickets: $10
212-715-1258
http://www.japansociety.org/events/series.cfm?id_series=162864413
Friday, November 10 Opening Night: SAILOR SUIT AND MACHINE GUN (Shinji Somai, 1981), followed by a Lollipop Party with DJ Jaiko Suzuki, $15, 7:30
Saturday, November 11 TYPHOON CLUB (TAIFU KURABU) (Shinji Somai, 1985), 5:00
Saturday, November 11 THE LITTLE GIRL WHO CONQUERED TIME (TOKI WO KAKERU SHOJO) (Nobuhiko Obayashi, 1983), 7:15
Sunday, November 12 W'S TRAGEDY (W NO HIGEKI) (Shinichiro Sawai, 1984), 4:00
Sunday, November 12 SAILOR SUIT AND MACHINE GUN (Shinji Somai, 1981), 6:15
Friday, November 17 W'S TRAGEDY (W NO HIGEKI) (Shinichiro Sawai, 1984), 7:30
Saturday, November 18 EXCHANGE STUDENTS (TENKOSEI) (Nobuhiko Obayashi, 1982), 5:00
Saturday, November 18 TYPHOON CLUB (TAIFU KURABU) (Shinji Somai, 1985), 7:15
Sunday, November 19 THE LITTLE GIRL WHO CONQUERED TIME (TOKI WO KAKERU SHOJO) (Nobuhiko Obayashi, 1983), 4:00
Sunday, November 19 EXCHANGE STUDENTS (TENKOSEI) (Nobuhiko Obayashi, 1982), 6:15
PASSPORT TO THE ART WORLD
Newspace
530 West 21st St. between Tenth & Eleventh Aves.
Tickets: $25
866-468-7619
http://www.condenastdirect.com/the_new_yorker/passport
Saturday, November 11 Self-guided gallery tour of Chelsea with a limited-edition Passport, collecting specially designed artist stamps (at participating galleries Bellwether, Mary Boone, Gavin Brown, Cheim & Read, Clementine, James Cohan, Clementine, CUE Art Foundation, Betty Cuningham, Mixed Greens, Gladstone, Paul Kasmin, Lehmann Maupin, Metro Pictures, PaceWildenstein, Postmasters, Printed Matter, Max Protetch, Andrea Rosen, Jack Shainman, Sonnabend, and Pavel Zoubok), 11:00 am — 6:00 pm, followed by cocktail reception and silent auction benefiting Friend of the High Line, 6:00 — 8:00
BLOOD AND BONE MARROW DRIVE
Tzu Chi Foundation
USA and New York Blood Center
Sheraton LaGuardia East Hotel
135-20 39th Ave., second floor, Flushing
718-460-4590
Sunday, November 12 Donate much-needed bone marrow and blood, 8:30 am — 2:00 pm
JEWISH COMPOSERS: JERUSALEM TO BROADWAY
Museum of Jewish Heritage — A Living Memorial to the Holocaust
36 Battery Pl.
Tickets: $15
646-437-4202
http://www.mjhnyc.org/safrahall/visit_safra_hall9.htm#jeru
Sunday, November 12 With featured artists Guy Mannheim, tenor, and Shirit-Lee Weiss, soprano, performing songs by Bernstein, Sondheim, Weill, Sherner, Argov, and others, 1:30
BEETHOVEN IN 1806 AND 2006
American Classical Orchestra
Society for Ethical Culture
2 West 64th St. at Central Park West
Tickets: $40-$50
212-717-3181
http://www.amerclassorch.org/calendar.shtml#beethoven
Monday, November 13 Orchestral concert with violinist Stephanie Chase at 7:30, with preconcert lecture at 6:30 and postconcert wine and cheese reception
MASTERS IN THE MAKING
Michael Schimmel Center for the Arts at Pace University
Spruce St. near Gold St.
Admission: free
http://appserv.pace.edu/execute/page.cfm?doc_id=22234
Tuesday, November 14 Documentary about the summer 2006 student experience in the Mugello, 12:30
BLOGGING FEMINISM: WEB(SITES) OF RESISTANCE
Barnard College, Altschul Atrium, Altschul Hall
West 117th St. & Broadway
Admission: free
212-854-2067
Tuesday, November 14 At the Intersection of Activism and Scholarship: A Discussion About the Feminist Cyber Community, panel discussion with Lauren Spees (Holla Back), Michelle Riblett (Holla Back), and Liza Sabater (Culture Kitchen), moderated by Gwendolyn Beetham and Jessica Valenti, 7:00
CARNAVAL AT THE COPACABANA
Parkinson's Disease Foundation
560 West 34th St. between 10th and 11th Aves.
Tickets: $95-$115
212-923-4700
http://pdf.kintera.org/faf/home/default.asp?ievent=172941
Wednesday, November 15 Third annual event raising money for the Parkinson's Disease Foundation, which takes on added meaning this year with the current controversy involving Michael J. Fox, Rush Limbaugh, and Matt Lauer, featuring premium open bar, gourmet buffet dinner, live music, dancing, prizes, and a live and silent auction, with honorary chair Julianna Margulies and guest host Bruce Beck of WNBC, 6:30
BOOK SIGNINGS
Jim Hanley's Universe
4 West 33rd St. between Fifth & Sixth Aves.
Admission: free
212-268-7088
Wednesday, November 15#9; Stuart Moore, EARTHLIGHT; J Torres, TURNING JAPANESE: DEGRASSI EXTRA CREDIT; Matt Manning, BATMAN STRIKES! and Chuck Satterlee, LEXIAN CHRONICLES, 6:00
GRAM PARSONS 60TH BIRTHDAY TRIBUTE:
A NIGHT OF COSMIC AMERICAN MUSIC
Galapagos Art Space
70 North Sixth St. between Wythe and Kent
Tickets: $5
718-384-4586
http://www.galapagosartspace.com/events.html
Wednesday, November 15 Alan Lee & the Wicked Messengers, 7:00; Joe Cassady & the West End Sound, 7:40; Karen Hudson River Band, 8:20; Sugarpine, 9:00; Future Farmers of America, 9:40; Demolition String Band, 10:20; New Heathens, 11:00; Chip Robinson, 11:40; Apple Bros., 12:20; "In My Hour of Darkness" finale, 1:00; Rench, DJ, afterparty, 1:15