Twi-ny, This Week In New York
Anish Kapoor's "Sky Mirror" reflects on life at Rock Center
ANISH KAPOOR: SKY MIRROR
Channel Gardens at Rockefeller Center
Fifth Ave. between 49th & 50th Sts.
Through October 27
Admission: free
http://www.rockefellercenter.com

In April 2001, Mumbai-born artist Anish Kapoor installed a two-sided polished stainless-steel round dish in Nottingham, England. He has expanded that work for the New York City version of "Sky Mirror," a thirty-five-foot-diameter mirror that was installed at the head of the Channel Gardens in Rockefeller Center on September 19 and will remain up through October 27. Nearly three stories high and weighing twenty-three tons, the piece, which Kapoor refers to as a "non-object," casts a unique eye on one of New York's most-visited tourist spots. The concave side looks up at 30 Rockefeller Center, reflecting the buildings as if they're dangling upside down from the sky. The convex side faces Fifth Ave., reflecting a fish-eye's view of teeming crowds, Saks, and the passing traffic. Lines on both sides of the disc create slight distortions that playfully alter reality. If you stand across the street in front of Saks and position yourself just right, it looks like 30 Rock is extending out of the department store itself. This past summer, we checked out Kapoor's amazing "Cloud Gate" sculpture at Millennium Park in Chicago. Affectionately known as the Bean, the 110-ton permanent installation, which you can walk around and under, is more at home in its environment than the new "Sky Mirror," which is fun but not nearly as mind-blowing.

In the Neighborhood
TEUSCHER CHOCOLATES OF SWITZERLAND
620 Fifth Ave. at 50th St.
Admission: free
212-246-4416
http://teuscher-newyork.com

Dolf Teuscher began making chocolate back in the 1930s in Switzerland, and we are the proud beneficiaries of his legacy, able to walk into this charmingly decorated tiny shop in the midst of Rockefeller Center — and right next to Anish Kapoor's "Sky Mirror" — to enjoy outstanding, though expensive, world-class delights. Teuscher is renowned for their champagne truffes; we also go ga-ga over their almond, cocoa, mocha, dark dusted, jasmine, orange, lemon, butter, and even the basic three: milk, dark, and white. A box of twelve will cost you nearly thirty bucks, but it's worth it for a special treat for yourself. And if you have a few more dollars to spare, pick up some chocolate-covered pretzels and a solid-chocolate owl.

AMERICAN GIRL PLACE EVENTS
609 Fifth Ave at the corner of 49th St.
Admission: advance reservations required unless otherwise noted
877-247-5223
http://www.americangirlplace.com
Saturday, October 7 Meet the Author: Valerie Tripp, ages six and up, reservations not required, 12:00 — 2:00
Tuesday, October 10 A Smart Girl's Guide to Manners: Table Manners, ages eight to twelve, $35, 4:30
Friday, October 13 Date with Dad, with live theater and dinner, ages six and up, $75, dinner at 5:30, theater at 7:30
Saturday, October 14 The Birthday Celebration of the American Girls' Best Friends: Nellie, ages eight and up, activities (free) 11:00 am — 3:00 pm, afternoon tea ($21) at 4:00
Sunday, October 15 Memories with Mom, live theater and tea, ages six and up, $75, theater at 2:00, tea at 4:00
Monday, October 16 The Carnegie Hall/ Citigroup Neighborhood Concert Series: The Biddies, free, 4:30
Tuesday, October 17 After-School Tea & Singalong, ages six and up, $30 in advance, 4:30
Public Architecture Project of the Week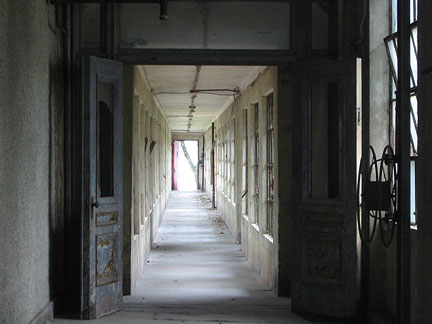 twi-ny/mdr
The South Side of Ellis Island opens its doors for openhousenewyork
OPENHOUSENEWYORK
Various venues in all five boroughs
October 7-8
Admission: free, but reservations required for some sites
212-991-OHNY

One of our favorite events of the year, openhousenewyork opens up the doors of some of New York's most exciting and impossible-to-get-into locations from all across the five boroughs. In the first three years of this spectacular event, we got to see such great spots as the Grand Lodge of Masons on West 23rd St., both downtown marble cemeteries, and the rarely open south side of Ellis Island (which is available again this year — don't miss it!). Take a careful look at the Web site, because some places and special tours require advance reservations, and they fill up fast. And be prepared for very long lines at many spots where it's first come, first served. We recommend you plan things out geographically, making up a schedule to see a number of different things in the same area to make the most of your time.
Among the dozens of participants are the Arsenal in Central Park, the Old Stone House, the Old Quaker Meeting House, the Jacob Riis Park Bathhouse, Teardrop Park, the Eldridge Street Synagogue, the General Grant National Memorial, One Hanson Place (the Williamsburg Savings Bank building), St. Ann and the Holy Trinity Episcopal Church, Sixpoint Craft Ales, Tom Otterness leading a tour of his Brooklyn studio, the Little Red Lighthouse, a trip up the Soldiers and Sailors Memorial Arch at Grand Army Plaza, the Calhoun School Green Roof, the Chrysler Building, the Gatehouse in Harlem, Grand Central Terminal, High Bridge Water Tower, a Midtown MTA substation, the Rockefeller Center Rooftop Garden, the United Nations, the Jamaica Bay Wildlife Refuge Visitor Contact Station, the Voelker Orth Museum, Bird Sanctuary, and Victorian Garden, and lots of other international cultural centers, cemeteries, museums, colleges, religious institutions, libraries, restaurants, theaters, public spaces, and architectural design offices.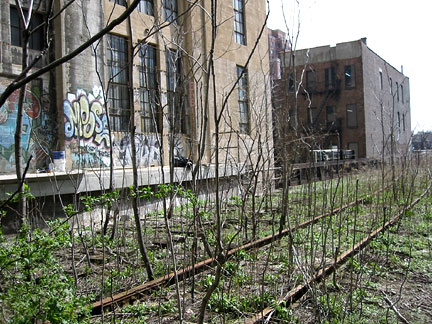 twi-ny
View of the High Line is part of this year's openhousenewyork

The opendialogues program features artists, architects, and others who will lead tours and be available for group and individual discussion, and architecturemoves features "Angels & Accordions: A 'Monumental' Performance," an interactive music, dance, and art performance in Sunset Park's Green-Wood Cemetery. There are also walking tours of Atlantic Ave., Battery Park City, the Brooklyn Army Terminal, the Brooklyn Navy Yard, Fulton Mall, the Gansevoort Market, Governors Island, the Gowanus Canal (by canoe), Harlem, the High Line (from a viewing platform), Historic Richmond Hill, Red Hook, the Old Croton Aqueduct, the Old Theatres of Coney Island, the South Street Seaport Historic District, Times Square "Peeling Back the Neon," Tudor City, Victorian Flatbush, Wallabout, West Harlem Waterfront Park, the Greening of Ground Zero, World's Fair architecture, and a Green Cycling Tour through the Lower East Side and the East Village.
Sports Team of the Week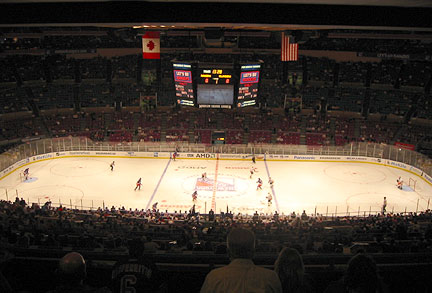 twi-ny/mdr
The Rangers skate into the Garden on October 5 for home opener
NEW YORK RANGERS
Madison Square Garden
31st to 33rd Sts. between Seventh & Eighth Aves.
October 5 through April 7
Tickets: $30.50 - $704.50
Individual game tickets now on sale
212-465-6741

Expected to have a miserable season last year, the Rangers finished 44-26-12 in 2005-6, defying all predictions by making the playoffs for the first time since 1999. Behind the stellar goaltending of rookie Henrik Lundqvist (30-12-9, 2.24), a rejuvenated Jaromir Jagr (breaking team records for goals, 54, and points, 123), and the solid coaching of Tom Renney, the Broadway Blueshirts reasserted their dominance in the World's Most Famous Arena, getting strong support from a little-known cast that included Peter Prucha, Jed Ortmeyer (whose career might be in jeopardy because of a pulmonary embolism), Ryan Hollweg, Blair Betts, Fedor Tyutin, Michal Rozsival, Michael Nylander, and Jason Ward. During the summer, the Rangers chose not to re-sign Petr Sykora, Tom Poti, Steve Rucchin, and Martin Rucinsky and traded Dominic Moore, and they added aging sharpshooter Brendan Shanahan along with Matt Cullen, Aaron Ward, and several no-names both young and old. The Rangers kick off their season on October 5; you can find us again in section 416, as always with dreams of Lord Stanley dancing in our heads.
In the Neighborhood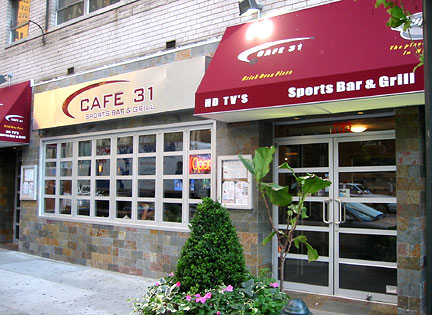 twi-ny/mdr
Café 31 is best bet before a game at the Garden
CAFÉ 31
220 West 31st St. between Seventh & Eighth Aves.
212-695-5966

During the 2004-5 hockey strike, a lot of local businesses around Madison Square Garden got hit hard. Café 31, long our favorite meeting spot before a game or concert, closed, and we thought it was gone for good, but instead the owners renovated the place, keeping the menu pretty much the same, which makes us very happy, because they serve big, beautiful burgers and fine pints of Guinness. The walls in the back are covered with autographed pictures of local sports heroes, especially basketball and hockey, and there are numerous televisions to watch games while you eat. Fellow Rangers fans have said good things about various salads and sandwiches, but we can vouch only for the bacon-cheese steakburger, which we order every time we go.
Statue of the Week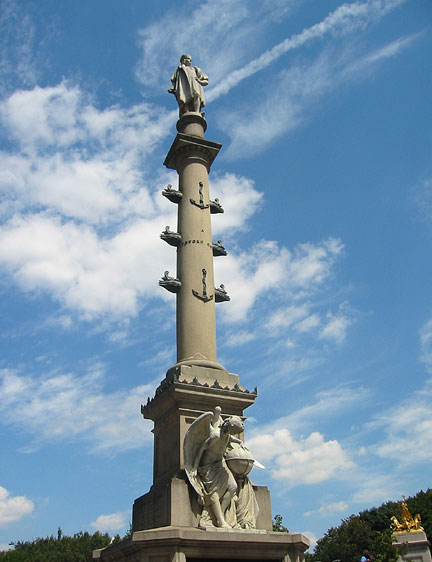 twi-ny/mdr
Christopher Columbus overlooks circle named for him
COLUMBUS MONUMENT
Columbus Circle Rotary
Intersection of Broadway, Eighth Ave., & 59th St.
On October 12, 1892, in honor of the four hundredth anniversary of Christopher Columbus sailing into the New World, the newspaper Il Progresso Italo-Americano presented the city with a statue of the famed explorer. Designed by Sicilian sculptor Gaetano Russo and fabricated by Fonderia Nelli in Rome, the Columbus Monument was dedicated "in imperishable remembrance." Columbus, carved out of Carrara marble, stands atop a seventy-seven-foot-high column, his left hand on his hip, his right hand grasping the rudder behind his back, with his toes dangling perilously over the base, as he looks out upon his supposed discovery. The Bedford Column is adorned with bronze anchors, the ship prows of the Nina, the Pinta, and the Santa Maria, and the explorer's Italian name, Cristoforo Colombo. The east side of the column includes the following quotes: "To Christopher Columbus . . . The Italians, resident in America, / scoffed at before, / during the voyage, menaced, / after it, chained, / as generous as oppressed, / to the world he gave a world." and "Joy and glory / never uttered a more thrilling call / than that which resounded / from the conquered ocean / in sight of the first American island / Land! Land!" Both quotes are translated in Italian on the opposite side.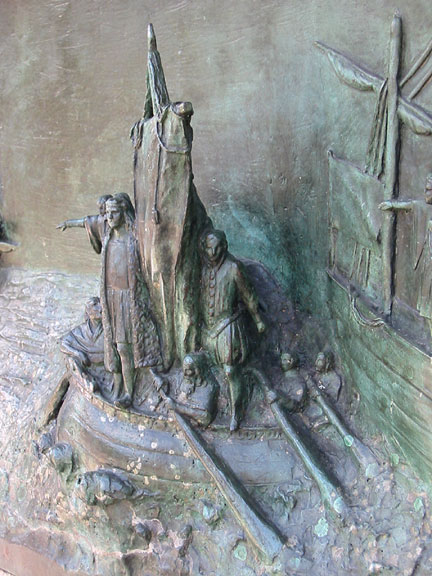 twi-ny/mdr
Detail of bronze relief on base of Columbus Monument tells story

On the south side of the base, a winged angel, also in Carrara marble, places his left hand on a globe, representing the Genius of Discovery. On the north side is a bronze carving of an Alpine eagle holding a shield. The base also features a pair of bronze reliefs depicting dramatic scenes from Columbus's arrival. Of course, in recent years Columbus has become more of a controversial figure, as there just happened to be people living on the island he has been given credit for discovering. The monument stands right in the middle of a rotary island that had been constructed in 1869 as a traffic circle for horse-drawn vehicles. It underwent a massive renovation in 2005 by Olin Partnership, making the monument more approachable than before. The original Delacorte Fountain that surrounded Columbus was replaced by a three-tiered Wet Design fountain that spits out streams of water of different sizes at timed intervals.
In the Geographic Neighborhood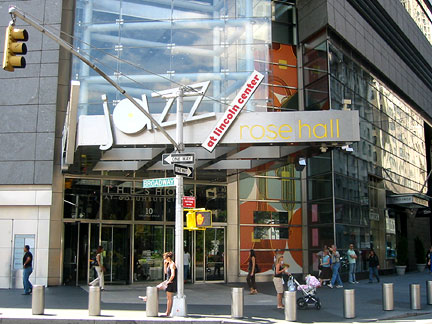 twi-ny/mdr
Jazz at Lincoln Center has comfortably settled into Columbus Circle
JAZZ AT LINCOLN CENTER
Rose Theater (RT)
Dizzy's Club Coca-Cola (DC)
Broadway at 60th St., fourth floor
212-258-9595
http://www.jazzatlincolncenter.org
Wednesday, October 4
through
Sunday, October 8 Freddy Cole & Friends: 75th Birthday Celebration, with Jerry Weldon and John DiMartino, DC
Thursday, October 5 Ian Anderson Plays the Orchestral Jethro Tull, RT, $91, 8:00
Monday, October 9 Northern Lights Jazz Series: Ilmiliekki Quartet, DC
Tuesday, October 10
through
Sunday, October 16 The Music of Antonio Carlos Jobim and Stan Getz featuring Trio Da Paz, Harry Allen, Maucha Adnet, and Joe Locke, DC
Friday, October 13
and
Saturday, October 14 Afro-Latin Jazz Orchestra with Arturo O'Farrill: Bebo Valdes, RT, $37.50 - $107.50, 8:00
Tuesday, October 17
through
Sunday, October 22 Ted Nash Quintet featuring Marcus Printup, Frank Kimbrough, Ben Allison, and Matt Wilson, DC
Tuesday, October 17
through
Friday, October 20 The Mabel Mercer Foundation Seventeenth Annual Cabaret
Convention, RT, 8:00, $32.50 - $107.50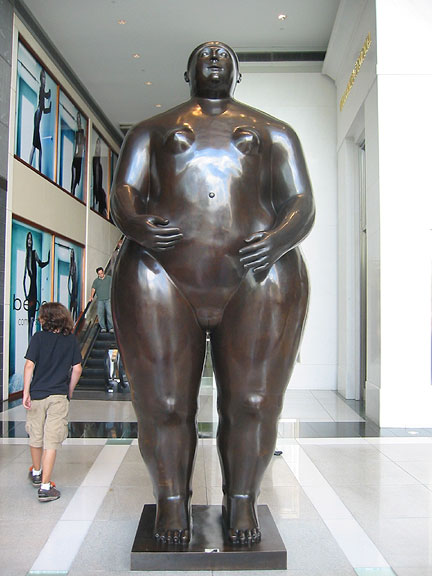 twi-ny/mdr
Botero's "Eve" guards escalator at Columbus Circle
TIME WARNER CENTER ART & EVENTS
10 Columbus Circle at Broadway, Eighth Ave., & 59th St.
Admission: free
212-823-6300
http://theshopsatcolumbuscircle.com
Although we generally hate malls, we actually dig the art that lines the main floor of this ritzy vertical shopping center. Guarding the escalators are two large-scale nude sculptures by Fernando Botero, "Adam" and "Eve," luring us in to partake of the (rather expensive) apple. To either side of them are a series of cool pieces, including another Botero, "Donna Grande Sdraiata," a bronze of a woman lying on her side (make sure to check out her long hair from the back).
Saturday, October 7 Nya Jade, MY DENIAL, live in-store performance and CD signing, Borders Books & Music, 3:00 — 5:00
Tuesday, October 10 Garrison Keillor, A PRAIRIE HOME COMPANION (Robert Altman, 2006), DVD signing, 3:00 — 5:00
Through October 10 All Things Illy, the history of the Illy family through art, architecture, and literature, with coffee, food and live music, 10:00 am — 9:00 pm
Saturday, October 14 Free mini-facials, Aveda, 11:00 am — 6:00 pm
Monday, October 16 James Ellroy, THE BLACK DAHLIA, book signing, Borders Books & Music, 7:00 — 9:00
Wednesday, October 18 David Klass, FIRESTORM, book signing, Borders Books & Music, 6:00 — 8:00
Monday, October 23 Augusten Burroughs, RUNNING WITH SCISSORS (see review below), on Sony Reader, Borders Books & Music, 7:00 — 9:00

In the Thematic Neighborhood
COLUMBUS DAY PARADE
Fifth Ave. from 44th to 79th Sts.
Admission: free
http://www.nyc.gov/portal/site/nycgov/index.jsp
http://www.columbuscitizensfd.org
Monday, October 9 Annual parade held since 1929; this year's grand marshal is Peter Pace, chairman of the joint chiefs of staff, 11:00 am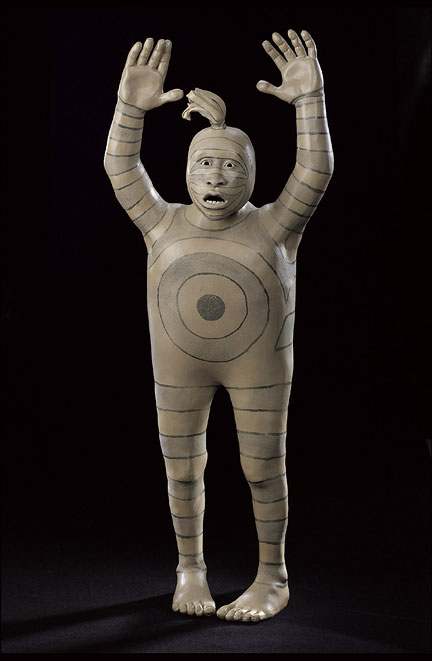 Roxanne Swentzell, "Hands Up!" ceramic, paint, Taos, New Mexico, 1990
NATIONAL MUSEUM OF THE AMERICAN INDIAN, SMITHSONIAN INSTITUTION
George Gustav Heye Center
Alexander Hamilton U.S. Custom House
1 Bowling Green
Open every day, 10:00 am — 5:00 pm (8:00 pm on Thursdays)
Admission: free
212-514-3700

After checking out the Columbus Monument, take a trip downtown to discover the culture and tradition of the people who were already living on the land Columbus "discovered." A part of the Smithsonian Institution, the always-free National Museum of the American Indian is located in the magnificent old Beaux-Arts U.S. Custom House (on the former site of Fort Amsterdam), designed by Cass Gilbert. The facade of the building includes numerous sculpted heads from all over the world, by such artists as Jaegers, Lukeman, and Ruckstuhl. But it's Daniel Chester French's four large sculptures, called "Asia," "America," "Europe," and "Africa," that will take your breath away. Once inside, be sure to check out the Cashier's Office, which leads to the library reference desk, as well as the Great Hall, and then marvel at the spectacular Rotunda, featuring 1937 shipping-themed ceiling murals by Reginald Marsh of Verrazano, Hudson, Cabot, Columbus, and more, surrounding the 140-ton skylight.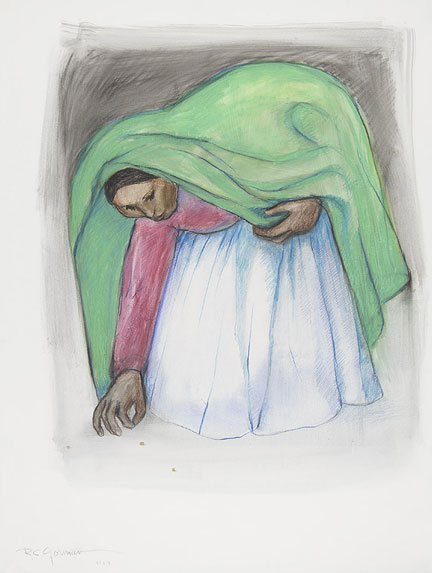 R.C. Gorman, "The Green Shawl," oil pastel and wash on paper, 1969

There are several excellent exhibits at the museum right now, combining craft, storytelling, tradition, art, culture, and history. "Born of Clay: Ceramics from the National Museum of the American Indian" (through May 30, 2007) is an outstanding collection of hundreds of vessels, dating back thousands of years, organized geographically into such sections as "The Andes: Embracing Tradition," "Eastern North America: Rivers of Interaction," "Mesoamerica: Great Civilizations of Mexico and Central America," and "Southwestern United States: Continuity and Change." Among our favorites are "The Late Mississippi Bowl in the Form of a Woman Wearing a Crest," "Michoacan Woman Giving Birth on a Bed," and "Shaft Tombs Tableau Depicting Dancers and Musicians." Navajo artist R.C. Gorman passed away last November, so in tribute to his work, the museum is mounting the small but engaging "R.C. Gorman: Early Prints and Drawings, 1966-1974" (through December 5). In prints, drawings, and oil paintings, Gorman depicted the male and female figure in different poses. In "Navajo Mother in Supplication," a woman cradles her baby on the floor. In one of the "Bodies by Gorman," a male nude partially kneels down, facing into the darkness, while a female nude recalls Edvard Munch's Madonna series. And in "Yei-bi-cha," the popular artist uses a southwestern color palette in creating a trio of cartoonlike traditional figures.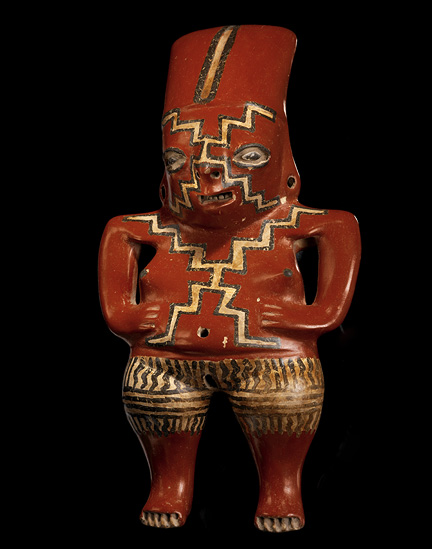 Chupicuaro female figure, Mexico, modeled and painted ceramic, 400-150 B.C.

"Indigenous Motivations: Recent Acquisitions from the National Museum of the American Indian" (through July 22, 2007) consists of pieces acquired since 1990, including clothing, textile designs, painting, sculpture, pots, totem pole models, animal banks, jewelry, mini-moccasins, kitchenware, and more emphasizing tradition, innovation, and art. Don't miss John Jay Hoover's "Loon Spirit" sculpture; a pair of intricately engraved matés; Jim Schoppert's five-part painting on cedar, "Another Feather from Moon's Nest"; and Roxanne Swentzell's "Hands Up!" as well as Otomi fertility cutouts, Blue Dream paintings, and lots of hats. Finally, "Beauty Surrounds Us" (through September 23, 2008) inaugurates the new Diker Pavilion for Native Arts and Cultures with a vast array of pieces from the museum's permanent collection, from cribbage boards, high-kick balls, and clothing to musical instruments, baskets, tools, and masks, examining identity, recreation, presentation, tradition, communication, expression of movement, and the power of transformation.
EVENTS CALENDAR
The National Museum of the American Indian
Admission: free
Thursday October 5 Celebration for the Diker Pavilion, with tours, refreshments, and live performances, 6:00 — 8:00
Daily through October 31 Especially for Kids: PAULINA AND THE CONDOR (Marisol Barragan, 1995), ONENHAKENRA: WHITE SEED (Frank Semmens, 1984), and RAVEN TALES: HOW RAVEN STOLE THE SUN (Chris Kientz and Simon James, 2004), 10:30 & 11:45 am
Daily through October 27 HOPIIT (Victor Masayesva Jr., 1084) and KIOWA CRADLEBOARD MAKER: THE ART OF VANESSA JENNINGS (Scott Swearingen and Sandy Rhoades), 1:00 & 3:00 (and Thursdays at 5:30)
Saturday, October 14 Children's Storybook Reading and Workshop, readings about the Day of the Dead, with calaveritas making (little skull engravings), Resource Center, 12 noon
Saturday, October 14
and
Sunday, October 15 Yarina, music and dance, Pavilion, 1:00 & 3:30
Saturday, October 21 Traditional Dance Social with the Thunderbird Indian Dancers and Singers, 7:00
Saturday, October 28 El Dia del los Muertos / Day of the Dead, with live performances, hands-on workshops, and other special activities honoring the memory of ancestors, 1:00 — 5:00

In the Neighborhood
CULTUREFEST 2006
Battery Park
State St. & Battery Pl.
Admission: free
212-484-1222
Saturday, October 14
and
Sunday, October 15 Sixth annual festival of arts and culture, with participation by more than a hundred institutions, including the Whitney, Snug Harbor, Scandinavia House, the Rubin Museum of Art, Historic Richmond Town, the Morgan, the Met, the Lower East Side Tenement Museum, the Frick, the Intrepid, the Joyce, Carnegie Hall, the Central Park Zoo, the Brooklyn Museum, the Dahesh, the Big Apple Circus, the American Symphony Orchestra, the American Museum of Natural History, the Museum of Chinese in the Americas, the Museum of Comic and Cartoon Art, MoMA, the Museum of the Moving Image, the Japan Society, the Museum of the City of New York, the New York Aquarium, the New York Transit Museum, the Noguchi Museum, the National Museum of the American Indian, and Wave Hill; live performances by Conjunto Nuevo Milenio, Dance Theatre of Harlem, Joey Morant and Catfish Stew, Jennifer Muller/the Works, Hazmat Modine, Musica Reginae Chamber Players, New Tang Dynasty, the Nashville Attitude, Pascal Rioult Dance Theatre, RumbaTap, Joy Ryder & the NY Rhythm All Stars, the Silk Road Ensemble, Chris Washburne & the SYOTOS Band, the Thalia Follies, Sebastián Cruz' COBA, and Zon del Barrio; kids' stage featuring Bucky the Clown, the Deedle Deedle Dees, Hot Peas N' Butter, Irish Step Dancers, TADA! Resident Youth Ensemble, WorkShop Theater Company, and Wildlife Theater; the Kids Run the World Dash; and dishes from such restaurants as Citarella, Bricklane Curry House, Grotta Azzurra, Mambo Italiano, Steamer's Landing, Le Jardin Bistro, Thalassa, and Tintol Tapas Bar, 11:00 am — 5:30 pm
twi-ny at the nyff
THE 44th NEW YORK FILM FESTIVAL
Walter Reade Theater unless otherwise noted
165 West 65th St. between Eighth Ave. & Broadway
Through October 15
Tickets: $16-$20
212-721-6500
http://www.filmlinc.com/nyff/nyff.htm
Below are only some of the films left at the NYFF. Visit http://twi-ny.com/twiny.09.06.06.html#anchor4 for the complete schedule, including the excellent Janus Films Retrospective.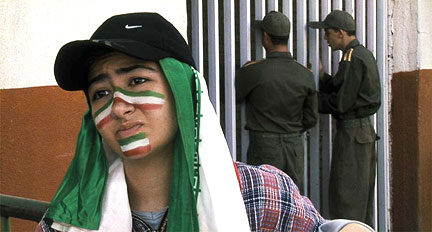 Jafar Panahi's OFFSIDE may be best of fest
OFFSIDE (Jafar Panahi, 2006)
Friday, October 6, 9:00
Sunday, October 8, 5:45
http://www.sonyclassics.com/offside

Filmed on location in and around Tehran's Azadi Stadium and featuring a talented cast of nonprofessional actors, Jafar Panahi's OFFSIDE is a brilliant look at gender disparity in modern-day Iran. Although it is illegal for girls to go to soccer games in Iran — because, among other reasons, the government does not think it's appropriate for females to be in the company of screaming men who might be cursing and saying other nasty things — many try to get in, facing arrest if they get caught. OFFSIDE is set during an actual match between Iran and Bahrain; a win will put Iran in the 2006 World Cup. High up in the stadium, a small group of girls, dressed in various types of disguises, have been captured and are cordoned off, guarded closely by some soldiers who would rather be watching the match themselves or back home tending to their sheep. The girls, who can hear the crowd noise, beg for one of the men to narrate the game for them. Meanwhile, an old man is desperately trying to find his daughter to save her from some very real punishment that her brothers would dish out to her for shaming them by trying to get into the stadium. Despite its timely and poignant subject matter, OFFSIDE is a very funny film, with fine performances by Sima Mobarak Shahi, Shayesteh Irani, Ida Sadeghi, Golnaz Farmani, Mahnaz Zabihi, and Nazanin Sedighzadeh as the girls and M. Kheymeh Kabood as one of the soldiers. OFFSIDE is preceded by Nicole Barnette's short film FOURTEEN, about a young girl celebrating her birthday.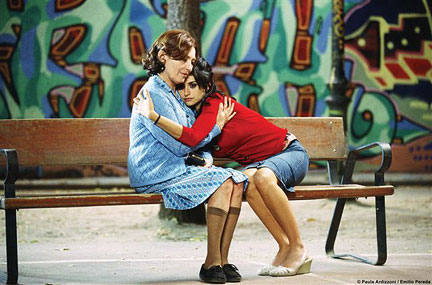 Penelope Cruz stars in Almodóvar centerpiece film
VOLVER (COMING BACK) (Pedro Almodóvar, 2006)
Saturday, October 7, 9:00
Sunday, October 8, 12 noon
http://www.sonyclassics.com/volver

The centerpiece presentation of this year's New York Film Festival, VOLVER finds Pedro Almodóvar returning to his native La Mancha in Spain in this bittersweet, ultimately disappointing tale of three generations of women. The movie opens beautifully, with dozens of women in a cemetery, carefully cleaning loved ones' tombstones and leaving fresh flowers — except for Agustina (Blanca Portillo), who is tending to her own grave site. Agustina takes care of the aged Paula (Chus Lampreave), who helped raise Raimunda (Penélope Cruz). Raimunda is working several jobs to help support her lout of a husband (Antonio de la Torre) and their teenage daughter, (Yohana Cobo), but she's soon forced to cover up a grisly tragedy. And Sole (Lola Dueñas), Raimunda's sister, is a single woman working illegally as a hairdresser out of her apartment. When rumors persist that Raimunda and Sole's mother, Irene (Carmen Maura), who died in a fire many years before with her husband, has come back from the dead and is taking care of Paula, Raimunda and Sole have very different reactions, dredging up long-buried memories and secrets both good and bad. Unfortunately, the film never quite comes together. Almodóvar, who has made such spectacular films as ALL ABOUT MY MOTHER and TALK TO HER, in this case might be too close to the material; in the press notes, he confesses, "During the writing of the script and filming, my mother was always present and very near. I don't know if the film is good, but I'm sure that it did me a lot of good to make it." There are too many flaws in the plot, especially when Raimunda takes over her neighbor's restaurant and starts preparing lunches for a large film crew while being eyed by a young production assistant, and some of the comedy is just too slapsticky and unbelievable. Yet as with all Almodóvar films, there is still much to admire, even in a lesser work.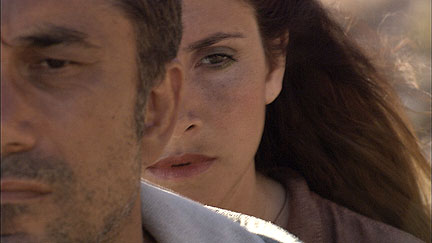 Zeitgeist Films
Nuri Bilge Ceylan's CLIMATES is haunting beautifully
CLIMATES (IKLIMLER) (Nuri Bilge Ceylan, 2006)
Thursday, October 12, 9:00
Saturday, October 14, 6:00

Winner of the FIPRESCI Prize at this year's Cannes Film Festival, CLIMATES is a beautifully elegiac look at a desperate relationship set in modern-day Turkey. The film opens with Isa (writer-director Nuri Bilge Ceylan) and Bahar (Ebru Ceylan, Nuri's real-life wife) visiting desert ruins. As he walks among ancient pillars, taking photos, she watches him from a distance; the silence is deafening. Later, on a beach, they agree to part ways; while he heads back into the arms of Serap (Nazan Kesal), a friend's lover, she takes a job on a faraway television program, set in the bitter cold and snow. But Isa still can't get the younger Bahar out of his mind. CLIMATES features long scenes of little dialogue, with cinematographer Gökhan Tiryaki alternating extreme close-ups with gorgeous, nearly empty landscapes, shot in HD digital video, with a haunting piano-based score. Ceylan's follow-up to DISTANT, which won the 2003 Jury Grand Prix at Cannes, is a wrenching, challenging tale that will leave audiences emotionally exhausted.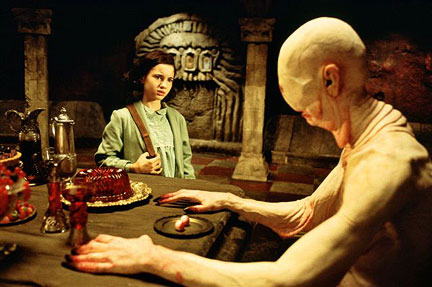 Ofelia meets the Pale Man in Del Toro fairy tale
PAN'S LABYRINTH (EL LABERINTO DEL FAUNO)
(Guillermo Del Toro, 2006)
Sunday, October 15, 8:30

The closing night film of this year's New York Film Festival, PAN'S LABYRINTH is a breathtaking fairy tale set in 1944 Spain, shortly after the Spanish Civil War. When her mother, Carmen (Ariadna Gil), marries Captain Vidal (Sergi Lopez), young Ofelia (Ivana Baquero) must move to the middle of the woods, where Vidal and his small group of soldiers are defending the last vestiges of Franco's Fascist regime against a group of resistance fighters seeking peace and freedom for all. Led by a mysterious flying creature, the adventurous Ofelia makes her way through an ancient underground labyrinth, where she meets the Faun (HELLBOY's Doug Jones), who tells her that she just might be the reborn, long-missing princess they've been waiting centuries for — but first she'll have to perform three tasks to prove that she has returned to claim her throne. As Vidal shows more concern for the baby that Carmen is carrying than for Carmen herself — and also brutally tortures and kills anyone who gets in his way, whether it is one of the revolutionaries or one of his own people — Ofelia meets a dangerous yet engaging series of beings as she hopes for her fairy-tale dreams to come true and erase the nightmares of the real world. Del Toro (THE DEVIL'S BACKBONE) has cleverly balanced fantasy and reality, alternating between scenes of horror and graphic violence aboveground and below as seen through the eyes of a brave young girl trapped in both.
Riff's Rants & Raves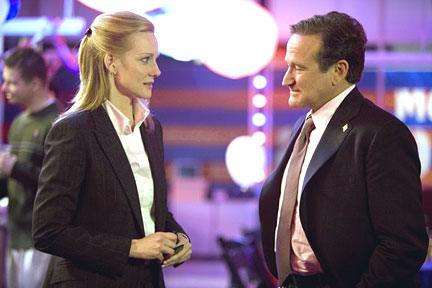 Laura Linney and Robin Williams fall for each other in MAN OF THE YEAR
MAN OF THE YEAR (Barry Levinson, 2006)
Opens Friday, October 13
http://www.manoftheyearmovie.net

Barry Levinson reteams with Robin Williams (GOOD MORNING, VIETNAM, the disastrous TOYS) for MAN OF THE YEAR, an entertaining if flawed romantic comedy/political thriller. Williams stars as Tom Dobbs, a Bill Maher-like talk-show host who gets recruited by his fans to run for president. So he and his manager (Christopher Walken) and head writer (THE DAILY SHOW's Lewis Black) go on the road, bringing a message of change to the American people. Meanwhile, Eleanor Green (Laura Linney) discovers that there is a critical problem with her company's electronic voting machines that will affect the outcome of the election, but the firm's CEO (Rick Roberts) and spokesman (Jeff Goldblum) care more about their soaring stock than who gets to sit in the Oval Office. Complicating things is the growing attraction between Dobbs and Green. Despite some seriously stale political jokes, obvious riffs on fake news shows, the oh-so-tired inclusion of real talking heads commenting on Dobbs's chances for the White House (Chris Matthews, James Carville), and awful melodramatic music at the film's climax, MAN OF THE YEAR manages to be funny, insightful, moving, and timely, coming out just before the crucial midterm elections and Robert F. Kennedy Jr. 's big Rolling Stone story about possible fraud involving voting machines.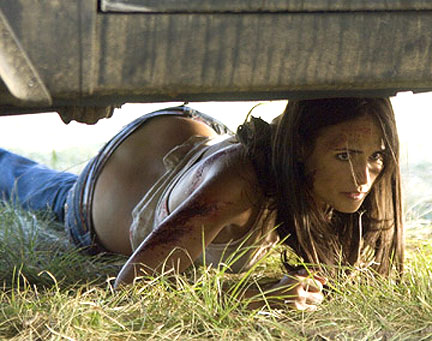 Jordana Brewster is on the lookout for old Leatherface in prequel to remake
THE TEXAS CHAINSAW MASSACRE: THE BEGINNING
(Jonathan Liebesman, 2006)
Opens Friday, October 6
http://www.texaschainsawmovie.com

We're not sure the world really needs yet another TEXAS CHAINSAW MASSACRE, what with all the sequels, remakes, and even THE TEXAS CHAINSAW MASSACRE: THE NEXT GENERATION (Kim Henkel, 1994), which featured Renée Zellweger and Matthew McConaughey. Tobe Hooper's 1974 original was a slasher classic, with the great Gunnar Hansen as Leatherface, but for thirty years people have been trying to capture that same grisly intensity, with little success. Perhaps the closest they've come is THE BEGINNING, the new prequel to the 2003 remake (which starred Jessica Biel). The cannibalistic quartet of R. Lee Ermey (Sheriff Hoyt), Uncle Monty (Terrence Evans), Luda Mae (Marietta Marich), and Tea Lady (Kathy Lamkin) are back for Jonathan Liebesman's solid, scary flick that goes back to the birth of old Leatherface (Andrew Bryniarski), somewhat explaining how he gained such a liking for butcher knives, chainsaws, and human skin. This time around, Taylor Handley and Matt Bomer play two very different brothers about to go to Vietnam, driving through the California desert with their girlfriends (Jordana Brewster and Diora Baird) for one last hurrah, but they sort of take a rather gruesome detour. Although the period music the filmmakers dug up is pretty lame, Steve Jablonsky's original score builds the tension beautifully. Be prepared for lots of blood, torture, and genuine terror.
THE DEPARTED (Jonathan Liebesman, 2006)
In theaters now
http://thedeparted.warnerbros.com

Based on Andrew Lau and Alan Mak's awesome INFERNAL AFFAIRS (2002), Martin Scorsese's relatively faithful remake, THE DEPARTED, has been moved from Hong Kong to the mean streets of Boston, where it is hard to tell cop from criminal. Just out of the academy, Colin Sullivan (Matt Damon) rises quickly to detective in the Special Investigations Unit, but he's actually in cahoots with master crime lord Frank Costello (Jack Nicholson). Meanwhile, Billy Costigan (an excellent Leonardo DiCaprio), training to become a cop, is sent deep undercover (including a prison stint) to infiltrate Costello's gang, with only Captain Queenan (Martin Sheen) and Sergeant Dignam (a very funny and foul-mouthed Mark Wahlberg) aware of the secret mission. Sullivan and Costigan are like opposite sides of the same persona; in between them stands Costello — and Madolyn (Vera Farmiga), a psychiatrist who is in a relationship with one and is doctor to the other. As both the cops and the criminals search desperately for their respective rats, no one can trust each other, leading to lots of blood and a spectacular finale. Nicholson has a field day as the aging gangster, chewing up mounds of scenery in his first film with Scorsese, who has returned to peak form with his best film since 1990s GOODFELLAS.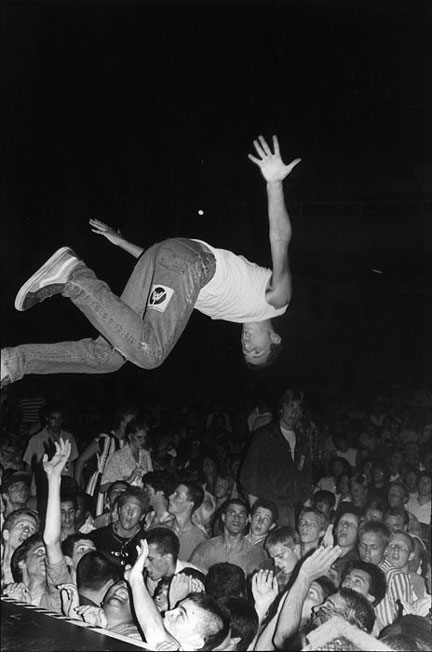 The hardcore '80s come screaming back in new doc
AMERICAN HARDCORE (Paul Rachman, 2006)
Angelika Film Center
18 West Houston St. at Mercer St.
212-995-2000
http://www.city-cinemas.com/angelika.html
http://www.sonyclassics.com/americanhardcore

If you love loud, fast, angry music circa 1980-86 — we know we do — you need to check out AMERICAN HARDCORE, a documentary about one of the smaller but nonetheless influential movements in American music. (Heck, even if that's not your cup of tea, it's still worth a visit.) A basic doc in the classic do-it-yourself sensibility that informed so much of the music scene it chronicles, AMERICAN HARDCORE features interviews with Henry Rollins, lead singer of Black Flag; H.R., the mercurial, difficult, but brilliant lead singer for the Bad Brains; Mike Watt of the Minutemen; and various personnel from the Circle Jerks, Minor Threat, and 7 Seconds. Tommy Stinson of the Replacements and Flea of the Red Hot Chili Peppers weigh in as well. The abundance of old concert footage is fabulous, but director Paul Rachman and writer Steven Blush discovered much of it in shoeboxes in basements during their low-budget cross-country trip while making the movie, so the overall production quality is not high — which in some ways works better overall. The film does a good job of lovingly showing just how home-grown and amateurish the scene was and examining the importance of the scenes in Houston, Minneapolis, DC, Boston, and Southern California. The finale with graphic artist and cover designer Winston Smith calling for the next generation of hardcore is a riot.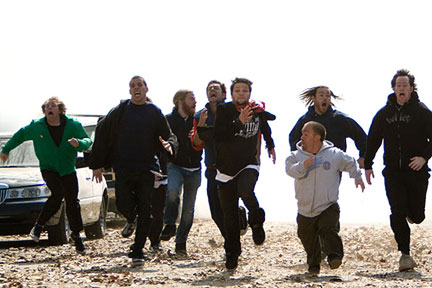 Johnny Knoxville and friends have fun making number two
JACKASS: NUMBER TWO (Jeff Tremaine, 2006)
In theaters now

Johnny Knoxville and his merry band of marauders (Bam Margera, Steve-O, Wee Man, Preston Lacy, Ryan Dunn, and Chris Pontius) are back for another series of crazy practical jokes, disgusting displays of really stupid stunts, and ridiculous life-threatening activities involving speeding shopping carts, snakes and bees, rockets, bungee jumping, skateboarding, pistols and rifles, charging bulls, a well-hung horse, medicine balls, beer funnels, bodily excretions, and plenty of things that can't be printed here. It's gross-out comedy at its best — and worst. But most of all, it's just really, really funny. The second go-round includes appearances by Tony Hawk, Luke Wilson, director Jay Chandraskehar (THE DUKES OF HAZZARD, BEERFEST), Mike Judge, John Waters, Rip Taylor, and Spike Jonze walking around town disguised as an old lady whose drooping boobs keep popping out.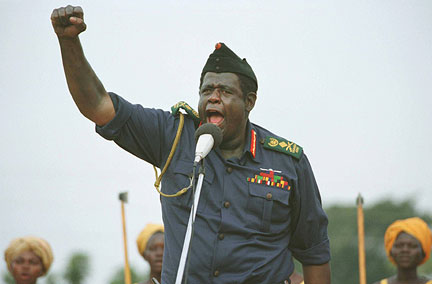 Neil Davidson
Forest Whitaker embodies Idi Amin in LAST KING
THE LAST KING OF SCOTLAND (Kevin MacDonald, 2006)
In theaters now
http://www2.foxsearchlight.com/thelastkingofscotland

Forest Whitaker is absolutely mesmerizing as General Idi Amin in Kevin MacDonald's THE LAST KING OF SCOTLAND, demanding viewers' attention every time he appears on-screen, a dominating, bigger-than-life presence. Unfortunately, the rest of the film lets him down, failing to come close to his overpowering performance. The movie is based on Giles Foden's award-winning novel, in which the author created a composite character, Nicholas Garrigan, a Scottish doctor who becomes a close confidant of Amin's. What might have worked in the book falls apart on camera in a series of hard-to-believe scenes that actually never happened. As played by James McAvoy, Garrigan is goofy and lightweight from the very beginning, unable to compete with the massive Whitaker as Amin. He makes a play for his boss's wife (Gillian Anderson), thinks he doesn't have to play the political game with a British operative (Simon McBurney), and takes a liking to one of Amin's mistreated wives (Kerry Washington). While it is fascinating to watch the rise and fall of the President for Life, his relationship with Garrigan is hard to swallow — mostly because it's not true. And even those bits and pieces that are factual have been twisted and changed to increase emotional impact, ending up with manipulated melodrama instead of what really happened — which is a shame, since MacDonald's first two films, the well-regarded ONE DAY IN SEPTEMBER and TOUCHING THE VOID, were both documentaries.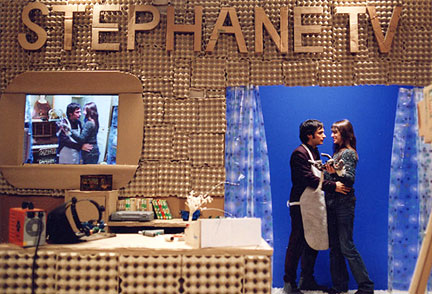 Stephane (Gael García Bernal) lives one weird life in SLEEP
THE SCIENCE OF SLEEP (Michel Gondry, 2006)
In theaters now
http://thescienceofsleep.imeem.com

Eclectic auteur Michel Gondry's feature-length debut as both writer and director is a complex, confusing, kaleidoscopic stew that is as charming as it is frustrating. Gael García Bernal (THE MOTORCYCLE DIARIES) stars as the juvenile but endearing Stephane, a young man in a silly hat who has trouble differentiating dreams from reality. The childlike Stephane becomes friends with his new neighbor, Stephanie (Charlotte Gainsbourg, daughter of Serge Gainsbourg and Jane Birkin), who still has plenty of the child left inside her as well. Stephane has a job his mother (Miou-Miou) got him, toiling for a small company that makes calendars, alongside the hysterical Guy (Alain Chabat), who can't help constantly poking fun at coworkers Serge (Sacha Bourdo) and Martine (Aurélia Petit). Gondry, who gave us the brilliant ETERNAL SUNSHINE OF THE SPOTLESS MIND as well as the highly entertaining DAVE CHAPPELLE'S BLOCK PARTY and the bizarre HUMAN NATURE, uses low-tech green-screening and stop-motion animation to reveal Stephane's fantasy world, bringing to mind such masters as Jan Svankmajer and the Brothers Quay. Unfortunately, just as Stephane can't tell what's real from what he's dreaming, you'll often have difficulty as well; some of the plot turns are downright infuriating, and Stephane's TV show teeters on the edge of embarrassing. But you'll also be hard-pressed not to leave the theater feeling like a kid in a candy store.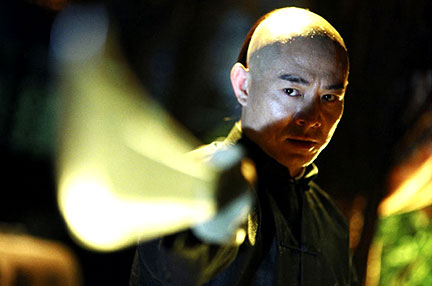 Jet Li stars in his farewell to martial arts pics
JET LI'S FEARLESS (Ronny Yu, 2006)
Inn theaters now
http://www.fearlessthemovie.com

Jet Li says goodbye to the martial arts genre with this overly worshipful yet still entertaining tribute to Wushu legend Huo Yuanjia. As a young child, Huo (Zhu Qilong) is weak and sickly yet yearns to become a martial arts master like his father (Collin Chou). He trains instead of studying, so when he grows up, Huo (Li) indeed becomes a championship-caliber fighter, but fighting is all he knows. He has learned none of the true ways of Wushu that his father taught; instead of using the special techniques to better his body, mind, and soul, he is obsessed with winning, feeding his own ego — and soon pays a heavy price. Ready to give up on life, he is taken in by a poor farming village, where a blind woman (Sun Li) helps him reevaluate his existence. With Westerners opening up China (in the first decade of the twentieth century), Huo is ready to defend what foreigners are calling "the Weak Man of the East." A labor of love for Li, FEARLESS plays a little too loosely with some of the facts, Huo's transformation is way too diagrammed, and too many of his challengers are ROCKY III-like stereotypes, but Li is able to rise above the melodrama. The action scenes, choreographed by Yuen Wo Ping (THE MATRIX, KILL BILL, CROUCHING TIGER, HIDDEN DRAGON), are, as expected, great to watch, and director Ronny Yu (BRIDE OF CHUCKY, THE BRIDE WITH WHITE HAIR) keeps things moving at a decent pace. It'll be interesting to see what Li (ROMEO MUST DIE, KISS OF THE DRAGON, HERO) does next, now that he's leaving this ever-evolving genre that has been gaining more and more respect from mainstream audiences.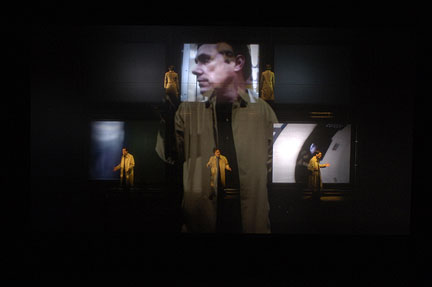 Dan Merlo
Mikel Rouse presents the end of cinema at BAM
THE END OF CINEMATICS
2006 Next Wave Festival
Brooklyn Academy of Music
BAM Harvey Theater
651 Fulton Street between Ashland Pl. & Rockwell Pl.
October 4-7
Tickets: $20-$45
718-636-4100

The BAM Harvey Theater, constructed in 1904, was turned into a first-run movie house after WWII, and it sort of returns to that time with Mikel Rouse's audiovisual extravaganza THE END OF CINEMATICS. On the way in, the audience receives a free cup of popcorn and is then treated to a series of actual previews for such upcoming Hollywood blockbusters as SPIDER-MAN 3 and THE SIMPSONS MOVIE. But what comes next is like no other movie you've ever seen. Inspired by two Susan Sontag pieces on the death of cinema, Rouse has created a whirlwind production, eighty minutes of MTV-style rapid editing, loud music that drowns out words, and a nonlinear, impossible-to-follow narrative told in three levels of images. In the back are six screens that look like enormous television sets; while the top three show snippets of scenes shot in Paris with three men and three women, the bottom three show the same scenes with the characters digitally removed. The live actors themselves — the men dressed primarily in trench coats (evoking dirty old men at the movies?), the women in Louise Brooks-like hairstyles and black-and-white coats (resembling actual film strips?) — sing, move slowly and carefully, and sit at café tables in front of the bottom three screens, as if they had just walked out of the pictures. All is witnessed from behind an opaque scrim at the front of the stage on which is projected images from the back screens as well as occasional lines from the songs and live shots of the actors taken with a robotic camera. Thus, the six characters — including Rouse, the main singer — exist as both film and reality, virtually trapped between the shadows of cinema. The overpowering music, composed by Rouse, is a heady mix of pop, techno, and electronica. The plot doesn't matter; all is artifice. The show runs through October 7 (Rouse will participate in a BAMdialogue with the audience after the October 5 performance), after which Rouse teams up with Merce Cunningham for the premiere of eyeSpace at the Joyce from October 10 to 15.
MYCENAEAN
2006 Next Wave Festival
Brooklyn Academy of Music
BAM Harvey Theater
651 Fulton Street between Ashland Pl. & Rockwell Pl.
Through Saturday, October 14
Tickets: $20-$40
718-636-4100

Multidisciplinary artist Carl Hancock Rux brings his ever-evolving multimedia performance piece MYCENAEAN to BAM's Harvey Theater in a fascinating if maddening production. In the fictional city of Fulcrum, people dream while awake, recounting memories (to a video documentarian and a dream theorist) of their previous life in Bronze Age Greece. Rux plays both Hippolytus and a man named Racine (inspired by French dramatist Jean Baptiste Racine, who wrote about the Hippolytus myth in PHÈDRE). Through song, poetry, subtle dance movement, electronic music, video montages, a Greek chorus, and masks, the disparate cast of characters brings together the mysterious fall of Mycenae and the fertile chaos of modern-day urbanity in a series of complex and challenging set pieces. The texture of the production beautifully mimics the surreal flow of dreams. But Rux — a novelist, recording artist, poet, singer, playwright, composer, dancer, and radio host — throws too much into the mix, including post-apocalyptic Brooklyn, parts of his own novel ASPHALT, Old Testament scenes, and a mysterious dead boy in an attic, so things often get confusing and jumbled. It's difficult to imagine that this show, currently running ninety minutes, has a three-hour version as well. But for those ninety minutes, this MYCENAEAN, a great fit for BAM's Harvey Theater, is beguiling and captivating — and infuriating and repetitive — featuring splendid performances by Patrice Johnson as Aricia and Helga Davis as Arachne.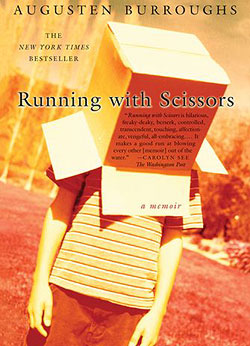 RUNNING WITH SCISSORS
by Augusten Burroughs (Picador, June 2003, $14)

You'll never complain about your family again. Augusten Burroughs's brilliant, frightening 2002 memoir details a part of his absurdly crazy childhood that is almost too bizarre to be true. "You really should write all this stuff down," Natalie tells him at one point. "Even if I did, nobody would believe it," he responds. The offspring of a glamorous, mentally unbalanced, chain-smoking confessional poet mother and a "highly functional alcoholic professor" father with psoriasis riddling his body, Augusten's life was far from normal. When he was twelve, shortly after his parents' nasty divorce, he started spending most of his time with Dr. Finch and his family, a wacky psychiatrist with a Masturbatorium, several rather offbeat daughters, a servant-wife who eats dog food, a grandson who regularly earns the name Poo Bear, a penchant for prescribing pills, and an older, gay adopted son who takes a fond liking to young Augusten. Not big on school, Augusten hangs around with Hope and Natalie, two of the daughters, goes to the mall, watches classic 1970s TV, and dreams of becoming a flashy star. Despite minimal schooling and a very dangerous adolescence, Burroughs has indeed become a writer — and a great one at that. In such bestsellers as DRY, MAGICAL THINKING, and his latest, POSSIBLE SIDE EFFECTS (to be reviewed in the next issue of twi-ny), he has displayed a unique way with words and emotions that could only come from experience. His story, now a major motion picture releasing on October 20, could have been told in a sad, pathetic, woeful manner, but instead you'll find yourself laughing out loud time and time again. RUNNING WITH SCISSORS is one of the best childhood memoirs we have ever read.
A KINGS COUNTY TALE by Stimulus (October 10, Sugarwater Recordings)
http://www.myspace.com/stimdash

Last month we caught one of the best hip-hop shows of the year, with Stimulus and Jean Grae bringing down the house at the Canal Room. Brooklyn's own Stimulus is now releasing his first solo disc, the well-titled A KINGS COUNTY TALE. The album kicks off with "The Story," a musical and verbal history of hip-hop with a killer hook. Some Bob Marley makes its way into "Racing Against the Sun," which deals with color and blackness. In "One Chance," Stimulus is helped by Kae Hoc and Cali Bud in proclaiming, "We rock till five in the a.m. / We are the reason for the mayhem." In "S.T.I.M.U.L.U.S.," he raps out his name letter by letter. He gets a little sexy-dirty in "So High," with Maya Azucena pitching in. In "Standing Firm," Steele & Natty Bless help out with an infectious background call. Stimulus gets more serious in "Dollar Bill," singing about the importance of the almighty dollar in the drug culture. And in "The Middle," while Stimulus curses out the president, Donysos declares, "We're the middle children of history, man / No purpose or place / And I see all this potential / And I see it squandered / And we're very pissed off." A KINGS COUNTY TALE is an excellent start for this up-and-coming talent.
Monday, October 9 The Real Live Show & Kudu, with Stimulus, Nu Blu, 62 Ave. C between Fourth & Fifth Sts., $5, 10:00
Thursday, October 12 Crooklyn Dodgers: A Special Tribute to Spike Lee 20 Years of Filmmaking, with Masta Ace, Special Ed, Buckshot, and DJ Stimulus, with screenings of DO THE RIGHT THING and CROOKLYN, South Paw, 125 Fifth Ave. between Sterling & St. John Pl., $20, 11:00

All contents copyright 2006 by Mark Rifkin and twi-ny. All rights reserved. Contents may not be reprinted without written permission. Please note that events, dates, and prices are subject to change.
Send all comments, suggestions, reviews, and questions to mark.rifkin@twi-ny.com.
Please note that some e-mail clients may wrap links, so be sure to enter them fully into your browser.
To subscribe to this list, please e-mail the administrator at admin@twi-ny.com with the word Subscribe in the Subject line; be sure to ask for back issues, which are free as well. To unsubscribe from this list, please think it over twice before e-mailing the same address. Please let us know what you didn't like about this forum and we'll do our best to correct it in the future -- if we agree with you. If you would like to see something covered in a future issue, please let us know. Without you, there is no need for us to exist.

twi-ny top two dozen (or so)
weekly reminders & special events
LES FRERES CORBUSIER — HELL HOUSE
St. Ann's Warehouse
38 Water St.
Tickets: $25
718-254-8779
http://www.stannswarehouse.org
Sunday, October 1
through
Sunday, October 29 Installation and performance, including hoedown, Pin the Sin on Jesus, punch, and more, 7:30
GEOLOGY OF THE MIND
The Producers Club
358 West 44th St. between Eighth & Ninth Aves.
Tickets: $15
212-352-3101
http://www.producersclubtheatres.com
Through October 7 New play written and produced by Shahan Stepanian and directed by Stacee Mandeville, 8:00
NEW YORK PHILOMUSICA
Broadway Presbyterian Church
114th Street and Broadway
212-580-9933
Thursday, October 5 New York Philomusica opens its 35th season with a program of inspiring works, featuring pianist Ya-Fei Chuang in her debut performance with New York Philomusica. Concert includes Beethoven's Trio in C Minor, Op. 9, No. 3; Mozart's Quartet in G Minor, K.478; and Ernst von Dohnanyi's Sextet in C Major, Op. 37. 8:00
LIGHT THE NIGHT
The Leukemia & Lymphoma Society
Check-in: 5:30
Start time: 7:00
212-532-5054
http://www.lightthenight.org/nyc
Light the Night raises funds and awareness for Leukemia and Lymphoma with three two-three-mile walks in which friends and family walk with red balloons, patients and survivors with white illuminated balloons.
Thursday, October 5 Manhattan Walk, South Street Seaport, Brooklyn Bridge
Friday, October 6 Queens Walk, Cross Island Pkwy., Bayside
Saturday, October 7 Staten Island Walk, Midland Beach Promenade
TOKYO VAUDEVILLE SHOW THEATER COMPANY
Japan Society
333 E. 47th St. at First Ave.
212-715-1258
Thursday, October 5
through
Saturday, October 7 RYOMA's WIFE, HER NEW HUSBAND AND HER LOVER, $35, 7:30
THE HARLEM INTERNATIONAL FILM FESTIVAL
Magic Johnson AMC Theatre
124th St. & Frederick Douglass Blvd.
Tickets: $8 regular screenings, $12 for red carpet premieres
212-330-8160
http://www.harlemfilmfestival.com
Thursday, October 5
through
Monday, October 9 Special events and screenings including CAMJACKERS (Julian Dahl, 2006), DEAD MAN'S CARDS (James Marquand, 2006), EL CORTEZ (Stephen Purvis, 2006), HARD LUCK (Mario Van Peebles, 2006), JOHNNY WAS (Mark Hammond, 2005), MY BROTHER (Anthony Lover, 2006), VALENTINA'S TANGO (Rogelio Lobato, 2006), CHRISTA MCAULIFFE - REACH FOR THE STARS (Renee Sotile & Mary Jo Godges, 2005), CITY COLLEGE 9 (Jason Swain, 2006), DEAD PREZ (John Threat, 2006), DOWNTOWN LOCALS (Rory Muir, 2005), OCCUPATION 101: VOICES OF THE SILENCED MAJORITY (Sufyan Omeish, 2006), QUEENS OF SOUND (Sandra Krampelhuber, 2006), THE HIP HOP PROJECT (Scott K. Rosenberg, 2005), THE SHAPE OF WATER (Kum-Kum Bhavnani, 2005), WHITE SHADOWS (Mialyn Hanna, 2005), and ZAHIRA'S PEACE (Nina Rosenblum, 2006), with Mario Van Peebles honored with the Renaissance Awards at a reception on October 7 at the Tribal Spears Gallery ($65-$75)
CHINATOWN LUNAR STAGES FESTIVAL
Columbus Park
Admission: free
http://www.ExploreChinatown.com/Gui/Content.aspx?Page=LunarStages2006
Thursday, October 5 Moonshadows & Masks, with family —friendly activities, 5:30, Chinese Theatre Works, Puppetry & Chinese Shadow Theater, 6:30, and screenings of MUSIC PALACE (2005) and KING OF MASKS (1996), 7:30
Thursday, October 12 Femmes Fatales, with family —friendly activities, 5:30, Gaiin a Go-Go, 6:00, and screening of CHARLIE'S ANGELS (2000), 7:00
EVENTS AT THE DAHESH
Dahesh Museum of Art
580 Madison Ave. at 57th St.
Admission: $15 unless otherwise noted (includes gallery admission)
212-759-0606
http://daheshmuseum.org/publicprograms_events
Thursday, October 5 First Thursdays: illustrated lecture, "Mirage: Napoleon's Scientists and the Unveiling of Egypt, with Nina Burleigh, free after 6:00, lecture at 6:30, galleries remain open until 9:00
Saturday, October 7 Illustrated talk: "Our misfortune is immense, and our anguish terrible," "The Black Eagle of Prussia" by Gustave Doré, with Lisa Small, 2:30
Sunday, October 8 Film at the Dahesh: MONSIEUR N (Antoine de Caunes, 2002), 2:30
TRIBUTE TO TALKING HEADS
Joe's Pub
425 Lafayette St. between East Fourth St. & Astor Pl.
Tickets: $25
212-967-7555
Friday, October 6
through
Saturday, October 7 Tribute to Talking Heads featuring the Losers Lounge, with arrangements by Joe McGinty, 7:00 & 9:00
PHOTO NY
Metropolitan Pavilion
125 West 18th St. between Sixth & Seventh Aves.
Admission: $15; three-day pass $25
Lectures and seminars: $10-$75
212-265-1040
http://artfairsinc.com/photony/2006
Friday, October 6
through
Sunday, October 8 Approximately fifty exhibitors, as well as special installations ("The Oasis" by Pablo Lopez, "Cattle on North 9th" by Bryan Zanisnik), book signings (Amy Arbus), lectures and Seminars (Rick Wester, Stephen Perloff, David Levinthal, Alex Webb)
EAR TO THE EARTH: A UNIQUE FESTIVAL OF MUSIC, SOUND ART, AND ECOLOGY
3-Legged Dog Art & Technology Center (3LD)
80 Greenwich St. below Rector St.
Judson Church (JC)
Washington Sq. South between Thompson & Sullivan Sts.
Winter Garden, World Financial Center (WG)
Battery Park City
October 6-14
Concerts: $10; Festival Pass $35
888-749-9998
This ambitious nine-day festival focuses on vanishing natural environments around the world, with special audio and visual presentations at several downtown venues, all free or $10, conceived and organized by the nonprofit Electronic Music Foundation.
Friday, October 6; Opening reception, with demonstrations by Andrea Polli and Dr. Cynthia Rosenzweig, performance of the NYSoundmap, artist encounters, installations, and refreshments, 3LD, free but reservations required, 7:00
Saturday, October 7 Panel Discussion: On Melting Ice, stories and presentations by Phil Dadson, Andrea Polli and Joe Gilmore, Bernie Krause, and others, free, 3LD, 6:00
Saturday, October 7 Extended Worlds: Iannis Xenakis, Concrète PH; David Monacchi, Stati d'Acqua / States of Water; Philip Dadson, Song/Stone Toktok; Maggi Payne, Apparent Horizon; Luc Ferrari, Presque Rien 2 Part 1; Joel Chadabe, One World, 3LD, 8:00
Saturday, October 7
through
Saturday, October 14 The State of the City: audio-mapping installation, 3LD, free, 12 noon - 4:00/6:00
Saturday, October 7
through
Saturday, October 14 Water and Ice: sound and visual water encounters, 3LD, free, 12 noon - 4:00/6:00
Saturday, October 7
through
Saturday, October 14 Elevated Harmonies: harmonized ambient sounds in real time, Elevated Acre, 55 Water St., free, 10:00 am - 5:00 pm
Sunday, October 8 Panel Discussion: What Water Means, with Steven Feld, Annea Lockwood, David Monacchi, and a representative of Young Digital Creators, 3LD, free, 6:00
Sunday, October 8 Currents: Waterfalls of Song with Steven Feld — Bosavi, Papua New Guinea; Suikinkutsu, Kyoto, Japan; the Anomabo Shore, Anomabo, Ghana; Circling the Arctic, Pyhajarvi, Vikajarvi, Saunavaara, and Rovaniemi, Finland, 3LD, 8:00
Monday, October 9 Ports of Call 1: Jean-Claude Risset, Sud; Cécile Le Prado, Le Triangle d'Incertitude; Luc Ferrari, Far West News, JC, 8:00
Monday, October 9 Calls of the Wild: Glacier Bay National Park, WG, free, 11:00 am - 3:00 pm
Tuesday, October 10 Calls of the Wild: the Madagascar Rain Forest, WG, free, 11:00 am - 3:00 pm
Tuesday, October 10 Pioneers of Acoustic Ecology: Barry Truax, Pendlerdrøm; Hildegard Westerkamp, Into the Labyrinth; Barry Truax, Island; Hildegard Westerkamp, Für Dich/For You, JC, 8:00
Wednesday, October 11 Calls of the Wild: the Sumatra forest, WG, free, 11:00 am - 3:00 pm
Wednesday, October 11 Ports of Call 2: Pierre Mariétan, Le Son de Hanoï, Cité Musique; Steven Feld, A Copenhagen Carillon; Hildegard Westerkamp, Talking Rain; Steven M. Miller, Along the Pecos, JC, 8:00
Thursday, October 12 Calls of the Wild: the California coast, WG, free, 11:00 am - 3:00 pm
Thursday, October 12 Global Mix: John Cage, Williams Mix; Thomas Gerwin, e-scape No. 3; Robert Rowe, Freesound Mix; David Dunn, Driven Behaviors, JC, 8:00
Friday, October 13 Calls of the Wild: Sierra Nevada, WG, free, 11:00 am - 3:00 pm
Friday, October 13 New Voices / Suspended Sounds: Thomas Gerwin, Aleksei Stevens, Rama Gottfried, 3LD, 8:00
Saturday, October 14 Panel Discussion: Sound Art and Preservation, with Shankar Barua, Laurie Spiegel, David Dunn, David Monacchi, James Danoff-Burg, and Jim Tolisano, 3LD, free, 6:00
Saturday, October 14 Suspended Sounds: environments of sound featuring endangered and threatened species, including North America Scene 1, Australia and South Pacific Scene 2, East Asia Scene 3, Hawaii Scene 4, Central and South America Scene 5, Oceana Scene 6, Hawaii Scene 7, North America Scene 8, Oceana Scene 9, Africa Scene 10, and Hawaii Scene 11, 3LD, 8:00
BLOOD MANOR
542 West 27th St. between Tent & Eleventh Aves.
Thursdays through Sundays plus October 30-31
Tickets: $20 in advance, $25 at the door
877-340-3002
Friday, October 6
through
Tuesday, October 31 The Nightmare on 27th St., featuring animatronics, a 3D maze, the Hostel Asylum, Psycho Bathroom, SAW II Room, Skull Alley, DUSK 'TIL DAWN Room, 3D Circus of Death, and more, 7:30 pm — 1:00 am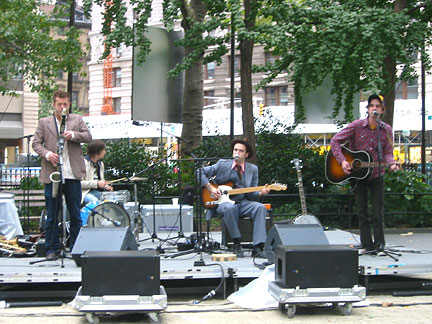 twi-ny/mdr
Jeremiah Lockwood and friends in Madison Square Park
MAD. SQ. STUDIO: MUSIC IN THE PARK
Madison Square Park
Southwest corner, 23rd St., Broadway, & Fifth Ave.
Admission: free
212-538-9310
http://www.madisonsquarepark.org/recap.asp
Saturday, October 7 Soulful: Morley and Nadine Goellner, 4:00
FIRST SATURDAYS
Brooklyn Museum of Art
200 Eastern Parkway
Admission: free after 5:00 pm
718-638-5000
http://www.brooklynmuseum.org/visit/first_saturdays.php
Saturday, October 7 Performance: Ola Jagun and His Ancestral Rhythms, drummers invited to bring their own drums and participate, Hall of the Americas, 5:00-6:00, 7:00 — 8:00
Saturday, October 7 Curator Talk: William Siegmann, "Arts of Africa," first floor (free tickets available at the Visitor Center in the lobby at 5:15), 6:15
Saturday, October 7 Film: BEFORE THE SUNRISE (Fred Armata, 2006), introduced by Chudi Uwazurike, Iris and B. Gerald Cantor Auditorium, third floor (free tickets available at the Visitor Center in the lobby at 5:15), 6:15
Saturday, October 7 Hands-On Art: get inspired by the museum's Yoruba door (free timed tickets available at the Visitor Center in the lobby beginning at 5:30), workshop from 6:30 to 8:30
Saturday, October 7 Curator Talk: William Siegmann, "Arts of Africa," first floor (free tickets available at the Visitor Center in the lobby at 7:15), 8:15
Saturday, October 7 Film: THIS AMERICA (Bethels Agomuoh, 2005), followed by Q&A with star Oliver Mbamara, Iris and B. Gerald Cantor Auditorium, third floor (free tickets available at the Visitor Center in the lobby at 7:30), 8:30
Saturday, October 7 Dance Party: Zozo Afrobeat pays tribute to Fela Kuti, 9:00 — 11:00
BEERFEST 2006: BEER ON THE PIER 3
The Un-convention Center
Pier 94
West 55th St. & West Side Hwy.
888-695-0888
Saturday, October 7 Third annual event featuring dozens of beers from all over the world (including B.B. Burgerbrau, Butternuts, Dogfish Head, Efes, Goose Island, Keegan Ales, Namyslow, Ochakovo, Okocim, Original Sin Cider, Singha, Smuttynose, St. Peters, Wychwood, and Zyweic), live performances by BuzzUniverse (12:30), Black 47 (2:00), and Wine with Sue (8:00), and food from Spanky's BBQ, $43.50, 12 noon — 4:00 and 6:00 — 10:00
GUINNESS OYSTER MUSIC FESTIVAL
Water Street Closure, d.u.m.b.o.
66 Water St. between Main & Dock Sts.
718-625-9352
http://www.waterstreetrestaurant.com/661948.html
Saturday, October 7 Third annual outdoor event, featuring fresh oysters, six internationally inspired sauces, and live music, including the New Heathens, Buck Ford, the Defibulators, the Niall O'Leary Irish School of Dancing, the Younger Sister Band, the Flanks, NYPD Pipes & Drums of the Emerald Society, Laura Minor, Pun Can, Holopaw, Brian Finke and Lone Tree, and the Demolition String Band, 12 noon — 12 midnight
WEEKEND STREET FAIRS/FESTIVALS/PARADES/CARNIVALS
All events approximately 11:00 am - 6:00 pm unless otherwise noted
Admission: free
http://www.nyctourist.com/st_fairs_calendar.htm
http://nycstreetfairs.com/sched.html
http://www.clearviewfestival.com
Saturday October 7 Union Square Autumn Fair: Park Ave. South between 17th & 23rd Sts.
Sunday, October 8 North Flatbush Ave. Arts & Crafts: Flatbush Ave. between Seventh Ave. & Plaza St.
Monday, October 9 Columbus Day Festival: Water St. between Fulton & Broad Sts.
Sunday, October 15 Ave. of the Americas Family Expo: Sixth Ave. between 42nd & 56th Sts.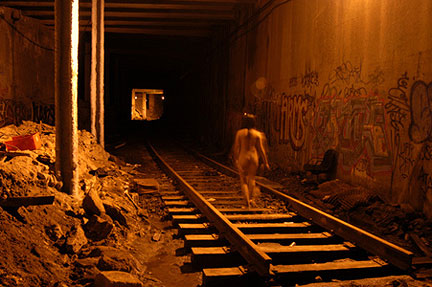 www.mirukim.com
Miru Kim, "Luv Tunnel"
FALL 2006 INTERDEPENDENT ARTS SHOW
Lila Dharma Center
302 Bowery between Bleecker & Houston Sts.
Open Sundays 1:00 — 4:00 through October 29
Admission: free
212-254-2130
http://www.theidproject.com/arts/fall06show.htm
Sunday, October 7, 14 , 21, 28 Art show featuring beautiful photographs by Agatha Wasilewska and Lina Bertucci, wonderful fabric installations by Nomi Kleinman, an amazing multiple self-portrait and the five-panel "The Five Elements" by Juan-Carlos Castro, and provocative mounted photos by Miru Kim in addition to works by Amy Angeles, Sophie Barbasch, Nancy Brett, Karla Carballar, Jon Coffelt, Jason Cohen, Erin Koch, Ma Lynch, Sarah Merenda, Tyler Mitter, Gala Narezo, Nicole Parcher, Jenn Ross, and Riva Weinstein
FIRST STEP AIDS WALK
Mosaic Manhattan Church
Corner of Chambers and Greenwich Sts.
212-227-5191
http://www.firststepaidswalk.org
Sunday, October 8 The First Step AIDS Walk and Block Party, raising money for the Rehema Home in Nairobi, Kenya, 11:00 am — 3:00 pm
MEDIEVAL FESTIVAL
Fort Tryon Park
Admission: free
212-795-1600
http://www.whidc.org/home.html
Sunday, October 8 Twenty-second annual event celebrating the customs and traditions of the Middle Ages, with jugglers, jesters, jousters, minstrels, magicians, music, dance, storytelling, children's costume parade, pipes and drums, sock puppets, theater, demonstrations, crafts, a hawk watch, food and drink, and more, 12 noon — 6:00
LE PARCOURS INITIATIQUE
La Maison du Chocolat
1018 Madison Ave.at 78th St.
Limited seating: advance reservations required
212-744-7117
http://www.lamaisonduchocolat.com/mdcs/parcours.php
Monday, October 9
and
Tuesday, October 10 Tamanaco: A Journey in the World of Chocolate, chocolate tastings of ganaches, $55, 6:30
Wednesday, October 11
and
Thursday, October 12 The Duo: The Intertwining of Complimentary Flavors, tastings of chocolate with tea and coffee, $60, 6:30
MAKOR FILM
Steinhardt Building
35 West 67th St. between Amsterdam & Columbus Aves.
212-601-1000
Wednesday, October 11 GIULIANI TIME (Kevin Keating, 2006), followed by a Q&A with the director, $15, 7:30
GIULIANI TIME (Kevin Keating, 2006)
http://giulianitime.com

Documentarian Kevin Keating, who has worked on films by such legends as the Maysles brothers and Barbara Kopple, makes his full-length directorial debut with this examination of the life and career of Rudolph W. Giuliani, who just might be considering a run for the White House in 2008. Mixing archival footage with new interviews, the movie is reminiscent of Michael Moore's FAHRENHEIT 9/11 (2004), although Keating stays out of things himself. Instead he lets the pundits and politicians, commissioners and citizens do the talking, including former mayors Ed Koch and David Dinkins, former top cop Bill Bratton, former schools chancellor Rudy Crew, former presidential candidate Ralph Nader, ACLU guru Norman Siegel, Republican congressman Peter King, art activist Robert Lederman, man about town Al Sharpton, television star Donald Trump, the Manhattan Institute's Myron Magnet, and, primarily, Wayne Barrett, the Village Voice journalist whose book RUDY! AN INVESTIGATIVE BIOGRAPHY OF RUDOLPH GIULIANI serves as the foundation for the film. First delving into Rudy's childhood and supposed re-creation of some of the facts — according to Barrett, Giuliani's father and uncle both had mob ties — Keating follows Rudy's rise to power, from his days as an assistant U.S. attorney under the Reagan administration through his two terms as mayor of the City of New York and his Senate race against Hillary Clinton. Along the way he tales a close look at such controversial topics as Haitian refugees, the Broken Windows policy, poverty and workfare, the Abner Louima and Amadou Diallo cases, school vouchers, the homeless, racism, free speech, art and religion, and the Zero Tolerance approach to crime. GIULIANI TIME shows America's Mayor to be a highly ambitious, petty bully who twists facts and outright lies to get what he wants, stomping over anyone who gets in his way — including the people of the city he loves. The film ends with Giuliani being celebrated around the world because of his leadership on and after September 11.
NEW YORK CITY BARN DANCE
Hungarian House Dance Hall
213 East 82nd St. between Second & Third Aves.
Admission: $15
Thursday, October 12 Li Rhys Jones & Christina Wheeler:Old-Time Appalachian Dance Tunes, with David Harvey calling Circles, Squares, Whole Sets, Contras, and Appalachian Clogging, 8:00
DIGITAL LIFE
Jacob Javits Convention Center
Eleventh Ave. between 34th & 39th Sts.
Tickets: $12 in advance, $15 at the door
1-866-761-7303
Thursday, October 12
through
Sunday, October 15 Annual consumer technology show, featuring more than 150 exhibitors, keynote speakers, and more
WORLD SIGHT DAY
Lighthouse International
111 East 59th St.
Admission: free
212-821-9663
http://www.lighthouse.org/events/worldevents.htm
Friday, October 13 Catherine Kramer Concert Series: Music Knows No Bounds, with Yo Kano, 7:30
D.U.M.B.O. ART UNDER THE BRIDGE FESTIVAL
d.u.m.b.o. Arts Center
30 Washington St.
Beneath the Brooklyn Bridge
Admission: free
718-694-0831
http://www.dumboartscenter.org/festival/2006
Friday, October 13
through
Sunday, October 15 Tenth annual festival including site-specific installations, open studios, panel discussions, video art, live music and dance, and more
PARAKEET WORKSHOP
New York Companion Bird Club
242 East 53rd St. between Second & Third Aves.
Admission: $10 (members free), RSVP required
212-987-8299
http://www.manhattanbirdclub.com/events.htm
Saturday, October 14 Panel discussion on housing, diet, basic care, toys, behaviors, and speech, moderated by Pipsqueak! and Cheri McAleese, 1:00 — 4:00
MY DOG LOVES CENTRAL PARK COUNTRY FAIR
Midpark at 72nd St. between the Naumburg Bandshell and Sheep Meadow
Admission: free
http://www.centralparkpaws.net
http://www.centralparknyc.org/activities
Saturday, October 14 Fifth annual event, featuring Best in Park dog show, adoptions, microchipping, agility course, tours, games, service dog demonstrations, prizes, and more, 11:00 am — 4:00 pm
CFA/IAMSCAT CHAMPIONSHIP NEW YORK
Expo Center at Madison Square Garden
31st to 33rd Sts. between Seventh & Eighth Aves.
Tickets: $15 ($1 coupon available on Web site)
877-232-7469
http://www.cfa-iams-cat-championship.org
Saturday, October 14
and
Sunday, October 15 Competitions featuring forty-one breeds (feline agility, junior showmanship, best in breed), as well as a supermarket of pet products, giveaways, professional speakers, veterinarians, and kittens for adoption on the Garden Terrace (free admission to Adopt-a-Cat) 10:00 am — 5:00/6:00 pm
FALL CRAFTS FESTIVAL
Brooklyn Museum of Art
200 Eastern Parkway, Museum Parking Lot
Admission: free
718-638-5000
http://www.craftsatlincoln.org
Saturday, October 14
and
Sunday, October 15 Featuring pottery, leather goods, jewelry, blown and stained glass, hand-woven apparel, furniture, live entertainment, and more, sponsored but the American Concern for Art and Craftsmanship, 10:00/11:00 am — 5:00 pm
MS BIKE TOUR
Starting line & finish line: UnConvention Center
Pier 94 at West 54th St. & the West Side Highway
Check-in: 6:30 am; ride begins at 7:30
212-463-7787
Sunday, October 15 Twenty-second annual hundred-mile ride to raise money and awareness for multiple sclerosis
NEW YORK NOISE SEASON LAUNCH PARTY
Union Hall
702 Union St. at Fifth Ave., Park Slope
Admission: free (twenty-one and older only)
718-638-4400
http://www.myspace.com/newyorknoise
Sunday October 15 Our favorite music show (NEW YORK NOISE) on our favorite cable channel (NYC TV, 25 on Time Warner) celebrates its upcoming second season (starting October 17, airing at 10:00 on Tuesday and Sunday nights and 11:00 on Saturday nights) with this hot party, featuring videos from dozens of local bands, including Cat Power, Beirut, Broken Social Scene, Yeah Yeah Yeahs, Spank Rock, Tapes 'N Tapes, and Spoon, 8:00
READING/PERFORMANCE
Hue-Man Bookstore & Cafe
2319 Frederick Douglass Blvd. between 124th & 125th Sts.
Admission: free
212-665-7400
http://www.huemanbookstore.com
Monday, October 16 Linton Kwesi Johnson, MI REVALUESHANARY FREN, 6:00 — 8:00
SPA WEEK
October 16-22
All treatments: $50
212-352-8098
More than one hundred spas in the metropolitan area will be offering special $50 treatments during the third annual Spa Week, including Coconut Milk Pedicure with Warm Cream Hand Treatment at Allure, 30 Min Z-Peel at Exhale, 45 Min Brown Sugar Body Scrub Featuring Dry Body Brushing at Oasis, 45 Min Mango/Ginger Brown Sugar Scrub with Vichy Shower at Finesse, 30 Min Radiofrequency Collagen Treatment at Serenity, 45 Min Qi-Gong Foot Reflexology or Facial Treatment at Graceful Services, Lemon Verbena Pedicure with Complimentary Pass to the Water Lounge at Great Jones, 45 Min Dead Sea Salt Scrub with Platza Treatment at Body by Brooklyn, 50 Min Detoxifying Seaweed Facial or 30 Min Microdermabrasion Treatment at Canela, 45 Min Blueberry Smoothie Exfoliating Facial at Cloud 9, 60 Min Chocolate Layer or Deep Pore Cleansing Facial at DeFranco Spagnolo, 45 Min Mom to Be Massage at Edamame Maternity, 45 Min Sandy Beach Salt Scrub at Eden Day, 30 Min Hot Stone Massage with 30 Min Steam, Sauna & Jacuzzi at Essential Therapy, 60 Min Gerard's Caviar Rejuvenating or Vitamin Facial at Gerard's, Four Layer Vitamin C Facial, Glycolic Exfoli-Facial or Manuka Facial at Glow, 75 Min Anti-Aging Facial: Mature Skin Replenishing Solution at Lancôme The Boutique, 50 Min Microdermabrasion Treatment at Moonflower, 45 Min Coconut or Bamboo Body Polish at Providence, 50 Min Thai Ceremony Massage with Warm Herbal Poultices at Restore, 45 Min Choice of Smooth Synergy Signaure Facial Including Extractions or Smooth Synergy Antioxidant Pomegranate Peel at Smooth Synergy, and 60 Min Sesame Compress or Chinese Pearl Facial at Yin Beauty, among many others, but you better book them fast.
A NIGHT OF STIMULATING CONVERSATION
Trinity Church Wall Street
Broadway at Wall Street
Admission: free, but reservations required, 212-602-0880, RabbleRouser@TrinityWallStreet.org
http://www.trinitywallstreet.org

Wednesday, October 18 Archbishop Desmond Tutu in conversation with his biographer, John Allen, author of RABBLE-ROUSER FOR PEACE: THE AUTHORIZED BIOGRAPHY OF DESMOND TUTU, moderated by John Hockenberry, reception at 5:00, conversation at 6:15, book signing at 7:15