Twi-ny, This Week In New York
GARDEN OF DELIGHTS
Empire-Fulton Ferry State Park
Brooklyn Bridge Park
Plymouth & Main Sts. & the East River
Open daily 8:30 am - sunset
Through October 13
Admission: free

The Brooklyn Waterfront Artists Coalition's twenty-fourth annual outdoor sculpture show features site-specific installations by more than two dozen artists, winding through Empire-Fulton Ferry State Park and Brooklyn Bridge Park. As you make your way between the Manhattan and Brooklyn Bridges, you'll come upon a variety of mostly playful pieces that work well in this sweet little environment that has a small, rocky beach and offers a magnificent view of Manhattan. Tyrome Tripoli welded together stainless-steel kitchen sinks for "Travel with the Kitchen Sink." Naomi Teppich's "Terra Stela" rises phallically , off-kilter from its branchlike base. Thea Lanzisero's spheres bring "Starlight" to the park. Doug Makemson's "Royal Heron" and "Duck Billed Heron" (above), constructed out of car parts, gleam in the sunlight. Jack Howard-Potter's pink "Fat Lady" stands with her hands on her hips, peering into Brooklyn. Bill Berry's "Too 2" consists of a cage of children's punching dummies, featuring a businessman in a suit and a red tie on each one. Steve Dolbin's "False Oracle" seems to have lost her head. Julia Ousley creates a new kind of "Skyline," her wooden beams topped by dozens of tiny people. For her homonym-influenced "Bird Flew," Charon Luebbers (who curated the show with Richard Brachman) dangles paper birds from a tree. Miggy Buck's "David" comments on Michelangelo's famous statue, in this case with two huge feet. (You know what they say about big feet.) And don't forget to put two quarters in George Spencer's "Gumball Machine" in order to do some "block busting" that you can take home with you.
In the Neighborhood
MOVIES WITH A VIEW: MOVIES IN MOTION
Empire-Fulton State Park
Admission: free
http://www.brooklynbridgepark.org/
Thursday, September 21 Fall Double Feature: PEE-WEE'S BIG ADVENTURE (Tim Burton, 1985), 7:00, and THE ADVENTURES OF PRISCILLA, QUEEN OF THE DESERT (Stephan Elliott, 1994), 9:00
GREEN TEAM
Brooklyn Bridge Park at Empire-Fulton State Park
Tuesdays at 6:00 pm and Saturdays at 10:00 am
Through October
Admission: free
718-802-0603 ext18
http://www.brooklynbridgepark.org/
All-volunteer stewardship team meets twice a week to beautify of the park, including mulching, weeding, removing debris, planting, and replanting
FOLK FEET: CIRCLE 'ROUND BROOKLYN
The Tobacco Warehouse
Brooklyn Bridge Park at Empire-Fulton State Park
1 Main St. at Water St.
Admission: free
718-802-0603
http://www.brooklynbridgepark.org/
Sunday, October 8 Dance soloists Cliff Matias, Yasser Darwish, and Rita Silva perform site-specific dances, followed by demonstrations, classes, and a participatory circle dance, 2:00 — 5:00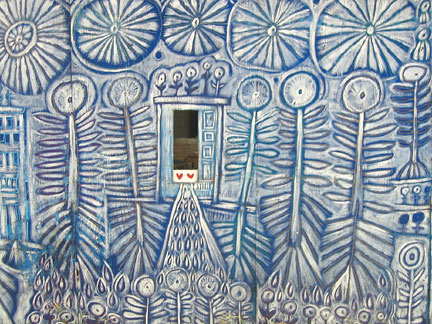 twi-ny/mdr
Mural brings cheer to construction site
PASQUALINA AZZARELLO: CONSTRUCTION SITE MURAL
Washington, Jay, & Front Sts.
Admission: free
http://www.thelittleredstudio.com

Back in March, Brooklyn-based painter and installation artist Pasqualina Azzarello added a little art to the eyesore of a construction site at Washington, Jay, and Front Sts. in DUMBO, soon to be home to a thirty-two-story residential tower. The crew of Monadnock Const. Inc. and the developers liked her contribution so much that she was commissioned to paint the entire surrounding area, covering the wooden boards outside the security fence that rings the project. Working carefully around such signs as "Authorized Personnel Only," "No Trespassing," and "Acerca Cerrada Use El Otro Lado" and incorporating fire hydrants and holes in the wood into her design, Azzarello has drawn in her unique flowers, hearts, animals, houses, stars, and circles, primarily in blue and white, with dashes of red and other colors. Look hard enough and you'll find a few people as well. She has also written "Thank You" several times, along with the question "What does humility require?" Not only does Azzarello's engaging, childlike work brighten the neighborhood but it also is a none-too-sly comment on what is going on in Brooklyn, especially along the waterfront — major housing developments, residential buildings, and the new Nets stadium have created big battles between environmentalists, longtime residents, big business, and city government. Azzarello's mural, at least temporarily, has been able to bridge that ever-growing gap.
PASQUALINA AZZARELLO: THE GRASS GROWS THROUGH
Superfine
126 Front St. at Pearl St.
Admission: free
718-243-9005
http://www.thelittleredstudio.com
Wednesday, September 20
through
Sunday, October 8 In conjunction with the completion of her construction site mural, Pasqualina Azzarello will be displaying related new paintings at this DUMBO hot spot

MUSIC @ BUBBY'S BROOKLYN
Bubby's Lounge
1 Main St.
Suggested donation: $5
718-222-0666
http://www.bubbys.com/music.asp
Thursday, September 21 Moodras, 7:00
Monday, September 25 Eymarel, 8:00
Tuesday, September 26 Double Bird Down, 8:00
Thursday, September 28 Homegrown Thursdays, 8:00
Chelsea Art Stroll of the Week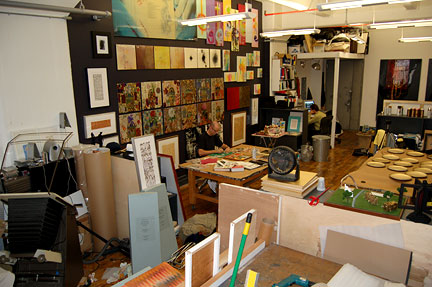 Stefan Falke
Alex Echo at work in his Brooklyn studio
ALEX ECHO: THE PERPETUAL DESIRE MACHINE
213 West 23rd St. at Seventh Ave., seventh floor
September 22 — October 1
Admission: free
http://www.theapt.com/news/echo.html
DUMBO-based artist Alex Echo compresses language and information into fascinating works of art that are as compelling and mysterious as they are exciting and stimulating. Echo carefully selects quotes from a diverse group of writers, artists, musicians, philosophers, and historical figures — including Blaise Pascal, Martin Luther King Jr., John Keats, Albert Einstein, Plato, Edward Albee, Mozart, Helen Keller, Harold Pinter, Donovan, Oscar Wilde, Malcolm X, Pablo Neruda, and Jane Austen — and then, using a variety of media (charcoal and epoxy on panel or paper, oil pastel on paper, oil on canvas, and more), writes out the quote, piling the letters on top of each other, forming surprisingly different abstract images. The final paintings and drawings, in a wide range of sizes, are a visual wonderland of style and color; among our favorites are "Poetry #7 (Rene Ricard)," a dizzying array of post-Impressionist hues; "Harold Pinter," which evokes an odd kind of electronic signal; "Albert Einstein," which is like a sun sending out swirls of heat in its own universe; a hallway full of Rumi, where the letters jumble on top of each other in black in the center of the paper, surrounded by white emptiness, like a single thought in a vast brain; and "The Talmud," a dark, haunting piece with long, vertical swaths of red and letters and words popping out from an ominous storm.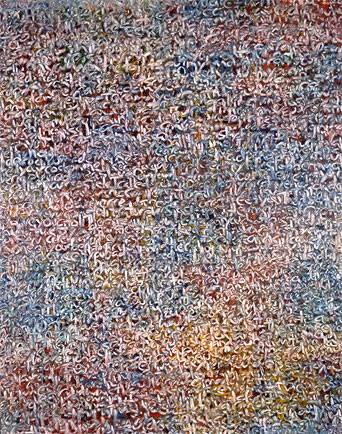 Stefan Falke
Alex Echo, "Poetry #7 (Rene Ricard)," oil on canvas, 2006

"The Perpetual Desire Machine" also works splendidly as a site-specific installation, as Echo, who formerly created massive billboards for Absolut as well as special Swatch designs in the 1990s, produced many of these works with the fabulous space in mind. The enormous three-level apartment includes several bedrooms, amazing bathrooms, narrow hallways, hidden nooks, and unusual wallpaper. Echo's pieces complement the space, which is worth seeing purely on its own merits. (Actually, the apartment itself is for sale; the asking price is well into the millions.) Echo supplements the show with his enticing Botanical Series, mixed-media collages featuring Victorian images on flowered wallpaper; Pop art snowboards; PVC computer cutouts of "Desire" and "Love"; a trio of public-park word-sculpture models; and more. Echo was inspired by the Joseph Beuys quote "The concept of a people is elementally coupled with its language"; visitors to this very cool exhibit will be inspired by Echo's unique examination and celebration of the written word.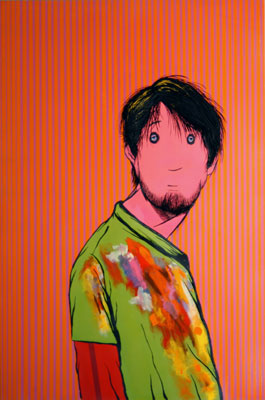 Chuck Agro, "Stinky Zen," enamel on panel, 2004-6
CHUCK AGRO: CHEESEBURGER IN MY BIG, FAT, GREASY AMERICAN HANDS — "THE EDUCATION OF AN AMERICAN BOY" (SEX, DRUGS, DRINKING, VIOLENCE, AND APATHY ARE NOT ENOUGH, BUT THEY'RE ALL I'VE GOT
Cynthia Broan Gallery
546 West 29th St. between Tenth & Eleventh Aves.
Through October 7
Closed Sunday & Monday
Admission: free
212-760-0809
http://www.chuckagro.com/artwork

We love the crazy world of Chuck Agro, filled with bizarre, colorful characters that are often frighteningly realistic despite their cartooniness. Agro has opened up his studio for this exhibit, including drawings, paintings, enamels, watercolors, inkjet prints, a porcelain bowl, and a papier-mache sculpture. Although the fifty pieces are entertaining on their own, the back wall tells a kind of narrative, following "the education of an American boy" as he learns about sex, war, booze, justice, love, violence, and forgiveness. You'll swear you've seen at least one of the three dudes on the opposite wall, affectionately known as "Stinky Zen," "Life and Death," and "Heavy Metal." And don't drink the water from "Prayer or Wishing Bowl?" as it's encrusted with gemstones. "Cheeseburger" is the third section of a group show that begins with recent NYU MFA grad Megan O'Connor's "O'Connor," a room occupied by toilet-paper figures and religious icons, and Millree Hughes's black-and-white digital animation "Figure 3."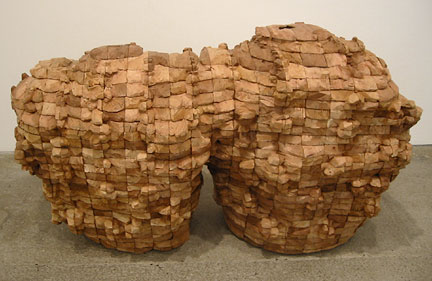 twi-ny/mdr
Ursula von Rydingsvard, "Dubeltowa (Double)," cedar, 2006
URSULA VON RYDINGSVARD: SYLWETKA
Galerie Lelong
528 West 26th St. between Tenth & Eleventh Aves.
Through October 21
Closed Sunday & Monday
Admission: free
212-315-0470
http://twi-ny.com/twiny.06.21.06.html

We have been enjoying Ursula von Rydingsvard's four sculptures in Madison Square Park for a few months now (they'll be up through the end of the year), and in conjunction with that outdoor exhibit, Galerie Lelong is showing eight more pieces, collectively known as "Sylwetka," or "Silhouette." Born in Germany and educated in the United States (she lived in refugee camps after WW II before immigrating to the States; she later earned her MFA from Columbia), von Rydingsvard works in cedar, creating engaging sculptures that are often rubbed with graphite to give them a unique look and feel. While the works are spread apart in the park, popping up amid blooming trees and green grass (although that will change come fall and winter), here they are much closer together, in white-walled spaces, where they demand viewers' attention. The central image is "Wall Pocket," a thirteen-foot-high vertical figure that has a cavernous cutout in the shape of a huge person, as if someone has emerged from the work (or has just walked into it). The other works include a hollow ring, wall plates, "Twisting Bowl," and "Dubeltowa (Double)."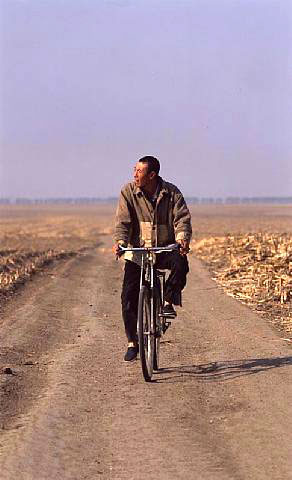 Hai Bo, The Northern Series, digital print, 2005
HAI BO
Max Protetch
511 West 22nd St. between Tenth & Eleventh Aves.
Through October 14
Closed Sunday & Monday
Admission: free
212-633-6999

Beijing-based photographer Hai Bo has turned his lens onto vast, wide-open landscapes in Northern China, populating each large-scale work (except one) with a solitary figure. "The Northern Series" comprises eight side-by-side shots of men of different ages on old bicycles in the foreground of a long dirt road, riding toward the camera, nothing but flat land and blue sky behind them, as if past, present, and future are intersecting all at once. In gorgeous black and white, a man walks down a snowy road, seemingly heading nowhere. Hai Bo's photos evoke memory and loneliness: A ghostly figure hovers in a bleak forest, almost melding into the background. A cart moves through a vacant horizontal plain. A blurred man makes his way across a shimmering landscape at sunset. These lone people seem almost desperate for an individuality that has been shunned by the Chinese government for centuries. Standing in front of these mesmerizing works, it is difficult not to get caught up in your own past. A public reception for the artist will be held on September 20 at 6:00.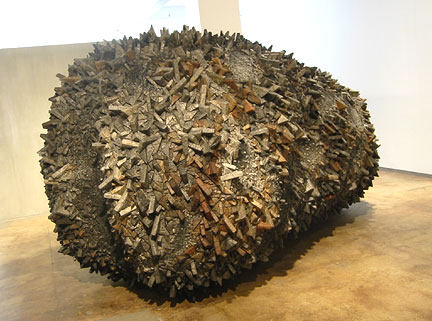 twi-ny/mdr
Kwang-Young Chun, "Aggregation 06-JN025," mixed media and Korean mulberry paper, 2006
KWANG-YOUNG CHUN: AGGREGATION
Kim Foster Gallery
529 West 20th St. between Tenth & Eleventh Aves., ground floor
Closed Sunday & Monday
Through October 21
Admission: free
212-229-0044

Korean artist Kwang-Young Chun creates works using centuries-old handmade mulberry paper over styrofoam, covered in writing, folded and tied into small triangles that recall the bundles that Asian medicine is wrapped in. Chun combines thousands of these triangles to form fascinating three-dimensional wall reliefs and sculptures in shades of white, black, and gray, turning individuality into a composite whole. "Aggregation 06-JN028" is like a planet with craters. "Aggregation 06-AU048" appears to contain fossilized footprints. "Aggregation 06-JL033" hovers on the ground like a huge, spiky animal. Get up close to marvel at the unique surface texture and patterns the triangles form and to see the detailed lettering, which Chun even runs up and down the sides of the canvases.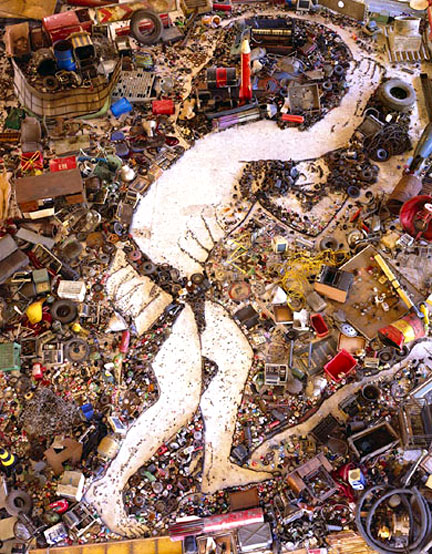 Vik Muniz, "Sisyphus, After Titian (Pictures of Junk)," 2006
VIK MUNIZ: PICTURES OF JUNK
Sikkema Jenkins & Co.
530 West 22nd St. between Tenth & Eleventh Aves.
Closed Sunday & Monday
Through October 14
Admission: free
212-929-2262

If you've ever thought that a lot of modern art is just plain junk, Brooklyn-based Brazilian multimedia artist Vik Muniz goes you one better, re-creating classic(al) works of art out of actual junk. Using discarded tires, appliances, furniture, metal, hardware, and a myriad of other objects, Muniz and his staff fashion such familiar figures as Carravagio's Narcissus, Delacroix's Medea, Cranach's Apollo and Diana, Watts's Minotaur, Velasquez's Mars, Ingres's Oedipus, and Goya's Saturn out of found materials, laid out on a basketball-court-size space outside of Rio and preserved in these large-scale chromogenic prints. The tongue-in-cheek pieces are a sly nod to the overpriced art market — even though these works are not exactly cheap as well. Muniz extends his sense of humor into the individual "Pictures of Junk" themselves; for example, among the items Titian's Sysyphus is carrying on his shoulders is a piano, and an open refrigerator holds alcoholic delights for Rubens's Bacchus. In the back gallery are four of Muniz's "Pictures of Pigment," in which he uses powdered paint pigments to re-create Monet's "La Japonaise," Redon's "Butterfly," Klimt's "Life and Death," and Hopper's "New York Movie" (the original of which is currently on view at the Whitney). And don't miss the third gallery, home to two dozen "Pictures of Earthworks"; influenced by Robert Smithson's "Spiral Jetty" and a visit to Angkor Wat in Cambodia, Muniz dug huge objects into the ground, including dice, a dripping faucet, a whistle, footprints, an umbrella, a wrench, a ruler, and, most enchantingly, a paper airplane. DVD monitors go behind the scenes of the making of "Pictures of Junk" and "Pictures of Earthworks"; snippets are available at Muniz's Web site as well.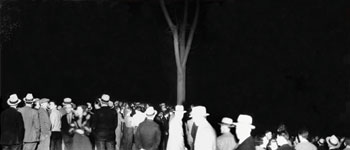 Ken Gonzales-Day, "St. James Park," inkjet on vinyl, 2006
KEN GONZALES-DAY: LYNCHING IN THE WEST
CUE Art Foundation
511 West 25th St. between Tenth & Eleventh Aves.
Closed Sunday & Monday
Through October 14
Admission: free
212-206-3583
http://www.cueartfoundation.org

Investigating the history of the lynching of Latinos in California, Ken Gonzales-Day discovered that more Hispanics than blacks were hanged in California between 1850 and 1935. Just as these events have been erased from history textbooks and the minds of most Americans, so too have the anonymous victims been erased from Gonzales-Day's photos. In the black-and-white inkjet print "St. James Park," dozens of men and women lurk around a tree (from which a man used to hang); Gonzales-Day has removed the victim from the familiar image, leaving the spectators to suddenly become the subject of the photo, making them all equally guilty. "Golden Chain" might look like a beautiful tree cast against a bright blue sky, but its meaning changes when you realize it was the site of hangings many years before. The same is true of the moss-covered tree tilting toward the ground (perhaps with the weight of its past) in "At Daylight the Miserable Man Was Carried to an Oak," its captivating color hiding its lurid story. The exhibit also includes historical postcards such as "Cowboy Justice" and "Santa Rosa Triple Lynching" that featured lynchings on them when they were purchased and mailed, but these disturbing images have been removed by Gonzales-Day, paying tribute to the victims while also placing the people who watched and/or committed these atrocities (and those who distributed these images, in stores and through the post office) front and center to face their crimes.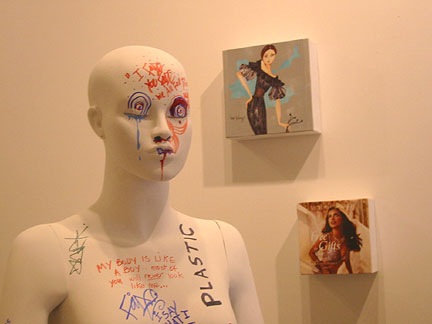 twi-ny/mdr
Ellen Levin, "Year of the Dog / I Mean Woman," Protest Space
ALSO IN CHELSEA
With the summer over, dozens of galleries have pulled out some fab exhibits to kick off the new season, so start your day early to get as much in as you can stand. In addition to the above shows, we recommend Polixeni Papapetrou's eerie "Haunted Country" photographs (Foley Gallery, 547 West 27th St., www.foleygallery.com); "New Prints 2000-2006," consisting of work by new and emerging artists, chosen by such people as Dan Cameron, Kiki Smith, Jessica Stockholder, Richard Tuttle, and Agnes Gund (IPCNY, 526 West 26th St. #824, http://www.ipcny.org); Derek Buckner's "American Perspectives," large and small oil paintings of planes flying over twisting freeways and overpasses (George Billis Gallery, 511 West 25th St., www.georgebillis.com); Kathleen Kucka's poured-paint, multileveled acrylic works (Brenda Taylor Gallery, 511 West 25th St., www.brendataylorgallery.com); Nancy Burson's multimedia show "The Hand of God," especially her Polaroids of falling ashes (ClampArt, 521-531 West 25th St., www.clampart.com); Basim Magdy's "In the Grave of Intergalactic Utopia," where you'll walk into a tribute to a TWILIGHT ZONE episode, with an astronaut caged like a sheep (Newman Popiashvili Gallery, 504 West 22nd St., www.npgallery.com); Georg Herold's abstract paintings made with caviar and lacquer (Friedrich Petzel Gallery, 537 West 22nd St., www.petzel.com); and Ellen Levin's feminist throwback "Year of the Dog / I Mean Woman," where you can add your own radical comments to a mannequin (Protest Space, 511 West 20th St., www.protestspace.com).

In the Neighborhood
THE KITCHEN
West 19th St. between Tenth & Eleventh Aves.
Closed Sunday and Monday
212-255-5793
Through October 14 Invisible Geographies: New Sound Art from Germany, free

Saturday September 23 alva noto, also known as Carsten Nicolai: xerrox, $10, 8:00
Wednesday, September 27
through
Saturday, September 30 Caitlin Cook: SKINT, $12, 8:00 or 9:00
Tuesday, October 3 They Heart a Composer, curated by Lauren Cornell, part of Rhizome's Tenth Anniversary Festival, $8, 3:00

MONDAY NIGHT READING SERIES
The Half King
505 West 23rd St. between Tenth & Eleventh Aves.
All readings at 7:00
Admission: free
212-462-4300
Monday, September 25 Joshua Hammer, YOKOHAMA BURNING
Monday, October 9 Gordon Wiltsie, TO THE ENDS OF THE EARTH: ADVENTURES OF AN EXPEDITION PHOTOGRAPHER
Extended Museum Mile Exhibit of the Week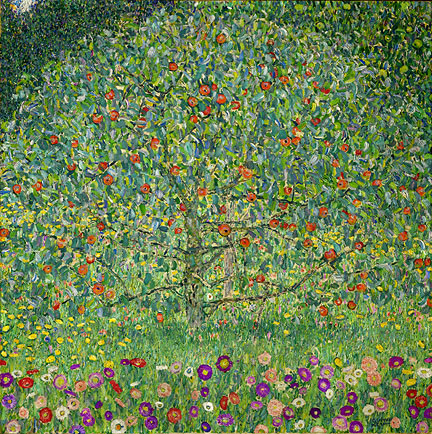 Estates of Ferdinand and Adele Bloch-Bauer
Gustav Klimt, "Apple Tree I," oil on canvas, ca. 1912
GUSTAV KLIMT: FIVE PAINTINGS FROM THE COLLECTION OF FERDINAND AND ADELE BLOCH-BAUER
Neue Galerie
1048 Fifth Ave. at 86th St.
Closed Tuesdays and Wednesdays
Extended through October 9
Admission: $15 (includes Acoustiguide)
212-628-6200
http://www.neuegalerie.org/neuemain.html

In 1938, the Nazis seized the home of Ferdinand and Adele Bloch-Bauer, absconding with, among other valuable items, a half dozen paintings by Austrian artist Gustav Klimt. After years of legal battles, five of the works were recently returned to the Bloch-Bauers' surviving niece, Maria Altmann, and are now on view together in the Neue Galerie. Influenced by Byzantine mosaics and the Impressionists (particularly Paul Signac, Henri Matisse, Paul Cézanne, and Vincent van Gogh), Klimt combined fabulous color schemes with master brushstrokes to create these magnificent works. In "Birch Forest," trees of all ages rise from a ground covered with fallen autumn leaves rising off into the background, with two small blue flowers adding a spark of life. In "Houses at Unterach on the Attersee," houses rise above a lake, surrounded by lush trees and a winding garden pathway, the structures' reflections shimmering on the surface of the water. "Apple Tree I" is bursting with color, a flowering apple tree at the center, with red, yellow, pink, and white flowers filling the foreground and visible in the distance through the branches. Despite the beauty of these three landscapes, it is the pair of portraits that has attracted the most attention. Klimt painted socialite Adele Bloch-Bauer twice, in two very different works. In the latter piece, from 1912, Bloch-Bauer stands straight up in the center of the canvas, her long, thin frame growing less defined at the bottom. Around her are flowers, while behind her are rectangular bursts of blue, green, red, and pink, along with riders on horseback and meditating figures that reveal Japanese influences.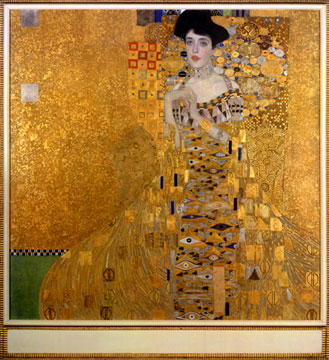 Estates of Ferdinand and Adele Bloch-Bauer
Gustav Klimt, "Adele Bloch-Bauer I," oil, silver, and gold on canvas, 1907

"Adele Bloch-Bauer I," from 1907, is currently the most talked-about work in the world; Neue cofounder Ronald S. Lauder reportedly paid $135 million for the "Golden Style" piece. Bloch-Bauer stands slightly off-center, her lithe figure in front of an ornate chair and amid a swirling train that is covered with geometric shapes and her initials. Her dress features Egyptian elements, including more than a dozen eyes that serve as protectors. Her lips slightly parted, her hands clasped near her bare right shoulder (to hide a deformed finger), she is wearing magnificent jewelry -- for which Klimt used real gold and silver. In the lower left hand corner, he has added a patch of green and a black-and-white pattern, placing Bloch-Bauer in a room; without that small touch, it would be as if she were floating in gold. The stunning work has been installed in the place of honor usually reserved for Klimt's "The Black Feather Hat," and to ensure its prominence, it is in a white case that covers the gorgeous Herculean ironwork fireplace. Make sure to view all five of the paintings both up close and from a distance to capture the many elements Klimt incorporated in them. The free audioguide has descriptions of all five works.
The room behind "Adele Bloch-Bauer I" features sketches by Alfred Kubin, Egon Schiele, Oskar Kokoschka, and Klimt, including six of Bloch-Bauer. The gallery on the far side of the second floor houses Klimt's "Schloss Kammer on the Attersee" and several splendid paintings by Schiele. The permanent collection is displayed in all its glory upstairs as well; amid pieces by Hoch, Dix, Grosz, Beckmann, Breuer, van der Rohe, Nolde, Marc, Moholy-Nagy, Schmidt-Rottluff, Heckel, Klee, Kirchner, and Kandinsky are Wilhelm Lehmbruck's harrowing "Head of a Thinker," a direct response to Rodin's most famous sculpture; Ludwig Meidner's swirling "I and the City"; and Oskar Schlemmer's cool "Ornamentale Plastik." And don't miss the dark room filled with photos of many of the artists, taken by major photographers, including two great shots of Klimt.
Last Chance Murray Hill Exhibit of the Week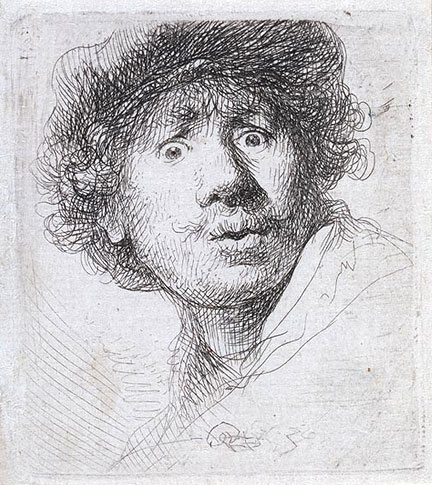 The Pierpont Morgan Library
Rembrandt Harmensz. van Rijn, "Self-Portrait in a Cap, Open-Mouthed"
CELEBRATING REMBRANDT: ETCHINGS FROM THE MORGAN
FROM REMBRANDT TO VAN GOGH: DUTCH DRAWINGS FROM THE MORGAN
The Morgan Library & Museum
225 Madison Ave. at 36th St.
Closed Mondays
Through October 1
Admission: $12
212-685-0008

After a three-year, $133 million renovation, the Morgan Library & Museum reopened in May, showing off the collection's masterworks. In honor of Rembrandt Harmenz. van Rijn's four hundredth birthday, the museum is staging a dual exhibition, matching Rembrandt's etchings and drypoints with drawings from the golden age of Dutch art, from the seventeenth through nineteenth centuries. "From Rembrandt to van Gogh: Dutch Drawings from the Morgan" features more than three dozen drawings covering three centuries, including works by such students of Rembrandt's as Samuel van Hoogstraten, Nicolaes Maes, and Ferdinand Bol. Among our favorites are Cornelius Dusart's "The Chair Mender," Simon Jacobson de Vlieger's "A Dutch Coastal Scene," and van Gogh's "Working in a Field, Saint-Remy de Provence." But it is the other side of the gallery that is filled with the glorious work of Rembrandt himself, each etching telling its own remarkable story. Rembrandt was an innovative printmaker, and the Morgan has included multiple states of several of his etchings, enabling viewers to get a look inside his creative process. Notice how the light changes in states 1 and 5 of "The Flight into Egypt." There is a remarkable difference between the first and last states of "Christ Presented to the People." Look closely at states 1 and 2 of "Self-Portrait Etching at a Window" for wonderfully subtle mood changes. There are also plenty of single-state works on display. "The Monk on the Cornfield" is tiny and engaging. "The Landscape with Three Trees" is exquisitely composed, with several hard-to-find tales being told. Five early self-portraits reveal Rembrandt's more playful side as well as his love of drawing himself. He also delves into the Old Testament, featuring Adam and Eve, Jacob and Benjamin, and Abraham.
Briefly in the Neighborhood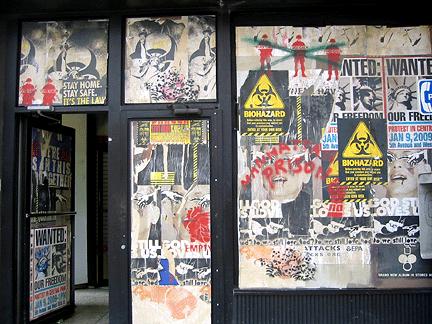 twi-ny/mdr
Park Ave. drugstore warns of dangerous virus infiltrating city
I AM LEGEND (Francis Lawrence, 2007)
Park Ave. between 34th & 42nd Sts.
September 15-16
Admission: free
1-800-555-0182
If you walked along parts of Murray Hill on September 15 and 16, you might have thought you'd entered a postapocalyptic nightmare. It was actually a film set for Will Smith's upcoming I AM LEGEND, based on the awesome novel by Richard Matheson. (The story was also made into the 1964 movie THE LAST MAN ON EARTH, starring Vincent Price as the lone survivor of a virus that turns people into cannibalistic zombies.) The Duane Reade on 34th & Park was covered in posters screaming out, "Biohazard: Enter at Your Own Risk," "Stay Home. Stay Safe. It's the Law," "Quarantine = Death," and "Do We Still Love God?" Another poster announced "Wanted: Our Freedom," promoting a protest rally to be held in Central Park on January 9, 2009. Farther north, there were dusty, abandoned vehicles, tumbleweeds and grass covering the street and the closed-off Park Ave. tunnel, public health warnings on buses ("Even Santa Can Catch the Flu"), and another poster advertising, "Rise Up New York City: We Can All Make a Difference, Jan. 16, 2009." If you're worried that you might have contracted the virus, the symptoms include "high fever, blurred vision, bloody cough, tooth erosion, skin rash, and persistent nausea." We highly recommend reading the original novel as well as the graphic novel from IDW, adapted by Steve Niles and illustrated by Elman Brown.
Film Festival of the Week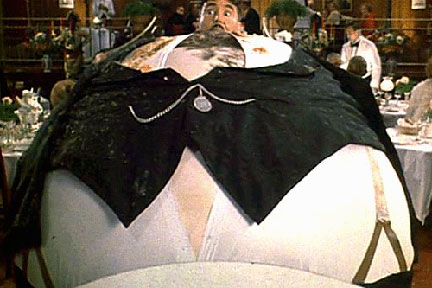 You'll laugh so much you'll explode at Film Forum festival
PYTHONALOT
Film Forum
209 West Houston St. between Sixth & Seventh Aves.
September 22 — October 5
Tickets: $10
212-727-8110
http://www.filmforum.org/films/python.html

The inspired comic genius of Graham Chapman, John Cleese, Terry Gilliam, Eric Idle, Terry Jones, and Michael Palin, who took England by storm in the late 1960s and early 1970s with the riotous sketch-comedy show MONTY PYTHON'S FLYING CIRCUS, takes over Film Forum for two weeks, with screenings of eight of their finest flicks, both as a team and as individuals. Things get going with one of the funniest movies ever made, MONTY PYTHON AND THE HOLY GRAIL, as King Arthur (Chapman) and his knights battle catapulting cows, killer rabbits, and almost certain temptation. THE MEANING OF LIFE will teach you to always look on the bright side of life, LIFE OF BRIAN will make you reevaluate your messianic dreams, BRAZIL will fill you with fear for the future, TIME BANDITS will simply enchant and delight you, A FISH CALLED WANDA will force you to never think of John Cleese's butt in the same way again, JABBERWOCKY brings new life to Lewis Carroll, and AND NOW FOR SOMETHING COMPLETELY DIFFERENT is exactly that. And there was much rejoicing.
Friday, September 22
through
Thursday, September 28 MONTY PYTHON AND THE HOLY GRAIL (Terry Gilliam and Terry Jones, 1975) (no screenings 9/25), 1:30, 3:20, 5:10, 7:00, 9:00
Friday, September 29
and
Saturday, September 30 THE MEANING OF LIFE (Terry Jones, 1983), 1:00, 5:10, 9:20, and LIFE OF BRIAN (Terry Jones, 1979), 3:15, 7:25
Sunday, October 1
and
Monday, October 2 BRAZIL: The Director's Cut (Terry Gilliam, 1985), 1:00, 3:30, 6:00, 8:30
Tuesday, October 3 TIME BANDITS (Terry Gilliam, 1981), 3:10, 7:30 (late show with Terry Gilliam in person) and A FISH CALLED WANDA (Charles Crichton, 1988), 1:00, 5:20, 9:40
Wednesday, October 4
and
Thursday, October 5 AND NOW FOR SOMETHING COMPLETELY DIFFERENT (Ian McNaughton, 1971), 3:20, 7:10, and JABBERWOCKY (Terry Gilliam, 1977), 1:20, 5:10, 9:00
twi-ny at the nyff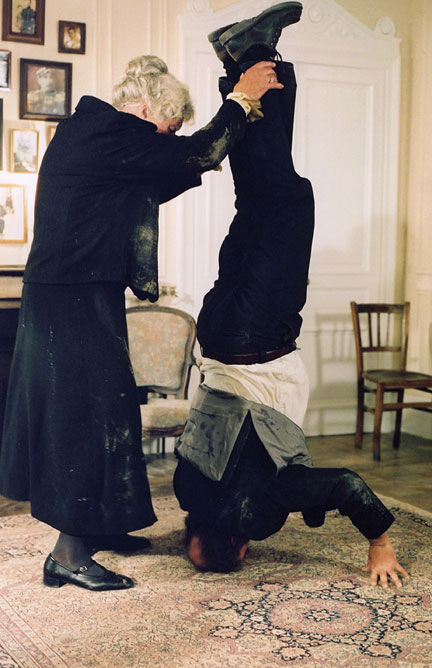 Les Films du Losange
Otar Iosseliani turns things upside down in GARDENS OF AUTUMN
THE 44th NEW YORK FILM FESTIVAL
Walter Reade Theater unless otherwise noted
165 West 65th St. between Eighth Ave. & Broadway
September 29 – October 15
Tickets: $16-$20, on sale Sunday, September 10, at noon at Alice Tully Hall Box Office and 212-721-6500
http://www.filmlinc.com/nyff/nyff.htm
Friday, September 29 Opening Night Film: THE QUEEN (Stephen Frears, 2006), Alice Tully Hall, $35-$40, 8:15
Friday, September 29 Opening Night Film: THE QUEEN (Stephen Frears, 2006), Avery Fisher Hall, $20-$40, 9:00
Saturday, September 30 MAFIOSO (Alberto Lattuada, 1962), 12 noon
Saturday, September 30 THE GO MASTER (WU QINGYUAN) (Tian Zhuangzhuang, 2006), 3:00
Saturday, September 30 WOMAN ON THE BEACH (HAEBYONUI YOIN) (Hong Sang-soo, 2006), 6:00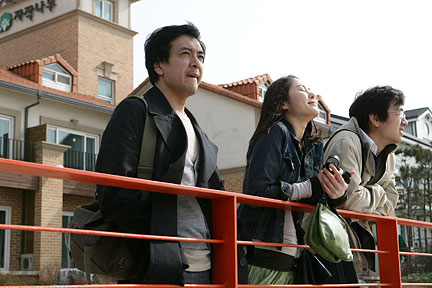 Mirovision Inc.
WOMAN ON THE BEACH comes to New York from Korea
WOMAN ON THE BEACH (HAEBYONUI YOIN) (Hong Sangsoo, 2006)
Saturday, September 30, 6:00
Sunday, October 1, 9:00
http://www.mirovision.com/english/movie/new_poster.asp?movie_sno=94

Director Joong-rae (Kim Seung-woo) is having trouble with the script for his next film, so he gets production designer Chang-wook (Ki Tae-woo) to drive him out to Shinduri Beach for some quiet relaxation, away from the hustle and bustle of Seoul. Chang-wook brings along his girlfriend, Moon-sook (Ko Hyun-joung), an aspiring composer and singer who is immediately attracted to Joong-rae. As Chang-wook's jealousy grows and Moon-sook and Joong-rae wonder if they have a future together, the director meets Sun-hee (Song Sun-mi), a soon-to-be divorcée who also has eyes for Joong-rae. Writer-director Hong Sangsoo's (TALE OF CINEMA) moving romantic comedy features beautiful locations shot by Kim Hyung-koo, a sweet score by Jeong Yong-jin, and unusual but believable characters. At 127 minutes, the film is far too long, not quite knowing how to end, but stick with it nonetheless. WOMAN ON THE BEACH is preceded by the short film LES MATINES (A LITTLE BIT UNDER THE WEATHER) (Annick Raoul, 2005), a surreal dreamscape starring the great Mathieu Amalric (KINGS AND QUEEN).
Saturday, September 30 LITTLE CHILDREN (Todd Field, 2006), 9:00
Sunday, October 1 AUGUST DAYS (DIES D'AGOST) (Marc Recha, 2006), 12 noon
Sunday, October 1 LITTLE CHILDREN (Todd Field, 2006), 2:30
Sunday, October 1 THE GO MASTER (WU QINGYUAN) (Tian Zhuangzhuang, 2006), 6:00
Sunday, October 1 WOMAN ON THE BEACH (HAEBYONUI YOIN) (Hong Sang-soo, 2006), 9:00
Monday, October 2 BAMAKO (Abderrahmane Sissako, 2006), 6:00
BAMAKO (Abderrahmane Sissako, 2006)
Monday, October 2, 6:00
Tuesday, October 3, 9:00

In Bamako, a small town in the poor section of Hamdallaye in Mali, a trial is being held in a small courtyard, pitting the G8, the International Monetary Fund, and the World Bank against African society. While Chaka (Tiécoura Traoré) and Melé (Aissa Maiga) tend to their sick child, defense attorney Roland Rappaport goes toe-to-toe with plaintiff's attorney William Bourdon, the only two white men amid this close-knit community fighting for a future that is trapped in a cycle of never-ending debt. When a gun goes missing, the very real threat of violence seethes just underneath the surface, waiting to explode at any moment. Written and directed by Abderrahmane Sissako (LIFE ON EARTH), BAMAKO is heartfelt but politically obvious, primarily preaching to the converted. To further his treatise on the evils of the West, Sissako includes part of a comic Spaghetti Western in the middle of the film, starring Danny Glover (one of BAMAKO's executive producers) as the hero. BAMAKO is preceded by Arnaud Gautier's excellent short film INNOCENCE, in which two masked children battle each other over a loaf of bread in a gorgeous black-and-white postapocalyptic landscape.
Monday, October 2 GARDENS IN AUTUMN (JARDINS EN AUTOMNE) (Otar Iosseliani, 2006), 9:00
Tuesday, October 3 GARDENS IN AUTUMN (JARDINS EN AUTOMNE) (Otar Iosseliani, 2006), 6:00
GARDENS IN AUTUMN (JARDINS EN AUTOMNE) (Otar Iosseliani, 2006)
Monday, October 2, 6:00
Tuesday, October 3, 6:00
http://www.filmsdulosange.fr/uk_a_laffiche_garden.php

Life changes quickly for Vincent (Séverin Blanchet), a minister in the French government, when he is unceremoniously booted from office: In addition to losing his job, he loses his home, his mistress, and his bank account. But Vincent is not one to sit around and get all depressed; instead he returns home to his mother (the great Michel Piccoli in riotous drag) and regularly goes out drinking with his old buddies, a motley crew of strange dudes with some rather odd eccentricities. Vincent wanders through a series of bizarre vignettes involving squatters, a classical sculpture, a leopard and a bird, the harried minister who replaced him (Pascal Vincent), a knock on the head, various women, and numerous paintings of cows, but he is not searching for the meaning of life or looking for some kind of epiphany; he is just living. Georgia-born French émigré Otar Iosseliani's GARDENS IN AUTUMN is an absurdist existential farce that is at first extremely smart and funny — the opening sequence in a coffin shop is hysterical — but eventually runs dry, going on too long without adding anything new. Still, there is plenty to like about this offbeat film, which is preceded by the experimental short film ALICE SEES THE LIGHT (Ariana Gerstein, 2006).
PICTURING DEVELOPMENT: THE CASE OF BAMAKO
Walter Reade Theater
Frieda and Roy Furman Gallery
165 West 65th St. between Eighth Ave. & Broadway
Admission: free; limited tickets available starting September 30 at 12:30
http://filmlinc.com/nyff/program/special/specialevents.html
http://www.louverturefilms.com
Tuesday, October 3 A Panel Conversation, with Abderrahmane Sissako, Harry Belafonte, Jeffrey David Sachs, Joseph Stiglitz, and Mahmood Mamdani, 6:30
Tuesday, October 3 BAMAKO (Abderrahmane Sissako, 2006), 9:00
Wednesday, October 4 REDS (Warren Beatty, 2006), 7:00
OFFSIDE (Jafar Panahi, 2006)
Friday, October 6, 9:00
Sunday, October 8, 5:45
http://www.sonyclassics.com/offside

Filmed on location in and around Tehran's Azadi Stadium and featuring a talented cast of nonprofessional actors, Jafar Panahi's OFFSIDE is a brilliant look at gender disparity in modern-day Iran. Although it is illegal for girls to go to soccer games in Iran — because, among other reasons, the government does not think it's appropriate for females to be in the company of screaming men who might be cursing and saying other nasty things — many try to get in, facing arrest if they get caught. OFFSIDE is set during an actual match between Iran and Bahrain; a win will put Iran in the 2006 World Cup. High up in the stadium, a small group of girls, dressed in various types of disguises, have been captured and are cordoned off, watched closely by some soldiers who would rather be watching the match themselves or back home tending to their sheep. The girls, who can hear the crowd noise, beg for one of the men to narrate the game for them. Meanwhile, an old man is desperately trying to find his daughter to save her from some very real punishment that her brothers would dish out to her. Despite its timely and poignant subject matter, OFFSIDE is a very funny film, with fine performances by Sima Mobarak Shahi, Shayesteh Irani, Ida Sadeghi, Golnaz Farmani, Mahnaz Zabihi, and Nazanin Sedighzadeh as the girls and M. Kheymeh Kabood as one of the soldiers. OFFSIDE is preceded by Nicole Barnette's short film FOURTEEN, about a young girl celebrating her birthday.
VOLVER (COMING BACK) (Pedro Almodóvar, 2006)
Saturday, October 7, 9:00
Sunday, October 8, 12 noon
http://www.sonyclassics.com/volver

The centerpiece presentation of this year's New York Film Festival, VOLVER finds Pedro Almodóvar returning to his native La Mancha in Spain in this bittersweet, ultimately disappointing tale of three generations of women. The movie opens beautifully, with dozens of women in a cemetery, carefully cleaning loved ones' tombstones and leaving fresh flowers — except for Agustina (Blanca Portillo), who is tending to her own grave site. Agustina takes care of the aged Paula (Chus Lampreave), who helped raise Raimunda (Penélope Cruz). Raimunda is working several jobs to help support her lout of a husband (Antonio de la Torre) and their teenage daughter, (Yohana Cobo), but she's soon forced to cover up a grisly tragedy. And Sole (Lola Dueñas), Raimunda's sister, is a single woman working illegally as a hairdresser out of her apartment. When rumors persist that Raimunda and Sole's mother, Irene (Carmen Maura), who died in a fire many years before with her husband, has come back from the dead and is taking care of Paula, Raimunda and Sole have very different reactions, dredging up long-buried memories and secrets both good and bad. Unfortunately, the film never quite comes together. Almodóvar, who has made such spectacular films as ALL ABOUT MY MOTHER and TALK TO HER, in this case might be too close to the material; in the press notes, he confesses, "During the writing of the script and filming, my mother was always present and very near. I don't know if the film is good, but I'm sure that it did me a lot of good to make it." There are too many flaws in the plot, especially when Raimunda takes over her neighbor's restaurant and starts preparing lunches for a large film crew while being eyed by a young production assistant, and some of the comedy is just too slapsticky and unbelievable. Yet as with all Almodóvar films, there is still much to admire, even in a lesser work.
PAN'S LABYRINTH (EL LABERINTO DEL FAUNO) (Guillermo Del Toro, 2006)
Sunday, October 15, 8:30

The closing night film of this year's New York Film Festival, PAN'S LABYRINTH is a breathtaking fairy tale set in 1944 Spain, shortly after the Spanish Civil War. When her mother, Carmen (Ariadna Gil), marries Captain Vidal (Sergi Lopez), young Ofelia (Ivana Baquero) must move to the middle of the woods, where Vidal and his small group of soldiers are defending the last vestiges of Franco's Fascist regime against a group of resistance fighters seeking peace and freedom for all. Led by a mysterious flying creature, the adventurous Ofelia makes her way through an ancient underground labyrinth, where she meets the Faun (HELLBOY's Doug Jones), who tells her that she just might be the reborn, long-missing princess they've been waiting centuries for — but first she'll have to perform three tasks to prove that she has returned to claim her throne. As Vidal shows more concern for the baby that Carmen is carrying than for Carmen herself — and also brutally tortures and kills anyone who gets in his way, whether it is one of the revolutionaries or one of his own people — Ofelia meets a dangerous yet engaging series of beings as she hopes for her fairy-tale dreams to come true and erase the nightmares of the real world. Del Toro (THE DEVIL'S BACKBONE) has cleverly balanced fantasy and reality, alternating between scenes of horror and graphic violence aboveground and below as seen through the eyes of a brave young girl trapped in both.

HBO FILMS DIRECTORS DIALOGUES
Stanley H. Kaplan Penthouse, Rose Building
165 West 65th St. between Broadway & Amsterdam Ave., tenth floor
Tickets: $16
212-875-6500
http://www.filmlinc.com/nyff/program/directorsdialogues.html
Saturday, September 30 Stephen Frears, hosted by Lisa Schwarzbaum, 4:00
Saturday, October 7 Michael Apted, hosted by John Powers, 3:00
Saturday, October 14 Guillermo del Toro, hosted by Gavin Smith and Kent Jones, 4:00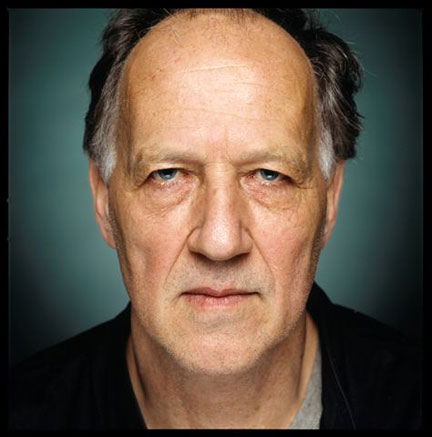 Robin Holland
Werner Herzog, NYC, 11/1/99
PORTRAITS BY ROBIN HOLLAND
Walter Reade Theater
Frieda and Roy Furman Gallery
165 West 65th St. between Eighth Ave. & Broadway
September 25 - October 22, 2:00 — 8:00
Admission: free
http://www.filmlinc.com/nyff/nyff.htm
While waiting on line for your New York Film Festival screening or just stopping by to check out the scene, wander through this gallery, which features Robin Holland's gorgeous photographs of such movie folk as Isabelle Huppert, Vincente Minnelli, Russ Meyer, Richard Linklater, Wim Wenders, Sam Fuller, Douglas Sirk, Eric Rohmer, Martin Scorsese, Shirley Clarke, Jim Jarmusch, Steven Soderbergh, Wes Anderson, Ousmane Sembene, and Werner Herzog
Riff's Rants & Raves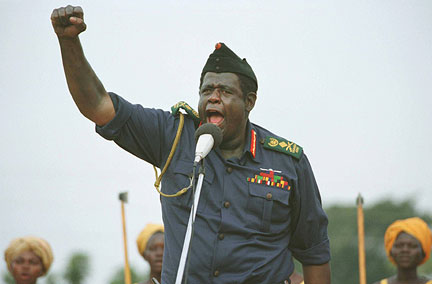 Neil Davidson
Forest Whitaker embodies Idi Amin in LAST KING
THE LAST KING OF SCOTLAND (Kevin MacDonald, 2006)
Opens Wednesday, September 27
http://www2.foxsearchlight.com/thelastkingofscotland

Forest Whitaker is absolutely mesmerizing as General Idi Amin in Kevin MacDonald's THE LAST KING OF SCOTLAND, demanding viewers' attention every time he appears on-screen, a dominating, bigger-than-life presence. Unfortunately, the rest of the film lets him down, failing to come close to his overpowering performance. The movie is based on Giles Foden's award-winning novel, in which the author created a composite character, Nicholas Garrigan, a Scottish doctor who becomes a close confidant of Amin's. What might have worked in the book falls apart on camera in a series of hard-to-believe scenes that actually never happened. As played by James McAvoy, Garrigan is goofy and lightweight from the very beginning, unable to compete with the massive Whitaker as Amin. He makes a play for his boss's wife (Gillian Anderson), thinks he doesn't have to play the political game with a British operative (Simon McBurney), and takes a liking to one of Amin's mistreated wives (Kerry Washington). While it is fascinating to watch the rise and fall of the President for Life, his relationship with Garrigan is hard to swallow — mostly because it's not true. And even those bits and pieces that are factual have been twisted and changed to increase emotional impact, ending up with manipulated melodrama instead of what really happened — which is a shame, since MacDonald's first two films, the well-regarded ONE DAY IN SEPTEMBER and TOUCHING THE VOID, were both documentaries.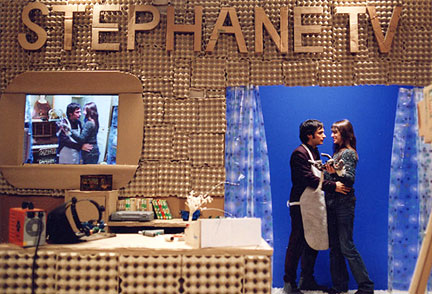 Stephane (Gael García Bernal) lives one weird life in SLEEP
THE SCIENCE OF SLEEP (Michel Gondry, 2006)
Opens Friday, September 22
http://thescienceofsleep.imeem.com

Eclectic auteur Michel Gondry's feature-length debut as both writer and director is a complex, confusing, kaleidoscopic stew that is as charming as it is frustrating. Gael García Bernal (THE MOTORCYCLE DIARIES) stars as the juvenile but endearing Stephane, a young man in a silly hat who has trouble differentiating dreams from reality. The childlike Stephane becomes friends with his new neighbor, Stephanie (Charlotte Gainsbourg, daughter of Serge Gainsbourg and Jane Birkin), who still has plenty of the child left inside her as well. Stephane has a job his mother (Miou-Miou) got him, toiling for a small company that makes calendars, alongside the hysterical Guy (Alain Chabat), who can't help constantly poking fun at coworkers Serge (Sacha Bourdo) and Martine (Aurélia Petit). Gondry, who gave us the brilliant ETERNAL SUNSHINE OF THE SPOTLESS MIND as well as the highly entertaining DAVE CHAPPELLE'S BLOCK PARTY and the bizarre HUMAN NATURE, uses low-tech green-screening and stop-motion animation to reveal Stephane's fantasy world, bringing to mind such masters as Jan Svankmajer and the Brothers Quay. Unfortunately, just as Stephane can't tell what's real from what he's dreaming, you'll often have difficulty as well; some of the plot turns are downright infuriating, and Stephane's TV show teeters on the edge of embarrassing. But you'll also be hard-pressed not to leave the theater feeling like a kid in a candy store.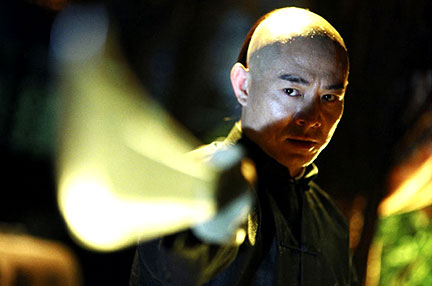 Jet Li stars in his farewell to martial arts pics
JET LI'S FEARLESS (Ronny Yu, 2006)
Opens Friday, September 22
http://www.fearlessthemovie.com

Jet Li says goodbye to the martial arts genre with this overly worshipful yet still entertaining tribute to Wushu legend Huo Yuanjia. As a young child, Huo (Zhu Qilong) is weak and sickly yet yearns to become a martial arts master like his father (Collin Chou). He trains instead of studying, so when he grows up, Huo (Li) indeed becomes a championship-caliber fighter, but fighting is all he knows. He has learned none of the true ways of Wushu that his father taught; instead of using the special techniques to better his body, mind, and soul, he is obsessed with winning, feeding his own ego — and soon pays a heavy price. Ready to give up on life, he is taken in by a poor farming village, where a blind woman (Sun Li) helps him reevaluate his existence. With Westerners opening up China (in the first decade of the twentieth century), Huo is ready to defend what foreigners are calling "the Weak Man of the East." A labor of love for Li, FEARLESS plays a little too loosely with some of the facts, Huo's transformation is way too diagrammed, and too many of his challengers are ROCKY III-like stereotypes, but Li is able to rise above the melodrama. The action scenes, choreographed by Yuen Wo Ping (THE MATRIX, KILL BILL, CROUCHING TIGER, HIDDEN DRAGON), are, as expected, great to watch, and director Ronny Yu (BRIDE OF CHUCKY, THE BRIDE WITH WHITE HAIR) keeps things moving at a decent pace. It'll be interesting to see what Li (ROMEO MUST DIE, KISS OF THE DRAGON, HERO) does next, now that he's leaving this ever-evolving genre that has been gaining more and more respect from mainstream audiences.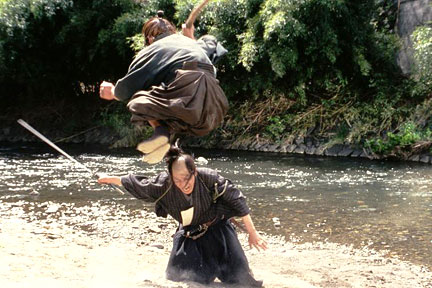 Yamada film has special screening at the ImaginAsian
THE TWILIGHT SAMURAI (Yoji Yamada, 2002)
Nippon Eiga Series Part 3
The ImaginAsian Theater
239 East 59th St. between Second & Third Aves.
Wednesday, September 27, 7:45
Free popcorn and free admission, but must RSVP to ana@newyork-tokyo.com
http://www.empirepicturesusa.com/ep

Hiroyuki Sanada is outstanding as the title character in Yoji Yamada's period drama, playing a lowly ronin who chooses to take care of his family after his wife dies instead of wielding his sword. During the day, he works as a bean counter, then goes straight home to his aging mother and two young daughters. When he learns that a childhood friend, Tomoe (Rie Miyazawa), is divorcing her abusive husband, he ends up fighting for her honor. But instead of battling his opponent with a sharp sword, he pulls out a piece of wood. Word of his skill reaches the highest level of his clan, who wants him to kill for them, setting up an emotional and psychological inner struggle for the quiet and shy family man. THE TWILIGHT SAMURAI, which was nominated for a Best Foreign Language Film Oscar, moves slowly and is a little long, but it is a different kind of samurai movie, focusing more on love and loss than blood and vengeance.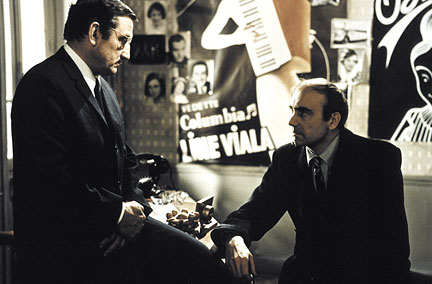 Rialto Pictures
Lino Ventura and Paul Crauchet have quite a fight on their hands in ARMY OF SHADOWS
ARMY OF SHADOWS (Jean-Pierre Melville, 1969)
Film Forum
209 West Houston St. between Sixth & Seventh Aves.
Through October 3
Tickets: $10
212-727-8110
http://filmforum.org/films/army.html

Based on the novel by Joseph Kessel (who wrote BELLE DE JOUR), Jean-Pierre Melville's 1969 WWII drama ARMY OF SHADOWS got its first theatrical release in America earlier this year, in a new 35mm print supervised by the film's cinematographer, Pierre Lhomme, who shot it in a beautiful blue-gray palette. The film, which Film Forum has brought back for an encore presentation, centers on a small group of French resistance fighters, including shadowy leader Luc Jardie (Paul Meurisse), the smart and determined Mathilde (Simone Signoret), the nervous Jean-Francois (Jean-Pierre Cassel), the steady and dependable Felix (Paul Crauchet), the stocky Le Bison (Christian Barbier), the well-named Le Masque (Claude Mann), and the unflappable and practical Gerbier (Lino Ventura). Although Melville, who was a resistance fighter as well, wants the film to be his personal masterpiece, he is too close to the material, leaving large gaps in the narrative and giving too much time to scenes that don't deserve them. He took offense at the idea that he portrayed the group of fighters as gangsters, yet what shows up on the screen is often more film noir than war movie. However, there are some glorious sections of ARMY OF SHADOWS, including Gerbier's escape from a Vichy camp, the execution of a traitor to the cause, and a tense MISSION: IMPOSSIBLE-like (the TV series, not the Tom Cruise vehicles) attempt to free the imprisoned Felix. But most of all there is Ventura, who gives an amazingly subtle performance that makes the overly long film (nearly two and a half hours) worth seeing all by itself.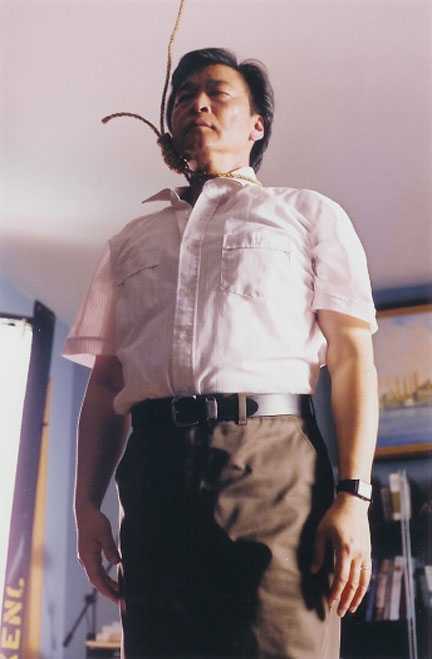 Ed (Tzi Ma) has a tough time dealing with retirement and three daughters
RED DOORS (Georgia Lee, 2005)
Village East Cinema
181 Second Ave. at 12th St.
Tickets: $10.75
212-529-6998
http://citycinemas.moviefone.com/showtimes/theater.adp?theaterid=922

Family dysfunction is rarely this fun. Winner of the Best Narrative Feature at this year's Tribeca Film Festival, RED DOORS tells the engaging story of the Wongs, a suburban New York family going through some major changes. Suicidal patriarch Ed (Tzi Ma) is a recent retiree obsessed with watching old home movies of the way things used to be. Traditional matriarch May-Lin (Freda Foh Shen) is having trouble facing modernity as she sees her three daughters growing up. Sam (the exquisite Jacqueline Kim) is a driven workaholic getting married to a successful Yale grad (Jayce Bartok). Julie (Elaine Kao) is a lonely med student being eyed by Mia (Mia Riverton, also one of the producers), an actress hanging out at the hospital while researching a role. And Katie (Kathy Shao-Lin Lee) is a high school riot grrl caught in an ever-more-dangerous practical-joke battle with neighbor Simon (Sebastian Stan). When Ed mysteriously disappears, the Wongs, individually and together, begin reexamining their lives — where they are and where they want to be. Although set amid the Asian-American experience, writer-director Georgia Lee's debut feature film is a universal tale that rings true time and time again, an entertaining mix of comedy and drama. Much of the home-movie footage is of Lee's own family; she actually dropped out of Harvard Business School in order to make this film.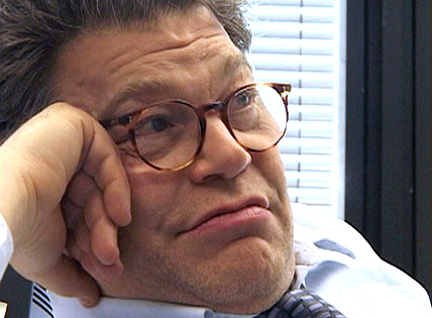 Al Franken lets it all hang out in new doc
AL FRANKEN: G-D SPOKE (Nick Doob & Chris Hegedus, 2006)
IFC Center
323 Sixth Ave. at Waverly Pl., Manhattan
Through September 26
212-924-7771

Directors Nick Doob and Chris Hegedus and documentary master / executive producer D. A. Pennebaker (DON'T LOOK BACK, THE WAR ROOM) turn their cameras on Al Franken as the comedian/political pundit goes out on tour in support of his bestselling book LIES AND THE LYING LIARS WHO TELL THEM. They follow him through signings, lectures, television appearances, the start-up of the liberal radio station Air America, and the 2004 Republican National Convention as Franken brings his message to the American people, demanding that they see that the GOP and their media mouthpieces are liars who suckered the country into an unnecessary war. Along the way Franken takes on Sean Hannity, Ann Coulter, Michael Medved, Henry Kissinger, Brit Hume, Rush Limbaugh, William Safire, Karen Hughes, and his arch-nemesis, Bill O'Reilly, who refers to the SATURDAY NIGHT LIVE veteran as a "vile human being." Franken also talks to such friends and supporters as Michael Moore, Al Gore, Walter F. Mondale, Robert F. Kennedy Jr., and the late Paul Wellstone. Franken is an entertaining fellow, laughing his way through some very serious territory, trying to make a difference in the world, but he is essentially preaching to the converted; we can't imagine any conservatives coming out to see this treatise, which is all over the place, a jumble of humorous scenes (including SNL clips) that don't form a cohesive narrative. Franken gave the filmmakers full access, so it's a riot seeing him waking up in the morning with severe bed-head, hanging out with his wife and a pair of hot models, and talking lovingly about how much he learned from his father. G-D SPOKE primarily serves as a way for Franken to test the political arena as he considers running for a Minnesota Senate seat against incumbent Norm Coleman, so, depending on how you feel about the New York Jewish comedian, you'll either be entertained or enraged by these unfocused ninety minutes about a true mensch.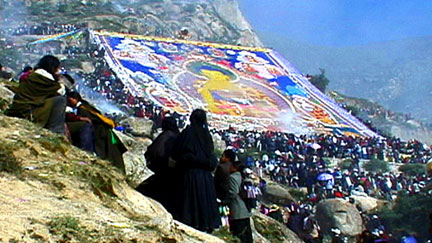 John Bush finds a "mountainside cathedral of infinite proportions" in Tibet
VAJRA SKY OVER TIBET (John Bush, 2006)
Cinema Village
22 East 12th St. between University Pl. & Fifth Ave.
Through September 21
Tickets: $10
212-924-3363

VAJRA SKY OVER TIBET is a reverential documentary that examines the history of the Tibetan people, focusing on the long-standing battle with China. In 1959, the fourteenth Dalai Lama was forced into exile, finding safe haven in India. Although many Tibetans escaped with him, many stayed behind, where they practice their faith under the sharp watch of the Chinese government, which would like to name their own Dalai Lama in time. VAJRA SKY OVER TIBET is the third part of the Yatra Trilogy by producer/director John Bush, following DHARMA RIVER and PRAJNA EARTH, as Bush completes his Buddhist pilgrimage that previously took him to Southeast Asia. Bush, a Western Buddhist himself, gained remarkable access to some of Vajrayana Buddhism's holiest palaces and sites of worship, including Jokhang Temple in Llasa, the Potala, and the Norbulinka. Bush winds his way through the Drepung Festival, traveling with a Tibetan guide whose name he can't share because of possible reprisals. Bush narrates much of the film, along with Tenzin L Choegyal, the nephew of the current Dalai Lama, and Dadon, a popular Tibetan singer. The meditative score is by David Hykes and the Harmonic Chant, supplemented with devotional music by Dadon and other Himalayan musicians. Although it often plays too much like a travel show on PBS or the Travel Channel, VAJRA SKY is an illuminating look into a fascinating culture that is in serious danger of disappearing. "Tibetan civilization," writes the Dalai Lama as the film begins, "forms a distinct part of the world's precious common heritage. Humanity would be the poorer if it were to be lost." For nearly ninety minutes, with beautiful cinematography, captivating music, and gorgeous settings, Bush takes you deep inside a mysterious, peaceful, and threatened world that you will not soon forget.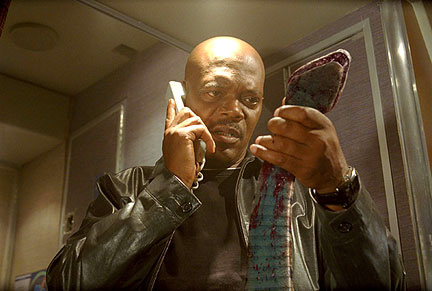 Samuel L. Jackson grabs a "motherf---in' snake on a motherf---in' plane."
SNAKES ON A PLANE (David R. Ellis, 2006)
In theaters now

Star Samuel L. Jackson sums up exactly what this awesome summer popcorn movie is all about: "motherf---in' snakes on a motherf---in' plane." There is a plot, something about the FBI transporting the witness of a brutal gangland murder, but that's just window dressing for the real story: "motherf---in' snakes on a motherf---in' plane." Originally set to be directed by Hong Kong vet Ronny Yu (THE BRIDE WITH WHITE HAIR, THE PHANTOM LOVER, BRIDE OF CHUCKY), longtime stunt coordinator David R. Ellis took over the cockpit following creative differences, piloting this sweet flick that references just about every plane movie ever made, from the AIRPORT and AIRPLANE series to PASSENGER 57, as well as the INDIANA JONES and ALIEN films. Developed with the help of Internet bloggers and not screened in advance for critics, SNAKES ON A PLANE delivers exactly what it promises: "motherf---in' snakes on a motherf---in' plane."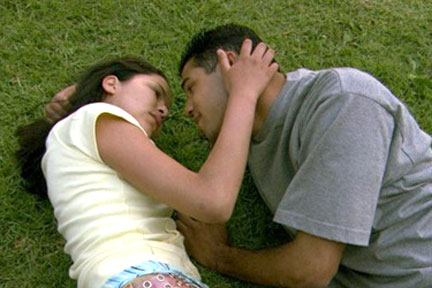 Magdalena (Emily Rios) and Herman (J.R. Cruz) are in for an immaculate surprise in QUINCEAÑERA
QUINCEAÑERA (Richard Glatzer & Wash Westmoreland, 2006)
Quad Cinema
34 West 13th St. between Fifth & Sixth Aves.
Tickets: $9.50
http://www.sonyclassics.com/quinceanera

Winner of the Dramatic Grand Jury Prize and Audience Award at Sundance, QUINCEAÑERA is an enchanting tale of a close-knit Mexican American community in the Echo Park section of Los Angeles. The movie opens with Maria's (Araceli Guzman-Rico) quinceañera, a sweet fifteen party in which a girl becomes a woman. Maria's cousin Magdalena (Emily Rios) is jealous of Maria, who is prettier and skinnier and whose parents have a little more money. For Madgalena's upcoming quinceañera,, she will wear Maria's altered dress, and her storefront-preacher father (Jesus Castanos-Chima) is refusing to pay for a Hummer limo. Disappointed, she turns to her boyfriend, Herman (J.R. Cruz), for solace, and gets pregnant — even though she professes to her parents that she has never had sex. Frightened of her furious father, she moves in with her great-uncle, Tomas (the gentle, wonderful Chalo Gonzalez, who was discovered by Sam Peckinpah), who lives in a back house with Carlos (Jesse Garcia), the troubled young black sheep of the family who soon takes an interest in one of the two gay men (David W. Ross and Jason L. Wood) who have just bought the main house and are now Tio Tomas's landlords. Writer-directors Richard Glatzer and Wash Westmoreland, who shot the film in eighteen days in their own community, using many nonprofessional actors and being welcomed into strangers' homes, mixes in deep-seated tradition and religious beliefs with gentrification and homophobia in this charming, realistic, and very satisfying coming-of-age story.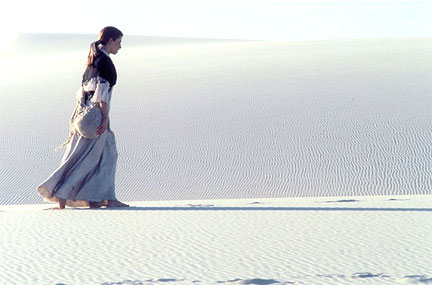 Fernanda Torres searches for a way out in HOUSE OF SAND
THE HOUSE OF SAND
(CASA DE AREIA) (Andrucha Waddington, 2005)
Lincoln Plaza Cinemas
1886 Broadway between 62nd & 63rd Sts.
212-757-2280
http://lincolnplaza.moviefone.com
http://www.sonyclassics.com/houseofsand

A sort of macro version of WOMAN IN THE DUNES (Hiroshi Teshigahara, 1964), THE HOUSE OF SAND is the extraordinary tale of a family trapped in the treacherous sand labyrinths of Maranhão in northern Brazil. The movie begins in 1910, as a pregnant Áurea (Fernanda Torres) arrives in the desolate area with her mother, Dona Maria (Fernanda Montenegro), having been dragged there by Áurea's mad husband, Vasco de Sá (Ruy Guerra). Shortly after being abandoned by his workers, Vasco collapses, leaving the frightened women all alone, with no money and no provisions. For help they turn to the stoic Massu (Brazilian singer Seu Jorge), who is unhappy that they have infringed on their community. As time marches on, Dona Maria, Áurea, and Maria (Áurea's daughter) find themselves in a Sisyphean nightmare as the world passes them by. Montenegro and Torres, who are mother and daughter in real life, act up a (sand)storm in multiple matriarchal roles, but the sudden switching of times and actors gets confusing, and it is hard to believe that there really is no way out decade after decade. Still, if you take the film more as a parable of human existence, it is a compelling story about the search for home.
HOLLYWOODLAND (Allen Coulter, 2006)
In theaters now
http://www.hollywoodlandmovie.com

On June 16, 1959, George Reeves, the star of THE ADVENTURES OF SUPERMAN, was found dead in his room, victim of a gunshot to the head. (No, he did not jump out of a window thinking he was really the Man of Steel.) Though deemed a suicide, rumors have swirled ever since that Reeves might have been killed. Writer Paul Bernbaum and director Allen Coulter imagine what might have happened in HOLLYWOODLAND, a cool noir that delves into the unseen bowels of Tinseltown. Adrien Brody stars as Louis Simo, a two-bit private detective and divorced father who works out of his motel room. Given a tip that there's more to the Reeves case than meets the eye, Simo gets hired by Reeves's mother (Lois Smith) to get to the bottom of things, but the more dirt he turns up, the more trouble he gets into as he starts to upset some pretty powerful — and surprisingly dangerous — people. Coulter, who cut his teeth on episodes of THE SOPRANOS and SEX AND THE CITY, alternates between Simo's search for the truth and the events leading up to Reeves's death, following the troubled star, played (quite well, actually) by Ben Affleck. After storming into Hollywood in GONE WITH THE WIND, Reeves has dreams of being a serious actor. He starts up a relationship with Toni Mannix (a ravishing Diane Lane), an older woman who just happens to be married to the head of MGM (tough-talking Bob Hoskins). Thwarted by his inability to shake off the Superman tag and further his career, Reeves eventually falls for the young and beautiful Leonore Lemmon (note her initials, which recall Superman's fictitious loves Lana Lang and Lois Lane), played by Robin Tunney. Meanwhile, Simo isn't having much luck with his career (or personal life) either, but he's determined to find out what really happened to Reeves. HOLLYWOODLAND is a steady-moving, entertaining crime thriller with intriguing characters, fine performances, and a mystery that some think still has not been solved today.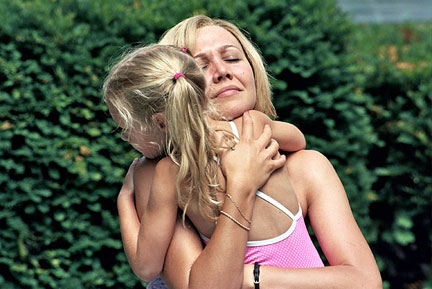 Suddenly ubiquitous Maggie Gyllenhaal tries to win back daughter in SHERRYBABY
SHERRYBABY (Laurie Collyer, 2006)
Lincoln Plaza Cinemas
1886 Broadway between 62nd & 63rd Sts.
212-757-2280
http://lincolnplaza.moviefone.com

This has been one busy time for Maggie Gyllenhaal. This summer she's appearing in TRUST THE MAN, WORLD TRADE CENTER, and MONSTER HOUSE (well, her voice is) — perhaps she's squeezing in as much work as possible before giving birth to her and Peter Sarsgard's child — but she really makes her mark in SHERRYBABY. Gyllenhaal is mesmerizing as Sherry Swanson, a drug addict who has just been released from prison early for good behavior, but her parole officer (Giancarlo Esposito) warns her that one screw-up and she'll be back in the joint to finish out her sentence. She moves into a halfway house and starts attending NA meetings to stay clean, with the ultimate goal of reestablishing her life with her young daughter, Alexis (Ryan Simpkins), who has been living with Sherry's brother, Bobby (Brad William Henke), and his wife, Lynnette (Bridget Barkan). Sherry is heartbroken when Alexis calls her "Sherry" and Lynette "Mommy," Gyllenhaal's eyes filling with tears that will break your heart as well. But Sherry might not exactly be ready for motherhood; she's quick to use her (sensational) body to get what she wants, and her violent temper threatens to explode at any minute. Written and directed by Laurie Collyer, whose previous film was the well-received 1999 documentary NUYORICAN DREAM, SHERRYBABY shares much in common with Olivier Assayas's CLEAN (2004, now available on DVD), in which Maggie Cheung plays a drug addict who goes to jail, then tries desperately to reconnect with her son, who's being raised by the parents of her baby's father. In each film, the central performance makes the flawed films better, despite some cliched moments and obvious twists and turns.
THE BROKEN BOY SOLDIERS: THE RACONTEURS
Roseland Ballroom
239 West 52nd St. at Broadway
September 25-26
Tickets: $35
212-571-0440

Fresh off their stint as the house band for the 2006 MTV Video Music Awards at Radio City — where they played with such artists as Lou Reed ("White Light/White Heat"), ZZ Top's Billy Gibbons ("Cheap Sunglasses"), and director Jim Jarmusch ("Internet Killed the Video Star") — the Raconteurs go down the street and around the corner for two shows at Roseland in support of their debut record, THE BROKEN BOY SOLDIERS. The first few times we listened to the album, someone in the other room thought we were playing a psychedelic pop compilation, but we assured them it was just the new album from the indie supergroup made up of Jack Lawrence, Patrick Keeler, Jack White, and Brendan Benson, with all original songs, even though they don't hide any of their influences. The disc kicks off with "Steady, as She Goes," which steals the bass line from Joe Jackson's "Is She Really Going Out with Him?" while the second song, "Hands," takes the guitar line from Reed's "Waves of Fear," but the melody comes straight out of the Beatles. "Broken Boy Soldier" is Zeppelin-esque, with a little Rush thrown in for good measure, the best of bombastic Middle Ages rock. The British re-Invasion continues with a little TOMMY-era Who in "Together" (along with some Dylan, whom the Raconteurs will be opening for in November on Long Island and in Jersey). Zeppelin mixes with WHITE ALBUM-era Beatles and some soul in "Blue Veins." Heck, we think we even hear some Thunderclap Newman in "Call It a Day." But don't get fooled into thinking that this is just some rehashed sound; the Raconteurs may be groovy, but they also add a power-pop feel and really play the hell out of these tunes. However, even their Web site is retro, with a 1981, 1982 copyright, lettering from Atari's Pong game, and old-fashioned commands.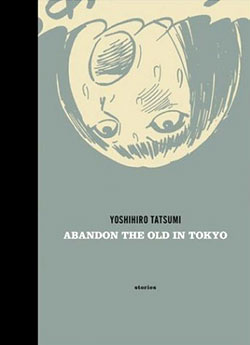 ABANDON THE OLD IN TOKYO: STORIES
by Yoshihiro Tatsumi (Drawn and Quarterly, September 2006, $19.95)
http://www.drawnandquarterly.com/shopCatalogLong.php?item=a4433d35e67e99

Yoshihiro Tatsumi follows up last year's extraordinary THE PUSHMAN AND OTHER STORIES with the even bleaker ABANDON THE OLD IN TOKYO, illustrated tales again edited and designed by Adrian Tomine (OPTIC NERVE). Writing in a style he calls Gekiga, a more adult kind of manga, Tatsumi delves into the dark depths of 1960s Tokyo, following lurid tales of lonely losers struggling to get by in a cruel world. His protagonists generally look very similar to each other, sort of an everyman doomed to a fateful existence. In the title story, a garbage man is tired of taking care of his elderly mother, leading to a drastic decision. In "The Washer," a window washer watches his daughter in the midst of an illicit affair. In "Beloved Monkey," a factory worker loses his arm and his beloved pet. In "Unpaid," an aging man sells his business but still shows up at work every day, not knowing what else to do with his life. In "The Hole," a man who has lost his way is taken prisoner by a strange woman. Tatsumi's characters walk through life slowly, usually letting things happen to them, rarely taking action. Downcast and downtrodden, they have nothing left, trapped in Tatsumi's gloomy black-and-white world. As in THE PUSHMAN, the new book features an interesting discussion between Tomine and Tatsumi in the back, in addition to a brief introduction by Koji Suzuki. We can't wait for the third volume in this brilliant series.

All contents copyright 2006 by Mark Rifkin and twi-ny. All rights reserved. Contents may not be reprinted without written permission. Please note that events, dates, and prices are subject to change.
Send all comments, suggestions, reviews, and questions to mark.rifkin@twi-ny.com.
Please note that some e-mail clients may wrap links, so be sure to enter them fully into your browser.
To subscribe to this list, please e-mail the administrator at admin@twi-ny.com with the word Subscribe in the Subject line; be sure to ask for back issues, which are free as well. To unsubscribe from this list, please think it over twice before e-mailing the same address. Please let us know what you didn't like about this forum and we'll do our best to correct it in the future -- if we agree with you. If you would like to see something covered in a future issue, please let us know. Without you, there is no need for us to exist.

twi-ny top two dozen (or so) weekly reminders & special events
QUEENS RESTAURANT WEEK
September 18-21, 25-28
Special menus: $19.86
718-263-0546
http://www.discoverqueens.info
In celebration of the twentieth anniversary of the 1986 New York Mets, Queens restaurants will be featuring special three-course prix-fixe lunches and dinners for $19.86; participating restaurants include Bourbon Street, Dazies, Waters Edge, Gum Fung, Papazzio, Plum, Lenny's Clam Bar, O Lavrador, Buddy's Kosher Delicatessen, Cup Diner, Donovan's Pub, Riverview, Old Time Vincent's Clam Bar, the White House, Maxim, Dae Dong, Five Corners, J&B Lobster King, Le Sans Souci, Zenon Taverna, Malaqueta, Marbela, La Baraka, Happy Budha, and many more
REBETICA SINGS THE BLUES
Eldridge Street Synagogue
12 Eldridge St. between Canal & Division Sts.
212-219-0888
http://www.eldridgestreet.org/programs_c.htm
Wednesday, September 20 Music from the Greek Underworld, with Avram Pengas and his Noga group, $12, 7:00
EUROPEAN DREAM FESTIVAL: THE YOUTH OF EUROPE
French Institute Alliance Française
Florence Gould Hall
55 East 59th St. between Park & Madison Aves.
September 20-23
Tickets: $10 (Film Festival Pass $40)
212-355-6160
http://www.fiaf.org/french%20film/fall2006/2006-09-european-dream.shtml
Wednesday, September 20 L'ESQUIVE / GAMES OF LOVE AND CHANCE (Abdellatif Kechiche, 2004), 7:00
Wednesday, September 20 ON THE SUNNY SIDE (Miha Hocevar, 2003), introduced by the director, 9:30
Thursday, September 21 HÉCTOR / HECTOR (Garcia Querejeta, 2004), 4:30
Thursday, September 21 DILLO CON PAROLE MIE / GINGER AND CINNAMON (Daniele Luchetti, 2003), introduced by the director, 7:00
Thursday, September 21 STESTÍ / SOMETHING LIKE HAPPINESS (Bohdan Sláma, 2005) introduced by the director, 9:30
Friday, September 22 LEILA AND LENA (Michael Pfeifenberger, 2005), 2:00
Friday, September 22 PAHA MAA / FROZEN LAND (Aku Louhimies, 2005), 4:30
Friday, September 22 JEUNE HOMME (Christoph Schaub, 2006), introduced by the director, 7:00
Friday, September 22 GESPENSTER / GHOSTS (Christian Petzold, 2005), director present, 9:30
Saturday, September 23 Youth of Europe Roundtable, moderated by Richard Peña and Mihail Chirilov, with directors, producers, and critics from Europe and the United States, Romanian Cultural Institute in New York, 200 East 38th St. at Third Ave., followed by a light lunch, must RSVP in advance to icrny@icrny.org or 212-687-0180, 11:30 am
Saturday, September 23 SIGADE REVOLUTSIOON / REVOLUTION OF PIGS (Jaak Kilmi and Rene Reinumägi, 2004), 2:30
Saturday, September 23 FJORTON SUGER / 14 SUCKS (Filippa Freijd, 2005), 4:30
Saturday, September 23 DIEP (DEEP) (Simone van Dusseldorp, 2005), introduced by the director, 7:00
Saturday, September 23 OCCIDENT (Cristian Mungiu, 2002), 9:30
A REFUGEE CAMP IN THE HEART OF THE CITY
Prospect Park
Long Meadow at Grand Army Plaza
Admission: free
800-490-0773
http://www.doctorswithoutborders.org/education/refugeecamp/index.cfm
Wednesday, September 20
through
Sunday, September 24 Doctors Without Borders brings this traveling exhibit to Prospect Park, featuring a vaccination tent, therapeutic feeding center, emergency refugee housing, a water pump, and a cholera treatment center, 9:30 am — 6:30
M.E.A.N.Y. FEST 2006
Various venues
Admission: $10 (except $7 at Lit and $12 for Ben Jelen/Locksley show on 9/25 at the Knitting Factory)
212-592-9090
Wednesday, September 20
through
Saturday, September 30 The Musicians & Emerging Artists New York Festival, held at Arlene's Grocery, Crash Mansion, Pianos, Joe's Pub, CBGB, Lit, Knitting Factory, Mo Pitkin's, R&R, Fat Baby, and Fontana's, with up-and-coming bands and performances by such special guests as the Mutineers, Darryl McDaniels of Run DMC, Angelic Bomb, New Breed, Ultra High Frequency, Aerovox, Last November, Pillow Theory, Ben Jelen, Dr. Mary, Ten Pound Strike, and Near Forever
IL BUCO OUTDOOR PIG FESTIVAL
Il Buco, with Slow Food
47 Bond St. between Lafayette St. & Bowery
Tasting tickets: $7
212-533-1932
Thursday, September 21 Third annual Sagra del Maiale commemorating the Autumnal Equinox, with whole slow roasted pig; porchetta panino; house-made fennel pollen sausage with Umbrian lentils; fingerling potato, shaved fennel salad with black olives and orange; heirloom tomatoes and fresh mozzarella di buffala with basil and anchovies; farro and cherry tomatoes with arugula salad; and charred peaches with mascarpone cream, prepared by chef Ignacio Mattos, with support from Slow Food, a nonprofit organization that believes in the "taste, tradition, and the honest pleasures of food," 12:30 — 7:00
THE MOST AWESOME ONE OF A KIND ART BAG AUCTION (EVER.)
Admission: free
Thursday, September 21 Opening party and beginning of silent auction of thirty artist-designed, hand-sewn, high-fashion messenger bags, with a portion of the proceeds going to Art Start and Like the Spice, 224 Roebling St., Williamsburg, 6:30 - 10:00
Friday, September 22
through
Sunday, September 24 Bags will be on display at Crumpler, 49 Eighth Ave. at Horatio St., until 8:00 pm, when the bidding ends
JEAN-CLAUDE CARRIÈRE'S LANGUAGE OF FILM
BAMcinématek / BAM Rose Cinemas
Brooklyn Academy of Music
30 Lafayette Ave. between Ashland Pl. & St. Felix St.
Through September 27
Tickets: $10
718-636-4100
http://bam.org/film/series.aspx?id=97
Thursday, September 21 MAX MON AMOUR (Nagisa Oshima 1986), 6:50, 9:15
Friday, September 22 THE UNBEARABLE LIGHTNESS OF BEING (Philip Kaufman 1987), 7:00
Saturday, September 23 DANTON (Andrzej Wajda 1983), 3:00, 6:00, 9:00
Sunday, September 24 EVERY MAN FOR HIMSELF (SAUVE QUI PEUT [LA VIE]) (Jean-Luc Godard 1980), 2:00, 4:30, 6:50, 9:15
Wednesday, September 27 MAY FOOLS (MILOU EN MAI) (Louis Malle 1990), 4:30, 6:50, 9:15
THE NEW YORK TAIWAN WOMEN'S FILM FESTIVAL —
PORTRAYING TAIWAN: IMAGES BY WOMEN, FOR WOMEN, ABOUT WOMEN
New York Public Library, Donnell Library Center (Donnell)
20 West 53rd St. between Fifth & Sixth Aves.
Taipei Economic & Cultural Office in New York (TECO)
1 East 42nd St. at Fifth Ave.
Through September 28
Admission: free
212-621-0618
http://www.nypl.org/branch/central/dlc
http://www.taipei.org/benny/portraying.htm
Thursday, September 21 PAPA BLUE (Charlene Shih, 2003), C (Wu Tai-zen, 2005), and FAREWELL 1999 (Wu Tai-zen, 2003), Donnell, 2:30
Thursday, September 21 DREAMING IS FOR MOONRISE (Lee Pei-ying, 2004), CORNERS (Chou Zero, 2001), and THAT SUMMER (Peng Mei-yu, 2005), Donnell, 6:00
Friday, September 22 SISYPHUS: FORMOSA (Kuo Shu-feng, 2004), THE BEAN (Wang Mei-jung & Luo Chiao-mei, 2005), and TIME (Chiu Yu-feng, 2000), TECO, 2:30
Friday, September 22 MY REHEARSING MARRIAGE (Wen Chih-yi, 2003) and ONE PROMISE (Chou Shu-wei, 2000), TECO, 2:30
Thursday, September 28 THE MAGICAL WASH MACHINE (Lee Yun-chun, 2004) and FORWARD FOREST DREAM (Lee Ching-hui, 2005), Donnell, 2:30
Thursday, September 28 CAN I KISS YOU? (Hsieh Pei-wen, 2003) and THE STRAIT STORY (Huang Yu-shan, 2005), Donnell, 6:00
Friday, September 29 CORNERS (Chou Zero, 2001) and LEGEND OF LILY YEH (Wei Jane Chih, 2005), TECO, 2:30
Friday, September 29 SPLENDID FLOAT (Chou Zero, 2004), TECO, 6:00
MAKOR FILM
Steinhardt Building
35 West 67th St. between Amsterdam & Columbus Aves.
212-601-1000
Thursday, September 21 SECRET COURAGE: THE WALTER SUSKIND STORY (Tim Morse & Karen Morse, 2006), followed by a discussion with directors Tim Morse and Karen Morse; Walter Suskind's cousin, Bernie Suskind; survivor Ries Vanderpol; and resistance fighter Hilde Jacobsthal Goldberg, $15, 7:30
Tuesday, September 26 SKETCHES OF FRANK GEHRY (Sydney Pollack, 2005), followed by Q&A with Sydney Pollack, $20, 7:30
Wednesday, September 27 SKETCHES OF FRANK GEHRY (Sydney Pollack, 2005), $9, 7:00
SKETCHES OF FRANK GEHRY (Sydney Pollack, 2005)
http://www.pbs.org/wnet/americanmasters/database/gehry_f.html
http://www.sonyclassics.com/comingsoon.php?filmid=307&page=1

Director Sydney Pollack (THE WAY WE WERE, TOOTSIE) turns his handheld camera on his friend Frank Gehry in this entertaining, informal documentary on the renowned architect, which recently played the Tribeca Film Festival. Gehry, the subject of a major retrospective at the Guggenheim in 2001, is one of the most innovative architects in the world, combining form and function with an artist's sensibility. Pollack takes the audience to some of Gehry's most famous creations, from the stunning Guggenheim Museum Bilbao in Spain to the Vitra Design Museum in Germany, from the Walt Disney Concert Hall in L.A. to the fabulously bizarre Nationale-Nederlanden Building in Prague. (The curved glass and protruding concrete structures are affectionately known as Fred and Ginger because it looks as if the buildings are dancing together.) We also get to see several private residences designed by Gehry, including his own in Santa Monica. Gehry is comfortable in front of the camera as he speaks with Pollack about going to Hebrew School in Canada (his real name is Frank Goldberg), the nature of art and inspiration, and his love for hockey and fish. We also get to meet his design team and see how they work together in an atmosphere that fosters creativity and interaction. Among the talking heads filled with praise for Gehry are Dennis Hopper, Julian Schnabel (oh-so-cool in a bathrobe and sunglasses), the late Philip Johnson, Mike Ovitz, Michael Eisner, Barry Diller, Bob Geldof, and Ed Ruscha. Pollack also sits down with such Gehry critics as Hal Foster, who derides his unusual designs. Pollack makes himself part of the film, not only asking questions and chatting with his subject but also having a camera filming him filming Gehry, giving SKETCHES a low-key, PBS feel to it, which is not surprising, as it will be seen on the American Masters series later this fall. And for you die-hard Gehry fans out there, his brand-new jewelry line is now available at Tiffany's.
Thursday, September 28 FORGIVING DR. MENGELE (Bob Hercules & Cheri Pugh, 2006), followed by discussion with Stewart Ain and Dan Ain, $15, 7:30
Wednesday, October 4 AUGUST IN THE EMPIRE STATE (Gabriel Rhodes & Keefe J. Murren, 2005), followed by discussion with Rhodes, Murren, and Cheri Honkola, $15, 7:30
ULTRA.NY 2006
Rumsey Playfield
Central Park (enter at Fifth Ave. & 69th St.)
Tickets: $56.20
Friday, September 22 Electronic music featuring Moby, John Digweed, Soulwax Nite Versons (2ManyDJs Live), Junkie XL, Benny Benassi, DJ Boris, and David Waxman, 4:30
ROOFTOP FILMS: MOVIES ON A ROOF IN BROOKLYN
Automotive High School, 50 Bedford Ave. between North 12th St. & Lorimer
Tickets: $8
http://www.rooftopfilms.com/2006_schedule.html
Friday, September 22 Closing Night: Rooftop Shorts, a dazzling collection of short films from Rooftop Films Summer Series 2006, with live music by Scream! Hello at 8:30, film screenings at 9:00
AUTUMN MOON: CHINESE DANCE FESTIVAL
NY Chinese Cultural Center
TriBeCa Performing Arts Center
199 Chambers St. between Greenwich & West St.
Tickets: $25
212-220-1460
http://tribecapac.org/dance.htm
Friday, September 22, 7:30
and
Saturday, September 23, 2:00 Featuring Dance China NY, with Edwaard Liang from the New York City Ballet
WEEKEND STREET FAIRS/FESTIVALS/PARADES/CARNIVALS
All events approximately 11:00 am - 6:00 pm unless otherwise noted
Admission: free
http://www.nyctourist.com/st_fairs_calendar.htm
http://nycstreetfairs.com/sched.html
http://www.clearviewfestival.com
Friday September 22 Fulton Street Follies: Fulton St. between Water & Gold Sts.
Saturday September 23 Guardian Angels Fair: Seventh Ave. between 47th & 57th Sts.
Saturday September 23 Woodside Festival: Woodside Ave. between 63rd St. & Roosevelt Ave.
Saturday September 23 Bleecker Street Festival: Bleecker St. between Seventh & Eighth Aves.
Sunday September 24 Myrtle Ave. Festival: Myrtle Ave. between Fresh Pond & Wyckoff
Sunday September 24 Eighth Ave. Fall Festival: Eighth Ave. between 23rd & 34th Sts.
Friday September 29 N.Y.C. Police Museum Festival: Old Slip between Water & South Sts.
Friday September 29 Maiden Lane Festival: Maiden Lane between South & Water Sts.
Saturday September 30 Jerome Avenue Festival: Jerome Avenue between Moshulu & Gun Hill Rd.
Saturday September 30 University Pl. Fair: University Pl. between Waverly Pl.& 14th St.
Saturday, September 30 Madison Square Festival: 26th St. between Broadway & Sixth Ave.
Sunday, October 1 N.Y.C. Oktoberfest: Lexington Ave. between 42nd & 57th Sts.
Sunday, October 1 Broadway Astoria Festival: Boadway between Steinway & Crescent Sts.
RMA PROGRAMS
Rubin Museum of Art
150 West 17th St. at Seventh Ave.
212-620-5000 ext 344
http://www.rmanyc.org/programs/index.cfm
Friday, September 22 Artists on Art Special with Shen Wei, walking tour of the museum's mandalas with the choreographer, free with museum admission, 7:30
Wednesday, September 27 Ayurveda in the Himalayas: a talk by R. K. Mishra, $12, 3:00
Friday, September 29 THE ENGLISH PATIENT (Anthony Minghella, 1996), free with $7 bar minimum, 9:30
Wednesday, October 4 The Chelsea Connection: Launch of Nell Freudenberger's debut novel, THE DISSIDENT, $12, 7:00
EXPERIENCE PARKS AND CONSERVATION
Grand Central Terminal
Vanderbilt Hall
Admission: free
http://www.nationalgeographic.com/ngm/experience
http://www.grandcentralterminal.com
Friday, September 22
through
Thursday, September 28 National Geographic magazine sponsors multimedia and interactive displays examining national and international parks and conservation, featuring large-scale photographs of parks from around the world, 7:00 am — 7:00 pm
CHILDREN'S SPORTS & FITNESS EXPO
P.S. 175
175 West 134th St.
Harlem YMCA
180 West 135th St.
718-346-5852
Saturday, September 23 Third annual event, featuring dance, boxing, football, golf, gymnastics, healthy cooking, fencing, basketball, baseball, martial arts, soccer, tennis, track and field, wrestling, yoga, table tennis, swimming, and more, sponsored by Body Sculpt, 10:00 am — 6:00 pm
FALL IN LOVE WITH PROSPECT PARK
Prospect Park
Admission: free
718-965-8999
http://www.prospectpark.org/event/main.cfm?Target=fallinlove
Saturday, September 23
and
Sunday, September 24 Hawk Weekend, Audubon Center, 12 noon — 5:00 pm, and Harvest Fair, Lefferts Historic House, 1:00 — 4:00
THE BLADE WHEEL OF MIND TRANSFORMATION
Beacon Theater
2124 Broadway at 74th St.
September 23-25, 10:00 am – 12 noon and 2:00 – 4:00
Tickets: $285
212-496-7070
http://www.tibethouse.org/programs/hhdl2006.html
http://www.tibethouse.org/programs/hhdl2006B.html
http://www.beastieboys.com/bbs/showthread.php?t=67449
The Dalai Lama returns to New York City for the first time since 2003, teaching on the text THE BLADE WHEEL OF MIND TRANSFORMATION (LOJONG TSONCHAI KHORLO) by Dharmarakshita, to sold-out audiences during Rosh Hashanah weekend (disappointing all the Jewddhists and JuBus who won't be able to attend). The text is part of the lojong, or "mind-transformation" teachings — pretty radical stuff designed to isolate the usual preoccupation with self, bring into the light of day, and hopefully become more joyous and compassionate. For more about the text, check out the above Tibet House Web site; for some cool discussion about the visit, check out the above Beastie Boys message board, under the thread "The Milarepa Fund".
THE FIREFIGHTER STEPHEN SILLER TUNNEL TO TOWERS RUN
Entry fee: $40
718-987-1931
Sunday, September 24 5K Run/Walk from the Gowanus approach to the Brooklyn-Battery Tunnel to West Street to the Battery Park Esplanade and finishing at West & Vesey Sts., with electronic chip monitoring, 10:00 am
MANHATTAN SHORT FILM FESTIVAL
Union Square Park Center Lawn
Admission: free
212-529-8640
http://www.unionsquarenyc.org/events/index.html
Sunday, September 24 Union Square Park will once again be home to this unique festival, showing the twelve finalists from short-film contests held all over the country; grand prize for the best film includes plenty of equipment to help the winner make a feature film, 7:00 - 10:00 pm
PSYCHIC TV: PTV3
Galapagos Art Space
70 North Sixth St. between Wythe and Kent
All shows at 10:00 pm
Tickets: $15
718-782-5188
http://www.galapagosartspace.com/events.html
Sunday, September 24 Lust N' Rust, with DJs Xris Smack & Die J! Mars, Elaine K. and Racquel Reed
Monday, September 25 Burlesque, with the World Famous B*O*B and special guests
Tuesday, September 26 Slip It In, with DJs Cowboy Mark and Brett Burton, Zak, Viva Nada, Mutant Go Go dancers, and free tattoos by Lindsey Loadhand
POETRY PROJECT CALENDAR
St. Mark's Church-in-the-Bowery
Second Ave. and Tenth St.
Admission: $8
212-674-0910
http://www.poetryproject.com/calendar.php
Monday, September 25 Patricia Spears Jones & Dara Weir
Wednesday, September 27 Victor Hernández Cruz & Quincy Troupe
Wednesday, October 4 Mei-mei Berssenbrugge & Anna Moschovakis
LIVE FROM THE NYPL
Humanities and Social Sciences Library
Celeste Bartos Forum unless otherwise noted
Fifth Ave. at 42nd St.
Tickets: $15
212-930-0855
http://www.nypl.org/research/chss/pep/index.cfm
Monday, September 25 Sam Harris in conversation with Oliver McTernan, South Court Auditorium, 7:00
Thursday, September 28 Chris Anderson in conversation with Lawrence Lessig: The Rise and Fall of the Blockbuster, 7:00
Friday, September 29 Frank Rich in conversation with Paul Holdengräber, 8:00
Saturday, September 30 Robert Frank in conversation with Howard Norman: Beirut, 7:00
Tuesday, October 3 Bill Moyers in conversation with Bill McKibben: Welcome to Doomsday, 7:00
RADICAL VAUDEVILLE
Mo Pitkin's
34 Ave. A between Second & Third Sts.
Last Tuesday of the month
Admission: $5
212-777-5660
http://www.radicalvaudeville.com
Tuesday, September 26 Monthly show produced by Surf Reality, featuring host Henry Faulkner and performances by Girls Make Messes, Sterling Maxwell, Master Lee, Jessica Delfino, Neil Conrad, Dzieci, Peekaboo Pointe, and Miss Saturn, downstairs, 10:00
SHEN WEI DANCE ARTS
Joyce Theater
175 Eighth Ave. at 19th St.
Tickets: $38
212-242-0800
Tuesday, September 26
through
Sunday, October 1 New York-based company performs RE-, with live Tibetan music, and RITE OF SPRING
LECTURES
92nd St. Y
1395 Lexington Ave. at 92nd St.
Kaufmann Concert Hall
All events at 8:00
Tickets: $25
212-415-5500
http://www.92ndsty.org/calendar/calendar.asp
Tuesday, September 26 Arianna Huffington and Nora Ephron: Advice for Women, moderated by Dr. Gail Saltz
Tuesday, October 3 Robert Klein, Adrienne Barbeau, and Howard Schatz:
Actors on Acting
Wednesday, October 4 Cindy Sheehan and Eve Ensler: The Impact of Political Protests, moderated by Leonard Lopate
ROCKY'S READINGS
Rocky Sullivan's
129 Lexington Ave. between 28th & 29th Sts.
Wednesdays at 8:00 pm
Admission: free
212-725-3871
http://www.rockysullivans.com/readings.html
Wednesday, September 27 Michael Patrick McDonald, EASTER RISING: AN IRISH-AMERICAN COMING UP FROM UNDER
BABI YAR REMEMBERED: YEVTUSHENKO AND SHOSTAKOVICH IN WORD AND SONG
Museum of Jewish Heritage — A Living Memorial to the Holocaust
36 Battery Pl.
Tickets: $25-$65
646-437-4202
http://www.mjhnyc.org/safrahall/visit_safra_hall8.htm#Babi
Wednesday, September 27 Commemoration of the sixty-fifth anniversary of the massacre at Babi Yar in Kiev, with Yevgeny Yevtushenko; Misha & Cipa Dichter, piano; Valentin Peytchinov, bass soloist; Patrick Gardner, conductor; and the Riverside Choral Society, Rutgers University Kirkpatrick Choir, and Rutgers University Glee Club, 7:00
PRELUDE '06
CUNY Graduate Center
Martin E. Segal Theatre Center
365 Fifth Ave. at 34th St.
Admission: free
212-817-1860
http://www.gc.cuny.edu/events/index.htm
Wednesday, September 27
through
Saturday, September 30 Fourth annual theater festival and symposium
IBSEN ON FILM
Scandinavia House
58 Park Ave. at 38th St.
September 27-30
Tickets: $8
212-847-9746
http://www.scandinaviahouse.org/programs.html#2
Wednesday, September 27 THE LION (Alexander Wisting, 2006), 6:30
Thursday, September 28 TERJE VIGEN (Victor Sjöström, 1917), 6:30
Friday, September 29 LADY INGER OF ØSTRÅT (FRU INGER TIL ØSTRÅT)
(Sverre Udnæs, 1975), 6:30
Saturday, September 30 THE WILD DUCK (VILDANDEN) (Tancred Ibsen, 1963), 3:00
Saturday, September 30 AN ENEMY OF THE PEOPLE (EN FOLKEFIENDE)
(Erik Skjoldbærg, 2005), 5:30
"OK AS IS"
Museum of Arts & Design
40 West 53rd St. between Fifth & Sixth Aves.
Free with museum admission of $9
212-956-3535
Thursday, September 28 Lecture by designer Jason Miller on personal household objects, followed by reception, 6:00
BODY TYPE: TYPOGRAPHIC TATTOOS ETCHED IN FLESH
The Cooper Union
The School of Art
7 East Seventh St. at Third Ave., second floor
Admission: free
212-353-4200
http://www.cooper.edu/month.html
Thursday, September 28 Opening reception and book signing with Ina Saltz, 6:00
"Does your MIND create your BODY?"
Seamen's Church Institute
241 Water St.
Tickets: $30 in advance, $40 at the door
212-604-4705
Thursday, September 28 Moderated conversation with Patricia Moreno of IntenSati Life, sponsored by In the Company of Women, 7:00
VIDEO THURSDAYS
Czech Center
1109 Madison Ave. at 83rd St.
Alternate Thursdays at 7:00 pm
Admission: free
212-288-0830
Thursday, September 28 BITTER COFFEE (Börkur Gunnarsson, 2003)
A ROOM OF ONE'S OWN:
WOMEN AND POWER IN THE NEW AMERICA
P.S. 122
150 First Ave.
Tickets: $20
212-352-3101
http://www.ps122.org/performances/a_room_of_ones_own.html
Thursday, September 28
through
Sunday, October 1 Multimedia performance by Coco Fusco as a military interrogator
Saturday, September 30 OPERATION ATROPOS (Coco Fusco), screening and panel discussion with Coco Fusco, Jose Muñoz, Anne Norton, and Mike Ritz, free, 5:00
FALL FOR DANCE FESTIVAL
New York City Center
130 West 56th St. between Sixth & Seventh Aves.
Tickets: $10
212-581-1212
http://www.nycitycenter.org/ffd/index.cfm
Thursday, September 28
and
Friday, September 29 Yi-Jo Lim Sun Dance Company: Heaven and Earth; Dutch National Ballet: Before After; Bill T. Jones/Arnie Zane Dance Company: Last Supper at Uncle Tom's Cabin (excerpt); Trisha Brown Dance Company: Set and Reset; Pennsylvania Ballet: 11:11, 8:00
Saturday, September 30, 8:00
and
Sunday, October 1, 2:00 Stephen Petronio Company: Lareigne; nathantrice/RITUALS: Prophet & Betrayer; Coleman Lemieux & Compagnie: Fifteen Heterosexual Duets (excerpt); Compagnie Franck II Louise: DROP IT! (excerpt); Paul Taylor Dance Company: Syzygy
Tuesday, October 3 Alonzo King's Lines Ballet: The MOROCCAN Project (excerpt); the Martha Graham Dance Company: Satyric Festival Song; New York City Ballet: In the Night; Compagnie La BARAKA / Abou LAGRAA: Ou Transe (excerpt); the Parsons Dance Company: Swing Shift, 8:00
Wednesday, October 4 Nikolais Dance Theatre performed by Ririe-Woodbury Dance Company: Tensile Involvement; Maureen Fleming Company: The Stairs (an excerpt of After Eros); American Ballet Theatre: White Swan/Black Swan Pas de deux (excerpts from Swan Lake); Robert Moses' Kin: Cause (excerpt); Honvéd Dance Company: Black Pearls, 8:00
Thursday, October 5
and
Friday, October 6 Pacific Northwest Ballet: The Piano Dance; Christopher Williams: ginja sem caroço (excerpt from the Portuguese Suite); Random Dance: Polar Sequences; Bridgman/Packer Dance: Under the Skin (excerpt); FARRUCO: FARRUCO, 8:00
Saturday, October 7, 8:00
and
Sunday, October 8, 2:00 STREB Extreme Action: Streb vs. Gravity (excerpt); ASzURe & Artists: Mais We (excerpt); George Piper Dances/Ballet Boyz: Torsion; Odile Duboc-Contre Jour/CCN de Franche-Comté à Belfort: boléro, one (excerpt from trois boleros); Jason Samuels Smith's A.C.G.I.: Peace of Mind
SCREENINGS + EVENTS
Museum of the Moving Image
35th Ave. at 36th St., Astoria
Tickets: $10
718-784-4520
http://www.ammi.org/site/screenings/index.html
Thursday, September 28, followed by wine reception, 8:00
and
Friday, September 29, 7:30 AN INCONVENIENT TRUTH (Davis Guggenheim, 2006)
AN INCONVENIENT TRUTH (Davis Guggenheim, 2006)

The self-described onetime "next president of the United States of America" has been fighting to save the earth for nearly forty years. Since not winning the presidency in 2000, Gore has been on the road, giving an illustrated lecture to more than one thousand groups, including schools all over the country, about the hot-button topic of global warming. Using colorful charts and graphs, stunning video of disappearing landscapes, and gorgeous shots of the earth, the surprisingly engaging and entertaining Gore elegantly discusses the melting of the glaciers, the heating of the oceans, the onset of devastating hurricanes and tornadoes, science fact versus science fiction, and the current administration's refusal to acknowledge the seriousness of the problem. We also get an intimate look at Al Gore the person, seeing him at work on his iBook, sitting by his son's side after a terrible accident, and talking about his father's tobacco farm and his sister's death from lung cancer. Gore and his traveling slide show have been compared to Paul Revere's ride, warning the world of impending danger; we're sure others will paint him as Chicken Little, screaming crazily that the sky is falling. Well, in this case, both sides are right, because the sky is indeed falling, as evidenced by the continuing destruction of the polar ice cap. MoveOn has called for supporters to flood theaters this opening weekend; it will be interesting to see the box office numbers, because some people think Gore might be planning a run for the Oval Office in 2008.
Monday, October 2 TIDELAND (Terry Gilliam, 2005), with Terry Gilliam in person, 7:30
NEGATIVLAND: ADVENTURES IN ILLEGAL ART
The New School
Theresa Lang Center
55 West 13th St. between Fifth & Sixth Aves., second floor
212-817-8215
http://www.nsu.newschool.edu/02a_specdiv.htm#0201
Friday, September 29 A Performance by Mark Hosler, $8, 7:00
WIRED NEXTFEST
Jacob Javits Convention Center
Eleventh Ave. between 34th & 39th Sts.
Tickets: $15 in advance, $20 at the door
1-866-698-0558
Friday, September 29
through
Sunday, October 1 Four days of innovative products, including more than 130 interactive exhibits and such panel discussions as "Robots: Here We Are Now, Entertain Us," "Virgin Galactic, Cleared for Take-Off," "Green Is the New Black," "Robots: Almost Human," "The New Vacationauts," and "Let's Go Already: The Future of Exploration"
WOMEN'S ECONOMIC POWER DAY
Jacob Javits Convention Center
Eleventh Ave. between 34th & 39th Sts.
Registration: $77-$127
1-888-676-6943
Saturday, September 30 Power summit for women, featuring skillshops on negotiation, branding, writing and funding business plans, obtaining communication skills, budgeting, self-promotion, productivity, strategic planning, and more, including breakfast, lunch, cake, and gift bags, 8:00 am – 6:00 pm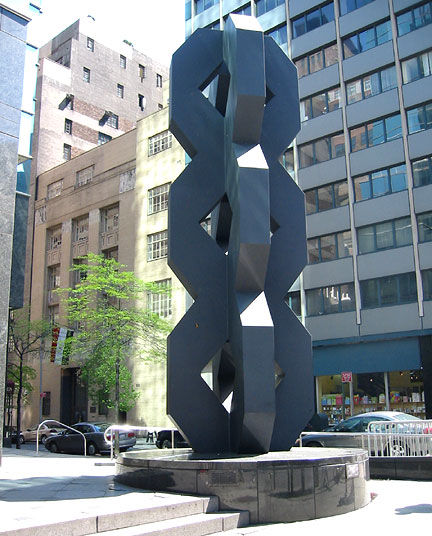 twi-ny/mdr
Billy Omabegho's "Zuma" statue stands in front of Nigeria House, at Kudirat Abiola Corner
NIGERIA INDEPENDENCE DAY PARADE
54th St. to 44th St. on Second Ave.
Admission: free
646-489-5341 / 212-484-1222
http://www.oanweb.org/nidc.html
Saturday, September 30 Nigeria's forty-fifth annual Independence Day Parade, sponsored by the Organization for the Advancement of Nigerians, will start at 54th & Second and head south to Nigeria House, at 44th & 2nd, with live music, traditional costumes, food, games, clothing, and more, 11:00 am — 6:00 pm
NEW YORK-TOKYO MUSIC FESTIVAL 2006
Rumsey Playfield
Central Park (enter at Fifth Ave. & 69th St.)
Admission: free
http://music.newyork-tokyo.com
Saturday, September 30 Second annual festival, featuring a game pavilion, anime screenings, exhibitor booths, and live music with Talib Kweli, A-Trak, Hifana, Mighty Crown, and Pe'z, celebrating the twentieth anniversary of Fujisankei Communications International, 2:00 – 10:00
OPEN AIR BOOK FAIR
Housing Works Bookstore Cafe
126 Crosby St. between Broadway and Lafayette St.
Admission: free
212-334-3324
http://www.housingworks.org:8080/usedbookcafe/UsedBookCafe_Events.jsp
Saturday, September 30 Second annual fundraiser, with tens of thousands of books, records, CDs, and DVDs for sale, 10:00 am — 6:00 pm
WALK FOR FARM ANIMALS
Columbus Circle
59th St. & Central Park West
Registration at 10:30 am, walk at 12 noon
Registration fee: $10
212-217-9359
http://www.walkforfarmanimals.org/locations/nyc.htm
Saturday, September 30 Farm Sanctuary's annual walk, in honor of World Farm Animals Day (October 2), raises money and awareness to protect farm animals, with live entertainment from Joy Askew, Cheryl Hill, and Tanya Turgeon
SENECA VILLAGE DAY
Central Park
Great Hill Children's Glade
Central Park West & 103rd St.
Admission: free
212-360-1471
http://www.centralparknyc.org/activities/specialevents
Saturday, September 30 Commemoration of the history of the Seneca village that once was situated here in the park, with storytelling, games, crafts, and tours, 11:00 am — 2:30 pm
NATIONAL ESTUARIES DAY FESTIVAL
Alley Pond Environmental Center
228-06 Northern Blvd., Douglaston
Admission: free
718-229-4000
http://www.alleypond.com/events/#4
Saturday, September 30 Celebration of Little Neck Bay, with educational exhibits, interactive booths, live entertainment, children's activities, workshops and demonstrations, and more, 11:00 am — 4:00 pm
NY PAGAN PRIDE DAY 2006
Battery Park
Admission: free
212-561-0491
Saturday, September 30 Sixth annual harvest celebration and food drive, with keynote speaker Mama Donna Henes, arts and crafts, workshops, a fairy parade, and live music from James Gilchrist, Scott Helland and the Traveling Band of Gypsy Nomads, Cassandra Syndrome, and Jessie Haynes & Cowgirld Ecstasy, 11:00 am — 5:00 pm
FOR THE LOVE OF SAKE: DAVID BOULEY'S PASSION
Japan Society
333 E. 47th St. at First Ave.
212-715-1258
http://japansociety.org/events/event_detail.cfm?id_event=1784624109&id_performance=554662842
Saturday, September 30 Lecture and sake tasting with David Bouley, $35, 6:30
50 YEARS OF JANUS FILMS: NYFF RETROSPECTIVE
Walter Reade Theater
165 West 65th St. between Eighth Ave. & Broadway
September 30 - October 27
Tickets: $10
http://www.filmlinc.com/nyff/program/janus.html
https://tickets.filmlinc.com/php/calendar.php?day=30&month=9&year=2006&event=&backurl=http://www.filmlinc.com/wrt/wrt.htm
Saturday, September 30 JULES AND JIM (François Truffaut, 1962), 1:00 & 5:00
Saturday, September 30 THE SEVENTH SEAL (DET SJUNDE INSEGLET) (Ingmar Bergman, 1957), 3:00
Saturday, September 30 THE RULES OF THE GAME (LA RÈGLE DU JEU) (Jean Renoir, 1939), 8:00
Sunday, October 1 CHILDREN OF PARADISE (LES ENFANTS DU PARADIS) (Marcel Carné, 1945), 1:00
Sunday, October 1 BEAUTY AND THE BEAST (Jean Cocteau, 1946), 4:30
Sunday, October 1 KNIFE IN THE WATER (NÓZ W WODZIE) (Roman Polanski, 1962), 6:30
Sunday, October 1 CRIA! (CRÍA CUERVOS) (Carlos Saura, 1976), 8:30
Monday, October 2 THE SEVENTH SEAL (DET SJUNDE INSEGLET) (Ingmar Bergman, 1957), 2:00
Monday, October 2 JULES AND JIM (François Truffaut, 1962), 4:00
Monday, October 2 KNIFE IN THE WATER (NÓZ W WODZIE) (Roman Polanski, 1962), 8:30
Monday, October 2 CRIA! (CRÍA CUERVOS) (Carlos Saura, 1976), 6:15
Tuesday, October 3 CHILDREN OF PARADISE (LES ENFANTS DU PARADIS) (Marcel Carné, 1945), 2:00
Tuesday, October 3 W.R.: MYSTERIES OF THE ORGANISM (W.R.: MISTERIJE ORGANIZMA) (Dusan Makavejev, 1971), 9:30
Tuesday, October 3 THE SEVENTH SEAL (DET SJUNDE INSEGLET) (Ingmar Bergman, 1957), 5:30
Tuesday, October 3 MONIKA (SOMMAREN MED MONIKA (Ingmar Bergman, 1953), 7:30
Wednesday, October 4 KNIFE IN THE WATER (NÓZ W WODZIE) (Roman Polanski, 1962), 2:00
Wednesday, October 4 THE 400 BLOWS (LES QUATRE CENTS COUPS) (François Truffaut, 1959) and ANTOINE AND COLETTE (ANTOINE ET COLETTE) (François Truffaut, 1962), 4:00 & 8:30
Wednesday, October 4 THE CRANES ARE FLYING (LETYAT ZHURAVLI) (Mikhail Kalatozov, 1957), 6:30
CAR & MOTORCYCLE SHOW
Forest Park, Woodhaven
Entry fee: $20
Spectator admission: free
347-531-8648
http://www.allamericancarclub.com
Sunday, October 1 Third annual show sponsored by the All American Car Club, benefiting the American Cancer Society, with live music, special awards, and a special appearance by Joe Fucco, 9:00 am- 4:00 pm
FALCONRY EXTRAVAGANZA
Central Park East Meadow
97th —100th Sts, near Fifth Ave.
Admission: free
http://www.centralparknyc.org/activities/specialevents
Sunday, October 1 The Urban Park Rangers and the International Center for Birds of Prey team up with eagles, hawks, falcons, and other birds, 12 noon — 3:30
NEW READINGS:
TRANSLATING & INTERPRETING NORDIC TEXTS
Scandinavia House
58 Park Ave. at 38th St.
September 27-30
Tickets: $10 (four-lecture series $35)
212-847-9746
http://www.scandinaviahouse.org/programs.html#5
Monday, October 2 The Observation of Miss Julie: A Staged Reading & Panel Discussion, with a staged reading of a new translation by Jack Lienke and Kelsey Egan, followed by panel discussion with Arnold Aronson, James Steerman, and Kevin Kuhlke, followed by reception, 6:30
Tuesday, October 3 The Silence of the Grave: A Reading and Discussion with Arnaldur Indriason, 6:30
THE GRACE COMICS SHOWCASE
Mo Pitkin's House of Satisfaction
34 Ave. A between Second & Third Sts.
Admission: free
212-777-5660
http://www.elizabethmerrick.com/grace_reading_series/blog
Wednesday, October 4 Girl Stories, Teenage Diaries, and Other Graphic Marvels of Women's Comics, with Megan Kelso and Gabrielle Bell, 7:00