Twi-ny, This Week in New York
A PSYCHIC VACUUM
117 Delancey St. at Essex St.
Friday through Sunday, 12 noon — 6:00 through October 28
Admission: free
212-206-6674

British installation artist Mike Nelson makes his major U.S. debut with "A Psychic Vacuum," turning the abandoned Old Essex Street Market into a mysterious look at a long-gone America. Using local found materials and debris, Nelson has transformed the sixteen-thousand square-foot space, which was opened by Mayor La Guardia in 1940 but has been vacant since 1993, into a meandering series of rooms and passageways, each with its own tale to tell. But nothing is obvious; visitors are left to fill in their own details as they come upon a long bar with a stool knocked over, a darkroom blocked by tires, a caged-in tattoo parlor with cards of soldiers, a dirty meat locker, and a diner booth hiding a magazine with RFK on the cover. A Chinese restaurant is filled with filth, as if the owners left in a hurry. Long, eerie halls lead to such strange tableaux as a hotel-like front desk across from a torn map. Toys, statues, religious offerings, broken lights, faded advertisements, and a knife lie about, cinematic in scope, scenes from movies never made. But Nelson saves the biggest surprise for the end, as if all the sand in America's twentieth-century hourglass has come pouring out at once. The exhibit, sponsored by the great arts organization Creative Time, is open Friday through Sunday afternoons through October 28; don't miss it.
In the Neighborhood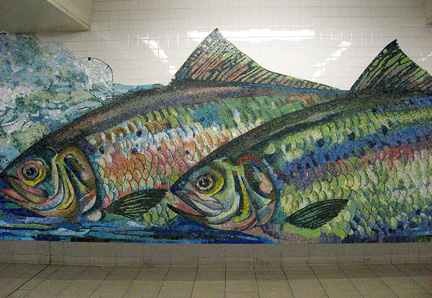 twi-ny/mdr
Fish swim through Delancey St. station
SHAD CROSSING / DELANCEY ORCHARD by Ming Fay
Delancey St. F line
Admission: $2

Ming Fay, who was born in Shanghai and studied art in the United States, pays tribute to the history of the Lower East Side with two colorful murals in the Delancey St. F station that serve as a wonderful counterpoint to Mike Nelson's "A Psychic Vacuum." On the uptown side, "Shad Crossing" features huge fish swimming their way through the station — perhaps trying to avoid the once-bustling fish market above it — while on the downtown side, "Delancey Orchard" comprises beautiful trees making up a cherry orchard. In the eighteenth century, the Delancey family owned a 339-acre estate in the area, complete with a cherry orchard (which is how Orchard St. got its name). However, their fortunes faded when they supported England during the American Revolution. In addition to the large-scale pieces, there are smaller works that include fish, cherries, and other objects. Fay created the murals in watercolor, which were then crafted into glass mosaics. "My sculpture comments on the botanical world and its relationship to humans, ranging from oversized plant forms to complex overgrown environments reminiscent of science fiction films," Fay writes on his Web site. "In recent years, my work has focused on the concept of a garden as a symbol of abundance, paradise, and the location for the ultimate desirable state of being." Fay also designed "Whitehall Crossing," the long granite bench inside the Staten Island Ferry terminal, as well as public art projects in Philadelphia, Puerto Rico, Washington, Oregon, and elsewhere.
Free Outdoor Exhibit of the Week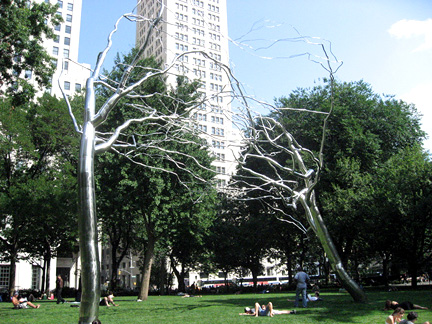 twi-ny/mdr
Stainless-steel trees look like lightning in Mad. Sq. Park
ROXY PAINE
Madison Square Park
Between Broadway & Madison Ave. and Twenty-third & Twenty-fifth Sts.
Through December 31
Admission: free
212-538-9310
http://www.madisonsquarepark.org

New York native Roxy Paine, whose fifty-foot-high stainless-steel "Bluff" was part of 2002's Outdoor Whitney Biennial in Central Park, has grown three trees in Madison Square Park, along with carting in a huge boulder. Near the southwest corner, "Defunct" stands forty-two feet high, perched in dirt. Nearly devoid of branches, it is instead covered in fungi, its life at its sad end. Midway along the Madison Ave. side of the park, "Erratic" is a seemingly out-of-place boulder lying amid the grass. The centerpiece of the exhibit has been installed, appropriately enough, in the center of the park. "Conjoined" features two forty-foot-high sculptures whose branches intersect with each other, creating a lightning-like effect shooting out from the clouds above. The glittering silver creates a stark contrast with the green of the trees and grass; as fall and winter approach, the works will take on new meaning as its compatriots shed their leaves and snow covers the park. But regardless of the season, the three pieces are a reminder of the skyscrapers that loom over New York City and especially its parks, the natural environment at the mercy of cold corporations.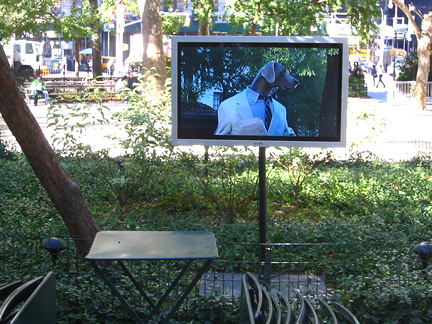 twi-ny/ees
Wegman's pooches take over Mad. Sq. Park
WILLIAM WEGMAN: AROUND THE PARK
Madison Square Park
Between Broadway & Madison Ave. and Twenty-third & Twenty-fifth Sts.
Through October 28
Admission: free
212-538-9310
http://www.madisonsquarepark.org

Last year, William Wegman shot a video of his dogs working, eating, and hanging out in Madison Square Park. The result is "Around the Park," a seven-minute video that is being screened on four monitors in the southeast side of the park, by the Shake Shack. Wegman's trademark Weimaramers sit on benches, fold the newspaper, check out the nearby clock tower, ride around the park in a maintenance cart, stand in the dog run, and take orders at the Shake Shack. Things get really creepy when you look closely and see that they have human hands, which feed them Shake Shack burgers and fries (but they can't get the dogs to drink from a straw). The video will play all day from eight in the morning till eight at night, taking a break at 1:00 for a retrospective of Wegman's career. During the week, twenty-two short works from 1970 to 1999 will be screened, including "Stomach Song," "Rage and Depression," "Growl," "Bad Movies," and "Denatured Alcohol"; on Saturdays and Sundays, the twenty-eight-minute video "The Hardly Boys" will be screened with "Dog Baseball."
Friday, September 28 Walking Tour: Mad. Sq. Art: Past and Present, reservations recommended, 6:00
Saturday, September 29 Walking Tour: Mad. Sq. Art: Past and Present, reservations recommended, 1:00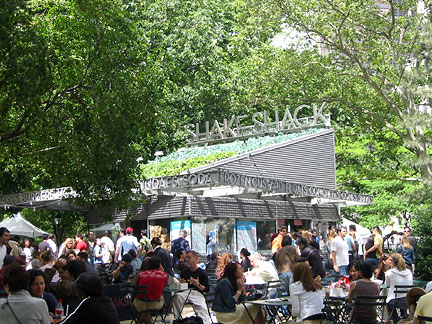 twi-ny/mdr
Shack shakes things up in Madison Square Park
THE SHAKE SHACK
Madison Square Park
Southeast corner
Open 11:00 am — 11:00 pm
212-889-6600

Danny Meyer's Shake Shack offers parkgoers Chicago and Taxi dogs, pretty darn good burgers, fries, frozen custard, the Arnold Palmer (a mix of lemonade and iced tea), Shackapalooza sundaes, creamsicles, beer and wine, and more, a great lunch respite in the Flatiron District. The ivy-covered kiosk was designed by James Wines of SITE, incorporating the park's greenery as well as the Flatiron Building, which looms over the southwest corner. Grab a Shack Stack, cheese fries, and a Concrete Jungle and chow down while watching William Wegman's videos and Roxy Paine's trees. A few years ago, we saw Meyer himself, the man behind Union Square Cafe, Eleven Madison Park, Blue Smoke, Tabla, and Gramercy Tavern, stopping off for a bite in back of the shack. The lines are generally enormous, so bring a book while you wait (although there is an express lane, called the B-Line, for certain menu items — but not, of course, dogs, burgers, concretes, or shakes). While waiting, you can also get in shape by following the instructions on the Shack-cercise board. To enhance the overall experience — going to the Shake Shack has become a rite of passage for New Yorkers and tourists alike — Meyer has recently added handheld devices that shake when your order is ready.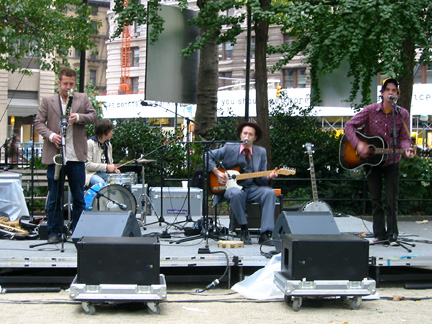 twi-ny/mdr
Jeremiah Lockwood plays the blues as part of Mad. Sq. Studio
MAD. SQ. STUDIO
Madison Square Park
Southwest corner, 23rd St., Broadway, & Fifth Ave.
Admission: free
212-538-9310
http://www.madisonsquarepark.org
Madison Square Park's annual folk and blues series continues with two cool shows set in the shadow of Roxy Paine's "Defunct" and Danny Meyer's Shake Shack.
Saturday, September 29 KJ Denhert, Sloan Wainwright, 3:00
Saturday, October 6 Abbie Gardner, Cephas & Wiggins, 3:00
Literary Film Festival of the Week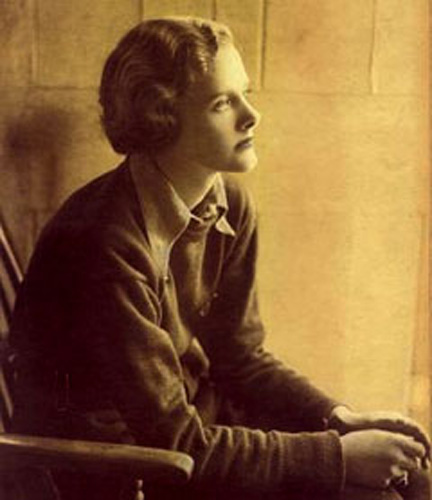 Daphne Du Maurier's work is celebrated onscreen in Brooklyn
DU MAURIER ON FILM
BAMcinematek
BAM Rose Cinemas
30 Lafayette Ave. between Ashland Pl. & St. Felix St.
September 26-30
Tickets: $11
718-636-4100
Daphne du Maurier (1907-89) was one of the greatest writers of the twentieth century, filling her books with just the right amount of otherworldliness. BAM celebrates her centennial of her birth with screenings of five works based on her writings. If you've never seen DON'T LOOK NOW, adapted from her short story "Not After Midnight," this is a great opportunity to catch it on the big screen, as well as three Hitchcock flicks and one by Henry Koster, starring Olivia de Havilland and Richard Burton.
Wednesday, September 26 MY COUSIN RACHEL (Henry Koster, 1952), 4:30, 6:50, 9:15
Thursday, September 27 DON'T LOOK NOW (Nicolas Roeg, 1973), 4:30, 6:50, 9:15
Friday, September 28 JAMAICA INN (Alfred Hitchcock, 1939), 2:00, 4:30, 6:50, 9:15
Saturday, September 29 THE BIRDS (Alfred Hitchcock, 1963), 2:00, 4:30, 6:50, 9:15
Sunday, September 30 REBECCA (Alfred Hitchcock, 1940), 3:00, 6:00, 9:00

Also in Brooklyn
CONEY ISLAND FILM FESTIVAL
Sideshows by the Seashore (SS)
3006 West 12th St. at Surf Ave.
Coney Island Museum (CIM)
1208 Surf Ave.
September 28-30
Tickets: $6 unless otherwise noted (advance purchase strongly recommended)
http://www.coneyislandfilmfestival.com
http://www.rhymeanimalmovie.com/trailer.html
The seventh annual Coney Island Film Festival features sixteen programs of full-length films and shorts, many shot in and around Coney Island. Below are our recommended events.
Friday, September 28 AMERICAN SCARY (John Hudgens) screening at Sideshows by the Seashore, followed by party at Coney Island Museum with the film's producers, participants, and Sideshow and burlesque performers, $25, 7:30
Saturday, September 29 KING OF SORROW (Damian Lee), followed by Q&A with stars Kim Coates and Lara Daans, CIM, 3:00
Saturday, September 29 Coney Island Films, SS, 6:00
Saturday, September 29 THE WARRIORS (Walter Hill, 1979), SS, $10, 10:30
Sunday, September 30 TEAT BEAT OF SEX (Signe Baumane), LICKED (the World Famous Bob), and New York City premiere of LLIK YOUR IDOLS (Angelique Bosio), CIM, 3:00
Sunday, September 30 Short films including Brooklyn premiere of Rob Schroeder's STOMPING GROUNDS, about Biz Markie, and Phil Roc's RHYME ANIMAL, about a cannibalistic serial killer, SS, 6:00
Film Festival of the Week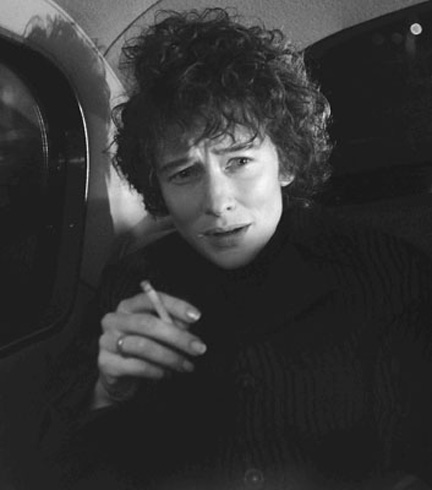 The Weinstein Company
Cate Blanchett is one of many Dylans in Todd Haynes's I'M NOT THERE
NEW YORK FILM FESTIVAL 2007
Frederick P. Rose Hall
Broadway at 60th St.
Walter Reade Theater
165 West 65th St. between Eighth Ave. & Broadway
September 28 - October 14
Selected by Richard Peña, Scott Foundas, J. Hoberman, Kent Jones, and Lisa Schwarzbaum, the films at the forty-fifth New York Film Festival is another intriguing collection of international fare, with Wes Anderson's THE DARJEELING LIMITED the Opening Night film, Joel and Ethan Coen's NO COUNTRY FOR OLD MEN the Centerpiece, and Marjane Satrapi and Vincent Paronnaud's PERSEPOLIS the Closing Night film. Other highlights include Noah Bambauch's MARGOT AT THE WEDDING, starring Nicole Kidman and Jennifer Jason Leigh; Todd Haynes's I'M NOT THERE, with Christian Bale, Cate Blanchett, Richard Gere, and Heath Ledger; Sidney Lumet's BEFORE THE DEVIL KNOWS YOU'RE DEAD, with Philip Seymour Hoffman, Ethan Hawke, and Albert Finney; and Gus Van Sant's PARANOID PARK, Brian De Palma's REDACTED, John Landis's MR. WARMTH: THE DON RICKLES PROJECT, Julian Schnabel's THE DIVING BELL AND THE BUTTERFLY, Abel Ferrara's GO GO TALES, Hou Hsiao-hsien's THE FLIGHT OF THE RED BALLOON, Eric Rohmer's THE ROMANCE OF ASTREA AND CELADON, music documentaries about Fados, Bob Dylan, and Tom Petty and the Heartbreakers, and other works by Catherine Breillat, Alexander Sokoruv, Jia Zhang-ke, and Lee Chang-dong, among others.
There will be yet another version of Ridley Scott's BLADE RUNNER (this one called the "definitive cut," in honor of the film's twenty-fifth anniversary), the Alloy Orchestra will play their new score to Josef von Sternberg's UNDERWORLD, and John Ford's THE IRON HORSE will be celebrated. In addition, the sidebars include works by Brazilian filmmaker Joaquim Pedro de Andrade, the annual Views from the Avant-Garde series, and a tribute to Hong Kong's Cathay Studios. Keep watching www.twi-ny.com for select reviews in the coming weeks.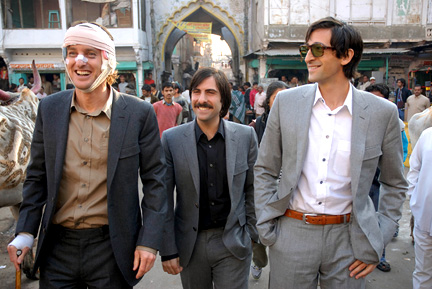 Three very different brothers go on a spiritual quest in DARJEELING
THE DARJEELING LIMITED (Wes Anderson, 2007),
preceded by HOTEL CHEVALIER (Wes Anderson, 2007)
Friday, September 28, Walter Reade Theater, 7:45
Friday, September 28, Avery Fisher Hall, 9:00
http://www.foxsearchlight.com/thedarjeelinglimited

Wes Anderson takes viewers on a wild ride through India aboard THE DARJEELING LIMITED in this black comedy that opens the New York Film Festival. Francis (Owen Wilson), Peter (Adrien Brody), and Jack (cowriter Jason Schwartzman) are brothers who have not seen each other since their father's funeral a year before, after which their mother disappeared. Having recently survived a terrible accident, Francis — looking ridiculous with his face and head wrapped in bandages — convinces them to go on a spiritual quest together to reestablish their relationship and help them better understand life. Peter and Jack very hesitantly decide to go along on what turns out to be a series of madcap adventures involving bathroom sex, bloody noses, jealousy, praying, cigarettes galore, running after trains, and savory snacks. Anderson (THE ROYAL TENENBAUMS, RUSHMORE) injects his unique brand of humor on the action, ranging from the offbeat to the sensitive to the absurd as the brothers bond and battle in a search for themselves and what's left of their family, set to a score adapted from the films of Satyajit Ray and Merchant-Ivory. The film features cameos by Bill Murray, Natalie Portman, Barbet Schroeder, and Anjelica Huston and is preceded by the very entertaining related short "Hotel Chevalier."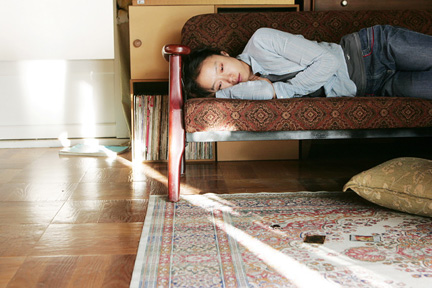 CJ Entertainment
Lee Shin-ae (Jeon Do-yeon) suffers unspeakeable grief in SUNSHINE
SECRET SUNSHINE (Lee Chang-dong, 2007)
Monday, October 1, 6:00
Tuesday, October 2, 9:15

Lee Chang-dong's fourth film ­— and his first since 2002's OH AH SHISOO (OASIS) —­ is a harrowing examination of immeasurable grief. After losing her husband, Lee Shin-ae (Jeon Do-yeon) decides to move with her young son, Jun (Seon Jeong-yeob), to Miryang, her late husband's hometown. Miryang, which means "secret sunshine," is a typical South Korean small town, where everyone knows everybody. Restarting her life, Shin-ae gets help from Kim Jong-chan (Song Kang-ho), a local mechanic who takes an immediate liking to her. But Shin-ae is more concerned with settling down with her son and giving piano lessons. But when a horrific tragedy strikes, she begins to unravel, refusing help from anyone until she turns to religion, but even that does not save her from her ever-darkening sadness and suffering. Jeon, who was named Best Actress at Cannes for her remarkable, devastating performance, holds nothing back as Shin-ae fights for her sanity. Song, best known for his starring role in THE HOST, is charming as Jong-chan, a friendly man who is a little too simple to understand the depth of what is happening to Shin-ae. Don't let the nearly two-and-a-half-hour running time scare you away; SECRET SUNSHINE is an extraordinary film that does not feel nearly that long.
FLIGHT OF THE RED BALLOON (Hou Hsiao Hsien, 2007)
Sunday, October 7, 1:00
Monday, October 8, 9:00

Commissioned by the Musee d'Orsay and inspired by Adam Gopnik's book PARIS TO THE MOON and Albert Lamorisse's children's classic THE RED BALLOON, director Hou Hsiao Hsien creates a wonderfully gentle, beautifully peaceful work in FLIGHT OF THE RED BALLOON. Mimicking the Taiwanese Hou making a film in Paris, Song Fang stars as Song, a Taiwanese film student who arrives in Paris to be a nanny to Simon (Simon Iteanu), whose mother, Suzanne (a blonde Juliette Binoche), runs a local puppet theater — which is currently putting on a version of the Chinese story of Zhang Yu, in French. Song goes everywhere with her video camera, recording whatever she sees. Meanwhile, a mysterious red balloon follows Simon through the city. (In THE RED BALLOON, it's reversed, as a young boy runs after the balloon.) There is no real plot but merely daily life, sort of Truffaut meets Ozu as Song makes pancakes, Suzanne gets involved in a rent dispute, and Simon practices the piano. The film is all about place and character, not narrative; in fact, much of the dialogue is improvised. Lovingly shot by Mark Lee Ping Bing, FLIGHT OF THE RED BALLOON is a sweet, tender film from one of the world's most underrecognized directors.
REDACTED (Brian De Palma, 2007)
Wednesday, October 10, 6:00
Thursday, October 11, 9:00

Director Brian De Palma, best known for such thrillers as DRESSED TO KILL, SCARFACE, and CARRIE, has taken on the Vietnam War in several of his films, including 1990's CASUALTIES OF WAR. In REDACTED, he turns his attention to the war in Iraq, telling a brutal story using such secondary sources as security cameras, Web sites, reports from embedded journalists, and, primarily, a video diary being made by an American soldier, Angel Salazar (Izzy Diaz), stationed at a dangerous checkpoint with Sgt. Jim Ross (Mike Figueroa), Master Sgt. Sweet (Ty Jones), and privates B. B. Rush (Daniel Stewart Sherman), Reno Flake (Patrick Carroll), Gabe Blix (Kel O'Neil), and Lawyer McCoy (Rob Devaney). Salazar captures the camaraderie among the men — and their fears, as an IED blows one of them apart — until Rush and Flake decide to get even by planning to rape a fifteen-year-old girl in her home. While the first half of the film works well, with De Palma cleverly cutting between the various (fictional) sources, lending the film a realistic, documentary-like feel, the second half, anchored by the brutal attack on the girl and her family and the aftermath, falls apart, dragged down by De Palma's overt antiwar sentimentality and characters who suddenly turn from familiar to cliche-ridden.
BEFORE THE DEVIL KNOWS YOU'RE DEAD (Sidney Lumet, 2007)
Friday, October 12, 6:00
Saturday, October 13, 12:45 pm

Sidney Lumet (DOG DAY AFTERNOON, NETWORK) spins an intriguing web of mystery and murder amid severe family dysfunction in BEFORE THE DEVIL KNOWS YOU'RE DEAD. Andy (Philip Seymour Hoffman) and Hank (Ethan Hawke) are very different brothers who are both in desperate financial straits. Andy, a well-groomed real estate exec, has a serious drug problem and a fading marriage to his sexy but bored young wife (Marisa Tomei), while the scraggly, ne'er-do-well Hank can't afford the monthly child-support payments to his ex-wife (Aleksa Palladino) and daughter (Amy Ryan). Andy convinces Hank to knock off their parents' (Albert Finney and Rosemary Harris) jewelry store, but when things go horribly wrong, everyone involved is forced to face some very difficult situations, leading to a harrowing climax. Lumet gets the most out of his very talented cast; Seymour and Hawke are both excellent, the former cool, calm, and collected, the latter scattershot and impulsive. Tomei gives one of her finest performances as the woman sleeping with both of them. Lumet tells the story through a series of flashbacks from various characters' point of view, with fascinating overlaps — although a bit overused — that offer differing perspectives on critical scenes. Adapted from a script by playwright Kelly Masterson — whom Lumet has never met or even spoken with — BEFORE THE DEVIL KNOWS YOU'RE DEAD (the title comes from an Irish toast that begins, "May you be in heaven half and hour…") is a thrilling modern noir from one of the masters of melodrama.
In the Neighborhood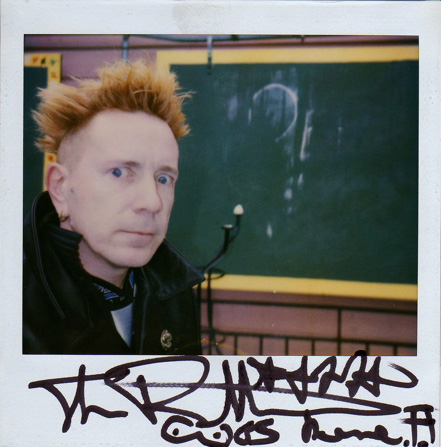 Henny Garfunkel
Johnny Rotten mugs for Henny Garfunkel
ONE LAST SHOT: SIGNED POLAROIDS
Frieda and Roy Furman Gallery
Walter Reade Theater
September 17 — October 31, 2:00 — 8:00
Admission: free

In conjunction with the New York Film Festival, the Film Society of Lincoln Center is presenting dozens of Polaroids taken by Henny Garfunkel since 2000. Garfunkel, a well-established photographer, would ask many of her subjects if they minded if she took a Polaroid of them after an official shoot was over. Not only would the celebrities agree, but they would often make fun, goofy faces and poses for Garfunkel, resulting in playful, unique pictures. They also signed each one, sometimes drawing over themselves. "[Polaroids] are considered less serious, rough and imperfect, and there's a certain familiarity about using that camera that encourages people to open up and relax," Garfunkel said about her work. Thus, Tim Robbins adds a beard and mustache to his visage, Guillermo del Toro draws a caricature of himself, Terry Gilliam pulls his cheeks out, Frances McDormand and Johnn Depp cross their eyes, and Lucy Liu, Tim Burton, Todd Field, and Anne Hathaway stick out their tongues. Bruno Ganz, Werner Herzog, and David Lynch are far more serious. Other participants include Sacha Baron Cohen as Borat, Pedro Almodóvar, Queen Latifah, Sam Shepard, Mena Suvari, Ed Harris, Toni Collette, Crispin Glover, Penelope Cruz, Tilda Swinton, Pierce Brosnan, Daniel Craig, and even Al Gore, who, alas, does not make a funny face.
French Festival of the Week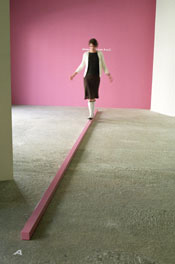 Cécile Pitois, "inhale-exhale from A to C"
CROSSING THE LINE
French Institute Alliance Française
Florence Gould Hall, 55 East 59th St. between Park & Madison Aves.
September 25 — October 30
Tickets: free - $30
212-355-6160
The French Institute's Crossing the Line festival promises to be an exciting five-week potpourri of innovative art, dance, film, and theater. French hip-hop troupe Comagnie Kafig will present WASTELAND, a circus choreographed by Mourad Merzouki. The institute's weekly Tuesday film series pays tribute to master composer Alexandre Desplat, including a Q&A with the man behind the music of such works as THE QUEEN, SYRIANA, and THE PAINTED VEIL. Three choreographers will create site-specific dance pieces in conjunction with Cécile Pitois's art installation in the FIAF Gallery. Joel Pommerat and Compagnie Louis Brouillard reinterpret LITTLE RED RIDING HOOD. Jim Simpson and his Flea Theater stage a reading of Henri Becque's dysunctional family drama THE VULTURES. And DanceOff! presents the works of contemporary French choreographers in seven-minute bursts. This initial festival, co-curated by Lili Chopra and Lizzie Simon, is spread all around town, with performances and special events at the Baryshnikov Arts Center, P.S. 122, Chez Bushwick, and Symphony Space as well as Florence Gould Hall at FIAF.
Tuesday, September 25
through
Saturday, October 20 Visual Arts: Cécile Pitois, "inhale-exhale from A to C," interactive installation, FIAF Gallery, free
Thursday September 27
through
Sunday, September 30 Force Majeure: Alexandre Roccoli / New Dance from Paris at Chez Bushwick, 304 Boerum St. #11, Brooklyn, free with RSVP at 718-418-4405 or info@chezbushwick.net
Saturday, September 29 Compagnie Käfig presents WASTELAND, Florence Gould Hall, $30, 8:00
Sunday, September 30 Compagnie Käfig presents WASTELAND, Florence Gould Hall, $30, 3:00
Monday, October 1 Staged Reading: THE VULTURES by Henri Becque, Florence Gould Hall, RSVP by September 21 at 646-388-6681, 8:00
Monday, October 1 Invitation to Dance: Kota Yamazaki, site-specific dance piece, "inhale-exhale from A to C," interactive installation, FIAF Gallery, free (RSVP required at 646-388-6682), 7:00
Tuesday, October 2 Nouvelles Vagues: From Godard to Audiard, with Traffic Quintet performing scores from the French New Wave, featuring new arrangements by award-winning composer Alexandre Desplat, $30, 8:00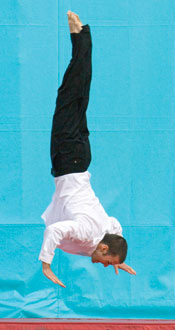 FranceOff! is part of fest

Wednesday, October 3 FranceOff! featuring seven-minute pieces by Francophile dance troupes, Performance Space 122, 150 First Ave. at Ninth St., $15, 7:00, 9:00
Friday, October 5
and
Saturday, October 6 Centre Pompidou presents The Best of Hors Pistes (Off-Track), Tinker Auditorium, $10, 7:00
Saturday, October 6 Invitation to Dance: Myriam Gourfink, site-specific dance piece, "inhale-exhale from A to C," interactive installation, FIAF Gallery, free (RSVP required at 646-388-6682), 2:00
Thursday, October 11 Pianist Jacky Terrasson, Symphony Space, 2537 Broadway at 95th St., $15-$25, 8:00
Friday, October 12 Chez Bushwick presents Video Art from France, Florence Gould Hall, $10, 8:00
Monday, October 15 Invitation to Dance: Daniel Larrieu, site-specific dance piece, "inhale-exhale from A to C," interactive installation, FIAF Gallery, free (RSVP required at 646-388-6682), 7:00
Saturday, October 20 New York premiere of LITTLE RED RIDING HOOD, directed by Joël Pommerat, Florence Gould Hall, adults $30, children twelve and under $20, 7:00
Wednesday, October 24
through
Saturday, October 27 érection by Pierre Rigal / Aurélien Bory, Baryshnikov Arts Center, 450 West 37th St., $20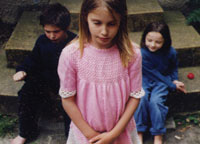 Isild Le Besco will introduce HALF-PRICE
CINÉMATUESDAYS
French Institute Alliance Française
Florence Gould Hall, 55 East 59th St. between Park & Madison Aves.
September 11-25
Tickets: $10
212-355-6160
Tuesday, September 18 Fresh Look: First-Time Directors — COLD SHOWERS (DOUCHES FROIDES) (Antony Cordier, 2005), preceded by RACHEL (Frédéric Mermoud, 2006), 12:30, 4:00, 7:30
Tuesday, September 25 Fresh Look: First-Time Directors — HALF-PRICE (DEMI-TARIF) (Isild Le Besco, 2003), preceded by SNOWING IN MARAKECH (IL NEIGE A MARRAKECH) (Hicham Alhayat, 2006), 12:30, 4:00
Tuesday, September 25 Fresh Look: First-Time Directors — Meet the Director: Isild Le Besco presents — HALF-PRICE (DEMI-TARIF) (Isild Le Besco, 2003), introduced by the director and followed by a Q&A, 7:00
Tuesday, October 9 Alexandre Desplat: A Visionary Composer — A HELL OF A DAY (REINES D'UN JOUR) (Marion Vernoux, 2001), 12:30, 4:00, 7:00
Tuesday, October 16 Alexandre Desplat: A Visionary Composer — THE SINGER (QUAND J'ÉTAIS CHANTEUR) (Xavier Giannoli, 2006), 12:30, 4:00, 7:00
Tuesday, October 23 Alexandre Desplat: A Visionary Composer — THE QUEEN (Stephen Frears, 2006), 12:30, 4:00, 7:00
Tuesday, October 30 Alexandre Desplat: A Visionary Composer — Meet the Composer: Alexandre Desplat presents READ MY LIPS (SUR MES LÈVRES) (Jacques Audiard, 2001), 7:00
Tuesday, October 30 Alexandre Desplat: A Visionary Composer — READ MY LIPS (SUR MES LÈVRES) (Jacques Audiard, 2001), 12:30, 4:00

In the Neighborhood
twi-ny/mdr
Transportable obelisk marks entrance to Central Park
OBELISCO TRANSPORTABLE
Public Art Fund Projects
Scholars' Gate at Doris C. Freedman Plaza
Fifth Ave. at 60th St.
Through October 28
Admission: free
212-980-4575

Rising from a small, grassy platform at the Doris C. Freedman Plaza entrance to Central Park, Damián Ortega's "Obelisco Transportable" is a sheer black monument to anything and everything. Ortega, a Mexican-born artist and political cartoonist currently living and working in Berlin, describes the piece as a "mobile landmark," able to be transported to wherever it is needed. It evokes both the famous "Cleopatra's Needle" behind the Met in Central Park, which made its way from Egypt to New York City in the nineteenth century, as well as the white Washington Monument in the nation's capital. Obelisks in general were built by kings and pharaohs to honor the gods, so the mystery behind this twenty-foot-tall movable object — actually, don't bother trying to push it, because you won't be able to make it budge — is curious indeed, confounding resident and tourist alike.
Ticket Alert of the Week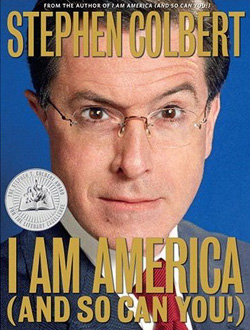 Stephen Colbert will be at the 92nd St. Y on October 23
THE VOICE OF LITERATURE
92nd St. Y
1395 Lexington Ave. at 92nd St.
212-415-5500
Tickets for the 92nd St. Y's upcoming season are now on sale, including specially discounted subscription plans for select series. The season features readings, lectures, brunches, tastings, and interviews involving such literary greats as Christopher Durang, Elie Weisel, Mario Vargas Llosa, Tony Kushner, Garrison Keillor, and Don DeLillo as well as such musicians as Steve Earle and Paul Simon. Below are only some of our recommended highlights among the nearly forty events that continue through the middle of May.
Thursday, September 20 Reading Series: Edwidge Danticat and Zakes Mda, $18, 8:00
Monday, September 24 Reading Series: Don DeLillo, $18, 8:00
Tuesday, October 2 The Kohn Lecture: James D. Watson in Conversation with Eric Kandel, $26, 8:00
Sunday, October 7 Biographers & Brunch: Janet Malcolm on Gertrude Stein and Alice B. Toklas, followed by brunch buffet, $40, 11:00 am
Tuesday, October 9 Steve Earle on Music and Activisn, moderated by Anthony DeCurtis, $26, 8:15
Thursday, October 11 The Akedah: Exploring Uncertainty, with Elie Weisel, $35, 8:00
Monday, October 15 Reading Series: Mario Vargas Llosa, $18, 8:00
Tuesday, October 16 Francine Segan's World of Tasting: Coffee, tasting and history, $35, 7:00
Thursday, October 18 Jesus' Jewishness: How Jews See Jesus, with Elie Weisel, $35, 8:00
Tuesday, October 23 Stephen Colbert, I AM AMERICA (AND SO CAN YOU!), interview, discussion, and book signing, $35, 8:00
Wednesday, October 24 Afternoon Night Table: Christopher Durang in discussion with Roger Rosenblatt, $20, 1:00
Wednesday, October 24 Tony Kushner, Rachel Cowan, and Others on Being Jewish Americans
Sunday, October 28 Critics & Brunch: Judith Thurman, followed by brunch buffet, $40, 11:00 am
Monday, October 29 Lecture: Dave Barry and Ridley Pearson
Friday, November 1 Afternoon Night Table: Joyce Carol Oates in discussion with Roger Rosenblatt, $20, 1:00
Monday, December 3 The Poet's Theatre I: William Blake at 250, a one-person show by Ruth Rosen, $18, 8:00
Wednesday, December 5 Afternoon Night Table: Garry Trudeau in discussion with Roger Rosenblatt, $20, 1:00
Sunday, February 16 Children's Reading Series: Jim Dale, $10, 1:00
Wednesday, February 20 The Lyricist's Voice: Paul Simon, in conversation with Billy Collins, $18, 8:00
Wednesday, April 9 Afternoon Night Table: Garrison Keillor in discussion with Roger Rosenblatt, $20, 1:00
Monday, May 12 A Celebration of Maurice Sendak, with Tony Kushner and Oliver Knussen, $18, 8:00
Online Exhibit of the Week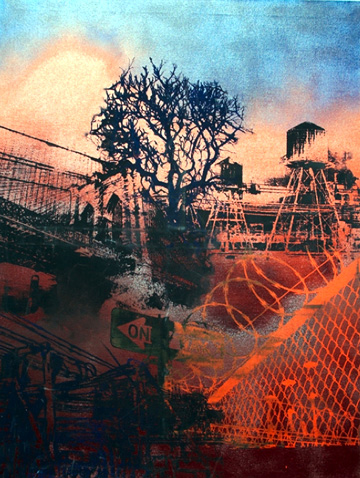 AVone, "DUMBO," acrylic and spray paint on canvas, 2007
AVONE: CANVASES
Bias Contemporary Art New York
Through October 15
Admission: free
http://biascontemporaryart.com
Daniel Warren and twi-ny web designer Fred Gates have just opened an online art gallery, Bias Contemporary, and its first show features the work of AVone. Born and raised in Brooklyn, AVone has been "writing" for many of his twenty-seven years, on his own and with Graffiti Research Lab, on canvases with paint as well as on buildings with laser tags. Recently jailed on vandalism charges, the self-taught AVone is back out and doing what he does best. Bias is highlighting sixteen of AVone's pieces, canvases that breathe with the life and rhythm of the street. Using various combinations of marker, spray paint, ink, and acrylic, AVone creates a shadowy world of barbed wire and water towers, fire escapes and Coney Island landscapes, trees and railroad tracks, chain-link fences and One Way signs. His simple titles barely begin to tell the stories that slowly rise out of the canvases: "Uptown," "Downtown," "Coney Island Revisited," "Fire Escape," "Stripper," "Fence," "Legend," and "One More Time." Bias will follow this show on October 15 with the work of Margaret Farmer.
Riff's Rants & Raves: Movies & More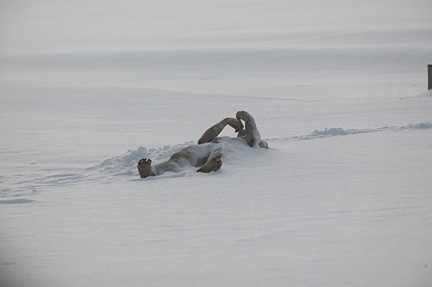 Things get a little cold in Alaska for drilling team
THE LAST WINTER (Larry Fessenden, 2006)
IFC Center
323 Sixth Ave. at Third St.
September 21 — October 4
212-924-7771

In Alaska, a company called North is preparing to drill for oil in the Arctic National Wildlife Refuge, with the permission of the U.S. government. North has sent along environmentalist James Hoffman (James LeGros) and his assistant, Elliot Taylor (Jamie Harrold), to ensure that the team, led by the imposing Ed Pollack (Ron Perlman), follows all proper guidelines and agreements. But when strange things start happening — including weird visions, odd disappearances, and brutal deaths — Pollack is determined to move forward, no matter the cost. Written and directed by Larry Fessenden (WENDIGO, HABIT), who also makes a cameo in the film, THE LAST WINTER is a global-warming horror story in the tradition of John Carpenter's THE THING, where the small cast of characters never knows just what is waiting for them around every corner — and out on the treacherous, blindingly white landscape that surrounds and engulfs them. The film also stars Connie Britton as Abby Sellers, a strong-minded woman who has left Pollack for Hoffman; indie stalwart Kevin Corrigan as vehicle expert Motor; Zach Gilford as young and innocent Maxwell McKinder; Joanne Shenandoah as Dawn Russell, who prepares the meals and cleans up after everyone; and Pato Hoffmann as Lee Means, a Native American who has a deep understanding of the land and the spirits. THE LAST WINTER is a scary look at an all-too-possible future.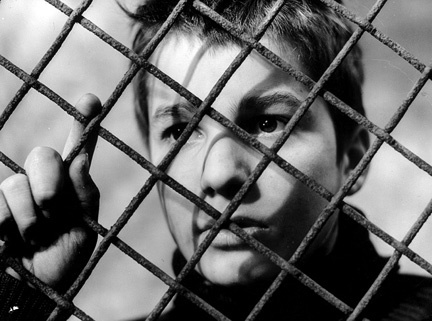 Courtesy Film Forum/Janus Films
Jean-Pierre Léaud' Antoine Doinel is one of the great cinema characters
THE 400 BLOWS (François Truffaut, 1959)
Film Forum
209 West Houston St. between Sixth & Seventh Aves.
September 26 - October 9
212-727-8110

François Truffaut's magnificent debut feature introduces the world to Antoine Doinel (Jean-Pierre Léaud), an adorable young boy who just can't seem to get out of trouble. The last scene, leading up to that famous final shot, will stay with you forever. Film Forum is presenting this delightful film in a 35mm restoration that should be absolutely wonderful.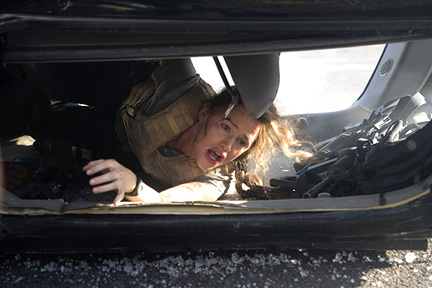 Jennifer Garner heads into dangerous Saudi territory in THE KINGDOM
THE KINGDOM (Peter Berg, 2007)
Opens Friday, September 28
http://www.thekingdommovie.com

After a horrific terrorist attack on an oil company family event in Riyadh, Saudi Arabia, kills and wounds hundreds of American men, women, and children, the FBI wants to go after the cell behind the vicious plot, but the attorney general (Danny Huston) denies their request because of the U.S. government's cozy relationship with the Saudis. But Special Agent Ronald Fleury (Jamie Foxx) figures out a way to buy a few days in Saudi Arabia with three of his fellow agents — bomb expert Grant Sykes (Chris Cooper), forensics examiner Janet Mayes (Jennifer Garner), and intelligence analyst and comic relief Adam Leavitt (Jason Bateman). Initially hamstrung by protocol, the four agents, watched closely by Col. Al Ghazi (Ashraf Barhom), start uncovering evidence that could potentially lead them to Abu Hamza (Hezi Saddik), one of the most feared terrorists in the world, while taking them into the most dangerous parts of Saudi Arabia. Written by Matthew Michael Carnahan (SOLDIER FIELD) and directed by Peter Berg — who makes a big jump from such family fare as FRIDAY NIGHT LIGHTS and THE RUNDOWN — THE KINGDOM, inspired by an actual attack by Saudi Hezbollah in Khobar in 1996, is a tense, gripping procedural that makes some cogent points about the state of the world post-9/11.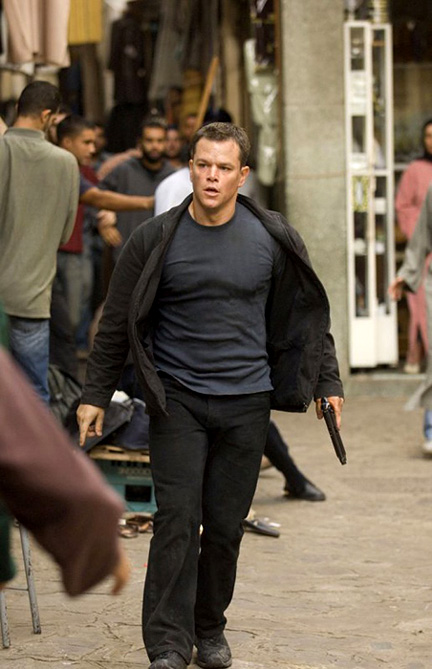 Matt Damon is looking for answers in THE BOURNE ULTIMATUM
THE BOURNE ULTIMATUM (Paul Greengrass, 2007)
In theaters now
http://www.thebourneultimatum.com

Still struggling to find out who he really is — and who was behind the top-secret program that turned him into a killing machine for the government — Jason Bourne (Matt Damon) is on the run again, spurred by a reporter (Paddy Considine) who has uncovered some classified information about the operation that might just lead Bourne to the answers he's been searching for. But Noah Vosen (David Strathairn), the head of a special government organization, is desperate to make sure Bourne doesn't find out anything — and that he ends up dead in the process. THE BOURNE ULTIMATUM, the last of three films based on the trilogy by Robert Ludlum, actually surpasses its predecessors, THE BOURNE IDENTITY (Doug Liman, 2002) and THE BOURNE SUPREMACY (Paul Greengrass, 2004), both of which were good. Greengrass (UNITED 93) ups the action quotient with breathless chases, well-choreographed fights, and nonstop suspense, including sensational scenes set in Tangiers, Paris, and New York City. Although it helps to have seen the first two films, it is not absolutely necessary. Joan Allen and Julia Stiles are back, with new additions Albert Finney and Scott Glenn. Moby contributes the song over the closing credits.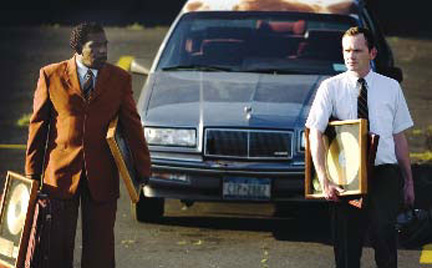 Martin and Clarence go for the gold in GREAT WORLD OF SOUND
GREAT WORLD OF SOUND (Craig Zobel, 2006)
Village East
181 Second Ave. at 12th St.
212-777-3456
http://citycinemas.moviefone.com

Craig Zobel's debut feature film is a smart, subtle comedy set in the somewhat shadier corners of the music industry. Desperately in need of money and jobs, soft-spoken Martin (Pat Healy) and rambunctious Clarence (Kene Holliday) become traveling salesmen for GWS, a small music company that auditions wannabes, then asks them to pay (up front) upwards of thirty percent of the costs of producing their own CD. As Martin and Clarence get better and better at their sales pitch, they become more and more suspicious of the whole endeavor as they are ordered by company founder Layton (Robert Longstreet) and his right-hand man, Shank (John Baker), to sign up the hopefuls regardless of their talent level. Using the Maysles brothers' outstanding documentary SALESMAN (1969) as a point of departure, Zobel adds the public's seemingly insatiable demand for reality-show stardom — all of the musical performers in the film believed they were auditioning to make records, not appearing in a fiction film, resulting in a series of wonderful unscripted scenes. (The filmmakers revealed their true intentions at the end of each audition.) Healy (UNDERTOW) and Holliday (who starred in such TV shows as MATLOCK and CARTER COUNTRY and is now an evangelical minister) make a great team, both in good times and bad, as they each attempt to better their life — much the way the wannabe musicians try to as well. GREAT WORLD OF SOUND is a terrific sleeper of a film that has been a film festival hit all over the world.
Richard Gere is on the hunt for a war criminal in THE HUNTING PARTY
THE HUNTING PARTY (Richard Shepard, 2007)
AMC Loews Lincoln Square 13
1998 Broadway at 84th St.
212-336-5020
Landmark Sunshine Cinema
143 East Houston St. between First & Second Aves.
212-330-8182
http://www.landmarktheatres.com/Market/NewYork/NewYork_frameset.htm
http://www.thehuntingpartymovie.com

Fearless reporter Simon Hunt (Richard Gere) and his trusty cameraman, Duck (Terrence Howard), have circumnavigated the globe, flying in the face of danger as they report on brutal wars in Iraq, El Salvador, Somalia, and other international hotspots. But when things hit too close to home in Bosnia, Hunt suffers a major meltdown, disappearing into the ether. Meanwhile, Duck settles into a comfy network studio gig. Five years later, covering the anniversary of the end of the war in Bosnia with smooth-talking anchorman Franklin Harris (James Brolin), Duck is suddenly visited by Hunt, who has a plan to track down and interview the Fox (Ljubomir Kerekes), a wanted war criminal who is still revered in some parts of the country. They are joined on the impossible mission by young reporter Benjamin (Jesse Eisenberg), the Harvard-educated nephew of a network VP who has no idea what he's getting himself into. Together they travel deep into Serb territory, risking their lives for a story that is much more complicated than any of them imagined. Inspired by an Esquire article based on actual events, THE HUNTING PARTY, written and directed by Richard Shepard (THE MATADOR), is an exciting — and very funny — political thriller, featuring excellent performances by the three leads in addition to an entertaining supporting cast of oddball characters. Gere is particularly outstanding, on quite a roll following this year's earlier fine turn as Clifford Irving in Lasse Hallström's THE HOAX.
ILLEGAL TENDER (Franc. Reyes, 2007)
AMC Empire 25
42nd St. between Seventh & Eighth Aves.
212-398-3939
http://www.illegaltendermovie.net

Clichéd characters, silly dialogue, predictable scenes, gaping plot holes, and ethnic stereotyping all combine to make the Latino gangster film ILLEGAL TENDER — enjoyable? You bet. Written and directed by Franc. Reyes (EMPIRE), ILLEGAL TENDER is anchored by a terrific performance from Wanda De Jesus as Millie De Leon, a single mother of two who has been on the run for more than twenty years, ever since her husband (Manny Perez) was gunned down in cold blood. Millie has tried to keep her sons from knowing about the past, but Wilson Jr. (Rick Gonzalez), now twenty-one, wants to find out the truth, thinking that nothing bad can possibly intrude on his pretty cool, supposedly safe life. But the more the 4.0 college student with a flashy car and a sweet, beautiful girlfriend (Dania Ramirez) learns, the further involved he gets in extremely dangerous territory, forcing him to reach deep inside himself to determine just how far he is willing to go to defend his family, which also includes endearingly cute younger brother Randy (Antonio Ortiz). But the revelation here is De Jesus, channeling Pam Grier. Look for Puerto Rican rap/Reggaetón star Tego Calderón, who also contributes to the soundtrack, as '70s throwback Choco.
THE INVASION (Oliver Hirschbiegel, 2007)
AMC Empire 25
42nd St. between Seventh & Eighth Aves.
212-398-3939
http://theinvasionmovie.warnerbros.com

Perhaps it's finally time for Hollywood to put Jack Finney's classic sci-fi novel to bed, where it can enjoy a peaceful sleep (uninterrupted by alien spores and giant pea pods). In 1956, Don Siegel's groundbreaking INVASION OF THE BODY SNATCHERS frightened a public already terrified of the Soviet Union. In 1978, Philip Kaufman's interpretation was an involving reaction to the Vietnam War and Watergate. In 1993, Abel Ferrara's BODY SNATCHERS turned the story into a militaristic nightmare. And now comes THE INVASION, which is about as cold and boring as any one of its changed characters. Set in Washington, DC, the film stars Nicole Kidman as Dr. Carol Bennell, a divorced mother who starts noticing something weird going on with her ex-husband, friends, and patients, as people no longer seem to be themselves. With the help of her best friend, Ben Driscoll (an utterly uninspiring Daniel Craig), and his colleague Stephen Galeano (a misused Jeffrey Wright), she is determined to stop the alien infestation while protecting her son, Oliver (Jackson Bond). German director Oliver Hirschbiegel (DOWNFALL), making his English-language debut, and first-time screenwriter David Kajganich comment on the Iraq war, government secrecy, Darfur, and Americans' dependence on mood-altering prescription drugs, but the filmmakers end up all over the place, losing their focus, especially as Bennell becomes more like Ripley (Sigourney Weaver) in ALIENS (James Cameron, 1986), fighting to save a child. (Rumors of production problems and reshoots are not difficult to understand.) However, here's our favorite touch: In the 1978 remake, Kevin McCarthy, who played Dr. Miles Bennell in the original 1956 film, has a cameo as a man stumbling through traffic, trying desperately to tell people what is happening, as if he has been running for twenty-two years; in this 2007 version, Veronica Cartwright, one of the stars of the 1978 version, plays a patient of Carol Bennell's who is scared because her husband seems to no longer be himself.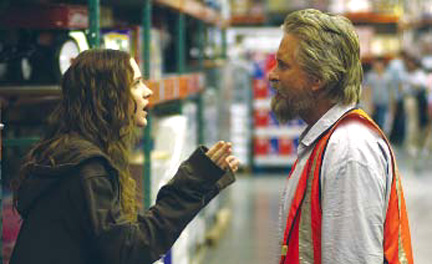 Michael Douglas and Evan Rachel Wood go on quite a quest in KING OF CALIFORNIA
KING OF CALIFORNIA (Mike Cahill, 2007)
AMC Empire 25
42nd St. between Seventh & Eighth Aves.
212-398-3939
Angelika Film Center
18 West Houston St. at Mercer St.
212-995-2000
http://www.city-cinemas.com/angelika
http://www.firstlookstudios.com/films/king

Sixteen-year-old Miranda (Evan Rachel Wood) is doing her best just to get by. With her mother long gone and her father (Michael Douglas) in a mental institution, she is desperately trying to save their house by dropping out of school and working extra shifts at McDonald's. But when her father, whom she calls Charlie instead of Dad, suddenly shows up at her doorstep declaring that he has broken a code in the memoirs of a sixteenth-century Spanish explorer that will lead them to buried treasure, she has to decide whether to believe him, humor him, or have him recommitted. His Quixote-like quest takes the two of them through the mallification of America, as nearly every stop along the way includes some corporate franchise. Wood (THIRTEEN, ONCE AND AGAIN), one of Hollywood's best young actors, is excellent as Miranda, a confused teenager forced to make some important decisions well beyond her years. Douglas, wild-eyed and bushy-faced and looking more and more like his father, Kirk, is full of surprises; the audience never knows what crazy thing he's going to do next. Written and directed by first-time filmmaker Mike Cahill, KING OF CALIFORNIA gets past some early muddled moments in which it is too happy with its own cleverness, but the last half hour or so is gripping and exciting.
MY BROTHER'S WEDDING (Charles Burnett, 1983)
IFC Center
323 Sixth Ave. at Third St.
Opens Friday, September 14
212-924-7771
http://www.milestonefilms.com/movie.php/brother

Following the breakout success of the 2006 release of Charles Burnett's remarkable KILLER OF SHEEP (1977), Milestone Films is now releasing a restored and digitally reedited version of Burnett's poignant MY BROTHER'S WEDDING. Everett Silas stars as Pierce Mundy, a ne'er-do-well slacker who loafs around in his parents' dry-cleaning store, waits for his best friend, the smooth-talking Soldier (Ronnie Bell), to get out of jail, and resents that his brother, Wendell (Dennis Kemper), has become a successful lawyer and is preparing to marry the snobby Sonia (Gaye Shannon-Burnett, the director's real-life wife). As he did with KILLER OF SHEEP, Burnett (TO SLEEP WITH ANGER) sets the film in Watts, where poor black families struggle to make a go of it in the shadow of ritzy Los Angeles. Although Pierce never seems to make the right decision, his choices are limited, but that doesn't stop Burnett from coming up with some very droll, funny scenes. Shot in color (KILLER OF SHEEP was made in black and white), MY BROTHER'S WEDDING is another low-budget treasure from a vital director who is vastly underrecognized.
MY BEST FRIEND (MON MEILLEUR AMI)
(Patrice Leconte, 2006)
Lincoln Plaza Cinemas
1886 Broadway between 62nd & 63rd Sts.
212-757-0359
http://lincolnplaza.moviefone.com
http://www.monmeilleurami-lefilm.com

The great and suddenly ubiquitous Daniel Autieul is a goofy delight in Patrice Leconte's lightweight but fun MY BEST FRIEND. Auteuil stars as François, a successful antique dealer who is surprised to suddenly discover that no one likes him. His business partner, Catherine (Julie Gayet), bets him that he won't be able to prove that he has a best friend. Given ten days, François sets out to find someone he can call his best friend, with pathetically funny results. Desperate, he hires Bruno, a gregarious cabdriver (Dany Boon, who also stars in THE VALET), to show him how to be nice to people and make friends. Leconte, the director of such acerbic comedies as THE HAIRDRESSER'S HUSBAND and RIDICULE as well as such powerful dramas as INTIMATE STRANGERS and THE WIDOW OF ST. PIERRE, aims low but hits high with this charming, if silly, little film. Add half a star if you can't get enough of Autieul.
NO END IN SIGHT (Charles Ferguson, 2007)
Lincoln Plaza Cinemas
1886 Broadway between 62nd & 63rd Sts.
212-757-0359
http://lincolnplaza.moviefone.com

Be prepared to get very angry. First-time filmmaker Charles Ferguson looks at the past, present, and future of America's occupation of Iraq in the mind-blowing documentary NO END IN SIGHT. Examining specific policies and their effects — permitting the looting of Baghdad, disbanding the Iraqi army, and more — Ferguson presents such experts as Deputy Secretary of State Richard Armitage; Ambassador Barbara Bodine; Gen. Jay Garner, administrator for the Office of Reconstruction and Humanitarian Assistance; Robert Hutchings, chairman of the National Intelligence Council; Col. Lawrence Wilkerson, chief of staff to Secretary of State Colin Powell; Col. Paul Hughes, director of Strategic Policy for the U.S. Occupation; and other former and current military personnel, journalists, UN advisers, and others with direct involvement in what is happening in Iraq. Ferguson lets them speak for themselves, and their insights and experiences reveal what went wrong — and continues to go wrong — there, and the answer is not too surprising. Despite myriad warnings, the Bush administration shut its eyes and ears and proceeded with a poorly thought out plan doomed to fail, including providing a scarcity of needed resources for the troops, de-Baathifying the country, and allowing partisan groups access to munitions dumps, all of which fueled the violence and disorder that engulfs Iraq today.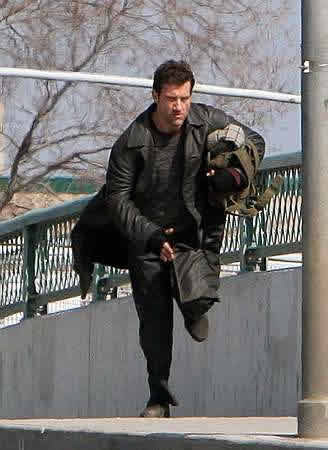 Clive Owen has violently good fun as 007's alter ego
SHOOT 'EM UP (Michael Davis, 2007)
In theaters now

Clive Owen might not have been chosen as the next James Bond, but he gets to play quite the hero ­— nearly the opposite of 007 — in Michael Davis's riotously funny and hysterically violent SHOOT 'EM UP. Owen stars as Mr. Smith, a haggard, homeless dude who unwittingly finds himself in a rather bloody mess, on the run with lactating hooker DQ (Monica Bellucci) trying to protect a baby from the villainous Hertz (a scenery-chewing Paul Giamatti) and dozens and dozens and dozens and dozens and dozens of hired assassins. Smith constantly munches on carrots — not only to preserve his eyesight but to convert them into weapons as necessary — and uses guns in wild and wacky ways, not merely to shoot the bad guys. Paying homage to the spaghetti Westerns of Sergio Leone and Clint Eastwood, Sam Peckinpah's THE WILD BUNCH and STRAW DOGS, the Bond films, Quentin Tarantino's KILL BILL, Joel and Ethan Coen's RAISING ARIZONA, John Woo's HARD-BOILED (the most direct influence), and even Alfonso Cuarón's CHILDREN OF MEN (in which Owen protects the world's first pregnant woman in a generation), Davis creates some of the most inventive, remarkable shootouts ever filmed, one following another in an endless parade of bullets — more twenty-five thousand, according to the production notes, resulting in fifteen gallons of blood. The plot makes little sense, but that doesn't really matter; the action's the thing, and it's a thing of beauty.
THE SIMPSONS MOVIE (David Silverman, 2007)
AMC Empire 25
42nd St. between Seventh & Eighth Aves.
212-398-3939
Village East
181 Second Ave. at 12th St.
212-777-3456
http://citycinemas.moviefone.com

In 1999, Comedy Central's SOUTH PARK hit the big screen, announcing it was "Bigger Longer & Uncut." After eighteen years, perennial Fox favorite THE SIMPSONS has finally gone bigger and longer as well, although not nearly as uncut. (However, it does include the hysterical appearance of Bart's little willie in addition to a few hints of bestiality and other family-friendly no-nos.) After Grandpa Abe has an apocalyptic vision at church, Homer adopts a pig (don't ask) and eventually creates an environmental disaster that devastates Springfield, leading President Arnold Schwarzenegger (voiced by Harry Shearer) and EPA head Russ Cargill (Albert Brooks) to place the town in a dome, cutting it off from the rest of the world. Forced to flee in a FRANKENSTEIN-like manner, the Simpsons make a run for it, but can they leave their beloved Springfield behind? Directed by longtime SIMPSONS team member David Silverman and written by nearly a dozen regulars (including co-executive producer James L. Brooks and creator Matt Groening), the movie starts out impressively, much like the TV series did, then gets confused along the way, much like the TV series did, and then devolves into some ridiculous scenarios, much like the TV series does now. THE SIMPSONS always worked better the more realistic it was, so things do get out of hand here. Although not a blockbuster, THE SIMPSONS MOVIE is still an entertaining hour and a half that is more than just a very long episode; it has bigger ideas, a grander look, Green Day playing the theme song, and numerous self-referential jokes to ensure that you don't feel like you're sitting on your couch on Sunday night. Nearly all the regulars make at least a cameo appearance, and maybe, just maybe, Maggie speaks. The jokes continue through the closing credits.
2 DAYS IN PARIS (Julie Delpy, 2007)
Angelika Film Center
18 West Houston St. at Mercer St.
212-995-2000
Lincoln Plaza Cinemas
1886 Broadway between 62nd & 63rd Sts.
212-757-0359
http://lincolnplaza.moviefone.com
http://www.city-cinemas.com/angelika
http://www.2daysinparisthefilm.com

Julie Delpy's delightful debut, 2 DAYS IN PARIS, is a true DIY indie, with Delpy serving as writer, director, editor, star, composer, soundtrack performer, and one of the producers. Delpy plays Marion, a flitty Frenchwoman who decides to bring her boyfriend of two years, Jack (a heavily tattooed Adam Goldberg), to spend two days with in her hometown in Paris as a stopover on their way from Venice to their apartment in New York City. But spending forty-eight hours with Marion's family (Delpy's real-life parents, Albert Delpy and Marie Pillet, and sister, Alexia Landeau) and bumping into a seemingly endless stream of Marion's former boyfriends while not understanding a word anyone is saying might be a bit much for Jack, an interior designer whose own insides are rife with stomach problems and migraines. 2 DAYS IN PARIS is Delpy's ANNIE HALL (Woody Allen, 1977), an engaging film filled with slapstick humor, inventive characters, and underlying truths about love and life.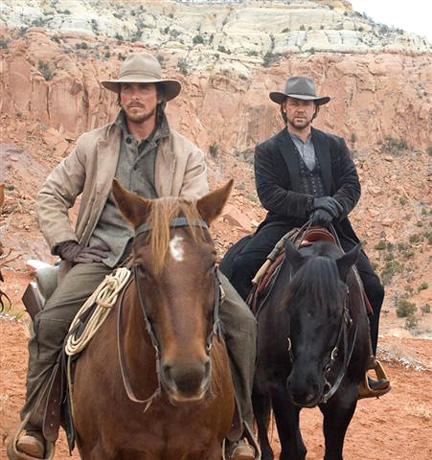 Christian Bale and Russell Crowe are on opposite sides of the law in remake
3:10 TO YUMA (James Mangold, 2007)
In theaters now

James Mangold's remake of Delmer Daves's 1957 Western 3:10 TO YUMA starts out promising but ultimately delves into the wholly ludicrous. Christian Bale stars as Ben Evans, a hobbled Civil War vet who is about to lose his ranch — and the respect of his wife (Gretchen Mol) and kids (Logan Lerman and Benjamin Petry). Desperate for money, he signs on to help transport vicious killer Ben Wade (Russell Crowe) on a dangerous three-day journey from Bisbee to Contention, where Wade will be sent straight to prison on the 3:10 train to Yuma. But even handcuffed, Wade is a dangerous criminal and a more-than-worthy adversary; meanwhile, his villainous crew, led by the brutally evil Charlie Prince (Ben Foster), has set out to rescue him, killing all who get in their way. Based on an Elmore Leonard story, the film gets muddled quickly, with far too much of the action beyond belief. Why don't they just tie up Wade's arms and legs, or at least cuff him behind his back? How many hundreds of bullets does it take to miss easy targets? By choosing to focus more on the transporting of Wade — which was not the center of the 1957 original, which starred Glenn Ford as Wade, Van Heflin as Evans, and Richard Jaeckel as Charlie Prince — Mangold (HEAVY, WALK THE LINE) has turned the film into an annoying chase flick lacking in real drama. But it's always fun seeing Peter Fonda, here playing grizzled Pinkerton detective Byron McElroy.
THE ABSOLUTELY TRUE DIARY OF A PART-TIME INDIAN by Sherman Alexie (Little, Brown, September 12, 2007, $16.99)
http://www.hachettebookgroupusa.com

Award-winning author (FLIGHT, RESERVATION BLUES), screenwriter (SMOKE SIGNALS), director (THE BUSINESS OF FANCYDANCING), songwriter ("Small World"), and poet (FIRST INDIAN ON THE MOON) Sherman Alexie's first young-adult novel is a marvelous tale of a young Indian boy who goes against his people by choosing to attend an all-white school instead of the one on the reservation. But fourteen-year-old Arnold Spirit Jr. is no ordinary kid; instead, he is the ultimate nerd, destined to get beat up wherever he goes. Born with hydrocephalus (water on the brain) and forty-two teeth, Arnold suffers from seizures, is nearsighted in one eye and farsighted in the other, and has both a stutter and a lisp. His father's a drunk, his sister gave up on life and lives silently in the basement, and his family is dirt poor. He's also very smart, loves to draw, and, somehow, is a good basketball player. So when he starts attending Reardan and immediately falls for the beautiful Penelope, he meets resistance from both sides, as the Indians on the rez resent and reject him, and the whites in the new school — well, they have no idea what to make of him, other than classifying him as a stereotypical Native American. But little Arnold perseveres, in remarkable ways. Based on Alexie's actual life — the book started out as part of his memoirs — THE ABSOLUTELY TRUE DIARY OF A PART-TIME INDIAN is one of those books that makes you glad to be alive, written with a compelling self-deprecating sense of humor, accompanied by Ellen Forney's wonderfully wacky illustrations. Although ostensibly about one young Indian boy, it is about everyboy, any child who has felt different, like they didn't belong. It's a masterful book, a must-read for adults and children alike.

Riff's Rants & Raves: Music & More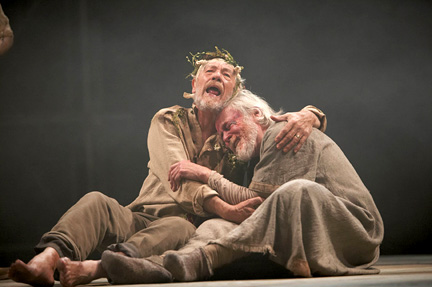 Manual Harlan
Sir Ian McKellen stars as King Lear in Royal Shakespeare Company production
KING LEAR
Brooklyn Academy of Music
BAM Harvey Theater
651 Fulton Street between Ashland Pl. & Rockwell Pl.
Through September 30
Tickets: $30-$90
718-636-4100

The Royal Shakespeare Company's production of KING LEAR, directed by Trevor Nunn and starring Ian McKellen as the mentally deteriorating father betrayed by two of his daughters, is everything that it should be — and more. McKellen lets it all hang out as the wild-eyed and bushy haired king, loud and boisterous in the first act, marvelously subtle and subdued in the second. Having banished the Earl of Kent (an outstanding Jonathan Hyde, in memorably deep Shakespearean voice) for supposed disloyalty and rejected his youngest daughter, Cordelia (Romola Garai), for not publicly declaring her love for her father, Lear divides his kingdom between Goneril (usually Frances Barber but played by a very strong Melanie Jessop at the matinee performance we saw) and her husband, the Duke of Albany (Julian Harries), and Regan (Monica Dolan) and her betrothed, the Duke of Cornwall (Guy Williams). Meanwhile, the Earl of Gloucester (William Gaunt) has banished his trusting son, Edgar (Ben Meyjes), in favor of his conniving bastard child, Edmund (Philip Winchester), who seeks to bed both Goneril and Regan in his grab for power. And the family dysfunction only gets worse as Lear's faculties continue to fail, leaving him blind to the betrayal and treachery that surround him, leading to unspeakable brutality and untimely death. Nunn's staging literally shakes the rafters of BAM's Harvey Theater in this thrilling production of one of the Bard's greatest tragedies. McKellen is marvelous in the lead role, especially late in the second act, as he starts to realize just what he's done, turning his rage into harrowing sorrow. KING LEAR is being performed in repertory with Chekhov's THE SEAGULL through September 30.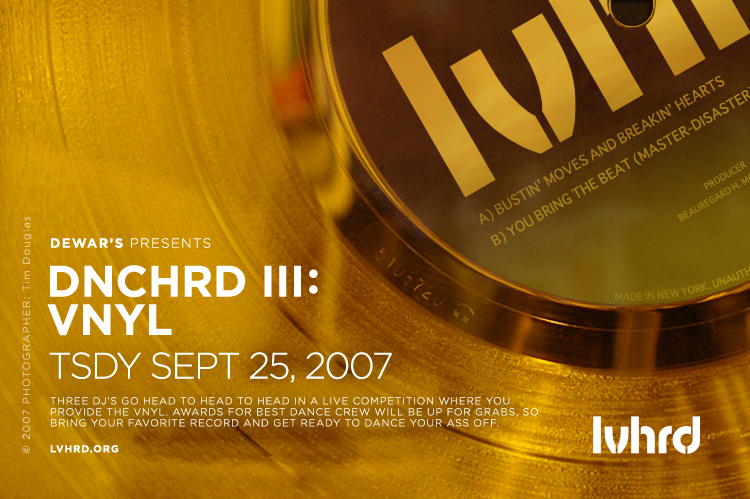 DNCHRD III: VNYL
Location TBA
Tuesday, September 25, 8:00
Tickets: $11 members, $22 nonmembers
LVHRD stages ultracool events seeking to "unite creative individuals that have a passion for change, a willingness to succeed, and the determination to overcome conventions." Announcing the locations of their unique events only at the last minute, LVHRD often makes the audience part of the program, from architectural battles to karaoke throwdowns, from beach invasions to vending-machine eating competitions. LVHRD's next event is the Master-Disaster DNCHRD III: VNYL, pitting three DJs — DJ Elhaam, Robot Blair, and a third TBD — in a monster turntable match in which they must use vinyl albums given to them by the audience. A dance party is expected to break out as well. The event will be held in Williamsburg; ticket holders will be given the exact location the day of the match.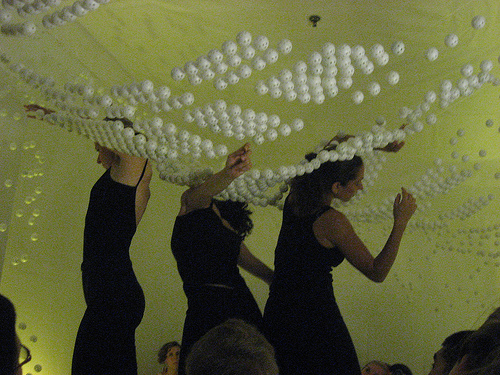 twi-ny/mdr
human kinetics will take their show outdoors for WATER III
WATER III
Empire-Fulton Ferry State Park, Washington Street & East River
Saturday, September 29, 12 noon & 2:30
Hudson River Park, Pier 49, Hudson River at Bank St.
Sunday, September 30, 1:00 & 4:00
Admission: free
Human kinetics movement arts, which recently gave a bravura performance as part of the Lower Manhattan Cultural Council's "Choreographing Space" series, will be performing two site-specific sculptural installations in Empire-Fulton Ferry Park in DUMBO and Hudson River Park at Pier 49, inspired by the movement of the sea, featuring dancers Grace Eichinger, Akiko Bo Nishijima, Eva Perrotta, Kristina Skovby, Juliana Tilbury, and Hiroko and Artistic Director Yana Schnitzler.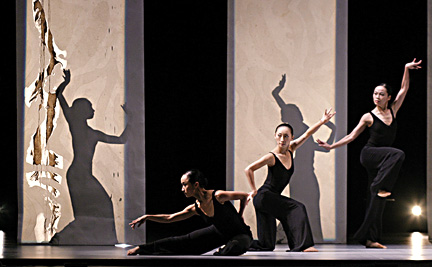 LIN Ching-yuan
WILD CURSIVE trilogy concludes at BAM
WILD CURSIVE
BAM Next Wave Festival
BAM Howard Gilman Opera House
30 Lafayette Ave.
October 2-7
Tickets: $20-$60
718-636-4100
The Cloud Gate Dance Theatre of Taiwan returns to BAM to complete its Cursive trilogy with WILD CURSIVE, a seventy-minute piece choreographed by founder and artistic director Lin Hwai-min. The troupe was last at BAM in November 2003, performing the beautiful and exquisite MOON WATER, which featured a truly memorable finale involving mirrors and water. Lin will also be in town for a pair of talks, one at BAM and another at the Asia Society.
Thursday, October 4 BAMdialogue with Lin Hwai-min, BAM Rose Cinemas, $8, 6:00
VIEWPOINTS LIN HWAI-MIN AND CLOUD GATE DANCE THEATRE OF TAIWAN
Asia Society and Museum, New York Auditorium
725 Park Ave. at 70th St.
Tickets: $15
212-327-9385
Wednesday, October 3 Choreographer of WILD CURSIVE, which opens BAM's twenty-fifth Next Wave Festival, in conversation with Rachel Cooper, 6:30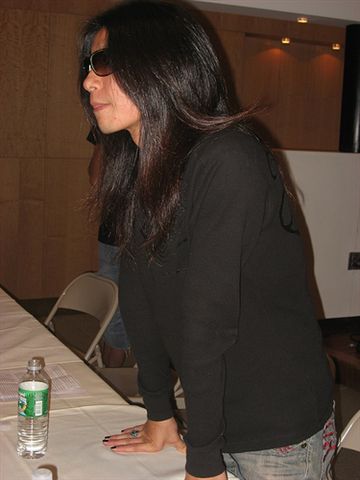 twi-ny/mdr
Freddy Lin talks about Taiwan and the UN at press conference
CHTHONIC
Highline Ballroom
431 West 16th St. between Ninth & Tenth Aves.
Sunday, September 16
http://www.highlineballroom.com
http://www.myspace.com/chthonictw
"As a musician, I am here to make noise for my fans," Freddy Lin, lead vocalist of the Taiwanese death metal band ChthoniC, said at a press conference held September 12 in the Taiwan Economic and Cultural Office on East 42nd St. While traveling across the States as part of Ozzfest, ChthoniC has been singing the praises of its native Taiwan and calling for its acceptance into the UN. "At our concerts, the fans show their anger toward those politicians in the United Nations by shouting and even cursing....I wonder when we can realize the dream society of true equality."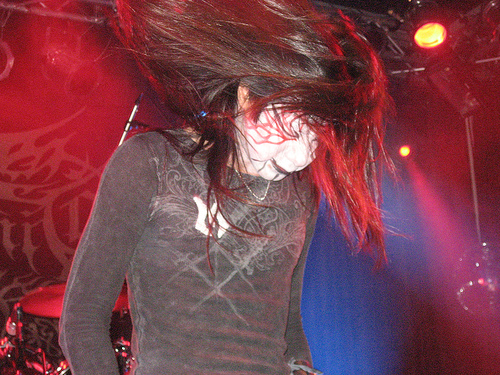 twi-ny/mdr
Freddy Left Face of Maradou leads ChthoniC at Highline Ballroom
In addition to playing Ozzfest, ChthoniC has been headlining clubs with its own UNlimited tour, which made a stop at the Highline Ballroom on September 16. ChthoniC, named after a Greek word for "earth" that relates to the underworld, played a torrid set of screaming death metal at the Chelsea venue, including their newly penned theme song, "UNlimited Taiwan." Costumed in Gothic outfits and wearing their trademark painted faces, guitarist Jess the Infernal, bassist Doris Thunder Tears, keyboardist CJ Dispersed Fingers, drummer Dani Azathothian Hands, erhu player Su-Nung the Bloody String, and singer Freddy Left Face of Maradou powered their way through a fierce set, pumping their fists and twirling their hair as they tore through songs from their latest album, RELENTLESS RECURRENCE (Deathlight Records, June 2007), and other crowd favorites. The tour ends September 22 in Vermont; Freddy hopes they have made an impact on American audiences. "Please support a democratic Taiwan and let the Taiwanese citizens share the same rights as your citizens in the international community," he said at the September 12 press conference. "Don't let us down."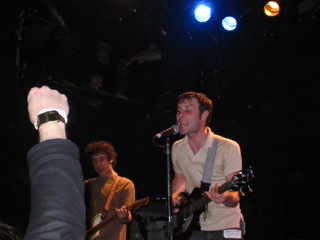 twi-ny/ees
Black Lips will get fists pumping again with new album
BLACK LIPS
Bowery Ballroom, September 18, 8:00
Music Hall of Williamsburg, 66 North Sixth St., September 19, $15, 8:00
http://www.myspace.com/theblacklips
One of our favorite live bands, Atlanta's Black Lips, will be celebrating the release of their latest album, GOOD BAD NOT EVIL (Vice, September 2007), with two shows in New York City, with the Selmanaires at Bowery Ballroom on September 18 and with the Selmanaires and the Imaginary Icons at the Music Hall of Williamsburg on September 19. The new album continues their tradition of being their own Nuggets compilation, with raucous, rowdy songs that are only a little less sloppy now that they're on Vice. Tunes like "I Saw a Ghost (Lean)," "Veni Vidi Vici," and "Navajo" really kick ass, and Cole, Jared, Ian, and Joe have sly fun with "How Do You Tell a Child That Someone Has Died," "Cold Hands," and the excellently titled "Slime and Oxygen." But "Bad Kids" pretty much sums up this fabulously frantic group, who also offer their own shout-out to New Orleans with "O Katrina." The Black Lips are an outrageous live band, sweating, spitting, breaking things, tongue kissing each other, and just having a monster good time. You will too.
twi-ny/mdr
The Holmes Brothers rock 7WTC as part of free series
MUSIC DOWNTOWN
7 World Trade Center plaza
Greenwich & Barley Sts.
Admission: free
The excellent Music Downtown series began with Illinois, Old 97's, and the Hold Steady on September 17 and McCarthy Trenching, Victoria Williams, and M. Ward on September 18, held in the plaza outside 7 World Trade Center, in the shadow of Ground Zero. Olabelle opened the September 19 show, playing a tantalizing set of folk, soul, and blues featuring tunes from 2006's RIVERSIDE BATTLE SONGS and their eponymously titled 2004 debut. Amy Helm and Fiona McBain alternated between lead vocals and beautiful background harmonies on such powerful songs as "Butcher Boy," "Soul of a Man," and "Riverside," with Byron Isaacs on bass and dobro, Tony Leone on drums, and Glenn Patscha on keyboards, with all three taking turns on vocals as well. (Patscha held nothing back on the gospel blues "Get Back Temptation.") The Holmes Brothers followed, playing a triumphant set of R&B and soul featuring guitarist Wendell Holmes, bassist Sherman Holmes, and drummer Willie "Popsie" Dixon, with all three sharing lead vocals, sometimes on the same song, as on the stellar opener, an intoxicating version of "Amazing Grace." They also played such hot originals as "Close the Door," "Gasoline Drawers," and "Three Gray Walls" from their latest CD, STATE OF GRACE, in addition to "I'm So Lonely" from 2004's SIMPLE TRUTHS and a crowd-pleasing "Jesus Is on the Mainline" to close the set. British songster Nick Lowe ended the night with an acoustic solo performance of songs from throughout his career, from his days in Rockpile up to his latest release, the well-received AT MY AGE. Lowe was earnest and polite as he played such new tunes as "I Trained Her to Love Me" and "Hope for Us All" as well as such crowd favorites as "Cruel to Be Kind," "Heart," "I Knew the Bride (When She Used to Rock 'N' Roll)" and "(What's So Funny 'Bout) Peace, Love and Understanding," but he never quite took off, a bit of a letdown after the powerful sets by Olabelle and the Holmes Brothers. Lowe began to show signs of life on the final encore, "Seven Nights to Rock," but that was too little, too late. Still, it was another cool night of free music sponsored by Wall Street Rising and put together by impresario Michael Dorf.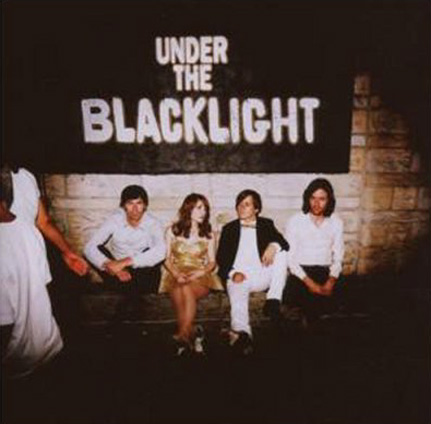 RILO KILEY
Webster Hall
125 East Eleventh St. between Third & Fourth Aves.
September 22 & 23
Tickets: $25

One of indie pop's latest darlings is L.A.'s Rilo Kiley, whose latest album, UNDER THE BLACKLIGHT (Warner Bros., August 2007), has landed them on magazine covers and on the charts. The new record opens with the pure pleasure of "Silver Lining" and the deliciously infectious beat of "Close Call," kicking off a collection of '70s-centric pop that revels in its retroness. The band's major-label breakthrough talks about gold, money, greed, and getting rich, as if they knew this was their chance, and while success has indeed come, the music stands up to it all. "It's in my hands," Jenny Lewis sings on the groovy New Wave tune "The Moneymaker." Rilo Kiley is often compared to Fleetwood Mac, really more because of the romantic intrigue within the band than for their actual songs, although you could mistake the chorus of the title track and "Dreamworld" for Mac. Lead singer Lewis used to be an item with lead guitarist Blake Sennett, but Lewis's recent solo album kicked Sennett's solo record's ass, and Sennett, who used to write all the songs with Lewis, cowrote only one on the new disc — "Breakin' Up," of course — as many as Johnathan Rice, Lewis's live-in lover and opening act on the current tour. Despite the inner turmoil, the band forges ahead, with drummer Jason Boesel and bassist Pierre "Duke" de Reeder, through ditties that also touch on prostitution and pedophilia while throwing in a horn section here, a Theremin solo there. Rilo Kiley will be in New York City for two sold-out shows at Webster Hall, featuring Johnathan Rice and Grand Ole Party the first night and Rice and Art in Manila the second.
THURSTON MOORE
Maxwell's, 1039 Washington St., Hoboken
Monday, September 24, 9:00, $17
201-653-1703
Music Hall of Williamsburg
66 North Sixth St.
Wednesday, September 26, 8:00, $17
212-260-4700
http://www.musichallofwilliamsburg.com
http://www.sonicyouth.com/dotsonics/thurston

On his first solo album since 1995's PSYCHIC HEARTS, Sonic Youth's Thurston Moore went up north to J Mascis's Bisquiteen home studio in Amherst, Massachusetts, cutting tracks that show off his diversity. The result, TREES OUTSIDE THE ACADEMY (Ecstatic Peace, September 2007), combines pure pop craft with folk and feedback, creating a youthful sonic melange. Sticking primarily to acoustic guitar, bass, and vocals, Moore lets Mascis dig in for some hot leads on "Frozen Gtr," "The Shape Is in a Trance," and the driving instrumental title track; the latter two songs also feature lilting violins from Samara Lubelski. The gorgeous guitar line of "Honest James," as sweet as a summer day, evokes BLOOD ON THE TRACKS-era Dylan, with beautiful backing vocals by Christina Carter. Moore, who brings along Sonic Youth drummer Steve Shelley for most of the album, does strap on the electric a few times, and he plays haunting Gothic piano on "American Coffin." Poetic lyrics such as "Pearl meets light and light gets lost / but that's all right for the holy frost of the day / it's safe to stay," from "Silver>Blue," mix well with Moore's dark-edged humor, as on the the effervescent "Fri/end," in which he sings, "O how I love the smell of yr charred remains / nothing better than to meet you sweetheart in severed chains / O it's love forever / and yeh I'll always be yr friend / and yeh at least just till the end." And for those who like the less-melodic side of SY, Moore throws in some good old-fashioned noise into the middle of "Off Work" and the thirty-seven-second-long "Free Noise Among Friends." He'll be playing two area shows (with Shelley and Lubelski in tow) in support of TREES OUTSIDE THE ACADEMY, at Maxwell's on September 24 and the Music Hall of Williamsburg on September 26, with Carter as the opening act.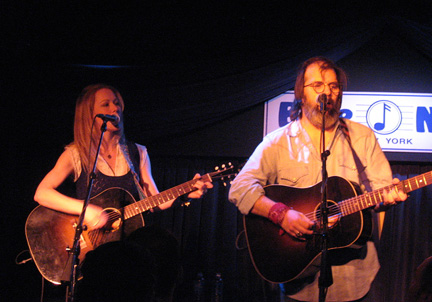 twi-ny/mdr
Husband and wife Steve Earle and Allison Moorer team up again
STEVE EARLE / ALLISON MOORER
The Town Hall
123 West 43rd St. between Sixth Ave. & Broadway
Wednesday, September 26
Tickets: $25-$35
212-608-0555
http://www.the-townhall-nyc.org
Back in March, we caught activist rocker Steve Earle and his wife, Allison Moorer, making their debut at the Blue Note, which is not far from their apartment. They'll be heading to Midtown for this concert at Town Hall, where Earle will be playing songs from his brand-new record, WASHINGTON SQUARE SERENADE (New West, September 2007), which features such tracks as "Tennessee Blues," "Satellite Radio," "City of Immigrants," "Oxycontin Blues," and a cover of Tom Waits's "Way Down in the Hole." Moorer will be opening the show, and there each likely to join the other during their respective sets.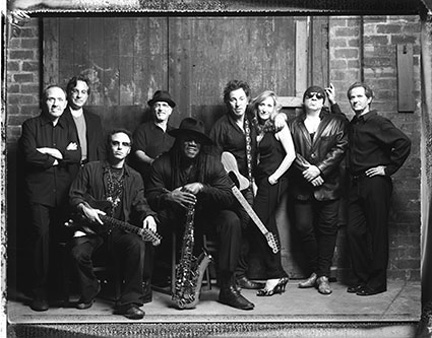 Bruce and the E Street Band are back with biggest and best album in decades
BRUCE SPRINGSTEEN: MAGIC
Vinyl: September 25
CD: October 2
E Street Radio: Sirius Radio, Channel 10, September 27
Today show, Rockefeller Center: September 28, 7:00
Rehearsal show, Continental Airlines Arena: September 28
Continental Airlines Arena: October 9-10
Madison Square Garden: October 17-18
http://www.brucespringsteen.net

"I was trying to find my way home," Bruce Springsteen announces at the beginning of "Radio Nowhere," the opening song of his stunning new record, MAGIC (Sony, October 2, 2007), his first studio album with the E Street Band since 2002's politically charged THE RISING. Home figures prominently in several songs on the album (even though it was recorded in Atlanta, not New Jersey), on which Springsteen returns home with his biggest rock-and-roll record in more than two decades. Bruce pulls more than a few rabbits out of his hat on the disc, produced by Brendan O'Brien with a deeply layered, exuberant wall of sound that explodes from the speakers. O'Brien mixes in various bells and whistles — actually, horns, chimes, percussion, and other subtle additions — to the three-guitar attack of Springsteen, Nils Lofgren, and Steve Van Zandt, Roy Bittan's sweet keyboards, Danny Federici's soaring organ, and Clarence Clemons's sax, anchored by Max Weinberg's solid drumming and Garry W. Tallent's marvelous bass.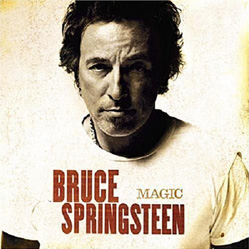 MAGIC features Springsteen's biggest and best songwriting since 1975's BORN TO RUN; in fact, in many ways it is his mature follow-up to the record that made him famous. He recalls that album directly on "Livin' in the Future," a musical cousin to "Tenth Avenue Freeze-Out," but where the latter song details the beginnings of a promising relationship, the former involves a couple who are trying to avoid their inevitable break-up somewhere down the road in an ever-changing American landscape. Kicking off with a searing harmonica and lifted by ear-ringing guitars and Tallent's ecstatic bass, "Gypsy Biker" is a massive war epic in the sonic spirit of "Thunder Road," but the earlier song's youthful exuberance is shattered here by a stark reality: "Two dead, and it don't matter much who's wrong or right," Springsteen sings. A voracious reader, Springsteen evokes Irwin Shaw's classic short story "Girls in Their Summer Dresses," about a man whose roving eye gets him in trouble with his wife, on "Girls in Their Summer Clothes," bathed in a feel-good early '60s-era Phil Spector sound. Springsteen is not afraid to continue his antiwar stance on MAGIC, most prominently on "Last to Die," which picks up where "Roulette" left off in 1978 (it was originally recorded for DARKNESS ON THE EDGE OF TOWN but released much later); a family is on the run, not wanting to be "the last to die for a mistake," but in this case they are not running away from a nuclear accident but from a brutal war in which bodies are just stacked up outside the door. Springsteen also includes such regular themes as religion and spirituality ("I'll Work for Your Love"), coming back from battle ("Long Walk Home," "Devil's Arcade"), and undying friendship ("Terry's Song," a late-added acoustic number written for the recent funeral of longtime friend Terry Magovern). On the moody, starkly intimate title track, Springsteen, who just turned fifty-eight, sings in a near whisper, declaring, "Trust none of what you hear / and less of what you see / This is what will be." More than thirty years into a storied career, and after fascinating forays into a number of exciting and very different musical styles, Bruce has returned home.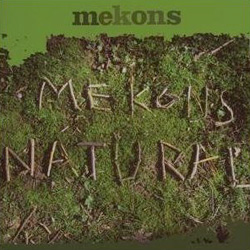 A QUIET EVENING IN WITH THE MEKONS:
A THIRTIETH ANNIVERSARY CELEBRATION
Blender Theater at Gramercy
127 East 23rd St. at Lexington Ave.
Wednesday, October 3, 7:00
Tickets: $20
http://www.mekons.de/mekonhom.htm

In celebration of their thirtieth anniversary, the Mekons are touring behind NATURAL (Quarterstick, August 2007), their first record of new material in five years. NATURAL finds the Mekons returning to their roots, combining dark, poetic lyrics with music that harks back to their early years. Most of the songs take place on the sea, in the fields, on mountains, and in the forest, the natural environment struggling to survive while Armageddon waits in the distance. "You don't have to believe in the end / You have to believe this is the end," Timms sings on "Cockermouth," which even name-drops Henry David Thoreau. Tom Greenhalgh's vocals drive "Burning in the Desert Burning" as she sings, "Coloured flags out in the street / Burning, in the desert burning / Martyrs queuing up for heaven / Burning, in the desert burning / Children queuing up for hell / Burning, in the desert burning / Somewhere out where the line ends / A lone rose." On this tour, Rico Bell, Sarah Corina, Lu Edmonds, Steve Goulding, Susie Honeyman, Jon Langford, Greenhalgh, and Timms will be performing songs from throughout their storied career, which includes one of the greatest six-year periods in the history of pop music, with FEAR AND WHISKEY (1985), EDGE OF THE WORLD (1986), HONKY TONKIN' (1987), SO GOOD IT HURTS (1988), ROCK N' ROLL (1989), and THE CURSE OF THE MEKONS (1991). Their live shows are always a hoot, with sea shanties, country anthems, Celtic punk, folk, and even some medieval balladry. "Treasure the memories when all else fails," they declare on "Dickie, Chalkie, and Nobby (Young Men in Peacetime)"; even after three decades, the Mekons are demonstrating that there are still more memories to come from this treasure of a band.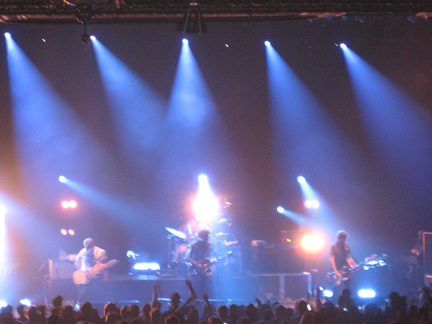 twi-ny/mdr
Bloc Party is back in the Big Apple
BLOC PARTY
The Theater at Madison Square Garden
Wednesday, October 3
Tickets: $37.50
We caught the British quartet Bloc Party, one of 2005's hottest and best bands, earlier this year when they played the first-ever rock shows at the United Palace Theater on 174th & Broadway. On March 31, BP filled nearly every inch of the place with pulsating dance rock that instantly drove the packed house into a worshipful frenzy. Bolstered by an at-times-blinding light show, BP played songs off both its albums, the excellent debut SILENT ALARM and the disappointing follow-up A WEEKEND IN THE CITY. Live, the revamped, guitar-heavy sound worked better than on the record, especially on opener "Song for Clay (Disappear Here)" and "Waiting for the 7.18," although nothing can save the execrable "Hunting for Witches" and the overblown "Uniform." Engaging lead singer Kele Okereke pranced about the stage with a huge smile on his face, leading BP through a highly competent, brisk set that included fun versions of "Banquet," "This Modern Love," set closer "Like Eating Glass," and appropriate finale "Helicopter," in which Okereke preaches, "Are you hoping for a miracle?" Bloc Party will be back in New York for a show at the Theater at Madison Square Garden, with opening acts Tokyo Police Club and Smoosh.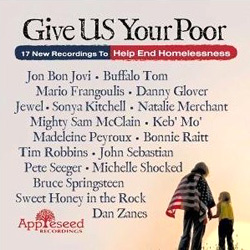 GIVE US YOUR POOR (Appleseed Recordings, September 25, 2007)
http://www.appleseedrec.com/giveusyourpoor

Celebrating his label's tenth anniversary, social activist Jim Musselman of Appleseed Recordings has put together a talented roster of musicians to raise money for Give US Your Poor, an organizations that helps fight homelessness across the country. The album gets to the point right away with "Land of 10,000 Homeless — Minnesota," featuring the words of homeless people in Minneapolis set to music. On the nineteen-track disc, Jon Bon Jovi goes gospel with Mighty Sam McClain on "Show Me the Way," Keb' Mo' gets bluesy with Eagle Park Slim on "Baby Don't Let Me Go Homeless Tonight," Bruce Springsteen gets folksy with Pete Seeger on "Hobo's Lullaby," Sonya Mitchell gets whispery on "So Lonely," Bonnie Raitt gets funky with Weepin' Willie Robinson on "Walkin' the Dog," and Dan Zanes gets metaphorical with eleven-year-old Kyla Middleton on "Boll Weevil." The album also features fine contributions from Natalie Merchant on "There Is No Good Reason" (with six formerly homeless individuals, including teenager Nichole Cooper, who wrote the song), Michelle Shocked with Michael Sullivan, Buffalo Tom, and Sweet Honey in the Rock as well as spoken-word pieces by Danny Glover and Tim Robbins. Sullivan and Weepin' Willie were formerly homeless military vets. Not all of the songs work, of course, as on any compilation. Mario Frangoulis's "Feels Like Home" and Jewel's "1,000 Miles Away" take themselves far too seriously, and Madeline Peyroux gets lost reinterpreting Randy Newman's "I Think It's Going to Rain Today." On "Show Me the Way," Bon Jovi sings, "Well, you don't miss your water till your water well runs dry"; GIVE US YOUR POOR demonstrates that homelessness can happen to just about anyone, at anytime. The album also comes with a twenty-eight-page booklet filled with stats that will downright scare you.
ALL STAR TRIBUTE TO ELTON JOHN
Carnegie Hall
Wednesday, October 10
Tickets: $40-$150
212-247-7800
Michael Dorf has put together another impressive event, after staging tributes to Joni Mitchell, Bob Dylan, and Bruce Springsteen, all benefits for Music for Youth — UJA-Federation of New York, which provides music education for kids in the metropolitan area. This tribute to the impeccable songwriting duo of Elton John and Bernie Taupin will feature the pair's songs interpreted by a diverse all-star cast that includes Joss Stone, Aimee Mann, Shawn Colvin, Phoebe Snow, Roy Ayers, Roger McGuinn, Jill Sobule and Lloyd Cole, Brendan Benson, and others. The Springsteen show at Carnegie Hall set the bar high, as Bruce himself showed up and played a few songs.

All contents copyright 2007 by Mark Rifkin and twi-ny. All rights reserved. Contents may not be reprinted without written permission. Please note that events, dates, and prices are subject to change.
Send all comments, suggestions, reviews, and questions to mark.rifkin@twi-ny.com.
Please note that some e-mail clients may wrap links, so be sure to enter them fully into your browser.
To subscribe to this list, please e-mail the administrator at admin@twi-ny.com with the word Subscribe in the Subject line; be sure to ask for back issues, which are free as well. To unsubscribe from this list, please think it over twice before e-mailing the same address. Please let us know what you didn't like about this forum and we'll do our best to correct it in the future — if we agree with you. If you would like to see something covered in a future issue, please let us know. Without you, there is no need for us to exist.

twi-ny top two dozen (or so)
weekly reminders & special events
SITELINES: WINDOW
140 Broadway at Cedar St.
Admission: free but RSVP required
Through Friday, September 21 For five consecutive days at 12 noon, Bill Shannon and the Step Fienz will conduct an improvisational street performance with random pedestrians as the audience looks on from both inside a window and via holographic screens, featuring live audio mixing and sampling by DJ Excess
FEAST OF SAN GENNARO
Mulberry St. between Canal & Houston Sts. and Hester & Grand Sts. between Mott & Centre Sts.
Through September 23, 11:00 am - 11:30 pm
Admission: free
212-768-9320
Expect huge crowds that will slow you down and drive you crazy, and try not to be lured in by the barkers looking to empty your wallet in impossible-to-win games. In addition to more than three hundred vendors for this eightieth annual event, there will be live music, a cannoli-eating contest, and religious processions from the Most Precious Blood Church on Mulberry. San Gennaro (Saint Januarius) himself was an Italian bishop who was martyred in 305 under the rule of Roman emperor Diocletian. Januarius is buried in Naples; he is associated with the gooey red liquid because the blood from his severed head was stored in a vial and is believed to liquefy and bubble at certain times of the year. In addition to the below special events, there will be free live entertainment nightly from 7:30 to 11:00 at the Feast Stage at Grand & Baxter Sts.
Wednesday, September 19 Religious Procession, 7:00 pm
MARTHA GRAHAM DANCE COMPANY
The Joyce Theater
175 Eighth Ave. at 19th St.
Tickets: $44 (Sunday night $25)
212-242-8088
http://marthagraham.org/center
Through Sunday, September 23 The Martha Graham Dance Company will be performing three different programs and other special events at the Joyce, including such works as "Diversion of Angels," "Night Journey," "Cave of the Heart," "Acts of Light," "Appalachian Spring," "Sketches from Chronicle," "Lamentation Variations," "Embattled Garden," and "From the Horse's Mouth," a look back at the history of the company
THE FOURTH ANNUAL WILLIAMSBURG JAZZ FEST
Multiple venues
Through Sunday, September 23 Eight days of mostly free jazz in Williamsburg, at multiple venues
JOHN SAYLES' PERSONAL CHOICE
Symphony Space, Leonard Nimoy Thalia
2537 Broadway at 95th St.
Tickets: $11
212-864-5400
Tuesday, September 18 PATHS OF GLORY (Stanley Kubrick, 1957), 7:30
Sunday, September 23 FROM RUSSIA WITH LOVE (Terence Young, 1963), 7:30
Tuesday, September 25 ACE IN THE HOLE (THE BIG CARNIVAL) (Billy Wilder, 1951), 7:30
Sunday, September 30 THEM! (Gordon Douglasm 1954), 7:30
Tuesday, October 2 THE HUSTLER (Robert Rossen, 1961), 7:30
Sunday, October 7 PANIC IN THE STREETS (Elia Kazan, 1950), 7:30
Tuesday, October 9 FAT CITY (John Huston, 1972), 7:30
Sunday, October 14 SAWDUST AND TINSEL (Ingmar Bergman, 1953), 7:30
Tuesday, October 23 TAKING OFF (Milos Forman, 1971), 7:30
Sunday, October 28 THE THIRD MAN (Carol Reed, 1949), 7:30
JOE'S PUB IN THE PARK
Delacorte Theater, Central Park
September 19-30
Admission: free - $40 (free tickets available day of show at the Delacorte and the Public Theater at 1:00, two per person)
212-967-7555
http://www.joespub.com/pubinthepark
Wednesday, September 19 Lesley Gore, Jill Sobule, and the New Standards, $40, 7:00
Thursday, September 20 Patty Griffin, Allen Toussaint, and CMA Songwriters Series, $50, 7:00
Saturday, September 22
Sunday, September 23
and
Monday, September 24 HAIR, the American Tribal Love-Rock Musical: The 40th Anniversary Concert Performance, free, 7:00
Tuesday, September 25 Carmen Consoli, Morley, and Luciana Souza, free, 7:00
Wednesday, September 26 Beirut, Balkan Beat Box, and NY Gypsy All-Stars, $25, 7:00
Friday, September 28 Michelle Shocked, Toshi Reagon & BIGLovely, and John Boutte, free, 7:00
Saturday, September 29 20th Century Boy: Marc Bolan and T.Rex 30th Anniversary Celebration; DAVID DRIVER Sings The Scott Walker Songbook; and JUSTIN BOND is Close to You: The Songs of the Carpenters, $40, 7:00
Sunday, September 30 Stew & Friends: Songs from Passing Strange and More, and the Negro Problem, free, 7:00
DUMBO FIGHT NIGHT
Tickets: $50
718-237-8700
http://www.dumbonyc.org/fight_night
Thursday, September 20 Fighting to preserve DUMBO (with proceeds benefiting the DUMBO Improvement District), BargeMusic goes up against the Room Service Group, White Wave Dance battles the PowerHouse Arena, Galapagos gets in the ring with the Brooklyn Arts Council, and Gleason's Gym hosts a bunch of sanctioned bouts featuring junior champions, along with a silent auction, free food and drink from Rice, and an art exhibit curated by Smack Mellon
IL BUCO OUTDOOR PIG FESTIVAL
Il Buco
47 Bond St. between Lafayette St. & Bowery
Tasting tickets: $20 per plate, $8 per alcoholic beverage (wine, prosecco, beer)
212-533-1932
Thursday, September 20 Fourth annual Sagra del Maiale commemorating the Autumnal Equinox, including whole slow roasted pig; porchetta panini on ciabatta with mostarrda; house-made apple and peperoncino sausage; panzanella; wild arugula with lemon, red onion, and pecorino; apple ricotta fritters with saba; and house-made lemonade and iced tea, prepared by chef Ignacio Mattos, 1:00 ­- 6:00
HARVEST IN THE SQUARE
Union Square Park Northern Plaza
Seventeenth St. between Broadway & Park Ave.
Tickets: $115-$125
212-460-1208
Thursday, September 20 Twelfth annual event, featuring unlimited tastings from such neighborhood restaurants as Fleur de Sel, Union Square Café, Gramercy Tavern, Blue Water Grill, Beppe, Blue Smoke, Big Daddy's Diner, Max Brenner — Chocolate by the Bald Man, Chat 'n' Chew, Craft, Daphne's — the Blue Mahoe, Dévi, L'Express, Pure Food and Wine, Republic, Steak Frites, SushiSamba, Tamarind, Tocqueville, and Todd English's Olives NY, with wine and beer from area beverage suppliers and bars that will be specially matched with each dish, benefiting the Capital Campaign for the Redevelopment of Union Square Park's North Plaza, 7:30
MIDNIGHT MIX
Apple Store Fifth Avenue
767 Fifth Ave. between Fifth & Sixth Aves.
Admission: free
212-336-1440
Friday, September 21 Spank Rock, 12 midnight
ARTS ON THE COMMONS
Civic Center/Borough Hall area of Downtown Brooklyn
Corner of Flatbush & Myrtle Aves.
Fridays at 12 noon
Admission: free
718-403-1630
Friday, September 21 Felix Swing Band
Friday, September 28 Liu Jazz Ensemble
NEW YORK TOKYO MUSIC FESTIVAL
Rumsey Playfield, Central Park
Enter at 72nd St. & Fifth Ave.
Tickets: $22-$25
http://music.newyork-tokyo.com
Saturday, September 22 All-day festival with acts from America and Japan, including MF Doom, Pharoahe Monch, Collie Buddz, Kenny Muhammad, the Human Orchestra, Kool DJ Red Alert, Teriyaki Boyz, and DJ Uppercut featuring Rosco P. as well as a Game Zone (EA's Skate), Skate Zone, Fashion Zone, and Art Zone (Shin Tanaka), 2:00
CHIMP FEST!
Galapagos Art Space
70 North Sixth St. between Wythe and Kent
Admission: $6
718-384-4586
http://www.galapagosartspace.com
Saturday, September 22 Monkey dance party featuring chimpanzee comedies from the 1930s to the 1950s set to a soundtrack of soul, surf, R&B, and garage rock, front room, 10:00
HARVEST DAYS
Prospect Park
Between Ocean Ave. & Flatbush Ave., Prospect Park West, Ft. Hamilton Pkwy, and Eastern Pkwy
Admission: free
718-965-8999
Saturday, September 22
and
Sunday, September 23 Hawk Weekend, featuring hand puppets, hawk costumes, interactive games, crafts, and real raptors, Audubon Center, 12 noon — 5:00
SLICE!: TROPFEST AT TROPICA
World Financial Center
Battery Park City
Admission: free
212-941-3923
Sunday, September 23 Screening of sixteen short films of no more than seven minutes, each one including the 2007 Tropfest Signature Item (Slice!), including MORNING, THE PICNIC, THE SWITCH, TAKE ME, and SNOOKERED, 8:00
FALL OVERLOOK CONCERTS
Riverside Park
116th St. Overlook, lower level
Admission: free
212-870-3070
http://www.riversideparkfund.org
Sunday, September 23 Jazz from the Manhattan School of Music, 2:00
Sunday, September 30 Columbia University's Wind Ensemble, 2:00
HARLEM MEER PERFORMANCE FESTIVAL
Charles A. Dana Discovery Center
Inside Central Park at 110th St. & Lenox Ave.
Through September 30
Sundays at 4:00
Admission: free
212-860-1370
Sunday, September 23 Bob Cunningham Quartet
Sunday, September 30 One Voice
EAT OUT '07: A TASTING CELEBRATION
Skylight Studios
275 Hudson St. at Dominick St.
Tickets: $100
http://www.timeoutnewyork.com/eat
Monday, September 24 Gourmands can sample signature dishes from forty New York City restaurants, including Buddakan, Clinton Street Baking, Craftsteak, E.U., Japonais, Landmarc, Maze, Morimoto, Mudtruck, Pasita, reBar, the Russian Tea Room, the Smoke Joint, and more, with a portion of the proceeds benefiting the Food Bank of New York City, 6:30 - 9:30
PARLOR SONG
Tribeca Performing Arts Center
Borough of Manhattan Community College
199 Chambers St.
Admission: free
212-220-1460
Monday, September 24 Reading of a new musical work-in-process, freely adapted from THE WOMAN IN WHITE by Wilkie Collins, with original concept and dramaturgy by Lynn M. Thomson, 7:00
AUGUSTEN BURROUGHS & JOHN ELDER ROBISON
Barnes & Noble Union Square
33 East 17th St.
Admission: free
212-253-0810
http://storelocator.barnesandnoble.com
Tuesday, September 25 John Elder Robison will read from LOOK ME IN THE EYE: MY LIFE WITH ASPERGER'S, interacting with his brother, Augusten Burroughs, 7:00
THE ROBERT WILSON LOFT SALE
Phillips de Pury & Company
Admission: free
212-940-1240
Tuesday, September 25
through
Sunday, September 30 Viewing, with reception September 25 at 6:00 and auction September 29 at 10:00 an and 2:00 pm
CONFOUNDING EXPECTATIONS: PHOTOGRAPHY IN CONTEXT
The New School
Tishman Auditorium
66 West 12th St. between Fifth & Sixth Aves.
Admission: free
888-NYT-1870
Wednesday, September 26 Lisette Model and Her Successors: panel discussion with Larry Fink, Gary Schneider, Ann Thomas, and Rosalind Solomon, moderated by William Hunt, 7:00
PRELUDE '07
Martin E. Segal Theatre Center
CUNY Graduate Center
365 Fifth Ave. at 34th St.
September 26-29
Admission: free
202-633-7959
At the Forefront of Contemporary NYC Theatre features sneak peeks at new works, including open rehearsals, staged readings, and other performances.
Wednesday, September 26 Uptown/Downtown: panel discussion with Oskar Eustis, Adam Bock, Jim Nicola, and Alex Timbers, moderated by David Cote, 6:30
Thursday, September 27 Playwright Versus Text: Panel discussion with Madeleine George, Richard Nelson, Eric Dyer, Mac Wellman and Steve Cosson, moderated by Brook Stowe, featuring 31 Down, Kristen Kosmas, Aya Ogawa, Ranbir Sidhu, and Kameron Steele/South Wing
Friday, September 28 Race and Downtown: Panel discussion with Thomas Bradshaw, Neil Labute, and Melanie Joseph, moderated by Randy Gener, featuring Neil Labute, Lightbox, Rachel Shukert/The Bushwick Hotel, Mark Schultz, Thaddeus Phillips/Lucidity Suitcase International, and the Debate Society,
Saturday, September 29 American Dramaturgy: Panel discussion moderated by Norm Frisch, featuring Adam Bock, Christina Campanella/Stephanie Fleishmann, the TEAM, David Levine, John Moran, and "Spotlight Japan: Mikuni Yanaihara (playwright) with Daniel Safer (director); Okada Toshiki (playwright) with the Play Company, and Masataka Matsuda (playwright) with Josh Fox (director)
TAKE ME OUT TO THE BRAND-NEW BALL PARK
Museum of the City of New York
1220 Fifth Avenue at 103rd St.
Tickets: $9 (RSVP required)
212-534-1672 ext3395
Thursday, September 27 Panel discussion with John Pastier, Janet Marie Smith, and Andrew Zimbalist, moderated by Frank Deford, 6:30
NO BORDERS, NO LIMITS: 1960s NIKKATSU ACTION CINEMA
Japan Society
333 East 47th St. at First Ave.
Monthly Fridays through May 2008
Tickets: $12
212-715-1258
Friday, September 28 A COLT IS MY PASSPORT (KORUTO WA ORE NO PASUPOTO) (Takashi Nomura, 1967), introduced by Mark Schilling and followed by a reception and book signing, 7:30
THE NY ART BOOK FAIR
548 West 22nd St. between Tenth & Eleventh Aves.
Admission: free
Friday, September 28
through
Sunday, September 30 Annual fair features art books, catalogs, zines, and periodicals from more than 120 dealers from around the world, as well as book signings (Marilyn Minter, Tracey Moffet, and others), special performances, a silkscreening station, workshops, and an exhibition honoring Martin Kippenberger
CONVERSATIONS WITH CONTEMPORARY ARTISTS
Museum of Modern Art Titus 1 Theater
11 West 53rd St. between Fifth & Sixth Aves.
Tickets: $10
212-708-9781
Friday, September 28 Jenny Holzer, Bartos Theater, 6:00
ARTS UNDER THE BRIDGE
d.u.m.b.o.
Admission: free
718-802-0603
http://www.brooklynbridgepark.org
http://www.silverbrowndance.org
Friday, September 28
through
Sunday, September 30 Eleventh annual event, featuring indoor and outdoor public art projects across thirty blocks, including live performances, multimedia installations, and special nighttime projections in and around Brooklyn Bridge Park / Empire-Fulton Ferry State Park
THE FUTURE RUSTIC FILM FESTIVAL
Barbès
376 Ninth St. at Sixth Ave.
Park Slope, Brooklyn
(Very strongly) suggested donation: $10
718-965-9177
http://www.brooklynindependent.com
Friday, September 28 THE CALL OF CTHULHU (Andrew Leman, 2005), GRAVEYARD JAMBOREE WITH MYSTERIOUS MOSE (Mark Caballero & Seamus Walsh, 1999), and THE LISTENING DEAD (Phil Mucci, 2006), 7:00
Saturday, September 29 THE LOVE SUICIDES (David Teague, 2007), HEART OF THE WORLD (Guy Maddin, 2000), and "The Ghost of Stephen Foster" by the Squirrel Nut Zippers (Raymond Persi & Matthew Nastuk, 2000), 7:00
Sunday, September 30 CAREFUL (Guy Maddin, 1992) YIDDISH HULA BOY by Janet Klein and Her Parlor Boys (Augusta, 2004), and Alice and the Aurifactors, 7:00
NY PAGAN PRIDE DAY 2006
Battery Park
Admission: free
212-561-0491
Saturday, September 29 Seventh annual harvest celebration and food drive, with keynote speaker Marion Weinstein, arts and crafts, workshops, a fairy parade, and live music from James Gilchrist and Julie Sherwood, Lauren Kendall, Scott Helland's Gypsy Nomads, Cassandra Syndrome, and Breakdown, 11:00 am — 5:00 pm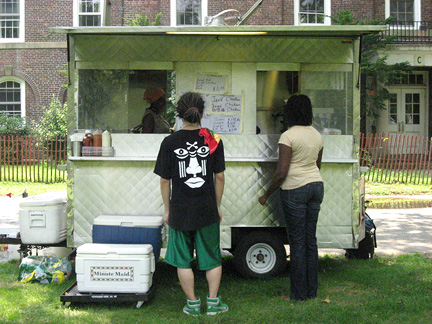 twi-ny/mdr
Veronica's Kitchen made special stops on Governors Island this summer
THE VENDYS
Tompkins Square Park
Admission: free
Saturday, September 29 Third annual battle among the best street-food vendors in New York City, with finalists the King of Falafel (30th St. & Broadway, Astoria), Super Tacos (96th St. & Broadway, Manhattan), Veronica's Kitchen (Front St. between Wall & Pine Sts., Manhattan), Dosa Man (Washington Square Park), and Kwik Meal (45th St. & Sixth Ave., Manhattan)
SUKKOS MOB
JCC in Manhattan
334 Amsterdam Ave. at 76th St.
Admission: free
646-505-5708
Saturday, September 29 Live performance including costumed actors, musicians, street performers, and puppeteers, in the JCC's rooftop sukkah, 8:00
PINS & PINTS
Leisure Time Bowl
Port Authority Bus Terminal
Tickets: $25 (preregistration required)
Saturday, September 29 A night of bowling sponsored by Makor, 9:00
FALL 2007 ELECTRONICS RECYCLING & CLOTHING DONATION
Select weekend days in each borough, 8:00 am — 2:00 pm
Admission: free
The city will be collecting unwanted electronics (computers, laptops, monitors, desktop printers and scanners, keyboards and mice, TVs, VCRs, DVD players, and cell phones only) and gently used clothing and linens (pants, dresses, shirts, sweaters, shoes, handbags, belts, blankets, towels, sheets, curtains, and tablecloths), sponsored by the NYC Department of Sanitation Bureau of Waste Prevention, Reuse, and Recycling. Clothing and linen should be placed in securely tied plastic bags; tax-deductible receipts for clothing and linen donations are available on request. Donations of electronics are limited to five per New York City resident; no businesses can participate.
Saturday, September 29 St. John's University, Utopia Pkwy and Union Tpke, Alumni Hall Parking Lot
Sunday, September 30 KeySpan Park, Surf Ave. & 19th St., Coney Island
SMACK MELLON OPEN STUDIOS
92 Plymouth St.
Admission: free
Saturday, September 29
and
Sunday, September 30 Featuring Sonya Blesofsky, Michael Paul Britto, eteam, Jena Kim, Joan Linder, Jessica Ann Peavy, and Kwabena Slaughter, 9/29 12 noon — 8:00, 9/30 12 noon — 6:00
THE FIREFIGHTER STEPHEN SILLER TUNNEL TO TOWERS RUN
Entry fee: $40
718-987-1931
Sunday, September 30 5K Run/Walk from the Gowanus approach to the Brooklyn-Battery Tunnel to West Street to the Battery Park Esplanade and finishing at West & Vesey Sts., with electronic chip monitoring, 10:00 am
MANHATTAN SHORT FILM FESTIVAL
Union Square Park Center Lawn
Admission: free
212-529-8640
Sunday, September 30 Union Square Park will once again be home to this unique festival, showing the twelve finalists from short-film contests held all over the country; grand prize for the best film includes plenty of equipment to help the winner make a feature film, live music from 4:00 to 7:00, followed by film screenings from 7:00 to 10:00 pm