INTERSECTIONS INTERSECTED: THE PHOTOGRAPHY OF DAVID GOLDBLATT / EMORY DOUGLAS: BLACK PANTHER / DOROTHY IANNONE: LIONESS
New Museum of Contemporary Art
235 Bowery at Prince St.
Through October 18 (Goldblatt exhibit through October 11)
Closed Monday & Tuesday
Admission: $12 (free Thursday Evenings 7:00 – 9:00)
212-924-3363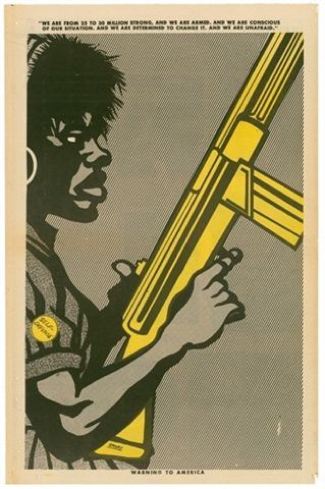 © 2009 Emory Douglas / Artists Rights Society
Emory Douglas, "Black Panther, June 27, 1970," offset lithograph
The New Museum of Contemporary Art is currently home to three very different but outstanding exhibits. On the second floor, the vast, bold work of graphic designer and Black Panther Emory Douglas is spread out on the walls and in glass vitrines, his striking images capturing the revolutionary aspects of the civil rights movement of the late 1960s and early 1970s. For more than a decade, Douglas helped run the weekly Black Panther newspaper, which featured his overtly political drawings on the cover as well as in the interior. The exhibit, curated by Sam Durant, consists of more than 150 pieces in color and black and white, depicting cops as pigs, murdered Panther leaders as martyrs, and men and women heavily armed and ready to fight. Regardless of how you feel about the Black Panther movement — there is also an interesting documentary in which several Panthers, including Douglas, look back at that era and try to portray the group as more of a grass-roots community organization than a violent, radical collective — there is no denying the skill and power of Douglas's work, which takes on added meaning as racism has been bubbling to the surface under the administration of the country's first African American president.
On the third and fourth floors, South African photographer David Golblatt's pictures, mostly hung unframed and with push pins, examine changes in Johannesburg over the last thirty years while focusing on the still critical AIDS crisis there. In the Pairs series, he combines recent shots of specific areas he first photographed primarily in the 1980s, accompanied by his own text that details what has become of monuments for anti-apartheid activists, summer gardens, a Mgwali farming community, and a Capetown squatter camp. Each picture in his AIDS series features a pink ribbon somewhere, silently pointing out how widespread the disease still is. The exhibit also includes smaller, framed black-and-white images of Joburg citizens in the 1970s as well as recent triptychs, all combining to relate fascinating aspects of the history of South Africa in subtle ways, a terrific companion piece with the Emory Douglas show.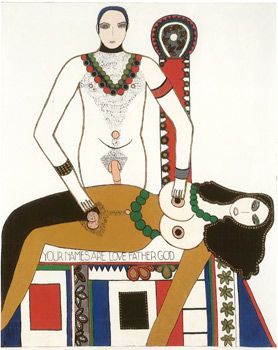 Courtesy Anton Kern Gallery and Air de Paris
Dorothy Iannone, "Your Names Are Love Father God,"
acrylic and collage on canvas, 1969-70
Meanwhile, in the back of the first floor, "Dorothy Iannone: Lioness" collects many of the artist's primitive, colorful collages, which usually involve some kind of sex act, in addition to wood cutouts of celebrities and circus performers. Her first solo American museum show emphasizes the graphic nature of her work between 1965 and 1978 — both in style and subject matter — in such provocative pieces as "I Love to Beat You," "I Begin to Feel Free," and "I Am Whoever You Want Me to Be." You can also see and hear Iannone having an orgasm in the video installation "I Was Thinking of You III" and read her comic-book-like tale of falling in love with Dieter Roth in the forty-eight-sheet "Icelandic Saga."
ALSO AT THE NEW MUSEUM
New Museum of Contemporary Art
Tickets: $8 unless otherwise noted
Friday, September 18 Mandela's Ego, panel discussion with MC Lee-Ursus Alexander, Dineo Bopape, Hlonipha Mokoena, and Gabi Ngcobo, 7:00
Saturday, September 19 African Film Festival at the New Museum presents South African Cinema Now: A Film Series — SINCERELY YOURS (WA 'N WINA) (Dumisani Phakathi, 2001) and STORY OF A BEAUTIFUL COUNTRY (Khalo Matabane, 2004), 3:00
Sunday, September 20 Maysles Cinema at the New Museum presents Living with Conviction: A Black Panther Party Film Series — PUBLIC ENEMY (Jens Meurer, 1999), 3:00
Thursday, September 24 The Art of Blandman, with Michael Smith, 7:00
Friday, September 25 A Proposition by Kara Walker: Hypothesis, 7:00
Saturday, September 26 A Proposition by Kara Walker: Research and Synthesis, 12 noon
Thursday, October 1
and
Friday, October 2 Trajal Harrell: TWENTY LOOKS OR PARIS IS BURNING AT THE JUDSON CHURCH (S), part of the 2009 Crossing the Line festival, $18, 7:00
Saturday, October 3 New Museum First Saturdays for Families: Sign and Intervene, with Rigo 23, free, 10:00 am
Saturday, October 10 African Film Festival at the New Museum presents South African Cinema Now: A Film Series — MAX AND MONA (Teddy Mattera, 2004), 3:00
Saturday, October 17 Maysles Cinema at the New Museum presents Living with Conviction: A Black Panther PARTY FILM SERIES — BASTARDS OF THE PARTY (Cle "Bone" Sloane, 2006), 3:00
Actress of the Week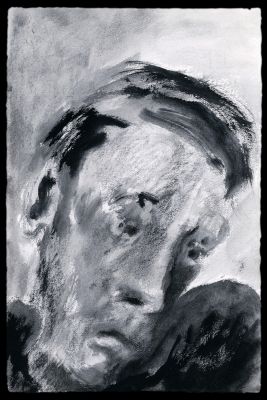 © All Rights Reserved
Juliette Binoche, "André Téchiné," RENDEZ-VOUS (1985)
IN-EYES — WORKS BY JULIETTE BINOCHE
Cultural Services of the French Embassy
972 Fifth Ave. at 79th St.
Weekdays 1:00 – 6:00 hrough October 9
Admission: free
It will be quite a month for French actress Juliette Binoche. She is collaborating with Akram Khan on a dance piece at BAM's Harvey Theater, is being honored with a film series at BAMcinématek, and is also displaying her artwork for the first time in the United States. For many years, the Oscar-winning star has been painting off set, and over the last few years she has been making ink-wash drawings of her characters and directors and has also written poems to the director and signed by the people she has portrayed. More than two dozen triptychs — character self-portrait, director portrait, and poem — will be on view through October 9 at the French Embassy. Among her subjects are Anthony Minghella and Hana (THE ENGLISH PATIENT), Michael Haneke and Anne (CACHÉ), André Téchiné and Nina (RENDEZ-VOUS), and Hou Hsiao-hsien and Suzan (FLIGHT OF THE RED BALLOON). "The heat and emotion to be generated, like the physical stamina to be supplies, are part of an actor's life," she explained in a prepared statement. It's just a record — a fleeting and subjective perception — of one moment in life."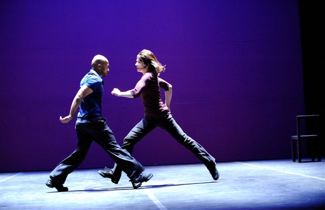 Tristram Kenton
Juliette Binoche collaborates with Akram Khan for dance piece
IN-I
2009 Next Wave Festival
BAM Harvey Theater
651 Fulton Street between Ashland Pl. & Rockwell Pl.
September 15-26
Tickets: $25-$70
718-636-4100
Juliette Binoche continues her three-part assault on New York City with IN-I, a seventy-minute dance-theater piece she choreographed and performs with Akram Khan (SACRED MONSTERS, ZERO DEGREES) about a love affair. The set design is by the always fascinating Anish Kapoor, who likes playing with mirrored surfaces and odd shapes, with music by soundtrack composer and cellist Philip Sheppard. There will be eleven performances at BAM, including the annual Next Wave Gala Celebration, on September 16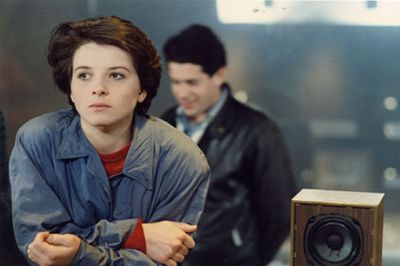 Juliette Binoche is honored with film series at BAM
RENDEZ-VOUS WITH JULIETTE BINOCHE
BAMcinématek, BAM Rose Cinemas
30 Lafayette Ave. between Ashland Pl. & St. Felix St.
Through September 30
718-636-4100
Born in Paris in 1964, Juliette Binoche has appeared in more than forty films during her twenty-five-year career, including such well-regarded works as Lasse Hallström's CHOCOLAT, Patrice Leconte's THE WIDOW OF SAINT-PIERRE, Jean-Paul Rappeneau's THE HORSEMAN ON THE ROOF, and Philip Kaufman's THE UNBEARABLE LIGHTNESS OF BEING. It is a tribute to her oeuvre that none of those films are part of this thirteen-part series, featuring such popular movies as Anthony Minghella's THE ENGLISH PATIENT (for which she won a Best Supporting Actress Oscar), Krzysztof Kieslowski's BLUE, Louis Malle's DAMAGE, and Michael Haneke's CACHÉ. There are also films by such eclectic auteurs as André Techiné, Hou Hsiao-hsien, Leos Carax, Olivier Assayas, Abel Ferrara, and Amos Gitai. No matter the role, Binoche has that movie-star quality that instantly lights up a screen, making the audience fall in love with her from the very first moment. She will be at BAM Rose Cinemas on September 21 to participate in a book signing and Q&A following the 6:50 screening of BLUE.
Friday, September 18 RENDEZ-VOUS (André Techiné, 1985), 2:00, 4:30, 6:50, 9:15
Saturday, September 19 DAMAGE (Louis Malle, 1992), 2:00, 4:30, 6:50, 9:15
Sunday, September 20 FLIGHT OF THE RED BALLOON (Hou Hsiao-hsien, 2007), 2:30, 5:30, 8:30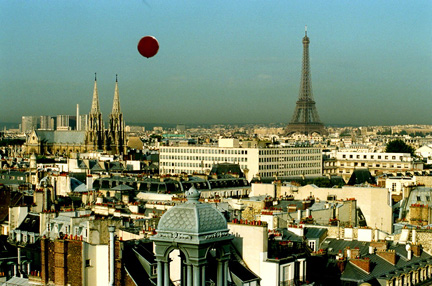 Hou Hsiao Hsien falls in love with Paris in FLIGHT OF THE RED BALLOON
FLIGHT OF THE RED BALLOON (Hou Hsiao-hsien, 2007)

Commissioned by the Musee d'Orsay and inspired by Adam Gopnik's book PARIS TO THE MOON and Albert Lamorisse's children's classic THE RED BALLOON, director Hou Hsiao Hsien creates a wonderfully gentle, beautifully peaceful work in FLIGHT OF THE RED BALLOON. Mimicking the Taiwanese Hou making a film in Paris, Song Fang stars as Song, a Taiwanese film student who arrives in Paris to be a nanny to Simon (Simon Iteanu), whose mother, Suzanne (a blonde Juliette Binoche), runs a local puppet theater — which is currently putting on a version of the Chinese story of Zhang Yu, in French. Song goes everywhere with her video camera, recording whatever she sees. Meanwhile, a mysterious red balloon follows Simon through the city. (In THE RED BALLOON, it's reversed, as a young boy runs after the balloon.) There is no real plot but merely daily life, sort of Truffaut meets Ozu as Song makes pancakes, Suzanne gets involved in a rent dispute, and Simon practices the piano. The film is all about place and character, not about narrative; in fact, much of the dialogue is improvised. Lovingly shot by Mark Lee Ping Bing, FLIGHT OF THE RED BALLOON is a sweet, tender film.
Monday, September 21 BLUE (Krzysztof Kieslowski, 1993), 4:30, 6:50 (followed by a Q&A with Juliette Binoche and a book signing)
Wednesday, September 23 FAMILY LIFE (Jacques Doillon, 1985), 4:30, 6:50, 9:15
Thursday, September 24 MAUVAIS SANG (Leos Carax, 1988), 4:30, 6:50, 9:15
Friday, September 25 LOVERS ON THE BRIDGE (Leos Carax, 1991), 3:00, 6:00, 9:00
Saturday, September 26 CACHÉ (Michael Haneke, 2005), 2:00, 6:50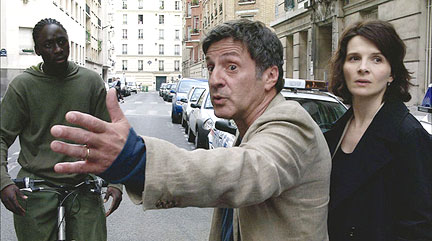 Daniel Auteil and Juliette Binoche find their share of trouble in CACHÉ
CACHÉ (HIDDEN) (Michael Haneke, 2005)
http://www.sonyclassics.com/cache
Writer-director Michael Haneke (THE PIANO TEACHER) was named Best Director at Cannes for this slow-moving yet gripping psychological drama about a seemingly happy French family whose lives are about to be torn apart. CACHÉ stars Daniel Auteil as Georges, the host of a literary public television talk show, and Juliette Binoche as his wife, Anne, a book editor. One day a mysterious videotape is left for them, showing a continuous shot of their house. More tapes follow, wrapped in childish drawings of a boy with blood coming out of his mouth. Fearing for the safety of their son, Pierrot (Lester Makedonsky), they go to the police, who say they cannot do anything until an actual crime has been committed. As the tapes reveal more information and invite more danger, Georges's secrets and lies threaten the future of his marriage. CACHÉ is a tense, involving thriller that is both uncomfortable and captivating to watch. Haneke zooms in closely on the relationship between Georges and Anne, keeping all other characters in the background; in fact, there is no musical score or even any incidental music to enhance the searing emotions coming from Auteil and Binoche. CACHÉ also won a number of year-end critics awards for Best Foreign Language Film. Oh, and be sure to pay close attention to the long final shot for just one more crucial twist that many people in the audience will miss.
Saturday, September 26 CODE UNKNOWN (Michael Haneke, 2000), 4:30, 9:30
Sunday, September 27 SUMMER HOURS (Olivier Assayas, 2008), 2:00, 4:30, 6:50, 9:15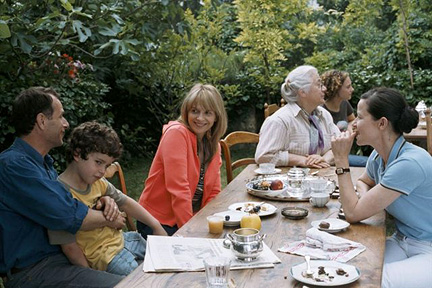 Juliette Binoche stars in Olivier Assayas drama
SUMMER HOURS (L'HEURE D'ÉTÉ) (Olivier Assayas, 2008)

At their annual family gathering, Frédéric (Charles Berling), Adrienne (Juliette Binoche), and Jérémie (Jérémie Renier) are celebrating their mother's seventy-fifth birthday. But Hélène (Edith Scob) does not care about the present; instead, she is more concerned with preserving the past and preparing for the future. She pulls aside her oldest, Frédéric (Assayas's on-screen alter ego), to tell him what to do with her belongings after she's gone, but he is not ready to think about that. Her house is more like a museum, filled with valuable works of art and furniture that were collected by her uncle, a famous painter who died thirty years before. Frédéric would prefer to keep the house intact, donating a few items to the Musee d'Orsay and saving the rest for the next generation, but Adrienne and Jérémie don't necessarily feel the same way, and Frédéric's and Jérémie's kids fail to see any value in the pieces, including two oil paintings by Camille Corot, begrudgingly noting that they're from a different era. While Frédéric, a professor who has written a controversial book about the state of the economy, attaches personal memories to each object, Adrienne, a successful designer in New York, is more interested in the functionality of things, and Jérémie, who manages a company that profits from cheap labor in China, sees only monetary value. As the three siblings discuss what to do with their mother's estate, relationships come into focus, and a long-held secret emerges.

Written and directed by Olivier Assayas (LES DESTINÉES SENTIMENTALES, DEMONLOVER, IRMA VEP), SUMMER HOURS, which was selected for the 2008 New York Film Festival, is a thoughtful, intelligent slice-of-life story that avoids overbearing cliches and melodramatic moments; there are no blow-ups or overemotional scenes. Instead, the family deals with its situation directly and matter-of-factly, a sort of French CHERRY ORCHARD for the twenty-first century. However, Assayas does include far too many red herrings, little flourishes of cinematic language that seem to set something up that never comes full circle. The project was initiated by the Musee d'Orsay, which had commissioned a group of international directors to make short films related to the institution's holdings. Assayas's friend and colleague Hou Hsiao Hsien ended up making the full-length FLIGHT OF THE RED BALLOON, which also starred Binoche. Although the project later fell apart, Assayas combined the idea with the worsening condition of his mother, resulting in a bittersweet and very personal work.
Monday, September 28 THE ENGLISH PATIENT (Anthony Minghella, 1996), 7:00
Tuesday, September 29 MARY (Abel Ferrara, 2005), 6:50, 9:15
Wednesday, September 30 DISENGAGEMENT (Amos Gitai, 2007), 4:30, 6:50, 9:15
Festival of the Week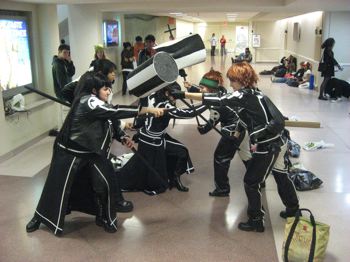 twi-ny/mdr
You never know what you'll run into at the Anime Festival
NEW YORK ANIME FESTIVAL
Jacob Javits Convention Center
Eleventh Ave. between 34th & 39th Sts.
September 25-27
Day passes $35-$40, weekend pass $55
800-282-3336
http://www.nyanimefestival.com
As the popularity of anime — Japanese animation — keeps growing in the United States, so does the New York Anime Festival, now in its fourth year. For three days at the Javits Center, there will be panel discussions, lectures, Q&As, exhibitors, concerts, screenings, and more featuring some of the leaders in the industry, from producers and directors to voice-over stars and creators. This year's guest of honor is Yoshiyuki Tomino, the legend behind MOBILE SUIT GUNDAM, HEAVY METAL L-GAIM, and XABUNGLE GRAFFITI, among many others. There will also be thousands of kids and adults dressed up in elaborate costumes that are often just as entertaining as everything else. In addition, fans can line up to get autographs and original pieces drawings from their favorite artists. Below are only some of the myriad events.

Friday, September 25 20th CENTURY BOYS: PART 1 — BEGINNING OF THE END (Yukihiko Tsutsumi, 2008), 3:00, and 20th CENTURY BOYS: PART 2 — THE LAST HOPE (Yukihiko Tsutsumi, 2009), 5:30, Special Events Theater 1A08
Friday, September 25 Vertical panel discussion, Panel Room 1 — 1A24, 5:00
Friday, September 25 Yoshiyuki Tomino Keynote, Panel Room 1 — 1A21, 5:15
Friday, September 25 LOVELESS (Yuu Kou, 2005), Screening Room 2 — 1A18, 9:00
Saturday, September 26 Uncle Yo: Custer's Last Stand-Up, Apple Kissa Stage, 11:00 am
Saturday, September 26 Anime songwriter Yui Makino live in concert, ANA Theater 1A08, 11:30 am
Saturday, September 26 Yoshiyuki Tomino Q&A, Panel Room 1 — 1A24, 1:45
Saturday, September 26 AKB48 Concert Preview, Apple Kissa Stage, 3:00
Saturday, September 26 Charity Auction, Panel Room 4 — 1A21, with Jamie Mcgonnigal, 4:15
Sunday, September 27 Yui Makino Q&A, Panel Room 4 — 1A21, 11:15 am
Sunday, September 27 Neo-Victorian Fashion Show, Apple Kissa Stage, 12:30
Sunday, September 27 The Ten Best Video Games Ever Made & the Ten Worst as Well, Panel Room 2 — 1A23, with Matt Hawkins, 4:15
Sunday, September 27 True Tales of Cosplay Masquerade Survival: You're Doing It Wrong, with Chris Troy, Panel Room 4 — 1A21, 4:15
UZUHI PRESENTS IN THE SUN
Crash Mansion
199 Bowery
Admission: $10
http://www.myspace.com/inthesunnyc
Friday, September 25 Muteki, Etta Place, Bad Credit No Credit, Donner Party Picnic, Uzuzhi, Kofre, and Gosha play in conjunction with the New York Anime Festival, 8:00 pm – 4:00 am
FAR EAST TO EAST SHOWCASE
Webster Hall
125 East Eleventh St. between Third & Fourth Aves.
Tickets: $10-$15
Sunday, September 27 Japan's Kokusyoku Sumire and Swinging Popsicle and New York's Echostream and Gelatin, 6:30
Film Festival of the Week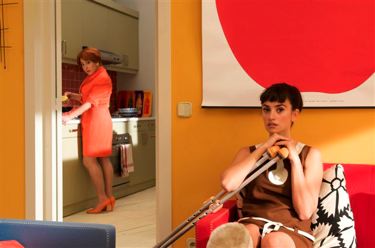 The Film Society of Lincoln Center/Sony Pictures Classics
Pedro Almodóvar's BROKEN EMBRACES will close festival
47th NEW YORK FILM FESTIVAL
Alice Tully Hall unless otherwise noted
September 25 – October 11
Tickets: $20 ($10 obstructed view) unless otherwise noted
212-875-5050
Tickets are now on sale for the forty-seventh annual New York Film Festival, which features a rather unusual lineup this year. The selection committee for the forty-seventh edition of the NYFF include Film Society program director Richard Peña and critics Scott Foundas, J. Hoberman, Melissa Anderson, and Dennis Lim, who have chosen twenty-nine films from seventeen countries. While the list features such perennial favorites as Manoel de Oliveira, Marco Bellocchio, Andrzej Wajda, Lars von Trier, Todd Solondz, Jacques Rivette, and Michael Haneke, there is also a large number of less-well-known filmmakers, resulting in what should be an exciting festival. Nouvelle Vague legend Alain Resnais kicks things off with WILD GRASS, while the always inventive Pedro Almodóvar closes the festivities out with BROKEN EMBRACES. Also on the bill is the HD version of THE WIZARD OF OZ in honor of its seventieth anniversary. The screenings are being held primarily in newly renovated Alice Tully Hall, which is oddly advertising half-price tickets for obstructed views (?!).
Friday, September 25 Opening Night: WILD GRASS (LES HERBES FOLLES) (Alain Resnais, 2009), $40 ($20 obstructed view), 6:00
Saturday, September 26, 11:00 am THE WIZARD OF OZ (Victor Fleming, 1939)
Saturday, September 26, 2:15 SWEETGRASS (Ilisa Barbash and Lucien Castaing-Taylor, 2009)
Saturday, September 26, 5:30
and
Sunday, September 27, 9:15 ECCENTRICITIES OF A BLOND HAIR GIRL (SINGULARIDADES DE UMA RAPARIGA LOURA) (Manoel de Oliveira, 2009), preceded by GET YER YA-YAS OUT! (Bradley Kaplan, Ian Markiewicz, Albert Maysles, 1969-2009)
Saturday, September 26, 8:30
and
Sunday, September 27, 6:00 VINCERE (Marco Bellocchio, 2009)
Sunday, September 27, 11:30 am
and
Monday, September 28, 6:00 KANIKOSEN (Sabu, 2009)

Sunday, September 27, 2:15 GHOST TOWN (Zhao Dayong, 2008)
Monday, September 28, 9:15
and
Tuesday, September 29, 6:00 POLICE, ADJECTIVE (POLITIST, ADJ.) (Corneliu Porumboiu, 2009)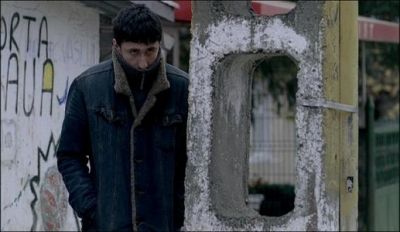 Cristi (Dragos Bucur) is on one helluva boring stakeout in Romanian black comedy
POLICE, ADJECTIVE (Corneliu Porumboiu, 2009)
New York Film Festival
Alice Tully Hall
Monday, September 28, 9:15
Tuesday, September 29, 6:00
Tickets: $20 ($10 obstructed view)
212-875-5050

The first half of Corneliu Porumboiu's POLICE, ADJECTIVE is as dreadfully boring as detective Cristi's (Dragos Bucur) assignment, tailing a student, Victor (Radu Costin), who enjoys a joint with two of his friends every day after school. While Cristi wants to nail the kid's supplier, the cop's boss has him on a tight deadline, insisting he arrest Victor if the investigation continues to go nowhere, but Cristi strongly disagrees with putting the teenager away for up to seven years for a crime he believes will soon be abolished by the government. However, the film picks up considerably as Cristi seeks help from various contacts, getting caught up in red tape and public servants who would really rather not be bothered. And when he get called in by the chief (Vlad Ivanov from 4 MONTHS, 3 WEEKS, and 2 DAYS) and gets a long lecture in linguistics, well, you won't be able to control yourself from laughing out loud. Porumboiu (12:08 EAST OF BUCHAREST) keeps the pace very slow and very steady, but hang in there, because the end is a riot. POLICE, ADJECTIVE won the Un Certain Regard Jury Prize at this year's Cannes Film Festival and is Romania's official entry for the Foreign Language Film Academy Award.
Tuesday, September 29, 9:15 THE ART OF THE STEAL (Don Argott, 2009)
Wednesday, September 30, 6:00 A ROOM AND A HALF (POLTORY KOMNATY ILI SENTIMENTALNOE PUTESHESTVIE NA RODINU) (Andrey Khrzhanovsky, 2009)
Wednesday, September 30, 9:15
and
Thursday, October 1, 6:00 TO DIE LIKE A MAN (MORRER COMO UM HOMEM) (João Pedro Rodrigues, 2009)
Thursday, October 1, 9:30
and
Friday, October 2, 3:00 LEBANON (Samuel Maoz, 2009)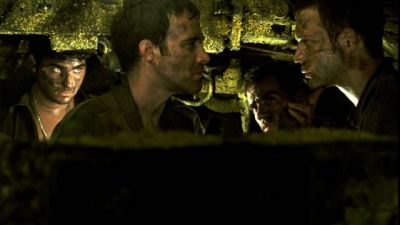 Israeli film offers claustrophobic view of 1982 war
LEBANON (Samuel Maoz, 2009)
New York Film Festival
Alice Tully Hall
Thursday, October 1, 9:30
Friday, October 2, 3:00
Tickets: $20 ($10 obstructed view)
212-875-5050

Claustrophobics, beware. Nearly all of Samuel Moaz's microcosmic examination of the first day of the 1982 Israel-Lebanon war — the same struggle recently tackled by Ari Folman in the animated WALTZ WITH BASHIR — takes place within a dark, grungy tank. In this tiny space, audiences get to experience the fear building inside company leader Yigal (Michael Moshonov), driver Hertzel (Oshri Cohen), weapons loader Assi (Itay Tiran), and gunner Shmulik (Yoav Donat) as they are suddenly put in the middle of a secret, dangerous mission by commander Jamil (Zohar Strauss) and meet action head-on almost immediately, having to deal with the prospects of killing for the first time. The world outside the tank is seen only through the cross-hairs of Shmulik's telescopic lens, making everyone outside a potential victim. At times the tension mounts at a breathtaking pace, although the film gets bogged down in too much melodrama as the characters get further developed. As a teenager, writer-director Moaz actually fought in the war, and it was his memories of having killed a man on that very day — June 6, 1982 — that led him to make the movie, which won the Silver Bear at the Venice Film Festival. LEBANON is quite a ride. (The film will be preceded by THE SLOW GAME, a tensely stylized ten-minute dialogue-free short by Paolo Sorrentino [IL DIVO] about a group of men preparing for a rugby match.)
Thursday, October 1, 10:00
and
Friday, October 2, 11:30 TRASH HUMPERS (Harmony Korine, 2009), Walter Reade Theater, 65th St. between Broadway & Amsterdam Aves.
Friday, October 2, 6:00
and
Saturday, October 3, 4:15 SWEET RUSH (TATARAK) (Andrzej Wajda, 2009)
Friday, October 2, 9:00
and
Saturday, October 3, 1:00 ANTICHRIST (Lars von Trier, 2009)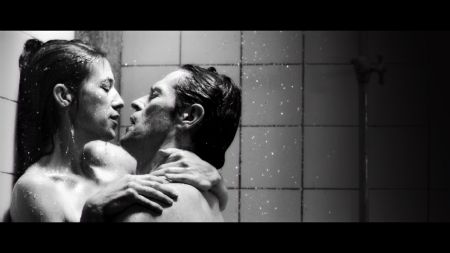 The Film Society of Lincoln Center/IFC Films
Lars von Trier's ANTICHRIST should, unsurprisingly, prove rather controversial
ANTICHRIST (Lars von Trier, 2009)
New York Film Festival
Alice Tully Hall
Friday, October 2, 9:00
Saturday, October 3, 1:00
Tickets: $20 ($10 obstructed view)
212-875-5050

Generally, Danish Dogme practitioner Lars von Trier makes films that critics and audiences alike are either repulsed by or deeply love. Controversial works such as BREAKING THE WAVES, THE IDIOTS, DANCER IN THE DARK, and DOGVILLE win international awards while also driving people out of theaters. In fact, at his recent New York Film Festival press conference for ANTICHRIST, he was asked how he feels when no one walks out on his work: "Then I have failed," he replied with a sly grin. Well, there are sure to be many walkouts during ANTICHRIST, a harrowing tale of grief, pain, and despair that begins with a gorgeously shot, visually graphic sex scene followed by a tragic accident. The rest of the film details how the unnamed couple (Willem Dafoe and Charlotte Gainsbourg) deal with the loss of their young child; a therapist, he opts to treat her more as a patient than as his wife, a highly questionable decision that threatens to tear them apart — both psychologically and physically, as the film turns into an extremely violent horror flick in the final scenes. Somehow, we found ourselves pretty much right in the middle of this one, neither loving it nor hating it while admiring it greatly despite its odd meanderings, loose holes, sappy dialogue, and occasionally awkward scenarios. In certain ways, it's a bizarre amalgamation of Alfred Hitchcock's SPELLBOUND, Ingmar Bergman's SCENES FROM A MARRIAGE, Stanley Kubrick's THE SHINING (and various other Stephen King stories), Roman Polanski's ROSEMARY'S BABY, Richard Donner's THE OMEN, Robert Wise's AUDREY ROSE, and Tobe Hooper's THE TEXAS CHAIN SAW MASSACRE. Or something like that. Add half a star if you think von Trier is a creative genius; delete two stars if you consider him a certifiable lunatic.
Saturday, October 3, 11:00 am CROSSROADS OF YOUTH (CHEONGCHUN'S SIPJARO) (An Jong-hwa, 1934)
Saturday, October 3, 7:00 & 10:00 Centerpiece: PRECIOUS: BASED ON THE NOVEL 'PUSH' BY SAPPHIRE (Lee Daniels, 2009), $40 ($20 obstructed view)
Sunday, October 4, 12 noon HENRI GEORGE'S CLOUZOT'S INFERNO (L'ENFER DE HENRI-GEORGES CLOUZOT) (Serge Bromberg and Ruxandra Medrea, 2009)
Sunday, October 4, 3:00 INDEPENDENCIA (Raya Martin, 2009)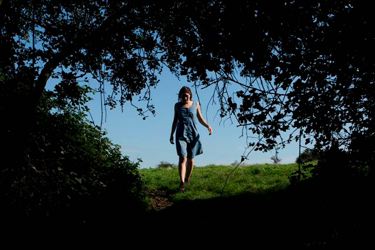 The Film Society of Lincoln Center/Pyramide Films
Bruno Dumont's HADEWIJCH screens at fest
Sunday, October 4, 6:00
and
Tuesday, October 6, 9:15 HADEWIJCH (Bruno Dumont, 2009)
Sunday, October 4, 9:00
and
Monday, October 5, 6:00 EVERYONE ELSE (ALLE ANDEREN) (Maren Ade, 2009)
Monday, October 5, 9:00
and
Tuesday, October 6, 6:00 MIN YÈ... (TELL ME WHO YOU ARE) (Souleymane Cissé, 2009)
Wednesday, October 7, 6:00
and
Thursday, October 8, 9:00 THE WHITE RIBBON (DAS WEIßE BAND) (Michael Haneke, 2009)
Wednesday, October 7, 9:30
and
Friday, October 9, 3:00 AROUND A SMALL MOUNTAIN (36 VUES DU PIC SAINT-LOUP) (Jacques Rivette, 2009)
Thursday, October 8, 6:00 NE CHANGE RIEN (Pedro Costa, 2009)
Friday, October 9, 6:00
and
Saturday, October 10, 12 noon MOTHER (MAEDO) (Bong Joon-Ho, 2009)
Friday, October 9, 9:15
and
Saturday, October 10, 6:00 WHITE MATERIAL (Claire Denis, 2009)
Saturday, October 10, 9:00
and
Sunday, October 11, 11:00 am LIFE DURING WARTIME (Todd Solondz, 2009)
Sunday, October 11, 2:00 BLUEBEARD / LA BARBE-BLEUE (Catherine Breillat, 2009)
Sunday, October 11, 5:00 & 8:00 Closing Night: BROKEN EMBRACES / LOS ABRAZOS ROTOS (Pedro Almodóvar, 2009), $40 ($20 obstructed view)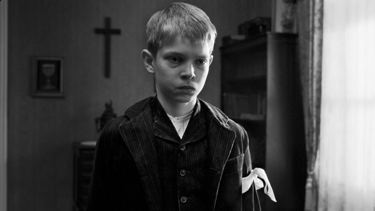 Michael Haneke will discuss THE WHITE RIBBON and more at festival
SPECIAL EVENTS / SIDEBARS / TRIBUTES/ MASTERWORKS
Alice Tully Hall (ATH)
Stanley H. Kaplan Penthouse, David B. and Samuel Rose Building, tenth floor, West
65th Street between Broadway & Amsterdam Ave., upper level (SHKP)
Walter Reade Theater, 65th Street between Broadway & Amsterdam Ave. (WRT)
In addition to the main slate of films at the forty-seventh annual New York Film Festival, there will plenty more to see and do, including dialogues with such directors as Michael Haneke and Claire Denis, sidebars investigating Chinese cinema and the avant-garde, special screenings of old classics, and a tribute to the now-defunct New Yorker Films.
Saturday, September 26
through
Tuesday, October 6 NYFF Masterworks: (Re)Inventing China — A New Cinema for a New Society, 1949 – 1966, comprising twenty films made in the People's Republic of China between 1949 and 1965, including BIG LI, LITTLE LI AND OLD LI (DA LI, XIAO LI HE LAO LI) (Xie Jin, 1962), KEEP THE RED FLAG FLYING (SONG OF THE RED FLAG) (HONG QI PU) (Ling Zifeng, 1960), and THIS LIFE OF MINE (THE LIFE OF A BEIJING POLICEMAN) (WO ZHE YI BEI ZI) (Shi Hui, 1950), $11 per screening, series pass $45 for any five screenings, WRT
Sunday, September 27 Approaching the Wizard: Flying Monkeys, Ruby Slippers and Yellow Brick Roads in American Cinema and Culture, panel discussion with John Fricke, Jane Lahr, Ned Price, and Robert Sklar, WRT, $11, 11:00 am
Sunday, September 27 HBO Films Directors Dialogues: Marco Bellocchio, SHKP, $16, 2:00
Wednesday, September 30 Chandleresque: Raymond Chandler on Film and Television — An Illustrated Lecture by Adrian Wootton, followed by screening of THE BLUE DAHLIA (George Marshall, 1946), WRT, $15, 7:00

Thursday, October 1 Creating Film Culture: A Tribute to Dan and Toby Talbot and the "New Yorker Years," conversation with Molly Haskell, Dan and Toby Talbot, and Jonathan Demme, followed by screening of MY DINNER WITH ANDRE (Louis Malle, 1981), and preceded by a reception and book signing, WRT, $25, 5:30
Friday, October 2
through
Sunday, October 4 Views from the Avant Garde, including films by Pier Paolo Pasolini & Giuseppe Bertolucci, Apichatpong Weerasethakul, Chick Strand, Michael Snow, Peggy Ahwesh, Ken Jacobs, Stephanie Barber, Lynne Sachs, Ernie Gehr, and many others, WRT, $11
Sunday, October 4 HBO Films Directors Dialogues: Lee Daniels, SHKP, $16, 2:00
Wednesday, October 7
through
Sunday, October 11 NYFF Masterworks: The Films of Guru Dutt — A Heart as Big as the World, including screenings of such films as AAR-PAAR (HEADS OR TAILS) (Guru Dutt, 1954), IN SEARCH OF GURU DUTT (Nasreen Munni Kabir, 1989), and SAHIB BIBI AU GHULAM (MASTER, MISTRESS AND SERVANT) (Abrar Alvi, 1962), $11, WRT
Thursday, October 8 HBO Films Directors Dialogues: Michael Haneke, SHKP, $16, 7:00
Friday, October 9 THE NIGHT OF COUNTING THE YEARS (AKA THE MUMMY) (AL-MOMIA) (Shadi Abdelsalaam, 1969), WRT, $15, 6:15
Saturday, October 10 Pedro Almodóvar's History of Cinema: A Conversation, with Richard Peña, ATH, $16, 3:30
Saturday, October 10 The Red Riding Trilogy: RED RIDING: 1974 (Julien Jarrold, 2009), RED RIDING: 1980 (James Marsh, 2009), and RED RIDING: 1983 (Anand Tucker, 2009), WRT, $25 for all three screenings, $11 for one, 4:00
Sunday, October 11 HBO Films Directors Dialogues: Claire Denis, SHKP, $16, 2:00
Riff's Rants & Raves: Film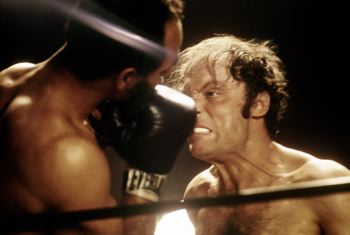 Sony Pictures
Stacey Keach gets back in the ring in John Huston boxing drama
FAT CITY (John Huston, 1972)
Film Forum
209 West Houston St. between Sixth & Seventh Aves.
September 18 – October 1
212-727-8110

Genre master and onetime boxer John Huston returned to the ring in FAT CITY, a gritty 1972 drama about a group of has-beens and never-will-be's struggling to survive in Stockton, California. Stacey Keach stars as Billy Tully, a down-on-his-luck fighter looking to make a comeback at the ripe old age of twenty-nine. He spars at the local Y with eighteen-year-old Ernie Munger (Jeff Bridges) and likes what he sees in the kid, telling him to meet his old manager, Ruben (CHEERS' Nicholas Colosanto), who decides to take on the unseasoned youngster. While Ruben lands Ernie — who seems more interested in bragging about having scored with his girlfriend, Faye (Candy Clark), than training properly — his first few bouts, Tully gets day work picking vegetables and hangs out at a local gin joint with a seedy, whiskey-voiced barfly named Oma (Susan Tyrrell, who earned an Oscar nomination for the role). Legendary cinematographer Conrad Hall casts a gray pale over the proceedings as dashed hopes and dreams come falling down on these disillusioned perennial losers. In many ways FAT CITY, based on the novel by Leonard Gardner — who also wrote the screenplay — is an update of Elia Kazan's ON THE WATERFRONT, but moved to the hard times of early '70s America, when so many people had no way out. The film, a clear influence on such auteurs as Martin Scorsese, will be at Film Forum for a two week run in a new 35mm restoration. You do not have to be a fight fan to fall in love with this film.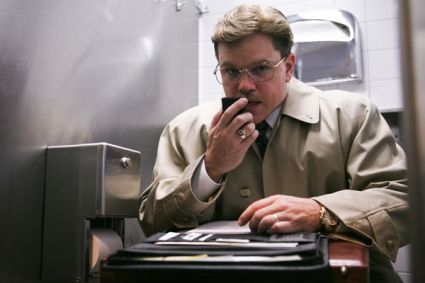 Matt Damon blows some funny whistles in Soderbergh black comedy
THE INFORMANT! (Steven Soderbergh, 2009)
Opens Friday, September 18
http://theinformantmovie.warnerbros.com

Based on the book by New York Times reporter Kurt Eichenwald, THE INFORMANT! is the stylish retelling of the fascinating story of Mark Whitacre (a splendid Matt Damon), a high-ranking biochemist with Archer Daniels Midland who in the early 1990s suddenly became a whistleblower, working with the FBI to gather evidence of a massive price-fixing scheme. Fashioning himself a super spy, Whitacre teams up with local agent Brian Shepard (Scott Bakula), wearing wires and having clandestine meetings, getting a kick out of the whole thing. However, Whitacre seems to have trouble keeping secrets and telling the whole truth to Shepard and Agent Bob Herndon (Joel McHale), who has been sent from Washington as the case gets bigger. Director Steven Soderbergh and screenwriter Scott Z. Burns pepper the film with hilarious — and made-up — voice-over narration in which Whitacre shares his rather warped view of the world through silly anecdotes and riotous analogies. In fact, Soderbergh finds the story so ridiculous that he cast many of the roles with stand-up comedians, including Patton Oswalt, Tom Wilson, Rick Overton, Paul F. Tompkins, Tom Papa, and McHale — in addition to cameos by the Smothers Brothers. The film's subtle lunacy is punctuated by Marvin Hamlisch's hysterically over-the-top score, with wacky sounds and rhythms inspired by his work on Woody Allen's BANANAS. A sort of melding of CONFESSIONS OF A DANGEROUS MIND, CATCH ME IF YOU CAN, ERIN BROCKOVICH, and, well, BANANAS, THE INFORMANT! is a movie lover's kind of movie.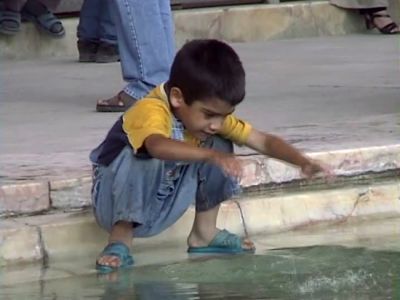 Michael Almereyda documents his world travels in PARADISE
PARADISE (Michael Almereyda, 2009)
MoMA Film
Museum of Modern Art, 11 West 53rd St. between Fifth & Sixth Aves.
September 24-30
Tickets: $10, in person only, may be applied to museum admission within thirty days, same-day screenings free with museum admission, available at Film and Media Desk
212-708-9400

Over the last decade, writer-director Michael Almereyda (NADJA, HAMLET, THIS SO-CALLED DISASTER) has traveled around the world, bringing with him a handheld digital-video camera, capturing brief moments of unscripted real life of friends, family, and strangers. He has organized these small vignettes into forty-four segments divided into four somewhat thematic sections, coming together as a beautiful whole in PARADISE, an enticing visual poem that begins a one-week run at MoMA on September 24. The film opens with a long shot inside a stunningly blue airport passageway over music by DJ Spooky, welcoming viewers into Almereyda's travels. He then turns his camera on a succession of children experiencing everyday life in different parts of the globe, including one charming boy who falls into a little pool to the delight of those around him. Each part— ranging from a few seconds to a few minutes — is linked either thematically or visually, including a series of shots involving fire, sparks, and a burning red sunset. Using natural sound and light, Almereyda allows each moment to exist in real time on its own, with no narration and no identifying tags, a sort of abstract meditation on the simple things than can serve as personal paradises. Almereyda will be on hand to introduce the 7:00 screening on September 24. Do yourself a favor and don't miss this small gem.
In Theaters Now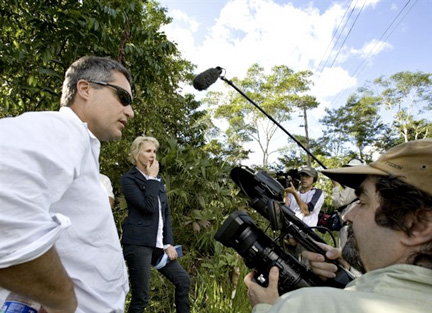 Sebastian Posingis
Trudie Styler arrives in the Amazon to help support indigenous families
CRUDE: THE REAL PRICE OF OIL (Joe Berlinger, 2009)
IFC Center
323 Sixth Ave. at West Third St.
212-924-7771

Documentarian Joe Berlinger has a way of making a strong impact with his films — which include BROTHER'S KEEPER, PARADISE LOST, and METALLICA: SOME KIND OF MONSTER — and his latest should stir up plenty of headlines as well. In CRUDE: THE REAL PRICE OF OIL, Berlinger heads to Ecuador to detail the "Amazon Chernobyl" case, centering on a 1993 class-action lawsuit brought by thirty thousand indigenous people who live in the rainforest and claim that their land and water are contaminated by years of illegal dumping by Texaco-Chevron, leading to severe illness and death for many in their community. Ecuadorian attorney Pablo Fajardo and American consulting attorney Steven Donziger go face-to-face with Chevron attorneys Diego Larrea and Adolfo Callejas, who argue that any wrongdoing was done by PetroEcuador's takeover of the oil fields in 1992. As such high-profile people as Ecuadorian president Rafael Correa and Rainforest Foundation cofounder Trudie Styler get involved, the fight heats up, but there's still no end in sight for the sixteen-year-old lawsuit. Berlinger does an excellent job of presenting both sides of the story, even though the bulk of the evidence continues to build for one side. Berlinger will be on hand at the IFC Center for several screenings during the opening weekend.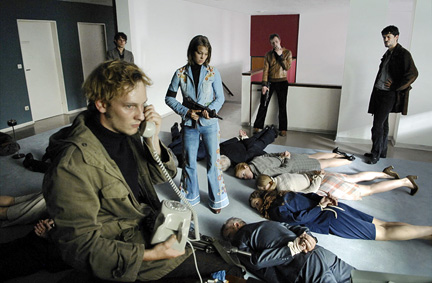 Radical terrorist group is reexamined in Oscar-nominated drama
DER BAADER MEINHOF KOMPLEX (Uli Edel, 2008)
Village East
181 Second Ave. at 12th St.
212-529-6998
http://www.villageeastcinema.com
http://www.baadermeinhofmovie.com

Born out of the student-protest movement of the late 1960s, the Baader-Meinhof Group, also known as the Red Army Faction, comprised a collective of urban guerrillas who were enraged by Germany's refusal to take action against U.S. involvement in Vietnam as well as American support of Israel and the Shah of Iran. The growing gang, named after radical activist Andreas Baader (Moitz Bleibtreu) and left-wing journalist Ulrike Meinhof (Martina Gedeck), were anti-capitalist, anti-imperialist, and anti-fascist, taking up arms, planting bombs, and robbing banks to promote their political agenda. Director Uli Edel (LAST EXIT TO BROOKLYN, BODY OF EVIDENCE) re-creates the story of this violent period primarily through the eyes of Gudrun Ensslin (Johanna Wokalek), Baader's girlfriend who shows no mercy, and newspaper columnist Meinhof, a mother whom Ensslin convinces must turn her written words into action. Citing Ho Chi Minh, Che Guevara, and Mao Zedong as influences, the group — which also includes Holger Meins (Stipe Erceg), Petra Schelm (Alexandra Maria Lara), Peter Boock (Vinzenz Kiefer), and Astrid Proll (Katharina Wackernagel) — continues its fight even as many of its members are imprisoned and killed, battling to the very end as the head of the federal police, Horst Herold (Bruno Ganz), tries to understand their motives and not just think of them as evil terrorists. Reminiscent of such recent films as Steven Spielberg's MUNICH and Marco Bellocchio's BUONGIORNO, NOTTE, both of which also depict radical organizations committing political kidnappings and murder, DER BAADER MEINHOF KOMPLEX is a fascinating study of individuals who choose violent action over nonviolent protest. The screenplay, cowritten by Edel and Bernd Eichinger based on the book by Stefan Aust, lapses in the latter parts of this long two-and-a-half-hour drama, as unfamiliar, poorly identified characters take center stage and events whirl by at a maddening pace, but the film is still a chilling tale of a group of homegrown revolutionaries who captured the attention of a restless public in Germany and around the world — until they started to go too far.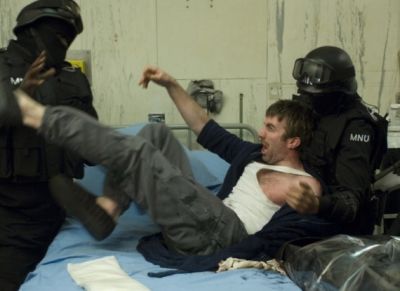 D-9 has a lot to say about the ethics of modern society
DISTRICT 9 (Neill Blomkamp, 2009)
ALIVE IN JOBURG original short film

Expanded from his six-minute short, ALIVE IN JOBURG, Neill Blomkamp's heavily hyped DISTRICT 9 is a sci-fi tale that incorporates elements from numerous genre classics (and clunkers) to create a tense, entertaining thriller that is not quite the cinematic breakthrough many are claiming it is. Sharlto Copley stars as Wikus van der Merwe, an awkward government bureaucrat in charge of moving a ghetto of nearly two million aliens out of one fenced-in area and into another. But the task is far more difficult and dangerous than he anticipated, and after discovering a makeshift lab under alien Christopher Johnson's (Jason Cope) shack, Wikus is accidentally sprayed with a chemical that starts changing him. Soon he is on the run from the government, which wants to experiment on him, and the crazed leader of a Blackwater-like private military organization headed by the villainous Koobus (David James). Meanwhile, the aliens' spaceship hovers ominously over Johannesburg. A parable that evokes apartheid in South Africa (the film was shot in and around Soweto) as well as the violence along the Mexico-America border and other xenophobic hotspots, D-9 has plot holes you can launch a rocket through, and the final scenes spiral way out of control, but it's still a strong debut by an up-and-coming filmmaker being mentored by Peter Jackson.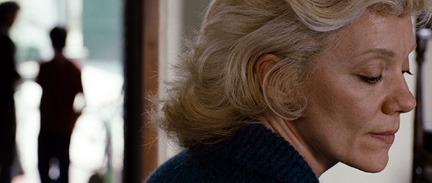 Strand Releasing
María Onetto is lost deep in thought through most of Argentine drama
THE HEADLESS WOMAN (LA MUJER SIN CABEZA)
(Lucrecia Martel, 2008)
Film Forum
209 West Houston St. between Sixth & Seventh Aves.
212-727-8110

Inspired by nightmares she has in which she commits murder, Lucrecia Martel's THE HEADLESS WOMAN details a woman's emotional and psychological reaction after having possibly killed someone. María Onetto gives a mesmerizingly cool, distant performance as Veronica, a middle-aged, upper class wife and mother whose biggest worry appears to be the turtles that have infested the new pool built behind a veterinary office. But one afternoon, while out driving carelessly in her Mercedes along a twisting, barren road, she hits something. Not sure if it was a child, an adult, or an animal, she decides to continue on, telling no one what she has done. But when a poor, local boy goes missing, she begins to suspect that she might have killed him. An intriguing mix of Buñuel's class-consciousness and Poe's flair for suspense, THE HEADLESS WOMAN is an unusual kind of murder mystery. In Veronica, Argentine writer-director Martel (LA CIENAGA, THE HOLY GIRL) has created a compelling protagonist/villain, played with expert calm and faraway eyes by Onetto.
Iraq War drama puts viewers in the middle of the action
THE HURT LOCKER (Kathryn Bigelow, 2009)
Landmark Sunshine Cinema
143 East Houston St. between First & Second Aves.
212-330-8182
http://www.landmarktheatres.com
http://thehurtlocker-movie.com

Based on embedded journalist Mark Boal's experiences in Iraq, THE HURT LOCKER follows a three-member Explosive Ordnance Disposal unit as they are called in to defuse a series of dangerous situations involving various kinds of bombs, including IEDs and other life-threatening explosive devices. Team leader Will James (Jeremy Renner) is an expert bomb defuser and maverick who doesn't follow protocol and likes to live on the edge. Spc. Owen Eldridge (Brian Geraghty) is a greenhorn who just wants to survive the last forty days of their rotation. And Sgt. J. T. Sanborn (Anthony Mackie) likes to go by the book and take no unnecessary chances, which puts him in constant conflict with the unpredictable James. Recalling the second half of Stanley Kubrick's Vietnam drama FULL METAL JACKET (1987), THE HURT LOCKER unfolds in a series of harrowing set pieces in which the EOD unit is called in to either safely detonate or defuse explosive devices while under the eyes of local Iraqis, any of whom could potentially be the bomber or a sniper. Director Kathryn Bigelow (BLUE STEEL, POINT BREAK) masterfully builds suspense scene after scene, beginning with the edge-of-your-seat opener through to the gripping conclusion. The experiences of the EOD unit serve as a microcosm for modern warfare in general and the U.S. involvement in the Middle East specifically, placing viewers in the midst of a tense, bitter, psychologically and emotionally draining battle that can never be won. The outstanding cast also features Guy Pearce, Ralph Fiennes, David Morse, and Evangeline Lilly in small roles; many of the Iraqis were played by actual war refugees. Shot in Jordan not far from the Iraq border, THE HURT LOCKER is a remarkable story, one of the best war films of the decade.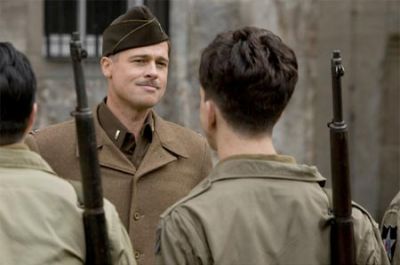 Brad Pitt leads an inglourious group of basterds in glorious Tarantino flick
INGLOURIOUS BASTERDS (Quentin Tarantino, 2009)
http://www.inglouriousbasterds-movie.com

Basically, Quentin Tarantino is a genre filmmaker in love with the movies. He has tackled such cinematic subjects as the heist (RESERVOIR DOGS), blaxploitation (JACKIE BROWN), Hong Kong kung fu / Japanese samurais / revenge thrillers (KILL BILL), grindhouse (DEATH PROOF), and gangsters / boxing / hit men / war / kidnapping (PULP FICTION). Inspired by a little-seen low-budget 1978 Italian film alternately known as HELL'S HEROES, DEADLY MISSION, QUEL MALEDETTO TRENO BLINDATO (THAT BLOODY ARMORED TRAIN), and THE INGLORIOUS BASTARDS — itself inspired by Robert Aldrich's 1967 classic THE DIRTY DOZEN —Tarantino has unleashed INGLOURIOUS BASTERDS, a purposely misspelled two-and-a-half-hour love letter to WWII movies that worships the genre even as it subverts it . Brad Pitt stars as Lt. Aldo Raine (anyone remember Aldo Ray?), the leader of the Basterds — seven men, including the baseball-bat wielding Bear Jew (HOSTEL director Eli Roth), who are making their way through France killing and scalping Nazis. Meanwhile, Standartenführer Hans "the Jew Hunter" Landa (an Oscar-worthy Christoph Waltz) is sniffing out the enemy everywhere — and on a mission to capture the Basterds. Shosanna Dreyfus (Mélanie Laurent), who escaped from Landa several years before, is now running a cinema that specializes in German films; there she meets Schütze Fredrick Zoller (Daniel Brühl), a Nazi hero who is starring in a film about his exploits (anyone remember Audie Murphy?) and falls hard for Shosanna, who has changed her name to the rather elegant Emmanuelle Mimieux (anyone remember Yvette Mimieux?).
After Zoller convinces Minister of Propaganda Joseph Goebbels (Sylvester Groth) to hold the premiere of the film, NATION'S PRIDE, at Shosanna's theater, everyone converges for a finale that will blow your mind. As is his style, Tarantino features a slew of minor characters with their own stories to tell, plenty of scenes that go on way too long, Mexican stand-offs, inside jokes and references that few will get, and lots of close-up violence while turning cliché and convention upside down and inside out. INGLOURIOUS BASTERDS is as much about making — and watching — war movies as it is a movie in and of itself, and a damn fine one at that. Tarantino doesn't play by the rules, so you never know what will happen next. Look for well-disguised on-screen cameos by original BASTARDS director Enzo G. Castellari and star Bo Svenson, Mike Myers, and Rod Taylor (anyone remember Rod Taylor?), listen for voice-over cameos by Samuel L. Jackson and Harvey Keitel, and please don't ever yell "Fire!" in a crowded movie theater.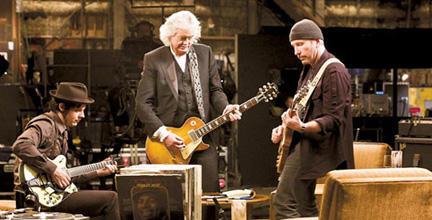 Jack White, Jimmy Page, and the Edge come together in music doc
IT MIGHT GET LOUD (Davis Guggenheim, 2009)
Landmark Sunshine Cinema
143 East Houston St. between First & Second Aves.
212-330-8182
http://www.landmarktheatres.com

Davis Guggenheim follows up his Oscar-winning AN INCONVENIENT TRUTH with the awe-inspiring IT MIGHT GET LOUD, an intimate look at three guitar heroes and the instrument that has made them famous. On January 23, 2008, Led Zeppelin's Jimmy Page, U2's the Edge, and the White Stripes' Jack White held a summit on an L.A. soundstage, where they shared stories about their love of music and, more specifically, the guitar — and, yes, they do eventually make beautiful music together. But IT MIGHT GET LOUD is much more than that; Guggenheim traces each six-string slinger's personal history, joining them as they take fascinating, revealing forays into their past, returning to childhood places that influenced their career directions. White discusses how having a van led to his receiving his first guitar, the Edge goes back to the school where he, Bono, Adam Clayton, and Larry Mullen Jr. formed a band as young teens, and Page invites the cameras into his home, where he puts on old LPs and even plays air guitar (!) to Link Wray's "Rumble." In addition, White writes and records a song in a Tennessee farmhouse on the spot; the Edge, whom Page calls a "sonic architect," explains his use of technology to arrive at his unique, expansive sound; and Page talks about how John Bonham's drumming in the hallway of Headley Grange revolutionized rock-and-roll records. Guggenheim supplements the film with amazing archival footage of the three guitar heroes, including extremely early performances that have never been seen by the public before. But at its heart, IT MIGHT GET LOUD is about the creative process, as three generations of very different, massively talented musicians — the ultracool Page, the techno-geek Edge, and the cynical White — share their secrets, their inspirations, and their deep, profound love of the guitar. Oh, and make sure the theater turns the speakers all the way up to 11.
Riff's Rants & Raves: Live Music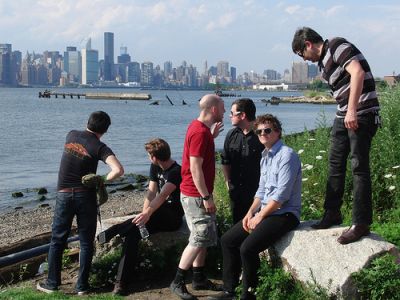 twi-ny/mdr
Trail of Dead only got to look at the skyline at canceled summer gig
...AND YOU WILL KNOW US BY THE TRAIL OF DEAD
Friday, September 18, Webster Hall, $20, 6:00
Saturday, September 19, Music Hall of Williamsburg, $20, 8:00
http://www.myspace.com/trailofdead
Austin band …And You Will Know Us by the Trail of Dead will be back in New York City (uh huh) for a pair of hotly anticipated shows on Rosh Hashanah weekend, especially because a lightning storm canceled their free July 26 performance in East River State Park on the Williamsburg Waterfront. The group is touring behind the stellar disc THE CENTURY OF SELF (Justice, February 2009), which features such killer tracks as "Giants Causeway," "Halcyon Days," "Luna Park," and "Insatiable." Trail of Dead will be at Webster Hall on September 18 with Secret Machines and on September 19 at the Music Hall of Williamsburg with Secret Machines, Freshkills, and Sleigh Bells.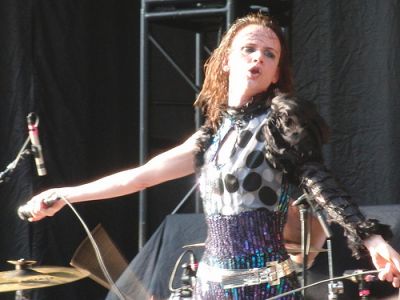 twi-ny/mdr
Juliette Lewis gets in her licks at SummerStage
JULIETTE LEWIS / THE ETTES
The Fillmore New York at Irving Plaza
17 Irving Pl. between 14th & 15th Sts.
Saturday, September 19, $25-$30, 9:00
212-777-6800
http://www.myspace.com/juliettelewis
Actress Juliette Lewis has been carving out a musical career for herself, first with the Licks and now with the New Romantiques. Lewis played SummerStage last month, opening for Cat Power and the Pretenders, blasting out songs from her brand-new album, TERRA INCOGNITA (The End, September 2009). Seemingly dressed for burlesque, Lewis ran about the stage, smudging her makeup, and even jumped into the audience. While her songs might not be overly accomplished, she really gets into the music. Also on the bill are the Ettes — guitarist Coco, bassist Jem, and drummer Poni — who are touring behind their terrific new disc, DO YOU WANT POWER (Take Root, September 29), and another Nashville band, American Bang.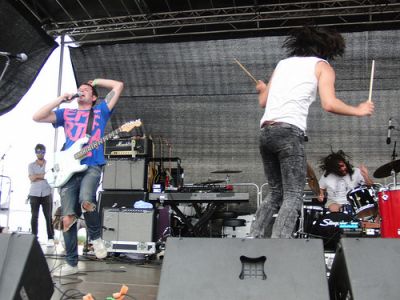 twi-ny/mdr
HEALTH screams into the Bowery Ballroom for COLORful show
HEALTH
Bowery Ballroom
6 Delancey St. at Bowery
Thursday, September 24, $13-$15, 8:00
212-533-2111
http://www.myspace.com/healthmusic
If drummer BJ Miller, guitarists Jake Duzsik and Jupiter Keyes, and bassist John Famiglietti were allowed to unleash their sonic assault on the hallowed halls of Congress, there would be healthcare reform in no time. Better known as HEALTH, the quartet is another neo-punk noise rock band that made a name for itself at L.A's the Smell, which has also brought into the world No Age, Abe Vigoda, and Mika Miko. At the July 26 Jelly Pool Party on the Williamsburg Waterfront, HEALTH let loose with fierce blasts of aggressive noise, creating massive feedback, jumping around the stage, and even getting on their hands and knees for yet more aural fury, starting, suddenly stopping, and then kicking into gear again. HEALTH holds nothing back on its latest disc, GET COLOR (Lovepump United, September 2009), which gets right in your face from the opening song, "In Heat," and continues blasting away through such electronic-driven tunes as "Die Slow," the awesome "Death," and "Eat Flesh." Although a few of the songs have lyrics, the mostly unintelligible words are more background instrument than rock poetry, ethereal accompaniment to the buzzsaw boring into your brain. HEALTH will be headlining the Bowery Ballroom on September 24 with Pictureplane, Tanlines, and DJ Mr. Jonathan Toubin.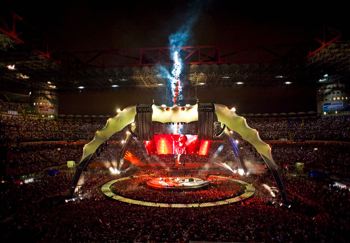 U2 will soar into Giants Stadium with massive stage
U2
Giants Stadium
Thursday, September 24, $30-$250
Ho-hum, another great album from one of the world's best bands. U2 — vocalist Bono, guitarist the Edge, bassist Adam Clayton, and drummer Larry Mullen Jr. — are out on the road in support of their latest record, NO LINE ON THE HORIZON (Interscope, March 2009). The cover features a beautiful, peaceful black-and-white photograph by Hiroshi Sugimoto, promising another spiritual sonic journey by Ireland's finest, steered by a trio of old favorites — Brian Eno, Daniel Lanois, and Steve Lillywhite. "I know a girl with a hole in my heart / She said infinity's a great place to start," Bono sings on the album-opening title track, which is indeed a great place to start. The Edge's classic guitar lines don't show up as much as on past records, but he gets his groove going on "Magnificent." Bono's deeply serious wailing is par for the course, although he does take a poke at himself in "Stand Up Comedy," explaining, "I gotta stand up to ego / But my ego's not really the enemy" and "Stand up to rock stars / Napoleon is in high heels / Josephine, be careful / of small men with big ideas." There should be plenty of people going crazy on September 23 and 24, when U2 brings its 360° Tour to the Meadowlands, its massive stage set right in the middle of Giants Stadium.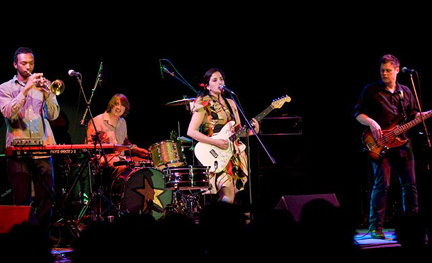 Cordero is part of Brooklyn BBQ bash
BLOODSHOT RECORDS 15th ANNIVERSARY BBQ
Bell House
149 Seventh St., Gowanus
Saturday, September 26, $5, 4:00
http://www.bloodshotrecords.com
One of our favorite labels, Chicago-based Bloodshot Records, is celebrating its quinceañera with a great lineup of bands at the Bell House on September 26, including Bobby Bare Jr., Exene Cervenka, the Dex Romweber Duo, Cordero, the Silos, Ben Weaver, and Rosie Flores. (Scotland Yard Gospel Choir was supposed to be on the bill but suffered a serious car accident the day before.) Cordero, formed by Ani Cordero in Tucson in 1999 with members of Calexico and Giant Sand and based in New York City since 2000, plays smooth, surprisingly subtle Latin pop that is always on the verge of busting loose. Longtime favorites the Silos are continuing on in the wake of the sudden death of Drew Glackin last year. And what can one say about the great and powerful Exene, whose next solo album, SOMEWHERE GONE, is due out October 6. The first 150 people to show up will get free food; doors open at 4:00, with music starting at 5:00.
Riff's Rants & Raves: Dance & Theater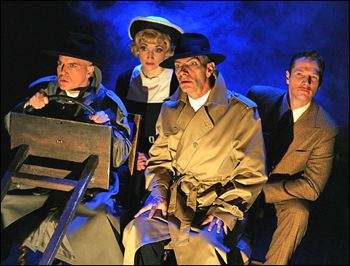 Hitchcock classic continues as a Broadway hit
TICKET GIVEAWAY: THE 39 STEPS
Helen Hayes Theatre
240 West 44th St.
Tickets: $26.50 (student rush), $39 (special code), $114, $176.50 (weekday premium seating), $226.50 (Saturday-Sunday evening premium seating)
http://www.39stepsonbroadway.com
Patrick Barlow's Tony- and Drama Desk-winning play, directed by Maria Aitken, opened in June 2005 in England and moved to Broadway in January 2008. Based on John Buchan's 1915 novel and Alfred Hitchcock's 1935 classic film, the production currently stars Sean Mahon as Richard Hannay, with Jill Paice as Annabella Schmidt, Pamela, and Margaret.
Who played Richard Hannay in the Hitchcock thriller? Send your answer to contest@twi-ny.com by Friday, September 18, at 3:00 pm to be eligible to win a pair of tickets to this Broadway hit. Please include your full name, address, and daytime telephone number (eighteen and over only). Two correct responses will be chosen at random — and will discover the secret of the 39 steps!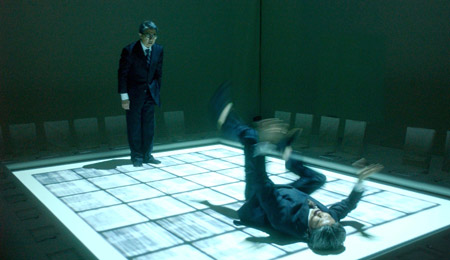 Alexandra Corazza
Japan Society show promises treats for all five senses
heavenly BENTO
Japan Society
333 East 47th St. between First and Second Aves.
September 17-19, 7:30
Admission: $18-$30
212-715-1258

The Japan Society kicks off its fall performing arts season, "Japan Transatlantic: Tokio-Berlin," with the likable if not very deep HEAVENLY BENTO. Presented by the post theater, which is based in New York, Berlin, and Tokyo, the multimedia production tells the story of the Sony Corporation, from its simple beginnings as a postwar radio repair company through its transition into a global empire. Alexander Schroder plays Masaru Ibuka, the idea man, while Jun Kim portrays Akio Morita, the technical and marketing genius. HEAVENLY BENTO takes place on an oversized pool-table-shaped elevated platform on which Yoann Trellu projects video imagery, from a line of recording tape to a street map of Midtown Manhattan. Schroder and Kim first emerge from a whole in the center of the platform, then conduct the rest of their business while walking around the rectangle. Meanwhile, several audience rows flank three sides of the stage, with the rest of the crowd sitting in the regular seats, able to watch the drama both directly as well as on a video screen so they can see every detail. Near the end, Kazue Ikeda performs an improvised dance that is a bit abstract for the otherwise straightforward narrative. The whole setup is rather charming, although it does often feel as if it's a propaganda production for Sony — and indeed, the global conglomerate did contribute financial support, as did Morita's widow, who was present at the U.S. premiere on September 17.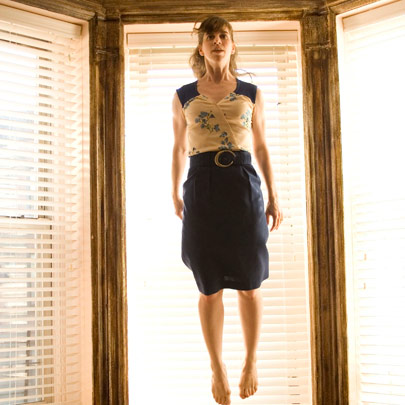 Alexandra Corazza
Jillian Sweeney will perform solo piece in Long Island City
THIS COULD BE IT
The Chocolate Factory
5-49 49th Ave., LIC
Tickets: $15
718-482-7069
http://www.chocolatefactorytheater.org
Wednesday, September 23
through
Saturday, September 26 Jillian Sweeney performs a solo multimedia collage choreographed by Sweeney, written by Sweeney and Jeffrey Cranor, directed by Cranor, with sound and video by Brian Rogers and lighting design by Chloe Z. Brown, 8:00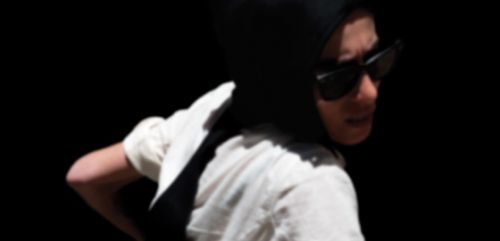 Maria Hassabi reimagines uses of a Persian carpet in solo dance
MARIA HASSABI: SOLO
Crossing the Line 2009
Performance Space 122
150 First Ave. between Ninth & Tenth Aves.
Tickets: $20
Tuesday, September 29
through
Sunday, October 4 Maria Hassabi, "Solo," as part of the Crossing the Line festival sponsored by the French Institite Alliance Française; for a complete listing of events, please visit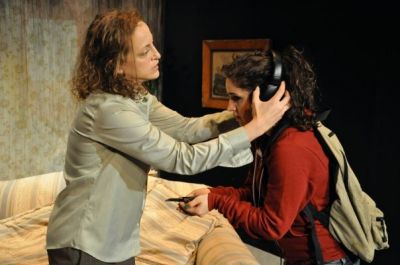 Melissa Wolff and playwright Caitlin Saylor Stephens star in moving NESTING
NESTING
walkerspace
46 Walker St. between Broadway & Church St.
Wednesday through Sunday through September 20
Tickets: $18
212-32-3101
http://nestingplay.blogspot.com

Young playwright Caitlin Saylor Stephens makes a sparkling debut with her first full-length production, NESTING. The Chekhovian drama is set in a condemned house in Baltimore, where Anna (Melissa Wolff) lives by herself. She refuses to leave the family home, where she survived a devastating fire that took the life of her teenage daughter, Katie. Over the course of one day, she is visited by Frank (Jonathan Judge-Russo), a fire department investigator worried about her safety; her husband, Ryan (Geoff Schuppert); and Katie's best friend, Ashley (Stephens), who arrives carrying a dying bird. Anna weaves in and out of reality as the characters discuss family, responsibility, and, most tenuously, moving forward. Stephens and director Jennifer Sandella do an expert job of allowing the heartbreaking story to reveal itself bit by bit, often propelled more by what isn't said than by what is. The set, designed by Izquierdo Studios, makes it seem as if the smoke from the fire is still palpable and as if the house can come crumbling down at any moment. Wolff is excellent as Anna, at times walking around in a daze, then coming sharply into focus, trapped physically and mentally in the past. Stephens is electrifying as Ashley, a sixteen-year-old girl desperate for something to hold on to. And Judge-Russo is solid as Frank, a caring man who finds himself caught between being hero and villain. NESTING is the first production by TokenCollective, a group of actors who met while studying at the Labyrinth Theater Company; here's hoping there's a lot more to come from this talented team — and that NESTING finds a bigger home after its run at the small, intimate walkerspace venue.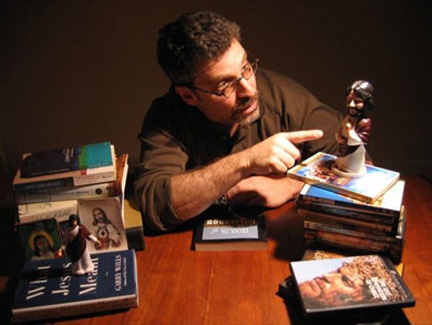 Mike Schlitt's JESUS RIDE is one of Fringe Festival highlights
FringeNYC ENCORE SERIES: JESUS RIDE
SoHo Playhouse
15 Vandam St. between Sixth Ave. & Varick St.
September 18-21
Tickets: $15-$18
866-468-7619
http://www.fringenyc-encoreseries.com
Some of the best productions from this summer's Fringe Festival have been chosen to receive encore runs, including VIRAL, THE BOYS UPSTAIRS, HIS GREATNESS, SEX AND THE HOLY LAND, DOLLS, and JESUS RIDE, which won the 2009 award for Outstanding Solo Show. Michael Schlitt, whose MIKE'S INCREDIBLE INDIAN ADVENTURE was named Outstanding Solo Show at the 2006 Fringe Festival and is a founding member of L.A.'s Actors' Gang theater group (currently headed by Tim Robbins), tells the wild story of his initiation into the film biz, working as a project manager for Sony as they attempt to turn a religious propaganda script called THE REVOLUTIONARY into an HD film to be shown at televangelists Paul and Jan Crouch's Trinity Music City in Nashville. On a sparse stage with just a chair, a small table, and a screen, Schlitt, a non-practicing, non-believing Jew, talks about how he did research by watching thirty-three (!) films about Jesus, from 1905's THE LIFE AND PASSION OF JESUS CHRIST and 1927's THE KING OF KINGS to 2001's JESUS CHRIST VAMPIRE HUNTER and 2004's THE PASSION OF THE CHRIST. He intersperses anecdotes from his personal life with clips from many of these movies, commenting on the beginnings of Hollywood, anti-Semitism, and such Jesus portrayers as Willem Dafoe, Victor Garber, Max von Sydow, Jeffrey Hunter, and Robert Powell while also detailing the bizarre goings-on occurring on the REVOLUTIONARY film set in Jerusalem. He also works in some great factoids, including our favorite about one of the apostles in JESUS CHRIST SUPERSTAR. Schlitt clearly enjoys telling his story, comfortably interacting with the audience and ad-libbing, although the direction is a little clunky when he gets out of the chair and walks around the stage, and some of the clips are a bit forced. Still, JESUS RIDE is an entertaining eighty-minute ride through the cinematic history of the most controversial figure who's ever lived.
Riff's Rants & Raves: Art & Literature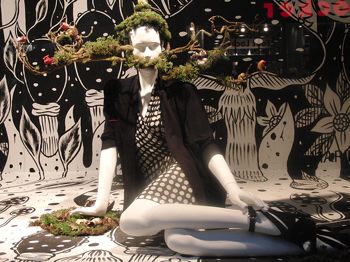 twi-ny/mdr
Marie Losier, Aya Kakeda, and François Leloup Collet
have fun with "Mustache in My Eye" in Macy's window
ART UNDER GLASS
Macy's Herald Square
Windows along Broadway & 34th St.
Through September 27
Admission: free
As part of the annual Crossing the Line festival, the French Institute Alliance Française has teamed up with Macy's to display the work of a group of cutting-edge international artists — most of whom are currently based in New York City — in the windows surrounding the iconic department store. Co-curated by Julie Boukobza with CTL's Lili Chopra and Simon Dove, the exhibit matches up artists with designers, as each window features a product available inside the store. However, these site-specific installations are in no way merely ads for the merchandise; in fact, some of the work clearly subverts crass materialism, commenting on the value of art and fashion with regard to utility, especially relevant since it opened during Fashion Week. Nick Van Woert's "Knock Off" series pairs fashionable handbags with such items as a plastic bag and a kid's pail, all of which can be used to transport things. Marie Losier, Aya Kakeda, and Francois Leloup Collet created the fun "Mustache in My Eye," which includes a playful video of the three artists wearing the inventive costumes in the window. Marie Maillard and Amélie Chabannes invite viewers to look through a hole in the glass in "Come Nearer, Come Close," part of which purposefully looks unfinished.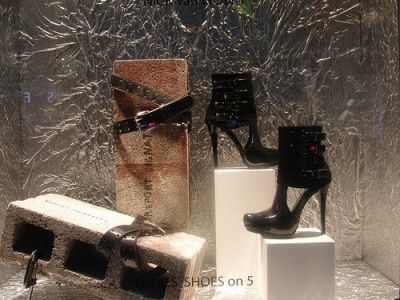 twi-ny/mdr
One of Nick Van Woert's "Knock Off" displays offers consumers a tough choice
Sarah Ortmeyer's four mirrored pieces recall Eliafur Olafsson and Yayoi Kusama filtered through the hustle and bustle of the Herald Square area. Depending on how you feel about Michael Jackson, you might be repulsed by or enamored with Rita Ackermann and Agathe Snow's multimedia "Mama Si Mama Sa Mama Co Sa . . . Liquid Man." There are also pieces by AIDS-3D, Hrafnhildur Arnardóttir (aka Shoplifter), Olivier Babin, Visual System, and, perhaps our favorite, Michael L. Yinger, whose "Seen It All, I'm Already There" confronts the intersection of art and commerce head-on, featuring a makeshift American flag on its side, made of a multitude of objects, including tiny evergreens (referencing Macy's famous Christmas displays), a roll of toilet paper, records (with the Clash and Gang of Four facing out), and other unusual objects. Amid the more than three dozen windows that are part of the Art Under Glass project are a few that are actual advertisements that have nothing to do with Crossing the Line, yet even they add to the overall feel of this unique gallery space that will be seen by hundreds of thousands of people, most unsure of just what they're really looking at.
In the Neighborhood
WORKOUTS OF THE WORLD
Herald Square traffic-free zone between 34th & 35th Sts.
Wednesdays in September at 5:30
Admission: free
Wednesday, September 16 Masala Bhangra
Wednesday, September 23 Reggae Workout
Wednesday, September 30 Masala Bhangra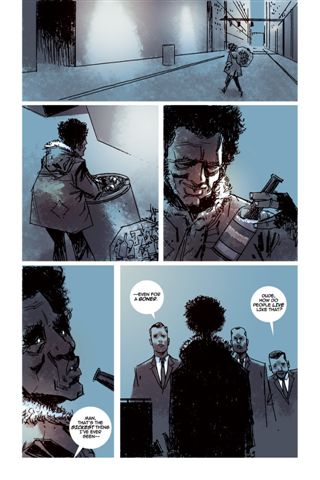 THE SURROGATES (VOL 1) by Robert Venditti and Brett Weldele (Top Shelf, July 2009, $19.95)
In 2054, not many humans venture outside anymore. Instead, they live through surrogates, realistic robotic machines that go to work for them, do the laundry, and even have sex with other surrogates while the owner gets to experience all of these things viscerally, as if they are the ones performing the acts. However, somebody is out to destroy the surries, as they're familiarly known, and force people to have to actually experience life in the real world. Detective Harvey Greer is on the case, but when his surrogate is rendered useless by the mysterious villain, Greer opts to track him down with his real self, deciding not to use a temporary replacement surrogate. Among Greer's suspects is the prophetic Zaire Powell III, leader of the Dread movement that rioted in 2039 against surrogates. The basis for the new film by Jonathan Mostow starring Bruce Willis, this futuristic noir is cleverly written by Robert Venditti, with wonderfully moody earth-toned art by Brett Wendele. This deluxe trade paperback includes the five-part comic-book miniseries as well as such bonus features as a gallery of covers, a behind-the-scenes look at how the concept was turned into words and images, a deleted scene, and additional artwork. THE SURROGATES is also now available as an iPhone app.

All contents copyright 2009 by Mark Rifkin and twi-ny. All rights reserved. Contents may not be reprinted without written permission. Please note that events, dates, and prices are subject to change.
Send all comments, suggestions, reviews, and questions to mark.rifkin@twi-ny.com.
Please note that some e-mail clients may wrap links, so be sure to enter them fully into your browser.
To subscribe to this list, please e-mail the administrator at admin@twi-ny.com with the word Subscribe in the Subject line; be sure to ask for back issues, which are free as well. To unsubscribe from this list, please think it over twice before e-mailing the same address. Please let us know what you didn't like about this forum and we'll do our best to correct it in the future — if we agree with you. If you would like to see something covered in a future issue, please let us know. Without you, there is no need for us to exist.


twi-ny top two dozen (or so) weekly reminders & special events
LUCY GUERIN INC.
Baryshnikov Arts Center, Howard Gilman Performance Space, 450 West 37th St.
Dance Theater Workshop, Bessie Schonberg Theater, 219 West 19th St. between Seventh & Eighth Aves.
Tickets: $15
http://www.bacnyc.org/index.php/events/performances/HG091609-Guerin
http://www.dancetheaterworkshop.org/lucyguerin
Wednesday, September 16
through
Sunday, September 20 CORRIDOR, multimedia investigation of the human body, Baryshnikov Arts Center
Thursday, October 1
through
Saturday, October 3 STRUCTURE AND SADNESS, evening-length piece inspired by the collapse of the West Gate Bridge in Australia in 1970, DTW, 7:30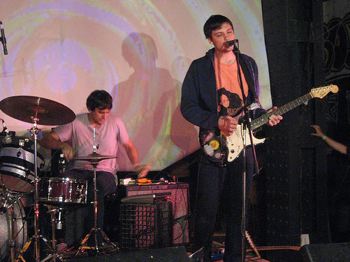 twi-ny/mdr
Grooms recently performed at Under the Tracks fest in Chelsea
GROOMS
Death by Audio
49 South Second St. between Wythe & Kent
http://www.myspace.com/deathbyaudioshows
http://www.myspace.com/groomsmusic
Thursday, September 17 Grooms plays with Videohippos, Starring, PC Worship, Anamanaguchi, and Dome Theater, 8:00
SIKH INTERNATIONAL FILM FESTIVAL 2009
Asia Society and Museum
725 Park Ave. at 70th St.
212-517-ASIA
http://www.sikharts.com/film-festival.html
Friday, September 18
and
Saturday, September 19 Film screenings, appearances by cast and crew, after-parties, and guest of honor Mira Nair
LATE-NIGHT FAVORITES
IFC Center
323 Sixth Ave. at West Third St.
Friday & Saturday at 12 midnight through September 26
212-924-7771
http://www.ifccenter.com/series/late-night-favorites
Friday, September 18
and
Saturday, September 19 2001: A SPACE ODYSSEY (Stanley Kubrick, 1968)
Friday, September 25
and
Saturday, September 26 THE SHINING (Stanley Kubrick, 1980)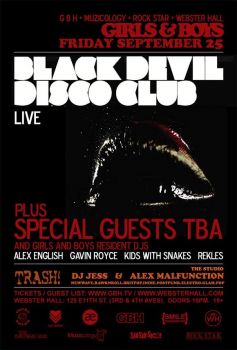 GIRLS & BOYS
Webster Hall
125 East Eleventh St. between Third & Fourth Aves.
Tickets: $15-$25 ($1 entry and $1 drinks with below link)
Girls get in free all night long
http://www.websterhall.com/dollardaze/friday
Friday, September 18 Wolfgang Gartner, Viking, Telepathe, resident DJs Alex English, Gavin Royce, Kids with Snakes, Gavin Royce, and Rekles, Trash! with DJ Jess & Alex Malfunction, and more, 10:00
Friday, September 25 Black Devil Disco Club live with special guests, resident DJs Alex English, Gavin Royce, Kids with Snakes, Gavin Royce, and Rekles, Trash! with DJ Jess & Alex Malfunction, and more, 10:00
THE 19th C. PUB CRAWL
Meet outside Merchant's House Museum
29 East Fourth St.
Saturday, September 19 Annual event with stops at Swift, McSorley's, Pete's Tavern, the Old Town, and P. J. Clarke's, with drink specials and historical tales, nineteenth-century dress encouraged but not required, 5:00
MAD. SQ. MUSIC 2009 STUDIO SERIES: FOLK, BLUES & AMERICANA
Madison Square Park
Broadway & Madison Ave. and Twenty-third & Twenty-fifth Sts.
Saturday afternoons at 3:00 through October 10
Admission: free
212-538-9310
https://www.madisonsquarepark.org
Saturday, September 19 Woody Herman and Natalia Zukerman
Saturday, September 26 Susan Werner and Creaking Tree String Quartet
GET YOUR HANDS PURPLE
City Winery
143 Varick St. between Spring & Vandam Sts.
Tickets: $50 (includes coupon for bottle made from this crush next year)
212-608-0555
Sunday, September 20 Participate in the Pinot Noir Harvest Crush, taste five City Winery wines, and take home bottle of Downtown White, 12 noon – 5:00
CONEY ISLAND TATTOO & MOTORCYCLE SHOW
Surf Ave. at West Twelfth St.
718-372-5159
Sunday, September 20 Twenty-fourth annual event, featuring tattoos, motorcycles, trophies, contests, live music and sideshow performances, and more, 12 noon

A TRIBUTE TO SHEL SILVERSTEIN
Water Taxi Beach
Governors Island
Admission: free
Sunday, September 20 The Children's Author Series honors Shel Silverstein with Jack Grace and the Beach Animals, 1:00 – 5:00
SAGRA DEL MAIALE
Il Buco
47 Bond St. between Lafayette St. & Bowery
Tasting tickets: $20 per plate, wine and prosecco $10, beer $8
212-533-1932
Sunday, September 20 Sixth annual Il Buco Outdoor Pig and Apple Festival commemorating the Autumnal Equinox, featuring a special menu prepared by chef Ignacio Mattos, 1:00 – 6:00 outdoors, 6:00 – 12 midnight indoors
JOSS WHEDON: A SING-ALONG, SCREENING, AND Q&A
Symphony Space, Peter Jay Sharpe Theatre
2537 Broadway at 95th St.
Tickets: $26
212-864-5400
Monday, September 21 Screening of DR. HORRIBLE'S SING-ALONG BLOG, followed by an interview and Q&A session with Joss Whedon and special guests, benefiting HYPERLINK http://www.826nyc.org http://www.826nyc.org, 8:00
PALM OUT POVERTY WEEK
Multiple locations
Sunday, September 21
through
Sunday, September 28 Weeklong series of events sponsored by All for Africa for the Palm Oil Initiative, which is seeking to "raise $20 million in order to implement the planting and harvesting of one million Palm Trees in West Africa," featuring such special events as an after-work business networking gathering as Islero (247 East 50th St., free but RSVP required) on September 22, live drumming and dance performances at Cain Luxe (544 West 27th St., $20-$30) on September 24, a gala at the Carleton Hotel (88 Madison Ave., $250) on September 25, and a golf tournament in West Nyack ($3,000) on September 28
THE WIZARD OF OZ (Victor Fleming, 1939)
Multiple locations including movie theaters in Port Washington, Parsippany, Edgewater, White Plains, Whitestone, Farmingdale, New Rochelle, New Brunswick, and Westbury
Tickets: $10
http://thewizardofoz.warnerbros.com
Wednesday, September 23 One-night-only presentation of THE WIZARD OF OZ in hi-def, in celebration of the film's seventieth anniversary, with a prerecorded introduction by Robert Osborne, the featurette TO OZ! THE MAKING OF A CLASSIC, and more, 7:00
THE BLUE RIDER IN PERFORMANCE
Miller Theatre, Columbia University
2960 Broadway at 116th St.
Tickets: $35
212-854-7799
Wednesday, September 23
and
Friday, September 25 Multimedia performance based on Kandinsky and Marc's Blue Rider Almanac of 1912, conceived and directed by Sarah Rothenberg, with special guest choreogapher Karole Armitage and live music by the Brentano String Quartet, 8:00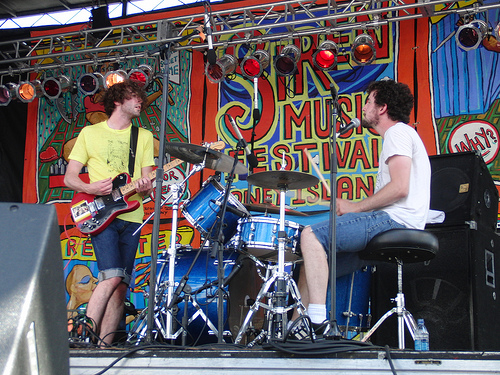 Japandroids rocked out at this year's Siren Festival
JAPANDROIDS
Mercury Lounge
217 East Houston St.
Tickets: $10
http://www.myspace.com/japandroids
http://www.mercuryloungenyc.com
Thursday, September 24 Japandroids play with Mt. St. Helens Vietnam Band, 9:30
MECHANIC TO MILLIONAIRE: THE PETER COOPER STORY
The Great Hall at the Cooper Union
7 East Seventh St. at Astor Pl.
Admission: free
212-353-4195
Friday, September 25 World premiere of film by the Gardner Documentary Group detailing the history of Peter Cooper, in conjunction with the 150th anniversary of the school named for him, 6:30

IT CAME FROM BROOKLYN
Solomon R. Guggenheim Museum
1071 Fifth Ave. at 89th St.
Tickets: $40
212-423-3500
Friday, September 25 Julian Plenti (aka Paul Banks of Interpol) and I'm in You, readings by Rivka Galchen and Hampton Fancher, and MC Eugene Mirman, 8:00
THE DanceNOW FESTIVAL: FAB! & DMAC
Duo Multi-Cultural Arts Center
62 East Fourth St.
Admission: free
212-598-4320
Saturday, September 26 Fifteenth anniversary celebration featuring performances by the Bang Group, Darrah Carr Dance, Tze Chun Dance Company, Dancewave's Kids Company, Eva Dean Dance, Gallim Dance, and Urban Dance Collective with Niles Ford, outside on East Fourth St. as part of the FAB! Festival & Block Party, 12 noon – 5:00
Saturday, September 26 Free evening program featuring Jen Abrams, Band of Bless with Dana Michel, ali kenner & co., Tze Chun Dance Company, and Reidel Dance Theater at 4:00, Heidi Latsky, Aynsley Vandenbroucke Movement Group, Urban Dance Collective, Gallim Dance, and the Bang Group at 5:00, Darrah Carr Dance, Ayman Kassem, Patricia Noworol, Yin Yue Dance Company, and Carlos A. Cruz Velazquez at 6:00
UPTOWN NIGHTS AT HARLEM STAGE
Harlem Stage Gatehouse
150 Convent Ave. at 135th St.
Tickets: $15
212-281-9240
Saturday, September 26 2012, the HipHop Experiment, featuring a preperformance dialogue with Marc Cary and Shon "Chance" Miller at 6:00, followed by an open-bar mixer at 6:30 and the live show at 7:30, with Marc Cary and his Black Instruments Band (with special guests Peven Everett and Phonte of Little Brother), emcees Holistic and Holy Smokes, vocalist Crystal Monee Hall, the Smash Mechanics Band, Len 'Tuac' Xiang, sets by DJ Jazzy Jay, sensory response technology, and more

JOEL MEYEROWITZ: LEGACY
Aperture Gallery
547 West 27th St., fourth floor between Tenth & Eleventh Aves.
Admission: free
212-505-5555
Tuesday, September 29 Artist talk and book signing on the publication of Joel Meyerowitz's LEGACY: THE PRESERVATION OF WILDERNESS IN NEW YORK CITY PARKS, in conjunction with upcoming exhibition at the Museum of the City of New York, 6:30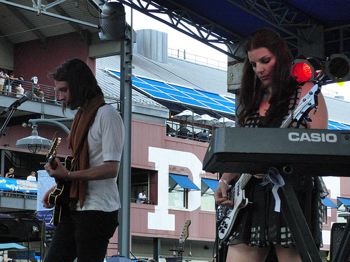 twi-ny/mdr
ZAZA was part of triple bill this summer at Pier 17
ZAZA
Santos Party House
96 Lafayette St.
Tickets: $10
http://www.myspace.com/warofzaza
Wednesday, September 30 ZAZA, who played a cool set this summer at the South Street Seaport, will be headlining Santos Party House with My Best Friend, 7:00