Twi-ny, This Week in New York
THEY CALLED ME MAYER JULY: PAINTED MEMORIES OF A JEWISH CHILDHOOD IN POLAND BEFORE THE HOLOCAUST
The Jewish Museum
1109 Fifth Ave. at 92nd St.
Through October 1 (Closed Wednesday)
Admission: $12 (free Saturdays 11:00 am - 5:45 pm)
212-423-3337
http://www.thejewishmuseum.org
http://samanthamyers.typepad.com/theycalledmemayerjuly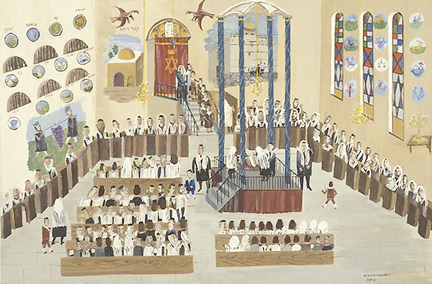 © 2009 Mayer Kirshenblatt
Mayer Kirshenblatt, "Synagogue Interior," acrylic on canvas, 1991

"I never intended to get into this full-time," Mayer Kirshenblatt writes about his very first painting, 1990's "Kitchen." Born in Apt (Opatów), Poland, in 1916 and living in Canada since 1934, Mayer began his unexpected art career at the age of seventy-three at the behest of his daughter, Barbara Kirshenblatt-Gimblett, who wanted him to capture in pictures his childhood in a town that was eventually decimated by the Holocaust. So for nearly twenty years, Mayer has been bringing to life the endearing stories of his youth in primitive, charming acrylic paintings and pencil drawings that come together like a movie. The exhibit has a FIDDLER ON THE ROOF quality to it as viewers get to learn about various characters even as they know it will all soon vanish. In both words and pictures, the works feature Mayer's fabulous memories about Opatów, introducing the world to his family, laundry thieves, rabbis, teachers, the shilklaper, the kamashn-makher, chimney sweeps, water-carriers, the wigmaker, town crazy Bashe Rayzl, soap factory owner Layzer Mandelbaum, tailor Yankl Damski, and even the local prostitute. Here's how he describes 1995's "The Kleptomaniac Slipping a Fish Down Her Bosom" in the accompanying wall label:
"Dealers brought fish to market from the Vistula River on Thursdays. Would you believe that the wife of Yumen (Benyumen Lewensztajn), one of the richest men in town, was a kleptomaniac? She would steal a fish and hide it in her bosom. It was a live fish, of course. Who would want to steal a dead fish? The merchants would keep track of what she stole, and Yumen would pay up. She was a beautiful, impeccably dressed woman. There she is in brown, with a matching hat and guilty look, slipping a fish down her dress."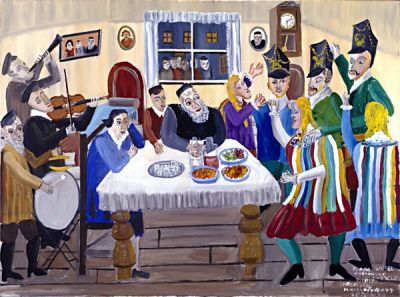 "© 2009 Mayer Kirshenblatt
Mayer Kirshenblatt, "Purim Play: The Kraków Wedding," acrylic on canvas, ca. 1994
"They Called Me Mayer July" is as much historical document as art display, as Mayer details religious rituals, holiday gatherings, funeral rites, synagogue celebrations, and other customs. The exhibit ends in a separate room in which Mayer details what happened to members of his family as the Nazis swept through Poland and Eastern Europe, a sobering finale. Be sure to watch the ten-minute excerpt from the half-hour documentary PAINT WHAT YOU CAN REMEMBER (Slawomir Grünberg, 2009), in which Mayer returns to his hometown, and pick up the Acoustiguide, which features commentary by Mayer and his daughter. Mayer's memories have also been collected in a beautiful book that was a National Jewish Book Award finalist. "They Called Me Mayer July" is an unforgettable experience and one of the best shows of the year.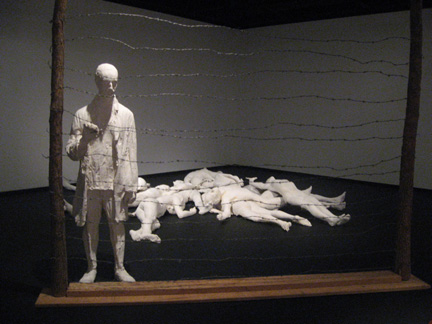 twi-ny/mdr
George Segal, "The Holocaust," plaster, wood, and wire, 1982
ALSO AT THE JEWISH MUSEUM
http://www.thejewishmuseum.org
The Jewish Museum is also currently displaying "Theaters of Memory: Art and the Holocaust," a small but powerful room featuring such poignant works as Anselm Kiefer's "Die Himmelspalaste (The Heavenly Palaces)," Tadeusz Kantor's "The Desk," and George Segal's harrowing "The Holocaust," in addition to pieces by Eleanor Antin, Christian Boltanski, Matthew Buckingham, Fabio Mauri, and Frederic Matys Thursz. The two-floor permanent exhibition "Culture and Continuity: The Jewish Journey" is always worth a visit, while the kinder should get a kick out of the interactive "Archaeology Zone: Discovering Treasures from Playgrounds to Palaces." And on September 13, "Reinventing Ritual: Contemporary Art and Design for Jewish Life" and "Rite Now: Sacred and Secular in Video" both open.
Brooklyn Film Festival of the Week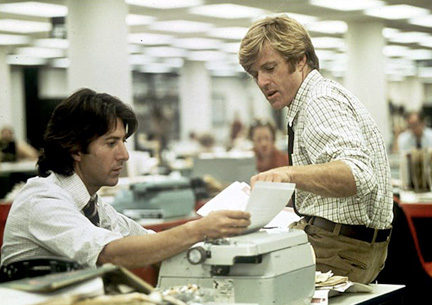 Dustin Hoffman and Robert Redford team up in Alan J. Pakula classic
ROBERT REDFORD: ARTIST & ACTIVIST
BAMcinématek, BAM Rose Cinemas
30 Lafayette Ave. between Ashland Pl. & St. Felix St.
September 8-16
718-636-4100
Forty years ago, Robert Redford burst onto the Hollywood scene with a trio of strong performances in BUTCH CASSIDY AND THE SUNDANCE KID, TELL THEM WILLIE BOY IS HERE, and DOWNHILL RACER, launching the iconic star into a wildly successful career as an actor, director, activist, environmentalist, producer, and father figure to the green movement. His Sundance Film Festival became the standard-bearer for what a celebration of film should be, while his activism proved that Hollywood can make a difference. BAM pays tribute to the California-born Redford by screening sixteen of his finest moments, from 1969's BUTCH and RACER through such masterpieces as THE STING and ALL THE PRESIDENTS' MEN and such directorial efforts as ORDINARY PEOPLE and QUIZ SHOW. Five of his collaborations with Sidney Pollack anchor the festival, including the underrated THREE DAYS OF THE CONDOR. On September 13, Redford will participate in a special conversation at the Harvey Theater.
Tuesday, September 8 THE CANDIDATE (Michael Ritchie, 1972), 4:30, 6:50, 9:15
Wednesday, September 9 DOWNHILL RACER (Michael Ritchie, 1969), 6:50, 9:15
Thursday, September 10 BUTCH CASSIDY AND THE SUNDANCE KID (George Roy Hill, 1969), 6:50, 9:30
Saturday, September 12 QUIZ SHOW (Robert Redford, 1994), 2:00
Saturday, September 12 THE STING (George Roy Hill, 1973), 5:00
Saturday, September 12 ALL THE PRESIDENT'S MEN (Alan J. Pakula, 1976), followed by a Q&A with Robert Redford, Bob Woodward, and Carl Bernstein, 8:00
Sunday, September 13 A RIVER RUNS THROUGH IT (Robert Redford, 1992), 12:15
Sunday, September 13 JEREMIAH JOHNSON (Sydney Pollack, 1972), 12:30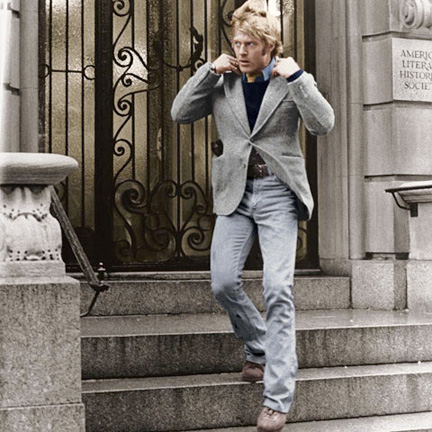 Robert Redford finds nothing but trouble in THREE DAYS OF THE CONDOR

Sunday, September 13 Redford: Film & Conversation, Harvey Theater (Redford: Film & Conversation, $20; Conversation Only, $15), preceded by four screenings at BAM Rose Cinemas
Sunday, September 13 OUT OF AFRICA (Sydney Pollack, 1984), 3:00
Sunday, September 13 THE NATURAL (Barry Levinson, 1985), 3:10
Sunday, September 13 THE ELECTRIC HORSEMAN (Sydney Pollack, 1979), 3:15
Sunday, September 13 THE WAY WE WERE (Sydney Pollack, 1973), 3:30
Monday, September 14 ORDINARY PEOPLE (Robert Redford, 1980), 6:50, 9:30
Tuesday, September 15 EL NORTE (Gregory Nava, 1983), 6:50
Tuesday, September 15 THE UNFORESEEN (Laura Dunn, 1992), 9:40
THE UNFORESEEN (Laura Dunn, 2007)

Despite its title, THE UNFORESEEN is not a horror flick, although it does contain some frightening images and scary tales. Laura Dunn's documentary tracks the three-decades-long fight between real estate developers and the progressive community of Austin, Texas, over Barton Springs, a lovely, "spiritual" respite on the outskirts of that exploding city. Dunn, a self-described environmentalist, follows local activism through the years, from the early 1990s, when Austinites staged an overnight vigil, demanding that the city council deny permits to developers, to the election of Governor George W. Bush, whose administration did all it could to reverse their somewhat successful efforts. Dunn interviews a number of figures extensively, including businessman Gary Bradley, cool and confident in his office, and lobbyist Dick Brown, shown carefully building a model warplane, his face rarely on-screen. Both argue their case, calmly defending capitalism and property rights. Also sharing their opinions are musician Willie Nelson, former Texas governor Ann Richards, political journalist William Greider, and Robert Redford, a regular summer visitor to Barton Springs in his childhood. (Redford is one of the film's executive producers, along with Terence Malick, who first approached Dunn with the story idea.) Dunn does a good job presenting the battle between suburban sprawl and the natural environment, between private property and public space, although the voice-overs of Wendell Berry reading his poem "Santa Clara Valley" are a bit heavy-handed. Understandably, THE UNFORESEEN was a hit at Sundance, SXSW, and the Human Rights Watch International Film Festival.
Wednesday, September 16 THREE DAYS OF THE CONDOR (Sydney Pollack, 1975), 6:50, 9:30
Cultural Festival of the Week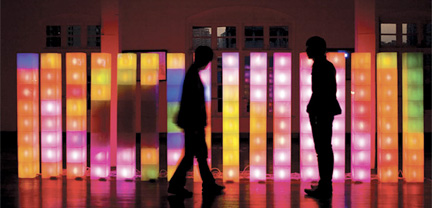 Visual System will present "A Digital Experience…" in FIAF Gallery
CROSSING THE LINE 2009
French Institute Alliance Française (FIAF) and other venues
September 12 — October 3
Free - $25
Celebrating new work that bridges the divide between New York and France, FIAF's Crossing the Line festival features an enticing roster of dance, music, art, food, film, and more, curated by artistic director Lili Chopra and Simon Dove of the School of Dance at Arizona State University. In addition to events at Midtown's French Institute Alliance Française, there will also be performances and site-specific installations at such Lower East Side locations as Danspace Project, P.S. 122, Luxe Gallery, and the New Museum as well as Brooklyn's Cabinet and Macy's windows in Herald Square. We're particularly looking forward to Metamkine creating a new live film in Florence Gould Hall, Maria Hassabi's "Solo" show at P.S. 122, and CTL veteran Trajal Harrell's "Twenty Looks or Paris Is Burning at the Judson Church (S)" at the New Museum. Meanwhile, we're getting good and hungry for the Omnivore New York series, which includes special dinners at five local restaurants.
Through Saturday, September 26 Marie Maillard, "Wall 0909," installation at Luxe Gallery, 29 Orchard St. between Hester & Canal Sts., free, Wednesday — Sunday 11:00 am — 6:00 pm
Saturday, September 12 Opening celebration: Le Bal NYC, with French choreographers Germaine Acogny, Odile Duboc, Latifa Laâbissi, and Olivier Dubois, Omnivore New York, featuring bento boxes with food by Inaki Aizpitarte, Pascal Barbot, Alexandre Gauthier, Michel Bras, David Chang, and Wylie Dufresne, and more, Central Park's East Meadow, free, 2:00 —6:00

Sunday, September 13 Omnivore New York — INVENTING CUISINE: MICHEL BRAS (Paul Lacoste), followed by a Q&A with Lacoste and Bras, Tinker Auditorium, FIAF, $10, 1:30
Sunday, September 13 Omnivore New York —Michel Bras Q&A with Julie Andrieu, Le Skyroom, FIAF, $20, 3:00
Sunday, September 13 Omnivore New York — Shadows and Light: Cooking Duets, with Wylie Dusfresne and Inaki Aizpitarte, David Kinch and Pascal Barbot, and David Chang and Alexandre Gauthier, with live musical accompaniment by Rob Kaplan and Steve Regan, Florence Gould Hall, FIAF, $25, 5:00
Monday, September 14 Omnivore New York: Five F**king Dinners, at Momofuku Noodle Bar (Inaki Aizpitarte, $50), Momofuku Ssäm Bar (David Kinch, $95-$160), Momofuku Milk Bar (Alexandre Gauthier, $95-$160), KO (Pascal Barbot), and WD 50 (Michael Bras, David Chang, Wylie Dufresne, $250), 8:00
Wednesday, September 16
and
Thursday, September 17 Steven Cohen, "Knock 'Em Dead," Center for Performance Research, 361 Manhattan Ave. Unit 1, free but reservations required at info@cprnyc.org, 7:30
Wednesday, September 16
through
Saturday, October 24 Visual System: "A Digital Experience . . .," multimedia interactive exhibit with works by Olivier Pasquet, Djeff Regottaz, Bastien Ribeiro, and Valère Terrier, FIAF Gallery, Tuesday — Saturday, free, 11:00 am — 5:00 or 6:00 pm
Through Thursday, September 17 Art Under Glass: Macy's window display featuring works by AIDS-3D, Hrafnhildur Arnardóttir aka Shoplifter, Olivier Babin, Bruce High Quality Foundation, Marie Losier with Aya Kakeda and Francois Leloup Collet, Marie Maillard with Amelie Chabannes, Sarah Ortmeyer, Agathe Snow with Rita Ackerman, Visual System, Nick van Woert, and Michael L. Yinger
Thursday, September 17
through
Saturday, September 19 Nacera Belaza: LE CRI, dance duet with Belaza and her sister, Danspace Project, 131 East Tenth St. at Second Ave., $18, 8:00
Friday, September 18 "Metamkine," live multimedia performance by musician Jérôme Noetinger and filmmakers Christophe Auger and Xavier Quérel, Florence Gould Hall, FIAF, $20, 8:00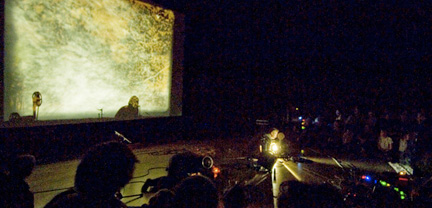 Metamkine will create a live film in Florence Gould Hall

Saturday, September 19
through
Sunday, September 27 Julia Mandle, "Fabrication of Blindness," art installation, Cabinet, 300 Nevins St. at Union St., free, Tuesday — Sundays 12 noon — 6:00 pm (free artist talk with Mandle on September 21 at 7:00 and Embroidery Circle on September 26-27 from 1:00 to 5:00)
Tuesday, September 22 Bettina Atala, "Season 1 episode 2," Florence Gould Hall, FIAF, $20, 8:00
Wednesday, September 23
through
Friday, September 25 Raimund Hoghe, "Boléro Variations," Dance Theater Workshop, 219 West 19th St. between Seventh & Eighth Aves., $15, 7:30
Saturday, September 26 Raimund Hoghe, "L'Après-midi," Danspace Project, 131 East Tenth St. at Second Ave., $18, 4:00
Tuesday, September 29 Alice Guy Blaché Film Score Project with Missy Mazzoli, Tamar Muskal, Tender Forever, and Du Yun, Florence Gould Hall, FIAF, $20, 8:00
Tuesday, September 29
through
Sunday, October 4 Maria Hassabi, "Solo," Performance Space 122, 150 First Ave. between Ninth & Tenth Aves., $20
Wednesday, September 30
through
Saturday, October 3 Matsune & Subal, "Store," installation at Luxe Gallery, 29 Orchard St. between Hester & Canal Sts., free, Wednesday 6:00 — 9:00, Thursday - Saturday 12 noon — 3:00 and 4:00 — 7:00
Thursday, October 1
and
Friday, October 2 Trajal Harrell, "Twenty Looks or Paris Is Burning at the Judson Church (S)," solo performance by Harrell with visuals by Franklin Evans, New Museum for Contemporary Art, 235 Bowery at Prince St., $18, 7:00
Lincoln Center Film Festival of the Week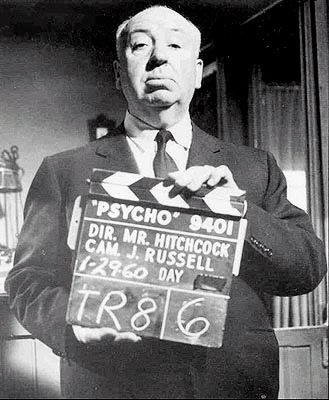 Hitchcock's PSYCHO was part of watershed period for cinema
WATERSHED
Walter Reade Theater
65th St. between Broadway & Amsterdam Aves.
September 5-7
Tickets: $11 (series pass $45 for any five programs)
212-875-5050
Lincoln Center takes film fanatics back fifty years with "Watershed," a wide-ranging series consisting of thirteen groundbreaking works that were released between 1958 and 1960 and helped change the face of international cinema. The world had never before seen the likes of François Truffaut's delightful THE 400 BLOWS, Michelangelo Antonioni's languid L'AVVENTURA, Nagisa Ôshima's colorful CRUEL STORY OF YOUTH, Grigori Chukhrai's moving BALLAD OF A SOLDIER, Ingmar Bergman's harrowing THE VIRGIN SPRING, and Alfred Hitchcock's PSYCHO, which truly made it unsafe to go back in the water. Other filmmakers represented include Andrzej Wajda, Louis Malle, John Cassavetes, Samuel Fuller, and Federico Fellini.
Saturday, September 5 L'AVVENTURA (Michelangelo Antonioni, 1960), 1:00
Saturday, September 5 THE 400 BLOWS (LES QUATRE CENTS COUPS) (François Truffaut, 1959), 4:00
Saturday, September 5 ASHES AND DIAMONDS (POPIÓL I DIAMENT) (Andrzej Wajda, 1958), 6:00
Saturday, September 5 THE CLOUD-CAPPED STAR (MEGHE DHAKA TARA) (Ritwik Ghatak, 1960), 8:15
Sunday, September 6 LA DOLCE VITA (Federico Fellini, 1960), 1:30
Sunday, September 6 SATURDAY NIGHT AND SUNDAY MORNING (Karel Reisz, 1960), 5:00
Sunday, September 6 THE LOVERS (LES AMANTS) (Louis Malle, 1958), 7:00

Sunday, September 6 PSYCHO (Alfred Hitchcock, 1960), 9:00
Monday, September 7 CRUEL STORY OF YOUTH (SEISHUN ZANKOKU MONOGATARI) (Nagisa Ôshima, 1960), 1:00
Monday, September 7 BALLAD OF A SOLDIER (BALLADA O SOLDATE) (Grigori Chukhrai, 1959), 3:00
Monday, September 7 THE CRIMSON KIMONO (Samuel Fuller, 1959), 5:00
Monday, September 7 THE VIRGIN SPRING (JUNGFRUKÄLLAN) (Ingmar Bergman, 1960), 7:00
Monday, September 7 SHADOWS (John Cassavetes, 1959), 9:00
twi-ny talk of the week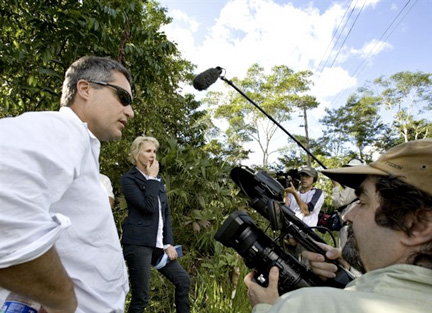 Sebastian Posingis
Trudie Styler arrives in the Amazon to help support indigenous families
TWI-NY TALK: TRUDIE STYLER GETS CRUDE
British actress-producer Trudie Styler has been an environmental activist, humanitarian, and organic food advocate for more than twenty years. In 1989, she cofounded the Rainforest Foundation with her husband, Sting, and she recently found herself back in the Amazon, joining with a community of indigenous Ecuadorians who are in the midst of a sixteen-year legal battle with Texaco / Chevron over illegal dumping that has threatened the future of the area and its longtime residents. The struggle is documented in Joe Berlinger's CRUDE: THE PRICE OF OIL, which opens at the IFC Center on September 9.
"I get a lot of important causes brought to my attention, and of course it's impossible for one person to do justice to every issue that matters in the world," Styler explained in an exclusive e-mail interview with twi-ny. "My focus, therefore, has to be confined to the issues that have had a personal impact on me, because it is by feeling emotionally engaged with a problem that I find I am most effective. My first exposure to the suffering of the Ecuadorian people whose land had been polluted by the oil industry was when I was in the country as an ambassador for UNICEF. I was taken to the Lago Agrio area and saw for myself some of the waste pits that had been left, saw for myself the oil-slicked water and sludgy soil, the dead birds. I sat and talked to doctors and nurses, to mothers with cancer who were giving up their own treatment in order to afford for their sick children to have chemotherapy."
In the documentary, Styler, whose company, Xingu, has produced such recent films as Dito Montiel's A GUIDE TO RECOGNIZING YOUR SAINTS and Duncan Jones's MOON, gets down and dirty as she examines the contamination and meets with numerous ill people. And she's not afraid to speak her mind on the issue.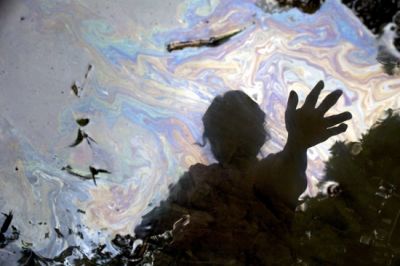 Sebastian Posingis
Contamination has led to sickness, death, and a major lawsuit
"I was horrified that a multibillion-dollar industry, an American company, could have abused a land and its people so callously and carelessly," Styler said. "It's shameful. I just want to see Texaco/Chevron take responsibility for the devastation they left behind and show some respect for the people whose environment, whose families, and whose way of life have been decimated. It's an important principle for multinationals operating all over the globe.
"The most surprising thing of all was that this systematic polluting of the land had gone on for nearly four decades, and they'd got away with it," Styler added. "And all because the drilling practices being used were outdated and environmentally unsafe, and had been outlawed in the U.S. back in the 1930s. I believe that as a U.S. company, Texaco/Chevron should have carried out their business using U.S. legal standards. Anything else is an exploitation of the needs of developing countries."
The legal wrangling has been going on since 1993. Styler hopes that by getting the word out through the documentary, more people will become aware of the situation in Ecuador and help support the indigenous Ecuadorians' vital cause.
"If the judgment goes against Chevron, no doubt they will appeal, and I'm fearful that the legal process will continue to be dragged out. But there is more and more public awareness of this case, and I'd like to hope that one day soon Chevron will realize that their public image would be so much better served if they would choose to be a company that cared about this planet and its people. They can afford to clean up the land — why don't they just get on with it?"
(See Riff's Rants & Raves: Film below for a review of CRUDE.)
Riff's Rants & Raves: Film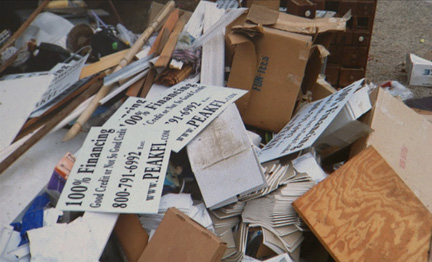 Argot Pictures
Cockburn documentary looks at surprising effects of subprime mortgage crisis
AMERICAN CASINO (Leslie Cockburn, 2009)
Film Forum
209 West Houston St. between Sixth & Seventh Aves.
September 2-15
212-727-8110
http://www.americancasinothemovie.com

"I have spent much of my career filming in war zones and postapocalyptic societies — Somalia, Iraq, Afghanistan," notes director Leslie Cockburn in a statement about her latest film, AMERICAN CASINO. "But I never expected such a disaster at home." Beginning in January 2008, Leslie Cockburn and her husband, writer-producer Andrew Cockburn, began to delve into the U.S. financial crisis, focusing on the controversy surrounding the subprime mortgage loan fiasco. What they found was both shocking and infuriating. Bloomberg financial reporter Mark Pittman and Professor Michael Greenberger explain how it all happened from the Wall Street side, while mortgage bond salespeople and loan officers describe doctoring forms and making up numbers in order to push through loans that were clearly destined for foreclosure. The Cockburns personalize all the billions of dollars by speaking with Maryland high school teacher Denzel Mitchell, Rev. Almalene Wade, and Johns Hopkins therapist Patricia McNair, three individuals seeking the American dream but instead facing being homeless. And it's no coincidence that Mitchell, Wade, and McNair are all black, as the Cockburns reveal that low-income minority communities were specifically targeted by banks and mortgage companies, who were building a house of cards destined to collapse. AMERICAN CASINO has several slow patches that meander a bit, as if the filmmakers needed to stretch it to reach its running time of eighty-nine minutes, but hang in there — you're not going to want to miss how exterminator Jared Dever connects to the crisis. Leslie and Alexander Cockburn will be on hand for Q&As following the 8:00 screenings on September 2, 3, and 11.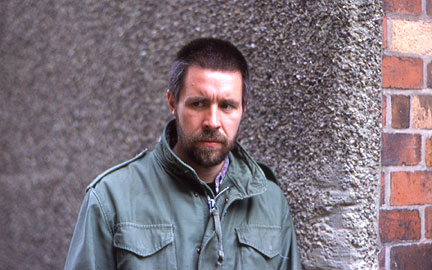 Shane Meadows film has special free screening at New Museum honoring Warp
WARP FILMS AT THE NEW MUSEUM:
DEAD MAN'S SHOES (Shane Meadows, 2006)
New Museum of Contemporary Art
235 Bowery at Prince St.
Thursday, September 3, free, 3:00 — 9:00
212-924-3363

Shane Meadows's violent revenge drama is a gripping, haunting thriller set in a small British Midlands village. Paddy Considine, who cowrote the script with Meadows, stars as Richard, an army veteran who returns to his hometown seething with vengeance, calmly and precisely going after a motley group of misfit drug dealers who wronged his brother, Anthony (Toby Kebbell), a sweet, innocent simpleton. One by one, Richard surprises Gypsy John (George Newton), Tuff (Paul Sadot), Big Al (Seamus O'Neill), Herbie (Stuart Wolfenden), Jo (Jo Hartley), Patti (Emily Aston), Soz (Neil Bell), Mark (Paul Hurstfield), and the man most responsible for the abusive treatment of Anthony, Sonny (Gary Stretch). Richard wreaks his vengeance without remorse and with a lot more, um, creativity, should we say, than Paul Kersey (Charles Bronson) in DEATH WISH (Michael Winner, 1974). Meadows's film is a melange of slasher flick, horror film, and family drama set in a lovely location that hides terrible secrets. The cool soundtrack includes several songs by Calexico as well as Smog, the Earlies, Aphex Twin, DM & Jemini, and others. This special screening is part of the New Museum's Warp Films series, four days of screenings celebrating the twentieth anniversary of Warp Records, which has been in the movie business since 2001. Screening with DEAD MAN'S SHOES are WarpVision: The Videos 1989-2004, WarpFilms Shorts, and ALL TOMORROW'S PARTIES.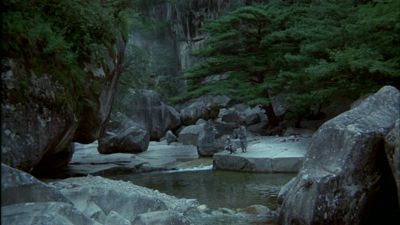 Special Rubin screening will be introduced by Roshi Enkyo O'Hara
WHY HAS BODHI-DHARMA LEFT FOR THE EAST?
(DHARMAGA TONGJOGURO KAN KKADALGUN?)
(Bae Yong-kyun, 1989)
CabaretCinema
Rubin Museum of Art
150 West 17th St. at Seventh Ave.
Friday, September 4, free with $7 bar minimum (includes admission to galleries)
212-620-5000 ext 344

Up in the wilderness of Mount Chonan, far away from civilization, young orphan Haejin (Huang Hae-Jin) and Kibong (Won-Sop Sin), a refugee from "the world," learn about the self and the other from aging master Hyegok (Pan-Yong Yi) as they contemplate the Buddhist philosophy of life and death. First-time Korean filmmaker Bae Yong-kyun wrote, directed, photographed, and edited this meditative, moving story over several years during the turbulent mid-to-late 1980s, when student unrest and unhappy workers helped end the Chun Doo Hwan regime. Thus, the freedom the characters are striving for is not only the Zen freedom from attachment and earthly ties but the political freedom from an oppressive leadership. Bae, who is also a painter, imbues the film with beautiful photography and gorgeously framed shots. It might be slow-paced, but it'll draw you in if you're willing to free your mind of material concerns. The film won the Golden Leopard at the Locarno Film Festival and gained international notoriety when Sight and Sound magazine named it in 1992 one of the ten best films ever made; it was also the first Korean film to be released theatrically in the United States. The screening, part of the Rubin Museum's Walls Are Doors Cabaret Cinema series, will be introduced by Roshi Enkyo O'Hara of Village Zendo.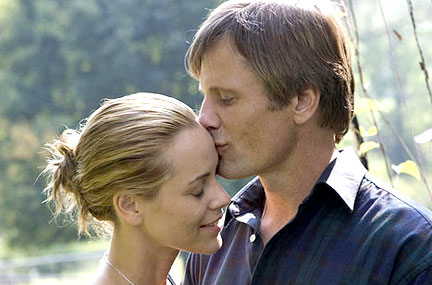 Things are not going to remain calm for long in Cronenberg film
A HISTORY OF VIOLENCE (David Cronenberg, 2005)
MoMA Film
Museum of Modern Art, 11 West 53rd St. between Fifth & Sixth Aves.
Friday, September 4, 7:00
Sunday, September 6, 5:00
Tickets: $10, in person only, may be applied to museum admission within thirty days, same-day screenings free with museum admission, available at Film and Media Desk
212-708-9400
http://www.historyofviolence.com

Director David Cronenberg (THE FLY, DEAD RINGERS, SPIDER) has made the best film of his career with the brilliant A HISTORY OF VIOLENCE. Set to the marvelously tense music of Howard Shore — which threatens to explode at any moment — the film stars Viggo Mortensen as Tom Stall, a quiet, calm family man who runs a local diner in a small town in Indiana. Stall reluctantly becomes the town hero (and media darling) after a dangerous, bloody incident in his diner, which leads to the arrival of Carl Fogaty (the excellent Ed Harris), an East Coast mob kingpin who insists that Tom is actually Joey Cusack, a former Mafia goon who is in witness protection. As Fogaty and his men harass Tom and his family (wife Maria Bello and kids Ashton Holmes and Heidi Hayes), Stall desperately fights to protect his simple, happy life. William Hurt excels in a small role near the end of the film. A HISTORY OF VIOLENCE is as suspenseful as they come, a simmering masterpiece that blows up the American dream. The film is loosely based on the graphic novel by John Wagner and Vince Locke, but as Cronenberg recently explained at the 2005 San Diego Comic-Con, he didn't even know the book existed until the production was well under way, and Josh Olson's outstanding screenplay ultimately veers far away from its source. A HISTORY OF VIOLENCE is screening as part of MoMA's Recent Film Acquisitions: Continuum series, which runs through September 30 and also includes screenings of the Coen brother's underrated INTOLERABLE CRUELTY (September 3 & 5), Terrence Malick's THE NEW WORLD (September 5 & 7), and several Baz Lurhmann flicks.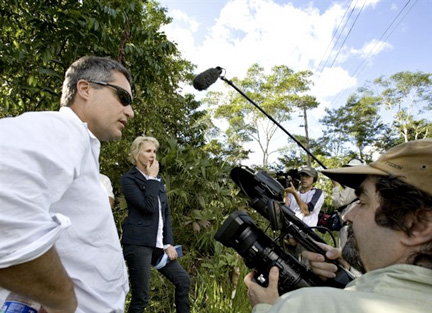 Sebastian Posingis
Trudie Styler arrives in the Amazon to help support indigenous families
CRUDE: THE REAL PRICE OF OIL (Joe Berlinger, 2009)
IFC Center
323 Sixth Ave. at West Third St.
September 9-22
212-924-7771

Documentarian Joe Berlinger has a way of making a strong impact with his films — which include BROTHER'S KEEPER, PARADISE LOST, and METALLICA: SOME KIND OF MONSTER — and his latest should stir up plenty of headlines as well. In CRUDE: THE REAL PRICE OF OIL, Berlinger heads to Ecuador to detail the "Amazon Chernobyl" case, centering on a 1993 class-action lawsuit brought by thirty thousand indigenous people who live in the rainforest and claim that their land and water are contaminated by years of illegal dumping by Texaco-Chevron, leading to severe illness and death for many in their community. Ecuadorian attorney Pablo Fajardo and American consulting attorney Steven Donziger go face-to-face with Chevron attorneys Diego Larrea and Adolfo Callejas, who argue that any wrongdoing was done by PetroEcuador's takeover of the oil fields in 1992. As such high-profile people as Ecuadorian president Rafael Correa and Rainforest Foundation cofounder Trudie Styler get involved, the fight heats up, but there's still no end in sight for the sixteen-year-old lawsuit. Berlinger does an excellent job of presenting both sides of the story, even though the bulk of the evidence continues to build for one side. Berlinger will be on hand at the IFC Center for several screenings during the opening weekend.
WHY US? LEFT BEHIND AND DYING
IFC Center
323 Sixth Ave. at West Third St.
September 11-17
212-924-7771

You don't have to be black to be moved by the new documentary WHY US? LEFT BEHIND AND DYING, which is having a special one-week run at the IFC Center to qualify for Oscar consideration. But as narrator, cowriter, and production associate Tamira Noble points out early on, the film is meant as a wake-up call to African Americans to do something about the continuing HIV/AIDS crisis specifically affecting blacks in the United States and Africa. "There's a choice facing us in black America right now," director Claudia Pryor Malis says in the film's production notes. "Turn away from this new stigma or face it, unpack it, and remove its sting — passive self-destruction or active self-love." Pryor Malis teamed with twenty students from Westinghouse High School in Pittsburgh, all between the ages of fourteen and seventeen, to make the film, which served as a class project for them. Over the course of a year and a half, the students met with researchers, activists, doctors, community leaders, virologists, straight and gay people with HIV, and men, women, and teenagers who still do not use protection when having sex. Noble reveals fascinating and frightening statistics about the disproportionate number of HIV-positive blacks in the United States and Africa and discusses the many reasons for the disparity, including shame, secrecy, homophobia, religious belief, genetic variation, and just plain carelessness. Noble, who was a high school senior when the project started, naturally grew into her unexpected role as narrator and cowriter, and she does an outstanding job anchoring the film, serving as a kind of surrogate for the viewer. WHY US? is an important look at a critical situation that must be dealt with — and fast.
In Theaters Now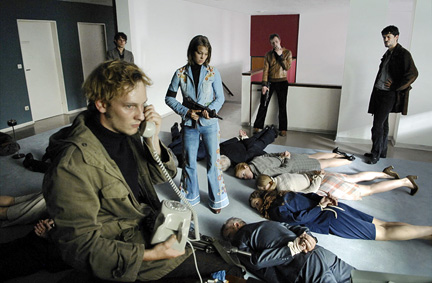 Radical terrorist group is reexamined in Oscar-nominated drama
DER BAADER MEINHOF KOMPLEX (Uli Edel, 2008)
Angelika Film Center
18 West Houston St. at Mercer St.
212-995-2000
http://www.baadermeinhofmovie.com

Born out of the student-protest movement of the late 1960s, the Baader-Meinhof Group, also known as the Red Army Faction, comprised a collective of urban guerrillas who were enraged by Germany's refusal to take action against U.S. involvement in Vietnam as well as American support of Israel and the Shah of Iran. The growing gang, named after radical activist Andreas Baader (Moitz Bleibtreu) and left-wing journalist Ulrike Meinhof (Martina Gedeck), were anti-capitalist, anti-imperialist, and anti-fascist, taking up arms, planting bombs, and robbing banks to promote their political agenda. Director Uli Edel (LAST EXIT TO BROOKLYN, BODY OF EVIDENCE) re-creates the story of this violent period primarily through the eyes of Gudrun Ensslin (Johanna Wokalek), Baader's girlfriend who shows no mercy, and newspaper columnist Meinhof, a mother whom Ensslin convinces must turn her written words into action. Citing Ho Chi Minh, Che Guevara, and Mao Zedong as influences, the group — which also includes Holger Meins (Stipe Erceg), Petra Schelm (Alexandra Maria Lara), Peter Boock (Vinzenz Kiefer), and Astrid Proll (Katharina Wackernagel) — continues its fight even as many of its members are imprisoned and killed, battling to the very end as the head of the federal police, Horst Herold (Bruno Ganz), tries to understand their motives and not just think of them as evil terrorists. Reminiscent of such recent films as Steven Spielberg's MUNICH and Marco Bellocchio's BUONGIORNO, NOTTE, both of which also depict radical organizations committing political kidnappings and murder, DER BAADER MEINHOF KOMPLEX is a fascinating study of individuals who choose violent action over nonviolent protest. The screenplay, cowritten by Edel and Bernd Eichinger based on the book by Stefan Aust, lapses in the latter parts of this long two-and-a-half-hour drama, as unfamiliar, poorly identified characters take center stage and events whirl by at a maddening pace, but the film is still a chilling tale of a group of homegrown revolutionaries who captured the attention of a restless public in Germany and around the world — until they started to go too far.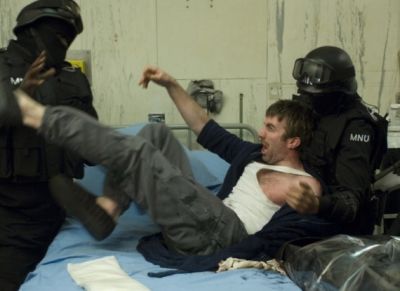 D-9 has a lot to say about the ethics of modern society
DISTRICT 9 (Neill Blomkamp, 2009)
ALIVE IN JOBURG original short film

Expanded from his six-minute short, ALIVE IN JOBURG, Neill Blomkamp's heavily hyped DISTRICT 9 is a sci-fi tale that incorporates elements from numerous genre classics (and clunkers) to create a tense, entertaining thriller that is not quite the cinematic breakthrough many are claiming it is. Sharlto Copley stars as Wikus van der Merwe, an awkward government bureaucrat in charge of moving a ghetto of nearly two million aliens out of one fenced-in area and into another. But the task is far more difficult and dangerous than he anticipated, and after discovering a makeshift lab under alien Christopher Johnson's (Jason Cope) shack, Wikus is accidentally sprayed with a chemical that starts changing him. Soon he is on the run from the government, which wants to experiment on him, and the crazed leader of a Blackwater-like private military organization headed by the villainous Koobus (David James). Meanwhile, the aliens' spaceship hovers ominously over Johannesburg. A parable that evokes apartheid in South Africa (the film was shot in and around Soweto) as well as the violence along the Mexico-America border and other xenophobic hotspots, D-9 has plot holes you can launch a rocket through, and the final scenes spiral way out of control, but it's still a strong debut by an up-and-coming filmmaker being mentored by Peter Jackson.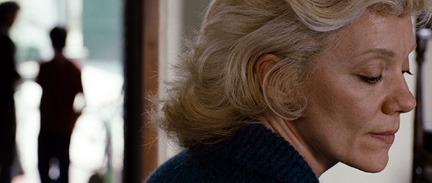 Strand Releasing
María Onetto is lost deep in thought through most of Argentine drama
THE HEADLESS WOMAN (LA MUJER SIN CABEZA)
(Lucrecia Martel, 2008)
Film Forum
209 West Houston St. between Sixth & Seventh Aves.
Extended through September 15
212-727-8110

Inspired by nightmares she has in which she commits murder, Lucrecia Martel's THE HEADLESS WOMAN details a woman's emotional and psychological reaction after having possibly killed someone. María Onetto gives a mesmerizingly cool, distant performance as Veronica, a middle-aged, upper class wife and mother whose biggest worry appears to be the turtles that have infested the new pool built behind a veterinary office. But one afternoon, while out driving carelessly in her Mercedes along a twisting, barren road, she hits something. Not sure if it was a child, an adult, or an animal, she decides to continue on, telling no one what she has done. But when a poor, local boy goes missing, she begins to suspect that she might have killed him. An intriguing mix of Buñuel's class-consciousness and Poe's flair for suspense, THE HEADLESS WOMAN is an unusual kind of murder mystery. In Veronica, Argentine writer-director Martel (LA CIENAGA, THE HOLY GIRL) has created a compelling protagonist/villain, played with expert calm and faraway eyes by Onetto.
Iraq War drama puts viewers in the middle of the action
THE HURT LOCKER (Kathryn Bigelow, 2009)
http://thehurtlocker-movie.com

Based on embedded journalist Mark Boal's experiences in Iraq, THE HURT LOCKER follows a three-member Explosive Ordnance Disposal unit as they are called in to defuse a series of dangerous situations involving various kinds of bombs, including IEDs and other life-threatening explosive devices. Team leader Will James (Jeremy Renner) is an expert bomb defuser and maverick who doesn't follow protocol and likes to live on the edge. Spc. Owen Eldridge (Brian Geraghty) is a greenhorn who just wants to survive the last forty days of their rotation. And Sgt. J. T. Sanborn (Anthony Mackie) likes to go by the book and take no unnecessary chances, which puts him in constant conflict with the unpredictable James. Recalling the second half of Stanley Kubrick's Vietnam drama FULL METAL JACKET (1987), THE HURT LOCKER unfolds in a series of harrowing set pieces in which the EOD unit is called in to either safely detonate or defuse explosive devices while under the eyes of local Iraqis, any of whom could potentially be the bomber or a sniper. Director Kathryn Bigelow (BLUE STEEL, POINT BREAK) masterfully builds suspense scene after scene, beginning with the edge-of-your-seat opener through to the gripping conclusion. The experiences of the EOD unit serve as a microcosm for modern warfare in general and the U.S. involvement in the Middle East specifically, placing viewers in the midst of a tense, bitter, psychologically and emotionally draining battle that can never be won. The outstanding cast also features Guy Pearce, Ralph Fiennes, David Morse, and Evangeline Lilly in small roles; many of the Iraqis were played by actual war refugees. Shot in Jordan not far from the Iraq border, THE HURT LOCKER is a remarkable story, one of the best war films of the decade.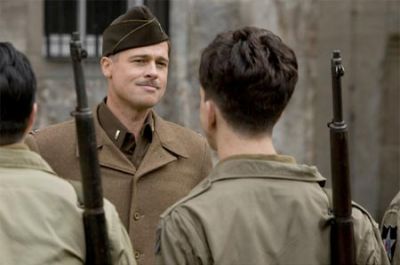 Brad Pitt leads an inglourious group of basterds in glorious Tarantino flick
INGLOURIOUS BASTERDS (Quentin Tarantino, 2009)
http://www.inglouriousbasterds-movie.com

Basically, Quentin Tarantino is a genre filmmaker in love with the movies. He has tackled such cinematic subjects as the heist (RESERVOIR DOGS), blaxploitation (JACKIE BROWN), Hong Kong kung fu / Japanese samurais / revenge thrillers (KILL BILL), grindhouse (DEATH PROOF), and gangsters / boxing / hit men / war / kidnapping (PULP FICTION). Inspired by a little-seen low-budget 1978 Italian film alternately known as HELL'S HEROES, DEADLY MISSION, QUEL MALEDETTO TRENO BLINDATO (THAT BLOODY ARMORED TRAIN), and THE INGLORIOUS BASTARDS — itself inspired by Robert Aldrich's 1967 classic THE DIRTY DOZEN —Tarantino has unleashed INGLOURIOUS BASTERDS, a purposely misspelled two-and-a-half-hour love letter to WWII movies that worships the genre even as it subverts it . Brad Pitt stars as Lt. Aldo Raine (anyone remember Aldo Ray?), the leader of the Basterds — seven men, including the baseball-bat wielding Bear Jew (HOSTEL director Eli Roth), who are making their way through France killing and scalping Nazis. Meanwhile, Standartenführer Hans "the Jew Hunter" Landa (an Oscar-worthy Christoph Waltz) is sniffing out the enemy everywhere — and on a mission to capture the Basterds. Shosanna Dreyfus (Mélanie Laurent), who escaped from Landa several years before, is now running a cinema that specializes in German films; there she meets Schütze Fredrick Zoller (Daniel Brühl), a Nazi hero who is starring in a film about his exploits (anyone remember Audie Murphy?) and falls hard for Shosanna, who has changed her name to the rather elegant Emmanuelle Mimieux (anyone remember Yvette Mimieux?).
After Zoller convinces Minister of Propaganda Joseph Goebbels (Sylvester Groth) to hold the premiere of the film, NATION'S PRIDE, at Shosanna's theater, everyone converges for a finale that will blow your mind. As is his style, Tarantino features a slew of minor characters with their own stories to tell, plenty of scenes that go on way too long, Mexican stand-offs, inside jokes and references that few will get, and lots of close-up violence while turning cliché and convention upside down and inside out. INGLOURIOUS BASTERDS is as much about making — and watching — war movies as it is a movie in and of itself, and a damn fine one at that. Tarantino doesn't play by the rules, so you never know what will happen next. Look for well-disguised on-screen cameos by original BASTARDS director Enzo G. Castellari and star Bo Svenson, Mike Myers, and Rod Taylor (anyone remember Rod Taylor?), listen for voice-over cameos by Samuel L. Jackson and Harvey Keitel, and please don't ever yell "Fire!" in a crowded movie theater.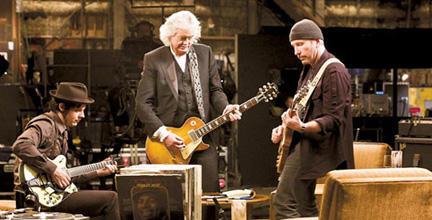 Jack White, Jimmy Page, and the Edge come together in music doc
IT MIGHT GET LOUD (Davis Guggenheim, 2009)
Landmark Sunshine Cinema
143 East Houston St. between First & Second Aves.
212-330-8182
http://www.landmarktheatres.com

Davis Guggenheim follows up his Oscar-winning AN INCONVENIENT TRUTH with the awe-inspiring IT MIGHT GET LOUD, an intimate look at three guitar heroes and the instrument that has made them famous. On January 23, 2008, Led Zeppelin's Jimmy Page, U2's the Edge, and the White Stripes' Jack White held a summit on an L.A. soundstage, where they shared stories about their love of music and, more specifically, the guitar — and, yes, they do eventually make beautiful music together. But IT MIGHT GET LOUD is much more than that; Guggenheim traces each six-string slinger's personal history, joining them as they take fascinating, revealing forays into their past, returning to childhood places that influenced their career directions. White discusses how having a van led to his receiving his first guitar, the Edge goes back to the school where he, Bono, Adam Clayton, and Larry Mullen Jr. formed a band as young teens, and Page invites the cameras into his home, where he puts on old LPs and even plays air guitar (!) to Link Wray's "Rumble." In addition, White writes and records a song in a Tennessee farmhouse on the spot; the Edge, whom Page calls a "sonic architect," explains his use of technology to arrive at his unique, expansive sound; and Page talks about how John Bonham's drumming in the hallway of Headley Grange revolutionized rock-and-roll records. Guggenheim supplements the film with amazing archival footage of the three guitar heroes, including extremely early performances that have never been seen by the public before. But at its heart, IT MIGHT GET LOUD is about the creative process, as three generations of very different, massively talented musicians — the ultracool Page, the techno-geek Edge, and the cynical White — share their secrets, their inspirations, and their deep, profound love of the guitar. Oh, and make sure the theater turns the speakers all the way up to 11.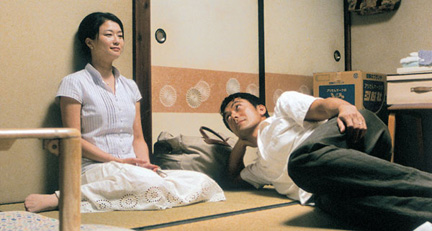 Kore-eda family drama is an unforgettable experience
STILL WALKING (ARUITEMO ARUITEMO)
(Hirokazu Kore-eda, 2008)
Angelika Film Center
18 West Houston St. at Mercer St.
212-995-2000
Lincoln Plaza Cinemas
1866 Broadway at 63rd St.
212-757-2280
http://www.lincolnplazacinema.com

We've been covering the Tribeca Film Festival since it began in 2002, and Hirokazu Kore-eda's STILL WALKING, which screened at the fest this past spring, is the best film we've seen yet at the annual event. Flawlessly written, directed, and edited by Kore-eda (MABOROSI, NOBODY KNOWS), STILL WALKING follows a day in the life of the Yokoyama family, which gathers together once a year to remember Junpei, the eldest son who died tragically. The story is told through the eyes of the middle child, Ryota (Hiroshi Abe), a forty-year-old painting restorer who has recently married Yukari (Yui Natsukawa), a widow with a young son (Shohei Tanaka). Ryota dreads returning home because his father, Kyohei (Yoshio Harada), and mother, Toshiko (Kirin Kiki), are disappointed in the choices he's made, both personally and professionally, and never let him escape from Junpei's ever-widening shadow. Also at the reunion is Ryota's chatty sister, Chinami (You), who, with her husband and children, is planning on moving in with her parents in order to take care of them in their old age (and save money as well). Over the course of twenty-four hours, the history of the dysfunctional family and the deep emotions hidden just below the surface slowly simmer but never boil, resulting in a gentle, bittersweet narrative that is often very funny and always subtly powerful.

The film is beautifully shot by Yutaka Yamazaki, who keeps the camera static during long interior takes — it moves only once inside the house — using doorways, short halls, and windows to frame scenes with a slightly claustrophobic feel, evoking how trapped the characters are by the world the parents have created. The scenes in which Kyohei walks with his cane ever so slowly up and down the endless outside steps are simple but unforgettable. Influenced by such Japanese directors as Mikio Naruse, Yasujiro Ozu, and Shohei Imamura, Kore-eda was inspired to make the film shortly after the death of his parents; although it is fiction, he noted at one screening that roughly half of Toshiko's dialogue is taken directly from his own mother. STILL WALKING is a special film, a visual and psychological marvel that should not be missed.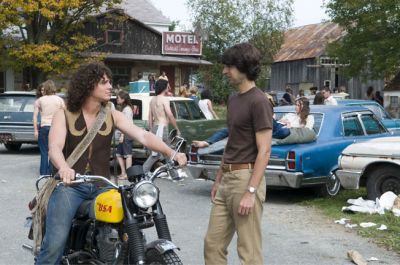 Ang Lee celebrates the fortieth anniversary of Woodstock Nation in new film
TAKING WOODSTOCK (Ang Lee, 2009)
http://www.takingwoodstockthemovie.com

Based on Elliot Tiber's 2007 memoir, TAKING WOODSTOCK: A TRUE STORY OF A RIOT, A CONCERT, AND A LIFE, Ang Lee's drama goes behind the scenes of how three days of peace, love, and music came to be in the small upstate New York town of White Lake in Bethel. Wry comedian Demetri Martin stars as Elliot, a thirtyish would-be interior decorator and wannabe painter who shuttles between his Manhattan apartment and his parents' dilapidated motel in White Lake. After obtaining a permit for his annual music festival— which previously consisted of his playing records on the motel lawn — Elliot finds out that a neighboring town rejected a three-day festival featuring such performers as Janis Joplin, Jimi Hendrix, and the Grateful Dead, so he decides he's going to bring the love-in to White Lake to rejuvenate the town as well as the motel. The shy, unassuming Elliot is soon in the middle of a mountain of madness as the concert promoters descend on White Lake and Max Yasgur's (Eugene Levy) farm, along with lawyers, construction workers, and lots of hippies, angering the locals and confusing Elliot's immigrant parents, Jack (Henry Goodman) and the penny-pinching Sonia (Imelda Staunton). Lee, who has shown a sharp eye for dissecting American cultural history in such films as THE ICE STORM, RIDE WITH THE DEVIL, and BROKEBACK MOUNTAIN, tries to squeeze too much into two hours, as James Schamus's script introduces a bevy of characters and subplots that don't get fully developed, but they nail the general feel of Woodstock Nation as Elliot comes to understand some deep-seated truths about his family and, most important, himself. And yes, that's Liev Schreiber playing Vilma the transvestite security guard.
Riff's Rants & Raves: Live Music
twi-ny/mdr
The Blue Ridge Rangers rode again at the South Street Seaport
JOHN FOGERTY
Seaport Music Festival
South Street Seaport, Pier 17
Wednesday, September 2, free, 7:00
212-945-0505
http://www.seaportmusicfestival.com
John Fogerty and his Blue Ridge Rangers rode into Pier 17 on September 2, filling the beautiful night with beautiful music, concluding the summer-long free Seaport Music Festival in a majestic way. Fogerty, touring behind his latest disc, the grammatically challenged THE BLUE RIDGE RANGERS RIDES AGAIN, played a heart-tugging mix of CCR oldies, bluegrass and country classics, and solo gems over the course of ninety exuberant minutes as a gorgeous moon rose over the rolling river behind the stage. Wearing a black cowboy hat, Fogerty kicked things off with the Everly Brothers' "When Will I Be Loved," followed by a swampy "Born on the Bayou," the first of many songs on which he showed off his guitar virtuosity. (Later he shredded through a ten-minute "Keep on Chooglin'.") Other covers from the new disc included John Denver's "Back Home Again," Buck Owens's "I Don't Care (Just as Long as You Love Me)," Delaney and Bonnie's "Never Ending Love," and John Prine's "Paradise," played with a fine eleven-piece backup band that featured Billy Burnette, Hunter Perrin, and Buddy Miller on guitars, Jason Mowery on fiddle, and Kenny Aronoff on drums. Fogerty pulled out a baseball-bat-shaped guitar for a sharp rendition of "Centerfield," which he performed solo at the Yankees' home opener back in April. Among the Creedence hits that got the mostly older crowd hopping were "Green River," "Looking Out My Back Door," and the killer three-song finale: "Bad Moon Rising" (including the oft-misheard line "There's a bathroom on the right"), "Fortunate Son" sounding like the angry punk anthem that it is, and the sing-along "Proud Mary." Fogerty was in good spirits throughout the night, often commenting on how much he loves his wife — and even adding, "Heck, I love your wife!" One curious decision was not to have spotlights on Fogerty when he solo'd at the front of the stage, instead casting him as a dark, shadowy figure. Artists usually request that when they don't want the audience to see what they really look like as they age, but from our up-close angle, the sixty-three-year-old Fogerty looked and sounded great.

WARP 20
Terminal 5
610 West 56th St. between Eleventh & Twelfth Aves.
Friday, September 4, $27.50-$30, 7:00
212-260-4700
Warp Records celebrates its twentieth anniversary with this hot show at Terminal 5, featuring the only North American show of 2009 by Battles, who will be previewing new material, and the only New York City appearance of !!! Filling out the bill will be Flying Lotus, the U.S. debut of Pivot, and Warp DJs keeping things spinning all night long.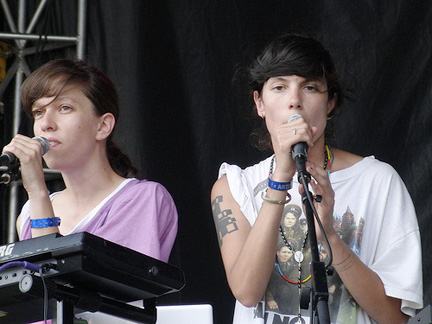 twi-ny/mdr
Telepathe got things swinging at APW after a short technical delay
FLOSSTRADAMUS/TELEPATHE
Webster Hall
125 East Eleventh St. between Third & Fourth Aves.
Friday, September 4, $15-$25 ($1 entry and $1 drinks with below link), 10:00
http://www.websterhall.com/dollardaze
The weekly Friday Girls & Boys Night at Webster Hall continues with a double dose of dance music that's a bit more conventional than its usual lineups. The Chicago-based Flosstradamus, consisting of DJs J2K and Autobot, remixes pop and R&B in popular if not overly inventive ways; while they failed to thrill us when they opened for Matt & Kim at Pier 54 earlier this summer, they did get the rest of the crowd involved. When we first saw Telepathe last year, they nearly bored us to tears. However, the Brooklyn synth duo of Busy Gangnes and Melissa Livaudis have greatly improved, as displayed on their 2009 album, DANCE MOTHER, which features remixes by Chairlift and Diplo, and by their appearance at this summer's APW festival in Jersey City. As always, Girls & Boys night at Webster Hall also features resident DJs Alex English, Gavin Royce, Kids with Snakes, Gavin Royce, and Rekles in addition to Trash! with DJ Jess & Alex Malfunction, as well as other booty shakers.
twi-ny/mdr
Former Chicago band is back with its dark and eerie sounds
PIT ER PAT
The Bell House
149 Seventh St., Gowanus
Saturday, September 5, $8, 8:00
718-643-6510
http://www.myspace.com/piterpat
Brooklyn's Pit Er Pat has been on the road with its latest album, HIGH TIME (Thrill Jockey, October 2008), which is a memorably dark and eerie pleasure. Lead singer and multi-instrumentalist Fay Davis-Jeffers (who plays piano, guitar, and kalimba), bassist Rob Doran, and percussionist Butchy Fuego take listeners on a thrilling ride, starting with the haunting, nearly-seven-minute opener, "Evacuation Days," followed by the creepy five-and-a-half-minute "Omen" and the funereal instrumental "My Darkness." Davis-Jeffers offers a beautiful falsetto on "Cairo Shuffle" before the band gets a little more cheerful with another instrumental, "Creation Stepper." The disc is filled with unusual sounds and instrumentation, including Burmese temple gongs, agogo bells, vibraslap, anandolohori, and a melodica, creating a captivating experience enhanced by Doran and Fuego's intricate electronic assemblages. HIGH TIME reaches its sweet conclusion with "The Good Morning Song," a heavenly tune led by Davis-Jeffers's lilting voice. Pit Er Pat — now an L.A.-based duo consisting of Davis-Jeffers and Fuego — will be playing the Bell House on September 5 with Javelin and Crazy Dreams Band.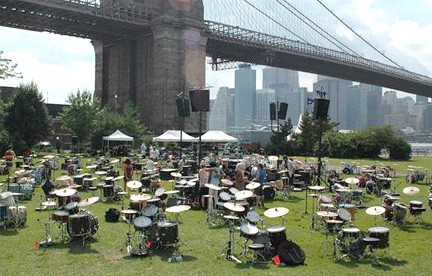 Boredoms led Boadrum 7 in Brooklyn Bridge Park
BOREDOMS: BOADRUM 9
Terminal 5
610 West 56th St. between Eleventh & Twelfth Aves.
Wednesday, September 9, $25, 8:00
212-260-4700
http://www.myspace.com/boredoms
On July 7, 2007, at 7:07, Japanese electronica group Boredoms gathered seventy-seven drummers to play in Brooklyn Bridge Park for seventy-seven minutes. Last year, on August 8, 2008, at 8:80, eighty-eight drummers banged away for eighty-eight minutes in L.A. with Boredoms and in East River State Park with Gang Gang Dance, resulting in a beautiful, invigorating, and transcendent experience. This year, Boredoms will bring their Boadrum show to Terminal 5, with nine guest drummers, including Butchy Fuego (Pit Er Pat), Kid Millions (Oneida), Hisham Bharoocha (Soft Circle), Zach Hill (Hella), Aaron Moore (Volcano the Bear), and Dave Ness (No Neck Blues Band). The previous two Boadrum shows were free and outdoors, so we're rather disappointed that this year's performance costs twenty-five bucks and is taking place in the cavernous, far-from-organic Terminal 5, but it is a rare chance to see the Japanese band, who will also be playing Boadrum 9 on September 11 at Rennselaer Polytechnic in Troy and on September 13 at Kutsher's as part of the ATP festival. Boredoms are also preparing to release SUPER ROOTS 10 (Thrill Jockey, September 29), which includes such bursts of ethereal noise as "Super Rooy" and half a dozen versions of "Ant 10," with remixes by DJ Finger, DJ Lindstrom, and Altz. The Chicago-based Lichens will be opening at Terminal 5.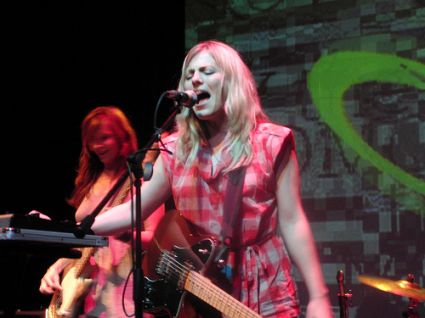 twi-ny/mdr
Atlanta band played killer set at the Tank
TODAY THE MOON, TOMORROW THE SUN
Thursday, September 10, Club Europa, 98 Meserole Ave., with the Ropes
Saturday, September 12, Resonator Mixed Tape, the Tank, 354 West 45th St., $10, 7:30, with City Center and Shigeto
Thursday, October 22, Don Hill's 511 Greenwich St., $10, 7:30, with Sunspots
http://www.myspace.com/todaythemoontomorrowthesun
"Oh, Atlanta! Oh, Atlanta! I said yeah yeah yeah! Atlanta," Lowell George declared on Little Feat's 1974 album, FEATS DON'T FAIL ME NOW. We've been singing the praises of the new wave of indie music coming out of Hotlanta for the last few years now, including such great bands as Black Lips, Deerhunter, and Gringo Star. But nothing prepared us for the pure sonic blast that is Today the Moon, Tomorrow the Sun. Their 2008 EP, THE LIGHTNING EXHIBIT, has been pouring through our speakers nonstop for the past coupla weeks, its pulsating beats and screeching rhythms rattling our brain and shaking our bones with such pounding songs as "Terrain" and "Autonomic." With Lauren Gibson on guitar and keyboards, Cregg Gibson on guitar, Micah Silverman on bass and keyboards, and Jeremy Cole on drums and electronics, TTMTTS can rock hard and fast and then, just as your mind is swirling out of control, slow things down with acoustic versions of "Never. Always. Good." and "Traits of a Traitor (Autonomic)" along with the luxurious ballad "Lightning," echoing the dichotomy presented by Cregg as he screams in "Arpeggiator," "Love everybody, love everybody / Kill everybody, kill everybody." But the heart and soul of TTMTTS is embodied by Lauren Gibson's strong-willed love song "Like It or Not," which works on many levels throughout several versions, from the full-band original to an electronica remix to a simply gorgeous, heartbreaking acoustic version that gives new meaning to such lyrics as "If I like it or not / it was over before it'd begun / If you like it or not / you plus me could never make one." TTMTTS will be playing Club Europa with the Ropes on September 10, followed on September 12 as part of the Resonator Mixed Tape show at the Tank with City Center and Shigeto. And in case you miss either of those, they'll be back on October 22 at Don Hill's with Sunspots. We can't wait.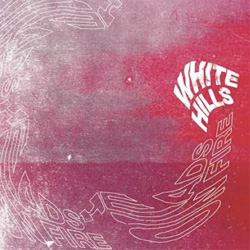 WHITE HILLS
Thursday, September 10, Union Pool, 484 Union Ave., $8, 10:00
Wednesday, October 6, the Bell House, 149 Seventh St., Gowanus, $12, 7:30
http://www.myspace.com/whitehills
http://www.myspace.com/unionpool
Based in New York City but apparently from another galaxy, White Hills plays psychedelic space rock that goes off in all kinds of heavy, far-out directions. Their recordings are often hard to track down, either self-released or released on small labels in very limited editions on vinyl and CD, although Thrill Jockey is just bringing out 2007's raucous HEADS ON FIRE, in which White Hills founder and guitarist Dave W., bassist Ego Sensation, and drummer Bob Bellomo freak out on such killer tunes as "Radiate" and "Oceans of Sound" before calming down with short throwaway "Return of Speed Toilet." But then the band reaches new intergalactic heights with the endlessly groovy ten-minute "Visions of the Past, Present and Future," which encapsulates what White Hills are all about, consisting of furious jams, electronic meanderings, space-age blasts, and slowed-down, ethereal breaks. And then they really blow your mind with the atmospheric twenty-six-and-a-half-minute epic "Don't Be Afraid," which sounds like a soundtrack to a creepy psychedelic thriller set aboard a ghost ship. The album concludes with the nearly nonstop fury of "Eternity," which pauses only for a few seconds of eerie children's laughter. (Thrill Jockey also released the two-track vinyl A LITTLE BLISS FOREVER this year, which sold out instantly, and the limited-edition DEAD EP is due October 6.) White Hills will be playing September 10 at Union Pool with the Psychic Paramount and Coconuts and on October 6 at the Bell House with Wovenhand and Silver Summit.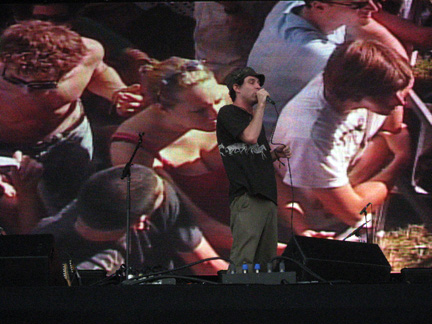 twi-ny/mdr
Animal Collective will be part of weekend-long ATP festival
ALL TOMORROW'S PARTIES
Kutsher's Country Club, Monticello, NY
Tickets: $75-$95 per day, $235 weekend pass
Friday, September 11 The Jesus Lizard, Iron & Wine, Panda Bear, the Feelies performing CRAZY RHYTHMS, Dirty Three performing OCEAN SONGS, Suicide performing their first LP, the Drones performing WAIT LONG BY THE RIVER AND THE BODIES OF YOUR ENEMIES WILL FLOAT BY, David Cross, Eugene Mirman, Jon Benjamin & Jon Glaser, and Derrick Brown and the Navy Gravy
Saturday, September 12 Animal Collective, Sufjan Stevens, Deerhunter, Melvins, Boss Hog, EL-P, Dead Meadown, Akron/Family, Sleepy Sun, Black Dice, Antipop Consortium, Autolux, Atlas Sound, Shellac, Circulatory System, Bridezilla, and Grouper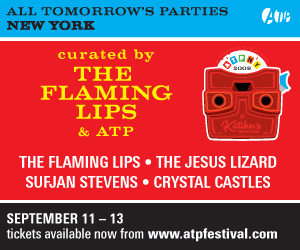 Sunday, September 13 The Flaming Lips, Boredoms performing Boadrum 9, No Age with Bob Mould performing Husker Du, Caribou Vibration Ensemble, Deerhoof with Martha Colbrun, Crystal Castles, Super Furry Animals, Boris performing FEEDBACKER, the Low Lows, Oneida Presents the Ocropolis, Black Moth Super Rainbow, Menomena, Hopewell, and Birds of Avalon
Riff's Rants & Raves: Art, Literature, and Theater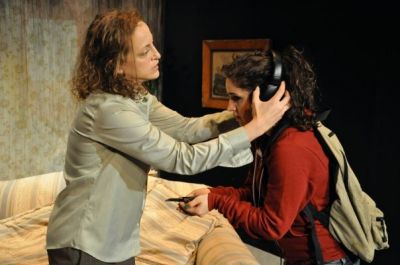 Melissa Wolff and playwright Caitlin Saylor Stephens star in moving NESTING
NESTING
walkerspace
46 Walker St. between Broadway & Church St.
Wednesday through Sunday through September 20
Tickets: $18
212-32-3101
http://nestingplay.blogspot.com

Young playwright Caitlin Saylor Stephens makes a sparkling debut with her first full-length production, NESTING. The Chekhovian drama is set in a condemned house in Baltimore, where Anna (Melissa Wolff) lives by herself. She refuses to leave the family home, where she survived a devastating fire that took the life of her teenage daughter, Katie. Over the course of one day, she is visited by Frank (Jonathan Judge-Russo), a fire department investigator worried about her safety; her husband, Ryan (Geoff Schuppert); and Katie's best friend, Ashley (Stephens), who arrives carrying a dying bird. Anna weaves in and out of reality as the characters discuss family, responsibility, and, most tenuously, moving forward. Stephens and director Jennifer Sandella do an expert job of allowing the heartbreaking story to reveal itself bit by bit, often propelled more by what isn't said than by what is. The set, designed by Izquierdo Studios, makes it seem as if the smoke from the fire is still palpable and as if the house can come crumbling down at any moment. Wolff is excellent as Anna, at times walking around in a daze, then coming sharply into focus, trapped physically and mentally in the past. Stephens is electrifying as Ashley, a sixteen-year-old girl desperate for something to hold on to. And Judge-Russo is solid as Frank, a caring man who finds himself caught between being hero and villain. NESTING is the first production by TokenCollective, a group of actors who met while studying at the Labyrinth Theater Company; here's hoping there's a lot more to come from this talented team — and that NESTING finds a bigger home after its run at the small, intimate walkerspace venue.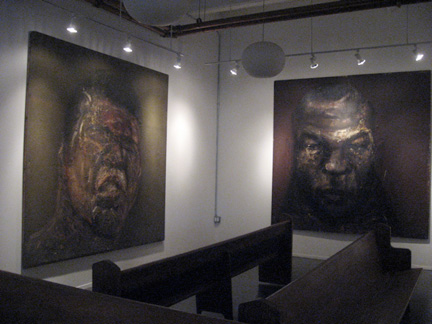 twi-ny/mdr
Sandor Camille, "Muhammad Ali" and "Mike Tyson," oil on wood
SANDOR CAMILLE
The powerHouse Arena
37 Main St., Brooklyn
Through Sunday, September 13
Admission: free
718-666-3049
http://sandorcamille.blogspot.com
http://www.powerhousearena.com
Inspired by Percy Bysshe Shelley's poem "Ozymandias," British artist Sandor Camille makes large-scale portraits that feel like sculptures, eight-by-eight oil-on-wood pieces that threaten to jump right off the walls. His current show at the powerHouse Arena concentrates primarily on his boxing series, including breathtaking works depicting Muhammad Ali, Mike Tyson, and Jack Johnson. Seen up close, the works are filled with sturm und drang, evocative of the outspoken figures they portray. The Tyson painting is particularly impressive as you meet it face-to-face, then slowly back away to take it all in. Camille's smaller paintings of Marilyn Monroe and Barack Obama, however, are not nearly as successful, lacking the strong emotions that power the boxing paintings. We suggest going either on September 10, when powerHouse will be holding a book launch for TWITTER WIT, with Nick Douglas, Michael Showalter, Eugene Mirman, and John Hodgman, or on September 13 during the Brooklyn Book Festival.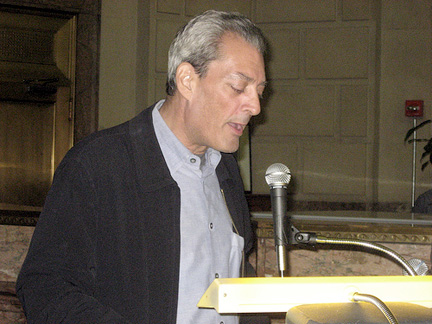 twi-ny/mdr
Previous honoree Paul Auster will participate in 2009 Brooklyn Book Festival
BROOKLYN BOOK FESTIVAL highlights
Brooklyn Borough Hall and Plaza (BHP)
Borough Hall Courtroom (BHC), Borough Hall Community Room (BHCR), 209 Joralemon St.
St. Francis Auditorium (SFA), St. Francis College Reading Room (SFCRR), 180 Remsen St.
Brooklyn Historical Society (BHS), 128 Pierrepont St.
Sunday, September 13, free (BHC & SFA programs require free tickets available one hour before event)
http://brooklynbookfestival.org
Sunday, September 13 The Legacies of John Updike and David Foster Wallace, panel discussion with Lev Grossman and Laura Miller, moderated by David Ulin, BHC, 10:00 am
Sunday, September 13 Target Children's Area: Troupe, 10:00 am; Mo Willems, 10:30; Alison Joseph and Maureen Sullivan, 11:00; Tom Tomorrow, 11:30; Sahar Simmons, 12 noon; Victoria Kann, 12:30 pm; Nick Bruel, 1:00; Judi Barrett, 1:30; Christopher Myers, 2:00; Randall & Peter de Seve, 2:30; Ayun Halliday, 3:00; Grace Lin, 3:30; Paul O. Zelinsky, 4:00; Troupe, 4:30, BHP
Sunday, September 13 The Truth About Parenting, panel discussion with Yvonne Bynoe, Ben George, and Lenore Skenazy, moderated by Laura Sinagra, BHP North Stage, 11:00 am
Sunday, September 13 The Great Recession, panel discussion with Justin Fox, Naomi Klein, and Kai Wright, moderated by Errol Louis, BHCR, 12 noon
Sunday, September 13 Poetry, Pop, and Hip-Hop, panel discussion with Lupe Fiasco, Thurston Moore, Tracie Morris, and Matthew Zapruder, moderated by Touré, SFA, 12 noon

Sunday, September 13 Out of Step, readings by Colson Whitehead, H. M. Naqvi, and Achy Obejas, moderated by Brigid Hughes, BHC, 1:00
Sunday, September 13 Satire and Comic Relief in 2009: a conversation with Jeffery Rotter, Gary Shteyngart, and Sloane Crosley, moderated by Ben Greenman, BHC, 2:00
Sunday, September 13 Movin' on Up, panel discussion with Gloria Browne-Marshall, Walter Kirn, and Louis Lapham, moderated by Paul Tough, BHCR, 2:00
Sunday, September 13 Literary Masters, readings by Paul Auster, Russell Banks, and Francine Prose, introduced by Louisa Ermelino, SFA, 3:00
Sunday, September 13 New York Comic-Con at the Brooklyn Book Festival: The ACT-I-VATE Renaissance, panel discussion with Dean Haspiel, Mike Cavallaro, Tim Hamilton, Joe Infurnari, Simon Fraser, Molly Crabapple, and Mike Dawson, moderated by Jeff Newelt, 3:00
Sunday, September 13 Melvin Van Peebles in conversation, BHC, 4:00
Sunday, September 13 Sound Unbound: DJ Spooky and Touré, BHP North Stage, 4:00
Sunday, September 13 Jonathan Lethem and Mary Gaitskill in Conversation, moderated by Greg Cowles, SFA, 5:00
Sunday, September 13 Happy Ending Reading Series, with Jonathan Ames, David Cross, and Rakesh Satyal, with live music by Jonathan Coulton, hosted by Amanda Stern, BHP Main Stage, 5:00
UPSTAIRS AT THE SQUARE: NICK CAVE
Barnes & Noble
33 East 17th St.
Monday, September 14, free, 7:00
212-253-0810
http://www.thedeathofbunnymunro.com
http://store-locator.barnesandnoble.com
"I am damned." So begins Australian rocker Nick Cave's second novel, THE DEATH OF BUNNY MUNRO (FSG, September 8, 2009, $25). It's been twenty years since his previous book, AND THE ASS SAW THE ANGEL, so for us Cave fans, this is a major event. In the interim, he's continued to put out records with the Birthday Party, the Bad Seeds, and Grinderman, wrote the screenplay for the powerful Western THE PROPOSITION, and has composed the soundtrack for such films as THE ROAD, THE ASSASSINATION OF JESSE JAMES BY THE COWARD ROBERT FORD, and THE PROPOSITION with his musical partner, Bad Seed Warren Ellis. (If you've never heard Cave's 1996 album, MURDER BALLADS, then you're missing out on one of the best, most brutal records of that decade.) BUNNY MUNRO is a slow-going, at times wickedly funny tale that follows the exploits of a traveling cosmetics salesman who has a thing for a certain part of the female anatomy. Cave will be at the Union Square B&N on September 14, reading from and signing copies of his latest book and will also be interviewed by Katherine Lanpher. (He will not be signing CDs, photos, or other paraphernalia.) To get a taste of Cave at work, watch the above clip, but be warned: It contains very graphic language. (THE DEATH OF BUNNY MUNRO is also available as an iPhone/iPod Touch App.)

All contents copyright 2009 by Mark Rifkin and twi-ny. All rights reserved. Contents may not be reprinted without written permission. Please note that events, dates, and prices are subject to change.
Send all comments, suggestions, reviews, and questions to mark.rifkin@twi-ny.com.
Please note that some e-mail clients may wrap links, so be sure to enter them fully into your browser.
To subscribe to this list, please e-mail the administrator at admin@twi-ny.com with the word Subscribe in the Subject line; be sure to ask for back issues, which are free as well. To unsubscribe from this list, please think it over twice before e-mailing the same address. Please let us know what you didn't like about this forum and we'll do our best to correct it in the future -- if we agree with you. If you would like to see something covered in a future issue, please let us know. Without you, there is no need for us to exist.


twi-ny top two dozen (or so)
weekly reminders & special events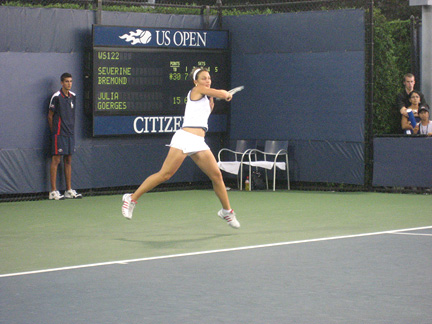 twi-ny/mdr
Fans can get up close and personal on smaller courts at U.S. Open
U.S. OPEN TENNIS CHAMPIONSHIPS
Billie Jean King National Tennis Center
Flushing Meadows Corona Park
1-866-open-tix
Through Sunday, September 13 Roger Federer and Serena Williams return to Flushing Meadows to defend their titles at the U.S. Open

CocoRosie
Highline Ballroom
431 West 16th St. between Ninth & Tenth Aves.
Tickets: $24
212-414-5994
http://www.highlineballroom.com
Wednesday, September 2 Sierra and Bianca Casady come to New York City, with Jessica 6 (featuring Nomi), 9:00
PETTYFEST
Bowery Ballroom
6 Delancey St. at Bowery
Tickets: $12-$14
212-533-2111
Thursday, September 3 A Night to Get Drunk and Celebrate the Songs of Tom Petty, with Hymns, the Pierces, Jody Porter, Nicole Atkins, Morning Pages, Josh Lattanzi, Jesse Malin, Sammy James Junior, Adam Green, Love as Laughter, Matt Romano, Steve Schiltz, Fabrizio Moretti, Mikki James, Teenage Prayers, Antony Ellis, and many more, 8:00
ELECTRIC ZOO FESTIVAL
Randalls Island
Tickets: $60 per day, $110 for both
http://www.nycgovparks.org/parks
http://www.electriczoofestival.com
Friday, September 4 Armin van Buuren, Deadmau5, Benny Benassi, Danny Tenaglia, Roger Sanchez, Luciano, Robbie Rivera, Tiga, Ben Watt, Francois K, Busy P, Marco Carola, Chus & Ceballos, Kaskade, Steve Aoki, DJ Mehdi, Paco Osuna, Mark Ernestus, Chris Lake, Speedy J, the Whip, Martin Buttrich, Cassy, Yuksek, and Seth Troxler
Saturday, September 5 David Guetta, Ferry Corsten, Richie Hawtin, Victor Calderone, ATB, Markus Schulz, Special Disco Version featuring James Murphy & Pat Mahoney, Felix Martin & Al Doyle DJ Set, Andy Butler, Frankie Knuckles, Lindstrom, Prins Thomas, Steve Bug, Audion, Josh Gabriel, Desyn Masiello, James Holden, Adam Beyer, Tom Middleton, Menno De Jong, Guy Gerber, Nathan Fake, Heidi, Chateau Flight, and Jason Jollins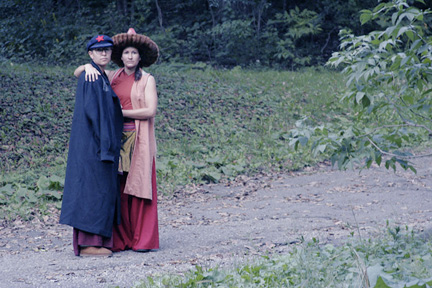 © Brad Daniels
Play about the Dalai Lama will move through Central Park
THE BUDDHA PRINCE
Central Park (enter at 103rd St.)
Admission: free with suggested donation
Friday, September 4, 5:30
and
Saturday, September 5
through
Monday, September 7, 2:00 & 5:30 A walking play through the extraordinary life of His Holiness the 14th Dalai Lama, directed by Markell Kiefer, with music by Tenzin Ngawang, Nina Rolle, and Ngawang Choephel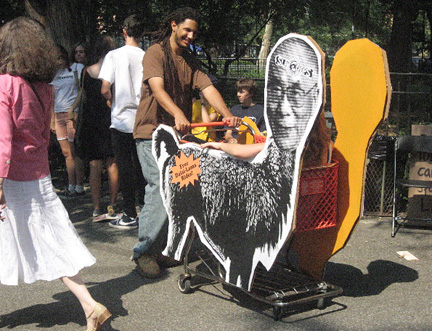 twi-ny/mdr
Art and music will take over Tompkins Square Park for annual Howl fest
HOWL! FESTIVAL 2009
Tompkins Square Park
Between Seventh & Tenth Sts. and Aves. A & B
September 4-6
Admission: park events free, some others have cover charges
Allen Ginsberg's poem "Howl!," written for Carl Solomon, begins, "I saw the best minds of my generation destroyed by madness, starving hysterical naked." The Howl! Festival, running in and around Tompkins Square Park from September 4 through September 6, will have all that and more (including the Carl Solomon Book Fair, live music and dance, art battles, a children's festival, a band parade, and the annual reading of HOWL!) at its sort-of-annual gathering of writers, artists, readers, musicians, poets, gourmands, dogs, art lovers, anarchists, and other area denizens. The park will surround itself in murals being painted as the festival goes on; there will also be special events at the Bowery Poetry Club, 45 Bleecker St. Theater, the New Museum, and other nearby locations.
Friday, September 4 Reading of HOWL!, 6:00
Saturday, September 5 Main Stage: Nublu presents Heartbeat Sessions and More, 3:00; Sound House, 4:00; Hip-Hop Howl! 5:00
Sunday, September 6 Main Stage: House of Howl! 3:00, Ekayani and Tom Glide, 3:35; Jahneen Otis, 4:00; Marguerite Van Cook, 4:20; Low Life, 5:00
FRENCH MIAMI
Cake Shop
152 Ludlow St.
Tickets: $6
212-253-0036
http://www.myspace.com/mrfrenchmiami
Sunday, September 6 San Francisco's French Miami brings their self-described map rock to the Lower East Side, headlining a bill with Brooklyn bands Tony Castles and Susu, 9:00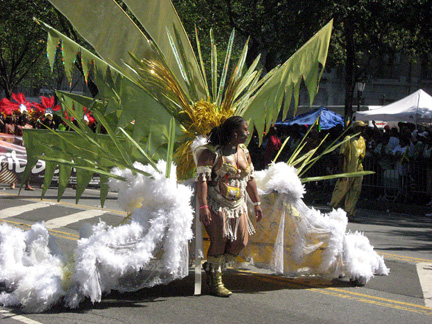 twi-ny/mdr
Marcher pauses for breath during annual parade
WEST INDIAN AMERICAN DAY CARNIVAL
Eastern Pkwy.
Monday, September 7
Admission: free
718-467-1797
Every year we look forward to this fabulous event, now in its forty-second year. We've been going for more than fifteen years, and it never lets us down, although it continues to get more and more crowded every Labor Day, with an expected crowd of more than three million in 2009. The festivities begin at 2:00 am, with the traditional J'Ouvert Morning, a precarnival procession featuring steel drums and percussion and fabulous masquerade costumes, from Grand Army Plaza to Flatbush Ave. and on to Empire Blvd., then to Nostrand Ave. and Rutland Rd. The Parade of Bands begins around 11:00 am, as truckloads of blasting Caribbean music and groups of ornately dressed dancers march down Eastern Parkway to Grand Army Plaza, soon to be joined by the glad-handing local politicians. Don't eat before you go; the great homemade food includes ackee and codfish, oxtail stew, curried goat, jerk chicken, fishcakes, and lots of rice and peas. The farther east you venture, the more closed in it gets; by the time you get near Crown Heights, it could take you half an hour just to cross the street, so take it easy and settle in for a fun, colorful day where you need not hurry.
WAVERLY MIDNIGHTS: THE COEN BROTHERS
IFC Center
323 Sixth Ave. at West Third St.
Weekends at midnight through September 12
212-924-7771
Friday, September 4
and
Saturday, September 5 THE BIG LEBOWSKI (Joel Coen, 1998)
Listen Up! WarmUp 2009
P.S.1 Contemporary Art Center / MoMA
22-25 Jackson Ave. at 46th Ave., Long Island City
Saturdays from 2:00 to 9:00, July 4 — September 5
Admission: $10, includes admission to art galleries 2:00 to 9:00
718-784-2084
Saturday, September 5 Rong Music with Glenn Branca and special guests

SHAKESPEARE'S ANTI-CHRISTIAN SATIRES
Manhattan Theater Source
177 MacDougal St.
Admission: free
212-769-9537
http://www.darkladyplayers.com
Saturday, September 5
and
Saturday, September 12 The Dark Lady Players present THE VIRGIN MARY PARODIES, 3:00, preceded on September 5 by "Virgin Mary Mystery Play Procession" in Washington Square Park at 2:15
THE SUNDAY GETAWAY
Water Taxi Beach
Governors Island
Tickets: $15-$20
Sunday, September 6 Turntables on the Hudson celebrates its eleventh anniversary with a music and dance festival featuring DJs Nickodemus and Mariano, percussionists Nappy G and Christian Rogers, Nickodemus's SUN PEOPLE album played live, and more, 2:00 — 12 midnight
THE DanceNOW FESTIVAL
Dance Theater Workshop, Bessie Schonberg Theater
219 West 19th St. between Seventh & Eighth Aves.
Tickets: $20-$25 (all five shows $75)
212-924-0077
http://www.dancetheaterworkshop.org
Tuesday, September 8
through
Saturday, September 12 Fifteenth anniversary celebration featuring five days of performances by more than fifty former participants in the DanceNOW Festival, including PARADIGM, Nicholas Leichter & Monstah Black THE WHIZ, On Common Ground, Jane Comfort and Company, TAKE Dance, Monica Bill Barnes & Company, David Dorfman, Doug Elkins, Daniel Gwirtzman Dance Company, and many more, 7:30
NY400 WEEK: HOLLAND ON THE HUDSON
Multiple locations
Admission: free
Tuesday, September 8
through
Sunday, September 13 Special events celebrating the four-hundredth anniversary of Henry Hudson's discovery of what is now the Hudson River, with the New Amsterdam Village, free Dutch bike rentals, gallery and museum shows, walking tours, sailing races, arrival of a fleet of traditional Dutch barges, sailing ship replicas, a bike slam and DJ party, open house ship visits, and more, at Bowling Green, Snug Harbor, Battery Park City, New York Harbor, Governors Island, the Battery, Hudson River Park, the Brooklyn Bridge Park, Water Taxi Beach, the South Street Seaport, and other locations, culminating with NY Harbor Day on September 13, featuring Harmony on the Hudson in Battery Park City, the Oyster Festival in Hudson River Park, live performances as part of the New Island Festival on Governors Island, and much more
ELEVATED
Museum of Modern Art, Roy and Niuta Titus Theater 1
11 West 53rd St. between Fifth & Sixth Aves.
Tickets: $10 (can be applied to museum admission within thirty days)
212-708-9400
Friday, September 9 Collaborative event pairing composer David Lang with specially commissioned short films by Doug Aitken, Guy Maddin, Bill Morrison, Matt Mullican, and William Wegman, with compositions played live by CONTACT Contemporary Music, directed by Jerry Pergolesi, 5:00 & 8:00
PIERRE RIGAL: PRESS
Baryshnikov Arts Center and other venues
450 West 37th St.
Tickets: $20
212-279-4200
Thursday, September 10
through
Saturday, September 12 U.S. premiere of solo piece by choreographer and performer Pierre Rigal set inside a large box (artist talk follows 2:00 Saturday show)
Mister ArtSee
Half Gallery
208 Forsyth St.
Admission: free
Thursday, September 10
through
Thursday, September 17 Debut of former ice-cream truck that has been transformed into a mobile arts laboratory by Elliott Arkin's Art-Z group, featuring installations, sound pieces, performances, presentations, visual art, and videos.

AVEDON AND FASHION
HBO Auditorium
1100 Sixth Ave. at 42nd St., 15th floor
Admission: $5
212-857-0001
Thursday, September 10 An evening dialogue devoted to the changing paradigms of fashion, in conjunction with the "Avedon Fashion" exhibit at the International Center of Photography, with panelists Harold Koda, China Machado, and Lizzie Himmel, moderated by Carol Squiers and Vince Aletti, 7:00
ATOOSA GREY
The Living Room
154 Ludlow St. between Stanton & Rivington Sts.
Tickets:
212-533-7237
http://www.myspace.com/atoosamusic
Thursday, September 10 New Jersey Iranian-American singer-songwriter is touring behind her latest album, WHEN THE CARDINALS COME, 8:00
CRICKET CRAWL
Admission: free
Friday, September 11 Join the American Museum of Natural History and the U.S. Geologic Survey as they count crickets and katydids in what is being called "an aural expedition and a celebration of life in the leafy jungles of urban and suburban NYC and surrounding area"

CARIBBEAN VIBES
Bronx Museum of the Arts
1040 Grand Concourse at 165th St.
Admission: free
718-681-6000
Friday, September 11 First Fridays! program celebrates the music of Jamaica and Trinidad & Tobago, with DJ Revolution, Therapy Band, and more, 6:00 - 10:00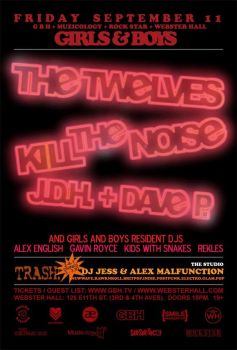 GIRLS & BOYS
Webster Hall
125 East Eleventh St. between Third & Fourth Aves.
Tickets: $15-$25 ($1 entry and $1 drinks with below link)
Girls get in free all night long
http://www.websterhall.com/dollardaze
Friday, September 11 The Twelves, Kill the Noise, J.D.H. + Dave P., resident DJs Alex English, Gavin Royce, Kids with Snakes, Gavin Royce, and Rekles, Trash! with DJ Jess & Alex Malfunction, and more, 10:00
BUDDYFEST
Shea Stadium
20 Meadows St., Brooklyn
Tickets: $8 Friday, $15 Saturday, $20 both days
http://www.myspace.com/sheastadiumbk
Friday, September 11 The New Dress, 9:00; the Reveling, 9:45; Avec, 10:30; Nakatomi Plaza, 11:15
Saturday, September 12 Kill Wealthy Dowager, 2:45; One Man Riot, 4:15; Ludlow Lions, 5:00; Summer People, 5:45; (dinner break, 6:15;) Trophy Wife, 7:30; Man Without Plan, 8:15; Lemuria, 9:45; Cities for Small Towns, 10:30; Nakatomi Plaza, 11:15
MAD. SQ. MUSIC 2009 STUDIO SERIES:
FOLK, BLUES & AMERICANA
Madison Square Park
Broadway & Madison Ave. and Twenty-third & Twenty-fifth Sts.
Saturday afternoons at 3:00 through October 10
Admission: free
212-538-9310
https://www.madisonsquarepark.org
Saturday, September 12 Angel Band, with Doug & Telisha Williams
ROOFTOP FILMS: BROOKLYN NON-FICTION
Old American Can Factory
232 Third St.at Third Ave., Brooklyn
Tickets: $9
718-417-7362
Saturday, September 12 Live music at 8:30, followed by screening of short films at 9:00, Q&A with the filmmakers at 10:30, and an after-party reception with free sangria from 11:00 to 12:30
HIGH ROLLERS
Brooklyn Bowl
61 Wythe Ave.
Tickets: $13
718-963-3369
Saturday, September 12 Glass Candy, Eamon Harkin & Justin Carter, and DJ Mike Simonetti (Italians Do It Better), 10:00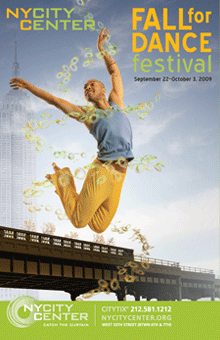 FALL FOR DANCE FESTIVAL
City Center
West 55th St. between Sixth & Seventh Aves.
September 22 — October 3
Tickets: $10
212-581-1212
Sunday, September 13 Tickets — only ten bucks apiece — go on sale for City Center's annual Fall for Dance Festival, this year featuring eight dance troupes celebrating the one-hundredth anniversary of Sergei Diaghilev's Ballets Russes, 11:30 am
CELEBRATE BRAZIL
Joan Weill Center for Dance
405 West 55th St. at Ninth Ave.
Registration required: $20 per class, $75 for full workshop
Sunday, September 13 Third annual workshop with Ailey Extension teachers Quenia Ribiero and Tiba Vieria, featuring classes in samba in platform heels, Macuelê, samba drumming, capoeira, and more, followed by the Bloco Ribiero performance parade with costumes and props, 11:00 am — 7:00 pm
BROADWAY ON BROADWAY
Times Square
Broadway between 43rd & 47th Sts.
Admission: free
http://www.BroadwayOnBroadway.com
Sunday, September 13 Annual celebration of the start of Broadway's fall season, featuring live performances from current and upcoming productions, 11:3o am
FAMILY DAY
Randall's Island
(Free shuttle buses available every half hour at 96th & 125th Sts. at Lexington Ave.)
Admission: free but advance RSVP recommended
212-829-0002
Sunday, September 13 SPORTIME celebrates the opening of its new tennis center with a day of tennis-related activities for families, including Tennis Boot Camp, Fastest Serve Contest, King of the Court challenge, Hit It and Win It, live presentation of the U.S. Open men's final on the JumboTron, and much more, 12 noon — 6:00 pm
PERFORM WILLIAMSBURG
East River State Park, Kent Ave. at North Eighth St., 1:00 — 5:00
Urban Art Projects, 136 Wythe Ave. between North Eighth & Ninth Sts., 6:00 — 9:00
Admission: free
Sunday, September 13 Multidisciplinary arts festival and parade featuring Marthe Ramm Fortun, Lydia Bell, Andras Borocz, Damaris Drummond, Jennie Hagevik Bringaker, Narubi Saleh, Urban Voices United, and more
A CONVERSATION WITH JANE CAMPION
Directors Guild Theater
110 West 57th St. between Sixth & Seventh Aves.
Tickets: $18
718-784-4520
Monday, September 14 Preview screening of BRIGHT STAR (Jane Campion, 2009), followed by a Pinewood Dialogue with Campion, presented by the Museum of the Moving Image, 7:00
WITH A LITTLE HELP FROM MY FRIENDS
Joe's Pub
425 Lafayette St. between East Fourth St. & Astor Pl.
Tickets: $35 standing room. $50 seating, $250 VIP
212-539-8778
Monday, September 14 The Cast of HAIR sings a benefit for Lindsay Thomas, who has stage-four lung cancer, with auction and special guests, 9:30 & 11:30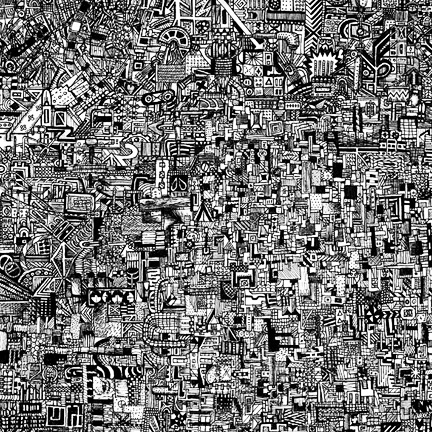 Ludlow Lions bring NO STORIES to the Delancey September 15
LUDLOW LIONS
The Delancey
168 Delancey St. between Clinton & Attorney Sts.
212-254-9920
http://www.myspace.com/ludlowlions
Tuesday, September 15 Brooklyn's Ludlow Lions are touring behind their debut full-length, NO STORIES, which you can download and pay what you wish
FILM REVOLUTION
Legion
790 Metropolitan Ave. at Humboldt
Donation: $10
http://www.outaboutbrooklyn.com
http://www.SmallTownGayBar.com
Tuesday, September 15 Screening of SMALL TOWN GAY BAR (Malcolm Ingram, 2006), from executive producer Kevin Smith, benefiting the Brooklyn Community Pride Center, with raffles, prizes, DJ Miss Cakes, and more, 8:00
MUSIC LOST & FOUND
Museum at Eldridge Street
12 Eldridge St. between Canal & Division Sts.
Tickets: $15
212-219-0888
Wednesday, September 16 Stempenyu's Dream with violinist Steven Greenman, featuring religious hymns, Moldavian dances, and Hasidic nigunim, 7:00
LET'S PAINT TV!
ISSUE Project Room
232 Third St., Brooklyn
Tickets: $15
Wednesday, September 16 John Kilduff brings the Embrace Failare World Tour to Brooklyn