Twi-ny, This Week in New York
Roxy Paine's "Maelstrom" winds its way across the Met roof
ROXY PAINE ON THE ROOF: MAELSTROM
Metropolitan Museum of Ar
The Iris and B. Gerald Cantor Roof Garden
1000 Fifth Ave. at 82nd St.
Through October 25 (closed Monday)
Suggested admission: $20
212-535-7710

In 2002, New York native Roxy Paine installed the fifty-foot-high stainless-steel sculpture "Bluff" in Central Park as part of the Whitney Biennial. In 2007, he constructed three more trees, in addition to a boulder, in Madison Square Park. Those works interacted splendidly with the surrounding environment, from the local trees to the nearby skyscrapers. Paine now has created the stunning "Maelstrom," a cleverly designed site-specific installation on the roof of the Metropolitan Museum of Art. The numerous trunks and branches wind their way across the space, approaching nearly every nook and cranny, casting dazzling shadows and reflecting in the mirror by the food stand. The shiny silver sculpture — which is 130 feet long and 45 feet wide — stands in stark contrast to the lush greenery of Central Park and the classic skyline visible from the Iris and B. Gerald Cantor Roof Garden; just the word "garden" evokes thoughts of growth, and though bare, "Maelstrom" seems to breathe with life, even curling up into the real plant life on the roof. But Paine's massive piece also brings to mind dendroids and vascular activity, enhancing its grasp on the viewer with mystery and menace. As opposed to other recent exhibits on the Met roof, visitors can not only take photographs but are encouraged to interact with it, touching it, sitting under it, examining its weight and density. (Don't miss one of the ways it's anchored in place — by morphing into fake spigots, as if it's being perpetually fed with water and sunlight.)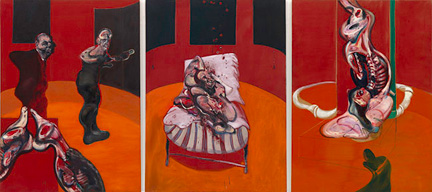 © 2009 The Estate of Francis Bacon / ARS, New York / DACS, London
Francis Bacon, "Three Studies for a Crucifixion," oil on canvas, 1962
FRANCIS BACON: A CENTENARY RETROSPECTIVE
Special Exhibitions Gallery, second floor
Through August 16 (closed Monday)

In celebration of the one hundredth anniversary of Francis Bacon's birth, the Met will be the sole U.S. venue presenting this retrospective of the work of the iconoclastic British painter, the first since his death in 1992. Combining sixty-five paintings with sixty-five archival items, the exhibit traces Bacon's career chronologically, beginning with his breakout work in the mid-1940s. (He destroyed most of his 1930s paintings, although 1933's ghostly "Crucifixion" is part of this show, an abstract figuration that sets the mood for his worldview of humans struggling to survive in a dark, godless universe.) In one of his seminal pieces, 1946's "Painting," a man hidden in shadow is under an umbrella, shielded from hanging animal carcasses, sitting at a table framed in white. Similar white lines morph into cagelike structures in numerous works that equate humans with animals, often focusing on shrieking mouths influenced by a famous shot of the nurse in Eisenstein's BATTLESHIP POTEMKIN. In fact, Bacon rarely painted from real life; he was inspired not only by Picasso and Van Gogh but also by Eadweard Muybridge's photographic studies of the human body in motion, writings by Eliot and Garcia Lorca, newspaper articles, and the cinema. And for his portraits he preferred working with carefully posed photos taken by friends and/or lovers rather than with live, sitting subjects.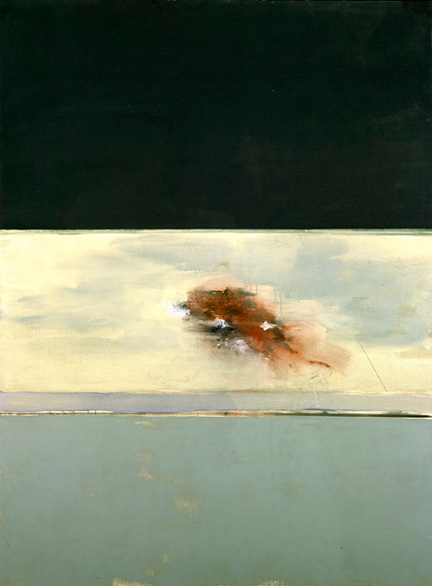 © 2009 The Estate of Francis Bacon / ARS, New York / DACS, London
Francis Bacon, "Blood on Pavement," oil on canvas, 1988
The centerpiece of the exhibition is a series of works based on Velazquez's 1650 "Portrait of Pope Innocent X," with Bacon turning the seated pontiff into a harrowing figure screaming like a trapped animal, the background melding with the foreground to create a "shuttered" perspective. Shortly following his dark, foreboding Man in Blue paintings, in which barely visible men in suits appear lost in loneliness and isolation, Bacon made several triptychs featuring distorted figures, several bursting with color (though not 1979-80's "Three Studies for a Self-Portrait"). One of his last works, "Blood on Pavement," is a kind of horizontal triptych evoking Rothko, with a blood-spattered white rectangle in between black and gray blocks, one of Bacon's more subtle pieces. "Francis Bacon: A Centenary Retrospective" justifies the Dublin-born Bacon's position as one of the most talented, important artists of the twentieth century, depicting a world filled with a beautiful, intoxicating madness and thrilling sense of doom. His palette consisted of shades of black, white, and gray along with unforgettable reds that explode off his canvases. One might get the sense from the exhibit and accompanying wall text (and highly repetitive labels) that Bacon was a depressed, solitary man with a series of complicated relationships with men, but in fact he was something of a party animal, a robust character who didn't mind being the center of attention. "Very few people have a natural feeling for painting," he once said, "and so, of course, they naturally think that painting is an expression of the artist's mood." It is difficult to gauge Bacon's mood when he was making these works; as he also once said, "The job of the artist is to deepen the mystery."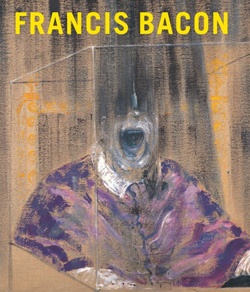 FRANCIS BACON edited by Matthew Gale and Chris Stephens (Skira Rizzoli, May 2009, $60)

"The legacy of the exhibition will be this volume," curators Matthew Gale, Chris Stephens, and Gary Tinterow write in the acknowledgments of FRANCIS BACON, which is more than just a catalog accompanying the centenary retrospective that started at Tate Britain, is currently at the Met, and then will move to the Prado. The deluxe hardcover features 250 full-color plates, including more than 70 of Bacon's works alongside photographs, film stills, movie posters, newspaper tearsheets, and paintings that influenced the Dublin-born artist and place his oeuvre in context, including paintings by Giacometti, Van Gogh, Picasso, and Sutherland. Among six expansive essays, Tinterow examines Bacon's critics, David Alan Mellor details the effects cinema had on Bacon, and Simon Ofield offers a tour of Bacon's cluttered studio, which he refers to as a "scrapbook." Victoria Walsh encapsulates it all when she writes, "In many respects the iconographic and iconological project to deconstruct Bacon's paintings is in its infancy." While the exhibit itself is arranged chronologically, the plates in the book are broken down into such thematic sections as "Animal," "Apprehension," "Crucifixion," "Crisis," and "Memorial," with reproductions of all the works in addition to beautiful full-bleed details of such seminal pieces as "Head II," "Man with Dog," "Three Studies for a Crucifixion," and "Figure in a Mountain Landscape." Bacon was a fascinating character, and the book wonderfully captures his dazzling creativity. For more on Bacon, we recommend THE GILDED GUTTER LIFE OF FRANCIS BACON (Pantheon, 1994), written by his close friend Daniel Farson, and BACON'S ARENA (Adam Low, 2005), a fanciful documentary that looks at the artist's mysterious life and loves, narrated by David Warner and with a score by Brian Eno.
Park Exhibit of the Week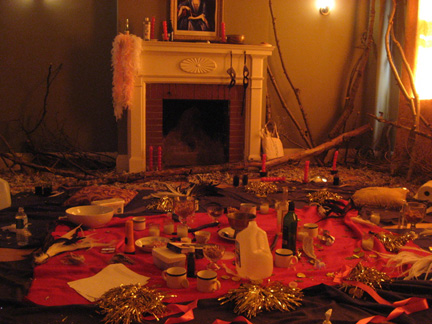 twi-ny/mdr
AA Bronson & Peter Hobbs, "Invocation of the Queer Spirits," detail, 2009
PLOT09: THIS WORLD & NEARER ONES
Governors Island Historic Harbor District
Ferries leave from the Battery Maritime Building, 10 South St., Slip 7
Exhibit open Fridays 11:00 am — 4:00 pm, Saturdays-Sundays 12 noon — 6:00
Guided tours of Governors Island Wednesdays & Thursdays at 10:00 am and 1:00 pm
Admission: free
http://www.govislandconcerts.com
this world & nearer ones slideshow
One of our favorite things to do in the summer is to check out expansive public art installations spread throughout an area or environment, such as recent site-specific shows in Riverside Park, MetroTech in Brooklyn, and Central Park and along Canal St. On June 27, the nonprofit collective Creative Time opened "PLOT09: This World & Nearer Ones," an exhibit of eighteen multimedia site-responsive public art pieces across Governors Island, hanging from trees, in structurally questionable buildings (you'll have to sign a waiver to go inside), and floating on the air. The majority of the works incorporate the past, present, and future of the historic island, whose 172.5 acres have included a Coast Guard station, a prison for Confederate soldiers, and an early settlement by the Dutch West India Company. The fictitious Bruce High Quality Foundation is screening ISLE OF THE DEAD in the long-abandoned movie theater, a short film in which art-world zombies rise up and watch a movie in the very same long-abandoned movie theater. Nils Norman's "Temporarily Permanent Monument to the Occupation of Pseudo Public Space" consists of a group of tents that recalls the tent cities recently set up in Las Vegas and other locations in the United States where jobs are scarce as well as Governors Island itself, which is in transition as the city decided what to do with it. In Judi Werthein's "La Tierra de los Libres," a two-sided screen depicts a group of Colombian refugees singing a translated version of "The Star-Spangled Banner," evoking America's tradition as a melting pot of cultures — and cultural differences. Although we love the work of Guido van der Werve, we're still trying to figure out how his pair of short films relate to Governors Island and the general themes of the exhibit.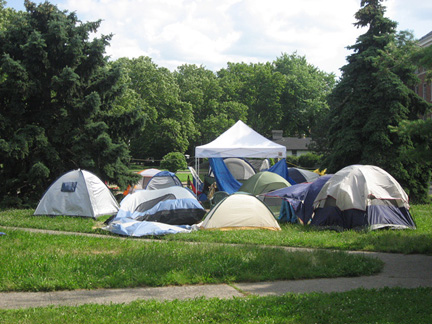 twi-ny/mdr
Nils Norman, "Temporarily Permanent to the Occupation of Pseudo Public Space," detail, 2009

As you make your way around "This World & Nearer Ones," which also includes pieces by Klaus Weber, Tue Greenfort, Susan Philipsz, Krzysztof Wodiczko, and Patti Smith and Jesse Smith, you'll also find several other art projects. The Orensanz Summer Museum displays drawings, paintings, photographs, and sculpture by Angel Orensanz (through October 3), while Figment's City of Dreams features miniature golf and large-scale interactive family-friendly displays. There will also be several music series on the island this summer, from the free River to River Festival to the Beach at Governors Island, which includes free performances (an all-metal tribute to the Bee Gees!) as well as pay shows by Erykah Badu, the B-52s, and others.

Saturday, July 18 River to River Festival: City of Water Day, featuring family activities, food and drink, fishing, tours, and more, 10:00 am
Saturday, July 18 The Beach at Governors Island: Wheel Up, with DJs DRM and Erik the Red, free, 2:00
Saturday, July 18 Video Summer Screening I: "Ars Sublimis" Chapter One: Just Beauty, Orensanz Summer Museum, 5:00
Sunday, July 19 The Beach at Governors Island: Tragedy: All Metal Tribute to the Bee Gees, the School of Rock All-Stars, and the Rodney Speed Experience, free, 2:00
Friday, July 24 Conversation at the Island II: Noam Elcott, Matter/Light, approaches to light as a creative substance, Orensanz Summer Museum, 3:00
Saturday, July 25 The Beach at Governors Island: The Beatards, with DJs O, Chuck Wild, and UTK the INC, free, 2:00
Sunday, July 26 River to River Festival: Folks on the Island with Judy Collins, 2:00
Sunday, July 26 The Beach at Governors Island: Turntables on the Hudson Tenth Anniversary, 3:00
Saturday, August 1 River to River Festival: The Archeological Dig on Governors Island, 10:00 am
Tuesday, August 4 The Beach at Governors Island: Erykah Badu and Janelle Monae, $52, 8:00
Saturday, August 8 River to River Festival: African Film Festival, 12 noon
Saturday, August 8
and
Sunday, August 9 River to River Festival: Civil War Weekend with the National Park Service, 10:30 am
Saturday, August 15 The Beach at Governors Island: Hip Hop Karaoke BBQ, 2:00
Tuesday, August 18 The Beach at Governors Island: The Ultimate Summer Beach Party: the B-52s, $38.50-$65, 8:00
Saturday, August 22, 23
and
Sunday, August 29, 30 Theatre of the Oppressed, performance workshop, Orensanz Summer Museum, 2:00 — 6:00
Sunday, August 23
and
Sunday, September 6 The Beach at Governors Island: Turntables on the Hudson Tenth Anniversary, 3:00
Saturday, September 12 Video Summer Screening I: "Ars Sublimis" Chapter Two: Maybe Sublime, Orensanz Summer Museum, 5:00
Summer Music/Film Series of the Week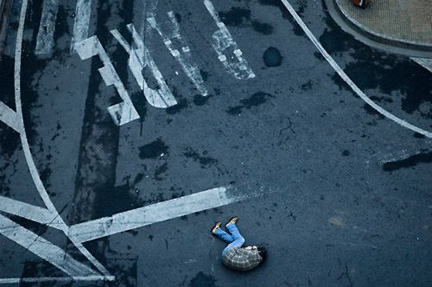 Bruno Barreto's LAST STOP 174 is festival's opening-night selection
PREMIERE BRAZIL 2009
Museum of Modern Art, 11 West 53rd St. between Fifth & Sixth Aves.
Music: The Abby Aldrich Rockefeller Sculpture Garden, Thursday nights in July, free with museum admission of $20, sets at 5:30 & 7:00
MoMA Film: Roy and Niuta Titus Theaters, July 16 - August 3, $10, in person only, may be applied to museum admission within thirty days, same-day screenings free with museum admission, available at Film and Media Desk
212-708-9400
* Introduced by the director(s)
MoMA's annual survey of Brazilian film consists of nineteen features and three shorts that cast a sharp eye at the South American nation, celebrating its musical heritage, examining difficult issues, and looking back at the history of its cinematic beginnings. This year's series honors the career of documentarian Eduardo Coutinho by screening eight of his works — which walk a fine line between fiction and reality — including his latest, MOSCOW; he will be on hand to introduce the world premiere of the film on July 20. (The first screenings of most of the films will be introduced by the directors.) Joel Zito Araújo's CINDERELLAS, WOLVES, AND A PRINCE CHARMING deals with human trafficking, Fábio Gavião & Markão Oliveira's MORRINHO: GOD KNOWS EVERYTHING BUT IS NOT A SNITCH details a project that gives hope to children living in favelas, and Coutinho's SANTO FORTE interviews people in a shantytown watching the pope's visit to Rio de Janeiro. In conjunction with the films — which also include a restored version of Humberto Mauro's 1937 work THE DISCOVERY OF BRAZIL, with a digitally remastered score by Villa Lobos — MoMA is presenting live Brazilian music in the Sculpture Garden on Thursday nights in July.
*Thursday, July 16, 4:30
and
Friday, July 31, 8:00 YOU, ME, AND HIM (Daniel Ribeiro, 2008) and THAT'S IT (Matheus Souza, 2008)
Thursday, July 16 MoMA Thursday Nights: Adriana Calcanhotto, 5:30 & 7:00
*Thursday, July 16, 8:00
and
Friday, July 24, 8:00 LAST STOP 174 (Bruno Barreto, 2008)
LAST STOP 174 (ÚLTIMA PARADA 174)
(Bruno Barreto, 2008)
http://www.ultimaparada174.com.br

Inspired by a pair of actual events, Bruno Barreto's LAST STOP 174 examines the difficult life of children growing up on the outskirts of Rio de Janeiro. Reminiscent of such seminal works as PIXOTE (Hector Babenco, 1981), TSOTSI (Gavin Hood, 2005), and CITY OF GOD (Fernando Meirelles, 2003) with a Dickensian edge, LAST STOP 174 follows the course of two young boys named Alessandro; while still nursing, Ale is stolen from his drug-addicted mother by her vicious dealer, while Sandro finds his mother's murdered body in her bar and runs away, living on the street with other kids, sniffing glue, selling drugs, and stealing. Soon the two boys become friends, but neither is able to fully escape from their troubled pasts. Although the story is a bit scattershot at times and feels forced, Barreto (DONA FLOR AND HER TWO HUSBANDS, FOUR DAYS IN SEPTEMBER) reins things in for the explosive finale, with a terrific performance by Michel Gomes as the seventeen-year-old Sandro.
*Friday, July 17, 5:00 SHOULD NOTHING ELSE WORK OUT (José Eduardo Belmonte, 2008)
*Friday, July 17, 8:00
and
Sunday, July 26, 5:30 BEYOND IPANEMA: BRAZILIAN WAVES IN GLOBAL MUSIC (Guto Barra & Béco Dranoff, 2009)
*Saturday, July 18, 2:00
and
Monday, July 27, 8:00 69-LUZ SQUARE (Carolina Markowicz & Joana Galvão, 2008) and YOUTH (Domingos Oliveira, 2008)
*Saturday, July 18, 6:00
and
Wednesday, July 29, 8:00 THE ENCHANTED WORD (Helena Solberg,. 2008)
*Saturday, July 18, 8:00
and
Monday, August 3, 4:30 DECEMBER (Selton Mello, 2008)
*Sunday, July 19, 2:30 CINDERELLAS, WOLVES, AND A PRINCE CHARMING (Joel Zito Araújo, 2008).
*Sunday, July 19, 5:00
and
Friday, July 31, 4:30 CONTRETEMPS (Malu Mader & Mini Kerti, 2008)
*Sunday, July 19, 8:00
and
Thursday, July 30, 8:00 TWENTY YEARS LATER–A MAN LABELED TO DIE (Eduardo Coutinho, 1964/84)
*Monday, July 20, 4:30
and
Sunday, July 26, 2:30 MOSCOW (Eduardo Coutinho, 2009)
*Monday, July 20
and
Thursday, July 30, 4:30 MORRINHO: GOD KNOWS EVERYTHING BUT IS NOT A SNITCH (Fábio Gavião & Markão Oliveira, 2008), 8:04
Davi Vieira will present Brazilian hip hop in Sculpture Garden on July 23

Wednesday, July 22, 4:30
and
Monday, July 27, 4:30 BABILÔNIA 2000 (Eduardo Coutinho, 2000)
Wednesday, July 22, 8:00 SHOULD NOTHING ELSE WORK OUT (José Eduardo Belmonte, 2008)
Thursday, July 23, 4:30
and
Saturday, August 1, 2:00 VULTURES HAVE WINGS (André Rangel & Marcos Negrão, 2008) and THE DISCOVERY OF BRAZIL (Humberto Mauro, 1937)
Thursday, July 23 MoMA Thursday Nights: Davi Vieira presents Hip Hop Axé, an Afro-Pop-Brazilian Sound, 5:30 & 7:00
Thursday, July 23, 8:00
and
Saturday, August 1, 5:00 MASTER, A BUILDING IN COPACABANA (Eduardo Coutinho, 2002)
Friday, July 24, 4:30
and
Sunday, August 2, 5:30 METALWORKERS (Eduardo Coutinho, 2004)
Saturday, July 25, 2:00
and
Monday, August 3, 8:00 PLAYING (Eduardo Coutinho, 2006)
Saturday, July 25, 5:00
and
Sunday, August 2, 2:30 THE END AND THE BEGINNING (Eduardo Coutinho, 2005)
Saturday, July 25, 8:00 CINDERELLAS, WOLVES, AND A PRINCE CHARMING (Joel Zito Araújo, 2008)
Wednesday, July 29, 4:30
and
Saturday, August 1, 8:00 SANTO FORTE (Eduardo Coutinho, 1999)
Thursday, July 30 MoMA Thursday Nights: Romero Lubambo, 5:30 & 7:00
International Film Festivals of the Week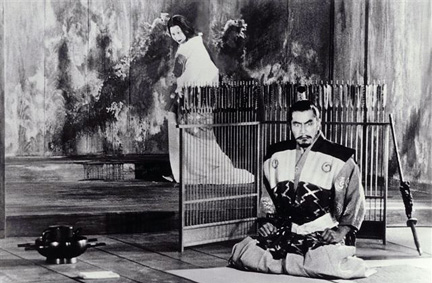 The Film Society of Lincoln Center/The Kobal Collection
Kurosawa offers a different kind of MACBETH in THRONE OF BLOOD
THE BARD GOES GLOBAL:
SHAKESPEARE ON THE INTERNATIONAL SCREEN
Walter Reade Theater
65th St. between Broadway & Amsterdam Aves.
July 15-26
Tickets: $11
212-875-5050
With free Shakespeare in parks and parking lots throughout the city this summer, the Film Society of Lincoln Center offers a melange of the Bard from all over the world, served up in the air-conditioned comfort of the Walter Reade Theater. The Bard Goes Global comprises eighteen versions of Shakespeare's work spanning more than eighty years, from German directors Svend Gade and Heinz Schall's 1920 take on HAMLET to Julie Taymor's expansive version of TITUS ANDRONICUS. Surprises include Finnish filmmaker Aki Kaurismäki's rarely screened HAMLET GOES BUSINESS, Derek Jarman's THE ANGELIC CONVERSATION, built around fourteen of Shakespeare's sonnets, and Charlton Heston's little-known ANTONY AND CLEOPATRA, in which he stars with Hildegarde Neil. (The Bard seemed to inspire actors to direct, as films by Laurence Olivier and Al Pacino are also part of the series.) The festival also includes four very different versions of MACBETH, by Orson Welles, Roman Polanski, Akira Kurosawa, and Vishal Bhardwaj, as well as a Russian KING LEAR, a Maori MERCHANT OF VENICE, Michael Almereyda's modernization of HAMLET, and Baz Luhrmann's update of ROMEO AND JULIET.
Wednesday, July 15, 1:15 & 6:15 HENRY V (THE CHRONICLE HISTORY OF HENRY THE FIFT WITH HIS BATTELL FOUGHT IN AGINCOURT IN FRANCE) (Laurence Olivier, 1944)
Wednesday, July 15, 4:00
and
Sunday, July 19, 9:10 THRONE OF BLOOD, AKA MACBETH (KUMONOSU JÔ) (Akira Kurosawa, 1957)
THRONE OF BLOOD, AKA MACBETH (KUMONOSU JÔ) (Akira Kurosawa, 1957)

Akira Kurosawa's marvelous reimagining of MACBETH is an intense psychological thriller that follows one man's descent into madness. Following a stunning military victory led by Washizu (Toshirô Mifune) and Miki (Minoru Chiaki), the two men are rewarded with lofty new positions. As Washizu's wife, Asaji (Isuzu Yamada, with spectacular eyebrows), fills her husband's head with crazy paranoia, Washizu is haunted by predictions made by a ghostly evil spirit in the Cobweb Forest, leading to one of the all-time classic finales. Featuring exterior scenes bathed in mysterious fog, interior long shots of Washizu and Asaji in a large, sparse room carefully considering their next bold move, and composer Masaru Sato's shrieking Japanese flutes, THRONE OF BLOOD is a chilling drama of corruptive power and blind ambition, one of the greatest adaptations of Shakespeare ever put on film.
Wednesday, July 15, 9:00
Thursday, July 16, 1:00
and
Sunday, July 19, 6:20 ROMEO AND JULIET (Franco Zeffirelli, 1968)
Thursday, July 16, 3:45 & 9:15
and
Sunday, July 19: 4:00 HAMLET (Michael Almereyda, 2000)
Thursday, July 16, 6:15
and
Sunday, July 19, 1:00 THE MAORI MERCHANT OF VENICE (TE TANGATA WHAI RAWA O WENITI) (Don Selwyn, 2002)
Saturday, July 18, 1:00
and
Monday, July 20, 1:00 ANTONY AND CLEOPATRA (Charlton Heston, 1972)
Saturday, July 18, 4:15
and
Monday, July 20, 4:00 KING LEAR (KOROL LIR) (Grigori Kozintsev, 1971)
Saturday, July 18, 7:00 MACBETH (Orson Welles, 1948)
Saturday, July 18, 9:30
and
Thursday, July 23, 4:30 THE ANGELIC CONVERSATION (Derek Jarman, 1985)
Tuesday, July 21, 2:00
Wednesday, July 22, 8:40
and
Sunday, July 26, 8:00 MACBETH (Roman Polanski, 1971)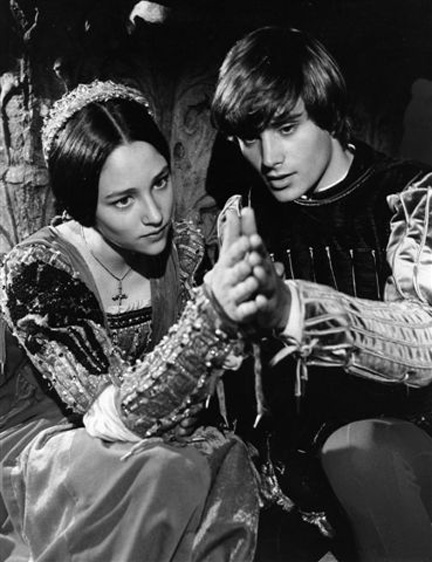 The Film Society of Lincoln Center/The Kobal Collection
Franco Zeffirelli's ROMEO AND JULIET is part of Shakespeare fest

Wednesday, July 22,1:30 & 6:15
and
Saturday, July 25, 3:45 ROMEO + JULIET (Baz Luhrmann, 1996)
Wednesday, July 22, 3:50
and
Saturday, July 25, 1:30 LOOKING FOR RICHARD (Al Pacino, 1996)
Thursday, July 23, 2:30
Friday, July 24, 6:15
and
Saturday, July 25, 9:00 THE TEMPEST (Derek Jarman, 1979)
Thursday, July 23, 6:15
Friday, July 24, 2:30
and
Sunday, July 26, 6:15 HAMLET GOES BUSINESS (HAMLET LIIKEMAAILMASSA) (Aki Kaurismäki, 1987)
Thursday, July 23, 8:00 TITUS (Julie Taymor, 1999), followed by a Q&A with Julie Taymor.
Friday, July 24, 4:15
and
Sunday, July 26, 3:45 A MIDSUMMER NIGHT'S DREAM (William Dieterle & Max Reinhardt, 1935)
Friday, July 24, 8:15
and
Sunday, July 26, 1:00 MAQBOOL (Vishal Bhardwaj, 2003)
Saturday, July 25, 6:30 HAMLET (Svend Gade & Heinz Schall, 1920), with piano accompaniment by Donald Sosin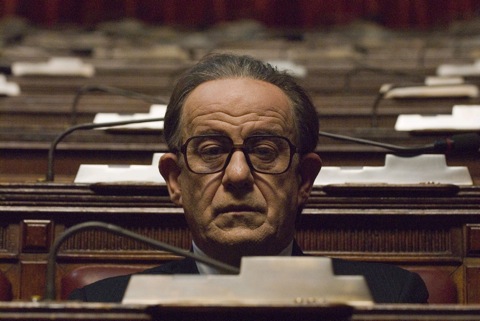 Toni Servillo is spectacular as Italian political legend Giulio Andreotti in IL DIVO
FIRE AND ICE: TONI SERVILLO ON SCREEN AND IN PERSON
Walter Reade Theater
65th St. between Broadway & Amsterdam Aves.
July 27-29
Tickets: $11
212-875-5050
Italian actor Toni Servillo has quickly reached international prominence with a series of diverse roles that show off his exceptional acting skills, including Paolo Sorrentino's political drama IL DIVO, in which Servillo plays seven-time Italian prime minister Giulio Andreotti, and Matteo Garrone's modern gangster epic GOMORRAH, with Servillo as a sleazy businessman. Servillo, who was named Best Actor at the 2007 Venice Film Festival for his role in Andrea Molaioli's murder mystery THE GIRL BY THE LAKE and earned a Donatello Award as Best Actor for Sorrentino's THE CONSEQUENCES OF LOVE, generally displays a quiet calm that seems ready to explode at any moment, as if his characters are balancing on the sharp edge of a knife. Fire and Ice will screen four of his recent works, with Servillo making a rare appearance on July 27, discussing his career after a showing of the marvelous IL DIVO. (Servillo's in town directing and starring in the Piccolo Teatro di Milano's staging of Carlo Goldoni's TRILOGIA DELLA VILLEGGIATURA as part of the Lincoln Center Festival, running July 22-26 at the Rose Theater.)
Monday, July 27 IL DIVO (Paolo Sorrentino, Italy, 2008), with Toni Servillo in person to discuss the film and his career, 6:00
IL DIVO: THE SPECTACULAR LIFE OF GIULIO ANDREOTTI (Paolo Sorrentino, 2008)

For more than fifty years, Giulio Andreotti has been a central figure in the Italian government. As a member of the Christian Democrats, he has served in a variety of ways, including as several ministers (defense, interior, foreign affairs, budget, treasury) as well as prime minister seven times. During those years, he has been linked to the Mafia, the Vatican, and the P2 Lodge — in addition to numerous bankers, politicians, judges, and journalists who have ended up murdered or committed suicide. Paolo Sorrentino's fourth film (following THE FAMILY FRIEND, THE CONSEQUENCES OF LOVE, and ONE MAN UP) is a stirring, highly stylized look at a remarkable public figure who always manages to survive despite all the controversy and conspiracy associated with him; in fact, in 1991, Andreotti was named Senator for Life. Toni Servillo is breathtaking as Andreotti, a small, crouched man — somewhat resembling Phil Hartman playing Henry Kissinger on Saturday Night Live — who has been called such nicknames as the Sphinx, the Hunchback, Beelzebub, and il Divo.
This nearly cartoonish-looking character surrounded himself with an army of cohorts worthy of a classic heist film, a different kind of Italian Rat Pack, including Paolo Cirino "Minister" Pomicino (Carlo Buccirosso), Franco "Lemon" Evangelisti (Flavio Bucci), Giuseppe "il Ciarra" Ciarrapico (Aldo Ralli), Vittorio "the Shark" Sbardella (Massimo Popolizio), Salvo "His Excellency" Lima (Giorgio Colangeli), and Cardinal Fiorenzo "His Holiness" Angelini (Achille Brugnini). Sorrentino depicts Andreotti as a soft-spoken, private man who speaks in puzzling proverbs "We learn from the Gospel that when they asked Jesus what truth was, he did not reply"), never raises his fist or voice in anger, and hangs in the background at lavish parties. Yet an aura of supreme power glows like a halo around him, casting fear in its shadows. IL DIVO, which won awards at both Venice and Cannes and is powered by a magnificent score by Teho Teardo (and such pop songs as Cassius's "Toop Toop" and Trio's "Da Da Da"), is an awe-inspiring achievement that will leave audience's mouths hanging open in wonder and amazement.
Monday, July 27, 9:00
and
Wednesday, July 29, 4:15 THE GIRL BY THE LAKE (LA RAGAZZA DEL LAGO) (Andrea Molaioli, Italy, 2007)
Tuesday, July 28 IL DIVO (Paolo Sorrentino, Italy, 2008), 9:00
Tuesday, July 28, 4:00
and
Wednesday, July 29, 6:10 THE CONSEQUENCES OF LOVE (LE CONSEGUENZE DELL'AMORE) (Paolo Sorrentino, Italy, 2004)
Tuesday, July 28, 6:15
and
Wednesday, July 29, 8:20 GOMORRAH (GOMORRA) (Matteo Garrone, Italy, 2008)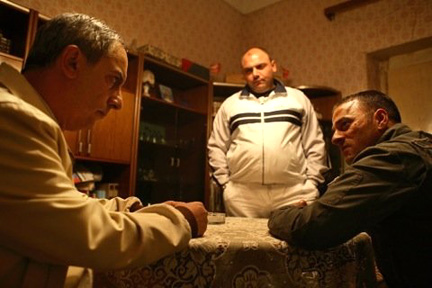 Italian crime epic looks at Camorra syndicate in Naples
GOMORRAH (Matteo Garrone, 2008)

Winner of the Grand Prix at the 2008 Cannes Film Festival, GOMORRAH is a violent, intimate look at the modern-day Camorra crime syndicate in Naples and Caserta. Based on the nonfiction novel by investigative journalist Roberto Saviano — who has been living under police protection since the fall of 2006 — Matteo Garrone's epic follows five distinct yet interrelated stories set around a dilapidated concrete-block housing project, a sort of GODFATHER meets THE SOPRANOS filtered through Italian Neo-realism. Pasquale (Salvatore Cantalupo) is a tailor who considers sharing his secrets with a Chinese sweatshop to make some much-needed extra cash. Roberto (Carmine Paternoster) is having second thoughts training under Franco (Toni Servillo), who runs a toxic waste dumping business. Don Ciro (Gianfelice Imparato) has to deal with a delicate, difficult situation when Maria's (Italian singing star Maria Nazionale) young son joins the secessionists, a rival gang. Marco (Marco Macor) and Ciro (Ciro Petrone) are loose cannons who keep messing with the wrong people. And Totò (Salvatore Abruzzese) is a thirteen-year-old boy who is helping out the Camorra against his mother's wishes — and is soon faced with a life-changing decision. Beautifully shot by Marco Onorato and featuring a cast of primarily nonprofessional actors, GOMORRAH is a deeply involving crime drama, all the more frightening because it's based on real, current situations.
Free Outdoor Theater of the Week
CITYPARKS THEATER
Multiple locations
Through August 14
All performances at 8:00 pm
Admission: free
http://www.cityparksfoundation.org
There's lots of free Shakespeare to be seen in park throughout the city this summer, but the CityParks Foundation is also presenting new plays in such locations as Herbert Von King Park and Marcus Garvey Park, giving theater lovers the opportunity to see new productions in some very cool spots. This year's lineup includes the first original commission for the annual series, Chisa Hutchinson's DIRT RICH.
Tuesday, July 21
and
Wednesday, July 22 GOD IS NOT AN AMERICAN by jessica Care moore, Herbert Von King Park
Thursday, July 23 DIRT RICH by Chisa Hutchinson, Herbert Von King Park
Friday, July 24
and
Saturday, July 25 I DREAM A LITTLE DREAM, Theater in a Box: Essential Shakespeare, Tisch School of the Arts, NYU Continuum Company, Herbert Von King Park
Tuesday, July 28 GOD IS NOT AN AMERICAN by jessica Care moore, Marcus Garvey Park
Wednesday, July 29
and
Thursday, July 30 DIRT RICH by Chisa Hutchinson, Marcus Garvey Park
SHAKESPEARE IN THE PARKING LOT
The Drilling Company
Municipal Parking Lot across from 85 Ludlow St. at Broome St.
Thursdays through Saturdays through August 15 at 8:00
Admission: free
212-414-7717
http://www.drillingcompany.org
Through July 25 A MIDSUMMER NIGHT'S DREAM, directed by Kathy Curtiss
PIPER THEATRE COMPANY
Old Stone House Historic Interpretive Center, J.J. Byrne Park
Fifth Ave between Third & Fourth Sts., Brooklyn
Friday through Sunday at 8:00 (plus July 26 at 2:00)
Admission: free
718-765-3195
http://www.theoldstonehouse.org
Through July 26 THE TRAGEDY OF HAMLET, directed by John P. McEneny, in repertory with ROSENCRANTZ AND GUILDENSTERN ARE DEAD, directed by Thomas Hoagland
THE SCHOOL FOR HUSBANDS
Inside Central Park at 103rd St.
Thursdays — Sundays at 7:00 through July 29
Admission: free
212-252-4531
http://www.newyorkclassical.org
Through July 29 New York Classical Theater, led by artistic director Stephen Burdman, presents Moliere's THE SCHOOL FOR HUSBANDS, moving through the park, incorporating the natural landscape into the production

SHAKESPEARE IN RIVERSIDE PARK: HAMLET
Riverside Park
North Patio of Soldiers' and Sailors' Monument
West 89th St. & Riverside Dr.
Thursdays through Sundays at 6:30
Admission: free
http://www.hudsonwarehouse.net
Through August 2 Hudson Warehouse's sixth annual season of free Shakespeare in the park continues with HAMLET, directed by Jerrod Bogard
JOAN OF ARC
Fort Tryon Park, pine grove area
Ft. Washington Ave. at Margaret Corbin Dr.
Thursdays through Sundays at 8:00
Admission: free
212-252-5258
Through August 2 The Gorilla Repertory Theater Company presents Robert Ackerman's new version of JOAN OF ARC, with scenes moving through Fort Tryon Park
LIFE ON A DESERT ISLAND
Central Park (68th St. & Central Park West)
Prospect Park (at Fifth Ave.)
Saturdays & Sundays at 5:30
Admission: free
917-620-7024
http://www.theatreplayground.com
Through August 29 A One-Man Outdoor Spectacle, an interactive theater piece for families, based on Daniel Defoe's Robinson Crusoe, written by Ugljesa Sajtinac, and starring Samuel Kirk and Jason Vance on a rotating basis
Downtown Film Festival of the Week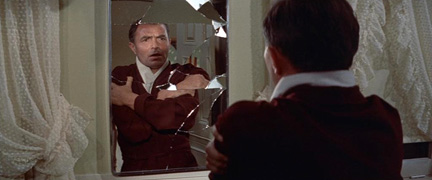 Sony Pictures Repertory/Film Forum
James Mason has a bit of a drug problem in BIGGER THAN LIFE
NICK RAY
Film Forum
209 West Houston St. between Sixth & Seventh Aves.
July 24 — August 6
212-727-8110
A radical iconoclast who defied convention, maverick filmmaker Nicholas Ray made eighteen features before dying of brain cancer in 1979 at the age of sixty-seven. Film Forum is honoring the award-winning writer-director-producer by screening fifteen of his works that display his fierce independence and unique visual style. From Westerns to film noir, gangster flicks to depictions of teen angst, Ray told stories with fascinating characters played by an all-star lineup that included Humphrey Bogart, Robert Mitchum, James Dean, Robert Ryan, Cornel Wilde, and Richard Burton as well as femmes fatale Gloria Grahame, Cyd Charisse, Ida Lupino, and Joan Fontaine. One of his strangest films, 1956's BIGGER THAN LIFE, features James Mason as a conventional family man who gets addicted to prescription drugs; Ray himself struggled with drug and alcohol problems in a life that included four marriages and bisexuality. Ray's last wife, Susan, will be on hand to introduce the 7:40 screening of IN A LONELY PLACE on July 17.
Friday, July 17
through
Thursday, July 23 IN A LONELY PLACE (Nicholas Ray, 1950), 1:10, 3:20, 5:30, 7:40, 9:50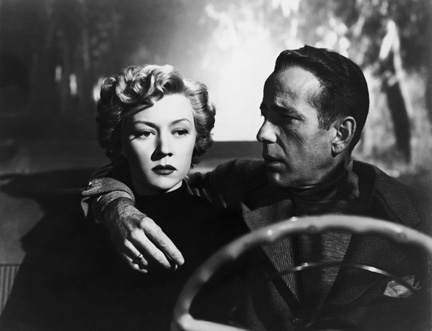 Sony Pictures Repertory/Film Forum
Gloria Grahame and Humphrey Bogart go on quite a ride in Ray classic
IN A LONELY PLACE (Nicholas Ray, 1950)

Humphrey Bogart stars in Nicholas Ray's powerful, intense film about a cynical Hollywood screenwriter with a violent side. Dixon Steele (Bogart, in one of his strongest performances) is asked to write a screenplay based on a pulpy romance he has little interest in, so he brings home a coat-check girl who has read the book so she can tell him the story. The girl turns up dead, and Steele, known for his drunken forays and abuse of women, is the main suspect. Aspiring star Laurel Gray (Gloria Grahame), who has recently moved into the same Beverly Hills apartment complex, supplies an alibi for Steele, but she might have ulterior motives for doing so. Ray's moody, introspective gem keeps you guessing until the very end. Ray's last wife, Susan, will introduce the 7:40 screening on July 17.
Friday, July 24
and
Saturday, July 25 BIGGER THAN LIFE (Nicholas Ray, 1956), 1:30, 3:30, 5:40, 7:50, 9:50
Sunday, July 26 JOHNNY GUITAR (Nicholas Ray, 1954), 1:10, 3:20, 5:30, 7:40, 9:50
Monday, July 27 JOHNNY GUITAR (Nicholas Ray, 1954), 1:10, 3:20, 10:00
Monday, July 27 BORN TO BE BAD (Nicholas Ray, 1950), 6:00, 7:50
Tuesday, July 28 ON DANGEROUS GROUND (Nicholas Ray, 1952), 2:40, 6:00, 9:20, and A WOMAN'S SECRET (Nicholas Ray, 1949), 1:00, 4:20, 7:40
Wednesday, July 30 THEY LIVE BY NIGHT (Nicholas Ray, 1949), 1:30, 5:15, 9:00, and KNOCK ON ANY DOOR (Nicholas Ray, 1949), 3:20, 7:05
Thursday, July 31 THEY LIVE BY NIGHT (Nicholas Ray, 1949), 1:30, 5:15, and KNOCK ON ANY DOOR (Nicholas Ray, 1949), 3:20
Thursday, July 30 WIND ACROSS THE EVERGLADES (Nicholas Ray, 1958), 7:15, 9:15
Friday, July 31
through
Sunday, August 2 REBEL WITHOUT A CAUSE (Nicholas Ray, 1955), 1:10, 3:20, 5:30, 7:40, 9:50
Monday, August 3 REBEL WITHOUT A CAUSE (Nicholas Ray, 1955), 1:00
Tuesday, August 4 BITTER VICTORY (Nicholas Ray, 1957), 1:00, 4:35, 8:10, and HOT BLOOD (Nicholas Ray, 1956), 2:55, 6:30, 10:05
Wednesday, August 5 THE LUSTY MEN (Nicholas Ray, 1952),1:30, 5:30, 9:30
Wednesday, August 5 THE TRUE STORY OF JESSE JAMES (Nicholas Ray, 1957), 3:40, 7:40
Thursday, August 6 PARTY GIRL (Nicholas Ray, 1958), 1:30, 3:30, 5:30, 7:30, 9:30
Riff's Rants & Raves: Film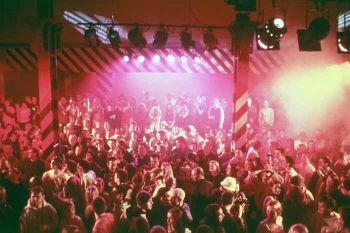 The crowds will move outdoors for 24 HOUR PARTY PEOPLE
and other July 22 screenings
WEDNESDAY, JULY 22 / MONDAY, JULY 27
Multiple locations
Admission: free
day-by-day free summer movie list
If you love going to free outdoor summer movie screenings, July 22 is going to be your toughest night of the season, as there are four outstanding films playing across the city. The Summerscreen series at the McCarren Park Ball Fields in Brooklyn is showing Michael Winterbottom's 24 HOUR PARTY PEOPLE, a dazzlingly told tale starring Steve Coogan as Tony Wilson, the promoter who helped create the Manchester music scene in the 1970s and 1980s (think Joy Division and the Happy Mondays). The screening will be preceded by live music at 7:00. On Pier 54 (Hudson River at Fourteenth St.), RiverFlicks for Grown-Ups presents Christopher Nolan's terrific THE DARK KNIGHT, which earned Heath Ledger a posthumous Oscar for his scintillating portrayal of the Joker. Movies Under the Stars at Riverside Park South (Pier 1 at 70th St.) is offering up George Cukor's delightful depression-era romantic comedy DINNER AT EIGHT (1933), featuring an all-star cast that includes Wallace Beery, Jean Harlow, Lionel Barrymore, Marie Dressler, John Barrymore, and Billie Burke. And in Socrates Sculpture Park in Queens, Jean-Luc Godard's Nouvelle Vague classic CONTEMPT (1963) will screen as part of the Outdoor Cinema series, with live music, dance, and local ethnic food stands.
Tony Curtis lovers — and really, who doesn't love Tony Curtis — will have a tough decision on July 27, when Movie Nights on the Elevated Acre (55 Water St. at Old Slip) presents Curtis as sleazy, go-getting young press agent Sidney Falco opposite Burt Lancaster's cool, calm cynic J. J. Hunsecker in Alexander Mackendrick's 1957 drama SWEET SMELL OF SUCCESS, and the Bryant Park Summer Film Festival (Sixth Ave. at 41st St.) screens Stanley Kramer's outstanding 1958 racially charged drama THE DEFIANT ONES, in which the white Joker Jackson (Curtis) and the black Noah Cullen (Sidney Poitier) escape from a chain gang and face a lot more than just the posse hunting them down.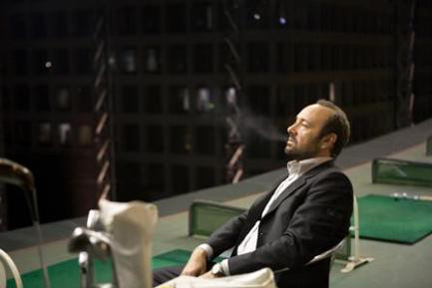 Kevin Spacey has a bit of a drug problem in SHRINK
SHRINK (Jonas Pate, 2009)
Opens Friday, July 24

Jonas Pate's SHRINK sets itself up to be hated. The Hollywood-set drama features annoying, unlikable people doing annoying, unlikable things, often with annoying, unlikable motives. Blame a lot of it on CRASH (Paul Haggis, 2004), one of the worst films to ever win an Oscar for Best Picture. The multiple story arcs that eventually come crashing together center around a pot-crazed self-help psychiatric guru (a subdued Kevin Spacey) who recently lost his wife and has some very bizarre patients, including a manic big-time agent (Dallas Roberts) with a cleanliness thing who sends his underlings out to do number two on his competitors' steps; an aging, grizzled movie star and sex addict (Robin Williams) promoting his latest overblown flick with his drug-addled costar (Jack Huston); a former successful actress (Saffron Burrows) looking to get back in the game after finding out some hard truths about her rock star husband; and a young student (Keke Palmer) who spends her days going to movies instead of high school. Meanwhile, a wanna-be screenwriter (Mark Webber) is searching for his muse. There's a whole lot of self-loathing and self-obsession, but somehow director Pate (DECEIVER) and writer Thomas Moffett (FROST) bring it all together against all odds. We particularly love the intervention scene. Given a chance, SHRINK will grow on you.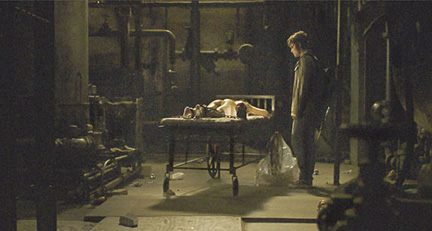 Hotly anticipated horror flick leaves much to be desired
DEADGIRL (Marcel Sarmiento & Gadi Harel, 2009)
Sunshine at Midnight
Landmark Sunshine Cinema
143 East Houston St. between First & Second Aves.
July 24 & 25 at midnight
212-330-8182
http://www.myspace.com/deadgirlthemovie
http://www.landmarktheatres.com

Hailed by many an independent film festival, DEADGIRL is an insipid little piece of exploitative trash that is nowhere near the clever coming-of-age horror flick it wants to be. Ditching school to drink beer in a creepy abandoned mental institution — is there any other kind? — Rickie (Shiloh Fernandez) and JT (Noah Segan) come upon a naked woman (Jenny Spain) wrapped in plastic and chained on a table. While Rickie wants to set her free, JT discovers a secret about her that makes him want to do something very different with her. We love a gruesome, low-budget horror flick as much as the next fan-geek, but DEADGIRL, produced and directed by Marcel Sarmiento (HEAVY PETTING) and Gadi Harel, is a low-grade disappointment. The film will be playing select theaters across the country at midnight on Friday, January 24, and Saturday, January 25, including the Landmark Sunshine in New York City, where Harel will be on hand for an audience Q&A after each screening.
In Theaters Now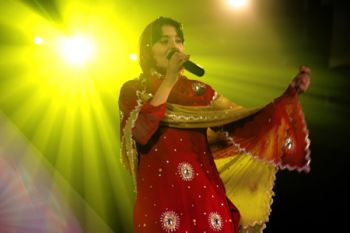 Setara Hussainzada puts it all on the line to become singing star
AFGHAN STAR (Havana Marking, 2009)
Cinema Village
22 East 12th St. between University Pl. & Fifth Ave.
212-759-7525
http://www.afghanstardocumentary.com

AMERICAN IDOL contestants such as Kelly Clarkson, Ruben Studdard, Carrie Underwood, and Clay Aiken have become household names. But what about Rafi Nabzaada, Lema Sahar, Hameed Sakhizada, and Setara Hussainzada? In AFGHAN STAR, the centerpiece selection for the 2009 Human Rights Watch International Film Festival, director Havana Marking (THE CRIPPENDALES) follows these four wannabe singers as they battle it out on the Afghani version of AMERICAN IDOL. Music and dance was banned by the Taliban from 1996 to 2001, and the Mujahiddeen still considers such forms of entertainment sacrilegious, but that didn't stop some two thousand people — including three daring young women — from auditioning for the program, seeking the first-place prize of $5,000 and a recording contract, as well as instant fame. Marking visits the four contestants' hometowns, speaking with their rabid supporters, in addition to the Khan family, who devotes their life to the popular show. But Marking also meets with plenty of detractors who find AFGHAN STAR to be perverse and offensive — and when Setara actually dances on the show, her life is suddenly in grave danger. In a country where freedom and democracy have been suppressed for so long — except for a short respite in the 1980s, when popular culture and modernization flourished ever so briefly — AFGHAN STAR has brought back hope and dreams to millions. "When I listen to music, I feel, I feel really happy," one young boy, smiling broadly, says in the beginning of the film. "If there was no singing," his friend adds, "then the world would be silent."

Gianna brings Saya to life while spilling lots of blood
BLOOD: THE LAST VAMPIRE (Chris Nahon, 2009)
Chris Nahon's live-action version of Hiroyuki Kitakubo's award-winning 2000 anime film, which was also turned into a novel by Mamoru Oshii (GHOST IN THE SHELL) and both a manga and anime series, features a handful of cool action sequences with plenty of stylized blood splatters, but the story and much of the acting falls flat. Korean actress Gianna stars as Saya, a four-hundred-year-old vampire slayer — and vampire herself — who works as an operative for a secret organization that sends her to an American military base in Tokyo, where she is to pose as a sixteen-year-old schoolgirl and take care of some rogue elements. All the while, though, her primary goal is to continue her centuries-old hunt for the greatest evil of all, Onigen (Koyuki), no matter the consequences. Gianna knows how to wield a sword, performing most of the stunts herself, under the guidance of master action choreographer Corey Yuen (ROMEO MUST DIE, X-MEN), but BLOOD: THE LAST VAMPIRE plays more like a minor-league remake of a mediocre BUFFY THE VAMPIRE SLAYER episode (yes, there were a few) than an original film in its own right. Nahon (KISS OF THE DRAGON) seems to give up on a real narrative early on, with substandard acting certainly not helping matters.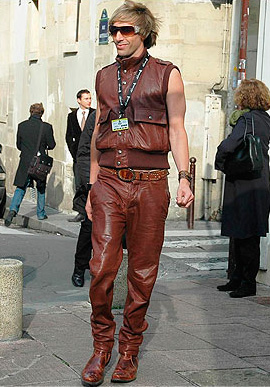 Sacha Baron Cohen is up to new tricks in BRÜNO
BRÜNO (Larry Charles, 2009)

Sacha Baron Cohen's follow-up to the brilliant BORAT (Larry Charles, 2006) and the crazy ALI G INDAHOUSE (Mark Mylod, 2002) is the chaotic gayfest BRÜNO, a muddled mess that overcomes its lack of a much-needed narrative with some of the funniest scenes seen on-screen since, well, BORAT. Baron Cohen's Brüno character is a nineteen-year-old flaming homosexual fashion journalist who wants to take America by storm — after being kicked out of Milan for causing trouble on the catwalk in an all-Velcro suit. But America doesn't seem quite ready to embrace the rather absurd, way-over-the-top Austrian (who is seeking to be as famous as Hitler or Schwarzenegger), especially at a focus group that is judging a TV show he has created — which features one of the most hysterical moments ever put on film (and one that will never be able to be shown on television). The structure of the film, directed by Charles, follows the general format of BORAT as Brüno and his right-hand man, the much-maligned Lutz (Gustaf Hammarsten), travel the world getting involved in raunchy, bizarre stunts that often put his physical well-being in jeopardy, whether running from angry Hasidim, insulting Osama bin Laden to a terrorist's face, trying to seduce Ron Paul, or flaunting his black child on a Dallas talk show. It's more a series of vignettes than an actual movie — in some ways it has more in common with the JACKASS flicks than with BORAT — and not all of the set pieces work, but the ones that do, including the grand finale in a wrestling cage, are an absolute riot. But Baron Cohen's investigation of the superficiality of celebrity and haute-couture culture often gets lost in the mix. We're already looking forward to the DVD release, hoping it has some of the deleted scenes mentioned in the film's press notes as well as a behind-the-scenes documentary that shows just how out of his mind social critic / daringly risqué comedian Baron Cohen is as he risks life and limb to reveal the dark underbelly of contemporary American society.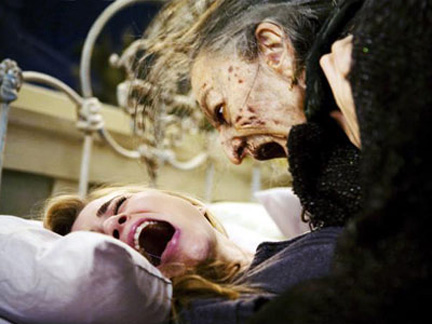 Sam Raimi returns to horror with DRAG ME TO HELL
DRAG ME TO HELL (Sam Raimi, 2009)

Michigan-born writer/director/producer Sam Raimi makes a welcome return to the horror genre with DRAG ME TO HELL, his first thriller since 2000's THE GIFT and only his second legitimate scarefest since 1987's EVIL DEAD II. (In the interim, he has made such films as A SIMPLE PLAN, THE QUICK AND THE DEAD, FOR LOVE OF THE GAME, ARMY OF DARKNESS, DARKMAN, and the SPIDER-MAN trilogy.) Battling for a promotion, loan officer Christine Brown (Alison Lohman) decides not to give old, decrepit Mrs. Ganush (Lorna Raver) a third extension on her mortgage. But the vile-looking woman won't give up that easy, getting into a frightening physical fight with Christine that ends when the craggy old bat casts a wicked spell on her. Christine tries to return to her safe, conventional life with her boyfriend, Clay Dalton (Justin "I'm a Mac" Long), but she is haunted by an evil creature that just might drag her to hell in three days if she can't find a way to stop it. Written by Raimi and his brother Ivan, DRAG ME TO HELL is a potent mix of horror and humor, ire and irony, always ready with a funny joke or two, its tongue firmly imbedded in its cheek — when it's not rolling out of Mrs. Ganush's absolutely disgusting mouth.
Iraq War drama puts viewers in the middle of the action
THE HURT LOCKER (Kathryn Bigelow, 2009)
http://thehurtlocker-movie.com

Based on embedded journalist Mark Boal's experiences in Iraq, THE HURT LOCKER follows a three-member Explosive Ordnance Disposal unit as they are called in to defuse a series of dangerous situations involving various kinds of bombs, including IEDs and other life-threatening explosive devices. Team leader Will James (Jeremy Renner) is an expert bomb defuser and maverick who doesn't follow protocol and likes to live on the edge. Spc. Owen Eldridge (Brian Geraghty) is a greenhorn who just wants to survive the last forty days of their rotation. And Sgt. J. T. Sanborn (Anthony Mackie) likes to go by the book and take no unnecessary chances, which puts him in constant conflict with the unpredictable James. Recalling the second half of Stanley Kubrick's Vietnam drama FULL METAL JACKET (1987), THE HURT LOCKER unfolds in a series of harrowing set pieces in which the EOD unit is called in to either safely detonate or defuse explosive devices while under the eyes of local Iraqis, any of whom could potentially be the bomber or a sniper. Director Kathryn Bigelow (BLUE STEEL, POINT BREAK) masterfully builds suspense scene after scene, beginning with the edge-of-your-seat opener through to the gripping conclusion. The experiences of the EOD unit serve as a microcosm for modern warfare in general and the U.S. involvement in the Middle East specifically, placing viewers in the midst of a tense, bitter, psychologically and emotionally draining battle that can never be won. The outstanding cast also features Guy Pearce, Ralph Fiennes, David Morse, and Evangeline Lilly in small roles; many of the Iraqis were played by actual war refugees. Shot in Jordan not far from the Iraq border, THE HURT LOCKER is a remarkable story, one of the best war films of the decade.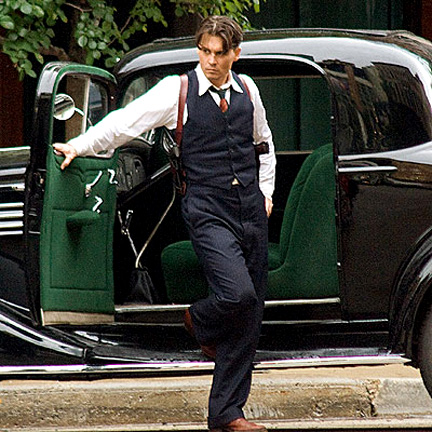 Johnny Depp plays it cool as Dillinger in gangster flick
PUBLIC ENEMIES (Michael Mann, 2009)

In the early years of talkies, around the time of the Great Depression, Hollywood — and America — fell in love with gangsters and gangster pictures. Edward G. Robinson, Paul Muni, and James Cagney became stars in such films as LITTLE CAESAR, SCARFACE, and PUBLIC ENEMY. In 1967, right around the Summer of Love, the ultraviolent, highly stylized BONNIE AND CLYDE reinvigorated the genre, casting the notorious thieves as the can't-miss glamorous duo of Faye Dunaway and Warren Beatty, followed two years later by the can't-miss glamorous duo of Paul Newman and Robert Redford as the title characters in BUTCH CASSIDY AND THE SUNDANCE KID. Now, with the country deep into a recession and hot off the success of Ridley Scott's AMERICAN GANGSTER, powerhouse writer-director-producer Michael Mann (THE INSIDER, MIAMI VICE) goes back to the 1930s for PUBLIC ENEMIES, a superb, exciting retelling of legendary bank robber and people's hero John Dillinger.
Based on the book by Bryan Burrough, who recently praised Mann in the L.A. Times for getting so many — if not all, of course — of the facts, details, and even nuances right, PUBLIC ENEMIES begins with a prison break engineered by Dillinger in 1933, revealing him to be a sly, clever, and extremely smooth criminal, a violent villain impossible not to love, especially as played by Johnny Depp. (Dillinger has previously been portrayed by such actors as Warren Oates, Lawrence Tierney, and even Mark Harmon.) Dillinger puts together his crew, which includes John "Red" Hamilton (Jason Clarke), Harry Pierpont (David Wenham), and Homer Van Meter (Stephen Dorff), and falls in love with coat-check girl Billie Frechette (Marion Cotillard) as he proceeds on his well-publicized crime wave. A blustery J. Edgar Hoover (Billy Crudup) sics master G-man Melvin Purvis (Christian Bale) on Dillinger, and the two play a cat-and-mouse game through the Midwest, with appearances by such other notorious gangsters as Pretty Boy Floyd (Channing Tatum), Frank Nitti (Bill Camp), Baby Face Nelson (Stephen Graham), and Alvin Karpis (Giovanni Ribisi). The bullets keep flying as Dillinger grows bolder and bolder and Purvis gets closer and closer. PUBLIC ENEMIES is a classy, handsome gangster picture for the modern age, a fun trip back to a time before billion-dollar bank bailouts, when certain thieves were more like Robin Hood than Bernie Madoff.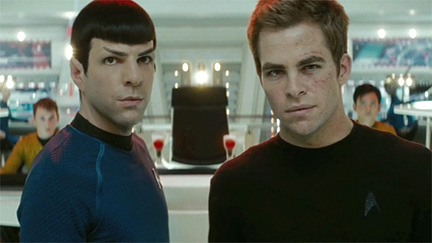 Spock and Kirk go back to the beginning in newest STAR TREK flick
STAR TREK (J. J. Abrams, 2009)

Just as Kirk has his Khan, Spock gets his Nero in J. J. Abrams's immensely entertaining time-traveling STAR TREK movie. Abrams (LOST) goes back to the very beginning, with the tumultuous birth of one James Tiberius Kirk (Chris Pine), whose father was a legendary member of Star Fleet. Soon he winds up aboard the U.S.S. Enterprise, surrounded by a crew that includes a logical Vulcan named Spock (Zachary Quinto); Uhura (Zoe Saldana), a hot language specialist; Leonard "Bones" McCoy (Karl Urban), a goofy doctor; seventeen-year-old helmsman Pavel Chekov (Anton Yelchin); engineer extraordinaire Montgomery Scott (Simon Pegg); and rookie pilot and swordsman Hikaru Sulu (John Cho). In this sort-of Star Trek Babies tale, the young cadets are suddenly thrust into action with Captain Pike (Bruce Greenwood), on a mission that involves evil villain Nero (Eric Bana), a rogue Romulan with an ax to grind. STAR TREK fans will love all the little homages to the series and the previous films, with both obvious and obscure references every step of the way as we learn how this famous crew first met one another and developed their extremely familiar relationships.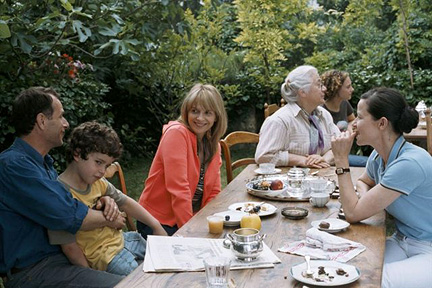 Juliette Binoche stars in Olivier Assayas's latest
SUMMER HOURS (L'HEURE D'ÉTÉ) (Olivier Assayas, 2008)
Quad Cinema
34 West 13th St. between Fifth & Sixth Aves.
212-255-8800

At their annual family gathering, Frédéric (Charles Berling), Adrienne (Juliette Binoche), and Jérémie (Jérémie Renier) are celebrating their mother's seventy-fifth birthday. But Hélène (Edith Scob) does not care about the present; instead, she is more concerned with preserving the past and preparing for the future. She pulls aside her oldest, Frédéric (Assayas's on-screen alter ego), to tell him what to do with her belongings after she's gone, but he is not ready to think about that. Her house is more like a museum, filled with valuable works of art and furniture that were collected by her uncle, a famous painter who died thirty years before. Frédéric would prefer to keep the house intact, donating a few items to the Musee d'Orsay and saving the rest for the next generation, but Adrienne and Jérémie don't necessarily feel the same way, and Frédéric's and Jérémie's kids fail to see any value in the pieces, including two oil paintings by Camille Corot, begrudgingly noting that they're from a different era. While Frédéric, a professor who has written a controversial book about the state of the economy, attaches personal memories to each object, Adrienne, a successful designer in New York, is more interested in the functionality of things, and Jérémie, who manages a company that profits from cheap labor in China, sees only monetary value. As the three siblings discuss what to do with their mother's estate, relationships come into focus, and a long-held secret emerges.
Written and directed by Olivier Assayas (LES DESTINÉES SENTIMENTALES, DEMONLOVER, IRMA VEP), SUMMER HOURS, which was selected for the 2008 New York Film Festival, is a thoughtful, intelligent slice-of-life story that avoids overbearing cliches and melodramatic moments; there are no blow-ups or overemotional scenes. Instead, the family deals with its situation directly and matter-of-factly, a sort of French CHERRY ORCHARD for the twenty-first century. However, Assayas does include far too many red herrings, little flourishes of cinematic language that seem to set something up that never comes full circle. The project was initiated by the Musee d'Orsay, which had commissioned a group of international directors to make short films related to the institution's holdings. Assayas's friend and colleague Hou Hsiao Hsien ended up making the full-length FLIGHT OF THE RED BALLOON, which also starred Binoche. Although the project later fell apart, Assayas combined the idea with the worsening condition of his mother, resulting in a bittersweet and very personal work.
Riff's Rants & Raves: Live Music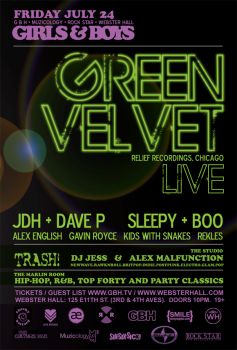 TICKET GIVEAWAY: GIRLS & BOYS
Webster Hall
125 East Eleventh St. between Third & Fourth Aves.
Friday, July 24, $25, 10:00 pm
Every Friday is Girls & Boys Club Night at Webster Hall, with electro house, hip-hop, pop, salsa, disco, rock, techno, indie, and more groovin' across four floors of the downtown music institution. Tickets are $25, but This Week in New York has a pair to give away to one lucky twi-ny reader. Just send your name, phone number, and age (you must be nineteen or older) to contest@twi-ny.com by Thursday, July 23, at 12 noon, for your chance to win free entry for two to this late-night dance sensation. This week it's Green Velvet (aka Chicago remix master Curtis Jones) shaking and popping, along with JDH + Dave P, Sleepy + Boo, and resident DJs Alex English, Gavin Royce, Kids with Snakes, and Rekles. DJ Jess & Alex Malfunction will keep things moving with Trash! in the Studio, while the Marlin Room will get funky with classic hip-hop, R&B, and top forty. Future Fridays at Webster Hall will feature A-Trak, Jack Beat, and Theophilus London (July 31), Data and Sinden (August 7), and Designer Drugs (August 14).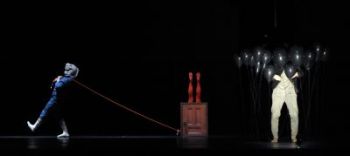 Courtesy of ADF / photo by Sara D. Davis
Pilobolus will perform 2b as part of its summer season at the Joyce
PILOBOLUS
Joyce Theater
175 Eighth Ave. at 19th St.
Through August 8, $19-$59
212-645-2904

Since 1971, Connecticut-based Pilobolus has stretched the athleticism of modern dance, extending the limits of what the human body can seemingly do while eschewing traditional dance movement and technique. Less kitschy than their half-sibling, prop-heavy Momix — Moses Pendleton founded the wildly popular Momix and cofounded the wildly popular Pilobolus — Pilobolus is in the midst of a month-long season at the Joyce, presenting three programs that include one world premiere and two New York City premieres. We attended program 3 on July 20, which began with "2b", a new collaboration with Israeli choreographers Inbal Pinto and Avshalom Pollak, who previously worked with Pilobolus on 2007's RUSHES. In the surreal, obscure narrative, Matt Del Rosario, Andrew Herro, Jun Kuribayashi, and Annika Sheaff move amid a circle of black balloons and a tiny red door as a lizard-man seeks to relieve himself of his heavy burden, set to a calypso song by Elvis Presley, a musical saw instrumental by Tom Waits, and a pair of Prelude & Fugues by Bach. Pilobolus reaches far back next with Jonathan Wolken's stunning 1973 work, PSEUDOPODIA, in which a male dancer (alternately Del Rosario or Kuribayashi) twists and somersaults across a barren stage as if a tumbleweed blowing in the wind, creating ridiculously remarkable moves. The first half of the program ends with 2008's RAZOR:MIRROR, choreographed by Wolken in collaboration with the five dancers, who put on a kind of burlesque show within a show, bordering on the fine line between sanity and insanity.
Following an intermission, Pilobolus returns with a grand pair of numbers, 2001's SYMBIOSIS, danced by Jenny Mendez and Jeffrey Huang to music by the Kronos Quartet, and Pendleton's 1980 piece for all seven dancers, DAY TWO, set to music by Brian Eno and David Byrne. Pilobolus's season at the Joyce continues through August 8 with two other programs as well, one including the New York premiere of Wolken's REDLINE, with music by Battles and Autechre, along with DARKNESS AND LIGHT, WALKLYNDON, and RUSHES, while the other is highlighted by the world premiere of DOG*ID, a collaboration with "SpongeBob SquarePants" head writer Steven Banks, in addition to PSEUDOPODIA, GNOMEN, LANTERNA MAGICA, and MEGAWATT.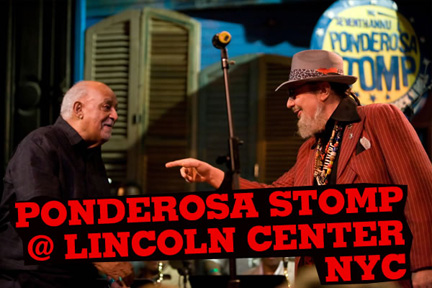 PONDEROSA STOMP
Lincoln Center
Stanley H. Kaplan Penthouse, Damrosch Park, Alice Tully Hall
July 15-19
Free - $30
The New Orleans-based Ponderosa Stomp Foundation is dedicated to "celebrating the legacy, revitalizing the careers, and preserving the history of the architects of American music" and to "acknowledge, pay tribute to, and teach the cultural significance of the unsung heroes and heroines of rock-n-roll, rhythm & blues and other forms of American roots music — while they are still alive." The nonprofit organization will be stomping its way into New York City for a series of shows that are part of Midsummer Night Swing, the Lincoln Center Festival, and the Wall Street Journal's Summer Scoops program. On July 15 (Stanley H. Kaplan Penthouse, $30, 7:30), Terence Blanchard, Tammy Lynn, and PSF founder Dr. Ike Padnos will participate in "Do You Know What It Means to Miss New Orleans?" a panel discussion moderated by Larry Blumenfeld and followed by a performance by the Terence Blanchard Quintet. On July 16-17 (Damrosch Park, free, 7:30), the Ponderosa Stomp will do the Midsummer Night Swing thing; the Get Down comes first, a mix of soul and R&B with William Bell, Harvey Scales, the Bobbettes, and the Bo-Keys, while the second night highlights the Best Dance in Town, a night of rockabilly with Carl Mann, Joe Clay, the Collins Kids, and Deke Dickerson and the Eccofonics. (Each Midsummer Night Swing kicks off with $15 dance lessons at 6:30.)
It all comes together on July 19 at Alice Tully Hall, when a great lineup with participate in "A Tribute to Wardell Quezergue," with Dr. John, the Dixie Cups, Robert Parker, Jean Knight, Dorothy Moore, Tammy Lynn, Tony Owens, Zigaboo Modeliste, Michael Hurtt, and Wardell Quezergue's Rhythm & Blues Orchestra honoring the Creole Beethoven. These mostly unsung heroes had hits with such songs as "Chapel of Love," "Mr. Big Stuff," "Mona Lisa," "Disco Lady," "Iko Iko," "Mr. Lee," and others, so even if you don't recognize a lot of their names, you're sure to know a lot of the music.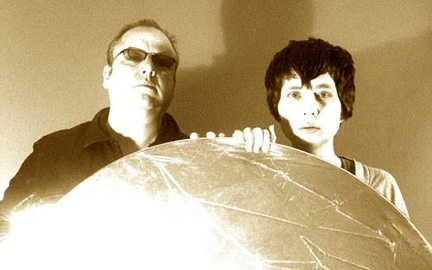 Black Francis and Violet Clark are coming on over to Jersey & Brooklyn
GRAND DUCHY / Demander
Maxwell's
1039 Washington St., Hoboken
Friday, July 17, $15, 10:30
201-653-1703
http://www.myspace.com/grandduchymusic
Following the recent successful reunion tour of the Pixies, bandleader Frank Black / Black Francis settled down into domestic bliss with Violet Clark. The two have collaborated on a new album, which features nine songs from all over the indie rock spectrum. On the disc, Black Francis's voice often explodes into raucous screaming, as on "Come on Over to My House" and "Black Suit," offset by Clark's softer singing. He goes especially off the deep end while screeching "The boy looks so divine" in "Black Suit," in which he also sings, "I am but a leech drinking from your veins / I'm just a monkey on your back / A chemical reaction in your brain / Anything that's blue is turning black," which may or may not be subtle references to his Pixies past. Black Francis goes falsetto for "Fort Wayne," which concludes with a frenzy of pounding drums and guitar feedback. A "Brown Sugar" riff enriches the beautiful "Lovesick," while "Ermesinde" goes back and forth between psychedelic synth breaks and an ABBA-like chorus. On the last song, "Volcano," Clark warns, "Everybody move the party / because we gotta go / That big volcano / is about to blow." The party this month moves to Maxwell's on July 17, when Grand Duchy will be playing with New York City band Demander, before heading over to Coney Island, where Francis and Clark will be on the Main Stage at the free Siren Festival at 5:00.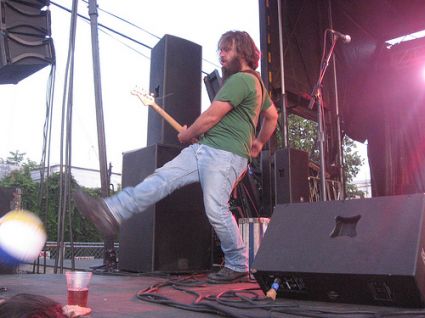 twi-ny/mdr
Built to Spill got a big kick out of closing 2009 Siren Festival
SIREN FESTIVAL 2009
Coney Island Boardwalk
Main Stage, West Tenth St.; Stillwell Stage, Stillwell Ave.
Saturday, July 18, 12 noon – 9:00
Admission: free
http://www.villagevoice.com/siren
siren festival 2009 slideshow sets
One of the best free summer festivals in the city, the Siren Festival features all-day musical madness on two stages in Coney Island. Now in its ninth year, the festival has presented such established and breaking acts as Stephen Malkmus and the Jicks, Ra Ra Riot, the New York Dolls, M.I.A., the Black Lips, Matt and Kim, the Scissor Sisters, Man Man, Spoon, Death Cab for Cutie, TV on the Radio, Mission of Burma, Modest Mouse, Yeah Yeah Yeahs, Mooney Suzuki, Guided by Voices, Peaches, and !!! It's a great way to catch a bunch of bands you've heard of but have not seen yet as well as getting a jump on bands that you'll be hearing a lot about in the near future. The stages are long and narrow, and the later it gets, the harder it is to go from one to the other, so it's probably best to pick your spot and stay there for a handful of acts before heading between stages. We highly recommend Thee Oh Sees, a Place to Bury Strangers, and the Raveonettes and are looking forward to checking out England's Future of the Left, Israel's Monotonix, and Grand Duchy, the new collaboration from husband-and-wife team Black Francis and Violet Clark.
Stillwell Stage: the Blue Van (1:30), Bear Hands (2:30), Thee Oh Sees (3:30), Future of the Left (4:30), a Place to Bury Strangers (5:30), Monotonix (6:30), Spank Rock (8:00), with DeadHeat DJs Dave Renard and Suge White
Main Stage: Tiny Masters of Today (1:00), Micachu & the Shapes (2:00), Japandroids (3:00), Frightened Rabbit (4:00), Grand Duchy (5:00), the Raveonettes (6:00), Built to Spill (7:30), with DJ Justine D
OFFICIAL SIREN FESTIVAL AFTER PARTY
Music Hall of Williamsburg
66 North Sixth St.
212-260-4700
http://www.musichallofwilliamsburg.com
Saturday, July 18 Francis and the Lights, Acrylics, and Gordon Voidwell, $15, 9:00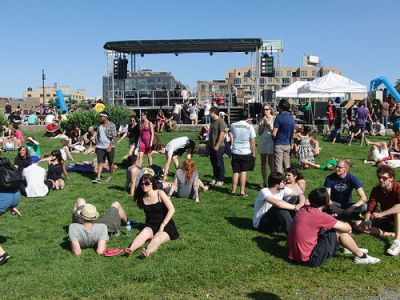 twi-ny/mdr
Fans relax behind stage at new East River State Park music venue
THE POOL PARTIES 2009
East River State Park, Williamsburg waterfront
90 Kent Ave. at North Eighth St.
Sundays at 2:00 through August 23
Admission: free
pool parties 2009 slideshow sets
Well, the great McCarren Park pool venue is bound for other things, so the cool folks over at Jelly NYC have moved their awesome lineup of free shows to East River State Park along the Williamsburg Waterfront, where Gang Gang Dance led 88 Boadrum on August 8, 2008, at 8:08. The concerts got going on July 12 with a disastrous first-ever gig by former Be Your Own Pet singer Jemina Pearl and her new band, a strong performance by a bopping Molly Siegel and Ponytail, a wild ride with a crazed F&cked Up led by the gargantuan and nearly naked Damian "Pink Eyes" Abraham, and a sparkling set by the reunited Mission of Burma. The venue is yet another long and narrow space, with a spectacular view of Manhattan (including the Empire State Building and the Chrysler building visible behind the stage). The concrete viewing area never quite filled up, as all alcohol had to be consumed in a very crowded fenced-in area somewhat far back from the stage. If you don't want to wait on the long line to get in and are more interested in listening to the music itself rather than actually seeing the bands, you can relax on the grass on the north side of the park, where barriers prevent you from entering the main concert area. Dodgeball is back, but the large water slide is not. There's not much in the way of food and drink, but you can bring in your own bottled water and sandwiches. It might take a while for the place to create its own vibe, which was sorely lacking, primarily by those still mourning the loss of the pool, which was a great experience or it too-short three-year existence. On July 19, expect it to stay mellow with Dirty Projectors, Magnolia Electric Co., and Crystal Antlers, followed by what should be an explosive show on July 26 with And You Will Know Us by the . . . Trail of Dead, HEALTH, Grupo Fantasma, and one of the most fun bands you will ever see, the Black Lips.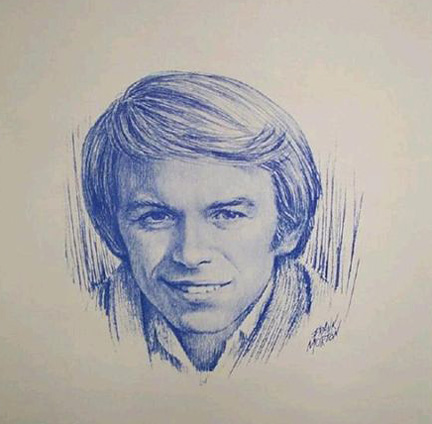 Longtime Beach Boy Al Jardine will bring his summery smile to B.B. King's
AL JARDINE OF THE BEACH BOYS
B.B. King Blues Club & Grill
237 West 42nd St. between Seventh & Eighth Aves.
Monday, July 20, $35-$40, 8:00
212-997-4144
Almost half a century ago, a California band called the Beach Boys first got together in a suburban Hawthorne garage and launched a Rock and Roll Hall of Fame career that, to many ears, came to define American popular music. As a founding member of the Beach Boys, Al Jardine managed to maintain a somewhat low profile among the contentious Wilson brothers and their cousin Mike Love, but his contributions to the legendary group were significant. The Beach Boys were perhaps the most successful American band of the early 1960s. Eschewing a career in dentistry, Jardine played bass and sang on the band's early '60s hits, taking the lead on such singles as "Help Me Rhonda" and contributing to a sound that ran with a formula of surf, sand, girls, and hot rods, creating a Southern California mythos based on soaring harmonies, rock n' roll beats, and crisp production. Even as Brian Wilson retreated into seclusion in the mid-'60s, the band remained a viable touring entity while pursuing more progressive and experimental material. Their 1966 album, PET SOUNDS, raised the bar on composition and production techniques in popular music and signaled that the band was way ahead of its time, even as it sold less than their more pop-oriented early material.

With the band shedding its clean-cut image and pursuing a more countercultural course, album sales continued to decline as their music became more diversified and interesting. Eventually, Jardine took a more prominent role in writing and composing, bringing social and environmental concerns to the band's lyrics on such often-overlooked albums as 1970's SUNFLOWER and 1971's SURF'S UP. Despite constant squabbling over the band's direction, royalties, publishing rights, and eventually even ownership of the trademarked band name, the Beach Boys would go on to tour successfully for many years, their timeless music woven deep into the American musical tapestry. Following the passing of Dennis and then Carl Wilson, the group splintered into several litigious factions. Brian Wilson, finally completing his thirty-seven-years-in-the-making opus SMiLE, has taken to the road with an ensemble playing both the band's big hits and his more innovative material, while Mike Love tours relentlessly under the "Beach Boys" banner, playing a more formulaic set of the group's popular standards. A night with Al Jardine could bring a mix heavy with Beach Boys classics as well as newer material from his forthcoming solo album, A POSTCARD FROM CALIFORNIA (whose list of contributors ranges from Neil Young to Flea, with Brian Wilson guesting as well). Jardine will most likely break out some of his wonderful material from later albums, too, such as "Don't Go Near the Water" or the three-part "California Saga" from HOLLAND. The chance to experience Jardine's band in an intimate setting should prove interesting to both the uber-hipster Beach Boys fanatic as well as the casual fan looking forward to hearing old favorites.
THE LOWBROW READER VARIETY HOUR
Housing Works Used Book Café
126 Crosby St. between Houston & Prince Sts.
Wednesday, July 22, 7:00
Admission: $5-$10 (used books are always welcome as well)
212-334-3324
In celebration of the release of The Lowbrow Reader #7, the comedy journal will be hosting what should be a great show at Housing Works. SNL writer John Mulaney will do stand-up, longtime New Yorker fiction writer Gilbert Rogin will read from his work (the new issue of The Lowbrow Reader is largely dedicated to the journalist), and Larkin Grimm, Peter Stampfel and the Ether Frolic Mob, and the Fiery Furnaces will perform short acoustic sets. When we heard about this special show, we nearly jumped out of our seats. Now we'll be lucky just to get a seat as word gets out about what should be a truly magical evening.
Justin Bond will celebrate EP release at the Highline Ballroom
JUSTIN BOND
Highline Ballroom
431 West 16th St. between Ninth & Tenth Aves.
Wednesday, July 22, $25-$50, 8:00
212-414-5994
http://www.highlineballroom.com
http://www.myspace.com/justbond
A self-professed leader of the Neo-Pagan Revolution, Justin Bond, a product of Hagerstown, MD, is celebrating the release of his debut EP, the very entertaining PINK SLIP, with a party at the Highline Ballroom. VIP tickets ($50), which benefit the Ali Forney Center, a nonprofit that provides safe shelter for LGBT youth, include a meet and greet with Bond and reserved seating. PINK SLIP consists of five songs recorded live at (le) poisson rouge, four originals and a cover of Radiohead's "Weird Fishes." (A full-length is due later this year.) On the album opener, "The New Depression," Bond, gleeful that everyone is now as down and out as he is, sings, "So bring on some flight of fancy / Bring on a magic decree / Bring on a high-heeled trannie / bring on fantasy." On the bluesy, atmospheric "Michael in Blue," Bond sings, "Desolation angels / forsaken by rough trade / Market St. at midnight / Trying to get laid." Bond's unique brand of theatrical cabaret tunes is a lot of fun — oh, and did we mention that Bond, who is also part of Kiki & Herb, plays it all in drag, dressed as a lovely woman?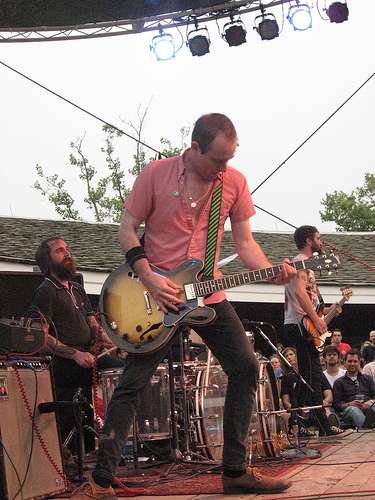 twi-ny/mdr
Ted Leo will bring his annual free summer show to the Hudson this year
RiverRocks: TED LEO & THE PHARMACISTS
Pier 54
Hudson River Park at West 14th St.
Thursday, July 23, free, 6:00
Local favorite Ted Leo has been playing free summer shows for years, and this year he moves into Hudson River Park on July 23, with Extra Golden and Radio 4 also on the bill. Last July, Leo brought his Pharmacists to Castle Clinton as part of the free River to River Festival, playing a blistering set of garage punk to a devoted crowd of worshipers. Based in Bloomfield, NJ, Leo, an outspoken activist, reached deep into his back catalog while also previewing new tunes, all the while sweating more than we've seen anyone ever sweat onstage, darkening his purple shirt as he blasted through such fierce numbers as "Counting Down the Hours," "A Bottle of Buckie," "Bomb. Repeat. Bomb," and "The World Is in the Turlet."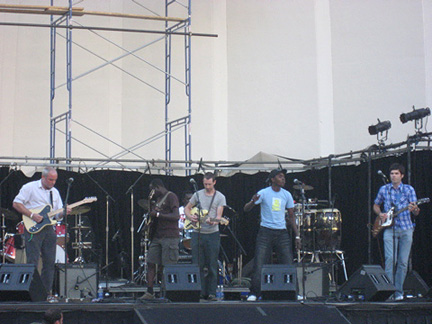 twi-ny/mdr
Extra Golden will do some guitar noodling at RiverRocks
Openers Extra Golden, which was formed in May 2004 by Americans Ian Eagleson and Alex Minoff of Golden and Kenyans Otieno Jagwasi and Onyango Wuod Omari of Orchestra Extra Solar Africa in Nairobi's Buru Buru neighborhood, played three free area shows last August, igniting crowds at SummerStage and Lincoln Center. They'll be highlighting songs from their third full-length CD, THANK YOU VERY QUICKLY (Thrill Hill, March 2009), which was born out of the political strife going on in Kenya. On the disc, the band (with Onyango Jagwasi taking over for his deceased brother) once again mixes Kenyan Benga with American rock, with the former far outshining the latter. Kicking things off will be Brooklyn-based band Radio 4. The venue at Pier 54 is long and narrow, so it's best to get there early and get a spot closer to the front, as the sound tends to dissipate in the wind the farther back you are. And if you show up with no bag, you get to go right to the front of what can be an extremely long line to get in.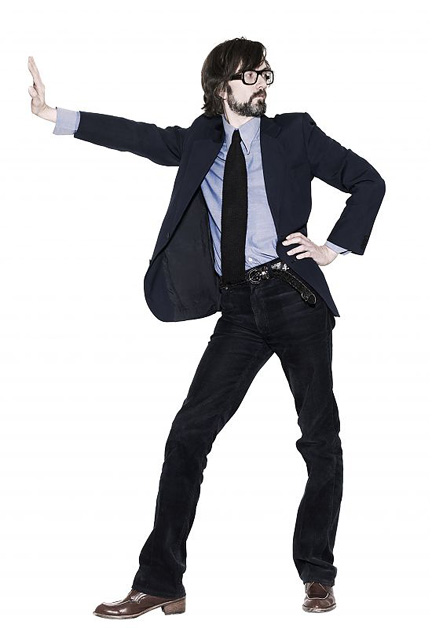 Cocker makes things complicated with new album and tour
JARVIS COCKER
Music Hall of Williamsburg
66 North Sixth St.
Thursday, July 30, $35-$40, 8:00
212-260-4700
http://www.myspace.com/jarvspace
http://www.musichallofwilliamsburg.com
Critics darling Jarvis Cocker is touring behind his highly praised second solo album, FURTHER COMPLICATIONS (Rough Trade, May 2009), a collection of brutally honest songs about love in which the former Pulp frontman holds nothing back. Originally scheduled for Terminal 5, the show has been moved to the far superior and significantly smaller Music Hall of Williamsburg.
Riff's Rants & Raves: Art & Literature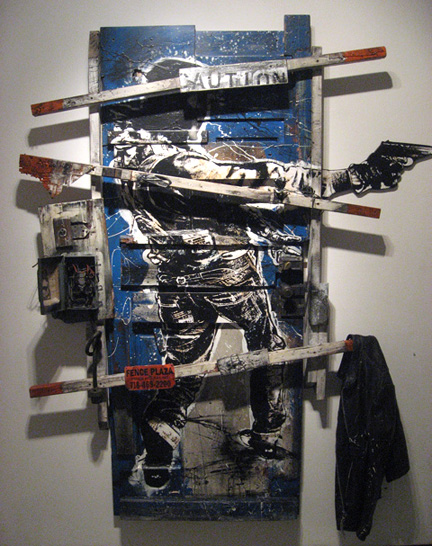 twi-ny/mdr
WK Interact, "99 Crosby Street," collage and mixed media on found door, 2009
WK INTERACT: MOTION PORTRAIT
INVADER: TOP 10
Jonathan LeVine Gallery
529 West 20th St., ninth floor
Tuesday — Saturday 11:00 am — 6:00 pm through July 25
Admission: free
212-243-3822
http://www.jonathanlevinegallery.com
Bringing the work of street artists indoors and displaying it in a gallery space can often be problematic, as the pieces lose a vital aspect of their social statements and rebellious attitude, but the current installation at the Jonathan LeVine Gallery in Chelsea manages to rise above that conflict. Born in France in 1969 and based in New York City for fifteen years, WK Interact is known for his site-specific full-body wheatpaste figures and murals, which can be found on walls and doors around the world. For the show at Jonathan LeVine, WK created "12 Angry Men," a collection of a dozen acrylic portraits, each six feet by six feet, in which the subjects' faces are a whirlwind of motion and emotion. Also on display are several of WK's sculptures, consisting of collage and mixed media on found doors; "99 Crosby Street" depicts a masked man holding out a gun, about to shoot, surrounded by a "Caution" sign, a switch box, and a leather jacket hanging off a piece of wood, while "Delancey Street" features a masked referee standing next to a "Danger" warning. The vibrant, radical doors are powerful even in this white-walled interior environment.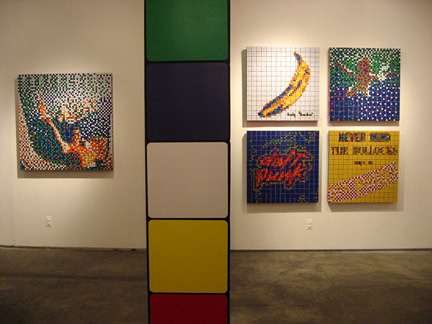 twi-ny/mdr
Invader displays some of his favorite albums in Chelsea show

In the back room, Invader, who makes colorful sculptures using mosaic tiles and Rubik's Cube pieces (his characters from Space Invaders and Pac-Man can be found on buildings throughout the city and on five continents), has installed "Top 10," Perspex panels in which he re-creates the covers of his ten favorite albums. Be sure to bring a camera, because it's easier to tell what they are through the lens rather than with the naked eye, giving you clearer views of the Clash's LONDON CALLING, Supertramp's BREAKFAST IN AMERICA, Daft Punk's HOMEWORK, the Cure's THREE IMAGINARY BOYS, and Nirvana's NEVER MIND, among others. The display also includes a Rubik wall and beam as well as a short video showing how some pieces were created.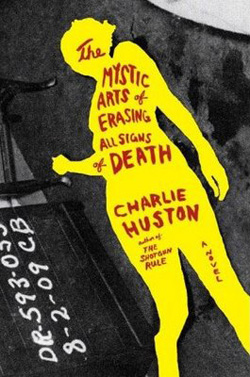 THE MYSTIC ARTS OF ERASING ALL SIGNS OF DEATH
by Charlie Huston (Ballantine, January, 2009, $25)

Charlie Huston is the author of the brilliant Joe Pitt Casebooks (ALREADY DEAD) and Henry Thompson Trilogy (SIX BAD THINGS), paperback originals that are some of the best noirs of the last decade, a modern melding of Chandler, Hammett, Jim Thompson, and Bram Stoker. (Joe Pitt happens to be a rather anarchic creature of the night.) Huston has now followed up his first stand-alone hardcover, the violent coming-of-age novel THE SHOTGUN RULE (August 2007), with his second, the violent coming-of-age novel THE MYSTIC ARTS OF ERASING ALL SIGNS OF DEATH. Like its hardcover predecessor, MYSTIC ARTS takes a while to get going, but when it does, watch out, because it once again displays a master writer at the top of his game. Webster Fillmore Goodhue is a major screw-up, a loser who alienates everyone he meets. But after taking a job with a small company that cleans up after crime scenes, he is soon at the center of a complicated plot that involves a not-very-bright knife-wielding sicko, his quirky half-sister, a murder-hungry cowboy, and various other assorted nuts, both literal and figurative. Oh, and as usual with Huston, there's lots of blood. Really. There's a whole lot of blood (and brains), even with Web cleaning so much of it up. Huston holds too much back in the first parts of the story, but when he gets to the critical scene that explains why Web is the way he is, it's pure gold from then on. And how could you not love a book that includes such chapter titles as "Till His Neighbors Smelled Him," "The Son of a Bitch He Raised," "What Being a Dick Gets You," and "Jealous, Bitter, Cynical, Hostile and Pretentious"?

All contents copyright 2009 by Mark Rifkin and twi-ny. All rights reserved. Contents may not be reprinted without written permission. Please note that events, dates, and prices are subject to change.
Send all comments, suggestions, reviews, and questions to mark.rifkin@twi-ny.com.
Please note that some e-mail clients may wrap links, so be sure to enter them fully into your browser.
To subscribe to this list, please e-mail the administrator at admin@twi-ny.com with the word Subscribe in the Subject line; be sure to ask for back issues, which are free as well. To unsubscribe from this list, please think it over twice before e-mailing the same address. Please let us know what you didn't like about this forum and we'll do our best to correct it in the future — if we agree with you. If you would like to see something covered in a future issue, please let us know. Without you, there is no need for us to exist.
twi-ny top two dozen (or so)
weekly reminders & special events
THE SPEAKEASY AT 1220 FIFTH
Museum of the City of New York terrace
1220 Fifth Ave. at 103rd St.
Wednesday nights at 6:00 through August 26
Admission: $12 (includes one free drink and gallery admission)
212-534-1672
Wednesday, July 15, 22, 29 MCNY turns its terrace, which overlooks Central Park, into a Prohibition-era speakeasy, with dancing music and old-fashioned cocktails, 6:00 — 9:00
MAN MAN
East River Amphitheater
Grand & Cherry Sts. at the FDR Dr.
Admission: free
http://www.myspace.com/wearemanman
http://www.eastrivermusicproject.com
Thursday, July 16 Philly's Man Man plays a free show at the East River Amphitheater following gigs at the Rothbury Festival in Michigan and the 80/35 Music Festival in Des Moines, 7:00
THIRD MAN RECORDS POP UP STORE
131 Chrystie St. between Broome & Delancey Sts.
Admission: free
http://www.thirdmanrecords.com
Thursday, July 16
and
Friday, July 17 Third Man Records, headed by Jack White in Nashville, will be open for two days, 10:00 am — 6:00 pm, selling music and merch (with such celebrity counter people as Matt Pinfield) including the debut album from the Dead Weather, HOREHOUND (Third Man, July 14, 2009), as well as items from label artists Mildred and the Mice, Dex Romweber Duo, the White Stripes, the Raconteurs, and Rachelle Garniez; the Dead Weather will be performing in-store on Thursday at 12 noon
BREAK OUT IN SONG
Multiple locations
Admission: free
Creator-producer Hugh Mackey sets out to prove all New York's a stage by arranging for four "spur-of-the-moment" performances at four different locations over four days, attempting to get crowds to join along and break out in song.
Thursday, July 16 "If My Friends Could See Me Now," Time Warner Center, 10 Columbus Circle at 59th St. 6:00
Friday, July 17 "Don't Rain on My Parade," South Street Seaport, 6:00
Saturday, July 18 "Anything Goes," Intrepid flight deck, 3:00
Sunday, July 19 "Consider Yourself," Times Square, 1:00
NOUVELLE ÉPOQUE CABARET-SALON
The Players Club
16 Gramercy Park South
Tickets: $10-$35
http://www.geminiandscorpio.com
Friday, July 17 Celebrate La Belle Époque with a night of live music, dance, burlesque, and other forms of late-nineteenth-century entertainment, with a cabaret (9:00 — 12 midnight in the formal dining room) featuring JC Hopkins' Biggish Band, DeWitt Fleming Jr., Jolie Holland, Justin Bond, Queen Esther, Julie Atlas Muz, MsTickle, Trixie Little & Evil Hate Monkey, and the Minsky Sisters, hosted by James Habacker as Chester Mackerel, followed by a DJ Shakey spinning tunes; a salon (9:00) in the Sargent Room with cocktails, conversation, and jazz pianist Jesse Gelber; all preceded by a VIP reception (7:00-9:00) in the Sargent Room with Marisa Lenhardt, hand-rolled cigars, hand-dipped chocolates, and more, Belle Époque dress code strongly encouraged
KAGEMUSHA (Akira Kurosawa, 1980)
BAMcinématek, BAM Rose Cinemas
30 Lafayette Ave. between Ashland Pl. & St. Felix St.
718-636-4100
Friday, July 17
through
Thursday, July 23 Kurosawa masterpiece screens for one week at BAM
SWAYZE DAYS OF SUMMER
92YTribeca
200 Hudson St. at Canal St.
Friday nights in July at 10:30
Tickets: $12
212-415-5500
Friday, July 17 DIRTY DANCING (Emile Ardolino, 1987)
Friday, July 24 STEEL DAWN (Lance Hool, 1987)
PASSPORT FRIDAYS 5
Queens Museum of Art
Flushing Meadows Corona Park
Friday nights through August 28; dance and music at 6:30, film screenings at 8:00
Admission: free for outdoor events; $5 suggested donation for museum, which is open until 8:00
718-592-9700
Friday, July 17 Mexico: Ballet Folklorico Infantil Telpchli y Nueva Juventud de Mexicanos Unidos de Queens, Mariachi Flor de Toloache, and EL SUEÑO DEL CAIMÁN (Beto Gómez)
Friday, July 24 South Korea: Vongku Pak's Korean Dance & Drum Ensemble and MIRACLE ON 1ST STREET (BEON-GA-EUI GI-JEOK) (Yoon Je-kyoon, 2006)
Friday, July 31 East Africa: Transworld Performing Arts Ensemble, Regime Change, Negus World Order, the Bataka Squad, and DIAMONDS IN THE ROUGH (Brett Mazurek, 2008), introduced by the director

WHITNEY LIVE
Whitney Museum of American Art
745 Madison Ave. at 75th St.
Free with museum admission
212-570-7715
Friday, July 17 Abe Vigoda and Grooms, 7:00
Friday, July 24 Wood and YellowFever, 7:00
Friday, July 31 Vivian Girls and These Are Powers, 7:00
RIVER TO RIVER FESTIVAL HIGHLIGHTS
Multiple venues
Admission: free
212-945-0505
http://www.rivertorivernyc.com
Saturday, July 18 The Big Draw: Arts on the Horizon Series, National Museum of the American Indian, World Financial Center Winter Garden, the Bosque in Battery Park, 11:00 am
Monday, July 20, 27
through
Wednesday, July 22, 29 Sitelines — Nicholas Leichter Dance: A Space Funk Invasion, South Street Seaport, Fulton & Front Sts., 6:00
Thursday, July 23 River & Blues: Hazmat Modine, Wagner Park, Battery Pl. & West St., 7:00
CENTRAL PARK SUMMERSTAGE HIGHLIGHTS
Rumsey Playfield
Central Park (enter at Fifth Ave. & 69th St.)
Admission: free
212-360-2756
Saturday, July 18 Q-Tip, Chester French, Little Dragon, and Benji B, 3:00
Sunday, July 19 Alpha Blondy & the Solar System, Lee "Scratch" Perry & Dubblestandart, and Subatomic Sound System, 3:00
Friday , July 24 Bettye LaVette, Budos Band, and Rhythm Revue with Felix Hernandez, 7:00
CELEBRATE BROOKLYN!
Prospect Park Bandshell
Through August 8
Keep It Great: Give $3 at the Gate
718-855-7882
http://www.celebratebrooklyn.org
Saturday, July 18 African Festival, with King Sunny Ade, Freshly Ground, the Mandingo Ambassadors, Cheikh M'Baye & Sing Sing, Abena Koomson, and Yasser Darwish, 2:00 — 9:00
Thursday, July 23 Stephen Petronio Company, 8:00
Friday, July 24 Buckwheat Zydeco and the Holmes Brothers, 7:30
Thursday, July 30 Burning Spear and Naomi Shelton & the Gospel Queens, 7:30

GOING PLACES (DOING STUFF) PART II: BEST SUMMER EVER
Meet at 38-38 43rd St. unless otherwise noted
Select dates from through September 5
Admission: free
718-707-3362
Flux Factory might have closed its space in Long Island City last year, but that hasn't stopped them from taking their art on the road. Throughout the summer, for the second season in a row, they will be offering free bus tours on which a licensed driver and an artist-guide will decide where you will be going and for how long, from a few hours to maybe a few days. Although you won't know in advance where your trip will be taking you, they will tell you the length (and what to bring) so you don't feel suddenly kidnapped for a surprise long weekend. Space is limited, so sign up quickly and take a chance on what could be one of the coolest art projects of the season.
Saturday, July 18 Jason Eppink and Matt Green, "Quest for Immortality"
Saturday, July 25 Moses Gates, "To the Rising Sun"

Listen Up! WarmUp 2009
P.S.1 Contemporary Art Center / MoMA
22-25 Jackson Ave. at 46th Ave., Long Island City
Saturdays from 2:00 to 9:00, July 4 — September 5
Admission: $10, includes admission to art galleries 2:00 to 9:00
718-784-2084
Saturday, July 18 agnés b. presents... SPANK DJs SeanB and DJ Will, Cheveu, Xeno & Oaklander, and DJ Pieter
Saturday, July 25 Alexi Delano, Derek Plaslaiko, and Elliott Sharp's Carbon (with Zeena Parkins, David Weinstein, and others)
THE BEACH PARTY: A SATURDAY NIGHT GET DOWN AT WATER TAXI BEACH
Water Taxi Beach
Second St. & Borden Ave., Long Island City
Saturdays from 8:00 pm to 3:00 am
Cover charge: $5 (twenty-one and over only)
The Beach Party returns to Water Taxi Beach in Queens, featuring hot DJs getting people hot and sweaty in view of the Midtown skyline. All shows will feature residents Justin Carter, Probus, and Eamon Harkin in addition to the below special guests.
Saturday, July 18 Lopazz Live
Saturday, July 25 Andres & Kai Alice
HOT SUMMER NIGHTS
Kingsborough Community College
Lawn chairs, blankets, and picnics welcome
Admission: free
718-368-5596
Sunday, July 19 The Red Stick Ramblers, 7:30
CELEBRATE TANGO
Multiple venues
Admission: free - $100 packages
Sunday, July 19
through
Sunday, July 27 Weeklong celebration including free intro classes, the third USA Tango Championship, lectures, a video exhibition, the NYC Tango Film Festival, the Black & White Ball, and more, at such locations as Stepping Out, You Should Be Dancing, Dance Manhattan, Moon Dance, DanceSport, Central Park, and others
SUMMER SUNDAY SCHOOL
Deitch Studios
4-40 44th Dr., Long Island City
Admission: free
212-343-7300
Friday, July 19 Q&A session with visual artist and Suicide cofounder Alan Vega, and Mixed Taste speakers with Adam Lerner, 5:00
Friday, July 26 Dan Graham, whose career retrospective, "Beyond," is currently on view at the Whitney, 5:00
SUMMERGARDEN 2009: NEW MUSIC FOR NEW YORK
The Abby Aldrich Rockefeller Sculpture Garden
The Museum of Modern Art
Sunday evenings through July 26
Sculpture Garden opens at 7:00
Concerts begin at 8:00
Admission: free
Friday, July 19 Juilliard Concert II: New Music for String Quartet, featuring David Fulmer and Arthur Moeller, violins; Jen Herman, viola; Elizabeth Lara, cello: Works by Widmann, Flynn, and Schaeffer
Friday, July 26 Jazz Concert II: Dafnis Prieto Si o Si Quartet, featuring Peter Apfelbaum, tenor and soprano saxophones, percussion; Manuel Valera, piano; Charles Flores, bass; Dafnis Prieto, drums
DRINKS ON THE DOC
The Bell House
149 Seventh St., Gowanus
Tickets: $20
718-643-6510
Monday, July 20 Beer Wars Meets Flight Club: Screening of BEER WARS (Anat Baron, 2008), followed by beer and cheese tasting and a discussion with Garrett Oliver of Brooklyn Brewery, 8:00
HUDSON SQUARE MUSIC & WINE FESTIVAL
Spring St. between Varick & Hudson Sts.
Tuesdays at 5:00 from June 23 through August 11
Admission: free
Tuesday, July 21 Marc Ribot & La Cumbiamba
SUMMER SCOOPS LIVE WITH THE WALL STREET JOURNAL
Walter Reade Theater
65th St. between Broadway & Amsterdam Aves.
Tickets: $25
Tuesday, July 21 Movie Night with the Lumets: Sidney Lumet and Jenny Lumet in conversation with Joe Morgenstern, 7:00
KARSH KALE
World Financial Center Winter Garden
225 Vesey St.
Tuesday, July 7, free, 9:00
212-417-7050
http://artsworldfinancialcenter.com
Tuesday, July 21 Classical Indian artist Karsh Kale with the robotic GamelaTron and Forward Motion Theater, 9:00
CHARLIE HADEN INVITATION SERIES
Blue Note
131 West Third St.
Tickets: table $35, bar $20
212-475-8592
Tuesday, July 21 Charlie Haden, bass, with Ethan Iverson, piano, 8:00 & 10:30
Wednesday, July 22 Charlie Haden, bass, with Steve Kuhn, piano, 8:00 & 10:30
Thursday, July 23
and
Friday, July 24 Charlie Haden, bass, with Kenny Barron, piano, 8:00 & 10:30
Saturday, July 25 Charlie Haden, bass, with Paul Bley, piano, 8:00 & 10:30
Sunday, July 26 Charlie Haden, bass, with Bill Charlap, piano, 8:00 & 10:30
RHYTHM, DANCE, AND FILM ON THE MEER
Charles A. Dana Discovery Center Lawn
Inside the park between Fifth & Lenox Aves.
Admission: free
212-360-1461
Thursday, July 23 Live music and film screening in conjunction with the African Film Festival, 7:00
WAVERLY MIDNIGHTS: THE COEN BROTHERS
IFC Center
323 Sixth Ave. at West Third St.
Weekends at midnight through September 12
212-924-7771
Friday, July 24
and
Saturday, July 25 BLOOD SIMPLE (Joel & Ethan Coen, 1984)
WEEKEND CLASSICS: SUMMER BREAKS
IFC Center
323 Sixth Ave. at West Third St.
Weekends at 11:00 am through September 27
212-924-7771
Friday, July 24
through
Sunday, July 26 SONATINE (Takeshi Kitano, 1994)
DOUBLE NICKELS ON THE DIME
Bowery Poetry Club
308 Bowery between Bleecker & Houston Sts.
Admission: $10
212-614-0505
Saturday, July 25 A Celebration of the Twenty-fifth Anniversary of the Minutemen's DOUBLE NICKELS ON THE DIME, featuring performances by Mike Watt & Richard Hell, Tweede Kamer, Pillowman, Corndogs, and Not King Cole and electro spoken word by Michael T. Fournier, Jackie Sheeler, the Bass Player from Hand Job, Kat Georges, and others, with screenings of rare videos and more, 7:30

A GREAT DAY IN HARLEM: MOTOWN COMES TO UPTOWN
U.S. Grand National Park
Riverside Dr. between 120th & 124th Sts.
Admission: free
212-666-1640
Sunday, July 26 Family Unity Day, the New York Gospel Caravan, Urban Fashion Fusion Showcase, and a Concert Under the Stars, celebrating the fiftieth anniversary of Motown, 11:00 am — 8:00 pm
NEW MUSEUM BLOCK PARTY
Sara D. Roosevelt Park and New Museum
Admission: free (includes free admission to museum)
Sunday, July 26 Party begins in Sara D. Roosevelt Park, with special art activities and performances, followed by a parade to the New Museum, with docent-led tours and more live performances, 12 noon — 7:00
PIG ROAST & DANCE PARTY
3rd Ward
195 Morgan Ave.
Admission: free
718-715-4961
Sunday, July 26 Second annual event, featuring 200 pounds of pig roasted by Tom Mylan and Eric Sherman, with live music by Stumblebum Brass Band, Shilpa Ray & Her Happy Hookers, DJ Tanner, and more, 4:00 — 9:00
MEET THE ASIAN MASTERS
Queens Museum of Art
Flushing Meadows Corona Park
718-592-9700
Sunday, July 26 Lecture and performance with Indian tabla player Samir Chatterhee, Chinese Pipa composer Min Xiao-Fen, and Japanese koto player Masay Ishgure, 6:00
RECESSION SELECTIONS FOR THE FRUGAL OENOPHILE
Merchant's House Museum
29 East Fourth St. between Lafayette St. and Bowery
Admission: $30 (reservations required)
212-777-1089
Wednesday, July 29 A Wine Tasting to Stimulate Your Economy and Palate, featuring tastings of wines under $10, live jazz, and light hors d'oeuvres, 6:30

ROOFTOP FILMS
Old American Can Factory roof
232 Third St. at Third Ave.
Tickets: $15-$20
718-417-7362
Sunday, July 26 Issue Project Room presents live music by Wooden Wand at 6:00 and Michael Gira at 7:00; Sound Fix presents live music by Stars Like Fleas at 8:30; Rooftop Films presents STAY THE SAME NEVER CHANGE (Laurel Nakadate) at 9:00; followed by a reception including free sangria
NEW YORK INTERNATIONAL LATINO FILM FESTIVAL
Clearview Chelsea Cinemas
260 West 23rd St. between Seventh & Eighth Aves.
Monday, July 27
through
Sunday, August 2 Tenth anniversary festival featuring such stars as Benjamin Bratt in LA MISSION (Peter Bratt, 2008), John Leguizamo in WHERE GOD LEFT HIS SHOES (Salvatore Stabile, 2008), Ray Liotta and Andy Garcia in THE LINE (James Cotten, 2008), Vin Diesel in his own short film LOS BANDOLEROS, Peter Gallagher in THE WAR BOYS (Ron Daniels, 2009), Jim Jones in RED APPLES FALLING (Adam Bhala Lough, 2000), and Miguel Gutiérrez in PARAISO (Leon Ichaso, 2009)
COMIC BOOK CLUB: LIVE
The Peoples Improv Theater
154 West 29th St., second floor
Admission: $5
212-563-7488
http://www.popcultureshock.com
http://pensivemischief.blogspot.com
Tuesday, July 28 Writer Stuart Moore will be discussing WOLVERINE NOIR and more, hosted by Justin Tyler, Pete LePage, and Alex Zalben, 8:00
RUMBLE ON THE RIVER
Pier 84
West 44th St. & Hudson River
Admission: free (Ringside VIP seats $25-$50
http://www.fridaynightfightsnyc.com
http://www.hudsonriverpark.org
Thursday, July 30 Outdoor Boxing on the Waterfront, 7:00
NYC ROCKIN' THE RIVER CRUISES
Pier 83, West 82nd St. & Twelfth Ave.
Tickets: $48.50-$52
212-563-3200
Thursday, July 30 Southside Johnny & the Asbury Jukes, 7:00 & 9:30
FOOTSTEPS IN THE SNOW
Dance Theater Workshop, Bessie Schonberg Theater
219 West 19th St. between Seventh & Eighth Aves.
Tickets: $25
212-924-0077
http://www.dancetheaterworkshop.org
Thursday, July 30
through
Sunday, August 2 Take Dance Company presents two premieres during its fifth annual New York season at DTW, including the world premiere of FOOTSTEPS IN THE SNOW with music by Arvo Part and the New York premiere of SHABON set to music by Steve Reich, in addition to LOVE STORIES and LINKED, featuring choreography by Takehrio Ueyama, lighting design by Jason Jeunnette, and costumes by Cheryl McCarron
LOUIS CK
Carolines on Broadway
1626 Broadway at 50th St.
Tickets: $31
Reservations required
212-757-4100
Thursday, July 30
through
Sunday, August 2 Stand-up comedian Louis CK, the star of the much-missed LUCLY LOUIE on HBO, is one of the funniest comics around, holding nothing sacred