Twi-ny, This Week in New York
Works from Alice Mizrachi's Cityscapes series are highlight of new exhibit
SweetCityWoman
Lit Lounge / Fuse Gallery
93 Second Ave. between Fifth & Sixth Sts.
Through May 31
Admission: gallery free, live music $6 cover
212-777-7988
"SweetCityWoman" gathers together six female artists — Toofly, Alice Mizrachi, Muck, Gillian Goldstein, and curators Queen Andrea and gmo$ — who bring the urban landscape to life in works based in or influenced by graffiti. Muck's large-scale canvases reference Whitney Houston and Lindsay Lohan, commenting on her own battles with drug and alcohol addiction; her "LSD-America" harkens back to a simpler era, although she subverts the LIFE magazine logo by adding the words "sucks" and "die." Queen Andrea and Toofly apply traditional graffiti style to canvases in creating their tags and characters, while gmo$ paints on found wood, glass, and board and Goldstein uses paper. The most accomplished of the artists is New York native Mizrachi, whose cityscapes and skylines bristle with life and energy. The Fuse Gallery is located inside the Lit Lounge, which hosts live music every night but Sunday starting at 8:30 or 9:00, with a six-dollar cover.
Wednesday, May 14 Donsons, Mutiny of Fashionista, Precious Death Machine
Thursday, May 15 Netherlands, Psychic Drive, Les Bicyclettes Blanches, Osterii
Friday, May 16 Company Inc, the Gang, Animal Hands
Saturday, May 17 Aviation Orange, Gunfight, Teen Fun, Faulty Chromosone
Monday, May 19 Wetnurse, Casket Architects
Tuesday, May 20 Lady Lovelace, Dinowalrus, Dead Rock City
Wednesday, May 21 Electric Tickle Machine, Let Me Crazy, Gangi
Thursday, May 22 Power Solo, Band Antenna, Sea That Dried Up, Chemtrail
Friday, May 23 Savoir Adore, Quintus
Saturday, May 24 Oilhead, New York Vs London, Cocaine & Abel, AR Plovnik
Monday, May 26 Precious Metal Two Year Anniversary: Japanische, Keitzer, Asra, Protestant
Tuesday, May 27 Starbolt 9, Beki & Bullets, Jaime & I, Animal Pharm
Wednesday, May 28 Free Samples, Totally's, Champions of Justice, Nuclears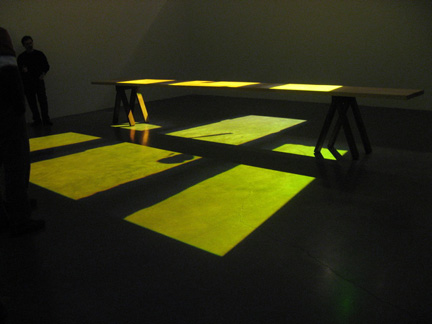 twi-ny/mdr
Paul Chan lights up the New Museum
PAUL CHAN: THE 7 LIGHTS
New Museum of Contemporary Art, third floor
235 Bowery at Prince St.
Through June 29
Admission: $8 (free Thursdays from 7:00 to 10:00)
212-219-1222

New York City-based artist Paul Chan, whose "1st Light" was one of the standouts of the 2006 Whitney Biennial, has lit up the third floor of the New Museum of Contemporary Art with all seven sections of his digital-projection series. "The 7 Lights" comprises six installations in which Chan projects silent light-based videos onto the floors and walls, creating doors, windows, and skylights through which various shadow-objects pass, including spiderwebs, telephones, birds, tools, trees, weapons, and, most dramatically, people, recalling those who jumped from the World Trade Center on September 11. Each shadow play takes place over the course of one day, beginning with sunrise (light) and ending with sunset (darkness), while the six works represent the six days of the creation of the world. The most complex is "3rd Light," in which the light is reflected off a mirror and onto a wooden table, which breaks up the shadows into numerous pieces. The exhibit is supplemented with Chan¹s charcoal drawings and collages, including "Score for 7th Light," fifteen musical scores covered in black cutouts that resemble abstract images falling and rising in the projections. "The 7 Lights" is a mesmerizing installation that is both fun and frightening.
Friday, May 16 Paul Chan: Tin Drum Trilogy: RE:THE_OPERATION (2002), BAGHDAD IN NO PARTICULAR ORDER (2003), and NOW PROMISE NOW THREAT (2005), followed by a Q&A with Chan, $8, 7:30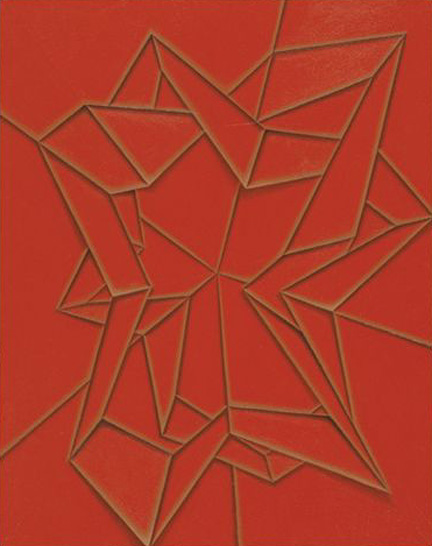 San Francisco Museum of Art
Tomma Abts, "Fewe," acrylic and oil on canvas, 2005
TOMMA ABTS
New Museum of Contemporary Art, fourth floor
235 Bowery at Prince St.
Through June 29
Admission: $8
212-219-1222

Born in Germany in 1967 and based in London since 1995, Tomma Abts creates mind-blowing works of art filled with unusual color and geometric patterns. On the fourth floor of the New Museum, she has installed fourteen works, each one 18.875 in. x 15 in., evenly spaced at eye level across three walls. The abstract pieces burst off the canvas, seeming to occupy the vast interior space of the gallery. Using acrylic and oil, Abts plays with time and space, creating what appear to be optical illusions, but these paintings are no mere trick or gimmick. Instead, they are deeply involving works that get inside your head.
Saturday, May 17 A Discussion About Abstraction: panel talk in conjunction with "Tomma Abts," with Laura Hoptman, Thomas Nozkowski, and Dana Schutz, free with museum admission, 3:00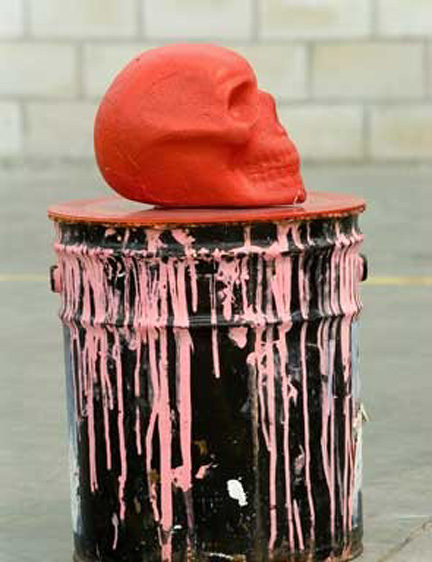 Courtesy kurimanzutto, Mexico City
Daniel Guzmán, "Sigue siendo rock and roll para mí," 2005
DOUBLE ALBUM
New Museum of Contemporary Art, second floor
235 Bowery at Prince St.
Through July 6
Admission: $8
212-219-1222

"Double Album" pairs the work of Mexican artist Daniel Guzmán and Canadian artist Steven Shearer, both of whom use rock-and-roll imagery and pop culture elements in their installations. For "Sigue siendo rock and roll para mí," Guzmán put a red styrofoam skull atop red vinyl records atop a dripping paint can. In drawings, videos, and sculptures, Guzmán references Deep Purple, Iggy & the Stooges, KISS, and William S. Burroughs. For "Que extraordinario que el mundo exista," Guzmán placed the same empty bucket in various locations, then took pictures of it, almost like the gnome postcards, yet there in one of the corners of the gallery is the bucket itself. Shearer, meanwhile, is an obsessive collector; "I Thought I Was a Visionary — But I Learned I Was a Channeler" comprises hundreds of images of 1970s teen idol Leif Garrett downloaded from the Internet, and "Slumber" consists of Web images of people sleeping. "Geometric Mechanotherapy Cell for Harmonic Alignment of Movements and Relations" is a black mazelike structure that emits random sounds. And Shearer's drawings of longhaired figures are part Cousin Itt, part Edvard Munch. Though "Double Album" is not overly compelling, it is worth checking out as long as you're already at the New Museum to see the excellent Paul Chan and Tomma Abts exhibits.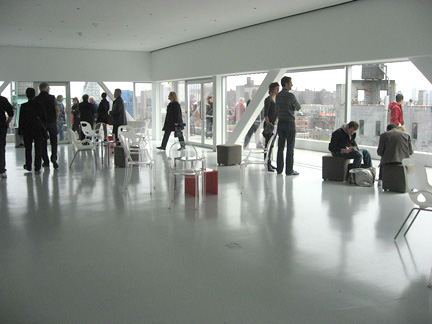 twi-ny/mdr
The Sky Lobby offers food, drink, and lovely views of the city
ALSO AT THE NEW MUSEUM
Free with museum admission unless otherwise noted
http://www.newmuseum.org/events
http://www.museumashub.org/node/431
The New Museum's continuing "Museum as Hub" exhibit in the education center is currently examining the ongoing struggles of the Mexican city of Tlatelolco to use art to redevelop the long-suffering community. It¹s a fascinating, depressing, and, ultimately, uplifting story of a culture that refuses to give up despite disasters of all kinds. And in the main-floor lobby gallery and Marcia Tucker Hall by the café, "SANAA: Works 1998-2008" features architectural plans, models, and other projects designed by the firm led by Kazuyo Sejima + Ryue Nishizawa, the company behind the New Museum itself. And yes, you can sit in the chairs and at the tables in the café, which are functional art pieces.
Thursday, May 15 Get Weird: Andrew WK, $10, 7:30
Thursday, May 29
through
Saturday, May 31 Night School Public Seminar 5: Okwui Enwezor, free but tickets required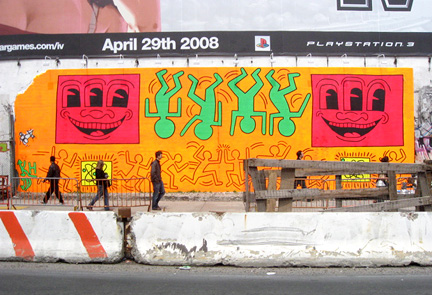 twi-ny/mdr
Keith Haring mural is re-created on Bowery & Houston
KEITH HARING'S HOUSTON STREET AND BOWERY MURAL
Northwest corner of Houston St. & Bowery
Through December 21
Admission: free

In celebration of what would have been Keith Haring's fiftieth birthday (on May 4), Deitch Projects has collaborated with the Keith Haring Foundation and Goldman Properties to re-create a famous mural Haring painted in the summer of 1982 on the corner of Houston and Bowery. The bright, colorful mural features Haring's trademark figures in motion, flanked by a pair of three-eyed smiling faces in red boxes and atoms in smaller yellow boxes. Born in Reading, Pennsylvania, and raised in nearby Kutztown, Haring became a major figure in the art world in the 1980s, turning the subway into his laboratory, using chalk to create unique and friendly characters. Influenced by such artists and writers as Christo, Jean Dubuffet, and William S. Burroughs, Haring believed that he was giving art back to the people. He became friends with Andy Warhol and Jean-Michel Basquiat and later opened the Pop Shop in SoHo. (Sadly, the store closed last year.) Haring died of AIDS-related complications on February 16, 1990, at the age of thirty-one. Before he passed away, he formed the Keith Haring Foundation, which "supports not-for-profit organizations involved in education, research, and care related to AIDS. Thinking back on his early days in New York City, Haring recalled, "Suddenly it made sense to draw on the street, because I had something to say." As evidenced by this re-created mural, the city is still listening.

COSI FAN TUTTE
Amato Opera
319 Bowery at Second St.
May 17 - June 8
Tickets: $15-$35
212-228-8200
There are nine performances remaining of the Amato Opera's English-language version of Mozart's COSI FAN TUTTE. Founded on Bleecker St. in 1948 by Tony and Sally Amato, the opera house moved to its current home, at 319 Bowery, in 1964. With a capacity of 107, the Amato Opera, now concluding its sixtieth anniversary season, always promises an intimate experience.
FOCUS SHANGHAI
Anthology Film Archives
32 Second Ave. at Second St.
May 23-25
Tickets: $9-$10
718-399-6359
http://www.anthologyfilmarchives.org
Anthology presents three programs of cutting-edge video from China, playing with genre and technology, curated by Katy Martin and Denis Zhu (Zhu Haijian), who presented "China's Cutting Edge" in 2006.
Friday, May 23 Program 1: ORCHIDACEOUS FINGER (Tang Maohong, 2006-07), 4.7 GB: PART 2 — YARD (Song Tao, 2007), 4.7 GB: PART 3 — FOUR COUNTRY (Song Tao, 2007), CITY LIGHT (Yang Fudong 2000), MYTHOS (Sun Xun, 2006), LIE (Sun Xun, 2006), REQUIEM (Sun Xun, 2007), and I LOVE OLEANDER (Liang Yue, 2007), 7:00
Saturday, May 24 Program 2: CHANNEL CHINA I (Cao Kai, 2003), CHANNEL CHINA II (Cao Kai, 2003), TIME IS A DROP OF WATER IN MY HEART (Cao Kai, 1997), MING GUO (Qiu Anxiong, 2007), 1/4 MM (Yan Yao, 2008), CHINESE PORTRAITURE (Zhou Hongxiang, 2006), and CORNLAND (Zhou Hongxiang, 2006), 7:30
Sunday, May 25 Program 3: A SQUARE WHICH IS LOADED WITH NUCLEAR POWER IS COMING TO AMERICA (Lu Chunsheng 2007) and HISTORY OF CHEMISTRY 2: EXCESSIVELY RESTRAINED MOUNTAINEERING ENTHUSIASTS (Lu Chunsheng 2007), 7:30

VOX POP
Bowery Poetry Club
308 Bowery at Bleecker St.
Admission: free unless otherwise noted
212-614-0505
With its eclectic offerings, tasty organic chow, divine coffee, and resolutely fresh DIY vibe, Vox Pop café is an excellent cohabitant for the Bowery Poetry Club. Vox Pop is a coffee shop, self-publishing center, performance space, bookstore, and gathering spot for free expression — that's both free like unencumbered by conformity and free like cheap. Its unique Publish Yourself! program puts real muscle behind the store's commitment to free thinking, writing, and publishing. The excellent coffee is fair-trade — the Ethiopian is amazing — and refills are free, so heated discussions of poetry, politics, and art and life can go on through the night. Stop by for a little of each when you're in the neighborhood or when you've come to the club to check out one of the many events taking place in the back, including poetry readings, hip-hop showcases, theatrical productions, live music, burlesque, and even bingo.
Wednesday, May 14 The World Famous *BOB* presents..., $10, 7:00
Friday, May 16 Emilyn Brodsky, the Perennials, Whack, the New York Howl, Nanuchka and the Electric Morocco Dance Party!, $10, 10:00
Saturday, May 17 Zoae Arts, with Kevin Gosa, Kevin Massey, and Caleb Travers, $10, 6:00
Saturday, May 17 BadAss Burlesque, $15, 11:59
Monday, May 19 Bingo Nite with Murray Hill and Linda Simpson, free, bingo cards $2, 7:00
Tuesday, May 20 Walter Thompson Soundpainting Orchestra, $8, 10:00
Wednesday, May 21 Rap Fanatic Magazine, 10:00
Thursday, May 22 IXION presents Down & Dirty Lounge, $10, 8:00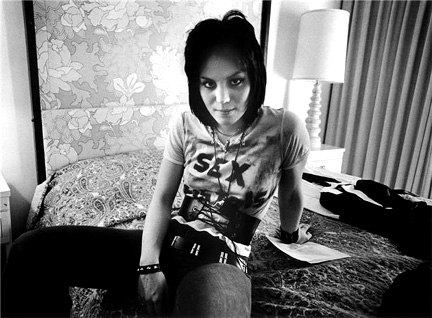 © Bob Gruen
Bob Gruen, "Sex T," Sunset Marquis, Los Angeles, CA
ROCKERS
Morrison Hotel Gallery, Bowery
313 Bowery at Bleecker St.
Tuesdays - Sundays through July
Admission: free
212-677-2253
http://www.morrisonhotelgallery.com

The Morrison Hotel Gallery, which recently moved into the old CBGB 313 Gallery space on Bowery, is currently displaying nearly three hundred photographs taken by rock and roll chronicler Bob Gruen, in conjunction with the publication of his latest book, the bilingual ROCKERS. For more than thirty years, Gruen has been documenting such acts as the Sex Pistols, the Rolling Stones, the Clash, Tina Turner, Bruce Springsteen, the New York Dolls, Blondie, Kiss, the Who, and many more. Included in the exhibit are iconic shots of John Lennon (Gruen's former neighbor), arms folded across a "New York City" T-shirt; Sid Vicious, wearing a pin that says "I'm a Mess," eating a hot dog, his mouth covered in mustard; and Joan Jett wearing a ripped "Sex" T-shirt, sitting on a bed, her right hand between her legs, looking provocatively into the camera. In the center of the gallery is a re-created teenager's bedroom, the walls lined with pictures of musicians ripped out of magazines, all taken by Gruen. The accompanying text is fairly basic and simplistic, offering nothing new, but the photos are red hot.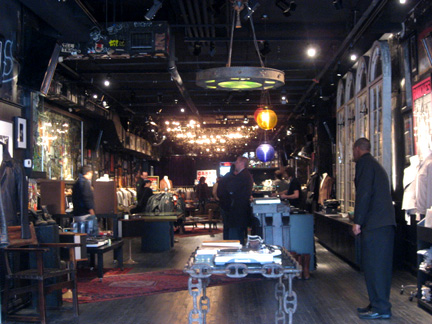 twi-ny/mdr
John Varvatos takes over CBGB space on Bowery
JOHN VARVATOS
315 Bowery between First and Second Sts. at the base of Bleecker St.
Admission: free
212-358-0315
In December 1973, Hilly Kristal opened CBGB OMFUG, an underground music club that promised to provide the neighborhood with "country bluegrass blues and other music for uplifting gourmandizers." After more than three decades of highlighting such bands as Blondie, Television, Talking Heads, Patti Smith, and the Ramones, CBGB shut its doors on October 31, 2006; less than a year later, Kristal died at the age of seventy-five. Last month John Varvatos Enterprises set up shop in the long, narrow space, opening its latest concept store. Hoping to attract the downtown indie scene as well as tourists and other shopping enthusiasts, the 3,300-square-foot space sells LPs in addition to Varvatos' rock-and-roll-inspired clothing line. The walls are lined with the familiar old stickers as well as photographs of musicians who played CBGBs, and a small TV features concert footage from the now-defunct club. In the back, near the cleaned-up bathroom, visitors can watch a woman sewing. "This store is going to be totally unique, different from our other boutiques," Varvatos said in a press release. "We're going to make it a great way to look back at this remarkable history but also forward to what's happening in music today."
In the Thematic Neighborhood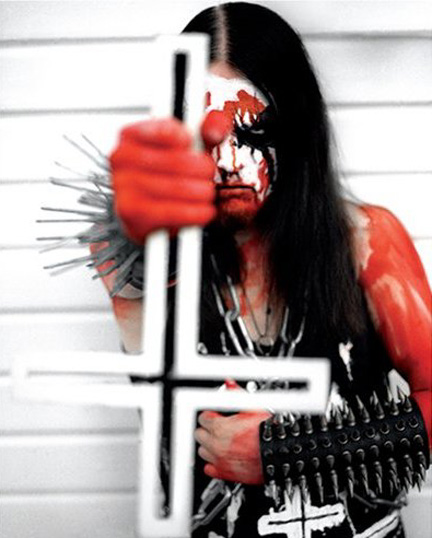 Steven Kasher Gallery
Peter Beste goes deep inside Norwegian black metal scene
PETER BESTE: TRUE NORWEGIAN BLACK METAL
Steven Kasher Gallery
51 West 23rd St. between Tenth & Eleventh Aves.
Tuesday — Saturday through June 7
Admission: free
212-966-3978
In celebration of the publication of TRUE NORWEGIAN BLACK METAL (Vice, May 15, 2008, $60), the Steven Kasher Gallery in Chelsea is displaying more than thirty photographs taken by Houston, Texas, native Peter Beste. Beste, who has previously documented London grime, rural America, and Houston's rap culture, spent seven years taking photographs of what he refers to as Norway's "insulated and secretive" black metal community. Black metal is associated with horror films, Satan worship, cannibalism, murder, church burnings, suicide, fear, hate, torture, and loud, aggressive music. Beste photographs members of Mayhem, Darkthrone, Satyricon, Gorgoroth, Enslaved, 1349 (the year of the Black Plague), and others, captured both in out of their demonic makeup. "True Norwegian Black Metal" is a very different collection of music-related photographs compared to Bob Gruen's more accessible "Rockers" at the Morrison Hotel Gallery. To learn more about the black metal scene, check out Vice's five-part series in which host Ivar Berglin and Beste go to Norway to visit with the most notorious black metal musician of them all, lead vocalist Gaahl of Gorgoroth.
Birthday Celebration of the Week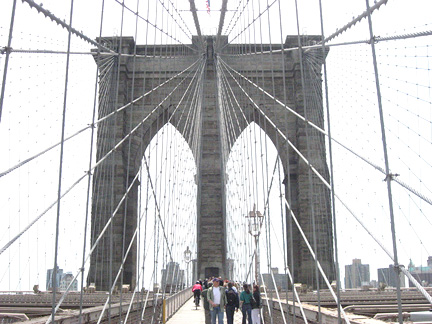 twi-ny/mdr
The Brooklyn Bridge turns 125 on May 24
BROOKLYN BRIDGE 125th BIRTHDAY CELEBRATION
Brooklyn Bridge Park / Empire-Fulton Ferry State Park and other locations
Admission: free
718-596-2506
http://www.brooklynbridgepark.org

We've always said that there are two types of people in the world: those who were born in Brooklyn, and those who wish they were. Well, there are also two kinds of bridges in the world: the Brooklyn Bridge, and those that wish they were the Brooklyn Bridge. The Brooklyn Bridge opened to traffic on May 24, 1883, at the time the longest suspension bridge ever constructed. The city will be paying tribute to one of its most famous icons with a series of special events scheduled around the bridge's 125th birthday (which also happens to be our own). It cost $15.5 million to build (as well as a number of deaths, including designer John Roebling; his son Washington, who became seriously ill during construction, completed the job, with the help of his wife, Emily), but the city is giving the bridge a $725 million renovation as a birthday present. We highly encourage you to celebrate this fabulous East River crossing — which is still free via automobile, at least for now — by walking or biking across its gorgeous span, offering marvelous views of Brooklyn and Manhattan. There's nothing quite like it.
Thursday, May 22 Celebration Kick-off, featuring a concert by the Brooklyn Philharmonic Orchestra, a lighting ceremony, and Grucci Fireworks, Empire-Fulton Ferry State Park, Main St., 7:45
Thursday, May 22
through
Sunday, June 15 The Telectroscope: A Window Through the World, public media project, Old Fulton St. at Fulton Ferry Landing
Friday, May 23 Guided tours by the American Society of Civil Engineers and the Roebling Chapter of the Society for Industrial Archeology, Brooklyn Bridge Information Tents, Brooklyn Bridge by Manhattan- and Brooklyn-side arches, 10:00 am — 5:00 pm
Friday, May 23 Brooklyn Bridge Film Series: PANORAMA FROM THE TOWER OF THE BROOKLYN BRIDGE (1903), MANHATTA (Charles Sheeler, 1921), and ENCHANTED (2007), with free popcorn, Empire-Fulton Ferry State Park, Main St., music at 6:00, films at 8:30
Friday, May 23 Brooklyn Bridge Film Series: MO' BETTER BLUES (Spike Lee, 1990), Tribeca Cinemas, 54 Varick St. at Laight St., 6:30
Saturday, May 24 Brooklyn Bridge Film Series: BROOKLYN BRIDGE (Ken Burns, 1981), Brooklyn Academy of Music, 30 Lafayette Ave., free tickets available starting at 1:30, film at 4:30
Saturday, May 24 Brooklyn Bridge Film Series: PANORAMA FROM THE TOWER OF THE BROOKLYN BRIDGE (1903), MANHATTA (Charles Sheeler, 1921), and IT HAPPENED IN BROOKLYN (1947), with free popcorn, Empire-Fulton Ferry State Park, Main St., music at 6:00, films at 8:30
Saturday, May 24 Lecture Series: The Great East River Suspension Bridge, with Dave "the Bridge Man Fieder," Brooklyn Historical Society, 128 Pierrepont St. at Clinton St., 1:00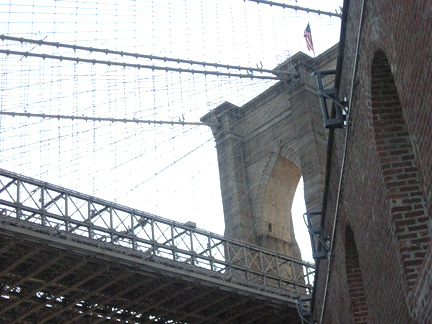 twi-ny/mdr
The Brooklyn Bridge as seen from below

Saturday, May 24 Lecture Series: Surrogates Court, 31 Chambers St., room 209, 1:00 — 4:00
Saturday, May 24 Lecture Series: Children's Reading with Lunn Curlee, BROOKLYN BRIDGE, and Phil Bildner, TWENTY-ONE ELEPHANTS, Brooklyn Historical Society, 128 Pierrepont St. at Clinton St., 2:00 & 3:00
Saturday, May 24 Lecture Series: The Beauty of the Brooklyn Bridge, with John Stern and Carrie Wilson, Brooklyn Historical Society, 128 Pierrepont St. at Clinton St., 4:00
Sunday, May 25 Tour de Brooklyn: two thousand bicyclists go on an eighteen-mile bike tour
Sunday, May 25 Brooklyn Bridge Walking Tours, with official Historian of Brooklyn Ron Schweiger, meet on the Manhattan side, 718-802-3846, 11:00 am
Sunday, May 25 Brooklyn Bridge Walking Tours, with Dave "the Bridge Man Fieder," meet on the Manhattan side, 718-802-3846, 1:00 & 4:00
Sunday, May 25 Lecture Series: Building the Bridge, with Raymond "Paul" Giroux, Brooklyn Historical Society, 128 Pierrepont St. at Clinton St., 1:00
Sunday, May 25 Dance and Musical Performances, Empire-Fulton Ferry State Park, Main St., 1:00 — 5:00
Sunday, May 25 Lecture Series: The Roebling Legacy, with Clifford Zink, Brooklyn Historical Society, 128 Pierrepont St. at Clinton St., 2:00
Sunday, May 25 Lecture Series: Art of the Brooklyn Bridge, with Richard Haw, Brooklyn Historical Society, 128 Pierrepont St. at Clinton St., 3:00
Multimedia African Festival of the Week
Steve Adigun
DanceAfrica returns to BAM for Memorial Day weekend
DANCEAFRICA 2008: BRIDGE TO CULTURAL REJUVENATION & ENLIGHTENMENT
Brooklyn Academy of Music
BAM Howard Gilman Opera House
30 Lafayette Ave. between Ashland Pl. & St. Felix St.
May 23-26
Tickets: $16-$36
718-636-4100

As DanceAfrica enters its fourth decade of innovative programming and community outreach, this year they pay tribute to another New York institution, the Brooklyn Bridge, which turns 125 on May 24 (which is our birthday as well, although we're not quite so old). This year's lineup of performers features Gambia's Ceesay Kujabi and the Bachinab, Atlanta's all-woman drum and dance troupe Giwayen Mata, Harlem's LaRocque Bey School of Dance Theatre, and BAM/Restoration DanceAfrica Ensemble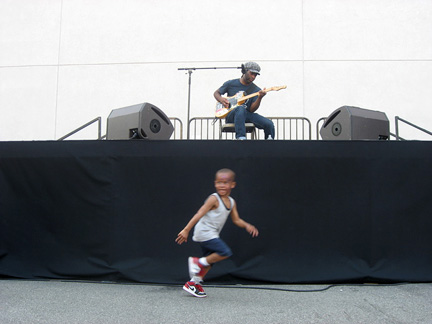 twi-ny/mdr
DanceAfrica Bazaar features live music and playful kids

The dancers will also take to the street right in front of BAM in a free display for the community, which also comes together for the DanceAfrica Bazaar, which is not your average street fair. On Saturday night, Haitian-born DJ Hard Hittin Harry will play the BAMcafé with his Afrobeat ensemble the Earthman Experience. Be sure to visit the African Sculpture Garden, with works by local children. And remember: When Baba Chuck Davis calls out, "Ago!" you must respond, "Amée!!"
Saturday, May 24
through
Monday, May 26 DanceAfrica Bazaar, with live performances, traditional and contemporary clothing and arts and crafts, food and drink, lots of shea butter, and much more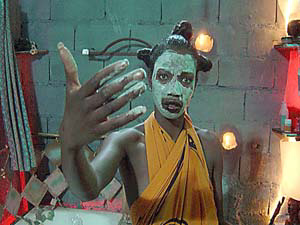 LES SAIGNANTES is part of African fest
DANCEAFRICA FILM
BAMcinematek / BAM Rose Cinemas
30 Lafayette Ave. between Ashland Pl. & St. Felix St.
May 23–26
718-636-4100
BAM's multimedia celebration of the art and culture of Africa and the African diaspora continues in the Rose Cinemas, where a series of programs, including short films, documentaries, children's movies, and feature-length narratives, will screen over the long Memorial Day weekend. This year's collection highlights works from African Film Festival, Inc.'s Traveling Series.
Friday, May 23 African Tales for Children: THE MAGIC LION (2004), THE CORA PLAYER (1997), and THE RED GLASSES (2004), 2:00
Friday, May 23 AMANDLA! A REVOLUTION IN FOUR PART HARMONY (Lee Hirsch, 2003), 4:30
Friday, May 23 African Shorts Program: MAMA PUT (Seke Somolu, 2006), MEOKGO AND THE STICK FIGHTER (Teboho Malatshi, 2006), and MENGED (Daniel Taye Workou, 2006), 6:50, 9:15
Saturday, May 24 African Tales for Children: THE MAGIC LION (2004), THE CORA PLAYER (1997), and THE RED GLASSES (2004), 2:00
Saturday, May 24 LES SAIGNANTES (Jean-Pierre Bekolo, 2005), 6:50, 9:15
Sunday, May 25 JUJU FACTORY (Balufu Bakupu-Kanyinda, 2006), 2:00, 6:50
Sunday, May 25 CLOUDS OVER CONAKRY (Cheick F. Camara, 2007), 4:30, 9:15
Monday, May 26 African Tales for Children: THE MAGIC LION (2004), THE CORA PLAYER (1997), and THE RED GLASSES (2004), 2:00
Monda, May 26 AMANDLA! A REVOLUTION IN FOUR PART HARMONY (Lee Hirsch, 2003), 4:30
Monday, May 26 A LOVE DURING THE WAR (Osvalde Lewat-Hallade, 2005) and GROWING STRONGER (Tsitsi Dangarembga, 2005), 6:50, 9:15
Photography Festival of the Week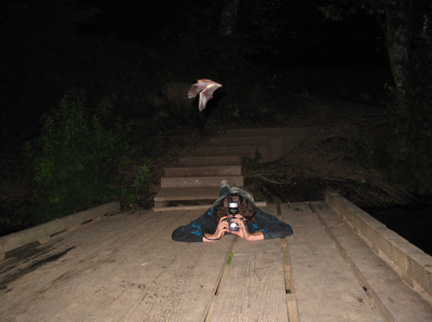 © Catherine Lutes
Catherine Lutes photo will be on view at "Various Photographs" exhibit
NEW YORK PHOTO FESTIVAL
St. Ann's Warehouse unless otherwise noted
38 Water St.
May 14-18
Tickets: $15-$20 adults, $3-$5 children, $40-$50 families, $400-$2,000 VIP access
718-254-8779
http://www.nyphotofestival.com
The inaugural four-day New York Photo Festival will feature dozens of artist talks, panel discussions, book signings, seminars, and other events. Below are only some of the highlights. In addition to the main exhibits at St. Ann's Warehouse, there will be satellite shows and curated pavilions, including "New Typologies" curated by Martin Parr at Smack Mellon and the Dumbo Arts Center, "Nigel Parry" and "VII Photo" at Galapagos, "The Ubiquitous Image" curated by Lesley A. Martin at the 76 Front St. Gallery, "Various Photographs" curated by Tim Barber at the 70 Front St. Gallery, "Tierra de Mudos" curated by Adriana Teresa Hernández and Getty Images' "Portraiture" at the 81 Front St. Gallery, and "Isabelle Hayeur — Nuits américaines," "Archive of Modern Conflict," "EU Women," the Tierney Fellowship group show, and more at the Tobacco Warehouse.
Thursday, May 15 Aperture Presents: In Conversation Martin Parr + Erik Kessels, 5:00
Thursday, May 15 Book Soup: A Photography Panel Discussion and Book Signing Event, with Harry Benson, Leora Kahn, Joseph Rodriguez, Slava Mogutin, Brian Finke, and Jamal Shabazz, moderated by Daniel Power, discussion at St. Ann's Warehouse, 38 Water St., at 8:00, followed by book signing at the powerHouse Arena, 37 Main St., at 9:00
Thursday, May 15
through
Sunday, May 18 The Curated Pavilions: Chisel, curated by Kathy Ryan, 10:00 am — 7:00 pm
Thursday, May 15
through
Sunday, May 18 Satellite Exhibitions: The Singled Person, 66 Water St. downstairs
Friday, May 16 Aperture Presents: Curating 2.0, with Tim Barber, Jen Bekman, and Laurel Ptak, 5:00
Friday, May 16 New York Photo Awards and After-Party, 9:00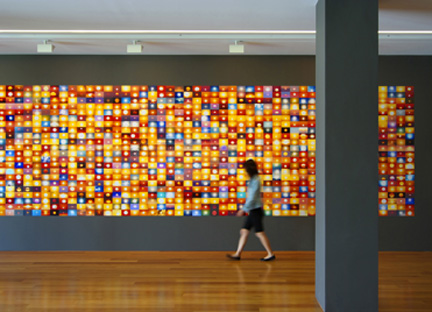 Hew Porter
Installation by Penelope Umbrico can be seen at "The Ubiquitous Image"

Friday, May 16
through
Sunday, May 18 VII Seminar in DUMBO, Klitgord Auditorium, New York City Technical College, 285 Jay St., featuring portfolio reviews, exhibitions, and book signings, general admission $50, portfolio reviews $200
Saturday, May 17 AIPAD Collectors Panel, 11:00 am
Saturday, May 17 Aperture Presents: The Secret Life of Images, with Lesley A. Martin in conversation with Joachim Schmid and Penelope Umbrico, 5:00
Saturday, May 17 Photographers Moving into Film, featuring short films by Carrie Mae Weems, Rineke Dijkstra, Lauren Greenfield, Roger Ballen, Carter Smith, and Danny Roew, 8:00
Sunday, May 18 Future of Photography: Panel discussion with Marloes Krijnen, Kathy Ryan, and Romain Lacroix, 1:00
Sunday, May 18 Aperture Presents: Picturing Iraq, with Nina Berman, Claire Beckett, and Vicki Goldberg, moderated by Michelle Dunn, 5:00
Riff's Rants & Raves: Film
MEDIA THAT MATTERS FILM FESTIVAL
Wednesday, May 28, IFC Center, 323 Sixth Ave. at West Third St., $10, 7:00
Friday, May 30, Tribeca Cinemas, 54 Varick St. at Laight St., $10, 7:00
Saturday, May 31, Rose Live Music, 345 Grand St. between Havemeyer & Marcy, free, 10:00 pm — 4:00 am
http://www.mediathatmattersfest.org
The eighth annual Media That Matters Film Festival features twelve short films that will be shown at two venues, first at the IFC Center and then at the Tribeca Cinemas. The works tackle such issues as the environment, politics and government, immigration, religious and sexual freedom, racial and economic justice, human rights, and other hot-button topics. At each event there will be Take Action tables, where people can learn about how they can make a difference, and many of the filmmakers will be present as well. The festival concludes with an after-party on May 31 at Rose Live Music in Williamsburg, featuring the Waaw Band and DJ Ben Herson.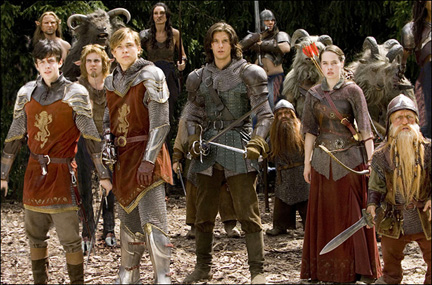 The Pevensies' return to Narnia is a drag
PRINCE CASPIAN: THE CHRONICLES OF NARNIA (Andrew Adamson, 2008)
Opens Friday, May 16
http://www.disney.go.com/disneypictures/narnia

Watch out for the flying matzoh balls of doom! Andrew Adamson's sequel to 2005's THE CHRONICLES OF NARNIA: THE LION, THE WITCH AND THE WARDROBE is a slow-moving, silly action-adventure movie that's filled with ridiculous plot holes, extreme suspensions of disbelief, and terrible closing music. Lucy (Georgie Henley), Edmund (Skandar Keynes), Peter (William Moseley), and Susan (Anna Popplewell) are back in Narnia, having been summoned by Prince Caspian (Ben Barnes), whose life is in danger now that his uncle, King Miraz (Sergio Castellitto), has his own heir to the Telmarine throne. Based on the fourth book in C. S. Lewis's Christian parable series, PRINCE CASPIAN evokes the story of Moses and the Israelites escaping from King Ramses II and the Egyptians, but Adamson and his co-screenwriters, Christopher Markus and Stephen McFeely, have upped the action ante, with disastrous results. The always excellent Peter Dinklage does his best as Trumpkin, but just about everything else is a real mess.
In Theaters Now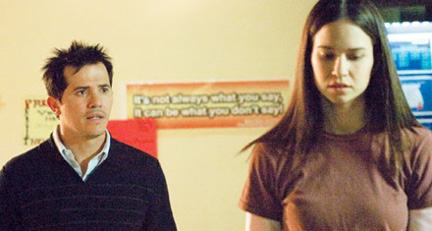 John Leguizamo and Katherine Waterston play a dangerous game in THE BABYSITTERS
THE BABYSITTERS (David Ross, 2007)
AMC Empire 25
234 West 42nd St. between Broadway & Eighth Ave.
212-398-3939
Village East
181 Second Ave. at 12th St.
212-529-6998
http://citycinemas.moviefone.com

Quiet and shy and living with OCD, sixteen-year-old Shirley (Katherine Waterston) takes a job babysitting for the Beltrans, Michael (John Leguizamo) and Gail (Cynthia Nixon), to raise some extra cash and to have time to study away from home. After her first night, Michael stops off at a diner while driving her home, and there is an instant attraction between the two. While Gail is waiting for Michael to grow up, he can be his true self with Shirley, whom he pays well for the additional time and closeness. Soon Shirley has become a teen pimp, hiring out her friends to go the extra distance with the fathers of the kids they are babysitting, taking her cut of the action while participating on occasion as well. But when one of her girls tries to go out on her own, trouble ensues and Shirley's world is threatening to unravel in a very dangerous way. First-time writer-director David Ross carefully walks that thin line between middle-age sex fantasy and touching coming-of-age, deftly steering clear of exploitation, helped by a raw, believable performance by Waterston (although we're not sure how happy dad Sam is with the very hot nude scene between his daughter and Leguizamo). The supporting cast includes Lauren Birkell, Louise Krause, and Halley Wegryn Gross as some of the teen call girls and Andy Comeau, Ethan Phillips, and Jay Patterson as some of the dirty middle-aged men.
BATTLE FOR HADITHA (Nick Broomfield, 2008)
Film Forum
209 West Houston St. between Sixth & Seventh Aves.
Through May 20
212-727-8110
http://www.nickbroomfield.com/haditha.html

Documentarian Nick Broomfield (AILEEN: LIFE AND DEATH OF A SERIAL KILLER, KURT & COURTNEY) takes viewers behind the scenes of a tragic situation in Iraq in BATTLE FOR HADITHA, dramatizing the events before, during, and after a November 2005 massacre of two dozen Iraqi civilians by U.S. Marines. Using eyewitness accounts and former Marines as actors, Broomfield reenacts the brutal tale in his second narrative feature (following 2006's GHOSTS, which was also based on a true story), reminiscent of Gilles Pontecorvo's classic THE BATTLE OF ALGIERS. The film follows a pair of Iraqis who feel they have no choice but to become terrorists; a young family trying to steer clear of all possible danger zones; and a Marine battalion that is tired and on edge. Although Broomfield and his crew conducted extensive interviews to get as close to the truth as possible, BATTLE FOR HADITHA ultimately falls flat, feeling more like a by-the-numbers cable-TV dramatization than an involving feature film. The characters — on all sides of the conflict — are cardboard cut-outs, and the imagined dialogue is stiff and obvious. There's a story to be told about the Haditha tragedy, but this is not it.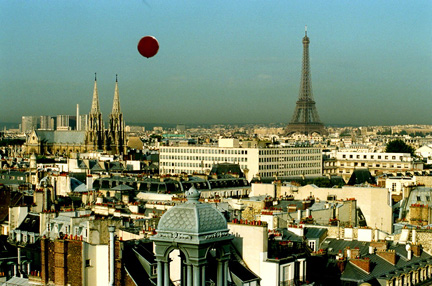 Film festival favorite flies into New York City on April 4
FLIGHT OF THE RED BALLOON (Hou Hsiao Hsien, 2007)
Two Boots Pioneer Theater
155 East Third St. at Ave. A
May 16-22
212-254-3300
http://www.twoboots.com/pioneer

Commissioned by the Musee d'Orsay and inspired by Adam Gopnik's book PARIS TO THE MOON and Albert Lamorisse's children's classic THE RED BALLOON, director Hou Hsiao Hsien creates a wonderfully gentle, beautifully peaceful work in FLIGHT OF THE RED BALLOON. Mimicking the Taiwanese Hou making a film in Paris, Song Fang stars as Song, a Taiwanese film student who arrives in Paris to be a nanny to Simon (Simon Iteanu), whose mother, Suzanne (a blonde Juliette Binoche), runs a local puppet theater — which is currently putting on a version of the Chinese story of Zhang Yu, in French. Song goes everywhere with her video camera, recording whatever she sees. Meanwhile, a mysterious red balloon follows Simon through the city. (In THE RED BALLOON, it's reversed, as a young boy runs after the balloon.) There is no real plot but merely daily life, sort of Truffaut meets Ozu as Song makes pancakes, Suzanne gets involved in a rent dispute, and Simon practices the piano. The film is all about place and character, not about narrative; in fact, all of the dialogue is improvised. Lovingly shot by Mark Lee Ping Bing, FLIGHT OF THE RED BALLOON is a sweet, tender film.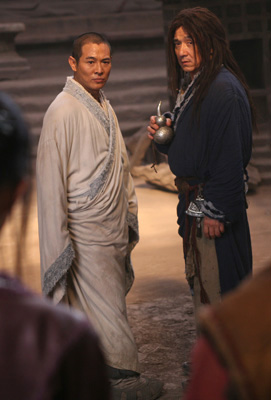 Jet Li and Jackie Chan finally unite
in THE FORBIDDEN KINGDOM
THE FORBIDDEN KINGDOM (Rob Minkoff, 2008)
http://www.forbiddenkingdommovie.com

In the most exciting first-time movie pairing since Al Pacino and Robert De Niro appeared together in Michael Mann's less-than-sizzling HEAT in 1995, martial arts masters Jackie Chan and Jet Li team up in Rob Minkoff's THE FORBIDDEN KINGDOM, with much hotter results. Based on the famous Chinese legend of the Monkey King, the film opens in modern-day South Boston, where martial arts fan Jason Tripitikas (Michael Angarano) is the new kid in town, getting pushed around by local bullies. But when the tough kids try to rob a local pawnshop, Jason grabs a legendary staff and suddenly gets sent back to ancient China, where the Jade War Lord (Collin Chou) has imprisoned the Monkey King in stone and is terrorizing the population. Jason is soon joined by drunken immortal Lu Yan (Chan), the meditative Silent Monk (Li), and vengeance-seeking Golden Sparrow (Liu Yifei) as they head to Five Elements Mountain to return the staff to its rightful owner — and meet their destiny. Their journey takes them through the Bamboo Forest, a field of cherry blossoms, hundreds of warriors, and white-haired demoness Ni Chang (Li Bingbing), with Lu Yan and Silent Monk trying their best to train Jason so he is prepared to fight the Jade War Lord at the end of their quest. Minkoff takes a huge step up into live-action drama after directing such Disney fare as STUART LITTLE, THE LION KING, and THE HAUNTED MANSION; THE FORBIDDEN KINGDOM is still family-friendly, but kung fu fans won't be disappointed, as Minkoff has brought along famed cinematographer Peter Pau (CROUCHING TIGER, HIDDEN DRAGON) and fight choreographer extraordinaire Yuen Wo Ping (the MATRIX trilogy, KILL BILL). It's all sort of THE WIZARD OF OZ meets TIME BANDITS meets THE KARATE KID meets KILL BILL, which is not necessarily a bad thing.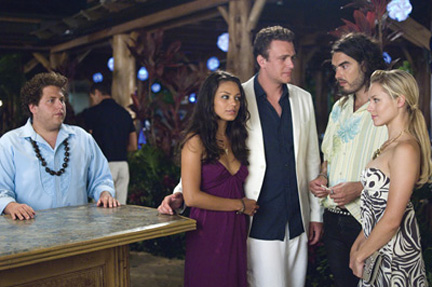 Jason Segel wrote and stars in vastly overrated "romantic disaster comedy"
FORGETTING SARAH MARSHALL (Nicholas Stoller, 2008)
http://www.forgettingsarahmarshall.com

Jason Segel, the twenty-first-century Judge Reinhold, wrote and stars in FORGETTING SARAH MARSHALL, the latest in the successful string of comedies from producer Judd Apatow, which include THE 40-YEAR-OLD VIRGIN, KNOCKED UP, and SUPERBAD. In this self-described "romantic disaster comedy," Segel stars as Peter, a television-series composer whose big dream is to stage a Dracula musical with puppets. When his girlfriend, Sarah Marshall (Kristen Bell), the star of the TV show CRIME SCENE: SCENE OF THE CRIME, suddenly breaks up with him, he goes on a downward spiral of cheap sex and depression. His stepbrother, Brian (SNL's Bill Hader), convinces him to get away and go on vacation, but when Peter heads off to Hawaii, he immediately discovers that Sarah is staying at the same resort, with her new sex toy, indie pop star Aldous Snow (British comedian Russell Brand). While exploring a friendship with hotel worker Rachel (Mila Kunis), Peter can't get him mind off Sarah, following her around like a pathetic little puppy dog. Segel is likable enough, and there are a bunch of legitimately laugh-out-loud moments, but the film ultimately fails because of sloppy direction by first-timer Nicholas Stoller (hey, get that boom mic out of the shot!), terrible editing and continuity, cliches galore, silly subplots and minor characters, and way too many frontal nude shots of Segel. (Once was plenty, thank you very much.)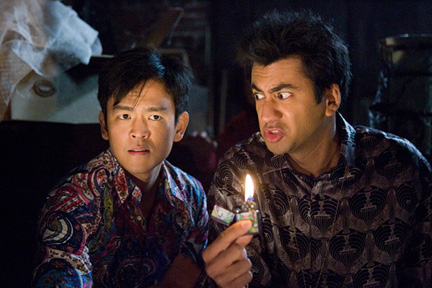 Harold and Kumar are back for more fun in ESCAPE
HAROLD AND KUMAR ESCAPE FROM GUANTANAMO BAY

Overflowing with more toilet humor than you can shake a plunger, HAROLD AND KUMAR ESCAPE FROM GUANTANAMO BAY is the very funny follow-up to the unforgettable HAROLD AND KUMAR GO TO WHITE CASTLE. Written and directed by Jon Hurwitz and Hayden Schlossberg, who wrote the original as well, the sequel lets viewers know just what they're in for right from the very start; the first few minutes — which take place immediately after Harold (John Cho) and Kumar (Kal Penn) have fed their crave at White Castle and are preparing to go to Amsterdam so Harold can declare his love for Maria (Paula Garces) — include no-holds-barred aural and visual jokes about flatulence, pubic hair, and self-pleasure, setting the stage for a naughty road movie that quickly lands the pair in Guantanamo Bay when a frightened airline passenger mistakes Kumar's homemade smokeless bong for a bomb. Former DAILY SHOW correspondent Rob Corddry is a riot as the inept racist deputy chief of Homeland Security, determined to track down the alleged terrorists, who encounter the Ku Klux Klan, a bizarre southern family, a Texas whorehouse, and, once again, the great Neil Patrick Harris along the way. Also back are Goldstein (David Krumholtz) and Rosenberg (Eddie Kaye Thomas), with LAW AND ORDER: SVU's Christopher Meloni, who made a bizarre cameo as Freakshow in the original, now doing a bizarre cameo as a KKK grand wizard in the new film. Penn gets to show his romantic chops as well this time, as Kumar tries to deal with the frustration of his first love, Vanessa (Danneel Harris), getting married to super-Republican douchebag Colton (Eric Winter). Even when it crosses the bounds of extremely bad taste and utterly ridiculous silliness, HAROLD AND KUMAR ESCAPE FROM GUANTANAMO BAY somehow always manages to bring itself back and make you laugh your head off. Stick around for the end of the credits for a little bonus.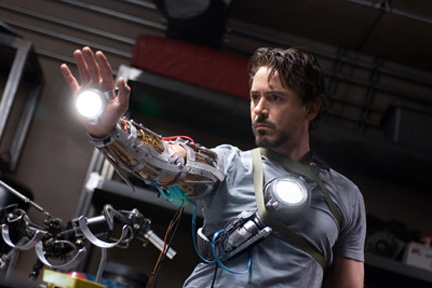 Robert Downey Jr. muscles up for IRON MAN
IRON MAN (Jon Favreau, 2008)
http://ironmanmovie.marvel.com

Robert Downey Jr. stars as a different kind of superhero in Jon Favreau's grand retelling of the comic-book hero Iron Man. Tony Stark is a glitzy scientific genius whose rock-star life is filled with beautiful women, fancy parties, and a gorgeous cliff-side Hollywood home. Keeping things barely in perspective is his devoted personal assistant, Pepper Potts (an excellent Gwyneth Paltrow). As the head of Stark Industries — along with his late father's former partner, Obadiah Stane (a villainously bearded and bald Jeff Bridges) — Tony uses cutting-edge technology to make and market weapons of mass destruction. On a business deal in Afghanistan to show off his latest creation, his convoy is blown up and he is taken hostage by terrorists, who demand that he build a missile for them right then and there. But instead he makes himself an iron suit to help him escape — and having seen how his own weapons have been used against him and America, has a change of heart about the future of his business, which doesn't make Obadiah very happy. Unlike most superheroes, Stark has no innate super powers; he is merely a deeply conflicted man in a really cool metal suit. Favreau lets the character's troubled soul and uneasy heart — which is kept pumping by a special magnet protecting it from shrapnel — not special effects, drive the film. Look for Iron Man creator and Marvel legend Stan Lee in a cameo, and be sure to stick around till the end of the credits for a special little bonus.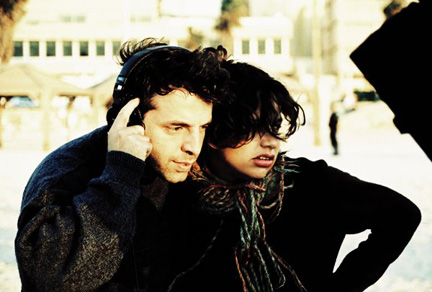 Partners Etgar Keret and Shira Geffen collaborate on JELLYFISH
JELLYFISH (MEDUZOT) (Shira Geffen & Etgar Keret, 2007)
Cinema Village
22 East 12th St. between University Pl. & Fifth Ave.
212-924-3363

Short-story writer and children's book author Etgar Keret and playwright and kids' book writer Shira Geffen, who are life partners, have teamed up for their feature-film directorial debut, JELLYFISH (MEDUZOT), a small, charming Israeli film that won the Camera D'Or at Cannes. Written by Geffen, the story follows three women dealing with family problems that threaten to leave them lost and lonely. After her boyfriend dumps her, Batya (Sarah Adler) heads off to her job working for a wedding caterer, where she is surrounded by happy people celebrating a marriage while she contemplates her own bleak future. But her life changes when she is sitting on the beach and a silent young girl (Nikol Leidman) comes walking out of the ocean and approaches her. When a policeman says that no one has reported the girl missing or is looking for her, Batya decides to take care of the child herself, perhaps as a reaction to the offhanded way in which her own wealthy, successful mother treats her. Meanwhile, Keren (Noa Knoller), who broke her leg at her wedding reception after being trapped in the bathroom, has to spend her honeymoon in a local seaside hotel instead of jetting off to the Caribbean; her unhappiness is soon magnified when she suspects her husband (Gera Sandler) might have eyes for an older woman who is staying alone in the deluxe penthouse suite. And Joy (Ma-nenita De Latorre) is a Filipino guest worker who has come to Israel to make money to send back to her son in the Philippines, but because she cannot speak Hebrew, it is difficult for her to communicate with anyone, especially one old woman (Zharira Charifai) she has been hired to care for. Like the multiple-character drama BABEL, Keret and Geffen's film focuses on complex family relationship and the challenges of interpersonal communication, with water — whether it's the leak in Batya's ceiling, the ocean rumbling outside Keren's hotel room, the sea the young girl mysteriously emerges from, or the large expanse that separates Joy from her family — serving as a metaphor for both life and death, joy and sorrow. This sweet, painful, and somewhat surreal examination of four generations of women might be set in Tel Aviv, but its themes are universal.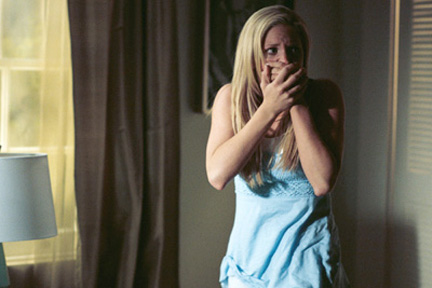 Brittany Snow's prom night is a disaster, just like the remake
PROM NIGHT (Nelson McCormick, 2008)
Regal E-Walk 13
247 West 42nd St. between Seventh & Eighth Aves.

Hollywood continues to mine the depths of Jamie Lee Curtis's 1978-81 scream-queen-era back catalog with PROM NIGHT, following poorly regarded remakes of John Carpenter's HALLOWEEN and THE FOG. (TERROR TRAIN is up next — and no, we're not kidding.) PROM NIGHT is a ludicrous, inept reworking of Paul Lynch's so-so original, removing the motivation and the grizzly one-upmanship killings in favor of stereotypical character development and increasingly unlikely scenarios. There are so many holes and suspensions of disbelief in J. S. Cardone's script that you could repeatedly twist a large, serrated knife through it, and director Nelson McCormick, long relegated to television series duty, uses every convoluted and clichéd trick in the fright-night book — there are lots of shots of mirrors, doorways, baths, and closets as well as plenty of fake shocks and misleading dream sequences. The only things missing are unnecessarily nudity-filled shower and sex scenes.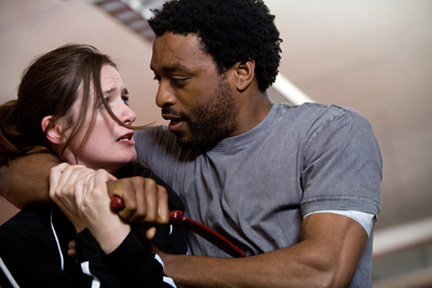 Emily Mortimer and Chiwetel Ejiofor prepare for battle
REDBELT (David Mamet, 2008)
http://www.sonyclassics.com/redbelt

Chiwetel Ejiofor, one of America's best and most underrated actors, gives a mesmerizing performance in REDBELT, a rather bizarre offering from David Mamet. Ejiofor stars as Mike Terry, an honest, hardworking master of self-defense who runs a Jiu Jitsu studio in L.A. and lives by a samurai-like code. When a distraught woman, Laura Black (Emily Mortimer), enters the studio on a rainy night and ends up grabbing police officer Joe Collins's (Max Martini) gun and shooting it, shattering the front window, a series of events soon finds Terry in the midst of an elaborate con, a specialty of Mamet's. However, lurking in the background as Terry meets a Hollywood action hero (Tim Allen), his right-hand man (Joe Mantegna), and a shady fight promoter (Ricky Jay), is the prospect that Terry might have to participate in a mixed-martial-arts competition in order to solve his personal and financial woes, a low-grade, conventional plot device that is more KARATE KID II, ROCKY V, and BEST OF THE BEST 3 than THE SPANISH PRISONER and HOUSE OF GAMES. It's almost inconceivable that such an accomplished writer and director as Mamet (THINGS CHANGE, HOMICIDE) could use such a ridiculous story line until one discovers that Mamet has been studying Brazilian Jiu-Jitsu for several years now, so he worked his obsession into an otherwise compelling drama. However, REDBELT, fresh off its screenings at the Tribeca Film Festival, is still worth watching for Ejiofor, although even he can't save the embarrassing final fifteen minutes.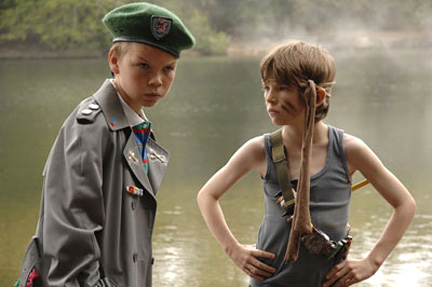 Charming British flick channels Richard Crenna and Sylvester Stallone
SON OF RAMBOW (Garth Jennings, 2008)
AMC Empire 25
234 West 42nd St. between Broadway & Eighth Ave.
212-398-3939
Angelika Film Center
18 West Houston St. at Mercer St.
212-995-2000
http://www.city-cinemas.com/angelika.html

Garth Jennings has followed up his extremely quirky 2005 adaptation of Douglas Adams's THE HITCHHHIKER'S GUIDE TO THE GALAXY with the charming and engaging — and plenty quirky — SON OF RAMBOW. Bill Milner stars as Will Proudfoot, a young boy whose family is part of the Brethren, a religious group that shuns much of the modern world. Will is not allowed to watch movies or television, including educational films in class, and he is not permitted to have friends outside the group. However, he secretly uses his Bible as a sketchbook for his wildly creative illustrations and stories. After getting into a tussle with tough kid Lee Carter (Will Poulter), Will is forced by Lee to help him make a homemade version of FIRST BLOOD that he wants to submit to a TV contest. Will's life changes dramatically when he watches the Sylvester Stallone film; not only does he fall in love with the character, but he writes his own sequel, the misspelled SON OF RAMBOW, and is soon recruiting more and more kids to participate in the movie, including the ultra-cool androgynous French exchange student Didier Revol (Jules Sitruck). But as the production grows in scope — and gets out of control — his budding friendship with Lee becomes seriously compromised. SON OF RAMBOW is a feel-good British comedy that is as much about the cinema as childhood itself, a parable about independence, interdependence, and, above all, family, of all kinds. Jennings, who gives short shrift to the beliefs of the Brethren but otherwise gets things right, sets the films in the 1980s, before technology turned everyone into a potential auteur, and includes classic period-defining songs by the Cure, Gary Neumann, Depeche Mode, and others.
SPEED RACER (the Wachowski Brothers, 2008)
http://speedracerthemovie.warnerbros.com
In 1967-68, fifty-two episodes of a poorly dubbed Japanese animated television series aired in the U.S., following the exploits of a skilled young racecar driver and his family. Forty years later, the Wachowski Brothers (THE MATRIX trilogy, BOUND) have reinvented that low-budget cult classic, SPEED RACER, as a visually spectacular, coldly dispassionate movie that's almost always set to overload. Mixing live action with cutting-edge CGI technology, Larry and Andy Wachowski bring to life Speed Racer (Emile Hirsch), Trixie (Christina Ricci), Pops Racer (John Goodman), Mom Racer (Susan Sarandon), Sparky (Kick Gurry), Spritle (Paulie Litt), and Chim-Chim the chimpanzee in a highly stylized candy-colored world. Shortly after Speed starts displaying his remarkable talent driving the Mach 5, mega-tycoon Royalton (Roger Allam), who runs a powerful global corporation, wants Speed to race for him, but Speed decides to remain with his down-to-earth mom-and-pop team, enraging Royalton, who promises to ruin the entire Racer family. Shady back-room dealings and race fixing come to light as Speed considers participating in the dangerous race that killed his older brother, Rex, and just might force him to join sides with two of his toughest competitors, Taejo Togokahn (Korean pop star Rain) and the masked Racer X (Matthew Fox). The film works best when it focuses on the changing relationships within the family as Speed grows up; unfortunately, the Wachowskis spend way too much time showing off their own technological prowess. It is often difficult to figure out what is going on in the racing scenes (which take place across futuristic Matchbox-like courses), and parents will have difficulty explaining to their children what happens to the many drivers whose cars get blown up. And at more than two hours, the movie is at least a half hour too long. The original SPEED RACER series worked because of its charming simplicity; the Wachowski Brothers have taken it through the matrix and ended up with one seemingly endless left turn.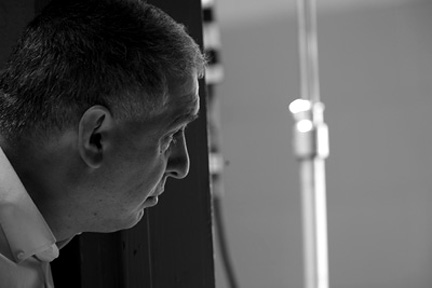 Errol Morris looks at Abu Ghraib in new documentary
STANDARD OPERATING PROCEDURE (Errol Morris, 2008)
Village East
181 Second Ave. at 12th St.
212-529-6998
http://citycinemas.moviefone.com

Oscar-winning documentarian Errol Morris (THE FOG OF WAR, A THIN BLUE LINE) examines the use of still photography as evidence in STANDARD OPERATING PROCEDURE, which focuses in on the recording of the abuse of prisoners at Abu Ghraib. Morris speaks with five of the seven members of the military who were directly involved (Sabrina Herman, Megan Ambuhl, Lynndie England, Jeremy Sivitz, and Javal Davis — Charles Graner and Ivan Frederick were still in prison and not permitted to talk to him) who describe the events surrounding the systematic torture in which prisoners were forced to commit humiliating, degrading acts for what appears to be the pleasure of their captors, who take still photos and video of the events, even including themselves in the images, smiling and pointing. Among the other men and women he speaks with is Brent Pack, the special agent for criminal investigations, who discusses which of the acts constitutes actional abuse and which doesn't, and former brigadier general Janis Karpinski, who was relieved of command and demoted once the events were made public. One of the most fascinating parts of the film are Herman's letters to her domestic partner, containing worries that are not visible as Herman parades around with naked prisoners. But in many ways that gets to the heart of the problem; the photographs show one thing, but the testimony describes circumstances that go outside the frame. It also examines how the responsibility for the abuses did not reach very far up the chain of command. Morris supplements the film with emotionally effective and artistic, if somewhat manipulative, reenactments that heighten the tension.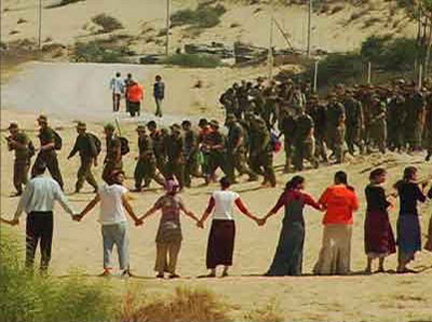 Brilliant doc looks at Israeli evacuation of the Gaza strip
UNSETTLED (Adam Hootnick, 2007)
Two Boots Pioneer Theater
155 East Third St. at Ave. A
May 9-15
212-254-3300
http://www.twoboots.com/pioneer

A graduate of Harvard College and Harvard Law School, Adam Hootnick wrote, edited, produced, photographed (with Mickey Elkeles), and directed the gripping documentary UNSETTLED, a remarkable debut. In 1967, following the Six Day War, Israelis began settling the Gaza strip, a twenty-five-mile stretch of land along the Mediterranean. In 2005, as a peace measure, Prime Minister Ariel Sharon agreed to withdraw from Gaza, where 8,500 Israelis lived among 1.3 million Palestinians. But the controversial concession deeply divided the nation; half the Jews left, but the other half remained, refusing to believe that the Israeli army would forcibly remove them from their homes. With remarkable access and a brave impartiality, Hootnick follows a group of twentysomethings representing all sides of the situation: Lior and Meir are lifeguards at Gaza's Palm Beach who'd rather be surfing than fighting; Neta, an aspiring filmmaker, is documenting the events herself and defending her family's right to remain in Gaza; Ye'ela, who lost her sister to a Palestinian suicide bombing nearly a decade before, is part of an activist movement favoring the withdrawal to prevent more unnecessary violence; and Yuval and Tamar are morally torn soldiers heading into Gaza to evict fellow Israelis who have refused to leave. Hootnick brilliantly captures the complicated layers of the bitter dispute that set Jew against Jew, letting the story tell itself. Beautifully filmed and seamlessly edited, UNSETTLED, which features music from Hasidic reggae/rap star Matisyahu, is a powerful, unsettling examination of family and home and the struggle for peace in the Mideast, especially relevant as New York City immerses itself this month in the celebration of Israel's sixtieth anniversary as a Jewish state.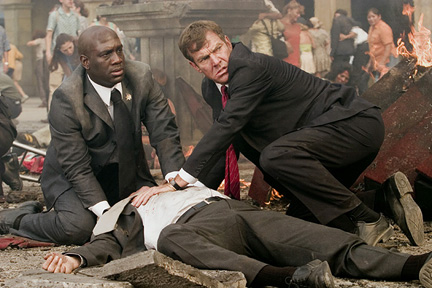 POTUS gets shot over and over again in VANTAGE POINT
VANTAGE POINT (Pete Travis, 2008)
Regal E-Walk 13
247 West 42nd St. between Seventh & Eighth Aves.
http://www.vantagepoint-movie.com

Director Pete Travis and screenwriter Barry L. Levy make their feature-film debuts with VANTAGE POINT, an overly ambitious yet somewhat entertaining story of a presidential assassination attempt told from multiple points of view. As the movie begins, Rex Brooks (Sigourney Weaver) is in a mobile television control room, directing her network's live coverage of President Ashton's (William Hurt) announcement of a major global anti-terrorism summit in Salamanca, Spain. As he takes the podium, he is struck by two bullets. In the ensuing madness, one bomb goes off in the distance, then the entire platform blows up in a massive, bloody explosion. The film then rewinds back to a few seconds before noon, and we see the same events, this time following a different character. Thus, the characters and the plot unfold as each segment adds a few more details, sort of like GROUNDHOG DAY meets RASHOMON meets JFK meets 24. The film follows Thomas Barnes (Dennis Quaid), a Secret Service agent who had a nervous breakdown after taking a bullet for the president the previous year; Howard Lewis (Forest Whitaker), a tourist obsessed with capturing everything he sees on video; POTUS (President of the United States); and even the terrorists. There are too many rewinds with too many teases of what is to come, and the final chase scene requires ridiculous suspensions of disbelief around every corner. But if you can get past the movie's primary gimmick, it still packs enough tension to make it a worthwhile popcorn muncher.
Riff's Rants & Raves: Live Music & Dance

TICKET GIVEAWAY: G&S FEST 2008
City Center
West 55th St. between Sixth & Seventh Aves.
Tickets: $40-$96
212-581-1212
For more than thirty years, the New York Gilbert & Sullivan Players have continued their mission of "giving vitality to the living legacy of Gilbert & Sullivan through performance and education." Founded by artistic director Albert Bergeret, the group, which has played all across the country and in England, moves into City Center in Midtown for its 2008 season, featuring productions of the Gilbert & Sullivan classics H.M.S. PINAFORE, THE PIRATES OF PENZANCE, THE MIKADO, and THE GONDOLIERS.
TWI-NY TICKET CONTEST: What Oscar-winning 1999 British film goes behind the scenes to tell the story of W. S. Gilbert and Arthur Sullivan? Send your answer to contest@twi-ny.com by Tuesday, May 27, at 5:00 pm for your chance to win a pair of tickets to the below performance of your choice. Three lucky winners with the correct response will be chosen at random. (Only one entry per household; employees of This Week in New York, City Center, and the New York Gilbert & Sullivan Players are ineligible.)
Friday, June 6 H.M.S. PINAFORE, 8:00
Saturday, June 7 THE PIRATES OF PENZANCE, 2:00
Saturday, June 7 THE MIKADO, 8:00
Sunday, June 8 H.M.S. PINAFORE, 3:00
Tuesday, June 10 Free Kids Night: H.M.S. PINAFORE, each paying adult receives one free children's ticket, 7:00
Wednesday, June 11 H.M.S. PINAFORE, 2:00
Thursday, June 12 THE GONDOLIERS, 8:00
Friday, June 13 THE PIRATES OF PENZANCE, 8:00
Saturday, June 14 THE MIKADO, 2:00
Saturday, June 14 THE GONDOLIERS, 8:00
Sunday, June 15 THE GONDOLIERS, 3:00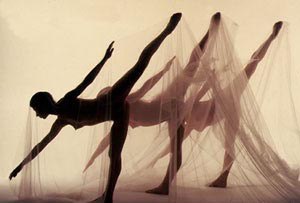 John Kane
MOMIX will open its season at City Center with PASSION
MOMIX
Joyce Theater
175 Eighth Ave. at 19th St.
April 9-20
Tickets: $25-$44
212-645-2904
Tuesday, May 13
through
Sunday, May 25 MOMIX presents PASSION, a multimedia exploration of passion, set to Peter Gabriel's score for THE LAST TEMPTATION OF CHRIST (Martin Scorsese, 1988)
Tuesday, May 27
through
Sunday, June 8 MOMIX presents LUNAR SEA, a multimedia exploration of light and movement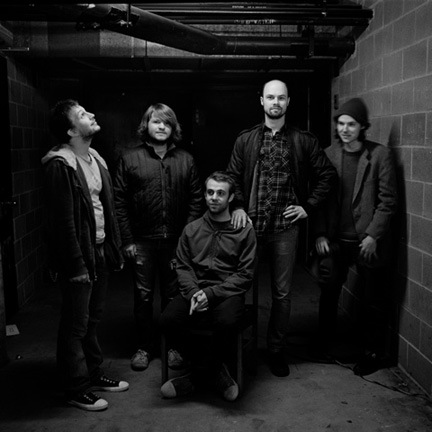 Colour Revolt will investigatesthe nature of good and evil at two area shows
COLOUR REVOLT
Thursday, May 15, Mercury Lounge, 217 East Houston St. at Ave. A, 212-260-4700, $12, 7:30
Friday, May 16, Maxwell's, 1039 Washington St., Hoboken, 201-653-1703, $12, 7:30
http://www.mercuryloungenyc.com

Don't let the groovy psychedelia of Oxford, Mississippi's Jimmy Cajoleas, Jesse Coppenbarger, Len Clark, Sean Kirkpatrick, and Patrick Addison, collectively known as Colour Revolt, lure you into thinking they're just another feel-good retro band. Actually, their new album, "PLUNDER, BEG, AND CURSE" (Fat Possum, April 2008), delves into the very nature of good and evil, God and the Devil. "Turn your nails into my skin / Let it itch and burn and grin / If you are evil, I am sin," Clark sings on "What Will Come of Us." On "Naked and Red," he declares, "Eden is a hell of a place." And on "Moses of the South," he promises, "I will send you up a sign / Everything is fine / All the vines and branches are torn / It's violent and insane / And crucifying the inane." Touring with Snowden and the Epochs, Colour Revolt comes to the Mercury Lounge on May 15 and Maxwell's on May 16.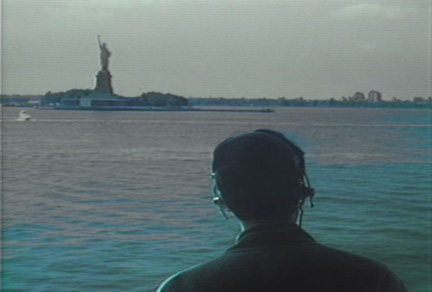 LET'S GO SWIMMING: A TRIBUTE TO ARTHUR RUSSELL
The Kitchen
512 West 19th St. between Tenth & Eleventh Aves.
Tickets: $5
212-255-5793
http://www.arthurrussellmovie.com
Born in Iowa in 1952, Arthur Russell became a key figure in the downtown New York music scene in the 1970s, playing keyboards or cello with such luminaries as Philip Glass, Allen Ginsberg, and David Byrne. Using experimental innovations to create unique dance records, Russell released such songs as "Kiss Me Again," "Is It All over My Face," "Go Bang," and "Wax the Van" in such groups as Dinosaur, Loose Joints, and the Flying Hearts. The short life and career of the onetime musical director of the Kitchen, who died of AIDS in 1992 at the age of forty, will be celebrated over three nights at the Chelsea space, featuring a new documentary and two nights of live music.
Thursday, May 15 Screening of WILD COMBINATION (Matt Wolf, 2008), $10, 7:00 & 9:00
Friday, May 16 The Music of Arthur Russell: Special guests perform the music of Arthur Russell, including "Tower of Meaning," featuring bassist Nat Baldwin, singer Nick Hallett, and cellist Alex Waterman, with original Russell sidemen Peter Zummo, Ernie Brooks, and Bill Ruyle, 8:00
Saturday, May 17 The Music of Arthur Russell: Special guests perform the music of Arthur Russell, including "The Singing Tractors," featuring bassist Nat Baldwin, singer Nick Hallett, and cellist Alex Waterman, with original Russell sidemen Peter Zummo, Ernie Brooks, and Bill Ruyle, 8:00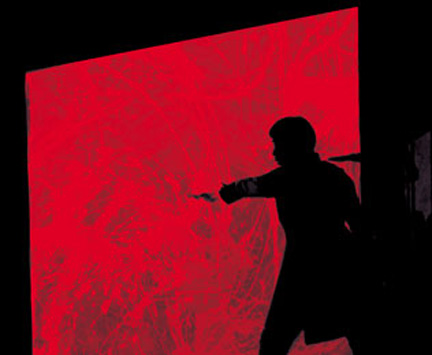 School of Hard Knocks goes multimedia at Japan Society
POOM: A PAGE OUT OF ORDER M TO M
Japan Society
333 East 47th St. at First Ave.
May 15-17, $28, 7:30
212-715-1258
POOM is a multimedia music and dance performance by Yoshiko and the School of Hard Knocks, inspired by the silent film A PAGE OF MADNESS (Teinosuke Kinugasa, 1927), with guest vocalist Sizzle Ohtaka, shakuhachi trio Hannya Teikoku, videos by Dave Thoudam, and spoken word artist Somi Roy. On Tuesday, May 13, Yoshiko Chuma will lead a roundtable discussion, "Journey to Manipur," at the Asia Society (725 Park Ave. at 70th St.), with author Lady Belinda Morse and film and media curator Somi Roy ($12, 6:30).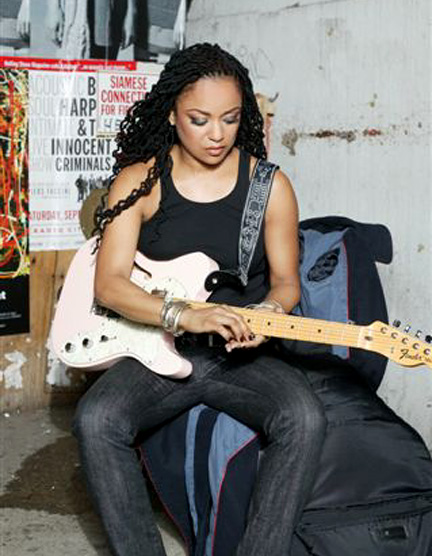 Chia Messina
Danielia Cotton celebrates CD release at Sullivan Hall
DANIELIA COTTON
Sullivan Hall
214 Sullivan St.
Tuesday, May 20, free, 8:00
866-468-7619
http://www.myspace.com/danieliacotton
http://www.sullivanhallnyc.com

Danielia Cotton celebrates the release of her new album, RARE CHILD (Cottontown Records, May 20, 2008), with this special free showcase at Sullivan Hall. On the new disc, Cotton straps on her guitar and belts out powerful, emotional, straight-ahead rock and roll, more Melissa Etheridge than Joan Armatrading, with lots of Bonnie Raitt thrown in. She holds nothing back on such songs as "Make U Move," "Testify," and "Bound," backed by her solid band, featuring Kareem Devlin on guitar, Keith Golden on bass, and Greg Gonzales on drums. Cotton is high energy all the way, whether playing a sweet ballad or blasting through an all-out scorcher. Raised in New Jersey and now based in New York City, Cotton has breakout star written all over her, so catch her now at this tiny venue before she hits the big-time. And watch out, because she does a mean cover of AC/DC's "Back in Black."
DNCHRD IV
Midtown West club-house to be announced four hours before event
Tuesday, May 20, 8:00
LVHRD's latest mosh-up is Dance Hard IV, which will bring together three rounds of battles between six specially colored groups at the beck and call of VJ pioneer Eclectic Method. Beginning with Warm Up and then continuing on with Color v Color and Musical Chairs, the event, which also includes live music and an interactive art installation, will feature Becca Greene leading the yellow team (the Royal We, Collars Up Films), DJ Woodman heading the teal (Turntable Lab), Leah Taylor guiding the green (Flavorpill & the Pull-Out Method), Christine Huang turning purple (PSFK), and Tony Schultz blushing red (the Winger), with pink to be announced. Attendees will receive a colored ticket and must wear that color to the dance party.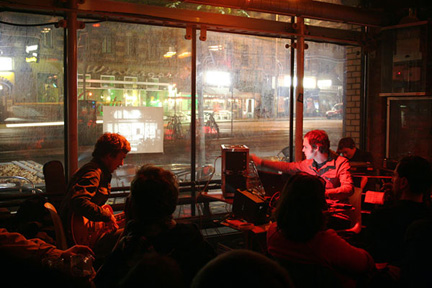 Stefan Németh will play two special area shows
STEFAN NÉMETH
Monkeytown, 58 North Third St. between Kent & Wythe, 718-384-1369
Tuesday, May 20, $12, $10 minimum, 8:30
Knitting Factory, 74 Leonard St. between Broadway & Church St., 212-219-3132
Wednesday, May 21
http://monkeytownhq.com/monkeytownhome.html
http://www.knittingfactory.com/show.php?event_id=111906
For much of the decade, Stefan Németh, who is a member of Radian and Lokai and is the cofounder (with video artist Michaela Schwentner) of Mosz Records, has been creating ambient electronic soundtracks for short experimental films and multimedia art installations. On his debut album, FILM (Thrill Jockey, January 2008), the Viennese musician has taken six of those pieces and reinvented them, adding new instruments (including Radian member Martin Branlmayr on drums) and overlapping sounds while restructuring the compositions. Although much of the disc is slow-moving and moody — which is not necessarily a bad thing — "Luukkaankangas," composed for the film of the same name directed by Dariusz Krzeczek, is practically danceable. Perhaps the most cinematic song on the album is "Field," which builds to an exciting pitch at the midway point, only to come way back down again, fade out, and then return. Minimalist keyboard tinkling lies at the heart of the ominous "Soprus." On May 20 at Monkeytown, Stefan Németh will be playing with Attachedhands. The next night he will be at the Knitting Factory with KTL, IUD, and Bonedust.

SCHOOLAPALOOZA 2008
The Angel Orensanz Foundation Center for the Arts
172 Norfolk St. at Houston St.
Tuesday, May 27, $35-$40, 6:00-11:00
This year's annual benefit for the Children's Workshop School, PS361, will feature a fab lineup of New York-based artists, including hip-hop legend Lisa Lisa in a rare metropolitan area appearance, as well as garage band Les Sans Culottes, Spanish acoustic trio Eclectica, surf instrumentalists the Moto-Gators, the jazzy Gompson, and the swinging Ed Covi & Friends. In addition, there will be a silent auction, cash bar, and food from local restaurants, raising money for the Children's Workshop School, a progressive elementary school on East Twelfth St., founded in 1993 with a mission to teach students "to be open-minded and compassionate, to gain a sense of themselves and others, and to understand and appreciate the diversity of the community."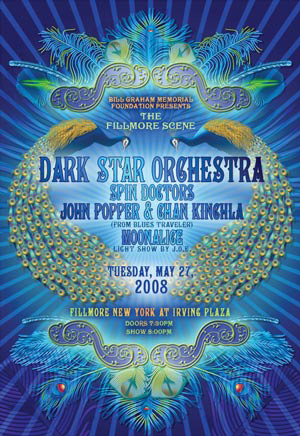 THE FILLMORE SCENE
The Fillmore New York at Irving Plaza
17 Irving Pl. between 14th & 15th Sts.
Tuesday, May 27, $65, 8:00
212-777-6800
http://www.billgrahamfoundation.org
The Bill Graham Memorial Foundation has put together an all-star cast of jam bands paying tribute to the great music promoter Bill Graham, featuring Dark Star Orchestra, Spin Doctors, John Popper and Chan Kinchla from Blues Traveler, and Moonalice, with a light show by J.O.E. Graham, who died tragically in a helicopter crash in 1991, lived a remarkable life, escaping Nazi Germany as a child, earning a Bronze Star and a Purple Heart fighting for the U.S. Army in Korea, and becoming an internationally renowned music promoter during the 1960s, staging shows by such acts as the Grateful Dead, Janis Joplin with Big Brother and the Holding Company, Santana, Jefferson Airplane, and so many more. The concert is a fundraiser for the Bill Graham Memorial Foundation, whose mission is "to give grants primarily in the areas of music, the arts and education, while also supporting social work, environmental protection, and spiritual and compassionate projects in our community." It should be a psychedelic spectacular, with surprise guests expected.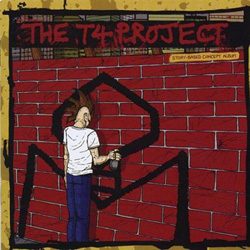 THE T4 PROJECT:
STORY-BASED CONCEPT ALBUM (Mental, May 13, 2008)

THE T4 PROJECT was a labor of love for Shannon Saint Ryan, who brings together a community of punk and hardcore musicians to rail against the state of America today and the contagious T4 virus, which "represents the ills of the world." Saint Ryan pulls no punches on the album, which features pseudo-commercials in between songs, mock ads hyping the military, health care, the food industry, homophobia, and censorship. Using a cool mix of musicians from such seminal bands as Subhumans, Bad Religion, the Damned, Circle Jerks, Porno for Pyros, Pennywise, Buzzcocks, and others, Saint Ryan tears through the story of Phil and Jackie, a young couple beginning a relationship amid violent protests that threaten their love — and their lives. While Saint Ryan composed the music and developed the story, which is told in comic-book form in the CD booklet, the lyrics are by Strung Out's Jason Cruz, who doesn't believe in subtlety. "We are not your property, made to bleed, to kill for greed," Saint Ryan sings in "Introduction." In "Protest" he declares, "We've all been bought / We've all been sold." In "Back Alley" he proclaims, "Our sin is our right to choose the way we live and die." And in "The Plot to Avenge" he promises, "Everything you've done to me, you'll pay!" Screaming guitars, pounding drums, and thundering bass power Saint Ryan's punk-rock paean to the state of a nation reeling from war both within and without its borders.
Riff's Rants & Raves: Art, Literature, and Food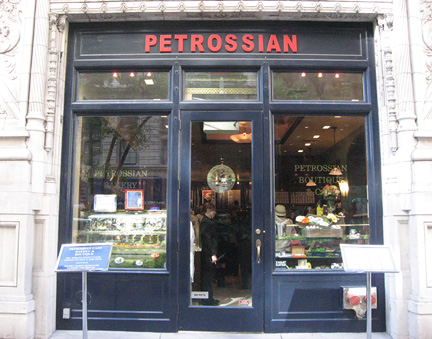 twi-ny/mdr
Petrossian boutique offers myriad delicacies
CAVIAR NIGHT
Petrossian
182 West 58th St. at Seventh Ave.
Pix fixe: $95
Wednesday nights in May from 6:00 to 10:00
Reservations: 212-245-2214
Petrossian was founded by Armenian brothers Melkoum and Mouchegh Petrossian in the 1920s, introducing Russian caviar to Paris and the rest of the world. Some eighty years later, the still-family-run business serves such signature caviars as Chataluga, Hackleback, Sevruga, Ossetra, and others. On Wednesdays, Petrossian is now hosting Caviar Night, where patrons will get a sampling of the exquisite Royal Transmontanus and Alverta or Persicus caviars with blinis and toast points, an assortment of Zakouskis hors d'oeuvres, and Paul Goerg Champagne and Petrossian Vodka for $95. You can also pick up caviar, smoked salmon, foie gras, and other delicacies at the boutique next door on Seventh Ave., which also features marvelous pastries and chocolates that you can bring home or eat in the café. Raisin miams are sweet and tender. We'll keep coming back just for the amazing canalet, vertical pastries with a crisp outside and a rich center. Madeleines come in three flavors; we prefer the exciting cranberry-lemon to the rather lackluster chocolate-orange. Delightful chocolate pearls are infused with cognac, vodka, or cherry, exploding in the mouth. Champignon caramels are small towers of chocolate and chewy caramel, while succes are tiny sandwiches of vanilla gianduj and milk chocolate croquant. Chocolate lovers should be sure to try the cacaoforté ganache, which is made of 99% dark chocolate and is remarkably not bitter. And you can't go wrong with either the pecan chocolate-chip cookie or the double chocolate pecan chocolate-chip cookie.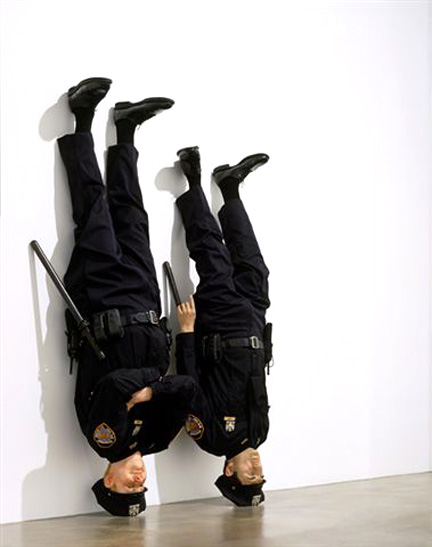 Maurizio Cattelan, "Frank and Jamie," wax and clothes, 2002
ATTENTION TO DETAIL
The FLAG Art Foundation
Chelsea Arts Tower
545 West 25th St. between Tenth & Eleventh Aves.
Open to the public: Saturday, May 17, 11:00 am - 2:00 pm
Admission: free
http://www.flagartfoundation.org

The FLAG Art Foundation is a new Chelsea gallery specializing in contemporary art, encompassing works from private collections. Started by Glenn Furhman, the cofounder of MSD Capital (which exclusively handles Michael Dell's fortune), FLAG is open to the public only on occasional Saturday afternoons, and even then only for a few hours. (It is next open May 17 from 11:00 am to 2:00 pm.) The space's initial exhibit, the Chuck Close-curated "Attention to Detail," is a wonderful collection of pieces by more than fifty artists who distort reality in inventive and creative ways. Visitors are greeted right off the elevator by Maurizio Cattelan's "Frank and Jamie," a wax sculpture of two life-size cops standing on their heads. What looks like a bale of hay is actually a large cube that Tara Donovan constructed using toothpicks. Despite its small size, Ron Mueck's "Spooning Couple" looks frighteningly alive, as does Tomoaki Suzuki's little painted wood statue, "Natascha." While further explanation might not be needed for two of Yuken Teruya's miniature trees cut out of bags, there's no way to know (unless you're already familiar with his work) that Thomas Demand's supposed photograph of grass is actually a photo of a carefully designed patch made of paper, one blade at a time. The museum-quality show also features paintings, drawings, collages, sculptures, and installations from an all-star lineup that includes Louise Bourgeois, Vija Celmins, Olafur Eliasson, Tom Friedman, Andreas Gursky, Damien Hirst, Jim Hodges, Ellsworth Kelly, Brice Marden, Richard Pettibone, Gerhard Richter, Ed Ruscha, Cindy Sherman, Thomas Struth, Rachel Whiteread, Fred Wilson, and others. May 17 will be one of the last chances for the public to see the show; in addition, there is also an exhibit on the tenth floor, "Drawn Together," with pieces by Mark Bradford, Dan Fischer, Ewan Gibbs, Hodges, Ellsworth Kelly, Marden, Richard Phillips, and Charles Ray.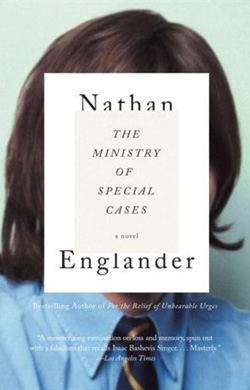 THE MINISTRY OF SPECIAL CASES
by Nathan Englander (Vintage, April 2008, $14.95)

In 1999, Nathan Englander made a splash in the literary world with his award-winning collection of short stories, FOR THE RELIEF OF UNBEARABLE URGES. In 2007 he published his sparkling debut novel, THE MINISTRY OF SPECIAL CASES, now available in trade paperback. Set in Buenos Aires in 1976, just as the military coup led by Jorge Rafael Videla forcibly removed Isabel Peron from office, the book follows the travails of the Poznan family amid Argentina's Dirty War. Kaddish Poznan, a worn-down hijo de puta (son of a whore), earns his living by chiseling away names on headstones in the graveyard of the Society of the Benevolent Self so modern-day Jews can eliminate their past, when their fathers and mothers were pimps and prostitutes struggling to survive. Kaddish's wife, Lillian, is a strong woman who works for a small insurance company. And their son, Pato, is a university student flirting with sex, drugs, and rock and roll. When a group of unidentified men come into the Poznans' home and take Pato, his parents are terrified that their son has become a desaparecido, one of the disappeared ones, and their relationship is challenged as they each have different ideas about how to get him back. THE MINISTRY OF SPECIAL CASES is about fighting to save and protect — or chisel away — one's identity. Both Kaddish and Lillian get nose jobs, much to Pato's consternation; he thinks they have betrayed their heritage and who they are. Kaddish accepts money to erase people's past, but he is uncertain about the future of his family. At one point early on, Lila Finkel, whose mother was known as Bryna the Vagina, says to Kaddish, "Which man is better off, the one without a future or the one without a past?" Lillian and Kaddish are marvelous characters, deeply complicated and endlessly fascinating. Every word of THE MINISTRY OF SPECIAL CASES crackles and burns, leaving readers exhilarated and exhausted.

All contents copyright 2008 by Mark Rifkin and twi-ny. All rights reserved. Contents may not be reprinted without written permission. Please note that events, dates, and prices are subject to change.
Send all comments, suggestions, reviews, and questions to mark.rifkin@twi-ny.com.
Please note that some e-mail clients may wrap links, so be sure to enter them fully into your browser.
To subscribe to this list, please e-mail the administrator at admin@twi-ny.com with the word Subscribe in the Subject line; be sure to ask for back issues, which are free as well. To unsubscribe from this list, please think it over twice before e-mailing the same address. Please let us know what you didn't like about this forum and we'll do our best to correct it in the future -- if we agree with you. If you would like to see something covered in a future issue, please let us know. Without you, there is no need for us to exist.

twi-ny top two dozen (or so)
weekly reminders & special events
UPPER WEST FEST 2008
Symphony Space (SS), 2537 Broadway at West 95th St.
The JCC in Manhattan (JCC), 344 Amsterdam Ave. at 76th St.
The Cathedral Church of St. John the Divine (CC), 1047 Amsterdam Ave. at 112th St.
Jazz at Lincoln Center (JALC), Dizzy's Club, Broadway at 60th St.
New-York Historical Society (NYHS), 170 Central Park West at 77th St.
Merkin Concert Hall at Kaufman Center (MKH), 129 West 67th St. at Broadway
212-864-5400
Tuesday, May 13 Tuesday Matinees: Stephen Beus, piano: works by Bach, Mendelssohn and Liszt, MKH, $14, 9:00 am
Tuesday, May 13 The Constitution and the Court in 2008, debate moderated by Benno C. Schmidt Jr., NYHS, $15, 6:30
Tuesday, May 13 Harlem Meer Social Hour — Urucureá Basket Weaving with Amazônia Brazil, Charles A. Dana Discovery Center, Central Park, 100th St. between Lenox & Fifth Aves., free, 6:30
Tuesday, May 13
through
Sunday, May 18 Celebrating Ellington: Juilliard Jazz Orchestra Conducted by Gerard Wilson, JALC, $20-$35 plus $5-$10 minimum
Wednesday, May 14 Thalia Book Club: The Autobiographer of a Biographer, with James Atlas (Saul Bellow), Edmund Morris (Theodore Roosevelt), and Stacy Schiff (Antoine de Saint-Exupéry), SS, $21-$25, 7:30
Thursday, May 15 String Theory: Janaki Trio with Alicia Lee, clarinet, works by Krzysztof Penderecki and a world premiere commission, SS, $25-$30, 7:30
Wednesday, May 14
and
Thursday, May 15 Becoming Israel: Can One Man's Name Guide a Nation's Destiny, theatrical performance by Storahtelling, followed by a Q&A with the cast, JCC, $20, 8:00
Friday, May 16 String Theory: Penderecki Quartet, $25-$30, SS, 7:30
Saturday, May 17 Wall to Wall Bach, featuring the American Symphony Orchestra conducted by Maestro Leon Botstein and other artists, free (reserved seats $150), SS, 10:30 am — 11:00 pm
Saturday, May 17 Lukas Ligeti & Colleen, MKH, $25-$30, 3:30
Sunday, May 18 Closing reception for "Made in New York" photography exhibit, Broadway Mall Community Center, 96th St. & Broadway, free, 2:30 — 5:30
Sunday, May 18 Fifth annual Mamapalooza Outdoor Extravaganza, featuring live music by Swingset Mamas and Housewives on Prozac, tot-rocker AudraRox, arts and crafts, food, and more, Summer on the Hudson @ Riverside Park South, Pier 1 at 70th St., free, 3:00 - 6:00

WORLD NOMADS
French Institute Alliance Française
Florence Gould Hall (FGH)
Tinker Auditorium (TA)
Le Skyroom (LS)
55 East 59th St. between Park & Madison Aves.
May 1-27
Tickets: $12-$25
212-307-4100
Tuesday, May 13 CinémaTuesdays — African Cinema: MUNA MOTO (Jean-Pierre Dikongue-Pipa, 1974), FGH, $10, 12:30 & 7:00
Tuesday, May 13 CinémaTuesdays — African Cinema: ALI ZAOUA (Nabil Ayouch, 2004), FGH, $10, 4:00 & 9:00
Wednesday, May 14 Talks: Claude Grunitzky on Transculturalism, LS, $12, 7:00
Tuesday, May 20 CinémaTuesdays — African Cinema: BAARA (Souleymane Cissé, 1978), FGH, $10, 12:30 & 7:00
Tuesday, May 20 CinémaTuesdays — African Cinema: DRUM (Zola Maseko, 2004), FGH, $10, 4:00 & 9:00
Tuesday, May 27 African Cinema: Homage to Ousmane Sembène, featuring DJ Spooky, FGH, $15, 7:00

WHISTLE ME HIGHER:
IMAGINARY DANCES FROM BINGO PALACE
SEMINARS WITH ARTISTS / OPEN STUDIO / WHITNEY LIVE
Whitney Museum of American Art
745 Madison Ave. at 75th St.
212-570-7715
Tuesday, May 13 Seminars with Artists: James Welling and Walead Beshty, $8, 7:00
Friday, May 16 Open Studio, Afternoons with Artists: Matthew Brannon, free tickets available in advance, 2:00
Friday, May 23 Open Studio, Afternoons with Artists: Amie Siegel, free tickets available in advance, 2:00
Friday, May 23 Whitney Live: Matthew Brannon and Lucky Dragons, pay-what-you-wish, 6:00
POLISH FILM SHOWCASE & PARTY
Club Studio B
259 Banker St. between Meserole Ave. & Calyer St.
Admission: free
Wednesday May 14 Opening night of the eleventh Brooklyn International Film Festival, featuring screenings of MY EMPIRE (Ted Ciesielski, US, 2008), FABRYKA (Factory) (Maciej Adamek, Poland, 2007), ALICJA WONDERLAND (Martin Gauvreau, Poland, 2008), and JAK TO JEST BYC MOJA MATKA (WHAT IT'S LIKE TO BE MY MOTHER) (Norah Mc Gettigan, Poland, 2007), with complimentary Stella Artois from 7:00 to 8:00, 7:00 pm — 2:00 am
AT LARGE
The Chocolate Factory
5-49 49th Ave., Long Island City
Tickets: $20
212-924-0077
http://www.chocolatefactory.org
http://www.dancetheaterworkshop.org
Wednesday, May 14
through
Saturday, May 17 Belgium-based Eleanor Bauer / Good Move collaborates with performers Femke Gyselinck and Manon Santkin, video artist Inneke Van Waeyenberghe, and others in a multimedia exploration of the state of contemporary dance, presented at the Chocolate Factory's Visiting Arts Program in conjunction with Dance Theater Workshop
THE CINEMATOGRAPHY OF ED LACHMAN
BAMcinematek / BAM Rose Cinemas
30 Lafayette Ave. between Ashland Pl. & St. Felix St.
Through May 20
718-636-4100
Wednesday, May 14 DESPERATELY SEEKING SUSAN (Susan Seidelman, 1985), 4:30, 6:50, 9:15
Thursday, May 15 IMPORT/EXPORT (Ulrich Seidl, 2007), 6:00, 9:00
Friday, May 16 HOW MUCH WOOD WOULD A WOODCHUCK CHUCK... (Werner Herzog 1976) and SONGS FOR DRELLA (Ed Lachman, 1990), 3:00, 6:00, 9:00
Saturday, May 17 FAR FROM HEAVEN (Todd Haynes, 2002), 2:00, 4:30, 6:50, 9:15
Sunday, May 18 THE VIRGIN SUICIDES (Sofia Coppola, 1999), 2:00, 4:30, 6:50, 9:15
Monday, May 19 BLANK GENERATION (Ulli Lommel, 1980), 4:30, 6:50, 9:15
Tuesday, May 20 LIGHT SLEEPER (Paul Schrader ,1991), 4:30, 6:50, 9:30
LOS CAMPESINOS!
Maxwell's, 1039 Washington St., Hoboken, 201-653-1703
Wednesday, May 14
Music Hall of Williamsburg, 66 North Sixth St., 212-260-4700
Thursday, May 15
Bowery Ballroom, 6 Delancey St. at Bowery
Monday, May 19, $15, 7:30
212-533-2111
http://www.musichallofwilliamsburg.com
Los Campesinos! are out on the road in support of their new CD, HOLD ON NOW, YOUNGSTERS… (Arts & Crafts, April 2008), with Titus Andronicus and Flying opening.
LIVE AT 5
Bryant Park
Sixth Ave. between 40th & 42nd Sts.
Admission: free
Wednesday, May 14 KJ Denhert, NewSong Singer-Songwriters Series, Fountain Terrace
Thursday, May 15 Joanne Brackeen, grand piano, Upper Terrace
Tuesday, May 20 String Trio, Mannes College the New School for Music, Upper Terrace
Wednesday, May 21 Jason Spooner, NewSong Singer-Songwriters Series, Upper Terrace
Thursday, May 22 Baby Soda Jazz Band, Upper Terrace
Tuesday, May 27 Bryant Park Quartet, Upper Terrace
PROSPECT.1: A BIENNIAL FOR NEW ORLEANS
The Great Hall at the Cooper Union
7 East Seventh St. at Third Ave.
Admission: free
212-353-4195
Thursday, May 15 Panel discussion featuring Prospect.1 New Orleans artists Janine Antoni, Jacqueline Humphries, Wangechi Mutu, and Nari Ward, moderated by Dan Cameron, 6:30
BONDE DO ROLE, THE DEATH SET, GANG
Bowery Ballroom
6 Delancey St. at Bowery
Tickets: $15
212-533-2111
Thursday, May 15 Bonde do Role, the Death Set, Gang, 8:00
SUICIDE, Aa (AKA BIG A LITTLE A), CHILD ABUSE
Europa
98-104 Meserole Ave. at Manhattan Ave.
Tickets: $20
718-383-5723
Thursday, May 15 Suicide, Aa (aka Big A little a), Child Abuse, 8:00
TAKE DANCE COMPANY
Miller Theatre, Columbia University
2960 Broadway at 116th St.
Tickets: $25
212-868-4444
Thursday, May 15
through
Saturday, May 17 Artistic director, choreographer, and dancer Takehiro Ueyama leads the Take Dance Company through two world premieres and several revivals, with guest artists James Samson, Amy Young, and John Eirich, including HUELLA, a solo piece danced by Ueyama and choreographed by Asun Noales; LOOKING FOR WATER, featuring elements of sign language and music by Damian Eckstein; ONE, set to music by Takemitu, Bach, Gerrard and Cassidy, and Barber; LOVE STORIES, inspired by the music of Pat Metheny
TIME TO ASCEND
K2 Lounge
Rubin Museum of Art
150 West 17th St. at Seventh Ave.
Free admission to galleries from 7:00 to 10:00
212-620-5000 ext 344
Friday May 16 Harlem in the Himalayas: The Edmar Castañeda Trio, $18-$20, 7:00
Friday May 16 PeaceTalks, with Michael Gill and Barbara Butterworth, free, 7:30
Friday May 16 Gallery Talk: Wrath Against the Machine — The Wrathful Form in Buddhist Art as a Means of Transformation, with Greg Franklin, free, 8:30
Friday May 16 CabaretCinema: LA CRAVAT (Alejandro Jodorowsky, 1957), free with $7 bar minimum, 9:30
NOT JUST JAZZ: JUDY COLLINS IN CONCERT
The Town Hall
123 West 43rd St. between Sixth Ave. & Broadway
Tickets: $35-$40
212-608-0555
http://www.wildflowerrecords.com
http://www.the-townhall-nyc.org
Friday, May 16 Judy Collins performs songs from throughout her career, with country-folk artist Amy Speace opening, 8:00
LOST JAZZ SHRINES: REMEMBERING WOODY SHAW
TriBeCa Performing Arts Center
199 Chambers St. between Greenwich & West St.
Tickets: $25
212-220-1460
Friday, May 16 Jazz Forum featuring Victor Lewis, drummer, Sean Jones, trumpet, Ryan Kisor, trumpet, Larry Willis, piano, and David Williams, drums, 8:30
NO FUN FEST
The Knitting Factory
74 Leonard St. between Broadway & Church St.
Tickets: $18-$20
Three-day pass: $50
212-219-3132
http://www.knittingfactory.com
Friday, May 16
through
Sunday, May 18 Three days of avant-garde, experimental noise, featuring such bands as Tony Conrad + MV Carbon, Thurston Moore + Nancy Garcia, Sewer Election, Demons, Nevari Butchers, Pax Titania, the Haters, Lee Ranaldo: Blind Piece #2, Werewolf Jerusalem, the Cathode Terror Secretion, and many others
GOOD MORNING AMERICA CONCERT SERIES
Bryant Park Upper Terrace
42nd St. between Fifth & Sixth Aves.
Fridays through August 24 at 7:00 am
Admission: free
Friday, May 16 Josh Groban
Friday, May 23 Counting Crows
JEWELRY ON SCREEN
Neue Galerie, Café Fledermaus
1048 Fifth Ave. at 86th St.
Fridays through June 27 at 6:30
Admission: free
212-628-6200
Friday, May 16 TO CATCH A THIEF (Alfred Hitchcock, 1955)
Friday, May 23 BREAKFAST AT TIFFANY'S (Blake Edwards, 1961)
IT'S MY PARK! DAY
Multiple parks throughout New York City
Admission: free
212-360-1310
Saturday, May 17 Help celebrate and care for New York City's parks with special events at parks throughout the five boroughs, including cell-phone recycling, cleaning, planting flowers, sprucing up playgrounds, painting, spreading mulch, maintaining ball fields, and more at such locations as the Williamsburg Oval and St. Mary's Park in the Bronx, Fort Greene and Prospect Parks in Brooklyn, Sara D. Roosevelt and Marcus Garvey Parks in Manhattan, Travers and Rufus King Parks in Queens, and Wolfe's Pond Park on Staten Island, sponsored by the Partnerships for Parks
TASTE OF TRIBECA
Duane St. between Greenwich & Hudson Sts.
Six-taste cards: $40 in advance, $45 day of event
212-465-3407
Saturday, May 17 More than fifty TriBeCa restaurants, including Chanterelle, Bouley, Bubby's, Danube, Capsouto Freres, Tribeca Grill, Landmarc, the Palm, the Odeon, City Hall, Edward's, Thalassa, Dylan Prime, and Salaam Bombay, will be serving signature dishes, with proceeds benefiting P.S. 234 and P.S. 150, in addition to live music by the Brilliant Show, Santanaria, the Orchid Thieves, Vinny Mongeluzo the stage guy, and Dave Sasscer, a Kids Zone, and walking tours, 11:30 am — 3:00 pm
A DAY OF COLLABORATIVE PERFORMANCE
Bronx Museum of the Arts
1040 Grand Concourse at 165th St.
Admission: $5
718-681-6000
Saturday, May 17 Continuous carnival-like performances by contemporary and historic collectives, including the Waitresses' "All Waitresses Marching Band Parade at 12 noon, Christal Brown/INSPIRIT's "Project: Becoming: On Display" from 12 noon to 2:30 (with a special performance at 3:00), 6+'s "Walking Bethlehem" from 12 noon to 3:00, Ridykeulous's "That Looks Really Cute on You!" from 12 noon to 6:00, GuerrillaGirlsBroadband's "Feminist Recruiting Center" from 1:00 to 3:00, gender protest from the Brainstormers with GuerrilaGirls from 1:30 to 3:30, Spiderwoman Theater at 3:15, the Waitresses' "Unhappy Hour" at 4:00, and Ridykeulous destroying "That Looks Really Cute on You!" at 5:00
SATURDAY NIGHT BY MOONLIGHT, FLASHLIGHT, AND FOOTLIGHTS: A WALK
Historic Green-Wood Cemetery
25th St. at Fifth Ave., Brooklyn
Admission: $20
718-768-7300
Saturday, May 17 Special walk to the catacombs, with live accordion music, attendees should bring their own flashlight, 7:45
FROM THE WHITE CLIFFS OF DOVER
Church of St. Luke in the Field
487 Hudson St. south of Christopher St.
Tickets: $15-$20
212-517-1776
http://www.westvillagechorale.org
Saturday, May 17 The West Village Chorale's multiyear series of musical journeys around the world heads to Ireland for a selection of choral gems by Byrd, Tallis, and Purcell, a smattering of Victorians by Parry, Britten, Rutter, and Stanford & Sullivan, and an excerpt from Joby Talbot's new work, "The Path of Miracles," conducted by Michael Conley and featuring Elena Belli on piano, 8:00
MUSIC OF FRENCH COMPOSERS
Church of St. Paul the Apostle
Columbus Ave. at 60th St.
Tickets: $15-$35
917-326-1422
http://www.nycmasterchorale.org
Saturday, May 17, 8:00
and
Sunday, May 18, 2008, 3:00 The New York City Master Chorale plays an all-French program featuring Faure: Requiem, presented by the Lower Manhattan Cultural Council
JEWS AND POWER: A FESTIVAL OF IDEAS
Times Center
242 West 41st St.
Festival pass: $20
Kosher box lunch: $12
866-468-7619
Sunday, May 18 "From Another Shore": Moses and Korach in the Wilderness, with Avivah Gottlieb Zornberg, Times Center Hall, 11:00 am
Sunday, May 18 Culture, Taste, and Power, Leon Botstein and Stephen Greenblatt in conversation with James Shapiro, Times Center Stage, 11:00 am
Sunday, May 18 Israel, America, and Jewish Power, Paul Berman and Aaron David Miller in conversation with Warren Bass, Times Center Hall, 1:30
Sunday, May 18 Sex, Power, and the Holocaust Film, Dagmar Herzog and Stuart Klawans in conversation with Gideon Lewis-Kraus, Times Center Stage, 1:30
Sunday, May 18 Authority and Revolt, Shalom Auslander and Rebecca Goldstein in conversation with Sara Ivry, Times Center Hall, 3:30
Sunday, May 18 Jews and Power, Cynthia Ozick and Ruth Wisse in conversation with Bret Stephens, Times Center Stage, 3:30
L.E.S. MOVIE DATE NIGHT
Outdoor parking lot on Broome St. between Essex & Ludlow Sts.
Admission: free
212-226-9010
http://www.LowerEastSideNY.com
Saturday, May 17 CROSSING DELANCEY (Joan Micklin Silver, 1988), doors at 8:00, screening at 9:00
SUNDAY AT THE MET: "JEFF KOONS ON THE ROOF"
Metropolitan Museum of Art
1000 Fifth Ave. at 82nd St.
Suggested admission: $20
212-535-7710
Sunday, May 18 Lecture by Jeff Koons, free tickets available at the ticket kiosk in the lobby in front of the Grace Rainey Rogers Auditorium starting at 10:00 am the day of the event, lecture in the auditorium at 3:00
I WISH TO SAY
Bryant Park
Sixth Ave. between 40th & 42nd Sts.
Admission: free
Monday, May 19
and
Tuesday, May 20 Performance artist Sheryl Oring will type out postcards to the next president, dictated by anyone who stops by and wants to send a message to the White House, 12:30 — 2:30
TALKING ABOUT GUSTON:
MUSA MAYER AND WILLIAM CORBETT
The Morgan Library & Museum
225 Madison Ave. at 36th St.
Tickets: $10
212-685-0008
Tuesday, May 20 Readings and discussion with Philip Guston's daughter, Musa Mayer, author of NIGHT STUDIO: A MEMOIR OF PHILIP GUSTON, and William Corbett, author of PHILIP GUSTON'S LATE WORK: A MEMOIR, 6:30
EMF LAB AT THE FLEA THEATER
The Flea Theater
41 White St. between Broadway & Church St.
Tickets : $15
888-749-9998 / 212-226-2407
The Electronic Music Foundation and the Flea Theater collaborate on three days of electronic music exploring the convergence of sound and technology, featuring live multimedia performances and other works by such artists as Todd Reynolds (over video by Luke DuBois), Text of Light (with Alan Licht and Lee Ranaldo playing over film by Stan Brakhage), Rusty Limited Company, Eric km Clark, Airband, Matthew Burtner, Evan Antonellis, Jenny Olivia Johnson, Aleksei Stevens, Jennifer Stock, and many more.
Tuesday, May 20 Classical Electricity, 7:00
Wednesday, May 21 Visual Music, 7:00
Thursday, May 22 Ensemble or Band, 7:00
CAN THERE BE A PROPHETIC SPIRIT IN AMERICA TODAY?
Museum of Jewish Heritage — A Living Memorial to the Holocaust
36 Battery Pl.
Tickets: $20
646-437-4200
Wednesday, May 21 Discussion with professors Cornel West of Princeton and Susannah Heschel of Dartmouth, 7:00
MOVING IMAGE AT THE TIMES CENTER:
STANLEY TUCCI AND FRIENDS
Times Center
242 West 41st St.
Tickets: $15
718-784-4520
Wednesday, May 21 Actor-director Stanley Tucci in conversation with Gay Talese, with clips and guest speakers, including Steve Buscemi, presented by the Museum of the Moving Image, 7:00
SWAY MACHINERY
Performance Project at University Settlement
184 Eldridge St. at Rivington St.
Tickets: $15
212-674-9120
http://www.universitysettlement.org/news/arts.html
Wednesday, May 21 Jeremiah Lockwood's Sway Machinery plays its eclectic beats, with Brooklyn-based Likeness to Lily, 8:00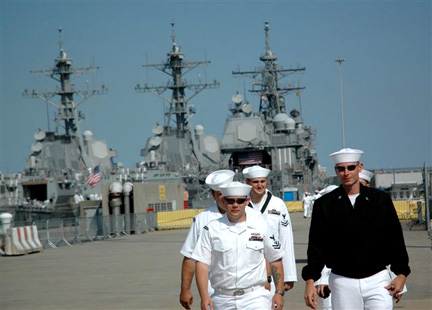 U.S Navy photo by Mass Communication Specialist 2nd Class Jason B. Trevett
Sailors will invade the city as the annual Fleet Week celebration comes to town
FLEET WEEK 2008
Multiple venues
Wednesday, May 21
through
Wednesday, May 28 Even with the USS Intrepid out being renovated and the Sea, Air & Space Museum closed through November, there will be plenty of Fleet Week events at such locations as Cunningham Park, Stapleton Pier, Pier 90, Eisenhower Park, Times Square, and Central Park
POOR MAN'S BOOGIE
37 Arts — Baryshnikov Arts Center
Howard Gilman Performance Space
450 West 37th St., fourth floor, at Tenth Ave.
Tickets: $15
http://www.baryshnikovdancefoundation.org
http://www.universitysettlement.org
Thursday, May 22
and
Friday, May 23 DASSdance (daniel and some super friends) performs full-length multimedia piece POOR MAN'S BOOGIE, benefit for Performance Project at University Settlement, 8:00
DAVID GRISMAN BLUEGRASS EXPERIENCE
B.B. King Blues Club
237 West 42nd St. between Seventh & Eighth Aves.
Tickets: $35-$38
212-997-4144
Friday, May 23 Bluegrass genius David Grisman, featuring Keith Little on five-string banjo, guitar, and vocals, Jim Nunally on guitar and vocals, Chad Manning on fiddle, Samson Grisman on bass, and David Grisman on mandolin and vocals, 8:00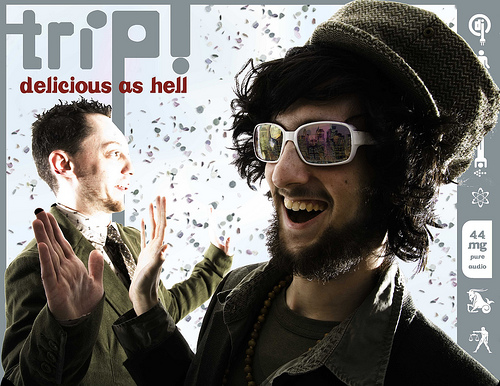 TRIP! CD RELEASE PARTY
3rd Ward
195 Morgan Ave.
Admission: $7
718-715-4961
http://www.3rdward.com/news/view/trip-cd-release-party-friday,-may-23rd
Friday, May 23 Trip! CD release party, with Metermaids, Domer, Broke MC, Mobil, Dial 81, Kats + Smutvillian with Folkore, and Kurt Catalog, 9:00
INTERNATIONAL TOY THEATER FESTIVAL
St. Ann's Warehouse
38 Water St.
Tickets: $15-$20
Festival pass: $50
718-254-8779
http://www.stannswarehouse.org
http://www.greatsmallworks.org
Friday, May 23
through
Sunday, June 1 Eighth annual event featuring new, experimental, and traditional toy theater, along with the Temporary Toy Theater Museum
WHY I RIDE ART CRAWL
Hudson River Greenway at 79th St. Boat Basin
Admission: free
718-782-4842
Saturday, May 24 Group bike ride from the Upper West Side to Lower East Side exhibition spaces as part of Bike Month NYC, 10:00 am — 3:00 pm
SILENT ART AUCTION FUNDRAISER (& BOOK SALE)
Poetry Project
St. Mark's Church-in-the-Bowery
Second Ave. and Tenth St.
Admission: $15
212-674-0910
Saturday, May 24 Third biennial auction and fundraiser, featuring live performances and readings (by Richard Hell, Jeni Olin, Franklin Bruno, and others), complimentary wine bar, and bidding on works by such artists and writers as Kiki Smith, Yoko Ono, Yvonne Jacquette, Anne Waldman, Andrei Codrescu, Reg E.. Gaines, Robert Creeley, Richard Hell, Legs McNeil, Ed Ruscha, Jim Dine, May Pang, Terry Southern, Michael Cooper, Mick Rock, Lee Friedlander, Lawrence Ferlinghetti, Clark Coolidge, Peter Schjeldahl, Amiri Baraka, Allen Ginsberg, Ted Berrigan & Fairfield Porter, Justin Theroux, Marc Andre Robinson, Jeffrey Wright, and many more, 2:00 —7:00
X / THE DETROIT COBRAS
The Fillmore New York at Irving Plaza
17 Irving Pl. between 14th & 15th Sts.
Tickets: $25
212-777-6800
Saturday, May 24 X, the Detroit Cobras, 8:00
WASHINGTON SQUARE OUTDOOR ART EXHIBIT
Washington Square Park area
Information booth at corner of Eighth St. & University Pl.
Admission: free
212-982-6255
http://www.washingtonsquareoutdoorartexhibit.org
Saturday, May 24
through
Monday, May 26 Works will be on display and for sale from more than two hundred international artists, including fine arts, photography, sculpture, jewelry, ceramics, and mixed media, 12 noon — 6:00
SUNDAY BEST
The Yard
400 Carroll St. between Bond & Nevins Sts.
Sundays from 3:00 — 9:00 through August 31
Cover: $8
Sunday, May 25 Dance party with special guest Roy Davis Jr., resident DJs Eamon Harkin, Justin Carter, and Doug Singer, and barbecue
HARLEM MEER PERFORMANCE FESTIVAL
Charles A. Dana Discovery Center
Inside Central Park at 110th St. & Lenox Ave.
Sundays at 4:00 through September 28
Admission: free
212-860-1370
Sunday, May 25 Abdoulaye Diabate & Super Manden
KIJISCAPE IV
Theater for the New City
155 First Ave. between. Ninth & Tenth Sts
Admission: free
http://www.theaterforthenewcity.net
Sunday, May 25 human kinetics movement arts presents a sculptural installation in the lobby as part of the thirteenth annual Lower East Side Festival of the Arts, which runs from May 23 through May 25, 7:00
IN CLASSIC STYLE
Barnes & Noble Lincoln Triangle
1972 Broadway at West 66th St.
Admission: free
212-595-6859
http://storelocator.barnesandnoble.com
Tuesday, May 27 Nancy Ellison, IN CLASSIC STYLE: THE SPLENDOR OF AMERICAN BALLET THEATRE, book signing and slide presentation with ABT dancers, 7:00
LATIN SIDE OF WAYNE SHORTER
FEATURING CONRAD HERWIG
Blue Note
131 West Third St.
Tickets: table $25, bar $15
212-475-8592
Tuesday, May 27
and
Wednesday, May 28 CD release party with Conrad Herwig, trombone, Mike Rodriguez, trumpet, Ruben Rodriguez, bass, Pedro Martinez, percussion, Bill O'Connell, piano, and Robbie Amin, drums, 8:00 & 10:30
TRUTH BE TOLD:
THE NEW SCHOOL DOCUMENTARY FILM FESTIVAL
The New School, John Tishman Auditorium
66 West 12th St. between Fifth & Sixth Aves.
Admission: free
212-980-3942
Tuesday, May 27
through
Thursday, May 29 Three nights of documentaries from students from the Graduate Certificate in Documentary Media Studies class of 2008, 700
AN EVENING TO BENEFIT WATER PROJECTS IN KENYA
Bowery Ballroom
6 Delancey St. at Bowery
Tickets: $33 (includes $20 donation to the cause)
212-533-2111
http://www.charitywater.org/thekin
Thursday, May 29 Fundraiser for Thirst Thing's First, doors at 8:00, Jealousy Curve at 9:00, Army of Me at 10:00, and the Kin at 11:00