Twi-ny, This Week in New York
Helen Levitt, "New York," silver print, circa 1940 / © Estate of Helen Levitt, courtesy of Laurence Miller Gallery
HELEN LEVITT: A MEMORIAL TRIBUTE
Laurence Miller Gallery
20 West 57th St. between Fifth & Sixth Aves., third floor
Through June 26 (closed Sunday and Monday)
Admission: free
212-397-3930
http://www.laurencemillergallery.com
On March 29, one of the world's most influential and beloved photographers, Helen Levitt, passed away in her home in Greenwich Village at the age of ninety-five. For nearly sixty years, the Brooklyn-born cat fancier documented the street life of New York City, taking iconic shots, in black and white and color, that still resonate today. A new Levitt exhibition was already in the works when she died, so Laurence Miller has expanded it to include never-before-seen first proofs, subway photos she took with Walker Evans's camera, and IN THE STREET, the short documentary she made with Janice Loeb and James Agee in 1944. The small proofs, which offer a unique look into Levitt's working process — and which Levitt did not want shown until after her death — are displayed in the gallery's second room, which has been painted yellow for this occasion, to give them a special presence. (It marked the first time in his quarter-century career that Miller has used a color other than white for an exhibit.)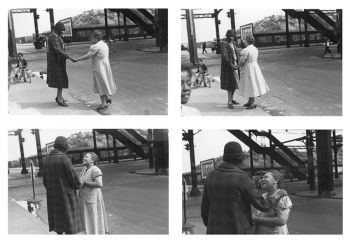 © Estate of Helen Levitt / Courtesy of Laurence Miller Gallery, New York
New exhibit features never-before-shown artist proofs
Levitt, who was influenced by both Henri Cartier-Bresson and Evans, had a remarkable knack for capturing the streets of the city in all their human glory, from a couple sitting in chairs on a sidewalk to kids playing around a spouting fire hydrant, from a woman in a fur coat pausing in front of a sign advertising spaghetti for twenty-five cents to people in hats on the subway, from a child sitting in a window to roosters on parade — in addition to pigs in New Hampshire. Her pictures breathe with the life and energy of the streets, populated by children at play, busy men and women taking a break, or a group of friends gathered around a mailbox. Even photos of chalk drawings come alive when seen through her lens. One of the most fascinating aspects of her photographs is how natural her subjects are; not only did they not pose for her, they didn't always know their picture was being taken at all, as Levitt often used a side view camera so it appeared that she was shooting in a different direction. This tribute is the don't-miss exhibition of the week, especially with the New York Photo Festival in town.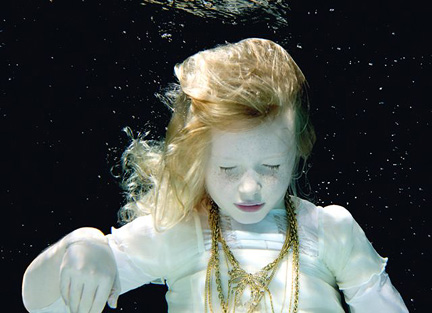 Courtesy Galerie Philippe Chaume, Paris
René Hallen and Radka Leitmeritz, "Under Water," Lambda print, 2008-2009
NEW YORK PHOTO FESTIVAL 2009
St. Ann's Warehouse and other DUMBO locations
38 Water St.
May 13-17
Tickets: $21 (up to $415 for portfolio review, guided tour $20, catalog $7)
http://www.nyphotofestival.com
Some thirty thousand people are expected to attend the second annual New York Photo Festival, held in DUMBO. This year's curators are Jody Quon, William A. Ewing, Chris Boot, and Jon Levy, who have put together a program of workshops, seminars, artist discussions, live performances, book signings, portfolio reviews, and, of course, the exhibition pavilions in St. Ann's Warehouse. Below are only some of the highlights; there will also be presentations by Virginie Otth, Grant Worth, René & Radka, Seba Kurtis, Louie Palu, Jacob Houldt, Tim Hetherington, Anoush Abrar, Ewing, Levy, Quon, and others.
Wednesday, May 13
through
Sunday, May 17 D.U.M.B.O. Show, curated by Patrick McMullan, powerHouse Arena, 37 Main St.
Wednesday, May 13
through
Sunday, May 17 "Magic Trick" by L'Atelier Reflexe & Cobertura Photo, featuring Polaroid pictures by Véronique Bourgin, Martin Kippenberger, Anders Petersen, Juli Susin, and others, Tobacco Warehouse
Wednesday, May 13
through
Sunday, May 17 "(super)natural," curated by LUCI, featuring works by Charles Atherton, Marla Leigh Caplan, Rachel Hulin, Sarah Palmer, Hannah Whitaker, and others, Tobacco Warehouse
Wednesday, May 13
through
Sunday, May 17 "Eyemazing — Paintings by Kinmiko Yoshida"; "American Youth," by the photographers of Redux Pictures; Thessaloniki Museum of Photography; New Visionaires 2008, by the winners of the 2008 New York Photo Awards; and Tierney Fellowship Show, Tobacco Warehouse
Wednesday, May 13
through
Sunday, May 17 FotoVisura presents the Latin American Pavilion: "Tu/Mi Placer," curated by Adriana Teresa, and "Anti-Plano," 81 Front St.
Thursday, May 14 Artist Talk: Edith Maybin, St. Ann's Warehouse, free with festival admission, 2:00
Thursday, May 14 Gay Men Play with Chris Boot, St. Ann's Warehouse, free with festival admission, 4:00
Thursday, May 14 Aperture Presents — Artist-Publisher: Mass Produced for Mass Dissemination, with Jason Fulford, Leann Shapton, and Richard Renaldi, moderated by Lesley A. Martin, St. Ann's Warehouse, free with festival admission, 5:00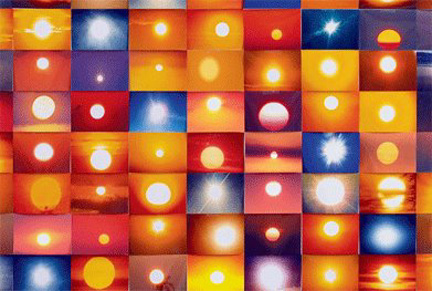 © Penelope Umbrico
Penelope Umbrico, "3,221,717 Suns from Flickr (Partial) 3/31/08"

Friday, May 15 Artist Talk: Juraj Lipscher, St. Ann's Warehouse, free with festival admission, 10:00 am
Friday, May 15 Artist Talk: Larry Fink, followed by Q&A and book signing, St. Ann's Warehouse, free with festival admission, 3:00
Friday, May 15 Gay Men Play with Chris Boot: Queer Art Photo Now with Brian Clamp, Jimi Dams, and Bruno Ceschel, St. Ann's Warehouse, free with festival admission, 4:00
Friday, May 15 Aperture Presents — The Edge of Vision: Abstraction in Contemporary Photography, with Jack Sal, Silvio Wolf, and Penelope Umbrico, moderated by Lyle Rexer, St. Ann's Warehouse, free with festival admission, 5:00
Saturday May 16 Gay Men Play with Chris Boot: Photography of Sex between Men with Christopher Clary, Slava Mogutin, and Ulli Richter, St. Ann's Warehouse, free with festival admission, 4:00
Saturday May 16 Aperture Presents — Cuddle, with Svetlana Mintcheva and other panelists, moderated by Bill Hunt, St. Ann's Warehouse, free with festival admission, 5:00
Saturday May 16 Film Screening: New Documentations, followed by Q&A, St. Ann's Warehouse, free with festival admission, 8:00
Sunday, May 17 Aperture Presents — Photography After Frank: A Conversation between Philip Gefter and Andy Grundberg, moderated by Bill Hunt, St. Ann's Warehouse, free with festival admission, 5:00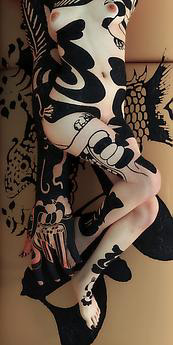 © Kim Joon
Kim Joon,
"Cradle Song — Vivienne Westwood,"
digital print, 2009
ASIAN CONTEMPORARY ART WEEK
Multiple venues
Through May 18
Admission: free
Asian Contemporary Art Week continues through May 18, featuring artist talks, opening receptions, panel discussions, video screenings, live performances, and more at galleries and museums in Manhattan, Brooklyn, and Queens. In honor of the New York Photo Festival, we have listed below four photographic exhibitions by Asian and Asian-American artists, all in Chelsea. Visit the above Web site to see where you can also check out the latest in Asian painting, sculpture, drawing, video, installation art, and other disciplines.
Thursday, May 14 Korean Contemporary Photography: Layered Expressions, opening reception and lecture, Gana Art Gallery, 568 West 25th St. at Eleventh Ave., 6:00
Thursday, May 14 Kim Joon, opening reception, Sundaram Tagore Gallery, 547 West 27th St. between Tenth & Eleventh Aves., 6:00
Thursday, May 14 Unrevealed: Lisa Ross, opening reception with Lisa Ross in conversation with Nan Goldin, Daneyal Mahmood Gallery, 511 West 25th St. between Tenth & Eleventh Aves., third floor, 6:00 — 8:00
Thursday, May 14 Why I Started Photography, opening reception and artist talk with Takahiro Kaneyama, M.Y. Art Prospects, 547 West 27th St. between Tenth & Eleventh Aves., second floor, 7:00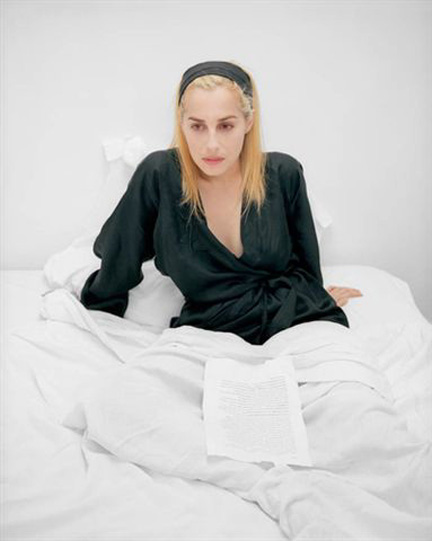 © Sophie Calle
Sophie Calle, "Take Care of Yourself. Amira Casar, Actress," 2007
TAKE CARE OF YOURSELF: SOPHIE CALLE
Paula Cooper Gallery
534 West 21st St. between Tenth & Eleventh Aves.
Through June 6 (closed Sunday & Monday)
Admission: free
212-255-1105
http://www.paulacoopergallery.com
After receiving a confounding and confusing break-up e-mail from her lover, Sophie Calle decided to respond to his letter by inviting 107 women from all walks of life to read and respond to the letter on camera — in still shots and video — as if the message were meant for them and they had just received it. "I asked [them] to interpret this letter. To analyze it, comment on it, dance it, sing it. Dissect it. Exhaust it. Understand it for me. Answer for me. It was a way of taking the time to break up. A way of taking care of myself," Calle explains. The result is a brilliant tour de force, a moving, powerful display of raw emotion and revenge, of pain and longing, of loneliness and resurrection. Calle enlists proofreaders, philosophers, designers, musicians, teachers, writers, actors, dancers, and others who deconstruct the letter specific to their profession, turning it inside out and upside down in remarkably clever and exciting ways that are nothing short of breathtaking. Since her lover chose to break up with her via e-mail — as silently as possible, with no immediate face-to-face response possible — Calle has none of the women speak in the short filmed pieces, answering him in the same silence, except for a parrot, who obviously can't think for itself. "I would have liked things to have turned out differently," the man writes at the end of the letter. If he sees this exhibition, it will change things indeed. First shown at the 2007 Venice Biennial, "Take Care of Yourself" is a spectacular examination of the end of a relationship — and how to move on.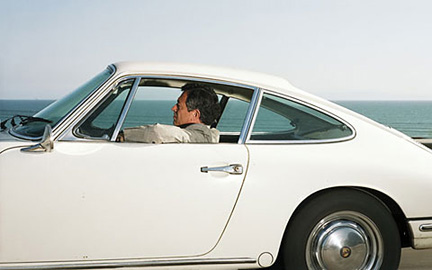 © Andrew Bush
Andrew Bush, "Man traveling southbound at 67 mph on U.S. Route 101 near Montecito, California, at 6:31 pm on or around Sunday, August 28, 1994," digital C print, 1994
VECTOR PORTRAITS: ANDREW BUSH
Yossi Milo Gallery, 525 West 25th St. between Tenth & Eleventh Aves., through June 27, 212-414-0370
Julie Saul, 535 West 22nd St. between Tenth & Eleventh Aves., through May 23, 212-627-2410
Closed Monday & Tuesday
Admission: free
With the New York Photo Festival in town, photography enthusiasts can continue their exploration of the printed image with a walk through the Chelsea art district, which currently features numerous intriguing and fascinating photo exhibits, all free. At Yossi Milo and Julie Saul, "Vector Portraits" consists of photos of people in cars taken by L.A.-based photographer Andrew Bush. Using a camera mounted on the side of his own vehicle, Bush snapped shots of cars next to him, whether they were stopped, they were speeding past him, or he was speeding past them. He chose men and women in older models of varying colors, lending the pictures an old-fashioned yet timeless quality even though they were all taken between 1989 and 1997. (The exhibit at Julie Saul is supplemented with other photo series by Bush.)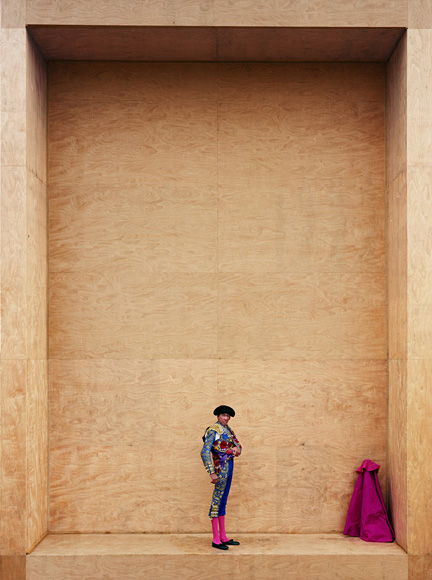 © Coke Wisdom O'Neal
Coke Wisdom O'Neal, "David Renk," C print, 2009
THE BOX (TEXAS): COKE WISDOM O'NEAL
Mixed Greens
531 West 26th St. between Tenth & Eleventh Aves.
Through May 23 (closed Monday & Tuesday)
Admission: free
212-331-8888
At first look, you'll think that Coke Wisdom O'Neal's photographs of people in vertical wooden boxes have been digitally manipulated so as to appear that the tiny subjects are almost lost in the huge background , but in actuality the men, women, and children of San Isidro, Texas, are posing inside a twenty-two-foot-high sculpture that they helped construct. The results are both very funny and a little frightening, offering a unique visual perspective that is hard to get used to. O'Neal, using an old-fashioned camera, captured a former bullfighter, a church choir, a married couple, and others in the box, posing however they wanted. A short but cool DVD documents the making of the fascinating portraits.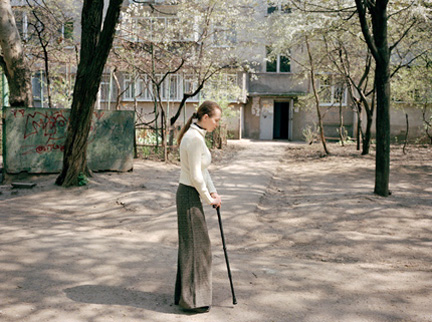 © Andrea Diefenbach
Andrea Diefenbach, "Untitled," chromogenic print, Odessa, 2006
ALSO IN CHELSEA
Multiple galleries
Closed Monday & Tuesday
Admission: free
http://chelseaartgalleries.com
At ClampArt (through June 6, 521-531 West 25th St., www.clampart.com), "Impact" consists of Stan Gaz's photographs of craters made by meteorites, while Andrea Diefenbach's "AIDS in Odessa" features shots of HIV-positive Ukrainian men and women. At Jenkins Johnson (through May 30, 521 West 26th St., www.jenkinsjohnsongallery.com), Gerald Förster continues his examination of global culture and identity with "LightYears," comprising four-inch-by-five-inch color Polaroids taken around the world, with his subjects in traditional dress. In addition, there are two side-by-side life-size black-and-white portraits, of a six-year-old Shinto boy and an adult Tendai monk, as well as some of Förster's living portraits displayed in acrylic cubes, short videos of the subjects as they pose. The video of the two geishas seemingly about to kiss was one of the hits of the recent Scope festival. Jenkins Johnson is also showing Chris Raecker's "A Midnight Carnival," pigment ink-jet prints of a Midwest carnival in which Raecker has removed the subjects from their original context and placed them against a darkening sky, making it look like, for example, a child in a ride is flyting dangerously in the air.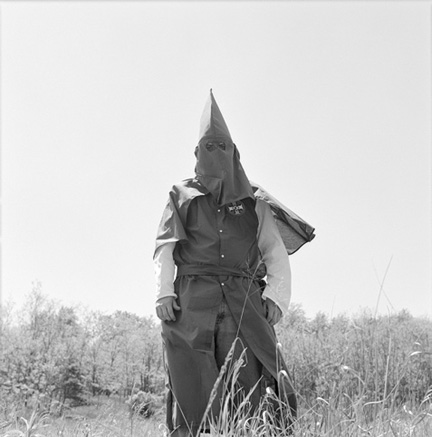 © Max Snow
Max Snow, "Klansman #1," 2008, is part of "Black Mondays" exhibit at Kathleen Cullen

At Bruce Silverstein (through June 13, 535 West 24th St., www.brucesilverstein.com), Leonard Freed's "Black in White America" casts a sharp eye on segregation and social unrest during the 1960s. At Kathleen Cullen Fine Arts (through June 10, 526 West 26th St., www.kathleencullenfinearts.com), Max Snow, Peter Beard, Sebastian Black, the Harlem Shakes, and Hunter Thompson are among the artists that make up "Black Mondays," depicting the darkness in today's society, from the economic downturn to terrorism and everything in between.

© Chuck Close
Chuck Close, "Self-Portrait/Five Part," Jacquard tapestry, 2009

Patricia Heal's dark, shadowy portraits and still-lifes make up "Quiescence," at Robin Rice (through June 21, 325 West Eleventh St., www.robinricegallery.com). The current group show at Danziger Projects (through June 26, 534 West 24th St., www.danzigerprojects.com), includes works by Justine Kurland, Abelardo Morrell, and Scott Peterman. Mary Mattingly creates brave new worlds in "Nomadographies," at Robert Mann (through May 23, 210 Eleventh Ave., www.robertmann.com). You'll think you're gazing upon sparkling photographs by Chuck Close at Pace Wildenstein (through June 20, 534 West 25th St., www.pacewildenstein.com), but his large-scale depictions of photographers Lorna Simpson, Cindy Sherman, Andres Serrano, and others are actually tapestries made on a Jacquard loom in Belgium, based on photographs.

AJWS GLOBAL CIRCLE:
DOCUMENTING LIFE IN A WORLD OF RISK
James Cohan Gallery
533 West 26th St. between Tenth & Eleventh Aves.
RSVP required
212-792-2836
Monday, May 18 An evening with award-winning photojournalist Ron Haviv, discussing his work in Darfur, Democratic Republic of Congo, and other international hotspots, sponsored by American Jewish World Service for young professionals, 7:00
Contest of the Week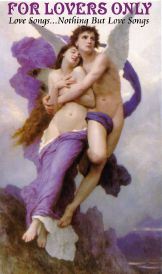 FOR LOVERS ONLY (LOVE SONGS...
NOTHING BUT LOVE SONGS)
New World Stages
340 West 50th St. between Eighth & Ninth Aves.
Sunday 7:00, Monday 8:00, Friday 7:30, Saturday 9:00
Tickets: $20-$60 (premium seats $101.50)
Promising "a cavalcade of love songs from pop to Puccini, from Broadway and around the world," FOR LOVERS ONLY (LOVE SONGS...NOTHING BUT LOVE SONGS) is a new musical revue that features approximately 100 love songs performed in the course of about 110 minutes, by a cast that includes Glenn Seven Allen, Monica Patton, Dominique Plaisant, Trisha Rapier, and Kevin Vortmann. Musical director Ken Lundie and director-choreographer Christopher Scott keep things moving at quite a pace.
One of the tunes in FOR LOVERS ONLY is "Love Is a Many-Splendored Thing," which won the Oscar for Best Song in 1955. Who played the star-crossed lovers in the film? Three lucky winners will receive a pair of tickets to see FOR LOVERS ONLY at New World Stages. Please send your answers to contest@twi-ny.com no later than Friday, May 15, at 12 noon. Vouchers are good only through June 1, so you better act fast!
Film Festival of the Week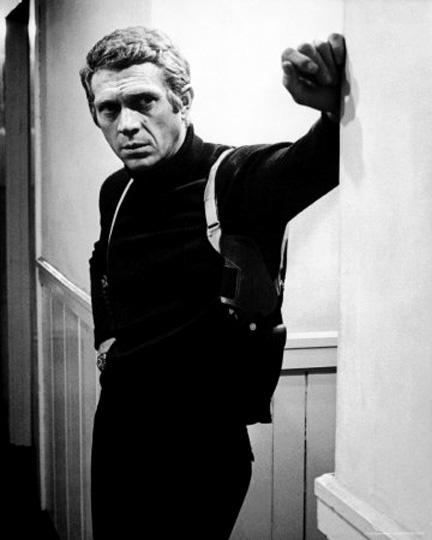 Steve McQueen is the portrait of cool in BULLITT
YESTERDAY'S LONER: STEVE McQUEEN
Walter Reade Theater
65th St. between Broadway & Amsterdam Aves.
May 20-26
212-875-5050
Indiana-born Steve McQueen was one of the all-time great tough movie stars, in the mold of Kirk Douglas and Burt Lancaster. Throughout his too-short career — he died in 1980 at the age of fifty — he was always cool, calm, and collected, whether playing a western gunslinger, a fast-driving cop, or a suave gambler. A marine who loved car racing, McQueen starred in THE BLOB (1958) before settling into a remarkable string of films in the 1960s, including THE MAGNIFICENT SEVEN, THE GREAT ESCAPE, BABY THE RAIN MUST FALL, THE CINCINNATI KID, THE THOMAS CROWN AFFAIR, and BULLITT, all of which are part of this tribute, as well as some of his 1970s hits — the heart-wrenching PAPILLON and the towering TOWERING INFERNO. Several of the screenings in this exemplary series will feature stars, directors, and relatives, with Robert Vaughn introducing THE MAGNIFICENT SEVEN, Candice Bergen introducing THE SAND PEBBLES, Norman Jewison on hand for both THE CINCINNATI KID and THE THOMAS CROWN AFFAIR, and other special guests, including McQueen's first wife and one of his children.
Wednesday, May 20 NEVADA SMITH (Henry Hathaway, 1966), introduced by Chad McQueen, 1:00
Wednesday, May 20 THE CINCINNATI KID (Norman Jewison, 1965), followed by a Q&A with Norman Jewison, 3:30
Wednesday, May 20 THE SAND PEBBLES (Robert Wise, 1966), introduced by Candice Bergen, 7:00
Thursday, May 21 THE TOWERING INFERNO (John Guillermin & Irwin Allen, 1974), 1:00
Thursday, May 21 BULLITT (Peter Yates, 1968), 4:15
Thursday, May 21 THE THOMAS CROWN AFFAIR (Norman Jewison, 1968), followed by a Q&A with Norman Jewison, 6:30
Thursday, May 21 LOVE WITH THE PROPER STRANGER (Robert Mulligan, 1963), 9:15
Friday, May 22 PAPILLON (Franklin J. Schaffner, 1973), 1:15
Friday, May 22 AN ENEMY OF THE PEOPLE (George Schaefer, 1978), 4:15
Friday, May 22 LOVE WITH THE PROPER STRANGER (Robert Mulligan, 1963), followed by a Q&A with Neile McQueen Toffel, 6:30
McQueen keeps looking for a way out in THE GREAT ESCAPE
Friday, May 22 THE GETAWAY (Sam Peckinpah, 1972), followed by a Q&A with producer David Foster, 8:45
Saturday, May 23 THE MAGNIFICENT SEVEN (John Sturges, 1960), introduced by Robert Vaughn, 12:30
Saturday, May 23 NEVADA SMITH (Henry Hathaway, 1966), 3:00
Saturday, May 23 PAPILLON (Franklin J. Schaffner, 1973), 5:45
Saturday, May 23 BULLITT (Peter Yates, 1968), 8:40
Sunday, May 24 THE TOWERING INFERNO (John Guillermin & Irwin Allen, 1974), 1:00
Sunday, May 24 AN ENEMY OF THE PEOPLE (George Schaefer, 1978), 4:15
Sunday, May 24 THE GREAT ESCAPE (John Sturges, 1963), 6:20

Sunday, May 24 THE THOMAS CROWN AFFAIR (Norman Jewison, 1968), 9:30
Monday, May 25 THE SAND PEBBLES (Robert Wise, 1966), 1:00
Monday, May 25 THE CINCINNATI KID (Norman Jewison, 1965), 4:15
Monday, May 25 THE GREAT ESCAPE (John Sturges, 1963), 6:30
Tuesday, May 26 THE GETAWAY (Sam Peckinpah, 1972), 1:00
Tuesday, May 26 THE MAGNIFICENT SEVEN (John Sturges, 1960), 3:30
In the Neighborhood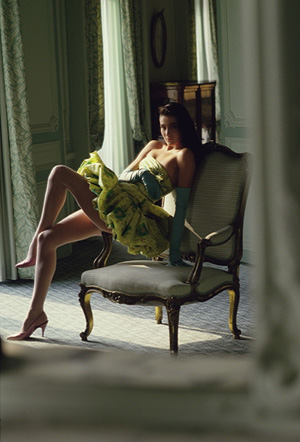 © Just Loomis
Loomis's portraits will be on view at Lincoln Center
JUST LOOMIS:
WALK AWAY, 10 YEARS OF PHOTOGRAPHS
Frieda and Roy Furman Gallery
Walter Reade Theater
65th St. between Broadway & Amsterdam Aves.
Open daily 1:30 — 6:00 pm through May 25
Admission: free
Once a hot fashion photographer for such publications as the New York Times Magazine, Rolling Stone, Esquire, and Harper's Bazaar, Just Loomis walked away from the world of glamour about ten years ago, heading west with his family, where he began taking more personal photographs, including a series on children as well as nudes. Even when he did return to the world of fashion, backstage at the prestigious Milan and Paris runway shows, he was no longer interested in taking posed shots, instead concentrating on documentary portraiture, capturing truth as well as beauty. This show in Lincoln Center's Frieda and Roy Furman Gallery at the Walter Reade Theater concentrates on his more recent work.
Last Chance Museum Exhibit of the Week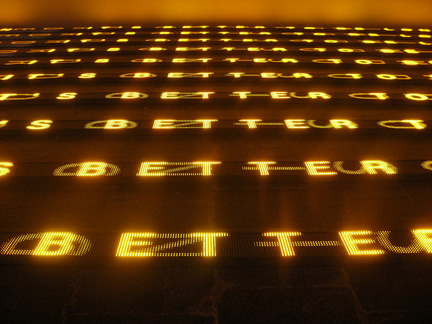 twi-ny/mdr
Jenny Holzer, "For Chicago," detail, ten electronic LED signs with amber diodes, 2008
PROTECT PROTECT: JENNY HOLZER
Whitney Museum of American Art
745 Madison Ave. at 75th St.
Through May 31 (closed Monday & Tuesday)
Admission: $15 (pay-what-you-wish Friday 6:00 — 9:00 pm)
212-570-7715
Ohio-born conceptual artist Jenny Holzer, who lives and works in Hoosick, New York, has been creating her unique world of visual poetics for more than thirty years. Using texts from her own writings as well as from other sources, she repurposes words and phrases in LED light sculptures, on chairs and bones, and large-scale projections she casts onto buildings, trees, and even the ocean. Her recent "For the Guggenheim" display projected the words of Wislawa Szymborska onto the facade of the Guggenheim. Her latest exhibit, "Protect Protect," includes seven of her LED electronic signs, light sculptures that evoke the Times Square news ticker, except that Holzer uses different colors and multiple levels to create a dizzying, thrilling array of words that, visually, are perhaps closer to the lights of the Vegas strip, only far more serious. In addition to her own words — from "Inflammatory Essays," "Laments," "Survival," "Truisms," and other writings, which often play with clichés, much of the text has been taken from declassified government documents she found online from the National Security Archive and the ACLU, dealing with torture, the Iraq war, 9/11, and other controversial political topics, reimagined in sculptures whose physicality can be both carnivalesque and threatening. "Red Yellow Looming" is a double-sided horizontal work that blocks off one gallery hallway, declaring it is "top secret." "Purple" consists of thirty-three semicircular signs that almost dare you to crawl beneath them despite displaying official accounts of detainees dying while in custody. "Monument" is a vertical silo that depicts such words and phrases as "protection," "stay clean," and "take courage." And "For Chicago" runs flat on the floor, text roaring past like cars on a highway.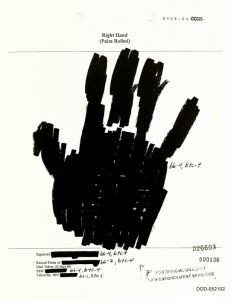 © Jenny Holzer
Holzer gets political at Whitney exhibit
"Protect Protect," which takes its name from one of Holzer's most famous truisms, "Protect me from what I want," as well as from an Iraq war plan, also features a room of her redaction paintings, large-scale oil-on-linen works that re-create declassified government documents in whole, including so-called action memos, autopsy reports, hand- and footprints, and a map, complete with black blotches that cover up critical information. Sometimes just a few words are blacked out, while other times the entire page is just a dark rectangle, once again displaying the power of the written word. Like the electronic signs, the redaction paintings succeed on two levels, both as a visual work of art — blown up to enhance their power — and as a fascinating look at language itself, especially as it relates to the government and the military. "Protect Protect" also includes Holzer's 1994 piece "Lustmord Table," in which text fragments dealing with rape slayings during the Bosnian war are engraved on human bones. There's nothing subtle about Jenny Holzer; it can all be too overwhelming taken in all at once, feeling repetitive and didactic, obvious and, well, clichéd. But it can also be stunning and revelatory.
In the Neighborhood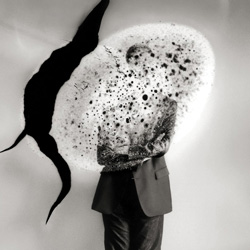 © Gérard Rondeau
Gérard Rondeau turns camera on
himself in revealing self-portrait
CHRONICLES OF A PORTRAITIST —
PHOTOS BY GÉRARD RONDEAU
Cultural Services of the Embassy of France
972 Fifth Ave. at 79th St.
Monday — Friday 1:00 — 5:00 through May 29
Admission: free
The Cultural Services of the Embassy of France has lined its walls with "One Hundred Portraits of Famous Authors and Artists" by Gérard Rondeau, including black-and-white shots of such well-known figures as Susan Sontag, Henri Cartier-Bresson, Carla Bruni, Roy Lichtenstein, Joan Mitchell, Gore Vidal, Richard Serra, Gilbert & George, Jacques Derrida, and many others, often taken for Le Monde.
Memorial Day Events of the Week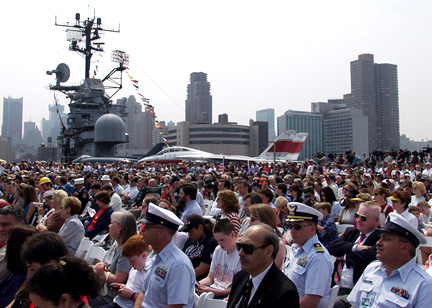 Thousand will pay their respects this Memorial Day weekend at Pier 86
FLEET WEEK 2009
Intrepid Sea, Air & Space Museum
Pier 86, 12th Ave. & 46th St.
Admission: Adults $15.50 - $19.50, children six to seventeen $14.50, children two to five $7.50
http://www.cnrma.navy.mil/fleetweek
http://www.intrepidmuseum.org/Fleet-Week-Schedule.aspx
The annual Memorial Day Fleet Week celebration arrives back on-shore for five days of displays, demonstrations, live performances, interactive booths, and competitions, celebrating all branches of the military, with a special focus on the Navy, the Coast Guard, and the Marines. Two of the highlights are always the Search and Rescue Demonstrations and the Best Chow battle; this year's events also include performances by the cast of STOMP and WICKED.
Thursday, May 21 Growler Ceremony celebrating the reopening of the Growler submarine, Pier 86, 11:00 am
Thursday, May 21 Red Bulls Soccer Game and trick demonstrations, Flight Deck, 1:00
Friday, May 22
through
Monday, May 25 Military Displays, Pier 86, 10:00 am - 6:00 pm
Friday, May 22
through
Monday, May 25 Pier displays, including Office of Naval Research vehicles, Navy SEALS Challenge Station and convention booth, interactive Army simulations, Red Cross giveaways, and other displays from the Coast Guard and Marine Corp, Pier 86, 10:00 am - 6:00 pm
Friday, May 22 U.S. Coast Guard Demonstration, Flight Deck, 11:00 am
Friday, May 22 Navy Band North East Performance, Pier 86, time TBD
Friday, May 22 STOMP, Pier 86, 3:00
Saturday, May 23 Search and Rescue Demonstrations, Pier 86 & Hudson River, 11:00 am
Saturday, May 23 Crew Competitions, including Tug-of-War and Stem-to-Stern relay races, Pier 86, 12 noon
Saturday, May 23 WICKED, Pier 86, time TBD
Sunday, May 24 Navy Band North East Performance, Pier 86, 12 noon
Sunday, May 24 USO Troop Performance, Pier 86, 4:00
Sunday, May 24 Best Chow Contest, location TBD, 1:00 — 5:00
Sunday, May 24 Chasing Corona Performance, Pier 86, 5:00
Monday, May 25 Memorial Day Ceremony, with ceremonial wreath laying, Three Volley Salute, the unfurling of one-hundred-foot American flag, and fly-over of military aircraft in missing man formation, Flight Deck, 11:00 am
Monday, May 25 TAKING CHANCE (Ross Katz, 2009) movie screening, Pier 86, 7:00
PARADES AND CEREMONIES
Admission: free
Sunday, May 17 Flag Day Festival, Nostrand Ave. between Clarendon Rd. & Ave. D, 9:00 am — 6:00 pm
Sunday, May 17 369th annual Veteran's Parade honoring America's veterans, Fifth Ave. between East 61st & East 86th St., 1:00 — 5:00
Friday, May 22 Transit Veterans Association Memorial Day 2009 Ceremony, Vietnam Veterans Memorial Park, 55 Water St., 11:00 am
Sunday, May 24 Memorial Day Parade, United Veterans and Fraternal Organization of Maspeth, Maspeth Ave. between Grand Ave. & 61st St., Queens, 1:00 — 3:00
Sunday, May 24 College Point Citizens for Memorial Day, 28th Ave. between Ulmer St. & College Point Blvd., 2:00 — 4:00
Monday, May 25 142nd Memorial Day Parade, Third Ave. & 87th St. in Brooklyn at 11:00 am to 101st St. at John Paul Jones Park at 3:00

NEW YORK'S BURIED TREASURE: A MUSICAL PORTRAIT
Green-Wood Cemetery
Fifth Ave. at 25th St.
Admission: free
718-768-7300, stevene@green-wood.com
Monday, May 25 Annual Memorial Day concert, with the ISO Symphonic Band, 2:30
Riff's Rants & Raves: Film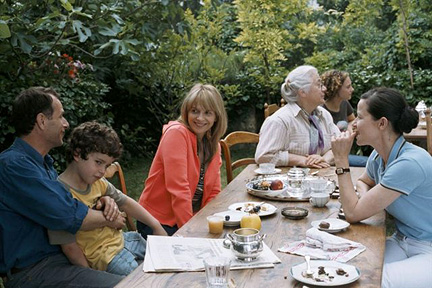 Juliette Binoche stars in Olivier Assayas's latest
SUMMER HOURS (L'HEURE D'ÉTÉ) (Olivier Assayas, 2008)
Opens Friday, May 15
IFC Center
323 Sixth Ave. at West Third St.
212-924-7771
Lincoln Plaza Cinemas
1886 Broadway between 62nd & 63rd Sts.
212-757-0359
http://lincolnplaza.moviefone.com

At their annual family gathering, Frédéric (Charles Berling), Adrienne (Juliette Binoche), and Jérémie (Jérémie Renier) are celebrating their mother's seventy-fifth birthday. But Hélène (Edith Scob) does not care about the present; instead, she is more concerned with preserving the past and preparing for the future. She pulls aside her oldest, Frédéric (Assayas's on-screen alter ego), to tell him what to do with her belongings after she's gone, but he is not ready to think about that. Her house is more like a museum, filled with valuable works of art and furniture that were collected by her uncle, a famous painter who died thirty years before. Frédéric would prefer to keep the house intact, donating a few items to the Musee d'Orsay and saving the rest for the next generation, but Adrienne and Jérémie don't necessarily feel the same way, and Frédéric's and Jérémie's kids fail to see any value in the pieces, including two oil paintings by Camille Corot, begrudgingly noting that they're from a different era. While Frédéric, a professor who has written a controversial book about the state of the economy, attaches personal memories to each object, Adrienne, a successful designer in New York, is more interested in the functionality of things, and Jérémie, who manages a company that profits from cheap labor in China, sees only monetary value. As the three siblings discuss what to do with their mother's estate, relationships come into focus, and a long-held secret emerges.
Written and directed by Olivier Assayas (LES DESTINÉES SENTIMENTALES, DEMONLOVER, IRMA VEP), SUMMER HOURS, which was selected for the 2008 New York Film Festival, is a thoughtful, intelligent slice-of-life story that avoids overbearing cliches and melodramatic moments; there are no blow-ups or overemotional scenes. Instead, the family deals with its situation directly and matter-of-factly, a sort of French CHERRY ORCHARD for the twenty-first century. However, Assayas does include far too many red herrings, little flourishes of cinematic language that seem to set something up that never comes full circle. The project was initiated by the Musee d'Orsay, which had commissioned a group of international directors to make short films related to the institution's holdings. Assayas's friend and colleague Hou Hsiao Hsien ended up making the full-length FLIGHT OF THE RED BALLOON, which also starred Binoche. Although the project later fell apart, Assayas combined the idea with the worsening condition of his mother, resulting in a bittersweet and very personal work.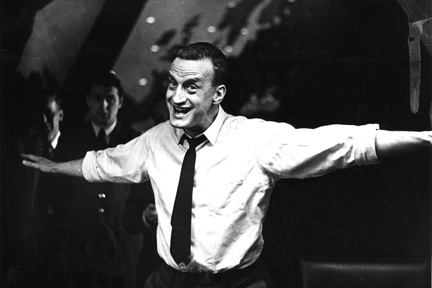 Sony Pictures
George C. Scott is looking to come in for a landing in Kubrick classic
DR. STRANGELOVE OR: HOW I LEARNED TO STOP WORRYING AND LOVE THE BOMB (Stanley Kubrick, 1964)
Film Forum
209 West Houston St. between Sixth & Seventh Aves.
May 22-28
212-727-8110

Screening at Film Forum in a new 35mm restoration for its forty-fifth anniversary, Stanley Kubrick's DR. STRANGELOVE is one of the grandest satires ever made, the blackest of black comedies. With the threat of nuclear annihilation looming over the United States and the Soviet Union, General Jack D. Ripper (Sterling Hayden) has a meltdown, becoming obsessed with protecting the country's "precious bodily fluids" and threatening to launch the bombs. While President Merkin Muffley tries to make nice with the Soviets, General Buck Turgidson (George C. Scott) gets caught up in all the military excitement, Colonel Bat Guano (Keenan Wynn) defends the Coca-Cola company, Group Captain Lionel Mandrake (Sellers) can't get anyone to listen to him, and Major T. J. "King" Kong (Slim Pickens) prepares for the ride of his life. Based on Peter George's novel RED ALERT and written by George, Kubrick, and Terry Southern, DR. STRANGELOVE is hysterically funny and wickedly prescient, an absolute hoot from start to finish, featuring razor-sharp dialogue, inspired slapstick, and just enough truth to scare the hell out of you. (Kubrick fans can also head over to the IFC Center, where the Waverly Midnights series is featuring FULL METAL JACKET on May 15-16 and EYES WIDE SHUT on May 22-24.)
In Theaters Now
James and Em are looking for love in all the wrong places
ADVENTURELAND (Greg Mottola, 2009)
AMC Loews Village VII
Third Ave. at Eleventh St.
http://adventurelandthefilm.com

When we were kids, it was always a treat when our parents packed us in the car and took us to Adventureland, a small amusement park in Farmingdale, Long Island. It wasn't quite the same treat for writer-director Greg Mottola, who documents one summer he spent working as a carny there in the sweet coming-of-age comedy ADVENTURELAND. Jesse Eisenberg stars as Mottola's alter ego, James Brennan, a college grad in 1987 who is planning on traveling through Europe before starting grad school at Columbia — until his parents take a serious financial hit, forcing him to spend the summer working at the local amusement park in Pittsburgh called Adventureland. (Mottola had wanted to shoot the film in the actual Long Island location but found that the current state of Adventureland was too upscale compared to the one he remembers, so he found a more suitable cinematic park.) James is a hyperintellectual virgin who is waiting for true love, and he thinks he might have found it in fellow carny Em Lewin (Kristen Stewart). However, he doesn't know that Em is also a booty call for the older Mike Connell (Ryan Reynolds), the hot maintenance man whose legendary claim to fame is that he once jammed with Lou Reed. Meanwhile, the amusement park's hot-to-trot Lisa P. (Margarita Levieva) has returned, and she might be considering trying out a nice guy like James instead of her usual tough dudes.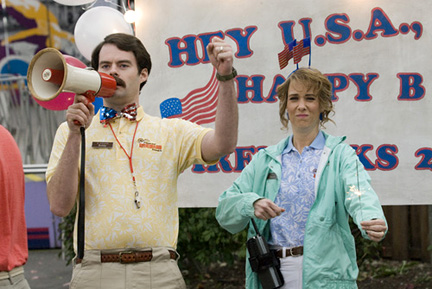 Bill Hader and Kristen Wiig run things at low-rent amusement park

ADVENTURELAND is a very funny, emotionally honest look at growing up faster than one imagined, filled with believable characters and situations in a genre that is often wrought with hyperbole. (Mottola is another member of Judd Apatow's inner circle, having directed episodes of the underrated UNDECLARED and directed and cowrote, with Seth Rogen, the overrated SUPERBAD; prior to that, he wrote and directed the overrated 1999 indie hit THE DAYTRIPPERS, which stars Liev Schreiber, Parker Posey, and Stanley Tucci.) Eisenberg (THE SQUID AND THE WHALE) and Stewart (INTO THE WILD) are magnetic together, conveying their parts with heartfelt emotion; although Eisenberg is seven years older than Stewart in real life — she was born in 1990, after the film takes place — Stewart displays an intelligence beyond her years. The excellent supporting cast features SNL's Bill Hader and Kristen Wiig as the park's crazy owners; FREAKS & GEEKS' Martin Starr as James's best friend, the Russian-lit-obsessed, pipe-smoking Joel; and Matt Bush as Frigo, who never misses a chance to punch James in the nuts. Mottola sets his compelling story to an awesome soundtrack that includes killer tunes by the Replacements, Husker Du, Big Star, the Cure, Judas Priest, and plenty of Lou Reed and the Velvet Underground (as well as a Foreigner tribute band and Falco's "Rock Me Amadeus"). ADVENTURELAND could just be the JUNO of 2009.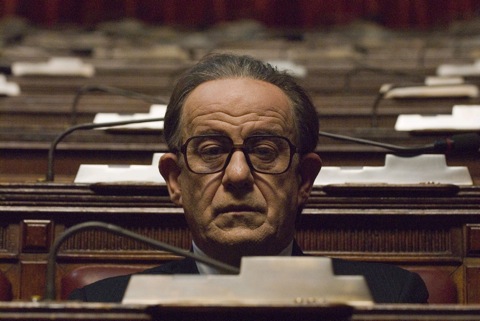 Toni Servillo is spectacular as Italian political legend Giulio Andreotti
IL DIVO: THE SPECTACULAR LIFE OF GIULIO ANDREOTTI (Paolo Sorrentino, 2008)
Landmark Sunshine Cinema
143 East Houston St. between First & Second Aves.
212-330-8182
http://www.landmarktheatres.com

For more than fifty years, Giulio Andreotti has been a central figure in the Italian government. As a member of the Christian Democrats, he has served in a variety of ways, including as several ministers (defense, interior, foreign affairs, budget, treasury) as well as prime minister seven times. During those years, he has been linked to the Mafia, the Vatican, and the P2 Lodge — in addition to numerous bankers, politicians, judges, and journalists who have ended up murdered or committed suicide. Paolo Sorrentino's fourth film (following THE FAMILY FRIEND, THE CONSEQUENCES OF LOVE, and ONE MAN UP) is a stirring, highly stylized look at a remarkable public figure who always manages to survive despite all the controversy and conspiracy associated with him; in fact, in 1991, Andreotti was named Senator for Life. Toni Servillo is breathtaking as Andreotti, a small, crouched man — somewhat resembling Phil Hartman playing Henry Kissinger on Saturday Night Live — who has been called such nicknames as the Sphinx, the Hunchback, Beelzebub, and il Divo.
This nearly cartoonish-looking character surrounded himself with an army of cohorts worthy of a classic heist film, a different kind of Italian Rat Pack, including Paolo Cirino "Minister" Pomicino (Carlo Buccirosso), Franco "Lemon" Evangelisti (Flavio Bucci), Giuseppe "il Ciarra" Ciarrapico (Aldo Ralli), Vittorio "the Shark" Sbardella (Massimo Popolizio), Salvo "His Excellency" Lima (Giorgio Colangeli), and Cardinal Fiorenzo "His Holiness" Angelini (Achille Brugnini). Sorrentino depicts Andreotti as a soft-spoken, private man who speaks in puzzling proverbs "We learn from the Gospel that when they asked Jesus what truth was, he did not reply"), never raises his fist or voice in anger, and hangs in the background at lavish parties. Yet an aura of supreme power glows like a halo around him, casting fear in its shadows. IL DIVO, which won awards at both Venice and Cannes and is powered by a magnificent score by Teho Teardo (and such pop songs as Cassius's "Toop Toop" and Trio's "Da Da Da"), is an awe-inspiring achievement that will leave audience's mouths hanging open in wonder and amazement.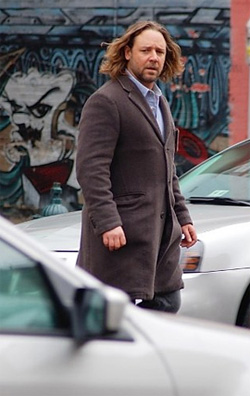 Russell Crowe is on the run in STATE OF PLAY
STATE OF PLAY (Kevin Macdonald, 2009)
http://www.stateofplaymovie.net

STATE OF PLAY is a gripping if overwrought political thriller that wants to be the ALL THE PRESIDENT'S MEN of the new millennium — but doesn't come close. Russell Crowe stars as Cal McAffrey, an old-fashioned, hard-edged reporter for the fictitious Washington Globe who is suddenly partnered with the paper's young, inexperienced blogger, Della Frye (Rachel McAdams), when two stories slowly tie together, one involving a multiple shooting and the other the death of a woman who was having an affair with Congressman Stephen Collins (Ben Affleck). Collins, who is heading an investigation into a Blackwater-type militaristic organization, was a former roommate of McAffrey's, who seems to have had a somewhat sketchy past with the representative's wife (Robin Wright Penn). Amid possible corporate conspiracy, sexual intrigue, and the modernization of newspaper technology (for example, Frye seems to never have a pen handy, leading McAffrey to question her skills as a journalist since merely typing gossip and innuendo directly onto a blog, without going into the street and compiling notes, sources, and facts, does not a real reporter make), McAffrey is forced into questioning his loyalties and responsibilities, both personal and professional. Director Kevin Macdonald (TOUCHING THE VOID, THE LAST KING OF SCOTLAND), who helmed the six-part BBC television drama on which the film is based, originally had Brad Pitt lined up for the American version, but the recent Oscar nominee pulled out because of script changes. While there's much to admire in STATE OF PLAY — the strong cast also includes Helen Mirren, Jason Bateman, and Jeff Daniels — it's at least twenty minutes too long and too often tries to be too clever for its own good.
Riff's Rants & Raves: Live Music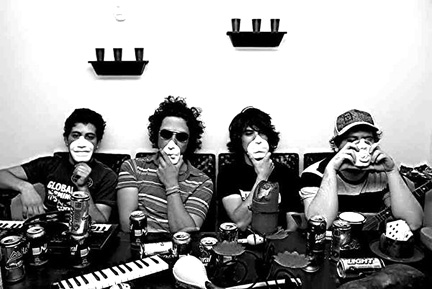 Brian Reguera
Drink Up Buttercup plans on getting wild in two area shows
DRINK UP BUTTERCUP
Wednesday, May 13, Piano's, 158 Ludlow St. between Stanton & Rivington Sts., $8, 10:00
Friday, May 15, Brooklyn Southpaw, 125 Fifth Ave., $10, 10:00
http://www.myspace.com/drinkupbuttercupband
Drink Up Buttercup knows how to have a good time. At their live shows — including a highly anticipated appearance at this year's SXSW festival — they play with a reckless, infectious abandon that is sure to get your mojo working. The fearless Philly foursome features Farzad Houshiarnejad on bass and keyboards (as well as vocals, wolf howls, and melodica), Ben Money on bass, keyboards, and percussion (in addition to melodica, vocals, and mannequin head), James Harvey on guitar and vocals (along with sawed-off seagull, walki, opera sounds, and baby head), and Mike Cammarata on drums (with water, lemon, and sugar packets). Onstage they are reminiscent of such bands as the Black Lips, Islands, the Shaky Hands, and Gringo Star, as they switch instruments, goof around, and bang on an aluminum trash can. All of that is fine and dandy, but the key to the group is that their songs are fucking awesome. Often sounding more British than Pennsylvanian, they deliver the goods on such stellar tunes as "Gods and Gentlemen," "Seasickness Pills," and "Farewell Captain." "Mr. Pie Eyes" is threatening to become one of our favorite strange songs ever — an "Uncle Albert / Admiral Halsey" for the iPod generation? — with "Sosey and Dosey" not far behind. They also bandy about on such numbers as "Pink Sunshine," "Young Ladies," the somewhat calm "Lovers Play Dead" and the heavy "Heavy Hand." Drink Up Buttercup will be at Pianos on May 13 with Shilpa Ray & Her Happy Hookers (11:00), the Wild Yaks (9:00), and the Soft Black (8:00) and at Southpaw on May 15 with Skeletonbreath, Wahoo Skiffle Crazies, and Holy Ghost Tent Revival. Don't miss them.
LOVE CAMP 7 & the K's
Brooklyn Southpaw
125 Fifth Ave. at Sterling Pl.
Wednesday, May 20, $8, 8:00
718-230-0236
http://www.myspace.com/theksband
After knocking them out earlier this month at the Parkside Lounge, Love Camp 7 heads to Southpaw in Brooklyn, celebrating the release of their latest CD, UNION GARAGE. Guitarists Dann Baker and Stephen B. Antonakos, bass player Bruce Hathaway, and drummer Dave Campbell have come up with another infectious collection of hyperintelligent flower-power psychedelia featuring lilting harmonies, wry lyrics, and jangling guitars. The centerpiece of the new disc is a sweet suite of songs dealing with race, slavery, the Civil War, and the civil rights movement, primarily set in Richmond, Virginia, consisting of "Crazy Bet Van Lew," "Nobody Here But Us African-Americans," "Letting the Brass Band Speak for You," and "No Negro Shall Smoke..." An absolutely delightful chorus drives "(Beware of the) Angry Driver (Yeah)," one of the best songs ever about New York City mass transit — "Here Comes the B48," Baker sings. "Tell me where on earth you'd rather be / than Greenpoint in its glory." Things get a little crazy during "Johnny's Got a Little Bag o' Tricks," including a fab drum solo during a Mountain-style jam. And the album closer, "Mock On," while seemingly an ironic alternative to Van Morrison's "Rave on, John Donne," is actually set to the words of a William Blake poem. On the opening track, Baker declares, "The killers aren't bad guys." Love Camp 7 ain't bad guys, either. LC7 will be hitting the stage at around 8:30, followed by harder-edged indie band the K's — which also features Campbell on drums, as Soup will be doing double duty that night — the Spectacles, and the Fumes. (You've gotta check out the K's shit-kicking "The Mosquito," which has a buzz all its own.)
TWI-NY TALK: NICK HALLETT
New Museum of Contemporary Art theater
235 Bowery at Prince St.
Tickets: $15
212-219-1222
"If my taste is eclectic," Nick Hallett explained to us in an e-mail interview the night before his second of four shows at the New Museum of Contemporary Art, "it's only because I like to be able to work in a variety of styles with a variety of people I admire, engaging fully in my network of musicians and visual artists to create unique multimedia works that live in between preconceived styles. I create art like a curator, and curate like an artist." Hallett is in the midst of the ambitious and thought-provoking "Voice + Light Systems," a complex four-part project taking place on Thursday nights in May at the Bowery museum. Collaborating with carefully chosen singers and musicians and incorporating fascinating visual effects, Hallett performed Meredith Monk's "Our Lady of Late" on May 7 and Karlheinz Stockhausen's "Stimmung" on May 14. He will premiere his own composition, "Whispering Exercises," on May 21, with Shelley Burgon on harp, electronic pulsations courtesy of Ray Sweeten, electronic processing by Zach Layton, and women's voices, a concert version of an opera-in-progress by Hallett and video and performance artist Shana Moulton. The series concludes on May 28 with "Auroville," featuring Hallett, Seth Kirby, and Ana Matronic, a 360-degree projection design, and strobe effects in a multimedia tribute to Sri Aurobindo. Hallett curated each night specifically for the New Museum.
"The fact that it's in a museum setting is crucial to the concept," he explained. "Performances of works from the experimental music canon are conceived of portals to the creation of visual art. With much of my work, I'm interested in the intersection of music to visual art forms, namely, 'live cinema,' a unique practice which I consider to be analogous to music in that there is a direct relationship between artist and medium which works similarly to the way an instrumentalist or singer approaches his/her craft." In June, the ridiculously busy Hallett and Layton will move over to the Issue Project Room in the old (OA) Can Factory in Brooklyn, where they will present Darmstadt's "Classics of the Avant-Garde," a month of film screenings, workshops, conversations, and live music. "I split my time between personal creative projects and curatorial projects, but the two often collide," Hallett said. "Whereas I think some amount of consistency is expected of artists, curators are often expected to have flighty whims, as their role is to pick up on cultural shifts and how artists are responding."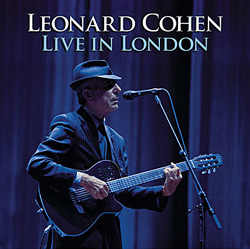 LEONARD COHEN
Radio City Music Hall
1260 Sixth Ave. at 50th St.
May 16-17, $69.50 — $254.50
Last year Canadian legend Leonard Cohen hit the road for the first time in fifteen years, but he wasn't touring behind a new collection of songs. Instead, he was traveling the world in order to rebuild his retirement fund after claiming his former manager bilked him out of millions. (He won a $9 million judgment but has received none of it.) Instead of just going through the motions, Cohen has been putting on an enthusiastically received, critically acclaimed three-hour show that features dazzling songs from throughout his career, including "The Future," "Bird on the Wire," "Everybody Knows," "Tower of Song," "Suzanne," "Hallelujah," "I'm Your Man," "Democracy," "Sisters of Mercy," and "Closing Time," all of which can be found on his latest CD/DVD, LIVE IN LONDON. After taking Manhattan by storm with his performance at the Beacon Theatre in February, Cohen is back for two more shows, this time at Radio City Music Hall, where the seventy-four-year-old singer, songwriter, poet, novelist, monk, and mensch will be waltzing in elegance.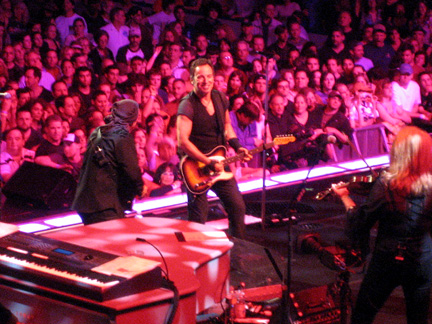 twi-ny/mdr
Working on a Dream Tour arrives in Jersey for two shows
BRUCE SPRINGSTEEN AND THE E STREET BAND
Continental Airlines Arena, East Rutherford, New Jersey
Thursday, May 21, and Saturday, May 23
It took a while for Bruce Springsteen and the E Street Band to find their groove on their current tour, in support of the much maligned WORKING ON A DREAM album, but once they did, the fireworks started flying. Every night, the setlist features about fifteen standard songs, with another ten or so coming by way of sign request and Bruce's mood, depending on how things are going that particular show. Opening with former set closer "Badlands," Bruce kicks into high gear during a three-song recession special, beginning with "Seeds" and continuing through "Johnny 99" and either "The Ghost of Tom Joad" or "Youngstown." After "Raise Your Hand," Bruce starts collecting signs from the audience — the more creative the sign, the more likely Bruce is to choose it — which leads to as many as four requests, usually unrehearsed and spur of the moment and almost always including at least one oldie that tries to stump the band. So far, in this slot, the band has played such classics as "Hang on Sloopy," "I Wanna Be Sedated," "Wild Thing," "Wooly Bully," "London Calling," "My Generation," "You Really Got Me," "Seventh Son," "Expressway to Your Heart," "96 Tears," "Proud Mary," and even ZZ Top's "I'm Bad, I'm Nationwide." At many shows, Max Weinberg's teenage son, Jay, has sat in on drums, preparing to take over for the Mighty One, whose responsibilities to the forthcoming TONIGHT show with Conan O'Brien will prevent him from going to Europe with the band. Despite their advancing ages, hip replacements, and other maladies — the Boss will be turning sixty in September, and Clarence Clemons is heading toward seventy — Bruce and the band bring it every night, for nearly three hours, as good as they've ever been. Keep checking Ticketmaster if you are still seatless — even as late as a few hours before showtime, good tickets can be released. For the Nassau Coliseum concert on May 4, we wound up second row behind the stage — great seats for a Bruce show — which we purchased around noon of that day.
Riff's Rants & Raves: Dance & Theater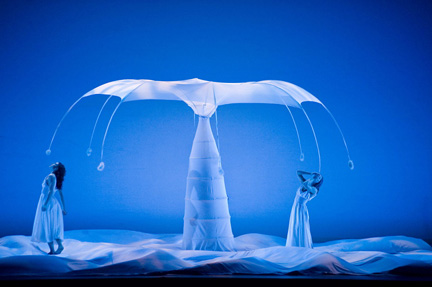 MOMIX's BOTANICA seeks to amaze at the Joyce
MOMIX
Joyce Theater
175 Eighth Ave. at 19th St.
May 12-31, $19-$49
212-645-2904

MOMIX's latest production, BOTANICA, running at the Joyce through May 31, is an eco-friendly multimedia exploration of the four seasons, with the company's talented cast of ten taking on the roles of flora and fauna, ocean waves, trees, rocks, birds, hornets, a storm, and just about everything else under the sun — well, actually, including the sun. Divided into two dozen sections, BOTANICA features spectacularly imagined illusions, an ingenious use of light and props that creates a visual wonderland that is often as stunning as it is gimmicky. In "New Green (Black Light)," Tsarra Bequtte, Sarah Nachbauer, Cassandra Taylor, and Simona DiTucci, wearing glow-in-the-dark costumes, frantically move their extremities on a pitch-black stage. "New Green" is immediately followed by "Glass Awakening," in which Nachbauer writhes on a mirrored ramp, her real body morphing with her reflection into giant insectlike shapes. The show continues with Nachbauer in the forefront, arriving onstage topless, riding atop a huge triceratops skeleton in "Old Bones"; her interplay with the dinosaur, which is operated by a nearly impossible-to-see Rob Laqui, evolves into "Ancient Stones," in which rocks come to life and wrap themselves around dancers' necks. The first act ends as pairs of dancers form marching centaurs.
There are some fine moments after intermission, including Cassandra Taylor spinning around a gorgeous headdress in "Beaded Web" and Jennifer Chicheportiche, Nachbauer, Taylor, and DiTucci performing the fan-dance-like "Sunflowers," but it starts feeling a little repetitive, a sort of "How will they top this?" feeling seeping into the "magic." Dance purists might be disappointed in some sections that evoke BLUE MAN GROUP and MUMMENSCHANZ mixed with Cirque du Soleil, more Vegas than Chelsea, the organic narrative difficult to discern. The evening-length piece begins and ends with "Frozen Land" and "Cold River Runs Again," respectively, as dancers, a wind machine, and layers of cloth turn into waves pounding across the stage, bringing the seasons full circle. At a postshow Q&A following the May 13 performance, artistic director and MOMIX founder Moses Pendleton, who also cofounded Pilobolus, laid out some of the intended narrative in great detail; unfortunately, much of that was not clearly evident to the audience. Not that it really mattered.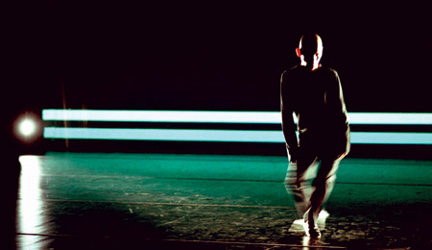 © Shin Yamagata
Hiroaki Umeda will perform solo at the Japan Society May 14-16
HIROAKI UMEDA
Japan Society
333 East 47th St. between First and Second Aves.
May 14-16, 7:30
Tickets: $28
212-715-1258

Hiroaki Umeda's dazzling "solo dance, light, sound & video" multimedia performance brings to a fitting closing the Japan Society's "Beyond Boundaries: Genre-Bending Mavericks" performing arts season. Umeda, based in Tokyo, is a late-blooming wunderkind — he started dancing at the age of twenty, and now is in his early thirties — and does it all himself, from the lighting and set design to the music and video production, in addition to the choreography and dancing. Umeda opened the night with ADAPTING FOR DISTORTION, an eye-popping half-hour piece in which he stands in the middle of the stage as an array of horizontal and vertical white light patterns are projected onto the screen behind him, accompanied by shrieking blasts of electronic noise. Meanwhile, another set of nonlinear white light shapes are beamed onto his body from side projectors, making it appear that Umeda's insides have come alive in a bizarre morphing X ray. Umeda uses very specific limited movement, seemingly becoming a three-dimensional force emanating from the screen, part MATRIX, part TRON, trapped in a digitized computer world. After a brief intermission, Umeda returns with ACCUMULATED LAYOUT, once again spending the majority of the thirty-minute piece standing flatfooted in the center of the stage, first moving one hand, then the other, slowly incorporating the rest of each arm and shoulder, his neck and his head. In a beautiful, exhausting display of raw physical talent and studied control, Umeda moves to electronic noise, sometimes resembling rain played on a scratchy record, while the lighting casts his giant shadows on the side walls, turning his image into larger-than-life figures. Umeda, a rising star in the global modern dance community, is making only his third appearance in the United States with this show at the Japan Society; one can only hope there will be many more.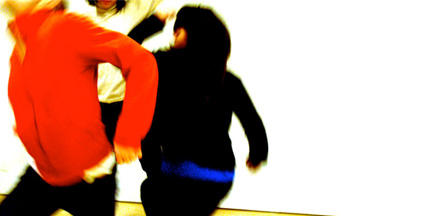 Megan Sprenger / mvworks will get the audience involved at P.S. 122
…WITHIN US.
P.S. 122
150 First Ave. at East Ninth St.
May 17-24
Tickets: $10-$20
212-352-3101

Two years ago, mvworks artistic director Megan V. Sprenger, who is also the director of marketing for Dance Theater Workshop (and a regular contributor to DTW's blog), quickly earned a reputation for creating challenging, unconventional dance with her first evening-length piece, NO WHERE, which combined the geometric theories of Blaise Pascal with the cinematic photographs of Gregory Crewdson. For her second commission, "…within us.," running at P.S. 122 through May 24, Sprenger drew inspiration from artist Jacob Landau's violent, provocative imagery, resulting in a brilliant evening-length piece of confrontational dance theater that gets right in the audience's face — literally. In P.S. 122's small, dark downstairs space, approximately fifty ticket holders mill about, slowly joined by dancers Tara O'Con, Maria Parshina, Alli Ruszkowski, and Richert Schnorr, who engage members of the audience in friendly conversation. Barefoot but wearing regular clothing — three of the dancers are in jeans — they mingle as if at a cocktail party and not the main attraction. But soon they begin shaking their hands and bodies as if going into seizures, then start whirling through the crowd, falling hard to the ground, and getting right in people's faces, staring into their eyes, gently touching their shoulders, and coming dangerously close to smashing into them.
After collecting themselves (and regaining their breath), they spread out spray-painted wooden boxes — which had been hanging from the ceiling and piled up on the sidelines — across the space, leading the audience to selected seats. Once everyone is on a box and might be feeling at least the slightest bit comfortable, the four dancers take off again, running in and out of the crowd, crashing into the walls and one another, crawling like insects between the boxes, and waving their arms and legs, just barely missing the audience members' heads or knees. Sometimes they'll use people's bodies to help get off the floor; other times they'll approach a person and then fall backward, hitting the ground over and over again. They wrestle on the ground, bounce against the doors, and then suddenly stand stock-still, waiting for Joe Levasseur's lighting and Jason Sebastian's soundscapes to signal their next move. But instead of feeling like trapped victims, the audience develops a fascinating rapport with the frantic dancers, a bond of trust forming among everyone in the room. At one point, Richert stands in front of one audience member for an extended period of time, never breaking eye contact, as the other dancers continue moving in a far corner; Richert's hand begins to rise almost imperceptibly, reaching out as if he's in desperate need of help. It's a critical moment, revealing the complex relationship between performer and viewer, which is very different from the one that exists outside in the "real" world. Sprenger's "…within us." is a thrilling work, a thoroughly involving hour that leaves the talented dancers and the brave audience feeling energized and alive.
Jeff Grow will blow your mind at solo show
CREATING ILLUSION
DR2 Theatre & D-Lounge
103 East 15th St.
May 18-23
Tickets: $10-$20 (Festival Passes $100 for all shows)
http://www.terranovacollective.org
Part of the sixth annual soloNOVA Arts Festival, Jeff Grow's CREATING ILLUSION will be a night of magic and mind reading, as Grow "explores the tools of the art of creating illusion." Directed by Jessi D. Hill, the show should blow your mind. The festival continues through May 30, featuring "Ones at Ten" on Friday nights and such performances as FUN DESIGN WITH SVELTE, MANN SEEKING MAN: JESUS-LOVIN' SCHOOLGIRL SEEKS SOULMATE, PICCOLA COSI, and WHERE MY GIRLS AT?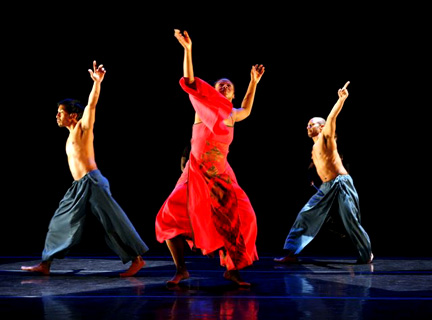 Rachel Papo
"Rhythmic Reflection" dances into BAM as part of annual festival
DANCEAFRICA 2009
Brooklyn Academy of Music
BAM Howard Gilman Opera House
30 Lafayette Ave. between Ashland Pl. & St. Felix St.
Tickets: dance $20-$45, film screenings $11, street fair free
718-636-4100
BAM's annual celebration of African art and culture returns for the Memorial Day weekend with a host of terrific events, anchored by the fabulous street fair and marketplace. DanceAfrica 2009 will take place at the Howard Gilman Opera House, with five performances under the artistic direction of larger-than-life Baba Chuck Davis. "Rhythmic Reflection: African Legacies Revealed" will feature SeèWè African Dance Company from Manhattan, Evidence, A Dance Company from Brooklyn, Farafina Kan from DC, and the BAM/Restoration DanceAfrica Ensemble from Bed-Stuy. DanceAfrica Film will screen such works as Michel Ocelot's AZUR AND AZMAR, Angus Gibson's HEARTLINES, and Lee Isaac Chung's MUNYURANGABO, set in such locations as Democratic Republic of Congo, South Africa, Rwanda, Guinea, and Sudan. And on May 23, the Yoruban group Omi Yesa will be playing BAMcafé at 9:30.
Riff's Rants & Raves: Art & Literature
twi-ny/mdr
Pessi Margulies's "Home Portrait" is part of
installation examining meaning of home in
former Lower East Side medical clinic
HOMEBASE IV
232 East Broadway at Clinton St.
Daily through May 24 12 noon – 8:00 pm
Admission: free
646-957-7165
http://www.homebaseproject.com
Part of the 14th Street Y's LABA Festival, HomeBase is now in its fourth year examining the meaning of home. Previously, the site-specific art project set up in Greenpoint, SoHo, and Harlem; HomeBase IV, founded by artistic director Anat Litwin, has taken over a former medical clinic on East Broadway, where a dozen international artists have each been given a room to, according to HomeBase's mission statement, "nurture a rich contextual exploration around the archetype of home." Visitors enter at 228 East Broadway on the Lower East Side, in the building next to the Bialystoker Nursing Home. The waiting room features realistic posters and a video promoting RYT Hospital — Dwayne Medical Center, which is actually the clever work of artist Virgil Wong, dealing with the way modern biotechnology is changing the nature of birth. Several artists are likely to be on hand as you walk through the rooms, eager to discuss their work, which uses such items as letters, bills, mirrors, family photographs, and video to expound on the theme of home.
Curatorial and programming director Leor Grady took the door off one room, welcoming all to enter his sound installation, where you are encouraged to walk over broken floor tiles and consider how language and pronunciation set people apart, specifically in the Middle East. Letha Wilson cut out pieces of the wall and used them to create a different kind of Artichoke Lamp, originally designed by Poul Henningsen. Pessi Margulies incorporated wax heads, mirrors, flowered wallpaper, and other objects to evoke memories of home. Dafna Shalom took photographs of strangers in the neighborhood who reminded her of her late father in some way. "For me, I guess, home is people," she told us. Oded Hirsch, who was born on a kibbutz in Israel, turned one of the exam rooms into a hospital room, with a film loop of his wheelchair-bound father being lifted high over the ocean, evoking the site's former incarnation as the Floating Hospital. And in one far corner, Abby Robinson has set up a homey doctor's office, where visitors become patients, eating candy, reading very old magazines, and waiting to be ushered into another room, where the "doctor" takes a picture of a body part of their choosing. Robinson gives each participant an ID tag, a photo of that body part that they wear around their neck. Although the installations vary in effectiveness — some are a little too tough to figure out the concept or are overly simplistic — HomeBase IV is a spirited look at the many things home means in the twenty-first century.
Saturday, May 23 Site tour, 1:00; David Deblinger, "Home Street Home," performance and workshop, 2:00; salon conversation, 4:00; site tour and live performances, 5:00 – 7:00
Sunday, May 24 Site tour, 1:00; poetry reading, 2:00; salon conversation, 4:00; site tour and live performance, 5:00 – 7:00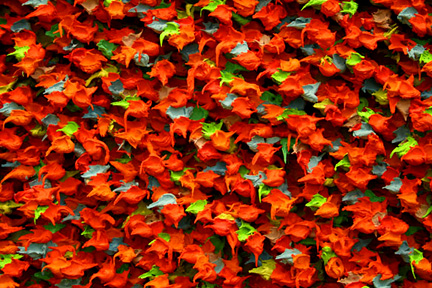 Courtesy of Margaret Thatcher Projects
Robert Sagerman, "51,499 (detail 2)," oil on canvas, 2009
ON AND ON: INQUIRIES INTO INDETERMINACY
Margaret Thatcher Projects
511 West 25th St. between Tenth & Eleventh Aves., fourth floor
Through June 13 (closed Sunday & Monday)
212-675-0222
http://www.thatcherprojects.com
Robert Sagerman's paintings literally jump off the canvas. Using thick globs of oil paint, Sagerman applies them in several levels, creating painting-sculptures that take on a life of their own. Using intense color schemes of red, blue, green yellow, and white, he brings a fascinating texture to these works, which are named after how many "marks" he as made on each, from "6,428" to "51,499." On May 15 at 6:30, Margaret Thatcher Projects will host a free gallery symposium with Sagerman, art critic and historian Michael J. Amy, and Mary Birmingham, director of exhibitions at New Jersey's Hunterdon Art Museum, discussing Sagerman's work as it relates to art history and his studies of the kabbalah, followed by an audience Q&A.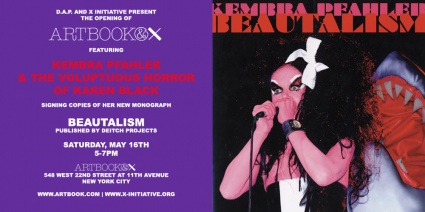 ARTBOOK AT X
548 West 22nd St. between Tenth & Eleventh Aves.
Admission: free
Saturday, May 16 Opening of new bookstore concentrating on contemporary art and culture, with a live performance by the Voluptuous Horror of Karen Black and a book signing by Kembra Pfahler, 5:00 — 7:00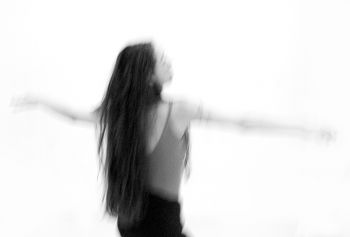 © Pamela Matsuda Dunn
Pamela Matsuda Dunn's "Antigones" will be
part of special slide presentation at DROM
THE SHASHIN-KA SLIDE SHOW
DROM Art Space
85 Ave. A between Fifth & Sixth Sts.
Friday, May 22, $10, 7:00
212-777-1157
Part of the NakaNaka Series, "The Shashin-Ka Slide Show" features a slide show accompanied by live music from Kaoru Watanabe and Deep Singh. Photographs by such Japanese and Japanese-American artists as Kunie Sugiura, Mayumi Terada, Masayuki Yoshinaga, Asako Narahashi, Satomi Shirai, Takahiro Kaneyama, Pamela Matsuda-Dunn, and Akiko Nishimura will be shown on multiple screens, followed by a reception and Q&A with the artists and musicians.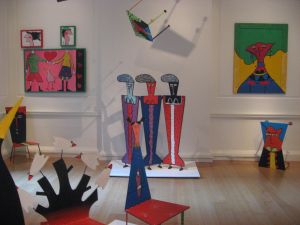 twi-ny/mdr
Colorful designs are on view at Italian Cultural Institute
RAPPLE – RAP – DESIGN
Italian Cultural Institute
686 Park Ave. between 68th & 69th Sts.
Monday through Friday 10:00 am – 4:00 pm
Admission: free
212-879-4242
http://www.iicnewyork.esteri.it
http://www.chiararapaccini.com
Through May 30 Italian artist Chiara Rapaccini's first exhibition in New York City features her charming, whimsical designs, including colorful chairs and tables, mobiles, paintings, sculptures, and children's books

All contents copyright 2009 by Mark Rifkin and twi-ny. All rights reserved. Contents may not be reprinted without written permission. Please note that events, dates, and prices are subject to change.
Send all comments, suggestions, reviews, and questions to mark.rifkin@twi-ny.com.
Please note that some e-mail clients may wrap links, so be sure to enter them fully into your browser.
To subscribe to this list, please e-mail the administrator at admin@twi-ny.com with the word Subscribe in the Subject line; be sure to ask for back issues, which are free as well. To unsubscribe from this list, please think it over twice before e-mailing the same address. Please let us know what you didn't like about this forum and we'll do our best to correct it in the future — if we agree with you. If you would like to see something covered in a future issue, please let us know. Without you, there is no need for us to exist.

twi-ny top two dozen (or so)
weekly reminders & special events
LE CONVERSAZIONI FMR:
AN EVENING WITH RENZO PIANO AND MARK di SUVERO
The Morgan Library & Museum
225 Madison Ave. at 36th St.
Through May 24 (closed Monday)
Tickets: $25
212-685-0008
Wednesday, May 13 Architect Renzo Piano, who designed the recent Morgan Library expansion, and Queens-based sculptor Mark di Suvero discuss art and beauty, moderated by Antonio Monda, 6:30

THE LATE FILM
BAMcinématek, BAM Rose Cinemas
30 Lafayette Ave. between Ashland Pl. & St. Felix St.
April 30 — May 21
718-636-4100
Wednesday, May 13 7 WOMEN (John Ford 1966), 6:50 (followed by a Cinemachat with Elliott Stein), 9:30
Thursday, May 14 A TALKING PICTURE (UM FILME FALADO) (Manoel de Oliveira 2003), 4:30, 9:30
Thursday, May 14 AND THE SHIP SAILS ON (E LA NAVE VA) (Federico Fellini 1983), 6:50
Friday, May 15 KING LEAR (Jean-Luc Godard 1987), 2:00, 4:30, 6:50, 9:15
Saturday, May 16 MARNIE (Alfred Hitchcock 1964), 3:00, 6:00, 9:00
Sunday, May 17 THE DUCHESS OF LANGEAIS (NE TOUCHEZ PAS LA HACHE) (Jacques Rivette 2007), 3, 6 (introduced by Miriam Bale), 9:00
Monday, May 18 GOOD MORNING (OHAYÔ) (Yasujiro Ozu 1959), 4:30, 6:50, 9:15
Tuesday, May 19 TRACK OF THE CAT (William A. Wellman 1954), 6:50, 9:15
Wednesday, May 20 RED LINE 7000 (Howard Hawks 1965), 4:30, 9:15
Thursday, May 21 EL DORADO (Howard Hawks 1966), 6:50 (introduced by Andrew Sarris and Molly Haskell), 9:30
THE CON FILM FESTIVAL
Film Forum
209 West Houston St. between Sixth & Seventh Aves.
Through May 21
212-727-8110
Wednesday, May 13 20,000 YEARS IN SING SING (1933, Michael Curtiz), 2:50, 6:15, 9:40, and EACH DAWN I DIE (1939, William Keighley), 1:00, 4:25, 7:50
Thursday, May 14 THE PRISONER OF SHARK ISLAND (1936, John Ford), 1:30, 5:25, 9:20, and LES MISERABLES (1935, Richard Boleslawski,) 3:20, 7:15
Friday, May 15 CAGED (1950, John Cromwell), 1:30, 5:35, 9:40, and I WANT TO LIVE! (1958, Robert Wise), 3:20, 7:25
Saturday, May 16 ESCAPE FROM ALCATRAZ (1979, Don Siegel), 1:30, 5:10, 8:50, and RIOT IN CELL BLOCK 11 (1954, Don Siegel), 3:35, 7:15
Sunday, May 17 SULLIVAN'S TRAVELS (1942, Preston Sturges), 1:30, 5:20, 9:10, and O BROTHER, WHERE ART THOU? (2000, Joel Coen), 3:15, 7:05
Monday, May 18 SULLIVAN'S TRAVELS (1942, Preston Sturges), 1:00, 4:50, and O BROTHER, WHERE ART THOU? (2000, Joel Coen), 2:45
Tuesday, May 19 BIRDMAN OF ALCATRAZ (1962, John Frankenheimer), 1:00, 3:45, 6:30, 9:15
Wednesday, May 20 THE DEFIANT ONES (1958, Stanley Kramer), 1:00, 5:15, 9:30 and COOL HAND LUKE (1967, Stuart Rosenberg), 2:55, 7:10
Thursday, May 21 YOU ONLY LIVE ONCE (1937, Fritz Lang), 3:00, 6:10, 9:20, and PICK-UP (1933, Marion Gering), 1:30, 4:40, 7:50

THE BOSNIAN-HERZEGOVINIAN FILM FESTIVAL
Tribeca Cinemas
54 Varick St.at Laight St.
Tickets: $12
212-941-2001
Wednesday, May 13 BHFF Movie Night: screening of TOTALLY PERSONAL (Nedzad Begovic, 2006) and music by DJ Tomo, Union Bar, 204 Park Ave. South between 17th & 18th Sts., free, 7:45
Friday, May 15 TOLERANCE (Ivan Ramadan, 2008) and TRACTOR, LOVE AND ROCK 'N' ROLL (Branko Duric, 2008), 7:00
Friday, May 15 I DON'T DREAM IN GERMAN (Ivana Lalovic, 2008), RAZOR (Al Mehicevic, 2008), TURN BACK SOUTH (Igor Borovac, 2008), 1/2 (Slobodan Maksimovic, 2007), and AGAPE (Slobodan Maksimovic, 2008), 9:00
Saturday, May 16 IT'S HARD TO BE NICE (Srdan Vuletic, 2007), 5:00
Saturday, May 16 BELIEVERS (Namik Kabil, 2008), IF YOU ARE WATCHING THIS, MUM (Mustafa Mustafic & Dario Novalic, 2008), and DIAGNOSIS S.B.H. (Enes Zlatar, 2008), 7:00
Saturday, May 16 MAN STILL GOES TO THE MOON (Dragan Rokvic, 2008), THE NIGHTGUARDS (Namik Kabil, 2008), and awards ceremony, 9:00
COCKTAILS AND CHEESE
Artisanal Cheese Center
500 West 37th St. at Tenth Ave.
Tickets: $95
212-871-3141
http://www.artisanalcheese.com
Thursday, May 14 Gin cocktail and cheese pairing class with fromager Waldemar Albrecht and mixologist James Moreland, 6:30

ABRAHAM OBAMA
92YTribeca
200 Hudson St. at Canal St.
Tickets: $12
212-415-5500
Thursday, May 14 Screening of ABRAHAM OBAMA (Kevin Chapados, 2008), followed by a Q&A with documentary subject Ron English, 8:00
FILMS FROM THE NORTH: PART II
Korea Society Gallery
950 Third Ave. at 57th St., eighth floor
Thursday nights in May
Admission: $10
212-759-7525
Thursday, May 14 THE TALE OF CHUN YANG (Yu Won-jun & Yun Ryong-gyu, 1980), 6:30
Thursday, May 21 WOùLMI ISLAND (Cho Kyong-sun, 1982), 6:30
Thursday, May 28 THE FLOWER GIRL (Choi Ik—kyu & Pak Hak, 1972), 6:30
FUNNY BUSINESS
The Morgan Library & Museum
225 Madison Ave. at 36th St.
Admission: free (includes admission to "On the Money: Cartoons for The New Yorker from the Melvin R. Seiden Collection")
212-685-0008
Friday, May 15 FUNNY BUSINESS (Lyda Ely, 2009), introduced by director Lyda Ely, 7:00
ARCHITECTURES OF THE GRAND CONCOURSE
General Society of Mechanics and Tradesmen
20 West 44th St. between Fifth & Sixth Aves.
Admission: free
Friday, May 15 Lecture by Francis Morrone, introduced by Paul Gunther and sponsored by the Bronx Museum, 7:00
MONKS AND SAGES, SACRED PAGES
Judson Memorial Church
55 Washington Square South
Tickets: $20-$25
212-517-1776
http://www.westvillagechorale.org
http://www.choralartssociety.org
Friday, May 15 The West Village Chorale teams up with the Choral Arts Society of Westchester for its annual spring concert, featuring Carl Orff's "Carmina Burana," Leonard Bernstein's "Chichester Palms," and three motets for double choir by Felix Mendelssohn in honor of the bicentennial of his birth, conducted by Michael Conley and featuring Elena Belli and Timothy Havner on piano, soprano Nell Snaidas, and baritone Zachary James, followed by a repeat performance May 17 at Sleepy Hollow High School, 210 North Broadway, both at 8:00
NEW YORK CITY TATTOO CONVENTION
Roseland Ballroom
239 West 52nd St. between Broadway & Eighth Ave.
Tickets: $18 one day, $35 two days, $50 three days
212-247-0200
http://www.nyctattooconvention.com
http://www.roselandballroom.com
Friday, May 15
through
Sunday, May 17 Twelfth annual event, featuring approximately 150 tattoo artists from around the world, book signings, contests, and more
SOUND IN THE FRYING PAN
Lightship Frying Pan
Pier 66, West Side Highway at 26th St.
Admission: free (opening night party $15)
212-206-1505
Friday, May 15 Opening night party, $10-$15 (includes one free drink), 7:00
Saturday, May 16
and
Sunday, May 17 Site-specific sound compositions aboard the lightship Frying Pan, including installations by Melissa Clark, Jessica Feldman, Richard Garet, Ben Owen, Shimpei Takeda, Suzanne Thorpe, Philip White, and Bart Bridger Woodstrup, 12 noon — 9:00 pm
NO FUN FEST
Music Hall of Williamsburg
66 North Sixth St.
Tickets: $25
http://www.musichallofwilliamsburg.com
Friday, May 15 Bastard Noise, Thrones, Grey Wolves, Xeno and Oaklander, Carlos Giffoni, Chris Corsano, Axolotl, Raglani, Noveller, and DJs: Greh Holger and Steve Lowenthal, 7:30
Saturday, May 16 Sonic Youth, Bardo Pond, Rafael Toral with C. Spencer Yeh and Trevor Tremaine, Sons of God, Pedestrian Deposit, Blank Dogs, Yellow Tears, Mattin, Pulse Emitter, and DJs Invernomuto and Jonbenet, 6:30
Sunday, May 17 Skullflower, Prurient and Kevin Drumm, Black Pus, Emeralds, ColdCave, Peter Rehberg and Marcus Schmickler, Jazzfinger, Conrad Schnitzler Con-Cert, and DJs Mike Bernstein and CG Warrior, 6:00
2009 YOGA JOURNAL NEW YORK CONFERENCE
Multiple venues
Admission: free - $495
Friday, May 15
through
Monday, May 18 Four days of classes, all-day intensives, panel discussions, seminars, workshops, a yoga marketplace, and more, including a Kirtan concert with Krishna Das ($30), the keynote address "Yoga and Tantra: Out of Body or Magic Body" by Robert Thurman ($40), and Urban Zen Day
ROMEO + JULIET
New York City Ballet
Tickets: $20-$90
212-721-6500
Friday, May 15
through
Thursday, May 21 Special limited run of five performances of Peter Martins ballet, featuring Robert Fairchild or Sean Suozzi as Romeo and Sterling Hyltin or Kathryn Morgan as Juliet, conducted by Faycal Karoui
PARALLAX
Subjective Theatre Company
Gene Frankel Theater
24 Bond St.
Admission: free but RSVP required: reservations@SubjectiveTheatre.org
http://www.subjectivetheatre.org
Friday, May 15
through
Sunday, May 31 New play written collaboratively by the members of the Subjective Theatre Company, examining narrative and reality
WAVERLY MIDNIGHTS: KUBRICK
IFC Center
323 Sixth Ave. at West Third St.
Weekends at midnight through July 4
212-924-7771
Friday, May 15
and
Saturday, May 16 FULL METAL JACKET (Stanley Kubrick, 1987)
Friday, May 22
through
Sunday, May 24 EYES WIDE SHUT (Stanley Kubrick, 1999)
MIRROR, MIRROR
CabaretCinema
Rubin Museum of Art
150 West 17th St. at Seventh Ave.
Friday, May 8, 9:30
Free with $7 bar minimum (includes admission to galleries)
212-620-5000 ext 344
Friday, May 15 VERTIGO (Alfred Hitchcock, 1958), introduced by Linda Yablonsky
Friday, May 22 8 1/2 (Federico Fellini, 1963), introduced by Alexei Kaleina
BREAK OF REALITY
Baruch Performing Arts Center
17 Lexington Ave. at 23rd St.
General admission: $15-$20
646-312-4085
Saturday, May 16 Official CD release concert celebrating SPECTRUM OF THE SKY by Break of Reality, featuring quarter comprising three cellists and one percussionist, playing originals as well as covers of songs by such bands as Metallica and System of a Down, 8:00
ANDREA MARCOVICCI's 60th BIRTHDAY CONCERT
The Town Hall
123 West 43rd St. between Sixth Ave. & Broadway
Tickets: $45-$50
212-840-2824
http://www.the-townhall-nyc.org
Saturday, May 16 Andrea Marcovicci celebrates her sixtieth with Helen Marcovicci, Stephen Schwartz, Francesca Blumenthal, John Bucchino, Christine Lavin, Craig Carnelia, Babbie Green, Tom Toce, musical director Shelly Markham, and other special guests, 8:00
CONEY ISLAND SATURDAY NIGHT FILM SERIES 2007
Coney Island Museum
1208 Surf Ave. between Stillwell Ave. and West 12th St.
Saturday nights through September 26
Tickets $5, including free popcorn
718-372-5159
Saturday, May 16 PSYCHO (Alfred Hitchcock, 1960), 8:30
SPECIAL DANCE SERIES
Tamarind Art Council
142 East 39th St.
Admission: free but RSVP required
212-200-8000 / rsvp@tamarindarts.org
Saturday, May 16 Bharathnatyam performance by Rebecca Aier, 4:00
Saturday, May 16 Mohiniyattam performance by Laxmi Kurup, 6:30
Sunday, May 17 Bharathnatyam performance by Inra-nila, 7:00
AIDS WALK NEW YORK
Central Park
http://www.aidswalk.net/newyork
Sunday, May 17 Nearly fifty thousand people are expected to participate in this annual event to raise money and awareness for AIDS research, with special guests Hilary Duff and Sarah Dash, featuring opening ceremony at 9:15, postwalk concert with Gold Streets at 12:30, and results announcement at 3:00

A GREAT DAY ON ELDRIDGE STREET
Museum at Eldridge Street
12 Eldridge St. between Canal & Division Sts.
Tickets: $15
212-219-0888
Sunday, May 17 Film screening of A GREAT DAY ON ELDRIDGE STREET (Yale Strom, 2008) and discussion about the October 12, 2007, gathering of more than one hundred klezmer and Yiddish musicians, with Yale Strom and a live klezmer performance, 3:00
NYC POPFEST!
Cake Shop
152 Ludlow St. between Stanton & Rivington Sts.
Admission: $10
212-253-0036
Sunday, May 17 Steve Goldberg and the Arch Enemies (3:00), Boy Genius (3:30), the Smittens (4:15), Rose Melberg (5:00), Afternoon Naps (5:45), a Faulty Chromosome (6:30), the Drums (7:15), Very Truly Yours (8:00), the Icicles (8:45), Casper and the Cookies (9:30), Burning Hearts (10:15), and Suburban Kids with Biblical Names (11:00)
WHAT I LEARNED FROM BALANCHINE
New York Public Library for the Performing Arts
40 Lincoln Center Plaza
Admission: free
212-870-1630
Monday, May 18 An Evening with Gloria Contreras, 6:00
MOVEMENT RESEARCH AT THE JUDSON CHURCH
Judson Church
55 Washington Square South
Admission: free
212-539-2611
http://www.movementresearch.org
Monday, May 18 Adriane Lee, Daniel Lepkoff, Nicole Stanton, and Sasha Welsh, 8:00
GREAT EVENINGS IN THE GREAT HALL:
ELECTORAL POLITICS
The Great Hall at the Cooper Union
7 East Seventh St. at Astor Pl.
Admission: free
212-353-4195
Tuesday, May 19 Multimedia re-creation of great political speeches given in the Great Hall (by Teddy Roosevelt, Fiorella La Guardia, Bill Clinton, Barack Obama, and more), with Fred Siegel, Frances Fox Piven, and other actors, writers, and academics, with live musical performance, 6:30

ISSUE PROJECT ROOM BIRTHDAY PARTY AND BENEFIT
Galapagos Art Space
16 Main St., DUMBO
Tickets: $30-$100
718-384-4586
http://www.luminousfluxnyc.com
http://www.galapagosartspace.com
Tuesday, May 19 Sixth annual multimedia extravaganza, featuring JG Thirlwell with Ed Pastorini and Owen Bloedow, Ray Sweeten, live visuals by Brock Monroe, screening of STRAIGHT AND NARROW (Tony Conrad, 1970) and films by Martha Colburn and Marie Losier, Elysian Fields, MV Carbon, Seth Meets SSPSS, DJ Fabio, prizes, photo booths, raffles, an auction, and more, reception at 6:30, show at 8:00
JOEY RAMONE BIRTHDAY BASH
The Fillmore New York at Irving Plaza
17 Irving Pl. between 14th & 15th Sts.
Tickets: $25-$30
212-777-6800
Tuesday, May 19 Ninth annual party celebrating the life and music of Joey Ramone, featuring never-before-released solo recordings by Joey and live performances by Fishbone, Supersuckers, Death, Rough Francis, Uncle Monk (with Tommy Ramone), Bebe Buell, Tom Clark & the High Action Boys, Tracy Thornton, Sean O'Sullivan's Punk Pipers, and the Friends of Joey, consisting of Richie Ramone, Handsome Dick Manitoba, Jean Beauvoir, Ivan Julian, and George Tabb, emceed by Matt Pinfield and Peter Aschner, with net proceeds benefiting the Joey Ramone Foundation for Lymphoma Research, 7:00
HUSBANDS
SVA Theatre
333 West 23rd St.
Tickets: $5-$10
212-724-5004
http://www.dangerousgroundproductions.com
http://www.schoolofvisualarts.edu
Tuesday, May 19
through
Friday, May 22 Multimedia theatrical adaptation of John Cassavetes 1970 film HUSBANDS, directed by Doris Mirescu and produced by Chris Newman, 7:30
AHMAD JAMAL
Blue Note
131 West Third St.
Tickets: table $40, bar $30
212-475-8592
Tuesday, May 19
through
Sunday, May 24 Legendary pianist Ahmad Jamal with James Cammack on back, Manolo Badrena on percussion, and James Johnson on drums, 8:00 & 10;30
ROBOT NIGHT!
Under St. Marks
94 St. Marks Pl. between First Ave. & Ave. A
Admission: $7
http://www.thiskevin.blogspot.com
Wednesday, May 20 Video cavalcade featuring clips from RUNAWAY, CHOPPING MALL, WESTWORLD and FUTUREWORLD, THE BIONIC WOMAN VS. BIGFOOT, and more, hosted by Kevin Maher and Victor Varnado, with trivia, prizes, snacks, Rock 'em Sock 'em Robots, and more, presented by Horse Trade Theater Group, 9:00
ISRAELI INDEPENDENCE CELEBRATION: WINE & MUSIC
City Winery
143 Varick St. between Spring & Vandam Sts.
Tickets: VIP tasting and concert $95, concert only $25-$45
212-608-0555
Wednesday, May 20 Tasting of wine from more than fifteen Israeli wineries, 5:00 — 8:00, followed by a special Hebrew concert by David Broza, 8:00
THE HUDSON-FULTON CELEBRATION
Down Town Association
60 Pine St.
Admission: free but advance reservations required
212-566-6700
Thursday, May 21 Kate Johnson, "New York's 1909 River Festival and the Making of a Metropolis," 7:00
DYLAN FEST 2009!
Mercury Lounge
217 East Houston St. at Ave. A
Tickets: $10-$12
http://www.mercuryloungenyc.com
Thursday, May 21 Hymns, Adam Green, Grand Maxwell of the Morning Pages, Jody Porter of Fountains of Wayne, the Pierces, Matt Romano of Little Joy, Russell Simins of Men Without Pants, Fab Moretti of the Strokes, Nikolai Fraiture of the Strokes, Sammy James Jr. of the Mooney Suzuki, the Teenage Prayers, more, 9:30
IMPERIAL TRACE: RECENT RUSSIAN CINEMA
Anthology Film Archives
32 Second Ave. at Second St.
May 21-24
212-505-5181
http://www.anthologyfilmarchives.org
Thursday, May 21, 7:00, introduced by Nancy Condee
and
Saturday, May 23, 9:15 ALEXANDRA (Alexander Sokurov, 2007),
Thursday, May 21, 9:15, introduced by Nancy Condee
and
Saturday, May 23, 7:00 CARGO 200 (GRUZ 200) (Aleksei Balabanov, 2007),
Friday, May 22, 7:00
and
Sunday, May 24, 4:15 MY FRIEND IVAN LAPSHIN (Aleksei German, 1971/1985),
Friday, May 22, 9:15
and
Sunday, May 24, 6:30 BROTHER (BRAT) (Aleksei Balabanov, 1997),
Saturday, May 23, 4:15
and
Sunday, May 24, 8:30 BURNT BY THE SUN (Nikita Mikhalkov, 1994),
ROOFTOP FILMS
Open Road Rooftop above New Design High School
350 Grand St. at Essex St.
Tickets: $9
718-417-7362
Friday, May 22 Romantic Short Films: Endless Forgiveness, doors open at 8:00, live music at 8:30, film screening at 9:00
ALL IN THE FAMILY
Symphony Space, Peter Jay Sharpe Theater
2537 Broadway at 95th St.
Tickets: $26-$31
212-349-0330
Friday, May 22
and
Saturday, May 23 Company Stefanie Batten Bland presents a multimedia performance consisting of three ballets and three video dance films, with music by Ed Bland and Jean Philippe Barrios and films by Guillaume Le Grontec, 8:00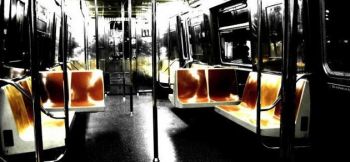 David Bellantoni's FOREPLAY is part of Lower East Side arts festival
LOWER EAST SIDE FESTIVAL OF THE ARTS
Theater for the New City
155 First Ave. between Ninth & Tenth Sts.
Admission: free
212-254-1109
http://www.myspace.com/lesfestival
http://www.theaterforthenewcity.net
Friday, May 22
through
Sunday, May 24 Fourteenth annual event featuring indoor and outdoor events, with David Amram, Joe Franklin, Vinnie Burrows, Judy Gorman, the Red Bastard, Judith Malina, the New York Theatre Workshop, the Rod Rodgers Dance Company, the Mariana Bekerman Dance Company, DADA New York, Lissa Moira, the Bangladesh Theater of America, the Kinding Sindaw Dance Company, Crystal Field, Alberto Minero, Sol Echevarria, Susan Gittens, Robert Fitzsimmons, Human Kinetics, belly dancing, comics, poets, video and film screenings, a performance of David Bellantoni's one-act FOREPLAY (Sunday night at 8:00), and much more
PASSAGE BLEU
Merce Cunningham Studio
56 Bethune St.
Tickets: $15-$20
http://www.flowingdancecompany.ch
Saturday, May 23
and
Sunday, May 24 The Flowing Dance Company presents an evening-length program choreographed by Anne-Sophie Fenner, weaving together four dances: Eclaircie, Inside, Inflorescence, and Passage Bleu, 8:00
WASHINGTON SQUARE OUTDOOR ART EXHIBIT
University Pl. between East Twelfth St. & Bobkin Ln.
Admission: free
212-982-6255
Saturday, May 23
through
Monday, May 25 Seventy-ninth annual gathering of artists and artisans selling their wares, including painting, sculpture, photography, jewelry, ceramics, and more, 12 noon — 6:00 pm
SUNDAY BEST
The Yard
400 Carroll St. between Bond & Nevins Sts.
Sundays from 3:00 — 9:00 through September 6
Cover: $10
Sunday, May 24 Dance party with special guest King Britt, resident DJs Eamon Harkin, Justin Carter, and Doug Singer, and barbecue, 3:00 — 9:00
twi-ny/mdr
Miranda will move to the drums for Mercury Lounge show
MING DYNASTY
Mercury Lounge
217 East Houston St. at Ave. A
Admission: $8
212-260-4700
http://www.mercuryloungenyc.com
Monday, May 25 Local faves Ming Dynasty will be performing with usual lead guitarist Eric Miranda on drums, playing songs from their latest disc, YELLOW TIGER, at 9:00, followed by the Call Sign at 10:00
UNWIGGED & UNPLUGGED
Beacon Theatre
Broadway at 74th St.
Tickets:
Tuesday, May 26 An Evening with Christopher Guest, Michael McKean, and Harry Shearer, playing the music of SPINAL TAP, A MIGHTY WIND, and more
TRUTH BE TOLD DOCUMENTARY STUDIES FILM FESTIVAL
The New School, Tishman Auditorium
66 West 12th St. between Fifth & Sixth Aves.
Admission: free
212-980-3942
Tuesday, May 26 Home Away from Home, featuring short films by India Bourke, Matt Reynolds, Hee Jin Shim, Zach Fox, and David Gutierrez Camps, followed by a public reception with the filmmakers, 7:00
Wednesday, May 27 The Passion of Art and Politics, featuring short films by Christina Hibbs, Hind Al-Awadi, Rodger Holst, Francisco Vargas, Veronica Medina, and Ivana Todorovic, 7:00

A TALE FROM THE WORLD OF PARALLEL THINKING
Chelsea Art Museum
556 West 22nd St. at 11th Ave.
Tickets: $15
212-255-0719
Wednesday, May 27 Semi-Systems Drawings and Performance Art from the 1980s by Hassan Sharif in the UAE, lecture by art historian Paulina Kolczynska, 6:30
THE MOVADO HOUR
Baryshnikov Arts Center and other venues
450 West 37th St.
Admission: free but reservations required at 212-279-4200
Wednesday, May 27 Stephen Prutsman on piano, Anna Elashvili on violin, and Edward Arron on cello: works by Bach and Shostakovich, 7:00
DANCE OF THE WHITE DRESS
The Malcolm X & Dr. Betty Shabazz Memorial and Educational Center
3940 Broadway at West 165th St.
Tickets: $20-$25
212-307-7420
Sunday, May 31 Eighth annual dance event, with Chico Alvarez & Mafimba and Zon de Barrio featuring DJ Broadway, free Latin buffet and floor show, sponsored by the Caribbean Cultural Center African Diaspora Institute, 5:00 — 11:00
TASTE OF SUMMER
Central Park
Naumburg Bandshell, midpark at 72nd St.
Tickets: $350
Wednesday, June 3 Benefit for the Central Park Conservancy, featuring tastings from more than forty restaurants, including Asia de Cuba, BLT Market, Caravaggio, Geisha, Maya, Orsay, Pampano, Shelly's New York, Tocqueville, and many others, 7:00 — 11:00