Twi-ny, This Week in New York
KRAZY! THE DELIRIOUS WORLD
OF ANIME + MANGA + VIDEO GAMES
Japan Society
333 East 47th St. between First and Second Aves.
Through June 14 (closed Mondays)
Admission: $10 (free Friday nights from 6:00 to 9:00)
212-715-1258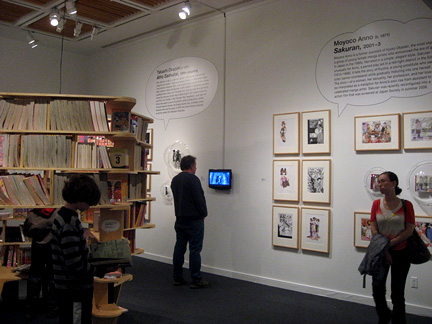 twi-ny/mdr
Manga section of exhibit features art, reading pod, DVD excerpts, and bubbled objects

The Japan Society's "Krazy!," an abbreviated version of a larger exhibit put together by the Vancouver Art Gallery, examines the impact that anime, manga, and video games have had on visual culture over the last several decades, offering a splendid primer on these fascinating forms of entertainment. The first room features original drawings, inkjet prints, character figures, and more from such manga — stories about invented worlds told primarily in black-and-white comic-book-like panels in paperback book form — as Moyoco Anno's elegant SAKURAN, Mamoru Nagano's THE FIVE STAR STORIES, Hitoshi Odajima's MU: FOR SALE, Taiyo Matsumoto's TEKKON KINKREET, and Hisashi Eguchi's STOP!! HIBARI-KUN! Curators Toshiya Ueno and Kiyoshi Kusumi chose not to include works by such manga legends as Osamu Tezuka and such series as BATTLE ROYALE, instead focusing on lesser-known (in America) tales as Junko Mizuno's wonderful PURE TRANCE, offering a unique perspective on the genre. There are also excerpts from the animated versions of some of the series, with particularly cool clips from Matsumoto's BLACK & WHITE and Takashi Okazaki's AFRO SAMURAI (with Samuel L. Jackson voicing the title character!). Perhaps most interesting is Yuichi Yokoyama's NEW ENGINEERING: BOOK, which is set in a carefully constructed geometric world with no dialogue, ghostly figures, and no discernable plot. Exhibit designer Atelier Bow-Wow has included a central wooden pod where children and adults can go inside and choose from among hundreds of manga, in English and Japanese, to catch up on all the fun they've been missing.
Richard P. Goodbody
KRAZY! game room includes PAC-MAN cocktail cabinet

The second room, much smaller and darker than the first, is devoted to video games, where people can grab a seat and play Shigeru Miyamoto's SUPER MARIO WORLD and THE LEGEND OF ZELDA: THE WIND WAKER and Iwatani Toru's PAC-MAN. The interactive display is supplemented with bios of the creators and various paraphernalia, including a Nintendo GameCube, inkjet prints of original character art, and a game cartridge. This part of the exhibit is a throwback to the early days of video games, before the personal computer revolution kept kids in their rooms instead of going out to the arcade.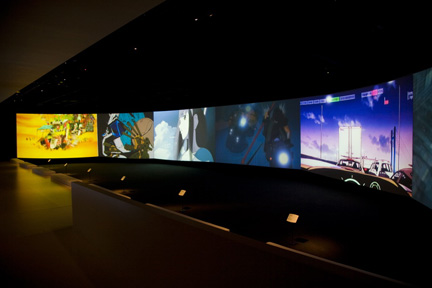 Richard P. Goodbody
Anime room screens excerpts from six different films

KRAZY concludes with the beautifully designed anime room, where excerpts from a half dozen major animated films are shown across a large concave screen divided into six parts, creating a barrage of colorful, action-packed imagery. Visitors can also see clips in six small, semiprivate booths. Ueno and Kusumi selected a wide range of works, including Katsuhiro Otomo's futuristic AKIRA, Mamoru Oshii's militaristic epic PATLABOR 2: THE MOVIE, and Makoto Shinkai's sweet coming-of-age film THE PLACE PROMISED IN OUR EARLY DAYS. And then there's the nearly indefinable MIND GAME by Masaaki Yuasa, a wild, at times raunchy anime that crosses genres and styles. As cool as these films are to watch, they also make fascinating comments on the past, present, and future of Japan, much of it evolved following the devastation wrought by the dropping of the atomic bombs on Hiroshima and Nagasaki. In addition to the excerpts, the Japan Society is screening all six works in their entirety in the downstairs theater on weekends. KRAZY! concludes with a small, somewhat unnecessary booth dedicated to Yoko Kanno's soundtracks for such films as COWBOY BEBOP, GHOST IN THE SHELL, and WOLF'S RAIN.
Friday, May 8, Friday, June 5, and Friday, June 12 THE PLACE PROMISED IN OUR EARLY DAYS
(Makoto Shinkai, 2004), 3:30
Friday, May 8, Friday, June 5, and Friday, June 12 PAPRIKA (Satoshi Kon, 2006), 5:00
Friday, May 8, Friday, June 5, and Friday, June 12 SUPER DIMENSION FORTRESS MACROSS: Episode 9 (Ichiro Itano, 1982-83), 6:30
Friday, May 8, Friday, June 5, and Friday, June 12 PATLABOR 2: THE MOVIE (Mamoru Oshii, 1993), 7:00
Saturday, May 2, 23, 30, and June 6, 13 PATLABOR 2: THE MOVIE (Mamoru Oshii, 1993), 11:30 am
Saturday, May 2, 23, 30, and June 6, 13 SUPER DIMENSION FORTRESS MACROSS: Episode 17 (Ichiro Itano, 1982-83), 1:30
Saturday, May 2, 23, 30, and June 6, 13 AKIRA (Katsuhiro Otomo, 1988), 2:00
Saturday, May 2, 23, 30, and June 6, 13 SUPER DIMENSION FORTRESS MACROSS: Episode 18 (Ichiro Itano, 1982-83), 4:30
Sunday, May 10, 24, 31, and June 7, 14 THE PLACE PROMISED IN OUR EARLY DAYS (Makoto Shinkai, 2004), 11:30 am
Sunday, May 10, 24, 31, and June 7, 14 PAPRIKA (Satoshi Kon, 2006), 1:00
Sunday, May 10, 24, 31, and June 7, 14 SUPER DIMENSION FORTRESS MACROSS: Episode 27 (Ichiro Itano, 1982-83), 2:30
Sunday, May 10, 24, 31, and June 7, 14 MIND GAME (Masaaki Yuasa, 2004), 3:00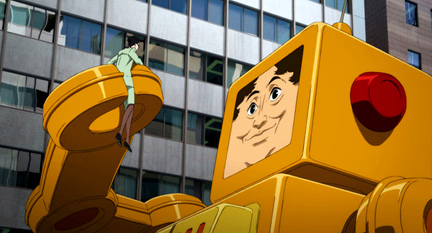 Satoshi Kon hit is part of anime festival at Japan Society
PAPRIKA (Satoshi Kon, 2006)
http://www.sonyclassics.com/paprika

Based on the novel by Yasutaka Tsutsui, PAPRIKA is an animated, futuristic sci-fi thriller in which reality and dreams merge in clever and confusing ways. The title character is a superhero psychotherapist who can enter people's dreams by using cutting-edge technology known as the DC MINI, which was invented by Dr. Tokita, a huge man with a baby face and a tremendous appetite. When one of the prototypes is stolen, Paprika, whose alter ego is Dr. Atsuko Chiba of the Foundation for Psychiatric Research, sets out to find the thief, who is using the invaluable — and not fully tested and approved — equipment for seemingly evil purposes. Other central characters include Torataro Shima, the adorable old chief of the lab; the ruthless, wheelchair-bound foundation chairman, Seijiro Inui; Detective Konakawa, who develops a liking for Paprika; Dr. Osanai, a hunky researcher; and lab assistant Himuro, who has gone missing but can be seen in dreams. Adapted by Satoshi Kon, the director of MILLENNIUM ACTRESS and TOKYO GODFATHERS, and featuring the voices of Megumi Hayashibara, Toru Emori, Katsunosuke Hori, Toru Furuya, and Akio Ohtsuka, PAPRIKA is an entertaining, if at times hard to follow, anime with lots of cute characters and some very beautiful scenes.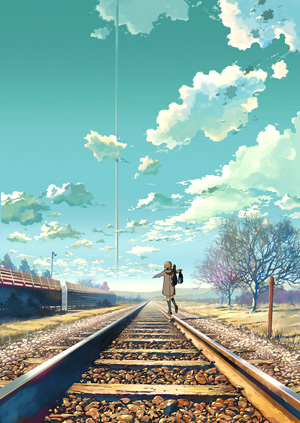 Makoto Shinkai film is beautiful to look at
THE PLACE PROMISED IN OUR EARLY DAYS (Makoto Shinkai, 2004)

Makoto Shinkai, who took the anime world by storm with his 2003 hit VOICES OF A DISTANT STAR, a short film made completely on his home computer, returns with his first feature-length work, the magical and mystical THE PLACE PROMISED IN OUR EARLY DAYS. Set in an alternate futuristic post-WWII world, THE PLACE PROMISED centers on three friends, Hiroki, Takuya, and Sayuri, who make a vow to fly Hiroke and Takuya's plane, Bela C'ielo, into the Tower, a monolithic structure rising into the sky that symbolizes the postwar division into the Union and U.S.-Japanese forces. With war imminent, an older Takuya and Hiroki find themselves on opposing sides, with Sayuri lost in a coma dreamworld. Although the plot — especially the science aspects — gets rather complex and confusing, THE PLACE PROMISED is a beautiful-looking film, both tenderly sweet and harshly depressing, presenting a rather bleak forecast of the future. But stunning visual moments such as a setting sun with an illuminated halo that forms a shining star twinkling into an abandoned factory make it all worth it. Shinkai's film was deservedly named Best Animated Film at the Mainichi Film Awards, where it topped the much more heralded STEAMBOY (Katsuhiro Otomo, 2004) and HOWL'S MOVING CASTLE (Hayao Miyazaki, 2004).
Sunday, May 3 Kodomo no hi: Celebrating Japan Children's Day through Performance & Crafts-Making, family program, $15 per family, advance tickets strongly recommended, 2:00
Monday, May 4 KRAZY! Chiptune Music, discussion with Marcin Ramocki and Jeremiah (Nullsleep) Johnson, moderated by Ed Halter, $5, 6:30
Tuesday, May 5 Lovesick Japan: Stories of Intimacy from Courts to Keitai (Cell Phone) Novels, with Dana Goodyear and Mark West, moderated by Kenji Yoshino, $10, 6:30
Saturday, May 9
and
Saturday, June 13 Konnichiwa Friends Family Tours of KRAZY!, family program for children ages two to four, free with museum admission, 2:00
Sunday, May 17 Art Cart: Tea Ceremony for Children, with Sen So'oku, $15 per family up to five people, 2:00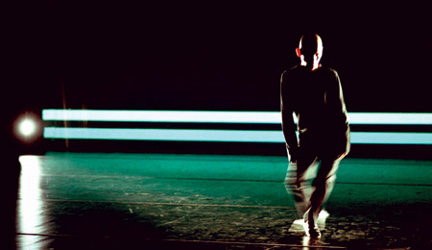 © Shin Yamagata
Hiroaki Umeda will perform solo at the Japan Society May 14-16
HIROAKI UMEDA
Japan Society
333 East 47th St. between First and Second Aves.
May 14-16, 7:30
Tickets: $28
212-715-1258
Tokyo-based multimedia artist Hiroaki Umeda combines various dance and art forms when creating his solo pieces, incorporating butoh, innovative lighting design, minimalist movement, and electronic sound that result in a mesmerizing, haunting, often breathtaking experience. He'll be at the Japan Society performing what is billed as "Solo dance, light, sound & video" for what should be three fascinating shows May 14-16.
In the Neighborhood
ASIAN/PACIFIC AMERICAN HERITAGE FESTIVAL
Dag Hasmmarskjold Plaza
47th St. at Second Ave.
Sunday, May 3, free, 12 noon - 6:00
The thirtieth annual Asian / Pacific American Heritage Festival, celebrating the culture of India, the Hawaiian Islands, Bali, China, Korea, Japan, Vietnam, Cambodia, Thailand, Polynesia, and other Asian nations, takes place on Sunday afternoon, May 3, at Dag Hasmmarskjold Plaza on Second Ave. at 47th St. There will be live music and dance, children's activities, folk arts, cultural booths, ethnic food, a health pavilion, martial arts demonstrations, a video competition, and more, featuring emcees Air Tabigue, Jen Kwok, Alan Muraoka, and Emily C. Chang. The performance schedule includes Bollywood Axion at 11:55, Jack Lords at 12:10, the NYC Bhangra Club at 12:45, P.I.C. at 1:20, Balam Dance Theater at 1:55, the Stone Forest Ensemble at 2:30, Cobu at 3:05, Alfa at 3:40, the Chinese American Arts Council at 4:15, Magnetic North at 4:45, and Polynesian Dance Productions at 5:20.
In the Thematic Neighborhood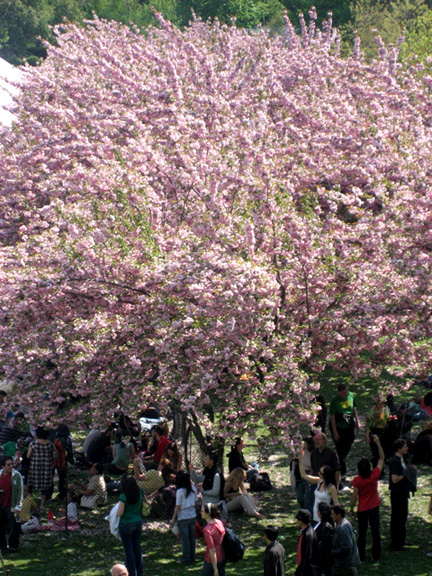 twi-ny/mdr
The cherry trees should be in bloom for annual Sakura Matsuri
SAKURA MATSURI 2009
Brooklyn Botanic Garden
900 Washington Ave.
Saturday, May 2, and Sunday, May 3
Admission: $12 adults, children under twelve free
One of the most beautiful annual events in New York City is the cherry blossom celebration at the Brooklyn Botanic Garden, called Hanami, which runs through May 10. If you hit the timing just right, you'll be blown away by the gorgeous trees in full bloom. And the weekend of May 2-3 marks the Sakura Matsuri, the Cherry Blossom Festival, featuring live music and dance, film screenings, anime, manga, and tea ceremonies throughout the gardens. The Sakura Matsuri is a visual delight; if you've never seen the Cherry Esplanade in full bloom, change your plans right now and go this weekend. In addition to the below events, there will be Origami Paper Folding for Families with Jeremy Aaron Horland; the Game of Go; Paper, Poetry & Plants for Families, Cosplay; the J-Lounge Dancers; Samurai Beat Radio Live Broadcast; Origami Crane Confections with chef Max Kitano; Washi Ningyo Doll Making with Yuko Doren; Ikebana Flower Arranging (Sogetsu School) with Fumiko Allinder; Traditional Tea Ceremony; Mataro Ningyo Doll Making with Kinuko Narada; Moku Hanga Woodblock Printing with April Vollmer; Bonsai Display: Living Sculpture; Japanese Hill-and-Pond Garden tours; Bonsai Advice for Home Gardeners; Home Gardening Experts on Flowering Cherries; Japanese Food & Beverages, and other performances, workshops J-pop culture demonstrations, exhibits, garden advice, and guided tours.
Saturday, May 2 Sakura J-Lounge: DJ 2Thirteen, Osborne Garden, 10:00 — 1:00
Saturday, May 2 Children's Suzuki Recital, Brooklyn College Preparatory Center, Auditorium, 11:00
Saturday, May 2 Taiko Drumming, Soh Daiko, Cherry Esplanade Stage, 12 noon
Saturday, May 2 Nihon Buyo Classical & Ryukyu Buyo Okinawan Dance, Sachiyo Ito & Company with the Sonny Ochiai Quartet, Cherry Esplanade Stage, 1:15
Saturday, May 2 Japanese Gypsy Rock, Kagero, Cherry Esplanade Stage, 2:15
Saturday, May 2 Hanagasa Odori (Flower Hat Dance) Procession, Japanese Folk Dance Institute of N.Y., Lily Pool Terrace, 2:30
Saturday, May 2 Funny Voices: Anime Voice Actor Roundtable, with film director Tom Wayland, Rachael Lillis, Jamie McGonnigal, and Veronica Taylor, Auditorium, 2:30
Saturday, May 2 Bushido: The Soul of Samurai, Samurai Sword Soul, Cherry Esplanade Stage, 3:15
Saturday, May 2 Butoh Dance, Dean Street FOO Dance, Meadow, 3:30
Saturday, May 2 Shakuhachi Flute Concert, James Nyoraku Schlefer and Kyo-Shin-An Dojo, Alfred T. White Memorial, 3:30
Saturday, May 2 J-pop star Minami Kizuki, Cherry Esplanade Stage, 4:15
Saturday, May 2 J-pop star Ai Kawashima, Cherry Esplanade Stage, 5:15
Saturday, May 2 Misako Rocks! A Crazy Comic Life, Auditorium, 4:00
Saturday, May 2 The J-Lounge Dancers, featuring Kaori "K Bunny" Nakata and Rie Sato, Osborne Garden, 4:00
Saturday, May 2 Manga for Dummies with Kensuke Okabayashe, Auditorium, 5:00
Saturday, May 2
and
Sunday, May 3 Manga & Anime Artist Alley, featuring Del Rey Manga, Abby Denson, Misako Rocks!, N.Y. Anime Festival, Kensuke Okabayashe, and Uncle Yo, Osborne Garden, 10:00 am — 6:00 pm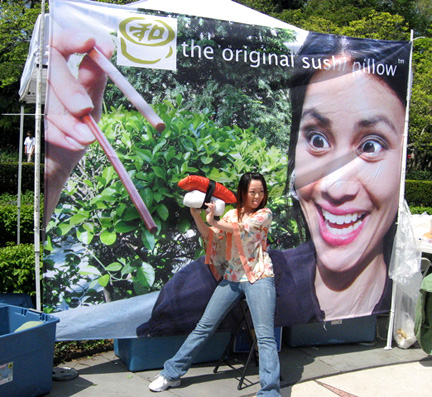 twi-ny/mdr
Visitors can have their picture taken with sushi pillows at festival

Sunday, May 3 Taiko Drumming, Taiko Masala, Cherry Esplanade Stage, 12 noon
Sunday, May 3 Children's Taiko Drumming Recital, Genki Daiko Team Cherry Esplanade Stage, 12:45
Sunday, May 3 Nihon Buyo Classical & Ryukyu Buyo Okinawan Dance, Sachiyo Ito & Company with the Sonny Ochiai Quartet, Cherry Esplanade Stage, 1:15
Sunday, May 3 Enta Kusakabe & the Art of Gogyohka, Alfred T. White Memorial, 1:30
Sunday, May 3 Koto & Shamisen Concert, Masayo Ishigure & the Miyabi Koto Shamisen Ensemble, Cherry Esplanade Stage, 2:15
Sunday, May 3 Meet Poet Enta Kusakabe, Q&A session and book signing, Alfred T. White Memorial, 2:30
Sunday, May 3 Minbu Folk Dance, Japanese Folk Dance Institute of N.Y., Cherry Esplanade Stage, 3:15
Sunday, May 3 Butoh Dance, Dean Street FOO Dance, Meadow, 3:30
Sunday, May 3 Shakuhachi Flute Concert, James Nyoraku Schlefer and Kyo-Shin-An Dojo, Alfred T. White Memorial, 3:30
Sunday, May 3 Documentary Film Screening: TRANSCENDING: THE WAT MISAKA STORY (Bruce Alan Johnson & Christine Toy Johnson, 2008), followed by Q&A with filmmakers, Auditorium, 4:00
Sunday, May 3 Bushido: The Soul of Samurai, Samurai Sword Soul, Cherry Esplanade Stage, 4:15
Sunday, May 3 Traditional Kimono Show & Oiran Douchu, Cherry Esplanade Stage, 5:15
Brooklyn Film Festival of the Week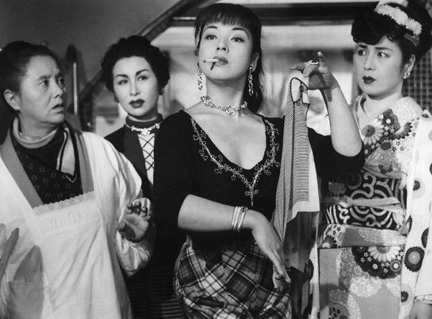 Mizoguchi's STREET OF SHAME is part of BAM film series
THE LATE FILM
BAMcinématek, BAM Rose Cinemas
30 Lafayette Ave. between Ashland Pl. & St. Felix St.
April 30 — May 21
718-636-4100
BAMcinématek has chosen a great theme for its latest series, "The Late Film," looking at films made by nearly two dozen international directors at or near the end of their career, when they weren't necessarily tied to any studio and had earned enough of a reputation to do whatever they wanted and not rest on their laurels or make films that were expected of them — except, of course, for those who did whatever they wanted throughout their career. Thus, John Ford's 7 WOMEN, Howard Hawks's RED LINE 7000, Michael Powell's AGE OF CONSENT, Billy Wilder's THE PRIVATE LIFE OF SHERLOCK HOLMES, and William Wellman's TRACK OF THE CAT are perhaps more interesting — or at least less well known — selections than Federico Fellini's AND THE SHIP SAILS ON, Jean-Luc Godard's KING LEAR, Ingmar Bergman's AFTER THE REHEARSAL, and Eric Rohmer's AUTUMN TALE. There are also several choices that one can quibble with; for example, although the series includes Manoel de Oliveira's A TALKING PICTURE, made in 2003 when the Portuguese director was ninety-four, he is currently at work on his tenth picture since then. And wouldn't 1976's FAMILY PLOT or 1972's FRENZY be a better Alfred Hitchcock late-career selection than 1964's MARNIE? But the most controversial choice is Jerry Lewis's goofy but somewhat charming 1983 comedy CRACKING UP (SMORGASBORD), the last film he both directed and starred in.
Thursday, April 30 THE PRIVATE LIFE OF SHERLOCK HOLMES (Billy Wilder 1970), 6:50, 9:30
Friday, May 1 STREET OF SHAME (AKASEN CHITAI) (Kenji Mizoguchi 1956), 2:00, 4:30, 6:50, 9:15
Saturday, May 2 CLUNY BROWN (Ernst Lubitsch 1946), 2:00, 4:30, 6:50, 9:15
Sunday, May 3 EYES WIDE SHUT (Stanley Kubrick 1999), 2:45, 6, 9:15
Tuesday, May 5 CRACKING UP (AKA SMORGASBORD) (Jerry Lewis 1983), 4:30, 6:50, 9:30
Thursday, May 7 AUTUMN TALE (CONTE D'AUTOMNE) (Eric Rohmer 1998) and LE LION VOLATILE (Agnès Varda 2003), 4:30, 6:50 (introduced by Jonathan Baumbach and followed by a book signing), 9:30
Friday, May 8 LE GARÇU (Maurice Pialat 1992), 4:30, 9:40
Friday, May 8 FAAT KINÉ (Ousmane Sembene 2000), 2:00, 6:50 (introduced by Melissa Anderson)
Saturday, May 9 THE COMPANY (Robert Altman 2003), 2:00, 6:50
Saturday, May 9 AFTER THE REHEARSAL (EFTER REPETITIONEN) (Ingmar Bergman 1984), 4:30, 9:15
Sunday, May 10 L'ARGENT (Robert Bresson 1983), 2:00, 4:30, 6:50, 9:15
Monday, May 11 …ALL THE MARBLES (Robert Aldrich 1981), 6:50, 9:15
Tuesday, May 12 AGE OF CONSENT (Michael Powell 1969), 6:50 (introduced by Thelma Schoonmaker), 9:30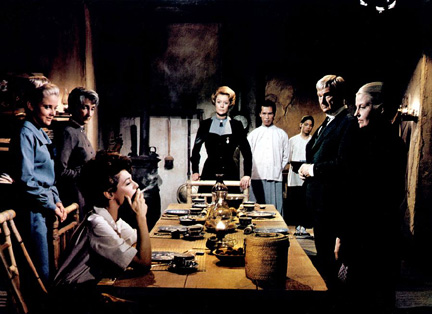 BAM series includes rare screening of John Ford's 7 WOMEN

Wednesday, May 13 7 WOMEN (John Ford 1966), 6:50 (followed by a Cinemachat with Elliott Stein), 9:30
Thursday, May 14 A TALKING PICTURE (UM FILME FALADO) (Manoel de Oliveira 2003), 4:30, 9:30
Thursday, May 14 AND THE SHIP SAILS ON (E LA NAVE VA) (Federico Fellini 1983), 6:50
Friday, May 15 KING LEAR (Jean-Luc Godard 1987), 2:00, 4:30, 6:50, 9:15
Saturday, May 16 MARNIE (Alfred Hitchcock 1964), 3:00, 6:00, 9:00
Sunday, May 17 THE DUCHESS OF LANGEAIS (NE TOUCHEZ PAS LA HACHE) (Jacques Rivette 2007), 3, 6 (introduced by Miriam Bale), 9:00
Monday, May 18 GOOD MORNING (OHAYÔ) (Yasujiro Ozu 1959), 4:30, 6:50, 9:15
Tuesday, May 19 TRACK OF THE CAT (William A. Wellman 1954), 6:50, 9:15
Wednesday, May 20 RED LINE 7000 (Howard Hawks 1965), 4:30, 9:15
Thursday, May 21 EL DORADO (Howard Hawks 1966), 6:50 (introduced by Andrew Sarris and Molly Haskell), 9:30
International Festivals of the Week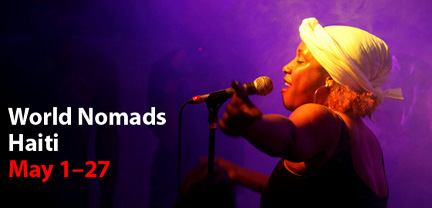 WORLD NOMADS HAITI
French Institute Alliance Française, Florence Gould Hall, 55 East 59th St. between Park & Madison Aves., 212-307-4100
S.O.B.'S, 204 Varick St. at West Houston St., 212 243 4940
The Bubble Lounge, 228 West Broadway between North Moore & Franklin Sts., 212-431-3433
Maysles Cinema, 343 Malcolm X Blvd. between 127th & 128th Sts., 212-582-6050
http://www.mayslesinstitute.org
Last year the French Institute Alliance Française kicked off the inaugural World Nomads series by focusing on modern-day Africa. This year the "exploration of transculturalism in the twenty-first century" ventures to the embattled Republic of Haiti, which has been home to Toussaint L'Ouverture, Jean-Jacques Dessalines, Jean-Bertrand Aristide, and François (Papa Doc) and Jean-Claude (Baby Doc) Duvalier. Through art, film, concerts, panel discussions, literature, live performance, and more, the history of the Caribbean island nation, which gained its independence from France in 1804, is examined, with events at FIAF, S.O.B.'s, the Bubble Lounge, and the Maysles Cinema. Among the special guests are Jonathan Demme, Wyclef Jean, Madison Smartt Bell, CaRiMi, and Michelange Quay.
Friday, May 1 Opening Concert: mizik rasin band RAM plays voodoo rock 'n' roots, Florence Gould Hall, $15-$20, 8:00
Friday, May 1 After-party and performance featuring RAM and CaRiMi, S.O.B.'S $25, 12 midnight & 2:00 am
Saturday, May 2 PEN World Voices Festival of International Literature: Writing & Reading Multilingual Haiti, with Madison Smartt Bell and Dany Laferrière, moderated by Kaiama L. Glover, free, 1:00
Saturday, May 2 PEN World Voices Festival of International Literature: Frankétienne—Haitian Identity, free, 3:00
Saturday, May 2 PEN World Voices Festival of International Literature: Krik ? Krak !, hosted by Michèle Voltaire Marcelin, with Etienne Télémaque as master of ceremonies, free, 5:00
Saturday, May 2 Haitian Literature Exhibition, including poster exhibit featuring Marie-Célie Agnant, Dominique Batraville, René Depestre, Frankétienne, Dany Laferrière, Yanick Lahens, Kettly Mars, Jean Métellus, Evelyne Trouillot, and Gary Victor, books by Haitian writers, and more, the Haskell Library, 22 East 60th St., free, Monday — Thursday 11:30 am — 8:00 pm, Saturday 9:30 am — 3:00 pm
Sunday, May 3 THE REVELATIONS OF MADAME NERVAL (LES ILLUMINATIONS DE MADAME NERVAL) (Charles Najman, 1999), Maysles Cinema, suggested donation $7, 7:00
Sunday, May 3 OF MEN AND GODS (DES HOMMES ET DES DIEUX) (Anne Lescot & Lawrence Magloire, 2002), Maysles Cinema, suggested donation $7, 8:00
Tuesday, May 5 CinémaTuesdays: THE AGRONOMIST (Jonathan Demme, 2004), 12:30 & 4:00
Tuesday, May 5 Meet the Director: Jonathan Demme and Michele Montas present THE AGRONOMIST (Jonathan Demme, 2004), screening introduced by Jonathan Demme and followed by a Q&A with Demme and Michele Montas, 7:00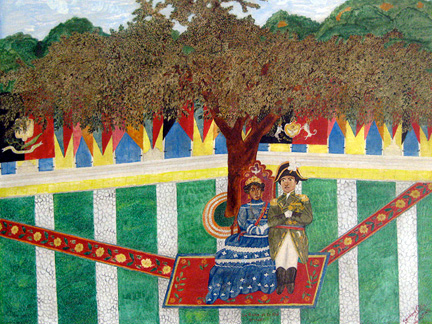 Courtesy of Jonathan Demme
Jonathan Demme's collection of Haitian art includes this piece by Sénèque Obin

Thursday, May 7
through
Saturday, June 13 Jonathan Demme Collection: Inspiration of Haitian Art, featuring works by self-taught artists Wesner La Forest, Peterson Laurent, Odilon Pierre, Wilson Bigaud, Sénèque Obin, Préfète Duffaut, Edgar Jean-Baptiste, Andre Normil, Maurice Altieri, and St. Pierre Toussaint, FIAF Gallery, 22 East 60th St., free, Tuesday through Friday 11:00 am — 6:00 pm, Saturday 11:00 am — 5:00 pm
Tuesday, May 12 CinémaTuesdays: THE MAN BY THE SHORE (Raoul Peck, 1993), 12:30, 4:00, 7:00
Thursday, May 14 DREAMS OF DEMOCRACY (Jonathan Demme, 1988), Maysles Cinema, suggested donation $7, 8:00
Thursday, May 14 CARNIVAL JAKMÈL (Students of Ciné Institute with Jonathan Stack, 2009), Maysles Cinema, suggested donation $7, 9:00
Friday, May 15 RA-RA, A HAITIAN FESTIVAL (Gail Pellet, 1978), followed by a performance and procession by DJA RARA, Maysles Cinema, suggested donation $7, 8:00
Friday, May 15 THE OTHER SIDE OF WATER (Jeremy Robins & Magali Damas, 2008), Maysles Cinema, 8:30
Saturday, May 16 BLACK DAWN (Robin Lloyd, 1981), Maysles Cinema, suggested donation $7, 3:00
Saturday, May 16 HAITIAN EKSPERYANS (David Belle, 1996), Maysles Cinema, suggested donation $7, 3:30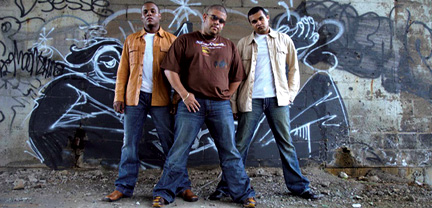 CaRiMi will participate in Haiti freedom celebration at S.O.B.'s

Monday, May 18 Haitian Freedom Celebration, featuring Barikad Crew, Haitian Fresh, and CaRiMi, with special guest Wyclef Jean, hosted by Papa Jubé Altino, S.O.B.'S, $25, 9:00
Tuesday, May 19 CinémaTuesdays: MRS. LITTLE BONES (David Belle, 2006) and MISS BODY PLASTIK (Louis Ebby Angel, 2008), 12:30
Tuesday, May 19 CinémaTuesdays: MRS. LITTLE BONES (David Belle, 2006) and ANITA (Rassoul Labuchin, 1981), 4:00
Tuesday, May 19 Meet the Director: David Belle and Louis Ebby Angel present MRS. LITTLE BONES (David Belle, 2006) and ANITA (Rassoul Labuchin, 1981), 7:00
Tuesday, May 26 CinémaTuesdays: HAITI CHÉRIE (Claudio del Punta, 2008), 12:30 & 4:00
Tuesday, May 26 Meet the Director: Michelange Quay presents THE GOSPEL OF THE CREOLE PIG (Michelange Quay, 2004) and EAT, FOR THIS IS MY BODY (Michelange Quay, 2008), introduced by Michelange Quay and followed by a Q&A, with Quay, 7:00
Wednesday, May 27 Haiti Optimiste: A Global Acoustic and Visual Evening, featuring Emily King, Michou, and surprise guest, hosted by Papa Jubé Altino, David Belle, Emmanuelle Chiche, and Harry Hjardemaal, the Bubble Lounge, $10 (includes one Haitian cocktail), advance reservations required, 8:00
Thursday, May 21 ATIS-REZISTANS: THE SCULPTORS OF GRAND RUE (Leah Gordon, 2008) and DREAMERS DREAMERS (Jørgen Leth, 200), Maysles Cinema, suggested donation $7, 7:30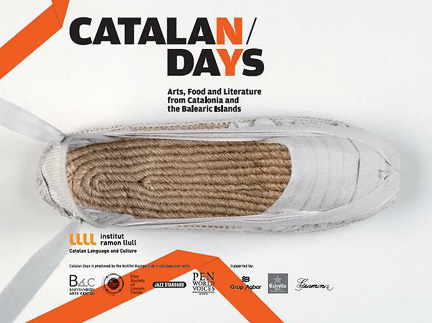 CATALAN DAYS: ARTS, FOOD AND LITERATURE
FROM CATALONIA AND THE BALEARIC ISLANDS
Baryshnikov Arts Center and other venues
450 West 37th St.
Through May 20
Admission: free unless otherwise noted (RSVP required 212-279-4200)
646-731-3200
http://www.llull.cat/catalandays
The Catalan culture, emanating from such Spanish islands as Catalonia, Mallorca, and Ibiza, is celebrated with a series of related events all over the city, including panel discussions, poetry readings, theater, dance, jazz, and food at such venues as Instituto Cervantes, Austrian Cultural Forum, the Bowery Poetry Club, the Jazz Standard, and the festival's home base, the Baryshnikov Arts Center. Presented by the Institut Ramon Llull, the festival features such special guests as María Muñoz, Philip Gourevitch, Josep-Maria Terricabras, Wayne Koestenbaum, the Chano Domínguez Quartet, Denis O'Hare, and Jessica Lange. Although many of the events are free, advance RSVP is required because they fill up quickly.
Thursday, April 30 Quiet revolutions in storytelling, with Wafaa Bilal, Philip Gourevitch, Kathrin Röggla, and Josep-Maria Terricabras, moderated by Sameer Padania, Instituto Cervantes, 6:00
Thursday, April 30 Islands Dialogues: Poets from Cuba and the Balearic Islands, a celebration of the life and work of Reinaldo Arenas and Blai Bonet, with Rafael Bordao, Edward Hirsch, Jaime Manrique, Biel Mesquida, Margalida Pons, Carles Rebassa, and Manuel Vázquez Portal, CUNY, 8:00
Friday, May 1 Macondo: imaginary, writers from Europe and Latin America talk about home and migration, both fictional and real, with László Garaczi, Geert Mak, Santiago Roncagliolo, and Josep-Maria Terricabras, moderated by Anderson Tepper, Austrian Cultural Forum, 1:00
Friday, May 1 Poetry reading, Bowery Poetry Club, $5-$10, 7:00
Friday, May 1 Islands Dialogues: Poets from Cuba and the Balearic Islands, translation slam with Fuad Rivka, Nicole Brossard, Narcís Comadira, János Térey, Uwe Kolbe, and Wayne Koestenbaum, emceed by Michael F. Moore, Bowery Poetry Club, $5-$10, 9:00
Saturday, May 2 The Time of the Doves, play by Mercè Rodoreda, performed by Jessica Lange, directed by Joan Ollé, Baryshnikov Arts Center, Theater C, 8:00
Sunday, May 3 Carles Santos: No al No, with pianist Carles Santos, Baryshnikov Arts Center, Theater C, 8:00
Monday, May 4 Catalan Food & Drama: Readings of Catalan Plays — IT'S RAINING IN BARCELONA (PLOU A BARCELONA) by Pau Miró, directed by Carlota Subirós, with a free sampling of Catalan food, Baryshnikov Arts Center, Howard Gilman Performance Space, 5:00
Monday, May 4 Catalan Food & Drama: Readings of Catalan Plays — THE GRÖNHOLM METHOD (MÈTODE GRÖNHOLM) by Jordi Galceran, directed by Carlota Subirós, with a free sampling of Catalan food, Baryshnikov Arts Center, Howard Gilman Performance Space, 7:00
Monday, May 4 Catalan Food & Drama: Readings of Catalan Plays — APRÈS MOI, LE DÉLUGE by Lluïsa Cunillé, directed by Carlota Subirós, read by Kate Valk and Denis O'Hare, with a free sampling of Catalan food, Baryshnikov Arts Center, Howard Gilman Performance Space, 9:00
Tuesday, May 5 Cia: MY MOTHER AND I (MI MADRE Y YO), choreography and texts by Sònia Gómez, performed by Rosa Vicente and Sònia Gómez, Baryshnikov Arts Center, Theater C, 8:00
Wednesday, May 6 SOCIEDAD DOCTOR ALONSO, Volume 2, directed by Tomàs Aragay, dramaturgy by Tomàs Aragay and Sofía Asencio, performed by Sofía Asencio and Nilo Gallego, Baryshnikov Arts Center, Howard Gilman Performance Space, 8:00
Thursday, May 7 Mal Pelo: Bach, created and performed by choreographer-dancer María Muñoz, Baryshnikov Arts Center, Theater C, 8:00
Friday, May 8 ÀNGE LS MARGARIT / CIA MUDANCES: ONLY FOR PLEASURE, created and performed by Àngels Margarit, Baryshnikov Arts Center, Howard Gilman Performance Space, 8:00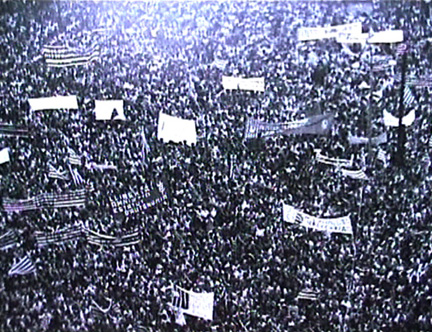 Protest film is part of intriguing film series at Lincoln Center

Friday, May 8
through
Tuesday, May 12 Clandestí: Forbidden Catalan Cinema Under Franco, the Film Society of Lincoln Center, Walter Reade Theater, $7-$11
Saturday, May 9 Clandestí: Forbidden Catalan Cinema Under Franco, screening of CRÒNICA D'UNA MIRADA (Manuel Barrios), followed by a panel discussion with Antoni Padrós, Martí Rom, and Manuel Barrios, moderated by Richard Peña, King Juan Carlos I of Spain Center, the Auditorium, 3:00
Tuesday, May 12 SonarSound NY, with Marcel·lí Antúnez, ReacTable, d.a.r.y.l., Del Palo Soundsystem: Griffi + DJ2D2 featuring Aqeel, Fibla + Arbol, Balago, Hidrogenesse, DJ/Rupture, and Prefuse 73, Baryshnikov Arts Center, 8:00 pm — 1:00 am
Wednesday, May 13
through
Sunday, May 17 Catalan Jazz and Food at the Standard, featuring such musicians as Triphasic. Llibert Fortuny, Gary Willis, David Gómez, Agustí Fernández, Barry Guy, Ramón López, OAM Trio (Omer Avital, Aaron Goldberg, Marc Miralta), Chano Domínguez Quartet (Chano Domínguez, Israel Suárez "Piraña," Blas Córdoba "Kejío," Tomasito), Alexis Cuadrado Cuarteto Ibérico + 1, and Jordi Rossy Trio & Guests, with food by chef Isma Prados, $20-$25, 7:30 & 9:30 (and one special 11:30 show)
Wednesday, May 20 Sylvan Winds: Nights in Barcelona, featuring works by Manuel Oltra, Moises Bertran, Joan Guinjoan, Laura Llorca, Salvador Brotons, J. Lamote de Grignon, and Xavier Montsalvatge, Carnegie Hall, $15-$30, 8:00
Tibet Events of the Week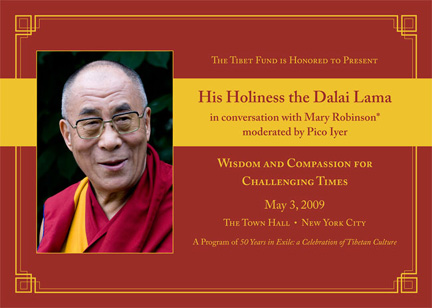 WISDOM AND COMPASSION FOR CHALLENGING TIMES
The Town Hall
123 West 43rd St. between Sixth Ave. & Broadway
Tickets: $35-$100
212-840-2824
http://www.the-townhall-nyc.org
Sunday, May 3 The Dalai Lama in conversation with Mary Robinson, moderated by Pico Iyer, part of "50 Years in Exile: A Celebration of Tibetan Culture," sponsored by the Tibet Fund, 10:15 am

THE QUINTESSENCE OF COMPASSION
Beacon Theatre
Broadway at 74th St.
Monday, May 4, $50-$130, 9:30 & 2:00
Another sell-out show for another seventy-three-year-old. No, it's not Leonard Cohen; it's the Dalai Lama. As the fourteenth Dalai Lama, Tenzin Gyatso is one of the most respected spiritual leaders of our time, winner of the 1989 Nobel Peace Prize, an eminence of the Gelukpa sect of Tibetan Buddhism, and the sometimes controversial leader of the Tibetan government in exile. Apparently moving into semi-retirement after gallbladder surgery last year, he continues to travel the world, making public appearances and teaching throughout the U.S. Tibet House, which is sponsoring this Beacon Theatre appearance, notes that the Dalai Lama will be speaking on Chandrakirti's great work the Madhyamakavatara, a seminal piece of Buddhist philosophy, but hearing his message of interfaith harmony and compassion does not require one to "do the reading" first. Two teaching sessions with room for a lunch break make up the full-day appearance.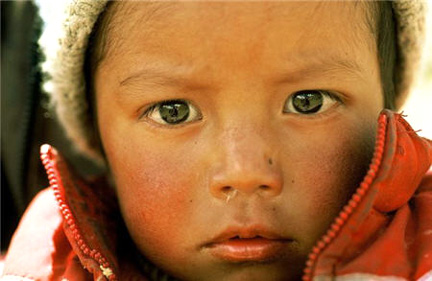 © Paul Blackthorne
Paul Blackthorne's photography exhibit opens April 30 at Tibet House
DELHI TO MANHATTAN:
PHOTOGRAPHS BY PAUL BLACKTHORNE
Tibet House Gallery
22 West 15th St. between Fifth & Sixth Aves.
April 30 — June 19 (Monday — Friday 12 noon — 5:00)
Admission: free (suggested donation $5)
212-807-0563
Tibetan organizations such are gearing up for the arrival of the Dalai Lama, so Tibet House, which is sponsoring the Dalai Lama's teaching at the Beacon on May 4, has scheduled "Delhi to Manhattan" as its next art exhibition. The show comprises photographs taken by Paul Blackthorne, who last May went to India with the Missing Peace project, then ventured into the Himalayas before finishing up in Mumbai. The exhibit is a benefit for the Tibetan Children's Village and Tibet House US.
Friday, May 8 Open Music Ensemble: Music and Meditation, Tibet House Gallery, suggested donation $7, RSVP required, 7:00
Tuesday, May 12 Sharon Salzberg: Introduction to Meditation, Tibet House Gallery, suggested donation $10, 7:00
Friday, May 15 Anam Thubten Rinpoche: Dharma Talk, Tibet House Gallery, suggested donation $10, 7:00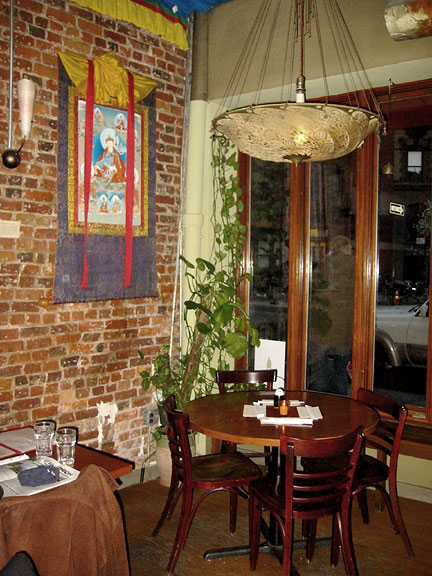 twi-ny/mdr
Tibetan Tsampa is the right spot to go when Dalai Lama is in town
TSAMPA
212 East Ninth St. between Second & Third Aves.
212-614-3226

We started going to Tsampa, one of the city's very few Tibetan restaurants, a few years ago, and we keep going back, bringing new friends each time because it's just that good. Nestled in the narrow street past the George Hecht Viewing Gardens, Tsampa is a darkly lit, welcoming place with Tibetan art, photographs of the Dalai Lama, colorful tapestries, and a gracious and accommodating staff. Go with a group and start with a selection of momo, steamed or fried dumplings filled with different combinations of chicken, potatoes, and vegetables, accompanied by red or green hot sauce that is really hot. Other worthwhile appetizers are the Tibetan crepe known as phing alla, stuffed with vegetables, and the shiitake pancake, but go heavy on the sauce. Tsampa serves no beef, but there's plenty of chicken and fish dishes in addition to vegetarian plates. Gyathuk ngopa consists of wonderful baked noodles with chicken and vegetables. We instantly fell in love with the gooey Tibetan bean thread noodles in phing sha. Tsampa salmon comes in a tasty apple-juice Teriyaki sauce. The desserts at Tsampa are rather odd and take a little getting used to; desi is a strange little basmati rice pudding with raisins and yogurt, while the house specialty is a mixture of roasted ground barley, yogurt, and honey with dried cranberries. Go ahead and try them, but share them, and be prepared to go elsewhere if you need other types of sweets. The name Tsampa comes from a staple food of Tibet, usually made with barley flour, salty tea, and yak butter.
Manhattan Film Festival of the Week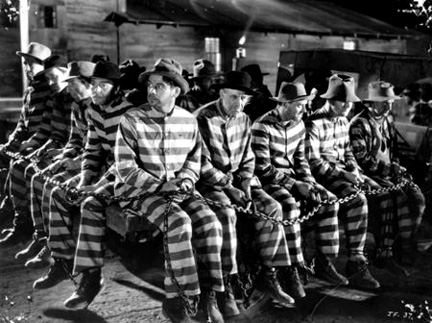 Paul Muni stars in seminal prison flick I AM A FUGITIVE FROM A CHAIN GANG
THE CON FILM FESTIVAL
Film Forum
209 West Houston St. between Sixth & Seventh Aves.
May 8-21
212-727-8110
No matter how Americans feel about the state of the penal system, we love movies about prison. From classic melodramas to camp, we can't get enough of seeing stars in black-and-white stripes, chained together at the ankle, carving off the days on their cell wall, and, most important, figuring a way to break out. Film Forum master programmer Bruce Goldstein has compiled twenty-one of the genre's best, from Paul Muni in Mervyn LeRoy's highly influential I AM A FUGITIVE ON A CHAIN GANG to Clint Eastwood in Don Siegel's ESCAPE FROM ALCATRAZ, from James Cagney on top of the world in Raoul Walsh's WHITE HEAT to Susan Hayward facing execution in I WANT TO LIVE! and from Joel McCrea gallivanting about in Preston Sturges's SULLIVAN'S TRAVELS to the Coen brothers comedy O BROTHER, WHERE ART THOU?(which is based on the film within a film in SULLIVAN'S TRAVELS). Then there's Humphrey Bogart (and Cagney) in Michael Curtiz's ANGELS WITH DIRTY FACES, Burt Lancaster showing his more gentle side in John Frankenheimer's BIRDMAN OF ALCATRAZ, Barbara Stanwyck fighting for her rights in Howard Bretherton and William Keighley's LADIES THEY TALK ABOUT, and other flicks featuring Boris Karloff, Sylvia Sidney, Spencer Tracy, Agnes Moorehead, George Raft, and Fredric March as Jean Valjean. And finally, in one of the best double features ever, Stanley Kramer's racially driven THE DEFIANT ONES is paired with Stuart Rosenberg's egg-laden COOL HAND LUKE.
Friday, May 8
and
Saturday, May 9 I AM A FUGITIVE FROM A CHAIN GANG (1932, Mervyn LeRoy), 1:00, 4:35, 8:10, and THE CRIMINAL CODE (1931, Howard Hawks), 2:50, 6:25, 10:00
I AM A FUGITIVE FROM A CHAIN GANG (Mervyn LeRoy, 1932)

One of the first great Hollywood films tackling social injustice, Mervyn LeRoy's depression-era prison classic stars Paul Muni as James Allen, a respected factory worker who returns from WWI wanting to go into the construction field. He travels the country in search of a job but unknowingly ends up involved in a robbery that goes bad. He is sentenced to ten years of hard labor, on a chain gang in Georgia in which the prisoners are brutally abused. After a short time he busts out and makes a new life for himself in Chicago, but the prospect of getting recaptured and sent back to serve out his term lurks around every corner. Based on the true story of Robert Elliott Burns, who was a consultant on the film, I AM A FUGITIVE FROM A CHAIN GANG is a classic Warner Bros. melodrama, a pre-Code thriller with terrific action scenes, a vindictive floosie (Glenda Farrell), courtroom drama, and romance. Muni earned an Oscar nomination for Best Actor for his performance, in which he sometimes vogues like he's back in the Yiddish theater, where he cut his acting chops. LeRoy gets plenty heavy-handed on the melodrama, but heck, it's 1932, with Hollywood still in its birth phases.
Sunday, May 10 WHITE HEAT (1949, Raoul Walsh), 1:30, 5:35, 9:40, and ANGELS WITH DIRTY FACES (1938, Michael Curtiz), 3:40, 7:45
Monday, May 11 WHITE HEAT (1949, Raoul Walsh), 2:00, and ANGELS WITH DIRTY FACES (1938, Michael Curtiz), 4:10
Monday, May 11 Tod Browning: FREAKS (Tod Browning, 1932), 6:15, 9:00, and THE UNHOLY THREE (Tod Browning, 1925), 7:35
Tuesday, May 12 LADIES THEY TALK ABOUT (1933, Howard Bretherton & Willam Keighley), 1:00, 4:00, 7:00, 10:00, and LADIES OF THE BIG HOUSE (1931, Marion Gering), 2:25, 5:25, 8:25
Wednesday, May 13 20,000 YEARS IN SING SING (1933, Michael Curtiz), 2:50, 6:15, 9:40, and EACH DAWN I DIE (1939, William Keighley), 1:00, 4:25, 7:50
Thursday, May 14 THE PRISONER OF SHARK ISLAND (1936, John Ford), 1:30, 5:25, 9:20, and LES MISERABLES (1935, Richard Boleslawski,) 3:20, 7:15
Friday, May 15 CAGED (1950, John Cromwell), 1:30, 5:35, 9:40, and I WANT TO LIVE! (1958, Robert Wise), 3:20, 7:25
Saturday, May 16 ESCAPE FROM ALCATRAZ (1979, Don Siegel), 1:30, 5:10, 8:50, and RIOT IN CELL BLOCK 11 (1954, Don Siegel), 3:35, 7:15
Sunday, May 17 SULLIVAN'S TRAVELS (1942, Preston Sturges), 1:30, 5:20, 9:10, and O BROTHER, WHERE ART THOU? (2000, Joel Coen), 3:15, 7:05
Monday, May 18 SULLIVAN'S TRAVELS (1942, Preston Sturges), 1:00, 4:50, and O BROTHER, WHERE ART THOU? (2000, Joel Coen), 2:45
Monday, May 18 Tod Browning: THE DEVIL DOLL (Tod Browning, 1936), 6:35, 9:35, and WHERE EAST IS EAST (Tod Browning, 1929), 8:10
Tuesday, May 19 BIRDMAN OF ALCATRAZ (1962, John Frankenheimer), 1:00, 3:45, 6:30, 9:15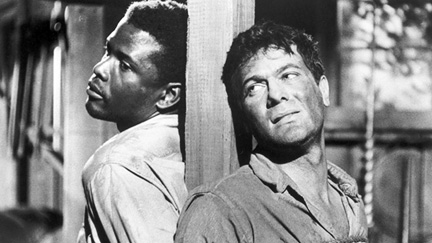 Sidney Poitier and Tony Curtis take on racism and more in THE DEFIANT ONES

Wednesday, May 20 THE DEFIANT ONES (1958, Stanley Kramer), 1:00, 5:15, 9:30 and COOL HAND LUKE (1967, Stuart Rosenberg), 2:55, 7:10
Thursday, May 21 YOU ONLY LIVE ONCE (1937, Fritz Lang), 3:00, 6:10, 9:20, and PICK-UP (1933, Marion Gering), 1:30, 4:40, 7:50
Monday, May 25 Tod Browning: THE UNKNOWN (Tod Browning, 1927), 7:00, 9:40, and FAST WORKERS (Tod Browning, 1933), 5:40, 8:20
Monday, June 1 Tod Browning: WEST OF ZANZIBAR (Tod Browning, 1928), 7:45 , 10:25 (with musical soundtrack), and MARK OF THE VAMPIRE (Tod Browning, 1935), 6:30, 9:10
Monday, June 8 Tod Browning: DRACULA (Tod Browning, 1931), 6:30, 9:30, and THE BLACK BIRD (Tod Browning, 1926), 8:00

twi-ny at tribeca
TRIBECA FILM FESTIVAL
AMC Village VII, 66 Third Ave. at Eleventh St.
SVA Visual Arts Theater, 333 West 23rd St. between Seventh & Eighth Aves.
Through May 3
Tickets: $15 evening and weekend screenings, $8 daytime weekday and late-night screenings
646-502-5296
http://www.tribecafilm.com/festival
In 2002, Robert De Niro and Jane Rosenthal started the Tribeca Film Festival as a way to help revitalize Lower Manhattan in the wake of 9/11. Over the years, the TFF has tried hard to define exactly what it is as it waded through hundreds of films that were at times a mess of excess. The eighth TFF got under way on April 22, a more streamlined and manageable festival held mostly outside of Tribeca, with the majority of screenings at the AMC Village Theater on Third Ave. & Eleventh St. as well as at the SVA Theater in Chelsea. There are also events at the Apple Store in SoHo, the Tribeca Performing Arts Center, World Financial Center Plaza, and the Union Square Barnes & Noble. Consisting primarily of indie productions without major studio power, the films in the 2009 festival are once again divided into such sections as Encounters, Spotlight, World Documentary Features, World Narrative Features, Showcase, and our favorite, Midnight, which includes low-budget horror films and strange documentaries.
But that doesn't mean Tribeca doesn't feature its share of Hollywood glitz and glamour, with films starring such familiar faces as Andy Garcia, Oscar nominee Melissa Leo, John Hurt reprising his role as Quentin Crisp, Kristin Scott Thomas, James Gandolfini, Cynthia Nixon, Kevin Kline, Meg Ryan, Geena Davis, Matthew Broderick, Jennifer Beals, Jessica Biel, and even Larry David, who is starring in the festival's opening-night selection, Woody Allen's WHATEVER IT TAKES. Be on the lookout for docs by Marshall Curry and Kirby Dick, the Academy Award-winning Japanese drama DEPARTURES, works by such directors as Stephan Elliott, Steven Soderbergh, and Michael Cuesta, and such documentary subjects as closeted politicians, anti-Semitism, CBGB, and Cuban pitcher Luis Tiant.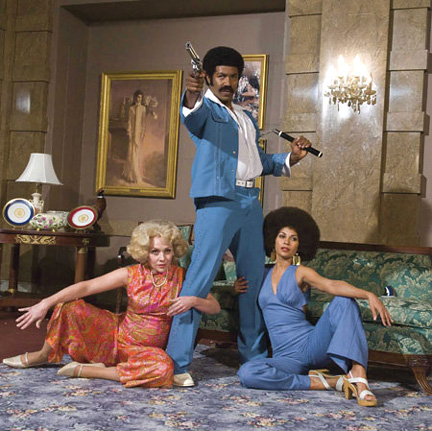 BLACK DYNAMITE is not as explosive as it could have been
BLACK DYNAMITE (Scott Sanders, 2008)
Thursday, April 30, SVA Theater, 11:00

In the 1970s, the so-called blaxploitation genre gave rise to such films as SHAFT, SUPER FLY, ACROSS 110th STREET, CLEOPATRA JONES, BLACK CAESAR, and DOLEMITE, movies of varying degrees of quality that tackled such themes as urban drug use, prostitution, and crime, made primarily by black filmmakers with black actors and comedians and rousing soul soundtracks. In 1997, Quentin Tarantino paid homage to the genre with JACKIE BROWN, while Keenen Ivory Wayans spoofed it in 1988's I'M GONNA GIT YOU SUCKA. Scott Sanders's BLACK DYNAMITE, which played Sundance and is screening at the Tribeca Film Festival, can't decide whether it's paying tribute to the genre, spoofing it, or merely remaking it, leaving it in a no-man's land with some very funny scenes that ultimately fall flat as a whole.
Cowriter Michael Jai White stars as Black Dynamite, a mythic figure determined to clean up the ghetto. But when his brother, Jimmy (Baron Vaughn), is murdered, he sets out to find the killers and exact his punishing revenge. A kung fu master who is expert with both a .44 Magnum and a shiny set of nunchucks, BD's search leads him to such genre-worthy characters as Osiris (Obba Babatunde), Cream Corn (Tommy Davidson), Afroditey (Dionne Gipson), Tasty Freeze (Arsenio Hall), Sweet Meat (Brian McKnight), Mahogany Black (Nicole Ari Parker), Kotex (John Salley), Mo Bitches (Miguel Nunez), Chicago Wind (Mykelti Williamson), Honey Bee (Kym Whitley), Bullhorn (cowriter Byron Minns), Back Hand Jack (Bokeem Woodbine), and Chocolate Giddy-Up (Cedric Yarbrough). As actors trip over their lines, the boom mic gets in the way, and purposefully bad edits elicit some laughs, they also become repetitive. The soundtrack features original songs that too often mimic exactly what's going on in the plot, including "Jimmy's Apartment," "Man with the Heat," "Anaconda Malt Liquor," and "Your Kiss Sho Nuff Dynamite." The film had us much of the way, but things really fall apart when President Nixon (James McManus) enters the fray.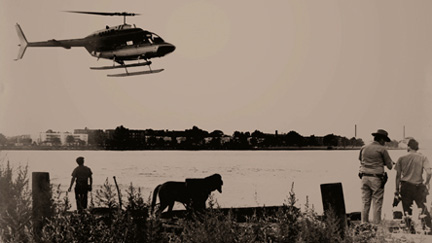 Urban legend comes to life in CROPSEY documentary
CROPSEY (Joshua Zeman & Barbara Brancaccio, 2008)
Tuesday, April 28, AMC Village VII, 11:00
Saturday, May 2, AMC Village VII, 8:30

When we were kids, one of our friends delighted in telling us over and over the story of Cropsey, a supposedly invented child-murdering creep who threatened all children everywhere. (We still think of the monster every time we pass by the Cropsey Ave. exit on the Belt Parkway.) Directors Joshua Zeman and Barbara Brancaccio go in search of the real Cropsey in a fascinating documentary that brings to frightening life the scary urban legend. In 1987, Jennifer Schweiger, a thirteen-year-old girl with Down syndrome, disappeared in Staten Island not far from the abandoned Willowbrook Mental Institution, a horrific place where unheard-of abuses had been detailed by a young reporter named Geraldo Rivera fifteen years earlier. The community, led by such activists as Donna Cutugno, came together to try to find Jennifer's body while the police focused on Andre Rand as the possible perpetrator. Rand refused to say anything as the cops also sought to link him to other area disappearances, including that of Holly Ann Hughes in 1981. Through archival news footage, recent interviews with many of the primary figures involved in the case, and attempts at a face-to-face meeting with Rand, codirectors Zeman and Brancaccio reveal a dark side of humanity that still has devastating effects on a tight-knit Staten Island neighborhood in desperate need of closure.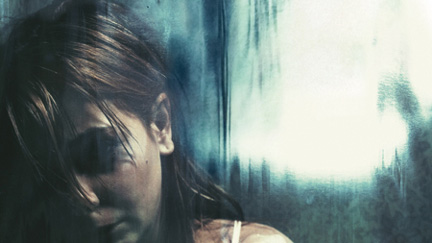 DAZZLE challenges and irritates at Tribeca
DAZZLE (OOGVERBLINDEND) (Cyrus Frisch, 2009)
Tuesday, April 28, AMC Village VII, 1:30
Friday, May 1, AMC Village VII, 8:00

"I don't make genre films," writer-director Cyrus Frisch said at the North American premiere of his fourth feature-length film, OOGVERBLINDEND (DAZZLE), at the Tribeca Film Festival on April 27. Instead, the controversial Dutch filmmaker prefers to create works that challenge, irritate, and confuse audiences, daring them to stay in their seats; in fact, following the screening, he was both happy and surprised that only six people apparently weren't dazzled by his latest bizarre film, walking out early. Frisch, who was last at the festival in 2007 with WHY DIDN'T ANYBODY TELL ME IT WOULD BECOME THIS BAD IN AFGHANISTAN, a fiction film that was shot entirely on a cell phone, once again has gone experimental with the complex OOGVERBLINDEND (which translates to "Eye Blinding"), ninety minutes of phone conversations between a troubled young woman (Georgina Verbaan) in the Netherlands and a mysterious figure (Rutger Hauer) in Buenos Aires, supplemented by fifteen years of footage Frisch shot on a Dutch street populated by homeless people, drug dealers, and a suicidal mouse. Amid gritty and gorgeous scenes blurred and bathed in grainy grays, the main characters' voices tremble, quiver, and take long pauses that are often as mesmerizing as they are annoying. Themes and narratives occasionally emerge, tantalizing the audience into thinking there might be a point, but Frisch is quick to pull the rug out every time a more traditional story threatens to reveal itself. But there indeed is a theme, although it almost gets buried beneath an emotionally overwrought admission. At the Q&A following the screening, Frisch answered many questions by asking, "What do you think it meant?" OOGVERBLINDEND is just the type of work that film festivals were made for.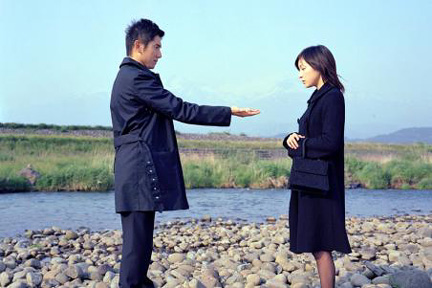 Yojiro Takita's DEPARTURES examines man with very unusual job
DEPARTURES (Yojiro Takita, 2008)
http://departures-themovie.com

After the orchestra in which he plays cello is dissolved, Daigo Kobayashi (Masahiro Motoki) and his wife, Mika (Ryoko Hirosue) leave Tokyo and head back to his hometown in Yamagata. Seeing a classified ad in the local paper listing a job in "departures," Daigo schedules an interview, thinking it is a travel agent position. But as it turns out, the boss, Sasaki (Tsutomu Yamazaki), claims it was a typo — it should have read "the departed" — and immediately hires Daigo as his assistant encoffinor. Daigo quickly learns that he and Sasaki attend to the newly dead, picking them up for funeral directors and then preparing the bodies, in front of grieving friends and family, for the coffins and cremation through an elaborate, detailed ceremony. Daigo takes the job out of financial desperation — Sasaki throws money at him to come on board — but doesn't tell anyone, including Mika, what he is doing, since people who work in businesses involving corpses are shunned in Japan, considered dirty. But as Daigo grows to appreciate the importance of what Sasaki does, everything he has built threatens to fall apart when his secret starts getting out.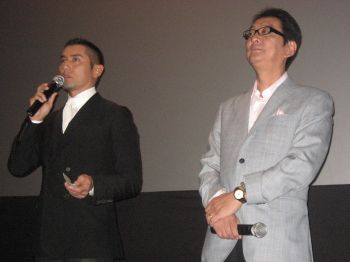 twi-ny/mdr
Masahiro Motoki and Yojiro Takita present DEPARTURES in
special Chelsea screening as part of the Nippon Eiga Series,
sponsored by New York-Tokyo
Winner of the 2008 Oscar for Best Foreign Language Film (As well as ten Japan Academy Prizes), DEPARTURES is a moving portrait of life and death, told beautifully by director Yojiro Takita (WHENT THE LAST SWORD IS DRAWN, ONMYOJI) and screenwriter Kundo Koyama. Motoki, who had the original idea for the film, gives a wonderfully subtle performance as a Daigo, while Yamazaki is a riot as the stern boss with a sly sense of humor. Despite an embarrassingly unnecessary montage scene and sappy music by Joe Hisaishi (who's never met an emotion he couldn't overexploit), DEPARTURES is a moving portrait of a man searching for his place in the world — and meeting personal and professional obstacles when he thinks he might have found it. (DEPARTURES opens in New York City on May 29.)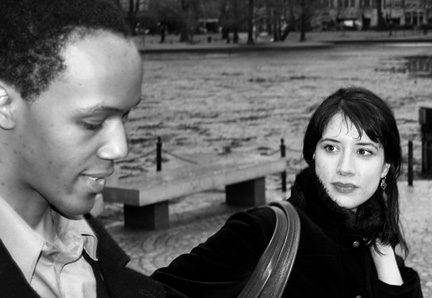 Photograph by W. A. W. Parker
Jazzy black-and-white romance is early buzz film at Tribeca
GUY AND MADELINE ON A PARK BENCH
(Damien Chazelle, 2009)

Twenty-three-year-old writer-director Damien Chazelle has expanded his senior thesis at Harvard into an unusual black-and-white musical that mixes John Cassavetes's SHADOWS and FACES with Jacques Demy's THE UMBRELLAS OF CHERBOURG (and a little French Nouvelle Vague) as seen through the modern lens of mumblecore. An accomplished jazz drummer, Chazelle (who makes a cameo in the film behind the kits) casts real-life jazz trumpeter and first-time actor Jason Palmer as Guy, a jazz trumpeter in a relationship with Madeline (Desiree Garcia), whom he met on a Boston park bench. But when Guy strays following a chance encounter on a train with a stranger named Elena (Sandha Khin) — an electrifying scene filled with heat and passion — Madeline leaves him, instead dreaming of making a new life for herself in New York. But as the two of them go their separate ways, they still imagine what could have been. The film features such actual musicians and dancers as Andre Hayward of the Jazz at Lincoln Center Orchestra, tap-dancer Kelly Kaleta, and teenage saxophone prodigy Grace Kelly. (Look for Chazelle's father, Benard, as Paul.) Justin Hurwitz wrote the music for five of the original songs, with Chazelle supplying the lyrics. A slow-paced, heartfelt drama, GUY AND MADELINE ON A PARK BENCH has the improvisational feel of a quiet jazz solo, a soft, tender film about love and loss and how fragile meaningful relationships can be.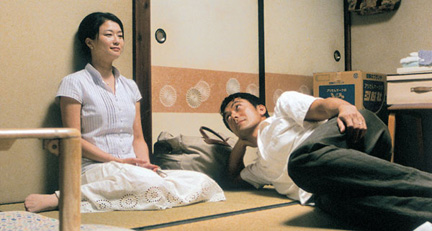 Kore-eda's home drama is a modern masterpiece
STILL WALKING (ARUITEMO ARUITEMO)
(Hirokazu Kore-eda, 2008)
Tuesday, April 28, SVA Theater, 5:00
Wednesday, April 29, AMC Village VII, 7:30
Thursday, April 30, AMC Village VII, 1:30

We've been covering the Tribeca Film Festival since it began in 2002, and Hirokazu Kore-eda's STILL WALKING is the best film we've seen yet at the annual event. Flawlessly written, directed, and edited by Kore-eda (MABOROSI, NOBODY KNOWS), STILL WALKING follows a day in the life of the Yokoyama family, which gathers together once a year to remember Junpei, the eldest son who died tragically. The story is told through the eyes of the middle child, Ryota (Hiroshi Abe), a forty-year-old painting restorer who has recently married Yukari (Yui Natsukawa), a widow with a young son (Shohei Tanaka). Ryota dreads returning home because his father, Kyohei (Yoshio Harada), and mother, Toshiko (Kirin Kiki), are disappointed in the choices he's made, both personally and professionally, and never let him escape from Junpei's ever-widening shadow. Also at the reunion is Ryota's chatty sister, Chinami (You), who, with her husband and children, is planning on moving in with her parents in order to take care of them in their old age (and save money as well). Over the course of twenty-four hours, the history of the dysfunctional family and the deep emotions hidden just below the surface slowly simmer but never boil, resulting in a gentle, bittersweet narrative that is often very funny and always subtly powerful.
The film is beautifully shot by Yutaka Yamazaki, who keeps the camera static during long interior takes — it moves only once inside the house — using doorways, short halls, and windows to frame scenes with a slightly claustrophobic feel, evoking how trapped the characters are by the world the parents have created. The scenes in which Kyohei walks with his cane ever so slowly up and down the endless outside steps are simple but unforgettable. Influenced by such Japanese directors as Mikio Naruse, Yasujiro Ozu, and Shohei Imamura, Kore-eda was inspired to make the film shortly after the death of his parents; although it is fiction, he noted at one screening that roughly half of Toshiko's dialogue is taken directly from his own mother. STILL WALKING is a special film, a visual and psychological marvel that should not be missed.
Riff's Rants & Raves: Film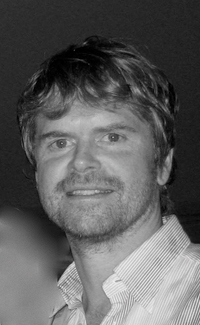 Kennedy's Oscar-nominated doc opens May 8
TWI-NY TALK: SCOTT HAMILTON KENNEDY
http://www.blackvalleyfilms.com
Nominated for an Oscar for Best Documentary Feature, THE GARDEN examines the bitter struggle of a group of primarily Latino families in South Central Los Angeles desperately trying to save their fourteen-acre urban farm from bulldozers and redevelopment. The film was a labor of love for Scott Hamilton Kennedy (OT: our town), who spent more than four years detailing the dramatic story, serving as director, producer, cameraman, and co-editor. The project was brought to him by his friend Dominique Derrenger, who had seen a piece about the garden on PBS. "It had the makings of a great American story," Kennedy explained to twi-ny. "It had so many elements of a great story: the largest community garden in the country, born as a form of healing after the riots, a huge success, and after twelve years there is a mysterious threat of eviction, and best of all, the farmers aren't leaving until they get some answers."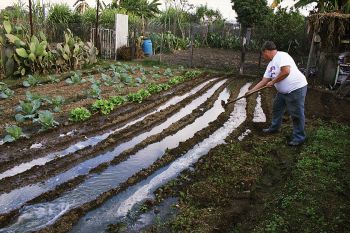 Pedro Silos is one of the many farmers defending urban oasis
Kennedy follows the remarkable tale from 41st St. and Alameda through city hall and the court system, uncovering racism, secrecy, back-room deals, and possible government corruption. It all began in 1992, when the City of Los Angeles bought the land from developer Ralph Horowitz and donated it to the community in the wake of the devastating riots that followed the Rodney King verdict. Kennedy says it's "hard to imagine" a city (such as New York) giving away so much land in the future. "You can hope and strive for it to happen in other situations where there is both the need — be it for healing, open green space, organic food, etc. — and also the wasted land," he said. "There are so many vacant lots in every city in the country that could be put to good use. But it takes the vision and the will to make it happen."
Watching THE GARDEN, it is nearly impossible to not get inspired by the people's battle to keep the land, coming together as a community to fight against mounting odds. "I learned a lot about never giving up when you believe in your heart what you are struggling for," Kennedy stated. "I don't want to overly compare my struggle to make a (mostly self-financed, often one-man-show, spanning four and a half years) documentary to the monumental struggles of the farmers, but they did teach me a lot of perseverance." (THE GARDEN opens May 8 at Cinema Village; see below for our review.)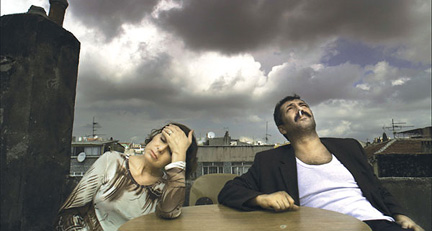 Hacer and Eyüp see no evil, hear no evil, and speak no evil in remarkable Turkish film
THREE MONKEYS (Nuri Bilge Ceylan, 2008)
Cinema Village, 22 East 12th St. between University Pl. & Fifth Ave., 212-924-3363
Opens Friday, May 1
http://www.threemonkeysthemovie.com

Nuri Bilge Ceylan was named Best Director at Cannes for THREE MONKEYS, a harrowing examination of the disintegration of a Turkish family. When a politician named Servet (Ercan Kesal) kills a pedestrian on a deserted mountain road in the middle of the night, he calls his loyal driver, Eyüp (Yavuz Bingöl), who is at home asleep, asking him to take the fall, promising him a large sum of money in exchange for spending less than a year in jail. With the understanding of his wife, Hacer (Hatice Aslan), and university-age son, Ismail (Ahmet Rifat Sungar), Eyüp agrees to the deal. But when Servet and his party are surprisingly ousted from power, the situation changes drastically, complicating already tense relationships, resulting in lies, brutality, betrayal, and murder. Ceylan (DISTANT, CLIMATES), who wrote the screenplay with his wife, Ebru, and Kesal, who plays Servet, focuses on the psyche of the characters, choosing to show the wrought emotions on their faces while opting to have the vast majority of the action — including the car accident, a vicious beating, and the murder itself — occur off-camera. Ceylan displays his mastery of the Shakespearean plot with Bergman-esque aplomb, setting the mood with Gokhan Tiryaki's dark, claustrophobic cinematography and by eschewing musical accompaniment in favor of more naturalistic sounds. He also used an unusual method to get the best out of his cast by sometimes having the camera running before the actors realized it and using those moments in the final, fascinating, flawless film.
Miss Indigo Blue teaches women about burlesque in revealing documentary
A WINK AND A SMILE
Quad Cinema
34 West 13th St. between Fifth & Sixth Aves.
May 1-8
212-255-8800

Deirdre Allen Timmons follows the trials and tribulations of ten women who have signed up for Miss Indigo Blue's Academy of Burlesque class, a six-week course in which the students look inside themselves to develop a burlesque character and routine that they will eventually perform in front of an audience. The participants come from all walks of life — the fall 2007 class includes a taxidermist, an opera singer, a fifty-one-year-old mother, a student, a journalist, and a virgin. As Miss Indigo Blue and her assistant, the Shanghai Pearl, teach the ten women to dress, dance, choose music, and prepare to face a live audience, Timmons gets the students to open up about their lives and talk about what they hope to achieve from the course. The documentary also features some of Seattle's most popular burlesque acts strutting their stuff, from the Swedish Housewife, Waxie Moon, and Kitten la Rue to Inga Ingénue, Ernie Von Schmaltz, and Ultra, who all get to reveal themselves in unique ways to esctatic crowds. Although the film occasionally borders on becoming an extended episode of HBO's REAL SEX series, it rises above such standard fare because it's about much more than just sex as these women explore the nature of their sexuality and reexamine their physical and emotional beings. Opening night at the Quad will feature live performances after the 7:00 screening by Jo Boobs, Angie Pontani, Tigger!, World Famous *BOB* and Miss Harvest Moon along with Mercury Troy, Vera Lu, Lolita "Ta Tas" Valentino, and director Timmons.
PERSONA (Ingmar Bergman, 1966)
CabaretCinema, Rubin Museum of Art
150 West 17th St. at Seventh Ave.
Friday, May 8, 9:30
Free with $7 bar minimum (includes admission to galleries)
212-620-5000 ext 344
http://www.rmanyc.org/cabaretcinema

This magnificently complex work from Ingmar Bergman stars Liv Ullmann as a successful actress who suddenly stops talking; Bibi Andersson plays the nurse who tries to find out what psychological incident might have triggered her condition. Bergman's dreamlike shots, often set against white backdrops, are mesmerizing. As the two women grow closer, they virtually — no, we don't want to give anything away. The ending is an avant-garde marvel. Part of the Mirror, Mirror series, this very special presentation will be introduced by Ullmann.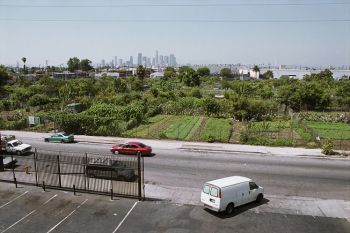 Oscar-nominated doc looks at fight to save urban oasis
THE GARDEN (Scott Hamilton Kennedy, 2008)
Cinema Village
22 East 12th St. between University Pl. & Fifth Ave.
Opens Friday, May 8
212-924-3363
http://www.blackvalleyfilms.com

In 1992, in the aftermath of the Rodney King riots in Los Angeles, the city bought fourteen acres of undeveloped land from Ralph Horowitz and gave it to the South Central community, where a primarily Latino group of approximately 350 families turned it into a beautiful, thriving farm considered the largest urban garden in the country — despite its location in the middle of one of the most dangerous areas in America. But in 2003, Horowitz decided he wanted the land back, and following a series of shady back-room deals involving a city councilwoman, a community organizer, and Horowitz, the South Central farmers suddenly found themselves facing eviction — and the destruction of the urban oasis — unless they could gather support and fight to save the land that has made such a difference in their lives. Director Scott Hamilton Kennedy (OT: OUR TOWN) follows the plight of the farmers as they head to the courts and city hall, meeting obstacles every step of the way. The film examines such issues as political patronage, racism, and dirty business dealings as a tight-knit community refuses to give up. Nominated for Best Documentary Feature at this year's Oscars, THE GARDEN tells a compelling and infuriating story that encapsulates much of what is wrong in today's society.
In Theaters Now
James and Em are looking for love in all the wrong places
ADVENTURELAND (Greg Mottola, 2009)
http://adventurelandthefilm.com

When we were kids, it was always a treat when our parents packed us in the car and took us to Adventureland, a small amusement park in Farmingdale, Long Island. It wasn't quite the same treat for writer-director Greg Mottola, who documents one summer he spent working as a carny there in the sweet coming-of-age comedy ADVENTURELAND. Jesse Eisenberg stars as Mottola's alter ego, James Brennan, a college grad in 1987 who is planning on traveling through Europe before starting grad school at Columbia — until his parents take a serious financial hit, forcing him to spend the summer working at the local amusement park in Pittsburgh called Adventureland. (Mottola had wanted to shoot the film in the actual Long Island location but found that the current state of Adventureland was too upscale compared to the one he remembers, so he found a more suitable cinematic park.) James is a hyperintellectual virgin who is waiting for true love, and he thinks he might have found it in fellow carny Em Lewin (Kristen Stewart). However, he doesn't know that Em is also a booty call for the older Mike Connell (Ryan Reynolds), the hot maintenance man whose legendary claim to fame is that he once jammed with Lou Reed. Meanwhile, the amusement park's hot-to-trot Lisa P. (Margarita Levieva) has returned, and she might be considering trying out a nice guy like James instead of her usual tough dudes.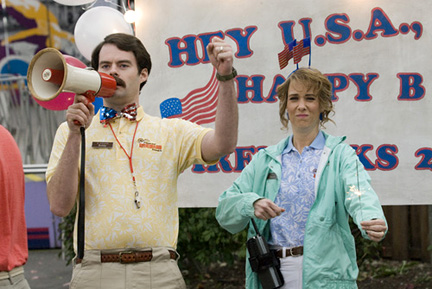 Bill Hader and Kristen Wiig run things at low-rent amusement park

ADVENTURELAND is a very funny, emotionally honest look at growing up faster than one imagined, filled with believable characters and situations in a genre that is often wrought with hyperbole. (Mottola is another member of Judd Apatow's inner circle, having directed episodes of the underrated UNDECLARED and directed and cowrote, with Seth Rogen, the overrated SUPERBAD; prior to that, he wrote and directed the overrated 1999 indie hit THE DAYTRIPPERS, which stars Liev Schreiber, Parker Posey, and Stanley Tucci.) Eisenberg (THE SQUID AND THE WHALE) and Stewart (INTO THE WILD) are magnetic together, conveying their parts with heartfelt emotion; although Eisenberg is seven years older than Stewart in real life — she was born in 1990, after the film takes place — Stewart displays an intelligence beyond her years. The excellent supporting cast features SNL's Bill Hader and Kristen Wiig as the park's crazy owners; FREAKS & GEEKS' Martin Starr as James's best friend, the Russian-lit-obsessed, pipe-smoking Joel; and Matt Bush as Frigo, who never misses a chance to punch James in the nuts. Mottola sets his compelling story to an awesome soundtrack that includes killer tunes by the Replacements, Husker Du, Big Star, the Cure, Judas Priest, and plenty of Lou Reed and the Velvet Underground (as well as a Foreigner tribute band and Falco's "Rock Me Amadeus"). ADVENTURELAND could just be the JUNO of 2009.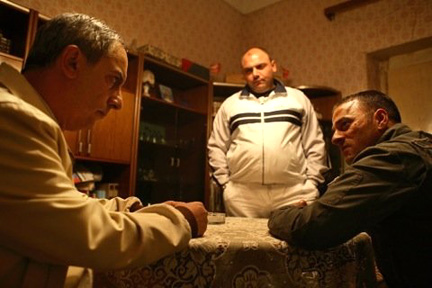 Italian crime epic looks at Camorra syndicate in Naples
GOMORRAH (Matteo Garrone, 2008)
IFC Center
323 Sixth Ave. at West Third St.
212-924-7771

Winner of the Grand Prix at the 2008 Cannes Film Festival, GOMORRAH is a violent, intimate look at the modern-day Camorra crime syndicate in Naples and Caserta. Based on the nonfiction novel by investigative journalist Roberto Saviano — who has been living under police protection since the fall of 2006 — Matteo Garrone's epic follows five distinct yet interrelated stories set around a dilapidated concrete-block housing project, a sort of GODFATHER meets THE SOPRANOS filtered through Italian Neo-realism. Pasquale (Salvatore Cantalupo) is a tailor who considers sharing his secrets with a Chinese sweatshop to make some much-needed extra cash. Roberto (Carmine Paternoster) is having second thoughts training under Franco (Toni Servillo), who runs a toxic waste dumping business. Don Ciro (Gianfelice Imparato) has to deal with a delicate, difficult situation when Maria's (Italian singing star Maria Nazionale) young son joins the secessionists, a rival gang. Marco (Marco Macor) and Ciro (Ciro Petrone) are loose cannons who keep messing with the wrong people. And Totò (Salvatore Abruzzese) is a thirteen-year-old boy who is helping out the Camorra against his mother's wishes — and is soon faced with a life-changing decision. Beautifully shot by Marco Onorato and featuring a cast of primarily nonprofessional actors, GOMORRAH is a deeply involving crime drama, all the more frightening because it's based on real, current situations.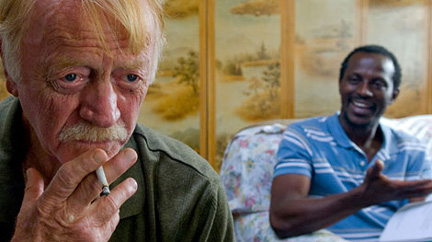 William and Solo form an unusual friendship in latest Bahrani film
GOODBYE SOLO (Ramin Bahrani, 2008)
Village East
181 Second Ave. at 12th St.
212-529-6998
http://citycinemas.moviefone.com
http://www.goodbyesolomovie.com

Winner of the International Critics Prize at the 2008 Venice Film Festival, GOODBYE SOLO is another intelligent, thoughtful drama from Ramin Bahrani (MAN PUSH CART, CHOP SHOP) that deals with outsiders trying to find their way in a modern America filled with loneliness. Ivory Coast native Souléymane Sy Savané makes a sparkling debut as Solo, a Senegalese cabdriver in Winston-Salem who dreams of becoming a flight attendant. One night he picks up a grizzled old southern man named William (former Elvis Presley Memphis Mafia stalwart Red West), who hires Solo to take him to Blowing Rock in a few weeks' time. Suspecting that William might be planning to jump off the North Carolina landmark — legend has it that the wind is so strong atop the mountain that it can sweep people up into the sky — Solo ingratiates himself into the angry old man's life, trying to become friends with a man who just wants to be left alone. But as Solo finds out more about William, he believes he might be able to give him a reason to go on. In just three films, Iranian-American director Bahrani has proved himself to be a master of character development and subtle, realistic storytelling, resulting in superb works that give marvelous insight into the human experience.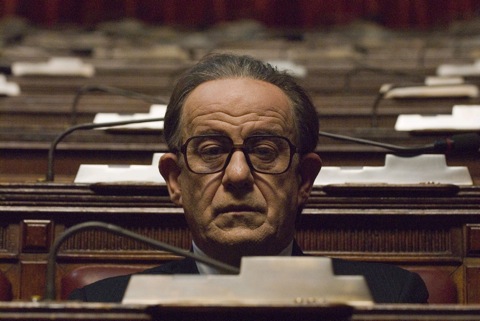 Toni Servillo is spectacular as Italian political legend Giulio Andreotti
IL DIVO: THE SPECTACULAR LIFE OF GIULIO ANDREOTTI (Paolo Sorrentino, 2008)
Lincoln Plaza Cinemas
1866 Broadway at 63rd St.
212-757-2280
Landmark Sunshine Cinema
143 East Houston St. between First & Second Aves.
212-330-8182
http://www.landmarktheatres.com
http://www.lincolnplazacinema.com

For more than fifty years, Giulio Andreotti has been a central figure in the Italian government. As a member of the Christian Democrats, he has served in a variety of ways, including as several ministers (defense, interior, foreign affairs, budget, treasury) as well as prime minister seven times. During those years, he has been linked to the Mafia, the Vatican, and the P2 Lodge — in addition to numerous bankers, politicians, judges, and journalists who have ended up murdered or committed suicide. Paolo Sorrentino's fourth film (following THE FAMILY FRIEND, THE CONSEQUENCES OF LOVE, and ONE MAN UP) is a stirring, highly stylized look at a remarkable public figure who always manages to survive despite all the controversy and conspiracy associated with him; in fact, in 1991, Andreotti was named Senator for Life. Toni Servillo is breathtaking as Andreotti, a small, crouched man — somewhat resembling Phil Hartman playing Henry Kissinger on Saturday Night Live — who has been called such nicknames as the Sphinx, the Hunchback, Beelzebub, and il Divo.
This nearly cartoonish-looking character surrounded himself with an army of cohorts worthy of a classic heist film, a different kind of Italian Rat Pack, including Paolo Cirino "Minister" Pomicino (Carlo Buccirosso), Franco "Lemon" Evangelisti (Flavio Bucci), Giuseppe "il Ciarra" Ciarrapico (Aldo Ralli), Vittorio "the Shark" Sbardella (Massimo Popolizio), Salvo "His Excellency" Lima (Giorgio Colangeli), and Cardinal Fiorenzo "His Holiness" Angelini (Achille Brugnini). Sorrentino depicts Andreotti as a soft-spoken, private man who speaks in puzzling proverbs "We learn from the Gospel that when they asked Jesus what truth was, he did not reply"), never raises his fist or voice in anger, and hangs in the background at lavish parties. Yet an aura of supreme power glows like a halo around him, casting fear in its shadows. IL DIVO, which won awards at both Venice and Cannes and is powered by a magnificent score by Teho Teardo (and such pop songs as Cassius's "Toop Toop" and Trio's "Da Da Da"), is an awe-inspiring achievement that will leave audience's mouths hanging open in wonder and amazement.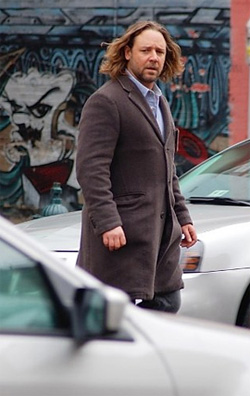 Russell Crowe is on the run in STATE OF PLAY
STATE OF PLAY (Kevin Macdonald, 2009)
http://www.stateofplaymovie.net
STATE OF PLAY is a gripping if overwrought political thriller that wants to be the ALL THE PRESIDENT'S MEN of the new millennium — but doesn't come close. Russell Crowe stars as Cal McAffrey, an old-fashioned, hard-edged reporter for the fictitious Washington Globe who is suddenly partnered with the paper's young, inexperienced blogger, Della Frye (Rachel McAdams), when two stories slowly tie together, one involving a multiple shooting and the other the death of a woman who was having an affair with Congressman Stephen Collins (Ben Affleck). Collins, who is heading an investigation into a Blackwater-type militaristic organization, was a former roommate of McAffrey's, who seems to have had a somewhat sketchy past with the representative's wife (Robin Wright Penn). Amid possible corporate conspiracy, sexual intrigue, and the modernization of newspaper technology (for example, Frye seems to never have a pen handy, leading McAffrey to question her skills as a journalist since merely typing gossip and innuendo directly onto a blog, without going into the street and compiling notes, sources, and facts, does not a real reporter make), McAffrey is forced into questioning his loyalties and responsibilities, both personal and professional. Director Kevin Macdonald (TOUCHING THE VOID, THE LAST KING OF SCOTLAND), who helmed the six-part BBC television drama on which the film is based, originally had Brad Pitt lined up for the American version, but the recent Oscar nominee pulled out because of script changes. While there's much to admire in STATE OF PLAY — the strong cast also includes Helen Mirren, Jason Bateman, and Jeff Daniels — it's at least twenty minutes too long and too often tries to be too clever for its own good.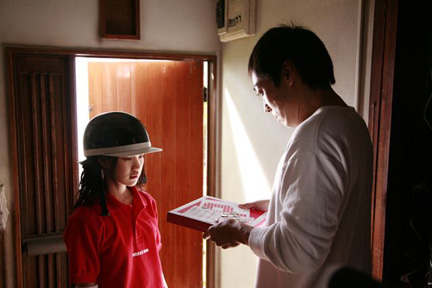 Tokyo shut-ins have rare moment of human contact in SHAKING TOKYO
TOKYO! (Michel Gondry, Léos Carx, and Bong Joon-ho, 2008)
Cinema Village
22 East 12th St. between University Pl. & Fifth Ave.
212-924-3363

Labeled a "fantasy in three movements," TOKYO! consists of a trio of distinct tales set in the thriving heart of Japan's capital city. In Michel Gondry's INTERIOR DESIGN, his best work since 2004's ETERNAL SUNSHINE OF THE SPOTLESS MIND, a young couple, Hiroko (Ayako Fujitani) and Akira (Ryo Kase), arrive from the provinces with dreams of making it big in the film business. Unable to find worthwhile jobs or an affordable apartment, they are overstaying their welcome with Hiroko's school friend Akemi (Ayumi Ito). Feeling lost and invisible, Hiroko ventures out one day and, well, as fans of Gondry's would expect, something very strange happens. In MERDE, French director Léos Carax's first film since 1999's POLA X, a wild-eyed, CHUD-like (Cannibalistic Humanoid Underground Dweller) character (Denis Lavant) emerges from below, wreaking havoc on the streets of Tokyo, speaking a bizarre language that only French magistrate Maitre Voland (Jean-Francois Balmer) can understand. And in Bong Joon-ho's SHAKING TOKYO, the director of THE HOST tells the lonely tale of a hikikimori (Teruyuki Kagawa), an agoraphobic shut-in, who becomes intrigued by the young woman (Yu Aoi) who delivers his pizza and considers actually going outside, into a Tokyo that is being rattled by a series of earthquakes. While MERDE is an in-your-face assault that is filled with anger toward the audience, INTERIOR DESIGN and SHAKING TOKYO are beautifully rendered, engaging stories that will make viewers forget the mess in the middle.
Riff's Rants & Raves: Live Music
TICKET GIVEAWAY: THE ARC ANGELS
The Fillmore New York at Irving Plaza
17 Irving Pl. between 14th & 15th Sts.
Friday, May 8, $31.50, 7:30
212-777-6800
http://arcangelsmusic.com/video
Named after the Austin Rehearsal Center where they all came together, the Arc Angels formed in 1992 in the aftermath of the tragic death of Stevie Ray Vaughan. Drummer Chris Layton and bassist Tommy Shannon, who were part of Vaughan's backing band, Double Trouble, teamed up with guitarists Charlie Sexton and Doyle Bramhall II, released an album, and toured extensively. They broke up in October 1994 because of creative differences and Bramhall's descent into heroin. Now Sexton, Bramhall, and Layton have reunited, back on the road performing old songs (many of which are featured on a new live CD/DVD) as well as new tunes from their upcoming record.
Charlie Sexton, who is now forty, scored a huge hit back in 1985, when he was just sixteen years old, an MTV smash from his album PICTURES FOR PLEASURE. What was the name of that song? One lucky winner, chosen at random, will snag two tickets to see the Arc Angels at the Fillmore New York at Irving Plaza on Friday, May 8. Please send your answers to contest@twi-ny.com by Monday, May 4, at 12 noon. Good luck!
The brothers Carney will introduce fans to their MAKER at two area shows
PONTIAK
Friday, May 1, Cake Shop, 152 Ludlow St. between Stanton & Rivington Sts., $7, 8:00
Saturday, May 2, Death by Audio, 49 South Second St. between Wythe & Kent, 8:00
http://www.myspace.com/pontiak
http://www.myspace.com/deathbyaudioshows
Pontiak follows up last September's SUN ON SUN with the bigger, more explosive MAKER (Thrill Jockey, April 2009). Recorded mostly live in their small Virginia studio, the album features the brothers Carney — Jennings on bass, Van on guitar, and Lain on drums — flirting with British prog rock on the opener, the cleverly titled "Laywayed" (waylaid, get it?), as well as on such tunes as "Wild Knife Fight," "Honey," and the moody, melodic "Aestival." MAKER is all about the music for these rugged, rural guys, not success and glory — "Saying our prayers bores us to death / All the grace is gone from those ears," they sing on "Laywayed," continuing, "Just as the plume of smoke rose and died / So too will the glow of gold." The new disc includes several great instrumentals, from "Blood Pride" and "Headless Conference" to the screeching electronic noise of "Wax Worship." Two highlights are "Heat Pleasure," which is essentially two minutes of the end of a song, heavy on drums and cymbals, and the title track, which rambles on (in a good way) for thirteen and a half minutes, filled with plenty of false stops and starts, meandering from groovy noodling to a steady rhythmic beat to more experimental sounds and back again, rising and falling before petering out. On May 1 Pontiak will be at Cake Shop with Degreaser, Heavy Hands, and Orphan and on May 2 at Death by Audio with Ocean and Microkingdom.

KING KHAN & THE SHRINES
Friday, May 1, Music Hall of Williamsburg, 66 North Sixth St., $15, 8:00
Saturday, May 2, Maxwell's, 1039 Washington St., Hoboken, $12, 9:30
Sunday, May 3, Santos Party House, 100 Lafayette St., $15, 7:00
http://www.myspace.com/kingkhantheshrines
http://www.santospartyhouse.com
http://www.musichallofwilliamsburg.com
All hell promises to break loose whenever King Khan leads his Shrines into town, this time for what should be a wild weekend of shows across the metropolitan area. We've seen the band at the South Street Seaport and McCarren Park Pool, where the king let it all hang out, in more ways than one, so we're afraid of what he might do in such confined quarters. Although there's a lot of schtick to his performance, it works because the songs, based in soul, funk, and R&B, are so good. They'll be at the Music Hall of Williamsburg on May 1 with Mark Sultan and Georgiana Starlingon, at Maxwell's on May 2 with Sultan and Golden Triangle, and at Santos Party House on May 3 with Sultan and Starlington. (Sultan makes up the two-person BBQ Show with the Kingster.)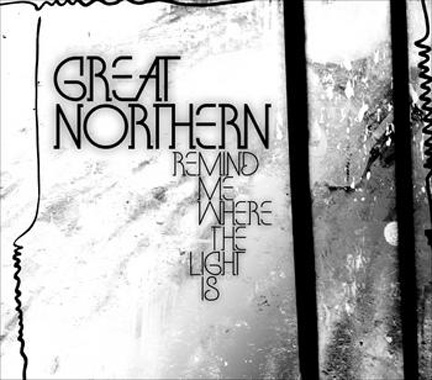 GREAT NORTHERN
Friday, May 1, The Bell House, 149 Seventh St., Gowanus, 718-643-6510, $15, 8:00
Monday, May 4, Bowery Ballroom, 6 Delancey St. at Bowery, $15, 7:30
http://www.myspace.com/greatnorthern
California-based Great Northern — Solon Bixler and Rachel Solte — comes to town on the heels of its highly anticipated release, REMIND ME WHERE THE LIGHT IS (Eenie Meenie, April 28, 2009), which opens with the amazing 1-2-3-4 punch of "Story," "Houses," "Fingers," and "Snakes," a big, brash foursome that is followed by the U2-like ballad "Stop." They calm down a bit after the anthemic "Mountains," finishing up with a series of sweet, slower tracks. REMIND ME WHERE THE LIGHT IS quickly has become one of our favorite albums of the year. Great Northern will be playing on a bill with the Dears and Eulogies at the Bell House on May 1 and the Bowery Ballroom on May 4 in what are a pair of truly hot shows.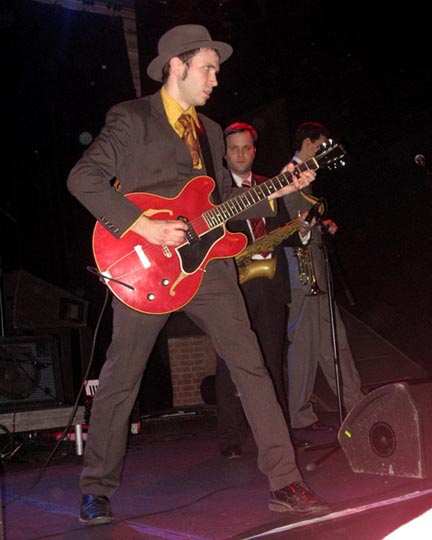 twi-ny/mdr
Sway Machinery will get people sweaty and swaying at baths party
STEAMY DANCE NIGHT @ RUSSIAN BATHS
Banya
602 Coney Island Ave. between Beverley Rd. & Ave. C, Kensington, Brooklyn
Saturday, May 2, $35-$95, 7:00 pm — 2:00 am
http://www.geminiandscorpio.com
The Sway Machinery celebrates the release of their latest CD, HIDDEN MELODIES REVEALED (JDub, April 2009), at the Russian baths in Brooklyn, playing sets at 10:00 and midnight. As we said a few months ago, the Sway Machinery is what happens when a gifted young musician who came of age playing guitar with itinerant bluesmen on subway platforms decides to get in touch with his roots as the descendant of famous cantors from the Jewish religious tradition, proceeds to gather a bunch of nattily attired co-conspirators, and engages in musical free association by way of frenzied liturgical exploration and exposition. The mensch in question is Jeremiah Lockwood, and he led the band through a strong show of songs old and new, only one in English, which should work well at the Russian baths. The baths, steam rooms (Russian, Turkish, and Swedish), Jacuzzi, sauna, hookah lounge, energy healing room, cold plunge pool, and rooftop smoking deck will be open all night long to ticket holders only of this special private event. DJ Joro-Boro will be keeping the dance floor moving with his EthnoMesh Megalophonia mix until two in the morning. The $75 VIP ticket gets you early admission to the baths (7:00 am — 2:00 pm), your own locker, open vodka bar (10:00 — 11:00), and a Russian feast; the $55 ticket is good for bath admission (9:00 pm — 2:00 am), a shared locker, and the open vodka bar; while for $35 you get late-night bath admission (11:00 pm — 2:00 am). And free potato pierogies will be available all night long, as well as optional platzas and massage.
FREELAND
(le) poisson rouge
150 Bleecker St.
Saturday, May 2, $13-$15, 11:00
212-505-fish
http://www.myspace.com/lepoissonrougenyc
British techno remix masters Freeland will be getting the folks at (le) poisson rouge grooving to the beat at this late-night show that will also feature a DJ set by Alex Metric. If you aren't shaking your thing while checking out such screaming hot tunes as Freeland's versions of Spinerette's "Sex Bomb" and Grinderman's "No Pussy Blues" as well as their own "Under Control" and "We Want Your Soul," well, you ain't got no soul. And they also do a cool shout-out to the prez with "Aer OBAMA," battling it out with Daft Punk. Freeland's new album, COPE, comes out in June, but you can get an early peek at such songs as "Strange Things" and "Bring It" on the embedded player above.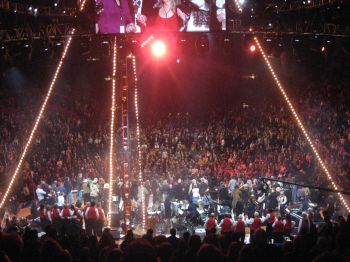 twi-ny/mdr
Musicians gathered on May 3 to wish Pete Seeger happy birthday
THE CLEARWATER CONCERT: CREATING THE NEXT GENERATION OF ENVIRONMENTAL LEADERS
Madison Square Garden
Tickets: $19.19 - $250
Legendary folksinger Pete Seeger will be celebrating his ninetieth birthday in style with a gala show at Madison Square Garden, benefiting his Clearwater Environmental Organization. The all-star lineup of musicians playing songs from Seeger's hefty repertoire, both solo and with the Weavers, includes Bruce Springsteen, Emmylou Harris, Eddie Vedder, Martha Wainwright, Taj Mahal, Ani DiFranco, Billy Bragg, Joan Baez, Richie Havens, Dar Williams, Kris Kristofferson, Toshi Reagon, Steve Earle, and a few dozen more. Tickets range from $19.19 (in honor of the year Seeger was born) to $94.50 (which was supposed to be $90 to represent his age) to $250. They keep releasing blocks of tickets, so keep trying over these last few days even if your desired price seems to be sold out. And don't forget Seeger's annual Clearwater Festival in Croton-on-Hudson, taking place this year on June 20-21, with such artists as Arlo Guthrie, the Persuasions, Elvis Perkins in Dearland, Dr. Dog, Alejandro Escovedo, A. C. Newman, Allison Moorer, Cornmeal, and many more.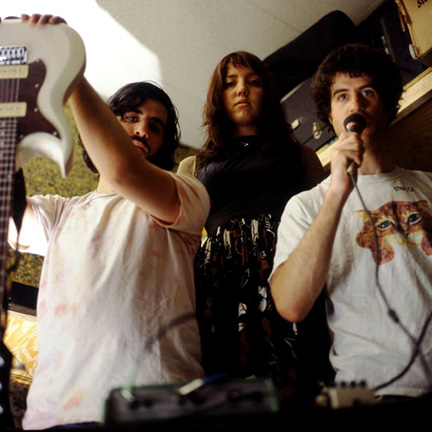 Bridget Burns
Religious Knives will sharpen their sound at Deli fest
THE DELI'S BEST OF NYC FESTIVAL
Multiple venues
May 6-10
http://www.thedelimagazine.com
The votes are in for the Deli's poll of the best emerging New York City bands, compiled by votes from the magazine's readers and writers and a select panel. The winner is Chairlift, with Vivian Girls second and the Secret Life of Sofia third. A whole bunch will be celebrating the final results by participating in this four-show mini-festival that kicks off May 6. Other bands that made the list but are not part of these gigs include Pains of Being Pure at Heart, a Place to Bury Strangers, O'Death, Titus Andronicus, Gang Gang Dancce, Chicha Libre, Kat, and Electric Tickle Machine.
Wednesday, May 6 Lowry, Elizabeth & the Catapult, the King Left, April Smith, KaiserCartel, and Mia Riddle, Southpaw, $10, 7:30
Friday, May 8 Religious Knives — Maya Miller, Michael Bernstein, Nate Nelson, and Todd Cavallo — play in their borough of residence, highlighting songs from their most recent release, THE DOOR (Ecstatic Peace, October 2008), six groovy tunes that were produced with Thurston Moore; also on the bill are Crystal Stilts, Blank Dogs, and Dinowalrus, the Bell House, 149 Seventh St., Gowanus, $12, 9:00
Saturday, May 9 FUTURITY: A Musical by the Lisps, set during the Civil War, Joe's Pub, 425 Lafayette St., $15, 9:30
Sunday, May 10 Chairlift, who had a recent hit with the infectious "Bruises" that was used on an iPod ad, plays their hometown, along with Brooklynite Angel Deradoorian (of the Dirty Projectors), who has just released the EP MIND RAFT (Love Pump United, May 5, 2009) and claims she sounds like "a garbage truck falling off the Empire State Building," the always entertaining Takka Takka, CMJ veterans Secret Life of Sofia, and the Gay Blades, the Bell House, 149 Seventh St., Gowanus, $12, 6:30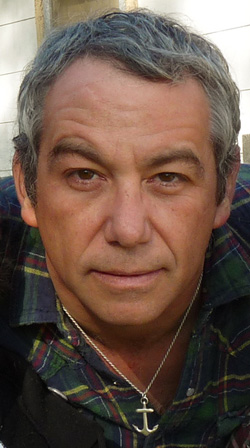 Photo by Mike Watt
A clean-shaven Mike Watt took
this self-portrait in March 2009
MIKE WATT & THE MISSINGMEN
Thursday, May 7, Maxwell's, 1039 Washington St., Hoboken, $10, 8:00
Friday, May 8, Mercury Lounge, 217 East Houston St. at Ave. A, $15, 8:00
http://www.myspace.com/missingmen
http://www.mercuryloungenyc.com
Bassist extraordinaire Mike Watt has been jamming econo since his days with the Minutemen, then flew the flannel with fIREHOSE, and has also played in a string of bands including the Black Gang and the Dos, and has joined such outfits as Porno for Pyros and the Stooges. Now in his early fifties, the longtime punk, who usually sports some type of complex facial hair arrangement, is now on the road with the Missingmen, with Tom Watson on guitar and Raul Morales on drums. Watt formed the trio in the summer of 2006 as a way to continue his punk-rock opera that began with 1997's CONTEMPLATING THE ENGINE ROOM and returned with 2004's THE SECONDMAN'S MIDDLE STAND. The self-described hand-to-man band will bring the third part, HYPHENATED-MAN, to Maxwell's on May 7 and the Mercury Lounge on May 8, playing with Lite and Kahoots. "A big influence was those little creatures in those old Hieronymus Bosch paintings," Watt writes on the band's official Web site. "I read a theory about them maybe being visualizations of proverbs or aphorisms and me, not knowing much about sixteenth century Dutch/Flemish culture, made up my own meanings!"
LOVE CAMP 7
The Parkside Lounge
317 East Houston St. between Aves. B & C
Saturday, May 9, 10:00
212-673-6270
Promising to perform compositions from records 2, 4, 5, 6, 7, and 8, Love Camp 7 returns to the Parkside Lounge celebrating the release of their latest CD, UNION GARAGE. Guitarists Dann Baker and Stephen B. Antonakos, bass player Bruce Hathaway, and drummer Dave Campbell have come up with another infectious collection of hyperintelligent flower-power psychedelia featuring lilting harmonies, wry lyrics, and jangling guitars. The centerpiece of the new disc is a sweet suite of songs dealing with race, slavery, the Civil War, and the civil rights movement, primarily set in Richmond, Virginia, consisting of "Crazy Bet Van Lew," "Nobody Here But Us African-Americans," "Letting the Brass Band Speak for You," and "No Negro Shall Smoke..." An absolutely delightful chorus drives "(Beware of the) Angry Driver (Yeah)," one of the best songs ever about New York City mass transit — "Here Comes the B48," Baker sings. "Tell me where on earth you'd rather be / than Greenpoint in its glory." Things get a little crazy during "Johnny's Got a Little Bag o' Tricks," including a fab drum solo during a Mountain-style jam. And the album closer, "Mock On," while seemingly an ironic alternative to Van Morrison's "Rave on, John Donne," is actually set to the words of a William Blake poem. On the opening track, Baker declares, "The killers aren't bad guys." Love Camp 7 ain't bad guys, either. LC7 will be hitting the Parkside stage at 10:00, followed by the Shaker Pegs and Rawles Balls. (Antonakos will be warming up for the gig by making a solo appearance as Homeboy Steve at Banjo Jim's at 7:00 that night, featuring songs from his fine collection ARE WE THERE YET?)
Riff's Rants & Raves: Theater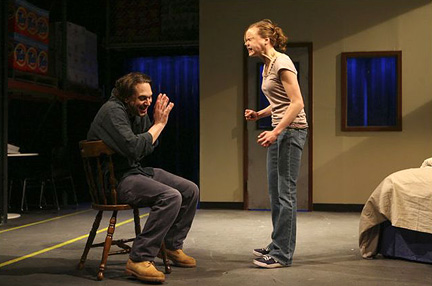 Neil LaBute makes his Broadway debut with REASONS TO BE PRETTY
REASONS TO BE PRETTY
Lyceum Theatre
149 West 45th St. between Sixth & Seventh Aves.
Tickets: $31.50 - $226.50
http://www.reasonstobepretty.com
http://www.shubertorganization.com

Neil LaBute, the controversial writer of such plays as THE SHAPE OF THINGS, THE MERCY SEAT, and WRECKS and the writer-director of such films as IN THE COMPANY OF MEN, YOUR FRIENDS AND NEIGHBORS, and NURSE BETTY, makes his Broadway debut with the outstanding REASONS TO BE PRETTY. As the play begins, Greg (Thomas Sadoski) has made an offhanded comment to Kent (Steven Pasquale) about Steph's (Marin Ireland) looks, and Carly (Piper Perabo), Kent's wife, immediately tells her best friend about it. Steph flies into a wild rage, battling Greg in a thrilling argument filled with Mamet-fast dialogue that has just the right starts and stops, ebbs and flows. Despite their four years together, Steph decides to leave Greg, saying she cannot be with someone who does not find her attractive. For a guy who spends so much time reading the works of Edgar Allan Poe, Nathaniel Hawthorne, and Washington Irving, Greg is not exactly well spoken, unable to explain himself and get out of the mess he's created. Meanwhile, the rugged Kent is showing interest in a hot new employee behind Carly's back; Carly might be a security guard protecting the warehouse where Greg and Kent also work, but she is unable to shine a light on her own personal situation. David Gallo's stage design is centered around a wall with a door and a window that serves as the backdrop of every scene, with different sets moved in front of it, including a bed, a company coffee room, and a restaurant lobby, wheeled in and out in a way that evokes how Kent and Greg move boxes in the warehouse. Loud rock music accompanies the set changes, by such bands as the Replacements and Cracker.
The well-paced production features sure-handed direction by Steppenwolf Theatre Company cofounder (and OZ star) Terry Kinney and an excellent cast, led by a sensational performance by Sadoski as the deeply flawed Greg. And LaBute's sharp writing keeps things right on target, never becoming heavy-handed with a tender subject that examines the problems people have communicating their true feelings. The play began Monday performances on April 27 — when one twi-ny devotee was able to snag $20 tickets at the box office twenty minutes before showtime — and there are student rush tickets available two hours prior to curtain for $26.50 with valid ID. Surprisingly, there have been a lot of empty seats of late; LaBute and the cast deserve better for this exciting drama. As an extra bonus, on Saturday, May 9, at 5:00, LaBute, Kinney, and the cast will be making a special appearance at Borders Columbus Circle to discuss the work; admission is free.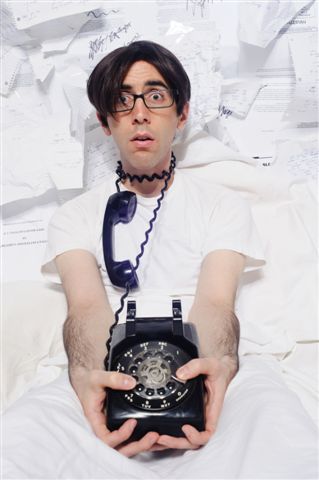 Fishback play has earned an encore performance
YOU WILL EXPERIENCE SILENCE
Dixon Place
161 Chrystie St. between Rivington & Delancey Sts.
Monday, May 4: special encore performance, 8:00
Tickets: $15
212-219-0736
http://www.youwillexperiencesilence.com

Dan Fishback's YOU WILL EXPERIENCE SILENCE is an outrageously funny play that takes place in a white bed surrounded by piles and piles of paper. Fishback stars as Ian Fleishman, a contemporary gay Jew staying home from work because he's sick, as well as a teenage Judah Maccabee, the warrior who led the Jewish revolt against the Greek empire in the second century BCE. But Fishback's Judah is not quite ready to play the hero; instead, he's a whiny homosexual who would rather stare at hot soldiers than join his father, Mattathias, in the bloody fight for freedom. Judah hangs out with his best friend, Ezra (an absolutely superb Max Steele), whose flirtation with "hot soldier" Demetrius (Joseph Keckler) is threatening to become vividly physical. The scenes shift back and forth through time sans costume or set changes, with Ian relating his life story through the pieces of paper that are taped to the wall behind his bed, ironic letters and documents that are further developed metaphorically through Judah's experiences with Ezra, Demetrius, and his radical father (also played by Keckler).
Stephen Brackett's deft direction allows the play to move between eras effortlessly; it is particularly effective when Ezra and Demetrius keep getting hotter and heavier on one side of the bed while Judah complains away on the other, neither cognizant of what is going on next to them. YOU WILL EXPERIENCE SILENCE is a fun historical comedy that isn't afraid to touch on some very serious topics relating to love and war. Originally titled THE LAST CHANUKAH, it was produced as part of the Six Points Fellowship for Emerging Jewish Artists partnership. The play has been so successful that an encore performance has been added on May 4 — don't miss it!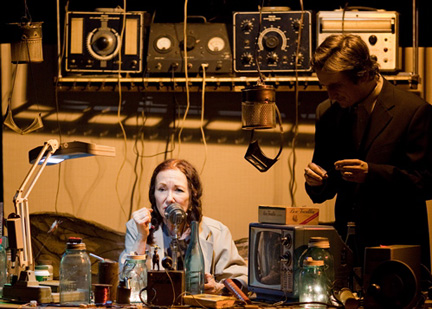 Ryan Jensen
RED FLY / BLUE BOTTLE is a wonder to behold
RED FLY / BLUE BOTTLE
HERE Arts Center
145 Sixth Ave. at Dominick St.
Through May 2
Tickets: $20
212-352-3101

The remarkable set of RED FLY / BLUE BOTTLE is a character all its own, strewn with outdated mechanical pieces, clockworks, scientific paraphernalia, an old-fashioned record player, electronic equipment, and various other odd objects that emerge from boxes and suitcases. Moving scrims serve as both devices to further the narrative as well as video screens on which are projected abstract images and story-related ephemera. Featuring music by Christina Campanella and words by Stephanie Fleischmann, RED FLY / BLUE BOTTLE is primarily about memory, evoking a long-lost past exemplified by the relationship between Clarissa (Jesse Hawley) and her husband, known only as the Man (Chris Lee). When he is called away, she pines for him, unsure of his return. Meanwhile, the Old Lady (Black-Eyed Susan) continues her intensive examination of flies as the Operator (Campanella) contributes abstract poetic narration and leads a three-piece band (with Sammy Baker on multiple instruments, Erich Schoen-René on cello, and offstage and prerecorded music) through ghostly songs. Hawley and Lee usually sing too conventionally, somewhat marring the avant-garde feel of the play; it is far more successful when they and Campanella talk-sing, but even then, the narrative is difficult to follow. Mallory Catlett's direction makes full use of Jim Findlay's set, which impressively lays out Matt Verta-Ray's sound sculptures and Peter Norrman's archival video that evokes the work of Bill Morrison and Guy Maddin. Even though it drags a bit too much, RED FLY / BLUE BOTTLE is a sonic and visual wonder.
Riff's Rants & Raves: Art & Literature
FREE COMIC BOOK DAY
Multiple locations
Admission: free
http://www.freecomicbookday.com
Saturday, May 2 Special limited-edition free comic books will be available at comic book stores all across the country, with signings and character appearances as well, including events at Jim Hanley's Universe (4 West 33rd St.), Bergen Street Comics (470 Bergen St.), Forbidden Planet (840 Broadway), Midtown Comics (200 West 40th St. & 459 Lexington Ave.), and other local comic shops, 11:00 am — 9:00 pm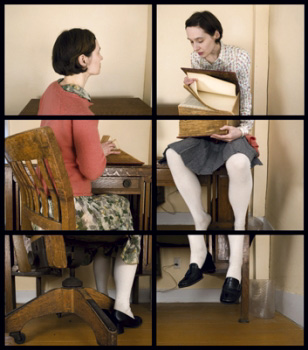 Courtesy of Klompching Gallery
Cornelia Hediger, "Doppelgänger," chromogenic print
THE AFFORDABLE ART FAIR
7 West 34th St. at Fifth Ave.
May 7-10
Admission: adults $15-$20, children twelve and under free
While there is an ongoing debate about how much the art market has been affected by the current recession, the Affordable Art Fair, consisting of more than sixty international galleries, moves into its new home by the Empire State Building selling works of art from $100 to $10,000, a far cry from the prices seen at such recent fairs as Pulse, Scope, and the Armory Show. In addition to exhibits by Montreal's Artéria Inc., the Hague's Gallery Atelier Beeld, Bath's Edgar Modern, Palo Alto's Modernbrook Gallery, Seoul's the Newgate East, New Orleans's Red Truck Gallery, Brooklyn's s.e.e.d. gallery, and Barcelona's Villa del Arte, the fair will feature a lecture series, sculpture demonstrations, and an interactive studio experience for children.
Courtesy of s.e.e.d. gallery
Fred Gates, "Brooklyn Skyline," spray paint, acrylic, lithographic crayon on panel

Thursday, May 7 Lecture Series: Portraiture in Contemporary Photography, moderated by Lesley A. Martin, 5:00
Friday, May 8 Lecture Series: America's Next Top Artist, moderated by Manish Vora, 6:30
Saturday, May 9 Lecture Series: Building Your Own Art Empire in a Recession, moderated by Steven Sergiovanni of Mixed Greens, 5:00
Saturday May 7 Sculpture Demonstrations: Armatures and Molding by Bob Spring, 1:00
Saturday May 7 Sculpture Demonstrations Molding from Life by David Baskin, 3:00
Saturday, May 7
and
Sunday, May 8 Children's Art Studio, interactive art studio experience for children three to twelve, including Line and Shape Design inspired by Ellsworth Kelly, Patrick Heron and Mondrian; Vertical Art: Collaborative Group Murals; Famous Artist Coloring Station; and a Jim Dine Hammering Station, 12 noon — 4:00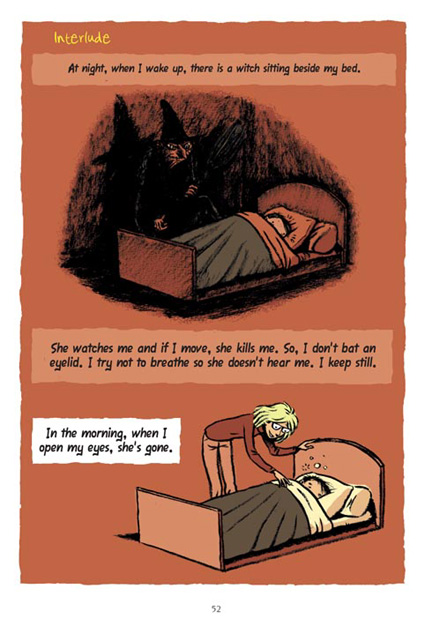 MY MOMMY IS IN AMERICA AND SHE MET BUFFALO BILL
by Jean Regnaud & Émile Bravo
(Fanfare/Ponent Mon, April 2009, $25.00)

Friends since adolescence, Jean Regnaud and Émile Bravo have teamed up on the wonderful graphic novel MY MOMMY IS IN AMERICA AND SHE MET BUFFALO BILL. It's 1970, and adorable little Jean is just starting big kids' school. He lives with his younger brother, Paul; their father, a factory boss; and their kind nanny, Yvette. The boys have been told that their mother, a secretary, is away on a business trip — one that she has been on for a very long time. All of the adults, from teachers to psychologists to grandparents, avoid the subject of Jean's mother except for his neighbor, Michelle, an older girl who starts reading Jean postcards she claims are from his mother. But as Jean grows more and more curious about finding the truth, the family secret threatens to be revealed. Regnaud tells the autobiographical story beautifully, with simple but creative text and limited dialogue. Bravo's earth-toned panels are gorgeous, furthering the story with intriguing characters as well as playful Interludes before each chapter. MY MOMMY IS IN AMERICA, which has won several major French literary awards, evokes such striking graphic novels as Alison Bechdel's FUN HOME and David B.'s NOCTURNAL CONSPIRACIES, deeply personal works that are both wildly creative and emotionally poignant. The publisher recommends the book for children ages eight to thirteen, but it is really more geared for adults to share with their kids, at least those on the younger side.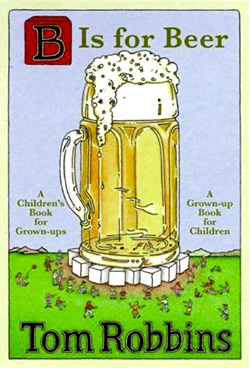 B IS FOR BEER by Tom Robbins (Ecco, April 2009, $17.95)

Tom Robbins, the author of such marvelously creative novels as ANOTHER ROADSIDE ATTRACTION, STILL LIFE WITH WOODPECKER, EVEN COWGIRLS GET THE BLUES, and JITTERBUG PERFUME, travels down a very different path with his latest, B IS FOR BEER. Subtitled "A Children's Book for Grown-ups" and "A Grown-up Book for Children," this tale of a young girl's sudden relationship with beer on her sixth birthday calls for a series of carbonated question marks. Just who is this book written for? And did he really think this was a good idea? Shortly after tasting a sip of her uncle Moe's beer and later getting blitzkrieged, little Gracie Perkel is led through the beer-making process by a fairy with a magic wand, who teaches the precocious kid about barley, hops, malt, etc., as well as the effect beer has on adults. The short tome, which clocks in at 128 pages including a handful of full-page drawings by Les LePere, does contain a few of Robbins's classic witticisms, but way too few to justify the $17.95 price.

CHILDREN'S BOOK WEEK
Multiple locations
May 11-17
Saturday, May 9 Children's Book Week Kick-Off, with Irene Brezna, Geoffrey Hayes, Deborah Heiligman, Alan Katz, Tom Leonard, William Low, Ian Schoenherr, David Soman, and Jon Scieszka, national ambassador for Young People's Literature, Bryant Park Reading Room, 42nd St. & Sixth Ave., free, 12 noon — 3:00


All contents copyright 2009 by Mark Rifkin and twi-ny. All rights reserved. Contents may not be reprinted without written permission. Please note that events, dates, and prices are subject to change.
Send all comments, suggestions, reviews, and questions to mark.rifkin@twi-ny.com.
Please note that some e-mail clients may wrap links, so be sure to enter them fully into your browser.


To subscribe to this list, please e-mail the administrator at admin@twi-ny.com with the word Subscribe in the Subject line; be sure to ask for back issues, which are free as well. To unsubscribe from this list, please think it over twice before e-mailing the same address. Please let us know what you didn't like about this forum and we'll do our best to correct it in the future — if we agree with you. If you would like to see something covered in a future issue, please let us know. Without you, there is no need for us to exist.
twi-ny top two dozen (or so)
weekly reminders & special events

SERIOUS 'TOONS: EMOTION IN ANIMATION
Village Zendo Zen Buddhist Meditation Center
588 Broadway between Houston & Prince Sts., suite 1108
Suggested donation: $20
Wednesday, April 29 Benefit for Village Zendo featuring animation legend John Canemaker, who will discuss emotional themes in animation and screen several shorts, including the Oscar-winning THE MOON AND THE SON: AN IMAGINED CONVERSATION, 7:15
TRISHA BROWN DANCE COMPANY
Brooklyn Academy of Music
BAM Howard Gilman Opera House
30 Lafayette Ave. between Ashland Pl. & St. Felix St.
Tickets: $25-$45
718-636-4100
Wednesday, April 29
through
Saturday, May 2 Trisha Brown returns to BAM for the first time in ten years, presenting a retrospective of works that include music by Laurie Anderson, sets by Vija Celmins and Robert Rauschenberg, and a peek at her newest creation, HIPPOLYTE ET ARICIE; the April 30 show will be preceded by an artist talk with Brown and Susan Rosenberg in the BAM Rose Cinemas
PEN WORLD VOICES FESTIVAL
OF INTERNATIONAL LITERATURE
Multiple venues
Through May 3
Wednesday, April 29 The Voyage of the Reader: Using Children's Books to Create a Love of Reading, with Mary Ann Hoberman, Francine Prose, Meir Shalev, and Vera B. Williams, moderated by Benjamin D. Schrank, Instituto Cervantes New York, 211-215 East 49th St. free, 4:30
Wednesday, April 29 Evolution/Revolution, with Muriel Barbery, Nicole Brossard, Narcis Comadira, Jose Dalisay, Edwidge Danticat, Péter Nadas, Sergio Ramirez, Salman Rushdie, and Raja Shehadeh, the Great Hall at the Cooper Union, 7 East Seventh St., $15-$20, 8:00
Thursday, April 30 Yoshihiro Tatsumi and Kathrin Roggla: Modern Day Salarymen, Austrian Cultural Forum, 11 East 52nd St., free but reservations required at 212-319-5300, 4:30
Thursday, April 30 The Moth ®Evolution: Stories of Change, with Salwa Al Neimi, Jonathan Ames, Petina Gappah, László Garaczi, and Salman Rushdie, Galapagos Art Space, 16 Main St., DUMBO, $30, 7:00
Friday, May 1 Season of Migration to the North: The Work of Tayeb Salih, with Elias Khoury, Laila Lalami, Bruce Robbins, and Raja Shehadeh, Scandinavia House, 58 Park Ave., free, 6:00
Friday, May 1 The Language of Fear: A PEN Journal Event, with Guillermo Fadanelli, Wayne Koestenbaum, Colum McCann, Kathrin Roggla, and Anya Ulinich, moderated by Jeffrey Lependorf, Elebash Recital Hall, CUNY Graduate Center, 365 Fifth Ave., free, 6:00
Saturday, May 2 Coraline, Sandman: Books and Imagination: A Conversation with Neil Gaiman, moderated by Caro Llewellyn, the Great Hall at the Cooper Union, 7 East Seventh St., $10, 1:00
Saturday, May 2 Mark Z. Danielewski and Rick Moody: In Conversation, French Institute Alliance Française, Florence Gould Hall, 55 East 59th St., free, 1:00
Saturday, May 2 Revolutionary Writers: Yoshihiro Tatsumi in Conversation with Adrian Tomine, the Great Hall at the Cooper Union, 7 East Seventh St., $10, 4:30
Saturday, May 2 The PEN Cabaret, an evening of music, literature, writers, and performers, with Laurie Anderson, Carrie Brownstein, Horacio Castellanos Moya, Steve Connell, David Conrad, Mark Z. Danielewski, James Franco, Peter Hirsch, Nick Laird, Walter Mosley, Parker Posey, Lou Reed, Sekou, and Sean Wilsey, French Institute Alliance Française, Florence Gould Hall, 55 East 59th St., $30, 7:30
Sunday, May 3 Conversation: Richard Ford and Nam Le, the Morgan Library & Museum, Gilder Lehrman Hall, 225 Madison Ave., $10-$15, 2:00
Sunday, May 3 Is Nonfiction Literature? with Colum McCann, Philip Gourevitch, Norbert Gstrein, and Antje Ravic Strubel, the Museum of Jewish Heritage, Edmond J. Safra Hall, 36 Battery Pl., $10-$15, 3:00
Sunday, May 3 The Fourth Annual Arthur Miller Freedom to Write Lecture by Nawal El Saadawi, the Great Hall at the Cooper Union, 7 East Seventh St., $10-$15, 6:30
THE JEROME L. GREENE PERFORMANCE SPACE
44 Charlton St.
Admission: free
646-829-4400
Wednesday, April 29
through
Friday, May 8 Grand opening of WNYC's new performance space, including a New Theater of Sound presentations of Arthur Yorinks's THE INVISIBLE MAN and Archibald MacLeish's FALL OF THE CITY, live radio Soundcheck broadcasts with Lour Reed, Santigold, and ETHEL, Evening Music Live with Elliott Sharp, Don Byron, Ute Lemper, and Nico Muhly, "The Brian Lehrer Show" with Paul Krugman, "The Leonard Lopate Show" with Joy Behar, Radio Lab's Audio-Visual Smackdown, "The Places That Bind: Examining Preservation and Culture in a Changing City" with Rosie Perez, "The Inaugural Talk" with Dr. Cornel West, "Voices from the Boroughs" with Danny Simmons and Brian Tate, "The First 'First Friday,'" and Community Day
CUPCAKE TEA
Ritz-Carlton New York, Battery Park, Star Lounge
2 West St. at Battery Pl.
Saturdays & Sundays 11:00 am — 2:30 pm
Fee: $25
Advance reservations required: 212-521-6125
http://ritzcarlton.com/batterypark
Through Sunday, May 17 Preset selection of five petite cupcakes, with a choice of tea: red velvet, orange "creamsicle," lemon chiffon, Valrhona chocolate, and Tahitian vanilla

SPRING FOR A CURE: A BITE OF THE BIG APPLE
The Metropolitan Pavilion
125 West 18th St. between Sixth & Seventh Aves.
Tickets: $100
Thursday, April 30 A Culinary & Beverage Tasting Event with Silent Auction, Sweepstakes, Art Exhibit, Music & Dancing, benefiting the Juvenile Diabetes Research Foundation, 7:00
SPRING REPERTOIRE
Marymount Manhattan College
Theresa Lang Theatre
221 East 71st St. between Second & Third Aves.
Tickets: $8-$12 (May 8 gala $75)
212-517-0610
Thursday, April 30
through
Saturday, May 9 Performances of five pieces, including Christophe d'Amboise's OPUS 81, Martha Graham's THREE BY MARTHA, Susan Marshall's THE MOST DANGEROUS ROOM IN THE HOUSE, Takehiro Ueyama's ONE, and Edgar Zendejas's AZADI
VIVA LA RAZA!
Bronx Museum of the Arts
1040 Grand Concourse at 165th St.
Admission: free
RSVP for program: 718-681-6000 ext102
Friday, May 1 Free First Fridays program includes Latino hip-hop showcase, with Division X, De la Ceiba, Mikki Flow, Eli Efi, and special guests, hosted by RephStar and Patty Dukes, 6:00
ROAD RECOVERY
Nokia Theatre
1515 Broadway at West 44th St.
Tickets: $25 - $500
800-745-3000
Friday, May 1 Benefit concert honoring Wayne Kramer, with Joan as Police Woman, Miggs, Ours, a supergroup consisting of Perry Farrell, Tom Morello, Jerry Cantrell, Wayne Kramer, Don Was, and Billy Bragg, and surprise guests, hosted by emcee Matt Pinfield, benefiting Road Recovery, a nonprofit that helps people deal with addiction and other adversities, 8:00
NIGHT OF A THOUSAND STEVIES 19: SONGS OF RHIANNON
Highline Ballroom
431 West 16th St. between Ninth & Tenth Aves.
Tickets: $20-$25
212-414-5994
http://www.mothernyc.com/stevie
http://www.highlineballroom.com
Friday, May 1 Nineteenth annual marathon celebration of all things Stevie, with Jock Soto, Delirium Tremens, Miguel Anaya, Taylor Mac, Bella Luna, Corety Tut with Patty Bruce, Amber Martin, Lady Zombie, Adam Dugas with Mia Theodoratus, Myndy K, and many more, 9:00 pn — 4:00 am
OPEN STUDIO WEEKEND 2009
77 Water St., tenth floor
120 Broadway, twenty-ninth floor
Admission: free
http://www.lmcc.net/openstudios
Friday, May 1 Opening reception, bot locations, 6:00
Saturday, May 2
and
Sunday, May 3 Twenty-nine artists and writers who are part of the Lower Manhattan Cultural Council's Workspace Studio Residency program will display their work, 12 noon — 6:00
Saturday, May 2 Open Texts, readings, 77 Water St., 6:00
VOX 2009: SHOWCASING AMERICAN OPERA
New York City Opera
NYU Skirball Center for the Performing Arts
566 La Guardia Pl. at Washington Square South
Admission: free but advance registration required (some tickets will be available day of show)
212-992-8380
Friday, May 1 Roundtable discussion moderated by Yuval Sharon, 5:00
Friday, May 1 Katrina Ballads, music and libretto by Ted Hearne, and No Easy Walk to Freedom, music and libretto by Chandler Carter, 7:00
Friday, May 1 Mosheh, music and libretto by Yoav Gal, and The Rat Land, music by Gordon Beeferman, libretto by Charlotte Jackson, 8:30
Friday, May 1 Séance on a Wet Afternoon, music and libretto by Stephen Schwartz, 9:50
Saturday, May 2 American Opera: Past, Present, Future, panel discussion moderated by George Steel, 12 noon
Saturday, May 2 Invisible Cities, music and libretto by Christopher Cerrone, and Armide, music by Jonathan Dawe, libretto by Heather Raffo, 2:00
Saturday, May 2 Car Crash Opera, music by Michaela Eremiasova and Jairo Duarte-Lopez, libretto and animation by Skip Battaglia, and Crescent City, music by Anne LeBaron, libretto by Douglas Kearney, 3:30
Saturday, May 2 A Bird in Your Ear, VOX's one hundredth opera, music by David Bruce, libretto by Alasdair Middleton, 4:50
THE OLD WAVE: FAVORITES FROM THE FRENCH MASTERS
IFC Center
323 Sixth Ave. at Waverly Pl., Manhattan
212-924-7771
Friday, May 1
through
Sunday, May 3 DIABOLIQUE (Henri-Georges Clouzot, 1955), 11:00 am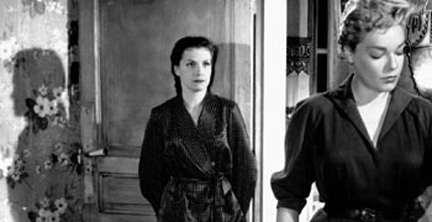 Clouzot classic is part of new series at IFC Center
LES DIABOLIQUES (DIABOLIQUE) (Henri-Georges Clouzot, 1955)

Henri-Georges Clouzot's LES DIABOLIQUES is a masterpiece of suspense, a psychological thriller that never lets up. This intense noir stars Vera Clouzot as Christina Delassalle, the mousy owner of a private school for boys run by her nasty, sadistic husband, Michel (Paul Meurisse), who is having an affair with teacher Nicole Horner (Simone Signoret). Nicole conspires with Vera to murder Michel and dump his body in a pool, and the plan works, if not exactly perfectly. Shortly after that, a young student claims to have seen the headmaster alive, frightening Christina and forcing Nicole to – well, we've already said too much. As the end credits say, "Don't be devils. Don't ruin the interest your friends could take in this film. Don't tell them what you saw." LES DIABOLIQUES is based on the novel CELLE QUI N'ETAIT PAS (THE WOMAN WHO WAS NO MORE) by Pierre Boileau and Thomas Narcejac, who also wrote D'ENTRE LES MORTS (THE LIVING AND THE DEAD), which was turned into the Alfred Hitchcock classic VERTIGO. Sadly, Vera Clouzot, wife of director Henri-Georges, died five years after LES DIABOLIQUES came out, at the age of forty-six, of a heart condition.
Friday, May 8
through
Sunday, May 10 DIARY OF A COUNTRY PRIEST (Robert Bresson, 1951), 11:00 am
TRIBECA FREE FESTIVALS
Multiple locations
Admission: free
http://www.tribecafilm.com/festival
Saturday, May 2 Tribeca Family Festival Street Fair, with live entertainment, local food, face painting, arts and crafts, dancers, stilt walkers, clown, jugglers, Broadway performances, storytelling, sculptors, student fundraising, and more, including IN THE HEIGHTS, SHREK THE MUSICAL, American Ballet Theatre's ABT II, the Dirty Sock Funtime Band, Hot Peas 'N Butter, Chicago City Limits, Making Books Sing, Poets House, the Kite Garden, the Bubble Garden, Madame Tussauds, the Sammie and Tudie Show, Jenny's Big Hula Hoop Show, Wacky Street Games, and more, Greenwich St. between Hubert & Chambers Sts., 10:00 am — 6:00 pm
Saturday, May 2 Tribeca/ESPN Sports Day, with demonstrations, interactive sports games, clinics, the X Games BMX Jams Tour, appearances by athletes and mascots, the Knicks Groove Truck, the Rangers Road Tour Truck, former Knick John Starks, current New York Jet Darrelle Revis, the Nets Dancers and Nets Kids, Mr. Met, former Liberty star Kym Hampton, the New York Red Bulls Street Team, North Moore St. between Greenwich & West Sts , 10:00 am — 6:00 pm
RUN/WALK FOR WOMEN
Times Square
Seventh Ave. between 47th & 48th Sts., 7:00 am
Central Park, East Meadow, 10:00
http://www.revlonrunwalk.com/ny
Saturday, May 2 Twelfth annual 5K run/walk and health expo raising funds and awareness of women's cancers, with thousands of survivors and their friends, families, and supporters walking or running from Times Square to Central Park, with registration and gift-bag pickup at 7:00 am, celebrity opening ceremonies at 8:15, official start at 9:15, and finish-line festivities at 10:00
WARRIOR SAINT:
THE QUEST FOR THE DRAMATIC JOAN OF ARC
New York Public Library for the Performing Arts
40 Lincoln Center Plaza
Admission: free
212-870-1630
Saturday, May 2 THE PASSION OF JOAN OF ARC (Carl Theodor Dreyer, 1928), 12:30
Saturday, May 2 SAINT JOAN (Otto Preminger, 1957), introduced by Foster Hirsch, 3:00

LABA FESTIVAL
14th St. Y of the Educational Alliance
344 East 14th St. between First & Second Aves.
Tickets: $7-$15
212-780-0800
Saturday, May 2
through
Thursday, May 14 Inaugural multimedia festival featuring lectures, readings, an art exhibit, workshops, poetry, dance, music, theater, gallery talks, film screenings, text study, and more, including the Avi Fox-Rosen Band: Absurdist Rock Cabaret, the Siblings, Julie Gayer Kris's THE BODY PROJECT, the Yelleb Dance Ensemble, Mekava: Music Inspired by the Mourner's Kaddish, the Motyl Chamber Ensemble's THE MISSING BODY PART, and other events
ETHNIC HEROES IN BASEBALL'S MELTING POT
Museum at Eldridge Street
12 Eldridge St. between Canal & Division Sts.
Admission: free (RSVP strongly suggested)
212-219-0888
Sunday, May 3 Baseball historian William M. Simons discusses such early ethnic heroes as Jackie Robinson, Joe DiMaggio, and Hank Greenberg as part of the Academic Angles series, 11:00 am
HOBOKEN ART & MUSIC FESTIVAL
Washington St. between First & Seventh Sts.
Admission: free
201-420-2207
Sunday, May 3 Fifteenth annual event, featuring more than two hundred artists and crafters, international food, a petting zoo, face painting, rides, games, live performances by the Box Tops with Alex Chilton, the Verdict, Mad Happy, Wild Carnation, Val Emmich, Yung Wu, Somos Asi, A YEAR WITH FROG AND TOAD, and more, 11:00 am — 6:00 pm
SELF COMES TO MIND
American Museum of Natural History
LeFrak Theater
Central Park West & 79th St.
Tickets: $25-$125
212-769-5200
Sunday, May 3 World premiere of piece composed by Bruce Adolphe in collaboration with neuroscientist Antonio Damasio, performed by cellist Yo-Yo Ma and two percussionists, with an interactive video of brain images, followed by a conversation with Yo-Yo Ma, Bruce Adolphe, and Antonio Damasio, moderated by Jonah Lehrer, 7:00
ARTISTS FOR PEACE
JCC in Manhattan
334 Amsterdam Ave. at 76th St.
Tickets: $15
646-505-5708
Sunday, May 3 Collaboration of dancers, musicians, and artists in honor of the sixtieth anniversary of the UN Declaration of Human Rights, 7:00
MoMA MONDAY NIGHTS
Museum of Modern Art
11 West 53rd St. between Fifth & Sixth Aves.
Admission: $10 after 5:30
212-708-9400
Monday, May 4 In honor of Bike Month, people who ride their bicycles to MoMA after 5:30 get half-off admission and valet bike parking, courtesy of Transportation Alternatives, with DJ sets by Prefuse 73, Justin Carter, and Eamon Harkin, as the museum remains open until 8:45; the first six hundred bikers will get a free pass to the museum for a future visit
THE LONG AND WINDING ROAD:
FROM EMERGING TO ESTABLISHED ARTIST
The Players Club
16 Gramercy Park South
Tickets: $50
212-317-1470
Monday, May 4 The Princess Grace Awards presents an intimate discussion between Toccarra Cash and Estelle Parsons, moderated by Dick Cavett, followed by a cocktail reception, 6:30
403 PRESENTS — PLASTIC FISH AND SYNTHETIC SEAS
Sun Terrace
450 West 17th St. between Ninth & Tenth Aves.
Tickets: $35-$40 (includes light dinner from Slice and cocktails)
Reservations required: 403rsvp@gmail.com
http://www.bluestockingnyc.tumblr.com
Monday, May 4 Cultural salon hosted by Lelaine Lau, featuring marine biologist Mike Rowinsky of the Algalita Marine Research Foundation discussing the Great Pacific Garbage Patch, plastic's devastating environmental impact on zooplankton, fish, and wildlife, plastic soup in the ocean, and other effects of plastic, 7:00
AILEY AT THE APOLLO
Apollo Theater
253 West 125th St. between Adam Clayton Powell & Frederick Douglass Blvds.
Tickets: $250+
212-405-9031
Tuesday, May 5 Fiftieth anniversary spring gala, featuring performances by Alvin Ailey American Dance Theater (excerpts from "Suite Otis" and "Festa Barocca"), Ailey II (excerpt from "When Dawn Comes…"), and the Ailey School (excerpts from "Revelations"), with honorees Janice Savin Williams and Christopher J. Williams, honorary chair Tiki Barber, 7:00
JAMES CARTER
Blue Note
131 West Third St.
Tickets: table $27.50, bar $15
212-475-8592
Tuesday, May 5
through
Sunday, May 10 Saxophonist James Carter leads a Half Note Records live recording of Larry Young's "Unity" and works by Sun Ra, with John Medeski on organ, Adam Rogers on electric guitar, Christian McBride on bass, and Joey Baron on drums, 8:00 & 10:30
PUBLIC ART FUND TALKS: CORY ARCANGEL
The New School, John Tishman Auditorium
66 West 12th St. between Fifth & Sixth Aves.
Tickets: $5
212-980-3942
Wednesday, May 6 Buffalo-born multimedia artist Cory Arcangel discusses his intriguing conceptual work, which is currently part of the "Younger than Jesus" exhibition at the New Museum, 6:30
STEVE CUIFFO IS LENNY BRUCE
Museum of Jewish Heritage — A Living Memorial to the Holocaust
36 Battery Pl.
Tickets: $12-$15
646-437-4200
Wednesday, May 6 Live performance followed by a Q&A with Mark Crispin Miller, 7:00
DEAN & BRITTA
(le) poisson rouge
150 Bleecker St.
Tickets: $15
212-505-fish
http://www.myspace.com/lepoissonrougenyc
Wednesday, May 6 Dean Wareham and Britta Phillips, formerly of Luna, who have been out on the road with their latest discovery, Cheval Sombre, come back home to play at (le) poisson rouge, $15, 7:00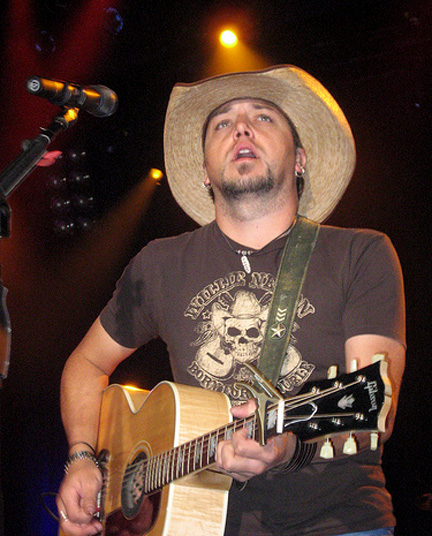 twi-ny/mdr
Jason Aldean brings his brand of country to Times Square
JASON ALDEAN
B.B. King Blues Club & Grill
237 West 42nd St. between Seventh & Eighth Aves.
Tickets: $30-$35
212-997-4144
Wednesday, May 6 Country star Jason Aldean comes to B.B. King's in support of his latest album, WIDE OPEN, 8:00
BINIBON
The Kitchen
512 West 19th St. between Tenth & Eleventh Aves.
Tickets: $15
212-255-5793
Wednesday, May 6
through
Saturday, May 9 World premiere of new multimedia music theater piece by Elliott Sharp about a 1981 murder in the East Village, featuring text by Jack Womack, direction by Tea Alagic, and a cast that includes Sonja Perryman, Jedadiah Schultz, Ryan Quinn, and Joe Tapper, 8:00
JANCSÓ CLASSICS
Walter Reade Theater
65th St. between Broadway & Amsterdam Aves.
May 6-9
212-875-5050
Wednesday, May 6, 3:00 & 6:40 THE RED AND THE WHITE (CSILLAGOSOK, KATONÁK) (Miklos Jancsó, 1967)
Wednesday, May 6, 8:30
and
Thursday, May 7, 2:15 RED PSALM (MÉG KÉR A NÉP) (Miklos Jancsó, 1972)
Wednesday, May 6, 1:00
Thursday, May 7, 6:00
and
Saturday, May 9, 6:30 THE ROUND-UP (SZEGÉNYLEGÉNYEK) (Miklos Jancsó, 1966)
Wednesday, May 6, 5:00
Thursday, May 7, 4:15
and
Saturday, May 9, 4:45 SILENCE AND CRY (CSEND ÉS KIÁLTÁS) (Miklos Jancsó, 1967)
DUFF: DOWNTOWN URBAN THEATER FESTIVAL
HERE Arts Center
145 Sixth Ave. at Dominick St.
Tickets: $18
212-352-3101
Wednesday, May 6
through
Saturday, May 16 Ten days of new theater, featuring twelve works by thirteen playwrights, as well as panel discussions and kick-off and closing parties

soloNOVA Arts Festival
DR2 Theatre & D-Lounge
103 East 15th St.
Tickets: $10-$20 (Festival Passes $100 for all shows)
http://www.terranovacollective.org
Wednesday, May 6
through
Saturday, May 30 Sixth annual festival, including keynote address by Artist of the Year Mike Daisey on May 6, "Ones at Ten" on Friday nights, and such performances as FUN DESIGN WITH SVELTE, MANN SEEKING MAN: JESUS-LOVIN' SCHOOLGIRL SEEKS SOULMATE, WHERE MY GIRLS AT?, CREATING ILLUSION with magician Jeff Grow, and PICCOLA COSI
DAME QUICKLY, UNFRAMED
Priska C. Juschka Fine Art
547 West 27th St. between Tenth & Eleventh Aves.
Admission: free
RSVP: 212-244-4320
http://www.priskajuschkafineart.com
Thursday, May 7 Jennifer Scappetone reads poems from her new book, FROM DAME QUICKLY, with performance/projection of stills, in conjunction with the gallery's current exhibit by Rosemarie Fiore, who did the books cover art, 6:30
POSTCARDS FROM YO MOMMA
92YTribeca
200 Hudson St. at Canal St.
Tickets: $12
212-415-5500
Thursday, May 7 What to Do When Your Mom Gets Drunk and Posts on Your Facebook Wall, with Doree Shafrir and Jessica Grose, moderated by Catie Lazarus, 7:30
RE:TURN
Kraine Theater
85 East Fourth St. between Second & Third Aves.
Tickets: $10-$18
212-868-4444
Thursday, May 7
through
Sunday, May 10 A Play with Film, Dance, and Live Music, written, directed, and choreographed by Dagmar Spain, featuring an original score by John Leaman, lighting design by Jonathan Cottle, and graphic design by Lisa Zaccaria Roselli
NORM MacDONALD
Carolines on Broadway
1626 Broadway at 50th St.
Tickets: $31
Reservations required
212-757-4100
Thursday, May 7
through
Sunday, May 10 Sardonic comedian Norm MacDonald, who has cracked us up on SNL and his own strange sitcom, comes to Broadway for some rare stand-up
NICK HALLET: VOICE & LIGHT SYSTEMS
New Museum of Contemporary Art theater
235 Bowery at Prince St.
Tickets: $15
212-219-1222
Thursday, May 7 Part One: Meredith Monk's Our Lady of Late, with Nick Hallett, singers Emily Eagen and Peter Sciscioli, and percussionist-composer Miguel Frasconi, 7:00
Thursday, May 14 Part Two: Karlheinz Stockhausen's Stimmung, with Nick Hallett, Gisburg, Dafna Naftali, Robert Osborne, Daisy Press, and Peter Sciscioli, 7:00
PROSPECT PARK TRAFFIC CALMING RIDE
Grand Army Plaza
Intersection of Flatbush Ave., Eastern Pkwy, Union St. & Prospect Park West
Admission: free
212-802-8222
Friday, May 8 Bikers, walkers, skateboarders, and others reclaim Prospect Park as a car-free zone, sponsored by Time's Up, 6:00 pm
SUPEREGO COMEDY SHOWCASE
New York Comedy Club
241 East 24th St. btween Second * Third Aves.
Tickets: $10 (two-drink minimum)
http://www.newyorkcomedyclub.com
Friday, May 8 Stand-up comedy show for EgoManiacs, 8:00
FRITZ SCHOLDER: INDIAN / NOT INDIAN
Museum of Arts & Design, MAD Theater
2 Columbus Circle
Free with museum admission of $15
212-299-7790
Saturday, May 9 Panel discussion on the late Native American artist who currently has an exhibit at the National Museum of the American Indian in DC and New York, with Robert Hobbs, Truman T. Lowe, Jolene Rickard, Katy Siegel, and Paul Chaat Smith, moderated by Lowery Stokes Sims, followed by a book signing, 2:00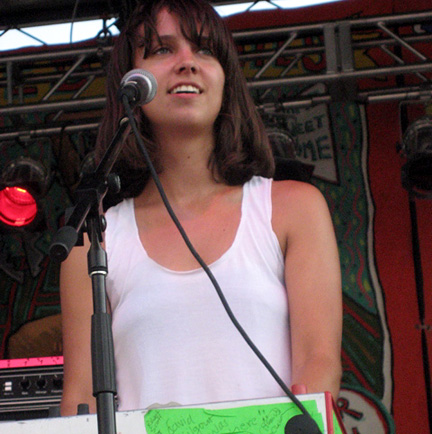 twi-ny/mdr
Beth Murphy enjoys the crowd at the 2008 Siren Festival in Coney Island
TIMES NEW VIKING
Multiple venues
http://www.myspace.com/timesnewviking
http://www.myspace.com/markethotelnyc
Sunday, May 10 Columbus, Ohio's Times New Viking, who impressed at last year's Siren Festival in Coney Island, shares a bill with Blues Control, Market Hotel, 1142 Myrtle Ave. at Broadway, 8:00
Monday, May 11 Times New Viking is on a cool triple bill with Vivian Girls and Stupid Party, Bowery Ballroom, 6 Delancey St. at Bowery, $15, 8:00
LIVE FROM THE NYPL
New York Public Library
Celeste Bartos Forum, Stephen A. Schwarzman Building
5th Avenue and 42nd St.
Admission: $15-$25
Monday, May 11 Frank Gehry in conversation with Barbara Isenberg & Alex Ross, followed by Esa-Pekka Salonen in conversation with Alex Ross, 7:00
LE CONVERSAZIONI FMR:
AN EVENING WITH RENZO PIANO AND MARK di SUVERO
The Morgan Library & Museum
225 Madison Ave. at 36th St.
Through May 24 (closed Monday)
Tickets: $25
212-685-0008
Wednesday, May 13 Architect Renzo Piano, who designed the recent Morgan Library expansion, and Queens-based sculptor Mark di Suvero discuss art and beauty, moderated by Antonio Monda, 6:30
COCKTAILS AND CHEESE
Artisanal Cheese Center
500 West 37th St. at Tenth Ave.
Tickets: $95
212-871-3141
http://www.artisanalcheese.com
Thursday, May 14 Gin cocktail and cheese pairing class with fromager Waldemar Albrecht and mixologist James Moreland, 6:30