Twi-ny, This Week In New York
TRIBECA FILM FESTIVAL
AMC Loews Theaters Village VII (AV7)
66 Third Ave. at 11th St.
AMC Lowes 34th St. (A34)
312 West 34th St. between Eighth & Ninth Aves.
AMC Loews Lincoln Square 12 (A68)
1998 Broadway at 68th St.
The Grand Theater @ Tribeca Grand (TG)
2 Sixth Ave. between White & Walker Sts.
Pace University Michael Schimmel Center for the Arts (PACE)
1 Pace Plaza on Spruce St. between Park Row & Gold St.
Tribeca Cinemas (TC)
54 Varick St. below Canal St. at Laight St.
Regal Cinemas Battery Park 11 (RC)
102 North End Ave. at Vesey St.
April 25 — May 7
Tickets: $12
Tribeca Talks: $20
212-321-7400
http://www.tribecafilmfestival.org
The fifth annual Tribeca Film Festival has just kicked off, so keep watching twi-ny.com for our recommendations from this year's crop of more than 250 films, featuring such stars as John Malkovich, Guy Pearce, Sigourney Weaver, Anthony LaPaglia, Isabella Rossellini, Isabelle Huppert, Laura Linney, Laurence Fishburne, Ryan Phillippe, Edward Burns, Rosie Perez, Matthew Modine, Gina Gershon, Ralph Fiennes, Ray Liotta, John Travolta, Salma Hayek, and Jeff Goldblum as well as documentaries about the Pixies, Al Franken, Frank Gehry, Dorothy Day, Toots Shorr, Nam June Paik, the Wu-Tang Clan, Will Shortz, Robert Frank, HEDWIG, Jack Smith, the Gates, Jonestown, the New York Cosmos, and Golden Gate Bridge suicides. Below are some select special events; you can find plenty more on the official film festival Web site.
Thursday, April 27 The Tribeca Drive-In: NINE TO FIVE (Colin Higgins, 1980), World Financial Center, free, dusk (around 8:00)
Friday, April 28 The Tribeca Drive-In: Tropfest, short film festival from Australia, competition judged by Darren Aronofsky, Caroline Baron, Matt Dillon, Famke Janssen, Anthony LaPaglia, Charles Randolph, and Naomi Watts, free tickets required (one per family), World Financial Center, dusk (around 8:00)
Friday, April 28 Tribeca Talks: T Bone Burnett, moderated by Lisa Robinson, TPAC2, 7:00
Saturday, April 29 Tribeca Talks: Professional Amateurs: Mocking the Truth, with Ed Helms and Jim Kelly, TPAC, 10:00 am
Saturday, April 29 Tribeca Talks: Toga, Toga, Toga! What the Industry Learned at Faber College, with Harold Ramis, Jeff Garlin, and Todd Phillips, TPAC2, 7:00
Saturday, April 29 The Tribeca Drive-In: WORD.LIFE (AKA THE HIP HOP PROJECT) (Matt Ruskin & Scott Rosenberg, 2006), World Financial Center, free, dusk (around 8:00)
Sunday, April 30 Tribeca Talks: A ClickStar Is Born, with Morgan Freeman, Lori McReary, and James Ackerman, TPAC1, 12:30
Tuesday, May 2 Tribeca Talks: What Would Jesus…Direct? with Cuba Gooding Jr., Jonathan Bock, Michael Flaherty, and Ralph Winter, TPAC, 1:00
Thursday, May 4 Tribeca Talks: Adelante Mujeres: Latina Women at the Helm, with Rosie Perez, Zoe Saldana, and America Ferrerra, TPAC2, 7:00

Friday, May 5 Tribeca Talks: Breaking the Band, with Alexandra Patsavas and Josh Schwartz, TPAC2, 7:00
Saturday, May 6 Family Festival Street Fair, featuring live performances, face painters, stilt walkers, puppeteers, food from neighborhood restaurants, and more, Greenwich St. between Duane & Hubert Sts., 10:00 am — 6:00 pm
MINI'S FIRST TIME (Nick Guthe, 2006)
Discovery
Monday, May 1, PACE, 9:15
Wednesday, May 3, RC5, 3:00
Thursday, May 4, A34-10, 4:45
Friday, May 5, A68-4, 5:00

First-time feature-film writer-director Nick Guthe makes quite a first impression with his debut, the black comedy Hollywood noir MINI'S FIRST TIME. Born and raised in Brooklyn, Guthe savagely attacks the L.A. lifestyle in darkly funny ways. Nikki Reed, who wrote and starred in the indie hit THIRTEEN (Catherine Hardwicke, 2003), stars as Mini, a high school senior who likes celebrating firsts, no matter what they are. Her mother, Diane (Carrie-Anne Moss), is a failed actress who always has a drink in her hand and gets around with everyone from her masseur, Fabrizio (the heavily tattooed Rick Fox), to her next-door neighbor, television producer Mike (a deliciously wry Jeff Goldblum). Her stepfather, Martin (an outstanding Alec Baldwin), runs a successful firm and does his share of fooling around as well. With no moral compass or parental support whatsoever, Mini has no boundaries as she goes about living the high life, willing to try anything for yet another first. When she decides to moonlight as a paid escort, she is surprised when her second client is none other than Martin, who has a thing for young girls. Blindfolding him, she does what she's been paid to do, but when Martin later finds out he slept with his stepdaughter, thinking she was an anonymous hooker, their relationship changes, and Guthe turns the story into a compelling noir as Martin and Mini devise a plan to gaslight Diane. Every time the actions in the film go too far, Guthe is able to draw it back in and keep the tension running hot. Reed is nothing short of a sensation as Mini, a manipulative, coldly calculating femme fatale for the twenty-first century. Baldwin is excellent as Martin; he acts up a tour de force immediately after discovering what he's done with his stepdaughter. The cool cast also features Luke Wilson as a suspicious cop, Svetlana Metkina as a hot-to-trot housewife, Guthe himself as Mr. Bishop, and Guthe's wife, TV writer Heidi Ferrer, as Jennifer.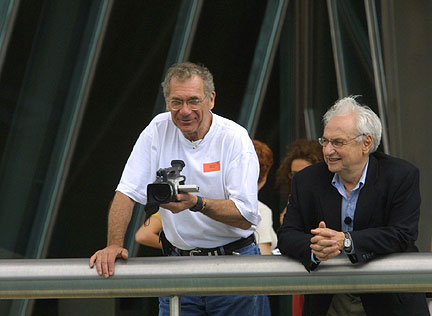 Ultan Guilfoyle
Friends Sidney Pollack and Frank Gehry hang out in SKETCHES.
SKETCHES OF FRANK GEHRY (Sydney Pollack, 2005)
Spotlight
Wednesday, May 3, RC5, 9:00
Saturday, May 6, A34-13, 11:15 am
Sunday, May 7, A68-5, 1:15
http://www.pbs.org/wnet/americanmasters/database/gehry_f.html
http://www.sonyclassics.com/comingsoon.php?filmid=307&page=1

Director Sydney Pollack (THE WAY WE WERE, TOOTSIE) turns his handheld camera on his friend Frank Gehry in this entertaining, informal documentary on the renowned architect. Gehry, the subject of a major retrospective at the Guggenheim in 2001, is one of the most innovative architects in the world, combining form and function with an artist's sensibility. Pollack takes the audience to some of Gehry's most famous creations, from the stunning Guggenheim Museum Bilbao in Spain to the Vitra Design Museum in Germany, from the Walt Disney Concert Hall in L.A. to the fabulously bizarre Nationale-Nederlanden Building in Prague. (The curved glass and protruding concrete structures are affectionately known as Fred and Ginger because it looks as if the buildings are dancing together.) We also get to see several private residences designed by Gehry, including his own in Santa Monica. Gehry is comfortable in front of the camera as he speaks with Pollack about going to Hebrew School in Canada (his real name is Frank Goldberg), the nature of art and inspiration, and his love for hockey and fish. We also get to meet his design team and see how they work together in an atmosphere that fosters creativity and interaction. Among the talking heads filled with praise for Gehry are Dennis Hopper, Julian Schnabel (oh-so-cool in a bathrobe and sunglasses), the late Philip Johnson, Mike Ovitz, Michael Eisner, Barry Diller, Bob Geldof, and Ed Ruscha. Pollack also sits down with such Gehry critics as Hal Foster, who derides his unusual designs. Pollack makes himself part of the film, not only asking questions and chatting with his subject but also having a camera filming him filming Gehry, giving SKETCHES a low-key, PBS feel to it, which is not surprising, as it will be seen on the American Masters series later this fall. And for you die-hard Gehry fans out there, his brand-new jewelry line is now available at Tiffany's.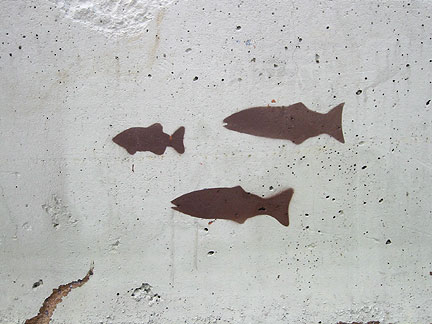 twi-ny/mdr
Shadowy fish line the concrete barrier on the West St. walkway between TPAC and Regal Cinemas Battery Park
TWO PLAYERS FROM THE BENCH
(DVA IGRACA S KLUPE) (Dejan Sorak, 2005)
International Narrative Feature Competition
Saturday, April 29, A68-6, 8:15
Monday, May 1, TC1, 6:30
Wednesday, May 3, RC11, 1:00
Thursday, May 4, AV7-2, 10:30 am
Friday, May 5, A34-12, 7:30
http://www.interfilm.hr/en/filmovi/film.asp?id=32

Goran Navojec and Borko Peric are the Eastern European comic version of Tony Curtis and Sidney Poitier in THE DEFIANT ONES (Stanley Kramer, 1958) in this slapstick comedy with serious political overtones. Navojec plays Ante, a Croat who is lured into a trap by a mysterious figure named Antisa (Tark Filipovic). Ante is locked up in a room with Katran (Borko Peric), a handcuffed Serb who thinks he's been captured for his valuable kidney. Mortal enemies who both fought in the war that divided the former Yugoslavia, Ante and Katran are forced to work together — and endanger their own lives — to save a Croat leader about to go on trial before the Hague War Crimes Tribunal. Or so they think. Navojec is a hoot as Ante, a tough man who gets to show his tender side when he comes upon Stela (Dora Lipovcan). TWO PLAYERS FROM THE BENCH, written and directed by Dejan Sorak, turns wacky and too ridiculous in the final scenes, but that detracts only a little from its overall unique charm.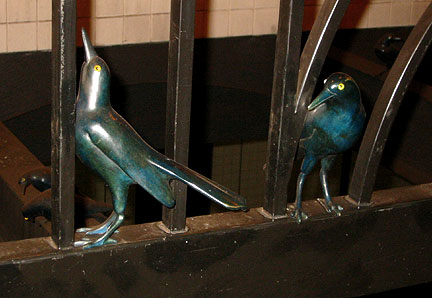 twi-ny/mdr
Watch out for the 174 grackles and blackbirds Walter Martin and Pamela Munoz have placed throughout one section of the Canal St. A/C/E subway station
BRASILIA 18% (Nélson Pereira dos Santos, 2006)
International Narrative Feature Competition
Friday, April 28, A68-5, 8:00
Sunday, April 30, A68-4, 3:15
Monday, May 1, A68-6, 4:15
Wednesday, May 3, A34-13, 10:15
Thursday, May 4, AV7-2, 1:30

Claiming this to be his last film, Brazilian director Nélson Pereira dos Santos (nominated numerous times for the Golden Palm at Cannes and the Golden Bear at the Berlin Film Festival) goes out in style with BRASILIA 18%, the intriguing tale of Olavo Bilac (the fabulously understated Carlos Alberto Riccelli), a forensics expert called in from Los Angeles to establish the identity of a woman who has been violently murdered in Brasilia. At first he's not sure why he is being compelled to claim that the body does indeed belong to one Eugênia Câmara (Karine Carvalho), but he soon realizes that some high-powered government officials are worried about the exposure of scandal and corruption and merely expected him to rubber-stamp the medical report. As he continues to refuse to compromise his professional integrity, he is wooed by a senator's daughter (Malu Mader), a poor prostitute (Camilo Beviláqua), his recently deceased wife (Bruna Lombardi), and, perhaps, Eugênia herself. There are some holes in the story, a terribly cheesy score, and a curiously ambiguous ending, but BRASILIA 18% is an entertaining if slow-moving character study of a unique, mysterious, mesmerizing man.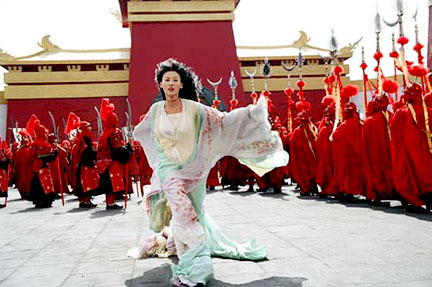 © 2005 Beijing 21st Century Shengkai, China Film Group and Moonstone Productions
Chen Kaige's period drama doesn't quite live up to its promise
THE PROMISE (WU JI) (Chen Kaige, 2005)
Monday, May 1, A68, 9:30
Wednesday, May 3, RC5, 6:00
http://tfmdistribution.com/wuji/accueil.html

Chinese writer/director Chen Kaige (FAREWELL MY CONCUBINE, TEMPTRESS MOON) enters Ang Lee (CROUCHING TIGER, HIDDEN DRAGON) / Zhang Yimou (HERO, HOUSE OF FLYING DAGGERS) territory with this martial arts love story that wants to be better than it is. But as shot by Peter Pau and with Chen Tongxun's gorgeous, colorful costumes, it is an absolute joy to look at. The movie opens as a little girl (Guan Xiaotong) breaks a promise to a little boy (Shi Lei), followed by the Goddess Manshen (Chen Hong) making a unique offer to the poor, starving child: She can grow up to be rich and beautiful, but she will lose every man she ever loves. The poor girl takes the deal, unable to foresee the heartbreak it will eventually bring. Twenty years later, she has grown up to become Princess Qingcheng (Cecilia Cheung), who is rescued from the absurd king (Cheng Qian) and gets caught up in a love quadrangle, filled with lies, treachery, and betrayal, with General Guangming (Hiroyuki Sanada), the Duke of the North, Wuhuan (Nicholas Tse), and Kunlun (Jang Dong-Gun), an extraordinary slave with remarkable powers. Part comic-book fantasy, part period epic, THE PROMISE never quite finds its way, caught between the two genres/ The CGI effects, especially an early scene in which Kunlun runs through a dangerous Mongolian attack led by a brigade of bulls, are far from state-of-the-art, and the characters are too complex for your basic sword-and-sorcery tale. Yet its relatively brief 103 minutes still finds some exquisitely beautiful, engaging scenes, but the whole doesn't live up to the sum of its parts.
THE TREATMENT (Oren Rudavsky, 2006)
Discovery
Tuesday, May 2, A34-11, 3:30
Thursday, May 4, A68-4, 8:30
Friday, May 5, A34-13, 2:15

Documentarian Oren Rudavsky (HIDING AND SEEKING: FAITH AND TOLERANCE AFTER THE HOLOCAUST, SAYING KADDISH) makes his feature-film debut with THE TREATMENT, a well-meaning but way-too-obvious romantic comedy set in New York City. After watching a few commercials at the Tribeca Film Festival, you won't realize THE TREATMENT has actually started, as the opening looks like yet another ad. And following the opening credits, you'll think you stumbled into some kind of mediocre Showtime cable drama, a feeling that is enhanced by John Zorn's silly score that seems to be torn right from the soundtrack of HBO's SEX AND THE CITY. Based on the novel by Daniel Menaker, THE TREATMENT stars Chris Eigeman as Jake Singer, a teacher at the prestigious Coventry school on Irving Place who can't get over his previous girlfriend, Julia (Stephanie March); he is devastated when she tells him she is getting married. A cynical, dry kind of guy, Jake is also haunted by his Freudian psychoanalyst, Dr. Ernesto Morales (a very funny, very dirty Ian Holm), who not only listens to him in his office but also shows up as a surreal presence at the most inopportune moments. Jake's life finally takes a turn for the better when he falls for Allegra Marshall (a solid Famke Janssen), an extremely wealthy mother of two who Jake thinks is way out of his league. THE TREATMENT is about as average as they come, sort of like Jake himself; you'll be predicting lines before they're spoken, and you'll know where just about every scene will end up once it's begun. (Heck, the new woman in Jake's boring life is even named Allegra, which means "happiness" in Italian.) And the vast majority of bit players are stock characters that lack any uniqueness, including Blair Brown as an adoption specialist, Stephen Lang as a hotheaded basketball coach, Roger Rees as a stuffy headmaster, and Harris Yulin as Jake's aging father. In years past, the lead role might have been played by Griffin Dunne to better effect; unfortunately, Eigeman, who has done a lot of television work and is a regular in Whit Stillman's films (METROPOLITAN, BARCELONA, THE LAST DAYS OF DISCO), is not quite up to the task of lead performer, though he makes a valiant effort.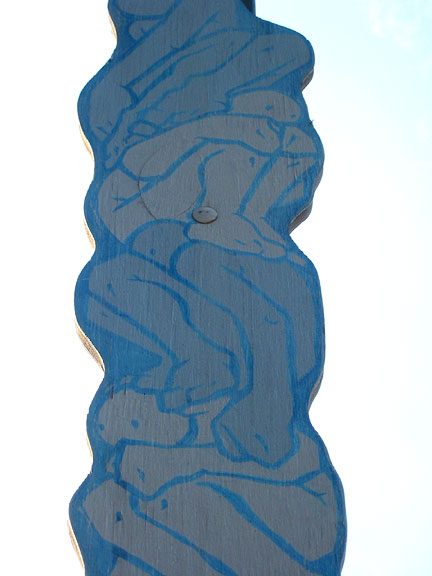 twi-ny/mdr
This cool piece of street art bolted to a pole outside the Tribeca Cinemas, featuring people scrunched together, predicts the crowds expected for this year's fest
METRO (Adolfo Doring, 2006)
NY, NY Narrative Competition
Wednesday, April 26, A34-09, 9:30
Friday, April 28, A34-10, 1:45
Wednesday, May 3, AV7-3, 10:15
Thursday, May 4, AV7-1, 10:00 am
Friday, May 5, A34-12, 10:15 am
http://www.tribecafilmfestival.org

Born in Mexico City, Adolfo Doring, who has made music videos for Bon Jovi, Sheryl Crow, Santana, Hootie and the Blowfish, and the Dixie Chicks and was the cinematographer for Andrew Jarecki's 2003 documentary hit, CAPTURING THE FRIEDMANS, makes his feature-film directorial debut with this low-budget look at a group of women whose lives are adrift in New York City. Anke arrives in New York City from Germany, looking for an apartment she rented, but she was scammed, so she's taken in by a compassionate documentarian, Lila, whose film about television is being edited by Tia. Tina is a whiny model who hangs out with her photographer friend, Amber, and is being stalked by Chikako, an obsessed fan. Very, very slowly, with scene after scene going nowhere, their lives intermingle in not necessarily interesting ways. But there are still individual moments of beauty, like when Tina plays with a camera in her hotel room. In addition to directing METRO, Doring wrote, edited, operated the sound, and shot it digitally. Unfortunately, it's not nearly as poetic as it wants to be.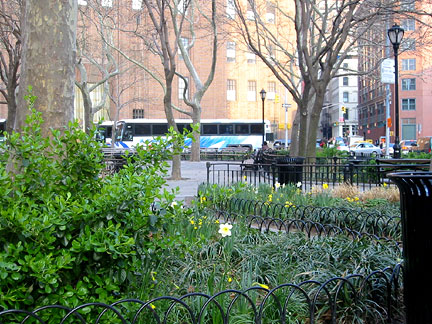 twi-ny/mdr
Tribeca Park at the intersection of Beach, Walker, and West Broadway offers a respite from the hectic festival
SPEEDY (Ted Wilde, 1928)
Tribeca Family Film Festival
Sunday, April 30, PACE, 2:30
Saturday, May 6, RC05, 5:00
http://www.sendit.com/video/item/7000000031597

Harold Lloyd's final silent film played recently at Roger Ebert's Overlooked Festival as well as at the 2003 HBO US Comedy & Arts Festival in Aspen, so it's easy to see why it's being included at Tribeca this year. Much like the end of the silent film era itself, the last horse-drawn trolley is doomed, with big business playing dirty to get rid of it and Pop Dillon, a classic old-timer. Harold "Speedy" Swift, a dreamer who wanders from menial job to menial job (he makes a great soda-jerk with a unique way of announcing the Yankees score), cares only about the joy and wonder life brings. He's in love with Pop's granddaughter, Jane, and vows to save the day. Along the way, he gets to meet Babe Ruth. Ted Wilde was nominated for an Oscar for Best Director, Comedy, in this thrilling nonstop ride through beautiful Coney Island and the pre-depression streets of New York City.

In the Neighborhood
ANNUAL TFF ART AWARDS EXHIBIT
Gallery Viet Nam
345 Greenwich St. between Jay & Harrison Sts.
Admission: free
212-431-4737
Tuesday, April 25
through
Thursday, May 4 Original artwork created for Tribeca Film Festival winners, by such artists as Alex Katz, Jeff Koons, Wim Wenders, Christo and Jeanne Claude, Shirin Neshat, Lorna Simpson, Clifford Ross, Stephen Hannock, Sophie Matisse, Ann Chernow, Walton Ford, and Julian Schnabel, 11:00 am — 7:00 pm
TOAST: TRIBECA OPEN ARTIST STUDIO TOUR
Admission: free
212-479-7317
Saturday, April 29
through
Monday, May 1 Tenth annual TriBeCa Open Artist Studio Tour: Visit artists in their studios, including Elizabeth Bick, Karen Maya Kaapcke, Jennifer Kotter, Viviane Rombaldi-Seppey, Lawrence Mark Stern, Trudell, and dozens more, 1:00 — 6:00 pm

PLAYVISION
World Financial Center Courtyard Gallery
225 Vesey St.
Admission: free tickets must be picked up beginning at 5:00 in the Winter Garden day of show
212-945-2600
http://www.worldfinancialcenter.com/calendar
Wednesday, May 3 Ben Neill + Bill Jones, 8:00
Thursday, May 4
through
Saturday, May 6 Rodney Graham: Reverie Interrupted by the Police, 2:00 — 8:00
Adult Exhibit of the Week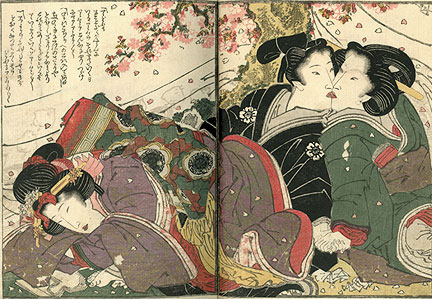 Museum of Sex Collection
Woodblock print book, attributed to Eisen, ca. 1800
PEEPING, PROBING & PORN:
FOUR CENTURIES OF GRAPHIC SEX IN JAPAN
Museum of Sex
233 Fifth Ave. at 27th St.
Tickets: $14.50; $5 coupon on Web site valid through July 15
212-689-6337

If you make your way quickly through this exhibition, not looking too closely, you'll be charmed by dozens of beautiful woodblock prints, alive with bold colors, traditional costumes, and ornate settings. But if take your time and stop by each individual print, you'll see a completely different story, the other side of Ukiyo-e, or "pictures of the floating world." "Peeping, Probing & Porn" traces the history of Shunga, or "spring pictures," erotic Japanese art that dates back to the Edo period (1630-1868) and whose influence can still be found in today's manga and anime. Many of the prints are advertisements for prostitution in the Yoshiwara brothel district in Edo (modern-day Tokyo), trying to lure men in to take advantage of what's inside. The prints often show men with extraordinarily large packages, being serviced by subservient women. There are also scenes of women with women, men with men, and, one of the most popular, men with boys (yaoi), as well as rape, group sex, and, in later years, Western men with Asian women. In some of the pictures, it takes a while to find out exactly what's going on. Unfortunately, not all of the prints come with descriptive text, and, because of the way the exhibit is set up — the prints are behind a black wall with cutouts, like a massive peep show — it is hard to read the labels, especially if you are on the shorter side. At the end of the gallery, the display turns its attention to manga and anime, two art forms that are not necessarily just for kids — included here are some very naughty graphic novels, comic books, and animated films that you'll never find on the Disney Channel. "Peeping, Probing & Porn" works as both art and history lesson, although we wish it were set up better — and that they had hired a better proofreader to edit the wall text.
In the Thematic Neighborhood
PACE PRINTS
32 East 57th St. between Madison & Fifth Aves., third floor
Through May 13
Closed Sunday & Monday
Admission: free
212-421-3237
In the main room of this Midtown gallery, Donald Baechler's recent work is on view, including three of his ice-cream screenprints, four of his black-on-white textured flowers on handmade linen paper, six of his playful blue-on-white York House Suite characters on pressed paper pulp, three of his unique owls, two screenprints, and a pair of color silkscreens with collage. But in the back gallery, where Pace rotates its extensive collection of prints, among works by Picasso, Matisse, Roualt, and others are five beautiful Japanese Ukiyo-e prints from the eighteenth and nineteenth centuries, featuring different stages of eroticism. We can't quite discuss what exactly is going on in the untitled colored woodblocks by master artist Katsushika Hokusai and Isoda Koryusai, but the names of the other three are rather self-explanatory: Ichirakutei Eidui's "The Courtesan Tsukasa of the Ogiya Emerging from Underneath a Mosquito Net," Utagawa Kunisada's "An Awabi Diver Combing Her Hair," and Kitagawa Utamaro's "A Mother and Child."
Also at the Museum of Sex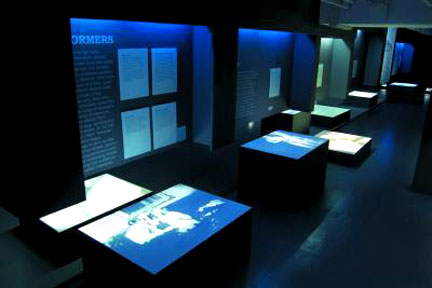 Museum of Sex
Stag films are projected onto blocks at MoSex
STAGS, SMOKERS & BLUE MOVIES:
THE ORIGINS OF AMERICAN PORNOGRAPHIC FILM
Museum of Sex
http://museumofsex.com/exhibitions/STAGS/index.html

After checking out the history of Japanese erotic art, head upstairs to see something that might be a little more familiar to at least some of you — stag films from the early twentieth century from all over the world. The vast majority of these blue movies are technically inept and not very exciting compared to what you can find in video stores and even certain cable channels today, but as a historical document they are rather fascinating, if boring and repetitive. But in their day, there was nothing else like them. Projected onto blocks below eye level, the films are divided into categories based on geography, stars, and type of sex shown. There are also kiosks where you can watch talking heads discuss the genre and timelines that place stag films in historical context, especially in regard to the growth of more legitimate moviemaking. Make sure to watch BURIED TREASURE, an animated film made by anonymous cartoon giants for a birthday celebration of Winsor McCay, creator of Little Nemo; in this hysterical short, a character named Eveready Harton goes out in search of — well, we can't really tell you much more without being blocked by some service providers (although we can say that Mr. Harton was in search of some rather unusual service providers himself).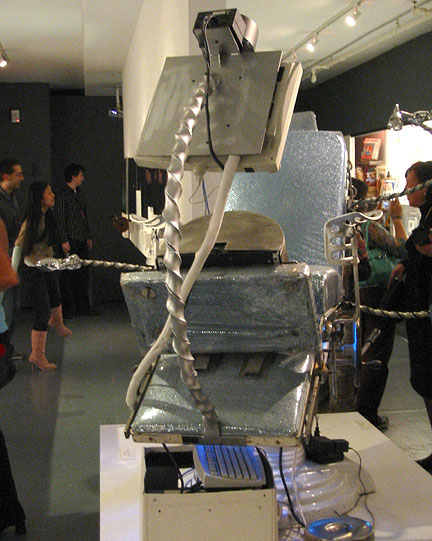 twi-ny/mdr
Oh, the lengths people will go to for sexual gratification…
SPOTLIGHT ON THE PERMANENT COLLECTION
Museum of Sex
http://museumofsex.com/exhibitions/spotlight/index.html
Divided into such themes as Sex in Art, Law and Public Sex, Sex and Technology, and Mapping Sex in America, this wide-ranging display includes items from the museum's ever-growing collection of sex-related ephemera. At times you'll feel like you're in a sex shop, although none of this material is available for sale. (But we're sure you can find similar things in various erotic boutiques and online.) The most interesting part of the exhibit are the artifacts that reveal just how far people will go to find pleasure, especially when they are alone.

In the Neighborhood
JAS MART
34 West 23rd St. at Madison Ave.
212-387-8721

After checking out the "Graphic Sex in Japan" exhibit at the nearby Museum of Sex, take a walk through Madison Square Park, where the cherry blossoms just bloomed, and head to this Japanese grocery store, one of our favorite little shops in the city. JAS Mart is a great place to soothe whatever you're jonesing for. Hiding amid fast-food row, this small delight features great Japanese chocolates, cool packaged snacks and odd drinks, interesting seaweed and seafood appetizers, tasty daifuku, and lots of other Japanese products that you just don't see every day.
Uptown Exhibit of the Week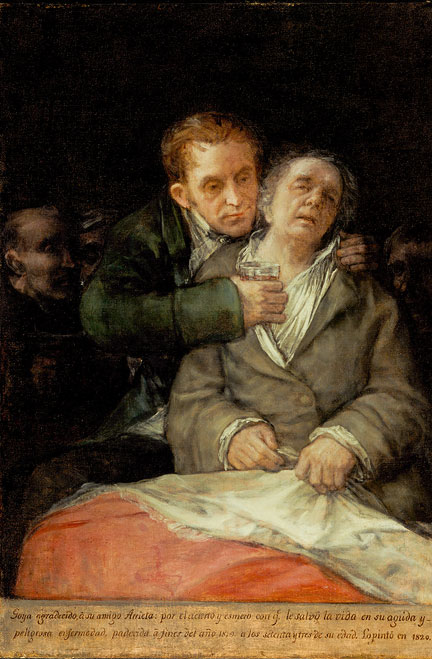 The Minneapolis Institute of Arts
Francisco de Goya, "Self-Portrait with Dr. Arrieta," 1820
GOYA'S LAST WORKS
The Frick Collection
1 East 70th St. at Fifth Ave.
Through May 15
Closed Mondays
Admission: $15 (pay what you wish Sundays, 11:00 am — 1:00 pm), timed tickets available at Admissions Desk
212-547-0700
http://www.frick.org/exhibitions/goya/index.htm

In his later years, Spanish painter Francisco de Goya y Lucientes (1746-1828), often considered the last of the old masters and the first of the moderns, was in ill health and long deaf. Having previously served as court painter to Charles III, Charles IV, and Ferdinand VII, he became an exile, moving to Bordeaux in 1824. The Frick has collected more than fifty works, mostly dating from 1824 to 1828, that reveal an artist still finding inspiration despite failing abilities. The first gallery consists of portraits and self-portraits, including the centerpiece of the exhibit, "Portrait of a Lady," in which the subject, thought to be Maria Martinez de Puga, sits before a green background, her locket dangling off-center, her hair ribbon matching the color of her gold necklace. In "Don Tiburcio Perez y Cuervo, the Architect," a young friend of Goya's stands with his arms comfortably crossed in front of him, his white sleeves and face emerging from the predominantly dark canvas. And in "Self-Portrait with Dr. Arrieta," Goya depicts himself as a ghostly, dying old man being held protectively by his doctor.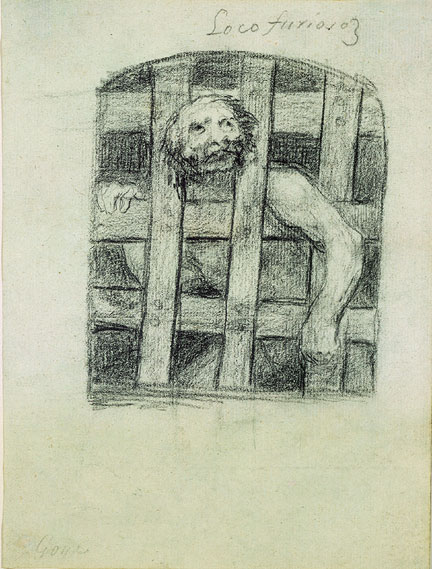 Adnrea Woodner Collection / Photography by Jim Strong
Francisco de Goya, "Loco furioso (Raging Lunatic)," Album G. 33, 1824-28

The next gallery is dedicated to Goya's drawings, the last of which are compiled in his Bordeaux Albums. Made with black crayon not as preparatory works but as pieces of art unto themselves, they are both satirical and carnivalesque. In "Mendigos q.e se lleban solos en Bordeaux (Beggars Who Get About on Their Own in Bordeaux)," a crippled man sits in a wheeled vehicle of his own invention. In "Locos patines (Crazy Skates)," a man moves speedily with a freedom no longer known to Goya. In "Comer mucho (To Eat a Lot)," a man is about to use a commode in full view, a wry comment on societal taboos. The man in "Loco Furioso (Raging Lunatic)" sticks his head through the bars of his room, his left hand dangling helplessly. And in "Man on a Swing," a grizzled character flies through the air with the greatest of ease. In the center of the gallery is a case of nine extraordinary miniature paintings done on ivory chips, in which Goya allowed a drop of water to fall onto the blackened chip, then improvised such remarkable figures as "Woman with Clothes Blowing in the Wind" and "Man Looking for Fleas in His Shirt" as well as such famous tales as "Susanna and the Two Elders" and "Judith and Holofernes." Finally, in the Cabinet Room on the main floor, "The Bordeaux Lithographs" reveal Goya's fascination with the relatively new medium and the unique twist he gave it with the printer Cyprien Gaulon. The splendid oil painting "Bullfighting Scene, known as Suerte de Varas" is surrounded by "The Bulls of Bordeaux," four dramatic lithographs Goya made using crayon and a scraper.
Also at the Frick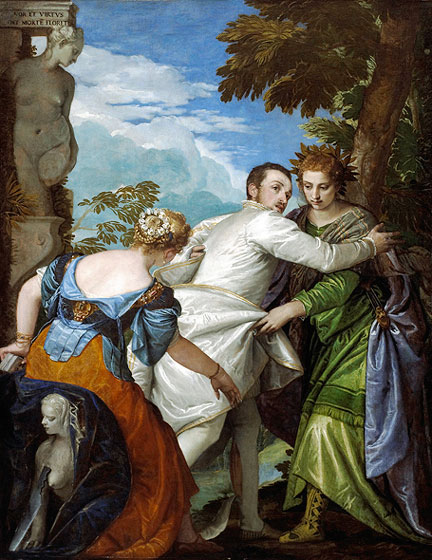 The Frick Collection, New York
Paolo Veronese, "The Choice Between Virtue and Vice," ca. 1565
VERONESE'S ALLEGORIES: VIRTUE, LOVE, AND EXPLORATION IN RENAISSANCE VENICE
The Frick Collection
The Oval Room
Through July 16
http://www.frick.org/exhibitions/veronese/index.htm

Five large-scale allegories by Renaissance master Paolo Veronese (ca. 1528-88), all from American museums, are hanging in the Frick's Oval Room, seen together for the first time. Though born in Verona (hence his name), Veronese spent most of his successful career in Venice, and it was there that he painted these allegorical canvases — which are no longer considered to be part of any series but individual works of art. Both "Allegory of Navigation with an Astrolabe" and "Allegory of Navigation with a Cross-Staff" evoke Venice's importance as a shipping port. In "Venus and Mars United by Love," love triumphs over war with the help of Cupid. In "Wisdom and Strength," a woman stands with her foot on a globe, riches below her, looking up at the sky, choosing heavenly wisdom over material power. The richest piece is "The Choice Between Virtue and Vice," in which symbols abound as a young man is torn between good and evil.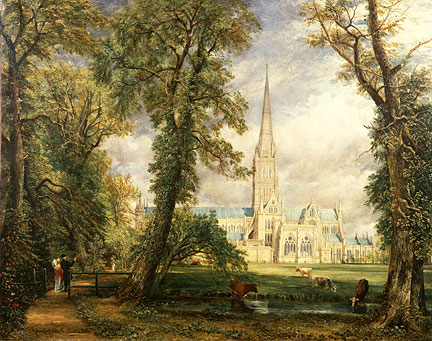 Henry Clay Frick Bequest
John Constable, "Salisbury Cathedral from the Bishop's Garden," 1826
PERMANENT COLLECTION AT THE FRICK
Museum admission includes ArtPhone audio tour
http://www.frick.org/html/cal1f.htm

Every time we write about the new exhibits at the Frick, we're going to remind you not to forget about the permanent collection, which we never tire of wandering through. Not only did Henry Clay Frick have outstanding taste, he also understood how paintings can best be appreciated. Each of the twenty rooms in the Frick has something unique to offer, including spectacular furniture, carpets, sculptures, and clocks in addition to the paintings; here is a quick look at our favorites: François-Hubert Drouais's splendid "The Comte and Chevalier de Choiseul as Savoyards" and Vermeer's resplendent "Officer and Laughing Girl" in the South Hall; Renoir's "Mother and Children" at the base of the stairs that lead up to the magnificent Aeolian Pipe Organ; Hans Holbein the Younger's incredible portrait of Sir Thomas More in the Living Hall; Constable's gorgeous "Salisbury Cathedral from the Bishop's Garden" in the Library; Rembrandt's amazing 1658 "Self-Portrait," bathed in gold, with penetrating, mysterious eyes, in the West Gallery; and Edgar Degas's beautiful "The Rehearsal." Wait — we left out the Boucher Room, the Fragonard Room, the Titians, the Gainsboroughs, the Turners, the peaceful fountain garden, the — you get the picture…

PUBLIC PROGRAMS AT THE FRICK
Free to the public one half hour before the event unless otherwise noted
212-547-0709
Wednesday, April 26 Prelude to Exile: Goya's Theater(s) of the Absurd, with Priscilla E. Muller, 6:00
Tuesday, May 2 "Plumbing the Depths of the Human Heart" in Goya's Graphic Work, with Juliet Wilson-Bareau, 6:00
Friday, May 5 Friday Afternoon Gallery Talks: Goya's Last Works, focusing on one specific work, sign-language interpreted, free with museum admission, 4:30
In the Neighborhood
WARHOL'S WORLD: PHOTOGRAPHY & TELEVISION
Zwirner & Wirth
32 East 69th St. at Madison Ave.
Through April 29
Admission: free
212-517-8677
http://www.zwirnerandwirth.com/exhibitions/2006/0406AW/index.html

You have only a few more days to check out more than three hundred photographic prints taken by Andy Warhol, mounted on wallpaper covered with the Factory leader's image of Mao. Among the many subjects Warhol caught with his camera were Jean-Michel Basquiat, David Hockney, Mick Jagger, Sylvester Stallone (in Speedos!), Ozzy Osbourne, Debbie Harry, Diana Vreeland, Truman Capote, and so many other famous and not-so-famous party animals between 1976 and 1987. Be sure to go upstairs to see more images and to watch some very silly television programs Warhol made between 1979 and 1987, including one featuring narrator Robin Byrd.
TUESDAY NIGHT AT THE MOVIES
Italian Cultural Institute
686 Park Ave. between 68th & 69th Sts.
Select Tuesday nights at 6:00 through May 16
Admission: free
212-879-4242
http://www.iicnewyork.esteri.it/IIC_NewYork/webform/SchedaEvento.aspx?id=26
Tuesday, May 9 I VITELLONI (Federico Fellini, 1953)
THE EARLY SHOW: VIDEO FROM 1969-1979
The Bertha & Karl Leubsdorf Art Gallery
West Building Lobby, Main Campus
68th St. & Lexington Ave. southwest corner
Through May 6
Tuesday through Saturday, 1:00 — 6:00
Admission: free
212-772-4991
http://www.hunter.cuny.edu/~art/galleries.html

Early video works by innovative and influential New York artists are on view in this audiovisual exhibit, many being seen for the first time since they debuted. Dating from 1969 to 1979, these mostly crude videos reveal the birth of a new art form, prior to MTV, that is taken for granted today. Although the majority of the works are more interesting as art history than as art in and of themselves, they do shed light on the early vision of several artists of renown, including Richard Serra, Vito Acconci, Gordon Matta-Clark, Tony Oursler, Carolee Schneemann, Dan Graham, and William Wegman. Dara Birnbaum incorporates THE HOLLYWOOD SQUARES into KISS THE GIRLS: MAKE THEM CRY. Peter Campus's visual tricks in his TAPE trilogy predate the dog screensaver that rips apart computer monitors. Martha Rosler creates a unique feminist vocabulary in SEMIOTICS OF THE KITCHEN. Richard Landry's inventive use of sound drives ONE TWO THREE FOUR. Keith Sonnier's ANIMATION I uses clips from the Watergate hearings. Sit at the computer monitor and fast-forward to see choreographer Trisha Brown give a performance of an unintended kind in PRIMARY ACCUMULATION. In Lawrence Weiner's DO YOU BELIEVE IN WATER?, a female couple engages in sexual contact, slowly disrobing, as a group of people set up an installation of colored blocks around them, paying no attention to the two women, calling into question just who the voyeur is. The exhibition is supplemented with posters, script notes, and other ephemera associated with the works, which can be viewed in full on two monitors, at your own pace at a computer terminal, or in three-minute clips in a large screening room.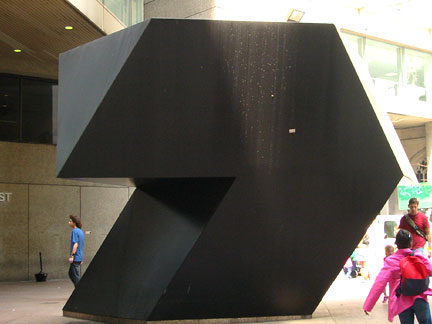 twi-ny/mdr
Tony Smith's "Tau" is causing controversy in Jersey
TONY SMITH: TAU
Plaza at southwest corner of 68th St. & Lexington Ave.
http://www.hunter.cuny.edu/news/newsreleases/2004/artexhibition0405.shtml
http://library.hunter.cuny.edu/slide
http://www.nj.com/weblogs/southorange
http://www.petitiononline.com/SOtaxes/petition.html

Tony Smith's large, black, curvilinear bronze constructions can be found all over the world. In 1984, "Tau" (1961-62) was installed at the entrance to Hunter College, where Smith taught from 1962 to 1980. The multisided three-dimensional geometric cube was restored in 2004, for its twentieth anniversary at this spot, at the top of the stairs to the Lexington Ave. subway. Smith's "Free Ride" is currently on view in the Abby Aldrich Rockefeller Sculpture Garden at MoMA, alongside such greats as Calder, Picasso, Degas, and Miro. Smith, who died in 1980, is having problems in his hometown of South Orange, NJ, where there is an online petition fighting against using taxpayer dollars to install another cast of "Tau" on Sloan St., replacing the gazebo.
Queens Film Festival of the Week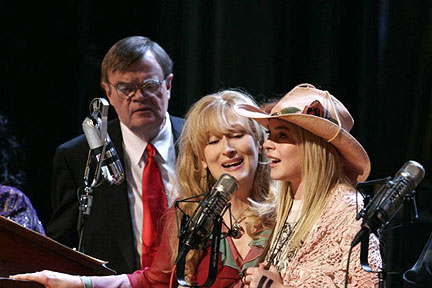 Keillor, Streep, and Lohan in Altman's new A PRAIRIE HOME COMPANION
AMERICAN MAVERICK: ROBERT ALTMAN
American Museum of the Moving Image
35th Ave. at 36th St., Astoria
April 29 — June 8
Free with museum admission of $8.50 unless otherwise noted
718-784-4520
http://www.ammi.org/site/screenings/index.html

One of the cinema's most eclectic and outspoken directors, Robert Altman, comes to the American Museum of the Moving Image on April 29 to kick off a six-week festival of more than twenty of his feature-length films and cable television series, celebrating both his recent honorary Oscar and the release of his latest film, A PRAIRIE HOME COMPANION. Altman has made a lot of clunkers among his myriad work, but this series focuses primarily on his upper-echelon films, including NASHVILLE, M*A*S*H, GOSFORD PARK, THE PLAYER, McCABE AND MRS. MILLER, and SHORT CUTS. Heck, even POPEYE isn't as bad as it was made out to be upon its initial release.
Saturday, April 29 KANSAS CITY (Robert Altman, 1997), followed by a Pinewood Dialogue with Robert Altman, $24, 2:00
Saturday, April 29 ROBERT ALTMAN'S JAZZ '34: REMEMBRANCES OF KANSAS CITY SWING (Robert Altman, 1996), 5:00
Saturday, April 29
and
Sunday, April 30 M*A*S*H (Robert Altman, 1969), 6:30
M*A*S*H (Robert Altman, 1970)

Don't let the melodramatic M*A*S*H TV series stop you from seeing the awesome original, a riotous antiwar film that holds up remarkably well. As usual, Altman brings together a diverse cast — Elliott Gould, Donald Sutherland, Tom Skeritt, Sally Kellerman, Jo Ann Pflug, Gary Burghoff, Michael Murphy, Fred Williamson, Rene Auberjonois, and Robert Duvall as Frank Burns — and skewers the military during the Korean conflict. M*A*S*H is pure, unadulterated fun every step of the way.
Sunday, April 30 BREWSTER McCLOUD (Robert Altman, 1970), 2:00
Sunday, April 30 CALIFORNIA SPLIT (Robert Altman, 1974), 4:00
Saturday, May 6 THIEVES LIKE US (Robert Altman, 1988), 2:00
Saturday, May 6, 4:30
and
Sunday, May 7 THE LONG GOODBYE (Robert Altman, 1973), 2:00
THE LONG GOODBYE (Robert Altman, 1973)
http://www.theavclub.com/avclub3626/avfeature_3626.html

This is one odd detective story. King of the '70s Elliott Gould stars as a mumbling Philip Marlowe who reluctantly becomes enmeshed in a murder case involving a friend of his played by former Yankees pitcher and BALL FOUR author Jim Bouton. Marlowe lives next door to a harem of naked brownie-loving women, and he spends most of his time worrying about his cat. In fact, the opening fifteen minutes, in which he has to go out in the middle of the night to get cat food and then trick his feline, is absolutely priceless, the best cat story line we have ever seen in a motion picture. The detective stuff plays second fiddle to director Robert Altman's '70s mood piece, which is fun to watch even at its most baffling and senseless.
Saturday, May 6
and
Sunday, May 7 McCABE AND MRS. MILLER (Robert Altman, 1970), 6:45
McCABE & MRS. MILLER (Robert Altman, 1971)
http://www.sensesofcinema.com/contents/00/9/cteq/mccabe.html

An obvious influence on Clint Eastwood (check out HIGH PLAINS DRIFTER after watching McCABE and you'll see what we mean), this Robert Altman anti-Western stars the electric combination of Julie Christie and Warren Beatty as two businesspeople building a new town in the Old West. When a mining company wants to buy them out, McCabe's playful negotiating style has tragic consequences. The film is visually spectacular, as Altman cuts from the dreamlike red velvet interiors of Mrs. Miller's brothel to the expansive land outside, bathed in the beautiful yet ominous falling snow. This marvelous picture ranks right up there with the best Westerns ever made. The soundtrack by Leonard Cohen is also first-rate.
Saturday, May 6
through
Sunday, May 21 TANNER '88 (Robert Altman, 1988), 12 noon or 12:30 pm
Sunday, May 7 SECRET HONOR (Robert Altman, 1983), 4:30
Saturday, May 13 BUFFALO BILL AND THE INDIANS, or SITTING BULL'S HISTORY LESSON (Robert Altman, 1976), 4:30
Saturday, May 13, 1:30
and
Sunday, May 14 NASHVILLE (Robert Altman, 1975), 4:00
Saturday, May 13
and
Sunday, May 14 IMAGES (Robert Altman, 1972), 7:00
Sunday, May 14 POPEYE (Robert Altman, 1977), 1:30
Saturday, May 20, 1:30
and
Sunday, May 21 THREE WOMEN (Robert Altman, 1977), 4:00
Saturday, May 20, 4:00
and
Sunday, May 21 VINCENT AND THEO (Robert Altman, 1990), 6:30
Saturday, May 20 THE PLAYER (Robert Altman, 1992), 6:30
Saturday, May 20 GOSFORD PARK (Robert Altman, 2001), 1:30
GOSFORD PARK (Robert Altman, 2001)

Robert Altman's British class drama, which won first-time screenwriter Julian Fellowes an Oscar for Best Original Screenplay, is a hoot. Once again Altman has put together an all-star cast (Michael Gambon, Helen Mirren, Alan Bates, Bob Balaban, Emily Watson, Ryan Philippe, Jeremy Northam, Kristin Scott Thomas, Clive Owen, Richard E. Grant, and Stephen Fry), but instead of getting lost all over the place like in some other Altman films (READY TO WEAR, A WEDDING), the action here is confined to the gorgeous Gosford Park estate, and the audience benefits from that tremendously. Sure, there's a murder for which nearly everyone is a suspect, but the pure delight of this film lies in its marvelous characterizations and acting. Although so many Altman films run too long, we were hoping this one would never end.
Saturday, May 27
and
Sunday, May 28 H.E.A.L.T.H. (Robert Altman, 1980), 4:00
Saturday, May 27
and
Sunday, May 28 SHORT CUTS (Robert Altman, 1993), 6:30
Sunday, May 28 TANNER ON TANNER (Robert Altman, 2004), 2:00

Thursday, June 8 A PRAIRIE HOME COMPANION (Robert Altman, 2006), followed by a Pinewood Dialogue with Robert Altman, Directors Guild Theater, 110 West 57th St., $24, 7:30
Riff's Rants & Raves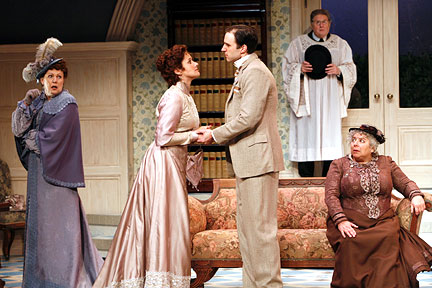 Sir Peter Hall's production of Wilde classic is just as we like it
THE IMPORTANCE OF BEING EARNEST
Brooklyn Academy of Music
BAM Harvey Theater
651 Fulton Street between Ashland Pl. & Rockwell Pl.
Through May 14
Tickets: $30-$85
718-636-4100
http://bam.org/events/06EARN/06EARN.aspx

Sir Peter Hall, who brought his splendid production of William Shakespeare's AS YOU LIKE IT to BAM last year, returns with this spot-on rendition of Oscar Wilde's classic comedy of manners and mistaken identity. Set in the 1890s in a London flat and a country manor house garden and morning room (Kevin Rigdon's three sets are simply gorgeous), THE IMPORTANCE OF BEING EARNEST is a wickedly funny satire of the British class system. Two not-so-earnest gentlemen, Algernon Moncrief (an excellent Robert Petkoff) and Jack Worthing (a too "actorly" James Waterston), have their eyes on two lovely young ladies, Cecily Cardew (Charlotte Parry) and Gwendolen Fairfax (Bianca Amato). But no one's going to get married if Lady Bracknell (Lynn Redgrave) has anything to say about it. And of course, she has a lot to say about it. The Theatre Royal Bath / Peter Hall Company also features the great Miriam Margolyes as Miss Prism and Terence Rigby as the doddering Reverend Canon Chasuble. The well-paced two-hour and twenty-minute show includes one regular intermission as well as a five-minute "pause." A limited number of $15 cushion seats are sold ninety minutes before each performance for those who want to sit right at the front of the stage.
MONGOLIAN PING PONG (LU CAO DI)
(Ning Hao, 2004)
ImaginAsian Theater
239 East 59th St. at Second Ave.
Through April 27
Tickets: $9
212-371-6682
http://www.theimaginasian.com/index2.php
http://firstrunfeatures.com/mongolian_synopsis.html

Set in the wide-open steppes of Inner Mongolia, MONGOLIAN PING PONG is a charming tale of a nomadic sheep-herding family facing modernization and change. Hurichabilike stars as six-year-old Bilike, a curious young boy who one day finds a Ping-Pong ball floating on a small river. He takes it to his grandmother (Badema), who tells him it's a glowing pearl. As he shows off his treasure to his best friends, Dawa (Dawa) and Erguotou (Geliban), none of them knows what it really is. But soon the boys discover that it is the National Ball of China, and thinking that they have that very ball itself, the one and only, they decide to cross the Gobi Desert to return it to Beijing. All the while, Qiasang, Bilike's father (Yidexinnaribu), tries to get a television set to work in the middle of nowhere and seeks to upgrade his motorized equipment; Bilike's sister (Wurina) dreams of performing in a traveling dance troupe; and Siriguleng (Jinlaowu) keeps driving up in his van with interesting items from the big city. Reminiscent of THE GODS MUST BE CRAZY (Jamie Uys, 1980) -- except not nearly as frantic and with a much more contemplative mood -- MONGOLIAN PING PONG, beautifully shot by Du Jie, is an endearing tale of kids being kids and how new things bring about important change, both within and without, even in a land that has changed little in the last thousand years.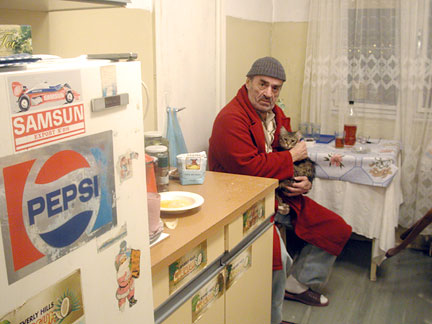 Tartan Films
Mr. Lazarescu (Ian Fiscuteanu) is in for a really bad day
THE DEATH OF MISTER LAZARESCU
(Cristi Pui, 2005)
Film Forum
209 West Houston St. between Sixth & Seventh Aves.
Opens Wednesday, April 26
Tickets: $10
212-727-8110
http://filmforum.org/films/death.html

Poor Mr. Lazarescu. He lives in a shoddy hovel of an apartment in Bucharest, where he drinks too much and gets out too little. He moves around very slowly and has trouble saying what's on his mind, even to his three cats. His family is sick and tired of telling him to lay off the booze, so they ignore his complaints. Suffering from headaches and stomach pain, he phones for an ambulance several times, but it arrives only after a neighbor calls as well. Mr. Lazarescu then spends the rest of this very long night fading away as he is taken to hospital after hospital by the ambulance nurse, who gets involved in a seemingly endless battle with doctors to try to save him. Ian Fiscuteanu is sensationally realistic as Mr. Lazarescu; you'll quickly forget that he's not really a drunk, disgusting, dying old man. Luminita Gheorghiu is excellent as Mioara, the nurse who gets caught up in Mr. Lazarescu's case. Winner of the Cannes Film Festival's Un Certain Regard Award, cowriter-drector Cristi Puiu's very dark comedy is simply captivating; despite a slow start, it'll pull you in with its well-choreographed scenes, documentary style, and careful camera movement. (Also look for the subtle and very specific naming of characters.) Using Erich Rohmer's "Six Moral Tales" as inspiration, Puiu has said that THE DEATH OF MISTER LAZARESCU is the first of his own "Six Stories from the Bucharest Suburbs," this one dealing with "the love of humanity." We can't wait for the next one.
© 2005 Tsai cheng-tai
Shu Qi and Chang Chen enjoy a different kind of three-way in THREE TIMES
THREE TIMES (Hou Hsiao-hsien, 2005)
IFC Center
323 Sixth Ave. at Waverly Pl.
Opens Wednesday, April 26
Tickets: $10.75
212-924-7771
Lincoln Plaza Cinemas
1866 Broadway at 63rd St.
Tickets: $10.50
212-757-2280
http://www.lincolnplazacinema.com
http://www.threetimes-film.com

Hou Hsiao-hsien's gorgeous THREE TIMES is an evocative, poetic trilogy of tales about life and love in Taiwan, all starring the mesmerizing Shu Qi (Hou's MILLENNIUM MAMBO) and the stalwart Chang Chen (Wong Kar-wai's 2046 and HAPPY TOGETHER). In A TIME FOR LOVE, set in 1966 and featuring a repeated soft-rock soundtrack, Chen, about to leave for military service, meets May, a pool-hall girl, and promises to write to her even though they have only just met and barely said a word to each other. When he gets a furlough, he goes to the pool hall only to find that she's on the move, so with Zen-like cool he tries to track her down. A TIME FOR FREEDOM, a silent film with interstitial dialogue and period music, takes place in an elegant brothel in 1911, where Mr. Chang regularly visits a beautiful courtesan. But while she dreams of him buying out her contract and marrying her, he seems intent on helping out another couple instead. Hou concludes the trilogy with A TIME FOR YOUTH, set in fast-paced modern-day Taipei, as Jing, an epileptic singer, and Zhen, a motorcycle-riding photographer, embark on a passionate, nearly wordless affair that has serious consequences for their significant others. THREE TIMES is a rare treat for cineastes, an intelligent though overly long study of relationships between men and women in a changing Taiwan over the last hundred years, focusing on character, time and place, and the art of filmmaking itself.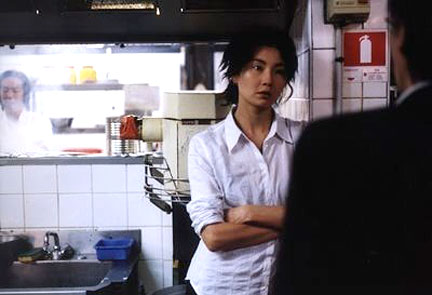 Maggie Cheung is electrifying in ex-hubby Olivier Assayas's CLEAN
CLEAN (Olivier Assayas, 2004)
Opens Friday, April 28
Landmark Sunshine Cinema
143 East Houston St. between First & Second Aves.
Tickets: $10.75
212-330-8182
Lincoln Plaza Cinemas
1866 Broadway at 63rd St.
Tickets: $10.50
212-757-2280
http://www.lincolnplazacinema.com
http://www.landmarktheatres.com/Market/NewYork/NewYork_frameset.htm

With their divorce pending, writer-director Olivier Assayas and Hong Kong superstar Maggie Cheung wish each other a fond farewell in the moving drama CLEAN. Named Best Actress at the 2004 Cannes Film Festival for her extraordinary performance, Cheung (HERO, IN THE MOOD FOR LOVE) stars as Emily Wang, a junkie trying to resuscitate the fading music career of her heroin-addicted lover, Lee (British musician James Johnston). Their life together is so screwed up that they rarely see their son, Jay (James Dennis), who lives in Vancouver with Lee's parents (Nick Nolte and Martha Henry). On the road, Emily scores some drugs, fights with Lee, goes out for a ride, then returns to find him dead from an overdose and the cops waiting to arrest her. After six months in prison, she gets out to find that her life has changed more than she could ever have imagined. Cheung is effervescent every step of the way, lighting up the screen despite playing a very hard-to-like character; her tender scenes with the soft-spoken, grizzled Nolte are particularly gentle and touching. Unfortunately the subplot set in the music world is clichéd, annoying, and mostly unnecessary, everything that the rest of the film is not. The stunt casting is particularly irritating: Tricky, the band Metric, and Mazzy Star's David Roback all play themselves. The otherwise fine cast also includes Béatrice Dalle, Jeanne Balibar, Don McKellar, and Laetitia Spigarelli, with a soundtrack dominated by ethereal songs by Brian Eno.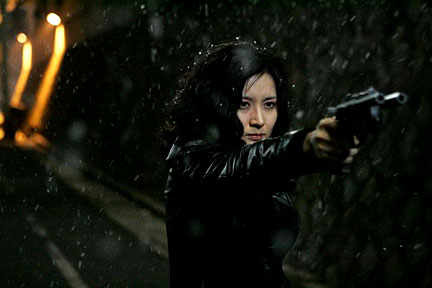 Tartan Films 2005
Lee Young-ae wreaks vengeance in Park Chanwook thriller
LADY VENGEANCE (Park Chanwook, 2005)
Opens Friday, April 28
AMC Empire 25
234 West 42nd St. between Broadway & Eighth Ave.
212-398-3939
Angelika Film Center
18 West Houston St. at Mercer St.
Tickets: $10.75
212-995-2000
http://www.city-cinemas.com/angelika.html

Park Chanwook's awesome revenge trilogy (following SYMPATHY FOR MR. VENGEANCE and OLDBOY) comes to a stirring conclusion with the thrilling tale of Lee Geum-ja (Lee Young-ae), a beautiful thirty-one-year-old woman who has just been released from prison after serving thirteen years for the kidnapping and murder of a five-year-old boy (Nam Song-woo). While behind bars, Geum-ja plotted out a detailed, complex plan to gain revenge on her co-conspirator (OLDBOY's Choi Min-sik as Mr. Baek), who harbors a dark secret. As Geum-ja, known as both "Angel" and "Witch," visits each former prisoner participating in the elaborate set-up, Park flashes back to reveal the woman's original crime and her relationship to Geum-ja -- who is also being followed by a wacky preacher with a great hairdo (Kim-Byeong-ok). Now working in a bakery, Geum-ja has become a magical pastry chef as part of her scheme to serve Mr. Baek his just deserts, but, as Park shows rather gruesomely, vengeance -- and repentance -- comes with a heavy price. As with the first two parts of this masterful series, LADY VENGEANCE serves up a cunning concoction of bizarre characters, stunning surprises, existential exegesis, and plenty of psychological terror. You need not have seen the first two to love this one; in fact, all three films are stand-alones as well as stand-outs.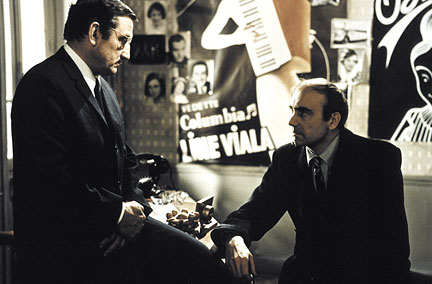 Rialto Pictures
Lino Ventura and Paul Crauchet have quite a fight on their hands in ARMY OF SHADOWS
ARMY OF SHADOWS (Jean-Pierre Melville, 1969)
Film Forum
209 West Houston St. between Sixth & Seventh Aves.
Opens Friday, April 28
Tickets: $10
212-727-8110
http://filmforum.org/films/army.html

Based on the novel by Joseph Kessel (who wrote BELLE DE JOUR), Jean-Pierre Melville's 1969 WWII drama ARMY OF SHADOWS is getting its first theatrical release in America, in a new 35mm print supervised by the film's cinematographer, Pierre Lhomme, who shot it in a beautiful blue-gray palette. The film centers on a small group of French resistance fighters, including shadowy leader Luc Jardie (Paul Meurisse), the smart and determined Mathilde (Simone Signoret), the nervous Jean-Francois (Jean-Pierre Cassel), the steady and dependable Felix (Paul Crauchet), the stocky Le Bison (Christian Barbier), the well-named Le Masque (Claude Mann), and the unflappable and practical Gerbier (Lino Ventura). Although Melville, who was a resistance fighter as well, wants the film to be his personal masterpiece, he is too close to the material, leaving large gaps in the narrative and giving too much time to scenes that don't deserve them. He took offense at the idea that he portrayed the group of fighters as gangsters, yet what shows up on the screen is often more film noir than war movie. However, there are some glorious sections of ARMY OF SHADOWS, including Gerbier's escape from a Vichy camp, the execution of a traitor to the cause, and a tense MISSION: IMPOSSIBLE-like (the TV series, not the Tom Cruise vehicles) attempt to free the imprisoned Felix. But most of all there is Ventura, who gives an amazingly subtle performance that makes the overly long film (nearly two and a half hours) worth seeing all by itself.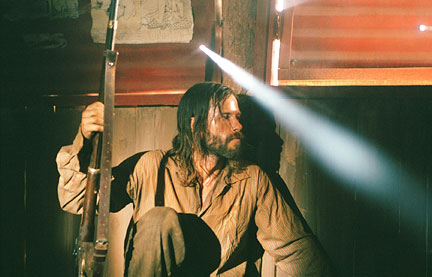 Kerry Brown
Guy Pearce tries to see the light in Nick Cave-penned Western
THE PROPOSITION (John Hillcoat, 2006)
Opens Friday, May 5
AMC Empire 25
234 West 42nd St. between Broadway & Eighth Ave.
212-398-3939
Angelika Film Center
18 West Houston St. at Mercer St.
212-995-2000
Tickets: $10.75
http://www.city-cinemas.com/angelika.html
http://www.flp.com/films/proposition

Director John Hillcoat's Aussie Western is a violent, beautiful, elegiac film set in the Australian Outback in the 1880s. Captain Stanley (Ray Winstone) has captured two of the three Burns brothers, part of a notorious gang that has raped and pillaged the local area, and he threatens to execute the young and fragile Mike (Richard Wilson) unless the much tougher Charlie (Guy Pearce) kills their older brother, Arthur (Danny Huston), the leader of their terror brigade. While Charlie heads out across the stunning landscape (gorgeously photographed by Benoit Delhomme), Captain Stanley, growing more and more disheveled, tries to protect his wife, Martha (Emily Watson), from the ugliness and filth that surround them. The screenplay, which is filled with biblical imagery and blood, was written by Aussie rocker Nick Cave, who also delivers the haunting score. The dark, absorbing film features fine acting all around, especially by Winstone, Pearce, and John Hurt as a grizzled, heavily pickled old bounty hunter.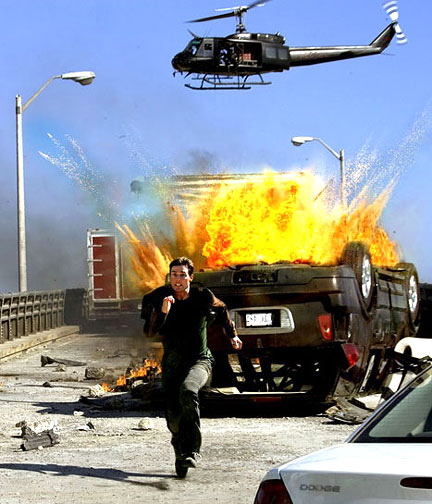 This time it's personal for Tom Cruise in M:I:III
MISSION: IMPOSSIBLE III (J.J. Abrams, 2006)
Opens Friday, May 5
http://www.missionimpossible.com

J.J. Abrams, the creator of LOST and ALIAS, follows in the footsteps of previous M:I directors Brian De Palma and John Woo and outdoes them both with this pulse-pounding third entry in the action-packed series, his stunning feature-length debut. Like James Bond (George Lazenby) in ON HER MAJESTY'S SECRET SERVICE (Peter R. Hunt, 1969), Hunt is looking to settle down, giving the audience a rare glimpse into his emotional makeup. He has left the field, serving in the much safer capacity of trainer and evaluator of future agents. He is also madly in love with Julia (Michelle Monaghan), who works at a local hospital and has no idea what he really does for a living. When his boss, Musgrave (a rather dapper Billy Crudup), tells him that Agent Lindsey Farris (Keri Russell) has been captured, Hunt reunites with Luther (Ving Rhames) and teams up with operatives Declan (Jonathan Rhys Meyers) and Zhen (Maggie Q) to rescue Farris from the clutches of the extremely dangerous Owen Davian (a deliciously evil Philip Seymour Hoffman). After their plan goes awry, Hunt is sucked back into a world he thought he was done with -- jeopardizing both his life and Julia's as he battles Davian in Berlin, Shanghai, and the Vatican. There's lots of gunfire, amazing stunts (Cruise again does most of his own), plenty of explosions, and high-tech gadgetry galore, as well as a dearth of laughably silly scenes that hampered the first two films. Abrams has really upped the ante, making a terrific thriller that is filled with surprises. The theme music this time around comes courtesy of Kanye West. Fans of Abrams and LOST will get a kick out of the organization thanked at the end of the closing credits: the Hanso Foundation.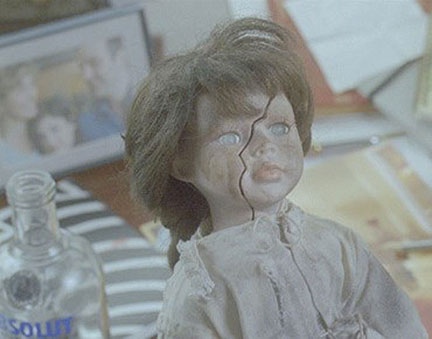 Broken doll messes with reality in AN AMERICAN HAUNTING
AN AMERICAN HAUNTING (Courtney Solomon, 2006)
Opens Friday, May 5

Based on a true story that took place between 1818 and 1820 — the only officially documented case in American history in which a human being was killed by a spirit or entity — AN AMERICAN HAUNTING is a manipulative horror film that plays more like an episode of TALES FROM THE DARK SIDE than a feature-length film. After family patriarch John Bell (Donald Sutherland) gets reprimanded by his church for charging usurious interest to his neighbor, Kate Batts (Gaye Brown), Batts casts a curse on him and his young daughter, Betsy (Rachel Hurd-Wood). Betsy instantly begins having terrible nightmares, sending her mother (Sissy Spacek) rushing to her room to comfort her — but only when the entity will let her in. Soon horrible, unexplainable things start happening to John and Betsy that no one has the power to stop. There's nothing in AN AMERICAN HAUNTING that hasn't been covered in such films as THE EXORCIST (William Friedkin, 1973), DON'T LOOK NOW (Nicolas Roeg, 1973), THE ENTITY (Sidney J. Furie, 1981), and countless other fright flicks. Writer-director Courtney Solomon (DUNGEONS & DRAGONS) uses so many nightmare scenes (is it really happening?) and cloying, crashing sound cues that you'll eventually start laughing. And the modern-day scenes involving the Bells' descendants looks more like a television re-creation on IN SEARCH OF than a feature film with an excellent cast.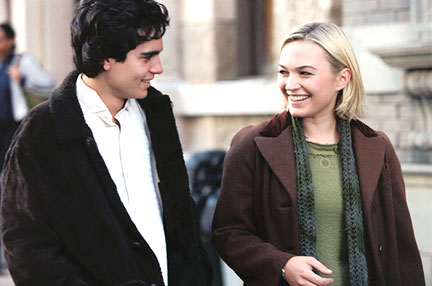 Clowes's characters hit the big screen in a big way
ART SCHOOL CONFIDENTIAL (Terry Zwigoff, 2006)
Opens Friday, May 5
http://www.sonyclassics.com/comingsoon.php?filmid=292&page=4

Director Terry Zwigoff, who claims to "not be interested in comics too much," and who made the 1995 documentary CRUMB, about comic book artist R. Crumb, reteams with comics legend Daniel Clowes for the outrageously entertaining ART SCHOOL CONFIDENTIAL, inspired by a four-page black-and-white strip Clowes wrote in a 1991 edition of his comic book EIGHTBALL. (The two previously worked together in 2001 on the outstanding GHOST WORLD, earning them an Oscar nomination for Best Adapted Screenplay.) Clowes has expanded ART SCHOOL CONFIDENTIAL into a very funny satire/murder mystery set in a New York City art school based somewhat on Pratt in Brooklyn (though the film was shot in Southern California). Max Minghella stars as Jerome Platz, an art student from the suburbs who dreams of becoming the next Picasso. Used to being beat up by bullies, he is desperately looking to fit in somewhere, and he might just find his place in Strathmore art school, along with Beat Girl, Kiss-Ass, Army Jacket, Vegan, Filthy-Haired Girl, Preppy Girl, Nympho, and other stereotypes, as well as the art teacher claiming to be preparing for his own exhibition (John Malkovich, also one of the film's producers). Jerome is befriended by Bardo (Joel David Moore), a disillusioned student who can't figure out yet which stereotype Jerome is. Bardo introduces Jerome to Jimmy (Jim Broadbent), a drunken, failed artist who represents many a Strathmore student's future. Jerome falls hard for Audrey (Sophia Myles), a part-time model who is also being courted by the ridiculously straitlaced and seemingly talentless, though celebrated, Jonah (Matt Keeslar). And one of Jerome's roommates, the hyperactive Vince (Ethan Suplee), is making a movie about the Strathmore Strangler, who has claimed several victims and is still on the loose. ART SCHOOL CONFIDENTIAL gets just about everything right (save for two brief appearances of the boom mic), turning clichés inside out in hysterical ways. You don't have to be a comic-book fan geek to love this film.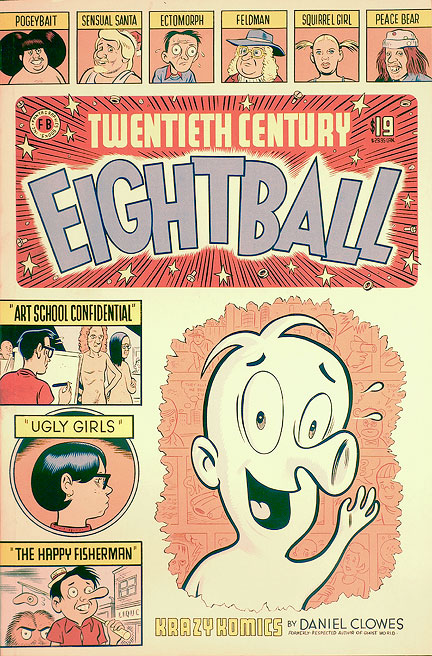 TWENTIETH CENTURY EIGHTBALL: KRAZY KOMICS BY DANIEL CLOWES (Fantagraphics, $19)
http://www.fantagraphics.com/artist/clowes/clowes.html

Chicago native Daniel Clowes has satirized popular culture for decades in such alternative comics as LLOYD LLEWELLYN and EIGHTBALL, which garnered such offshoots as DAVID BORING, LIKE A VELVET GLOVE CAST IN IRON, and GHOST WORLD, the latter turned into a hit indie film by Terry Zwigoff and Clowes. Zwigoff and Clowes have teamed up again for the new movie ART SCHOOL CONFIDENTIAL, based on a four-page black-and-white comic that is collected in the painfully funny TWENTIETH CENTURY EIGHTBALL. Consisting of previously published panels as well as a handful of new strips, the trade paperback includes such awesome characters as the dapperly dressed Feldman, the well-coiffed Pogeybait, the lurid Stew and Lew, the clueless Happy Fisherman, the libidinous Freddy Brown the Squirt, the angry Lloyd Llewellyn ("I Hate You Deeply" is a riot), and various incarnations of Clowes himself. In "Marooned on a Desert Island with the People on the Subway," Clowes imagines what his fellow subway riders would be like stranded on a desert island. "On Sports" is the best description of competitive athletics we've ever read. And "Give It Up!" summarizes Clowes's world view, claiming that "our civilization . . . is wrongheaded and will produced absolutely nothing of true value." As is his style, Clowes toys around with the book package itself, designing the table of contents, writing a new comic on the back cover about the book itself, and even incorporating the bar code into his art.
ART SCHOOL CONFIDENTIAL: A SCREENPLAY BY DANIEL CLOWES (Fantagraphics, 2006, $14.95)
http://www.fantagraphics.com/artist/clowes/clowes.html

As you can see above, we loved Terry Zwigoff's film adaptation of Daniel Clowes's four-page comic ART SCHOOL CONFIDENTIAL. The script for the film was written by Clowes, who brings his playful style to this breezy, highly readable screenplay, which includes several scenes that were cut from the final print and might find new life as DVD bonus features. In addition to the very funny shooting script, the book contains production stills from the movie, Clowes's early sketches of some of the main characters, paintings from the film (Clowes did all of Jonah's pieces), and the first-ever appearance of the original ART SCHOOL CONFIDENTIAL comic in full color. For fans of Clowes and the film, this book is a great little extra.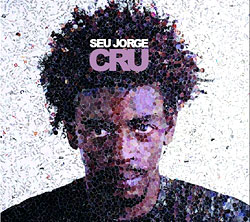 SEU JORGE: CRU (Wrasse Records, 2006)
Irving Plaza
17 Irving Pl. between 14th & 15th Sts.
Thursday, April 27, 8:00
Tickets: $25 in advance, $30 day of show
212-777-6800
http://www.wrasserecords.com/albums/165.html

Brazilian samba man Seu Jorge jumped into the public spotlight last year with his unique covers of David Bowie songs in Wes Anderson's otherwise limp THE LIFE AQUATIC WITH STEVE ZISSOU, as well as his performance as Knockout Ned in the extraordinary CITY OF GOD (Fernando Meirelles & Kátia Lund, 2002). His most recent album, CRU, featuring a cover painting by Brooklyn's own Vik Muniz, has been a hit all over the world. "Tive Razao (I Was Right)" opens the disc with sweet acoustic guitars, followed by a techno-infused version of Serge Gainsbourg's "Chatterton," featuring a heavy bass and more aggressive vocals. "Fiore de la Citta" is a lounge-y pleasure, while a funky beat drives "Bem Querer (My Dear)." The moving Lieber/Stoller ballad "Don't" is the only song in English; "Don't don't don't don't leave my embrace / For here in my arms is your place," Jorge begs. He lets his voice shine in the impassioned "Sao Gonca" and the gentler "Una Mujer." Jorge, who spent three years homeless on the streets of Brazil, will be headlining Irving Plaza on April 27, with opening acts Chris Berry and Panjea.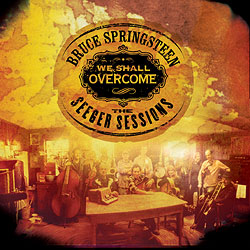 BRUCE SPRINGSTEEN: WE SHALL OVERCOME:
THE SEEGER SESSIONS (Columbia, April 25, 2006)
PNC Bank Arts Center
Holmdel, NJ
June 24-25
Tickets: $91.75, on sale Friday, May 5, at 9:00 am
http://www.brucespringsteen.net
http://www.ticketmaster.com/artist/1027699
http://www.pncbankartscenter.com/schedule.html

In 1997, Bruce Springsteen recorded "We Shall Overcome" for a Pete Seeger tribute album, sending him on a quest to find out more about one of this country's most popular and important folksingers. His quest has resulted in this stirring collection of thirteen tracks (plus two bonus numbers) that have been part of the eighty-six-year-old Seeger's endless repertoire, from such familiar songs as "John Henry," "Erie Canal," and "Buffalo Gals" to such wonderful but obscure tunes as "Old Dan Tucker," "Shenandoah," and "My Oklahoma Home." The album was recorded live over three days in 1997, 2005, and 2006, with a seventeen-piece band (including tuba, banjo, accordion, violins, guitars, upright bass, harmonica, tambourine, and pump organ) squeezed so tightly into Springsteen's Jersey farmhouse that the three horns had to play in the hall. The freshness of the music, ranging from country to folk to bluegrass and blues, will jump out at you from the very first song, "Old Dan Tucker," a square dance that will have you singing along in no time. Other tunes that leap out of the speakers and grab you are the Negro spirituals "O Mary Don't You Weep" and "Jacob's Ladder" and the infectious hoedowns "Jesse James," "John Henry," and "Pay Me My Money Down." Although the album is not overtly political, some of the songs have been used to support workers' rights, the civil rights movement, and antiwar protests over the years. In the Irish ballad "Mrs. McGrath," Springsteen, who recently dedicated the song to Cindy Sheehan, sings, "All foreign wars I do proclaim / Live on blood and a mother's pain." The album is also a fascinating lesson in American history; in the accompanying booklet, the lyrics are preceded by a very brief description of each song, but Dave Marsh's extended, annotated liner notes can be found on Springsteen's official Web site.
THE SEEGER SESSIONS is a dual disc, so flip it over to hear the two bonus tracks — "Buffalo Gals" and "Froggie Went a Courtin'" — and watch a thirty-minute making-of documentary that features performances of six of the songs as well as brief chats with Bruce in a silly hat. Springsteen has just finished four rehearsal shows in Asbury Park, where he treated fans to much of the new album, brand-new versions of such old favorites as "Open All Night," "Johnny 99," "Adam Raised a Cain," and "You Can Look (But You Better Not Touch)," and a show-closing "When the Saints Go Marching In." The big band will be playing PNC Bank Arts Center in Holmdel, NJ, June 24-25, with tickets going on sale May 5 at 9:00 am; prized ducats for the European concerts sold out in minutes, so get ready. Ticket info is still to come for the June 22 show at Madison Square Garden.

All contents copyright 2006 by Mark Rifkin and twi-ny. All rights reserved. Contents may not be reprinted without written permission. Please note that events, dates, and prices are subject to change.
Send all comments, suggestions, reviews, and questions to mark.rifkin@twi-ny.com.
Please note that some e-mail clients may wrap links, so be sure to enter them fully into your browser.
To subscribe to this list, please e-mail the administrator at admin@twi-ny.com with the word Subscribe in the Subject line; be sure to ask for back issues, which are free as well. To unsubscribe from this list, please think it over twice before e-mailing the same address. Please let us know what you didn't like about this forum and we'll do our best to correct it in the future -- if we agree with you. If you would like to see something covered in a future issue, please let us know. Without you, there is no need for us to exist.

twi-ny top two dozen (or so) weekly reminders & special events
DONALD JUDD:
SELECTED WORKS FROM THE JUDD FOUNDATION
Christie's Special Exhibition
1230 Sixth Ave. between. 48th & 49th Sts., twentieth floor
Monday — Saturday 10:00 am — 5:00 pm, Sunday 1:00 — 5:00
Admission: free
212-636-2010
http://www.christies.com/promos/may06/judd/overview.asp
Through May 9 Exhibition of works by Donald Judd, followed by May 9 auction as part of Christie's auction of Post-War & Contemporary Art; Web site includes two video talks about Judd and some of the pieces available, selling from $600,000 to $1.5 million
1-2-3 FESTIVAL
Joyce Theater
175 Eighth Ave. at 19th St.
212-242-0800
http://joyce.org/123festival06.html
Wednesday, April 26
through
Wednesday, May 3 Ailey II, performing two different programs, $40
Thursday, April 27
through
Saturday, May 6 American Ballet Theatre Studio Company, performing excerpt from George Balanchine's "Divertimento No. 15," $34
Friday, April 28
through
Sunday, May 7 Taylor 2, performing three masterworks, $38
MUSICAL PASSAGES: JOURNEYS IN SOUND
Music of the Spheres Society
Christ & St. Stephen's Church
120 West 69th St.
Requested Contribution: $30
212-877-4402
http://www.musicofthespheres.org
Thursday, April 27 Works by Handel, Schulhoff, and Tchaikovsky, followed by discussion with the performing artists, 7:30
DARE TO BE INVOLVED:
NYC ADULT & YOUTH VOLUNTEER EXPO
Gotham Hall
36th Street & Broadway
212-473-7875
http://www.nycvolunteerexpo.org
Thursday, April 27
through
Saturday, April 29 Expo including free seminars and more than eighty nonprofit volunteer opportunities, hosted by the Manhattan Chamber of Commerce Community Benefit Fund
THE FILMS OF MIKIO NARUSE
BamCinématek
BAM Rose Cinemas
Brooklyn Academy of Music
30 Lafayette Ave. between Ashland Pl. & St. Felix St.
April 27 — May 10
Tickets: $10
718-636-4100
http://bam.org/film/series.aspx?id=72
Thursday, April 27 WIFE! BE LIKE A ROSE! (TSUMA YO BARA NO YO NI) (Mikio Naruse, 1935), 6:50, 9:15
Friday, April 28 SOUND OF THE MOUNTAIN (YAMA NO OTO) (Mikio Naruse, 1954), 6:50 (followed by a Q&A and book signing with Phillip Lopate), 9:15
Saturday, April 29 REPAST (MESHI) (Mikio Naruse, 1951), 2:00, 4:30, 6:50, 9:15
Sunday, April 30 MOTHER (OKASAN) (Mikio Naruse, 1952), 2:00, 4:30, 6:50, 9:15
Tuesday, May 2 ANZUKKO (Mikio Naruse, 1958), 7:00
Thursday, May 4 LATE CHRYSANTHEMUMS (BANGIKU) (Mikio Naruse, 1954), 6:50, 9:15
Friday, May 5 SUMMER CLOUDS (IWASHIGUMO) (Mikio Naruse, 1958), 6:00, 9:00
Saturday, May 6 FLOATING CLOUDS (UKIGOMO) (Mikio Naruse, 1955), 2:00, 4:30, 6:50, 9:30
Sunday, May 7 WHEN A WOMAN ASCENDS THE STAIRS (ONNA GA KAIDAN O AGARU TOKI) (Mikio Naruse, 1960), 2:00, 4:30, 6:50, 9:15
Monday, May 8 HER LONELY LANE (HOROKI) (Mikio Naruse, 1962), 7:00
Tuesday, May 9 FLOWING (NAGARERU) (Mikio Naruse, 1956), 7:00
Wednesday, May 10 SCATTERED CLOUDS (MIDAREGUMO) (Mikio Naruse, 1967), 4:30, 6:50, 9:15
EVENTS AT THE COOPER UNION
The Great Hall
7 East Seventh St. at Third Ave.
Admission: free
212-353-4195
http://www.cooper.edu/month.html
Thursday, April 27 Stem Cells: Hope or Hype, with Gina Kolata, 6:00
Tuesday, May 9 Biomimicry: Innovation Inspired by Nature, with Janine Benyus, 6:00
POEM IN YOUR POCKET DAY
Bryant Park Reading Room
42nd St. between Fifth & Sixth Aves.
Admission: free
212-768-4242
http://www.bryantpark.org/calendar/apr.php
http://www.poets.org/viewevent.php/prmEventID/4639
Thursday, April 28 Second annual Open Poetry Reading; bring a poem to receive a free book of poetry and a poster, 11:00 am — 2:00 pm
ANTIQUE GARDEN FURNITURE SHOW AND SALE
New York Botanical Garden
Conservatory Tent
Bronx River Parkway & Fordham Rd.
Tickets: $13
718-817-8700
http://www.nybg.org/agf_06.php
Friday, April 28
through
Sunday, April 30 Fourteenth annual sale of garden ornaments, featuring more than thirty exhibitors, tours, lectures, and demonstrations
LIVE FROM THE NYPL: PEN WORLD VOICES: THE NEW YORK FESTIVAL FOR INTERNATIONAL LITERATURE
New York Public Library
Humanities and Social Sciences Library
Fifth Ave. at 42nd St.
South Court Auditorium (SCA)
Celeste Bartos Forum (CBF)
Tickets: $15
212-930-0084
http://www.nypl.org/research/chss/pep/peplist.cfm
Thursday, April 28 The Limits of Tolerance? Multiculturalism Now, with Necla Kelek, Navid Kermani, Richard Rodriguez, and Pascal Bruckner, moderated by Kwame Anthony Appiah, SCA, 6:00
Thursday, April 28 Revolution: A User's Manual, with Adam Michnik, Gioconda Belli, Baltasar Garzon, and G.M. Tamás, moderated by Christopher Hitchens, CBF, 8:00
Saturday, April 30 Duong Thu Huong in conversation with Robert Stone, SCA, 12 noon
Saturday, April 30 Ayaan Hirsi Ali in conversation with Philip Gourevitch, SCA, 1:45
Saturday, April 30 Zaide Smith in conversation with Kurt Andersen, SCA, sold out, tickets might be available at the door, 3:30
BAC 40TH INTERNATIONAL
FILM AND VIDEO FESTIVAL
Brooklyn Arts Council
Various venues
Through May 7
Admission: free
718-625-0080
http://www.brooklynartscouncil.org
Saturday, April 29 Filmmakers Reception, Brooklyn Museum, Cantor Auditorium, 200 Eastern Parkway, 6:00
Sunday, April 30
and
Monday, May 1 Selected Shorts: Ocularis at Galapagos, 70 North Sixth St., 8:00
Tuesday, May 2 College Student Screening, LIU, Brooklyn Campus, Flatbush & DeKalb Aves., 6:00
Sunday, May 6 Fifth Annual Women of African Descent Film Festival, LIU, Brooklyn Campus, Flatbush & DeKalb Aves., 11:00 am — 6:00 pm
Monday, May 7 Sony Wonder Selects Youth Videos, Sony Wonder Technology Lab, 550 Madison Ave., 3:30
UPPER WEST FEST
West Side from 59th to 116th Sts.
Festival Pass: $25 to get two-for-one admission to any participating event
212-864-5400
Thursday, April 28
through
Sunday, May 14 First annual celebration of art and culture on the Upper West Side, including exhibits, live performances, film screenings, and culinary events at such institutions as Makor, Barnard College, the American Museum of Natural History, the Children's Museum of Manhattan, the Manhattan School of Music, the Cathedral Church of St. John the Divine, the New-York Historical Society, the JCC in Manhattan, the Bard Graduate Center, the Merkin Concert Hall, and fest sponsor Symphony Space
VESAK (THE BUDDHA'S BIRTHDAY) FESTIVAL
Columbus Park
Worth & Mulberry Sts.
Admission: free
917-816-2368
http://www.explorechinatown.com/Gui/Content.aspx?Page=Event&Type=507
Saturday, April 29 The Drum Spirit of China, 10:00 am
Saturday, April 29 Lion Dancing and Shaolin Martial Arts, 11:00 am
Saturday, April 29 Opening Ceremonies, 12 noon
Saturday, April 29 Bathing the Buddha Ceremony, 2:00
Saturday, April 29 Vesak Parade through Chinatown, 3:30
MARCH FOR PEACE, JUSTICE & DEMOCRACY
Assemble at 22nd St. & Broadway at 10:30 am
Admission: free
Saturday, April 29 Peace march down Broadway to Foley Square, where there will be a Grassroots Action Festival from 1:00 to 6:00
Brooklyn Botanic Garden
The Sakura Matsuri is one of the most beautiful festivals of the year
SAKURA MATSURI: THE 25TH ANNUAL
BBG CHERRY BLOSSOM FESTIVAL
Brooklyn Botanic Garden
1000 Washington Ave.
Admission: $5 adults, children under sixteen free
Admission: free on Saturday 10:00 - noon
Saturday, April 29 — Sunday, April 30
718-623-7200
http://bbg.org/exp/cherries/sakura.html
The weather might be lousy these days, but we know that spring is on its way now that the cherry blossoms are in full bloom at the Brooklyn Botanic Garden. Few things are more beautiful than the Cherry Esplanade, with its rows of cherry trees offering a sensational respite from the drudgery of the city. This year's festival again features two glorious days of Japanese events; do whatever you can to rearrange your schedule to make it to the garden for at least one of the days. Some of the highlights are listed below; there are also special exhibits, tours, and all-day workshops (Mataro Ningyo Dolls, Moku Hanga Woodblock Printing, Ikebana Flower Arrangements, Origami Crane Confections, All About Sencha Green Tea, the Art of Tofu Making, Contemporary Japanese Shodo Calligraphy Painting, Bonsai Pruning Techniques, Nihon Buyo Classical Dance, Sakura Tattoo Parlor, CosPlay Anime Costumes, Tea Ceremony, and more).
Saturday, April 29 Taiko Drumming, with Soh Daiko, Cherry Esplanade Stage, 12 noon
Saturday, April 29 Jennifer Reed, THE FALLING FLOWERS, children's book reading and signing, A.T. White Amphitheater, 1:00
Saturday, April 29 Nihon Buyo Classical and Ryu Kyu Buyo Okinawan Dance, Cherry Esplanade Stage, 1:15
Saturday, April 29 Haiku Readings, Spring Street Haiku Group, A.T. White Amphitheater, 2:00
Saturday, April 29 Sakura: The Soul of Samurai, with Samurai Sword Soul, Cherry Esplanade Stage, 2:30
Saturday, April 29 Japanese Wagashi (Sweets) and the Ephemeral Charms of Cherry Blossoms, with Marybeth Welch, auditorium, 2:30
Saturday, April 29 Hanagasa Odori Flower Hat Dance Parade, the Japanese Folk Institute of New York, Lily Pool Terrace, 2:30
Saturday, April 29 Butoh Dance, with Corinna Hiller and Dancers, meadow, 3:00
Saturday, April 29 Gaijin à Go-Go in Concert, Cherry Esplanade Stage, 3:30
Saturday, April 29 Shakuhachi Flute Concert, Kyo Shin An Dojo, A.T. White Amphitheater, 3:30
Saturday, April 29 Japanese Imperial Court Music Concert, the Tenri Gagaku Music Society of New York, auditorium, 4:00
Saturday, April 29 Sakura, Sakura: Family Kimono Fashion Show, Cherry Esplanade Stage, 5:00
Saturday, April 29 Shinkendo Swordsmanship, with Modern Samurai Dojo, Cherry Esplanade Stage, 5:45
Sunday, April 30 Taiko Drumming, with Taiko Masala, Cherry Esplanade Stage, 12 noon
Sunday, April 30 Children's Taiko Drumming, with Taiko Aiko Kai, Cherry Esplanade Stage, 12:45
Sunday, April 30 Jennifer Reed, THE FALLING FLOWERS, children's book reading and signing, A.T. White Amphitheater, 1:15
Sunday, April 30 Nihon Buyo Classical and Ryu Kyu Buyo Okinawan Dance, Cherry Esplanade Stage, 1:15
Sunday, April 30 From Brooklyn to Inuyama, with Anthony Bianchi, auditorium, 2:00
Sunday, April 30 Sakura: The Soul of Samurai, with Samurai Sword Soul, Cherry Esplanade Stage, 2:30
Sunday, April 30 Japanese Wagashi (Sweets) and the Ephemeral Charms of Cherry Blossoms, with Marybeth Welch, auditorium, 2:30
Sunday, April 30 Butoh Dance, with Corinna Hiller and Dancers, meadow, 3:00
Sunday, April 30 Koto and Shamisen Concert, with Masayo Ishigure & Sawai Koto Academy, Cherry Esplanade Stage, 3:30
Sunday, April 30 Shakuhachi Flute Concert, Kyo Shin An Dojo, A.T. White Amphitheater, 3:30
Sunday, April 30 Minbu Folk Dance, Japanese Folk Dance Institute of N.Y., Cherry Esplanade Stage, 4:30
Sunday, April 30 Yosakoi Festival Dance, with Tentekomai, Cherry Esplanade Stage, 5:30
BIKE MONTH NYC
Multiple venues
http://www.transalt.org/calendar/bikemonth2006
Saturday, April 29 Riverside Ride, 59th St. & Columbus Circle entrance to Central Park, 10:00 pm
Sunday, April 30 Palisades Bike Hike: Peanut Leap Cascade, George Washington Bridge Bus Terminal, 4211 Broadway between 178th & 179th Sts., 9:00 am
Monday, May 1 Ladies' Bicycle Repair Night, 49 East Houston St. between Mott & Mulberry Sts., 6:30
Monday, May 1 The Bill of Rides, Federal Hall, Wall St. at Broad St., 6:30
Tuesday, May 2 Ride the Loops of Central Park, Loeb Boathouse, Central Park, 10:00 am
Thursday, May 4 Ride to "World of Chocolate" in Staten Island, Loeb Boathouse, Central Park, 10:00 am
Friday, May 5 Central Park Moonlight Ride, Columbus Circle, 10:00 pm
Saturday, May 6 Free Ride to First Saturday at the Brooklyn Museum, Union Square at 7:00 or Brooklyn side of the Williamsburg Bridge at 7:30
Saturday, May 6 Montauk Metric Training Ride #3: Piermont, Columbus Circle, 9:00 am
Saturday, May 6 Third annual Bike to She Day, Tramway Plaza on Second Ave. between 59th & 60th Sts., 10:30 am
Sunday, May 7 Five Boro Bike Tour, Battery Park, 6:30 am
Monday, May 8 Braking the Cycle Information Session, the LGBT Center, 208 West 13th St., 6:30
Tuesday, May 9 Bike Repair Workshop, 49 East Houston St. between Mott & Mulberry Sts., 6:30
Tuesday, May 9 Ride the Loops of Central Park, Loeb Boathouse, Central Park, 10:00 am
Wednesday, May 10 Manhattan Evening Ride, Plaza Hotel Fountain, Fifth Ave. at 58th St., 6:45 pm
Wednesday, May 10 Parks Advocacy Day, City Council Offices, 250 Broadway, 8:00 am
WEEKEND STREET FAIRS/FESTIVALS/PARADES/CARNIVALS
All events approximately 11:00 am - 6:00 pm unless otherwise noted
Admission: free
http://www.nyctourist.com/st_fairs_calendar.htm
http://nycstreetfairs.com/sched.html
http://www.clearviewfestival.com
Saturday, April 29 Spring Fling Block Party: Central Park East Elementary School, 106th St. between Park & Madison Aves.
Saturday, April 29 PAL Festival: University Pl. between Waverly Pl. & 14th St.,
Sunday, April 30 Thirteenth Annual Spring Crafts Festival: Broadway between
66th & 72nd Sts.
Sunday, April 30 Third Ave. Merchants Spring Expo: Third Ave. between 23rd & 34th Sts.
Friday, May 5 NYC Business Expo: Fulton St. between Water & Gold Sts.
Saturday, May 6 Romania Day Festival: Water St. between Fulton & Broad Sts.
Sunday, May 7 Eighteenth Annual Broadway Spring Festival: Broadway between
86th & 96th Sts.
Sunday, May 7 The Annual Village Fair: Broadway between Houston & Grand Sts.
ARTISTS ON ARTISTS
Dia Art Foundation
548 West 22nd St. between Tenth & Eleventh Aves.
Tickets: $6
212-293-5540
http://www.diaart.org/calendar
Monday, May 1 Mark Wallinger on Bruce Nauman, 6:30
MEGAN REILLY & BAND
Tonic
107 Norfolk St. between Delancey & Rivington Sts.
Admission: $8
212-358-7501
http://www.myspace.com/reillymegan
Monday, May 1 Megan Reilly & Band plays songs from LET YOUR GHOST GO and more, 8:00, followed by Home, 9:00
AN EVENING OF MUSIC AND COCKTAILS
Piano Outreach of New York
Piano Salon at Yamaha Artists Services
689 Fifth Ave., third floor
Minimum donation: $100
212-386-2274
http://www.pianooutreach.org/cgi-bin/pony?p=events
Monday, May 1 Benefit concert featuring Tanya Bannister (works by Bach, Schumann, Albeniz, Beethoven, and Liszt), followed by a cocktail reception and silent auction at Montebello Ristorante, 7:00
RICHARD MOVE: THE SHOW (ACHILLES HEELS)
The Kitchen
West 19th St. between Tenth & Eleventh Aves.
Tickets: $20
212-255-5793
http://www.move-itproductions.com/baryshnikov/index.html
Tuesday, May 2
through
Saturday, May 6 New York premiere presented with the Baryshnikov Dance Foundation and MoveOpolis!, with live music by Deborah Harry and Rasta Thomas, an original score by Arto Lindsay, and costumes by Pilar Limosner, 8:00
THE FOURTH PEOPLE'S POETRY GATHERING
CUNY Graduate Center (CUNY)
365 Fifth Ave. at 34th St.
Bowery Poetry Club (BPC)
308 Bowery at Bleecker St.
212-529-5062
Wednesday, May 3 An Evening with Robert Bly, CUNY, $12, 7:00
Thursday, May 4 Gotham Poetry and History, with Mike Wallace, David Levering Lewis, Elisa New, Al Filreis, Phillip Lopate, and poets Carmen Boullosa, Iwan Llwyd, Bob Holman, and two short films of Allen Ginsberg, CUNY, free but reservations required at 212-529-1955, 6:30
Friday, May 5 The Stones of Civilization, UN Headquarters, free but reservations required, 3:00 — 6:00
Friday, May 5 Black 47 and the Celtic Poets, BPC, $15, 9:00
Friday, May 5 Poe in the Graveyard, Marble Cemetery on Second St. between Second & Third Aves., $10, 12 midnight
Saturday, May 6 All Day Poetry Bash, featuring Words for Wee Folk (12 noon), Harpsong: Celtic Music and Poetry (12:30), Arba Sicula: Sicilian Poetry (1:00), Indigenous and Contemporary Voices from Alaska (1:00) , New York City Poems/Epic Poem for an Epic City (2:15), Pakistani Mushaira (3:30), the Poetry of Native American Women (4:45), African Poetry: Voices of Kings: The Dankawali Village Epic (4:45), Russian Poetry (6:00), and other special events, CUNY, $12
Saturday, May 6 Harrigan and Hart, hosted by Mick Moloney, CUNY, $12, 5:30
Saturday, May 6 Tongue Tripping, with Bakithi Kumalo (South Africa), Michael Alpert and the Heymland (Homeland) Ensemble (Yiddish), and Ulali (Native American), CUNY, $30, 7:30
Saturday, May 6 Seisiún: Celtic Music and Poetry Jam, hosted by Mick Moloney, BPC, $12, 10:30
Sunday, May 7 Poetry and Prayer, Bowery Mission, 227 Bowery, free, 11:00 am
Sunday, May 7 Yiddish Poetry, with Itzik Gottesman, BPC, $5, 12:30
Sunday, May 7 Poetry Across Languages: panel discussion with Jerome Rothenberg, John Foley, Paol Keineg, Joxe Mallea-Olaetxe, Nora Marks Dauenhauer, and Richard Dauenhauer, BPC, $5, 2:00
Sunday, May 7 Tribute to Miguel Piñero, walking tour led by Miguel Algarín, meet in front of the Nuyorican Poets Café, 236 East Third St. between Aves. B & C, $20, 2:30
Sunday, May 7 Revitalizing Language through Literature and Literature through Language, panel discussion with Charles Cantalupo, Itzik Gottesman, Ofelia Zepeda, and Robert Minhinnick, BPC, $5, 3:30
Sunday, May 7 Bertsolari: A Basque Poetry Dinner, with Johnny Curutchet, Gratien Alfaro, Jesus Goñi, and Martin Goicoechea, introduced by Mark Kurlansky, BPC, $40, 6:30
FIRST THURSDAYS
Dahesh Museum of Art
580 Madison Ave. at 57th St.
Admission: free from 6:00 to 9:00
212-759-0606
http://daheshmuseum.org/publicprograms_events/firstthursdays.html
Thursday, May 4 Building a Collection: What Every Beginner Needs to Know, panel discussion with Richard J. Kelly, David Apatoff, Roger Reed, and Frederic B. Taraba, 6:30
DOWN TOWN GLEE CLUB SPRING CONCERT
St. Peter's Church
619 Lexington Ave. at 54th St.
Suggested donation: $15
516-248-7549
http://www.downtowngleeclub.org/Pages/UpcomingPerformances.html
Thursday, May 4 The Down Town Glee Club, "a male choral group dedicated to the mission of preserving the tradition of male choral singing in New York City," performs its annual spring concert, 7:30
JEANETTE STONER & DANCERS
83 Leonard St. below Canal St., fifth floor
Tickets: $15
212-226-1576
Thursday, May 4
through
Sunday, May 7 Premiere of LIGHT and excerpt from UNCOVER, 8:00
ARTISTS TALK ON ART
School of Visual Arts
Gene Stavis Theater
209 East 23rd St., fifth floor
Admission: $7, free for SVA students, $3 for SVA alumni and non-SVA students
Friday, May 5 Curator's Choice 2006: panel discussion with the 2006 Curator's Choice winners (Donna Dodson, Stephan Fowkles, Myrna Minter-Foster, and Ben Fink) and contest juror (Nicholas Bergman), 7:00
FIRST WEEKENDS: NEW PERFORMANCE AND DISCUSSION
BAX (Brooklyn Arts Exchange)
421 Fifth Ave. at Eighth St., Brooklyn
Admission $15, $8 low income, reservations strongly suggested
718-832-0018
Friday, May 5
and
Saturday, May 6 "I was thinking about this, then I thought about that." solo performance by choreographer David Appel, in a shared program with Melinda Ring (FAUX PAS) and Andrea Shasgus (THE INFAMOUS GREEN), followed by a discussion with the artists, 8:00
B NOIR
Film Forum
209 West Houston St. between Sixth & Seventh Aves.
May 5 - June 15
Tickets: $10
212-727-8110
http://filmforum.org/films/bnoir.html
Friday, May 5
and
Saturday, May 6 KISS ME DEADLY (Robert Aldrich, 1955) and THE KILLING (Stanley Kubrick, 1956)
Sunday, May 7 THE SET-UP (Robert Wise, 1949) and THE CAPTIVE CITY (Robert Wise, 1952)
Monday, May 8 THUNDER ROAD (Arthur Ripley, 1958) and THE WELL (Leo Popkin & Russell Rouse, 1951)
Tuesday, May 9 THE TALL TARGET (Anthony Mann, 1951) and REIGN OF TERROR (Anthony Mann, 1949)
Wednesday, May 10 HE RAN ALL THE WAY (John Berry, 1951) and TENSION (John Berry, 1949)
THE GREAT SAUNTER
Shorewalkers
Suggested contribution: $15
212-330-7650
http://www.shorewalkers.org/schedule_current.html
Saturday, May 6 Twenty-first annual thirty-two mile walk around Manhattan's rim, beginning at 7:30 am at Fulton & Walker Sts. and continuing past the Circle Line Terminal at 42nd St. & Twelfth Ave. at 9:45, Riverbank State Park at 11:20, lunch near the flagpole in Inwood Park at 1:30, Carl Schurz Park at 5:00, and party at 7:30, including more than a dozen parks on the way; walkers can join at any point of the walk
REVLON RUN/WALK FOR WOMEN
http://www.revlonrunwalk.com/ny
Saturday, May 6 More than forty thousand men, women, and children are expected to participate in this ninth annual fundraiser to fight women's cancers, starting in Times Square at 9:15 am and finishing in Central Park's East Meadow at 10:00
FIRST SATURDAYS
Brooklyn Museum of Art
200 Eastern Parkway
Admission: free after 5:00 pm
718-638-5000
http://www.brooklynmuseum.org/first-saturdays
Saturday, May 6 Family Performance: the Young Hoofers from Brooklyn, Iris and B. Gerald Cantor Auditorium, third floor, 5:15
Saturday, May 6 World Music: "Freedom," with members of the Brooklyn Philharmonic featuring the music of Daniel Bernard Roumain, Hall of the Americas, first floor, 6:00 — 8:00
Saturday, May 6 Hands-on Art: using pastels to sketch spring still-lifes of cherry blossoms, Education Division, first floor (free timed tickets available in the Education Gallery at 6:00), 6:30 — 8:30
Saturday, May 6 Performance: Carnegie Hall Neighborhood Concert Series -- CASYM Steel Orchestra, Iris and B. Gerald Cantor Auditorium, third floor (free tickets available at the visitor center in the Grand Lobby at 5:30), 6:30
Saturday, May 6 Gallery Talk: William Wegman: Funney/Strange, Morris A. and Meyer Schapiro Wing, fifth floor, 7:00
Saturday, May 6 Modern Voices: spoken-word poets from Brooklyn's National Slam Team, including Brother Earl, MAD, and Keith Boogie, Morris A. and Meyer Schapiro Wing, fifth floor, 8:00
Saturday, May 6 Film: FOUR EYED MONSTERS (Arin Crumley & Susan Buice, 2005), Iris and B. Gerald Cantor Auditorium, third floor (free tickets available at the visitor center in the Grand Lobby at 7:30), 8:30
Saturday, May 6 Dance Party: DJ Scientific, Beaux-Arts Court, third floor, 9:00 — 11:00
WOMB TEMPLE OF THE CHILD
Sanctuary of the West Park Presbyterian Church
Amsterdam Ave. between 86th & 87th Sts.
Tickets: $20
http://www.mindspring.com/~rudyvandaele/womb
Saturday, May 6 Eighth annual show celebrating the promise of childhood, featuring performers from the Metropolitan Opera, Broadway, and theatrical ensembles, with proceeds going to provide free gymnastics for underprivileged children, 2:00
MAMAPALOOZA
The Knitting Factory
74 Leonard St. between Broadway & Church St.
Tickets: $10, kids five and under free
212-219-3132
http://www.knittingfactory.com
http://www.myspace.com/mamapalooza10
Sunday May 7 Fifth year of multigenerational family theater empowering women and celebrating motherhood, featuring comedy sketches, rock and roll, folk, spoken word, stand-up, and jelly beans, 3:00
FASHION ON FULTON & FRIENDS
Beaux Arts Court
Brooklyn Museum
200 Eastern Parkway
Tuesday, May 9 Fourth annual gala fashion show benefiting Brooklyn Community Housing and Services, featuring cocktail party, silent auction, and fashion show, 6:00