Twi-ny, This Week in New York
Tony Oursler's "Cell Phones Diagrams Cigarettes Searches and Scratch Cards" continues at Metro Pictures in Chelsea through April 11
YEAR OF FASHION
International Center of Photography
1133 Sixth Ave. at 43rd St.
Through May 3 (closed Mondays)
Admission: $10
212-857-0000

The International Center of Photography has declared 2009 the Year of Fashion, kicking off the celebration with four enlightening exhibits that cast a sharp eye on the world of twentieth-century fashion photography. "Weird Beauty: Fashion Photography Now" examines the current state of the genre, with the work of nearly four dozen photographers laid out in horizontal tearsheets mimicking the original magazine spreads in which they appeared. The dazzling, confusing, infuriating, engaging, and utterly fascinating layouts include Cindy Sherman's "Merci Cindy" for Vogue Paris, Sølve Sundsbø's "Batty Boy" for Arena Homme, and Juergen Teller's "Purple Fashion" for Marc Jacobs, which features such models as actresses Dakota Fanning and Charlotte Rampling and photographer William Eggleston.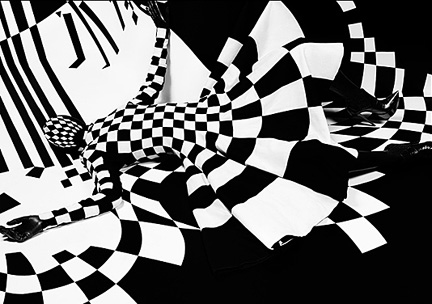 Sølve Sundsbø, "Camouflage," 2008

Among the other photographers represented are John Baldessari (whose colorful cut-and-paste art style is evident in his photos), Richard Prince, Terry Richardson, Philip-Lorca diCorcia, Nan Goldin, Steven Meisel, Mario Testino, Bruce Weber, and Karl Lagerfeld himself, in such magazines as Kid's Wear, Doingbird, W, Another, and the New York Times Magazine. "Weird Beauty" connects to "This Is Not a Fashion Photograph: Selections from the ICP Collection," comprising approximately seventy photographs taken over the last 120 years, by such legendary masters as Walker Evans, Helen Levitt, Larry Clark, Lee Friedlander, Gordon Parks, Berenice Abbott, Carrie Mae Weems, Jacob Riis, and Weegee. Although the pictures were not commissioned by fashion magazines, their style and content continue to have a profound effect on photography in general and fashion photography specifically; many of these works could have been used as such in previous eras, as they display, in a way, the haute couture of their time. The sole crossover between the two exhibits is Sherman, which zeroes in on the debate over whether commercial photography is any less artful than "fine art" photography displayed in coffee table books, galleries, and museums.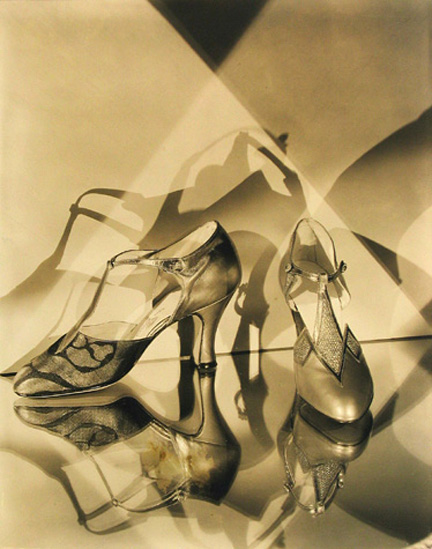 Condé Nast Archive / © Condé Nast Publications
Edward Steichen, "Evening shoes by Vida Moore," 1927

That question is put even further under the microscope downstairs at ICP with "Edward Steichen: In High Fashion, the Condé Nast Years, 1923-1937." Pictorialist photographer Edward Steichen angered his contemporaries when he took the job of chief photographer at Condé Nast, where he spent the next fourteen years taking fashion shots and celebrity portraiture for Vogue and Vanity Fair. A short film from 1937 shows Steichen's working process at Condé Nast, the product of which is revealed in 175 photographs of models in chic clothing, glowing shoes, and celebrity shots of Marlene Dietrich, Gary Cooper, Merle Oberon, Winston Churchill, Jack Dempsey, Gloria Swanson, Adolph Menjou, Amelia Earhart, and Man Ray, among many others. Steichen approached his fashion work much like his so-called artistic photography, with an ingenious sense of shadow and composition, resulting in beautiful, at times mesmerizing images even if their primary goal was to sell a dress or a pair of shoes. After leaving Condé Nast, Steichen became an Oscar-winning documentarian and the director of photography at MoMA.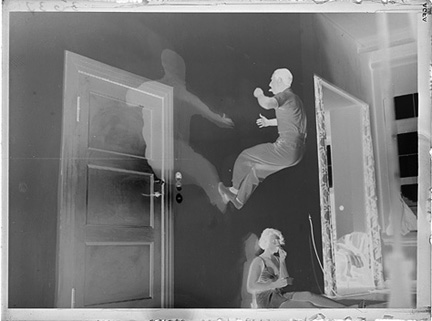 © Joan Munkacsi / courtesy ICP
Martin Munkacsi, [Tibor von Halmay and Vera Mahlke], ca. 1931 (negative)

Finally, in the back room downstairs, ICP is exhibiting "Munkacsi's Lost Archive," comprising vintage and modern prints and original negatives drawn from its recent acquisition of Hungarian photographer Martin Munkacsi's long-missing archive of glass plates. A poet and journalist, Munkacsi took a liking to sports coverage, in words and pictures. The display focuses on Munkacsi's extraordinary work for Harper's Bazaar from 1934 to 1942, where he changed the way women were photographed, shooting them in motion, depicting them as living, breathing, athletic figures and not merely mannequin-like models.
In the Thematic Neighborhood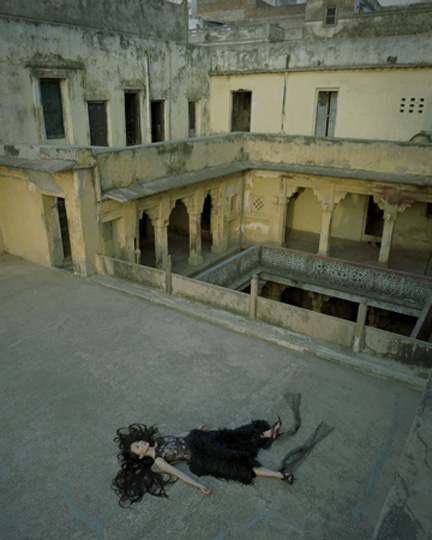 © 2007 by Izima Kaoru
Izima Kaoru, "Kimura Yoshino wears Alexander McQueen," C-print, 2007
IZIMA KAORU: NEW WORK
Von Lintel Gallery
555 West 25th St. between Tenth & Eleventh Aves.
Tuesday – Saturday through April 25
Admission: free
212-242-0599

For nearly fifteen years, Japanese photographer Izima Kaoru has been taking pictures of models living out death scenes, seen from multiple angles. The title of each series includes the name of the model as well as the name of the designer whose clothes she is wearing, a knowing nod to fashion photography, which often depicts women in violent situations. In the past, Izima's photographs have hinted at off-camera narratives that resulted in the violent death of beautiful women, echoing what is seen in film, real life — and layouts in the pages of popular fashion magazines. In 1995's "Hosokawa Fumie Wears Tiffany," the naked model, a sheet partially draped over her body, is holding the telephone receiver with one hand, the other one falling over the side of the bed. In 1997's "Tomita Yasuko Wears Prada," the model, clad in a blue dress, is lying facedown in low water. And in 2006's "Kuroki Meis Wears Gucci," the model, in an all-white outfit, lies on the ground, her right hand clasping a gun.

The implied violence, however, is not the center point of Izima's latest works, on view at the Von Lintel Gallery through April 25. In the three series, the models chose their own death scenes. In 2007's "Kimura Yoshino Wears Alexander McQueen," Yoshino lies on her back on a rooftop, staring up at the sky. She is seen in four photographs, from an intense close-up showing off her remarkably smooth skin to a long shot of an Indian seaside where she virtually disappears into the architecture. In 2007's "Karena Lam Wears Jean Paul Gaultier," Lam is lying idyllically in a green field in the Loire Valley, her pregnant belly rising up like the many white flowers surrounding her. Seen up close, she appears to be smiling, enjoying being part of nature, but her predicament becomes more ominous the farther away the camera goes. And in 2008's "Sakai Maki Wears Jill Sander," Maki is spread out in a room filled with yellow and white roses, her black hair, red dress, and blue shoes offering splashes of color. In one of the shots, just her head and torso are visible at the end of a narrow hallway, an anonymous figure in anonymous clothing lying dead in the distance. Individually, each photograph is beautiful; seen together, they tell a somewhat different story, filled with an enveloping peace despite their subject matter.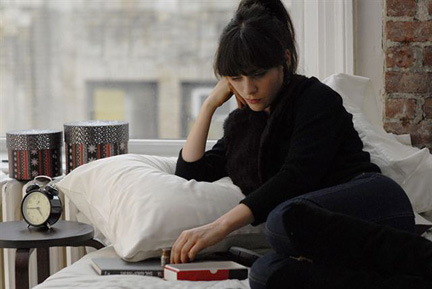 Zooey Deschanel (GIGANTIC) is waiting for some after-party action at film festival
GEN ART FILM FESTIVAL
The Visual Arts Theatre
333 West 23rd St. between Eighth & Ninth Aves.
Tickets: $40 (includes film screening and that night's after-party)
Full Festival Pass: $149
April 1-7
All parties include free sponsored drinks from 10:00 to midnight
http://www.genart.org/filmfestival
The folks at Gen Art know how to throw a film festival. The nonprofit group, which focuses on film, fashion, art, and music, is hosting its annual shindig with a week of indie screenings — none of which have been officially released yet — pairing a feature-length work with a short film at the Visual Arts Theatre on West 23rd St. Each night concludes with an after-party at a happening club with drinks, music, dancing, and more.
Wednesday, April 1 Opening Night: LYMELIFE (Derick Martini, 2008) and TRECE AÑOS (Topaz Adizes, 2009) followed by after-party at the Park, 118 Tenth Ave.
Thursday, April 2 GIGANTIC (Matt Aselton, 2008) and ADELAIDE (Liliana Greenfield-Sanders, 2009), followed by after-party at 1OAK, 453 West 17th St.

Friday, April 3 PETER AND VANDY (Jay DiPietro, 2009) and BRIDGE (Hillman Curtis, 2008), followed by after-party at Hudson Terrace, 621 West 46th St.
Saturday, April 4 MY SUICIDE (David Lee Miller, 2008) and ACTING FOR THE CAMERA (Justin Nowell, 2009), followed by after-party at Home, 532 West 27th St.
Sunday, April 5 PUNCHING THE CLOWN (Gregori Viens, 2009) and ASSHOLE (Chadd Harbold, 2009), followed by after-party at Antik/Marions, 356 Bowery
Monday, April 6 PICTURE ME: A MODEL'S DIARY (Ole Schell & Sara Ziff, 2008) and VEER! (Patrick Barry, 2009), followed by after-party at Greenhouse, 150 Varick St.
Tuesday, April 7 Closing Night: FINDING BLISS (Julie Davis, 2009) and BOOB (Honest, 2008), followed by after-party at BLVD, 199 Bowery
Lobby Gallery of the Week
© 2009 Milton Avery Trust / Artists Rights Society
Milton Avery, "Sun over Southern Lake," oil on canvas, 1951
PLACING AVERY: PAINTINGS AND PRINTS FROM THE COLLECTION OF THE NEUBERGER MUSEUM OF ART
UBS Gallery
1285 Sixth Ave. between 51st & 52nd Sts.
Monday – Friday 8:00 am – 6:00 pm through May 1
Admission: free
212-713-2885

Were the latest exhibition at the UBS Gallery in Midtown to consist merely of thirty-two oil paintings, lithographs, watercolors, and woodcuts by American artist Milton Avery (1885-1965), it would have provided a fascinating look into the longtime New Yorker's maturation as he melded American folk art and Impressionism with Abstract Expressionism and a forward-thinking European sensibility. But the UBS Gallery, in conjunction with Purchase College's Neuberger Museum of Art, has displayed Avery's marvelous canvases with those of his contemporaries, his influences, and his followers in a stirring collection that is a wonderland of form and color, tone and rhythm. Many of the grouped works had a direct impact on each other, recalling the epic conversations carried out by Henri Matisse and Pablo Picasso in paint. The bold, naturalistic colors in Avery's horizontal "Sun over Southern Lake," which depicts a lovely scene of a man and a woman between two trees at the edge of a lake, are matched almost exactly by Avery friend Mark Rothko's brash, vertical "Old Gold over White," comprising geometric rectangles on top of one another. Picasso's untitled pencil and gouache on paper Cubist drawing of a musician is echoed in Avery's "Cello Player in Blue." Avery's "Still Life with Derby," in which he places such standard still-life subjects as fruit and a plant on a small desk with an umbrella and a hat, is paired with Karl Knaths's "Moby Dick," a still life that includes a copy of Herman Melville's epic novel.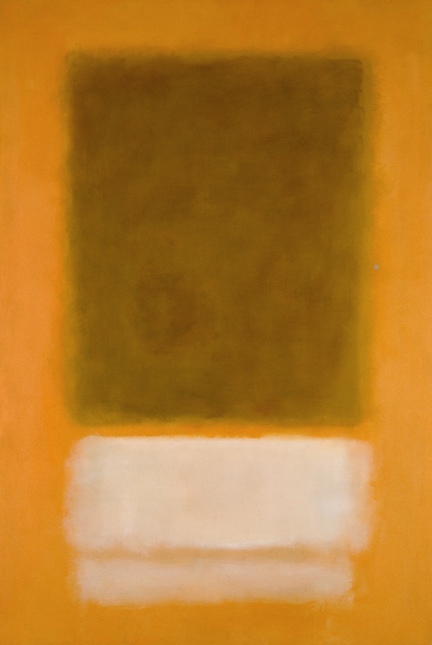 © 1998 Kate Rothko Prizel & Christopher Rothko / Artists Rights Society
Mark Rothko, "Old Gold over White," oil on canvas, 1956

Other exciting groupings include Avery's "Waterfall" with Marsden Hartley's "Granite by the Sea, Seguin Light, Georgetown," Avery's "Two Clowns" with Adolph Gottlieb's "Untitled (Circus Figures)" and Georges Rouault's "Untitled Pierrot," Avery's "Gray Sea" with Helen Frankenthaler's "Savage Breeze" and two watercolors by Hans Hoffman, and Avery's "Two Figures at Desk," in which Avery's signature can be seen on a painting within the painting, with Gottlieb's "Geometry of Hallucinations," signed by Gottlieb in an unusual place. Avery's works are also shown alongside canvases by William Baziotes, Albert Bierstadt, Thomas Cole, Alex Katz, Max Weber, and others. "I am not seeking pure abstraction," Avery wrote in 1951, "rather the purity and essence of the idea — expressed in its simplest form." All that and more is on display in this splendid exhibit.
In the Neighborhood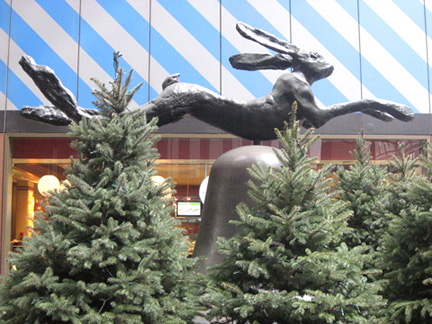 twi-ny/mdr
Flanagan statues are flanked by LewWitt wall drawings in Midtown open space
BARRY FLANAGAN / SOL LeWITT
Galleria
Sixth & Seventh Aves. between 51st & 52nd Sts.
Admission: free
British sculptor Barry Flanagan has a thing for Welsh rabbit. Actually Flanagan, who currently lives and works in Dublin, was born in North Wales, and he has spent much of the last thirty years casting bronze hares. In the outdoor galleria that connects 1285 Sixth Ave. with 787 Seventh Ave., Flanagan's "Hare on Bell" resides on the north side, with "Young Elephant" on the south side. In the former, a hare atop a bell seems poised to take off in a race, while in the latter, a hare dances on one leg on the head of an elephant, evoking the third stage of meditation. The statues, which seem to have jumped right out of the pages of a children's book (they didn't), are charming and playful, especially when seen against Sol LeWitt's specially commissioned "Wall Drawing: Bands of Lines in Four Colors and Four Directions, Separated by Gray Bands" (1984-85), rectangular works that feature diagonal horizontal, and vertical lines of red, yellow, blue, white, and gray lining the walls of the galleria and reaching high up. LeWitt, who was born in Connecticut in 1920 and died in 2007 in New York City, was a leader in the field of Minimalist, Conceptual art; "Sol LeWitt: A Wall Drawing Retrospective," which opened at MASS MoCA in November 2008, will be on view there for twenty-five years.
Brooklyn Film Festival of the Week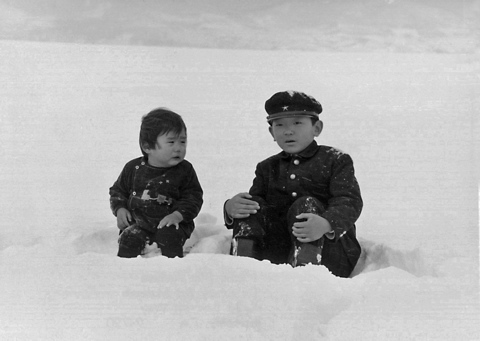 Nagisa Oshima's BOY was based on a true story
THE CRUEL STORIES OF NAGISA OSHIMA
BAMcinematek, BAM Rose Cinemas
30 Lafayette Ave. between Ashland Pl. & St. Felix St.
April 1–14
718-636-4100
BAMcinématek is honoring Nagisa Oshima on the fiftieth anniversary of his film career with two weeks of screenings of some of the iconoclastic, eclectic, controversial filmmaker's most fascinating works. His films boldly deal with politics, sexuality, and social protest, made under the studio system and independently. Shortly before making his first film, Oshima wrote, "The modernists are at a crossroads. One road would lead to gradual degeneration of their innovations in form into mere entertainment, bringing about their surrender to the premodern elements that are subconsciously included in the content of their films. In that case, they would simply live out their lives as mediocre technical artists. Another road requires them to exert all of their critical spirit and powers of expression in a persistent struggle that strongly and effectively pits the content of their works against the premodern elements of Japanese society." For the next forty years, Oshima followed that theory. After suffering a stroke in 1996, he made his last film, the erotic TABOO, in 1999.
Wednesday, April 1 THE SUN'S BURIAL (TAIYO NO HAKABA) (Nagisa Oshima, 1960), 4:30, 6:50, 9:15
Thursday, April 2 NIGHT AND FOG IN JAPAN (NIHON NO YORU TO KIRI) (Nagisa Oshima, 1960), 4:30, 6:50, 9:15
Friday, April 3 DEATH BY HANGING (KOSHIKEI) (Nagisa Oshima, 1968), 2:00, 4:30, 6:50, 9:15
Saturday, April 4 PLEASURES OF THE FLESH (ETSURAKU) (Nagisa Oshima, 1965), 2:00, 4:30, 6:50, 9:15
Sunday, April 5 BOY (SHONEN) (Nagisa Oshima, 1969), 2:00, 4:30, 6:50, 9:15
Monday, April 6 THE CEREMONY (GISHIKI) (Nagisa Oshima, 1971), 6:00, 9:00
Tuesday, April 7 THREE RESURRECTED DRUNKARDS (KAETTEKITA YOPPARAI) (Nagisa Oshima, 1968), 4:30, 6:50, 9:15
Wednesday, April 8 SING A SONG OF SEX (NIHON SHUNKA-KO) (Nagisa Oshima, 1967), 4:30, 6:50, 9:15
Thursday, April 9 DIARY OF A SHINJUKU THIEF (SHINJIKU DOROBO NIKKI) (Nagisa Oshima, 1968), 4:30, 6:50, 9:15
Friday, April 10 CRUEL STORY OF YOUTH (SEISHUN ZANKOKU MONOGATARI) (Nagisa Oshima, 1965), 2:00, 4:30, 6:50, 9:15
Saturday, April 11 VIOLENCE AT NOON (HAKUCHU NO TORIMA) (Nagisa Oshima, 1966), 2:00, 4:30, 6:50, 9:15
Sunday, April 12 JAPANESE SUMMER: DOUBLE SUICIDE (NIGHT OF THE KILLER) (MURISHINJU: NIHON NO NATSU) (Nagisa Oshima, 1967), 2:00, 4:30, 6:50, 9:15
JAPANESE SUMMER: DOUBLE SUICIDE (NIGHT OF THE KILLER) (MURISHINJU: NIHON NO NATSU) (Nagisa Oshma, 1967)

Radical filmmaker Nagisa Oshima reimagines the Japanese theme of shinju, or double suicide, in the darkly comic black-and-white noir JAPANESE SUMMER: DOUBLE SUICIDE, which is garnering critical adulation as it tours the country in a new print as part of an Oshima festival that comes to BAM this month. Nejiko is an eighteen-year-old woman who is wandering the seemingly post-apocalyptic streets looking for someone to sleep with. When she meets a man named Otoko right after a military brigade marches across a bridge, the two of them lie down on chalk outlines, immediately aligning sex with death, an obsession at the heart of the film, along with an unusual twist on "make love, not war." Otoko, who is anticipating dying by being shot while looking his killer in the eye, and Nejiko soon find themselves held captive in a dank room with a group of would-be killers waiting to be called into action by a yakuza gang readying for a major anarchistic firefight. Each man has his own story, his own choice of weapon, his own theory on death — and Nejiko is fine sleeping with any one of them. But they seem more interested in television and toys (guns) than in the voluptuous young woman, whose frustration is mounting. The claustrophobic scenes in the room are both compelling and confusing, an intense, stagy drama reminiscent of Pirandello's SIX CHARACTERS IN SEARCH OF AN AUTHOR as well as Rod Serling's TWILIGHT ZONE episode "Five Characters in Search of an Exit" as seen through lens of Bergman, Fellini, and Godard. The violent ending puts a capper on a unique and powerful cinematic experience.
Monday, April 13 THE MAN WHO LEFT HIS WILL ON FILM (TOKYO-SENSE SENGO HIWA) (Nagisa Oshima, 1970), 4:30, 6:50, 9:15
Tuesday, April 14 GOHATTO (TABOO) (Nagisa Oshima, 2000), 4:30, 6:50, 9:15
French Film Festivals of the Week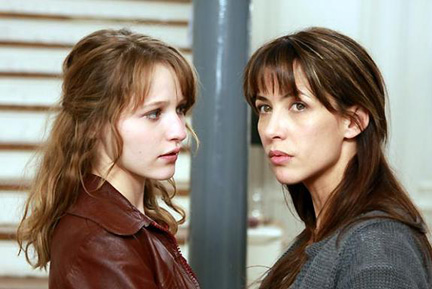 Sophie Marceau (right) is guest of honor at Purchase festival
FOCUS ON FRENCH CINEMA
Performing Arts Center, Purchase College
735 Anderson Hill Rd.
Individual tickets: $10
Festival Pass $60, VIP Pass $100
203-629-3644
http://www.focusonfrenchcinema.com
Purchase College, in association with the Alliance Française of Greenwich, celebrates the fifth anniversary of its Focus on French Cinema series with a weekend of some of the best recent films to come out of France. The festival kicks off with Palme d'Or winner THE CLASS and continues with works featuring such stars as Nathalie Baye, Julie Depardieu, François Cluzet, and Michel Blanc. This year's special guest is Sophie Marceau, who will participate in several postscreening Q&As, a roundtable discussion, and a gala dinner at Jean Louis.
Friday, April 3 ENTRE LES MURS (THE CLASS) (Laurent Cantet, 2008), introduced by Anne Kern, 11:00 am
Friday, April 3 Opening night gala with Sophie Marceau: LOL (LAUGHING OUT LOUD) (Lisa Azuelos), introduced by David Schwartz and followed by a Q&A with Sophie Marceau and gala buffet dinner, $95, 7:15
Saturday, April 4 Meet with the Directors and Actors Breakfast: roundtable discussion with Christian Bujeau, Patrick Gimenez, Christophe Lambert, Sophie Marceau, Jean-Michel Ribes, Iris Cahn, and Soyoung Yoon, moderated by Ronnie Scharfman, Upper Lobby of the Performing Arts Center, free, 10:30 am
Saturday, April 4 PASSE-PASSE (OFF AND RUNNING) (Tonie Marshall), with introduced by Ronnie Scharfman, 12 noon
Saturday, April 4 LE CRIME EST NOTRE AFFAIRE (PARTNERS IN CRIME) (Pascal Thomas), introduced by Lindy Leong, 2:30
Saturday, April 4 LES FEMMES DE L'OMBRE (FEMALE AGENTS) (Jean-Paul Salomé), introduced by Carolina Sanin and followed by a Q&A with Sophie Marceau, 5:00
Saturday, April 4 LES LIENS DU SANG (RIVALS) (Jacques Maillot) introduced by and discussion with Augustin Zarzosa, 7:30
Sunday, April 5 MAGIQUE (MAGIC) (Philippe Muyl), introduced by Habiba Boumlik, 1:00
Sunday, April 5 ELDORADO (Bouli Lanners) and "DE SI PRES" (Rémi Durin), introduced by Yaelle Azagury, 3:00
Sunday, April 5 MUSEE HAUT, MUSEE BAS (THE DAY AT THE MUSEUM) (Jean-Michel Ribes), introduced by Philippa Wehle and followed by a Q&A with director Jean Michel Ribes, 5:15
Sunday, April 5 LA TRES TRES GRANDE ENTREPRISE (THE VERY, VERY BIG COMPANY) (Pierre Jolivet), introduced by Michelle Stewart, 7:30
© Catherine Faux NYC 1977
Jackie Raynal, seen here in New York in 1977, will be part of special retrospective
CINEMA ACCORDING TO JACKIE RAYNAL
French Institute Alliance Française
Florence Gould Hall
55 East 59th St. between Park & Madison Aves.
Tuesdays through April 28
Tickets: $10
212-307-4100
FIAF pays fitting tribute to Jackie Raynal as part of its CinémaTuesdays program with a month-long look at her diverse film career. The Sorbonne-educated Raynal edited such films as Eric Rohmer's LA CARRIERE DE SUZANNE and LA COLLECTIONNEUSE, Roland Petit's LE JEUNE HOMME ET LA MORT, Jules Dassin's REHEARSAL, and two parts of 1965's PARIS VU PAR… She's directed NEW YORK STORY, HOTEL NEW YORK, and documentaries about Merce Cunningham, Jacques Baratier, and Jonas Mekas. A true cinéaste, she also served as film curator at the much-lamented Bleecker Street Cinema and Carnegie Hall Cinema in New York City from 1977 to 1992. Raynal will be back in New York for this exciting series, presenting several of the Tuesday-night screenings with special guests.
Tuesday, April 7 SIX IN PARIS (PARIS VU PAR…): Eric Rohmer's PLACE DE L'ETOILE and Jean Rouch's GARE DU NORD and THE COLLECTOR (LA COLLECTIONNEUSE) (Eric Rohmer, 1967), 12:30, 4:00 & 7:30, 7:30 screening presented by Jackie Raynal and Bruce Goldstein
Tuesday, April 14 LACOMBE LUCIEN (Louis Malle, 1974), 12:30 & 7:30, 7:30 screening presented by Jackie Raynal and Sam Di Iorio
Tuesday, April 14 JOE'S BED-STUY BARBERSHOP: WE CUT HEADS (Spike Lee, 1983), 4:00
Tuesday, April 21 AUTOUR DE JACQUES BARATIER (Jackie Raynal, 2003) and SWEET AND SOUR (DRAGÉES AU POIVRE) (Jacques Baratier, 1963), 12:30, 4:00 & 7:30, 7:30 screening presented by Jackie Raynal and Kent Jones
Tuesday, April 28 HOTEL NEW YORK (Jackie Raynal, 1984) and ERIC ROHMER'S INTERVIEW (ENTRETIEN AVEC ERIC ROHMER) (Jackie Raynal, 2009), 12:30 & 7:30, 7:30 screening presented by Jackie Raynal and Jonathan Rosenbaum
Tuesday, April 28 HOTEL NEW YORK (Jackie Raynal, 1984) and GOUGNETTE (Jackie Raynal, 2009), 4:00
Hotel of the Week
The Chelsea Hotel is subject of new film series at Anthology
CHELSEA HOTEL ON FILM
Anthology Film Archives
32 Second Ave. at Second St.
April 9-12
212-505-5181
http://www.anthologyfilmarchives.org
Anthology pays tribute to the great Chelsea Hotel with four days of films that were made either inside the legendary location or by people who lived there. The series includes a newly discovered short film by Harry Smith, Alex Cox's mind-blowing SID AND NANCY, Andy Warhol's seminal underground double-screen odyssey THE CHELSEA GIRLS, and a trio of documentaries that examine the history — and embattled future — of the hotel. The oldest film being shown is 1948's LOUISIANA STORY, by hotel residents Robert Flaherty (director), Ricky Leacock (cinematographer), and Virgil Thomson (composer), for which Thomson won the Pulitzer Prize. And Shirley Clarke, who lived in the penthouse in her later years — and who is getting her own retrospective at Anthology later this month — is represented by three shorts, which will be screened with bonus footage compiled by Jonas Mekas. Thankfully, Anthology has spared us the debacle that is CHELSEA WALLS, Ethan Hawke's 2001 directorial debut.
Thursday, April 9, 7:15
and
Saturday, April 10, 9:15 SID AND NANCY (Alex Cox, 1986)
Thursday, April 9 Shirley Clarke Program: TEEPEE VIDEO SPACE TROUPE: THE EARLY YEARS (Shirley Clarke, 1971, SAVAGE/LOVE (Shirley Clarke, 1981), and TONGUES (Shirley Clarke, 1982), 9:30
Saturday, April 10, 7:00
Sunday, April 11, 5:30
and
Monday, April 12, 9:00 FILM #23 (Harry Smith, ca. 1980s), VIDEO VISIT: HARRY SMITH, ROOM #705, CHELSEA HOTEL 1971 (Michael Auder, 1971/2009), and other bonus footage of Smith
Sunday, April 11, 3:00 THE CHELSEA (Doris Chase, 1993), BLOGGING FROM BOHEMIA (Michael Maher, 2007), and AN INTERVIEW WITH STANLEY BARD (Ed Hamilton & Sam Bassett, 2008)
Sunday, April 11, 7:45
and
Monday, April 12, 5:00 THE CHELSEA GIRLS (Andy Warhol, 1993)
Monday, April 12 LOUISIANA STORY (Robert Flaherty, 1948), introduced by Sherill Tippins, 3:00
In the Thematic Neighborhood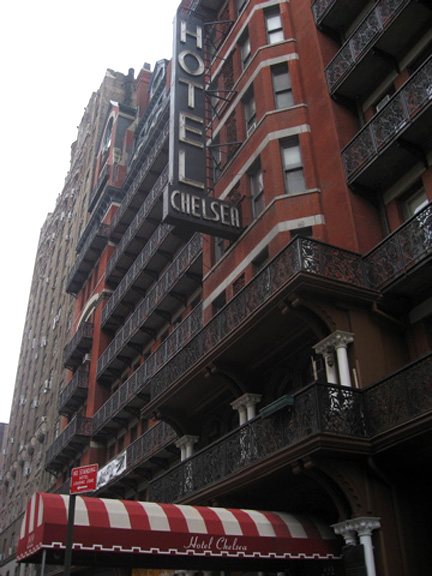 twi-ny/mdr
The Chelsea Hotel is subject of new film series at Anthology
CHELSEA HOTEL
222 West 14th St. between Seventh & Eighth Aves.
Rates: $109-$299 per night
212-243-3700
Built in 1883, the redbrick structure at 222 West 14th St. was turned into a hotel in 1905, after which it has become the stuff of legend. For more than a hundred years, the Hotel Chelsea, known familiarly as the Chelsea Hotel, has been home to a multitude of artists, writers, and thinkers. Dylan Thomas died here in 1953; Nancy Spungen was murdered here in 1978, perhaps by her lover, Sid Vicious. Just outside the entrance are plaques to former residents Thomas ("Who lived and labored last here at the Chelsea Hotel and from here sailed out to die"), Thomas Wolfe, Brendan Behan, James Schuyler, Arthur Miller (who wrote AFTER THE FALL and THE PRICE while staying at the hotel from 1962 to 1968), longtime denizen Virgil Thomson (the film composer who won the Pulitzer Prize for LOUISIANA STORY, written during his fifty-year stay at the hotel), Sir Arthur C. Clarke (who wrote 2001: A SPACE ODYSSEY inside these hallowed halls), and Shirley Clarke. The cluttered lobby features a host of artwork, including Donald Baechler's "Drooping Flowers in Vase," Larry Rivers's "Dutch Masters," Roy Carruthers's "Chelsea Dogs," and Rene Shapshak's bust of President Harry S. Truman, commissioned by the U.S. Congress. Around the corner by the elevator are two old metal phone booths in which you can enter and close the doors for privacy; they are surrounded by puppets and other oddities on the walls and ceiling. We once worked for a company that was born in the Chelsea Hotel; no matter how tenuous, it is a link that has always made us more than the slightest bit proud.
Riff's Rants & Raves: Film
Zeitgeist Films
Un Certain Regard winner at Cannes opens at Film Forum April 1
TULPAN (Sergey Dvortsevoy, 2008)
Film Forum
209 West Houston St. between Sixth & Seventh Aves.
April 1-14
212-727-8110

Critics darling TULPAN has won prestigious festival awards in Cannes, London, Zurich, Karlovy Vary, Tokyo, India, Reykjavic, and Montreal, was selected for the 2008 New York Film Festival, and now is having a two-week limited engagement at Film Forum. The first feature-length narrative by Sergey Dvortsevoy (who was previously hailed for such short documentaries as HIGHWAY and PARADISE), TULPAN is shot in the vast, empty landscape of the Hunger Steppe in southern Kazakhstan, where a former sailor, Asa (Askhat Kuchinchirekov), is living with his sister, Samal (Samal Yeslyamova), her ornery shepherd husband, Ondas (Ondasyn Besikbasov), and their three young children. Ondas is trying to marry Asa off to the last young woman in the territory, Tulpan, but her rude parents want no part of the sailor — and Tulpan, who is hiding behind a curtain, supposedly has a problem with the size of Asa's ears. An extremely disappointed Asa returns to the family yurt, determined to win Tulpan's heart with the help of his best friend, the gold-toothed Boni (Tulepbergen Baisakalov). Meanwhile, Ondas can't wait to get rid of Asa, whom he believes to be a lazy good-for-nothing taking advantage of Samal's kindness and generosity. With lambs being born dead and the health of the flock in jeopardy, tempers begin to flare as the future seems as desolate as the dusty steppes that surround the nomadic family. TULPAN, beautifully shot by Jola Dylewska, is a wonderfully engaging slice-of-life drama in which traditions battle modernity and loneliness is everywhere — even in a mother camel concerned when a vet shows up to try to take away her ailing offspring in what turns out to be one of the funniest scenes of the year. The kids are a riot as well; daughter Nuka (Nurzhigit Zhapabayev) can't stop singing loudly, son Beke (Bereke Turganbayev) can recite the news from the radio verbatim while picking blackheads off his father's back, and baby Maha (Mahabbat Turganbayeva) just wanders around, as cute as can be. TULPAN is a special little treat.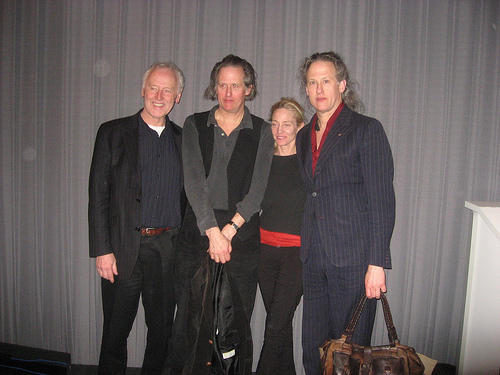 twi-ny/mdr
The Brothers Quay (Stephen, second from left, Timothy, far right) made rare, special appearance at SVA on April 2
ART IN THE FIRST PERSON: THE PHARMACIST'S PRESCRIPTION FOR LIP-READING PUPPETS
School of Visual Arts, Visual Arts Theater
333 West 23rd St.
Thursday, April 2, free, 6:30
212-592-2010
On April 2, the Brothers Quay made an extremely rare appearance at the Visual Arts Theatre on West 23rd St. While the so-fine and fashionable hipsters were there for the second night of the Gen Art Film Festival, those in the know packed the SVA theater, a mixed bag of students, teachers, aspiring filmmakers, and fans of Philly-born, London-based identical twins Stephen and Timothy Quay. Over the course of nearly two hours, the Quays discussed tidbits of their history, working process, and influences, being careful to never give away too much and to shrug off questions they didn't feel like answering, albeit doing so with charm and humor; the lively discussion was moderated by SVA faculty member and Quay Brothers friend Thyrza Goodeve. The brothers brought along clips from several of their films — screening "In Absentia" in its entirety — as well as commercials for Slurpees and other products that have never been shown in the United States. In fact, the brothers are rarely in the States themselves, but they were in Pittsburgh for the opening of an exhibition of their set designs — which will come to Parsons this summer — and the School of Visual Arts was able to entice the stop-motion animation masters ("Street of Crocodiles," INSTITUTE BENJAMENTA, OR THIS DREAM PEOPLE CALL HUMAN LIFE) to come up to New York for this very special, exclusive event. When we asked them what they thought of being back in the city where they met no success nearly thirty years ago, Stephen replied quickly, "Still intimidating."
James and Em are looking for love in all the wrong places
ADVENTURELAND (Greg Mottola, 2009)
Opens Friday, April 3
http://adventurelandthefilm.com

When we were kids, it was always a treat when our parents packed us in the car and took us to Adventureland, a small amusement park in Farmingdale, Long Island. It wasn't quite the same treat for writer-director Greg Mottola, who documents one summer he spent working as a carny there in the sweet coming-of-age comedy ADVENTURELAND. Jesse Eisenberg stars as Mottola's alter ego, James Brennan, a college grad in 1987 who is planning on traveling through Europe before starting grad school at Columbia — until his parents take a serious financial hit, forcing him to spend the summer working at the local amusement park in Pittsburgh called Adventureland. (Mottola had wanted to shoot the film in the actual Long Island location but found that the current state of Adventureland was too upscale compared to the one he remembers, so he found a more suitable cinematic park.) James is a hyperintellectual virgin who is waiting for true love, and he thinks he might have found it in fellow carny Em Lewin (Kristen Stewart). However, he doesn't know that Em is also a booty call for the older Mike Connell (Ryan Reynolds), the hot maintenance man whose legendary claim to fame is that he once jammed with Lou Reed. Meanwhile, the amusement park's hot-to-trot Lisa P. (Margarita Levieva) has returned, and she might be considering trying out a nice guy like James instead of her usual tough dudes.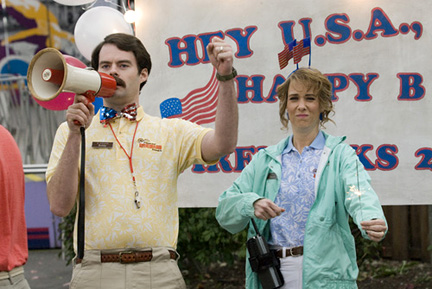 Bill Hader and Kristen Wiig run things at low-rent amusement park

ADVENTURELAND is a very funny, emotionally honest look at growing up faster than one imagined, filled with believable characters and situations in a genre that is often wrought with hyperbole. (Mottola is another member of Judd Apatow's inner circle, having directed episodes of the underrated UNDECLARED and directed and cowrote, with Seth Rogen, the overrated SUPERBAD; prior to that, he wrote and directed the overrated 1999 indie hit THE DAYTRIPPERS, which stars Liev Schreiber, Parker Posey, and Stanley Tucci.) Eisenberg (THE SQUID AND THE WHALE) and Stewart (INTO THE WILD) are magnetic together, conveying their parts with heartfelt emotion; although Eisenberg is seven years older than Stewart in real life — she was born in 1990, after the film takes place — Stewart displays an intelligence beyond her years. The excellent supporting cast features SNL's Bill Hader and Kristen Wiig as the park's crazy owners; FREAKS & GEEKS' Martin Starr as James's best friend, the Russian-lit-obsessed, pipe-smoking Joel; and Matt Bush as Frigo, who never misses a chance to punch James in the nuts. Mottola sets his compelling story to an awesome soundtrack that includes killer tunes by the Replacements, Husker Du, Big Star, the Cure, Judas Priest, and plenty of Lou Reed and the Velvet Underground (as well as a Foreigner tribute band and Falco's "Rock Me Amadeus"). ADVENTURELAND could just be the JUNO of 2009.
R. W. Goodwin's 1950s throwback is a hoot
ALIEN TRESPASS (R. W. Goodwin, 2008)
Opens Friday, April 3

X-FILES veteran R. W. Goodwin pays homage to such 1950s sci-fi fare as IT CAME FROM OUTER SPACE, THE BLOB, THE THING FROM ANOTHER WORLD, INVASION OF THE BODY SNATCHERS, THE DAY THE EARTH STOOD STILL, and other genre favorites with ALIEN TRESPASS, a fun frolic that hearkens back to a much more innocent era. Eric McCormack stars as straitlaced scientist Ted Lewis, who would rather look through his telescope than be ravished by his sexpot wife, Lana (Jody Thompson) — but she can't love him enough anyway. When a spaceship crashes in the mountains, Ted's body is taken over by the alien Urp, who is trying to recapture an escaped monster named Ghota (who looks oddly like BOB in the new MONSTERS VS. ALIENS animated flick) with the help of local waitress Tammy (Jenni Baird), who has dreams of a better life somewhere else. Meanwhile, tough teen Cody (Aaron Brooks) and young lovers Penny (Sarah Smyth) and Dick (Andrew Dunbar) can't convince Officer Vernon (Robert Patrick) and Chief Dawson (Dan Lauria), whose retirement is beckoning right around the corner, that a killer creature is on the loose. Goodwin and screenwriter Steven Fisher, along with cinematographer David Moxness and production designer Ian Thomas, get everything right; they consciously decided not to make a retro tribute movie but to make ALIEN TRESPASS as if it were indeed a 1950s film, with the same cold war sensibility, cheap special effects, cheesy acting, clichéd subplots, and bright, bold colors. Composers Louis Febre and Rob Schwimmer even include an eerie Theremin on the soundtrack. You don't have to be a 1950s sci-fi fan to enjoy ALIEN TRESPASS, although you will get a handful of inside jokes that will fly by the rest of the audience.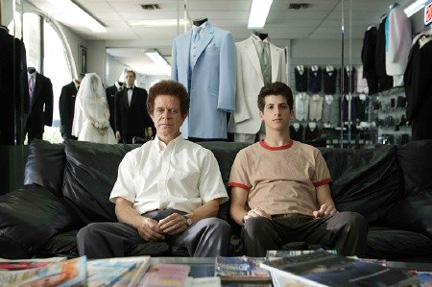 Father and son have relationship problems in BART GOT A ROOM
BART GOT A ROOM (Brian Hecker, 2008)
Opens Friday, April 3

Brian Hecker, an American Film Institute MFA grad whose thesis film, FAMILY ATTRACTION, was a big success about ten years ago, makes his feature-film writing and directing debut with the mediocre comedy BART GOT A ROOM, which screened at the 2008 Tribeca Film Festival. Danny Stein (Steven Kaplan) is desperate to get a date for the prom, especially after finding out that the school nerd, Bart (Chad Jamian Williams), not only has a date but also has a hotel room for the night. Saving his longtime best friend, Camille (Alia Shawkat), for his last chance, Danny tries a series of girls, none of whom works out. Meanwhile, as Danny mourns his loneliness and is terrified of going to the prom alone, his divorced parents, Ernie (William H. Macy) and Beth (Cheryl Hines) — both of whom have awesome hairstyles, the best thing about the movie — are trying to get on with their own separate lives, with Beth dating the happy-go-lucky Bob (Jon Polito) while Ernie turns to the Internet for romance. BART GOT A ROOM is filled with lackluster characters, lackluster plot twists, and lackluster jokes — basically, it's a lackluster film that never really gets going and ends rather ludicrously.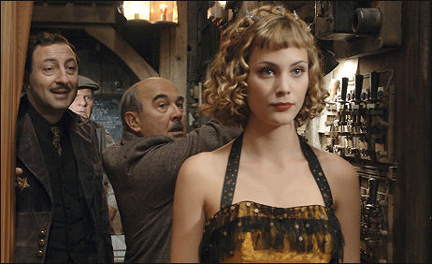 PARIS 36 has grand plans that never quite work out
PARIS 36 / FAUBOURG 36 (Christophe Barratier, 2008)
Union Square Stadium 14
850 Broadway at Fourteenth St.
Opens Friday, April 3
http://www.sonyclassics.com/paris36

The opening night film at Lincoln Center's annual "Rendez-vous with French Cinema" in February, PARIS 36 is a disappointing kitchen-sink melodrama that, despite a promising beginning, quickly devolves into tedium. When the owner of the Chansonia, the local vaudeville theater, can't make his payments, small-time gangster Galapiat (Bernard-Pierre Donnadieu) takes over the building, with plans to sell it to the highest bidder. But the sweet, lovable Pigoil (Gérard Jugnot), whose wife walked out on him and took their accordion-playing son (Maxence Perrin) with her, is not about to let the theater where he's served as stage manager for more than three decades leave him as well, so he suddenly decides to occupy the building, with the support of would-be comedian Jacky (Kad Merad) and workers rights activist, tough guy, and ladies' man Milou (Clovis Cornillac). The three men need a star, and they might just have found one in the young and innocent Duce (Nora Arnezeder), whom Galapiat has taken under his rather large wing. Meanwhile, Fascism is spreading through parts of Europe as the Popular Front wins the election in France. Although it aspires to be much more, PARIS 36 is essentially one of those clichéd tales of a bunch of people thinking they can save the world — or at least their microcosmic place in it — by putting on a show. Hey, it always worked for the Little Rascals. Throw in the mob, the Nazis, unionizing, cheating spouses, old-fashioned romance, a star being born, and some fast carpentry and you have a little of everything but not enough of something.
© Shochiku Co., Ltd.
Michiyo Aratama and Tatsuya Nakadai hope that love trumps all in antiwar epic
THE HUMAN CONDITION (Masaki Kobayashi, 1959-61)
Film Forum
209 West Houston St. between Sixth & Seventh Aves.
April 8-16
212-727-8110

Masako Kobayashi's ten-hour epic, THE HUMAN CONDITION, based on a popular novel by Jumpei Gomikawa, is one of the most stunning achievements ever captured on film. Shot over the course of three years, the film follows one man's harrowing struggle to never give up his humanity as he is dragged deeper and deeper into the morass of WWII. Tatsuya Nakadai is remarkable as Kaji, a man who believes in common decency, personal discipline, and, over all, that humanity will always triumph. In the first part, NO GREATER LOVE, the steadfastly practical Kaji is hesitant to marry his sweetheart, Michiko (Michiyo Aratama), for fear that he will be called to serve in the Japanese army and might not come back to her alive. But when his detailed plan to treat workers fairly is accepted by the government, he is made labor supervisor of a mine in far-off Southern Manchuria, where hundreds of Chinese prisoners are brought in as well — and regularly starved, beaten, and, on occasion, brutally killed in cold blood. Kaji's methods, which have close ties to communism, leading many to refer to him as a "Red," anger both sides — the Japanese want to treat the workers like animals, and the Chinese prisoners don't trust that he has their welfare in mind. A series of escape attempts threatens the stability of the labor camp and comes between Kaji and Michiko, whose undying love is echoed in the yearning, unfulfilled desire between a Korean prisoner and a Japanese prostitute. Broken promises, lies, and betrayal reach a tense conclusion that sets the stage for the second part of Kobayashi's masterpiece. SPOILER ALERT: Do not read on if you don't want to know what happens next in parts II & III!
© Shochiku Co., Ltd.
Kaji has to fight to find the humanity in the world

In ROAD TO ETERNITY, Kaji has been drafted into the Kwantung Army, going through basic training in preparation for battle. Kaji hopes to find some semblance of humanity in the army, but the superiors are constantly slapping and hitting the recruits, punishing them in brutal ways. When Michiko suddenly shows up, Kaji suffers harassment as it is being decided whether he will be allowed to spend the night with her. With the Soviets on the march, a firefight beckons, but the Japanese troops are woefully short on weapons and ammunition — and confidence, with rumors of Japan's demise rampant. The epic concludes with the powerful, emotional A SOLDIER'S PRAYER. Kaji is determined to make it back to Michiko, even if it means desertion, but a long, dangerous trip awaits him and he is dangerously low on supplies. He is trying desperately to hang on to his dignity and humanity, but it becomes more and more difficult as the weather worsens, hopelessly lost people join him through the forest, and food is nowhere in sight.
THE HUMAN CONDITION, which has had a profound influence on such filmmakers as Stanley Kubrick, Steven Spielberg, Andrei Tarkovsky, and so many others, might take place during WWII, with Japan fighting for the Axis powers while also immersed in the Second Sino-Japanese War, but its story about man's inhumanity to man is timeless. At its core, it's not about Fascism, socialism, democracy, and ethnocentricity but humankind's need for love and truth. Kaji and Michiko represent everyman and everywoman, separated by a cruel, cold world. Kobayashi provides no answers — the future he envisions is bleak indeed. At Film Forum last year for a tribute to his career, Nakadai talked about how brutal the making of THE HUMAN CONDITION was — it is also brutal to sit through, but it is a landmark work that must be seen. It has also had a profound effect on the world of cinema itself, influencing such directors as Stanley Kubrick, Steven Spielberg, Francis Ford Coppola, and so many others. Back by popular demand, THE HUMAN CONDITION will run for nine days, with a separate admission for each section. We strongly advise going on April 11, 12, and 16, when all three films will be shown in marathon screenings starting at 12 noon and continuing through 11:00.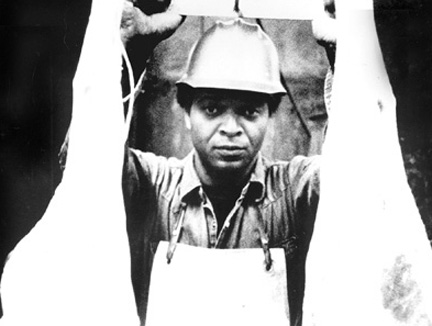 KILLER OF SHEEP (Charles Burnett, 1977)
La Guardia Performing Arts Center
31-10 Thomson Ave., Long Island City
Friday, April 13, $10, 7:00
718-777-6810

Milestone Films celebrated the thirtieth anniversary of Charles Burnett's low-budget feature-length debut, KILLER OF SHEEP, recently with a new 35mm restoration with the soundtrack intact; the film had not been available on VHS or DVD for decades because of music rights problems that were finally cleared, and it had never before been released theatrically. (The soundtrack includes such seminal black artists as Etta James, Dinah Washington, Little Walter, and Paul Robeson.) Shot on weekends for less than $10,000, KILLER OF SHEEP took four years to put together and another four years to get noticed, when it won the FIPRESCI Prize at the 1981 Berlin Film Festival. Reminiscent of the work of Jean Renoir and the Italian neo-Realists, KILLER OF SHEEP is a simple story about a family just trying to get by, struggling to survive in their tough Watts neighborhood in the mid-1970s. The slice-of-life scenes are sometimes very funny, sometimes scary, but always poignant, as Stan (Henry Gayle Sanders) trudges to his dirty job in a slaughterhouse in order to provide for his wife (Kaycee Moore) and children (Jack Drummond and Angela Burnett). Every day he is faced with new choices, from participating in a murder to buying a used car engine, but he takes it all in stride. The motley cast of characters, including Charles Bracy and Eugene Cherry, is primarily made up of nonprofessional actors with a limited range of talent, but that is all part of what makes it all feel so real. KILLER OF SHEEP was added to the National Film Registry of the Library of Congress in 1989, the second year of the program, making it among the first fifty to be selected, in the same group as REBEL WITHOUT A CAUSE, THE GODFATHER, DUCK SOUP, ALL ABOUT EVE, and IT'S A WONDERFUL LIFE.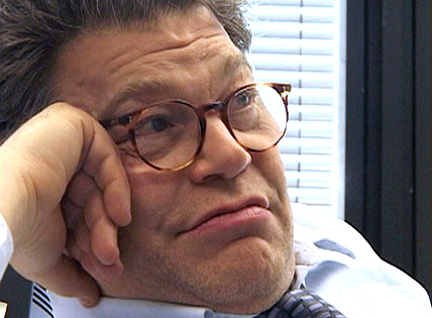 Al Franken is still waiting for word on high as to his future in politics
AL FRANKEN: G-D SPOKE (Nick Doob & Chris Hegedus, 2006)
IFC Center
323 Sixth Ave. at Waverly Pl., Manhattan
Tuesday, April 14, 8:00
212-924-7771

Directors Nick Doob and Chris Hegedus and documentary master / executive producer D. A. Pennebaker (DON'T LOOK BACK, THE WAR ROOM) tured their cameras on Al Franken a few years back as the comedian/political pundit went out on tour in support of his bestselling book LIES AND THE LYING LIARS WHO TELL THEM. They followed him through signings, lectures, television appearances, the start-up of the liberal radio station Air America, and the 2004 Republican National Convention as Franken brought his message to the American people, demanding that they see that the GOP and their media mouthpieces are liars who suckered the country into an unnecessary war. Along the way Franken took on Sean Hannity, Ann Coulter, Michael Medved, Henry Kissinger, Brit Hume, Rush Limbaugh, William Safire, Karen Hughes, and his arch-nemesis, Bill O'Reilly, who referred to the SATURDAY NIGHT LIVE veteran as a "vile human being." Franken also met with such friends and supporters as Michael Moore, Al Gore, Walter F. Mondale, Robert F. Kennedy Jr., and the late Paul Wellstone.
Franken is an entertaining fellow, laughing his way through some very serious territory, trying to make a difference in the world, but he is essentially preaching to the converted; we can't imagine any conservatives coming out to see this treatise, which is all over the place, a jumble of humorous scenes (including SNL clips) that don't form a cohesive narrative. Franken gave the filmmakers full access, so it's a riot seeing him waking up in the morning with severe bed-head, hanging out with his wife and a pair of hot models, and talking lovingly about how much he learned from his father. G-D SPOKE primarily served as a way for Franken to test the political arena as he considered running for a Minnesota Senate seat against incumbent Norm Coleman — a seat he did indeed run for and is still in debate nearly five months after the election — so, depending on how you feel about the New York Jewish comedian, you'll either be entertained or enraged by these unfocused ninety minutes about a true mensch. The film is being screened at the IFC Center on April 14 as part of the Stranger than Fiction: Documentary Tuesdays series; Thom Powers will introduce the film, and directors Doob and Hegedus will participate in a postscreening Q&A.
In Theaters Now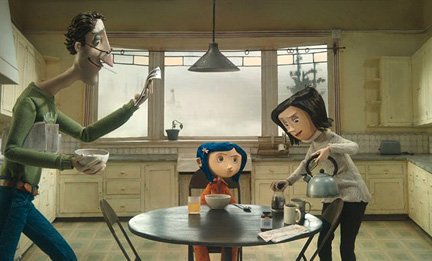 Coraline spends some quality time with her real parents in 3-D fantasy
CORALINE (Henry Selick, 2009)
Regal E-Walk 13
247 West 42nd St. between Seventh & Eighth Aves.

Coraline Jones (voiced by Dakota Fanning) is an adventurous eleven-year-old in search of some fun and excitement in her new creaky home in Oregon. She finds just what she thinks she was looking for when a rodent introduces her to a hidden passageway that leads to an alternate universe, where replicas of her parents (Teri Hatcher and John Hodgman) are more interested in her and give her whatever she wants. However, this button-eyed Other Mother and Other Father have other plans for her and her real family as well. Written and directed by Henry Selick, CORALINE lacks the frantic, nonstop energy of his breakthrough film, TIM BURTON'S THE NIGHTMARE BEFORE CHRISTMAS, but it is still a fun, creepy trip down the Narnia-esque rabbit hole. Combining his trademark stop-motion animation (JAMES AND THE GIANT PEACH) with breathtaking stereoscopic 3-D that adds remarkable depth to the images, Selick does a marvelous job bringing to life the popular children's novel by Newbery Medal-winning author Neil Gaiman (SANDMAN), who wrote the book for his young daughters. (Full disclosure: In another part of our life, we work for the company that publishes Gaiman's children's books, including CORALINE, although we promise that does not color our opinion of it.) The supporting cast of characters includes former music-hall divas Miss Spink and Miss Forcible (the ABSOLUTELY FABULOUS British comedy team of Jennifer Saunders and Dawn French), the wise Cat (Keith David), mouse circus leader Mr. Bobinsky (Ian McShane), and local boy Wybie Lovat (Robert Bailey Jr.), who was created specifically for the movie. Be sure to stick around for one last cool 3-D effect at the end of the credits.
Italian crime epic looks at Camorra syndicate in Naples
GOMORRAH (Matteo Garrone, 2008)
IFC Center
323 Sixth Ave. at West Third St.
212-924-7771

Winner of the Grand Prix at the 2008 Cannes Film Festival, GOMORRAH is a violent, intimate look at the modern-day Camorra crime syndicate in Naples and Caserta. Based on the nonfiction novel by investigative journalist Roberto Saviano — who has been living under police protection since the fall of 2006 — Matteo Garrone's epic follows five distinct yet interrelated stories set around a dilapidated concrete-block housing project, a sort of GODFATHER meets THE SOPRANOS filtered through Italian Neo-realism. Pasquale (Salvatore Cantalupo) is a tailor who considers sharing his secrets with a Chinese sweatshop to make some much-needed extra cash. Roberto (Carmine Paternoster) is having second thoughts training under Franco (Toni Servillo), who runs a toxic waste dumping business. Don Ciro (Gianfelice Imparato) has to deal with a delicate, difficult situation when Maria's (Italian singing star Maria Nazionale) young son joins the secessionists, a rival gang. Marco (Marco Macor) and Ciro (Ciro Petrone) are loose cannons who keep messing with the wrong people. And Totò (Salvatore Abruzzese) is a thirteen-year-old boy who is helping out the Camorra against his mother's wishes — and is soon faced with a life-changing decision. Beautifully shot by Marco Onorato and featuring a cast of primarily nonprofessional actors, GOMORRAH is a deeply involving crime drama, all the more frightening because it's based on real, current situations.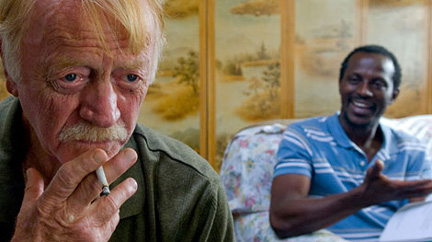 William and Solo form an unusual friendship in latest Bahrani film
GOODBYE SOLO (Ramin Bahrani, 2008)
Angelika Film Center
18 West Houston St. at Mercer St.
212-995-2000
Lincoln Plaza Cinemas
1866 Broadway at 63rd St.
212-757-2280
http://www.lincolnplazacinema.com
http://www.goodbyesolomovie.com

Winner of the International Critics Prize at the 2008 Venice Film Festival, GOODBYE SOLO is another intelligent, thoughtful drama from Ramin Bahrani (MAN PUSH CART, CHOP SHOP) that deals with outsiders trying to find their way in a modern America filled with loneliness. Ivory Coast native Souléymane Sy Savané makes a sparkling debut as Solo, a Senegalese cabdriver in Winston-Salem who dreams of becoming a flight attendant. One night he picks up a grizzled old southern man named William (former Elvis Presley Memphis Mafia stalwart Red West), who hires Solo to take him to Blowing Rock in a few weeks' time. Suspecting that William might be planning to jump off the North Carolina landmark — legend has it that the wind is so strong atop the mountain that it can sweep people up into the sky — Solo ingratiates himself into the angry old man's life, trying to become friends with a man who just wants to be left alone. But as Solo finds out more about William, he believes he might be able to give him a reason to go on. In just three films, Iranian-American director Bahrani has proved himself to be a master of character development and subtle, realistic storytelling, resulting in superb works that give marvelous insight into the human experience.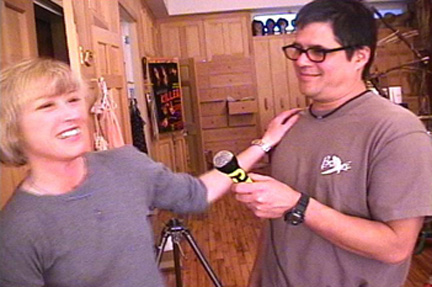 Paul H-O has fun with Cindy Sherman in art-world documentary
GUEST OF CINDY SHERMAN (Paul H-O & Tom Donahue, 2008)
Cinema Village
22 East 12th St. between University Pl. & Fifth Ave.
212-924-3363
http://www.guestofcindysherman.com

In the 1990s, Paul Hasegawa-Overacker, known as Paul H-O, hosted a public access television show called "GalleryBeat," in which he and "Art in America" editor Walter Robinson revealed the inanity of the art world — something that he was thrilled to be a part of in any way possible. He went to openings and tried to speak with artists, gallery owners, and other beautiful people, meeting with both success and failure. Somehow, his persistence helped him develop a relationship with emerging photography star Cindy Sherman, who began attracting celebrities and various hangers-on as her work took off that decade, focusing on photos of herself representing other people. The notoriously press-shy Sherman made regular appearances on Paul H-O's show, taking him inside her studio and revealing aspects of her work and personal life she never had before. In fact, soon she was even dating Paul H-O, who kept his video camera running virtually nonstop. Directed by Paul H-O with Tom Donahue, GUEST OF CINDY SHERMAN is a fascinating look beneath the glamour and supposed sophistication of the 1990s art scene in New York City, seen through the eyes of an obsessed relative insider with a goofy charm. The film, which had its premiere at last year's Tribeca Film Festival, includes lots of terrific original footage, of Sherman as well as such artists as Julian Schnabel, along with brief interviews with such figures as Eric Bogosian, Carol Kane, Ingrid Sischy, Molly Ringwald, John Waters, Roberta Smith, Danny DeVito, Jeanne Tripplehorn, Eric Fischl, and April Gornik. Sherman, by the way, has disavowed the film and apologized to friends of hers who participated in its production in any way. (Sherman is currently part of the group show "About Face" at the Adam Baumgold gallery at 74 East 79th St. through May 2 and in two shows at ICP through May 3.)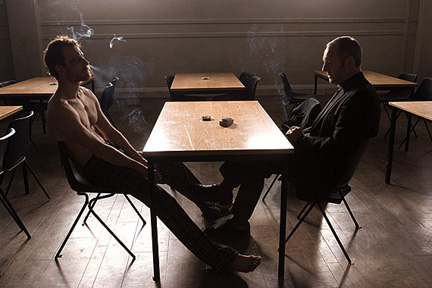 Bobby Sands (Michael Fassbender) and Father Dominic (Liam Cunningham) have a lengthy chat in HUNGER
HUNGER (Steve McQueen, 2008)
IFC Center
323 Sixth Ave. at West Third St.
212-924-7771

In 2004, we saw Steve McQueen's fascinating video installation of three short works at Wellesley's Davis Museum. As entertaining and intriguing as that show was, it never could have prepared us for HUNGER, the British-born Turner Prize winner's brutal and harrowing feature-length debut. Winner of the Camera d'Or at Cannes, HUNGER is set amid the Troubles in Northern Island, as IRA members are locked up in the Maze prison. Seeking special category status, the prisoners are on a Blanket and No Wash protest, refusing to wear official garb or clean up after themselves. They wipe their feces all over their cell walls and let their maggot-infested garbage pile up in corners. Meanwhile, the guards, who live in their own kind of daily fear, never miss a chance to beat the prisoners mercilessly. McQueen introduces the audience to the infamous prison through the eyes of one of the high-ranking guards, Raymond Lohan (Stuart Graham), and new prisoner Davey Gillen (Brian Milligan). He often lets the camera linger on a scene, with little or no dialogue, composing them as if individual works of art; one particularly gorgeous shot features Lohan having a cigarette outside the prison as snow falls. About halfway through, the film radically changes focus as Father Dominic Moran (Liam Cunningham) visits H Block leader Bobby Sands (Michael Fassbender), leading to sixteen minutes of uninterrupted dialogue, the camera never moving, as the two men discuss Sands's planned hunger strike. Written with Enda Walsh (whose play THE WALWORTH FARCE was a hit at St. Ann's Warehouse last year), McQueen's film is a visually stunning, emotionally powerful story that will leave audiences ragged.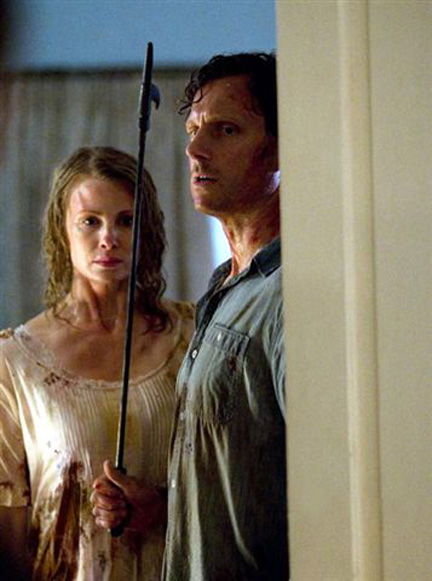 Craven and Cunningham do much better the second time around
THE LAST HOUSE ON THE LEFT (Dennis Iliadis, 2009)
AMC Empire 25
234 West 42nd St. between Broadway & Eighth Ave.
212-398-3939
http://www.thelasthouseontheleft.com

In 1972, writer-director Wes Craven and producer Sean S. Cunningham teamed up on the low-budget grindhouse movie LAST HOUSE ON THE LEFT, an insipid piece of trash that quickly became a cult classic, still regarded by some as a masterpiece of the genre. More than a third of a century later, following Craven's success with the Nightmare on Elm Street series and Cunningham's Friday the 13th franchise, the two have teamed up with producer Marianne Maddalena to revisit THE LAST HOUSE ON THE LEFT. Director Dennis Iliadis and writers Mark Haslett, Carl Ellsworth, and Adam Alleca have taken the core story of a crazy group of killers who terrorize a family and added much of the nuance that the original was missing, resulting in a tense, creepy thriller that is closer in mood and style — and, in significant places, plot — to Michael Haneke's home-invasion film FUNNY GAMES than the first LAST HOUSE movie. (In fact, one wonders whether Craven and Cunningham were influenced by Haneke's 2008 remake of his own 1997 original when deciding to tackle a new LAST HOUSE, especially because of the plot similarities. LAST HOUSE also owes a debt to Ingmar Bergman's harrowing 1960 Oscar-winning Swedish film THE VIRGIN SPRING.)
When high school swimming champion Mari Collingwood (Sara Paxton) and her parents, John (Tony Goldwyn) and Emma (Monica Potter), head out on a vacation to their isolated lake house, they have no idea they will soon be battling a vicious band of rapists and murderers led by the evil Krug (Garret Dillahunt). The new film thankfully gets rid of the stupid subplot involving the hapless sheriff and deputy while also adding much-needed depth to the character of Justin (Spencer Treat Clark), Krug's teenage son. Despite an awful, wholly unnecessary scene tacked on at the end — did anybody really think this was a good idea? — the remake is far superior to the original, a gripping film that ably stands on its own, alongside such recent terror fare as Rob Zombie's THE DEVIL'S REJECTS, Bryan Bertino's THE STRANGERS, and the second FUNNY GAMES.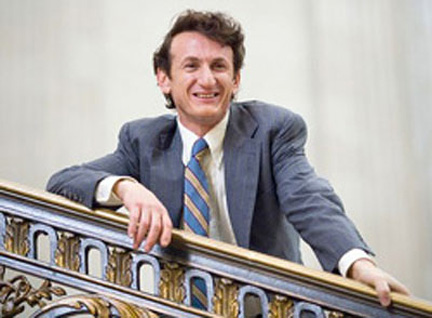 Sean Penn stars as Harvey Milk in look at gay activist and politician
MILK (Gus Van Sant, 2008)
AMC Loews Village 7
66 Third Ave. at Eleventh St.
http://www.filminfocus.com/focusfeatures/film/milk

Gus Van Sant's MILK is a solid if surprisingly standard biopic focusing on the last eight years in the life of Harvey Milk, the gay activist and politician who was assassinated in 1978. Van Sant (DRUGSTORE COWBOY, TO DIE FOR, GOOD WILL HUNTING) follows the eventual unofficial Mayor of Castro Street (Sean Penn) as he moves to San Francisco with his much younger partner, Scottie Smith (James Franco), and sets up a camera shop that soon becomes an important meeting ground for the local gay community, fighting for equal rights and supporting Milk as he continually campaigns for public office. The battle hits its high point in 1978 when Milk takes on John Briggs and the Briggs Initiative, also known as Proposition 6, which sought to take away existing employment rights from gays and lesbians in the California public school system, eerily reminiscent of the recent passage of Proposition 8 there. Although Milk was a rallying figure — his opening mantra was always "My name is Harvey Milk, and I am here to recruit you!" — the film never quite takes off the way it wants to, instead becoming too reverential and melodramatic. Penn is good but subdued in the lead role; the best performance comes from Josh Brolin as Dan White, Milk's main adversary among the SF supervisors.

THE READER (Stephen Daldry, 2008)
http://www.thereader-movie.com

A surprise Best Picture Oscar nominee, THE READER is a cold and disappointing film focusing on a pair of cold, overly secretive — and intensely frustrating — characters. In 1958 Germany, thirty-five-year-old Hanna (Kate Winslet) begins a steamy affair with fifteen-year-old Michael (David Kross); the matronly woman, who calls the young boy "kid," gets in the mood by having him read great works of literature to her as they lay naked together in bed. The film switches between that year and 1995 (as well as several years in between), when a grown-up Michael (Ralph Fiennes) is still having trouble dealing with one obvious secret, although another, shocking one, revealed while he was in law school, has changed the course of his life and his ability to maintain close relationships, including with his daughter. Director Stephen Daldry (BILLY ELLIOT, THE HOURS) manipulates the rather emotionless story — written by David Hare (PLENTY), based on the novel by Bernard Schlink — teasing the audience unnecessarily to keep things moving, albeit at a snail's pace. Although it's always great to see Bruno Ganz and Lena Olin, the main stars — Winslet, Kross, and especially Fiennes — are oddly dispassionate in this overblown and underplayed melodrama. The film's success during awards season might be primarily because two of the executive producers, Anthony Minghella and Sydney Pollack, passed away last year, and this is their final project.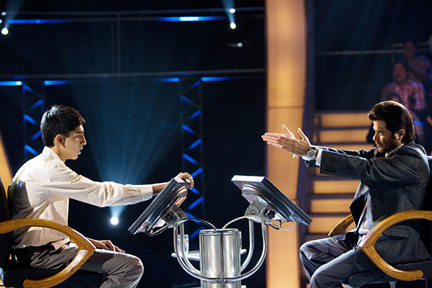 Jamal goes for the big bucks in SLUMDOG MILLIONAIRE
SLUMDOG MILLIONAIRE (Danny Boyle, 2008)
http://www.foxsearchlight.com/slumdogmillionaire

In modern-day Mumbai, Jamal Malik (Dev Patel) is being brutally interrogated by a police inspector (Irrfan Khan) who is certain that Jamal is cheating on the popular game show WHO WANTS TO BE A MILLIONAIRE? The cop won't even consider that a young, uneducated chaiwalla, a lowly tea server at a call center, could possibly know enough to be successful on the program. But through a series of harrowing flashbacks, Jamal recounts his difficult, miserable life growing up on the streets with his brother, Salim (Madhur Mittal), explaining how his experiences with extreme poverty, bigotry, child abuse, and gang violence led him to know certain answers in fascinating, bizarre, and mostly sad ways. As he approaches the final question, everything he's ever loved and believed in hangs in the balance. SLUMDOG MILLIONAIRE is extremely well directed by Danny Boyle (TRAINSPOTTING, 28 DAYS LATER), with a smart script by Simon Beaufoy (THE FULL MONTY) based on Vikas Swarup's novel Q AND A. Freida Pinto makes a strong debut as Latika, the girl who comes between the two brothers, and Bollywood star Anil Kapoor is wonderfully smarmy as Prem Kumar, the Indian Regis Philbin. A mesmerizing, edge-of-your-seat tale, SLUMDOG MILLIONAIRE was the sleeper hit of 2008 until it won four Golden Globe awards, followed by eight Oscars, including Best Director and Best Picture.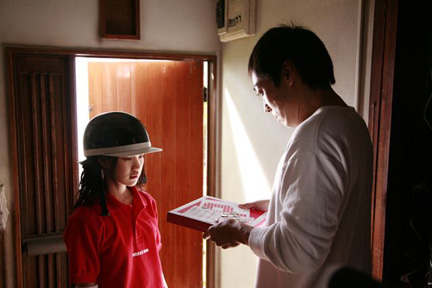 Tokyo shut-ins have rare moment of human contact in SHAKING TOKYO
TOKYO! (Michel Gondry, Léos Carx, and Bong Joon-ho, 2008)
Landmark Sunshine Cinema
143 East Houston St. between First & Second Aves.
212-330-8182
http://www.landmarktheatres.com

Labeled a "fantasy in three movements," TOKYO! consists of a trio of distinct tales set in the thriving heart of Japan's capital city. In Michel Gondry's INTERIOR DESIGN, his best work since 2004's ETERNAL SUNSHINE OF THE SPOTLESS MIND, a young couple, Hiroko (Ayako Fujitani) and Akira (Ryo Kase), arrive from the provinces with dreams of making it big in the film business. Unable to find worthwhile jobs or an affordable apartment, they are overstaying their welcome with Hiroko's school friend Akemi (Ayumi Ito). Feeling lost and invisible, Hiroko ventures out one day and, well, as fans of Gondry's would expect, something very strange happens. In MERDE, French director Léos Carax's first film since 1999's POLA X, a wild-eyed, CHUD-like (Cannibalistic Humanoid Underground Dweller) character (Denis Lavant) emerges from below, wreaking havoc on the streets of Tokyo, speaking a bizarre language that only French magistrate Maitre Voland (Jean-Francois Balmer) can understand. And in Bong Joon-ho's SHAKING TOKYO, the director of THE HOST tells the lonely tale of a hikikimori (Teruyuki Kagawa), an agoraphobic shut-in, who becomes intrigued by the young woman (Yu Aoi) who delivers his pizza and considers actually going outside, into a Tokyo that is being rattled by a series of earthquakes. While MERDE is an in-your-face assault that is filled with anger toward the audience, INTERIOR DESIGN and SHAKING TOKYO are beautifully rendered, engaging stories that will make viewers forget the mess in the middle.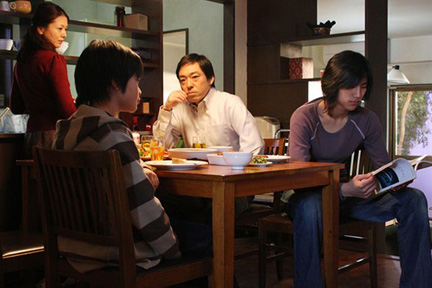 Tokyo family is a metaphor for all of Japan in Kiyoshi Kurosawa film
TOKYO SONATA (Kiyoshi Kurosawa, 2008)
Quad Cinema
34 West 13th St. between Fifth & Sixth Aves.
212-255-8800
http://www.tokyosonatamovie.com

Winner of the Un Certain Regard Jury Prize at Cannes, TOKYO SONATA serves as a parable for modern-day Japan. Ryuhei Sasaki (Teruyuki Kagawa) is a simple family man, with a wife, Megumi (Koyoko Koizumi), two sons, Takashi (Yu Koyanagi) and Kenji (Kai Inowaki), and an honest job as an administration director for a major company. When Ryuhei is suddenly let go — he is being replaced by much cheaper Chinese labor — he is so ashamed, he doesn't tell his family. Instead, he puts on his suit every day and, briefcase in hand, walks out the door, but instead of going to work, he first waits on line at the unemployment agency, then at an outdoor food kitchen for a free lunch with the homeless — and other businessmen in the same boat as he is. Taking out his anger on his family, Ryuhei refuses to allow Kenji to take piano lessons and protests strongly against Takashi's desire to join the American military. But then, on one crazy night — which includes a shopping mall, a haphazard thief (Koji Yakusho), a convertible, and some unexpected violence — everything comes to a head, leading to a brilliant finale that makes you forget all of the uneven missteps in the middle of the film, which is about a half hour too long anyway. Kagawa, who is also one of the stars of the omnibus TOKYO! (which opened March 6), is outstanding as the sad-sack husband and father, matched note for note by the wonderful Koizumi, who searches for strength as everything around her is falling apart. And it's always a hoot to see Yakusho, the star of such films as Kurosawa's CURE, Shohei Imamura's THE EEL, Rob Marshall's MEMOIRS OF A GEISHA, and Alejandro González Iñárritu's BABEL, seen here as a wild-haired, wild-eyed wannabe burglar.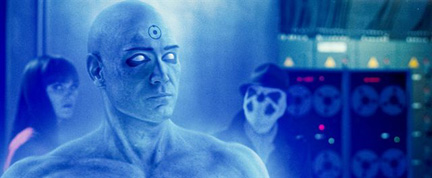 Dr. Manhattan is getting an idea in very different kind of superhero movie
WATCHMEN (Zack Snyder, 2009)
http://watchmenmovie.warnerbros.com

After more than twenty years, it's finally here. Zack (300) Snyder's brilliant, near panel-by-panel re-creation of Alan Moore and Dave Gibbons's genre-defining WATCHMEN doesn't update the setting one bit. It's still an alternate history, a dystopian 1980s with Richard Nixon in office, celebrating victory in Vietnam while trying to with the Cold War against the Russians. That era's very real preoccupations might not quite match our own, but in this age of international terrorism, fear of violent death is still used as an effective political tool. Snyder's bold move, to keep the '80s setting intact, complete with hair, color, and style, is visually stunning, if oddly disconcerting; he also does an outstanding job going back to the '50s and '70s, following Gibbons's beautiful design and Moore's musical sensibility. (The soundtrack includes obvious songs by Dylan, Hendrix, Simon & Garfunkel, Leonard Cohen, and Wagner as well as a killer "Desolation Row" by My Chemical Romance over the closing credits.) Yet the genius lies in the universal nature of Moore's story. Snyder maintains his atmosphere of dread, of people being tiny cogs caught in a machine manufacturing fear to control humanity, and it works. Because for many, that same system operates today, albeit with different faces, different bad guys, and different silhouettes and color schemes. Snyder's refusal to update the superficial points out all the more strongly the essential power of Moore's observations. The look is superb, with Gibbons's characters walking right off the page and into three dimensions, breathing humans that fully embody their two-dimensional origins, often more fascinating out of costume than dressed for duty.
The story, of course, is more difficult to transfer intact. There are added scenes that weren't panels as well as inevitable elisions and telescoping of the original twelve-issue limited series. The sheer genius of Moore's metafiction, his exploration of the Nietzschean "superman" and his comic book counterparts, and the supratextural additions, such as his deftly woven counterpoint comic-within-a-comic Tales of the Black Freighter, don't all make it to the big screen. How could they? The movie's more than two and a half hours already. (Some of these elements will be eventual DVD extras.) If you didn't read the book, you might miss the metafiction, the counterpoint, and possibly much of the plot, but the awesome Rorschach and the amazing Dr. Manhattan are psychologically and visually pitch-perfect. See it for the characters, at the very least (played by Billy Crudup, Jackie Earle Haley, Patrick Wilson, Matthew Goode, Malin Akerman, and Carla Gugino bringing to life Nite Owl, the Silk Spectre, Ozymandias, and others, with Jeffrey Dean Morgan nearly stealing the show as the Comedian). Mirroring the destruction/rebuilding of the narrative arc, Moore's book itself effectively deconstructed the comic book superhero genre, blowing it to bits and pulling it to pieces, setting the stage for the genre's rebirth, the graphic novel creative explosion of the 1980s and '90s. Perhaps it is not coincidental that the film comes out a time when that genre is experiencing a rebirth of its own, with THE DARK KNIGHT and IRON MAN garnering both critical praise and public acclaim. But Moore's commentary on the twentieth century, true compassion, and humankind's messy urge to annihilate and save itself at the same time still makes a hell of a lot of sense today.
Riff's Rants & Raves: Live Music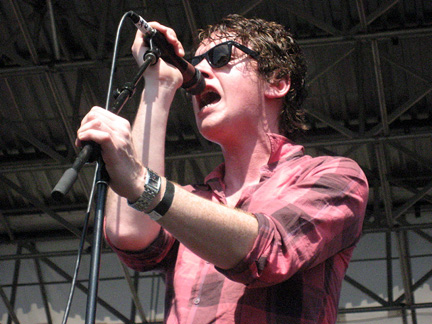 twi-ny/mdr
The Whip got plenty funky last summer at McCarren Park Pool
THE WHIP
Bowery Ballroom
6 Delancey St. at Bowery
Wednesday, April 1, $15, 8:00
212-533-2111
http://www.myspace.com/thewhipmanchester
Manchester electronica dance band the Whip are currently touring in support of the U.S. release of their debut CD, X MARKS THE DESTINATION (Razor & Tie, March 2009), featuring such hot tracks as "Trash," "Fire," "Save My Soul," "Sirens," and "Sister Siam." We saw Danny Saville, Lil Fee, Nathan Sudders, and Bruce Carter put on one helluva show last summer at McCarren Park Pool, proving that the building buzz was more than mere hype. The New Order of the new millennium will be headlining at the Bowery Ballroom on April Fool's Day, with the UK's Late of the Pier opening up, highlighting their debut, FANTASY BLACK CHANNEL (Astralwerks, January 2009).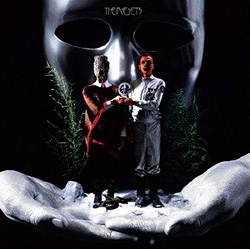 THE PRESETS / THE GOLDEN FILTER
Webster Hall
125 East Eleventh St. between Third & Fourth Aves.
Friday, April 3, $18, 7:00
http://www.myspace.com/thegoldenfilter
The Presets bring their popular Australian brand of electro dance punk to Webster Hall April 3, with opening act the Golden Filter. Since the duo's first album, BEAMS, hit the dance-punk-electronica scene in 2005, Julian Hamilton and Kim Moyes have opened for Cut Copy and Daft Punk; it's about time they headline themselves, this time in support of their second album, 2008's somewhat disappointing APOCALYPSO. At their most appealing they mix catchy synth riffs, insistent drum patterns, and sly vocals; at their most irritating they can sound eerily reminiscent of 1980s WLIR era one-hit wonder Dead or Alive: You really don't want to like them, but you can't get that damn song out of your head. So make your way "Down Down Down" to Webster Hall for a few sweaty bangers, don't think too hard, and join the fun on the dance floor.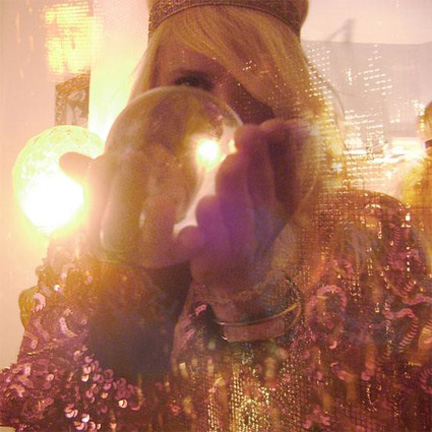 Aussie Penelope of the Golden Filter believes it's the music that matters

Enigmatic new group the Golden Filter opens the show, featuring Penelope's breathy, whispery vocals, Stephen on keyboards and percussion, and Lisa on drums. The techno-disco trio have no last names, and they never show their faces in photographs. Fortunately, their songs kick ass, so they can get away with the eccentricity / gimmick, claiming that it's only the music that matters. In addition to such hot originals as "Solid Gold," "Moonlight Fantasy," and "Hide Me," the Golden Filter has done cool remixes of Peter Bjorn and John's "Lay It Down," Cut Copy's "Far Away," Empire of the Sun's "We Are the People," and Little Boots' "New in Town," while a bunch of other artists have remixed "Solid Gold." The official after-party will take place at (le) poisson rouge, with the Presets' K.I.M. and DJ sets by Cat and the Golden Filter; admission is $5.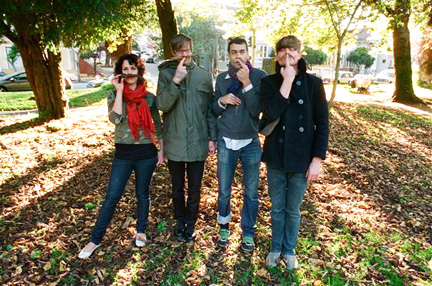 Thee Oh Sees return to NYC for shows at Bell House and Mercury Lounge
THEE OH SEES
Saturday, April 4, the Bell House, 149 Seventh St., Gowanus, 718-643-6510, $20, 7:00
Sunday, April 5, Mercury Lounge, 217 East Houston St. at Ave. A, $10, 7:00
http://www.mercuryloungenyc.com
A true DIY dude, John Dwyer is the lead singer and guitarist of San Francisco psychedelic garage rock band Thee Oh Sees. Dwyer, vocalist Brigid Dawson, guitarist Petey Dammit, and drummer Mike Shoun are back in town for a couple of shows in support of their 2008 disc, the stellar THE MASTER'S BEDROOM IS WORTH SPENDING THE NIGHT IN, which feels like a Nuggets-era soundtrack to a movie that was never made. Thee Oh Sees (a continually changing riff on the OC, Orange County) play it fast and loose, with lots of groovy guitar breaks and high-pitched singing. The album kicks off with "Block of Ice," a driving mix of Jefferson Airplane filtered through the B-52s. "Quadrospazzed" is filled with fuzzy distortion, while "You Will See This Dog Before You Die" gets downright spacey. Around the middle of the album, things slow down a bit with the appropriately moody "Graveyard Drug Party." And "Adult Acid" actually has a countryish beat. It all makes for a helluva good time. Thee Oh Sees will be at the Bell House on April 4 with Excepter, Catatonic Youth, and Pink Skull; the next night they'll be at the Mercury Lounge with Zs, Child Abuse, and Skeletons.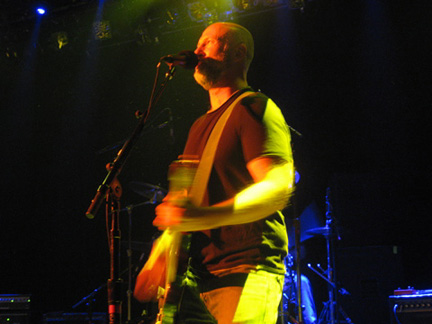 twi-ny/mdr
Mould struts his stuff last year at Irving Plaza
BOB MOULD
Joe's Pub
425 Lafayette St. between East Fourth St. & Astor Pl.
Wednesday, April 8, 7:30, and Thursday, April 9, 9:30, $20
212-539-8778
Twenty years ago, Bob Mould left seminal postpunk band Hüsker Dü and recorded his first solo record, the intimate, acoustic-based WORKBOOK followed by the gruffer BLACK SHEETS OF RAIN. Mould then formed the power trio Sugar, which released such impressive discs as COPPER BLUE and BEASTER, before continuing his solo work. Currently working on his memoirs — which will detail, among other things, his drug abuse and homosexuality — Mould also turns back the clock on his latest album, the unflinchingly honest and personal LIFE AND TIMES (Anti-, April 7, 2009). "What the f—k, what kicked up all this dust / taking me back to the places I left behind / the old life and times," he sings on the title track, preparing the listener for both a trip down memory lane as well as a peek into the future. "I rewind the interstate in my distant memory," he sings to his signature guitar sound on "City Lights (Days Go By)," adding, "I hope you understand I need to find my city lights." Recalling the sound of WORKBOOK, Mould, who recorded LIFE AND TIMES in his current hometown, Washington, DC, with just a drummer and himself, opens up about anonymous, casual sex (the hard-driving "Argos," the smooth, melodic "Bad Blood Better") and the end of love ("I'm Sorry, Baby, But You Can't Stand in My Light Any More") while also bringing up memory and the past on "Wasted World" and "MM 17." At forty eight, perhaps Mould is a little young to be looking back so much, but as he says on the album's final track, "What a lifetime we have." Mould will be playing two intimate shows at Joe's Pub on April 8 & 9, followed by Blowoff on April 10 at the Highline Ballroom, the dance party DJ'd by Mould with Richard Morel.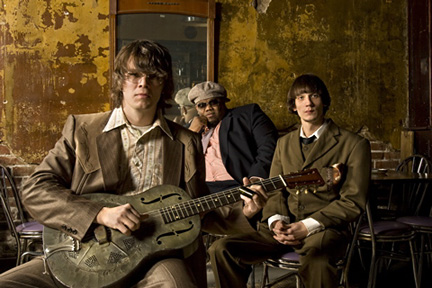 The North Mississippi All Stars will get booties a-shakin' at the Highline Ballrooom
NORTH MISSISSIPPI ALL STARS
Highline Ballroom
431 West 16th St. between Ninth & Tenth Aves.
Thursday, April 9, $24, 9:00
212-414-5994
http://www.highlineballroom.com
http://www.myspace.com/nmallstars
Bringing the swampy, soulful sound of northern Mississippi's hill country to electrified life, the North Mississippi All Stars play a boogie-heavy modern-day version of the American blues revolutionized by such icons as R. L. Burnside, Junior Kimbrough, and Fred McDowell. The All Stars proper are brothers Luther and Cody Dickinson, on guitar and drums, respectively, along with their larger-than-life longtime friend Chris Chew on bass; all three handle vocals, and the possibility of a keyboardist or even a brass section joining in always looms. The NMA*S play perfect music for swaying along to with beer in hand, long on the bona-fide boogie-fied blues riffs, with a touch of the vibe that made bands such as the Allman Brothers and the Black Crowes (whom Luther joined for their last American tour) favorites. Thematically, if not stylistically, the Hill Country Revue reminds us of the days when the New Riders of the Purple Sage would open shows for the Grateful Dead. Expect a preliminary set of standards, originals, and explorations, accompanied by members of the headlining act, along with guest stars and featured players taking on different roles. Brother Cody handles more guitar and electric washboard in the evening's down-home Hill Country portion, joined by Chew, occasional Burnside relations, (R. L.'s son Garry as of late), and whoever else happens to climb aboard for the ride. The NMA*S and the Hill Country Revue will take place on April 9 at the Highline Ballroom; be prepared to boogie.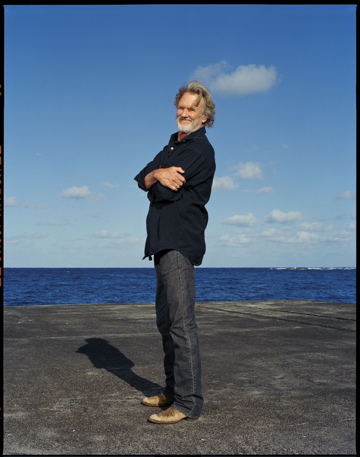 Mary Ellen Mark
Music legend Kris Kristofferson returns for intimate show in city
KRIS KRISTOFFERSON
The Concert Hall
New York Society for Ethical Culture
2 West 64th St. at Central Park West
Friday, April 10, $45-$55, 8:00
212-874-5210
Three years ago we saw songwriter / actor / activist Kris Kristofferson play a solo acoustic show at the New York Society for Ethical Culture, touring behind his first record in eleven years, the excellent THIS OLD ROAD, an intimate look at love and loss, life and death. Approaching his seventy-third birthday, Kristofferson is returning to the Concert Hall at the NYSEC for what should be another thrilling performance. Back in March 2006, Kristofferson battled through terrible mic problems in two sets that highlighted his classic songs as well as tunes from the new disc. It's hard to go wrong when the setlist features "Me and Bobby McGee," "Please Don't Tell Me How the Story Ends," "Sunday Morning Comin' Down," "Help Me Make It Through the Night," "From the Bottle to the Bottom," "The Silver-Tongued Devil and I," "Darby's Castle," "Johnny Lobo," and "Best of All Possible Worlds," along with "Pilgrim's Progress," "Chase the Feeling," and other new songs. As he sings on THIS OLD ROAD, "We'll never be the same again / But the show goes on."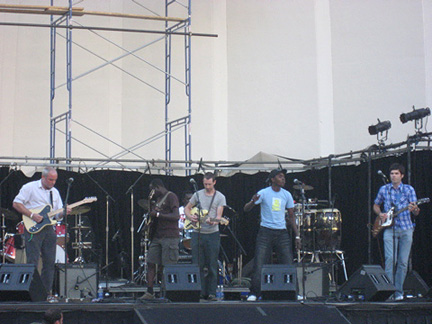 twi-ny/mdr
Extra Golden heads indoors after last summer's outdoor trifecta
NEW AFRICA LIVE PRESENTS EXTRA GOLDEN
(le) poisson rouge
150 Bleecker St.
Saturday, April 11, $15, 7:00
212-505-fish
http://www.myspace.com/extragolden
http://www.myspace.com/lepoissonrougenyc
Extra Golden, which was formed in May 2004 by Americans Ian Eagleson and Alex Minoff of Golden and Kenyans Otieno Jagwasi and Onyango Wuod Omari of Orchestra Extra Solar Africa in Nairobi's Buru Buru neighborhood, played three area shows last August, igniting crowds at SummerStage and Lincoln Center. They're back in town on April 11 for an intimate show at the tiny (le) poisson rouge, where they'll be highlighting songs from their third full-length CD, THANK YOU VERY QUICKLY (Thrill Hill, March 2009), which was born out of the political strife going on in Kenya. The band (with Onyango Jagwasi taking over for his deceased brother) again mixes Kenyan Benga with American rock, with the former far outshining the latter. Extra Golden lets loose on such killer tracks as "Gimakiny Akia" and "Anyango," which feature some fine Grateful Dead-like noodling and drum jams that will have Dead Heads dancing up a storm. Unfortunately, the more American the sound — particularly on the parts sung in English — the more mundane the song. But it all should sound just fine inside the cozy confines of (le) poisson rouge, where they'll be joined by Senegalese reggae artist Meta and the Cornerstones and a screening of Nikyatu Jusu's short film AFRICAN BOOTY SCRATCHER, presented by the nonprofit organization New Africa Live.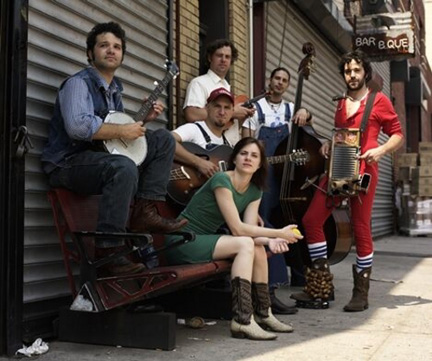 The Defibulators will be playing Tribeca Y with the Hackensaw Boys
THE DEFIBULATORS / THE HACKENSAW BOYS
92YTribeca
200 Hudson St. at Canal St.
Saturday, April 11, $15, 8:30
212-415-5500
http:// www.myspace.com/thedefibulators
Veterans of the Kings County Opry and a venerable staple of the burgeoning Brooklyn country scene, the Defibulators ride back into town on the heels of their debut album, CORN MONEY, which officially comes out May 5 but is available through their Web site right now. The self-proclaimed whackabilly band is known for its honky-tonk sound and hard-driving performances, and the new disc captures the local six-piece (sometimes seven-piece) doing what they do best — which is playing amplified, countrified original material that swings like the devil and sounds like the best of old school Nashville meets Bakersfield. The surprisingly diverse offerings on CORN MONEY range from down-home ballads to full-on stompers and actually suggest a rustic take on THE WHO SELL OUT, with the songs all strung together via a rural-radio theme, complete with static. The Defibulators will be bringing this mythical station, WRUB, to life at 92YTribeca on April 11, with Virginia's backwoodsy brothers-in-arms, the excellent Hackensaw Boys, opening, showing off tunes from such discs as LOVE WHAT YOU DO, GIVE IT BACK, and WHO'S LOOKIN' AFTER ME. (The Defibs are also scheduled for May 2 at Union Hall, May 17 at the Mercury Lounge, May 19 at the Bell House, and June 24 at the Annex.) Finally, the busy group will be the house band on April 15 at Brooklyn's Union Hall for Jon Friedman's monthly THE REJECTION SHOW, which will continue May 13 and June 12 at the Upright Citizens Brigade Theater in Manhattan.
Crooked Fingers are part of great triple bill at the Bell House
CROOKED FINGERS / TAKKA TAKKA / WYE OAK
The Bell House
149 Seventh St., Gowanus
Tuesday, April 14, $12, 7:30
718-643-6510
The Bell House in Gowanus is home to a great triple bill on April 14. Former Archer of Loaf Erich Bachmann leads Crooked Fingers on tunes from their latest disc, FORFEIT/FORTUNE, which finds Bachmann experimenting with a bigger sound, horns and strings, and lots of sweet harmonies, from the infectious opening track, "What Never Comes," through the album closer, "Your Control," a country-pop duet with Neko Case. (Crooked Fingers will be opening for Neko Case at the Nokia Theatre in Times Square on April 13-14.) In between are the mysterious "Luisa's Bones," the Mexican partying of "Phony Revolutions," the melancholy pining of "Let's Not Pretend (to Be New Men)," the anthemic "Cannibals," and the appropriately sinister "Sinisteria." In the Springsteeen-esque "Modern Dislocations," Bachmann even flirts with his sound-alike, Neil Diamond. (Bachmann has in the past covered the Boss's "The River" and Diamond's "Solitary Man.") Hometown boys Takka Takka, a thinking person's band who were named after the Roy Lichtenstein 1962 panel that declares, "The exhausted soldiers, sleepless for five and six days at a time, always hungry for decent chow, suffering from the tropical fungus infections, kept fighting!" have been playing all over the place in support of their latest record, the well-received MIGRATION. Takka Takka fills the CD with spacy, ethereal soundscapes (the brief "[The Optimists Were Right]" and the even briefer "The Optimists Were Wrong"), catchy pop ("The Takers"), and even a little funk ("Homebreaker"). The Baltimore duo of Jenn Wasner and Andy Stack, known as Wye Oak, fill out the bill, featuring tunes from their debut record, IF CHILDREN.
Riff's Rants & Raves: Theater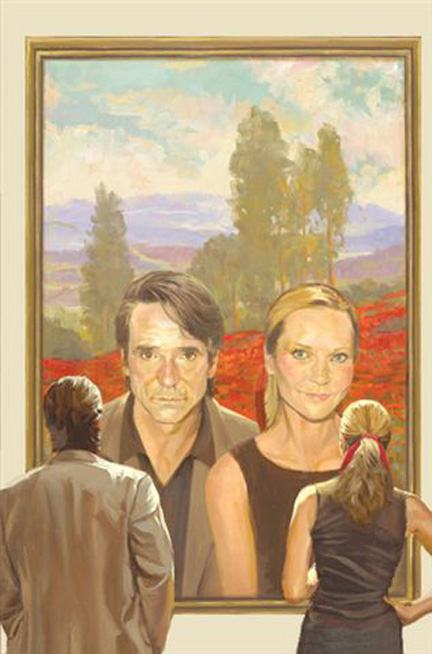 New play fails to make a lasting impression
IMPRESSIONISM
Gerald Schoenfeld Theatre
236 West 45th St. between Broadway & Eighth Ave.
Through July 5
http://impressionismtheplay.com

Michael Jacobs's IMPRESSIONISM is a wisp of a play, a slight trifle that is not quite ready for the Great White Way. Although there is much hoopla over the return to the New York stage of Tony winners Joan Allen (BURN THIS!, 1988) and Jeremy Irons (THE REAL THING, 1984), neither is given that much to do, although it is still a pleasure seeing them together — even if it is sometimes difficult to hear what Irons is saying. Allen is Katharine Keenan, a gallery owner with family issues who is not able to actually sell the work in her shop. Irons is a photojournalist who hasn't snapped a picture since one of his subjects died tragically in Africa. He is sort of an unpaid intern who hangs around the gallery, reading the paper at his desk while she goes on about cranberry muffins. They also play various characters in flashbacks that explain their current state of mind and stunted emotional development. The play also features an underutilized Marsha Mason as a wealthy woman who wants to buy a Mary Cassatt painting for her pregnant daughter, Michael T. Weiss as a wealthy man with a deep interest in a Modigliani, and André De Shields as an African man named Sweet Potato and a wise, elderly baker. Set changes are accomplished behind a scrim on which various paintings — not all by Impressionists — are projected, but they lose their luster the more close in the image, just as the play never really connects the dots quite like it wants to. Originally, IMPRESSIONISM, which is barely more than an hour and a half, had an intermission, but that was done away with — at least partly because not everyone in the audience came back after the break.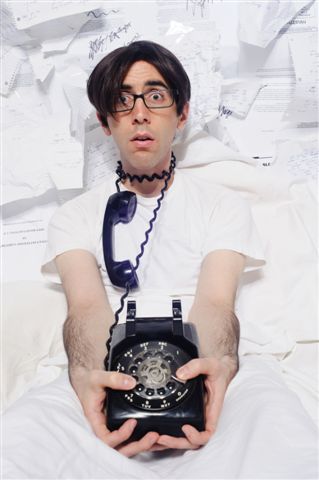 Dan Fishback's take on the Chanukah Wars comes to Dixon Place
YOU WILL EXPERIENCE SILENCE
Dixon Place
161 Chrystie St. between Rivington & Delancey Sts.
April 10-22
Tickets: $15
212-219-0736
http://www.youwillexperiencesilence.com
Originally titled THE LAST CHANUKAH, Dan Fishback's YOU WILL EXPERIENCE SILENCE will play for six performances at Dixon Place. Made as part of the Six Points Fellowship for Emerging Jewish Artists partnership, the work features Fishback, Joseph Keckler, Max Steele, and Cole Escola and is directed by Stephen Brackett.


All contents copyright 2009 by Mark Rifkin and twi-ny. All rights reserved. Contents may not be reprinted without written permission. Please note that events, dates, and prices are subject to change.
Send all comments, suggestions, reviews, and questions to mark.rifkin@twi-ny.com.
Please note that some e-mail clients may wrap links, so be sure to enter them fully into your browser.
To subscribe to this list, please e-mail the administrator at admin@twi-ny.com with the word Subscribe in the Subject line; be sure to ask for back issues, which are free as well. To unsubscribe from this list, please think it over twice before e-mailing the same address. Please let us know what you didn't like about this forum and we'll do our best to correct it in the future — if we agree with you. If you would like to see something covered in a future issue, please let us know. Without you, there is no need for us to exist.

twi-ny top two dozen (or so)
weekly reminders & special events
PRESERVATION HALL JAZZ BAND
Blue Note
131 West Third St.
Tickets: table $25, bar $15
212-475-8592
Tuesday, March 31
through
Sunday, April 5 Famed New Orleans group comes to the Blue Note, featuring Mark Braud on trumpet, Joe Lastie on drums, Walter Payton on bass, Rickie Monie on piano, Ben Jaffe on tuba, and Clint Maedgen and Charlie Gabriel on reeds, 8:00 & 10:30

MANISCHEWITZ: THE MATZO FAMILY
Museum of Jewish Heritage – A Living Memorial to the Holocaust
36 Battery Pl.
Tickets: $10
646-437-4200
Wednesday, April 1 Joan Nathan interviews Laura Manischewitz Alpern, with free box of matzo for everyone, 7:00
CUPCAKE TEA
Ritz-Carlton New York, Central Park, Star Lounge
50 Central Park South, Sixth Ave. & 59th St.
Saturdays & Sundays 11:00 am – 2:30 pm
Fee: $25
Advance reservations required: 212-521-6125
Wednesday, April 1
through
Sunday, May 17 Preset selection of five petite cupcakes, with a choice of tea: red velvet, orange "creamsicle," lemon chiffon, Valrhona chocolate, and Tahitian vanilla
JULES DASSIN 1911 - 2008
Film Forum
209 West Houston St. between Sixth & Seventh Aves.
Through April 12
212-727-8110
Wednesday, April 1 HE WHO MUST DIE (Jules Dassin, 1958), 2:00, 4:30, 7:00, 9:30
Thursday, April 2 HE WHO MUST DIE (Jules Dassin, 1958), 2:00, 4:30, 9:30
Thursday, April 2 BRUTE FORCE (Jules Dassin, 1947), 7:30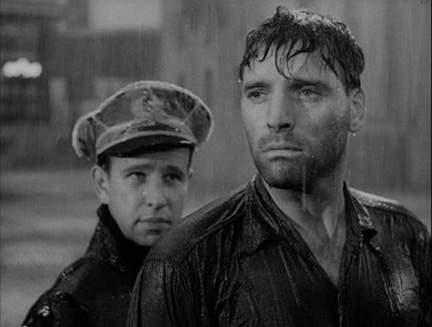 Hume Cronyn and Burt Lancaster don't like each other much in BRUTE FORCE
BRUTE FORCE (Jules Dassin, 1947)

Tough guy Joe Collins (a pretty hot Burt Lancaster) has no desire to serve out the rest of his sentence in the brutal prison run by Captain Munsey (a devilishly evil Hume Cronyn), who takes pleasure in regularly beating his charges. Collins recruits a handful of men to participate in his escape plans, including Soldier (Howard Duff), Miller (Sam Levene), Lister (Whit Bissell), and Spencer (John Hoyt) — each of whose arrest story is told in flashback against director Jules Dassin's wishes — as well as old-timer Gallagher (Charles Bickford), but Munsey is soon sniffing around too close, and Collins smells a rat. Meanwhile, the weak-kneed warden (Roman Bohnen) is losing control of the prison, and the wily old doctor (Art Smith) can't let go of the bottle. Filmed in a dense, confining black and white by William H. Daniels, BRUTE FORCE is one of Dassin's darkest dramas, featuring a surprising ending for a film made by a major studio.
Friday, April 3
and
Saturday, April 4 RIFIFI (Jules Dassin, 1955), 2:00, 4:30, 7:00, 9:30
Sunday, April 5 TOPKAPI (Jules Dassin, 1964), 2:55, 7:00, and NEVER ON SUNDAY (Jules Dassin, 1960), 1:10, 5:10, 9:15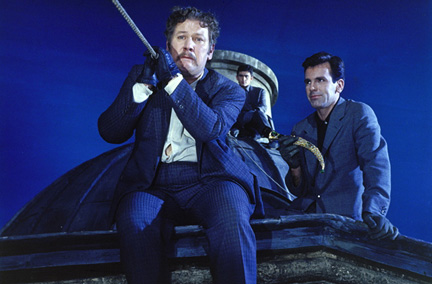 MGM
Peter Ustinov provides the comic relief in Dassin caper classic
TOPKAPI (Jules Dassin, 1964)

We're suckers for heist films. Just give us THE HOT ROCK (Peter Yates, 1972), THE ANDERSON TAPES (Sidney Lumet, 1972), THE ASPHALT JUNGLE (John Huston, 1950), KELLY'S HEROES (Brian G. Hutton, 1970), THE KILLING (Stanley Kubrick, 1956) — heck, even THE BRINKS JOB (William Friedkin, 1978) — and we'll settle in for a great coupla hours. But the king of them all just might be Jules Dassin's ultrahip TOPKAPI, about a group of multicultural thieves who plan to steal the world's most priceless emerald from a bejeweled dagger in Topkapi Palace in Istanbul. The movie is worth seeing just for Ms. Mercouri herself, who opens the film by talking right to us, luring us in with her alluring sex appeal and endless charm. And oh, those clothes, especially the emerald green outfit with her nails painted to match. Maximilian Schell, Peter Ustinov, Robert Morley, and others join in for the elaborate plan that has been ripped off in so many movies ever since. And we were happy to see that they really got things right, shooting on location in Turkey, because we've been to Topkapi Palace, and the Topkapi dagger is indeed breathtaking. We deleted a quarter star because some of the scenes with Ustinov are a bit long and awkward, but the rest is simply marvelous. Woody Allen bonus: Harback, one of the cops chasing after the gang, is played by Titos Vandis, who was in love with a sheep in EVERYTHING YOU ALWAYS WANTED TO KNOW ABOUT SEX BUT WERE AFRAID TO ASK (Woody Allen, 1972), ending up battling Gene Wilder for Daisy's heart.
Monday, April 6 10:30 PM SUMMER (Jules Dassin, 1966), 1:00, 4:30, 8:00, and THE REHEARSAL (Jules Dassin, 1974), 2:40, 6:10, 9:45
Tuesday, April 7 PHAEDRA (Jules Dassin, 1962), 1:20, 5:30, 9:50, and A DREAM OF PASSION (Jules Dassin, 1978), 3:30, 7:40
PEOPLE'S COMMISSIONING FUND CONCERT
Merkin Concert Hall at Kaufman Center
129 West 67th St.
Tickets: $25
212-501-3330
Thursday, April 2 Annual benefit concert featuring Bang on a Can All Stars, with commissions from Lok-Yin Tang ("Distorted Indulgence"), Kate Moore ("Ridgeway"), Dave Longstreth, Alvin Lucier ("Canon"), and Lee Ranaldo ("How Deep Are Rivers"), 8:00
BRAINWAVE 2009: MEETING OF THE MINDS
Rubin Museum of Art
150 West 17th St. at Seventh Ave.
Tickets: $12-$25
212-620-5000 ext 344
Thursday, April 2 Disgust, with professor Paul Rozin and chef Mario Batali, $25, 7:00
Monday, April 6 Meetings of the Minds: SuperSense, with writer Peter Mathiessen and neuroscientist Bruce Hood, $20, 7:00
Sunday, April 12 Meetings of the Minds: The Bonfire of the Vernacular, with cognitive scientist Steven Pinker and author Tom Wolfe, $25, 6:00
BOXING
Aviator Sports and Recreation
Flatbush Ave., south of Belt Pkwy, exit 11S
718-730-4111 / 888-465-9937 ext505
Thursday, April 2 Night of boxing featuring Dmitriy Salita against Raul Munoz, with Will Rozinsky, Dennis Doughlin, Ahmed Samir, Newton Kidd, and Issof Kinda also on the bill, 6:30
Friday, April 3 Eighty-second annual Golden Gloves semifinals, $25
NEW YORK ANTIQUARIAN BOOK FAIR
The Park Avenue Armory (Seventh Regiment Armory)
643 Park Ave. between 66th & 67th Sts.
Admission: $20 per day, $45 run-of-show (both include catalog)
212-777-5218
Friday, April 3
through
Sunday, April 5 Forty-ninth annual book fair featuring hundreds of exhibitors
CAN DO! PLAYS ON THE BRIGHT SIDE
Public Theater
425 Lafayette St. between East Fourth St. & Astor Pl.
Admission: free but reservations required
212-642-5052
Friday, April 3
through
Sunday, April 5 The 52nd St. Project presents plays written by children, featuring such actors as Billy Crudup, James McDaniel, Martha Plimpton, Cynthia Vance, Emily Dorsch, Jeanine Serralles, Elizabeth Marvel, and others, directed by such pros as Kathleen Foreman, George Babiak, Henry Wishcamper, Alex Gersten, and Michael Bernard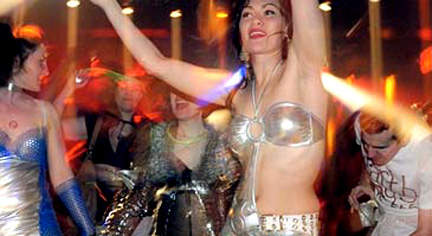 The Brothers Quay will make rare, special appearance at SVA
LUMINOUS FLUX
Galapagos Art Space
16 Main St., DUMBO
April 3-5
Tickets: $10-$25 (Weekend Pass $20)
718-384-4586
http://www.luminousfluxnyc.com
http://www.galapagosartspace.com
More than thirty artists will descend on Galapagos in DUMBO to celebrate flight through site-specific installations, experimental video art, live multimedia performances, DJ sets, and more, organized by Gemini & Scorpio and Leo Kuelbs.
Friday, April 3 Fearless Flux, featuring Z Collective with ZGT's "Put to Flight or: In the Land of Nowhere Near," Philippe Garcesto's "The Spiral Dream" and Ramona Ganssloser's "That's the Way," with DJ Zemi17 and VJ CHiKa, $10, 11:00 pm –4:00 am
Saturday, April 4 Space Flux: Yuri's Night, costume party celebrating Yuri Gagarin as the first man in space, with My Robot Friend, DJ Miko, VJ NOVA, Megan Seals, retro future video mix, space trivia, and more, emceed by Carol Pinchefsky and Allan Piper, $15-$25, 8:00 pm – 4:00 am
Sunday, April 5 Family Flux, featuring Anonymous Ensemble, hooper extraordinaire Kayti Bunny, a wing-making workshop with Miss C Spot, puppets and film with Leat Klingman, and more, $5 kids, $7 adults, $20 family ticket (for four), 2:00 pm – 6:00 pm
Sunday, April 5 Luminous Flux Artist Party, with Anonymous Ensemble, Freebass*BK, Nathan Guisinger & Jordann Baker's "Pillar," Ramona Ganssloser's "That's the Way," VJ/DJ Pixalot, VJ CHiKa, VJ NOVA, and more, $10, 8:00 pm – 2:00 am
ARTISTS IN RESIDENCE WORK & SHOW: DANCE
TriBeCa Performing Arts Center
199 Chambers St. between Greenwich & West St.
Tickets: $10
212-220-1460
Friday, April 3
and
Saturday, April 4 beyond.words by dre.dance (Andrew Palermo and Taye Diggs), set in the world of autism, 8:00
Sunday, April 5
and
Monday, April 6 BRICOLAGE by Ellis Woods and ELEPHANT DREAMS by Edisa Weeks, 8:00

MACBETH
Clemente Soto Velez Cultural Center
107 Suffolk St. at Rivington St.
Tickets: $18
212-868-4444
http://www.hipgnosistheatre.org
Friday, April 3
through
Sunday, April 19 Hipgnosis Theatre Company presents Shakespeare play performed on fully lit stage, with fluorescent light strips, white vinyl flooring, white costumes, and a white witches' nest, letting the tale itself bring out the darkness

THE MAGIC FLUTE
La Guardia Performing Arts Center
La Guardia Community College
31-10 Thompson Ave., Long Island City
Tickets: $20 (for one adult and four children six to fourteen), includes two-year subscription to Time Out magazine
718-482-5151
Saturday, April 4 New York City Opera presents a special interactive family workshop on Mozart's THE MAGIC FLUTE, with audience participation mixing with New York City Opera teaching staff and performers, followed by a one-hour semistaged performers with children getting walk-on roles, 1:00
RA RA RIOT
Webster Hall
125 East Eleventh St. between Third & Fourth Aves.
Tickets: $17
http://www.myspace.com/rarariot
Saturday, April 4 Ra Ra Riot, Cut Off Your Hands, Jon Moses, 6:00
twi-ny/mdr
Kieran Hebden will be programming a dizzying array of tunes as Four Tet
MISTER SATURDAY NIGHT
Santos Party House
96 Lafayette St.
Thursday nights in April at 10:00
Admission: $15; $10 with RSVP to mister@mistersaturdaynight.com
866-468-7619
http://www.santospartyhouse.com
http://www.mistersaturdaynight.com
Saturday, April 4 Upstairs Afrika Bambaataa and the Phenomenal Handclap Band live, downstairs Farley Jackmaster Funk, with upstairs residents Justin Carter and the Twilite Tone and downstairs residents Eamon Harkin and James Friedman
Saturday, April 11 Upstairs Francis and the Lights live, downstairs Four Tet DJ set, with upstairs residents Justin Carter and the Twilite Tone and downstairs residents Eamon Harkin and James Friedman
SHERMAN ALEXIE'S THE ABSOLUTELY TRUE DIARY OF A PART-TIME INDIAN
Symphony Space, Leonard Nimoy Thalia
2537 Broadway at 95th St.
Sunday, April 5, adults $18, children $12, Just Kidding Club members $8, 1:00
212-349-0330
Author (FLIGHT, RESERVATION BLUES), screenwriter (SMOKE SIGNALS), director (THE BUSINESS OF FANCYDANCING), songwriter ("Small World"), and poet (FIRST INDIAN ON THE MOON) Sherman Alexie's first young-adult novel, THE ABSOLUTELY TRUE DIARY OF A PART-TIME INDIAN by Sherman Alexie (Little, Brown, April 1, 2009, $8.99), is a marvelous tale of a young Indian boy who goes against his people by choosing to attend an all-white school instead of the one on the reservation. But fourteen-year-old Arnold Spirit Jr. is no ordinary kid; instead, he is the ultimate nerd, destined to get beat up wherever he goes. Born with hydrocephalus (water on the brain) and forty-two teeth, Arnold suffers from seizures, is nearsighted in one eye and farsighted in the other, and has both a stutter and a lisp. His father's a drunk, his sister gave up on life and lives silently in the basement, and his family is dirt poor. He's also very smart, loves to draw, and, somehow, is a good basketball player. So when he starts attending Reardan and immediately falls for the beautiful Penelope, he meets resistance from both sides, as the Indians on the rez resent and reject him, and the whites in the new school — well, they have no idea what to make of him, other than classifying him as a stereotypical Native American. But little Arnold perseveres, in remarkable ways.
Based on Alexie's actual life — the book started out as part of his memoirs — THE ABSOLUTELY TRUE DIARY OF A PART-TIME INDIAN is one of those books that makes you glad to be alive, written with a compelling self-deprecating sense of humor, accompanied by Ellen Forney's wonderfully wacky illustrations. Although ostensibly about one young Indian boy, it is about everyboy, any child who has felt different, like they didn't belong. It's a masterful book, a must-read for adults and children alike. To celebrate the release of the book in paperback, Alexie will inaugurate Symphony Space's first teen book club event on April 5, reading from and signing the National Book Award-winning autobiographical novel and discussing his work with the audience and author David Levithan, in conjunction with the Bank Street Bookstore.
JAZZ AT THE CONSERVATORY
Brooklyn Conservatory of Music
58 Seventh Ave. in Brooklyn
Tickets: $25
212-209-3370
Saturday, April 4 Sonny Fortune Quartet, with Michel Cochrane on piano and Steve Johns on drums, 8:00
CONEY ISLAND CIRCUS SIDESHOW
Highline Ballroom
431 West 16th St. between Ninth & Tenth Aves.
Tickets: $12-$14
212-414-5994
http://www.highlineballroom.com
Sunday, April 5 Coney Island Opening Day After-Party, with Donny Vomit, Serpentina, Heather Holliday, Scott "Shockmeister" Baker, Ravi the Indian Rubber Boy, the Gyronauts, Nathan's Famous hot dogs, and more, in final Manhattan show in 2009, 9:00
PASSOVER FAMILY CRAFT WORKSHOPS
Yeshiva University Museum
Center for Jewish History
15 West 16th St. between Fifth & Sixth Aves.
Free with museum admission
212-294-8330
Sunday, April 5 Design your own metal-embossed personal Haggadah covers using repoussé, 2:00 – 4:00
Sunday, April 12 Paint a Menagerie, with families painting animals from the song "Had Gadya," inspired by the exhibition "Joseph, the Bull and the Rose," 2:00 – 4:00
TYSON
AMC Loews 34th St.
312 West 34th St. between Eighth & Ninth Aves.
Tickets: $12
718-784-4520
Monday, April 6 Museum of the Moving Image presents preview screening of TYSON (James Toback, 2009), followed by discussion with director James Toback, 8:00
FOREIGN AFFAIRS: SPECIAL EASTER SHOW
Night Hotel
132 West 45th St. between Broadway & Sixth Ave.
Monday nights at 9:00
Admission: $10
http://www.foreignaffairsnyc.com
Monday, April 6 Postmodern underground cabaret extravaganza from Lee Chappell, featuring live music, drag performances, vaudeville, cabaret, burlesque, chanteuses, and more, hosted by David Isengart and Lady Rizo and with special guest drag diva Joey Arias, 9:00
POEMS & PINTS
Fraunces Tavern, Nichols Room
54 Pearl St. at Broad St.
Admission: free
212-219-9401 ext118
Tuesday, April 7 The Lower Manhattan Cultural Council and Poetry Society of America's Poems & Pints season concludes with readings by MacDowell Colony Fellow Sophie Cabot Black and former New York State poet laureate Sharon Olds, 6:30
THE THIRD MIND LIVE
Solomon R. Guggenheim Museum
1071 Fifth Ave. at 89th St.
Tickets: $30
212-423-3500
Tuesday, April 7 Marina Abramovic, "Night Sea Crossing" lecture, 6:30

THE BEST OF SCI FI SCREENING ROOM
Under St. Marks
94 St. Marks Pl. between First Ave. & Ave. A
Admission: $7
http://www.thiskevin.blogspot.com
Wednesday, April 8 Video cavalcade featuring highlights from Hulk Night, Video Game Night, Damnation Alley, Frankenstein Night, Bigfoot Night, Batman Night, Sci Fi Musicals Night, and other offbeat videos, cult classics, and TV rarities, hosted by Kevin Maher with trivia, prizes, snacks, and more, presented by Horse Trade Theater Group, 9:00
BRAZZA IN CONGO: A LIFE AND LEGACY
Casa Italiana Zerilli-Marimò
24 West Twelfth St.
Admission: free
212-995-4012
Thursday, April 9 Screenings of CONGO: WHITE KING, RED RUBBER AND BLACK DEATH (Peter Bate) and BACK TO CONGO (Nicole Leghissa, 2009), 6:00
TAKE OUT
NYU Cantor Film Center, Theater 101
36 East Eighth St.
Admission: free but advance RSVP suggested
212-992-9653
Thursday, April 9 Screening of TAKE OUT (Sean Baker & Shih-Ching Tsou, 2004), followed by a discussion with the filmmakers, 6:30
TERESA McCOLLOUGH: NEW AMERICAN PIANO MUSIC
Roulette
20 Greene St. between Canal & Grand Sts.
Admission: $15
212-219-8242
http://www.interpretations.info
Thursday, April 9 As part of the ongoing Interpretations series, San Francisco-based new music pianist Teresa McCollough plays works by George Crumb, John Adams, and works commissioned for her by Alvin Singleton, Sam Pluta, Gabriela Lena Frank, and Kamran Ince, with percussionists Chris Froh and Russell Greenberg and pianist Michael Boyd, 8:00
NEDERLANDS DANS THEATER II
Joyce Theater
175 Eighth Ave. at 19th St.
Tickets: $19-$49
212-645-2904
Thursday, April 9
through
Saturday, April 11 Nederlands Dans Theater II returns to New York for the first time in ten years with four city premieres by Jiri Kylian and Lightfoot Leon, including SAID AND DONE, SHUTTERS SHUT, and SLEEPLESS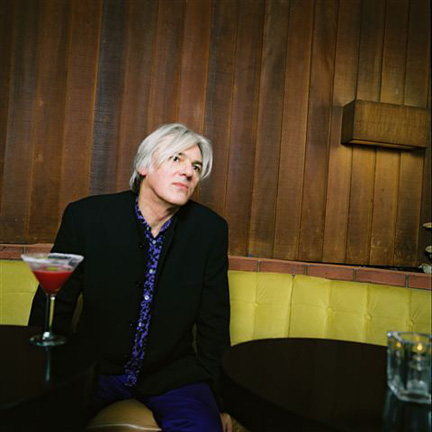 Wry singer-songwriter brings Venus 3 to Irving Plaza
ROBYN HITCHCOCK & THE VENUS 3
The Fillmore New York at Irving Plaza
17 Irving Pl. between 14th & 15th Sts.
212-777-6800
Saturday, April 11 Eclectic, iconoclastic, and vastly entertaining British musician is touring behind his latest record, GOODNIGHT OSLO, 7:00
ACADEMIC ANGLES: CONVERSATION WITH ALBERT MAYSLES
Museum at Eldridge Street
12 Eldridge St. between Canal & Division Sts.
Admission: free (RSVP strongly suggested)
212-219-0888
Saturday, April 11 The Jew on Trial: panel discussion on the murder of Mendel Beilis, with filmmaker Albert Maysles and historians Steven Zipperstein, Annie Polland, and Mark Mirsky, 11:00 am
EASTER SUNDAY GOSPEL BRUNCH MATINEE
B.B. King Blues Club & Grill
237 West 42nd St. between Seventh & Eighth Aves.
Tickets: $40-$42.50 (includes show, brunch, tax, and tip)
212-997-4144
Sunday, April 12 Celebrate Easter with the World Famous Harlem Gospel Choir, 11:30 am & 2:30 pm
SECOND SUNDAYS
Noguchi Museum
9-01 33rd Rd. at Vernon Blvd.
Free with museum admission of $10
718-204-7088 ext209
Sunday, April 12 INtersections: tour of museum led by artist and Smith College professor Lynne Yamamoto, 3:00
ANNIE DARMON
Cornelia Street Café
29 Cornelia St. between West Fourth & Bleecker Sts.
Admission: $12
212-989-9319
http://www.myspace.com/anniedarmon
http://www.corneliastreetcafe.com
Sunday, April 12 European Sephardic singer and guitarist Annie Darmon, with her five-octave range, makes her New York debut, playing songs in Ladino, French, English, and Yiddish, 6:00
CONTEMPORARY JAPANESE PLAYS IN ENGLISH TRANSLATION
Japan Society
333 East 47th St. between First and Second Aves.
Tickets: $10
212-715-1258
Monday, April 13 Play Reading Series: ENJOY by Toshiki Okada, performed by American actors directed by Dan Rothenberg of the Pig Iron Theatre Company, 7:30

SPRING JAM
NBA Store
666 Fifth Ave. at 52nd St.
Admission: free
212-515-6221
Monday, April 13
through
Friday, April 17 With the playoffs on the horizon, the NBA Store holds five days of special free events and activities, including yoga practice on the store's half-court, spa treatments from Oasis Day Spa, John Starks hosting a clinic on April 14, Alyssa Milano showcasing her women's collection on April 15, and more
FLIGHT OF THE CONCHORDS
Radio City Music Hall
1260 Sixth Ave. at 50th St.
Tickets: $45
Tuesday, April 14
and
Wednesday, April 15 New Zealand's finest — sort of — plays two nights at Radio City, with rabid fan Kristen Schaal, 8:00
JOHN WESLEY HARDING'S CABINET OF WONDERS
(le) poisson rouge
150 Bleecker St.
Tickets: $20
212-505-fish
http://www.myspace.com/lepoissonrougenyc
Wednesday, April 15 Graham Parker, Eugene Mirman, 9:30

BEER WARS LIVE
Chelsea Cinemas, 260 West 23rd St.
First & 62nd Cinemas, 400 East 62nd St.
Other locations in the Bronx, Westchester, Long Island, and New Jersey
Thursday, April 16 Screening of BEER WARS (Anat Baron, 2009) with live simulcast of panel discussion with Baron, independent American brewers, and beer industry experts, including Sam Calagione of Dogfish Head Craft Brewery, Rhonda Kallman of Boston Beer Company, Greg Koch of Stone Brewing, Charlie Papazian, Maureen Ogle, Todd Alstrom, and others, hosted by Ben Stein, 8:00
DEGENERATE ART ENSEMBLE: SONIC TALES
New Museum of Contemporary Art theater
235 Bowery at Prince St.
Tickets: $15
212-219-1222
Thursday, April 16
and
Friday, April 17 Multimedia dance-theater work in progress by Seattle-based art performance group Degenerate Art Ensemble, 7:00