Twi-ny, This Week in New York
Leo Villareal, "Diamond Sea," 2007, at the Gering & López Gallery
ARMANDO REVERÓN
Museum of Modern Art
The International Council of the Museum of Modern Art Gallery, sixth floor
West 54th St. between Fifth & Sixth Aves.
Through April 16
Admission: $20 (includes same-day film screening)
Fridays free from 4:00 to 8:00
212-708-9400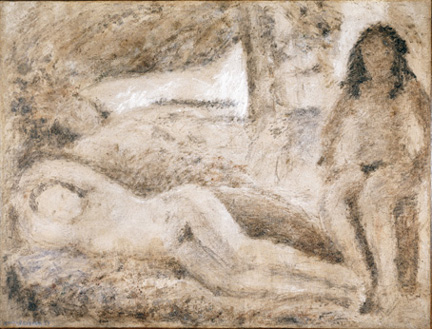 Francisco Kochen / © 2007 Bolivarian Republic of Venezuela
Armando Reverón, "Light Behind My Arbor," 1926, oil on canvas

A sickly child born into a dysfunctional Caracas family in 1889, Armando Reverón studied painting in Spain and France before returning to his native Venezuela, where he became a major part of that country's modernist movement. Deeply troubled by the tense political situation there, Reverón moved away from the big city, setting up a new life with his model and lifelong companion, Juanita, in a small Caribbean coastal village named Macuto, where he built El Castillete, a "little castle" that ultimately turned into an ever-more-reclusive home for the two of them. He even insulated himself from the outside world by making his own paintbrushes and life-size models of people (dolls known as muñecas), birds, and skeletons to use for his paintings. MoMA celebrates the first North American retrospective of Reverón's career with this breathtaking exhibition, featuring approximately one hundred paintings, drawings, dolls, and other objects (telephone, mandolin, accordion, bat wings, all made as models for his works), arranged chronologically in four galleries. Several early works, such as "The Cave" and "Portrait of Casilda" from 1920, contain deep, lush colors that would soon disappear from his palette, most likely influenced by the blinding bright light that covered the area where he lived. In the mid-1920s he concentrated on more sepia-toned landscapes; in "Light Behind My Arbor," an open doorway leads to the outside world, with what might be a ghostly figure standing on the precipice. Other beautiful abstract landscapes, where the white peeking through is not paint but the canvas itself — or, in many cases, burlap, as Reverón often painted on potato sacks — include "El Playon" (1929), "Rancho in Macuto," and "The Tree."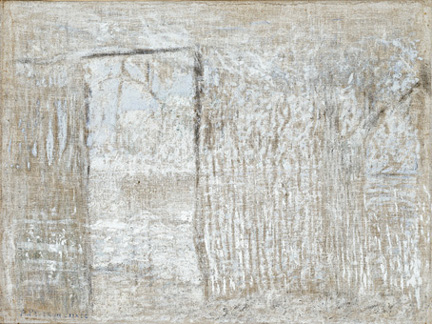 Glenn Steigelman / © 2007 Bolivarian Republic of Venezuela
Armando Reverón, "The Creole 'Maja' (La maja criolla)," 1939, oil and tempera on burlap

In the 1930s, Reverón turned to portraiture, using oil, tempera, and charcoal to create figures bathed in white and sepia, almost melting into the canvas (or burlap). In addition to basing the subjects on Juanita and himself, he started making muñecas, with these dolls showing up in such haunting pieces as "The Creole 'Maja,'" "Nudes," and "Five Figures," evoking Classical and Romantic poses. The characters in these portraits and nudes are often looking out at the viewer with only the slightest indication of facial features and expression, depersonalized yet beautiful. As industrialization came to Venezuela in the 1940s, Reverón once again concentrated on landscapes, particularly of the port city of La Guaira. Smoke from a factory billows in the distance in "View of La Guaira." A machine infiltrates the land in "The Crane." People work diligently in "Workshop at the Port of La Guaira." After being diagnosed with schizophrenia and spending three months in a San Jorge sanitorium, Reverón headed back to El Castillete, spending the rest of his life with Juanita and their dolls, using various combinations of pencil, charcoal, tempera, colored chalk, and pastel on paper, board, or canvas; several of Reverón's actual dolls and other objects are on view in the final gallery. During this period, Reverón created fascinating figural studies of individual and multiple nudes in such compelling pieces as "The Three Models." A trio of works — "Woman with Dolls," "Christmas Scene with Dolls," and "Old Man, Three Women, and a Child" -- utilize a similar setup of three dolls but casts them each in a very different light. He also painted a series of self-portraits, often wearing hats, with his dolls looming in the background. The outstanding, expansive catalog includes essays by exhibition organizer John Elderfield, consulting curator Luis Pérez-Oramas, and curatorial assistant Nora Lawrence in addition to reproductions of hundreds of paintings and photographs. This exhibition is a marvelous look at an artist deserving of more attention; don't miss it.
Also at MoMA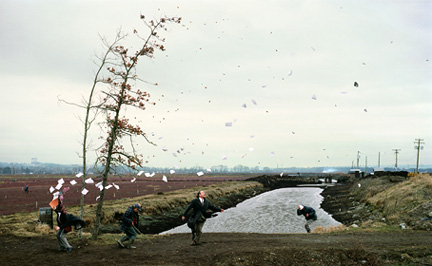 © 2007 Jeff Wall
Jeff Wall, A Sudden Gust of Wind (after Hokusai), 1993, silver dye bleach transparency in light box
JEFF WALL
MoMA
The Joan and Preston Robert Tisch Gallery, sixth floor
Through May 14

Canadian photographer Jeff Wall makes astounding large-scale backlit transparencies in light boxes, huge photographs heavily influenced by his study of art and film history and criticism, including the words of Baudelaire and Benjamin and the imagery of Goya and Velázquez. He captures and re-creates cinematic moments in time, inviting the viewer to step into the pictures and emerge with their own stories. In "Milk," an angry man sitting on a sidewalk shakes his arm, violently shooting milk out of the paper bag he is holding. In the panoramic "Restoration," a group of women restore a massive mural. In the gelatin silver print "Volunteer," a man begrudgingly moves a mop across the floor. Wall can be as playful as he can be serious. In "A Sudden Gust of Wind," he uses digital imagery (and more than one hundred photos taken over the course of a year) to recast Hokusai's famous series of wave paintings by having a sheaf of papers get swept up in the wind as a tree bends over a river on a cranberry farm and several men react to the surge. In other works, a man huddles beneath his kitchen table, unable to sleep; the main character from Ralph Ellison's "Invisible Man" sits in his basement, surrounded by 1,369 lightbulbs; a room has been turned upside down and destroyed; a Vietnamese man rests uneasily against a shadowy tree, a white woman nearby, paying him no notice; a grave is mysteriously flooded with water; and Soviet troops recently killed in an ambush in Afghanistan come back to life to contemplate and discuss their fate. There's no future or past in these spectacular photographs, just an enigmatic present, often imbued with a subtle, unsentimental social conscience.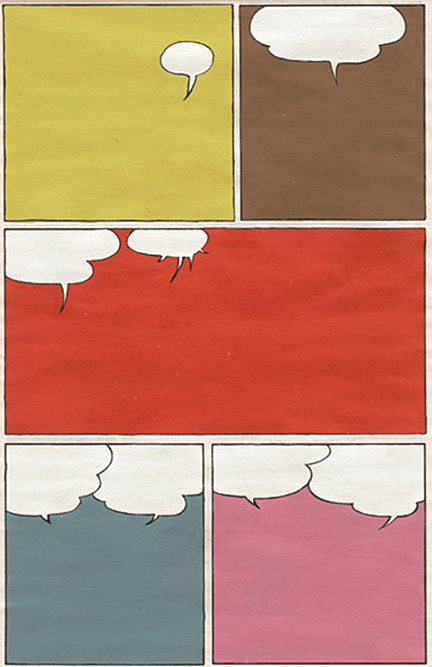 Museum of Modern Art
Rivane Neuenschwander, "Zé Carioca no. 4, A Volta de Zé Carioca [The Return of Zé Carioca] (1960)," synthetic polymer paint on comic book pages, 2004
COMIC ABSTRACTION: IMAGE-BREAKING, IMAGE-MAKING
MoMa
Special Exhibitions Gallery, third floor
Through June 11

With the continuing resurgence of comic books and comic book art spreading throughout today's American pop culture, MoMA gathers together thirteen contemporary artists who use comic book imagery to create abstract, highly conceptual works. For his Zé Carioca series, Rivane Neuenschwander tears apart Walt Disney's 1941 Brazilian stereotyped character by whiting out the text in the word bubbles and painting over the characters in bright colors, leaving a blank, imaginary cartoon landscape. Philippe Parreno evokes Andy Warhol's "Silver Clouds" in making dozens of helium-filled Mylar balloons in the shape of word bubbles (originally made for union protests), bunched up on the ceiling. Franz West allows visitors to take one of four plaster weaponlike objects and play with them inside an installation with a mirror so they can watch their exploits. And in "Waiting for Jerry," Juan Muñoz has devised a vacant room with only a solitary mouse hole; as music inspired by the Tom and Jerry cartoons plays, you'll recognize the ups and downs, the lulls and the chases, and create your own cat-and-mouse fantasy. There are also cool works by Takashi Murakami, Gary Simmons, and Inka Essenhigh.
© 2006 Bill Viola / Photograph by Kira Perov
Bill Viola, "Stations," 1994, five-channel video/sound installation
ALSO AT MOMA
There are several other worthwhile exhibits going on at MoMA right now. In the second-floor Contemporary Galleries, "Out of Time: A Contemporary View" (through April 9) comprises works that incorporate time as an element, including Andy Warhol's EMPIRE film, Rineke Dijkstra's photos of the same girl in the same pose taken over a period of years, and Bill Viola's brilliant "Stations," five video images, inverted on granite slabs, in which men and women dive into water, appearing on the slabs to be floating in a dark abyss. On the main floor, you don't even need a ticket to see "New York at Night," black-and-white photographs of Gotham by Berenice Abbott, Garry Winogrand, and other greats. And downstairs in the Titus 1 and 2 Lobby Galleries, "Rossellini on Paper" (through April 9) consists of movie posters of films by Roberto Rossellini along with family snapshots, on-set photos, and letters during his professional and personal relationship with Ingrid Bergman. Below are select programs being held at the museum in the coming weeks.
Thursday, March 29 Brown Bag Lunch Lectures: Jeff Wall, with Beatrice Gross, Lewis B. and Dorothy Cullman Education and Research Building, classroom B, 4 West 54th St. between Fifth & Sixth Aves., $5 (participants can bring their own lunch), 12:30
Friday, March 30 Conversations with Contemporary Artists: Sze Tsung Leong, Bartos Theater, $10, 6:30
Monday, April 2
and
Thursday, April 5 Brown Bag Lunch Lectures: Armando Reverón, with Nora Lawrence, Lewis B. and Dorothy Cullman Education and Research Building, classroom B, 4 West 54th St. between Fifth & Sixth Aves., $5 (participants can bring their own lunch), 12:30
Monday, April 9 Reading Reverón, Painting Poetry: Spanish reading with English translation, with José Luis Blondet, José Falconi, Alejandro Merizalde, and Luis Pérez-Oramas reading works by Jorge Luis Borges, José Gorostiza, José Antonio Ramos Sucre, Ana Enriqueta Teran, and others, Bartos Theater, $10, 6:30
Monday, April 16
and
Thursday, April 19 Brown Bag Lunch Lectures: Comic Abstraction, with Midori Yosimoto, Lewis B. and Dorothy Cullman Education and Research Building, classroom B, 4 West 54th St. between Fifth & Sixth Aves., $5 (participants can bring their own lunch), 12:30
Tuesday, April 17 Artists Speak: Conversations on Contemporary Art with Glenn D. Lowry — Spotlight: Artists Set the Stage, with Laurie Anderson and William Kentridge, Bartos Theater, $10, 6:30
Monday, April 23
and
Thursday, April 26 Brown Bag Lunch Lectures: Photography and Narrative: From Walker Evans to Carrie Mae Weems and Jeff Wall, with Amir Parsa, Lewis B. and Dorothy Cullman Education and Research Building, classroom B, 4 West 54th St. between Fifth & Sixth Aves., $5 (participants can bring their own lunch), 12:30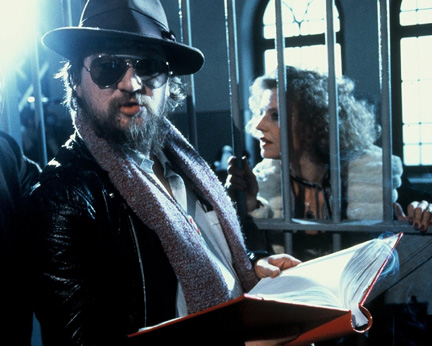 © Eigentum des jeweiligen Studios/Vertriebes
Rainer Werner Fassbinder on the set of his epic masterpiece BERLIN ALEXANDERPLATZ
MOMA FILM
Museum of Modern Art
11 West 53rd St. between Fifth & Sixth Aves.
Tickets: $10, in person only, may be applied to museum admission within thirty days, same-day screenings free with museum admission, available at Film and Media Desk
212-708-9400
Below is only a select list of films being screened at MoMA. Visit the above Web site for the complete schedule.
Friday, March 30 New Directors/New Films: THE GREAT WORLD OF SOUND (Craig Zobel, 2006), 8:30
Saturday, March 31 New Directors/New Films: DAY NIGHT DAY NIGHT (Julia Loktev, 2006), 6:30
Monday, April 2 Still Moving: PRIVILEGE (Yvonne Rainer, 1990), 8:00
Tuesday, April 3 Fassbinder in the Collection: VERONIKA VOSS (Rainer Werner Fassbinder, 1982), 6:00
Wednesday, April 4 Fassbinder in the Collection: LILI MARLEEN (Rainer Werner Fassbinder, 1980), 8:15
Thursday, April 5 Still Moving: THE NIGHT OF THE SHOOTING STARS (Paolo & Vittorio Taviani, 1982), 5:15
Friday, April 6
through
Sunday, April 8 Films for "Out of Time: A Contemporary View" — THE LONG DAY CLOSES (Terence Davies, 1993)
Monday, April 9 Fassbinder in the Collection: FASSBINDER'S BERLIN ALEXANDERPLATZ: NOTES ON THE RESTORATION (Juliane Lorenz, 2007) and FASSBINDER'S BERLIN ALEXANDERPLATZ: A MEGA MOVIE AND ITS STORY (Juliane Lorenz, 2007), 6:00
Tuesday, April 10 Fassbinder in the Collection: BERLIN ALEXANDERPLATZ, Parts 1—3 (Rainer Werner Fassbinder, 1979/1980), 7:00
Wednesday, April 11 Fassbinder in the Collection: BERLIN ALEXANDERPLATZ, Parts 4—7 (Rainer Werner Fassbinder, 1979/1980), 7:00
Thursday, April 12 Fassbinder in the Collection: BERLIN ALEXANDERPLATZ, Parts 8—11 (Rainer Werner Fassbinder, 1979/1980), 7:00
Friday, April 13 Fassbinder in the Collection: BERLIN ALEXANDERPLATZ, Parts 12, 13, Epilogue (Rainer Werner Fassbinder, 1979/1980), 7:00
Saturday, April 14 Fassbinder in the Collection: BERLIN ALEXANDERPLATZ, Parts 1—3 (Rainer Werner Fassbinder, 1979/1980), 1:00
Saturday, April 14 Fassbinder in the Collection: BERLIN ALEXANDERPLATZ, Parts 4—7 (Rainer Werner Fassbinder, 1979/1980), 6:30
Sunday, April 15 Fassbinder in the Collection: BERLIN ALEXANDERPLATZ, Parts 8—11 (Rainer Werner Fassbinder, 1979/1980), 1:00
Sunday, April 15 Fassbinder in the Collection: BERLIN ALEXANDERPLATZ, Parts 12, 13, Epilogue (Rainer Werner Fassbinder, 1979/1980), 6:30
In the Neighborhood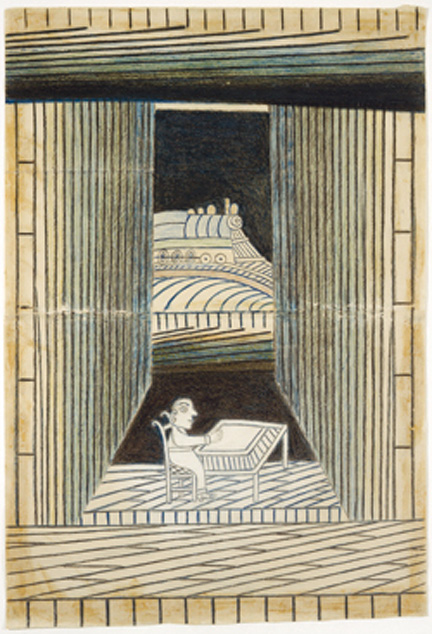 Stephanie Smither / Photo by Rick Gardner, Houston
Martín Ramírez, "Untitled (Man at Desk)," ca. 1948-63,
crayon and pencil on pieced paper
MARTÍN RAMÍREZ
American Folk Art Museum
45 West 53rd St. between Fifth & Sixth Aves.
Closed Monday
Extended through May 13
Admission: $9
Fridays free from 5:30 to 7:30, with live music
212-265-1040

Born in Mexico in 1895, Martín Ramírez went to California in 1925 to work on the railroads to provide for his wife and four children. But the Great Depression left him homeless and without a job, ending up destitute in a mental institution, diagnosed as a catatonic schizophrenic. For the next thirty-two years, he remained institutionalized, barely uttering a word, all the while painting and drawing, often using scraps of paper held together by a home-made glue of saliva, bread, and potato. Studying Ramírez's life and work for more than twenty years (he died in 1965), sociologists Víctor M. Espinosa and Kristin E. Espinosa have unearthed fascinating details about the self-taught outsider artist, leading to this compelling exhibition, which places his career in a brand-new light, claiming that he was more in control of his mental faculties than previously believed. Ramírez repeatedly drew four main thematic elements: a Western horse and rider, often holding a gun; a crowned Virgin Mary, often standing on the moon, an evil serpent nearby; maplike landscapes that combine the simplicity of his Mexican upbringing with the overwhelming modernity of California; and, most captivating of all, trains and tunnels, hearkening back to his days as a railroad employee as well as representative of the thing that took him away from home, eventually forever. Extensive wall text places his work in context, from the Espinosas as well as exhibition curator Brooke Davis Anderson, art curator Daniel Baumann, and art historian Victor Zamudio-Taylor.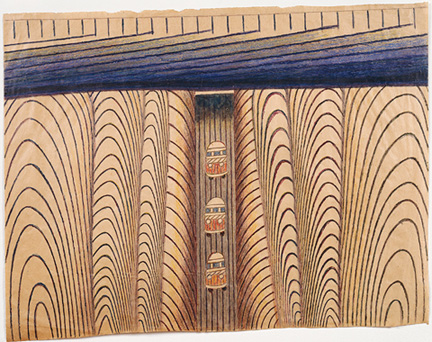 Blanchard-Hill Collection / Phyllis Kind Gallery
Martín Ramírez, "Untitled (Three VW Vans)," ca. 1948-63,
crayon and pencil on pieced paper

The drawings themselves are sometimes mesmerizing, occasionally enchanting, almost always curious, but mostly repetitive. Often childlike in nature and with a hint of ancient cave paintings, the nearly one hundred works on display, spread throughout several floors of the museum, are remarkable for Ramírez's use of line. Parabolic curves build from small to large, drawn freehand, not obsessively measured. Volkswagen vans travel through imaginary roadways in succession. Trains emerge from tunnels only to go right back in, in endless loops that lead nowhere. The rider on horseback, known as a jinete, is placed in a closed-in stage surrounded by heavily lined walls, sometimes with an audience in the bottom of the drawing, the object of his gun-pointing never seen. Animals sometimes drop by for a visit to his carefully framed world, including skunks, deer, dogs, and rabbits. The most impressive piece is a nearly nine-foot-long landscape mural filled with a kitchen sink of Ramírez's iconic language. There's a lot to enjoy here, although we're not sure a strong-enough case has been made for lifting Ramírez too far out of the outsider artist canon, whether he was a "catatonic schizophrenic" or not. Still, it makes an excellent complement with the Armando Reverón exhibit across the street at MoMA; we suggest seeing both back to back on a late Friday afternoon, when admission to each museum is free, to delve into the work of two men who dealt with mental illness and whose lives and artistic output are concurrently undergoing a major popular and critical rediscovery.

CULTURE IN CONTEXT:
SELF-TAUGHT ARTISTS IN THE TWENTY-FIRST CENTURY
American Folk Art Museum
Tickets: $50
Advance registration: 212-265-1040 ext160
Friday, April 27
and
Saturday, April 28 Two-day symposium organized in conjunction with the Martín Ramírez exhibition, with Víctor M. Espinosa, Kristin E. Espinosa, Brooke Davis Anderson, Daniel Baumann, Victor Zamudio-Taylor, Roger Cardinal, Susan Mitchell Crawley, Lee Kogan, Randall Morris, Colin Rhodes, and Leslie Umberger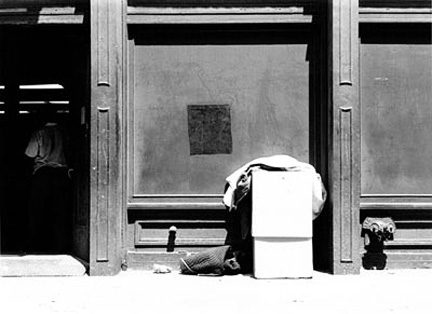 Zabriskie Gallery
Ralston Crawford, "Shelter," 1974, gelatin silver print
RALSTON CRAWFORD (1906-1978): PHOTOGRAPHS
PAT LASCH: SACRED BREEDING
Zabriskie Gallery
41 East 57th St. at Madison Ave., fourth floor
Closed Sunday & Monday
Through April 21
Admission: free
212-752-1223
http://www.zabriskiegallery.com

In addition to being a Precisionist painter, draftsman, and printmaker, Ralston Crawford was a photographer. His black-and-white photographs may have been used primarily as reference for his paintings, but they also stand out on their own as unique works of art. The pictures, thirty of which are on view at the Zabriskie Gallery, reveal his painter's eye for geometric patterns and shapes, encountering beauty in the subtle details of the changing landscape of natural and industrial America. Beginning in 1940 and continuing through 1977, Crawford, the son of a ship's captain, took pictures of empty streets, torn signs, a ship's light, a chain-link fence, hydropower tanks and cranes at the Grand Coulee Dam, jutting rocks on a Utah cliff, or power lines and wires on a roof, finding unique angles and shadows in his careful compositions. Stare long enough at "Shelter," "Muddy Shore," or "Clams" and they'll transform into abstract paintings right before your eyes.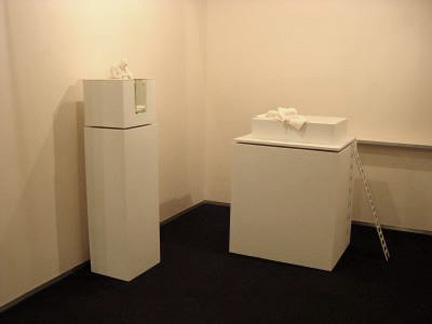 twi-ny/mdr
Pat Lasch, "Egg Handler" and "Anna Reclining with Eggs," 2004-2007, bisque porcelain

In the Zabriskie's side gallery, Pat Lasch's intriguing "Sacred Breeding" exhibit creates a bizarre miniature world where tiny figures — including a fertile holy woman named Anna and an African prince under an elegant canopy — sleep atop large, rectangular podiums, their sexual organs prominently displayed, all dedicated to bringing new life into existence. Near Anna are three eggs, perhaps the result of her association with the three sacred men across the room. Meanwhile, an Egg Handler sits atop a mirrored box filled with eggs that seemingly go on toward infinity. Step gingerly to avoid tripping over either of the two ladders.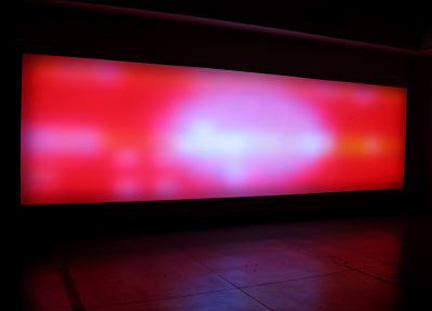 twi-ny/mdr
Leo Villareal, "Diamond Sea," 2007, LEDs, circuitry, mirror, finished stainless steel, transformers
LEO VILLAREAL: NEW WORK
Gering & López Gallery
730 Fifth Ave.
Closed Sunday & Monday
Through April 28
Admission: free
646-336-7183

Gering & López inaugurate their new space with three very different though related digital light sculptures by Chelsea-based artist Leo Villareal. First stand under "Hive," a sixty-four-square-foot backboard that contains 192 three-inch-by-three-inch acrylic squares that alternately flash orange lights in such forms as circles, rectangles, plus signs, X's, O's, and more abstract shapes. Stare deeply into it to be swept away by its random motion. Next take a few minutes to breathe in the morphing beauty of "Field," a long, horizontal wood board with an overlay that diffuses light into constantly changing patterns of red, orange, purple, green, and blue, evoking magnificent sunsets (and, yes, Lava lamps). As you lose yourself in the piece, you'll notice lightning-like flashes in your peripheral vision, somewhat disturbing the tranquillity of the moment. Turn to your left to see the source of the shiny storm, "Diamond Sea," a mirrored wall of stainless steel and 2,400 points of light that speed across the surface, creating new patterns every second. Try to follow the path of one of the lights — like you would a shooting star or a falling snowflake — as it weaves its way across the 150-square-foot object.
Film Festivals of the Week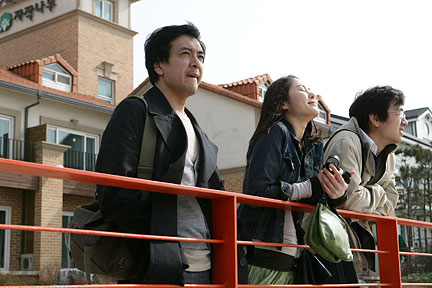 Mirovision Inc.
Hong Sang-soo's WOMAN ON THE BEACH is part of Brooklyn festival
BEST OF 2006
BAMcinematek
Brooklyn Academy of Music Opera House Café
30 Lafayette Ave. between Ashland Pl. & St. Felix St.
April 4-24
Tickets: $10
718-636-4100
In conjunction with indieWIRE's critics' polls, BAM will be screening sixteen of the best undistributed or otherwise little-seen films of 2006. The international potpourri includes offerings from such fab auteurs as Manoel de Oliveira, Kim Ki-duk, Nanni Moretti, François Ozon, and a hat trick of pre-HOST works by director of the moment Hong Sang-soo.
Wednesday, April 4 BELLE TOUJOURS (Manoel de Oliveira, 2006) and LES SIGNES (Eugène Green, 2006), 4:30, 6:50, 9:15
Thursday, April 5 TIME (Kim Ki-duk, 2006), 4:30, 6:50, 9:15
Friday, April 6
through
Wednesday, April 11 DARATT (Mahamat-Saleh Haroun, 2006), 7:00
Friday, April 13 DAY NIGHT DAY NIGHT (Julia Loktev, 2006), followed by a Q&A with director Julia Loktev and film critic Dennis Lim, 7:00
Saturday, April 14 IL CAIMANO (Nanni Moretti, 2006), 2:00, 4:30, 6:50, 9:15
Sunday, April 15 POLICE BEAT (Robinson Devor, 2005), 2:00, 4:30, 6:50, 9:15
Monday, April 16 WOMAN IS THE FUTURE OF MAN (Hong Sang-soo, 2004), 4:30, 6:50, 9:15
Tuesday, April 17 CLIMATES (Nuri Bilge Ceylan, 2006), 4:30, 6:50, 9:15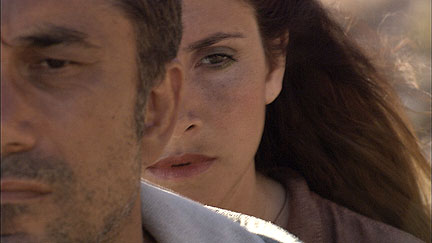 Zeitgeist Films
Husband and wife Nuri Bilge Ceylan and Ebru Ceylan star in haunting CLIMATES
CLIMATES (IKLIMLER) (Nuri Bilge Ceylan, 2006)

Winner of the FIPRESCI Prize at this year's Cannes Film Festival and a selection of the just-wrapped-up New York Film Festival, CLIMATES is a beautifully elegiac look at a desperate relationship set in modern-day Turkey. The film opens with Isa (writer-director Nuri Bilge Ceylan) and Bahar (Ebru Ceylan, Nuri's real-life wife) visiting desert ruins. As he walks among ancient pillars, taking photos, she watches him from a distance; the silence is deafening. Later, on a beach, they agree to part ways; while he heads back into the arms of Serap (Nazan Kesal), a friend's lover, she takes a job on a faraway television program, set in the bitter cold and snow. But Isa still can't get the younger Bahar out of his mind. CLIMATES features long scenes of little dialogue, with cinematographer Gökhan Tiryaki alternating extreme close-ups with gorgeous, nearly empty landscapes, shot in HD digital video, with a haunting piano-based score. Ceylan's follow-up to DISTANT, which won the 2003 Jury Grand Prix at Cannes, is a wrenching, challenging tale that will leave audiences emotionally exhausted.
Wednesday, April 18 TIME TO LEAVE (François Ozon, 2005), 4:30, 6:50 (followed by a Cinemachat with Elliott Stein), 9:30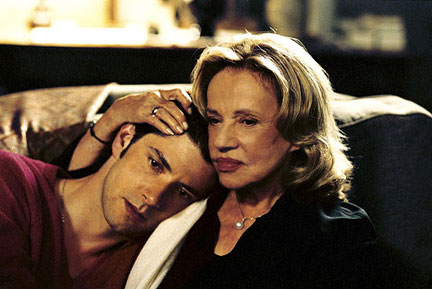 Sami (Malik Zidi) finds comfort with his grandmother (Jeanne Moreau)
LE TEMPS QUI RESTE (TIME TO LEAVE)
(François Ozon, 2004)

Melvil Poupaud is absolutely mesmerizing in François Ozon's gorgeous, elegiac LE TEMPS QUI RESTE (TIME TO LEAVE). Poupaud (A SUMMER'S TALE, GENEALOGIES OF A CRIME) stars as Romain, a self-absorbed, nasty fashion photographer. After collapsing at a rooftop shoot, Romain learns that he has terminal cancer, with probably less than a year to live. In most films, impending death means inner revelations, major epiphanies, sudden change of lifestyle, and a new attitude, but this is Ozon (WATER DROPS ON BURNING ROCKS, 8 WOMEN, SWIMMING POOL), so you never know what to expect. Romain breaks up with his live-in boyfriend, Sasha (Christian Sengewald), goes out of his way to avoid his sister, Sophie (Louise-Anne Hippeau), and her children, and reaches out to his father (Daniel Duval), with no success. He decides to tell no one about his illness except for his grandmother, Laura (French film legend Jeanne Moreau), who has been ostracized from the family. The scenes between Romain and Laura are wrenchingly beautiful and, oddly, downright erotic. Romain seemingly cares little about leaving any kind of mark on the world, even when given the chance by a woman (Valeria Bruni-Tedeschi) he meets in a diner. All the while, he continually sees himself as a child (Ugo Soussan Trabelsi), enjoying life in a more innocent time. The final scene is unforgettable. Don't miss this marvelously timeless look at life and death.
Thursday, April 19 ZOO (Robinson Devor, 2007), 7:00
Friday, April 20 TALE OF CINEMA (Hong Sang-soo, 2005), 2:00, 4:30, 6:50, 9:15
Saturday, April 21 WOMAN ON THE BEACH (Hong Sang-soo, 2006), 3:00, 6:00, 9:00
Sunday, April 22 COLOSSAL YOUTH (Pedro Costa, 2006), 3:00, 7:00
Monday, April 23 TWO DRIFTERS (João Pedro Rodrigues, 2005), 4:30, 6:50, 9:15
Tuesday, April 24 COLMA: THE MUSICAL (Richard Wong, 2006), 7:00
FARES TO REMEMBER: SEVEN MOVIES FOR TAXI 07
IFC Center
323 Sixth Ave. at West Third St.
April 6-28
212 924-7771
Getting a real taxi should only be so easy. In collaboration with the IFC Center, the Design Trust for Public Space is celebrating the centennial of the gas-powered taxi with a series of weekend noon and midnight screenings of some of the best films to feature what is arguably the city's most important form of transportation, the taxi. (They are also sponsoring the Taxi 07 exhibit at the New York International Auto Show, running April 6-15 at the Javits Center.) Among the drivers you'll find on-screen are Robert De Niro, Don Ameche, Harold Lloyd, Bob Hoskins, James Cagney, Winona Ryder, Roberto Begnini, and Armin Mueller-Stahl, ferrying around such customers as Claudette Colbert, Jodi Foster, Gena Rowlands, and Rosie Perez, through romantic comedies, crime thrillers, and poignant dramas.
Friday April 6
through
Sunday, April 8 SPEEDY (Ted Wilde, 1928), 12 noon
Friday April 6
and
Saturday, April 7 TAXI DRIVER (Martin Scorsese, 1976), 12 midnight
Friday April 13
through
Sunday, April 15 MIDNIGHT (Mitchell Leisen, 1939), 12 noon
Friday April 13
and
Saturday, April 14 MONA LISA (Neil Jordan, 1986), 12 midnight
Friday April 20
through
Sunday, April 22 TAXI! (Roy del Ruth, 1932), 12 noon
Friday April 27
through
Sunday, April 29 99 RIVER STREET (Phil Karlson, 1953), 12 noon
Friday April 27
and
Saturday, April 28 NIGHT ON EARTH (Jim Jarmusch, 1991), 12 midnight
Uptown Exhibition of the Week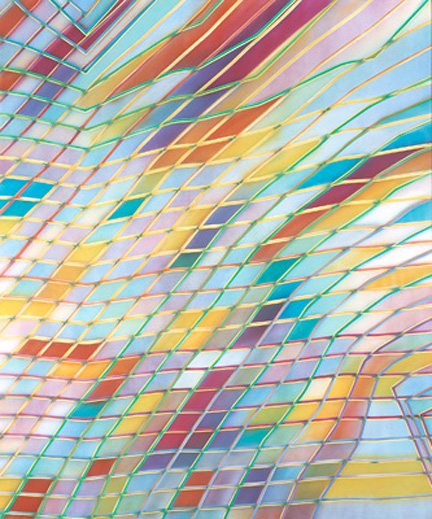 Jack S. Blanton Museum of Art
Kenneth Showell, "Besped," 1967, acrylic on canvas
HIGH TIMES, HARD TIMES: NEW YORK PAINTING 1967-1975
National Academy Museum and School of Fine Arts
1083 Fifth Ave. between 89th & 90th Sts.
Through April 22
Closed Monday & Tuesday
Admission: $10
212-369-4880
http://www.nationalacademy.org

"Painting was under attack as an outmoded medium in the late 1960s and early 1970s," artist David Reed writes in the catalog that accompanies the "High Times, Hard Times: New York Painting 1967-1975" exhibit at the National Academy. Katy Siegel notes, "Many painters felt a lifting of prohibitions in the late 1960s: the freedoms of new mediums opened their painting practice, allowing performance, video, and three-dimensional form to inform their work." During this time of sociopolitical change, the art world was changing as well. Traditional painting was being overlooked, forcing a determined group of artists, primarily based in Lower Manhattan, to reinvent, re-create, reconstruct, and deconstruct the medium, incorporating form and function, concept and unconventional materials into a unique visual language. It was also a time of growth for women painters and artists of color. Lynda Benglis poured colored latex on the floor and let it harden into an abstract form meant to be displayed on the ground. Jo Baer and Cesar Paternosto painted the sides of the stretched canvas rather than the front. Carolee Schneemann filmed herself rolling around naked in paper, paste, and molasses, using her body as canvas.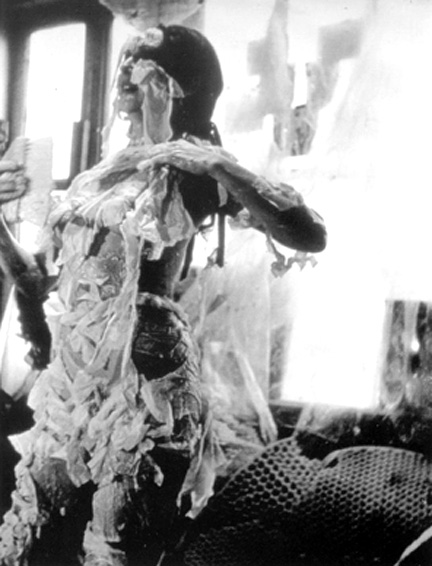 Electronic Arts Intermix
Carolee Schneeman, "Body Collage," 1967, DVD

Richard Van Buren shaped and colored polyester resin and twisted it into sculptural pieces that, when hung on the wall, could be seen as malformed paintings. Blinky Palermo made a stencil kit for his blue triangles so collectors could put them up wherever they wanted. Alan Shields's "Put a Name on It Please" places the onus on the viewer not only to find a name for the work but to walk all around and see through the "string painting," which is meant to be displayed in the middle of a room. Elizabeth Murray turned her canvas into a three-dimensional object that juts away from the wall, infiltrating the gallery space. Jack Whitten introduced the idea of "molecular perception" into his work, creating canvases that seemed to be decaying on the wall. Kenneth Showell's acrylic paintings appeared to be alive, a moving, breathing entity. The excellent catalog puts it all in perspective with essays by exhibition advisor Reed, curator Siegel, artist and teacher Dawoud Bey, and others; in addition to including all of the works in the show, it also features a timeline, artist bios, photographs of some of the artists in their studios back in the '60s and '70s, and artist statements from such participants as Joan Snyder, Roy Colmer, Schneeman, Benglis, Whitten, and Shields.
HIGH TIMES, HARD TIMES:
PAINTING AND POLITICS IN NEW YORK CITY, 1967-1975
The New School for General Studies
Theresa Lang Community and Student Center
55 West 13th St. between Fifth & Sixth Aves.
Tickets: $8
212-229-5353
Tuesday, April 10 Panel discussion on politics, race, and feminism in art in the mid-1960s, with art history professor Anna C. Chave, who contributed the essay "Outlaws: Women, Abstraction, and Painting in New York, 1967-1975" to the exhibition catalog; art historian and critic Robert Pincus-Whitten, who contributed the essay "Receding Horizons: Fading Notes on the Seventies"; and exhibition artist Howardina Pindell; moderated by exhibition curator Katy Siegel, 6:30
International Festival of the Week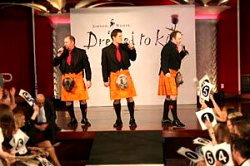 Dressed to Kilt is only one of the special events
scheduled for Tartan Week
TARTAN WEEK 2007
Multiple venues
March 31 — April 7
For the ninth year, the Tartans will invade New York with a series of Scottish cultural events all over town, from fashion and music to sports and shopping, from whisky tastings and lectures to theater and a big parade.
Friday, March 30
through
Saturday, April 7 Silver of the Stars, featuring collaborations between celebrities and silversmiths, including Sean Connery, Billy Connolly, Ewan McGregor, Robbie Coltrane, Lulu, Alexander McQueen, Sir Cameron Mackintosh, and others, the Forbes Galleries, 60 Fifth Ave. at 12th St., free, 10:00 am — 4:00 pm
Friday, March 30
through
Saturday, April 7 DID YOU USED TO BE R. D. LAING? musical theater production by Mike Maran, American Theatre of Actors, 314 West 54th St., $20
Saturday, March 31
through
Sunday, April 8 The Scottish Village, featuring cultural exhibitions on Scottish design, Glenfiddich, golf, Scottish roots, vacations, and more, Grand Central Terminal, free, 11:00 am — 7:00 pm
Sunday, April 1 The Scotland Run, 10K, Central Park, starting on West Drive near 62nd St., 10:00 am
Monday, April 2 Dressed to Kilt, Capitale, 130 Bowery at Grand St., cocktails and live entertainment 7:30, fashion show 9:00, post-party 10:00
Wednesday, April 4 Whisky Live!, Pier 60, 23rd St. & the Hudson River, featuring whisky, beer, food, master classes, panel discussions, a casino, and more, $80-$125, 6:00 — 12 midnight
Wednesday, April 4 John Muir — The Original "Wild" Muir and His Legacy, with Jo Moulin, New-York Historical Society, 170 Central Park West at 77th St., $15, 6:30 (preceded by free Belhaven Brewery beer tasting for ticket holders at 5:30)
Wednesday, April 4 Scotland Rocks New York: Sons and Daughters, 1990s, Nicole Atkins & the Sea, and DJs John Cummings and Bobby Kilde, Bowery Ballroom, 6 Delancey St., $15, 7:00
Thursday, April 5 The Museum of Piping — Over the Isles to America, illustrated lecture by Robert Wallace with live musical performances, New-York Historical Society, 170 Central Park West at 77th St., $15, 6:30 (preceded by free Belhaven Brewery beer tasting for ticket holders at 5:30)
Sunday, April 8 RASH, hour-long one-person play by Jenni Wolfson, American Theatre of Actors, 314 West 54th St., $15, 2:00 & 7:00
Saturday, April 14 Tartan Day Parade, Sixth Ave., 2:00

Riff's Rants & Raves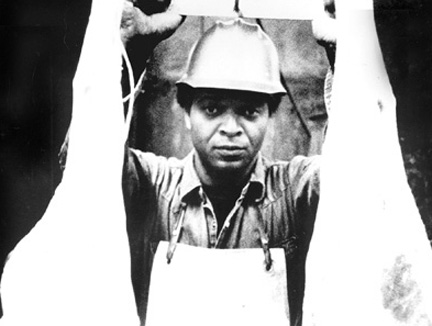 Henry Gayle Sanders stars in restored classic KILLER OF SHEEP
KILLER OF SHEEP (Charles Burnett, 1977)
IFC Center
323 Sixth Ave. at Third St.
Opens March 30
212-924-7771

Milestone Films is celebrating the thirtieth anniversary of Charles Burnett's low-budget feature-length debut, KILLER OF SHEEP, with a new 35mm restoration with the soundtrack intact; the film has not been available on VHS or DVD for decades because of music rights problems that have finally been cleared, and it has never before been released theatrically. (The soundtrack includes such seminal black artists as Etta James, Dinah Washington, Little Walter, and Paul Robeson.) Shot on weekends for less than $10,000, KILLER OF SHEEP took four years to put together and another four years to get noticed, when it won the FIPRESCI Prize at the 1981 Berlin Film Festival. Reminiscent of the work of Jean Renoir and the Italian neo-Realists, KILLER OF SHEEP is a simple story about a family just trying to get by, struggling to survive in their tough Watts neighborhood in the mid-1970s. The slice-of-life scenes are sometimes very funny, sometimes scary, but always poignant, as Stan (Henry Gayle Sanders) trudges to his dirty job in a slaughterhouse in order to provide for his wife (Kaycee Moore) and children (Jack Drummond and Angela Burnett). Every day he is faced with new choices, from participating in a murder to buying a used car engine, but he takes it all in stride. The motley cast of characters, including Charles Bracy and Eugene Cherry, is primarily made up of nonprofessional actors with a limited range of talent, but that is all part of what makes it all feel so real. KILLER OF SHEEP was added to the National Film Registry of the Library of Congress in 1989, the second year of the program, making it among the first fifty to be selected, in the same group as REBEL WITHOUT A CAUSE, THE GODFATHER, DUCK SOUP, ALL ABOUT EVE, and IT'S A WONDERFUL LIFE.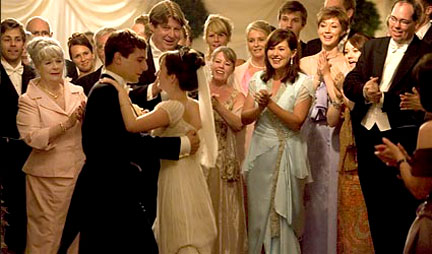 Things get complicated before and after Danish wedding
AFTER THE WEDDING
(EFTER BRYLLUPPET) (Susanne Bier, 2006)
IFC Center
323 Sixth Ave. at Third St.
Opens March 30
212-924-7771
http://www.ifccenter.com
http://www.efterbrylluppet.dk

Nominated for an Oscar for Best Foreign Language Film, AFTER THE WEDDING is a complex, uneasy family drama filled with secrets and lies. Mads Mikkelsen (so good in Nicolas Winding Refn's PUSHER trilogy) stars as Jacob, an angry, unhappy man who helps run an orphanage in India. Beloved by the kids — and especially Pramod (Neeral Mulchandani), who depends on him — Jacob must return to his native Denmark to try to solicit much-needed funds from the orphanage's benefactor, a powerful businessman named Jørgen (Rolf Lassgård). Jørgen ends up insisting that Jacob stay for the wedding of his daughter, Anna (Stine Fischer Christensen), but when Jacob sees Jørgen's wife, Helene (Sidse Babett Knudsen), the past comes flooding back on him, affecting everyone's future. Mikkelsen gives a tense, foreboding performance in this gripping, intelligent film, written by Oscar winner Anders Thomas Jensen and strongly directed by Susanne Bier (BROTHERS, OPEN HEARTS).
ANGRY MONK: REFLECTIONS ON TIBET (Luc Schaedler, 2005)
Rubin Museum of Art
150 West 17th St. at Seventh Ave.
March 31 (2:00, 6:00), April 7 (4:00)
Tickets: $12
212-620-5000 ext 344
http://www.angrymonkthefilm.ch/en

Most films about Tibet present idealized views of monastic life trod upon by the Chinese. In ANGRY MONK, director Luc Schaedler and cameraman Filip Zumbrunn reveal a different side of the supposedly peaceful Shangri-La by focusing on a radical, subversive monk who had a completely different perspective of his homeland. Born in 1903 near the eastern border with China, Gendun Choephel was a forward-thinking writer, artist, historian, and monk who smoked, drank, cursed, and had sex with women. Frustrated with the conservative Tibetan leadership in Lhasa, he traveled across India, where the struggle for independence from Britain spurred him to revolutionary thoughts, making him an enemy of the Chinese, the British, and even his own people. Interweaving archival footage with shots of modern-day Tibet, Schaedler tells Choephel's fascinating story through interviews with historians, teachers, aged friends of Choephel, a British colonialist, and even Choephel's wife; sadly, only a few photographs of the angry monk exist, and no film at all. As Chinese occupation looms, Choephel, who described himself as "an astute beggar who spent his life listening," is powerless as his country crumbles. All screenings of ANGRY MONK are preceded by the short film TRICYCLE: THE B. On March 31 at 4:00 ($15), there will be a related talk with William Dalrymple and Gehlek Rimpoche on monks and monasticism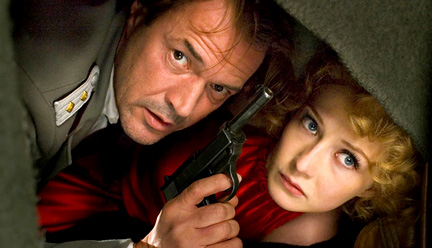 Sebastian Koch and Carice Van Houten excel in BLACK BOOK
BLACK BOOK (Paul Verhoeven, 2006)
Opens Wednesday, April 4
http://www.sonyclassics.com/blackbook

Paul Verhoeven (TOTAL RECALL, BASIC INSTINCT) returns to his Dutch roots with BLACK BOOK, an epic tale set during the Holocaust. It's 1944, and Rachel Stein (Carice Van Houten) and her family are trying desperately to get out of Holland, which is being taken over by the Gestapo. But after the small boat they are on gets ambushed, with Rachel the only survivor of a brutal massacre, she soon finds herself working for the Dutch resistance, under the leadership of Gerben Kuipers (Derek de Lint). After a successful mission with Hans (Thom Hoffman), Rachel gets assigned a much more dangerous task — to get as close as possible to Gestapo commander Ludwig Müntze (Sebastian Koch), no matter what it takes. As she climbs into bed with Müntze, lies, treachery, and betrayal threaten to tear apart the resistance. BLACK BOOK is a big, ambitious film that can't quite live up to its promise; there are just too many plot holes and individual scenes gone wrong. Still, Van Houten and Koch — an emerging international star who was so good in THE LIVES OF OTHERS — are both compelling in complex roles that outshine the story itself.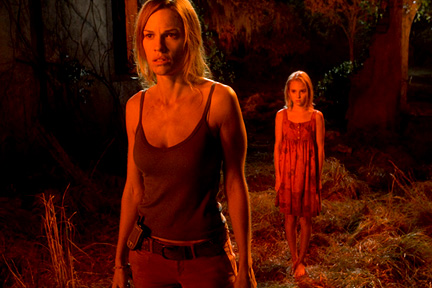 Hilary Swank battles plagues in THE REAPING
THE REAPING (Stephen Hopkins, 2007)
Opens Thursday, April 5
http://thereapingmovie.warnerbros.com
THE REAPING, a new horror flick directed by Stephen Hopkins (LOST IN SPACE, JUDGMENT NIGHT), is genuinely creepy and not without its share of who's-there-and-when-will-you-jump-out-at-me thrills. (Hint: it's always a few seconds after the scary music stops.) You might not feel like you've wasted your money on this piece of entertainment fluff, but you also won't feel like you've gotten the better part of the deal. Hilary Swank stars as a former minister of an unspecified denomination who specializes in debunking religious "miracles." Embittered by the death of her husband and child — shown in grisly flashbacks — she has unfortunately become a one-dimensional cartoon of the skeptical nonbeliever, trading confrontational glances at locals too freakish to be picked for DELIVERANCE; hoping the lab tests won't show that the river is blood; and drinkin' and cussin' and enjoying first-date sex. Against mounting evidence to the contrary, she maintains that the series of biblical plagues (boils, locusts, lice, dead livestock, etc.) visiting Haven, LA, can be explained scientifically while we all pray to God Almighty that she is right. While the "twist" ending is satisfying in a sequel-ready kind of way, it's also the favored storytelling conclusion of people under the age of six. (Hint: they all ____ !) There's not much to recommend here, unless you have nothing better to do on a Saturday night.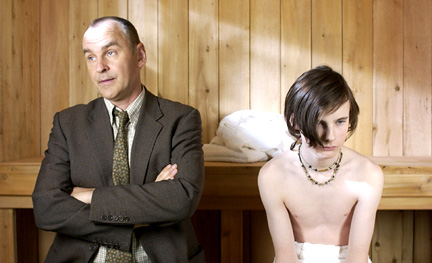 Don and Emerson have an odd relationship in WHOLE NEW THING
WHOLE NEW THING (Amnon Buchbinder, 2006)
Quad Cinema
34 West 13th St. between Fifth & Sixth Aves.
Opens Friday, April 6
Tickets: $10
212-255-8800
Precocious thirteen-year-old Emerson Thorsen (Aaron Webber in his first feature film) is living what he thinks is a charmed life in the snowy woods of Nova Scotia. He is putting the finishing touches on his epic fantasy novel, takes naked saunas and smokes dope with his environmentalist parents, Rog (Robert Joy) and Kaya (the beguiling Rebecca Jenkins), and is home-schooled so he doesn't have to interact with other kids. As Emerson begins having wet dreams and considering his sexuality for the first time, Kaya decides he is ready to go to the local school to get a broader education and to finally meet children his own age (instead of hanging out at his parents' parties giving erotic back massages to older women). Positive that this is an experiment that is sure to fail, Emerson heads off to middle school, but something happens that he never expected — he develops an unusual crush on his forty-two-year-old teacher, Don Grant (cowriter Daniel MacIvor), who, unbeknownst to anyone, hangs out in a park rest stop in search of anonymous action. (No, George Michael never shows up.) Meanwhile, Rog's cyncism and lack of success starts wearing on Kaya, who seeks solace in the arms of hard-hearted Denny (Callum Keith Rennie). Canadian writer-director Amnon Buchbinder has created some unique characters and situations, but WHOLE NEW THING never quite comes together. Much of it feels rushed, and indeed, it was filmed in only fifteen days. The soundtrack features a treacly score by Buchbinder's brother, David, and sappy songs by Joel Gibb and the Hidden Cameras. For a more compelling look at adolescence and being an outsider, rent Mike Mills's arresting THUMBSUCKER.
Cillian Murphy stars in Irish epic
THE WIND THAT SHAKES THE BARLEY (Ken Loach, 2006)
IFC Center
323 Sixth Ave. at Third St.
212-924-7771
Lincoln Plaza Cinemas
1886 Broadway between 62nd & 63rd Sts.
212-757-0359
http://lincolnplaza.moviefone.com
http://www.thewindthatshakesthebarley.co.uk

Winner of the 2006 Palme d'Or at Cannes, THE WIND THAT SHAKES THE LEAVE is a brutal masterpiece from director Ken Loach (RIFF-RAFF, BREAD AND ROSES). It's 1920, and the English black and tans are running roughshod through Ireland, leaving broken and dead bodies in their wake as they keep the population frightened and in poverty. But poorly armed yet determined local guerrilla armies are forming, prepared to fight for freedom in their homeland. In one small town, Damien (Cillian Murphy) is getting ready to move to London to train as a doctor, but he decides instead to join the burgeoning Irish Republican Army after seeing one too many bloody beatings. Swearing their loyalty to the cause and led by Damien's brother, Teddy (Padraic Delaney), they set up ambushes of British forces, gathering weapons in a desperate attempt to win back their country. Damien also falls for Sinead (Orla Fitzgerald), one of many women who work as messengers and spies and run safe houses. But when a questionable treaty is signed, loyalty is tested and families torn apart. Written by Paul Laverty and also featuring Liam Cunningham, Mary Riordan, Myles Horgan, and Mary Murphy, THE WIND THAT SHAKES THE BARLEY is a fierce, no-holds-barred, if one-sided, look at a violent conflict that has lasted for centuries.
OFFSIDE (Jafar Panahi, 2006)
Quad Cinema
34 West 13th St. between Fifth & Sixth Aves.
Tickets: $10
212-255-8800
Lincoln Plaza Cinemas
1886 Broadway between 62nd & 63rd Sts.
212-757-0359
http://lincolnplaza.moviefone.com
http://www.sonyclassics.com/offside

Filmed on location in and around Tehran's Azadi Stadium and featuring a talented cast of nonprofessional actors, Jafar Panahi's OFFSIDE is a brilliant look at gender disparity in modern-day Iran. Although it is illegal for girls to go to soccer games in Iran — because, among other reasons, the government does not think it's appropriate for females to be in the company of screaming men who might be cursing and saying other nasty things — many try to get in, facing arrest if they get caught. OFFSIDE, which played the 2006 New York Film Festival, is set during an actual match between Iran and Bahrain; a win will put Iran in the 2006 World Cup. High up in the stadium, a small group of girls, dressed in various types of disguises, have been captured and are cordoned off, guarded closely by some soldiers who would rather be watching the match themselves or back home tending to their sheep. The girls, who can hear the crowd noise, beg for one of the men to narrate the game for them. Meanwhile, an old man is desperately trying to find his daughter to save her from some very real punishment that her brothers would dish out to her for shaming them by trying to get into the stadium. Despite its timely and poignant subject matter, OFFSIDE is a very funny film, with fine performances by Sima Mobarak Shahi, Shayesteh Irani, Ida Sadeghi, Golnaz Farmani, Mahnaz Zabihi, and Nazanin Sedighzadeh as the girls and M. Kheymeh Kabood as one of the soldiers.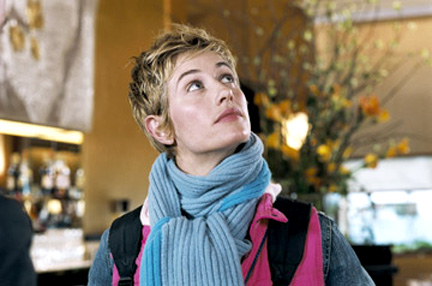 Cecile de France brings an endearing charm to the City of Light
AVENUE MONTAIGNE (Danièle Thompson, 2006)
Quad Cinema
34 West 13th St. between Fifth & Sixth Aves.
Tickets: $10
212-255-8800
Lincoln Plaza Cinemas
1886 Broadway between 62nd & 63rd Sts.
212-757-0359
http://lincolnplaza.moviefone.com

Cecile de France is absolutely captivating in AVENUE MONTAIGNE, bringing an endearing charm to every second she's on camera. The illegitimate offspring of Audrey Hepburn and Audrey Tatou, de France stars as Jessica, a young woman who ventures onto the fashionable Avenue Montaigne in Paris in search of her place in the world. She finagles a job waitressing at a popular bistro that serves as the center of the film, a place that attracts artistic folk from the nearby concert hall, auction house, and theater. At the theater, soap opera star Catherine Versen (Valérie Lemercier) desperately wants to be in the next Brian Sobinski (Sydney Pollack) film, while beloved longtime usher Claudie (Claudie Dani) is convincing herself she is ready to retire. At the concert hall, Jean-François Lefort (Albert Dupontel) is considering hanging it up as a successful classical pianist, much to the chagrin of his manager wife, Valentine (Laura Morante). And at the auction house, Jacques Grumberg (Claude Brasseur) is selling off his massive art collection and trying to reconnect with his son, Frédéric (Christopher Thompson). There's a lot of talk about life and art, plenty of sexual intrigue, and some fine individual performances, but the film occasionally gets bogged down in heavy melodrama and unconvincing scenes. However, through it all, de France lights the way. AVENUE MONTAIGNE was directed by Danièle Thompson and cowritten by Thompson and her son, Christopher, who plays a major role in the film.
THE PAGE TURNER (Denis Dercourt, 2006)
Angelika Film Center
18 West Houston St. at Mercer St.
212-995-2000
Lincoln Plaza Cinemas
1886 Broadway between 62nd & 63rd Sts.
212-757-0359
http://lincolnplaza.moviefone.com
http://www.city-cinemas.com/angelika.html

Playing at an audition to get into a prestigious conservatory, ten-year-old pianist Mélanie (Julie Richalet) is distracted and unable to recover when the chairwoman of the jury (Catherine Frot) signs an autograph during the performance, not paying attention to her. As Mélanie leaves the room, she stares straight ahead, a fury building inside her. Ten years later, Mélanie (Déborah François) has blossomed into a beautiful young woman who gets a job as an intern for prominent attorney Monsieur Fouchecourt (Pascal Greggory). But it is not the valuable work experience she is after — it just so happens that the lawyer's wife, Ariane, who is trying to resurrect her flailing musical career, turns out to be the chairwoman who Mélanie believes ruined her life. Quietly and with an eerie, subtle confidence, Mélanie immerses herself into the family, which also includes young Tristan (Antoine Martynciow), a piano virtuoso himself. Mélanie's relationship with Ariane is reminiscent of that of Hedy (Jennifer Jason Leigh) and Allie's (Bridget Fonda) in SINGLE WHITE FEMALE, where all hell could break loose at any moment. Writer-director Denis Dercourt's tense psychological thriller is built around François's stellar performance; audiences will be kept on the edge of their seats waiting for Mélanie to explode — if revenge is indeed part of her plan.
THE LIVES OF OTHERS (DAS LEBEN DER ANDEREN)
(Florian Henckel von Donnersmarck, 2006)
Angelika Film Center
18 West Houston St. at Mercer St.
212-995-2000
Lincoln Plaza Cinemas
1886 Broadway between 62nd & 63rd Sts.
212-757-0359
http://lincolnplaza.moviefone.com
http://www.city-cinemas.com/angelika
http://www.sonyclassics.com/thelivesofothers

Winnter of the Oscar for Best Foreign Language Film, THE LIVES OF OTHERS is a tense political thriller set in 1980s East Berlin. Ulriche Mühe gives a mesmerizing performance as Capt. Gerd Wiesler, an expert interrogator for the Stasi, the German Democratic Republic's secret police, who keep a close watch on all suspicious activity — and to them, everything is suspicious. When powerful culture minister Bruno Hempf (Thomas Thieme) tells Wiesler's nervous yes-man boss, Lt. Col. Anton Grubitz (Ulrich Tukur), to spy on noted playwright Georg Dreyman (Sebastian Koch), Wiesler takes the case, setting up audio surveillance on Dreyman and his actress girlfriend, Christa-Maria Sieland (Martina Gedeck). But when the ever-loyal, humorless, always stalwart Wiesler discovers that Hempf ordered the surveillance primarily because he has a thing for Sieland, Wiesler begins to reconsider the case — and the ultimate responsibility of the Stasi itself. And the more he learns, the more he understands. THE LIVES OF OTHERS was written and directed by Florian Henckel von Donnersmarck, making an extremely impressive feature-film debut, capturing a precarious, paranoid part of recent German history in which the vast majority of the nation was either being spied on or were informers themselves.
THE PRISONER OR: HOW I PLANNED TO KILL TONY BLAIR
(Michael Tucker & Petra Epperlein, 2006)
Cinema Village
22 East 12th St. between University Pl. & Fifth Ave.
212-924-3363

On September 22, 2003, after filming a friend's wedding, Iraqi journalist Yunis Khatayer Abbas returned home with brothers Khalid and Abbas, only to have their house invaded by U.S. forces. Arrested as suspected terrorists, the three men are imprisoned and interrogated; when an officer yells at Yunis, "Tell me the truth!" he responds, "What truth?" It is eventually revealed that the brothers are suspected of plotting to blow up Tony Blair, an absolutely ludicrous charge built on faulty intelligence. Yunis is soon transported to Camp Ganci in Abu Ghraib, where the absurdity continues, though he is befriended by one of the guards, Army Specialist Benjamin Thompson, who is one of the few soldiers who wants to improve the conditions there. Married directors Michael Tucker and Petra Epperlein, whose previous documentary, GUNNER PALACE, followed U.S. forces through Baghdad, primarily let Yunis tell his story in close-up while mixing in home-movie footage and, rather questionably, graphic-novel-like cartoon illustrations to illuminate what already is a bizarre story worthy of Kafka. (Interestingly, Thompson had seen GUNNER PALACE, which included footage of Yunis shot by Tucker, who was embedded with the forces. Wanting to know what had become of the wronged journalist, Thompson sought out Tucker, then agreed to tell his story, leading the way for THE PRISONER.) A mere seventy-two minutes, THE PRISONER is an important, if slight, documentary that switches between serious and goofy a bit too much.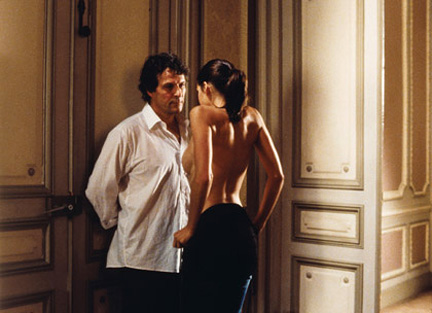 Brisseau's latest is another voyeuristic dud
EXTERMINATING ANGELS (Jean-Claude Brisseau, 2006)
IFC Center
323 Sixth Ave. at Third St.
212-924-7771

Shortly after making SECRET THINGS (2002), French director Jean-Claude Brisseau faced sexual harassment charges leveled by four actresses who had auditioned for the controversial film about sex and power. Brisseau is now back with EXTERMINATING ANGELS, which stars Frédéric Van Den Driessche as François, a director who is auditioning actresses for a film that will examine the very nature of orgiastic pleasure; the women must perform private sexual acts for him while he watches and films them — but never participates — mixing exhibitionism and voyeurism. A parade of beautiful young actresses meet with him and share some of their most personal secrets, finding François to be that rare man who is able to listen to and understand them. He is most intrigued by Charlotte (Maroussia Dubreuil), Julie (Lise Bellynck), and Stéphanie (Marie Allan), who see him as father figure, psychoanalyst, and potential lover, which does not make his wife very happy. To make things more existential, there are also appearances by the ghost of his dead grandmother (Jeanne Cellard), a pair of hot wayward angels (Raphaële Godin and Margaret Zenou), and a voice-over spouting poetic, political diatribe. In describing SECRET THINGS, we wrote, "The film thinks it's clever, playing off the clichés with verve and intelligence, but it's really not much more than a boring flick filled with sexless nudity made by a dirty old man. We can hear all the film students out there proclaiming, 'But that's the point!' To which we say, 'So what!'" That pretty much describes how we feel about EXTERMINATING ANGELS as well, although the sex happens to be a lot more erotic this time around.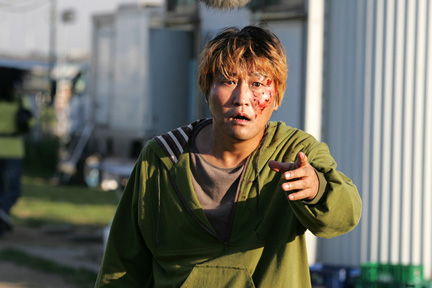 Magnolia Pictures
Song Kang-ho searches for his daughter in THE HOST
THE HOST (GWOEMUL) (Bong Joon-ho, 2006)
In theaters now

Several years after the government improperly disposes of chemical waste, a huge monster appears under a bridge on the Han River. The lazy, childlike Park Gang-du (Song Kang-ho), who works at his grandfather's ( food stand on the shore — that is, when he's not sleeping — tries desperately to save his young daughter, Hyun-seo (Ko A-sung), from the creature's grasp, but when the monster runs off with her, Gang-du does everything in his limited power to try to get her back — if she's even still alive. He gets help from his well-dressed brother and Olympian archer sister, who are determined to rescue their niece, but the creature has no intentions of just coughing her up. THE HOST wants to be more than just another monster movie, injecting humor and strong family bonds, but it never quite pulls itself together. For every great scene with the creature, there's a silly scene with the family that misses the mark. Still, Song is a hoot to watch, and the special effects folks have created one heck of a cool monster.
LIVE AT THE LYCEUM: THE THIRD MIND
Brooklyn Lyceum
227 Fouth Ave., Park Slope
Saturday, April 14, 9:00
Tickets: $8
718-398-7301 / 646-417-5673
http://www.davidaaron.net/cutup.html
Taking a page out of the literary cut-up technique used by William S. Burroughs (and such musicians as David Bowie, Patti Smith, Radiohead, and Kurt Cobain), the Lyceum is hosting "An Evening of Rock and Roll, Hip-Hop, and Film Inspired by the Cut-up Technique of William Burroughs," with music by David Aaron, Adriano "Train" Morez, and Wax Machine and a screening of David Hopkinson's short film CUTTING UP MY FRIENDS.
Prior to the event, people are invited to go to the second website listed above and make their own written contributions, which might become part of this unique performance art. Visitors are asked to answer the following questions: "Is it really every man for himself?", "What is the strangest thing you have ever seen on a train?", and "Describe your most disturbing relative deceased or living." Those who call 646-417-5673 can leave an anonymous voice-mail response and perhaps hear themselves at the show.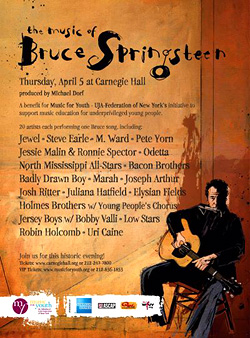 THE MUSIC OF BRUCE SPRINGSTEEN
Carnegie Hall
154 West 57th St. at Seventh Ave.
Thursday, April 5
212-836-1853
http://www.musicforyouth.org/about
In November 2006, Music for Youth staged a benefit at Avery Fisher Hall celebrating the music of Bob Dylan, performed by such diverse artists as Patti Smith, Clap Your Hands Say Yeah, Rosanne Cash, Ryan Adams, and Natalie Merchant and Philip Glass. Previously, on February 1, 2006, Me'shell N'degeocello, Laurie Anderson, Cowboy Junkies, Suzanne Vega, Assembly of Dust, Richie Havens, and others took the Carnegie Hall stage to honor the music of Joni Mitchell. Both special events were fundraisers for Music for Youth, a project of the UJA-Federation of New York to support music education for underprivileged children. On April 5, producer Michael Dorf, one of the founders of the Knitting Factory, put together another outstanding evening at Carnegie Hall, as more than twenty musicians gathered to pay tribute to the music of Bruce Springsteen.
Steve Earle, an outspoken opponent of the death penalty, kicked things off with a stirring version of "Nebraska," which ends with a mass murderer facing his impending execution. Philadelphia's own Bacon Brothers, led by actor Kevin Bacon, covered "Streets of Philadelphia," while house band Elysian Fields did a soulful rendition of "Streets of Fire." Josh Ritter got into the spirit of Springsteen by telling a Bruce-like story about his childhood, followed by an excellent take on "The River." Surprise guest Patti Smith, who replaced Jewel in the lineup, entered to a standing ovation; in introducing "Because the Night," she related how important the song has been to her life and career. One of the most exciting moments of the well-run evening occurred when the very old Holmes Brothers teamed up with the Young People's Chorus of New York City, one of the organizations that benefits from the Music for Youth program, for a moving version of the gospel-rich "My City of Ruin."
Other highlights featured Joseph Arthur on an acoustic "Born in the USA," M. Ward playing a quirky "I'm Goin' Down," North Mississippi Allstars nailing "Spirit in the Night," Uri Caine tickling the ivories for a beautiful instrumental "New York City Serenade," and Pete Yorn riffing on how dark "Dancing in the Dark" really is, then capturing that darkness in his solo acoustic version. Of course, there were lowlights as well: Robin Holcomb blew "Brilliant Disguise" on the Steinway piano, Low Stars turned "One Step Up" into an overblown barbershop quartet tune, and Jesse Malin and Ronnie Spector butchered "Hungry Heart," with Malin having to cut off the legendary '60s diva when it was clear she had no idea what the words were. But things finished off in a big way: Folk and blues legend Odetta was brought out in her wheelchair to do a riotous talk-singing version of "57 Channels," and the Hold Steady, led by a wildly exuberant and much-facial-haired Craig Finn, nearly tore the roof off the place Bruce-style with a pulse-pounding "Atlantic City." And then the Boss himself arrived, delighted with how the show was going. Armed with acoustic guitar and harmonica, he played "The Promised Land," then, to the shock of the frenzied crowd, dove into a rare acoustic version of his old concert-closing epic, "Rosalita," complete with a self-mocking, entertaining story about his life and family. The fabulous night ended with nearly all the performers taking the stage for a rousing finale of — why not — "Rosalita," with vocal turns by Badly Drawn Boy, Malin, and an even more wildly exuberant Finn, who had Bruce laughing alongside him. The fab evening raised $150,000 for Music for Youth; keep checking their Web site for the imminent announcement of the next artist to be honored later this year.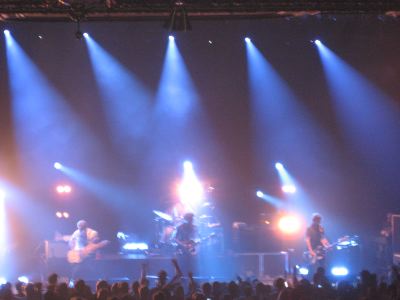 twi-ny/mdr
Bloc Party brings dance rock to the United Palace Theater
BLOC PARTY
United Palace Theater
4140 Broadway at 175th St.
March 30-31
Tickets: $30
212-568-6700
http://www.theunitedpalace.com

"It's nice to be important, but it's more important to be nice," Rev. Ike said once upon a time. Now in his early seventies, the Right Reverend Frederick Eikerenkoetter can still be found preaching the word of the Lord on Sunday afternoons in Washington Heights. But on April 1, he had to do so after two nights of indie rock at the home of his ministry, the gorgeous United Palace Theater on 174th & Broadway. One of New York City's newest concert venues, the neo-Arabesque theater was built by Thomas Lamb in 1929 as a Loew's movie palace, with gold stucco, intricate designs, fancy mirrors and chandeliers, and other impressive details filling every inch of the place. On March 31, the British quartet Bloc Party, one of 2005's hottest and best bands, filled nearly every inch of the place with pulsating dance rock that instantly drove the packed house into a worshipful frenzy. (The group also appeared March 30, kicking off the first rock show ever there.) Bolstered by an at-times-blinding light show, BP played songs off both its albums, the excellent debut SILENT ALARM and the disappointing follow-up A WEEKEND IN THE CITY. Live, the revamped, guitar-heavy sound worked better than on the new record, especially on opener "Song for Clay (Disappear Here)" and "Waiting for the 7.18," although nothing can save the execrable "Hunting for Witches" and the overblown "Uniform." Engaging lead singer Kele Okereke pranced about the stage with a huge smile on his face, leading BP through a highly competent, brisk set that included fun versions of "Banquet," "This Modern Love," set closer "Like Eating Glass," and appropriate finale "Helicopter," in which Okereke preaches, "Are you hoping for a miracle?"
Sebastien Grainger, formerly of Death from Above 1979, opened the night with a sweet little set, delivering prog-rock style with deadpan earnestness; impressed with the venue, Grainger pleaded with the slowly arriving audience to be careful and not spill beer and make a mess so the place could continue as a rock hall. Strokes bassist Albert Hammond, Jr. played next, highlighting songs from his impressive solo debut, YOURS TO KEEP, another case of the ecstasy of influence, just as the Strokes made famous. Melodies, beats, guitar lines — all expertly and exuberantly rendered — popped up, reminiscent of some other band and some other time, yet racing away on its own. Upcoming events at the 3,293-seat venue include rock god Iggy Pop & the Stooges on April 9, soul gods the Isley Brothers on April 13, and the Spring Bling Reggaeton Bash on April 14.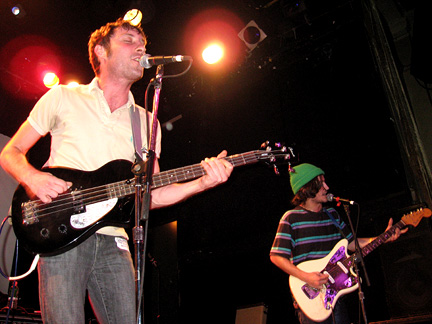 twi-n/mdr
Black Lips blasted through the Bowery Ballroom with Panthers and the Ponys
THE PONYS / BLACK LIPS / PANTHERS
Bowery Ballroom
6 Delancey St. at Bowery
Monday, March 26
Tickets: $13-$15
212-533-2111
http://www.myspace.com/theblacklips
http://www.pantherspanthers.com

Spit, sweat, vomit, flying beer, broken bottles, and men tongue kissing — and that was only what was happening onstage during the Black Lips' amazing show at the Bowery Ballroom on March 26. Sounding much more together than the they do on their recently released riot of a live album, LOS VALIENTES DEL MUNDO NUEVO (Vice Records, February 2007), the fearless Atlanta foursome tore through a much-too-brief killer set, including "Dirty Hands," "Buried Alive," "Juvenile," and "Not a Problem," while a frantic packed house danced crazily, surging against the stage and ferociously screaming out the lyrics. Cole Alexander, Jared Swilley, Ian St. Pe, and Joe Bradley, who cite Robitussin as one of their influences, are more than just a great garage band; these guys really kick ass, and they love doing it. Their labelmates Panther opened the show with a strong but short set featuring songs from their soon-to-be-released disc, the overproduced THE TRICK (Vice Records, April 10, 2007). These Brooklyn boys were less heavy metal and more loud hard rock as they played for cameras recording their every move. Topping the bill was the groovy Chicago quartet the Ponys, touring in support of their third album, the excellent TURN THE LIGHTS OUT (Matador, March 22, 2007). But they also sounded much better live, more trippie and free form, à la Sonic Youth. Lead singer Jered Gummere, occasionally channeling Thurston Moore, stomped around the stage with his guitar when he wasn't at the keyboards, being doused with Silly String. The night ended with a thrilling space jam that put the coup de grâce on a great night of rock and roll, one of the best we've seen in a very long time.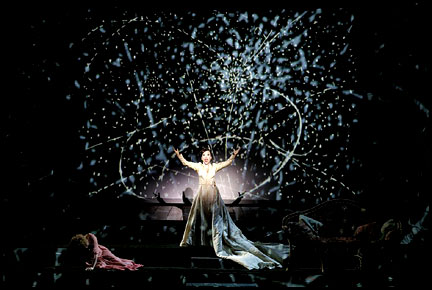 La Monnaie, Brussels © Johan Jacobs
William Kentridge's multimedia THE MAGIC FLUTE comes to BAM
THE MAGIC FLUTE
Brooklyn Academy of Music
BAM Howard Gilman Opera House
30 Lafayette Ave. between Ashland Pl. & St. Felix St.
April 9-14
Tickets: $30-$125
718-636-4100
South African multimedia artist William Kentridge brings his unique staging of Mozart's THE MAGIC FLUTE to BAM in what is sure to be an unusual, exciting evening. The music, conducted by Piers Maxim, features the Symphonic Orchestra and Chorus of De Munt/La Monnai, and the nearly three-hour production stars Jeremy Ovenden, Sophie Karthäuser, Stephan Loges, Milagros Poblador, and Kaiser N'kosi. We got a taste of what is to come back in February 2006, when the Marian Goodman Gallery in Midtown presented the exhibit "Drawings and Projections," consisting of approximately fifty charcoal and pastel drawings that served as the basis for Kentridge's set design and accompanying animation. On April 11 at 6:00, there will be a BAMdialogue with Kentridge in the BAM Rose Cinemas; admission is $8.
© Ben Katchor
Roach-infested wig salon in the Palaver building
THE CARBON COPY BUILDING (Cantaloupe, 2007)
http://www.cantaloupemusic.com

In Ben Katchor's comic opera, two identical seven-story Art Deco buildings go up within six months of each other during the Great Depression, the Palatine on Park Manure Ave. and the Palaver on Rigol St. At the end of the century, both are still standing, but they have met completely different fates — while the Palatine is still fashionable, boasting an impressive clientele list, the Palaver is little more than a memory in the Bent Spoon District, a miserable health hazard where low-rent businesses putter away from a long-gone era. Katchor, the man behind one of the best comic strips ever, JULIUS KNIPL, REAL ESTATE PHOTOGRAPHER, is a master at capturing old New York, filtered through his unique imagination; the characters and companies in the two buildings are an absolute joy, the Palatine seen in bright colors, the Palaver in a muted, ghostly blue. Although the story and art are outstanding — it's worth getting the CD for them alone — we're not big fans of the musical theater numbers by Bang on a Can veterans Michael Gordon, David Lang, and Julia Wolfe. We much prefer Katchor's collaborations with Mark Mulcahy; the two will be teaming up for a performance of THE ROSENBACH COMPANY as part of the Live from the NYPL series at the Celeste Bartos Forum on April 20. We strongly advise you get your tickets now.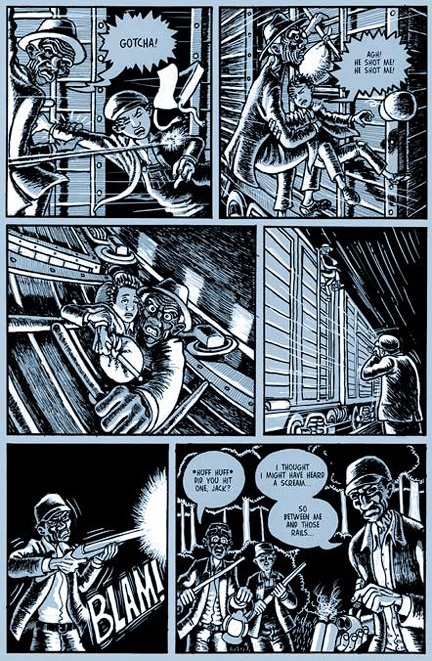 © 2007 by Rob Vollmar and Pablo G. Callejo
THE CASTAWAYS by Rob Vollmar and Pablo G. Callejo
(NBM/ComicsLit, January 2007)
http://www.bluesmanproject.com

In our last issue we raved about the three-part graphic novel BLUESMAN by Rob Vollmar and Pablo G. Callejo, published by NBM/ComicsLit. That same team has joined forces again to reissue the Eisner-nominated THE CASTAWAYS, which has been out of print for several years and is now available in a beautiful hardcover edition with an added epilogue. Set in March 1932, THE CASTAWAYS follows the story of young Tucker Freeman, who lives with his mother and four brothers and sisters on a farm where they work hard for his aunt, a nasty old widow. When the old lady convinces Tucker that he is a burden to his family and that he should take off, he is intimidated into doing just that, stealing away in the middle of the night, hopping a boxcar much like his father did years before. Determined to find his father — who never came back — Tucker soon meets up with an ornery old coot named Elijah Hopkins who teaches him the difference between tramps, hobos, and bums as they face racism and poverty together. Vollmar's believable dialogue and Callejo's two-color, heavily shaded drawings are a great fit for this exemplary graphic novel.


All contents copyright 2007 by Mark Rifkin and twi-ny. All rights reserved. Contents may not be reprinted without written permission. Please note that events, dates, and prices are subject to change.
Send all comments, suggestions, reviews, and questions to mark.rifkin@twi-ny.com.
Please note that some e-mail clients may wrap links, so be sure to enter them fully into your browser.
To subscribe to this list, please e-mail the administrator at admin@twi-ny.com with the word Subscribe in the Subject line; be sure to ask for back issues, which are free as well. To unsubscribe from this list, please think it over twice before e-mailing the same address. Please let us know what you didn't like about this forum and we'll do our best to correct it in the future — if we agree with you. If you would like to see something covered in a future issue, please let us know. Without you, there is no need for us to exist.

twi-ny top two dozen (or so) weekly reminders & special events
THE OPTICAL EDGE
Pratt Manhattan Gallery
144 West 14th St. between Sixth & Seventh Aves.
Tuesday ­ Saturday, 11:00 am ­ 6:00 pm
Through April 14
Admission: free
212-647-7778
In 1965, MoMA held an exhibition of optical painting called "The Responsive Eye," which was turned into a documentary short the following year by a young director named Brian De Palma. Curator Robert C. Morgan has revisited that controversial exhibit with "The Optical Edge," which examines the history of Op Art with pieces by artists represented in the 1965 show as well as more recent works that play with perception ­ both on the part of the artist as well as the viewer. "The Optical Edge" pays homage to the forerunners of Op Art with pieces by Josef Albers, Bridget Riley, and Victor Vasarely, who were all part of "The Responsive Eye." With his use of color and placement, Albers's "Homage to the Square" (1956) does not at first appear to be what it is — four perfect squares within each other. Soonja Han comments on Albers's squares by using brightly colored circles on a square canvas, with one giant blue orb dominating the center. Much of Op Art involves optical illusions and movement. Gilbert Hsiao's acrylic on wood "Propel" (2006) seems about to spin away, while the colorful starburst of his "Revolver II" (2006) looks like it's ready to explode. Julian Stanczak's "Contortion" (1966) appears to be alive with inner motion, its silvery black lines and squiggles a groovy dream. And Ryszard Wasko's "This Image Has Been Removed for Security Reasons" (2005) brings more modern technology and personal safety into the picture; when you look at the oil painting with the naked eye, the words of the title are blurry, but seen through the lens of a camera, they are much easier to read. The small but worthwhile exhibit also includes cool works by Gabriele Evertz, Rakuko Naito, Sanford Wurmfeld, and others.
READINGS ON THE 4th FLOOR
P.S. 107, John W. Kimball School
1301 Eighth Ave. between 13th & 14th Sts., Brooklyn
Monthly through June 5
Tickets: $12, all proceeds go toward building and stocking a library for the school
Advance tickets available online and at the Community Bookstore, 143 Seventh Ave., Park Slope, 718-783-3075
718-330-9340
Wednesday, March 28 Reporting from Iraq, with journalists and correspondents George Packer, Jacki Lyden, and Michael Moss, moderated by Leslie Gelb, 7:30
AFTERNOON NIGHT TABLE
92nd St. Y
1395 Lexington Ave. at 92nd St.
Kaufmann Concert Hall
Tickets: $17
212-415-5500
http://www.92y.org/shop/event_detail.asp?productid=T%2DTP5NT04
Thursday, March 29 The Voice of Literature: Frank McCourt and Calvin Trillin, 1:00
BLACK DANCE: TRADITION & TRANSFORMATION
BRICstudio
57 Rockwell Pl. between Fulton St. & DeKalb Ave.
Tickets: $5
718-636-4181 ext2229
Thursday, March 29 651 Arts presents SALON 651: STRUGGLES WITH WORDS, ATTITUDES AND GREAT EXPECTATIONS, by Christalyn Wright, 8:00
Thursday, April 5 651 Arts presents SALON 651: DARK SWAN, choreographed and performed by Nora Chipaumire, 8:00
MADE IN CATALUNYA:
CATALAN CULTURE IN NEW YORK
Baryshnikov Arts Center, Howard Gilman Performance Space
450 West 37th St., fourth floor
March 23-31
Admission: free but reservations required at 212-279-4200 or tickets@ticketcentral.com
http://www.baryshnikovdancefoundation.org
Thursday, March 29 Poetic Bodies, Part I: "The Little House Under Construction," theatrical Piece by Pep Tosar, and Poetic Bodies, Part II: "Systole, diastole," dance piece by Raravis, Andrés Corchero-Rosa Muñoz, 8:30pms
Friday, March 30 Estramp Jaç, 8:30pm
Saturday, March 31 Gelabert-Azzopardi Companyia de Dansa: Glimpse, 8:30pm
EARLY STAGE MEMORY DISORDER FORUM
The Roosevelt Hotel
45 East 45th St.
Fee: $10 for individuals with Alzheimer's or related conditions, caregivers, family members or friends; $125 for health-care, legal social work, and other professionals
Limited registration: 646-744-2997
Friday, March 30 Deadline for registration
Wednesday, April 11 Seventh annual event, sponsored by the Alzheimer's Association New York City Chapter, featuring workshops, a keynote address by David Shenk, a plenary session on support groups, a science and research session with Dr. Mary Sano on participating in research, a special exhibition, continental breakfast and luncheon, and more, 9:00 am - 3:30 pm
ARTISTS TALK ON ART
School of Visual Arts, third-floor amphitheater
209 East 23rd St. between Second & Third Aves.
Admission: $7
212-592-2010
Friday, March 30 Japanese-American light artist Nobuhu Nagasawa, 7:00
AN EVENING OF EXPERIMENTAL ROCK
Galapagos Art Space, back
70 North Sixth St. between Wythe and Kent
Tickets: $12
718-384-4586
http://www.galapagosartspace.com/events.html
Friday, March 30 Featuring, Do Shadows Savage, Blarvuster, Electric Kompany, Swim Trio, Marco Cappelli, and Dan Cooper Trio, 8:00
MARTIN CREED VARIETY SHOW
Abrons Arts Center
466 Grand St. between Clinton & Pitt Sts.
General admission: $7 advance, $10 door
212-980-3942
Friday, March 30
and
Saturday, March 31 British musician and artist Martin Creed and his band host a night of music, dance, talk, and theater, a variety show that he says he will "try to put everything in it, 7:30
FESTIVAL OF INDIA
Symphony Space, Peter Jay Sharp Theatre
2537 Broadway at 95th St.
Tickets: $35
212-864-5400
Friday, March 30
and
Saturday, March 31 Music, Dance & Puppetry of Rajasthan: Gulabi Sapera & Party, 8:00
K2 LOUNGE: TIME TO ASCEND
Rubin Museum of Art
150 West 17th St. at Seventh Ave.
Artists on Art: free
Harlem in the Himalayas: $15-$20, 7:00
CabaretCinema: $7 food/drink minimum, 7:00
212-620-5000 ext 344
http://www.rmanyc.org/programs
Friday, March 30 Harlem in the Himalayas: Michele Rosewoman, piano, with Quintessence ensemble members
Friday, March 30 Artists on Art: Arlene Shechet, 7:30
Friday, March 30 CabaretCinema: FOREST OF BLISS (Robert Gardner 1986), introduced by Arlene Shechet, 9:30
Friday, April 6 Harlem in the Himalayas: Miguel Zenón, alto sax, with Luis Perdomo, piano
Friday, April 6 Artists on Art: Marina Abramovic, 8:30
Friday, April 6 CabaretCinema: TEOREMA (THEORUM) (Pier Paolo Pasolini, 1968), introduced by Marina Abramovic, 9:30
THE VAGINA MONOLOGUES & "USAPING PUKI"
Filipina Women's Network
Philippine Center
556 Fifth Ave. between 45th & 46th Sts.
Tickets: $35.99
646-821-9642
Friday, March 30
and
Saturday, April 14 A Filipino community event to end violence against Filipina women and girls, part of the worldwide V-Day campaign, in English and Tagalong, 7:00
MAT MANERI SOLO
The Stone
Ave. C & Second St.
Tickets: $10 (not available in advance)
Saturday, March 31 Rare solo show by viola player Mat Maneri, 10:00
RAILROAD EARTH
Irving Plaza
17 Irving Pl. between 14th & 15th Sts.
Tickets: $16
212-777-6800
Saturday, March 31 Groovin' folk jam band, with Olabelle, 8:00
BARCELONA: CATALAN VOICES
Metropolitan Museum of Art
Grace Rainey Rogers Auditorium
1000 Fifth Ave. at 82nd St.
Tickets: $40 ($70 for April 1 and May 4 program)
212-570-3949
http://www.metmuseum.org/calendar
Sunday, April 1 Jaume Aragall, tenor, and Juan Pons, baritone: Works by Catalan, Italian, and Spanish composers, 5:00
RADIO HEARTBEAT POWERPOP FESTIVAL
Brooklyn Southpaw
125 Fifth Ave.
Tickets: $22
718-230-0236
Sunday, April 1 Milk'N'Cookies, the Go, the Prambath, Electric Shadows, Top Ten, and Gentleman Jesse & His Men, 7:30
RETURN TO SAN SERRIFFE
The Font Room
33 Franklin St.
Tickets: $22
212-JKL-7799
Sunday, April 1 Arial Goudy, illustrated lecture on thirtieth anniversary of San Serriffe, island discovered in 1977, 11:00
FLORA EXOTICA: THE 2007 MACY'S FLOWER SHOW
Macy's Herald Square
151 East 34th St. at Broadway
April 1-15
Daily tours leave every half hour between 11:00 am & 4:00 pm
Admission: free
212-494-4400
http://www.twi-ny/macysflowershow
http://www1.macys.com
More than a million flowers from more than 30,000 species will be displayed all over Macy's, divided into such sections as an African Garden, a Black & White Garden, a Jardinière Garden, a Community Garden, and two kids gardens (on the seventh floor). The 33rd annual flower show also features the following related events.
Wednesday, April 4 Lawn & Garden Presentation with Roger Cook, Fine China on 8, 1:00
Friday, April 6 Flower arranging and book signing with Julie Mulligan, A YEAR FULL OF FLOWERS, Fine China on 8, 1:00
Monday, April 9 Creating stylish and distinctive bouquets with unusual blooms with Ritsuko Daye Deura, Fine China on 8, 1:00
Tuesday, April 10 Lecture and book signing, Dietmar Busse, FLOWER ALBUM, Fine China on 8, 6:00
Wednesday, April 11 Colonial Williamsburg-style flower-mixing demonstration with Clark Taggart, Fine China on 8, 1:00
Friday, April 13 Floral design seminar with stylist Vanessa Baran, Fine China on 8, 1:00
BEN MONDER
Barbès
376 Ninth St. at Sixth Ave.
Park Slope, Brooklyn
(Very strongly) suggested donation: $10
718-965-9177
http://www.barbesbrooklyn.com/calendar.html
Tuesday, April 3 Guitarist Ben Monder with bassist Chris Lightcap and drummer Ted Poor in a performance being recorded for an upcoming CD, 10:00
PERE UBU
The Knitting Factory, Main Space
74 Leonard St. between Broadway & Church St.
Tickets: $15-$17
212-219-3006
http://www.knittingfactory.com
Tuesday, April 3 The great Pere Ubu brings its unique show to the Knitting Factory, with the Golden Error opening up, 7:30
CIVIC TALK: THE WARS OF THE MOSES
Museum of the City of New York
1220 Fifth Ave. between 103rd & 104th Sts.
Admission: $9
212-534-1672 ext3395
Wednesday, April 4 Panel discussion on the legacy of Robert Moses. with Betsy Barlow Rogers and Herbert I. London, moderated by Henry Stern, 6:30
NEW YORK AFRICAN FILM FESTIVAL
Walter Reade Theater
165 West 65th St. between Eighth Ave. & Broadway
Tickets: $11
212-875-5600
Wednesday, April 4
through
Thursday, April 12 The fourteenth anniversary on the New York African Film Festival celebrates the fiftieth anniversary of Ghana's independence with nearly four dozen films from twenty countries, including Ethiopia, Sierra Leone, Camreoon, Burkina Faso, Nigeria, Senegal, Kenya, and Ghana, among others; the films offer rarely seen glimpses into the everyday life and culture of a much misunderstood and ignored region of the world
FIRST THURSDAYS
Dahesh Museum of Art
580 Madison Ave. at 57th St.
Admission: free
212-759-0606
Thursday, April 5 The Diversity of Doré , illustrated lecture by Dr. Eric M. Zafran, at 6:30, with free admission to galleries (including "Napoleon on the Nile: Soldiers, Artists, and the Rediscovery of Egypt" and "Fantasy and Faith: The Art of Gustave Doré"), 6:00 - 9:00
FILMS OF GORDON MATTA-CLARK
Whitney Museum of American Art
945 Madison Ave. at 75th St.
Admission: $8
212-570-7715
Thursday, April 5 Screening of works by Gordon Matta-Clark, followed by discussion with Matta-Clark's widow, Jane Crawford, cinematographer Bob Fiore, and exhibition curator Elisabeth Sussman, 7:00
THE NORTH MISSISSIPPI ALLSTARS ACOUSTIC
Housing Works Used Book Café
126 Crosby St. between Houston & Prince Sts.
Tickets: $25
212-334-3324
Thursday, April 5 The North Mississippi Allstars kick off their acoustic tour, with James Luther Dickinson, 7:30
THE NEW YORK HOWL
Mercury Lounge
217 East Houston St. at Ave. A
Tickets: $12
212-260-4700
http://www.mercuryloungenyc.com
Friday, April 6 One of our favorite city bands takes the stage at 10:30, with
Pilot to Gunner (8:30), Goes Cube (9:30), and Bang Camaro (11:30)
BENEFIT FOR 4TH ST FOOD CO-OP
Bowery Poetry Club
308 Bowery between Houston & Bleecker Sts.
Donations strongly encouraged
212-614-0505
http://www.panix.com/~foodcoop
Friday, April 6 Benefit for 4th St Food Co-op, featuring Trachtenburg Family Slideshow Players, Reggie Watts, Schwervon!, Sue Ball, and surprise celebrity guests, 9:45
NEW YORK INTERNATIONAL AUTOMOBILE SHOW
Jacob Javits Convention Center
Eleventh Ave. between 34th & 39th Sts.
Admission: $14 adults, $4 children twelve and under
800-282-3336
Friday, April 6
through
Sunday, April 15 The 107th anniversary of one of the country's biggest auto shows, featuring such new cars & trucks as the Bentley Arnage; such New York debuts as the Acura RDX; such concept cars as the Chevrolet Volt; such alternative fuel vehicles as the Saab 9-5 Aero Bio Power Concept; and a bevy of international beauties; there are also such special events as the Automotive Career Fair, the National Automotive Technology Competition, various breakout sessions, and a Hispanic Day concert
THE KLEZMATICS
Makor Café, Steinhardt Building
35 West 67th St. between Amsterdam & Columbus Aves.
Tickets: $25-$30
212-601-1000
Saturday, April 7 Grammy-winning folk group, 8:00
FIRST SATURDAYS
Brooklyn Museum of Art
200 Eastern Parkway
Admission: free after 5:00 pm (some events require free tickets available that night)
718-638-5000
Saturday, April 7 On the first Saturday of each month, the Brooklyn Museum opens its doors for free admission to a host of special programs, including live music, art workshops, gallery talks, film screenings, and a dance party; in addition to those special events — many of which require free tickets available that night, so go early and be prepared to wait in line — the galleries are open as well; current exhibitions include "Landscapes from the Age of Impressionism," "The Eye of the Artist," and "Magic in Ancient Egypt."
BETH SOLL & COMPANY
Merce Cunningham Studio
55 Bethune St. between Bank & Little West 12th Sts. at Washington
Tickets: $15
212-927-0476
Saturday, April 7
and
Sunday, April 8 Dance Projects, Inc. presents the premiere of BLACK FLOWER as well as 1990's RUSTLING SOLO, 8:30
MEMORIAL CONCERT
Naumburg Bandshell and Mall Concert Ground
Midpark from 66th to 72nd Sts.
Admission: free
212-360-1319
http://www.centralparknyc.org/activities
Sunday, April 8 Concert memorializing former Parks commissioner August Heckscher, with the Blue Rock Jazz Band, 3:00
RALPH RUCCI: THE ART OF WEIGHTLESSNESS
The Museum at FIT
Seventh Ave. at 27th St.
Admission: free
212-217-5958
Tuesday, April 10 Talk & Tour with Dr. Valerie Steele, 6:00
BECKETT'S LAST WORDS
The Frick Collection
Free with museum admission of $15
212-547-0700
Wednesday, April 11 Artists, Poets, and Writers Lecture Series, with John Banville, 6:00
BUDDY GUY / DANIELIA COTTON
B.B. King Blues Club & Grill
237 West 42nd St. between Seventh & Eighth Aves.
Tickets: $48
212-997-4144
Wednesday, April 11 Chicago blues legend Buddy Guy headlines at B.B.'s, but make sure to get there early to catch the electric Danielia Cotton opening up, 8:00
MACDONALD AND SUBRITZKY: LOBBY, FOLD AND SPIN
Pace University
One Pace Plaza (across from City Hall)
Enter at Spruce St. between Gold St. & Park Row
Tuesday — Saturday 12 noon — 6:00 pm
Admission: free
212-346-1715
Through April 14 Fold, Peter Fingestin Gallery
Through April 21 Spin, Daneyal Mahmood Gallery
Through May 5 Lobby, Michael Schimmel Center for the Arts