Twi-ny, This Week in New York
Wishing well in Chelsea Market collects donations for charity: water
CHARITY: WATER AT CHELSEA MARKET
Chelsea Market
75 Ninth Ave. between 15th & 16th Sts.
Through May 31
Admission: free
Billed as a "Photographic Look at the Global Water Crisis and Solutions in Developing Nations," this exhibit, spread throughout Chelsea Market, examines the need for clean water around the globe and programs that are being put in place to deal with sanitation and disease. The display is sponsored by charity: water, a nonprofit organization dedicated to bringing safe, clean water to the more than 1.1 billion people who currently don't have access to it. As charity: water points out, "Unsafe water and lack of basic sanitation cause 80% of all sickness and disease, and kill more people every year than all forms of violence, including war. . . . Of the 42,000 deaths that occur every week from unsafe water and a lack of basic sanitation, 90% are children under 5 years old." Among the projects charity: water is involved in is building wells; since August 2006, they have begun construction on some 1,250 wells that are expected to bring clean drinking water to 650,000 people. And each dollar they raise can supply one person in Africa with clean water for a year.
Throughout Chelsea Market are dozens of photographs, taken primarily by Scott Harrison and Esther Havens, of children in Africa in need of clean water or now getting clean water as a result of charity: water's efforts. Lynette Astaire has contributed shots of New Yorkers holding up glasses of dirty water. (Prints of the photographs run between $250 and $500, with 100% of the proceeds going to charity: water.) In addition, there are several areas showing videos taken in Africa, and scattered along the hallways are a number of yellow jerry cans, which are used by Africans to transport water. The centerpiece of the show is an ultracool wishing well designed by Thomas Beale of Honey Space (see above photo); all change tossed into the well will be matched by businesses to raise more much-needed funds for this terrific organization that is making a significant difference in the world.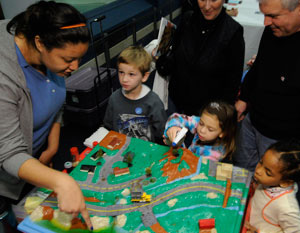 AMNH/Denis Finnin
Kids learn about watersheds at 2008 resource fair
WORLD WATER DAY 2009
American Museum of Natural History
Milstein Hall of Ocean Life
Central Park West & 79th St.
Free with museum admission
212-769-5305
As part of the Milstein Science Series, the American Museum of Natural History is honoring World Water Day with a day of special programs in the Milstein Hall of Ocean Life, home of the ninety-four-foot-long blue whale hanging from the ceiling. Family friendly events include a resource fair, live animals in the Theodore Roosevelt Sanctuary & Audubon Center, a puppet performance in the Arm-of-the-Sea Theater celebrating the four hundredth anniversary of the discovery of the Hudson River, interactive displays, and more. Among the participants in the fair are the Alley Pond Environmental Center, the New York State Department of Environmental Conservation, Riverkeeper, the Lower East Side Ecology Center, and WaterAid America, with special presentations by museum science staff, including Fresh Water Safari and Treasures in the Sea. While taking part in the water-related activities, don't forget about the marvelous dioramas and ecosystems in the hall, which were renovated about six years ago.
The Tap Project
African children enjoy clean water helped by the Tap Project
TAP IN YOUR CITY
Multiple locations
March 22-28
Suggested donation: $1 or more
Started in 2007, the Tap Project seeks to raise awareness and funds to help reduce the world's water crisis. During World Water Week, the Tap Project, in conjunction with UNICEF, is asking people across the country to donate one dollar or more for tap water they usually drink for free when they go out to eat. Last year more than 2,300 restaurants participated; among the many in New York City are I Trulli, Dos Caminos, Tabla, craft, Wildwood Barbecue, Pure, Frankie & Johnnie's, Aquavit, Angelica Kitchen, Il Buco, and Alloro, as well as hundreds of others. Each dollar can supply a child with clean drinking water for forty days; UNICEF's efforts in this area have reached more than ninety countries. Begun in New York, the Tap in Your City program has spread to such locations as Atlanta, San Francisco, Cincinnati, Boston, Chicago, Denver, Las Vegas, Seattle, New Orleans, and Washington, DC. The week kicks off in a big way on March 22 with the one-mile-long Water Walk, beginning at 10:00 am in front of Castle Clinton in Battery Park; participation is free, but it is suggested that each walker raise a minimum of ten dollars. Registration is available on-site beginning at 9:00 am.
Mini Film Festivals of the Week
COOL HAND LUKE features one of Newman's best performances
PAUL NEWMAN PART 2
BAMcinematek, BAM Rose Cinemas
30 Lafayette Ave. between Ashland Pl. & St. Felix St.
March 20-29
718-636-4100
In December, BAMcinematek paid tribute to Paul Newman, who died in September, with a brief four-film series; they are now back with the second part, featuring eight additional pictures as well as the always-welcome reprise of the great SLAP SHOT. The son of a Jewish father and a Christian Scientist mother, Newman delighted audiences for more than fifty years, both onstage and on-screen. The WWII navy vet's career included such classic cinema as COOL HAND LUKE, THE STING, HUD, BUTCH CASSIDY AND THE SUNDANCE KID, SOMEBODY UP THERE LIKES ME, SWEET BIRD OF YOUTH, and THE VERDICT, among so many others. Nominated for eight Academy Awards (he finally won for Martin Scorsese's vastly overrated THE COLOR OF MONEY), the popcorn, salad dressing, and salsa philanthropist also starred on Broadway in such plays as PICNIC, THE DESPERATE HOURS, and, in his later years, OUR TOWN. As with the first series of four films, BAM has put together an odd collection of Newman's work, including some of his lesser-known films with such directors as John Huston and Robert Altman as well as two of his own directorial efforts, RACHEL, RACHEL (for which he won a Golden Globe as Best Director) and SOMETIMES A GREAT NOTION.
Friday, March 20 THE LONG, HOT SUMMER (Martin Ritt, 1958), 2:00, 4:30, 6:50, 9:30
Saturday, March 21 SLAP SHOT (George Roy Hill, 1977), 4:30, 7, 9:30
SLAP SHOT was one of Paul Newman's personal favorites
SLAP SHOT (George Roy Hill, 1977)

One of the best sports films ever made, SLAP SHOT is a riotously bloody look at minor-league hockey. Paul Newman — who declared this one of his favorite pictures — stars as Reggie Dunlop, an aging loser serving as player-coach of the Charlestown Chiefs. When the general manager (Strother Martin) tells him that the team is being shut down at the end of the season, Dunlop decides to send it off with a bang. Lying to his team that if the Chiefs fill the seats and start winning they will move to Florida, he incorporates a different style of play into their game, led by the brutal, vicious, and utterly hilarious Hanson brothers (real-life brothers Jeff and Steve Carlson and their Johnstown Jets teammate Dave Hanson), who never met an opponent they wouldn't punch, trip, slash, spear, or slam face-first into the boards well after the whistle. Even Dunlop gets in on the fun, throwing his share of right hands. The only player not participating in the hijinks is Ned Braden (Michael Ontkean), who believes in sportsmanship and a more gentlemanly game of skill and beauty, not exactly what men like Ogie Oglethorpe (minor-league player Ned Dowd, whose sister, Nancy, wrote the book that the movie is based on, inspired by the real-life antics of the Johnstown Jets) have in mind. You don't have to be a hockey fan to love SLAP SHOT, which is really, when it comes right down to it, just a little film about the trials and tribulations of everyday life.
Sunday, March 22 SOMETIMES A GREAT NOTION (Paul Newman, 1971), 2:00, 6:50
Sunday, March 22 QUINTET (Robert Altman, 1979), 4:30, 9:30
Friday, March 27 RACHEL, RACHEL (Paul Newman, 1968), 2:00, 4:30, 6:50, 9:15
Saturday, March 28 THE MacKINTOSH MAN (John Huston, 1973), 2:00, 6:50
Saturday, March 28 THE COLOR OF MONEY (Martin Scorsese, 1986), 4:30, 9:15
Sunday, March 29 COOL HAND LUKE (Stuart Rosenberg, 1967), 3:00, 6:00, 9:00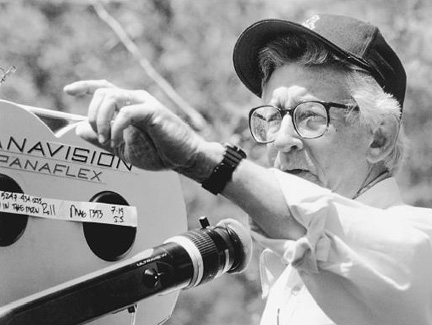 Film Society of Lincoln Center
Robert Mulligan on the set of SUMMER OF '42
AMERICAN AUTEURS: ROBERT MULLIGAN
Walter Reade Theater
65th St. between Broadway & Amsterdam Aves.
March 18-25
Tickets: $11; series pass $40 for any five films 212-875-5050
Lincoln Center pays tribute to director Robert Mulligan, who passed away this past December at the age of eighty-three, with a program of nine of his films, ranging from the sweet innocence of SUMMER OF '42 to the horror of THE OTHER, from the grittiness of BLOODBROTHERS to the courtroom classic TO KILL A MOCKINGBIRD. A former marine and CBS messenger boy, Mulligan — whose brother Richard starred as Burt Campbell on SOAP and General Custer in Arthur Penn's LITTLE BIG MAN — made twenty feature film between 1957 and 1991; among those not part of this retrospective are FEAR STRIKES OUT, THE GREAT IMPOSTOR, and SAME TIME, NEXT YEAR, although LOVE WITH THE PROPER STRANGER and INSIDE DAISY CLOVER will be part of an upcoming Natalie Wood series in May. But this series features Mulligan working with some of the best in the business, including Eva Marie Sainte, Steve McQueen, Lee Remick, Gregory Peck, and such newcomers as Robert Duvall, Richard Gere, John Ritter, and Reese Witherspoon.
Wednesday, March 18, 4:15 & 8:45
and
Sunday, March 22, 6:30 BABY THE RAIN MUST FALL (Robert Mulligan, 1965)
Thursday, March 19, 7:00
and
Monday, March 23, 9:00 BLOODBROTHERS (Robert Mulligan, 1978)
Wednesday, March 18, 6:30 THE STALKING MOON (Robert Mulligan, 1968)
Thursday, March 19, 9:10
and
Wednesday, March 25, 3:30 THE OTHER (Robert Mulligan, 1972)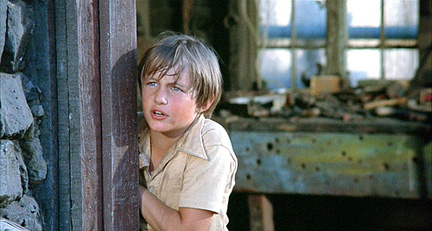 Robert Mulligan turned up the fear factor in creepy flick
THE OTHER (Robert Mulligan, 1972)

Twins Niles (Chris Udvarnoky) and Holland (Martin Udvarnoky) do everything together, playing around their family's farm with a reckless abandon that gets them into a lot of trouble — especially when they leave a body or two lying around. Their mother (Diana Muldaur) has become sort of a walking zombie since the sudden death of her husband, so their grandmother, Ada (Uta Hagen), watches out for the kinder. Ada has taught Niles to play what she calls the Game, which involves psychic phenomena, but the Game goes bad very quickly. Director Robert Mulligan (TO KILL A MOCKINGBIRD, SUMMER OF '42) keeps things very creepy, especially as Niles tries to understand what makes Holland do the things he does. The screenplay is by Thomas Tryon, based on his bestselling novel. The boys' uncle, Rider, is played by a young John Ritter, while Victor French, Agent 44 on GET SMART and Mark Gordon on HIGHWAY TO HEAVEN, is Angelini the handyman.
Friday, March 20, 7:00
and
Sunday, March 22, 8:30 SUMMER OF '42 (Robert Mulligan, 1971)
Friday, March 20, 9:15
Saturday, March 21, 4:30
and
Tuesday, March 24, 9:00 THE MAN IN THE MOON (Robert Mulligan, 1991)
Saturday, March 21, 6:45
and
Monday, March 23: 3:30 UP THE DOWN STAIRCASE (Robert Mulligan, 1967)
Saturday, March 21, 9:15
Sunday, March 22, 4:30
and
Wednesday, March 25: 8:45 THE NICKEL RIDE (Robert Mulligan, 1974)
Sunday, March 22, 2:00
and
Wednesday, March 25, 6:15 TO KILL A MOCKINGBIRD (Robert Mulligan, 1962)

CANADIAN FRONT
MoMA Film
Roy and Niuta Titus Theaters
11 West 53rd St. between Fifth & Sixth Aves.
March 18-23
Tickets: $10, in person only, may be applied to museum admission within thirty days, same-day screenings free with museum admission, available at Film and Media Desk
212-708-9400
MoMA's annual survey of the best of recent Canadian cinema features eight films, including one world premiere and three U.S. premieres. The series kicks off on March 18 at 4:30 with Jean Marc Vallée's C.R.A.Z.Y., which will screen every night of the series.
Wednesday, March 18
through
Monday, March 23 C.R.A.Z.Y. (Jean Marc Vallée, 2005)
Wednesday, March 18, 7:00
Saturday, March 21, 2:00
and
Sunday, March 22, 1:00 CE QU'IL POUR VIVRE (THE NECESSITIES OF LIFE) (Benoit Pilon, 2008)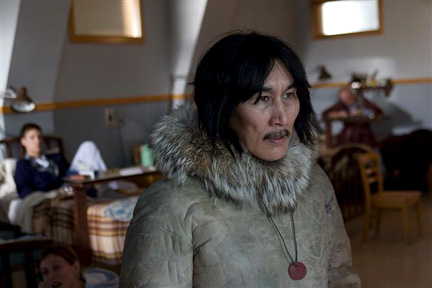 Natar Ungalaaq gives a beautiful performance in THE NECESSITIES OF LIFE
CE QU'IL POUR VIVRE
(THE NECESSITIES OF LIFE) (Benoit Pilon, 2008)
http://www.thenecessitiesoflife-themovie.com

Natar Ungalaaq (THE FAST RUNNER) gives a gentle, moving performance in Benoit Pilon's gentle, moving THE NECESSITIES OF LIFE. Ungalaaq stars as Tivii, an Inuit hunter who is taken away from his family on Baffin Island during a tuberculosis epidemic in the early 1950s. He is brought to a hospital run by nuns, where no one speaks Inuktitut, and is told he will have to be there for at least two years. Concerned for the welfare of his wife and children, he tries to leave, but he is brought back, forced to be a stranger in a strange land. His communication problems continue until one of the nurses, Carole (Eveline Gélinas), breaks the rules by introducing him to a young patient, Kaki, a very sick Inuit boy who speaks French and Inuktitut. Through the boy, Ungalaaq's charming personality emerges, as do his fears and desires. THE NECESSITIES OF LIFE was nominated for eight Genie Awards, the Canadian Oscars, including Best Actor, Best Director, and Best Picture, and was Canada's official Academy Awards entry for Best Foreign Language Film.
Thursday, March 19, 6:15
and
Saturday, March 21, 8:45 PONTYPOOL (Bruce McDonald, 2008)
Thursday, March 19, 8:30
and
Sunday, March 22, 2:00 MAMAN EST CHEZ LE COIFFEUR
(MOMMY'S AT THE HAIRDRESSER) (Léa Pool, 2008)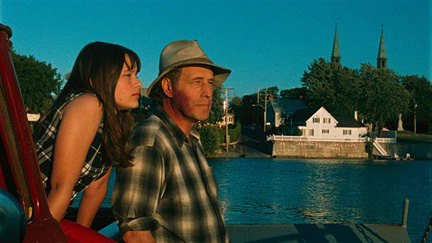 Élise grows up fast in French-Canadian drama
MAMAN EST CHEZ LE COIFFEUR (MOMMY'S AT THE HAIRDRESSER) (Léa Pool, 2008)

A sort of alternate French-Canadian version of Todd Haynes's 2002 gem FAR FROM HEAVEN, Léa Pool's MOMMY'S AT THE HAIRDRESSER is a bittersweet coming-of-age drama set in 1960s suburbia that touches on similar themes but with very different results. Marianne Fortier gives a strong lead performance as Élise, a teenage girl who suspects her father (Laurent Lucas) might be in love with another man. When she slyly lets her mother (an excellent Céline Bonnier) in on her suspicions, her mother takes off for London, leaving the frightened father to take care of Élise, who starts hanging around an odd mute fisherman (Antoine Desrochers), and her two younger brothers, Coco (Élie Dupuis), who is obsessed with turning a lawn mower into a go-kart, and the baby of the family, Benoit (Hugo St.-Onge-Paquin), who is charming and cute but also begins acting out in dangerous ways. Boosted by a splendid script by first-time screenwriter Isabelle Hébert, MOMMY'S AT THE HAIRDRESSER is a small but engaging film.
Friday, March 20, 6:30
and
Saturday, March 21, 2:30 NURSE.FIGHTER.BOY (Charles Officer, 2008)
Friday, March 20, 8:30
and
Sunday, March 22, 3:00 THE DEATH OF ALICE BLUE (Park Bench, 2008)
Saturday, March 21, 2:00
and
Monday, March 23, 6:00 C'EST PAS MOI, JE LE JURE! (IT'S NOT ME, I SWEAR!) (Philippe Falardeau, 2008)
Saturday, March 21, 4:15
and
Sunday, March 22, 4:30 DURS A CUIRE (WELL DONE) (Guillaume Sylvestre, 2008)
Saturday, March 21, 6:30
and
Monday, March 23, 8:30 MALLS R US (Helene Klodawsky, 2008)
Exhibit of the Week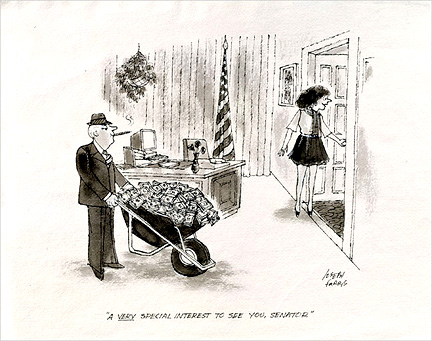 © The New Yorker Collection
Joseph Farris, "A very special interest to see you, Senator." published 28 June 1993
ON THE MONEY: CARTOONS FROM THE NEW YORKER
FROM THE MELVIN R. SEIDEN COLLECTION
The Morgan Library & Museum
225 Madison Ave. at 36th St.
Through May 24 (closed Monday)
Admission: $12 (free Fridays from 7:00 to 9:00, with live music by performers from Mannes College)
212-685-0008
The timing of the Morgan Library's "On the Money: Cartoons for The New Yorker" couldn't be more, well, on the money, what with America on the precipice of a depression, daily heated debates over the efficacy of the new president's stimulus plan, and Bernie Madoff finally in prison. Comprising seventy-one original drawings from thirty-two cartoonists dating from 1927 to 2003 — with the vast majority having been published in the magazine in the 1970s, 1980s, and 1990s — the exhibit tackles corporate greed (Lee Lorenz's "Well, we've licked taxes — that just leaves death."), generational wealth (Dana Fradon's "Not as Well Off as Our Parents Were at Our Age" and Leo Cullum's "Everything I have, son, I have because your grandfather left it to me. I see now that that was a bad thing."), government influence (Joseph Farris's "A very special interest to see you, Senator."), and personal relationships (Richard Cline's "I wish I had known you when you had money." and William Hamilton's "Lately, I've had the awful feeling that my marriage is tied to the dollar."). Most of the cartoons are so timeless, they could have been drawn yesterday. The display also offers a splendid opportunity to see the cartoons in their original forms, with revisions evident. In addition, several drawings are shown alongside their published version so visitors can get insight into the job of the magazine editor. Finally, "On the Money" celebrates the cartoonists themselves, featuring brief bios of eight of them with photo portraits taken by Anne Hall.
Wednesday, March 18 Three Paths to The New Yorker: Roz Chast, Arnie Levin, and David Sipress participate in a roundtable moderated by Lee Lorenz, $10, 6:30 (exhibit opens at 5:30 for ticket holders)

Friday, April 17 GAHAN WILSON: BORN DEAD, STILL WEIRD (Steven-Charles Jaffe, 2007), free, 7:00
Tuesday, April 21 At the Pearly Gates: Judgment, Heaven, and Hell in The New Yorker, with Walter Cahn, $15, 6:30 (exhibit opens at 5:30 for ticket holders)
Friday, May 15 FUNNY BUSINESS (Lyda Ely, 2009), introduced by director Lyda Ely, free, 7:00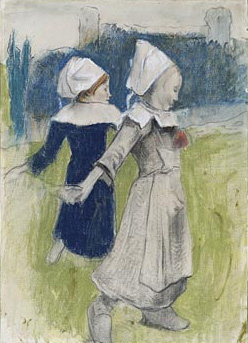 The Thaw Collection, the Morgan Library & Museum
Paul Gauguin, "Study for Breton Girls Dancing,"
pastel and charcoal, with watercolor and gouache,
on cream-colored paper, 1888
THE THAW COLLECTION
The Morgan Library & Museum
Art dealer, collector, and philanthropist Eugene V. Thaw and his wife, Clare, have amassed a spectacular collection of art over the years, donating works to institutions around the world. They have a special relationship with the Morgan Library, which is currently honoring the couple with a pair of shows, "The Thaw Collection of Master Drawings: Acquisitions Since 2002" (through May 3) and "Studying Nature: Oil Sketches from the Thaw Collection" (through August 30). The former features drawings from more than sixty artists, including Boucher, Ingres, Monet, Degas, Redon, Bonnard, Gris, Matisse, Giacometti, Pollock, O'Keeffe, and others, arranged chronologically from the fifteenth century to 2000. There's a lot to like here, but the stand-outs are Carl Gustav Carus's sharp "A Monk in a Cloister," Adolph Menzel's striking "Standing Young Man," Joseph Cornell's untitled box behind blue glass, Agnes Martin's untitled grid drawing, and Ellsworth Kelly's black-and-white collage "White Curve." Nearly three dozen artists are highlighted in "Studying Nature," primarily comprising plein-air landscape sketches. Among the still-life outdoor studies are John Constable's "Hampstead Heath with Bathers," Camille Corot's "View of Genzano," Charles-François Daubigny's "Landscape at Auvers-sur-Oise," and Eugene Isabey's "Sunset on the Normandy Coast." The Thaws also have donated generously to the Metropolitan Museum of Art; on April 16, former Met director Philippe do Montebello will be at the Morgan for a conversation with Eugene V. Thaw that should be highly enlightening.
Friday, March 20 The George London Foundation Awards Finals Competition, $45, 4:00
Tuesday, March 24 Mozart: Sonatas and Variations, Boston Early Music Festival, $45, 7:30
Friday, March 27 The Thaw Collection: Modern and Contemporary Drawings, gallery talk with Morgan curator Isabelle Dervaux, free with museum admission, 7:00
Wednesday, April 1 Iberian Inspirations: works by Falla, Turina, Montsalvatge, Rodrigo, Villa Lobos, and Gerhard, with soprano Harolyn Blackwell, pianist Lynn Baker, conductor Angel Gil-Ordonez, and Perspectives Ensemble: $35, 7:30
Friday, April 3 Henry VIII on Screen: ANNE OF THE THOUSAND DAYS (Charles Jarrott, 1969), introduced by Lorella Brocklesby, free, 7:00
Tuesday, April 7 Double Take: Obsession, featuring works by Bach and Ysaye, $35, 7:30
Thursday, April 16 Pierre and Tana Matisse Foundation Lecture: A Conversation with Philippe de Montebello and Eugene V. Thaw, $25, 6:30
Friday, April 24 Henry VIII on Screen: A MAN FOR ALL SEASONS (Fred Zinnemann, 1966), introduced by Lorella Brocklesby, free, 7:00
In the Neighborhood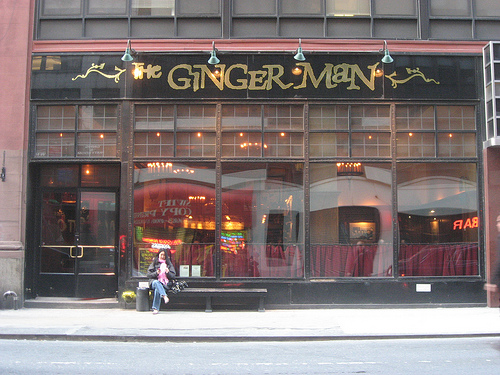 twi-ny/mdr
The Ginger Man has one of the best beer menus in the city
THE GINGER MAN
11 East 36th St. between Madison & Fifth Aves.
Admission: free
212-532-3740
We've been going to the Ginger Man since it first opened in 1996, at the height of the cigar-and-specialty-brew craze. Although that madness has died down significantly, you can still find this New York outlet of the original Texas franchise frighteningly packed on a Friday night — but warmly inviting on a much-less crowded weekend afternoon. Take a seat at the bar, study the beer menu, and check out the five-dozen-plus taps that are in operation. The menu is broken down by type (lagers, wheat beers, strong ales, bocks, stouts & porters, etc.) and country of origin (Czech Republic, Germany, Great Britain, United States, Belgium, Mexico, and Ireland.) The bar also features a tremendous bottled-beer list, ranging from a six-dollar Fuller's London Pride to an eight-dollar Ayinger Dunkel to a thirteen-dollar Cantillon Clazssic Greuze to a nineteen-dollar Lurgashall Winery English Style Mead; bottles of Grado Plato Strada Felice and Pennichuck Pozharnik will set you back twenty-five bucks. You can also relax in the eminently comfortable back room — scrunch up into one of the beautifully ratty couches and chairs and enjoy a single malt and some Guinness stew or a pretzel. (The menu also includes sandwiches, hot dogs, cheese plates, and beer-boiled shrimp.) The Ginger Man was named after the 1955 novel by J. P. Dunleavy, which includes the beautiful line "When I die I want to decompose in a barrel of porter and have it served in all the pubs in Ireland."
Downtown Film Festival of the Week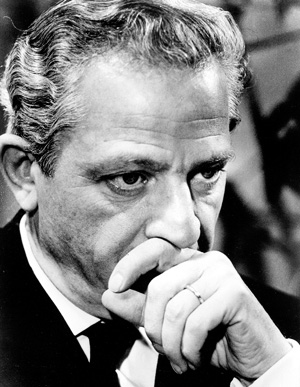 Photofest
Jules Dassin's career is being celebrated at Film Forum
JULES DASSIN 1911 - 2008
Film Forum
209 West Houston St. between Sixth & Seventh Aves.
March 27 – April 12
212-727-8110
On the one-year anniversary of his death, Film Forum honors film-noir master Jules Dassin (1911-2008) with a fifteen-film retrospective that includes all of his seminal works. Dassin was born in Connecticut and appeared in Yiddish theater in New York City before directing his first films. Caught up in the Hollywood blacklist, he moved to Europe, making successful movies in France and Greece. For nearly thirty years, he was married to Greek actress Melina Mercouri, who starred in several of his films, including NEVER ON SUNDAY, HE WHO MUST DIE, PHAEDRA, and TOPKAPI. Dassin retired after 1980's CIRCLE OF TWO (in which an aging Richard Burton falls in love with teenager Tatum O'Neal), leaving behind a resume that includes such triumphs as NIGHT AND THE CITY, THE NAKED CITY, BRUTE FORCE, and the classic heist dramas RIFFIFI and TOPKAPI.
Friday, March 27
and
Saturday, March 28 NIGHT AND THE CITY (Jules Dassin, 1950), 1:30, 3:30, 5:40, 7:50, 9:50
Sunday, March 29 THE NAKED CITY (Jules Dassin, 1948), 3:20, 7:00, and THIEVES' HIGHWAY (Jules Dassin, 1949), 1:30, 5:10, 9:00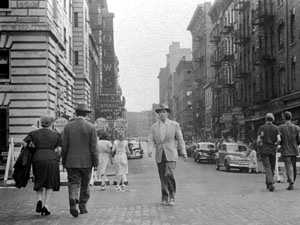 Yes, there are eight million stories in the naked city…
THE NAKED CITY (Jules Dassin, 1948)

Jules Dassin's police procedural was one of the first films shot on location in New York City, bringing to life the grit of the streets. Barry Fitzgerald stars as Lt. Muldoon, an Irish cop who knows the game, never allowing anything to get in the way of his sworn duty to uphold the law while never getting too emotionally involved. A model has turned up dead, and young detective Jimmy Halloran (Don Taylor) is heading up the investigation, which includes such suspects as swarthy Frank Niles (Howard Duff). Producer Mark Hellinger's narration is playful and knowing, accompanying William Daniels's great camerawork through Park Avenue and the Lower East Side, stopping at little city vignettes that have nothing to do with the story except to add to the level of reality. The thrilling conclusion takes place on the Williamsburg Bridge.
Monday, March 30 REUNION IN FRANCE (Jules Dassin, 1942), 3:30, 7:30, and NAZI AGENT (Jules Dassin, 1942), 1:30, 5:30, 9:30
Tuesday, March 31 UP TIGHT (Jules Dassin, 1968), 1:30, 3:35, 5:40, 7:45, 9:50
Wednesday, April 1 HE WHO MUST DIE (Jules Dassin, 1958), 2:00, 4:30, 7:00, 9:30
Thursday, April 2 HE WHO MUST DIE (Jules Dassin, 1958), 2:00, 4:30, 9:30
Thursday, April 2 BRUTE FORCE (Jules Dassin, 1947), 7:30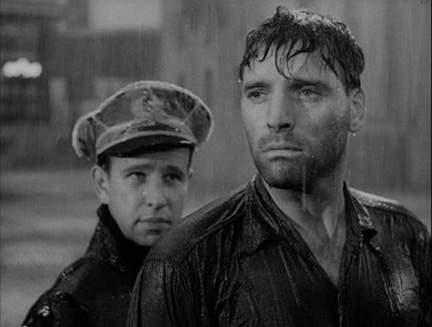 Hume Cronyn and Burt Lancaster don't like each other much in BRUTE FORCE
BRUTE FORCE (Jules Dassin, 1947)

Tough guy Joe Collins (a pretty hot Burt Lancaster) has no desire to serve out the rest of his sentence in the brutal prison run by Captain Munsey (a devilishly evil Hume Cronyn), who takes pleasure in regularly beating his charges. Collins recruits a handful of men to participate in his escape plans, including Soldier (Howard Duff), Miller (Sam Levene), Lister (Whit Bissell), and Spencer (John Hoyt) — each of whose arrest story is told in flashback against director Jules Dassin's wishes — as well as old-timer Gallagher (Charles Bickford), but Munsey is soon sniffing around too close, and Collins smells a rat. Meanwhile, the weak-kneed warden (Roman Bohnen) is losing control of the prison, and the wily old doctor (Art Smith) can't let go of the bottle. Filmed in a dense, confining black and white by William H. Daniels, BRUTE FORCE is one of Dassin's darkest dramas, featuring a surprising ending for a film made by a major studio.
Friday, April 3
and
Saturday, April 4 RIFIFI (Jules Dassin, 1955), 2:00, 4:30, 7:00, 9:30
Sunday, April 5 TOPKAPI (Jules Dassin, 1964), 2:55, 7:00, and NEVER ON SUNDAY (Jules Dassin, 1960), 1:10, 5:10, 9:15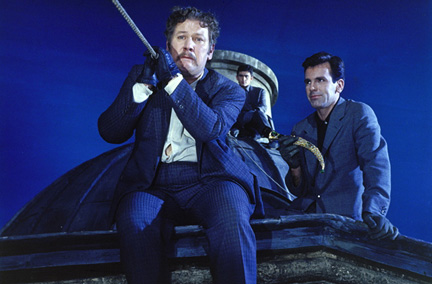 MGM
Peter Ustinov provides the comic relief in Dassin caper classic
TOPKAPI (Jules Dassin, 1964)

We're suckers for heist films. Just give us THE HOT ROCK (Peter Yates, 1972), THE ANDERSON TAPES (Sidney Lumet, 1972), THE ASPHALT JUNGLE (John Huston, 1950), KELLY'S HEROES (Brian G. Hutton, 1970), THE KILLING (Stanley Kubrick, 1956) — heck, even THE BRINKS JOB (William Friedkin, 1978) — and we'll settle in for a great coupla hours. But the king of them all just might be Jules Dassin's ultrahip TOPKAPI, about a group of multicultural thieves who plan to steal the world's most priceless emerald from a bejeweled dagger in Topkapi Palace in Istanbul. The movie is worth seeing just for Ms. Mercouri herself, who opens the film by talking right to us, luring us in with her alluring sex appeal and endless charm. And oh, those clothes, especially the emerald green outfit with her nails painted to match. Maximilian Schell, Peter Ustinov, Robert Morley, and others join in for the elaborate plan that has been ripped off in so many movies ever since. And we were happy to see that they really got things right, shooting on location in Turkey, because we've been to Topkapi Palace, and the Topkapi dagger is indeed breathtaking. We deleted a quarter star because some of the scenes with Ustinov are a bit long and awkward, but the rest is simply marvelous. Woody Allen bonus: Harback, one of the cops chasing after the gang, is played by Titos Vandis, who was in love with a sheep in EVERYTHING YOU ALWAYS WANTED TO KNOW ABOUT SEX BUT WERE AFRAID TO ASK (Woody Allen, 1972), ending up battling Gene Wilder for Daisy's heart.
Monday, April 6 10:30 PM SUMMER (Jules Dassin, 1966), 1:00, 4:30, 8:00, and THE REHEARSAL (Jules Dassin, 1974), 2:40, 6:10, 9:45
Tuesday, April 7 PHAEDRA (Jules Dassin, 1962), 1:20, 5:30, 9:50, and A DREAM OF PASSION (Jules Dassin, 1978), 3:30, 7:40
Sports Event of the Week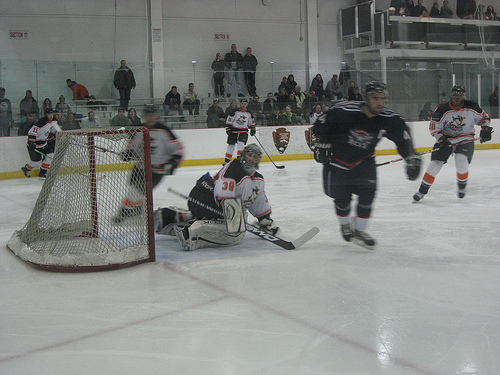 The Brooklyn Aces battle it out against the Jersey Rockhoppers (photo by twi-ny/mdr)
BROOKLYN ACES
Aviator Sports and Recreation
Flatbush Ave., south of Belt Pkwy, exit 11S
March 26-28, 7:30
Tickets: $15 adults, $9 children
718-758-7585 / 718-977-5930
While the Rangers are in the midst of a tight NHL playoff battle, another New York hockey team has skated quietly but defiantly into first place in, of all places, the outskirts of Brooklyn. The Brooklyn Aces, who play at the Aviator Sports and Recreation facility at the Floyd Bennett Field complex, captured the division title in the inaugural season of the Eastern Professional Hockey League, posting a stalwart record of 34-9-6. The season came to a close on March 21, with the Aces dropping a hard-fought contest against the New Jersey Rockhoppers, who clinched the second playoff spot in the four-team league, knocking out the Danbury Mad Hatters. The Hudson Valley Bears finished far, far back in last with only three victories all year. Led on defense by captain Rob Miller, on offense by alternate captains CJ Tozzo and Kyle McCullough and by the outstanding goalie tandem of Miroslav Recicar and Eddie Neville, the Aces got an ooh-la-la lift in the regular season finale from former Rangers star and current MSG studio analyst Ron Duguay, 51, who retired from the NHL two decades ago after a twelve-year career.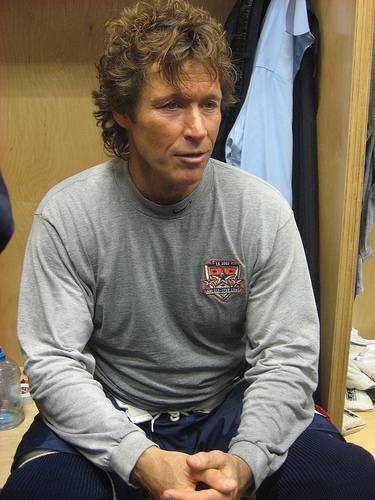 Former Rangers star Ron Duguay laced them up again for charity (photo by twi-ny/mdr)
Although many thought Duguay's appearance — to raise awareness for the Garden of Dreams foundation, whose mission is "to make dreams come true for kids in crisis" — would be largely ceremonial, the all-star center took a regular shift throughout the contest, even recording the primary assist on the game-tying goal with just thirty-seven seconds remaining in the third period. Asked before the game whether he was next in line to lace up the skates for charity, former Rangers defenseman Ron Greschner, 54, who played with Duguay for six seasons in New York, including the Blueshirts' 1978-79 campaign in which they reached the Stanley Cup Finals, said, "If it took Duguay two weeks to get into shape, it would take me two years." After the game, Duguay was utterly exhausted, saying he would "sleep with some ice packs tonight." He was not shy about admitting that he had nothing left in the tank by the end of the game — and was most likely regretting his decision to do it all over again the next night, when he was scheduled to join the Rockhoppers in a game against the Mad Hatters. Duguay, whose curly locks and wide smile made him a sex symbol on Broadway, was able to let out a laugh when told that his hair still looked great; he played the game without a helmet (and with one hoop earring), grandfathered because he was in the league prior to the 1979 NHL dictum that all future players must wear the protective gear.
Aces and Rockhoppers will face off for the EPHL Championship (photo by twi-ny/mdr)
The Aces will play for the EPHL Championship in a best-of-three series against the Rockhoppers beginning March 26 at the Aviator, which is a great place to see a hockey game. The rink, which seats upwards of 1,800 fans on long aluminum benches, has terrific site lines from every angle, and patrons are free to walk around the boards and watch and take pictures from just behind the plexiglas. The main rotunda features lots of activities for kids, including arcade games, a climbing wall, air hockey, and a space-motion ride, while upstairs is a bar with multiple screens showing sports events. Everything from the tickets to the food to the beer is significantly cheaper than a Rangers game at the Garden, and the team comes out after the game to meet with fans, sign autographs, and pose for photos. The Aces are offering a special family playoff package that consists of four tickets, four chuck-a-pucks (a postgame contest in which fans get to throw a puck into the net from center ice to win a prize), four programs, and four souvenir pens for only forty-four bucks. While the game itself is of course not up to the skill level of the NHL — it is somewhat equivalent to the level of play of the Brooklyn Cyclones when compared to the New York Mets — it does feature more than its fair share of hard hits, lots of shots on goal, and even a fight or two. But they really do have to do something about the PA system, which is worse than those old ones on the subway. There are also no video screens or replays.
While getting to the game by car is relatively painless — the Aviator is just off exit 11S of the Belt Pkwy — going via public transportation requires a bit more dedication, taking the 2 or the 5 train to the last stop (Flatbush Ave. / Brooklyn College), changing for the Q35 bus, and then making a short walk around the Ryan Visitor Center. But it's an absolute must for hockey fans and families looking to do something a little different. If you can't get to the game, you can follow the team via beat writer Patrick Hickey Jr. at www.acesoverbrooklyn.com and play-by-play announcer Tom Willms at www.iymsportsradio.com.
Riff's Rants & Raves: Film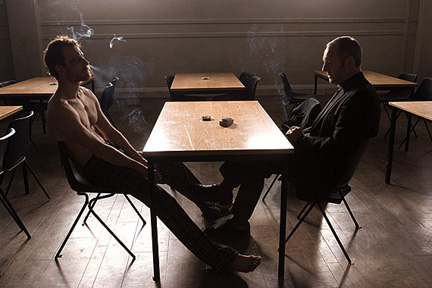 Bobby Sands (Michael Fassbender) and Father Dominic (Liam Cunningham) have a lengthy chat in HUNGER
HUNGER (Steve McQueen, 2008)
IFC Center
323 Sixth Ave. at West Third St.
Opens Friday, March 20
212-924-7771

In 2004, we saw Steve McQueen's fascinating video installation of three short works at Wellesley's Davis Museum. As entertaining and intriguing as that show was, it never could have prepared us for HUNGER, the British-born Turner Prize winner's brutal and harrowing feature-length debut. Winner of the Camera d'Or at Cannes, HUNGER is set amid the Troubles in Northern Island, as IRA members are locked up in the Maze prison. Seeking special category status, the prisoners are on a Blanket and No Wash protest, refusing to wear official garb or clean up after themselves. They wipe their feces all over their cell walls and let their maggot-infested garbage pile up in corners. Meanwhile, the guards, who live in their own kind of daily fear, never miss a chance to beat the prisoners mercilessly. McQueen introduces the audience to the infamous prison through the eyes of one of the high-ranking guards, Raymond Lohan (Stuart Graham), and new prisoner Davey Gillen (Brian Milligan). He often lets the camera linger on a scene, with little or no dialogue, composing them as if individual works of art; one particularly gorgeous shot features Lohan having a cigarette outside the prison as snow falls. About halfway through, the film radically changes focus as Father Dominic Moran (Liam Cunningham) visits H Block leader Bobby Sands (Michael Fassbender), leading to sixteen minutes of uninterrupted dialogue, the camera never moving, as the two men discuss Sands's planned hunger strike. Written with Enda Walsh (whose play THE WALWORTH FARCE was a hit at St. Ann's Warehouse last year), McQueen's film is a visually stunning, emotionally powerful story that will leave audiences ragged.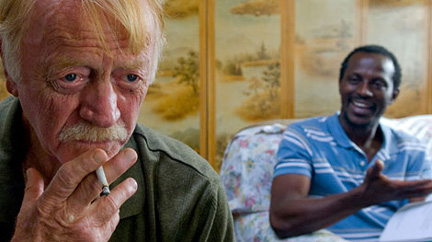 William and Solo form an unusual friendship in latest Bahrani film
GOODBYE SOLO (Ramin Bahrani, 2008)
Angelika Film Center
18 West Houston St. at Mercer St.
Opens Friday, March 27
212-995-2000
http://www.goodbyesolomovie.com

Winner of the International Critics Prize at the 2008 Venice Film Festival, GOODBYE SOLO is another intelligent, thoughtful drama from Ramin Bahrani (MAN PUSH CART, CHOP SHOP) that deals with outsiders trying to find their way in a modern America filled with loneliness. Ivory Coast native Souléymane Sy Savané makes a sparkling debut as Solo, a Senegalese cabdriver in Winston-Salem who dreams of becoming a flight attendant. One night he picks up a grizzled old southern man named William (former Elvis Presley Memphis Mafia stalwart Red West), who hires Solo to take him to Blowing Rock in a few weeks' time. Suspecting that William might be planning to jump off the North Carolina landmark — legend has it that the wind is so strong atop the mountain that it can sweep people up into the sky — Solo ingratiates himself into the angry old man's life, trying to become friends with a man who just wants to be left alone. But as Solo finds out more about William, he believes he might be able to give him a reason to go on. In just three films, Iranian-American director Bahrani has proved himself to be a master of character development and subtle, realistic storytelling, resulting in superb works that give marvelous insight into the human experience.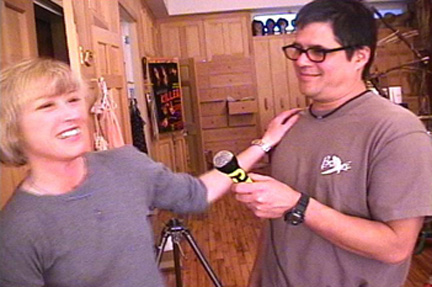 Paul H-O has fun with Cindy Sherman in art-world documentary
GUEST OF CINDY SHERMAN (Paul H-O & Tom Donahue, 2008)
Cinema Village
22 East 12th St. between University Pl. & Fifth Ave.
Opens Friday, March 27
212-924-3363
http://www.guestofcindysherman.com

In the 1990s, Paul Hasegawa-Overacker, known as Paul H-O, hosted a public access television show called "GalleryBeat," in which he and "Art in America" editor Walter Robinson revealed the inanity of the art world — something that he was thrilled to be a part of in any way possible. He went to openings and tried to speak with artists, gallery owners, and other beautiful people, meeting with both success and failure. Somehow, his persistence helped him develop a relationship with emerging photography star Cindy Sherman, who began attracting celebrities and various hangers-on as her work took off that decade, focusing on photos of herself representing other people. The notoriously press-shy Sherman made regular appearances on Paul H-O's show, taking him inside her studio and revealing aspects of her work and personal life she never had before. In fact, soon she was even dating Paul H-O, who kept his video camera running virtually nonstop. Directed by Paul H-O with Tom Donahue, GUEST OF CINDY SHERMAN is a fascinating look beneath the glamour and supposed sophistication of the 1990s art scene in New York City, seen through the eyes of an obsessed relative insider with a goofy charm. The film, which had its premiere at last year's Tribeca Film Festival, includes lots of terrific original footage, of Sherman as well as such artists as Julian Schnabel, along with brief interviews with such figures as Eric Bogosian, Carol Kane, Ingrid Sischy, Molly Ringwald, John Waters, Roberta Smith, Danny DeVito, Jeanne Tripplehorn, Eric Fischl, and April Gornik. Sherman, by the way, has disavowed the film and apologized to friends of hers who participated in its production in any way. (Sherman is currently part of the group show "About Face" at the Adam Baumgold gallery at 74 East 79th St. through May 2 and in two shows at ICP through May 3.)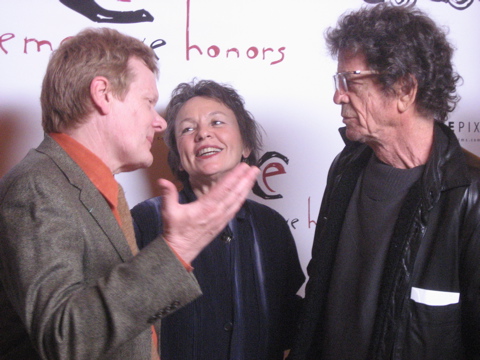 twi-ny/mdr
Philippe Petit, Laurie Anderson, and Lou Reed share a moment at the Cinema Eye Honors at the Times Center
CINEMA EYE HONORS
The Times Center
242 West 41st St. between Seventh & Eighth Aves.
Sunday, March 29, $75, 7:00
http://www.cinemaeyehonors.com
The second annual Cinema Eye Honors handed out awards to the best nonfiction films of 2008 at the Times Center on March 29, with the big winner being Ari Folman's WALTZ WITH BASHIR, which went home with four of the ten awards — Outstanding Direction, International Feature, Music Composition, and Graphic Design and Animation. James Marsh's popular MAN ON WIRE, which won the Academy Award for Best Documentary earlier this month, captured Outstanding Editing, Outstanding Production, and Outstanding Achievement in Nonfiction Filmmaking. Yung Chang's first film, UP THE YANGTZE, surprised everyone by winning the Audience Choice Award in addition to Debut Feature. And Werner Herzog's ENCOUNTERS AT THE END OF THE WORLD won for Outstanding Cinematography, leaving such excellent works as Carl Deal and Tia Lessin's TROUBLE THE WATER (three nominations), Margaret Brown's THE ORDER OF MYTHS (four nods), and Guy Maddin's exceptional MY WINNIPEG (six noms) going home empty-handed.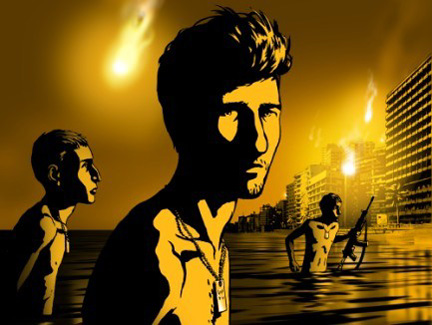 WALTZ WITH BASHIR was the big winner at the Cinema Eye Honors
One of the highlights of the well-run evening, — which featured a cramped preshow cocktail hour in which legendary filmmaker Albert Maysles mixed with MAN ON WIRE star Philippe Petit, presenter Laurie Anderson, her companion Lou Reed, and THE BETRAYAL co-director (and costar) Thavisouk Phrasavath, among others — was a panel discussion on the state of the documentary, which included Ellen Kuras (THE BETRAYAL), Phrasavath, Brown, Marsh, and Jody Shapiro (cinematographer and producer of MY WINNIPEG), moderated by Toronto International Film Festival programmer Thom Powers, who hosted the evening with producer AJ Schnack. Also presenting awards were Morgan Spurlock, Chris Hegedus and D. A. Pennebaker, and Maysles, a virtual who's who in the field of documentary, which was justly celebrated by industry insiders, fans, and press alike. After the awards show, everyone headed down the street for a party at Arena, where food, drink, DJs, and smoke machine were provided by Cinema Eye Honors founding sponsor IndiePix.
The Brothers Quay will make rare, special appearance at SVA
ART IN THE FIRST PERSON: THE PHARMACIST'S PRESCRIPTION FOR LIP-READING PUPPETS
School of Visual Arts, Visual Arts Theater
333 West 23rd St.
Thursday, April 2, free, 6:30
212-592-2010
For thirty years, the Brothers Quay, identical twins from Philadelphia who work in London, have created a Gothic, industrial, dreamlike fantasy world in such short films as "The Comb (From the Museums of Sleep)," "Street of Crocodiles," and "In Absentia" as well as the full-length features INSTITUTE BENJAMENTA, OR THIS DREAM PEOPLE CALL HUMAN LIFE (1995), THE PIANO TUNER OF EARTHQUAKES (2006), and the upcoming SANATORIUM UNDER THE SIGN OF THE HOURGLASS. Stephen and Timothy will be celebrating this anniversary with a special appearance in New York City, in conversation with faculty member Thyrza Goodeve at the School of Visual Arts, where they will discuss their fascinating career. Don't miss this very rare opportunity to see two of cinema's most eclectic, unusual, and creative talents — and it's even free.
In Theaters Now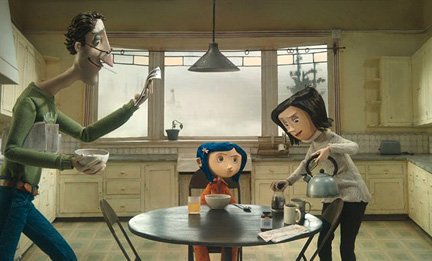 Coraline spends some quality time with her real parents in 3-D fantasy
CORALINE (Henry Selick, 2009)

Coraline Jones (voiced by Dakota Fanning) is an adventurous eleven-year-old in search of some fun and excitement in her new creaky home in Oregon. She finds just what she thinks she was looking for when a rodent introduces her to a hidden passageway that leads to an alternate universe, where replicas of her parents (Teri Hatcher and John Hodgman) are more interested in her and give her whatever she wants. However, this button-eyed Other Mother and Other Father have other plans for her and her real family as well. Written and directed by Henry Selick, CORALINE lacks the frantic, nonstop energy of his breakthrough film, TIM BURTON'S THE NIGHTMARE BEFORE CHRISTMAS, but it is still a fun, creepy trip down the Narnia-esque rabbit hole. Combining his trademark stop-motion animation (JAMES AND THE GIANT PEACH) with breathtaking stereoscopic 3-D that adds remarkable depth to the images, Selick does a marvelous job bringing to life the popular children's novel by Newbery Medal-winning author Neil Gaiman (SANDMAN), who wrote the book for his young daughters. (Full disclosure: In another part of our life, we work for the company that publishes Gaiman's children's books, including CORALINE, although we promise that does not color our opinion of it.) The supporting cast of characters includes former music-hall divas Miss Spink and Miss Forcible (the ABSOLUTELY FABULOUS British comedy team of Jennifer Saunders and Dawn French), the wise Cat (Keith David), mouse circus leader Mr. Bobinsky (Ian McShane), and local boy Wybie Lovat (Robert Bailey Jr.), who was created specifically for the movie. Be sure to stick around for one last cool 3-D effect at the end of the credits.
Mikael Persbrandt stars as a brutish oaf in Jan Troell's EVERLASTING MOMENTS
EVERLASTING MOMENTS (MARIA LARSSONS EVIGA ÖGONBLICK) (Jan Troell, 2008)
Beekman Theatre
1271 Second Ave.
212-585-4141
Cinema Village
22 East 12th St. between University Pl. & Fifth Ave.
212-924-3363

Inspired by a book written by his wife, Agneta Ulfsäter-Troell, based on part of her family history, Jan Troell's EVERLASTING MOMENTS captures a pivotal time of change in Sweden. In a small town in 1907, Maria Larsson (Maria Heiskanen) is struggling to keep her growing family together as her brutish oaf of a husband, Sigge (Mikael Persbrandt), regularly comes home drunk, cheats on her, and goes on strike with the rest of the local dockworkers. Maria scrubs floors and sews for extra money, but she dreams of her own independence and freedom. When she enters Mr. Pedersen's (Jesper Christensen) photography studio one day, she has every intention of selling a camera that she had won in a lottery years before. But Pedersen instead convinces her to try out the camera first, and she is soon documenting the world around her. As Sigge becomes more and more ornery — and more and more dangerous, threatening the future of the family — Maria has discovered a whole new way of looking at things, both literally and figuratively, but still needs to find the inner strength to improve her lot. Seen through the eyes of eldest daughter Maja (first played by Nellie Almgren, then by Callin Öhrvall), EVERLASTING MOMENTS is a beautiful, bittersweet personal tale told by one of Sweden's greatest filmmakers. Now in his late seventies, director Troell (THE EMIGRANTS, HAMSUN) also cowrote the script with his wife and Niklas Rådström and served as cinematographer with Mischa Gavrjusjov; the film was nominated for a Golden Globe and won five Guldbagge (Golden Beetle) Awards from the Swedish Film Institute, including Best Film, Best Actor, Best Actress, Best Supporting Actor, and Special Achievement (composer Matti Bye).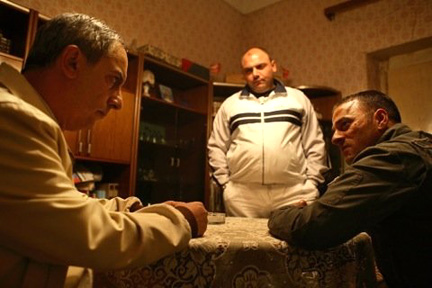 Italian crime epic looks at Camorra syndicate in Naples
GOMORRAH (Matteo Garrone, 2008)
IFC Center
323 Sixth Ave. at West Third St.
212-924-7771

Winner of the Grand Prix at the 2008 Cannes Film Festival, GOMORRAH is a violent, intimate look at the modern-day Camorra crime syndicate in Naples and Caserta. Based on the nonfiction novel by investigative journalist Roberto Saviano — who has been living under police protection since the fall of 2006 — Matteo Garrone's epic follows five distinct yet interrelated stories set around a dilapidated concrete-block housing project, a sort of GODFATHER meets THE SOPRANOS filtered through Italian Neo-realism. Pasquale (Salvatore Cantalupo) is a tailor who considers sharing his secrets with a Chinese sweatshop to make some much-needed extra cash. Roberto (Carmine Paternoster) is having second thoughts training under Franco (Toni Servillo), who runs a toxic waste dumping business. Don Ciro (Gianfelice Imparato) has to deal with a delicate, difficult situation when Maria's (Italian singing star Maria Nazionale) young son joins the secessionists, a rival gang. Marco (Marco Macor) and Ciro (Ciro Petrone) are loose cannons who keep messing with the wrong people. And Totò (Salvatore Abruzzese) is a thirteen-year-old boy who is helping out the Camorra against his mother's wishes — and is soon faced with a life-changing decision. Beautifully shot by Marco Onorato and featuring a cast of primarily nonprofessional actors, GOMORRAH is a deeply involving crime drama, all the more frightening because it's based on real, current situations.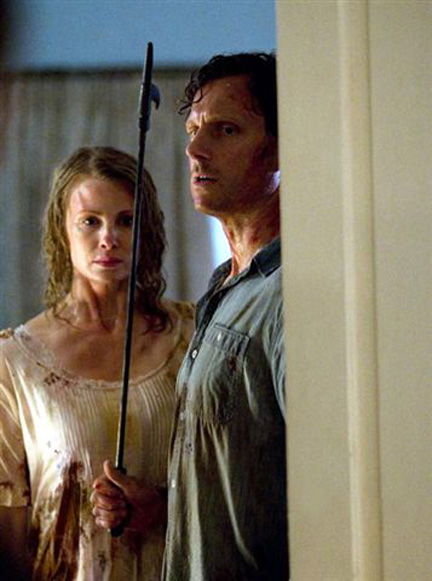 Craven and Cunningham do much better the second time around
THE LAST HOUSE ON THE LEFT (Dennis Iliadis, 2009)
http://www.thelasthouseontheleft.com

In 1972, writer-director Wes Craven and producer Sean S. Cunningham teamed up on the low-budget grindhouse movie LAST HOUSE ON THE LEFT, an insipid piece of trash that quickly became a cult classic, still regarded by some as a masterpiece of the genre. More than a third of a century later, following Craven's success with the Nightmare on Elm Street series and Cunningham's Friday the 13th franchise, the two have teamed up with producer Marianne Maddalena to revisit THE LAST HOUSE ON THE LEFT. Director Dennis Iliadis and writers Mark Haslett, Carl Ellsworth, and Adam Alleca have taken the core story of a crazy group of killers who terrorize a family and added much of the nuance that the original was missing, resulting in a tense, creepy thriller that is closer in mood and style — and, in significant places, plot — to Michael Haneke's home-invasion film FUNNY GAMES than the first LAST HOUSE movie. (In fact, one wonders whether Craven and Cunningham were influenced by Haneke's 2008 remake of his own 1997 original when deciding to tackle a new LAST HOUSE, especially because of the plot similarities. LAST HOUSE also owes a debt to Ingmar Bergman's harrowing 1960 Oscar-winning Swedish film THE VIRGIN SPRING.)
When high school swimming champion Mari Collingwood (Sara Paxton) and her parents, John (Tony Goldwyn) and Emma (Monica Potter), head out on a vacation to their isolated lake house, they have no idea they will soon be battling a vicious band of rapists and murderers led by the evil Krug (Garret Dillahunt). The new film thankfully gets rid of the stupid subplot involving the hapless sheriff and deputy while also adding much-needed depth to the character of Justin (Spencer Treat Clark), Krug's teenage son. Despite an awful, wholly unnecessary scene tacked on at the end — did anybody really think this was a good idea? — the remake is far superior to the original, a gripping film that ably stands on its own, alongside such recent terror fare as Rob Zombie's THE DEVIL'S REJECTS, Bryan Bertino's THE STRANGERS, and the second FUNNY GAMES.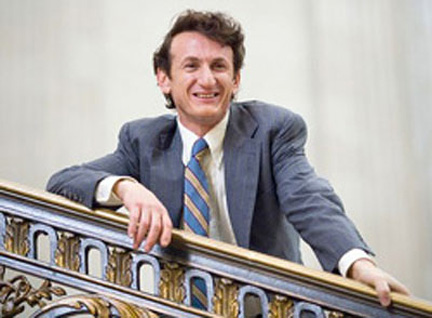 Sean Penn stars as Harvey Milk in look at gay activist and politician
MILK (Gus Van Sant, 2008)
http://www.filminfocus.com/focusfeatures/film/milk

Gus Van Sant's MILK is a solid if surprisingly standard biopic focusing on the last eight years in the life of Harvey Milk, the gay activist and politician who was assassinated in 1978. Van Sant (DRUGSTORE COWBOY, TO DIE FOR, GOOD WILL HUNTING) follows the eventual unofficial Mayor of Castro Street (Sean Penn) as he moves to San Francisco with his much younger partner, Scottie Smith (James Franco), and sets up a camera shop that soon becomes an important meeting ground for the local gay community, fighting for equal rights and supporting Milk as he continually campaigns for public office. The battle hits its high point in 1978 when Milk takes on John Briggs and the Briggs Initiative, also known as Proposition 6, which sought to take away existing employment rights from gays and lesbians in the California public school system, eerily reminiscent of the recent passage of Proposition 8 there. Although Milk was a rallying figure — his opening mantra was always "My name is Harvey Milk, and I am here to recruit you!" — the film never quite takes off the way it wants to, instead becoming too reverential and melodramatic. Penn is good but subdued in the lead role; the best performance comes from Josh Brolin as Dan White, Milk's main adversary among the SF supervisors.

THE READER (Stephen Daldry, 2008)
http://www.thereader-movie.com

A surprise Best Picture Oscar nominee, THE READER is a cold and disappointing film focusing on a pair of cold, overly secretive — and intensely frustrating — characters. In 1958 Germany, thirty-five-year-old Hanna (Kate Winslet) begins a steamy affair with fifteen-year-old Michael (David Kross); the matronly woman, who calls the young boy "kid," gets in the mood by having him read great works of literature to her as they lay naked together in bed. The film switches between that year and 1995 (as well as several years in between), when a grown-up Michael (Ralph Fiennes) is still having trouble dealing with one obvious secret, although another, shocking one, revealed while he was in law school, has changed the course of his life and his ability to maintain close relationships, including with his daughter. Director Stephen Daldry (BILLY ELLIOT, THE HOURS) manipulates the rather emotionless story — written by David Hare (PLENTY), based on the novel by Bernard Schlink — teasing the audience unnecessarily to keep things moving, albeit at a snail's pace. Although it's always great to see Bruno Ganz and Lena Olin, the main stars — Winslet, Kross, and especially Fiennes — are oddly dispassionate in this overblown and underplayed melodrama. The film's success during awards season might be primarily because two of the executive producers, Anthony Minghella and Sydney Pollack, passed away last year, and this is their final project.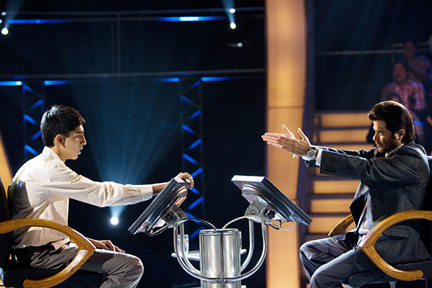 Jamal goes for the big bucks in SLUMDOG MILLIONAIRE
SLUMDOG MILLIONAIRE (Danny Boyle, 2008)
http://www.foxsearchlight.com/slumdogmillionaire

In modern-day Mumbai, Jamal Malik (Dev Patel) is being brutally interrogated by a police inspector (Irrfan Khan) who is certain that Jamal is cheating on the popular game show WHO WANTS TO BE A MILLIONAIRE? The cop won't even consider that a young, uneducated chaiwalla, a lowly tea server at a call center, could possibly know enough to be successful on the program. But through a series of harrowing flashbacks, Jamal recounts his difficult, miserable life growing up on the streets with his brother, Salim (Madhur Mittal), explaining how his experiences with extreme poverty, bigotry, child abuse, and gang violence led him to know certain answers in fascinating, bizarre, and mostly sad ways. As he approaches the final question, everything he's ever loved and believed in hangs in the balance. SLUMDOG MILLIONAIRE is extremely well directed by Danny Boyle (TRAINSPOTTING, 28 DAYS LATER), with a smart script by Simon Beaufoy (THE FULL MONTY) based on Vikas Swarup's novel Q AND A. Freida Pinto makes a strong debut as Latika, the girl who comes between the two brothers, and Bollywood star Anil Kapoor is wonderfully smarmy as Prem Kumar, the Indian Regis Philbin. A mesmerizing, edge-of-your-seat tale, SLUMDOG MILLIONAIRE was the sleeper hit of 2008 until it won four Golden Globe awards, followed by eight Oscars, including Best Director and Best Picture.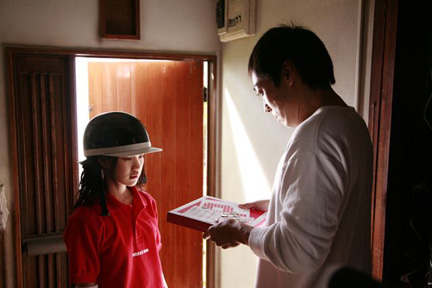 Tokyo shut-ins have rare moment of human contact in SHAKING TOKYO
TOKYO! (Michel Gondry, Léos Carx, and Bong Joon-ho, 2008)
Landmark Sunshine Cinema
143 East Houston St. between First & Second Aves.
212-330-8182
http://www.landmarktheatres.com

Labeled a "fantasy in three movements," TOKYO! consists of a trio of distinct tales set in the thriving heart of Japan's capital city. In Michel Gondry's INTERIOR DESIGN, his best work since 2004's ETERNAL SUNSHINE OF THE SPOTLESS MIND, a young couple, Hiroko (Ayako Fujitani) and Akira (Ryo Kase), arrive from the provinces with dreams of making it big in the film business. Unable to find worthwhile jobs or an affordable apartment, they are overstaying their welcome with Hiroko's school friend Akemi (Ayumi Ito). Feeling lost and invisible, Hiroko ventures out one day and, well, as fans of Gondry's would expect, something very strange happens. In MERDE, French director Léos Carax's first film since 1999's POLA X, a wild-eyed, CHUD-like (Cannibalistic Humanoid Underground Dweller) character (Denis Lavant) emerges from below, wreaking havoc on the streets of Tokyo, speaking a bizarre language that only French magistrate Maitre Voland (Jean-Francois Balmer) can understand. And in Bong Joon-ho's SHAKING TOKYO, the director of THE HOST tells the lonely tale of a hikikimori (Teruyuki Kagawa), an agoraphobic shut-in, who becomes intrigued by the young woman (Yu Aoi) who delivers his pizza and considers actually going outside, into a Tokyo that is being rattled by a series of earthquakes. While MERDE is an in-your-face assault that is filled with anger toward the audience, INTERIOR DESIGN and SHAKING TOKYO are beautifully rendered, engaging stories that will make viewers forget the mess in the middle.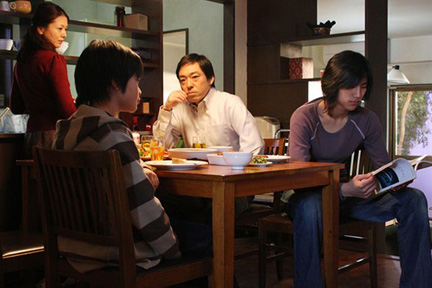 Tokyo family is a metaphor for all of Japan in Kiyoshi Kurosawa film
TOKYO SONATA (Kiyoshi Kurosawa, 2008)
IFC Center
323 Sixth Ave. at West Third St.
212-924-7771
Lincoln Plaza Cinemas
1886 Broadway between 62nd & 63rd Sts.
212-757-0359
http://lincolnplaza.moviefone.com
http://www.tokyosonatamovie.com

Winner of the Un Certain Regard Jury Prize at Cannes, TOKYO SONATA serves as a parable for modern-day Japan. Ryuhei Sasaki (Teruyuki Kagawa) is a simple family man, with a wife, Megumi (Koyoko Koizumi), two sons, Takashi (Yu Koyanagi) and Kenji (Kai Inowaki), and an honest job as an administration director for a major company. When Ryuhei is suddenly let go — he is being replaced by much cheaper Chinese labor — he is so ashamed, he doesn't tell his family. Instead, he puts on his suit every day and, briefcase in hand, walks out the door, but instead of going to work, he first waits on line at the unemployment agency, then at an outdoor food kitchen for a free lunch with the homeless — and other businessmen in the same boat as he is. Taking out his anger on his family, Ryuhei refuses to allow Kenji to take piano lessons and protests strongly against Takashi's desire to join the American military. But then, on one crazy night — which includes a shopping mall, a haphazard thief (Koji Yakusho), a convertible, and some unexpected violence — everything comes to a head, leading to a brilliant finale that makes you forget all of the uneven missteps in the middle of the film, which is about a half hour too long anyway. Kagawa, who is also one of the stars of the omnibus TOKYO! (which opened March 6), is outstanding as the sad-sack husband and father, matched note for note by the wonderful Koizumi, who searches for strength as everything around her is falling apart. And it's always a hoot to see Yakusho, the star of such films as Kurosawa's CURE, Shohei Imamura's THE EEL, Rob Marshall's MEMOIRS OF A GEISHA, and Alejandro González Iñárritu's BABEL, seen here as a wild-haired, wild-eyed wannabe burglar.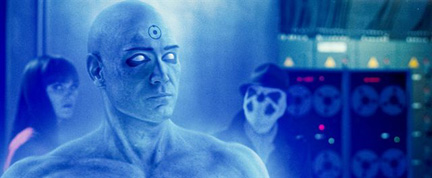 Dr. Manhattan is getting an idea in very different kind of superhero movie
WATCHMEN (Zack Snyder, 2009)
http://watchmenmovie.warnerbros.com

After more than twenty years, it's finally here. Zack (300) Snyder's brilliant, near panel-by-panel re-creation of Alan Moore and Dave Gibbons's genre-defining WATCHMEN doesn't update the setting one bit. It's still an alternate history, a dystopian 1980s with Richard Nixon in office, celebrating victory in Vietnam while trying to with the Cold War against the Russians. That era's very real preoccupations might not quite match our own, but in this age of international terrorism, fear of violent death is still used as an effective political tool. Snyder's bold move, to keep the '80s setting intact, complete with hair, color, and style, is visually stunning, if oddly disconcerting; he also does an outstanding job going back to the '50s and '70s, following Gibbons's beautiful design and Moore's musical sensibility. (The soundtrack includes obvious songs by Dylan, Hendrix, Simon & Garfunkel, Leonard Cohen, and Wagner as well as a killer "Desolation Row" by My Chemical Romance over the closing credits.) Yet the genius lies in the universal nature of Moore's story. Snyder maintains his atmosphere of dread, of people being tiny cogs caught in a machine manufacturing fear to control humanity, and it works. Because for many, that same system operates today, albeit with different faces, different bad guys, and different silhouettes and color schemes. Snyder's refusal to update the superficial points out all the more strongly the essential power of Moore's observations. The look is superb, with Gibbons's characters walking right off the page and into three dimensions, breathing humans that fully embody their two-dimensional origins, often more fascinating out of costume than dressed for duty.
The story, of course, is more difficult to transfer intact. There are added scenes that weren't panels as well as inevitable elisions and telescoping of the original twelve-issue limited series. The sheer genius of Moore's metafiction, his exploration of the Nietzschean "superman" and his comic book counterparts, and the supratextural additions, such as his deftly woven counterpoint comic-within-a-comic Tales of the Black Freighter, don't all make it to the big screen. How could they? The movie's more than two and a half hours already. (Some of these elements will be eventual DVD extras.) If you didn't read the book, you might miss the metafiction, the counterpoint, and possibly much of the plot, but the awesome Rorschach and the amazing Dr. Manhattan are psychologically and visually pitch-perfect. See it for the characters, at the very least (played by Billy Crudup, Jackie Earle Haley, Patrick Wilson, Matthew Goode, Malin Akerman, and Carla Gugino bringing to life Nite Owl, the Silk Spectre, Ozymandias, and others, with Jeffrey Dean Morgan nearly stealing the show as the Comedian). Mirroring the destruction/rebuilding of the narrative arc, Moore's book itself effectively deconstructed the comic book superhero genre, blowing it to bits and pulling it to pieces, setting the stage for the genre's rebirth, the graphic novel creative explosion of the 1980s and '90s. Perhaps it is not coincidental that the film comes out a time when that genre is experiencing a rebirth of its own, with THE DARK KNIGHT and IRON MAN garnering both critical praise and public acclaim. But Moore's commentary on the twentieth century, true compassion, and humankind's messy urge to annihilate and save itself at the same time still makes a hell of a lot of sense today.
Riff's Rants & Raves: Live Music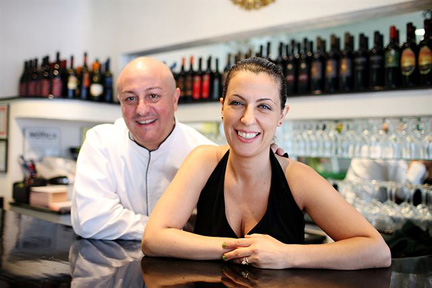 Salvatore and Gina Corea will mix food with opera in new Wednesday night series
A NOTEWORTHY MEAL
Alloro
307 East 77th St. between First & Second Aves.
Alternating Wednesday nights at 7:30 & 9:00
Admission: free
212-535-2866
Alloro, which bills itself as an Italian Language and Culture Supper Club, is beginning a special program that will take place on alternating Wednesdays. Expanding on the theme of pleasure, performers from the Noteworthies, including coloratura soprano Megan Ardizoni and baritone Christopher Leake, will sing Italian operas and arias during dinner on March 18 and April 1, 15, 29, combining the simple pleasures of food, wine, and music on the Upper East Side. Seating will be at 7:30 and 9:00, with no additional charge for the music, although the performers wouldn't mind tips. Patrons can also take a seat at the bar and have a drink and complimentary hors d'oeuvres, including mini bruschetta and fried olives, while listening to the music.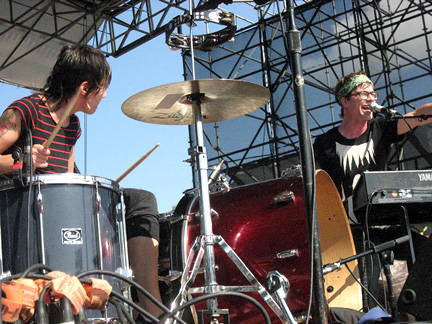 twi-ny/mdr
Matt & Kim will bring it indoors with Cut Copy
MATT & KIM
Terminal 5
610 West 56th St. between Eleventh & Twelfth Aves.
Thursday, March 26, $25, 8:00
212-260-4700
http://www.myspace.com/mattandkim
As we said last month, if there's a more cheerful band out there than Matt & Kim, well, we've yet to find them. Last summer singer/keyboardist Matt Johnson and drummer Kim Schifino, Pratt graduates and current Brooklynites, turned McCarren Park Pool into an intimate gathering, with lots of friends and fans feeling the joy. They've followed up their delightful debut CD, which featured such catchy tunes as "Yeah Yeah," "Ready OK," and "5K," with the grander GRAND (Fader, January 2009). On the new disc, Johnson continues to show off his keyboard chops with soaring sounds on "Daylight" and playful tickling on "Good Ol Fashion Nightmare," while Schifino pounds away a steady beat on "Cutdown" and "I Wanna," her effervescent smile ever evident. Matt's songwriting and production is overly ambitious, so GRAND is not quite as refreshing as its predecessor, but it's still an entertaining collection of songs from one of indie rock's most engaging duos. And we're still dancing to the instrumental "Cinders." At their live shows, you never know what's going to happen, even if it's an opening slot for Cut Copy at the never intimate Terminal 5. (Cut Copy will also also be playing a DJ set on March 21 at (le) poisson rouge, with Daisy O'Dell and Knightlife.)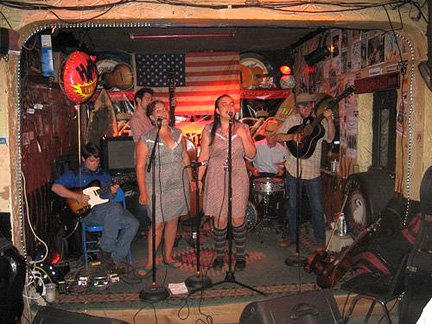 The Sweetback Sisters will ring it up at the Bell House
THE SWEETBACK SISTERS
The Bell House
149 Seventh St., Gowanus
Saturday, March 20, $15-$18, 7:30
718-643-6510
http://www.myspace.com/thesweetbacksisters
The Sweetback Sisters are an electric/acoustic six-piece fronted by the sweet-voxed, talented duo of Zora Bode and Emily Miller, with a supporting cast of Characters straight out of Characterville: a polymath composer/fiddle player from the deep woods, a conservatory-trained ringer bassist, a fresh-faced mandolin-playing drummer who looks like he should be walking door-to door handing out tracts, and a strong lead guitarist pitching in with powerful leads on a Telecaster. The Sweetbacks, touring ahead of their full-length debut, CHICKEN AIN'T CHICKEN (which comes out in June), owe a heavy debt to the country of Hank Williams and Patsy Cline, with their vibe being an ever-so-slightly more kitschy (and lovin' it) pastiche of western swing and honky-tonk styles, with swells of achingly sweet harmony and a friendly stage presence. The Sweetback Sisters will be opening on March 20 at the Bell House for the great Boston-based alternative bluegrassers Crooked Still, which should make for quite a show.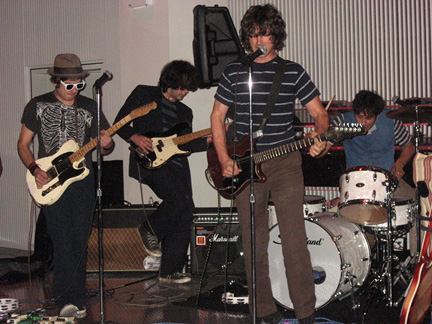 twi-ny/mdr
Gringo Star will play for yall twice at end of March
GRINGO STAR
Monday, March 30, Glasslands Gallery, 289 Kent Ave. between South First & South Second Sts., $6, 9:00
Tuesday, March 31, Mercury Lounge, 217 East Houston St. at Ave. A, $12
http://www.myspace.com/thegringostars
http://www.mercuryloungenyc.com
One of the standout bands at last October's CMJ Music Marathon, Atlanta's Gringo Star plays punk-injected southern garage rock with a twist. From the opening crunching guitar chords of the title track, ALL YALL (My Anxious Mouth, November 2008) is like the score for the hippest spaghetti Western never made, with a break for some trippy psychedelia ("Up and Down"), 1960s harmonic pop ("Come on Now"), and free jazz ("March of the Gringo"). Throughout the disc — as well as at their live shows — Pete DeLorenzo, Matt McCalvin, and brothers Pete and Nicholas Furgivele switch off instruments and all take the mic, reminiscent of their Atlanta neighbors the Black Lips, but with not quite as much reckless abandon. On its first full-length album, U2 declared, "I Will Follow"; Gringo Star responds to that with their own declaratory "I Will Not Follow," in which DeLorenzo proclaims, "I will not let you cast your shadow over me / I will not let you mesmerize me / I will not let you hypnotize me / I will not buy into this damaged cult of personality." DeLorenzo also wears his heart on his sleeve at times, singing, "Resolve to make universal rights not a dream but an expression of your love of life," on "Eve of Your Expression." Fun background vocals lift "Don't Go" and "Black Night." In addition to its guitar mash-ups, Gringo Star also knows its way around a beautiful ballad, as they display to great effect on "Transmission." And they even cover Dino, Desi and Billy's "Rebel Kind" (Dino being the son of Dean Martin, Desi being the spawn of Desi Arnaz and Lucille Ball).
"Is it all worth while?" McCalvin asks on "Up and Down." "It is all worth while," he answers himself. Yes indeed, it is all worth while, resulting in one of the best albums of 2008. Gringo Star will be playing songs from the new disc as well as, perhaps, such older tunes as "No Man," "Got to Be Free," "Not a Sound," and "Out of My Head" — which was famously interrupted in 2002 by Tony Clifton — at Glasslands on March 30 and March 31 at the Mercury Lounge with Blind Pilot and the Static Jacks.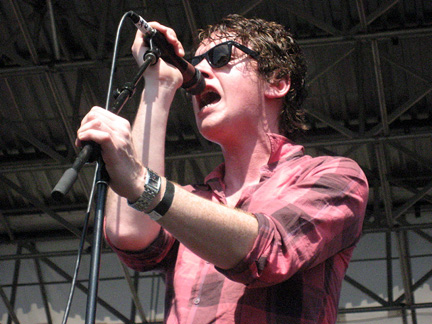 twi-ny/mdr
The Whip got plenty funky last summer at McCarren Park Pool
THE WHIP
Bowery Ballroom
6 Delancey St. at Bowery
Wednesday, April 1, $15, 8:00
212-533-2111
http://www.myspace.com/thewhipmanchester
Manchester electronica dance band the Whip are currently touring in support of the U.S. release of their debut CD, X MARKS THE DESTINATION (Razor & Tie, March 2009), featuring such hot tracks as "Trash," "Fire," "Save My Soul," "Sirens," and "Sister Siam." We saw Danny Saville, Lil Fee, Nathan Sudders, and Bruce Carter put on one helluva show last summer at McCarren Park Pool, proving that the building buzz was more than mere hype. The New Order of the new millennium will be headlining at the Bowery Ballroom on April Fool's Day, with the UK's Late of the Pier opening up, highlighting their debut, FANTASY BLACK CHANNEL (Astralwerks, January 2009).
Riff's Rants & Raves: Art & Literature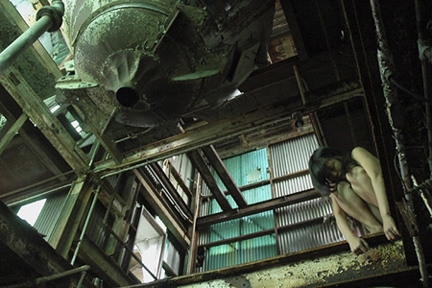 Courtesy Miru Kim
Miru Kim will be back at Cell with fascinating show
NAKED CITY SPLEEN + BLIND DOOR
The Cell Theatre
338 West 23rd St. between Eighth & Ninth Aves.
Saturday, March 21, free, 6:00 – 9:00

Born in Massachusetts, raised in South Korea, and now living and working in New York City, Miru Kim visits abandoned buildings, subway stations, construction sites, and other mysterious areas, photographing herself naked, often running through the scene like a ghost or huddling in a fetal position. The effect is both haunting and entrancing, daring and provocative, beguiling and mesmerizing. At the Cell Theatre, her photos will be accompanied by BLIND WINDOW and BLIND DOOR, ten-minute black-and-white shorts by Kim and artist and activist Isidore Roussel, which follow Kim as she wanders her way through desolate spaces like an animal finding its way in the jungle. Last summer at the Gestarc Gallery in Red Hook, Kim turned the photography display, BLIND DOOR, and a second short, BLIND VIDEO, into a performance piece as she moved around the gallery, naked, with the audience watching through a peephole in the front door, transforming the art gallery itself into yet another empty, abandoned space. This special viewing party will include live music by Sawako and Lesley Flanigan at 7:00, with an after-party at Arrow (85 Ave. A) beginning at 10:00.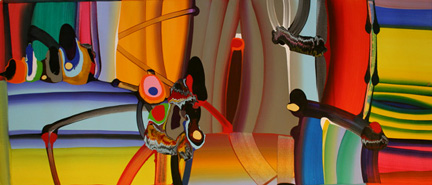 Courtesy Aicon Gallery
Bose Krishnamachari, "Stretched Bodies 28," acrylic on canvas
THRESHOLD: FORGING NARRATIVES
IN SOUTH ASIAN CONTEMPORARY ART
Aicon Gallery
35 Great Jones St. between Broadway & Lafayette St.
Through March 31 (closed Sunday and Monday)
Admission: free
212-397-3930
America's continuing fascination with the culture of South Asia, perhaps best exemplified by Hollywood's love affair with SLUMDOG MILLIONAIRE, is on display at the Aicon Gallery, which dips into its holdings of contemporary art from India and Pakistan for an intriguing group show featuring works by eleven artists. The show questions identity and home in a threatening and threatened world, in such paintings as Abir Karmakar's large-scale androgynous "In the Old Fashion Way" and Bose Krishnamachari's colorful "Stretched Bodies." Pakistani artist Talha Rathore paints right on top of a New York City subway map, while fellow countryperson.Waseem Ahmed places a nude woman next to an animal, poking through a small structure, with dotted lines attempting to connect the parts and bring everything together. The show also includes work by Imran Qureshi, Indrapramit Roy, T. V. Santhosh, and others.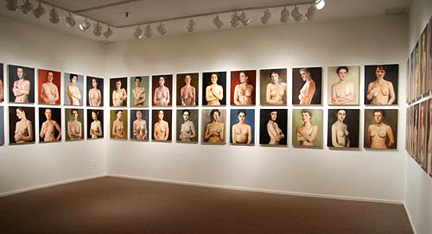 Courtesy Francis M. Naumann Fine Art
Installation view, "Kathleen Gilge: 48 Portraits: Sargent's Women, Restored"
KATHLEEN GILJE — 48 PORTRAITS: SARGENT'S WOMEN
Francis M. Naumann Fine Art
24 West 57th St. between Fifth & Sixth Aves., Suite 305
Tuesday – Saturday 11:00 am – 6:00 pm through April 10
Admission: free
212-582-3201

Kathleen Gilje has previously painted art critics as characters in the paintings they study, including Robert Storr and his musician wife, Rosamund Morley, in Edgar Degas's "Portrait of Manet and His Wife," Charlie Finch as a Rembrandt self-portrait, and Michael Kimmelman as Thomas Eakins's "The Thinker: Portrait of Louis N. Kenton." For her latest series, she again makes the art canon, specifically portraiture, the subject of her art in the entrancing "48 Portraits: Sargent's Women, Restored." In 1972, Gerhard Richter painted "48 Portraits" for the Venice Biennale, small black-and-white depictions of the heads of dead white men he had selected from an encyclopedia, consisting of both famous and not-so-well-known figures. Gilje has turned that around by reclaiming four dozen women painted by John Singer Sargent between 1878 and 1912, putting their heads atop the bodies of modern-day nude models (Gilje even left in belly-button rings), resulting in forty-eight thrilling canvases arranged in two rows across three walls of the Francis M. Naumann gallery. By taking Sargent's subjects out of their elegant clothing and austere posturing, Gilje has restored their uniqueness and individuality, freeing them from their life as societal appendages. One of the reasons Gilje chose portraits by Sargent is that his style changed very little while the art world evolved around him, giving Gilje's women a timeless quality. Perhaps most important, Gilje's concept rises above mere gimmickry because of the extraordinary skill evident in her brushwork; each painting is a wonderful portrait in its own right, although they are magisterial when taken in together. Be sure to check out the gallery's binder of documents for the show, which includes each portrait opposite a thumbnail of the Sargent original Gilje was working from.
© Marc Breslin
Marc Breslin, "A Family Portrait in Color," twenty-seven
photographs mounted in plastic, 2008
MARC BRESLIN: NEWER OLD WORK
Galerie Debaume
133 Mulberry St. between Grand & Hester Sts., 6S
Through March by appointment only: info@galeriedebaume.com
Admission: free
Little Italy's Galerie Debaume opened its doors to the public late last year with an exhibition of photographs by Lily Holzer-Glier, daughter of Jenny Holzer (who currently has a huge retrospective under way at the Whitney). The gallery is actually a renovated apartment/studio where two of Holzer's assistants, Philly-born brothers Marc and David Breslin, both live. Marc Breslin has recently taken over the space with his first one-man show, "Newer Old Work," comprising eight delightful pieces that feature vivid color as they turn the creative process inside out. "Five Buckets" consists of five rusted paint cans filled with paintbrushes, gloves, and other materials Breslin uses as he works, carefully arranged by color and intensity. For "Orange Mound," Breslin photographed sections of one of his paintings and mounted them as twenty-two four-by-six-inch color prints arranged in a rectangular pattern on the wall, while fifteen photos of another painting form "Hiding," its blue-black landscape contrasting sharply with the orange of its neighbor. The eleven photographs of "Hunting" resonate with the three windows that peer into one of the bedrooms. Breslin's current series of paintings includes white-lined cartoonish characters that can alternately be seen as sweet, sad, and scary, especially as they disappear into and peek out of the smaller photographs. The cute creatures also appear in the digital animation "Moving Pink Hills," swirling across the screen. Well curated by brother David, currently a candidate for an art history PhD at Harvard, "Newer Old Work" will be up for another week or so, and viewing is by appointment only. Most likely, you'll get a tour from Marc himself, a knowledgeable and engaging guy.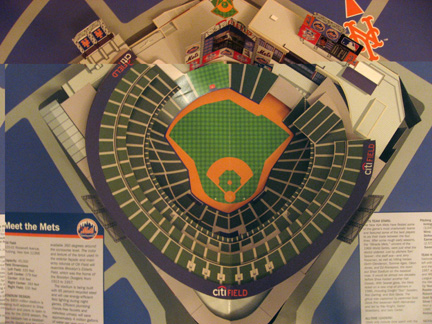 Pop-up book adds little pop to Mets' new home
CITI FIELD: THE METS' NEW WORLD-CLASS BALLPARK (Universe, March 2009, $25)

There's a good reason why CITI FIELD: THE METS' NEW WORLD-CLASS BALLPARK — A BALLPARK POP-UP BOOK reads more like a dry press release than a well-written, well-researched, albeit brief history of the Mets and Shea Stadium — it was written by Major League Baseball. The supposed highlight of the oversized vertical book, which includes facts easily available online, is a pop-up of the Mets' new home, Citi Field, already the subject of ridicule because of the country's bailout of Citibank and other financial institutions. Taxpayers have helped pay for the construction of the new park and for the bailout, and with increased ticket prices, there is little left if fans want to actually go to a game, so save your twenty-five bucks for food inside Citi Field, if you're able to get tickets in the first place now that fewer are available, since Citi Field seats only 45.000, down from Shea's 57,000. It didn't take very long for us to miss the old stadium, but this propaganda piece disguised as a book sure helped.


All contents copyright 2009 by Mark Rifkin and twi-ny. All rights reserved. Contents may not be reprinted without written permission. Please note that events, dates, and prices are subject to change.
Send all comments, suggestions, reviews, and questions to mark.rifkin@twi-ny.com.
Please note that some e-mail clients may wrap links, so be sure to enter them fully into your browser.
To subscribe to this list, please e-mail the administrator at admin@twi-ny.com with the word Subscribe in the Subject line; be sure to ask for back issues, which are free as well. To unsubscribe from this list, please think it over twice before e-mailing the same address. Please let us know what you didn't like about this forum and we'll do our best to correct it in the future — if we agree with you. If you would like to see something covered in a future issue, please let us know. Without you, there is no need for us to exist.

twi-ny top two dozen (or so)
weekly reminders & special events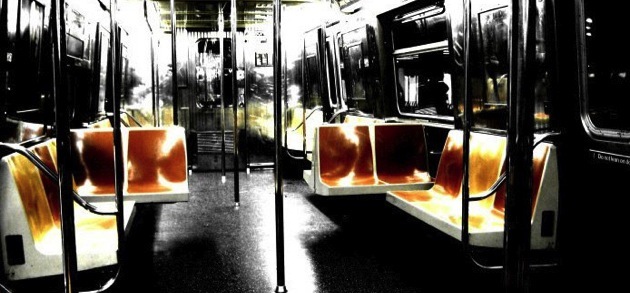 David Bellantoni's FOREPLAY is still in competition at one-act festival on West Side
THE NETWORK ONE-ACT FESTIVAL
Barrow Group Theater
312 West 36th St. between Eighth & Ninth Aves., third floor
Through March 22
General admission: $15
212-239-3198
Approximately forty new one-act plays, no longer than twenty minutes each, have been presented at the Barrow Group Theater as part of the Network One Act Festival, and now it's down to the semifinals. On March 18 at 6:00, audiences will get to choose among ALL THE DIRT ON YOU, VIRILIA, THE GOBLET, and THE LEAF PILE AND THE TWO BROTHERS, followed at 8:30 with THE ART DEAL, SPERM BABIES, STOP FRONTIN'(G), THE BLESSING, and FOREPLAY, by FOT (friend of twi-ny) David Bellantoni, which also will be presented March 21 at 4:00. The final round is scheduled for Sunday, March 22, at 11:00 am and 4:00 pm. Other titles still in the running are STEPS, BALLOON HEAVEN, SILLY-CYBIN, BREAKDOWN IN BABEL, and HERO.
A MONTH OF CHAMBER MUSIC
Issue Project Room
Old American Can Factory
232 Third St. at Third Ave., Brooklyn
Admission: $7-$10
718-330-0313
http://www.issueprojectroom.org
Through March 31 Live chamber music nearly every night of March, including James Blackshaw and Meg Baird, Ned Rothenberg & Paolo Angeli, Missi St. Pierre playing John Cage, Matthew Welch, Zbigniew Karkowski, Emily Manzo & Daisy Press play Erik Staie, artist in residence Duane Pitre, and many others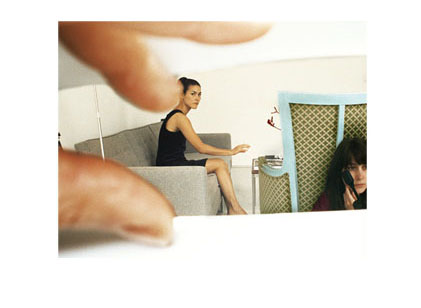 Barbara Probst's third solo show features two installations
BARBARA PROBST
Murray Guy
453 West 17th St. between Ninth & Tenth Aves.
Admission: free
212-463-7372
Through April 4 German photographer Barbara Probst has installed two multipaneled works, "Exposure #55: Munich, Waisenhausstrasse 65, 01.17.08, 1:55 pm" and "Exposure #56: N.Y.C., 428 Broome Street, 06.05.08, 1:42 pm"
HARKNESS DANCE FESTIVAL
Ailey Citigroup Theater at the Joan Weill Center for Dance
405 West 55th St. at Ninth Ave.
Wednesday, Thursday, Saturday at 8:00, Sunday at 2:00
Tickets: $20
212-415-5500
Wednesday, March 18
through
Sunday, March 22 Jeremy Nelson & Luis Lara Malvacías: SOONER THAN YOU THINK
BRAINWAVE 2009: MEETING OF THE MINDS
Rubin Museum of Art
150 West 17th St. at Seventh Ave.
Tickets: $12-$25
212-620-5000 ext 344
Wednesday, March 18 Do You Get Goosebumps, Too?, with writer R. L. Stine and neuroscientist Joseph LeDoux, $18, 7:00
Thursday, March 19 The Tree of Life in the Wheel of Becoming, with Darren Aronofsky and philosophy professor Patrick Grim, $20, 7:00
Saturday, March 21 Out of Our Heads, with Berkeley professor of philosophy Alva Noë and artist Eric Fischl, $12, 3:00
Saturday, March 21 Through Tristan's Eyes, with neurobiologist Semir Zeki and opera director Peter Sellars, $25, 6:00
Thursday, April 2 Disgust, with professor Paul Rozin and chef Mario Batali, $25, 7:00

INBOUND FESTIVAL: GRUB
Joyce SoHo
155 Mercer St. between Houston & Prince Sts.
Tickets: $15
212-431-9233
Thursday, March 19
through
Saturday, March 21 Based in Portland, Oregon, tEEth presents a multimedia examination of animals and food; the March 19 performance will be followed by a discussion with the cast and creators, 8:00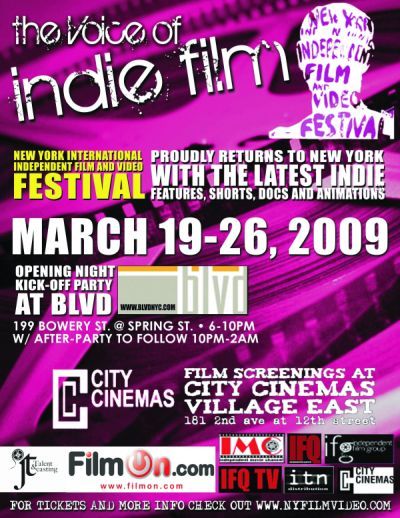 NEW YORK INTERNATIONAL INDEPENDENT FILM
AND VIDEO FESTIVAL
Village East
181 Second Ave. at Twelfth St.
Tickets: $12-$15
Thursday, March 19
through
Thursday, March 26 A week of screenings of independent shorts and features, including Stve Rahaman's BLOOD LINE, Scott Klein's CRY, Steve Ominde's FORMULA X, Charles Kinnane's THE HUMAN EXPERIENCE, Zhao Bing's EMPTY, Chandan Arora's STRIKER, Elise Kermani's JOCASTA, William Lappe's BRONX PARADISE, Fabien Martorell's TROMATIZED, MEET LLOYD KAUFMAN, and many more, with appearances by Mick Rock, Amanda Righetti, Lloyd Kaufman, Abel Ferrara

RENT CONTROL: NYC DOCUMENTED AND IMAGINED
Maysles Institute
343 Malcolm X Blvd. / Lenox Ave. between 127th & 128th Sts.
Suggested admission: $7
212-582-6050
http://www.mayslesinstitute.org
Thursday, March 19 Part VII: Queens (Flushing, Willet's Point), featuring THE 7 TRAIN: AN IMMIGRANT JOURNEY (Hye Jung Park, 1999) and A SON'S SACRIFICE (Yoni Brook, 2007), 7:30
Friday, March 20 Part VII: Queens (Flushing, Willet's Point), featuring THE GEORGES OF NEW YORK CITY (Arthur Barron, 1970), 7:30
Saturday, March 21 Part VII: Queens (Flushing, Willet's Point), featuring CHOP SHOP (Rahmin Bahrani, 2008), 7:00
Thursday, March 26 Part VIII: Queens (Queensbridge), featuring QUEENSBRIDGE: THE OTHER SIDE (Selena Blake, 2005), 7:30
Friday, March 27 Part VIII: Queens (Queensbridge), featuring TRAGEDY: THE STORY OF QUEENSBRIDGE (Booker Sim, 2005), 7:30
Saturday, March 28 Part VIII: Queens (Queensbridge), featuring QUEENSBRIDGE: THE OTHER SIDE (Selena Blake, 2005) and TRAGEDY: THE STORY OF QUEENSBRIDGE (Booker Sim, 2005), 6:00

THE JACQUES GOUDSTIKKER COLLECTION
The Jewish Museum
1109 Fifth Ave. at 92nd St.
212-423-3337
http://www.thejewishmuseum.org
Thursday, March 19 Reclaiming the Jacques Goudstikker Collection, panel discussion with Monica Dugot, Charlene von Saher, and Lawrence Kaye, moderated by Lynn Nicholas, $15, 6:30
Thursday, March 19 Daytime Lecture Series -- A Closer Look: the Jacques Goudstikker Collection, with Peter C. Sutton, $20 ($45 for all three lectures), 11:30 am
Thursday, March 26 Daytime Lecture Series – Opportunism and the German Occupation: Alois Miedl and Han van Meegered at the Goudstikker Gallery, with Jonathan Lopez, $20 ($45 for all three lectures), 11:30 am
Thursday, April 2 Daytime Lecture Series – A Family's Quest: Goudstikker Family Members Speak with Curator Karen Levitov, $20 ($45 for all three lectures), 11:30 am
OPERA GROWS IN BROOKLYN
Galapagos Art Space
70 North Sixth St. between Wythe and Kent, Williamsburg
Tickets: $20
718-384-4586
http://www.galapagosartspace.com
Friday, March 20 Opera on Tap, American Opera Projects, and the Remarkable Theater Brigade present excerpts from LOVE / HATE, CYMBELINE, and G TRAIN THE MUSICAL, three operas in development, 8:00
CRONENBERG CLASSICS
IFC Center
323 Sixth Ave. at West Third St.
Fridays & Saturdays at midnight through April 4
212-924-7771
Friday, March 20
and
Saturday, March 21 THE DEAD ZONE (David Cronenberg, 1983)
Friday, March 27
and
Saturday, March 28 VIDEODROME (David Cronenberg, 1991)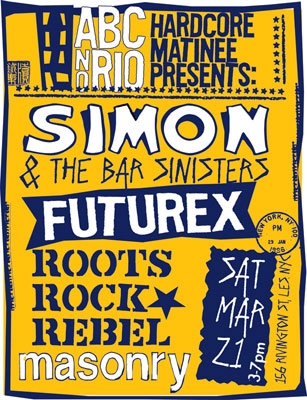 HARDCORE MATINEE
ABC No Rio
156 Rivington St. between Suffolk & Clinton Sts.
Admission: $7
212-254-3697
Saturday, March 21 Simon & the Bar Sinisters, Roots Rock Rebel, Masonry, and Futurex play late-afternoon gig, 3:00 - 7:00
CONTEMP-NATYAM
Tamarind Arts Council
142 East 39th St.
Admission: free but RSVP required
212-200-8000 / rsvp@tamarindarts.org
Saturday, March 21 Performance blending Bharata Natyam and modern American dance, choreographed by Dakshina Palli artistic director Jaan R. Freeman, featuring a tribute to Rabindranath Tagore and Ananda Shankar, Sri Lankan folk songs, and more, 6:30
B.Y.O.K.: TERRE ROCHE'S SPRING SONG SING ALONG
92YTribeca
200 Hudson St. at Canal St.
Tickets: $15
212-415-5500
Sunday, March 22 Preview of Terre Roche's "Sunset Singing Circle," featuring family-friendly participatory songs, instruments encouraged, part of Bring Your Own Kid series, 11:00 am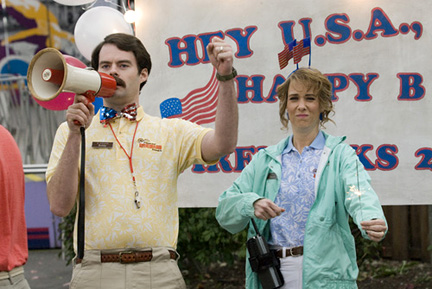 ADVENTURELAND premiere is part of Greg Mottola Superday
SUPERDAY WITH GREG MOTTOLA
Directors Guild of America Theater
110 West 57th St. between Sixth & Seventh Aves.
Tickets: $15-$18 per screening, $35 all-day pass
718-784-4520
Greg Mottola's third film — following the well-regarded indie THE DAYTRIPPERS (1996), which features a horribly disappointing ending, and the overrated SUPERBAD (2007) — is by far his best, and could be the JUNO of 2009. When we were kids, it was always a treat when the family headed out to Farmingdale to Adventureland, a local amusement park that also regularly hosted concerts by Twisted Sister. Mottola spent a summer of his youth working there, and he has turned that experience into a very funny, very honest romantic comedy. The current Adventureland is far too nice these days, so Mottola found just the right grungy park in Pittsburgh, where he filmed ADVENTURELAND. On March 22, the Directors Guild is hosting a sneak peek preview of the film, which opens in theaters March 27; look for our rave review in the coming days.
Sunday, March 22 THE DAYTRIPPERS (Greg Mottola, 1996), with Liev Schreiber and Greg Mottola in person, $15, 2:00
Sunday, March 22 SUPERBAD (Greg Mottola, 2007), with Kevin Corrigan and Greg Mottola in person, $15, 4:30
Sunday, March 22 ADVENTURELAND (Greg Mottola, 2009), with Greg Mottola in person, $15, 7:30
ARTISTS ON ARTISTS LECTURE SERIES
Dia Art Foundation
535 West 22nd St. between Tenth & Eleventh Aves., fifth floor
Admission: $6
212-293-5583
Monday, March 23 Isaac Julien on Andy Warhol, 6:30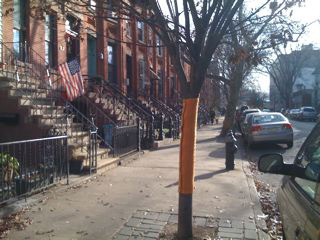 Stephanie Bart-Horvath
Artist Laurie Russell dresses up trees in her Brooklyn
neighborhood with cozy sweaters
FASHION TALKS
French Institute Alliance Française
Florence Gould Hall
22 East 60th St. between Park & Madison Aves.
Tickets: $25
212-355-6100
Monday, March 23 Diane von Furstenberg in conversation with Pamela Golbin, 7:00
THE BIG APPLE ANIMAL WALK
Queens Midtown Tunnel
Admission: free
Monday, March 23 Sometime after midnight after finishing its run at the Nassau Coliseum and preparing for its stay at the Garden, Ringling Bros. & Barnum & Bailey Circus will make its way through the Midtown Tunnel, then head west across 34th St., where people line the streets in awe of the parade of elephants and a few other animals
RESCUING ELDRIDGE STREET: ARTISANS ROUNDTABLE
Museum at Eldridge Street
12 Eldridge St. between Canal & Division Sts.
Tickets: $15 (advance RSVP suggested)
212-219-0888
Wednesday, March 25 Insiders look at the restoration of the Eldridge Street Synagogue, with Ray Clagnan, Jeff Greene, and Dawn Ladd, moderated by Amy Milford, 6:30

PUBLIC ART FUND TALKS
The New School, John Tishman Auditorium
66 West 12th St. between Fifth & Sixth Aves.
Tickets: $5
212-980-3942
Wednesday, March 25 Mixed-media sculptor and conceptual artists Rachel Harrison, 6:30
NEW YORK - TOKYO SPORTS SERIES 2: SKATEBOARDING
213 North Eighth St. between Roebling & Driggs
Admission: $10 before midnight, $15 after
Wednesday, March 25 Special event featuring skateboarding, short films, Japanese apparel, and a live performance by artist Hirosher, with Goldie, U-god, DJ Synapse, DJ Seoul, and more, 9:00
NATIVE AMERICAN FILM + VIDEO FESTIVAL
National Museum of the American Indian
George Gustav Heye Center
One Bowling Green
Admission: free but advance reservations strongly recommended
212-514-3737
http://www.nativenetworks.si.edu
Thursday, March 26
through
Saturday, March 28 Annual festival features screenings of more than fifty films, special introductions, postscreening discussions, a symposium, and a closing-night party at Southpaw in Brooklyn with Blackfire, Derek Miller, Laura Ortman, Julian Jacobs, DJ Hetook, and Samantha Crain & the Midnight Shivers
PEAK PERFORMANCES @ MONTCLAIR
Alexander Kasser Theater, Montclair State University
Valley Rd. at Normal Ave. ($10 round-trip shuttle available from Manhattan)
Tickets: $15
973-655-5112
Thursday, March 26
through
Sunday, March 29 World premiere of ADAMANTINE from Susan Marshall & Company, featuring an original score by Peter Whitehead
HONENS INTERNATIONAL PIANO COMPETITION
Symphony Space, Leonard Nimoy Thalia
2537 Broadway at 95th St.
Tickets: $5 (multiday passes available $10-$25)
212-349-0330
Thursday, March 26
through
Tuesday, March 31 Tomorrow's stars compete over five days (no show Sunday, March 29) in Stage One of this sixth annual event, 10:00 am, 2:00 pm, 7:00 pm
AMAYO'S FU ARKESTRA
Joe's Pub
425 Lafayette St. between East Fourth St. & Astor Pl.
Tickets: $12
212-539-8778
Friday, March 27 FUYeah Yeah 2009, Chapter 2, West Turns East as South Kisses North, 11:59 pm
FOUR LEAF FIFTEENS 2009
Icahn Stadium, Randalls Island
Admission: free
212-631-3533
http://villagelions.org/tournament
Saturday, March 28 Rugby tournament featuring forty-eight university teams from all around the country, with pub crawl, demo for kids, and more, hosted by the Village Lions RFC, 8:00 am – 7:00 pm
WRK/PLY
Classic Car Club Manhattan
250 Hudson St.
Tickets: $44 (use discount code "happy")
Saturday, March 28 Daylong conference featuring four hours of free drinks, interactive playtime, and six presentations: Architecture + Design: dress code (12:50 am -1:30 pm), Art + Photography: Chris Rubino (1:35-2:15), Culture + Lifestyle: Steve Hindy (3:30-4:10), Fashion + Style: Rebecca Turbow (4:15-4:55), Music + Performance: 88-Keys & Izza Kizza (5:15-5:55), and Media + Technology: Gavin McInnes (6:00-6:40)
FREEDOM OF EXPRESSION, LIDWIEN VAN DE VEN
New Museum of Contemporary Art theater
235 Bowery at Prince St.
Free with museum admission
212-219-1222
Saturday, March 28 Screening of FREEDOM OF EXPRESSION, followed by discussion centered on Islamaphobia, related to the exhibition "Museum as Hub: Be(com)ing Dutch at a Distance," 2:00 – 6:00
A TIME TO CELEBRATE
BAMcafé Live
Brooklyn Academy of Music
30 Lafayette Ave. between Ashland Pl. & St. Felix St.
Admission: free
718-636-4100
http://www.erinandhercello.com
Saturday, March 28 Cellist and singer-songwriter Erin Hall will bring a cocktail party vibe to BAMcafé with a free performance featuring a full band (including horns!), backup singers, a tap dancer, a little theater, a little comedy, and more, 9:00
DIVIDE LIGHT: A NEW OPERA
Anthology Film Archives
32 Second Ave. at Second St.
Donation: $3 at the door
RSVP strongly suggested: 212-564-8480 or info@georgeadamsgallery.com
http://www.anthologyfilmarchives.org
http://www.www.dividelight.com
Sunday, March 29 Anthology Film Archives in conjunction with the George Adams Gallery present the New York City premiere of DIVIDE LIGHT: A NEW OPERA (Ed Robbins, 2008), a film based on the language of Emily Dickinson, followed by a Q&A with artist and opera director Lesley Dill, composer Richard Marriott, and film director Ed Robbins, 7:30
PICO IYER: THE LIGHT I FOUND
Solomon R. Guggenheim Museum
1071 Fifth Ave. at 89th St.
Tickets: $10
212-423-3500
Monday, March 30 Pico Iyer talks about the art and Bollingen Fellowship documents of Isamu Noguchi, followed by a discussion with Sandhini Poddar and Bonnie Rychlak, 6:30

MOODY + FRIENDS
B.B. King Blues Club & Grill
237 West 42nd St. between Seventh & Eighth Aves.
Tickets: $100
212-997-4144
Monday, March 30 James Moody Scholarship Benefit Concert, featuring Randy Brecker, Todd Coolman, Paquito D'Rivera, music director Jon Faddis, Duncan Hardy, Hank Jones, Mike Longo, Barbara Morrison, Adam Nussbaum, Tim Ries, Andy Roninson, Yotam Silberstein, and surprise guest, with MC Michael Bourne (the James Moody Quartet will also be playing the Blue Note March 23-29), 7:30
PHTHRD III
Williamsburg location to be announced day before show to ticket holders
Tickets: $30 (includes two-year subscription to Time Out)
Tuesday, March 31 Third annual live photography competition, with everyone requested to bring a camera, video or still, to create the world's most photographed party ever, with Dewar's open bar, DJ Nick Catchdubs, photographer Nicky Digital, and the Universal Record Database, 8:00 pm – 12 midnight
PRESERVATION HALL JAZZ BAND
Blue Note
131 West Third St.
Tickets: table $25, bar $15
212-475-8592
Monday, March 31
through
Sunday, April 5 Famed New Orleans group comes to the Blue Note, featuring Mark Braud on trumpet, Joe Lastie on drums, Walter Payton on bass, Rickie Monie on piano, Ben Jaffe on tuba, and Clint Maedgen and Charlie Gabriel on reeds, 8:00 & 10:30
MANISCHEWITZ: THE MATZO FAMILY
Museum of Jewish Heritage – A Living Memorial to the Holocaust
36 Battery Pl.
Tickets: $10
646-437-4200
Wednesday, April 1 Joan Nathan interviews Laura Manischewitz Alpern, with free box of matzo for everyone, 7:00
PEOPLE'S COMMISSIONING FUND CONCERT
Merkin Concert Hall at Kaufman Center
129 West 67th St.
Tickets: $25
212-501-3330
Thursday, April 2 Annual benefit concert featuring Bang on a Can All Stars, with commissions from Lok-Yin Tang ("Distorted Indulgence"), Kate Moore ("Ridgeway"), Dave Longstreth, Alvin Lucier ("Canon"), and Lee Ranaldo ("How Deep Are Rivers"), 8:00