Black-crowned Night Heron, Harlem Meer
Twi-ny, This Week In New York
BIRDS OF CENTRAL PARK by Cal Vornberger
($35, Abrams, October 2005)
http://www.centralparknyc.org/thenandnow/bibliography

Cal Vornberger, a former theatrical production designer and an avid amateur photographer, decided in the summer of 2001 to make his hobby his career by becoming a travel photographer. The attacks of 9/11 put a damper on that, but Vornberger soon found himself wandering in Central Park with his camera. Within a few minutes he was captivated by the sight of a huge wading bird, a great egret, and for the next three years he immersed himself in the world of Central Park birds and birders. This large four-color volume features Vornberger's gorgeous digital photos of amazing birds living in the middle of Manhattan, organized seasonally and identified by species and the site where the photo was taken. The stunning photos are accompanied by Vornberger's highly personal, sometimes quirky text, in which he thanks devoted birdwatchers of Central Park by name, notes highly specific details about his photography equipment (for photo geeks only), and shares great facts about birdlife in the Big Apple, including showing an oriole who built a nest securely bound with monofilament fishing line and describing the wood thrushes who wove long lengths of toilet paper into their little homes.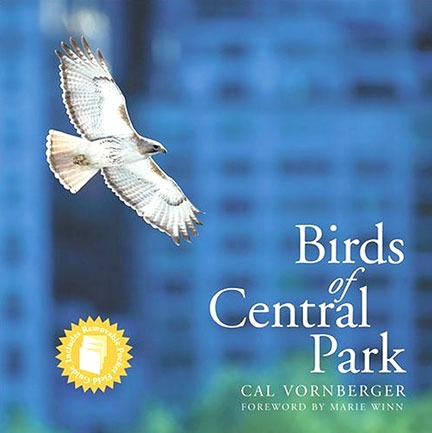 Enjoy the amazing plumage of the wood duck, the brilliant red head of the red-bellied woodpecker, and the piercing green eyes of the screech owl. The purple and green Canada warbler, startling blue indigo bunting, and flaming orange Baltimore oriole will astonish you with their colors and entice you to the park. Many of the photos show birds dining on fish, worms, and even crayfish — as well as a good-size piece of bagel. Is that from H&H or Ess-a-Bagel? It is not identified, but nearly everything else is in this fascinating and highly useful book. BIRDS OF CENTRAL PARK beautifully reveals the world of birds thriving right between 59th and 125th Sts.
In the Neighborhood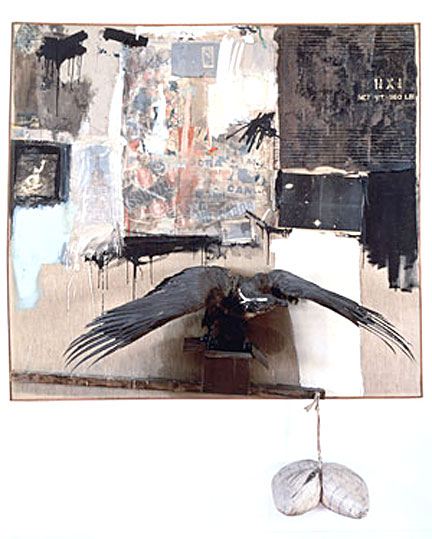 Art © Robert Rauschenberg/Licensed by VAGA, New York, NY
"Canyon," Robert Rauschenberg
BIRDS AT THE MET: SPECIAL EXHIBITIONS
Metropolitan Museum of Art
1000 Fifth Ave. at 82nd St.
"Robert Rauschenberg: Combines," Iris and B. Gerald Cantor Exhibition Hall, second floor, through April 2
"Paul Klee Landscapes," South Mezzanine Gallery
"The Four Seasons," Galleries for Chinese Painting and Calligraphy, second floor, through August 13
Recommended admission: $15
212-535-7710
http://www.metmuseum.org/special/Rauschenberg/combines_more.asp
http://www.metmuseum.org/special/Calatrava/architecture_more.asp

If you have any problems spotting birds in Central Park, you'll have no trouble finding them inside at the Met. For a few more weeks, Robert Rauschenberg's glorious Combines will fill the Cantor Exhibition Hall with their unique combination of sculpture, painting, collage, and found art; several of them incorporate stuffed birds and wings, including "Coca-Cola Plan," an untitled vertical freestanding work that features a bird in a box, and "Canyon," in which an eagle seems to be flying out of the canvas, directly at the viewer. Other highlights of this must-see collection of sixty-seven pieces -- which date from 1954 to 1964 and utilize everything from oil paint and wood to fabrics and photographs, mirrors and tin cans to newspapers and comics, metal and string to rubber and quilts, the phone book to a tennis ball, cardboard and clocks to pencil and a pillow, a tire and a goat to a hen and soda bottles -- are "Pilgrim," in which a painted chair is connected to a canvas (but don't dare sit on it); the newly acquired "Winter Pool," centered by a ladder that leads nowhere; the inviting, slightly unmade, and curiously vertical "Bed"; "Magician," which boldly incorporates text and image; and "Gold Standard," the golden grand finale, created on a Japanese folding screen. (See below for Rauschenberg's Tribute 21 show at Felissimo Design House.) The current focus of the ever-changing rotation of Paul Klee pieces in the South Mezzanine Gallery, "Landscapes," includes several paintings featuring one of Klee's favorite subjects, birds — among our favorites are "Fallen Bird" and "Bird Landscape." And you'll be able to find plenty of birds in "The Four Seasons" as well, through August 13 in the Galleries for Chinese Painting and Calligraphy.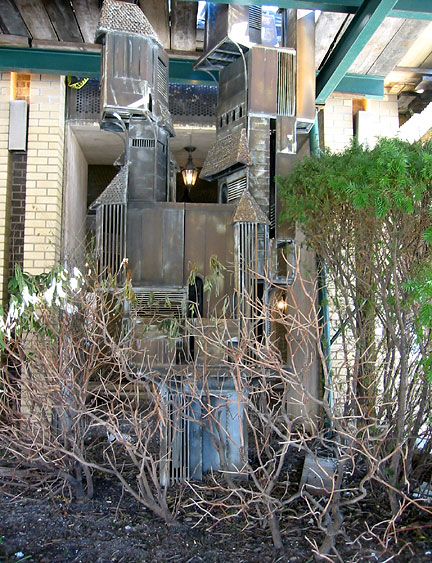 twi-ny/mdr
Priscilla Kapel's castle for birds sits across from the park
THE CASTLE by Priscilla Kapel
985 Fifth Ave. at 79th St.
http://www.balancingcenter.com/practitioners.html

In the pleasant plaza across the street from the East 79th St. entrance to Central Park and the southern edge of the Met stands this cool fifteen-foot-tall metallic sculpture, currently partially hidden by scaffolding. It looks sort of like a crazy birdhouse, with numerous roofs, multilevel stairs, and twisted, angled corners. A few weeks ago we saw a sparrow disappearing around one of those corners, bound for a nest somewhere inside. "The Castle" was designed by Priscilla Kapel, who also sculpted the burning bush for Congregation Beth Am in Los Altos Hills, California. In addition to being an artist, Kapel is the director of the Bioenergy Balancing Center in Palo Alto.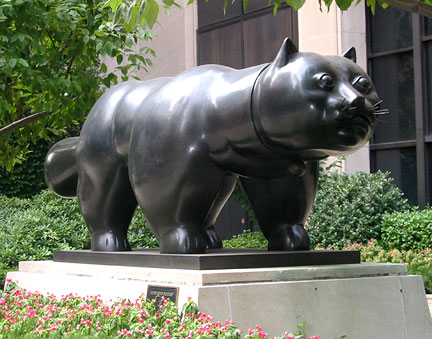 twi-ny/mdr
Botero's plump kitty appears ready to pounce
CAT (GATO) by Fernando Botero
900 Fifth Ave. at 79th St.
http://www.marlboroughgallery.com/artists/botero/artwork.html

Sitting hungrily around the corner from Priscilla Kapel's "Castle," Fernando Botero's "Cat (Gato)" appears ready to pounce on the first bird it sees, a giant Sylvester waiting for his Tweety. Botero, who was born in Medellín, Colombia, and has lived and worked in Paris and New York as well, is most well known for his monumental sculptures and paintings featuring rather large people and animals. Botero's smooth, shiny black cat stands on a platform, his wide eyes staring out into Central Park, his whiskers shooting out like little daggers. We hate to say this, but his general roundness reminds us of one of our kitties, who needs to be on a serious diet, even though one of us just thinks he's big-boned.

THINGS TO DO IN CENTRAL PARK: BIRDING
Various locations
212-794-6564
http://www.centralparknyc.org/thingstodo
http://www.nycaudubon.org/home/SBTrip.shtml
Saturday, April 1
through
Saturday, June 10 Central Park Spring Migration Bird Walks, with guide Starr Saphir, Mondays and Wednesdays at 7:30 am from southeast corner of 81st St. & Central Park West, Tuesdays at 9:00 am and Saturdays at 7:30 am from 103rd St. & Central Park West, $6, 212-304-3808
Saturday, April 15 Birding Adventures for Kids -- Red-tailed Hawks: Pale Male & Lola, with guides Rebekah Creshkoff and NYC Audubon, meet on the west side of the Model Boat Pond at Fifth Ave. & 74th St., $25 (includes PALE MALE DVD), preregistration required, 12 noon — 2:00 pm

In the Thematic Neighborhood
ECO ADVENTURES
212-691-7483
http://www.nycaudubon.org/home/SBTrip.shtml
Saturday, March 18, 25 Winter Eco-cruises, NY Harbor, examining winter birds with guide Gabriel Willow, meet at South Street Seaport, Pier 17, 10:30 am — 12 noon, $25, 212-742-1659, http://www.nywatertaxi.com
Saturday, March 19 Arctic Friends — Seals and Winter Birds at Sandy Hook, NJ, meet at New York City Audubon, 71 West 23rd St. at Sixth Ave., 10:00 am — 5:00 pm, $45
Through August Sunset Eco-cruises to Harbor Heron Islands, with guide Gabriel Willow, meet at South Street Seaport, Pier 17, $25, 212-742-1969, http://www.nywatertaxi.com
Garden Event of the Week I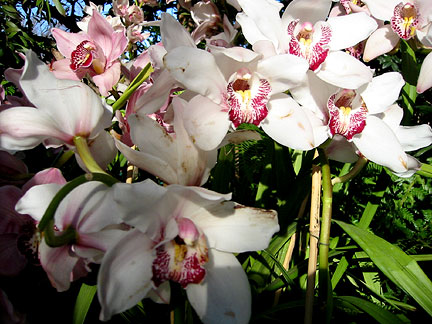 twi-ny/ees
Blooming orchids at last year's Botanical Garden show
THE ORCHID SHOW
The New York Botanical Garden
Bronx River Parkway (exit 7W) & Fordham Rd.
Through April 2
Closed Monday
Combination Ticket: $15 adults ($18 Friday through Sunday), $5 children two to twelve
718-817-8700

The New York Botanical Garden, which likes to call itself a living museum, is a great escape from the city. Just a twenty-minute ride on Metro-North will get you to this beautiful three-hundred-acre haven in the Central Bronx. Right now the Orchid Show has taken root in the Enid A. Haupt Conservatory, a huge one-hundred-plus-year-old Victorian glass house that includes separate sections dedicated to rainforests and deserts, cactuses and euphorbias, and lots of other great plants (especially some awesome ferns and living stones). And the Shop in the Garden has lots of beautiful orchids for sale. Everywhere you go throughout the New York Botanical Garden, paths will guide you past quiet streams, the Bronx River, gazebos, and the Snuff Trail, where the original nineteenth-century Lorillard Snuff building still stands.

RELATED EVENTS
The New York Botanical Garden
Free with garden admission
Daily through April 2 Chocolate and Vanilla Adventures, Everett Children's Adventure Garden, 1:30 — 4:30 weekdays, 10:00 am — 4:30 pm weekends
Saturday and Sundays
through April 2 Question and Answer Sessions with Orchid Experts, Shop in the Garden, 1:00 — 4:00
Saturday, March 18
and
Sunday, March 19 Fragrant Orchids for the Home, Orchid Tent outside the Shop in the Garden, 1:30
Sunday, March 19
and
Friday March 24 Taking the Perfect Orchid Picture, Orchid Tent outside the Shop in the Garden, 3:00
Saturday, March 25
and
Sunday, March 26 Easy Orchid Care, Orchid Tent outside the Shop in the Garden, 1:30
Garden Event of the Week II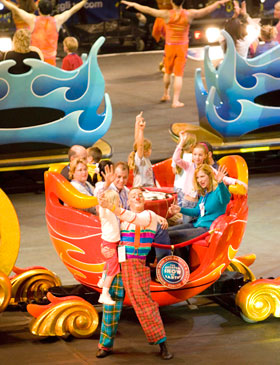 Circus Celebrity tickets put you right in the show
RINGLING BROS. AND BARNUM & BAILEY:
THE GREATEST SHOW ON EARTH
Nassau Veterans Memorial Coliseum
Through March 19
Madison Square Garden
31st to 33rd Sts. between Seventh & Eighth Aves.
March 23 - April 17
Tickets: $12.50 - $154.50 (Circus Celebrity)
http://www.ringling.com/explore/136
The all-new 136th edition of everyone's favorite circus is in the midst of a month-long run in the tristate area, which of course always arrives with plenty of controversy over the treatment of its animal performers. (Interestingly, right around the corner, 30th St. is filled with furriers.) All we know is that we miss those small, rectangular lights we would twirl around at the Garden, in the glory days of Klik Klaks and metal Slinkys. However, one thing we never look forward to is the smell of elephant dung that permeates Rangers games while the circus is in town, especially now that the Rangers are not playing like elephant dung. (Somehow, the smell made a lot more sense the previous seven seasons.) Arrive sixty minutes early so you can wander along the arena floor, getting autographs, trying on costumes, and meeting some of the clowns and animals in your own Three Ring Adventure for this All-New Blue Tour.

THE BIG APPLE ANIMAL WALK
Queens Midtown Tunnel
Admission: free
http://www.ringling.com/weekly
Monday, March 20 Sometime after 10:30 (usually around midnight), Ringling Bros. & Barnum & Bailey Circus will make its way into Manhattan via the Queens Midtown Tunnel, featuring clowns, elephants, horses, and various other animals, going south before heading west down 34th St.; be prepared for big crowds and lots of animal rights protesters
In the Neighborhood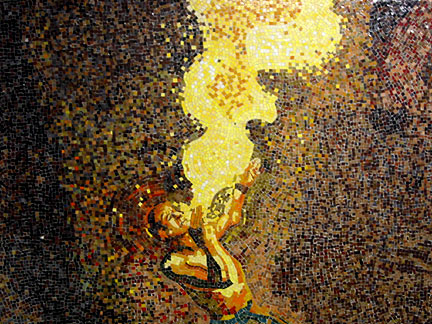 twi-ny/mdr
Eric Fischl brings the circus underground
GARDEN OF CIRCUS DELIGHTS by Eric Fischl
34th St. A/C/E subway station
Admission: $2
http://www.mta.nyc.ny.us/mta/aft

Born and raised in New York, Eric Fischl, who is married to the painter April Gornik, is known for his unique, oddly realistic oil on linen works that play with light and shadow and contain lots of nudity. There's no nakedness to be found in his sparkling 2001 subway mosaic, "Garden of Circus Delights." The colorful series of images gets you ready for not only the circus that is coming to Madison Square Garden this month but the circus that is the New York City subway system itself. Winding around one wall is a coterie of performers: a fire-eater, ringmaster, acrobats, clowns (including Emmett Kelly), and more. Another wall features costumed bears, a rhino, monkeys, a zebra, and some birds. Across the way, a man holds his jacket and his briefcase, staring at the spectacle, not noticing his cute little dog, who is trying to gain his attention by standing on his hind legs. There's also a woman holding her baby, both enjoying the festivities. Down the hall, a businessman has walked into a little clown and a stretching acrobat while checking out a juggler. Through March 18, you can catch Fischl's cool "Sculpture and Watercolor" exhibition at the Yoshii Gallery (17 East 76th St., 212-744-5550,
http://www.yoshiigallery.com.)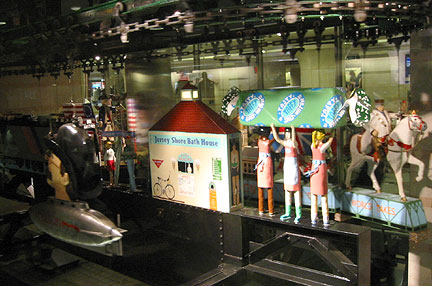 twi-ny/mdr
New Jersey's offbeat history circles through Penn Station

NEW JERSEY ON PARADE
NJ Transit Seventh Ave. Concourse
Penn Station
Enter at 32nd St. & Seventh Ave.

This waiting-room area is a fun place to bring the kids before or after the circus. Enter Penn Station via the stairs going down at 32nd St. and Seventh Ave. and make a left into the New Jersey Transit concourse, which is nothing less than pristine and inspiring. Etched into the stone is poetry by such local residents as Walt Whitman, Amiri Baraka, Arthur Resnick and Kenny Young ("Under the Boardwalk"), Jim Handlin, William Carlos Williams, and more, accompanied by hand-etched marble views of New Jersey by Larry Kirkland, including farmlands, forests, factories, bridges, cemeteries, wildlife, the beach, and other cool sites. The waiting room features a marvelous moving diorama, "New Jersey on Parade," by George Mossman Greenamyer. The south room includes the Jersey Devil, Mr. Peanut holding the Margate Elephant, Miss America, Thomas Edison inventing the movie camera and the phonograph, the Batsto Iron Works, the incorporation of Newark, and Molly Pitcher at the 1778 Battle of Monmouth. The north room contains George Washington and his troops crossing the Delaware, King George III fleeing Trenton, a Jersey Shore bath house frequented by an odd lot of folk, a celebration of saltwater taffy, John Holland's first submarine, and the famous sayings "Don't Tread on Me" and "Trenton Makes, the World Takes."
THE WHOLE BEAD SHOW
The Hotel Pennsylvania
Penn Top & Sky Top Ballrooms, 18th Fl.
401 Seventh Ave. at 33rd St.
Admission: $5
800-292-2577
http://www.wholebead.com/shows_new_york_SPRING.html
Friday, March 24
through
Sunday, March 26 Dozens of bead merchants will be showing off and selling their wares all weekend long
Museum Exhibit of the Week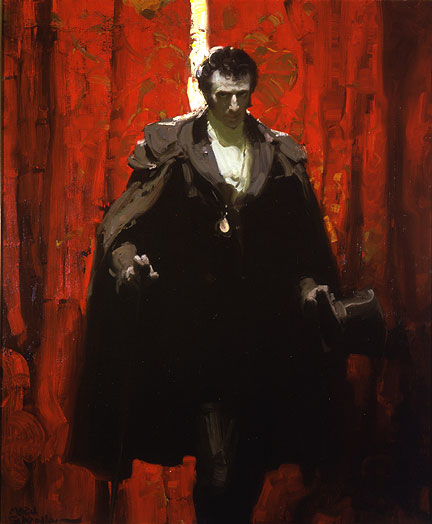 Courtesy of the Kelly Collection
Mead Schaeffer, "The Count of Monte Cristo"
STORIES TO TELL: MASTERWORKS FROM THE KELLY COLLECTION OF AMERICAN ILLUSTRATION
Dahesh Museum of Art
580 Madison Ave. between 56th & 57th Sts
Through May 21
Closed Mondays
Gallery tours Tuesdays and Thursdays at 12:15, Saturdays at 1:00
Admission: $10
Pay as you wish the first Thursday of every month, 6:00 — 9:00 pm
212-759-0606
http://www.daheshmuseum.org/collection/exhibitions/index.html

The Dahesh celebrates the Golden Age of American illustration (1880-1930) with this excellent exhibit of works collected by Mary and Richard J. Kelly, whose first purchase was a Doonesbury comic strip in the 1970s. Approximately one-quarter of their more than 350 pieces are on view here, ranging from paintings done for magazine covers and fashion catalogs to illustrations for books. Although the Dahesh usually focuses on European academic art, "Stories to Tell" comprises canvases made by Americans who were trained in the European tradition. The first room, and the least interesting, is devoted primarily to skillful work done for magazines and catalogs, by J.C. Leyendecker, McLelland Barclay, Maxfield Parrish, Norman Rockwell, and others. However, a display case showing how these pieces were edited for use on the printed page is a smart addition; for example, notice how the wings were removed from the woman in Coles Phillips's "Life Cover." The standout here is Leyendecker's "A Voice in the Rice," a mysterious murder scene done for a story by Gouverneur Morris. It also signals what you'll find in the rest of the show — commissioned paintings and drawings by talented artists who are not necessarily creating from the depths of their souls, since they are bringing to life someone else's fictional tale, yet they are still adept at making the pieces inspiring on their own.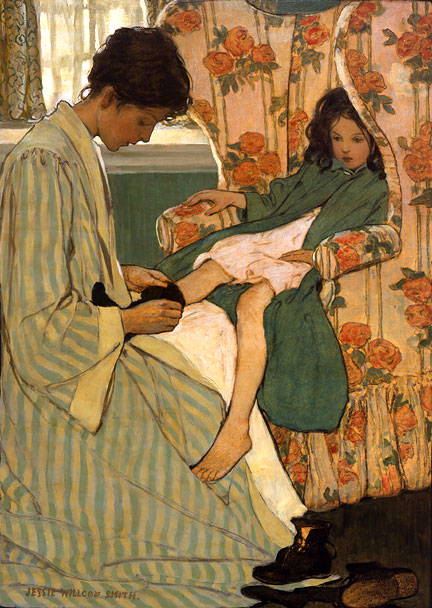 Courtesy of the Kelly Collection
Jessie Willcox Smith, "Mother's Morning"
William James Aylward's "Twenty Thousand Leagues Under the Sea" is an abstract underwater fantasy. Franklin Booth's detailed lines illuminate "The New Generation" and "Colosseum," both of which have fascinating stories behind them. Joseph Clement Coll's pen-on-paper drawings are filled with action, while Dean Cornwell's oils are bursting with powerful emotion. (Don't miss how his "Two Men in a Smoky Room" was ultimately used in Cosmopolitan.) Harvey T. Dunn, who studied with Howard Pyle, puts you on the front lines in WWI, but be sure to linger over the spectacular lighting in his "After the Chinook." There are stories going on in every corner of Arthur Burdett Frost's "The Circus." Orson Lowell's "Live Men Wanted: Exceptional Opportunities to the Right Parties" is a riot. Mead Schaeffer recalls the Old Masters in "Prisoner Enters the Dungeon." Jessie Willcox Smith evokes childhood innocence in "Scales." Pyle's "Villon" is bathed in deliciously demonic red. N.C. Wyeth's "The Seal Hunt" will make animal activists none too happy. Also represented are Walter Biggs, James Montgomery Flagg (the creator of the Uncle Sam character), Charles Dana Gibson (of the Gibson Girls fame), and others. Although many of the works are accompanied by text detailing the stories they are telling (with a few too many typos for our liking), don't be so quick to read about them; let their unique tales swirl around your mind before you find out their specifics. The accompanying paperback catalog ($19.95) includes color reproductions of all the pieces in the exhibition, bios of all the artists, and essays by Dahesh director Peter Trippi,, Chief Curato Stephen R. Edidin, collector Richard J. Kelly, and Chris Fauver.
Also at the Dahesh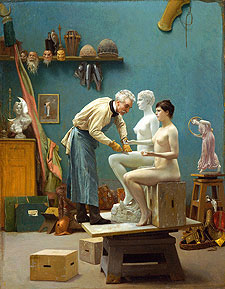 Dahesh Museum of Art, 1995.104
Jean-Léon Gérôme, "Working in Marble
(or The Artist Sculpting Tanagra)," 1890
REFRAMING ACADEMIC ART:
MASTERWORKS OF THE DAHESH MUSEUM OF ART
Dahesh Museum of Art
http://www.daheshmuseum.org/collection/index.html

To get to "Stories to Tell," you have to walk through the Dahesh's ever-evolving "Reframing Academic Art," which reintroduces dozens of works from the museum's permanent collection. Marvel at Gustave Dore's "Head of Christ," feel for the sad lover in Maurice Leloir's "Manon Lescant," have fun trying to identify the characters in Sir John Gilbert's "The Plays of William Shakespeare," and be charmed by the casual grace of Adolphe-William Bouguereau's "The Water Girl." We also love the small area devoted to Jean-Léon Gérôme (including the paintings "Michelangelo" and "Working in Marble") as well as Frederic Leighton's study for "Captive Andromache," Louis-Robert Carrier-Belleuse's "The Sculptor's Studio," Louis Ardisson's carved wood reliefs, Gustava Bauernfeind's dramatic "Jaffa, Recruiting of Turkish Soldiers in Palestine," Edwin Long's tragic "Love's Labour Lost," and Rafaelle Monti's awesome allegorical sculpture "Night," depicting a woman pulling a veil over her while hovering over a sleeping baby.
DISCOVER WHAT THE "GOLDEN AGE" MEANS TO ILLUSTRATORS TODAY
Dahesh Museum of Art
Select Saturdays at 1:00 through May 6
Free with museum admission
212-759-0606 ext222
http://daheshmuseum.org/publicprograms_events/gallerytalks.html
This unique collaboration between the School of Visual Arts' Department of Illustration & Cartooning and the Dahesh Museum of Art features a twenty-minute slide lecture given by an SVA faculty member, followed by a forty-minute tour of the "Stories to Tell" exhibition, led by the lecturer.
Friday, March 18 Marshall Arisman
Friday, March 25 Yuko Shimizu
Friday, April 1 Gregory Crane
Friday, April 8 Teresa Fasolino
Friday, April 15 Walter Simonson
Friday, April 22 Sherry Camhy
Friday, April 29 Michael Flanagan
Friday, May 6 Thomas Woodruff
AMERICA'S GOLDEN AGE: ILLUSTRATORS ON FILM
Dahesh Museum of Art
Alternate Sundays through May 7
Free with museum admission of $10
212-759-0606
http://daheshmuseum.org/publicprograms_events/filmfest.html
Sunday, March 26 NORMAN ROCKWELL: PAINTING AMERICA (Elena Mannes, 1999), 2:30
Sunday, March 26 NORMAN ROCKWELL AND THE SATURDAY EVENING POST (Lew Sayre Schwartz, 1986), 4:00
Sunday, April 9 WINSOR McKAY: THE MASTER EDITION (Winsor McKay, 1911-18), 2:30
Sunday, April 23 CHARLES DANA GIBSON: PORTRAIT OF AN ILLUSTRATOR (Josiah Emery, 1996), 2:30
Sunday, April 23 THE WYETHS: A FATHER AND HIS FAMILY (Smithsonian World, 1966), 3:30
Sunday, May 7 DADDY-LONG-LEGS (Marshall Neilan, 1919) and WHAT THE DAISY SAID (D.W. Griffith, 1910), 2:30
PUBLIC PROGRAMS & EVENTS
Dahesh Museum of Art
212-759-0606
http://daheshmuseum.org/publicprograms_events/index.html
Thursday, March 16 The Storyteller and the Poet: Must Good Stories Always Be in Prose? panel discussion organized by the Newington-Cropsey Cultural Studies Center, moderated by Arthur Mortensen, $10, 6:30
Thursday, March 23 The Future of Classical Music, panel discussion organized by the Newington-Cropsey Cultural Studies Center, moderated by Stefania de Kenessey, $10, 6:30
Saturday, March 25 Young Illustrator Workshops: Strike a Pose, for children ages six to twelve, free with museum admission, reservations are strongly suggested at 212-759-0606 ext222, 2:00
Thursday, March 30 A Fine Line: Bringing the Story of American Illustration to Television, screening and panel discussion with Christine Lundberg, Robert Seidman, Rawn Fulton, and Dennis Powers, $15, 6:30
Saturday, April 29 Young Illustrator Workshops: Posters for the People, for children ages six to twelve, free with museum admission, reservations strongly suggested at 212-759-0606 ext222, 2:00
Saturday, May 6 Young Illustrator Workshops: Book-o-mania, for children ages six to twelve, free with museum admission, reservations strongly suggested at 212-759-0606 ext222, 2:00
FIRST THURSDAYS
Dahesh Museum of Art
Admission: free from 6:00 to 9:00
212-759-0606
http://daheshmuseum.org/publicprograms_events/firstthursdays.html
Thursday, April 6 Illustrators and Advertising: The Kelly Collection in an Art-Historical Context, illustrated talk with Professor Michele H. Bogart, 6:30
Thursday, May 4 Building a Collection: What Every Beginner Needs to Know, panel discussion with Richard J. Kelly, David Apatoff, Roger Reed, and Frederic B. Taraba, 6:30
TEA AT THE DAHESH
Café Opaline
Dahesh Museum of Art, second floor
212-521-8155
http://daheshmuseum.org/cafe/index.html#teas
Daily: Afternoon Tea, featuring traditional sandwiches and sweets, $30, 2:30 — 5:00
Daily: Teddy Bear Tea, featuring eggs and soldiers and scones and jams, $15, 2:30 — 5:00
In the Neighborhood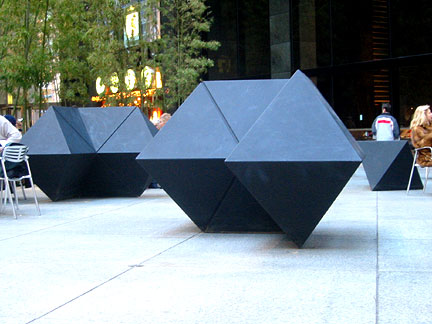 twi-ny/mdr
Tony Smith's black geometric forms populate Midtown atrium
GROUP SHOW
The Sculpture Garden at 590 Atrium
590 Madison Ave. between 56th & 57th Sts.
Open daily 8:00 am — 10:00 pm
Through March 31
Admission: free
http://www.pacewildenstein.com/Exhibitions/ViewExhibition.aspx?guid=b1bc64a1-b3d2-465a-a5fd-ce0506279fd8

This pleasant sculpture garden, adjacent to the Dahesh, has recently been home to awesomely cool projects by Robert Therrien ("Table and Six Chairs") and Tim Hawkinson ("Uberorgan"). The current display is somewhat more casual, featuring subtle pieces by Sol LeWitt, Donald Judd, and Tony Smith. LeWitt, whose "Curved Walls" installation of cinder blocks was recently torn down and removed from Madison Square Park, contributes "Three-Part Variation on Three Different Kinds of Cubes 2 3 2," a trio of white enamel pieces that resemble a series of open storage cabinets in different trilevel configurations. Tony Smith's "One-Two-Three," a trio of painted black welded steel tetrahedrals, appear like alien pods in this peaceful location, where people have stopped by small tables to read, sip coffee, or have lunch. And Donald Judd's hollow concrete four-walled untitled rectangular structure appears to have been left over from a construction project, its openness practically inviting you into its lair.
EN NEGRO Y BLANCO: IMAGES OF STATE TERRORISM IN ARGENTINA (1976-1983) ON THE THIRTIETH ANNIVERSARY OF THE MILITARY COUP
Consulate General of Argentina Art Gallery and Library
12 West 56th St. between Fifth & Sixth Aves.
Open weekdays 11:00 am – 5:00 pm
Through March 31
Admission: free
212-603-0440
http://www.congenargentinany.com/eng/Menueng.html

The history of Argentina's "Dirty War" is documented in this compelling collection of more than fifty black-and-white photographs on view in the consulate general's art gallery and library in Midtown. Thirty years ago, on March 24, 1976, a military coup overthrew the government, resulting in a violent period of persecution, execution, and retribution. The photographs actually go as far back as 1969 and reach well into the 1980s, detailing a succession of presidents, including the short-lived return of Juan Perón. Demonstrators and tanks take to the streets as armed forces brutally arrest protestors or leave them dying on the ground. Dead bodies are found in common graves. Women cry for their missing husbands and sons, known as los Desaparecidos (the Disappeared Ones). Important figures such as Isabel Perón, Gen. Juan Carlos Onganía, Dr. Hector Cámpora, Jorge Rafael Videla, and Lt. Gen. Leopoldo Galtieri gain and lose power. Angry marchers make their way through a flood. A man comes to the aid of a mourning woman standing near a dead body; the man will be killed a few years later. Peronistas celebrate victory. And a woman cries in the arms of a policeman. Never before has such an exhibition of photos from Argentina been shown in North America; don't be surprised if some of the images are reminiscent of things you've seen on the news recently — going on both here and overseas.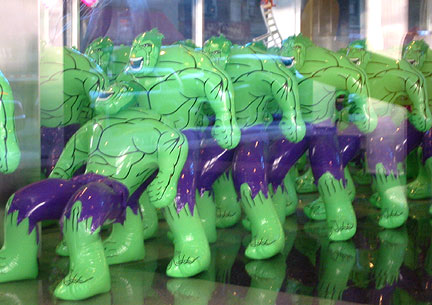 twi-ny/mdr
An army of Hulks gets ready to attack Park Ave.
JEFF KOONS
The Lever House Art Collection
390 Park Ave. at 54th St.
Through April 30
Admission: free
http://www.broadartfoundation.org/exhibitions

Kitschy Neo-Pop artist Jeff Koons, who some hail as the modern-day Andy Warhol — and others harangue as a worthless conceptualist with no real talent — has designed this fun site-specific installation in Lever House, where it can be seen from the street as well as from inside. The centerpiece is an army of dozens of angry blown-up plastic Hulk figures, in formation, ready to take on Park Ave. (Actually, they might be ready to do battle with Damien Hirst's nearby towering "Virgin Mother," since Hirst has been accused of copying Koons's work.) The playful, colorful room also includes monkeys dangling from a ceiling, holding a chair; fluorescent lights in the shape of stars; a caterpillar stuck in a ladder; the large-scale digital acrylic lacquer on canvas "Geisha," which incorporates other pieces of the exhibit; another digital acrylic work known as "Zeppelin (Dots)"; a floating dog kiddie pool with some interesting accoutrements that Koons calls "Dogpool (Panties)"; turtles climbing a chain-link fence; and two glass bins of popcorn, which might just be Koons's way of telling everyone — particularly his naysayers, who argue that his work, which he usually doesn't even make with his own hands, is not art — that this is merely fluffy entertainment. No matter what you think of its artistic worthiness, it's hard not to crack at least a little smile at this inventive and silly childlike adventure.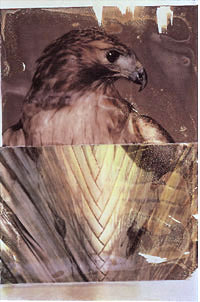 Courtesy Felissimo
Robert Rauschenberg, "Nature,"
for Jacques Cousteau
TRIBUTE 21
Felissimo Design House, fourth floor
10 West 56th St. between Fifth & Sixth Aves.
Through March 31
Closed Sunday
Admission: free
212-247-5656
http://www.felissimo.com/designhouse/happeningsEvents.cfm#Tribute%2021

In 1994, Felissimo and Robert Rauschenberg joined forces for the Tribute 21 project, consisting of twenty-one pieces by the famed artist celebrating twenty-one humanitarian themes for the twenty-first century. Rauschenberg, whose combines are on view at the Met (see above), believes "that a one-to-one contact through art contains potent peaceful powers, and is the most non-elitist way to share exotic and common information, hopefully seducing us into creating mutual understandings for the benefit of all." Each of the vegetable dye water transfer on paper offset lithographs, most of which are available for $4,500 framed or $4,000 unframed, is dedicated to a famous name associated with that theme: Architecture, R. Buckminster Fuller; Cinema, Steven Spielberg; Children, Audrey Hepburn; Fashion, Issey Miyake; Ethnic Cultures, the Dalai Lama; Environment, Al Gore; Communication, Ted Turner; Music, John Cage; and others. The majority of the lithographs are divided into multiple panels: a hammer emerges above a wooden house in Labor, a glittery ball hangs over animal balloons in Children, and a beaten-down truck rests atop darkening clouds in Literature. Downstairs there are Tribute 21 plates, which sell for $24 each, designed by Rauschenberg, Christy Turlington, David Rockwell, Helen Gurley Brown, Julia Roberts, Mathilde Krim, Jacques d'Amboise, Merce Cunningham, and John Travolta, among others.
Film Festival of the Week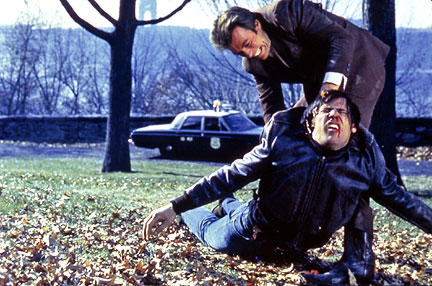 Courtesy of Film Forum/Photofest.
Clint Eastwood gets down to business in COOGAN'S BLUFF
DON SIEGEL
Film Forum
209 West Houston St. between Sixth & Seventh Aves.
March 17 — April 13
Tickets: $10
212-727-8110
http://www.filmforum.org/films/siegel.html

Director Don Siegel is one of the best American filmmakers most people have never heard of. His wide-ranging oeuvre, which includes science fiction, cop dramas, heist flicks, war movies, prison stories, and even an Elvis Western, is more famous for its eclectic characters and situations than for his superb, unique style, but this series should go a long way to rectifying that. This remarkable collection of works ranges from the cold war classic INVASION OF THE BODY SNATCHERS to John Wayne's final bow in THE SHOOTIST, from Clint Eastwood looking for punks in DIRTY HARRY to Clint Eastwood wearing cowboy spats in New York City in COOGAN'S BLUFF, from Walter Matthau's small-time crook in CHARLEY VARRICK to Lee Marvin's cool hit man in THE KILLERS. Other stars on hand are Robert Mitchum, Sal Mineo, John Cassavetes, Shirley MacLaine, Cornel Wilde, Howard Duff, Mickey Rooney, Audie Murphy, Richard Widmark, and Geraldine Page and Elizabeth Hartman, who take care of a wounded Eastwood in one of our all-time faves, the unjustly little-seen Civil War tale THE BEGUILED.
Friday, March 17
through
Sunday, March 19 CHARLEY VARRICK (Don Siegel, 1973)
Monday, March 20 THE BIG STEAL (Don Siegel, 1949) and THE VERDICT (Don Siegel, 1946)
Tuesday, March 21 CRIME IN THE STREETS (Don Siegel, 1956) and HELL IS FOR HEROES (Don Siegel, 1962)
Wednesday, March 22
and
Thursday, March 23 THE BEGUILED (Don Siegel, 1971) and TWO MULES FOR SISTER SARAH (Don Siegel, 1970)
Friday, March 24
through
Monday, March 27 INVASION OF THE BODY SNATCHERS (Don Siegel, 1956)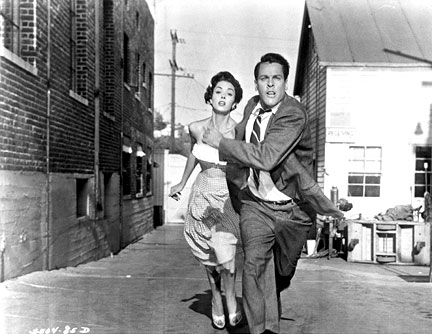 Courtesy of Film Forum/Photofest.
Dana Wynter and Kevin McCarthy are on the run in INVASION
INVASION OF THE BODY SNATCHERS (Don Siegel, 1956)

This cold war classic holds up remarkably well, one of the all-time-great science-fiction thrillers. Directed by Don Siegel, this ultimate exercise in paranoia stars Kevin McCarthy as a man whose friends are turning into pod people. McCarthy remained on the run for twenty-two years; he makes an awesome cameo in Philip Kaufman's cool 1978 remake.
Tuesday, March 28 FLAMING STAR (Don Siegel, 1960) and EDGE OF ETERNITY (Don Siegel, 1959)
Wednesday, March 29
and
Thursday, March 30 RIOT IN CELL BLOCK 11 (Don Siegel, 1954) and PRIVATE HELL 36 (Don Siegel, 1954)
Thursday, March 30 BABY FACE NELSON (Don Siegel, 1957) and THE GUN RUNNERS (Don Siegel, 1958)
Friday, March 31
and
Saturday, April 1 THE KILLERS (Don Siegel, 1964) and THE LINEUP (Don Siegel, 1958)
Sunday, April 2
and
Monday, April 3 ESCAPE FROM ALCATRAZ (Don Siegel, 1979) and THE SHOOTIST (Don Siegel, 1976)
Tuesday, April 4 THE DUEL AT SILVER CREEK (Don Siegel, 1952) and CHINA VENTURE (Don Siegel, 1953)
Wednesday, April 5
and
Thursday, April 6 MADIGAN (Don Siegel, 1968) and COOGAN'S BLUFF (Don Siegel, 1968)
Friday, April 7
through
Thursday, April 13 DIRTY HARRY (Don Siegel, 1974)
Riff's Rants & Raves
INSIDE MAN (Spike Lee, 2006)
Opens Friday, March 24

Spike Lee goes for the big time with this studio heist film that wants to be DOG DAY AFTERNOON (Sidney Lumet, 1975) mixed with QUICK CHANGE (Howard Franklin, 1990) but falls well short of both. Written by first-timer Russell Gewirtz, INSIDE MAN looks great — it's probably Lee's most accomplished film from a technical standpoint — but it has huge, embarrassing plot holes you could drive several Brinks trucks through. Lee veteran Denzel Washington stars as Keith Frazier, a detective who, despite being under investigation regarding some missing drug money, gets assigned to a bank robbery case with his partner, Bill Mitchell (Chiwetel Ejiofor). They need to work together with one of New York's Finest (Willem Dafoe) in handling a hostage situation at a Lower Manhattan bank that has been taken over by Dalton Russell (Clive Owen) and his small crew of masked painters. That part of the film works fine, but the subplot involving Jodie Foster as a high-powered woman hired to do a special task by bank CEO Christopher Plummer is completely unnecessary, and the nonlinear storytelling device Lee employs needlessly obfuscates things. And you don't have to look too hard to find a bit of anti-Semitism yet again in a Lee film. INSIDE MAN could have been a great caper movie, but instead it's a mediocre triviality.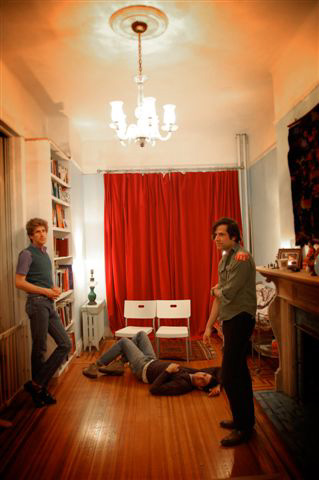 Aaron Eckhart is smokin' good in Reitman farce
THANK YOU FOR SMOKING (Jason Reitman, 2006)
Opens Friday, March 17
http://www.foxsearchlight.com/thankyouforsmoking

Jason Reitman, the son of producer/director Ivan Reitman (STRIPES, GHOST BUSTERS, DAVE), makes his sparkling feature-film debut with the brilliant THANK YOU FOR SMOKING, a devilishly delightful black comedy based on the novel by acerbic wit Christopher Buckley. Aaron Eckhart gives a riotous performance as Nick Naylor, a fast-talking, handsome, smarmy lobbyist for the Academy of Tobacco Studies, a Big Tobacco laboratory that, remarkably, cannot find a link between cigarettes and health risks. A master of spin, Naylor seems to even believe himself when he tells a young boy dying of cancer that he's better off smoking. As a grandstanding senator (William H. Macy) plans congressional hearings on the evils of tobacco ­— especially on teenagers — Naylor is being groomed as the industry's savior by his high-strung boss (J.K. Simmons) and the Captain (Robert Duvall) while trying to establish a meaningful relationship with his son (the suddenly ubiquitous Cameron Bright). The fine ensemble also features Katie Holmes as a hot young reporter who'll go to virtually any length to get a story; Sam Elliott as the Marlboro Man, who is dying of lung cancer; Rob Lowe as a Zen-like Hollywood agent who is considering Naylor's idea of making cigarette smoking cool in the movies again; and Dennis Miller and Joan Lunden as themselves, adding a bit of reality to the hysterical situation, which might not be as far off from the truth as we might think. Among the funniest scenes in this wicked film are Naylor's weekly meetings with the M.O.D. Squad (the Merchants of Death), as the lobbyists for the alcohol (Maria Bello), tobacco (Eckhart), and firearms (David Koechner) industries playfully call themselves. The film is produced by David O. Sacks, who amassed his fortune when he sold his Internet baby, PayPal, to eBay in 2002 and headed straight for Hollywood. (Sacks also makes a cameo as an oil lobbyist.)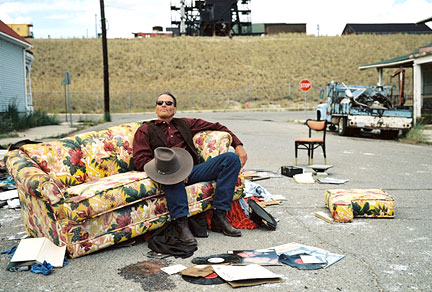 Photo by Wim Wenders
Sam Shepard takes a break during DON'T COME KNOCKING
DON'T COME KNOCKING (Wim Wenders, 2005)
Opens Friday, March 17
http://www.sonyclassics.com/dontcomeknocking
http://www.reverse-angle.com/english/home-eng.htm

Reteaming with Sam Shepard for the first time since the indie classic PARIS, TEXAS (1984), German director Wim Wenders continues his exploration of the American psyche with this dark comedy set in the wide-open prairie. The movie begins the way many Westerns end — with the hero riding away into the distance, but in this case it is the sunrise, not the sunset, signaling a new start. Shepard stars as Howard Spence, a former big-time movie star whose career has fallen apart in a whirlwind of drugs, alcohol, and women. After a wild night in his trailer, he takes off from the set of his latest film, being made in Moab, Utah (and directed by the great George Kennedy), and decides to disappear, first going home to Elko, Nevada, to see his mother (Eva Marie Saint), whom he hasn't spoken to in thirty years, and then heading to Butte, Montana, to find an old love (Jessica Lange) — and perhaps some lasting meaning to his miserable, wasted life. Meanwhile, Sutter (Tim Roth), a detective who works for the bond company that financed the film, is after him, determined to bring him back to finish the picture. Gorgeously photographed by Franz Lustig and featuring a great soundtrack by T Bone Burnett, DON'T COME KNOCKING is a fascinating character study and a whole lot of fun. The excellent cast also includes Gabriel Mann, Sarah Polley, and Fairuza Balk as an offbeat trio representing the next generation.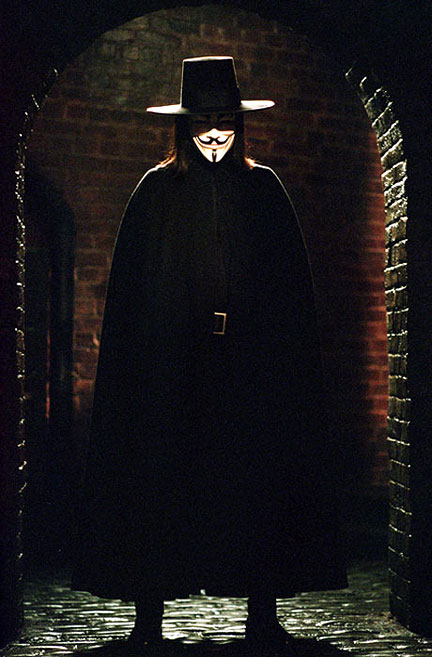 Guy Fawkes is back in V FOR VENDETTA
V FOR VENDETTA (James McTeigue, 2006)
Opens Friday, March 17
http://vforvendetta.warnerbros.com

Writer Alan Moore and illustrator David Lloyd's genre-defining 1980s graphic novel about a Thatcherian dystopia has been brought to the big screen by the Wachowski brothers (BOUND, THE MATRIX) in a swirl of controversy. Moore, who has been unhappy with other film versions of his work (FROM HELL, THE LEAGUE OF EXTRAORDINARY GENTLEMEN), declared that the screenplay by Andy and Larry Wachowski was "rubbish" and demanded his name be taken off the credits. Like the original, V FOR VENDETTA is still set in a futuristic England, but the film version is a none-too-subtle attack on the policies of the Bush administration, especially regarding issues of terrorism, state-sponsored torture, national security, and individual freedom, leading some critics to denounce it for its heavy-handed politics. Which is all too bad, because, as directed by James McTeigue (the first AD on the Matrix trilogy and STAR WARS — EPISODE II: ATTACK OF THE CLONES), V FOR VENDETTA is a visual delight with compelling characters and a powerful story. Hugo Weaving stars as the man behind the Guy Fawkes mask, an eerily smiling and mellifluously literate vigilante known only as V who harbors a mysterious past and believes that "violence can be used for good." Natalie Portman plays Evey, a young television assistant who unwittingly becomes V's sidekick in his quest to rally the people against the totalitarian state and blow up Parliament. John Hurt, who played beleaguered victim Winston Smith in NINETEEN EIGHTY-FOUR (Michael Radford, 1984), has come full circle, as he is now larger-than-life dictator Adam Sutler, who spouts his repressive pegagogy from monitors all across the troubled nation. Among his fiercest supporters is Lewis Prothero (Roger Allam), a pudgy talk-show host with a liking for prescription drugs; Evey works for the same network's Deitrich (Stephen Fry), who has a completely different, radical, tongue-in-cheek take on the situation. Meanwhile, Chief Inspector Finch (Stephen Rea), in his determined quest to unmask V, uncovers facts that eventually put his own life in danger. V FOR VENDETTA has a thrilling beginning and end, but the middle section drags on way too long, with too much unnecessary peripheral information. And its use of music, especially in the big finale, is rather curious. But its visual flair and excellent lead acting (primarily by Weaving, Portman, and Rea) overcome its numerous faults.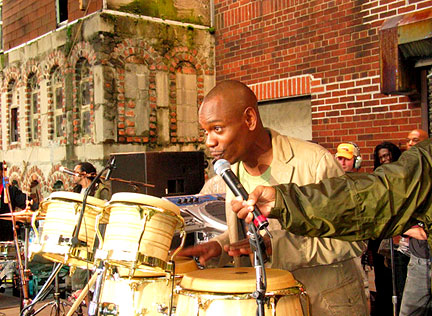 Dave Chappelle puts on one helluva show in Brooklyn BLOCK PARTY
DAVE CHAPPELLE'S BLOCK PARTY
(Michel Gondry, 2006)
In theaters now
http://www.chappellesblockparty.com

In September 2004, comedian Dave Chappelle put on a surprise block party in Bedford-Stuyvesant, sort of a mini-Brooklyn version of WATTSTAX (Mel Stuart, 1973), the seminal L.A. concert in which Richard Pryor teamed up with a host of black musicians, including Isaac Hayes, Albert King, the Staples Singers and Carla and Rufus Thomas. Directed by Michel Gondry (ETERNAL SUNSHINE OF THE SPOTLESS MIND) and photographed by Ellen Kuras (NEIL YOUNG: HEART OF GOLD, BLOW) BLOCK PARTY is Chappelle's WATTSTAX for a new century. Gondry and Chappelle take us behind the scenes as the comedian wanders around his hometown of Dayton, Ohio, handing out golden tickets like a more generous Willy Wonka, offering everyone free transportation to Brooklyn, loading buses up with a fascinating mix of people of all races. When he bumps into a college marching band, he invites them to play at the party, joining such big names as Kanye West, Mos Def, Erykah Badu, the reunited Fugees, Talib Kweli, Jill Scott, Big Daddy Kane, Common, John Legend, the Roots, and Dead Prez. Gondry cuts between the preparation for the block party and the actual festivities, an infectious blend of music and comedy that makes you feel like you're right in the middle of it all. Musical highlights include Kanye West performing "Jesus Walks" with John Legend and Common, Jill Scott and Erykah Badu backing the Roots on "You Got Me," and Talib Kweli, Common, and Fred Hampton Jr. rapping with Mos Def on "Umi Says." Unfortunately, the songs are not seen in their entirety, one of the film's only drawbacks. Before the show, Chappelle tickles the ivories to "Misty" and "Round Midnight," hangs out with the bizarre white couple who live in the Broken Angel house across the street, and jokes around with Mos Def. The film avoids any overt political messages, although some of the songs deal with controversial topics. One of the sweetest moments is when Wyclef Jean plays "President" for the marching band, letting the members know they can be anything they want to be. BLOCK PARTY is a shining, defining moment for Chappelle, who shortly after walked away from a $50 million Comedy Central contract, succumbing to the pressure of fame and expectation. Here's hoping he gets his groove back.
THE NEIGHBOR NO. THIRTEEN (Yasuo Inoue, 2005)
ImaginAsian Theater
239 East 59th St. at Second Ave.
Tickets: $9
212-371-6682

After playing film festivals all over the world, from Montreal and Germany to Korea and San Francisco, from Rotterdam and Spain to Belgium and the Philippines and more, Yasuo Inoue's feature-film debut finally comes to New York City for this much-anticipated engagement at the ImaginAsian Theater. Based on the popular Japanese manga by Santa Inoue (no relation to Yasuo), THE NEIGHBOR NO. 13 is a tense, bloody, relentless revenge thriller that opens with a beautiful shot of a small cabin in the middle of nowhere — but it is actually the psyche of Juzo Murasaki. As a young schoolboy, Juzo was inexorably taunted by a group of kids led by Toru Akai, who dripped acid on Juzo, scarring him terribly. Years later, a very shy and pretty Juzo (Shun Oguri) gets a job at a construction site where Toru (Hirofumi Arai), who does not recognize him, is still a bully. Tormented in a portable toilet, meek Juzo can't hold back his rage any longer, creating the evil, violent, and scarred No. 13 (Shidou Nakamura), who likes to kill people and leave a mess behind. But No. 13 has bigger plans for getting even with Akai. The cast also features Puffy AmiYumi star Yumi Yoshimura as Akai's wife, Minoru Matsumoto as the God of Death, and Japanese horror icon Takashi Miike (ICHI THE KILLER) as an unfortunate neighbor. There's also a cool animation scene by Taku Inoue, Yasuo's brother. Director Inoue's well-paced thriller is filled with surprises, including an ending that still has us scratching our heads. If you can figure it out, please let us know as soon as you can.
DUCK SEASON (TEMPORADA DE PATOS)
(Fernando Eimbcke, 2005)
Angelika Film Center
18 West Houston St. at Mercer St.
Tickets: $10.75
212-995-2000
Lincoln Plaza Cinemas
1866 Broadway at 63rd St.
Tickets: $10.50
212-757-2280
http://www.lincolnplazacinema.com
http://www.city-cinemas.com/angelika.html
http://wip.warnerbros.com/duckseason

Mexican writer-director Fernando Eimbcke hits the bull's-eye with his simply charming feature directorial debut, DUCK SEASON. Winner of eleven Ariel Awards and eight Mayahuel Awards in Mexico, DUCK SEASON is about the pure pleasures of being a kid, before the onset of adolescence and adulthood. After his mother goes away for the afternoon, fourteen-year-old Flama (Daniel Miranda) and his best friend, Moko (Diego Catano), think they have the apartment all to themselves for a day of bad food and Halo. When Ulises (Enrique Arreloa), the pizza delivery guy, shows up eleven seconds late, they refuse to pay him — so he refuses to leave. As the three go through a different kind of Mexican standoff, sixteen-year-old neighbor Rita (Danny Perea) stops by to borrow the oven to bake a cake. The lives of these four unique and very entertaining characters come together in weird and wonderful ways over the course of a bizarre and hysterically funny day. Eimbcke and cinematographer Alexis Zabe shoot the film in cool black and white, rarely moving the camera during long takes that fade out much like Jim Jarmusch's STRANGER THAN PARADISE. The film starts out slow, but once it gets going, it's a riot. And don't leave before the credits end or you'll miss a brief bit that offers necessary closure.
THE HEART IS DECEITFUL ABOVE ALL THINGS
(Asia Argento, 2005)
Landmark Sunshine Cinema
143 East Houston St. between First & Second Aves.
Tickets: $10.75
212-330-8182
http://www.landmarktheatres.com/Market/NewYork/NewYork_frameset.htm
http://www.heartisdeceitful.com
http://www.asiargento.it/FILM/film.html

Asia Argento wrote, directed, and stars in this inspired adaptation based on the supposedly autobiographical novel by the recently exposed JT Leroy (a mysterious writer who turned out to be an elaborate creation of a former sex-phone operator). Argento, whose long resume includes a trio of films directed by her cult-fave father, Italian horrormeister Dario Argento, plays Sarah, a drug-addled loser who reclaims her seven-year-old son, Jeremiah (the frightfully good Jimmy Bennett), from his loving and well-off foster parents. Sarah, one of the worst mothers to ever grace the silver screen, mistreats the boy horribly again and again, even allowing her stream of dangerous and weird boyfriends (which include Michael Pitt, Marilyn Manson, and Jeremy Sisto) to do the same — and worse. At one point Jeremiah winds up living with his grandparents (Peter Fonda and Ornella Muti), religious nutcakes who harbor their own secrets. With pulsating original music by Marco Castoldi and Sonic Youth, brutal, fast-paced action, and leather-and-chains sadomasochism, THE HEART IS DECEITFUL is reminiscent of Alex Cox's SID & NANCY (1986), with a little bit of MOMMIE DEAREST (Frank Perry, 1981) thrown in. Argento's compelling vision, which will grow on you if you let it, is not for everyone; at times it's lurid, graphic, and hard to watch, but it's also got its share of breathtaking moments. Just try your best to forget about the literary hoax that gave birth to this sordid story in the first place.
EVIL (ONDSKAN) (Mikael Håfström, 2003)
In theaters now

Don't let the name of this Swedish tale fool you; EVIL, which was nominated for an Oscar for Best Foreign Language Film in 2004, is not a horror flick, although it does get rather scary. As it opens, Erik (Andreas Wilson) is beating the bloody hell out of a fellow student, relentlessly smashing away at this face. When he's kicked out of school, he stands like James Dean in REBEL WITHOUT A CAUSE, paying no attention as the headmaster says he is pure evil. Although his mother (Marie Richardson) adores him, she turns her back and plays the piano as her husband, Erik's stepfather (Johan Rabaeus), whips him brutally. With one last chance to make it to the next grade, Erik is enrolled at the Stjärnsberg boarding school, where the administration turns its back as the council, made up of older boys, brutalizes the younger ones in remarkably vicious and sadistic ways. As his turn for harassment starts, Erik refuses to fight back, knowing that striking a council member will lead to his getting expelled and letting down his beloved mother. As he follows the path of least resistance, Erik befriends his roommate, Pierre (Henrik Lundström), a brilliant and rich nerd, and takes a liking to Finnish kitchen worker Marja (Linda Zilliacus), but he quickly becomes the primary target of council leaders Otto (the Niedermayer-esque Gustaf Skarsgård) and Dalén (Jesper Salén), who will stop at nothing to get the better of him. Smartly directed by Mikael Håfström, EVIL is a boarding-school coming-of-age drama that mixes Lindsay Anderson's IF… with David Fincher's FIGHT CLUB, reaching inside the inner turmoil of a teen with a violent past as he desperately seeks a more promising future. Erik's change from evil happens way too fast and without enough explanation, and it is hard to believe that the staff at Stjärnsberg would allow so much brutality to go on right under their noses, but EVIL is still a compelling film that explores the peaceful possibilities of civil disobedience.
THE HILLS HAVE EYES (Alexandre Aja, 2006)
In theaters now
http://www2.foxsearchlight.com/thehillshaveeyes

In 1977, Wes Craven wrote and directed the cult classic THE HILLS HAVE EYES, a low-budget horror flick that pushed the boundaries of the genre — and scared the hell out of us. Nearly thirty years later, Craven has updated the frightfest, hiring young director Alexandre Aja (HIGH TENSION) to reimagine HILLS for a new audience. Quoting liberally from such diverse films as DON'T LOOK NOW, THE SHINING, DELIVERANCE, THE TEXAS CHAINSAW MASSACRE, and STRAW DOGS, Aja keeps the blood flowing as a family celebrating their parents' anniversary gets trapped in the middle of the desert, next to an old nuclear testing site misused by the government. Their idyllic suburban world is quickly shattered when a group of mutants begins to attack in violent, horrific ways. Not for the weak of heart, THE HILLS HAVE EYES 2006 focuses more on the nuclear testing angle, bringing more depth to the mutants, who are just as American as the Carters — only more American nightmare than American dream. (Craven even named a father and son Jupiter and Pluto, as if they come from another world.) There's plenty of gore, child and pet endangerment, and, yes, cannibalism, but the new version falls short of the original, failing to add enough new twists and turns to match its innovative predecessor. Still, blood-and-guts horror fans will delight in much of the action, even if this one refuses to go as far as the first. It also lacks a breakout performer in its cast, which includes Kathleen Quinlan, Vinessa Shaw, Emilie de Ravin, Ted Levine, Aaron Stanford, Billy Drago, Robert Joy, and Laura Oritz; Craven's 1977 version is perhaps best remembered for the tall, bald, oddly misshapen Michael Berryman, himself the victim of birth defects. Berryman, who played a bit part in ONE FLEW OVER THE CUCKOO'S NEST, has enjoyed a long, successful career, most recently in Rob Zombie's THE DEVIL'S REJECTS, which is a better movie that the new HILLS HAVE EYES and is available on DVD.
2046 (Wong Kar-wai, 2005)
Available on DVD
http://www.sonyclassics.com/2046

Master Hong Kong cinematographer Christopher Doyle (along with Kwan Pun Leung and Lai Yiu Fai) bathes Wong Kar-wai's futuristic follow-up to 2000's fab IN THE MOOD FOR LOVE in lush, gorgeous colors, but it turns out to be little more than ornate window dressing for the mostly empty story. Tony Leung again stars as Chow Mo-wan, a womanizing writer with a Clark Gable mustache who is the only person who has traveled to 2046 and come back, allowing Wong to meld past, present, and future in annoyingly confusing ways. It also doesn't help that Chow is not exactly a likable protagonist, coldly mixing with such beautiful, mysterious women as Gong Li, Ziyi Zhang, Carina Lau, and Faye Wong as well as his passionate love from the first film, Maggie Cheung Man Yuk, returning as Su Li Zhen. As in IN THE MOOD FOR LOVE, Shigeru Umebayashi's score is wonderfully intimate (and Nat King Cole is back too), but it's just not enough to save things. The DVD includes interviews, behind-the-scenes featurettes (including one on numerology), and an alternate ending.
PET SHOP OF HORRORS by Matsuri Akino
(TokyoPop, $9.95 each)
Volumes 1-10
http://www.tokyopop.com/dbpage.php?propertycode=PES&categorycode=BMG

The rather effeminate Count D sells more than just pets in his little shop of horrors hidden away in San Francisco's Chinatown, "a place of mystery and desire," where he offers people their darkest dreams — and nightmares. The ageless goth count, who has a penchant for tea and a sweet tooth nonpareil, knows just what his clients need, but it's not necessarily always in their best interest. And D's pets are a little different, not the kind you can bring home and show off to your friends and family. Instead, they come in human life-size form (even though they are actually dogs, birds, rabbits, dragons, etc.) with special contracts; break one of the rules and nasty trouble awaits. While some of the chapters do have happy endings, many conclude with bloody messes that the suspicious and relatively inept Detective Leon Orcot is unable to figure out. One of the best things about PET SHOP OF HORRORS is Count D himself, a complicated antihero who, despite his charm and Zen-like attitude, often appears to be doing some very bad things. Each book includes four stories, all beginning with the letter "D," from "Despair" and "Destruction" to "Devil" and "Dracula," from "Doom" and "Duty" to "Desperation" and "Dynasty." There's also a Pet Catalog at the end of each volume that explains the odd animals that inhabited the tales within. For the most part, the stories are easy to follow and the drawings well laid out, so if you've never read manga before, this is a good place to start. But it's a lousy place to shop.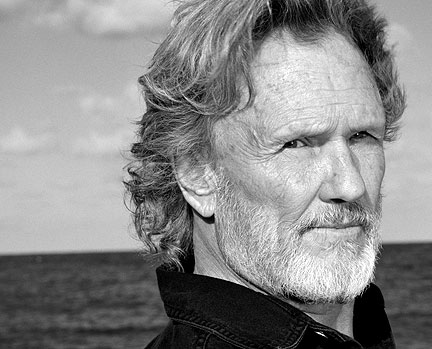 Mary Ellen Mark
Kristofferson brings his new album and political activism to Manhattan
KRIS KRISTOFFERSON:
THIS OLD ROAD (New West Records, March 2006)
The Concert Hall
New York Society for Ethical Culture
2 West 64th St. at Central Park West
Saturday, March 25
Tickets: $40-$50
212-874-5210

Songwriter / actor / activist Kris Kristofferson has watched a lot of his best friends and contemporaries pass away in the last few years (most notably, Johnny Cash and Waylon Jennings), and he'll be turning seventy in a few months, so it's of little surprise that his first record of new material in eleven years, THIS OLD ROAD (New West Records, March 2006), takes an intimate look at love and loss, life and death. The album kicks off with Kristofferson, in his trademark gravelly voice, singing, "Look at that old photograph / Is it really you / Smiling like a baby full of dreams," staring into a mirror, recognizing that "Nothing's simple as it seems." On the second track, "Pilgrim's Progress," he asks, "Am I young enough to believe in revolution / Am I strong enough to get down on my knees and pray." He's still fighting the good fight, battling the establishment and demanding peace in such songs as "In the News" ("Anyone not marching to their tune they call it treason") and "The Burden of Freedom" ("I stand on the stairway, my back to the dungeon / The doorway to freedom so close to my hand"). Kristofferson is joined by guitarist Stephen Bruton, drummer Jim Keltner, and producer Don Was on acoustic bass on the bluesy drug song "Chase the Feeling" ("Chase the feeling 'til you die").
Was's sparse arrangement, with the vocals and guitar far out front, echo Rick Rubin's work that rejuvenated Cash's career with the remarkable American Recordings, as the Man in Black gave his unique interpretive style to songs by U2, Tom Petty, Nick Cave, and Nine Inch Nails as well as new originals. Kristofferson, who has been covered himself by the best of them, has not gone that route, instead concentrating on eleven deeply personal tunes — especially the last three, which form a kind of past / present / and future trilogy: "The Show Goes On" ("We'll never be the same again / But the show goes on"), "Thank You for a Life" ("Thank you for a life that I'd call happy / Overlooking all that we've been through"), and "Final Attraction," in which he pays tribute to those who are "awaiting direction from somewhere above," calling out the names of those who have gone before him, including Hank Williams, John Lennon, Jimi Hendrix, Janis Joplin, and Roger Miller -- and then asks them to do it "maybe one time for me." Appropriately enough, Kristofferson will be performing at the Society for Ethical Culture on March 25, a rare personal appearance that should not be missed.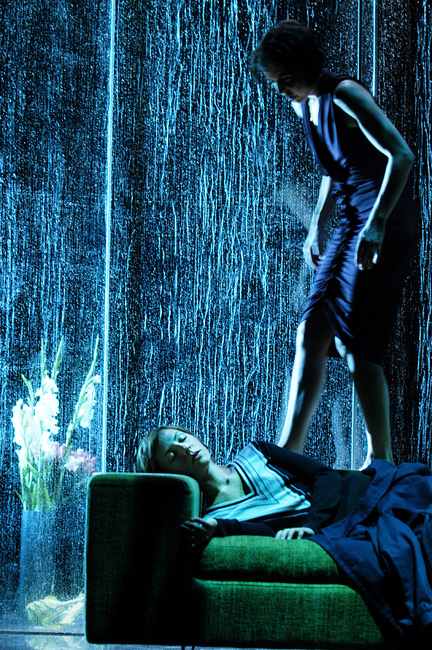 Cate Blanchett lights up the stage in Ibsen's HEDDA GABLER
HEDDA GABLER
Brooklyn Academy of Music
BAM Harvey Theater
651 Fulton Street between Ashland Pl. & Rockwell Pl.
Through March 26; March 2 performance reviewed
Tickets: $30-$85
718-636-4100
http://bam.org/events/06HEDD/06HEDD.aspx

As the Sydney Theatre Company's modernist update of Henrik Ibsen's HEDDA GABLER opens, Cate Blanchett is standing alone in silhouetted darkness, looking contemplative and deeply reflective. It's a marvelously simple way to introduce the movie star to the American stage — as well as reveal her complex title character to the audience, because for most of the next two and a half hours, she whirls about the stage in a comic frenzy, bathed in a glowing light that underscores her thrilling performance. As a modern woman trapped in a traditional world dominated by men — both meek and menacing — Blanchett does a much better impression of Katharine Hepburn here than she did in her Oscar-nominated performance in Martin Scorsese's THE AVIATOR. Hedda has just returned from her six-month honeymoon with Jorgen Tesman (the wonderfully nerdy Anthony Weigh), an obvious mismatch; she breathes sex appeal and power, while he thinks mainly of his aging aunt (Julie Hamilton) and an available professorship that he believes is his only way of avoiding the poorhouse. He is completely oblivious to the way his friend Judge Brack (THE MATRIX's Hugo Weaving) looks at his wife, as well as to the much more overt advances made by his archrival, the brilliant but morally bankrupt Ejlert Lovborg (Aden Young). When Lovborg shows off his manuscript that he thinks might change the world, envy, jealousy, passion, and pride erupt as secrets are revealed and fates are turned upside down. Directed by Robyn Nevin and adapted by Andrew Upton (Blanchett's husband), this staging of the difficult HEDDA GABLER features uncomfortable repetition and overlapping dialogue that tries too hard to be realistic, although that is mostly overcome by the splendid pairing of Blanchett and Weaving (who have worked together before, on the recent films THE LORD OF THE RINGS and LITTLE FISH). As Hedda's life spirals away from her, Blanchett's performance grows ever more complicated even as the plot grows a little tiresome. Be sure to arrive at the Harvey early to check out the exhibit "To Be a Poet Is to See: Ibsen in Our Time," part of Ibsen Year 2006, part of this international centennial celebration of the Norwegian playwright's death.

All contents copyright 2006 by Mark Rifkin and twi-ny. All rights reserved. Contents may not be reprinted without written permission. Please note that events, dates, and prices are subject to change.
Send all comments, suggestions, reviews, and questions to mark.rifkin@twi-ny.com.
Please note that some e-mail clients may wrap links, so be sure to enter them fully into your browser.
To subscribe to this list, please e-mail the administrator at admin@twi-ny.com with the word Subscribe in the Subject line; be sure to ask for back issues, which are free as well. To unsubscribe from this list, please think it over twice before e-mailing the same address. Please let us know what you didn't like about this forum and we'll do our best to correct it in the future -- if we agree with you. If you would like to see something covered in a future issue, please let us know. Without you, there is no need for us to exist.

twi-ny top two dozen (or so) weekly reminders & special events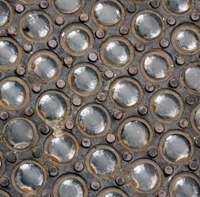 Courtesy of the Artist
Julie Blattberg, "Industrial Steps #3"
TEN BY TEN
Makor Gallery
Steinhardt Building
35 West 67th St. between Amsterdam & Columbus Aves.
Open Thursdays 2:00 — 6:00, Fridays 12 noon — 4:00, and Sundays 2:00 — 4:00
Admission: free
212-601-1000
http://www.92y.org/content/makor_gallery.asp
Through March 31 Group exhibition of Israeli and American alumni of the Makor Artists-in-Residence Continuing Program, including Julie Blattberg, Undine Brod, Leor Grady, Dov Israeli, Merav Ezer, and Meirav Leshem
twi-ny/mdr
Serban Chelariu, "Abscissa, Ordinate, Applicate"
MIND & FORM
Romanian Cultural Center East-West Gallery
573-577 Third Ave. at 38th St.
Tuesday — Sunday 10:00 am — 6:00 pm
Admission: free
212-687-0180
http://www.roculture.net/gallery.htm
Through Saturday, April 1 Group show featuring Romanian artists examining mind and form in art, including Tadeusz Sudol's five-panel black-and-white "Square Dance," Edel Stuehmke Levy's five untitled paintings of abstract geometric forms, Esther Piaskowski Cohen's "Shades of Light" 4-D photos, Valeriu Boborelu's acrylic "White Deity," and our favorites, Serban Chelariu's "Abscissa, Ordinate, Applicate" and "Reflections"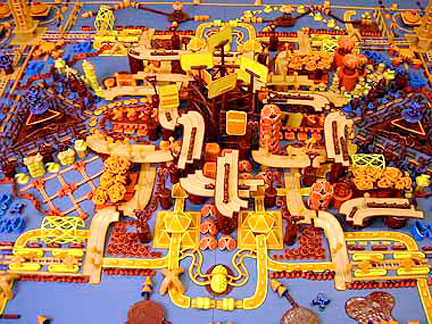 Linda Ganjian, detail shot of sculpture "L.I.C.," 2006
URBAN DESIGNS: LINDA GANJIAN
Eyewash @ Boreas
133-A Roebling
Williamsburg
Friday through Sunday from 1:00 to 6:00
Admission: free
718-387-2714
Through Sunday, April 2 A native of the Boston suburbs, Linda Ganjian's first New York solo show includes her "L.I.C." (Lovely Infrastructure Capriccio) sculpture, incorporating her Long Island City surroundings into a visual Middle Eastern carpet framework, in addition to colorful ornamental drawings
PUBLIC PROGRAMS
Museum of the City of New York
1220 Fifth Ave. between 103rd & 104th Sts.
Free with museum admission unless otherwise noted
212-534-1672 ext3395
http://mcny.org/public_programs
Wednesday, March 15 Civic Talk: Children & Health in NYC, panel discussion of experts moderated by Henry Stern, $9, 6:30
Sunday, March 19 Linda Fairstein, DEATH DANCE, talk and book signing, 3:00
Saturday, March 25 A Tribute to Lena Horne, written and performed by Wendi Joy Franklin, 2:00
LUNCHTIME LECTURES
National Academy Huntington Room
5 East 89th St. at Fifth Ave.
Select weekdays at 12 noon
Admission: free
212-996-1908
http://www.nationalacademy.org
Thursday, March 16 Treasures from Olana, with Mark Mitchell
SEX, LIES AND EDUCATION WITH SHELBY KNOX
Museum of Sex
233 Fifth Ave. at 27th St.
212-689-6337 ext115
http://museumofsex.com/inside/events.asp
Thursday, March 16 THE EDUCATION OF SHELBY KNOX (Marion Lipschutz & Rose Rosenblatt, 2006), screenings at 6:30 and 8:15, Q&As with Shelby Knox, live music, drinks, and goodie bags, $20-$25, 6:30 — 11:00
DANIELA HOFF/HOFFTANZT & DAMAN HARUN
Mulberry Street Theater
70 Mulberry St. at Bayard St., second floor
Tickets: $15
212-349-0126
http://www.htchendance.org/ETGSpring.html
http://www.hofftanzt.com/upcomingevents.html
Thursday, March 16
through
Saturday, March 18 Daniela Hoff / HoffTanzt performs BENEATH THE SKIN and STAGES in a shared concert with Daman Harun, 8:00
THE WORLD OF JIA ZHANGKE
Anthology Film Archives
32 Second Ave. at Second St.
March 16-19
Tickets: $8
212-505-5181
http://www.anthologyfilMarchives.org
Thursday, March 16 XIAO WU (THE PICKPOCKET) (Jia Zhangke, 1997), 7:00
Thursday, March 16 UNKNOWN PLEASURES (Jia Zhangke, 2002), 9:45
Friday, March 17 PLATFORM (Jia Zhangke, 2000), 8:00
Saturday, March 18 XIAO WU (THE PICKPOCKET) (Jia Zhangke, 1997), 3:45
Saturday, March 18 UNKNOWN PLEASURES (Jia Zhangke, 2002), 6:00
Saturday, March 18 THE WORLD (Jia Zhangke, 2004), 8:30
Sunday, March 19 THE WORLD (Jia Zhangke, 2004), 5:00
THE WORLD (SHI JIE) (Jia Zhangke, 2004)

Jia Zhangke's fourth film (following PICKPOCKET, PLATFORM, and UNKNOWN PLEASURES) is set in a Beijing theme park called the World, where people come to see miniature versions of major international cities and landmarks, including Paris, New York, London, and Tokyo, the Taj Mahal, the Pyramids, the World Trade Center, Big Ben, and the Eiffel Tower. The luminous Zhao Tao stars as Tao, a park dancer dating security guard Taisheng (Chen Taisheng). She becomes friendly with Anna, a Russian woman who has come to the park to make money so she can reunite with her daughter. However, dreams don't always come true in this microcosm of urbanization. As Tao questions her relationship with Taisheng, he starts seeing Qun (Wang Yiqun), a fashion designer who makes knock-offs and is trying to return to her husband, who lives in Belleville. Meanwhile, Xiaowei (Jing Jue) is trapped in an abusive relationship with Niu (Jiang Zhongwei) that threatens to explode. THE WORLD is a charming little film, not looking to make any grand statements, just concentrating on the problems of ordinary people all over the globe who are struggling to survive financially, emotionally, and romantically.
Sunday, March 19 PLATFORM (Jia Zhangke, 2000), 8:00
CONVERSATIONS ON POLITICS AND AESTHETICS
CUNY Graduate Center
Martin E. Segal Theater
365 Fifth Ave. at 34th St.
Admission: free
212-817-8215
http://www.gc.cuny.edu/events/index.htm
Thursday, March 16 Elaine Scarry and Vincent Crapanzano, 6:30
Tuesday, March 21 Caryl Phillips and Ashley Dawson, 6:30
Wednesday, March 29 Greil Marcus with Kim Gordon, moderated by Julia Sneeringer, 6:30
PROGRAMS & EVENTS
The Jewish Museum
1109 Fifth Ave. at 92nd St.
212-423-3200
Thursday, March 16 The Power of Yiddish, discussion and book signing with Jeffrey Shandler and Michael Wex, free with museum admission, 7:00
Sunday, March 26 Family Concert: Brady Rymer, ages two to six, $12, 2:00
EVENTS AT THE NEW SCHOOL
Tishman Auditorium
66 West 12th St. between Fifth & Sixth Aves.
212-817-8215
http://www.nsu.newschool.edu/02a_specdiv.htm#0201
Thursday, March 16 Politics of Resistance, with Stanley Aronowitz, Stepehn Bronner, Frances Fox Piven, and Cornel West, $8, 6:00
Tuesday, March 28 Public Art Fund Talks: John Currin, $5, 6:30
245th NEW YORK CITY ST. PATRICK'S DAY PARADE
Fifth Ave. from 44th to 86th Sts.
Admission: free
http://www.saintpatricksdayparade.com/NYC/newyorkcity.htm
Friday, March 17 Parade begins at 11:00 am and runs till about 4:00 pm, featuring bagpipers, Irish national societies, Chairman John T, Dunleavy, Grand Marshal Timothy J. Rooney, a tribute to the Fighting 69th Infantry, and much more
ST. PATRICK'S DAY WITH BLACK 47
The Knitting Factory
74 Leonard St. between Broadway & Church St.
212-219-3006
http://www.knittingfactory.com
Friday, March 17 Popular Irish group celebrates the holiday and the release of its latest album, BITTERSWEET SIXTEEN, all ages, $20, 6:30 & 10:00
FIST AND SWORD: MARTIAL ARTS FILM CLASSICS
American Museum of the Moving Image
35th Ave. at 36th St., Astoria
Free with museum admission of $8.50
718-784-4520
http://www.ammi.org/site/screenings/index.html
Friday, March 17 YOJIMBO (Akira Kurosawa, 1961), 7:30
Saturday, March 18
and
Sunday, March 19 YOJIMBO (Akira Kurosawa, 1961), 6:30

YOJIMBO (Akira Kurosawa, 1961)

Toshiro Mifune is a lone samurai on the road following the end of the Tokugawa dynasty in Akira Kurosawa's unforgettable masterpiece. Mifune comes to a town with two warring factions and plays each one off the other as a hired hand. Neo's battles with myriad Agent Smiths are nothing compared to Yojimbo's magnificent swordfights against growing bands of warriors that include one man with a gun. Try watching this film and not think of several Clint Eastwood Westerns as well as HIGH NOON. (In fact, Sergio Leone's 1964 Western A FISTFUL OF DOLLARS is virtually a shot-by-shot remake of YOJIMBO.)
COMPLEXIONS
New Victory Theater
209 West 42nd St.
Tickets: $10-$30
646-223-3000
http://www.newvictory.org/show.m?showID=10023
Friday, March 17
through
Sunday, March 26 Dance company founded by Dwight Rhoden and Desmond Richardson, for children eight and up
HALF-MARATHON GRAND PRIX: BROOKLYN
Entry fee: $10-$20
http://www.nyrr.org/grandprix/brooklyn_reg.php
Saturday, March 18 Run from the Coney Island Boardwalk to Prospect Park, 8:00 am
WALL TO WALL STRAVINSKY
Symphony Space
Peter Jay Sharp Theatre
2537 Broadway at 95th St.
Admission: free, first-come, first-served
212-864-5400
Saturday, March 18 Stravinsky in Russia: Early Works, 11:00 am — 2:00 pm; Stravinsky in Exile in France, 2:00 — 5:00; Stravinsky at Home in America, 5:00 — 8:00; Stravinsky's Theatre, 8:00 — 11:00
PIPES & POTATOES: BROOKLYN'S IRISH FARMERS
Wyckoff Farmhouse Museum
5816 Clarendon Rd. at Ralph Ave.
Admission: free
2718-629-5400
http://www.wyckoffassociation.org/museum/events_programs.html
Saturday, March 18 Workshops, demonstrations, lectures, dancing, and more, 12 noon — 4:00 pm
AN EVENING WITH RAILROAD EARTH
BNL Music Hall
Berkner Hall, Brookhaven National Laboratory
William Floyd Parkway, Upton, NY
631-344-3846
http://www.bnl.gov/bera/activities/music/default.asp
Saturday, March 18 Railroad Earth plays a special St. Patrick's Day show, touring behind its latest release, the double-CD live album ELKO, with guest openers the Acoutix, $20, 8:00
POST PURIM EXTRAVAGANZA AND CARNIVAL
The YM & YWHA of Washington Heights and Inwood
54 Nagle Ave.
Admission: $5 adults, $2 children
212-569-6200
Sunday, March 19 Featuring rides, games, food, live music, and more
STOP THE MERCHANTS OF DEATH
Reidy Friendship Hall
Unitarian Church of All Souls
1157 Lexington Ave. at 80th St.
Admission: free
212-535-5530
http://www.peacetaskforcenyc.org/PTFeventsharak.htm#Harak
Sunday, March 19 G Simon Harak, anti-militarism coordinator at the National Office of the War Resisters League, discusses war profiteering, sponsored by Peace Task Force, 1:00
PUBLIC PROGRAMS
Eldridge Street Synagogue
12 Eldridge St. between Canal & Division Sts.
212-219-0888
http://www.eldridgestreet.org/programs_c.htm
Sunday, March 19 Raising Our Rooftop Finials, celebration with music, food, tours, and a special ceremony marking completion of the facade restoration, free, 12 noon
Sunday, March 26 Building and Rebuilding Architecture Series: The Mikvah Uncovered, with archaeologist Celia Bergoffen, Rabbi Rona Shapiro, and historian Annie Polland, $5, 3:00
SXIP'S CHARM SESSIONS #4 - ICE CREAM HEADACHE
The Living Room
154 Ludlow St. between Stanton & Rivington Sts.
Sundays nights in March at 8:00
Suggested donation: $10
212-533-7235
http://www.livingroomny.com/music.html
Sunday, March 19 Featuring Two Man Gentleman Band, Sxip!Matta, the Wiyos, Curtis Eller, and Buzz Buzz Tabernacle
Sunday, March 26 Baby Dee, Dusty Limits, the Wiyos, the Cats and the Fiddles, the Whisper Eaters, Corn Moe, Scotty the Blue Bunny, and Sxip!Matta
POETRY FOR PEACE
The Cathedral Church of St. John the Divine
1047 Amsterdam Ave. at 112th St.
Admission: free
212-316-7540
http://www.stjohndivine.org/news_performances.html
Monday, March 20 Stephen Mitchell's GILGAMESH: A NEW ENGLISH VERSION, read by members of the theater community, 7:30
GRANDE SOIRÉE DE LA FRANCOPHONIE
French Institute Alliance Française
Florence Gould Hall
55 East 59th St. between Park & Madison Aves.
Free but advance reservations required
646-388-6682
http://www.fiaf.org/french%20film/index.htm
Monday, March 20 Musique et Chansons de la
Francophonie des Amériques, with Dumas, Louis and André Michot, and short films, 9:00
THEATRE OF IDEAS
Miller Theatre
Columbia University
2960 Broadway at 116th St.
212-854-7799
Monday, March 20 Iraq Three Years Later, panel discussion with Noah Feldman, Joe Klein, Kenneth M. Pollack, and Andrew Sullivan, $15, 8:00
PARCOURS INITIATIQUE
La Maison du Chocolat
30 Rockefeller Center
212-265-9404
http://www.lamaisonduchocolat.com/services/parcours.php
Monday, March 20
through
Friday, March 24 Chocolate tasting class: Tamanaco, "A Journey in the World of Chocolate"; Andalousie, "Pastries Unveiled"; and the Duo, "The Intertwining of Complimentary Flavors"
92nd St. Y CALENDAR
1395 Lexington Ave. at 92nd St.
212-415-5500
Monday, March 20 Ian Frazier and Lawrence Weschler, $17, 8:00
Sunday, March 26 Critics & Brunch: Tom Bishop on Samuel Beckett, $35, 11:00 am
MUSICA SACRA: BASICALLY BACH FESTIVAL
Madison Ave. Presbyterian Church
Madison Ave. at 73rd St.
Tickets: $15-$75
212-247-7800
http://musicasacrany.com/schedule2.htm
Tuesday, March 21 Bach's Birthday Salute: Organ & Brass Splendor, 8:00
Friday, March 24 J.S. Bach: Wedding Cantata; Anna Magdalena Notebook; Brandeburg Concerto No. 2; Orchestral Suite No. 1 in C; Handel: Water Music Suite in G, 8:00
Tuesday, March 28 J.S. Bach: Motet, Singet dem Herrn; Cantata No. 4, Christ lag in Todesbanden, Orchestral Suite No. 3 in D; Handel: Water Music Suite in F, 8:00
PEOPLE ARE UNAPPEALING
The People's Improv Theater
154 West 29th St.
212-563-7488
http://www.thepit-nyc.com/monthly.html
Tuesday, March 21
and
Tuesday, March 28 Performance by Sara Barron, $5, 9:30
NOT A LAUGHING MATTER:
BEHIND THE DANISH CARTOON CONTROVERSY
Asia Society and Museum
725 Park Ave. at 70th St.
212-517-ASIA
http://www.asiasociety.org/events
Wednesday, March 22 Panel discussion with Torben Gettermann, Mahmood Mamdani, and Amanda Bennett, moderated by Nisid Hajari, $15, 6:30
BOOKS AND THEIR AUTHORS
St. Bartholomew's Church
109 East 50th St. at Park Ave.
Admission: free
212-378-0222
http://www.stbarts.org/cri.htm#reston
Wednesday, March 22 James Reston Jr., FRAGILE INNOCENCE: FATHER'S MEMOIR OF HIS DAUGHTER'S COURAGEOUS JOURNEY, 7:30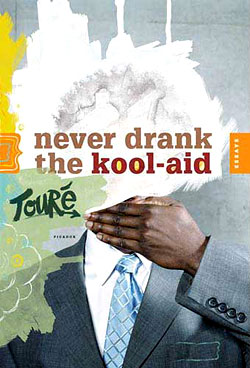 TOURÉ AND JEFF CHANG
Admission: free
http://www.huemanbookstore.com
http://www.housingworks.org:8080/usedbookcafe/UsedBookCafe_Events.jsp
Wednesday, March 22 Touré, NEVER DRANK THE KOOL-AID, and Jeff Chang, CAN'T STOP WON'T STOP, discuss the state of hip-hop, Hue-Man Bookstore & Cafe, 2319 Frederick Douglass Blvd., 6:00
Thursday, March 23 Touré, NEVER DRANK THE KOOL-AID, and Jeff Chang, CAN'T STOP WON'T STOP, discuss hip-hop, with music by Qool DJ Marv, Housing Works Used Book Café, 126 Crosby St., 7:00
TERE O'CONNOR DANCE
Dance Theater Workshop
219 West 19th St. between Seventh & Eighth Aves.
Tickets: $15-$25
212-924-0077
Wednesday, March 22
through
Saturday, April 1 Tere O'Connor Dance celebrates its twentieth anniversary season with the world premiere of BABY, 7:30; March 29 performance is followed by a discussion moderated by Marion Dienstag
FILM & DISCUSSION
Museum of Jewish Heritage — A Living Memorial to the Holocaust
36 Battery Pl.
Tickets: $10
646-437-4202
http://www.mjhnyc.org/visit_safra_hall6.htm
Wednesday, March 22 SENTENCED TO MARRIAGE (Anat Zuria, 2004), followed by discussion with the director and others, 7:00
Sunday, March 26 Life in Shadows: Hidden Children and the Holocaust -- CHILD IN TWO WORLDS: THE STORY OF JEWISH WAR ORPHANS (1993) and THE LAST SEVEN MONTHS OF ANNE FRANK (Willy Lindwer, 1988), followed by discussion with Lindwer, 2:00
HOUSE OF VIBES IN THE CHAPEL OF SACRED MIRRORS
COSM
540 West 27th St. between Tenth & Eleventh Aves.
Wednesday nights at 6:30 & 8:30
Tickets: $20
212-564-4253
http://www.himalayanvoices.com
Wednesday, March 22
and
Wednesday, March 29 Presented by Himalayan Voices: Gong & Bronze Troupe(s) — a Global Chillage Exploration
READINGS ON THE 4th FLOOR
P.S. 107, John W. Kimball School
1301 Eighth Ave. between 13th & 14th Sts., Brooklyn
Monthly Tuesdays, moderated by Elissa Schappell of Vanity Fair
Tickets: $10, all proceeds go toward building and stocking a library for the school
Tickets available at the Community Bookstore, 143 Seventh Ave., Park Slope, 718-783-3075
718-369-9696
http://www.ps107.org/readings2006.htm
Thursday, March 23 Four Brooklyn Caldecott Honor Winners: Betsy Lewin, Ted Lewin, Brian Selznick, and Mo Willems, 7:30
THOMAS FLEMING
Glucksman Ireland House
New York University
One Washington Mews at Fifth Ave.
Admission: $10 for nonstudents
212-998-3950
http://irelandhouse.fas.nyu.edu/object/fleming.html
Thursday, March 23 Thomas Fleming, MYSTERIES OF MY FATHER, book reading and discussion, 7:00
NEW YORK STATE NEA JAZZ MASTERS ON TOUR
Aaron Davis Hall
City College of New York
Convent Ave. between West 133rd & 135th Sts.
212-650-7100
http://www.aarondavishall.org/programs/march.htm#jazz
Thursday, March 23 Film screening and discussion with NEA Jazz Master McCoy Tyner and Ravi Coltrane on the influence of John Coltrane on today's music, $10 (free for March 24 concert ticketholders), 7:30
Friday, March 24 McCoy Tyner and Savion Glover, $25-$45, 7:30
JAZZ LIVE: HEADLINER CONCERTS
Flushing Town Hall
137-35 Northern Blvd.
Tickets: $35
718-463-7700
http://www.flushingtownhall.org/jazz.html
Friday, March 24 Freddie Hubbard & the New Jazz Composers Octet, 8:00
VOICES OF A PEOPLE'S HISTORY
OF THE UNITED STATES
The Great Hall of the Cooper Union
7 East Seventh St. at Third Ave.
Admission: free
212-353-4195
http://www.cooper.edu/month.html
Friday, March 24 Lecture with Howard Zinn and Anthony Arnove, 6:30
CHAKA KHAN
Lehman Center for the Performing Arts
250 Bedford Park Boulevard West
Tickets: $30-$45
718-960-8833
http://www.lehmancenter.com/2005_6_swish_web/chaka_single.shtm
Friday, March 24 Chaka Khan live, 8:00
RAY DAVIES
17 Irving Pl. between 14th & 15th Sts.
Tickets: $65
212-777-6800
Friday, March 24
through
Sunday, March 26 Solo performance by Kinks leader Ray Davies, in support of his latest project, OTHER PEOPLE'S LIVES, 8:00
AN EVENING WITH BOB NEWHART
Brooklyn Center for the Performing Arts
Walt Whitman Theatre at Brooklyn College
Junction at Flatbush & Nostrand Aves.
Tickets: $20-$40
718-951-4500
http://www.brooklyncenteronline.org
Saturday, March 25 Classic stand-up comedy from one of the all-time greats, in this rare area appearance, 8:00
GRILLIN' ON THE BAY
East 18th St. & Ave. Z, Sheepshead Bay
Admission: free
718-769-5374
Saturday, March 25 One-day grilling contest, featuring four meat categories and dessert, sponsored by the St. Mark's Sports Association, 6:00 am – 5:00 pm
V-DAY HARLEM
Apollo Theater
253 West 125th St.
Tickets: $35-$250
212-926-8089
http://events.vday.org/2006/World/Harlem
http://www.gems-girls.org/V-dayHarlem2006.html
Monday, March 27 THE VAGINA MONOLOGUES, benefit production for GEMS (the Girls Educational and Mentoring Services), directed by Rachel Macklin and featuring Michelle Williams, Kerry Washington, Toni Senecal, Angie Martinez, Linda Sithole, Alysia Reiner, Rashida Jones, Nina Sky, Chrisette Michele, and DJ Jazzy Joyce, 7:00
JOE BONAMASSA
B.B. King Blue Club & Grill
237 West 42nd St. between Seventh & Eighth Aves.
212-997-4144
http://bbkingblues.com/schedule/index.shtml
Tuesday, March 28 Great blues guitarist tours behind his new CD, HAD TO CRY TODAY, with special guest openers NYC Blues Devils, $20, 8:00
BEASTIE BOYS PREVIEW SCREENING
AMC Loews 34th St.
312 West 34th St. between Eighth & Ninth Aves.
Tickets: $24
718-784-4520
http://ammi.org/site/screenings/pages/2006/index_beastie_boys.html
http://www.awesomeishotthat.com/main
Tuesday, March 28 AWESOME; I %&*$IN' SHOT THAT (Nathaniel Hörnblowér, 2006), followed by discussion with Beastie Boy Adam Yauch, hosted by the Museum of the Moving Image, 7:30
LIVE FROM HOME
Housing Works Used Book Café Reading Series
126 Crosby St. between Houston & Prince Sts.
Tickets: $25
212-334-3324
http://www.housingworks.org:8080/usedbookcafe/UsedBookCafe_Events.jsp
Tuesday, March 28 Ben, Ian, and Tom of Gomez, 8:00
READINGS / SIGNINGS
Kettle of Fish
59 Christopher St. at Seventh Ave.
Admission: free
212-414-2278
Wednesday, March 29 Jenny Pollack, KLEPTO, 7:00