Twi-ny, This Week in New York
THE ORCHID SHOW
The New York Botanical Garden
Enid A. Haupt Conservatory
Bronx River Parkway (exit 7W) & Fordham Rd.
Through April 8
Closed Monday
Combination Ticket: $18 adults, $5 children two to twelve
718-817-8700
http://www.flickr.com/photos/twi-ny

One of the world's most beautiful and desired flowering plants, orchids have captured people's imaginations for centuries, representing such longed-for qualities as virility, luxury , elegance, and love. For the fifth year in a row, the delicate and widespread beauty of orchids will be celebrated at the New York Botanical Garden, where thousands of varieties will entice, engage, and enrapture you. Upon entering the Enid A. Haupt Conservatory, you'll immediately find yourself in the Palms of the Americas, a wonderland where several varieties of orchids grow on a rock in a reflecting pool under Victorian glasshouse's dome. The follow the path to discover thousands of lovely orchids in the conservatory's Lowland and Upland Tropical Rain Forest Galleries and the two Seasonal Exhibition Galleries. You'll marvel at the Central Pavilion, which is extravagantly decorated as "an Orchid Collector's Garden." Stop by the terrarium to see sweet little miniature orchids. Make sure to read the occasional signs that are filled with information about the history of the plant. And of course, bring your camera, because you'll want to take tons of pictures. (The ubiquity of camera phones and digital cameras can cause quite a line, however, as amateur photographers snap away picture after picture, no longer worried about running out of film.)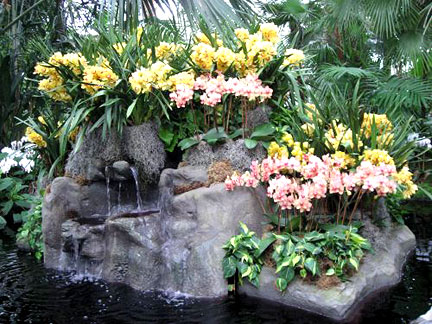 twi-ny/mdr
Orchid island greets visitors in the Palms of the Americas

The myriad shapes and colors will simply blow you away. The purple and white Alice Girl grows in a fascinating line. The Enzant Current "Aquarius" is a purple-dotted Asian corsage orchid surrounded by green. Darwin's Star Orchid has long white spurs. The vanda Somsri Delight is a lush, deep purple. The Via Rosita "Easter Pink" is the timeliest of the orchids, as the show runs through Easter Sunday. The American moth orchid Wildcat "Everlasting" bursts out like a purple and yellow butterfly. The Fangtastic Bob Henley is dark and narrow. The stripes of Baldan's Kaleidoscope "Golden Treasure" are like a circulatory system. The Paphiopedilum Knight's Castle and Vanguard are splendid examples of the sexual slipper orchid. The white, purple, and yellow Via Nogales "Louise" is breathtaking. Via El Diablo "Ruby Red" is, appropriately enough, a lush ruby red. The pansy orchid Teresa Mulhollan "HOF Jumbo" has a fabulously spiky splatch of color in the middle. And the long-titled Cymbidium known as Summer Love x (Moyra Easton x Via Wiley-Coyote) "Yellow Moon" is a tender yellow and white. As gorgeous as the orchid display is, don't hurry too fast past the other sections of the conservatory, which also houses the permanent exhibition "A World of Plants," comprising eleven distinct habitats, including cool sections dedicated to living stones and cactuses. And don't forget to check out the shop, where hundreds of orchids are for sale, and the library building, where you'll find dozens of moth orchid hybrids and eighteenth- and nineteenth-century large, rare folios containing orchid illustrations.

SELECT RELATED EVENTS
The New York Botanical Garden
Orchid Tent outside the Shop in the Garden unless otherwise noted
Free with garden admission
Daily through April 8 Chocolate and Vanilla Adventures, Everett Children's Adventure Garden, 1:30 — 4:30 weekdays, 10:00 am — 4:30 pm weekends
Fridays through Sundays
through April 8 Q&A Sessions and Guided Orchid Shopping with the Experts, Shop in the Garden, 1:00 — 4:00
Wednesdays through Fridays
Through April 6 Conservatory Tour featuring the Orchid Show, 2:30
Saturday, March 17 Orchid Conservation from the Ground Up, 12 noon
Saturday, March 17 History of the Orchid, 3:00
Saturday, March 17
and
Sunday, March 18 Home Gardening Demonstration: Fragrant Orchids, 1:30
Sunday, March 18 Repot, Divide, and Conquer, 12 noon
Sunday, March 18 Fragrant Orchids: Cinnamon! Chocolate! Lemon! Vanilla!, 3:00
Saturday, March 24 History of Vanilla, 11:00 am
Saturday, March 24 Cooking with Vanilla, 12 noon
Saturday, March 24 Cultivation and Curing of the Vanilla Bean, 3:00 pm
Saturday, March 24
and
Sunday, March 25 Home Gardening Demonstration: Potting and Dividing Orchids, 1:30
Sunday, March 25 Marvelous Miniature Orchids for the Home Gardener, 12 noon
Sunday, March 25 Growing Orchids in Apartments Under Artificial Light, 3:00
Saturday, March 31 The Biology of Vanilla — the Ice Cream Orchid, 12 noon
Saturday, March 31 Painting Orchids with Acrylics and Colored Pencils, 3:00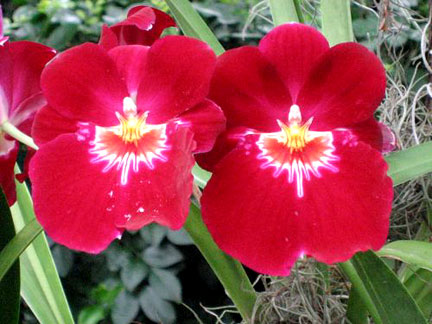 twi-ny/mdr
The pansy orchid Teresa Mulhollan "HOF Jumbo" at the Orchid Show

Saturday, March 31
and
Sunday, April 1 Home Gardening Demonstration: Windowsill Orchids, 1:30
Sunday, April 1 Designing Orchid Displays, 12 noon
Sunday, April 1 Slipper Orchids for Your Home, 3:00
Saturday, April 7 Hybrid Orchids for Easy Growing, 3:00
Saturday, April 7
and
Sunday, April 8 Growing Orchids in Your Apartment, 12 noon
Saturday, April 7
and
Sunday, April 8 Home Gardening Demonstration: Troubleshooting with Orchids, 1:30
Museum Exhibit of the Week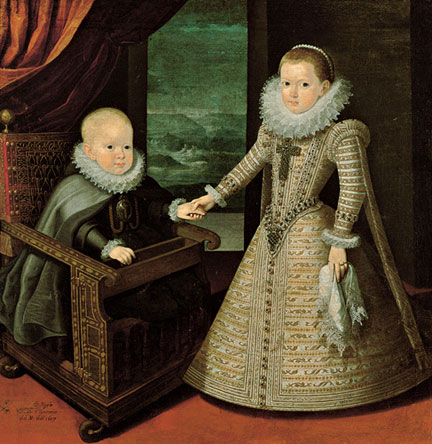 Kunsthistorisches Museum Vienna, Gemäldegalerie
Juan Pantoja de la Cruz, "The Infantes Don Felipe and Doña Ana," 1607
SPANISH PAINTING FROM EL GRECO TO PICASSO:
TIME, TRUTH, AND HISTORY
Solomon R. Guggenheim Museum
1071 Fifth Ave. at 89th St.
Through March 28
Closed Thursday
Admission: $18 (includes audio tour), children under twelve free
Fridays from 5:45 to 7:15: pay what you wish (not free), museum open until 7:45
212-423-3500

The Guggenheim traces the history of the last five centuries of Spanish painting in this fabulous array of works arranged thematically. Divided into fifteen sections, including Monks, the Domestic World, Weeping Women, Childhood, Crucifixions, Landscapes, and Nudes, the exhibition features approximately 140 paintings by such masters as Diego Velázquez, Francisco de Zurbarán, Juan Gris, Joan Miró, Bartolomé Esteban Murillo, José de Ribera, Francisco de Goya, Salvador Dalí, and, of course, the title artists, El Greco and Pablo Picasso; however, the Guggenheim specifically links many of these works, seeing them as direct descendants rather than simply new movements or changing styles. In the Bodegones section, the Spanish version of still-lifes, Picasso's "Still Life with Sheep's Skull" mimics Goya's "Still Life with Sheep's Head," while Velázquez places his still-life within a bigger scene of three people arguing in "Peasants at the Table."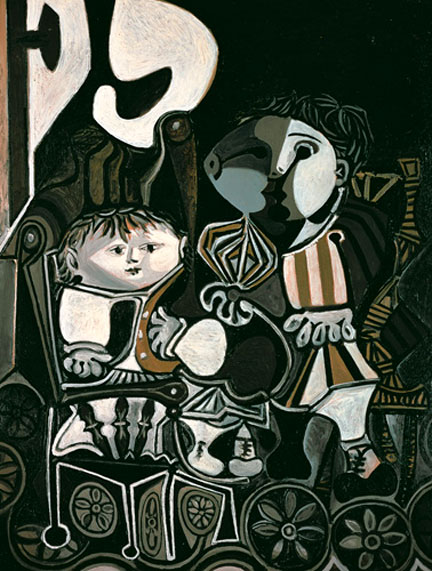 Galerie Jan Krugier, Ditesheim & Cie, Geneva
Pablo Picasso, "Two Seated Children (Claude and Paloma)," Vallauris, January 20, 1950

In the Childhood section, Picasso's "Two Seated Children" is an abstract take on Juan Pantoja de la Cruz's "The Infantes Don Felipe and Doña Ana." In Virgins and Mothers, Dalí's surreal "Madonna of Port Lligat" contrasts sharply with Murillo's "The Virgin of the Rosary." And in Weeping Women, Ribera's "Saint Mary of Egypt," in which Mary, in tattered clothing, clasps her hands and looks to the heavens for help, is accompanied by Murillo's "Our Lady of Sorrows," in which Mary's hands are spread out as she looks up in prayer. In no means do all the pieces directly comment on others or need to be examined only in a set; among the other glorious works are Goya's "Cannibals Preparing Their Victims," El Greco's "The Vision of Saint Joan," and Zurbarán's "Saint Hugh in the Refectory (Saint Bruno and the Miracle of the Uneaten Meat)." With only two weeks left in this grand, sweeping retrospective, expect large crowds, especially on the weekends, but it's worth the extra time.
Also at the Guggenheim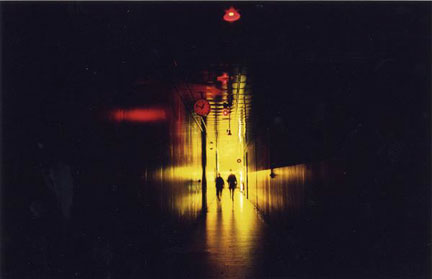 Marian Goodman Gallery and Frith Street Gallery
Tacita Dean, "Still from KODAK," 2006
THE HUGO BOSS PRIZE 2006: TACITA DEAN
Solomon R. Guggenheim Museum
Through June 6

British multimedia artist Tacita Dean has been awarded the 2006 Hugo Boss Prize for her "impressive body of work [that] navigates the forgotten corners of history and experience through a range of films, photographs, drawings, and installations," joining such previous winners as Matthew Barney, Douglas Gordon, and Pierre Huyghe. In celebration, the Guggenheim is mounting this four-piece installation that focuses on Dean's recent work revolving around film. Related to two men who ran the influential Ealing Studios, Dean looks back to the past with KODAK, a mesmerizing forty-four-minute piece set inside a soon-to-be-closed Kodak plant in France, a victim of changing times. Shooting with 16mm film, Dean follows the production of celluloid in a series of stagnant shots of varying lengths, from a few seconds to several minutes, using natural sound and natural light. Factory workers walk in and out of scenes that are filled with fantastic colors, evoking the feel of a science-fiction film. Dean even projects the film, which is in essence about the death of film, with old equipment that itself is most likely doomed. Outside the dark screening room, "Found Obsolescence" hangs on the wall, a framed, unexposed strip of film Dean found at the plant after everything was shut down; only part of it has the necessary holes on the sides, as if where they stop marks the very moment of the end. Also on view is the short "Noir et Blanc," a 16mm rear projection of film being manufactured, and "Majesty (Portrait)," a large-scale photograph of a tree in which Dean has painted over the entire background in white, leaving the tree as a majestic object floating in the unknown.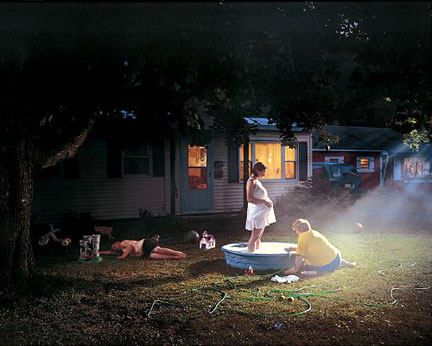 © Gregory Crewdson
Gregory Crewdson, "Untitled (pregnant woman/pool)," 1999
FAMILY PICTURES
Solomon R. Guggenheim Museum
Through April 16

More than forty works by sixteen artists from the Guggenheim's permanent collection examine the state of the family in compelling and controversial ways. A close look at Catherine Opie's "Self-Portrait/Nursing" reveals the word "pervert" cut into her chest. Both Robert Mapplethorpe and Sally Mann place very young children in sexually suggestive poses. The kids in Loretta Lux's photographs feel out of place and awkward, with large heads and a penetrating gaze. Nathalie Djurberg's short animated video "Florentin" shows a father spanking his daughters, which leads to further violence. A heavenly light shines down on a pregnant woman standing in a kiddie pool with her two obese sons nearby in Gregory Crewdson's "Untitled (pregnant woman/pool)." Anna Gaskell's "wonder" series creates a very different narrative for a contemporary Alice in Wonderland. Interestingly, there is no text accompanying each artist/photograph to add further description even though in at least several situations it would shed light on what is being seen; for example, in Patty Chang's two-screen video "In Love," a woman shares fruit mouth to mouth with both an older woman and an older man, yet the knowledge that they are her parents would surely alter the viewer's perception. Then again, not knowing about those relationships — or perhaps only guessing at them — adds more intrigue to the work.
PUBLIC PROGRAMS
Solomon R. Guggenheim Museum
212-423-3500
Friday, March 16
and
Friday, March 23 Spanish Film Screenings: THE QUINCE TREE SUN (EL SOL DEL MEMBRILLO) (Victor Erice, 1992), free with museum admission, 1:00
Friday, March 16
and
Friday, March 23 An Educator's Eye: interactive discussions of current exhibitions with education staff, free with museum admission, 2:00
Wednesday, March 21 Conversations with Contemporary Artists: Kristin Baker, $10, 6:30
Sunday, March 25
and
Monday, March 26 Works + Process: Luca Veggetti & the Cincinnati Ballet perform "On the Edge of Silence," "Night Sounds," and "Traces," $24, 7:30
Monday, March 26 Looking with Literature: Christopher Maurer, $25, 6:30
Friday, March 30 A Curatorial Eye — Hugo Boss Prize 2006: Tacita Dean, exhibition tour with Joan Young, free with museum admission, 2:00
Queens Film Festival of the Week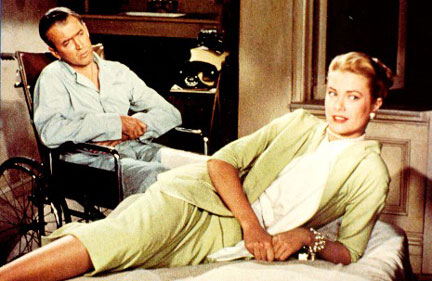 Few are more fashionable than Grace Kelly, seen here in REAR WINDOW
FASHION IN FILM
Museum of the Moving Image
35th Ave. at 36th St., Astoria
March 17-25
Admission: $10
718-784-4520

Taking a unique look at fashion in cinema, the Museum of the Moving Image is presenting an eclectic collection of offbeat works that feature outlandish, unusual, and mostly nontraditional costume design, beginning with George Méliès's 1900 short GOING TO BED UNDER DIFFICULTIES and continuing through Diane Pernet's 2002 short CHAPELS (BERNHARD WILLHELM). Along the way we get to see Grace Kelly as a model in REAR WINDOW, Anne Carlisle's bizarre outfits in cult fave LIQUID SKY, a program dedicated to the foot fetish, downtown drag queens in PARIS IS BURNING, documentaries on a hat maker and the fashion biz, and more. Several of the films are introduced by the filmmakers or other fashion experts.
Saturday, March 17 "The Enigma of Clothing": illustrated talk by curator Marketa Uhlirova with screenings of THE EXTINCT WORLD OF GLOVES (Jirí Bárta, 1982); GHOSTS BEFORE BREAKFAST (Hans Richter, 1928); GOING TO BED UNDER DIFFICULTIES (George Méliès, 1900); IN A HURRY TO CATCH A TRAIN (Ferdinand Zecca, 1901); ENFANT TERRIBLE (Anna-Nicole Ziesche, 2000); 59 POSITIONS (Erwin Wurm, 1992); ONE AND ONE NOW MAKE TWO WHILE BEFORE IT ONLY MADE ONE (Marie-France & Patricia Martin, 2000); CHAPELS (BERNHARD WILLHELM) (Diane Pernet, 2002); WARNER CORSET ADVERTISEMENT (Thomas Edison, 1910); A WEEK IN FILM (Czech newsreel, 1947); TOUGH STOCKINGS (British newsreel, 1960), 2:00
Saturday, March 17 REAR WINDOW (Alfred Hitchcock, 1954), with a lecture by Pat Kirkham, 4:00
REAR WINDOW (Alfred Hitchcock, 1954)

One of Alfred Hitchcock's best films is an unforgettable voyeuristic thriller starring James Stewart as temporarily wheelchair-bound photojournalist L. B. Jeffries and Grace Kelly as his society-girl friend (and extremely well dressed) Lisa Carol Fremont. Bored out of his mind, Jeffries grabs a pair of binoculars and starts spying on the apartments across the courtyard from him, each one its own television show, including a musical comedy, a lonely romance, an exercise program, and, most ominously, perhaps a murder mystery. Ever the reporter, Jeffries decides to go after the possible killer, Lars Thorwald (Raymond Burr), and he'll risk his life — and Lisa's — to find out the truth. Sensational from start to finish, REAR WINDOW works on so many levels, you'll discover something new every time you watch it.
Saturday, March 17 LIQUID SKY (Slava Tsukerman, 1982), introduced by director Slava Tsukerman, cinematographer Yuri Neyman, and production and costume designer Marina Levikova, 6:30
Sunday, March 18 FIG LEAVES (Howard Hawks, 1926), introduced by Drake Stutesman, with live music by Donald Sosin, 2:00
Sunday, March 18 "Shoes, Eroticism, and Fetish": DIARY OF A CHAMBERMAID (Luis Buñuel 1964), preceded by PARIS: WOMEN'S SHOES IN LAFAYETTE GALLERIES (Pathé-Gaumont, 1912), THE GAY SHOE CLERK (Edwin S. Porter, 1903), AMOR PEDESTRE (Marcel Fabre, 1914), and SHOES TALK TOO (La Settimana Incom, 1949), with a talk by curator Christel Tsilibaris, 4:00
Sunday, March 18 PARIS IS BURNING (Jennie Livingston, 1991), 6:30
Saturday, March 24 MODEL (Frederick Wiseman, 1980), 2:00
Saturday, March 24 "Assuming a Pose": FOUR BEAUTIFUL PAIRS (A.E. Weed, 1904), HOW MANNEQUINS ARE MADE (Giornale Luce, 1941), MANNEQUINS FOR SALE (Pathé News, 1938), SCHOOL FOR MANNEQUINS (Pathé News, 1944), VOLUME (Jean-Pierre Khazem, 2000), I FEEL (Jean-François Carly, 2005), IT'S LIKE BEING (Marie-France & Patricia Martin, 2003), PHOTO SHOOTING (Jen Wu, 2001), SMOOTH WITH THE ROUGH (British newsreel, 1944), SHELLEY FOX 14 (Shelley Fox, 2002), and PUCE MOMENT (Kenneth Anger), 4:30
Saturday, March 24 LADY WITH A HAT (Elsa Kvamme, 1999), 5:30
Saturday, March 24 CEILING (Vera Chytilová, 1962) and WHO ARE YOU, POLLY MAGGOO? (1966 William Klein), 7:00
Sunday, March 25 CHOP SUEY (Bruce Weber, 2001), 2:00
CHOP SUEY (Bruce Weber, 2001)

Fashion photographer Bruce Weber, who gave us the Chet Baker doc LET'S GET LOST, is behind this fun hodgepodge of still photos, old color and black-and-white footage, and new interviews and voice-over narration. We have to admit that we knew nothing about Frances Faye, but after seeing her perform in vintage Ed Sullivan clips and listening to her manager/longtime partner discuss their life together, we can't wait to pick up Faye's CAUGHT IN THE ACT CD. The film also focuses on how Weber selects and treats his male models, who are often shot in homoerotic images for major designers (and later go on to get married and have children). As a special treat, Jan-Michael Vincent's extensive full-frontal nude scene in BUSTER AND BILLIE (Daniel Petrie and Sidney Sheldon, 1974) is shown here, as are vintage clips of Sammy Davis Jr., adventurer Sir Wilfred Thesiger, former Vogue editor Diana Vreeland, and Robert Mitchum singing in a recording studio with Dr. John. The film is about model Peter Johnson and Weber as much as it is about the cult of celebrity; Weber gets to chime in on Elizabeth Taylor, Montgomery Clift, Clark Gable, Frank Sinatra, Arthur Miller, and dozens of other famous names and faces. The more we think about the film, the more fun we realize we had watching it, but we can't give it a higher rating because it is just too disjointed, going off in myriad directions but lacking a central focus. Oh, and it also bugged us that the onscreen titles, end credits, and promotional postcards are chock-full of typos (perhaps emulating a Chinese takeout menu offering chop suey?).
Sunday, March 25 UNZIPPED (Douglas Keeve, 1995), 4:30
Sunday, March 25 TRUE STORIES (David Byrne, 1986), 6:30
Street Art Exhibition of the Week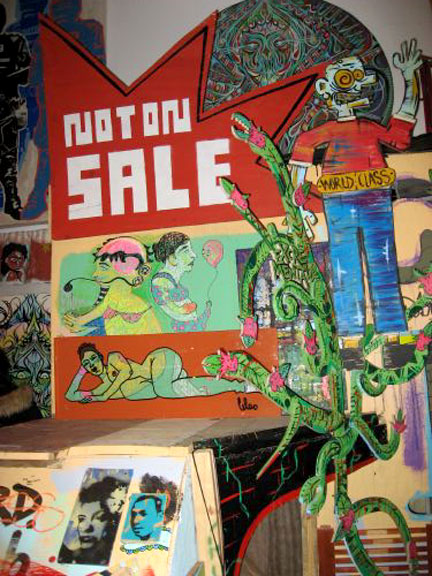 twi-ny/mdr
The Alley features work by Skewville, R. Deeker, Deuce Seven, Celso, Infinity, Quim, and others
TRIGR: A NYC STREET ART SHOW
PurePROJECT
205 Mulberry St. between Spring & Kenmare Sts.
Tuesday — Friday 11:00 am — 7:00 pm, Saturday 12 noon — 5:00 pm
Through March 24
Admission: free
646-290-6333
http://www.flickr.com/photos/twi-ny

The boom in the indoor exhibiting of street art continues with "Trigr," a group show in the two-thousand-square-foot downstairs Pure Project space in Nolita. Curated by Celso, an artist-in-residence at Chashama, "Trigr" features about two dozen artists in a unique collaboration that tries to re-create the inherent nature of street art by having people work over, under, behind, and on top of one another's pieces instead of separating each artist's work into its own area. Among the invited participants are Gore-B, who pays homage to one of the forefathers of the genre with "Basquiat Doll"; Peripheral Media Projects, whose "Riot Cop" stands near the ceiling, looking out at the proceedings as if ready to bust some heads; Royce Bannon, who paints small, hard-edged, offbeat comic-book-like characters; Michael De Feo, who is more well known for his flower drawings but here contributes two eerie self-portraits on board; Elbow-Toe, whose large-scale "Enemy of the State" literally jumps out at you; R. Deeker, whose colorful "Excremental Thought Process" sculpture is also slyly called "Tree of Life"; Jake G, who makes digital prints of Civil War-era figures but gives them bird or fish heads and hands (such as "Bird-head Lincoln" and "Colonel Crawfish"); Darkcloud, whose cloud paintings are scattered throughout the gallery; and Celso himself, whose portraits of woman should be recognizable to anyone who has walked through SoHo and the Lower East Side. (His "Pleiades," a painting of seven nude women spread across a narrow horizontal canvas, is particularly inspiring.)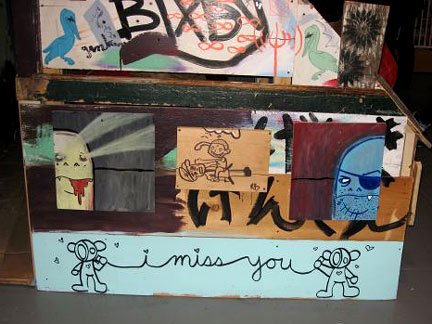 twi-ny/mdr
Royce Bannon and other street artists collaborate downtown

And then there's the duo that goes by the name Skewville, twin brothers Ad Deville and DROO, whose wooden sneakers can be found looped over telephone wires in cities around the world. "It's all about representing, leaving your mark in the hood," they write on their Web site, www.whendogsfly.com. Here they are given their own wall, called "Skewville Headquarters," where they have mounted more than a dozen of their fab pieces, including metal sculptures of arrows, a three-dimensional silver garbage can and red fire hydrant, and the white fence post and chicken wire "Two Years in the Fakin'," which spells out their name if you look close enough (especially through a camera lens). The exhibit as a whole, which is divided into such sections as the Basketball Court, the Alley, the Wall, the Gallery, and the Boutique, also contains pieces by Infinity, Haculla, C. Damage, Gorilla One, Endless Love Crew, Abby Goodman, Deuce Seven, Laura Keith, Quim, Matt Siren & Phallic Mammary, and Pufferella. And tribute is paid to Marc and Sara Schiller of the Wooster Collective, who have been documenting street art for many years and were the organizers of the recent "Wooster on Spring" show; their lifesize likenesses, along with that of their dog, were late additions to the Wall. Despite Skewville's four-foot-by-six-foot painted wood sculpture that announces "Not on Sale," most of the work, including "Not on Sale" ($700), is available for purchase, ranging between $500 and $5,200, continuing the commercialization of the once-underground, radical art form.
Riff's Rants & Raves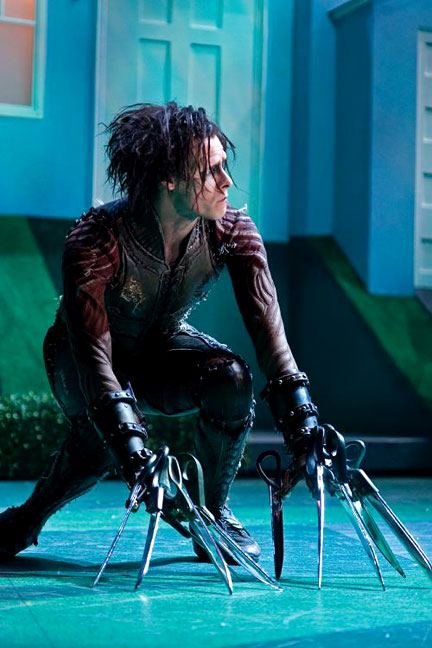 Bill Cooper
Tim Burton film is turned into dance theater at BAM
EDWARD SCISSORHANDS
Brooklyn Academy of Music
Howard Gilman Opera House
30 Lafayette Ave. between Ashland Pl. & St. Felix St.
Through March 31
Tickets: $30-$80
718-636-4100

Directed, devised, and choreographed by Matthew Bourne, the multimedia stage production of EDWARD SCISSORHANDS is an entertaining, if not quite cutting edge, evening of dance theater. Based on Tim Burton's 1990 cult film (and co-adapted by the film's screenwriter, Caroline Thompson), the Gothic tale is a Frankenstein story set in 1950s suburbia. Driven by grief over the shocking death of his son, an inventor creates a teenager with daggerlike scissors for hands as a replacement for his scissors-obsessed boy. After the inventor dies before finishing his work, Edward is taken in by the Boggs family, where he falls for young cutie Kim, who is dating tough guy Jim. Meanwhile, married neighborhood floozy Joyce has the serious hots for Edward, who has trouble fitting in and being accepted by the local community. Ultimately, of course, he is just too different for small-town America. EDWARD SCISSORHANDS features no words, live music composed and arranged by Terry Davies (based on themes from Danny Elfman's fab movie score), playful sets that change in the blink of an eye, and inventive displays of Edward's shearing ability. The first act, which concentrates on story, character development, and setting, is much better than the dance-heavy second half; the dancing, though showy and crowd pleasing, is fairly standard, more representative of Bourne's Broadway side (which includes the current MARY POPPINS). EDWARD SCISSORHANDS is performed by a rotating cast; the night we went, Sam Archer was a splendid Edward, playing the "demon" barber of Main St., USA, as if he were Johnny Depp channeled through Jim Carrey (or vice versa). Michela Meazza almost steals the show as hot-to-trot Joyce. All in all, the two-hour show makes for a fun evening, more like a good popcorn movie than breathtaking spectacle.
Get to BAM early to browse through the annual BAMart Silent Auction in the Dorothy Levitt Lobby through March 25, with works from such artists as Vito Acconci, Matthew Barney, Milton Glaser, Joan Jonas, Annie Liebovitz, Sol LeWitt, Meredith Monk, Saul Steinberg, William Wegman, and Terry Winters.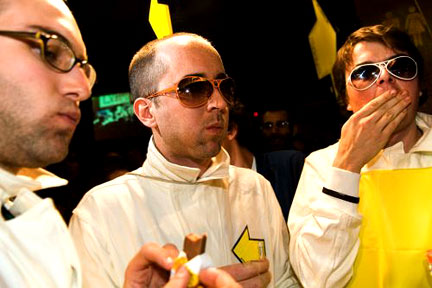 Leo Zacharias (leozacharias.com)
LVHRD's second Vending Machine Challenge takes place March 20
VMCII
Location TBA
Tuesday, March 20
Tickets: $11-$22
In October 2005, LVHRD held the first-ever competitive eating vending machine challenge, first pitting Studio Red at Rockwell Group against Count Media's Yellow Arrow in an exhibition match to see which team could empty the entire contents of a vending machine first. That match was followed by the main course, a battle between J. Walter Thompson and the New York City Ballet. This year, Vending Machine Challenge II will feature the Onion facing off in an exhibition match against a news organization TBD, then MoMA getting down to business against a museum TBD in a gourmet race to see which team can polish off their stash of candy bars, chips and other healthy and unhealthy snacks first. The location will be text-messaged to ticket holders the day of the event.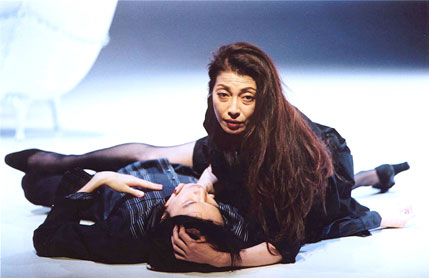 Masaru Miyauchi
Rei Asami stars in first of two noh plays at the Japan Society
AOI/KOMACHI
Japan Society
333 East 47th St. at First Ave.
March 22-24
Tickets: $38
212-715-1258

Part of the Japan Society's centennial celebration, AOI/KOMACHI is a haunting evening of theater based on fourteenth-century plays by Ze'Ami (who was sponsored by the third shogun of the Muromachi Shogunate, Ashikaga Yoshimitsu) and Kan'Ami, staged in a modern setting by avant-garde theater director Takeshi Kawamura. In AOI, Hiroki Hasegawa stars as Hikaru, a hair stylist with a meek, mentally unbalanced girlfriend, Aoi (Tamaki Kemmotsu), and a strong-willed former lover, Rokujo (Takarazuka favorite Rei Asami). Kawamura dresses the play in black and white, devoid of color, adding shocking audiovisual elements that include a pair of curtains that create fascinating shadows of the characters as well as hair. In the second work, KOMACHI, Toru Tezuka excels as a film director who accidentally happens upon a dilapidated theater that screens long-lost WWII propaganda films featuring onetime starlet Komachi (a captivating performance by butoh dance legend Akira Kasai). A dedicated Komachi fan (Keiji Fukushi) kidnaps the director, convinced that he must make a film with the aging, decrepit actress from a script by a Japanese general. This time Kawamura uses the two curtains as movie screens, showing snippets of old films that envelop the characters. Typical of the noh genre, the pieces weave in and out of time and space, questioning reality. In each play, Kawamura places a chair in the center of the otherwise stark stage, as if making Aoi and the film director both actor and audience, tragic figures trapped in a strange world with no escape. AOI/KOMACHI is a treat for the adventurous theatergoer, highly recommended.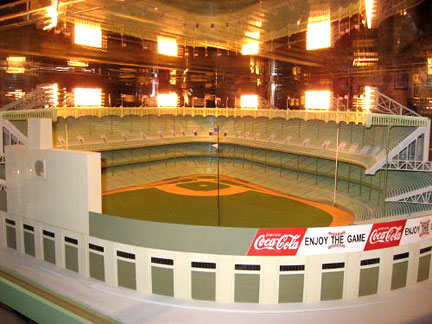 twi-ny/mdr
Model will be on view till opening day at Mickey Mantle's
YANKEE STADIUM COMES TO MANHATTAN
Mickey Mantle's Restaurant & Sports Bar
42 Central Park South
59th St. between Fifth & Sixth Aves.
Through opening day, April 2
Admission: free
212-688-7777
http://www.majorleaguemodels.com
Steve Wolf of Major League Models has built scale models of such baseball stadiums as Fenway Park, the Polo Grounds, Wrigley Field, and Ebbets Field. His most recent custom replica is of Yankee Stadium in 1961, the year Roger Maris belted 61 home runs, Mickey Mantle blasted 54 dingers, and the Yankees beat the Cincinnati Reds in five games to win the World Series. The 49-square-foot model, valued at more than $100,000, features 64,000 seats, working lights, American flags, a Longines clock that places the time at 3:36, and other period details. As the scoreboard, which comes complete with an old-time ad for Ballantine Beer, reveals, the Yankees and the Boston Red Sox are locked in a tie game in the bottom of the fourth, with Maris facing a 2-0 count against Tracy Stallard. (Ironically, Mantle did not play in this game.) As diehard sports fans will know, it's October 1, 1961, the last game of the season, and Maris is about to knock the ball out of the park for his record-breaking 61st four-bagger — and the only run of the game. The stadium will reside in the back of Mickey Mantle's Restaurant on Central Park South until opening day, when the Bronx Bombers take on the Tampa Bay Devil Rays on April 2 in the House that Ruth Built. (Interesting Maris trivia: He came to the Yankees on December 11, 1959, in a multiplayer deal that included Don Larsen and Marv Throneberry being sent to the Kansas City Athletics).
Cillian Murphy stars in Irish epic
THE WIND THAT SHAKES THE BARLEY (Ken Loach, 2006)
IFC Center
323 Sixth Ave. at Third St.
Opens Friday, March 16
212-924-7771
http://www.thewindthatshakesthebarley.co.uk

Winner of the 2006 Palme d'Or at Cannes, THE WIND THAT SHAKES THE LEAVE is a brutal masterpiece from director Ken Loach (RIFF-RAFF, BREAD AND ROSES). It's 1920, and the English black and tans are running roughshod through Ireland, leaving broken and dead bodies in their wake as they keep the population frightened and in poverty. But poorly armed yet determined local guerrilla armies are forming, prepared to fight for freedom in their homeland. In one small town, Damien (Cillian Murphy) is getting ready to move to London to train as a doctor, but he decides instead to join the burgeoning Irish Republican Army after seeing one too many bloody beatings. Swearing their loyalty to the cause and led by Damien's brother, Teddy (Padraic Delaney), they set up ambushes of British forces, gathering weapons in a desperate attempt to win back their country. Damien also falls for Sinead (Orla Fitzgerald), one of many women who work as messengers and spies and run safe houses. But when a questionable treaty is signed, loyalty is tested and families torn apart. Written by Paul Laverty and also featuring Liam Cunningham, Mary Riordan, Myles Horgan, and Mary Murphy, THE WIND THAT SHAKES THE BARLEY is a fierce, no-holds-barred, if one-sided, look at a violent conflict that has lasted for centuries.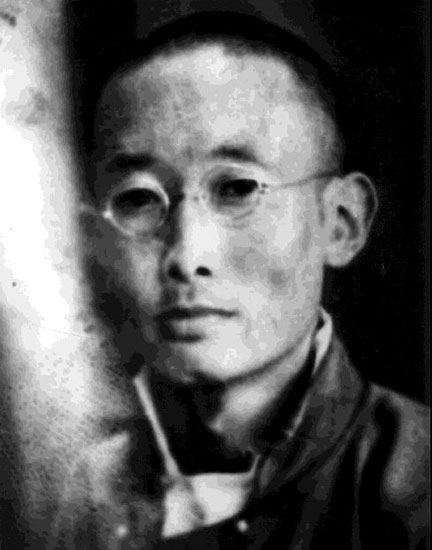 © Angry Monk Productions
One of the very few photos that exists of radical monk Gendun Choephel
ANGRY MONK: REFLECTIONS ON TIBET (Luc Schaedler, 2005)
Rubin Museum of Art
150 West 17th St. at Seventh Ave.
March 21 (7:00), March 24 (2:00, 4:00), March 31 (2:00, 6:00), April 7 (4:00)
Tickets: $12
212-620-5000 ext 344
http://www.angrymonkthefilm.ch/en

Most films about Tibet present idealized views of monastic life trod upon by the Chinese. In ANGRY MONK, director Luc Schaedler and cameraman Filip Zumbrunn reveal a different side of the supposedly peaceful Shangri-La by focusing on a radical, subversive monk who had a completely different perspective of his homeland. Born in 1903 near the eastern border with China, Gendun Choephel was a forward-thinking writer, artist, historian, and monk who smoked, drank, cursed, and had sex with women. Frustrated with the conservative Tibetan leadership in Lhasa, he traveled across India, where the struggle for independence from Britain spurred him to revolutionary thoughts, making him an enemy of the Chinese, the British, and even his own people. Interweaving archival footage with shots of modern-day Tibet, Schaedler tells Choephel's fascinating story through interviews with historians, teachers, aged friends of Choephel, a British colonialist, and even Choephel's wife; sadly, only a few photographs of the angry monk exist, and no film at all. As Chinese occupation looms, Choephel, who described himself as "an astute beggar who spent his life listening," is powerless as his country crumbles. All screenings of ANGRY MONK are preceded by the short film TRICYCLE: THE B. The March 21 screening is followed by a discussion with Gehlek Rimpoche, Prof. Donald Lopez, James Shaheen, and Schaedler. And on March 31 at 4:00 ($15), there will be a related talk with William Dalrymple and Gehlek Rimpoche on monks and monasticism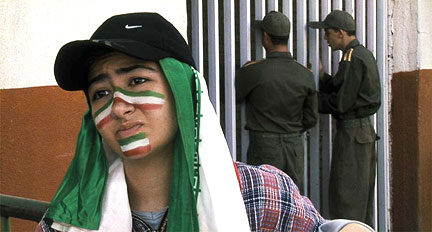 Jafar Panahi examines gender disparity in Iran in OFFSIDE
OFFSIDE (Jafar Panahi, 2006)
Opens Friday, March 23
http://www.sonyclassics.com/offside

Filmed on location in and around Tehran's Azadi Stadium and featuring a talented cast of nonprofessional actors, Jafar Panahi's OFFSIDE is a brilliant look at gender disparity in modern-day Iran. Although it is illegal for girls to go to soccer games in Iran — because, among other reasons, the government does not think it's appropriate for females to be in the company of screaming men who might be cursing and saying other nasty things — many try to get in, facing arrest if they get caught. OFFSIDE, which played the 2006 New York Film Festival, is set during an actual match between Iran and Bahrain; a win will put Iran in the 2006 World Cup. High up in the stadium, a small group of girls, dressed in various types of disguises, have been captured and are cordoned off, guarded closely by some soldiers who would rather be watching the match themselves or back home tending to their sheep. The girls, who can hear the crowd noise, beg for one of the men to narrate the game for them. Meanwhile, an old man is desperately trying to find his daughter to save her from some very real punishment that her brothers would dish out to her for shaming them by trying to get into the stadium. Despite its timely and poignant subject matter, OFFSIDE is a very funny film, with fine performances by Sima Mobarak Shahi, Shayesteh Irani, Ida Sadeghi, Golnaz Farmani, Mahnaz Zabihi, and Nazanin Sedighzadeh as the girls and M. Kheymeh Kabood as one of the soldiers.
THE PAGE TURNER (Denis Dercourt, 2006)
Opens Friday, March 23
Angelika Film Center
18 West Houston St. at Mercer St.
212-995-2000
Lincoln Plaza Cinemas
1886 Broadway between 62nd & 63rd Sts.
212-757-0359
http://lincolnplaza.moviefone.com
http://www.city-cinemas.com/angelika.html

Playing at an audition to get into a prestigious conservatory, ten-year-old pianist Mélanie (Julie Richalet) is distracted and unable to recover when the chairwoman of the jury (Catherine Frot) signs an autograph during the performance, not paying attention to her. As Mélanie leaves the room, she stares straight ahead, a fury building inside her. Ten years later, Mélanie (Déborah François) has blossomed into a beautiful young woman who gets a job as an intern for prominent attorney Monsieur Fouchecourt (Pascal Greggory). But it is not the valuable work experience she is after — it just so happens that the lawyer's wife, Ariane, who is trying to resurrect her flailing musical career, turns out to be the chairwoman who Mélanie believes ruined her life. Quietly and with an eerie, subtle confidence, Mélanie immerses herself into the family, which also includes young Tristan (Antoine Martynciow), a piano virtuoso himself. Mélanie's relationship with Ariane is reminiscent of that of Hedy (Jennifer Jason Leigh) and Allie's (Bridget Fonda) in SINGLE WHITE FEMALE, where all hell could break loose at any moment. Writer-director Denis Dercourt's tense psychological thriller is built around François's stellar performance; audiences will be kept on the edge of their seats waiting for Mélanie to explode — if revenge is indeed part of her plan.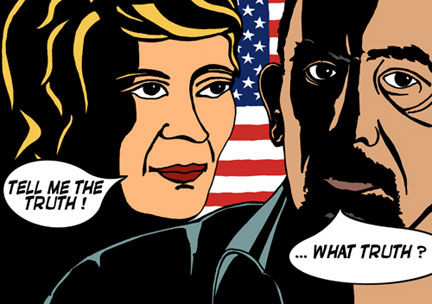 Illustrations add color to political documentary
THE PRISONER OR: HOW I PLANNED TO KILL TONY BLAIR
(Michael Tucker & Petra Epperlein, 2006)
Cinema Village
22 East 12th St. between University Pl. & Fifth Ave.
Opens Friday, March 23
212-924-3363

On September 22, 2003, after filming a friend's wedding, Iraqi journalist Yunis Khatayer Abbas returned home with brothers Khalid and Abbas, only to have their house invaded by U.S. forces. Arrested as suspected terrorists, the three men are imprisoned and interrogated; when an officer yells at Yunis, "Tell me the truth!" he responds, "What truth?" It is eventually revealed that the brothers are suspected of plotting to blow up Tony Blair, an absolutely ludicrous charge built on faulty intelligence. Yunis is soon transported to Camp Ganci in Abu Ghraib, where the absurdity continues, though he is befriended by one of the guards, Army Specialist Benjamin Thompson, who is one of the few soldiers who wants to improve the conditions there. Married directors Michael Tucker and Petra Epperlein, whose previous documentary, GUNNER PALACE, followed U.S. forces through Baghdad, primarily let Yunis tell his story in close-up while mixing in home-movie footage and, rather questionably, graphic-novel-like cartoon illustrations to illuminate what already is a bizarre story worthy of Kafka. (Interestingly, Thompson had seen GUNNER PALACE, which included footage of Yunis shot by Tucker, who was embedded with the forces. Wanting to know what had become of the wronged journalist, Thompson sought out Tucker, then agreed to tell his story, leading the way for THE PRISONER.) A mere seventy-two minutes, THE PRISONER is an important, if slight, documentary that switches between serious and goofy a bit too much.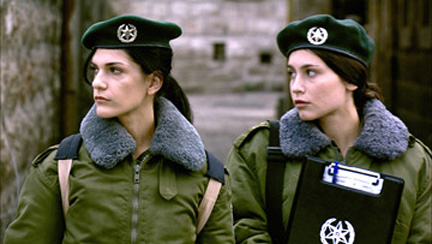 Hagen Keller
Sayar and Schendar play two very different soldiers in CLOSE TO HOME
CLOSE TO HOME (KAROV LA BAYIT)
(Vardit Bilu & Dalia Hagar, 2005)
Makor, Steinhardt Building
35 West 67th St. between Amsterdam & Columbus Aves.
Tuesday, March 20, and Wednesday, March 21, 7:30
Tickets: $9
212-601-1000
http://www.ifcfilms.com/closetohome

Smadar (Smadar Sayar) and Mirit (Naama Schendar) are two very different eighteen-year-olds thrust together by Israel's compulsory military service in Vidi Bilu and Dalia Hager's small but intriguing CLOSE TO HOME. Smadar and Mirit are assigned to register (racially profile) Palestinians as they pass through the area near the Jerusalem gate, checking IDs on the streets and on the buses. While Smadar is a rebellious spirit who is free with her sexuality and refuses to follow any rules, Mirit is meek and timid, still living at home with her parents, afraid to get in any kind of trouble. The movie takes a sudden turn when a terrorist bomb goes off on their beat, changing personal relationships and public and private responsibilities. Despite its controversial subject matter, CLOSE TO HOME hits close to home, a gentle, tender slice of life that is about a lot more than just young women in military service.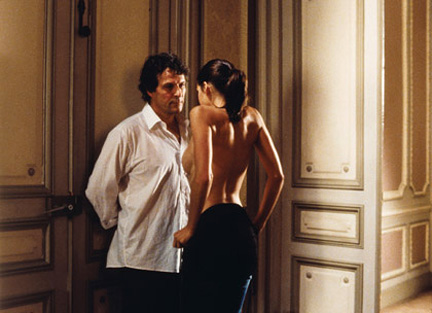 Brisseau's latest is another voyeuristic dud
EXTERMINATING ANGELS (Jean-Claude Brisseau, 2006)
IFC Center
323 Sixth Ave. at Third St.
212-924-7771

Shortly after making SECRET THINGS (2002), French director Jean-Claude Brisseau faced sexual harassment charges leveled by four actresses who had auditioned for the controversial film about sex and power. Brisseau is now back with EXTERMINATING ANGELS, which stars Frédéric Van Den Driessche as François, a director who is auditioning actresses for a film that will examine the very nature of orgiastic pleasure; the women must perform private sexual acts for him while he watches and films them — but never participates — mixing exhibitionism and voyeurism. A parade of beautiful young actresses meet with him and share some of their most personal secrets, finding François to be that rare man who is able to listen to and understand them. He is most intrigued by Charlotte (Maroussia Dubreuil), Julie (Lise Bellynck), and Stéphanie (Marie Allan), who see him as father figure, psychoanalyst, and potential lover, which does not make his wife very happy. To make things more existential, there are also appearances by the ghost of his dead grandmother (Jeanne Cellard), a pair of hot wayward angels (Raphaële Godin and Margaret Zenou), and a voice-over spouting poetic, political diatribe. In describing SECRET THINGS, we wrote, "The film thinks it's clever, playing off the clichés with verve and intelligence, but it's really not much more than a boring flick filled with sexless nudity made by a dirty old man. We can hear all the film students out there proclaiming, 'But that's the point!' To which we say, 'So what!'" That pretty much describes how we feel about EXTERMINATING ANGELS as well, although the sex happens to be a lot more erotic this time around.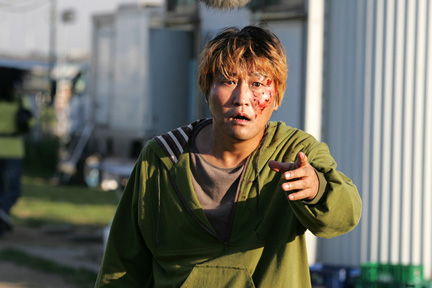 Magnolia Pictures
Song Kang-ho searches for his daughter in THE HOST
THE HOST (GWOEMUL) (Bong Joon-ho, 2006)
In theaters now

Several years after the government improperly disposes of chemical waste, a huge monster appears under a bridge on the Han River. The lazy, childlike Park Gang-du (Song Kang-ho), who works at his grandfather's ( food stand on the shore — that is, when he's not sleeping — tries desperately to save his young daughter, Hyun-seo (Ko A-sung), from the creature's grasp, but when the monster runs off with her, Gang-du does everything in his limited power to try to get her back — if she's even still alive. He gets help from his well-dressed brother and Olympian archer sister, who are determined to rescue their niece, but the creature has no intentions of just coughing her up. THE HOST wants to be more than just another monster movie, injecting humor and strong family bonds, but it never quite pulls itself together. For every great scene with the creature, there's a silly scene with the family that misses the mark. Still, Song is a hoot to watch, and the special effects folks have created one heck of a cool monster.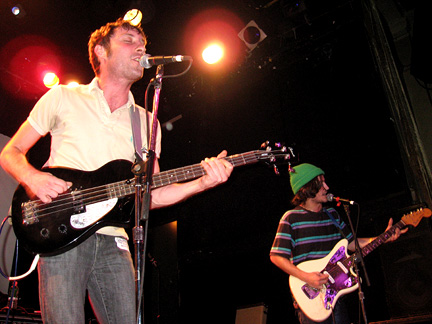 Black Lips bring their raucous show to the Bowery
THE PONYS / BLACK LIPS / PANTHERS
Bowery Ballroom
6 Delancey St. at Bowery
Monday, March 26, 8:00
Tickets: $13-$15
212-533-2111
http://www.myspace.com/theblacklips
http://www.pantherspanthers.com

Atlanta's Black Lips let things fly at their live shows with all the psychotic reactions and carburetor dung they can muster. Playing it fast and loose, they race through crazy, messy tunes sounding like the Replacements if the 'Mats were '60s darlings. Cole Alexander, Jared Swilley, Ian St. Pe, and Joe Bradley, who cite Robitussin as one of their influences, tear through wild sets of what they call "flower punk." Their new album, the live LOS VALIENTES DEL MUNDO NUEVO (Vice Records, February 2007), is like their own condensed NUGGETS compilation, chock full of familiar-sounding songs with bizarre twists, turns, screams, and confusion that endear them to their fanatic fans. LOS VALIENTES kicks butt with such stompers from LET IT BLOOM and WE DID NOT KNOW THE FOREST SPIRIT MADE THE FLOWERS GROW as "Buried Alive," "Hippie, Hippie, Hoorah," "Not a Problem," "Juvenile," and the riotous Beatles riff "Dirty Hands" ("Do you really wanna hold my dirty hands?" they sing), cementing the Black Lips' growing rep as one helluva great retro party band. At the end of "Stranger," the band announces, "This is gonna be the best live record of all time"; while that might not be quite true, it is pretty freakin' awesome. They'll be playing the Bowery Ballroom on March 26 with labelmates Panthers, the Brooklyn-based heavy metal quartet that will be featuring songs from their soon-to-be-released disc, THE TRICK (Vice Records, April 10, 2007).
Topping the bill are the Ponys, the groovy Chicago foursome who are out promoting their third album, the excellent TURN THE LIGHTS OUT (Matador, March 22, 2007). As wild and disorganized as the Black Lips are, the Ponys are far more polished and produced, which is not necessarily a bad thing, especially when you have John Agnello at the controls, whose track record includes Dinosaur Jr., Son Volt, Patti Smith, Social Distortion, and the Hold Steady. The Ponys' techno wall of sound also has a retro feel, with heavy keyboards, power guitars from Jered Gummere and Brian Case, a strong rhythm section anchored by bassist Melissa Elias and drummer Nathan Jerde, and often ghostly vocals by Gummere. Killer hooks abound in such new songs as "Poser Psychotic," "Shine," the organ-driven "Pickpocket Song," the bouncy title track, and the ultra-psychedelic "Double Vision." Make sure to get to the Bowery Ballroom early and stay late; this should be one great night of music.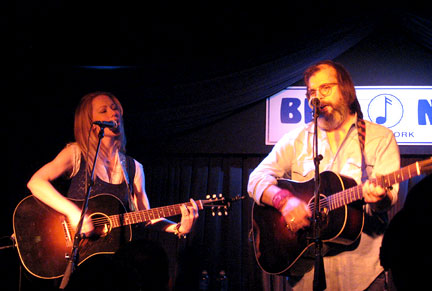 twi-ny/mdr
Husband and wife Earle and Moorer duet in Blue Note debut
STEVE EARLE / ALLISON MOORER
Blue Note
131 West Third St.
Monday, March 12, and Tuesday, March 13, 8:00 & 10:30
March 12 late show reviewed
Tickets: bar $25, table $35
212-475-8592

At the start of the late show on March 12, activist rocker Steve Earle appeared to want to be anywhere but the Blue Note stage. He seemed distracted and ornery, but maybe that's because he's a very busy man these days — he's working on a new album, writing a book, and starring in HBO's hit series THE WIRE, which explained his very bad hair day. (He noted that the folks at the cable channel won't allow him to change his hairstyle or shave his thick, graying Grizzly Adams beard until the season's over.) He opened with a new tune, "Goodbye, Guitar Town," a riff on his first hit, then trampled through perfunctory versions of such older songs as "South Nashville Blues" and "My Old Friend the Blues" before telling a long story about seeing blues greats Mance Lipscomb and Lightnin' Hopkins together in a Texas bar many years before. (Perhaps Earle had decided to concentrate on blues numbers for his Blue Note debut.)
Well, it did the trick, because Earle was on fire the rest of the night, beginning with Lipscomb's "So Different Blues" and Hopkins's "Limousine Blues," followed by mentor Townes Van Zandt's "Rex's Blues." Earle was back in his element, a natural troubadour with a lot to say about music, love, and the sorry state of the world, especially in regard to the current administration and the Iraq war. He nailed "Ft. Worth Blues," his tribute to Van Zandt, and "The Devil's Right Hand," perhaps his best song, before getting political with the Civil War ballad "Dixieland" and the effective if obvious "Rich Man's War." He then brought out his wife, Allison Moorer (who had opened the show with a charming set of her own, including the sweet "Alabama Song" and tunes from her latest CD, GETTING SOMEWHERE), to duet on a poignant "Where Have All the Flowers Gone?" After closing with "Jerusalem," Earle left the stage in a hurry, he and Moorer most likely heading straight back to their Greenwich Village apartment, ready to do it all over again the next night.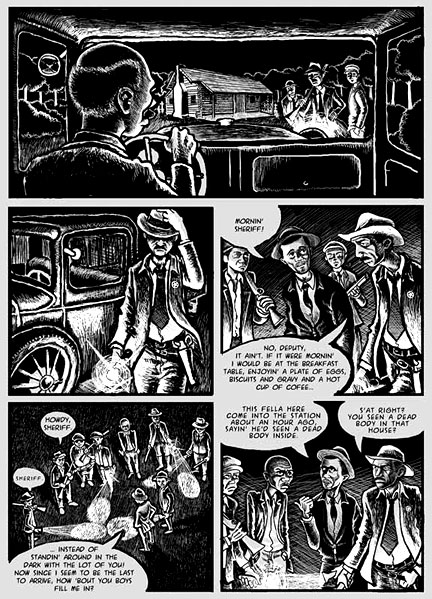 © 2006 by Rob Vollmar and Pablo G. Callejo
BLUESMAN by Rob Vollmar and Pablo G. Callejo
http://www.bluesmanproject.com

This three-book "twelve bar graphic narrative in the key of life and death" is set in the Deep South in the 1920s, with bluesman Lem Taylor looking for a place to play his guitar — and to eat and sleep. He hooks up with piano player Ironwood Malcott, a wildcat who likes to tickle the ivories as well as the local ladies. After getting a gig at Shug's juke joint, Ironwood soon finds himself in the arms of the wrong woman. Book one is supplemented by quotes from writings by Ira Deldoff that put the fictional tale firmly within the history of the Mississippi Delta blues. In Book Two, Taylor is on the run from a grizzly scene, blood on his shirt, while Sheriff Beasely is pressured by bigwig Jackson Bilyeu to make an arrest. And in book three, racial intolerance paves the way for a gripping conclusion as Taylor desperately seeks the answers that can clear him of the crimes he's been accused of. Rob Vollmar's words and Pablo G. Callejo's woodcut-like drawings help readers feel both the glory and the pain of the blues, bringing alive the music and the fear of those troubled times. BLUESMAN has been optioned for the movies, with Keb' Mo' attached.


All contents copyright 2007 by Mark Rifkin and twi-ny. All rights reserved. Contents may not be reprinted without written permission. Please note that events, dates, and prices are subject to change.
Send all comments, suggestions, reviews, and questions to mark.rifkin@twi-ny.com.
Please note that some e-mail clients may wrap links, so be sure to enter them fully into your browser.
To subscribe to this list, please e-mail the administrator at admin@twi-ny.com with the word Subscribe in the Subject line; be sure to ask for back issues, which are free as well. To unsubscribe from this list, please think it over twice before e-mailing the same address. Please let us know what you didn't like about this forum and we'll do our best to correct it in the future -- if we agree with you. If you would like to see something covered in a future issue, please let us know. Without you, there is no need for us to exist.

twi-ny top two dozen (or so) weekly reminders & special events
BAMart SILENT AUCTION
Brooklyn Academy of Music, Peter Jay Sharp Building
30 Lafayette Ave. between Ashland Pl. & St. Felix St.
Admission: free
718-636-4101
Monday, March 12
through
Sunday, March 25 Silent auction of works from more than one hundred artists, with all works on view in the BAM Peter Jay Sharp Building and online, with an opening-day cocktail reception on March 12 at 6:00 and a closing reception on March 25 at 3:30

CENTERED IN THE STORM
Walter Reade Theater
165 West 65th St. between Eighth Ave. & Broadway
March 14-20
Tickets: $10
212-875-5600
Tuesday,March 14
through
Monday, March 20 Works by Master Filmmaker Tian Zhuangzhuang, featuring multiple screenings of THE GO MASTER (Tian Zhuangzhuang, 2006), THE BLUE KITE (Tian Zhuangzhuang, 1993), and SPRINGTIME IN A SMALL TOWN (Tian Zhuangzhuang, 2002)
MAGIC IN MUSIC AND MOTION:
THE SIGHTS AND SOUNDS OF HARRY SMITH
Anthology Film Archives
32 Second Ave. at Second St.
Tickets: $8
718-399-6359
http://www.anthologyfilmarchives.org
Tuesday, March 14
through
Monday, March 20 Weeklong celebration of the legacy of Harry Smith, including the preservation premiere of NO 12: HEAVEN AND EARTH MAGIC (Harry Smith, 1957-62), the New York premiere of THE OLD, WEIRD AMERICA: HARRY SMITH'S ANTHOLOGY OF AMERICAN FOLK MUSIC (Rani Singh 2006) with Singh in person, Essential Cinema programs of Smith shorts, and FILM $18: MAHAGONNY (Harry Smith, 1970-80)
POGUES
Roseland Ballroom
239 West 52nd St. between Broadway & Eighth Ave.
Tickets: $54
212-247-0200
http://www.roselandballroom.com/concerts.html
Wednesday, March 14 The Pogues, with the Holloways, 8:00
Thursday, March 15 The Pogues, with Langhorne Slim, 8:00
Saturday, March 17 The Pogues, with the Tossers, 8:00
TINA LOUISE
Borders
Shops at Columbus Circle
Admission: free
Thursday, March 15 Former GILLIGAN'S ISLAND castaway reads from and signs her new children's book, WHEN I GROW UP, 5:30
NEW YORK ALLEYCATS
Barnes & Noble
105 Fifth Ave. at 18th St.
Admission: free
Thursday, March 15 Amy Bolger signs copies of her new photography book, NEW YORK ALLEYCATS, featuring illustrations by Gred Ugalde and text by Kevin "Squid" Bolger, 6:00
ALL CITY FUNDRAISER
DKNY
655 Madison Ave. at 60th St.
Admission: free
212-223-3569
Thursday, March 15 Book signing and art installation for GRAFFITI NYC, featuring appearances by some of the graf writers in the book, 6:30 — 8:30
CREATIVE CHRONICLES OF THE LOWER EAST SIDE
China House New York
20 Clinton St. between Houston & Stanton Sts.
Admission: free
212-353-5052
http://www.chinahousenewyork.com
Friday, March 16 Opening reception of group exhibition representing a cross-section of art and artists from the Lower East Side, 7:00
ARTISTS TALK ON ART
School of Visual Arts, third-floor amphitheater
209 East 23rd St. between Second & Third Aves.
Admission: $7
212-592-2010
Friday, March 16 Let the Sound Do the Talking: panel discussion on sound art and contemporary music with Paololluca Barbieri, Joe Diebes, Charlie Morrow, Phil Kline, and Michael Schmacher, moderated by Ombretta Agro, 7:00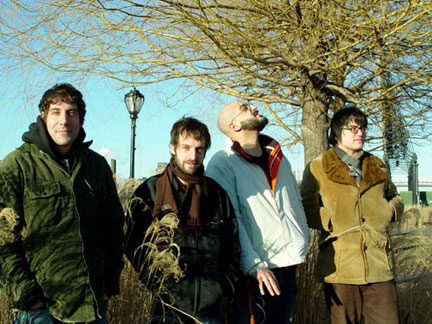 Pilar Gonzalez
The Golden Revelry will gather at Pete's for CD release party
THE GOLDEN REVELRY
Pete's Candy Store
709 Lorimer St. between Richardson & Frost Sts., Williamsburg
No cover charge
718-302-3770
http://www.petescandystore.com
Friday, March 16 CD release party of the Golden Revelry's eponymous album, self-described as "leisure music for a serious crowd," with Alice Cohen at 9:00, A Blanket of Snow at 10:00, and the Golden Revelry at 11:00
A STEAMY DANCE NIGHT
Russian & Turkish Baths
268 East Tenth St. between First Ave. & Ave. A
Tickets: $20-$50 depending on when you enter
http://www.geminiandscorpio.com/events.html
http://www.russianturkishbaths.com
Friday, March 16 Continuing party series featuring steam baths, Gypsy music by Zagnut Cirkus Orekstar, DJ Joro-Boro and his EthnoMesh Megalophonia mix, free pierogies, optional massages and platzas, a smoking deck with beds, open bar from 9:00 to 11:00, and more
BOWERY BROADSIDES
Bowery Poetry Club
308 Bowery between Houston & Bleecker Sts.
Admission: free, with two-drink minimum
212-614-0505
Friday, March 16 Farfalla Press hosts reading series featuring Jessica Rogers and Lee Ranaldo; first fifty patrons receive free poetry broadside from Rogers and Ranaldo, 10:00
IRISH FEVER
Guyon Tavern at Historic Richmond Town
441 Clarke Avenue at Arthur Kill Road, Staten Island
Admission: $15, includes one free drink — prepaid reservations required
718 351-1611 ext281
http://historicrichmondtown.org
Friday, March 16
and
Saturday, March 17 Irish Fever pays traditional favorites as part of the Tavern Concerts series, 7:30 & 9:00
NYC FIRST ROBOTICS COMPETITION
Jacob K. Javits Center
655 West 34th St.
800-871-8326
Friday, March 16
through
Sunday, March 18 Varsity sport of the mind in which teams of high school students solve common problems within a specific time frame and using robotics, along with the inaugural Science and Technology Career Fair
K2 LOUNGE: TIME TO ASCEND
Rubin Museum of Art
150 West 17th St. at Seventh Ave.
Artists on Art: free
Harlem in the Himalayas: $15-$20, 7:00
CabaretCinema: $7 food/drink minimum, 7:00
212-620-5000 ext 344
http://www.rmanyc.org/programs
Friday, March 16 Harlem in the Himalayas: Eric Lewis
Friday, March 23 Artists on Art: Ken Aptekar, 8:30
Friday, March 23 Artists on Art: Pat Steir, 8:30
Friday, March 16 CabaretCinema: KUNDUN (Martin Scorsese, 19979), introduced by editor Thelma Schoonmaker, 9:30
Friday, March 23 Harlem in the Himalayas: Ben Allison Group
Friday, March 23 Artists on Art: Yoko Inoue, 8:30
Friday, March 23 CabaretCinema: WINGS OF DESIRE (Wim Wenders, 1987), introduced by Stu van Airsdale, 9:30
NEW YORK CITY ST. PATRICK'S DAY PARADE
Fifth Ave. from 44th to 86th Sts.
Admission: free
http://www.saintpatricksdayparade.com
Saturday, March 17 246th annual parade begins at 11:00 am and runs till about 4:00 pm, featuring bagpipers, Irish national societies, Chairman John T. Dunleavy, Grand Marshal Raymond L. Flynn, and much more
NEW MUSIC COLLECTIVE:
DAVID DEL TREDICI'S 70TH BIRTHDAY
Brooklyn Queens Conservatory of Music
58th Seventh Ave. at Lincoln Pl.
Tickets: $10-$15
718-622-3300
Saturday, March 17 New Music Collective concert featuring performances of DRACULA, CHANA'S STORY, and THREE GYMNOPEDIES with Pulitzer Prize-winning composer David Del Tredici as conductor, performer, and raconteur, with Melissa Fogarty, Re'ut Ben-Ze'ev, and Marc Peloquin, 8:00
BARIS OFF BROADWAY
Dance New Amsterdam/BALAM Dance Theatre
280 Broadway at Chambers St., second floor
Tickets: $20
212-563-9111
Saturday, March 17, 7:30
and
Sunday, March 18, 3:00 Blues Meets Bali, featuring Ubud's Anom Putra performing "Baris" (warrior dance), "Ramayana -- Abduction of Sita, Amantes, Topeng Tua" (masked old man dance), "Tigerlily & the Dragonfly, Hanuman the Monkey King, Monkey Mother & Son," and "Wayang Blues" (with music by Etta James), 7:30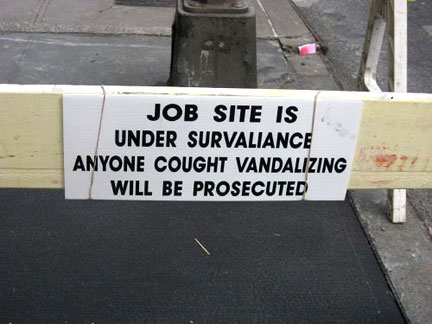 twi-ny/mdr
Sign of the week: on 36th St. in Murray Hill
HAROLD CLURMAN POETRY READING SERIES
The Stella Adler Studio of Acting
31 West 27th St., third floor
Admission: free, but reservations strongly suggested
212-689-0087 ext27
Monday, March 19 John Ashbery and Grace Schulman
AN EVENING WITH PLAYWRIGHT TAKESHI KAWAMURA
CUNY Graduate Center
Martin Segal Theatre
365 Fifth Ave. at 34th St.
Admission: free
212-817-8215
Monday, March 19 Director-playwright Takeshi Kawamura, whose AOI/KOMACHI runs March 22-24 at the Japan Society, sits down for a discussion with director Richard Foreman, 6:30
A CONVERSATION TO HONOR THE MEMORY OF DOC POMUS
Housing Works Used Book Café
126 Crosby St. between Houston & Prince Sts.
Suggested donation: $5
212-334-3324
Monday, March 19 With Alex Halberstadt, Dr. John, Ben E. King, Raoul Felder, and Joel Dorn, followed by a Q&A and a book signing by Halberstadt (LONELY AVENUE: THE UNLIKELY LIFE AND TIMES OF DOC POMUS), 7:00
CLOWNS OF CONEY ISLAND
Galapagos Art Space, frontroom
70 North Sixth St. between Wythe and Kent
Tickets: $5
718-384-4586
http://www.galapagosartspace.com
Monday, March 19 Monday Night Burlesque features a Dottie Lux birthday party thrown by Red Hots Burlesque, with Serpentina, Insectavora, Krazy Kanz, Donny V, Heather Holiday, Velocity Chyaldd, Remy Vicious, and more, 9:30
RESTAURANT WEEK: DINE IN BROOKLYN
March 19-30
Three courses: $21.12
718-802-3846
http://www.visitbrooklyn.org/dining.html
Enjoy "Quality Food — No Attitude on the Side" at this annual celebration of Brooklyn cuisine, which has been experiencing a culinary renaissance of sorts over the last few years. Among the more than 150 participants offering three-course lunches and/or dinners for $21.12 are Gargiulo's in Coney Island, Clemente's Maryland Crabhouse in Sheepshead Bay, Aurora and Dumont in Williamsburg, Blue Ribbon Sushi and Rose Water in Park Slope, Gen in Prospect Heights, Bermuda in Flatbush, Bubby's and Water Street in DUMBO, Le petit Marche and Shinjuku in Brooklyn Heights, Tatiana in Brighton Beach, Quercy and Miriam in Cobble Hill, Marco Polo and Crave in Carroll Gardens, Stan's Place and Bacchus in Boerum Hill, and Goodfella's and Le Maison du Couscous in Bay Ridge.
BRIDGING CULTURAL DIVIDES IN THE MIDDLE EAST
Woolworth Building
15 Barclay St., fourth floor
Admission: free, but RSVP to scps.global.affairs@nyu.edu
212-992-8380
Tuesday, March 20 Screening of PARADISE NOW (Hany Abu-Assad, 2005), followed by a discussion with Dan Georgakas, 6:00
KIRK DOUGLAS
92nd St. Y
1395 Lexington Ave. at 92nd St.
Kaufmann Concert Hall
Tickets: $25-$50
212-415-5500
Tuesday, March 20 The legendary actor in conversation with Dr. Annette Insdorf, 8:00
MACHINE PUNK
APT
419 West 13th St. between Ninth Ave. and Washington
Admission: $10
212-414-4245
Tuesday, March 20 Featuring Chloe, Devin Dirt (live PA), Carrie Whitenoise, and Mesh, 10:00 pm — 2:00 am
ASIA WEEK 2007
Multiple locations
Tuesday, March 20
through
Thursday, March 22 Asian art auctions at Christie's (20 Rockefeller Plaza) and Sotheby's (1334 York Ave. at 72nd St.)
Thursday, March 22
through
Sunday, March 25 Sixteenth annual New York Arts of Pacific Asia Show, Gramercy Park Armory, Lexington Ave. at 26th St., $15 (includes color catalog)
Friday, March 23
through
Wednesday, March 28 The International Asian Art Fair, including special programs sponsored by the Japan Society, the China Institute, the Asia Society, and the Bard Graduate Center, the Seventh Regiment Armory, Park Ave. at 67th St., $20, 212-642-8572
BOOK RELEASE PARTY
Galerie Lelong
528 West 26th St. between Tenth & Eleventh Aves.
Admission: free
212-315-0470
http://www.hardpresseditions.com
Wednesday, March 21 CRITICAL MESS: ART CRITICS ON THE STATE OF THEIR PRACTICE (Hard Press Editions, 2007), edited by Raphael Rubinstein, with contributions by JJ Charlesworth, Arthur C. Danto, James Elkins, Eleanor Heartney, Thomas McEvilley, Peter Plagens, Nancy Princenthal, Katy Siegel, Michael Duncan, Carter Ratcliff, Lane Relyea, and Jerry Saltz, 6:00
WHO DRAWS NEW YORK?
Museum of the City of New York
1220 Fifth Ave. between 103rd & 104th Sts.
Free with museum admission of $9; reservations required
212-534-1672 ext3395
Wednesday, March 21 Panel discussion on the work of Saul Steinberg and his current MCNY exhibit, "A City on Paper: Saul Steinberg's New York," with artists Bascove, R.O. Blechman, Maira Kalman, Rick Meyerowitz, and Edward Sorel, moderated by Steven Heller, 6:30
AN EVENING WITH JOHN PATRICK SHANLEY
Symphony Space, Peter Jay Sharp Theatre
2537 Broadway at 95th St.
Tickets: $21-$30
212-864-5400
Wednesday, March 21 Selected Shorts: A Celebration of the Short Story, with John Patrick Shanley introducing three short stories of his choosing, 8:00
SEMINARS WITH ARTISTS
Whitney Museum of American Art
945 Madison Ave. at 75th St.
Admission: $8
212-570-7715
Thursday, March 22 Andrea Fraser, 7:00
ANTIQUES OF THE FUTURE
Cooper-Hewitt, National Design Museum
2 East 92nd St. at Fifth Ave.
Admission: $10, registration required
212-849-8380
Thursday, March 22 Lecture and book signing with Lisa S. Roberts at 6:30, followed by a private viewing of the exhibition "Design Life Now: National Design Triennial" at 7:30
EDOM
The Jewish Museum
1109 Fifth Ave. at 92nd St.
Tickets: $10-$15
212-423-3337
Thursday, March 22 The William Petschek Family Music Program presents the fusion jazz ensemble, in conjunction with the exhibition "Dateline Israel: New Photography and Video Art," 8:00
MAKOR MUSIC
Makor Café, Steinhardt Building
35 West 67th St. between Amsterdam & Columbus Aves.
Tickets: $15
212-601-1000
Thursday, March 22 Freedy Johnston and Amy Correia, 8:00
BLACK DANCE: TRADITION & TRANSFORMATION
Danspace Project
131 East Tenth St.
Tickets: $15
212-674-8194
Thursday, March 22
through
Saturday, March 24 651 Arts presents LIKE AN IDIOT, solo dance work by Brazil's Cristina Moura, 8:30
ORPHEUS CHAMBER ORCHESTRA
Metropolitan Museum of Art
Temple of Dendur, Sackler Wing
1000 Fifth Ave. at 82nd St.
Tickets: $60
212-570-3949
http://www.metmuseum.org/calendar
Friday, March 23 Grammy-winning orchestra performs Bach's Cantata No. 42 ("Am Abend aber desselbigen Sabbats") and Cantata No. 134 ("Ein Herz, das seinen Jesum lebend weiss"), 6:30 & 8:30
THORSTEIN VEBLEN AT 150
The New School for General Studies
Theresa Lang Community and Student Center
55 West 13th St. between Fifth & Sixth Aves.
Tickets: $5 per day
212-229-5353
Friday, March 23
and
Saturday, March 24 Two-day celebration of the 150th birthday of original thinker Thorstein Veblen, sponsored by the International Thorstein Veblen Association, featuring papers, panel discussions, and other special sessions
H.T. CHEN & DANCERS
World Financial Center Winter Garden
225 Vesey St. at West & Liberty Sts.
Admission: free
212-945-2600
http://www.worldfinancialcenter.com/calendar
Friday, March 23
and
Saturday, March 24 New York-based dance troupe present APPLE DREAMS, a site-specific work with original music by Fitz Patton, 7:00
COMPOSER PORTRAITS
Miller Theatre
Columbia University
2960 Broadway at 116th St.
Tickets: $25
212-854-7799
Friday, March 23
and
Saturday, March 24 Steve Reich — Music for 18 Musicians, with So Percussion and special guests, 8:00
MADE IN CATALUNYA: CATALAN CULTURE IN NEW YORK
Baryshnikov Arts Center, Howard Gilman Performance Space
450 West 37th St., fourth floor
March 23-31
Admission: free but reservations required at 212-279-4200 or tickets@ticketcentral.com
http://www.baryshnikovdancefoundation.org
In addition to the below events at the Baryshnikov Arts Center, other special Catalan-related programs will be held at the Church of the Ascension and the Metropolitan Museum of Art.
Friday, March 23
and
Saturday, March 24 Laurie Anderson, Lou Reed, and Patti Smith reading Catalan poetry, 8:30
Tuesday, March 27 Agustí Fernández: Extended Piano, 8:30
Thursday, March 29 Poetic Bodies, Part I: "The Little House Under Construction," theatrical Piece by Pep Tosar, and Poetic Bodies, Part II: "Systole, diastole," dance piece by Raravis, Andrés Corchero-Rosa Muñoz, 8:30pms
Friday, March 30 Estramp Jaç, 8:30pm
Saturday, March 31 Gelabert-Azzopardi Companyia de Dansa: Glimpse, 8:30pm
CLIMBERS' CUP
Chelsea Piers Sports Center, Pier 60
23rd St. & the Hudson River
Registration: $20-$40
Spectators: $10
212-336-6000
Saturday, March 24 Sixth annual competition featuring more than fifty routes and power-boulder obstacles, 12 noon — 6:00 pm
A DIALOGUE ABOUT "THE DINNER PARTY"
Brooklyn Museum of Art
Iris and B. Gerald Cantor Auditorium third floor
200 Eastern Parkway
Free with suggested museum contribution of $8
718-638-5000
http://www.brooklynmuseum.org/calendar
Saturday, March 24 A conversation between Judy Chicago and Dr. Elizabeth A. Sackler on "The Dinner Party" installation and the new Elizabeth A. Sackler Center for Feminist Art, followed by a book signing, 3:00
THE KISSING BOOTH: THE LUCK OF THE IRISH
D-Lounge
101 East 15th St. off Union Square, basement level
Cover charge: $5 plus two-drink minimum (includes $3 beers)
212-375-1110
http://www.dloungenyc.com/schedule.htm
http://www.myspace.com/thekissingboothnyc
Saturday, March 24 Fantastical comedy, sketch, video, and other surprises with an Irish theme, hosted by Brandy & Sara, followed by a dance party honoring Anya Garrett and Marianne Ways, 10:30
CHICHA LIBRE
Barbès
376 Ninth St. at Sixth Ave.
Park Slope, Brooklyn
(Strongly) suggested donation: $8-$10
718-965-9177
http://www.barbesbrooklyn.com/calendar
Monday, March 26 Psychedelic Surf Cumbias from the Amazon, 10:00
OSSI PIAMENTA + FRIENDS
B.B. King Blues Club & Grill
237 West 42nd St. between Seventh & Eighth Aves.
Tickets: $10-$15
212-997-4144
Tuesday, March 27 Post-Beacon Theater Allman Brothers Party, featuring Yossi Piamenta, Kenwood Dennard, Kofi Burbridge, and Jon Madoff, 11:30
ROBYN HITCHCOCK & THE VENUS 3
The Knitting Factory, Main Space
74 Leonard St. between Broadway & Church St.
Tickets: $25
212-219-3006
http://www.knittingfactory.com
Tuesday, March 27
and
Wednesday, March 28 The iconoclastic, eclectic, ironic, and peripatetic Robyn Hitchcock takes the stage with Scott McCaughey, Peter Buck, and Bill Rieflin in support of their new EP, SEX, FOOD, DEATH…AND TARANTULAS; Johanna Kunin opens the show, 8:00
READINGS ON THE 4th FLOOR
P.S. 107, John W. Kimball School
1301 Eighth Ave. between 13th & 14th Sts., Brooklyn
Monthly through June 5
Tickets: $12, all proceeds go toward building and stocking a library for the school
Advance tickets available online and at the Community Bookstore, 143 Seventh Ave., Park Slope, 718-783-3075
718-330-9340
Wednesday, March 28 Reporting from Iraq, with journalists and correspondents George Packer, Jacki Lyden, and Michael Moss, moderated by Leslie Gelb, 7:30