Tony Oursler, "Mercury," 2006
Twi-ny, This Week In New York
TONY OURSLER: THOUGHT FORMS
Metro Pictures
519 West 24th St. between Tenth & Eleventh Aves.
Closed Sunday & Monday
Through March 25
Admission: free
212-206-7100
http://www.metropicturesgallery.com

Innovative multimedia artist and native New Yorker Tony Oursler has been mixing sound and image in unique installations since the late 1970s. We were recently blown away by his "Braincast" at the sparkling Seattle Public Library, where we kept riding up and down the escalator to learn more about the bizarre woman trapped inside the wall. Four of Oursler's Thought Form pieces are currently delighting, confusing, disturbing, and entertaining people in three gallery spaces at Metro Pictures in Chelsea. Oursler projects blinking eyes and talking mouths onto white amorphic sculptures representing mercury, water, and dust, with images of stars and shadows spilling out against the walls. The sounds all collide so only certain words will jump out at you, grabbing you suddenly. Be sure to go up the stairs to see another of Oursler's sound-and video works; it is not part of the actual show, but Metro usually features one of his other similar pieces there on a rotating basis. See below for his companion exhibit at Nyehaus at the National Arts Club by Gramercy Park.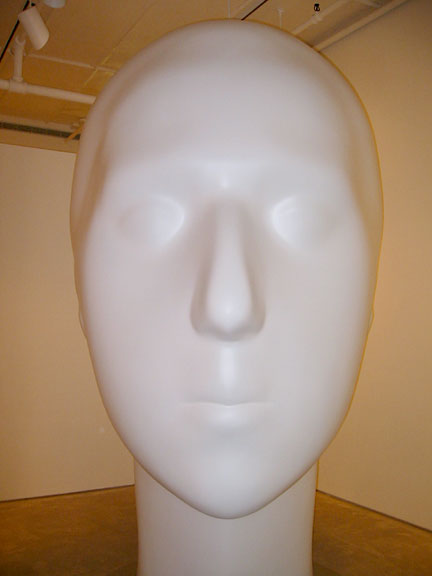 twi-ny/mdr
Susanna welcomes visitors to Lohin Geduld
PHILIP GRAUSMAN: SCULPTURE AND DRAWINGS
Lohin Geduld Gallery
531 West 25th St. between Tenth & Eleventh Aves.
Closed Sunday and Monday
Through March 11
Admission: free
212-675-2656

Philip Grausman, who is the critic of architectural drawing at Yale, will get no criticism from us for his current exhibition at Lohin Geduld. As you walk into this small gallery, you are greeted by Susanna, a huge white fiberglass head that is ten feet tall. Mixing classic Greek and Roman sculpture with a modernist flair, Grausman breathes intoxicating life into the compelling object; be sure to walk around it to get the full effect, including checking out her cool hair. Along with eight sketches, thirteen other mounted heads share the space with Susanna, although they are more life-size and are made of stainless steel, their silver sheen polished to a smooth finish. From a grumpy Emerson to a proud Victoria, from a long-necked Melanie to a long-faced Mikey, from a demurely smiling Julie to a rather stern Barbara, Grausman's heads, and their very specific hairstyles, each has a very defined, individual character that will pull you in. They also all have their eyes closed, allowing you to look at them unselfconsciously.

SALLA TYKKÄ: ZOO
Yvon Lambert
564 West 25th St. between Tenth & Eleventh Aves.
Closed Sunday & Monday
Through March 25
Admission: free
212-242-3611

Confronting the image of women in Hollywood films head-on, Finnish artist Salla Tykkä's latest short film, ZOO (2006), is a Hitchockian thriller in which the beautiful blonde heroine with upswept hair and a tight little black suit is holding the camera herself. At first the protagonist, a mix of Kim Novak (VERTIGO), Grace Kelly (REAR WINDOW), and Tippi Hedren (THE BIRDS, MARNIE), calmly makes her way through an empty zoo, taking pictures of animals. But when the Bernard Herrmann-esque score rifles up, she is suddenly alert to impending danger (as if the characters in movies could ever hear the score…), running in her high heels, peering over her shoulder, fearing for her life. These shots are intercut with scenes of an underwater rugby match featuring men and women trying to get a ball into a basket, with drowning a seemingly distinct possibility. Tykkä's sly work subverts both genre and gender, turning the gaze off the character and instead putting it on the audience. The film is supplemented with a gallery of still images.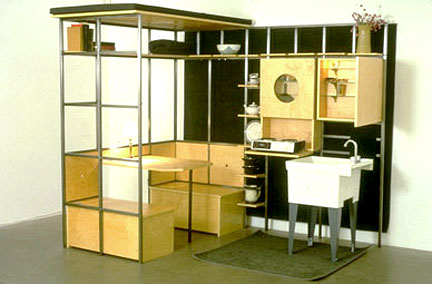 Photo by Peter Muscato, © Andrea Zittel
"A-Z Management and Maintenance Unit, Model 003," 1992
ANDREA ZITTEL: CRITICAL SPACE
New Museum of Contemporary Art
556 West 22nd St. between Tenth & Eleventh Aves.
Closed Sunday and Monday
Through May 27
Admission: $6 ($3 Thursdays 6-8)
212-219-1222
http://www.newmuseum.org/now_current.php

A former Brooklynite who was born in Southern California and has lived in the desert near Joshua Tree, forty-year-old Andrea Zittel has been experimenting with the concept of public and private space and their limitations and possibilities for more than fifteen years. This midcareer retrospective examines the wide expanse of territory she covers in her desire to make life more compact -- physically, psychologically, and environmentally. "The best rules are never stable or permanent, but evolve naturally according to context or need," she writes in her list of fourteen "things I know for sure." She continues, "What makes us feel liberated is not total freedom, but rather living in a set of limitations that we have created and prescribed for ourselves." You can cook, clean, read, and sleep in different boxes in the mazelike "A-Z Cellular Compartment Unit." (Many of Zittel's works begin with "A-Z" not only because they are her initials but because they evoke a sense of completeness, of a whole, with a beginning and an end.) The seventeen-minute DVD projection "Sufficient Self" gives a good overview of what she is about and where she is coming from with her unique sense of design and living space — and sense of humor. You might remember "A-Z Deserted Islands VI and VII," a pair of nearly identical personal flotation devices that have navigated the Central Park boat basin. "A-Z Raugh Furniture" is made of foam rubber. "A-Z Breeding Unit for Averaging Eight Breeds" offers an alternative to modern methods of genetic breeding. "Missouri Egg Machine" seeks to make one well-cared-for egg instead of a mass-produced multitude.
A trio of "A-Z Escape Vehicles," pods in which people can shield themselves from the rest of the world, are owned and customized by Robert Shiffler (a pool), Andrea Rosen (a very clean, very white romantic hideaway with Champagne and music), and Zittel herself (a fiberglass cave). "Free Running Rhythms and Patterns, Version II" is a series of panels depicting Zittel's attempt to live in an enclosed space for twenty-four hours without access to time or natural light. You can set up dinner on "A-Z Carpet Furniture." An army of "A-Z Personal Uniforms" is made of organic materials and can be worn for six months at a time, saving much-needed closet space. Down the steps is the "A-Z Living Unit Customized for Eileen and Peter Norton," including microwave, as well as the "A-Z Management and Maintenance Unit, Model 003," which combines the kitchen and dining room into one tiny, open area. Instead of feeling confining with so many objects compacting daily life, "Critical Space" will free your mind, expanding your thoughts about conditions both at home and at work, presenting a fresh perspective on your sense of being trapped in the big city. See below for Zittel's companion exhibit at the Whitney Museum at Altria.

PUBLIC PROGRAMS
New Museum of Contemporary Art
Free with museum admission of $6 unless otherwise noted
212-219-1222
http://www.newmuseum.org/now_calendar.php
Wednesday, March 15 Andrea Zittel Book Club: Defining Character, led by Alix Strauss, author of THE JOY OF FUNERALS, $10, 6:30
Thursday, March 30 Special Insights: Gallery Talk with Jacqueline Khiu, RSVP required, 6:30
Wednesday, April 5 Andrea Zittel Book Club: Product Fetishes, led by Ellen Lupton, $10, 6:30
Thursday, April 20 Special Insights: Gallery Talk with Paola Antonelli, RSVP required, 6:30

Saturday, April 22 Family Days: Building Blocks, sponsored by the Center for Architecture Foundation, for children seven to fourteen (free) with adult (free with museum admission of $6), RSVP required, 10:00 am
Wednesday, May 10 Andrea Zittel Book Club: The Importance of Place / Personal Landscapes, led by Roberta Beuka, $10, 6:30
Thursday, May 18 Special Insights: Gallery Talk with Cameron Sinclair, RSVP required, 6:30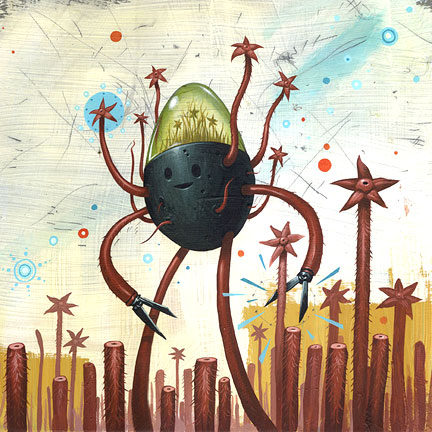 Jeff Soto, "The Harvester," acrylic on wood, 2005
JEFF SOTO: SUPERNOVA
Jonathan LeVine Gallery
529 West 20th St., ninth floor
Closed Sunday & Monday
Through March 18
Admission: free
212-243-3822
http://www.jonathanlevinegallery.com

Jeff Soto, who recently had his first baby, gives birth to this awesome collection of new acrylic paintings on wood, creating an inviting world that might not be quite as playful as it first appears. Soto's smiling robotic alien beings tramp across landscapes of tree stumps, flowers, butterflies, insects, snakelike figures, and buildings with breasts. In "Wild Growth," a tree in full bloom bursts out of a psychedelic skull. In "Growers," futuristic terrariums welcome the next generation. The grinning "Skully" has white stars for eyes, while the more gruesome skull in "Happy and Sad at the Same Time" has blue hearts in his orbital sockets. There's a holey pig hiding in "Wild Overgrowth." Soto summons the war in Iraq with "M16A2" with its large rifle and yet more skulls. A palm tree burns in the narrow, vertical "Los Angeles Landscape Painting." The twelve-foot-long, three-panel "Battle for Twin Palms" features much of Soto's iconic imagery — robots, clouds, fire, breasts, eyes, horns, snakes, insects, thorns, blocks, flowers, and words ("Let's lynch the landlord"). Each of the four seasons is depicted in an eerie, surreal way. The show is supplemented with a gallery of preparatory ink drawings, but the ultimate highlight is Soto's site-specific autobiographical collage that runs across two walls and includes smaller paintings, family photographs, ads from newspapers and magazines, wall sketches, cassette tape, book covers, barometers, notes, medical drawings, school records, naked pin-ups, and other interesting effluvia.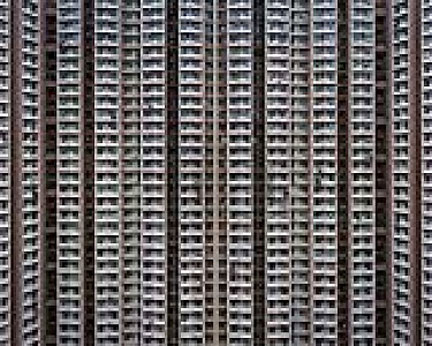 Michael Wolf, "Architecture of Density (a32)," 2004
MICHAEL WOLF: THE ARCHITECTURE OF DENSITY
Hasted Hunt
529 West 20th St., ninth floor
Closed Sunday & Monday
Through April 8
Admission: free
212-627-5117

Michael Wolf makes his New York City debut with this stunning group of large-scale photographs of Hong Kong apartment buildings. Beautifully abstract from a distance, evoking the endless patterns of urban life, these pieces are powerfully intimate up close, with windows offering glimpses into personal worlds that break the pattern, if only with a bit of laundry. These accordion-like urban grids, which come in all kinds of color schemes, are not digitally manipulated; each one is a single, untouched image. They're simply spectacular. Also at Hasted Hunt is Lynne Cohen's "Mixed Messages," large-scale photographs of architectural interiors, spacious rooms bathed in blues and yellows, including a pool and a spa. Both Cohen and Wolf will be in attendance at a reception for the artists on March 4 from 6:00 to 8:00.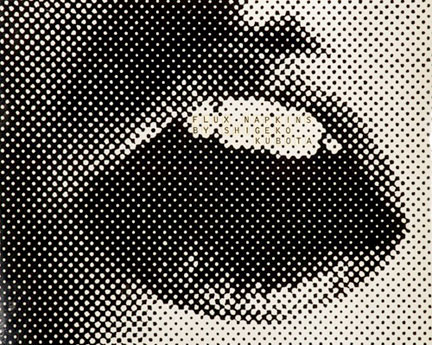 Jonas Mekas, Maya / Stendhal Gallery
Shigeko Kubota, "Flux Napkins," at Maya / Stendhal
OTHER CHELSEA GALLERIES
Various locations
Closed Sunday & Monday
Admission: free
While making your way through Chelsea, there are some other stops well worth making. Louise Fishman's large-scale abstract works come alive with vibrant color and bold, slashing brushstrokes (through March 25 at Cheim & Read, 547 West 25th St., http://cheimread.com). Rachel Whiteread brings dozens of her plastered and painted white cardboard boxes, as well as drawings and collages, to explore space and storage in "Bibliography" (through April 1 at Lurhing Augustine, 531 West 24th St., http://www.luhringaugustine.com). You have only a few more days to catch Jake Berthot's dark, gorgeous oil paintings and drawings that hearken back to the Hudson River School (through March 4 at Betty Cuningham, 541 West 25th St., http://bettycuninghamgallery.com). And renowned filmmaker and art activist Jonas Mekas pays tribute to Fluxus founder George Maciunas with "Fluxus: To George with Love," sharing his personal collection of a wide range of items related to the influential art movement of the 1960s headed by Maciunas, known as the Father of SoHo (through March 31 at Maya / Stendhal, 545 West 20th St., http://www.mayastendhalgallery.com). Questioning authorship and ownership and the very notion of art itself, Fluxus featured such contributors and collaborators as Nam June Paik, Yoko Ono, Paul Sharits, Joseph Beuys, George Brecht, Ay-O, and many others, seeking, in the words of Maciunas, to "purge the world of bourgeois sickness." On view here are books, letters, filmstrips, photographs, boxes, personal records, drawings, collages, posters, and more, as well as the Fluxfilm Anthology, featuring thirty-five avant-garde short films by Pak, Maciunas, Ono, Brecht, James Riddle, Ben Vautier, Jon Hendricks, Robert Watts, Sharits, John Cale, and others. The public opening reception will be held on March 11 from 6:00 to 9:00. Mekas is also the founder of Anthology Film Archives; see below for some upcoming screenings at the Lower East Side standby.

In the Neighborhood
WINE & WISHES
Make-A-Wish Foundation of Metro New York
Pier Sixty, Chelsea Piers
23rd St. & the Hudson River
212-849-6993
http://www.metrony.wish.org/calendar/upcoming_special_events.php
Wednesday, March 15 Third annual charity fundraiser, featuring live and silent auctions, food and wine tastings, and more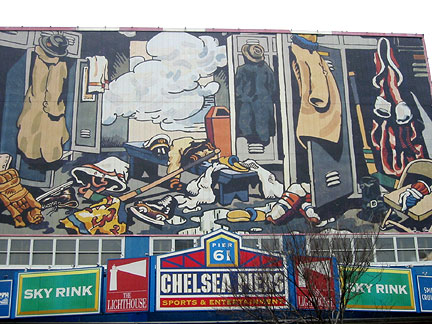 twi-ny/mdr
You won't find a locker room quite like this one inside Chelsa Piers
SKY RINK AT PIER 61
Chelsea Piers
23rd St. & the Hudson River
General skating admission: $11 adults, $8.50 children
212-336-6100
http://www.chelseapiers.com/sr01.htm
Now that the Olympics are over, you can try to win your own gold medal at Chelsea Piers. General skating is available every day starting at 1:00 or 1:30 and continuing through 3:50 or 5:20. Adult hockey takes place every evening. There's also a skating school, freestyle/dance classes, youth hockey, instructional skating and hockey clinics, and more at the East and West Rinks. The murals at Chelsea Piers, including the one pictured above, are by Oregonian Pop artist John Clem Clarke, who often incorporates the style of the Old Masters in his pieces. Here Clarke imagines a busy locker room with hockey equipment, a boxing robe, reporters' hats and coats, and a steam cloud rising in the back.

In the Thematic Neighborhood
THE REVIEW PANEL
National Academy Museum and School of Fine Arts
1083 Fifth Ave. between 89th & 90th Sts.
Admission: $5 (includes entry to exhibits at National Academy)
212-369-4880
http://www.nationalacademy.org
http://www.artcritical.com/REVIEWPANEL/index.htm
Friday, March 3 David Cohen moderates Michael Brenson, Martha Schwendener, and Lilly Wei discussion Jake Berthot at Betty Cuningham, Thomas Nozkowski at Max Protetch, Rachel Whiteread at Luhring Augustine, and Su-en Wong at Danese, 6:45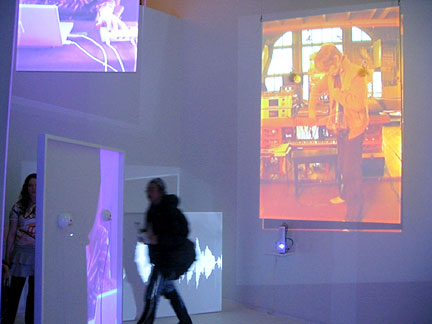 twi-ny/mdr
People interact with Oursler's "Sound Digressions"
TONY OURSLER:
SOUND DIGRESSIONS IN SEVEN COLORS
Nyehaus
15 Gramercy Park South between Park Ave. & Irving Pl., #8D
Through April
Closed Sunday & Monday
Admission: free
212-995-1785

Tony Oursler rounded up seven unique artists to create this exciting audiovisual collaboration. In the small downstairs space, seven four-by-six-feet sandpapered and framed white plexiglass screens are propped up in the corner, lie on their side, or hang from the ceiling, each equipped with two speakers (like a pair of eyes or ears). In a random loop, seven DVDs project video of the musicians creating avant-garde pieces specifically for this installation, each getting its own color scheme and occasionally adding the waveforms associated with their music: Tony Conrad (the only one in black and white) wields antique school bells, Kim Gordon gets spacey with her bass, Ikue Mori sits calmly at her computer, Zeena Parkins experiments with her electric harp, Lee Ranaldo slices at his guitar, J.G. Thirlwell slings a bow on his aquasonic, and Stephen Vitiello messes with photocells and other electronics. The blending of color and sound creates a cacophonous concert that would make John Cage proud, every second being a wholly new and original piece of music. The opening-night party got a bit surreal as we spoke about the installation with Sonic Youth's Ranaldo right next to two screens showing him making sweet, strange sounds. Go upstairs not only for another view of the open space below but to see seven colored canvases featuring a large silhouette of each musician decorated with a tiny DVD screen, showing their recording session for Oursler, which syncs up with the projected images on the screens.
Midtown Exhibit of the Week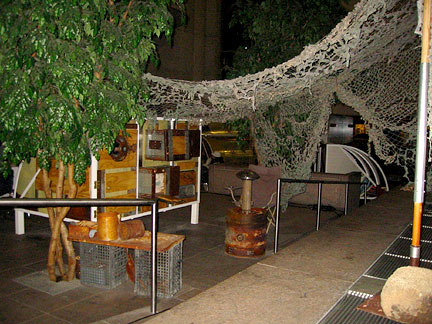 twi-ny/mdr
Guy Green's "WGNSTN" camps out in Midtown atrium
ANDREA ZITTEL: SMALL LIBERTIES
The Whitney Museum of American Art at Altria
120 Park Ave. at 42nd St.
Through June 18
Sculpture Court open Monday — Saturday 7:30 am — 9:30 pm, Sunday 11:00 am — 7:00 pm
Gallery open Monday — Wednesday and Friday 11:00 am — 6:00 pm, Thursday 11:00 am — 7:30 pm
Admission: free
917-663-2645
http://www.whitney.org/www/exhibition/index.jsp
http://www.highdeserttestsites.com

This companion piece to the more wide-ranging "Critical Space" at the New Museum of Contemporary Art focuses on one aspect of Andrea Zittel's work, what she calls Wagon Station Customizers — which are sort of like tree houses for adults. Approximately the size of station wagons, these unique living spaces are custom-made for the individual and are viable homes in the outdoors. (Most of the units on view at the New Museum are meant for the indoors; many of these were made for the desert near Joshua Tree.) They are sort of like miniaturized personal Winnebagos that you can take on the road and park wherever you want, creating new communal living areas. The atrium and gallery at the Whitney Altria contain eleven such wagon stations. They seem are oddly out of place here, visible across the street from Grand Central Terminal, where so many people go about their daily commute in a daze and haze of conformity and limitation. Inside the small gallery are Chris James's "climber's refuge and storage unit," with a paraffin floor and bare lightbulb, and Giovanni Jance's sound-time installation, the only one you can actually sit in. (Put on the headphones, featuring ambient sound, while watching Zittel's audiovisual slide show projected on the wall, which includes such selections from her diary as "If they weren't so totally competent I would be a lot more worried about the fact that they have hauled their Wagon Station up into the rocks and one leg of it is balancing on a very precarious looking rock.")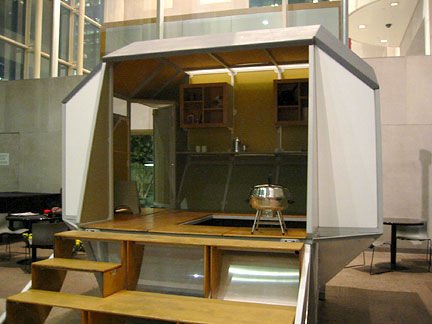 twi-ny/mdr
Jonas Hauptman is ready to move into the Whitney Altria

Right outside the gallery, in the Sculpture Court, David Dodge and Zittel have placed two stations together, back to back, sharing their privacy. Aaron and Susan Noble's station, "customized for maximum psychedelic liberation," is enhanced by Aaron's exterior panel painting and Susan's quilt. Guy Green's "WGNSTN" is a whole campsite unto itself, with outdoor and indoor space. Hal McFeely's station uses discarded materials from the Twenty Nine Palms Air Ground Combat Center and the Morongo Basin. Jonas Hauptman has redesigned his "reKit" station for HDTS4 (High.Desert.Test.Sites), another project spearheaded by Zittel, meant "to challenge traditional conventions of ownership, property, and patronage; to run on a zero budget; and to contribute to a community in which art can truly make a difference." There are also contributions by Connie Walsh and Chris Young, Jennifer Nocon, and Veronica Fernandez and Peter Blackburn.
In the Neighborhood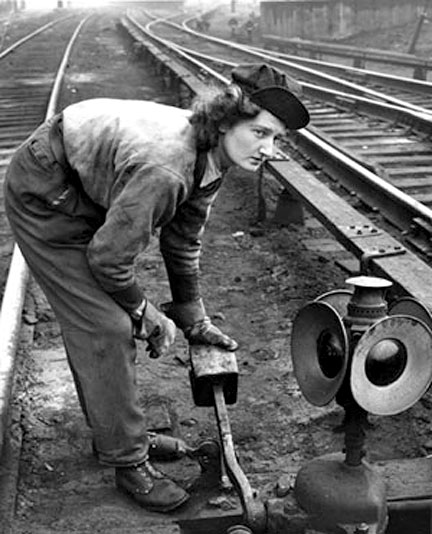 c.1944 Photo by A . F. Sozio
A young woman works as a switch tender at the Sunnyside Yard in Long Island City in the 1940s
MANY HANDS —
REPRESENTATIONS OF RAILROAD WORKERS
New York Transit Museum Gallery Annex
Grand Central Terminal
Shuttle Passage next to the Station Masters' Office
Through July 9
Monday through Friday, 8:00 am — 8:00 pm
Saturday and Sunday, 10:00 am — 6:00 pm
Admission: free
212-878-0106
http://www.mta.nyc.ny.us/mta/museum/programs.htm
http://www.grandcentralterminal.com
http://www.railphoto-art.org/exhibits.asp

The railroads of America — and, more specifically, New York — were built by the hands of thousands of men and women, and this photography exhibit takes a fascinating look back at a bygone era. Featuring the work of such notable photographers as former Pullman porter Gordon Parks, Esther Bubley, Simpson Kalisher, Louis Stettner, Lewis Hine, and others, "Many Hands" goes behind the scenes to show a Long Island Rail Road crew with silly mustaches, women telephone operators plugging in at the old Pennsylvania Station, and a track walker making sure everything is fine near the Bergen Tunnels. Five bearded gents stand in front of an Eerie Railroad train in 1864, while others show off Brooklyn tank locomotive #1 on the Fifth Ave. and Bay Ridge line in 1890. Hine's portrait series of railroad workers features an engineer, a brakeman, a station master, a fireman, and other interesting characters. You'll get a great view of the Morris Park signal tower, help shovel snow off the tracks in wintry 1895, be served in the café car on the New Haven Rail Road Boston Express, and check that the trains are on time with official Grand Central Terminal clock master Jake Batchold. And a slide show in the back reveals what's going on with today's railroad employees. Also on display are unique objects that helped these workers do their often very dangerous jobs, including rail tongs, a brakeman's flag, a train order hoop, a spike maul, and a cool TelAutograph Telescriber that was still being used by Metro-North in the 1980s.
Wednesday, March 15 Michael Zega, TRAVEL BY TRAIN: THE AMERICAN RAILROAD POSTER, 1870-1950, discussion and walk-through of exhibit, free but reservations required at 718-694-1867, 6:00
TOURNAMENT OF CHAMPIONS: SQUASH 2006
Grand Central Terminal
Vanderbilt Hall
Tickets: side wall $35-$80, back wall $50
Although many of the best tickets are already sold out, you can still watch matches in this official Grand Slam event from outside the barriers, or you can check things out on the screen at the temporary bar on the other side of Vanderbilt Hall. Yes, they have Guinness.
Wednesday, March 1 Women's Quarterfinals, 12 noon, 1:00, 6:00, 9:00 pm
Wednesday, March 1 Men's Quarterfinals, 7:00 & 8:00 pm
Thursday, March 2 Women's Semifinals, 6:00 & 9:00 pm
Thursday, March 2 Men's Semifinals, 7:00 & 8:00 pm
Friday, March 3 Women's Championship Match, 6:30 pm
Friday, March 3 Men's Championship Match, 8:00 pm
Film Festival of the Week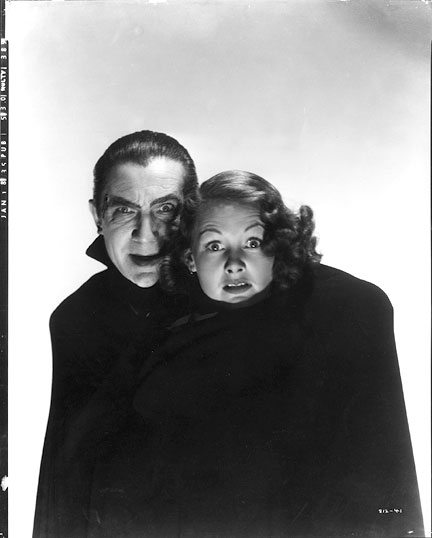 Bela Lugosi brings THE MARK OF THE VAMPIRE to Brooklyn
SOME KIND OF HORROR SHOW
BAMcinematek / BAM Rose Cinemas
Brooklyn Academy of Music
30 Lafayette Ave. between Ashland Pl. & St. Felix St.
March 6-20
Tickets: $10
718-636-4100
http://bam.org/film/series.aspx?id=63

BAM's annual horror extravaganza once again features an international mix of little-seen classics, offbeat surprises , and movies seemingly resurrected from the dead. The intriguing mix of directors includes Dario Argento, John Landis, Michael Mann, Nicolas Roeg, George A. Romero, and Tod Browning as well as a bunch of cool Brits. Oh, and Michael Jackson too.
Monday, March 6 FOUR FLIES ON GREY VELVET (Dario Argento, 1971), 6:50, 9:15 (6:50 screening followed by free opening night party sponsored by the Onion)
Tuesday, March 7 THE KEEP (Michael Mann, 1983), 4:30, 6:50, 9:15
Wednesday, March 8 EYE OF THE CAT (David Lowell Rich, 1969) and A REFLECTION OF FEAR (William A. Fraker, 1973), 7:00
Thursday, March 9 THE DUNWICH HORROR (Daniel Haller, 1970), 6:50, 9:15
Monday, March 13
and
Tuesday, March 14 KURONEKO (Kaneto Shindo, 1968), 6:50, 9:15
Thursday, March 16 INNOCENT BLOOD (John Landis, 1992) and THRILLER (John Landis, 1984), followed by a Q&A with Landis, 7:00
Monday, March 20 MARK OF THE VAMPIRE (Tod Browning, 1935), 4:30, 6:50, 9:15
Tuesday, March 21 THE WITCHES (Nicolas Roeg, 1990), 4:30, 6:50, 9:15
THE WITCHES (Nicolas Roeg, 1990)

Executive producer Jim Henson's feature-film swan song is an enchanting tale of a young boy who, upon encountering a witches convention led by the evil Grand High Witch (Anjelica Huston), is given a tail -- well, actually, he's turned into a cute little mouse. The witches have come up with a plan to rid the world of children by turning them all into rodents, and little Luke (Jasen Fisher) and old Helga (Mai Zetterling) are the only ones who can stop them. However, this is no STUART LITTLE (Rob Minkoff, 1999); based on a wicked story by Roald Dahl and directed by Nicolas Roeg (whose 1973 stunner DON'T LOOK NOW dealt with a couple's agony over their dead child), THE WITCHES is definitely not for younger kids.
Wednesday, March 22 TWISTED NERVE (Roy Boulting, 1968), followed by a Cinemachat with Elliot Stein, 7:30
Monday, March 27 MARTIN (George A. Romero, 1977), 6:50, 9:30 (6:50 screening introduced by Mark Morris)
Tuesday, March 28 DEMON POND (Masahiro Shinoda, 1979), 6:00, 9:00
Wednesday, March 29 MY BLOODY VALENTINE (George Mihalka, 1981), 6:50, 9:15
Thursday, March 30 THE WITCH (Roland Hallstrom, 1952), 4:30, 6:50, 9:15
Also at BAM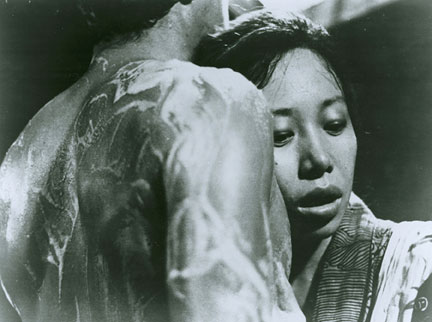 Eiji Okada and Kyôko Kishida get down and dirty in DUNES
MAN IN THE DUNES:
DISCOVERING HIROSHI TESHIGARAHA
BAMcinematek / BAM Rose Cinemas
Brooklyn Academy of Music
30 Lafayette Ave. between Ashland Pl. & St. Felix St.
Through March 19
Tickets: $10
718-636-4100
http://bam.org/film/series.aspx?id=62

BAM pays tribute to the late, great Japanese artist Hiroshi Teshigahara with this compact, diverse collection of five of his eight feature-length works, all of which can be seen in new prints, some with freshly translated subtitles. As these films reveal, Teshigahara was more than just a filmmaker; his storytelling is enhanced by his experience as a painter, sculptor, master flower arranger, architect, and director of theater and opera.
Wednesday, March 1 ANTONIO GAUDI (Hiroshi Teshigahara, 1984), 4:30, 6:15, 8:00, 9:40
Thursday, March 2 ANTONIO GAUDI (Hiroshi Teshigahara, 1984), 7:30, 9:15
Friday, March 3 PITFALL (OTOSHIANA) (Hiroshi Teshigahara, 1962), 2:00, 4:30, 6:50, 9:15
Saturday, March 4
and
Sunday, March 5 PITFALL (OTOSHIANA) (Hiroshi Teshigahara, 1962), 6:50, 9:15
Friday, March 10 SUMMER SOLDIERS (Hiroshi Teshigahara, 1972), 6:50, 9:15
Saturday, March 11
and
Sunday, March 12 THE FACE OF ANOTHER (TANIN NO KAO) (Hiroshi Teshigahara, 1966), 2:00, 4:30, 7, 9:30
Friday, March 17
through
Sunday, March 19 WOMAN IN THE DUNES (SUNA NO ONNA) (Hiroshi Teshigahara, 1964), 3:00, 6:00, 9:00
WOMAN IN THE DUNES (SUNNA NO ONNA)
(Hiroshi Teshigahara, 1964)

Hiroshi Teshigahara's Sisyphean tale, based on Kobo Abe's marvelous novel, tells the story of a man out in the desert looking for insects when he comes upon a village of people living in the sand dunes -- and he is unknowingly sucked into their world. See the movie, but be sure to read the book as well; the scenes of the man trying to escape by climbing up the sand will feel oddly familiar to anyone who has ever been trapped in a seemingly inescapable situation. Teshigahara, who died in April 2001, adds surreal visual elements that make the film an unusually compelling though basically simple story. Abe also collaborated with Teshigahara on PITFALL (OTOSHIANA), THE FACE OF ANOTHER (TANIN NO KAO), and THE MAN WITHOUT A MAP (MOETSUKITA CHIZU).
THE MONTH OF MARK (MORRIS)
BAMcafe live
Brooklyn Academy of Music Opera House Café
30 Lafayette Ave. between Ashland Pl. & St. Felix St.
No cover; $10 food/drink minimum
718-636-4100
http://bam.org/events/bamcafelive.aspx
Friday, March 3 The Western Caravan, 9:00
Saturday, March 4 Karaoke with Mark Morris, 9:00
Friday, March 10 Gamelan Dharma Swara, 9:30
Saturday, March 11 Ivan Milev Band, 9:30
Saturday, March 17 MMDG Ensemble, 9:30
Sunday, March 18 Female a capella group, 9:30
Saturday, March 25 Mary Sherhart's Balkan Cabaret, 9:30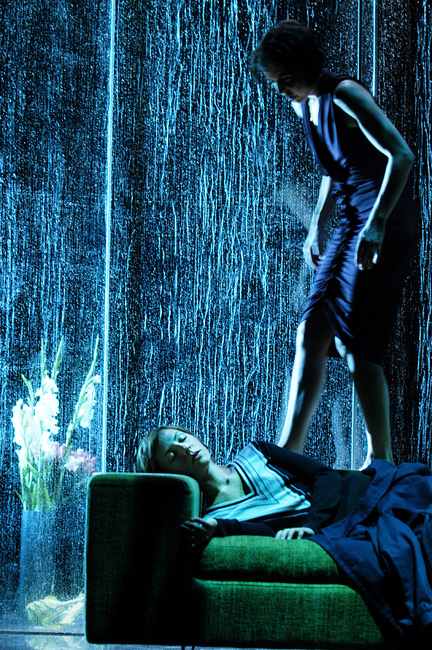 Cate Blanchett lights up the stage in Ibsen's HEDDA GABLER
HEDDA GABLER
Brooklyn Academy of Music
BAM Harvey Theater
651 Fulton Street between Ashland Pl. & Rockwell Pl.
Through March 26; March 2 performance reviewed
Tickets: $30-$85
718-636-4100
http://bam.org/events/06HEDD/06HEDD.aspx

As the Sydney Theatre Company's modernist update of Henrik Ibsen's HEDDA GABLER opens, Cate Blanchett is standing alone in silhouetted darkness, looking contemplative and deeply reflective. It's a marvelously simple way to introduce the movie star to the American stage — as well as reveal her complex title character to the audience, because for most of the next two and a half hours, she whirls about the stage in a comic frenzy, bathed in a glowing light that underscores her thrilling performance. As a modern woman trapped in a traditional world dominated by men — both meek and menacing — Blanchett does a much better impression of Katharine Hepburn here than she did in her Oscar-nominated performance in Martin Scorsese's THE AVIATOR. Hedda has just returned from her six-month honeymoon with Jorgen Tesman (the wonderfully nerdy Anthony Weigh), an obvious mismatch; she breathes sex appeal and power, while he thinks mainly of his aging aunt (Julie Hamilton) and an available professorship that he believes is his only way of avoiding the poorhouse. He is completely oblivious to the way his friend Judge Brack (THE MATRIX's Hugo Weaving) looks at his wife, as well as to the much more overt advances made by his archrival, the brilliant but morally bankrupt Ejlert Lovborg (Aden Young). When Lovborg shows off his manuscript that he thinks might change the world, envy, jealousy, passion, and pride erupt as secrets are revealed and fates are turned upside down. Directed by Robyn Nevin and adapted by Andrew Upton (Blanchett's husband), this staging of the difficult HEDDA GABLER features uncomfortable repetition and overlapping dialogue that tries too hard to be realistic, although that is mostly overcome by the splendid pairing of Blanchett and Weaving (who have worked together before, on the recent films THE LORD OF THE RINGS and LITTLE FISH). As Hedda's life spirals away from her, Blanchett's performance grows ever more complicated even as the plot grows a little tiresome. Be sure to arrive at the Harvey early to check out the exhibit "To Be a Poet Is to See: Ibsen in Our Time," part of Ibsen Year 2006, part of this international centennial celebration of the Norwegian playwright's death.
Last Chance Exhibit of the Week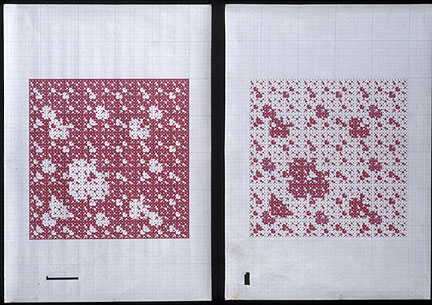 Photo by Gavin Ashworth
Martin Thompson, "Untitled," pen on graph paper, 2002-2005
OBSESSIVE DRAWING
American Folk Art Museum
45 West 53rd St. between Fifth & Sixth Aves.
Closed Monday
Through March 19
Admission: $9
212-265-1040
http://www.folkartmuseum.org/default.asp?id=1266

We have to admit to being a bit obsessive ourselves, so we were immediately drawn to this exhibit of drawings by five living outsider artists who are a bit obsessive both in their life and in their art, which features repeated, intricate, sometimes kaleidoscopic patterns. Hiroyuki Doi had his first one-man show in America in January 2003 at SoHo's Phyllis Kind Gallery, where we wandered in and had the opportunity to talk to him about his unusual artistry (though his English was extremely limited). On view here are seven of his dreamy, untitled pieces in which he begins drawing tiny circles in the middle of a large sheet of paper and then works outward. The resultant amoeba-like amorphous forms make Doi "feel alive." In the center of the gallery are half a dozen colorful works by longtime railroad clerk and stamp collector Eugene Andolsek, whose art has never before been shown in public. For decades Andolsek would come home from his job, take care of his mother, and sit at the table with self-mixed inks and create extraordinary designs on graph paper that are filled with rhythm and movement (and optical illusions), bathed in the colors of the African diaspora. New Zealander Martin Thompson also uses graph paper, making positive and negative grids based on mathematical sequences of ten, all from memory; look for a few small overlays of taped paper, which cover mistakes that he fastidiously corrected.
For more on this and other exhibits at the American Folk Art Museum, visit http://twi-ny.com/twiny.11.23.05.html.
In the Neighborhood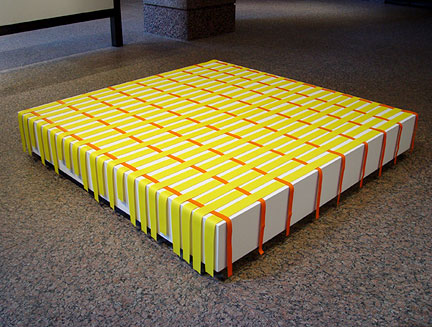 © rossanamartinez.com
Rossana Martinez, "Collide (You & I)," 2006
MINIMALISMS
Gallery W 52
The Lobby Gallery at 31 West 52nd St. between Fifth & Sixth Aves.
Through March 20
Admission: free
212-807-0832
http://www.dinaburgarts.com/projects.htm

It keeps on surprising us just how mediocre this lobby gallery is, especially with the nearby UBS and AXA Galleries, which always have something better to offer. The current exhibit at W52 features minimalist work by eight artists that hardly qualify as, according to the accompanying handout, "today's best reductive art." However, we did get a kick out of Julian Dashper's two hanging recordings, Matthew Deleget's side-by-side colorful architectural canvases, Tilman's three-dimensional lacquers, and Gilbert Hsiao's acrylic pieces that play with perception and optical illusion — and have a little bit of that obsessive quality found in the exhibit across the street at the Folk Art Museum.
SPECIAL ARTS PROGRAMS
Donnell Library Center
New York Public Library
20 West 53rd St. between Fifth & Sixth Aves.
Admission: free
212-621-0618
http://www.nypl.org/branch/central/dlc
Saturday, March 4 In concert with Carol Kaimowitz, soprano, and Frank Daykin, piano, with Cora Gordon, violin, and Holly Singer, cello, 2:30
Sunday, March 5 In concert with Margarita Nuller, piano, 2:30
Monday, March 6 In concert with Eiichi Shimada, piano, 2:30
Thursday, March 9 Viewpoint … "Here Are Ladies (Who Make Films)": ILLUSIONS (Julie Dash, 1982), THE CRUZ BROTHERS AND MISS MALLOY (Kathleen Collins, 1979), and WHAT MASIE KNEW (Babette Mangolte, 1975), 2:30
Saturday, March 11 A Tribute to Mary Ellen Butte: PARABOLA (Mary Ellen Butte, 1938), ABSTRONIC (Mary Ellen Butte, 1952), and FINNEGAN'S WAKE (Mary Ellen Butte, 1967), 2:30
Monday, March 13 "Il Quartetto Degli Amici," with violists Ann Roggen, Ronald Carbone, Lois Martin, and Vincent Lionti, 2:30
Tuesday, March 14 THE DEVIL'S OWN WORK: THE CIVIL WAR DRAFT RIOTS AND THE FIGHT TO RECONSTRUCT AMERICA, illustrated lecture by Barnet Schecter, 6:00
Riff's Rants & Raves
THE NEIGHBOR NO. THIRTEEN (Yasuo Inoue, 2005)
ImaginAsian Theater
239 East 59th St. at Second Ave.
Opens Wednesday, March 8
Tickets: $9
212-371-6682

After playing film festivals all over the world, from Montreal and Germany to Korea and San Francisco, from Rotterdam and Spain to Belgium and the Philippines and more, Yasuo Inoue's feature-film debut finally comes to New York City for this much-anticipated engagement at the ImaginAsian Theater. Based on the popular Japanese manga by Santa Inoue (no relation to Yasuo), THE NEIGHBOR NO. 13 is a tense, bloody, relentless revenge thriller that opens with a beautiful shot of a small cabin in the middle of nowhere — but it is actually the psyche of Juzo Murasaki. As a young schoolboy, Juzo was inexorably taunted by a group of kids led by Toru Akai, who dripped acid on Juzo, scarring him terribly. Years later, a very shy and pretty Juzo (Shun Oguri) gets a job at a construction site where Toru (Hirofumi Arai), who does not recognize him, is still a bully. Tormented in a portable toilet, meek Juzo can't hold back his rage any longer, creating the evil, violent, and scarred No. 13 (Shidou Nakamura), who likes to kill people and leave a mess behind. But No. 13 has bigger plans for getting even with Akai. The cast also features Puffy AmiYumi star Yumi Yoshimura as Akai's wife, Minoru Matsumoto as the God of Death, and Japanese horror icon Takashi Miike (ICHI THE KILLER) as an unfortunate neighbor. There's also a cool animation scene by Taku Inoue, Yasuo's brother. Director Inoue's well-paced thriller is filled with surprises, including an ending that still has us scratching our heads. If you can figure it out, please let us know as soon as you can.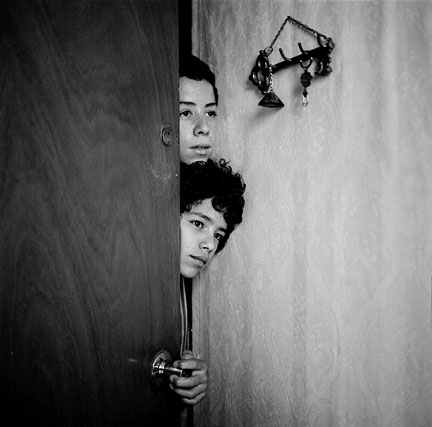 Flama and Moko have no idea what they're in for in DUCK SEASON
DUCK SEASON (TEMPORADA DE PATOS)
(Fernando Eimbcke, 2005)
Opens Friday, March 10
Angelika Film Center
18 West Houston St. at Mercer St.
Tickets: $10.75
212-995-2000
Lincoln Plaza Cinemas
1866 Broadway at 63rd St.
Tickets: $10.50
212-757-2280
http://www.lincolnplazacinema.com
http://www.city-cinemas.com/angelika.html
http://wip.warnerbros.com/duckseason

Mexican writer-director Fernando Eimbcke hits the bull's-eye with his simply charming feature directorial debut, DUCK SEASON. Winner of eleven Ariel Awards and eight Mayahuel Awards in Mexico, DUCK SEASON is about the pure pleasures of being a kid, before the onset of adolescence and adulthood. After his mother goes away for the afternoon, fourteen-year-old Flama (Daniel Miranda) and his best friend, Moko (Diego Catano), think they have the apartment all to themselves for a day of bad food and Halo. When Ulises (Enrique Arreloa), the pizza delivery guy, shows up eleven seconds late, they refuse to pay him — so he refuses to leave. As the three go through a different kind of Mexican standoff, sixteen-year-old neighbor Rita (Danny Perea) stops by to borrow the oven to bake a cake. The lives of these four unique and very entertaining characters come together in weird and wonderful ways over the course of a bizarre and hysterically funny day. Eimbcke and cinematographer Alexis Zabe shoot the film in cool black and white, rarely moving the camera during long takes that fade out much like Jim Jarmusch's STRANGER THAN PARADISE. The film starts out slow, but once it gets going, it's a riot. And don't leave before the credits end or you'll miss a brief bit that offers necessary closure.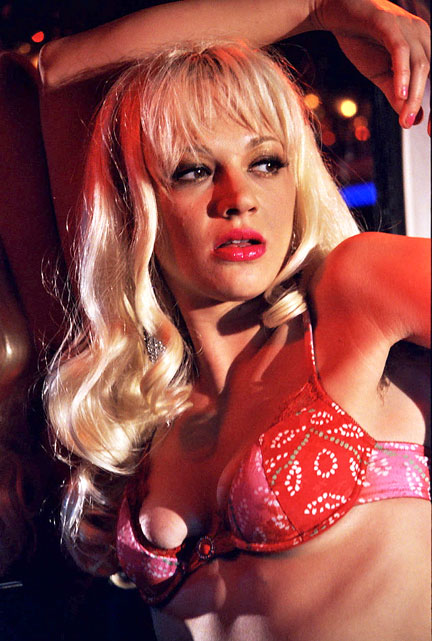 Asia Argento stars as a newfangled Mommie Dearest in HEART
THE HEART IS DECEITFUL ABOVE ALL THINGS
(Asia Argento, 2005)
Landmark Sunshine Cinema
143 East Houston St. between First & Second Aves.
Opens Friday, March 10
Tickets: $10.75
212-330-8182
http://www.landmarktheatres.com/Market/NewYork/NewYork_frameset.htm
http://www.heartisdeceitful.com
http://www.asiargento.it/FILM/film.html

Asia Argento wrote, directed, and stars in this inspired adaptation based on the supposedly autobiographical novel by the recently exposed JT Leroy (a mysterious writer who turned out to be an elaborate creation of a former sex-phone operator). Argento, whose long resume includes a trio of films directed by her cult-fave father, Italian horrormeister Dario Argento, plays Sarah, a drug-addled loser who reclaims her seven-year-old son, Jeremiah (the frightfully good Jimmy Bennett), from his loving and well-off foster parents. Sarah, one of the worst mothers to ever grace the silver screen, mistreats the boy horribly again and again, even allowing her stream of dangerous and weird boyfriends (which include Michael Pitt, Marilyn Manson, and Jeremy Sisto) to do the same — and worse. At one point Jeremiah winds up living with his grandparents (Peter Fonda and Ornella Muti), religious nutcakes who harbor their own secrets. With pulsating original music by Marco Castoldi and Sonic Youth, brutal, fast-paced action, and leather-and-chains sadomasochism, THE HEART IS DECEITFUL is reminiscent of Alex Cox's SID & NANCY (1986), with a little bit of MOMMIE DEAREST (Frank Perry, 1981) thrown in. Argento's compelling vision, which will grow on you if you let it, is not for everyone; at times it's lurid, graphic, and hard to watch, but it's also got its share of breathtaking moments. Just try your best to forget about the literary hoax that gave birth to this sordid story in the first place.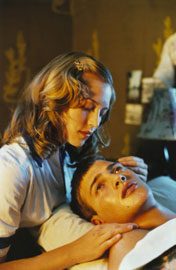 Andreas Wilson and Linda Zilliacus in EVIL
EVIL (ONDSKAN) (Mikael Håfström, 2003)
Opens Friday, March 10

Don't let the name of this Swedish tale fool you; EVIL, which was nominated for an Oscar for Best Foreign Language Film in 2004, is not a horror flick, although it does get rather scary. As it opens, Erik (Andreas Wilson) is beating the bloody hell out of a fellow student, relentlessly smashing away at this face. When he's kicked out of school, he stands like James Dean in REBEL WITHOUT A CAUSE, paying no attention as the headmaster says he is pure evil. Although his mother (Marie Richardson) adores him, she turns her back and plays the piano as her husband, Erik's stepfather (Johan Rabaeus), whips him brutally. With one last chance to make it to the next grade, Erik is enrolled at the Stjärnsberg boarding school, where the administration turns its back as the council, made up of older boys, brutalizes the younger ones in remarkably vicious and sadistic ways. As his turn for harassment starts, Erik refuses to fight back, knowing that striking a council member will lead to his getting expelled and letting down his beloved mother. As he follows the path of least resistance, Erik befriends his roommate, Pierre (Henrik Lundström), a brilliant and rich nerd, and takes a liking to Finnish kitchen worker Marja (Linda Zilliacus), but he quickly becomes the primary target of council leaders Otto (the Niedermayer-esque Gustaf Skarsgård) and Dalén (Jesper Salén), who will stop at nothing to get the better of him. Smartly directed by Mikael Håfström, EVIL is a boarding-school coming-of-age drama that mixes Lindsay Anderson's IF… with David Fincher's FIGHT CLUB, reaching inside the inner turmoil of a teen with a violent past as he desperately seeks a more promising future. Erik's change from evil happens way too fast and without enough explanation, and it is hard to believe that the staff at Stjärnsberg would allow so much brutality to go on right under their noses, but EVIL is still a compelling film that explores the peaceful possibilities of civil disobedience.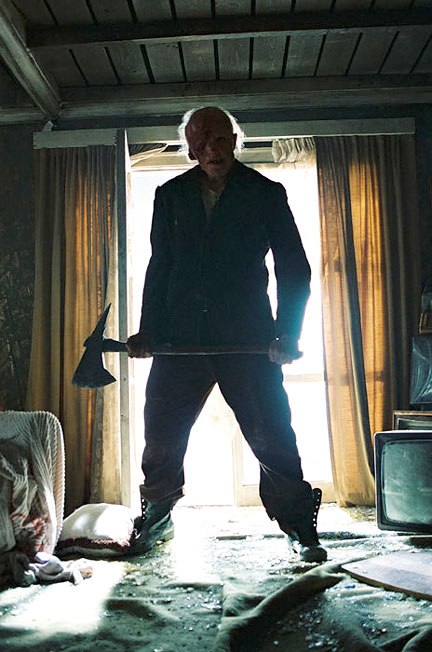 Wes Craven's cult classic gets a modern makeover
THE HILLS HAVE EYES (Alexandre Aja, 2006)
Opens Friday, March 10
http://www2.foxsearchlight.com/thehillshaveeyes

In 1977, Wes Craven wrote and directed the cult classic THE HILLS HAVE EYES, a low-budget horror flick that pushed the boundaries of the genre — and scared the hell out of us. Nearly thirty years later, Craven has updated the frightfest, hiring young director Alexandre Aja (HIGH TENSION) to reimagine HILLS for a new audience. Quoting liberally from such diverse films as DON'T LOOK NOW, THE SHINING, DELIVERANCE, THE TEXAS CHAINSAW MASSACRE, and STRAW DOGS, Aja keeps the blood flowing as a family celebrating their parents' anniversary gets trapped in the middle of the desert, next to an old nuclear testing site misused by the government. Their idyllic suburban world is quickly shattered when a group of mutants begins to attack in violent, horrific ways. Not for the weak of heart, THE HILLS HAVE EYES 2006 focuses more on the nuclear testing angle, bringing more depth to the mutants, who are just as American as the Carters — only more American nightmare than American dream. (Craven even named a father and son Jupiter and Pluto, as if they come from another world.) There's plenty of gore, child and pet endangerment, and, yes, cannibalism, but the new version falls short of the original, failing to add enough new twists and turns to match its innovative predecessor. Still, blood-and-guts fans will delight in much of the action, even if this one refuses to go as far as the first. It also lacks a breakout performer in its cast, which includes Kathleen Quinlan, Vinessa Shaw, Emilie de Ravin, Ted Levine, Aaron Stanford, Billy Drago, Robert Joy, and Laura Oritz; Craven's 1977 version is perhaps best remembered for the tall, bald, oddly misshapen Michael Berryman, himself the victim of birth defects. Berryman, who played a bit part in ONE FLEW OVER THE CUCKOO'S NEST, has enjoyed a long, successful career, most recently in Rob Zombie's THE DEVIL'S REJECTS, which is a better movie that the new HILLS HAVE EYES and is available on DVD.
GAME 6 (Michael Hoffman, 2006)
Opens Friday, March 10

We know exactly where we were on October 25, 1986 — in Peter McManus's on 19th & Seventh watching Game Six of the World Series between our beloved New York Mets and the hated Boston Red Sox, forever to be identified as the Bill Buckner game. Don DeLillo, who has written (much better) about baseball before ("Pafko at the Wall"), has chosen his first original screenplay to be set on this miraculous day, as Broadway playwright and devoted Red Sox fan Nickey Rogan (Michael Keaton) prepares for opening night of his most important and serious work. He spends the day getting stuck in traffic in cabs driven by foreigners, continually (and ridiculously) bumping into friends and family members on the street and in bars, and fearing that he will be torn apart by mysterious theater critic Steven Schwimmer (Robert Downey Jr.), who is so hated that he disguises himself in public and carries a gun for protection from show people he has mercilessly skewered. Refusing to acknowledge that his wife (Catherine O'Hara) is divorcing him and that his daughter (Are Graynor) is growing up without him, Rogan instead worries about whether his lead actor (Harris Yulin), a major star who has a parasite in his brain, will remember his lines and whether he should watch the baseball game instead of attending the Broadway opening. There's a good movie somewhere in here, but director Michael Hoffman is unable to scoop it up, a la Buckner; he's got a good cast (the film also features Bebe Neuwirth, Griffin Dunne, and Shalom Harlow), but the characters are way too over the top. And because the success of Keaton's role is dependent on the Red Sox being losers, the film feels like it's completely unnecessary, because Boston finally won the world championship in 2004. (The project has been fermenting since 1997, when it would have been a lot more relevant.) However, several Sox fans we know liked this film a lot more that we did, so if 2004 is more important to you than 1986, add a couple of stars and have a good time. But watch out for that slow roller to first.
DAVE CHAPPELLE'S BLOCK PARTY (Michel Gondry, 2006)
In theaters now
http://www.chappellesblockparty.com

In September 2004, comedian Dave Chappelle put on a surprise block party in Bedford-Stuyvesant, sort of a mini-Brooklyn version of WATTSTAX (Mel Stuart, 1973), the seminal L.A. concert in which Richard Pryor teamed up with a host of black musicians, including Isaac Hayes, Albert King, the Staples Singers and Carla and Rufus Thomas. Directed by Michel Gondry (ETERNAL SUNSHINE OF THE SPOTLESS MIND) and photographed by Ellen Kuras (NEIL YOUNG: HEART OF GOLD, BLOW) BLOCK PARTY is Chappelle's WATTSTAX for the new century. Gondry and Chappelle take us on a very funny trip as the comedian wanders around his hometown of Dayton, Ohio, handing out golden tickets like a black Willy Wonka, offering everyone free transportation to Brooklyn, loading buses up with a fascinating mix of people of all races. When he bumps into a college marching band, he invites them to play at the party, joining such big names as Kanye West, Mos Def, Erykah Badu, the reunited Fugees, Talib Kweli, Jill Scott, Big Daddy Kane, Common, John Legend, the Roots, and Dead Prez. Gondry cuts between the preparation for the block party and the actual festivities, an infectious blend of music and comedy that makes you feel like you're right in the middle of it all. Musical highlights include West performing "Jesus Walks" with John Legend and Common, Jill Scott and Erykah Badu backing the Roots on "You Got Me," and Talib Kweli, Common, and Fred Hampton Jr. rapping with Mos Def on "Umi Says." Unfortunately, the songs are not seen in their entirety, one of the film's only drawbacks. Behind the scenes, Chappelle tickles the ivories to "Misty" and "Round Midnight," hangs out with the bizarre white couple who live in the Broken Angel house across the street, and jokes around with Mos Def. The film avoids any overt political messages, although some of the songs deal with controversial topics. One of the sweetest moments is when Wyclef Jean plays "President" for the marching band, letting the members know they can be anything they want to be. BLOCK PARTY is a shining, defining moment for Chappelle, who shortly after walked away from a $50 million Comedy Central contract, succumbing to the pressure of fame and expectation. Here's hoping he gets his groove back.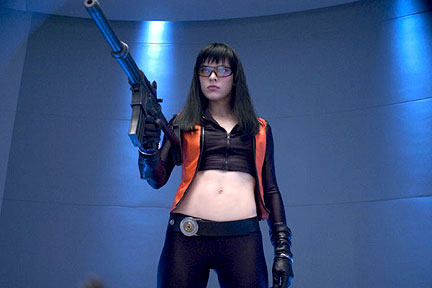 Milla Jovovich wields a mean belly in ULTRAVIOLET
ULTRAVIOLET (Kurt Wimmer, 2006)
In theaters now
http://www.sonypictures.com/movies/ultraviolet

Trying to reimagine John Cassavetes's GLORIA through a futuristic comic-book lens, writer-director Kurt Wimmer (EQUILIBRIUM) instead comes a lot closer to Sidney Lumet's unwatchable 1999 remake of GLORIA (which featured Sharon Stone in the role made famous by Gena Rowlands). This time around it's the questionably talented Milla Jovovich starring as Violet, a hemophagic heroine in a belly shirt who has stolen a dangerous weapon from the very powerful Daxus (Nick Chinlund). The weapon turns out to be a golden child (BIRTH's ultracreepy Cameron Bright) who just might hold the key to a deadly virus. With ultraboring dialogue, ultrabad acting, ultraunexplainable action sequences, and ultragigantic plot holes you could fly a seemingly unfinished CGI helicopter through — you'll often wonder whether the projectionist has put in the wrong reel — ULTRAVIOLET is ultranonsensical, whether taken seriously or as a tongue-in-cheek parody. If you're really in the mood for cartoon violence featuring an ultracool heroine — and who among us isn't — rent Quentin Tarantino's awesome KILL BILL flicks, where Uma Thurman as Black Mamba will blow your mind. Heck, there's even Charlize Theron in AEON FLUX, which we actually reviewed favorably in our December 7 issue.
STREET FIGHT (Marshall Curry, 2005)
IFC Center
323 Sixth Ave. at Waverly Pl.
Tickets: $10.75
212-924-7771

You might not think the 2002 race for the mayoralty of Newark, NJ, would make for much of a movie, but Marshall Curry's stunning documentary will leave your mouth agape time and time again. Curry follows the battle between longtime Newark political fixture Sharpe James, who has been mayor since 1972, and relative newcomer Cory Booker, a city councilman, Rhodes scholar, and former college football star (he played wide receiver at Stanford) who earned his law degree from Yale and is now seeking change for Newark. Booker goes door to door, meeting the people he wants to represent, bringing along documentarian Curry to record his uphill struggle. When Curry attempts to film James at public events, he is harassed by security guards and the mayor himself. Booker is determined to wage a positive campaign, but that becomes more and more difficult as the Newark political machine hits full speed, spinning, twisting, and outright lying all they can to remain in charge. Their abuse of power and utter disregard for the law are nothing less than remarkable. They even play the race card in an election between two black men. Directed, produced, photographed, written, and narrated by Curry, STREET FIGHT, nominated for an Oscar for Best Documentary at this year's Academy Awards, is a must-see for anyone who cares about their community enough to take action, vote, and perhaps even run themselves.
TSOTSI (Gavin Hood, 2005)
In theaters now

Every once in a while, a surprise movie comes along that just blows you away; TSOTSI is that kind of film. Based on the only novel by South African playwright and activist Athol Fugard, TSOTSI is set in the dangerous ghetto world on the outskirts of Johannesberg, where poverty goes hand in hand with violence. Presley Chweneyagae is simply remarkable as Tsotsi (South African for "thug" or "gangster"), the leader of a small group of hoods who pull off petty crimes — until they fatally stab a man on the subway, sending them into a dark and deadly tailspin. When Tsotsi shoots a woman and steals her car, he finds that there's a baby in the backseat; he considers returning it or leaving it by the side of the road, but he instead brings it home, where he decides to take care of it himself — with the help of beautiful single mother Miriam (Terry Pheto). The baby triggers Tsotsi's memories of his own horrific childhood, which writer-director Gavin Hood shows in brief but powerful flashbacks. Tsotsi struggles to keep the baby a secret from his cohorts, much the same as he tries to keep his past secret from everyone. But things soon come to a head, and Tsotsi must decide whether to reach inside his conscience – or for his gun. Chweneyagae dominates the screen from the very first moment, his intense stare filled with anger and hate, one of the most frightening you'll ever see. Fortunately, Hood avoids any moments of sappy sentimentality or overemotional clichés, so you never know what's going to happen next. The pulsing soundtrack of South African kwaito music comes from "Zola" Bonginkosi Dlamini, who also plays Fela. Reminiscent of such harrowing films about troubled children as PIXOTE (Hector Babenco, 1981) and CITY OF GOD (Fernando Meirelles & Kátia Lund, 2002), TSOTSI is a devastating, unforgettable story that will drive itself deep into your heart and soul. Don't miss it.
RUNNING SCARED (Wayne Kramer, 2006)
In theaters now
http://www.runningscaredthemovie.com

Made by the same team, director Wayne Kramer and producer Michael Pierce, that gave us the excellent 2003 sleeper THE COOLER with William H. Macy and Maria Bello, RUNNING SCARED shows that Kramer is open to new things — specifically, removing all hints of subtlety from his work. RUNNING SCARED is so ultraviolent and over the top that we began to feel old as many people in the audience cheered the more progressively twisted and brutal vigilante (read: justified) killings, beat-downs, and general mayhem, with stars Paul Walker and Vera Farmiga. The story is supposedly told from the point of view of a child with a Grimms' Fairy Tales angle, following a horrific night in the life of Oleg (Cameron Bright), an abused child who gets hold of a dirty gun used to kill a cop in, of all things, a drug deal gone bad ( . . . zzz) to settle the score with his mobbed-out father. When Oleg disappears into the New Jersey night with the weapon, an all-out gang war ensues, involving Russian and Italian mobsters, crackheads, and all manner of creepy street people in addition to a dirty cop (Chazz Palminteri). Yes, Grimm it is, and we're ashamed to say that we were entertained by at least some of this progressive freakshow of exaggerated criminal types being dealt the cold hand of childlike justice in progressively freaky ways. There are shocks and surprises aplenty for the morally dubious among you who enjoy a plot with a little child abuse, implied child murder, point-blank-range testicular target practice, flamethrower torture, etc., along with the standard splatterfests. We promise you will not be bored, but that's a sad state of affairs indeed. Oh yeah . . . the closing credits are excellent.
SOPHIE SCHOLL: THE FINAL DAYS
Film Forum
209 West Houston St. between Sixth & Seventh Aves.
Tickets: $10
212-727-8110
http://www.filmforum.org/films/sophie.html
http://www.sophieschollmovie.com

Julia Jentsch (THE EDUKATORS) gives an outstanding performance as the title character in SOPHIE SCHOLL: THE FINAL DAYS, director Marc Rothemund's procedural examination of the true story of six days in the life of a proud young woman who peacefully protested the Nazi regime by steadfastly spreading the ideology of the antiwar White Rose group. After Sophie and her brother, Hans (Fabian Hinrichs), fill their university with pamphlets denouncing the Third Reich and calling for individual freedoms and the end of the war, they are arrested by the Gestapo, leading to an unforgettable series of interrogations of Sophie conducted by Robert Mohr (played marvelously by Alexander Held). As Sophie grows more steadfast in her denial of any involvement whatsoever, the implacable Mohr begins to lose his patience; we could have watched the two of them go at it for hours. Although the story of the White Rose and Sophie Scholl has been told before, it has never been done with such attention to detail; much of the film is based on archival transcripts and new interviews with relatives of some of the main characters. Nominated for an Oscar for Best Foreign Language Film, SOPHIE SCHOLL: THE FINAL DAYS is also frighteningly relevant today, as it's almost impossible to watch it and not reflect on the current controversies over the Patriot Act, the war in Iraq, and the suppression of political dissent that are occurring in the United States under the current administration. An American film about the White Rose is in the works as well, starring Christina Ricci as Sophie and Martin Gruber as Hans.
BATTLE IN HEAVEN (BATALLA EN EL CIELO)
(Carlos Reygadas, 2005)
Angelika Film Center
18 West Houston St. at Mercer St.
Tickets: $10.75
212-995-2000
http://www.city-cinemas.com/angelika.html
http://www.bacfilms.com/presse/batalla

Mexican auteur Carlos Reygadas follows up his international critical success JAPON with this unusual, unique, controversial drama, which was nominated for the Golden Palm at Cannes. Marcos Hernandez, who has spent twenty-five years at the Ministry of Culture, where, among other things, he was the driver for Reygadas's father and their family, stars as Marcos, a driver for a general and his nineteen-year-old daughter, Ana (Anapola Mushkadiz). Marcos keeps Ana's secret that she works in a brothel (as a form of rebellion), so Marcos shares a secret of his own with Ana, with whom he has a special relationship: That he and his wife (Berta Ruiz) had kidnapped a baby for some money, but the baby has died. Ultimately, Marcos seeks redemption for his many sins, but in the meantime, he moves slowly through his strange world, barely speaking, as if he is in his own reality. The plot is secondary to the compelling — some would say dull and boring — atmosphere Reygadas has created. The movie opens with a graphic sex act, shown in great detail, and includes several other sex scenes as well, and they are far from pornographic (although at least some of them are very real). They contain a significant amount of nudity, and, since Marcos and his wife are both rather obese, the explicit scenes are not necessarily pleasant to watch. To heighten the realism, not only has Reygadas hired nonprofessional actors, but the scenes he shoots on the streets of Mexico City and in the subways are not blocked-off sets; he places his characters in the midst of actual crowds. Although it turns lurid in the end — with a violent act so debasing and unnecessary that it nearly brings down the whole film — BATTLE IN HEAVEN is a very different kind of movie, one that is certainly not for everyone.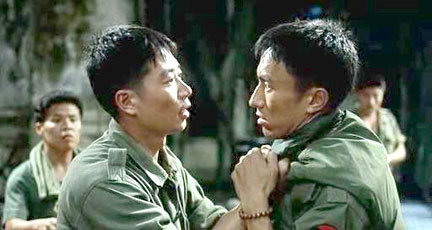 South Korean soldiers are fighting more than themselves in R-POINT
R-POINT (Kong Su-chang, 2004)
Now available on DVD
http://www.asiaextremefilms.com

A huge hit in Korea, Kong Su-chang's excellent Vietnam War horror film is filled with awesome thrills and chills. Gam Woo-sung stars as Lt. Choi, a shell-shocked soldier who is put in charge of a motley crew of men sent to a mysterious stretch of land to find troops who have been missing for six months. They make camp in a magnificent abandoned mansion (which was discovered by the location manager; it is not a constructed set), which just might house a few scary secrets of its own. As the guys start falling one by one in more and more gruesome ways, it doesn't take them long to figure out that it's not the VC they need to be looking out for. The DVD includes some cool featurettes and audio commentary in which the director, the propmaster, and the special effects guru all discuss how disappointed they are with many scenes because of various limitations imposed on them when they were not allowed to take certain equipment out of Korea and/or into Cambodia, where the film was shot. They might be unhappy with specific aspects of the film, but you won't be. R-POINT is one of the best war-horror films you're likely to see.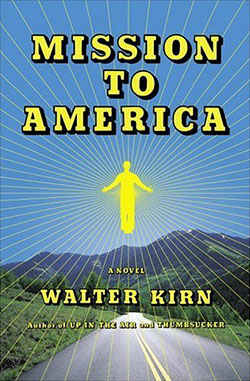 MISSION TO AMERICA by Walter Kirn (Doubleday, October 2005, $23.95)
http://www.randomhouse.com/doubleday/catalog/display.pperl?isbn=9780385507646

Montanan Walter Kirn, a novelist (THUMBSUCKER, UP IN THE AIR), contributing editor to GQ and Time, critic for the New York Times Book Review, and onetime substitute blogger for Andrew Sullivan, mixes faith and fat calories, spirituality and sloth in his religious road-trip rant, MISSION TO AMERICA. Mason LaVerle is an Aboriginal Fulfilled Apostle living in the group's Bluff, Montana, enclave, cut off from the rest of the world, with their own unique way of doing things. They believe in the All-in-One, the Seeress, the Perpetuity of Essence, and Edenic Nutritional Science. He and Elder Stark are sent on a mission to drive across America to bring the word of the "Luminaria" to Terrestrians in need of spiritual and emotional rebirth — while also trying to raise some much-needed cash and bring back some fertile females to keep their oddball community floating on the Etheric Breeze, flush with Virtue Coupons. Along the way they encounter a coven of young Wiccans, the glory of television, French fries, casual sex, soda, and other aesthetic pleasures they've never experienced, allowing Kirn to blithely satire the sad, ridiculously funny state of America. When Mason and Elder Stark meet up with the rich and powerful Effinghams, they move into their Colorado ranch, where Kirn gets to hysterically tear into a bizarre microcosm of American society. Extremely clever, wholly insightful, and dead-on funny, MISSION TO AMERICA is riotous scourging of the American dream -- and every single one of us.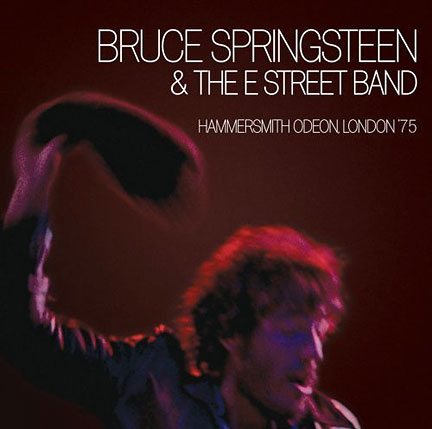 BRUCE SPRINGSTEEN & THE E STREET BAND: HAMMERSMITH ODEON, LONDON '75 (Columbia, 2006)
Released February 28
http://www.brucespringsteen.net

Hot on the heels of the terrific BORN TO RUN thirtieth anniversary boxed set released late last year, which includes a DVD of the first-ever London performance by Bruce Springsteen & the E Street Band, comes this two-disc audio-only version of that remarkable show, and as good as it is on-screen, it sounds even better blaring out of your speakers. Springsteen arrived in London with huge expectations and promise heaped on him; the pressure nearly overwhelmed him. But he used all of that built-up nervous energy to thrill the British audience with, as he describes it in the album's liner notes, a "Jersey stew of almost punk soul, fueled by the visionary songwriters, 60's records, garage bands, and Rhythm and Blues we loved. For me, the set went by like a freight train…. We'd gone for broke." Bruce opens the awesome set on the piano with a gorgeous, wrenching "Thunder Road," then gets the crowd going with killer renditions of "Tenth Avenue Freeze-Out" and "Spirit in the Night" before slowing it down just a bit with a sparkling arrangement of "Lost in the Flood" (which was resurrected at the end of the 1999 reunion tour).
With the E Street Band in fine form, the Boss leads them through ragged, relentless versions of "She's the One," "Born to Run," "Kitty's Back," and "Rosalita (Come Out Tonight)" as well as "The E Street Shuffle," "It's Hard to Be a Saint in the City," and the "Detroit Medley." "Backstreets" and a solo-piano "For You" never sounded so heartbreaking. Don't miss the alternate last verse of "4th of July, Asbury Park (Sandy)." And the closing Gary U.S. Bonds cover, "Quarter to Three," will leave you breathless and wasted, yet still wanting more. Interestingly, this searing performance at the Hammersmith Odeon in London arrives shortly after the excellent DEVILS & DUST solo tour, in which Springsteen played an offbeat collection of folk instruments, and shortly before his next album and tour, with a new band, that will focus on the music of longtime activist Peter Seeger. So as long as we might not have Bruce back with the E Streeters for a while, the next best thing is to get in the car, roll down the windows, and blast this sucker all night long.

All contents copyright 2006 by Mark Rifkin and twi-ny. All rights reserved. Contents may not be reprinted without written permission. Please note that events, dates, and prices are subject to change.
Send all comments, suggestions, reviews, and questions to mark.rifkin@twi-ny.com.
Please note that some e-mail clients may wrap links, so be sure to enter them fully into your browser.
To subscribe to this list, please e-mail the administrator at admin@twi-ny.com with the word Subscribe in the Subject line; be sure to ask for back issues, which are free as well. To unsubscribe from this list, please think it over twice before e-mailing the same address. Please let us know what you didn't like about this forum and we'll do our best to correct it in the future -- if we agree with you. If you would like to see something covered in a future issue, please let us know. Without you, there is no need for us to exist.

twi-ny top two dozen (or so) weekly reminders & special events
PURIM IN JERUSALEM
The Library of the Jewish Theological Seminary
3080 Broadway at 122nd St.
Closed Saturday
Admission: free
212-678-8082
http://www.jtsa.edu/about/communications/press/20052006/20060130.shtml
Through March 31 Exhibition of photographs by Yankl (Peter) Conzen
EVENTS AT THE NEW SCHOOL
Tishman Auditorium
66 West 12th St. between Fifth & Sixth Aves.
212-817-8215
http://www.nsu.newschool.edu/02a_specdiv.htm#0201
Wednesday, March 1 Change the World, Be Home by 8, with Lenore Skenazy, free, 6:00
Thursday, March 2 National Book Critics Circle Annual Awards: Readings, $5, 6:00
Friday, March 3 National Book Critics Circle Annual Awards, free, 6:00
Thursday, March 9 The Public Talks Roundtable: The Public Theater Goes to War, panel discussion with Jessica Hagedorn, Brett C. Leonard, and David Rabe, moderated by Bill Goldstein, $10, 7:00
Monday, March 13 A Subjective History of Sculpture, with Paul Pfeiffer, Sculpture Center and the Vera List Center for Art and Politics, Theresa Lang Center, 55 West 13th St., $5, 212-229-5488, 6:30
AUTHOR EVENTS
Barnes & Noble
33 East 17th St. at Union Square (US)
675 Sixth Ave. at 22nd St., Chelsea (CH)
396 Sixth Ave. at Eighth St., Greenwich Village (GV)
2289 Broadway at 82nd St. (BW)
267 Seventh Ave., Park Slope (PS)
Admission: free
http://storelocator.barnesandnoble.com/events.do
Wednesday, March 1 Stephanie McMillan, ATTITUDE FEATURING: MINIMUM SECURITY, GV, 7:00
Thursday, March 2 KT Tunstall, EYE TO THE TELESCOPE, CH, 6:00
Tuesday, March 7 Joe Keenan, MY LUCKY STAR, US, 7:00
Wednesday, March 8 Mark Kurlansky, THE BIG OYSTER: NEW YORK ON THE HALF SHELL, PS, 7:30
Sunday, March 12 Garry Kasparov, GARRY KASPAROV ON MY GREAT PREDECESSORS, PART 5, VOL. 5, BW, 1:00
Monday, March 13 Macaulay Culkin, JUNIOR, US, 7:00
BORDERS BOOKSTORE EVENTS
Park Avenue (PA)
461 Park Ave. between 57th & 58th Sts.
Wall Street (WS)
100 Broadway between Wall & Pine Sts.
Admission: free
http://www.bordersstores.com/events/events.jsp
Wednesday, March 1 Annabelle Gurwitch, FIRED! REJECTION HAS NEVER BEEN THIS FUNNY, with Gurwitch, Martha McCully, Judy Gold, and Brian Unger, WS, 1:00
Thursday, March 2 Wesley Strick, OUT THERE IN THE DARK, PA, 6:30
RECENT FILMS FROM SCANDINAVIA: FINLAND
Scandinavia House
58 Park Ave. at 38th St.
Tickets: $8
212-847-9746
http://www.scandinaviahouse.org/programs.html#ex
Wednesday, March 1 FROZEN LAND (PAHA MAA) (Aku Louhimies, 2005), 6:30
Saturday, March 4 FROZEN LAND (PAHA MAA) (Aku Louhimies, 2005), 3:00
Wednesday, March 8 MOSKU -- THE LAST OF HIS KIND (MOSKU -- LAJINSA VIIMEINEN) (Tapio Suominen, 2003), 6:30
Saturday, March 11 MOSKU -- THE LAST OF HIS KIND (MOSKU -- LAJINSA VIIMEINEN) (Tapio Suominen, 2003), 3:00
Wednesday, March 15 FATA MORGANA (Anastasia Lapsui and Markku Lehmuskallio), 6:30
ON LIFE AND ENLIGHTENMENT: PRINCIPLES OF BUDDHISM WITH HIS HOLINESS THE DALAI LAMA
Rubin Museum of Art
150 West 17th St. at Seventh Ave.
Screenings on Wednesdays at 1:00, followed by discussion
Free with museum admission of $10
212-620-5000
Wednesday, March 1 Bardo: "The Cosmic Space or In Between" ¬ A Cycle of Reincarnation, moderated by Acharya Eric Spiegel
Wednesday, March 8 Lha: The Spirit or the Soul of Life, moderated by Dan Naistadt
Wednesday, March 15 Menlha: The Medicine Buddha -- Intimate Secrets of Healing from Tibetan Medicine with H.H. the Dalai Lama, moderated by Michele LaPorte
FIRST THURSDAYS
Dahesh Museum of Art
580 Madison Ave. at 57th St.
Admission: free from 6:00 to 9:00
212-759-0606
http://daheshmuseum.org/publicprograms_events
Thursday, March 2 Illustration: A Wonderful Work in Progress, illustrated lecture with Terence Brown, 6:30
IS THERE A CASE FOR IMPEACHMENT?
The Town Hall
123 West 43rd St. between Sixth Ave. & Broadway
212-840-2824
http://www.the-townhall-nyc.org
Thursday, March 2 Public forum with Lewis H. Lapham, Rep. John J. Conyers, Michael Ratner, Elizabeth Holtzman, and John Dean, moderated by Sam Seder, $10, 8:00
THE LIFE AND TIMES OF AN ETHNICALLY AMBIGUOUS LITTLE LADY
Comedian Emily Epstein: Upcoming performances
http://emilyepstein.blogspot.com
http://www.comedysoapbox.com/comedianstemplate.cfm?ComedianID=2068
http://www.thesupperclub.com/sc_mainpage.htm
Thursday, March 2 Big Thing Thursday comedy, the Supper Club, 240 West 47th St. between Broadway & Eighth Ave., free, 8:00
Friday, March 10 Scoopa Underground comedy, 79 Madison Ave. at 28th St., two-drink minimum, 8:00
GRAMERCY GARDEN ANTIQUES SHOW
Historic 69th Regiment Armory
Lexington Ave. at 26th St.
Admission: $12 adults, children under sixteen with adult free
212-255-0020
Friday, March 3
through
Sunday, March 5 Eighty garden and architectural exhibitors will be displaying and selling their wares, including ceramics, pottery, furniture, ornaments, gazebos, equipment, and books, with daily seminars (The Gardens of Morocco, Historic Land Preservation Today, Modern Flower Design, The Care & Feeding of Orchids) at 12 noon & 2:00
SCREENINGS + EVENTS
American Museum of the Moving Image
35th Ave. at 36th St., Astoria
Free with museum admission of $8.50
718-784-4520
http://www.ammi.org/site/screenings/index.html
Friday, March 3 Repertory Nights: THE PASSENGER (Michelangelo Antonioni, 1975), 7:30
THE PASSENGER (PROFESSIONE: REPORTER) (Michelangelo Antonioni, 1975)
http://www.sonyclassics.com/thepassenger

Nominated for the Palme d'Or in Cannes in 1975, Michelangelo Antonioni's existential suspense thriller is a fascinating character study of a lost, lonely man. Jack Nicholson stars as Locke, a successful, well-respected journalist who is researching a story on the guerrilla movement in Chad. Life isn't as fun and exciting as it used to be for him, as witnessed by his utter helplessness after his car gets stuck in the sand. Upon returning to his hotel room, he discovers that his neighbor, Robertson (Chuck Mulvehill), is dead — and he decides to switch places with him, to stop being Locke and instead live a completely different existence. Even when he finds out that Robertson was involved in international espionage and gun running, Locke continues the deception, traveling dangerously through England, Germany, and Spain with a free-spirited young architecture student (Maria Schneider) while his wife (Jenny Runacre) and business associate (Ian Hendry) — and the police — try to find him. THE PASSENGER is marvelously slow-paced, never in a hurry to make no point about just what the point of it all is. Nicholson glides through the film with an unease that is as unnerving as it is intoxicating as he struggles to find his way in life, a cinematic representative of something that is within us all.
Saturday, March 4 Anna May Wong: THE TOLL OF THE SEA (Chester M. Franklin, 1922), introduced by Dr. Shirley Jennifer Lim, with live music by Ben Model, 2:00
Saturday, March 4 Anna May Wong: PICADILLY (E.A. Dupont, 1929), with live music by Ben Model, 4:00
Saturday, March 4
and
Sunday, March 5 Repertory Nights: THE PASSENGER (Michelangelo Antonioni, 1975), 6:30
Sunday, March 5 Anna May Wong: THE TOLL OF THE SEA (Chester M. Franklin, 1922), introduced by Dr. Shirley Jennifer Lim, with live music by Donald Sosin, 2:00
Sunday, March 5 Anna May Wong: PICADILLY (E.A. Dupont, 1929), with live music by Donald Sosin, 4:00
Friday, March 10 Repertory Nights: SARABAND (Ingmar Bergman, 2005), 7:30
SARABAND (Ingmar Bergman, 2004)
http://www.sonyclassics.com/saraband

In SARABAND, masterful writer-director Ingmar Bergman returns to the story of Marianne (Liv Ullmann) and Johan (Erland Josephson), first brought to life in the heartbreaking SCENES FROM A MARRIAGE in 1973. Marianne, who hasn't seen her ex-husband in thirty years, suddenly decides to pay the aging recluse a visit, resurrecting emotions both good and bad. Shot digitally, what purports to be Bergman's swan song looks more like a TV movie than a theatrical release; in fact, it was made for Swedish television, as was the earlier work, but this one contains far less energy. While there are moments of brilliance, there are also scenes of mediocrity and mundanity that fall flat. The framing device of having Marianne speaking directly to the camera as she looks at old photos detracts from the overall impact as well. But it is great to see Josephson and Ullmann together again; we remember being blown away as we watched, from the confines of our wood-paneled basement back in the 1970s, their on-screen marriage slowly deteriorate when PBS aired SCENES over the course of a week. The most fascinating new character, and one that fits well in the Bergman oeuvre, could very well be Henrik (Borje Ahlstedt), a complex, scary man with serious problems between him and his father as well as with his daughter, Karin (Julia Dufvenius).
Saturday, March 11 Anna May Wong: SONG (Richard Eichberg, 1928), with live music by Donald Sosin, 2:00
Saturday, March 11 Anna May Wong: THE PAVEMENT BUTTERFLY (Richard Eichberg, 1929), with live music by Donald Sosin, 4:30
Saturday, March 11
and
Sunday, March 12 Repertory Nights: SARABAND (Ingmar Bergman, 2005), 6:30
Sunday, March 12 Anna May Wong: SONG (Richard Eichberg, 1928), with live music by Donald Sosin, 2:00
Sunday, March 12 Anna May Wong: THE PAVEMENT BUTTERFLY (Richard Eichberg, 1929), with live music by Donald Sosin, 4:30
SUNSHINE AT MIDNIGHT
Landmark Sunshine Cinema
143 E. Houston St. between First & Second Aves.
Friday and Saturday nights at midnight
212-330-8182
http://www.landmarktheatres.com/Market/NewYork/NewYork_frameset.htm
Friday, March 3
and
Saturday, March 4 THE TAKING OF PELHAM ONE TWO THREE (Joseph Sargent, 1974)
Friday, March 10
and
Saturday, March 11 PEE-WEE'S BIG ADVENTURE (Tim Burton, 1985)
REBECCA RICE DANCE
Merce Cunningham Studio Theater
55 Bethune St.
Tickets: $20
978-852-3863
http://www.rebeccaricedance.com
Saturday, March 4 Original dance and live music set to works by John Harbison, Elena Ruehr, and Bach, 8:30
KURT WEILL BIRTHDAY TRIBUTE
Tribeca Performing Arts Center
Borough of Manhattan Community College
199 Chambers St.
212-509-0300
http://www.tribecapac.org/calendar.htm
Saturday, March 4 Featuring Chocolate Genius, Elysian Fields, Sanda Weigl, Shelly Hirsch, Christina Courtin, Doveman, and the Main Squeeze Orchestra, curated by Anthony Coleman, $20, 8:00
FIRST SATURDAYS
Brooklyn Museum of Art
200 Eastern Parkway
Admission: free after 5:00 pm
718-638-5000
http://www.brooklynmuseum.org/first-saturdays
Saturday, March 4 World Music: Jeff Newell's New-Trad Octet of Brooklyn plays New Orleans-style Mardi Gras music, Hall of the Americas, first floor, 6:00 — 8:00
Saturday, March 4 Performance: Drama of Works and 2 Punks Puppet Theatre, Iris and B. Gerald Cantor Auditorium, third floor (free tickets available at the visitor center in the Grand Lobby at 5:30), 6:30
Saturday, March 4 Hands-on Art: decorate your own picture frame, Education Division, first floor (free timed tickets available in the Education Gallery at 6:00), 6:30 — 8:30
Saturday, March 4 Curator Talk: Charlotta Kotik, "Symphonic Poem," fourth floor (free tickets available at the visitor center in the Grand Lobby at 6:00), 7:00
Saturday, March 4 Young Voices: student guide Olivia Liddell, Islamic Art Gallery, second floor, 8:00
Saturday, March 4 Free Dance Lessons: Stepping Out Dance Studio, Beaux-Arts Court, third floor, 8:00
Saturday, March 4 Brooklyn International Film Festival: MOUTH TO MOUTH (Alison Murray, 2004), Iris and B. Gerald Cantor Auditorium, third floor (free tickets available at the visitor center in the Grand Lobby at 7:30), 8:30
Saturday, March 4 Dance Party: Grupo Saveiro, Beaux-Arts Court, third floor, 9:00 — 11:00
SING DON'T DESTROY: A TRIBUTE TO THE MUSIC OF GEORGE HARRISON & BOB DYLAN
Freddy's Backroom
485 Dean St., Park Slope
Donations strongly encouraged
718-622-7035
http://www.freddysbackroom.com
Saturday. March 4 Benefit for the Develop Don't Destroy Brooklyn Legal Fund, featuring songs by Dylan and Harrison performed by more than two dozen artists, including Anna Copa Cobanna, Michael Culhane & Circus Guy, the Extra Texture, Fred Gillen and Hope Machine, Ixnay, the Larch, Nine Mens Morris, Evan Schlansky, the Secrets, John Sharples Band, Erica Smith, the Umlauts, Tom Warnick and the World's Fair, Plastic Beef, and more, 8:30 pm - 12:30 am
THREE BY DESPLECHIN
Anthology Film Archives
32 Second Ave. at Second St.
March 4-5
Tickets: $8
718-399-6359
http://www.anthologyfilmarchives.org
Saturday, March 4 MY SEX LIFE (HOW I GOT INTO AN ARGUMENT…) (Arnaud Desplechin, 1996), 5:00
Saturday, March 4 KINGS AND QUEEN (ROIS ET REINE) (Arnaud Desplechin, 2004), 8:30
KINGS AND QUEEN (ROIS ET REINE)
(Arnaud Desplechin, 2004)

Emmanuelle Devos is spectacular in this terrific film from Arnaud Desplechin (ESTHER KAHN, MY SEX LIFE…OR HOW I GOT INTO AN ARGUMENT), playing Nora, a divorced single mother with a ten-year-old son (Valentin Lelong), an ailing father (Maurice Garrel), a troubled sister (Nathalie Boutefeu), a straitlaced, boring fiance (Olivier Rabourdin), a dead ex-husband who appears as a ghost (Joachim Salinger), a manic, tax-evading ex-husband who is institutionalized (a fabulous Mathieu Almaric), and a deep-seated survival instinct that is infectious. Throw in a suicidal woman (Magalie Woch) who can't get enough sex, an alluring doctor (Catherine Deneuve), a drug-addicted lawyer (Hippolyte Girardot), a remarkably calm, gun-toting convenience-store owner (Jean-Paul Roussillon), and other unusual characters and plotlines and you have one highly entertaining, complex, and marvelously original French drama that will fly by much faster than its two-and-a-half-hour length would lead you to believe.
Sunday, March 5 ESTHER KAHN (Arnaud Desplechin, 2000), 5:00
Sunday, March 5 KINGS AND QUEEN (ROIS ET REINE) (Arnaud Desplechin, 2004), 8:00
CITY CINEMATHEQUE
Time-Warner Cable channel 75
Saturday and Sunday at 9:00 pm
Repeated the following Friday at midnight
Discussion follows screening
http://www.cuny.tv/specials/special2.lasso?specialsID='SP000234'
Saturday, March 4
Sunday, March 5
and
Friday, March 10 TELL ME A RIDDLE (Lee Grant, 1980), followed by discussion with Grant
Saturday, March 4 LAST HOUSE STANDING (Chao Gan and Zi Liang, 2004), 11:00
Saturday, March 11
and
Sunday, March 12 STRANGE VICTORY (Leo Hurwitz, 1948), followed by discussion with Barney Rosset
SEA STORY SUNDAYS
New York Aquarium
Surf Ave. & West Eighth St.
Free with general admission of $12 adults, $8 children two to twelve
718-265-FISH
Sunday, March 5 Tales of walruses, super seals, fish, and many other aquatic animals, with storyteller LuAnn Adams, ages three to seven, 12:30, 1:30, 2:30
PUBLIC PROGRAMS
Museum of the City of New York
1220 Fifth Ave. between 103rd & 104th Sts.
Free with museum admission unless otherwise noted
212-534-1672 ext3395
http://mcny.org/public_programs
Sunday, March 5, 12, 19, 26 African Inspired Quilting, workshop with Laura Gadson and Michelle Bishop, preregistration required at 212-491-8581, 2:00
Thursday, March 9 Harlem Women in Music: A Conversation with Gloria Lynne, with Flo Wiley, introduced by Dr. Robert O'Meally, preceded by private viewing of "Harlem Is … Music: Portraits by Carl Van Vechten, $7, reservations required, 212-534-1672 ext3393, 6:30
Saturday, March 11 Jazz on Film: rare footage of Cab Calloway, Billie Holiday, Bobby Short, Bessie Smith, Ethel Waters, and Billy Strayhorn, hosted by Loren Schoenberg, 3:00
Sunday, March 12 Barnet Schecter, THE DEVIL'S OWN WORK: THE CIVIL WAR DRAFT RIOTS AND THE FIGHT TO RECONSTRUCT AMERICA, talk and book signing, 3:00
THE BOOK OF KOHELET
Congregation Habonim
44 West 66th St. between Columbus Ave. & Central Park West
Admission: free
212-787-5347
Monday, March 6 International Study Day, with Rabbi Lewis Warshauer and Women's League of Conservative Judaism educational director Lisa Kogen, with dessert reception, 7:30
SYMPHONY SPACE CALENDAR
Leonard Nimoy Thalia (LNT)
Peter Jay Sharp Theatre (PJST)
2537 Broadway at 95th St.
212-864-5400
Monday, March 6 SWEET TORNADO: MARGO JONES AND THE AMERICAN THEATER, free, LNT, 7:00
Monday, March 6 Banff Mountain Film Festival, $20 in advance, $23 day of show, PJST, 7:30
Wednesday, March 8 Selected Shorts: Is This Cat Liszt? An Evening of Stories, featuring stories by Roald Dahl and J. Robert Lennon read by B.D. Wong and Stephen Lang, with music by the Ying Quartet, $21-$25, PJST, 6:30
Wednesday, March 8 Mulligan Stew with Jazz Band Classic, $20, LNT, 7:30
Monday, March 13 New Voices Collective: Alternative Torch, $21, LNT, 8:30
THROUGH THE EYES OF WOMEN
French Institute Alliance Française
Florence Gould Hall
55 East 59th St. between Park & Madison Aves.
March 7-28
Tickets: $9
212-355-6160
http://www.fiaf.org/french%20film/index.htm
Tuesday, March 7 QUAND LA MER MONTE…(WHEN THE SEA RISES) (Yolande Moreau & Gilles Portes, 2004), 12:30, 4:00, 7:00
Tuesday, March 14 LES SŒURS FÂCHÉES (ME AND MY SISTER) (Alexandra Leclère, 2004), 12:30, 4:00, 7:00
PUBLIC PROGRAMS
CUNY Graduate Center
365 Fifth Ave. at 34th St.
Admission: free, but preregistration suggested
212-817-8215
http://www.gc.cuny.edu/events/index.htm
Tuesday, March 7 An Evening with Anna Deavere Smith: LETTERS TO A YOUNG ARTIST, $10, 6:30
Wednesday, March 8 The Subway on Film, featuring screenings of ONE TRACK MIND (Jeremy Workman, 2005), DAYBREAK EXPRESS (D.A. Pennebaker, 1953), BROOKLYN: AMONG THE RUINS (Suzanne Wasserman, 2005), WONDER RING (Stan Brakhage, 1955), and GNIR REDNOW (Joseph Cornell, 1955), followed by a Q & A with Wasserman and Workman, 6:30
DR. CLAUDE BLOC LECTURE SERIES
Lighthouse International
111 East 59th St. between Park & Lexington Aves.
Admission: free
http://www.nycaudubon.org/events/index.shtml#ROTHENBERG
Wednesday, March 8 Why Birds Sing: A Musician and Scientist Tackle the Question, with David Rothenberg and Don Kroodsma, sponsored by New York City Audubon, 6:00
COLISEUM BOOKS EVENTS
11 West 42nd St. between Fifth & Sixth Aves.
All readings at 6:30 pm unless otherwise noted
Admission: free
212-803-5890
http://www.coliseumbooks.com/events.shtml
Wednesday, March 8 Jenny Pollack, KLEPTO
Monday, March 13 Reed Farrell Coleman, Jason Starr, Peter Spiegelman, and Jim Fusilli, DUBLIN NOIR: THE CELTIC TIGER VS. THE UGLY AMERICAN
Wednesday, March 15 Diablo Cody, CANDY GIRL: A YEAR IN THE LIFE OF AN UNLIKELY STRIPPER
SARAH BERNHARDT AND THE BELLE ÉPOQUE
The Jewish Museum
1109 Fifth Ave. at 92nd St.
212-423-3200
Thursday, March 9 The Saul and Gladys Gwirtzman Lecture: panel discussion with Amy Ogata, Ann Pellegrini, and Judith Thurman, moderated by Carol Ockman and Kenneth E. Silver, $11, 6:30
JAZZ JAM 2005-06
The LaGuardia Performing Arts Center
47th Ave. & Van Dam St., Long Island City
718-482-5151
http://www.lagcc.cuny.edu/lpac
Friday, March 10 Singers' Night, featuring Singer Sheila Jordan & the Jazz Jam House Band, Little Theater, $10, 8:00
REEL SISTERS OF THE DIASPORA
Long Island University, Brooklyn Campus
1 University Plaza between DeKalb & Flatbush Aves.
March 10-12
Three-day Festival Pass: $80
Two-day Festival Pass: $35
Saturday/Sunday One-day Pass: $20
212-865-2982
Friday, March 10 Opening reception honoring Julie Dash and Lucy Anne Hurston, hosted by Ann Tripp, with performances by Kim Brockington, Liza Jesse Peterson, Marlies Yearby, and excerpts from BLACKSOUTH: THE LIFE JOURNEY OF ZORA NEALE HURSTON, $50
Saturday, March 11 Film Festival: Continental Breakfast: Africa, featuring PUPA'S GARDEN (Giulia Frati, 2005), Kumble Theater, 11:15 am
Saturday, March 11 Film Festival: Continental Breakfast: Europe, featuring AL'LEESSI…AN AFRICAN ACTRESS (Rahmatou Keita, 2004), Spike Lee Screening Room, 11:15 am
Saturday, March 11 Film Festival: Divergent Divas, including FREEDOM ROAD (Lorna Ann Johnson, 2004) and D'BI YOUNG: BLOOD, DUB, AND THE MATRIARCH (Judy Singh, 2003), Kumble Theater, 1:00
Saturday, March 11 Film Festival: In My Shoes — Teen Section, featuring WANNA BE (Shani Harris Peterson, 2005) and RUBBER SOLES (Christine Turner, 2005), Alumni Theater, 2:00
Saturday, March 11 Film Festival: The Me I Wanna Be, featuring PRESCRIPTION FOR TIME (Keith McQuirter, 2005) and WALK IN THE LIGHT (M.R. Stiff, 2005), Spike Lee Screening Room, 4:30
Saturday, March 11 Film Festival: Looking for Mr. Right? including YELLOW (Dominga Marting, 2005), OXTAILS (Antonia March & Jacqueline McKinley), and THE WEDDING PROPOSAL (T. Anjanette Levert), Kumble Theater, 6:30
Saturday, March 11 Film Festival: Viva La Resistance, featuring UNTOLD LEGACY (Leslie K. Brown, 2005) and THE SHAPE OF WATER (Kum-Kum Bhavnani, 2005), Spike Lee Screening Room, 4:30
Saturday, March 11 Film Festival: Against the Grain, including BIG DARK SCARY GIRL (Michelle Lewis, 2005), BROOKLYN'S BRIDGE TO JORDAN (Tina Mabry, 2005), A GOOD SCRATCH IS HARD TO FIND (Lisa Fotedar Miller, 2004), Kumble Theater, 8:30
Saturday, March 11 Lecture Series -- Power Panel: Moving Images: The Shifting Image of Black Women in Film, with Thulani Davis, Julie Dash, and Joan Morgan, moderated by Jacquie Jones
Saturday, March 11 Spunk -- Revisiting Eatonville: Translating Zora's Images to Film, with Elaine Charnov, Kristy Andersen, and Booker T. Mattison, moderated by Dr. Cheryl A. Wall, including GILDED SIX BITS and ZORA IS MY NAME, Spike Lee Screening Room, 1:00
Sunday, March 12 Film Festival: Can't Knock the Hustle, featuring DWAYNE MORGAN: THE MAN BEHIND THE MUSIC (Ngardy Conteh, 2005) and HARLEM'S MART 125: THE AMERICAN DREAM (Rachelle Gardner, 2006), Spike Lee Screening Room, 10:30 am
Sunday, March 12 Film Festival: Recognition, Revelation, Reversal of Fortune, featuring RETURN (Chishan Lin, work in progress), SAY AMEN (Debra Edgerton, 2005), HARLEM SISTAS DOUBLE DUTCH (Nicole Franklin, 2005), Kumble Theater, 12 noon
Sunday, March 12 Film Festival: Back Home, featuring SHANI MOOTOO: MY DINNER WITH SHANI (Frances-Anne Solomon, 2005) and MISSION TO SASSIER (Marlie Hall, 2005), Spike Lee Screening Room, 10:30 am
Sunday, March 12 Film Festival: Love Changes, featuring TILL DEATH DO US PART (Pharah Jean-Philippe, 2005) and EXPOSURE (Tamara Bass, 2004), Kumble Theater, 6:15
Sunday, March 12 Lecture Series -- Writing in a Cultural Context, with Esther Iverem, Tina Andrews, and Greg Tate
Sunday, March 12 Lecture Series -- Supporting Your Dream: Where Are the Arts Patrons Today? with Kathryn Washington
Sunday, March 12 High Tea & Hattitude fashion show celebrating Zora Neale Hurston's personal style
THE ARMORY SHOW:
THE INTERNATIONAL FAIR OF NEW ART
Pier 90 & 92
Twelfth Ave. at 50th & 52nd Sts.
Admission: $20
Friday, March 10
through
Monday, March 13 Nearly 150 galleries will be displaying and selling contemporary art in this eighth annual event
USA NATIONAL MEMORY CHAMPIONSHIP
Con Edison Auditorium
4 Irving Pl. at 14th St.
Registrations to compete due by March 3
Admission: free
914-633-7377
http://www.usamemorychampionship.com
Saturday, March 11 Ninth annual event featuring thinking games for mental athletes, 8:30 am — 5:00 pm
BBG EVENTS
Brooklyn Botanic Garden
1000 Washington Ave.
Admission: $5 adults, children under sixteen free
718-623-7200
http://www.bbg.org/vis2/eventcalendar.html
Saturday, March 11 Making Brooklyn Bloom 2006: Keeping It Fresh! City Gardeners Grow Food: community horticulture spring kickoff day, featuring David Jacke's keynote address, "Eat the City: Cultivating Agriculture in Brooklyn Today," along with special displays and workshops, 10:00 am — 4:00 pm
Sunday, March 12 Origami Paper Flowers workshop, Steinhardt Conservatory, 2:00 — 4:00
A CALL TO ACTION ON DARFUR
Museum of Jewish Heritage — A Living Memorial to the Holocaust
36 Battery Pl.
Admission: free with suggested donation of $10
646-437-4202
http://www.mjhnyc.org/visit_safra_hall6.htm
Sunday, March 12 Action Fair and Symposium, featuring keynote speaker John Prendergast and introductory remarks by Rabbi Ammiel Hirsch, 12 noon
PURIM PARTY
B.B. King Blue Club & Grill
237 West 42nd St. between Seventh & Eighth Aves.
212-997-4144
http://bbkingblues.com/schedule/index.shtml
Monday, March 13 Featuring SoulFarm and Blue Fringe, $22, 9:00
THE DELANCEY
168 Delancey St. between Clinton & Attorney Sts.
Cover charge: $6
212-254-9920
http://www.myspace.com/paulacarino
http://www.myspace.com/lazylions
Monday, March 13 Eureka, 8:00; Paula Carino and the Restless Leg Syndrome, 9:00; the Actual Facts, 10:00; the Lazy Lions, 11:00
PURIM PARTY WITH HAZON
Makor
Steinhardt Building
35 West 67th St. between Amsterdam & Columbus Aves.
212-601-1000
Monday, March 13 The Shushan Channel sketch show, with Pete Holmes and Ed Helms, featuring a reading of the Megillah and a dance party with the Sway Machinery & the Antibalas Horns, $25, 7:00
NEW YORK DIGITAL SALON SPRING '06 LECTURE SERIES
School of Visual Arts, Room 10-01C, tenth floor
133 West 21st St. between Sixth & Seventh Aves.
Admission: free
http://www.katchor.com/events2.html
Wednesday, March 15 Ben Katchor, reading and discussion, 6:00